Newspapers today widely covered the recent political developments in the United Kingdom, particularly the resignations of British secretaries of foreign office and Brexit, which have made the government of Theresa May 'shaky'.
Also a top story was comments by Russian Foreign Minister Sergei Lavrov about a deal between Germany, France, and the UK to do business with Iran without using the US dollar in a bid to save the Iran nuclear deal.
Iran's oil exports and its threat to close the Strait of Hormuz in case the US prevents Tehran's customers from buying its crude oil also remained a top story today.
The above issues, as well as many more, are highlighted in the following headlines and top stories:
19 Dey:
1- Conservative Lawmakers Admits: Dichotomy of Reformist-Conservative No Longer Existing
---
Abrar:
1- Putin, Trump Working on Secret Deal on Southern Syria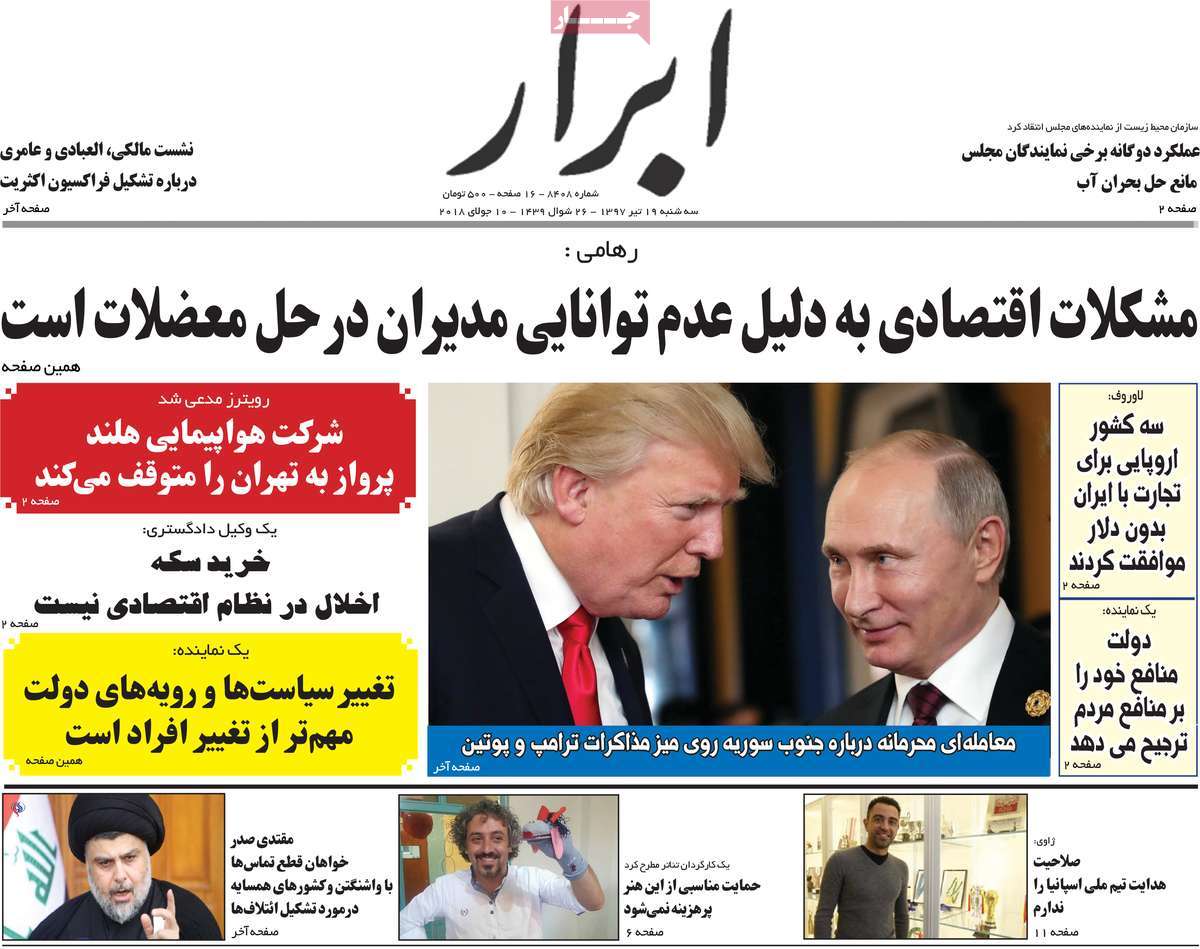 ---
Aftab-e Yazd:
1- Russia Increases Its Oil Output Just as Saudi Arabia Did
2- Continued Efforts to Keep People from Making Foreign Visits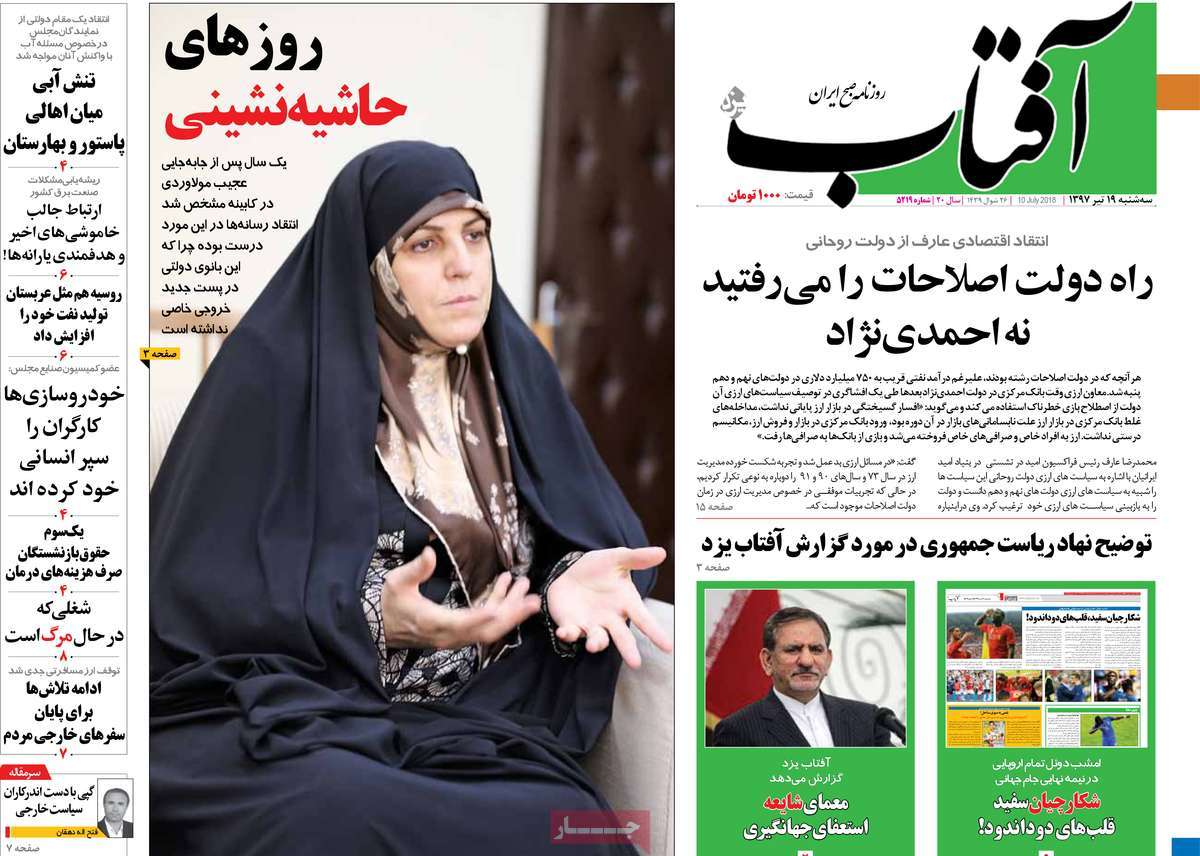 ---
Arman-e Emrooz:
1- Hardliners Trying to Remove First Vice-President from Cabinet
What Are Purposes behind Attacks on Jahangiri?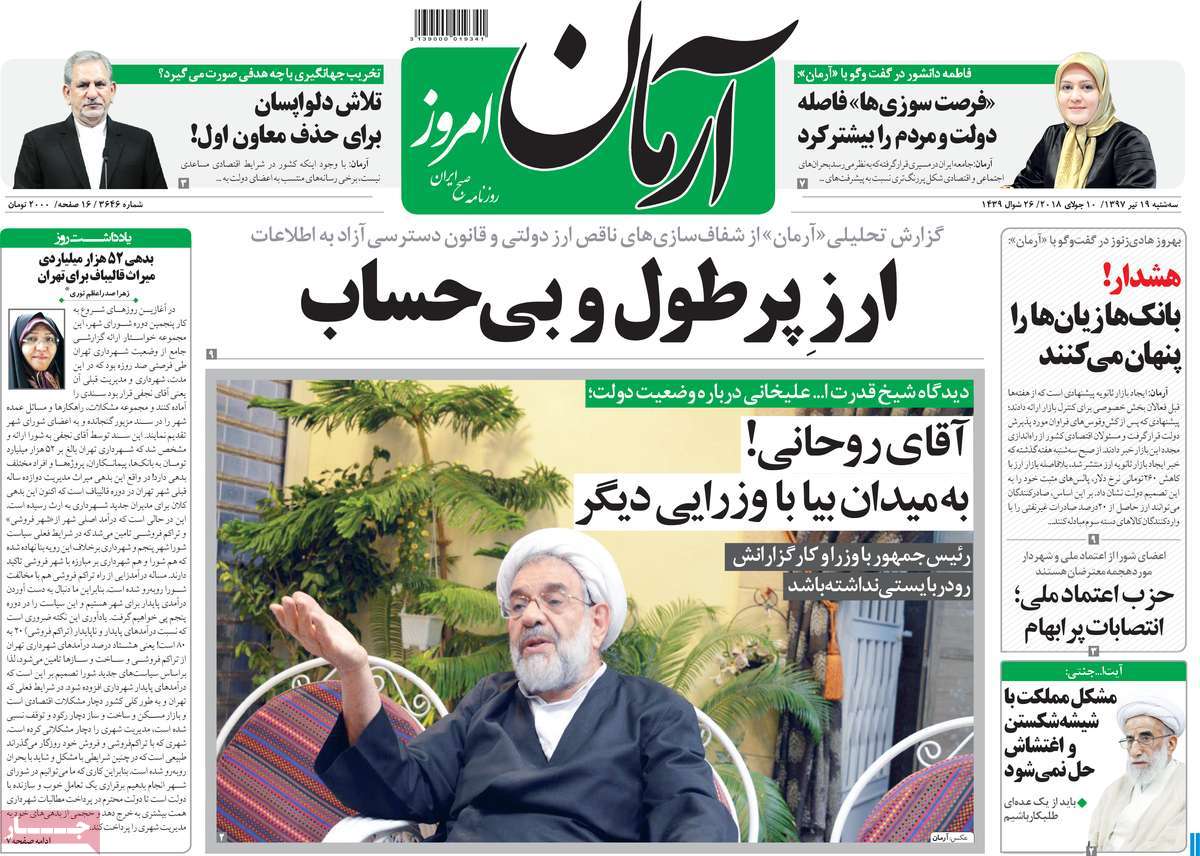 ---
Asrar:
1- Lavrov: Three European Countries to Do Business with Iran without US Dollar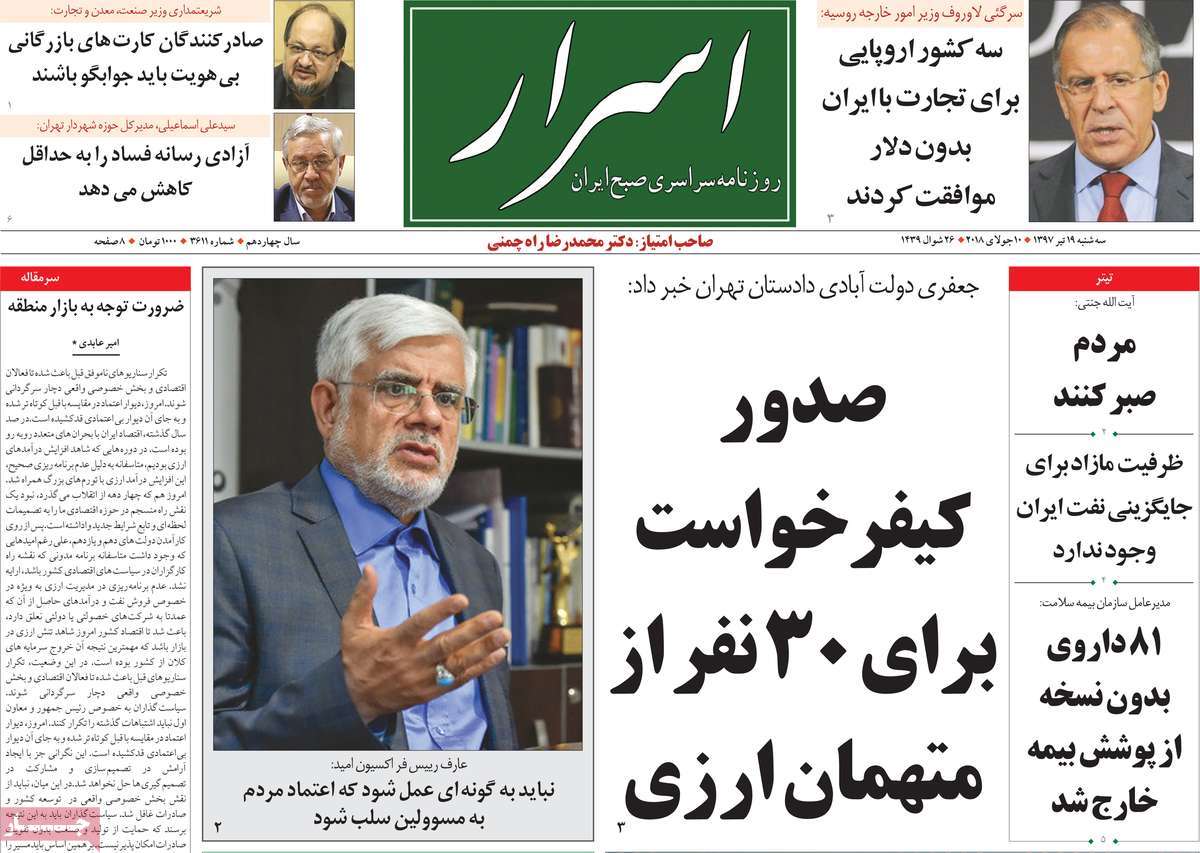 ---
Ebtekar:
1- Brexit Earthquake and Shaky Foundation of May's Government
Division More Serious in British Government after Resignation of Brexit, Foreign Secretaries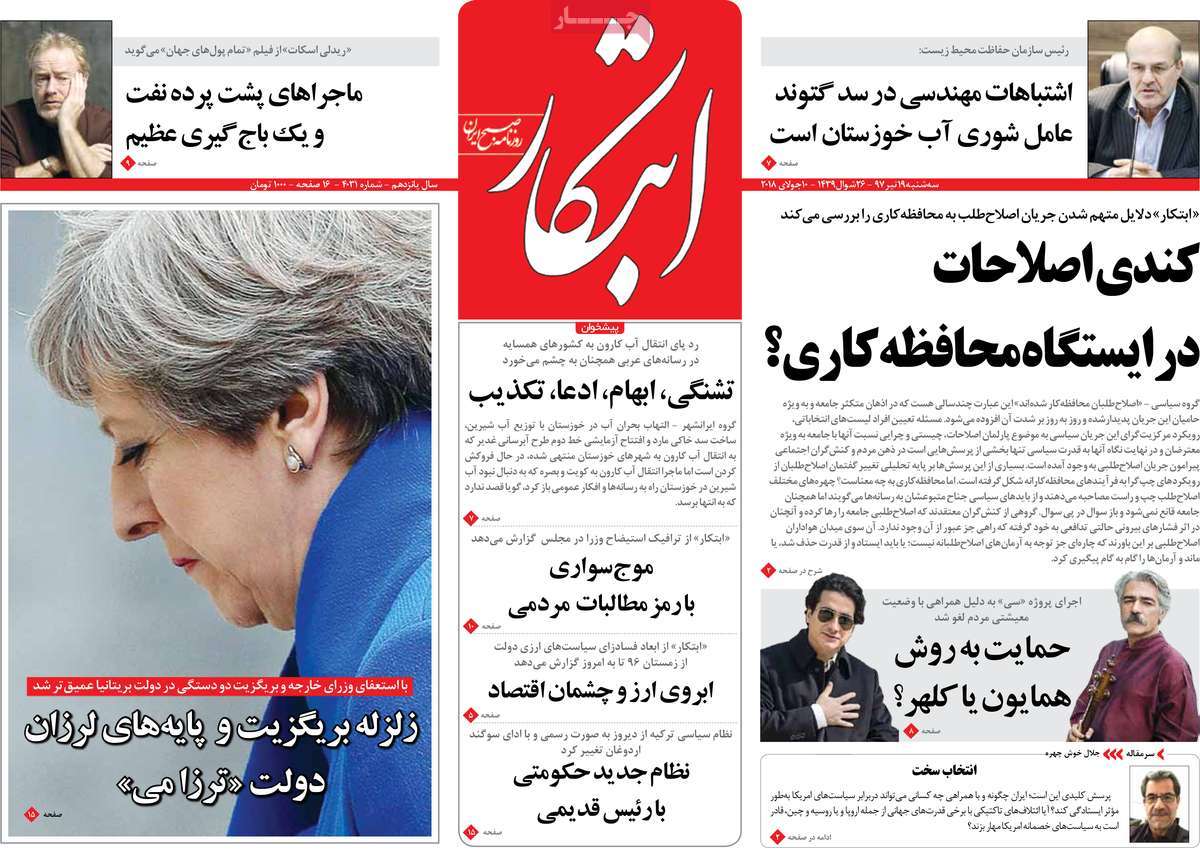 ---
Etemad:
1- End of Coalition: Johnson Resigns as UK Foreign Secretary
2- Shaky Government of Britain [Editorial]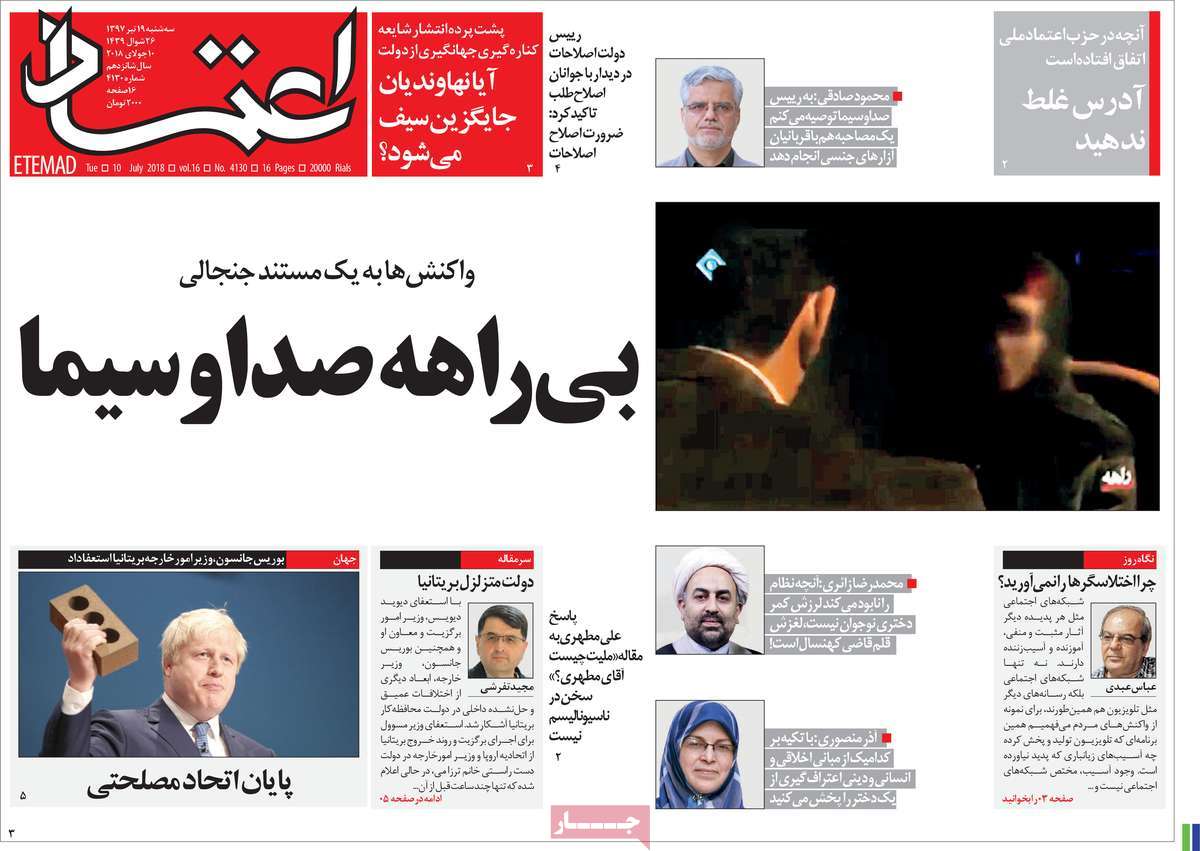 ---
Ettela'at:
1- France, UK, Germany Agree to Meet Iran's Demands within JCPOA
Dollarless Trade with Iran
2- Turkish Ruling System Changed after Erdogan Is Sworn in
3- Lavrov: All Parties to JCPOA Agree US Sanctions Totally Illegal, Unacceptable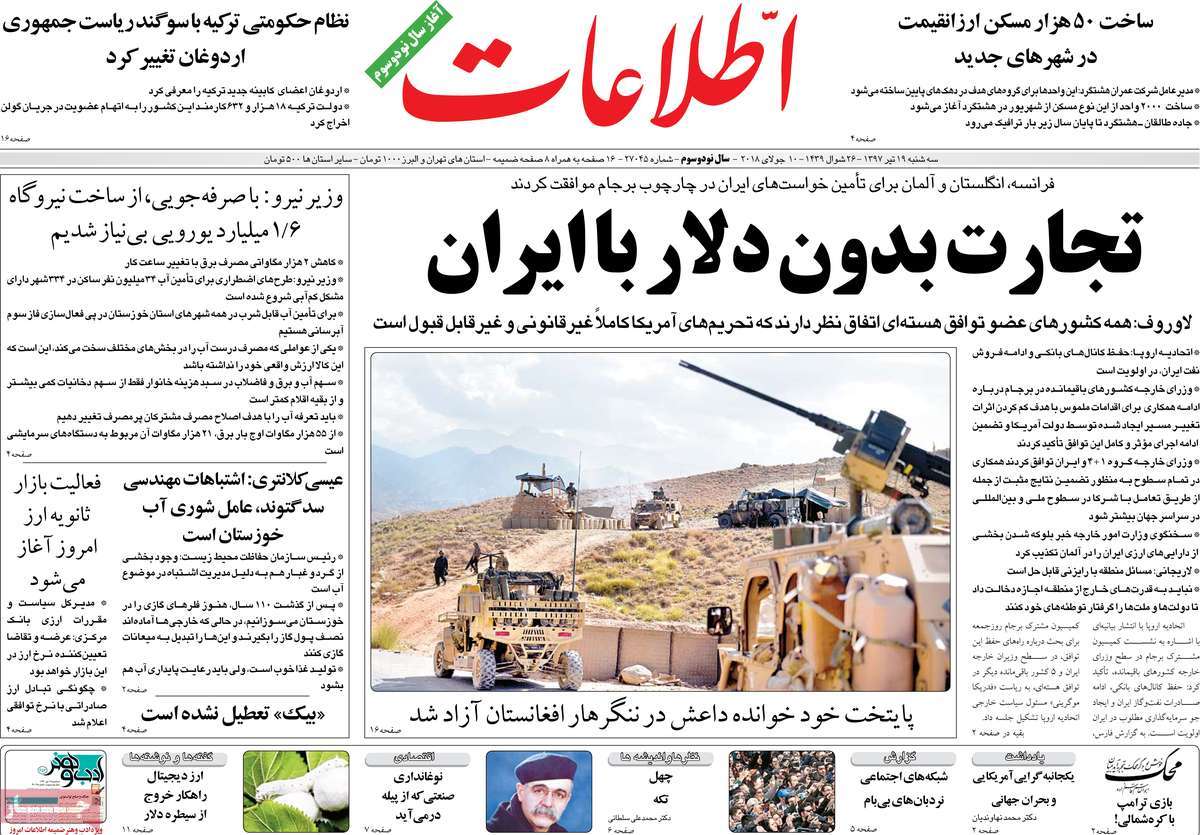 ---
Ghanoon:
1- Military Parade in the Strait!
Commanders of Iranian Army's Navy, IRGC Navy Meet after US Remarks on Hormuz
2- A Report on Transfer of Iran's Money from Germany: 300 Million at Stake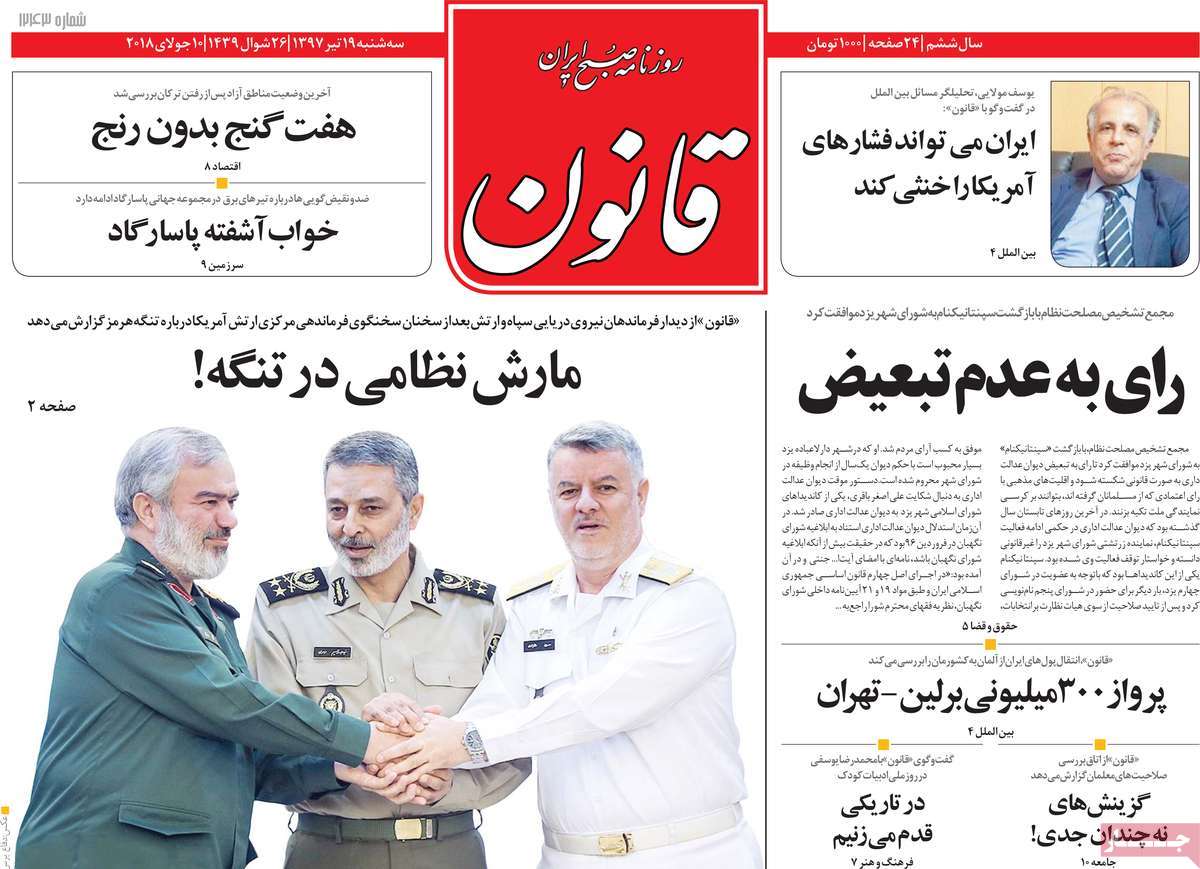 ---
Hemayat:
1- US' Empty Hand in Oil War: Experts Believe It's Impossible to Fully Compensate for Iran's Oil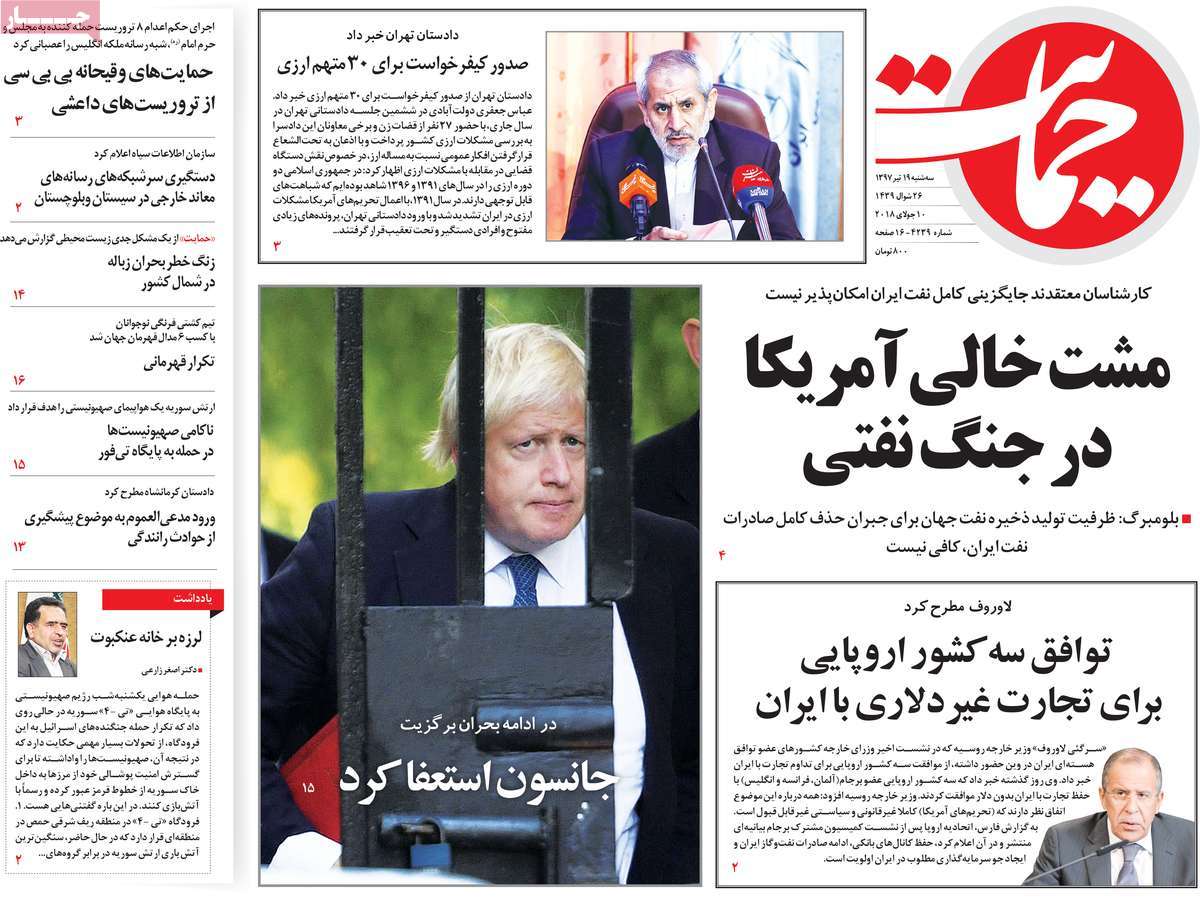 ---
Javan:
1- Symbolic War between Euro, Dollar to Save JCPOA
---
Jomhouri Eslami:
1- Indian Oil Minister's Response to US' Call for Boycotting Iran's Oil
We Make Decision on Iran's Oil Based on Our Own National Interests
2- Yemenis Roar against Saudi-Emirati Military Invasion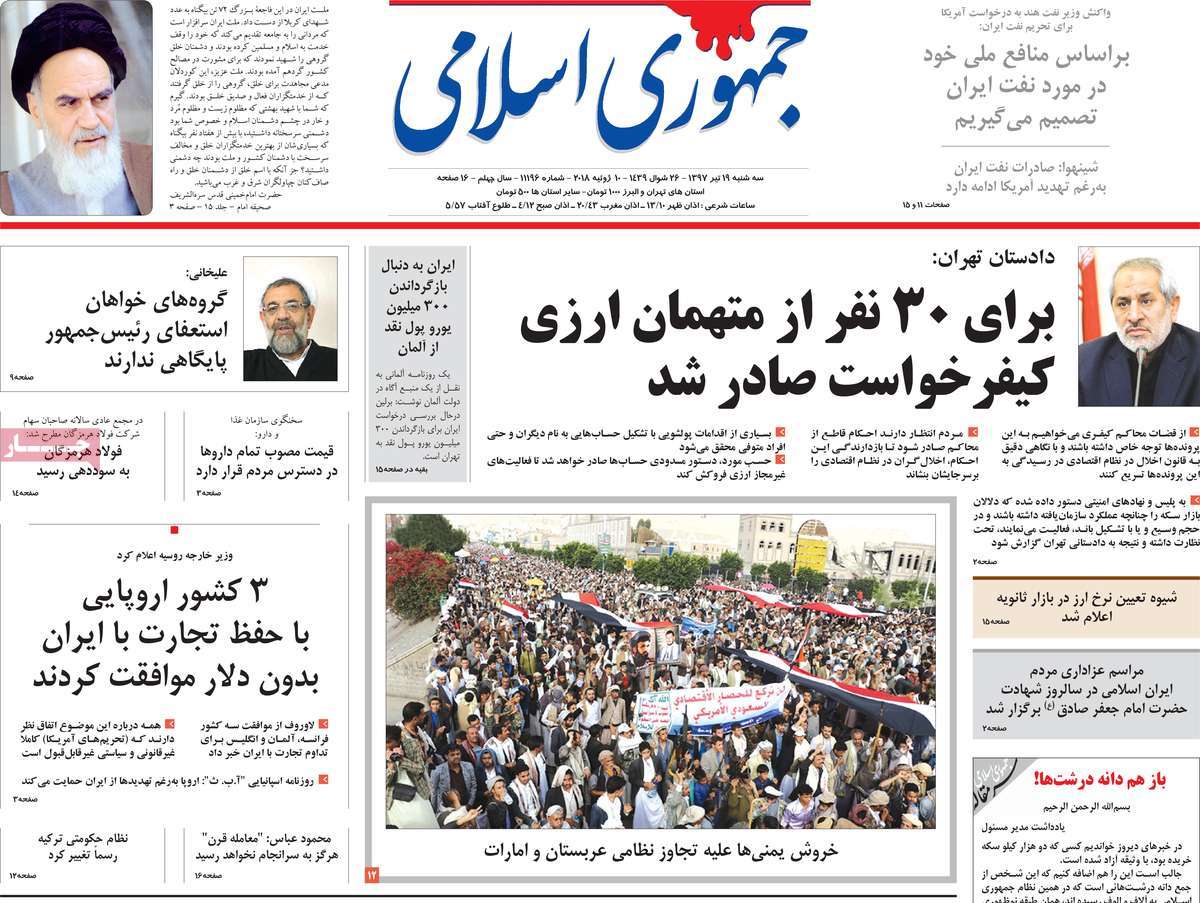 ---
Kayhan:
1- Regrettable Secrets behind Expulsion of Iranian Diplomats from Netherlands
2- Former Israeli National Security Official: I Had Insomnia for a Long Time for Fear of War with Iran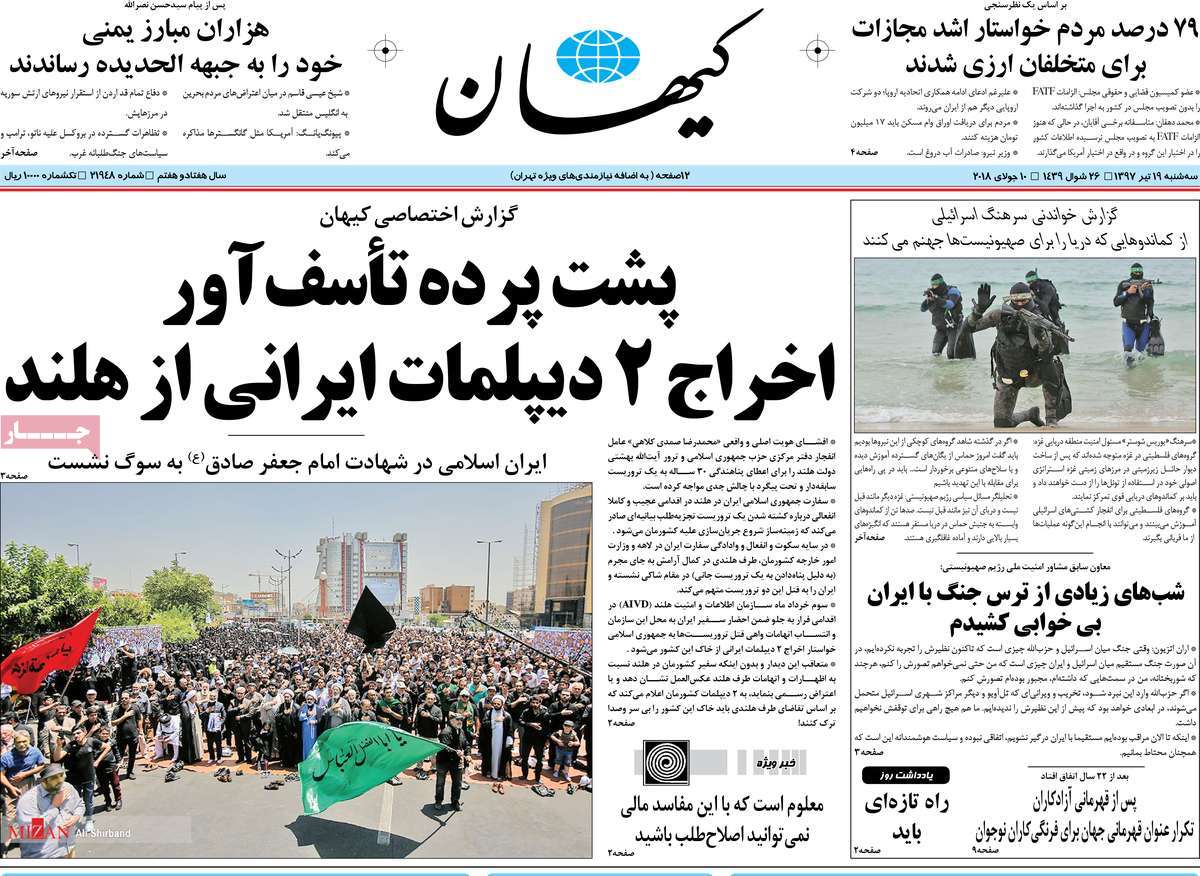 ---
Khorasan:
1- Talking Like a Gangster
US' Excessive Demands in Bilateral Talks with Pyongyang Lead to Rhetorical War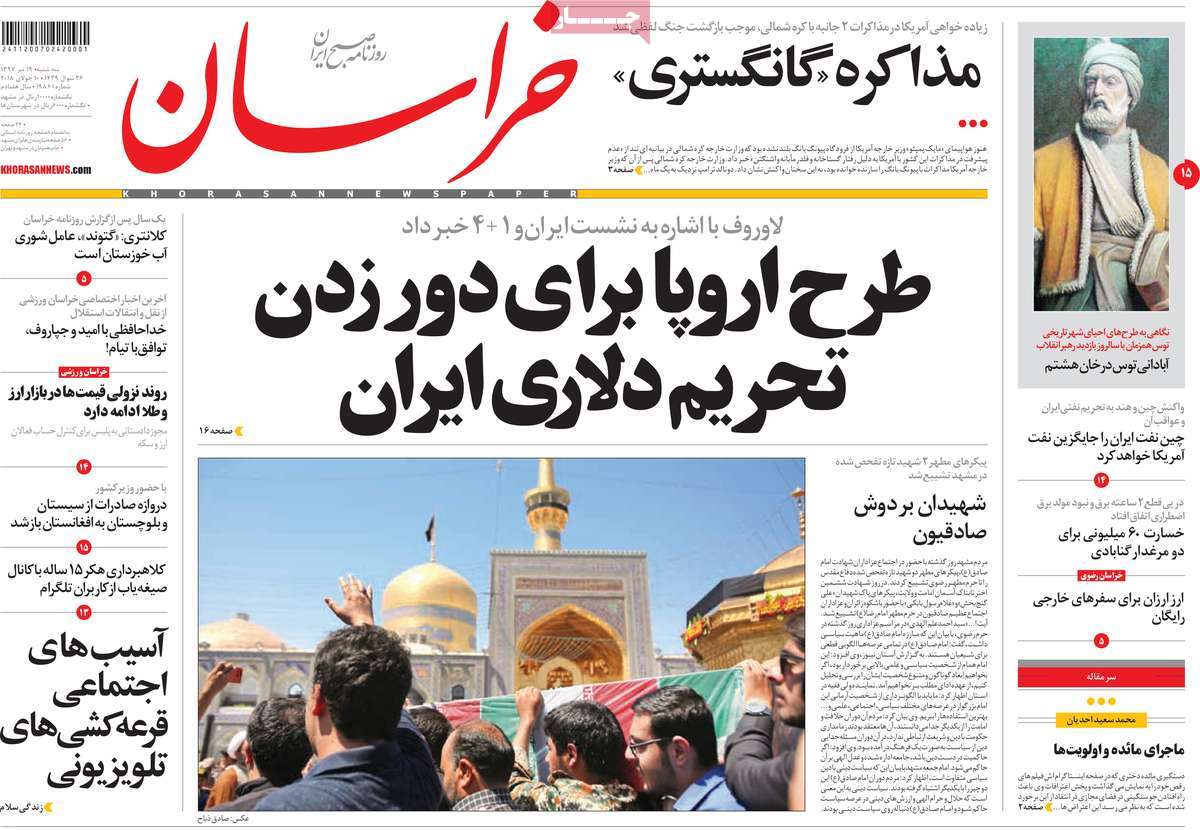 ---
Resalat:
1- Iran's Greco-Roman Wrestling Team Claims World Cadet Title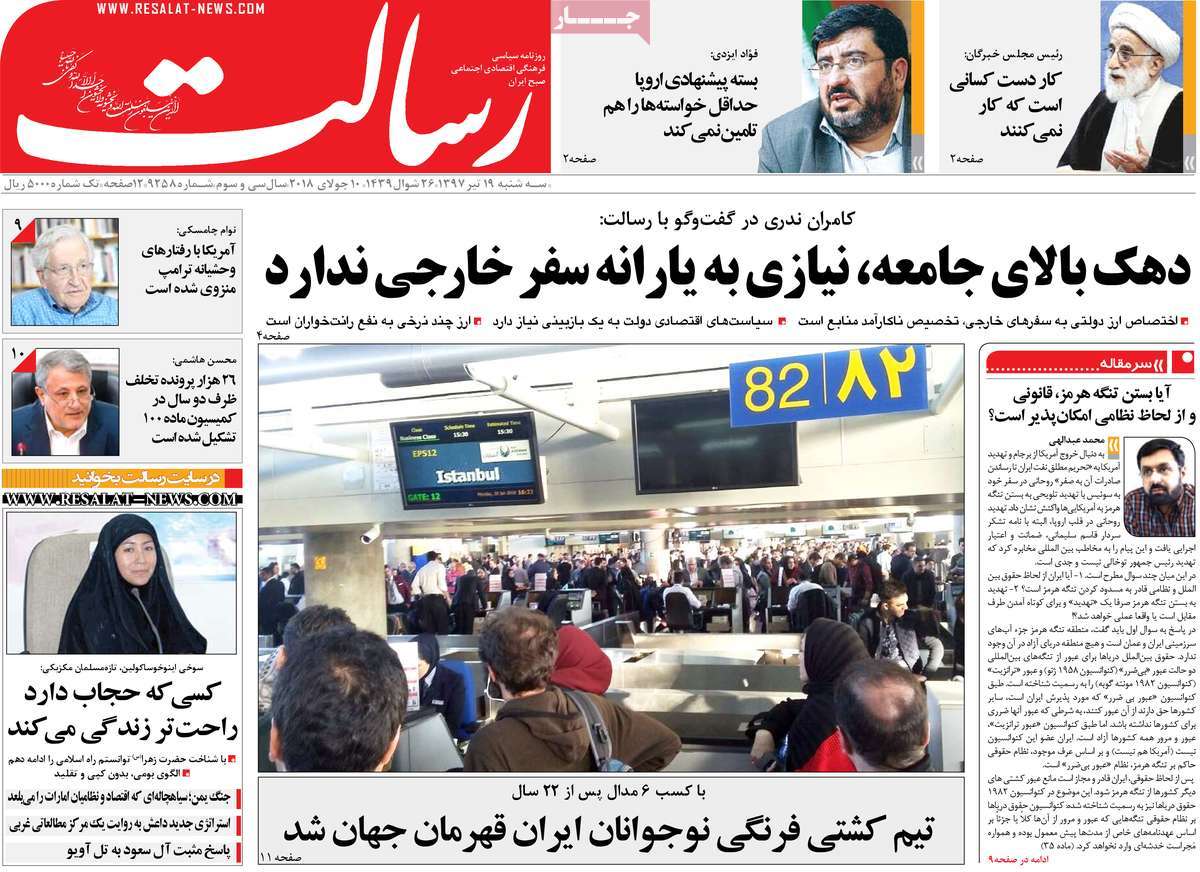 ---
Sazandegi:
1- Economy Minister: Financial Institutes Main Cause of Economic Crisis in Iran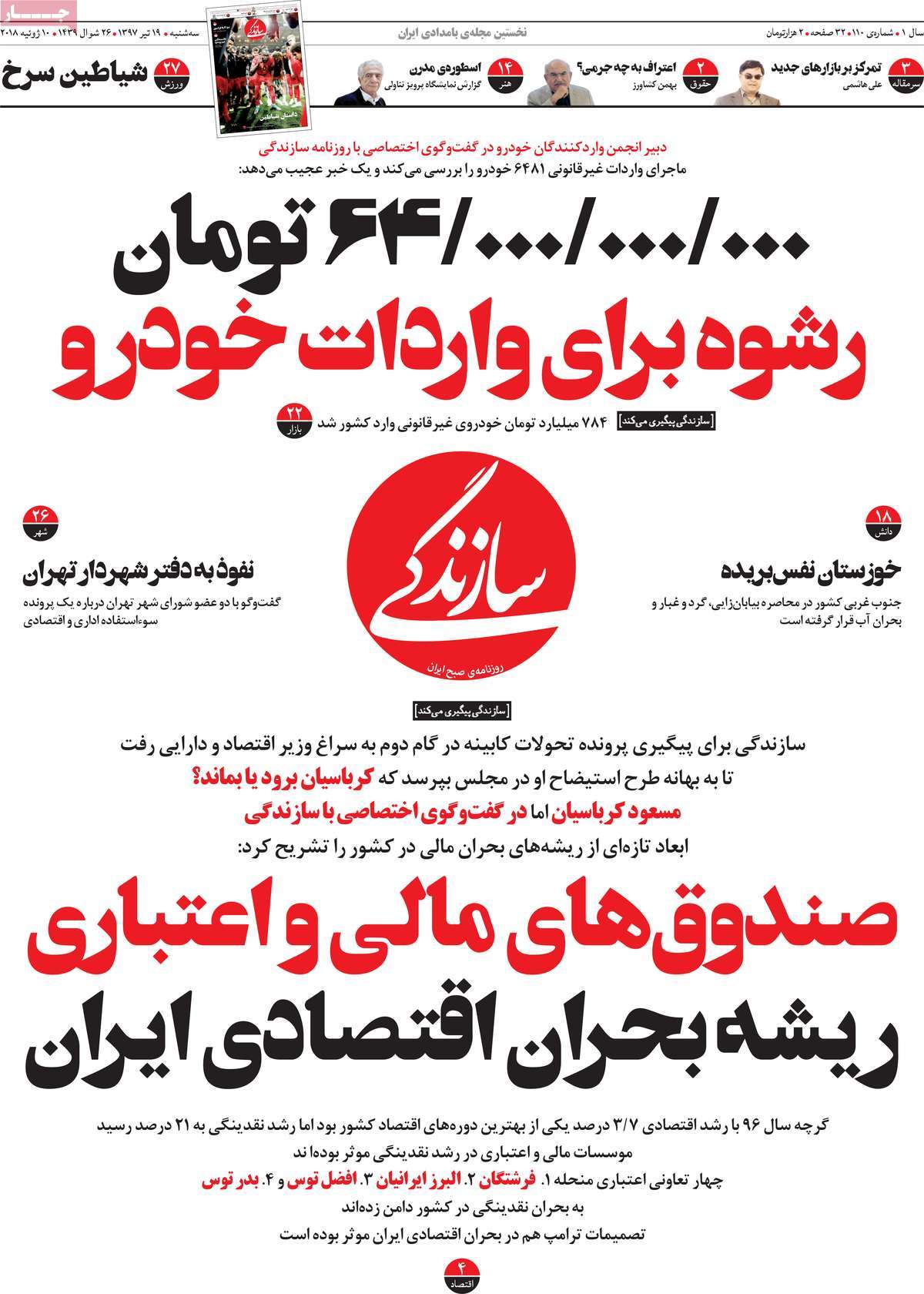 ---
Shargh:
1- Cleric Supports Proposal to Allow Foreign Tourists to Avoid Wearing Hijab in Iran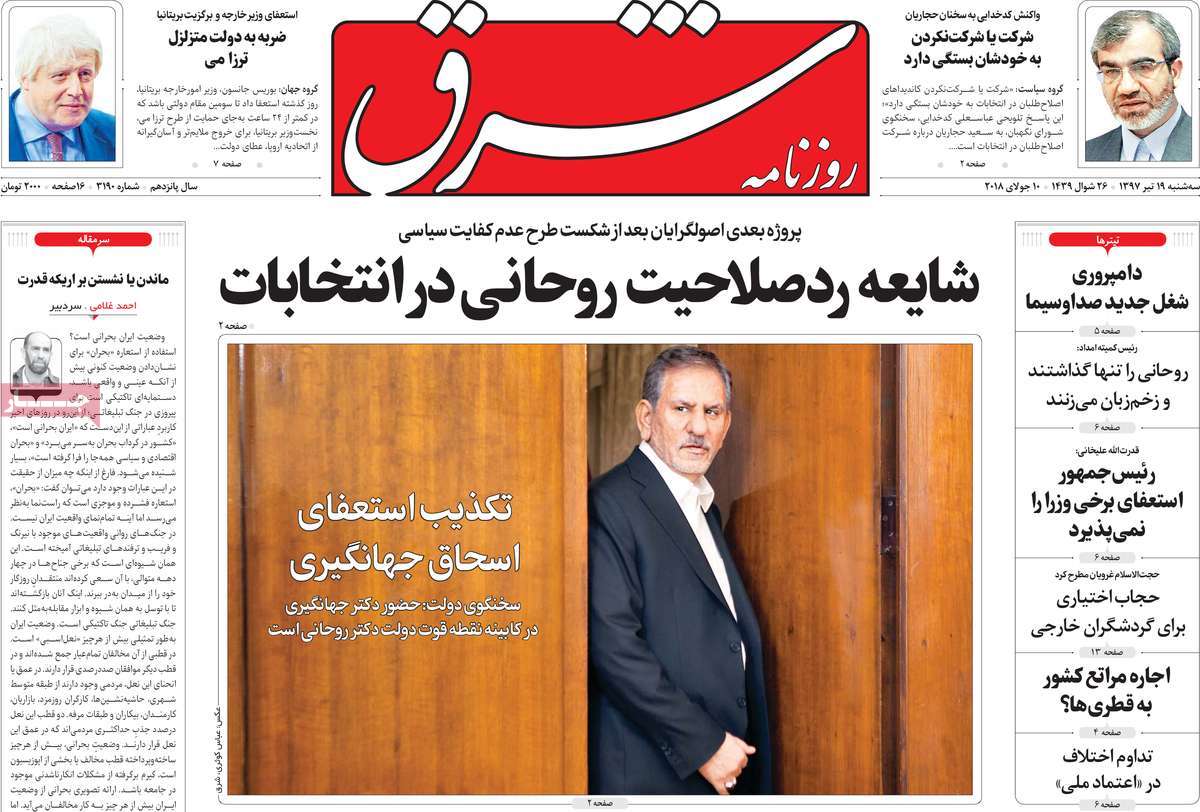 ---
Ta'adol:
1- Beginning of New Political Era in Turkey