IFP has taken a look at the front pages of Iranian newspapers on Sunday and picked headlines from 23 them. IFP has simply translated the headlines and does not vouch for their accuracy.
Newspapers today covered the government's reaction, particularly those of Central Bank and Intelligence Ministry, to the Judiciary Chief's comments about the case of Babak Zanjani, the imprisoned billionaire who has failed to reimburse his debts to Oil Ministry.
A decision by Iranian Parliament to ban doctors working for the government from working in private sector also received great coverage.
The US-Russia conflict also continued to be covered by Iranian media, with several papers focusing on Washington's claims that Russian President has ordered the hacking of US elections.
The above issues, as well as many more, are highlighted in the following headlines:
19 Dey:
1- Babak Zanjani Had Links with Previous Governments
---
Abrar:
1- Central Bank Denies Babak Zanjani's Claims
2- MP: People with Dual Nationality Not Allowed to Possess Immovable Properties
3- Iranian Envoy to Australia Declares Agreement to Establish Flight between Tehran and Canberra
4- Trump Dismisses All US Ambassadors
---
Afarinesh:
1- First VP: Iran's Foreign Exchange Conditions Are Very Good
2- Nothing Found on Babak Zanjani's Links with Government: MP
3- Iran Sells over 13 Million Barrels of Reserved Oil
---
Aftab-e Yazd:
1- Secrets behind Deputy FM Abbas Araqchi's Long Absence in Media: Speculations Say He Has Conflict on Opinion with Zarif and His Absence Has Nothing to Do with ISA Extension
2- Health Minister: We Haven't Had Good Performance in Social Welfare; Sleeping inside Graves Means Iranian Society Has Pains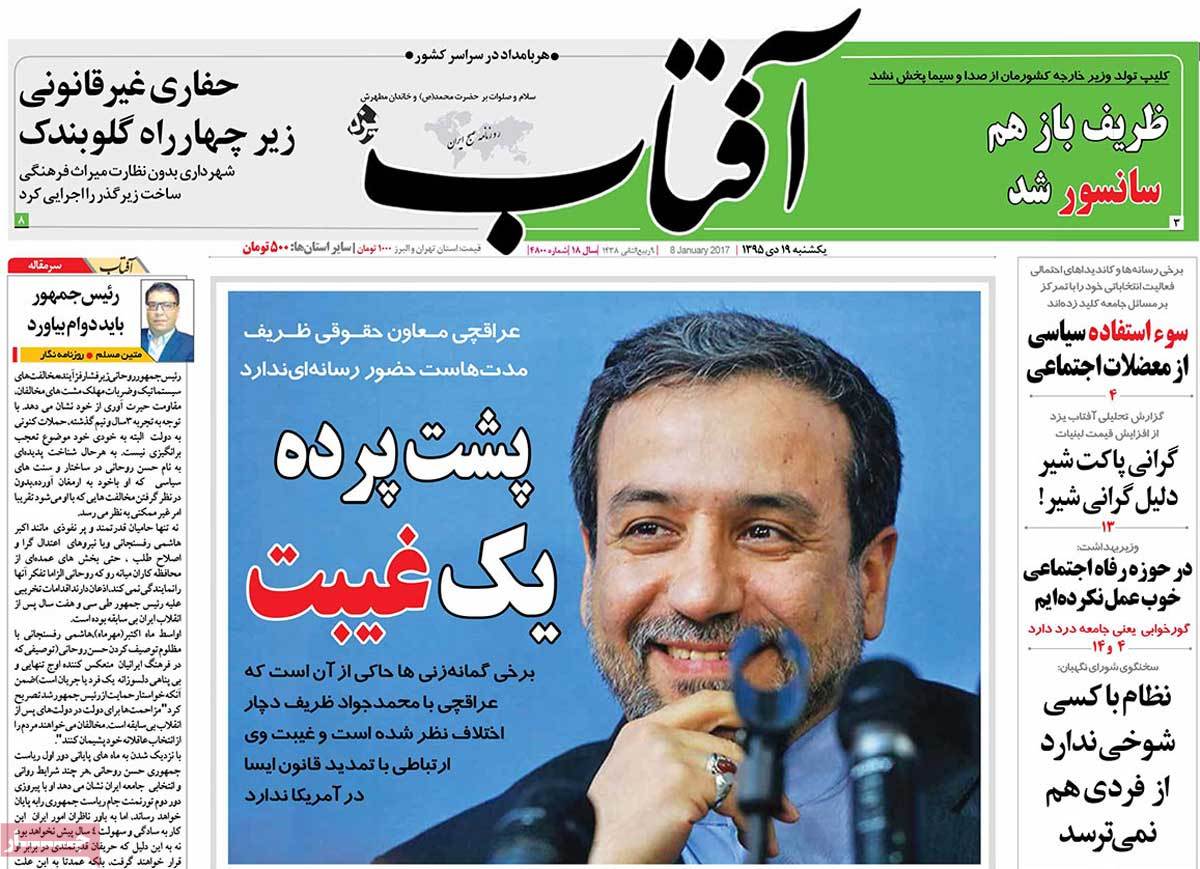 ---
Amin:
1- Tehran-Washington Ties May Change in 2017: Western Media
2- Saudi Arabia's Dream of Becoming Dominant Arab Power Has Gone Down in Flames: Independent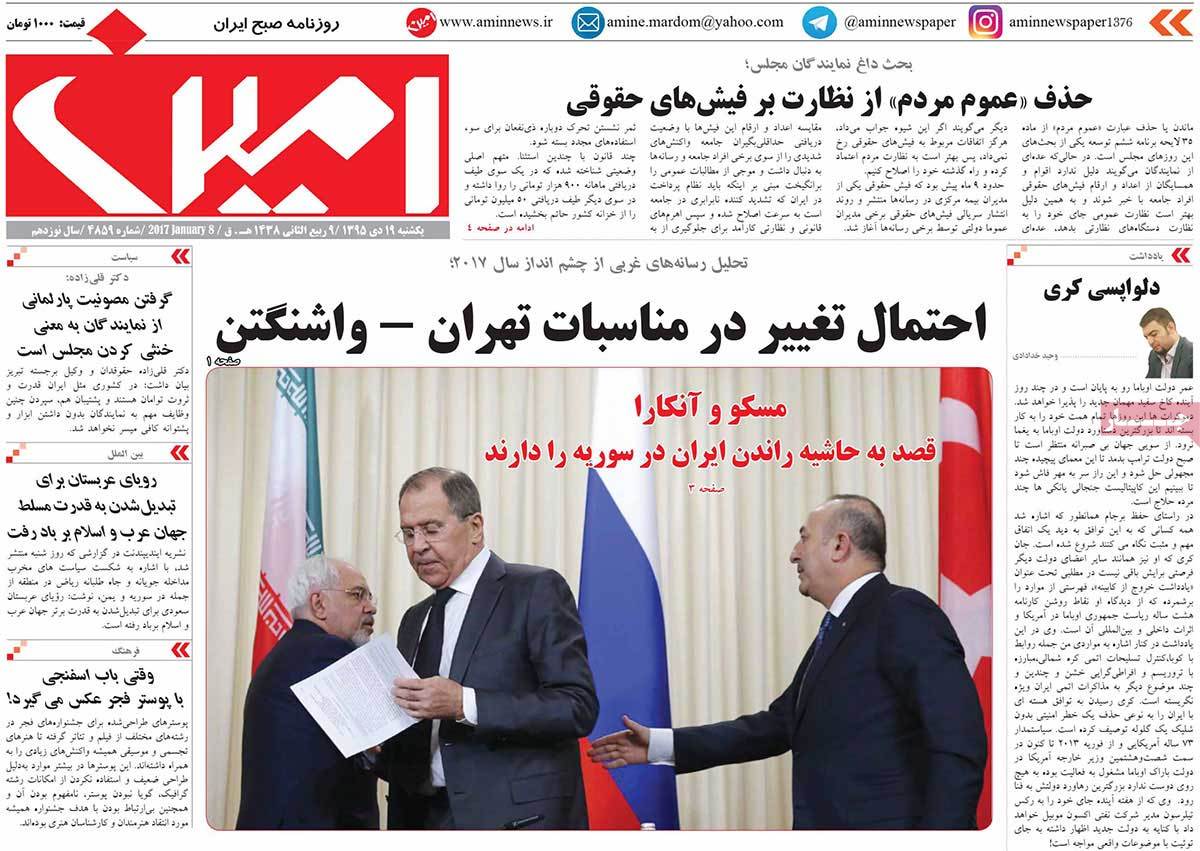 ---
Arman-e Emrooz:
1- Reformist MP Sadeqi: Ahmadinejad's Government Found Guilty in 1,050 Cases
2- 20 Couples Get Divorce Every Hour: Separation before First Wedding Anniversary
3- We Should Beware of Escape of Our Assets to Saudi Arabia: Analyst
---
Asrar:
1- Advisor to Iran's Leader: We Welcome Ease of Tensions with Neighbours
2- Iranian Spokesman: It Is Necessary for World Peace and Security that Saudi Arabia Changes Its Behaviour
3- Bob Corker: Trump Won't Scrap Nuclear Deal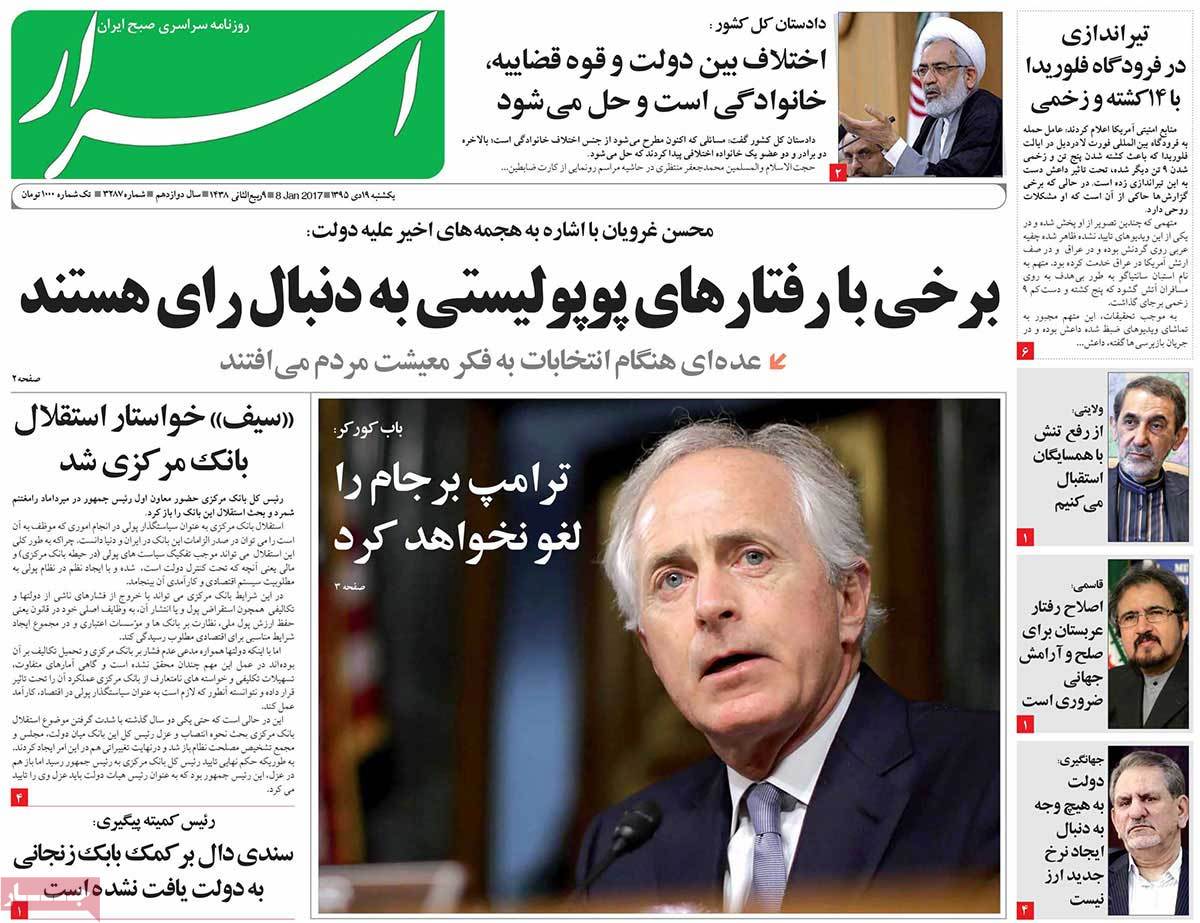 ---
Ebtekar:
1- Masculine Economy Main Barrier to Women's Presence in Job Market
2- Baghdad and Ankara Reach an Agreement: Turks to Withdraw from Iraq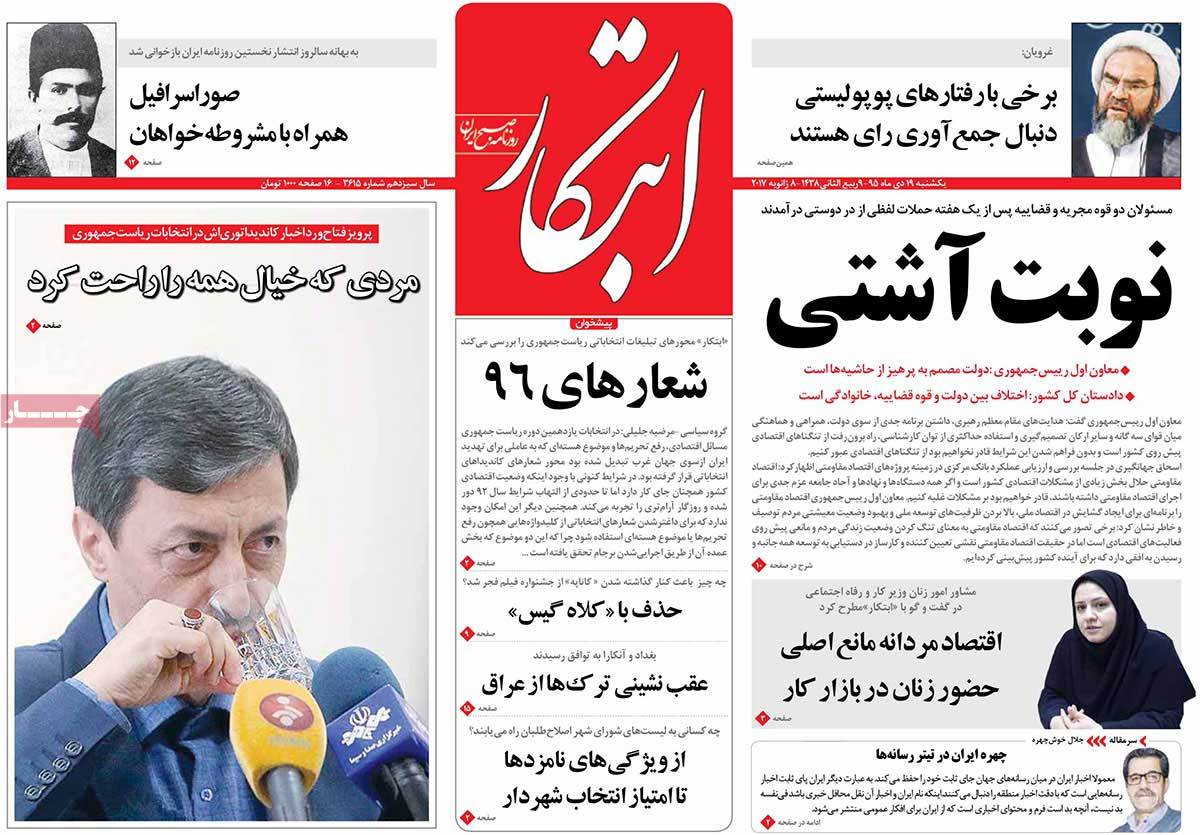 ---
Emtiaz:
1- Environment Dept. Chief: Iran's Nature in a Fragile Point
2- Beginning of Iran's Talks with Argentinian Gas Giant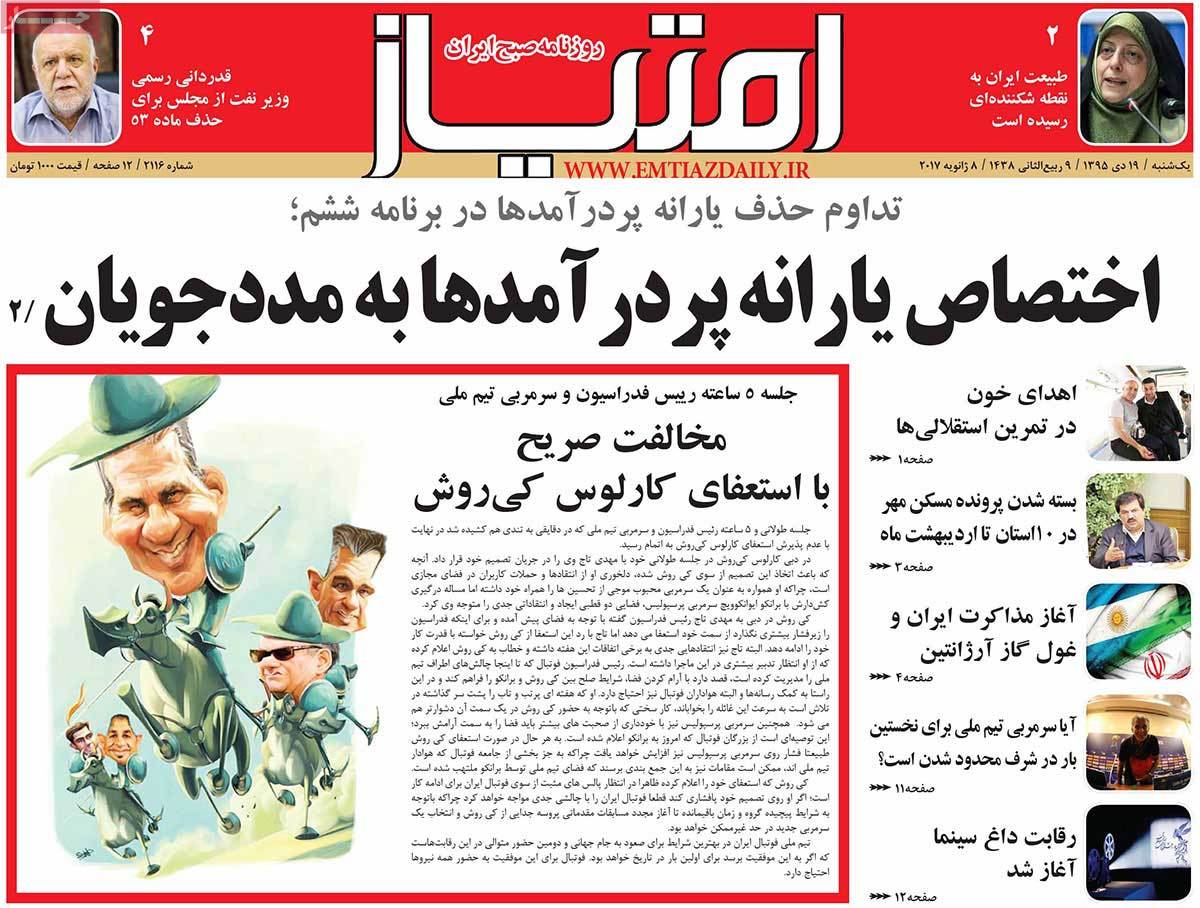 ---
Etemad:
1- Filmmaker's Use of Wig for Actresses Leads to Removal of His Film from Iran's Fajr Film Festival
2- Ahmadinejad's Oil Minister: JCPOA Has Influenced Iran's Oil Sale
3- Analyst: Trump's Policy Should Be Appreciated by Saudi Arabia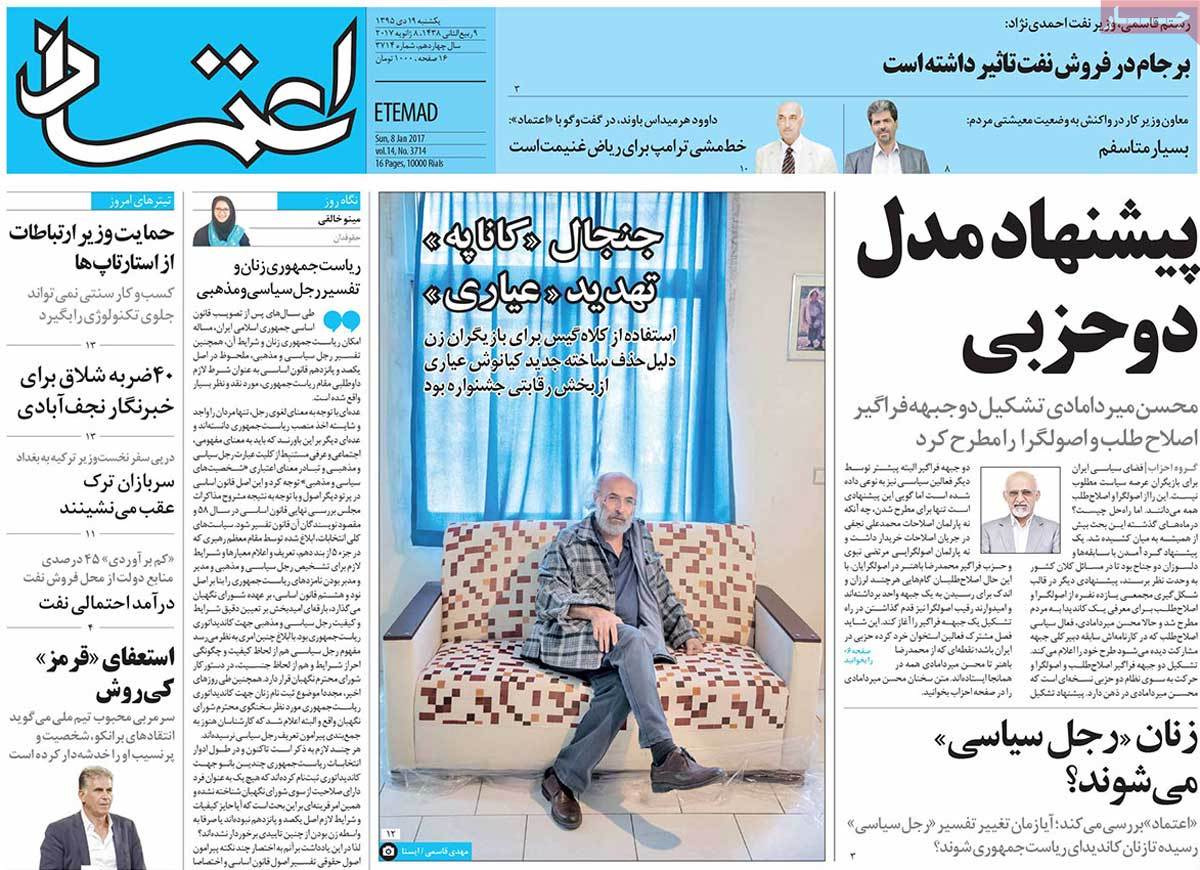 ---
Ettela'at:
1- Golden Window Opened to Iran: Iran's Population Is Like that of East Asia in 1960s to 1990s; That Helps 7-Fold Increase in GDP: UN Representative
2- Biggest US Armored Brigade since USSR Dissolution Deployed near Russian Borders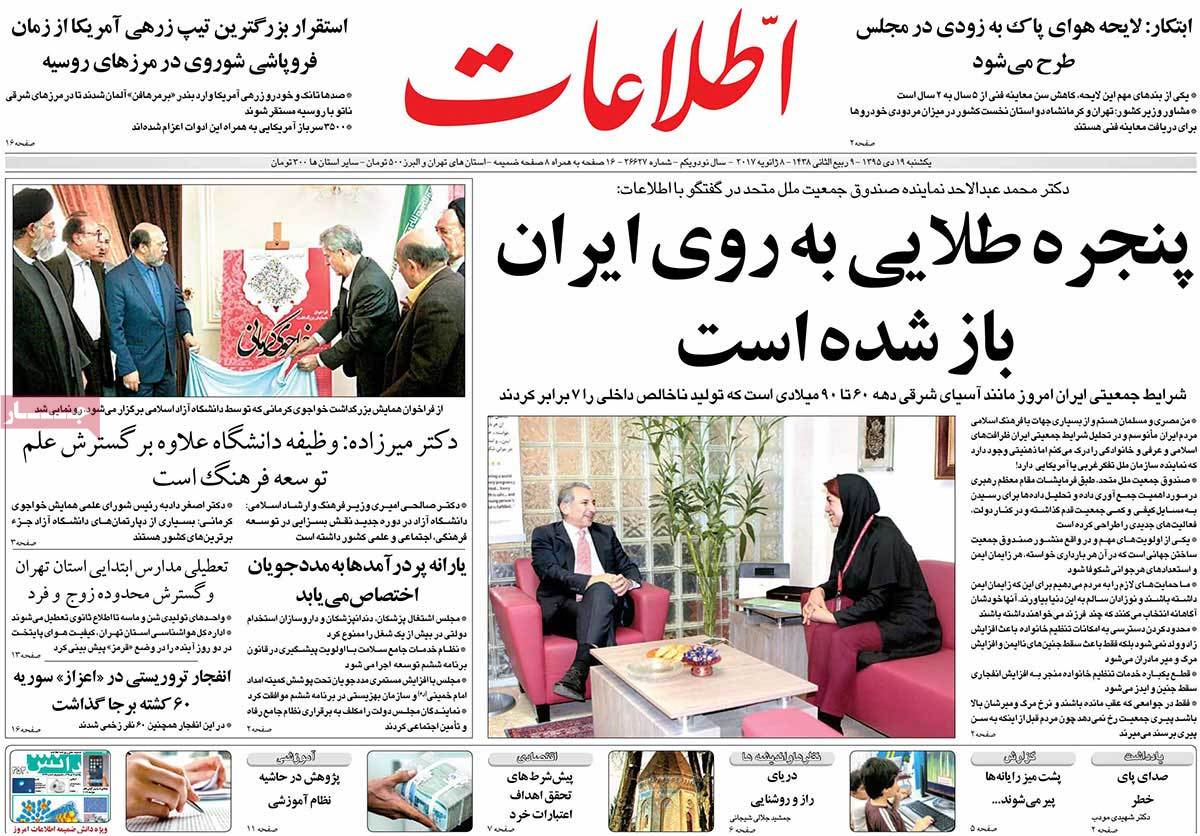 ---
Haft-e Sobh:
1- Parliament's Shock to Doctors: Based on Bill Ratified by Parliament, Doctors Working in Hospitals and Public Clinics Won't Be Allowed to Work in Private Clinics and Offices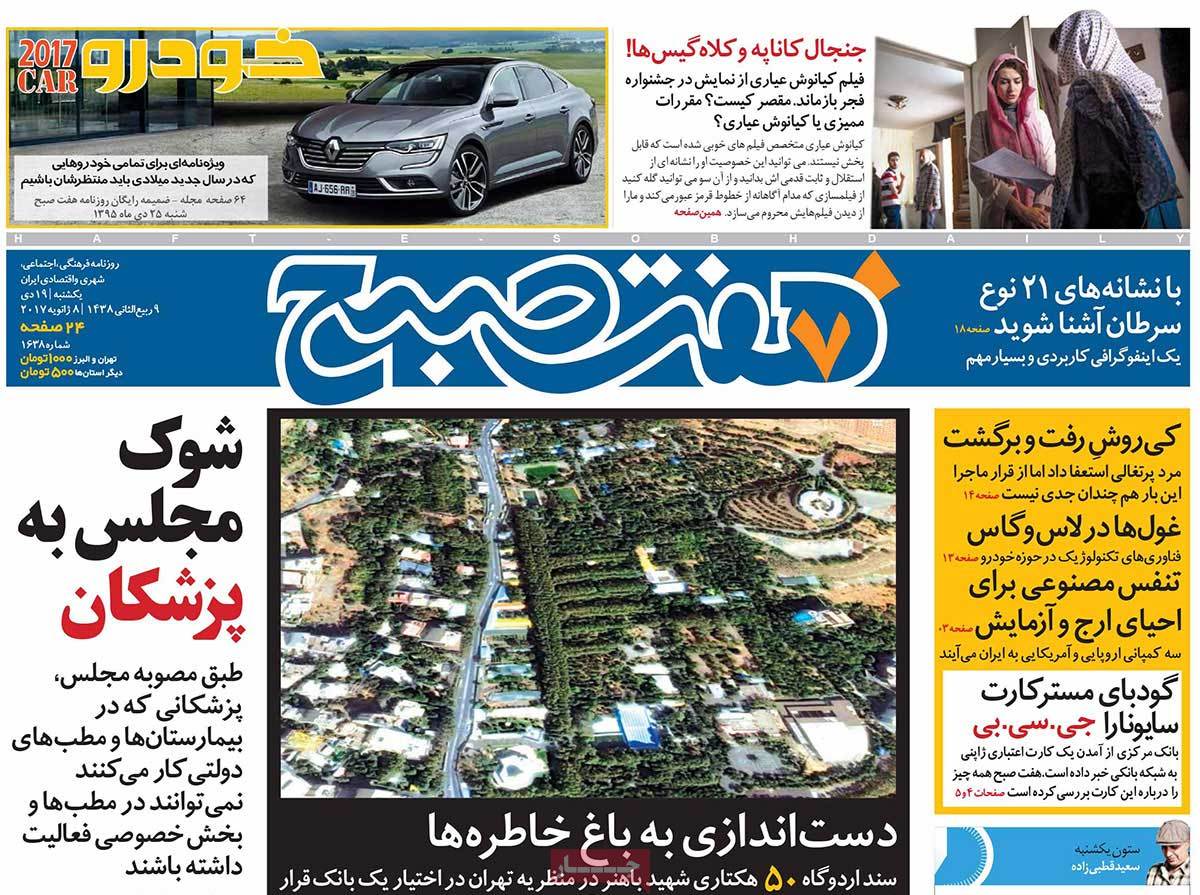 ---
Hemayat:
1- Chief of Iranian Judiciary's Human Rights Office: US Violation of Its JCPOA Commitments Should Be Pursued without Any Tolerance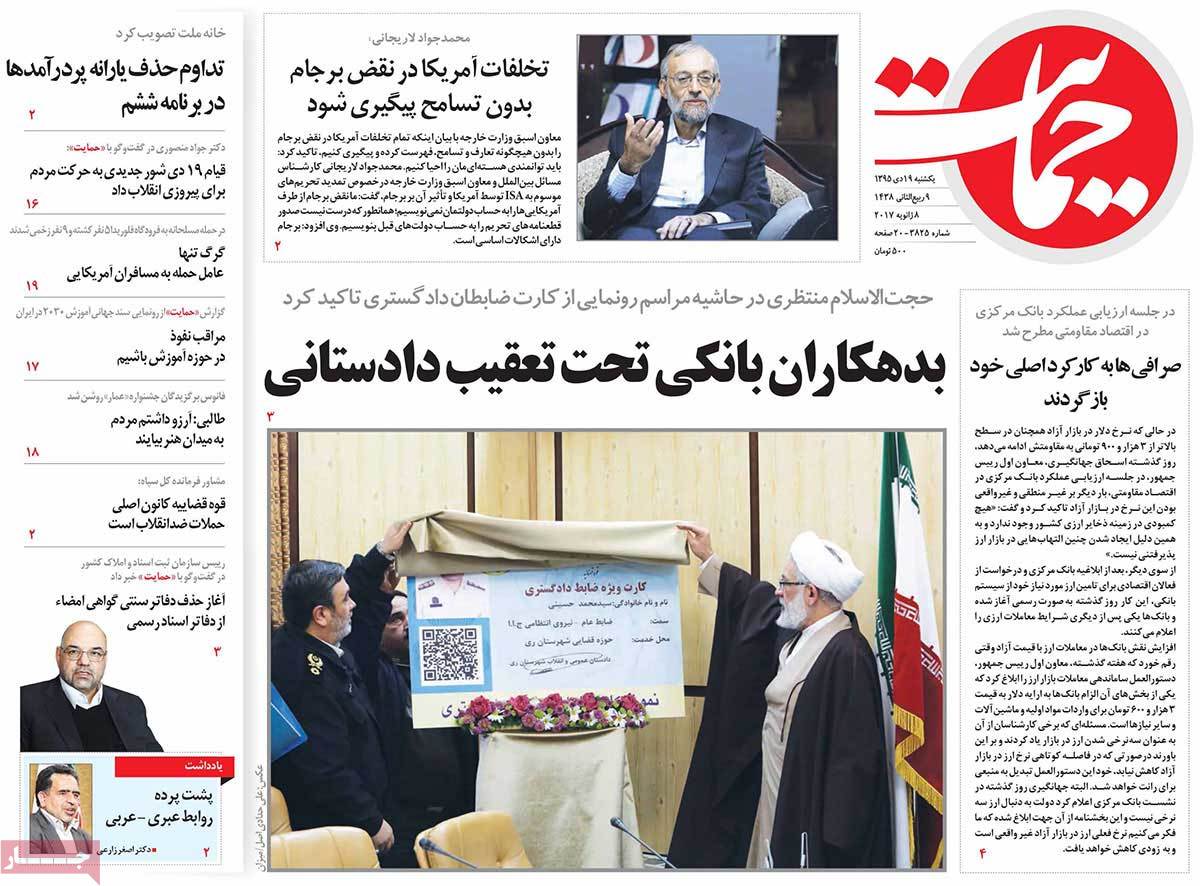 ---
Iran:
1- Female Spectators Can Have Active Presence in Iranian Stadiums: AFC's Best Futsal Player in Western Asia
2- American and Italian Customers of Iranian Brands Arj and Azmayesh; Industry Minister Says General Electric and Whirlpool from the US and Ariston from Italy Want to Make Investment in These Two Iranian Home Appliances Factories
---
Javan:
1- Delegitimizing Trump in Front of White House: US Intelligence Says Putin Had Ordered Support for Trump in US Election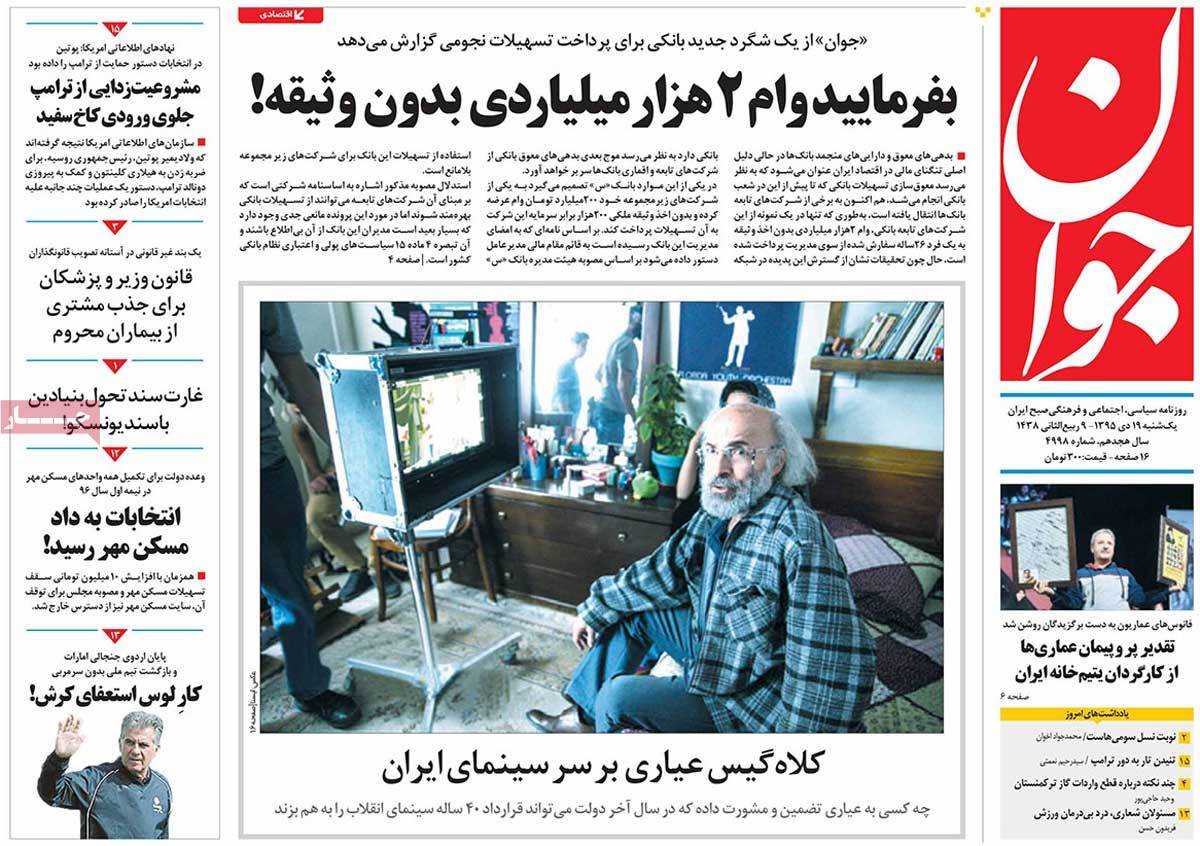 ---
Jomhouri Eslami:
1- First VP: Reforming Iran's Banking System Is the Priority of the Country's Economy
2- Obama Warns against Unprecedented Division in US
3- Saudi Officer Resigns from Army Because of Saudis' Crimes in Yemen
---
Kayhan:
1- Agriculture Ministry: 2 Million Tons of Wheat to Be Exported in 3 Months
2- $2.4 Billion Ship Deal with Foreign Companies to Weaken Iran's Domestic Industry
---
Payam-e Zaman:
1- Advisor to Iran's Leader Announced Final Decision to Build Nuclear Propulsion and Supply of Its Fuel
2- Fresh Wave of Purge: Over 60,000 Arrested in Turkey
---
Resalat:
1- Former Oil Minister: US Violation of Its Commitments Doesn't Let JCPOA Bear Fruit
2- Mayor of Tehran: Pollution of Air, Water and Soil Is Tehran's Challenge
3- FM Zarif Should Publish His Letter of Complaint to EU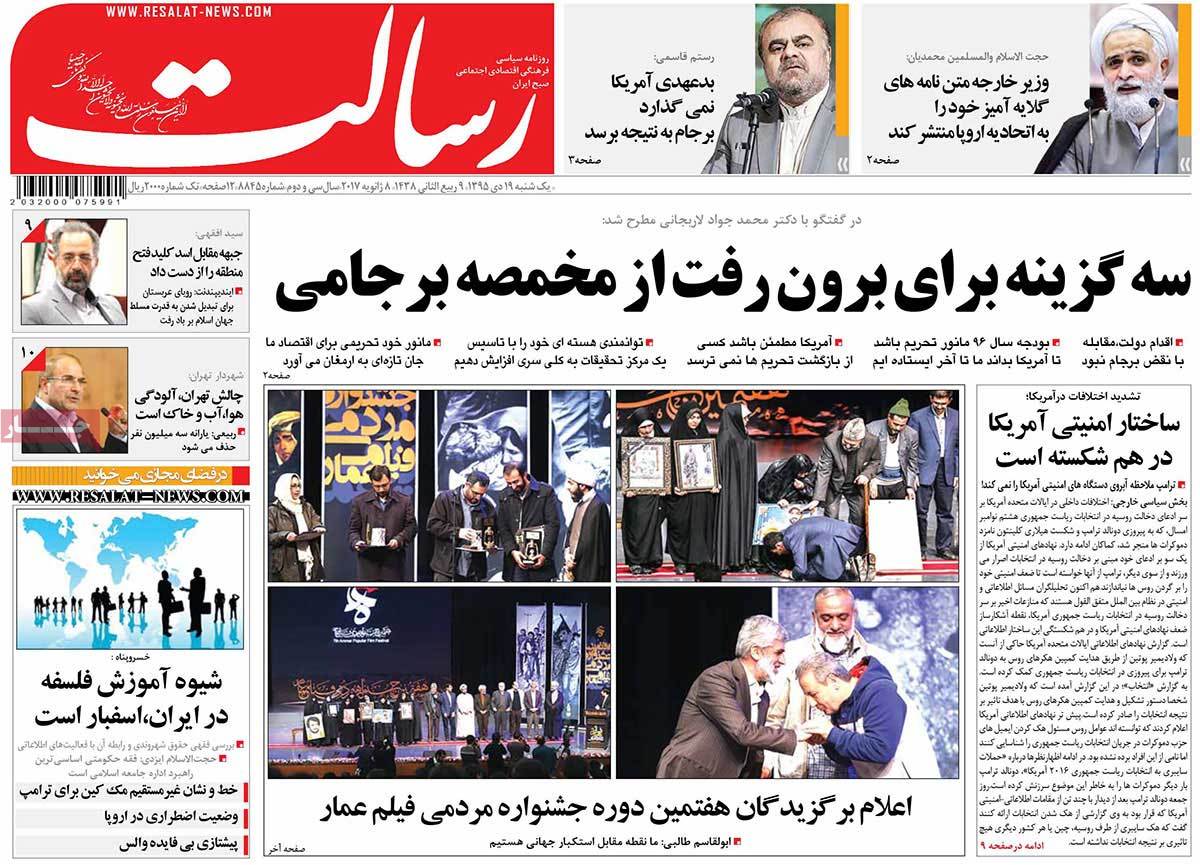 ---
Saheb Qalam:
1- US Intelligence Agencies Accuse Putin of Giving Order for Hacking US Election
2- Health Minister: People Will Suffer If Doctors Are Forced to Work Either in Public or Private Sector
Setareh Sobh:
1- Iran's Oil Price Rises to $53
2- Saudi Arabia and Israel's Anger Shows Success of JCPOA: Analyst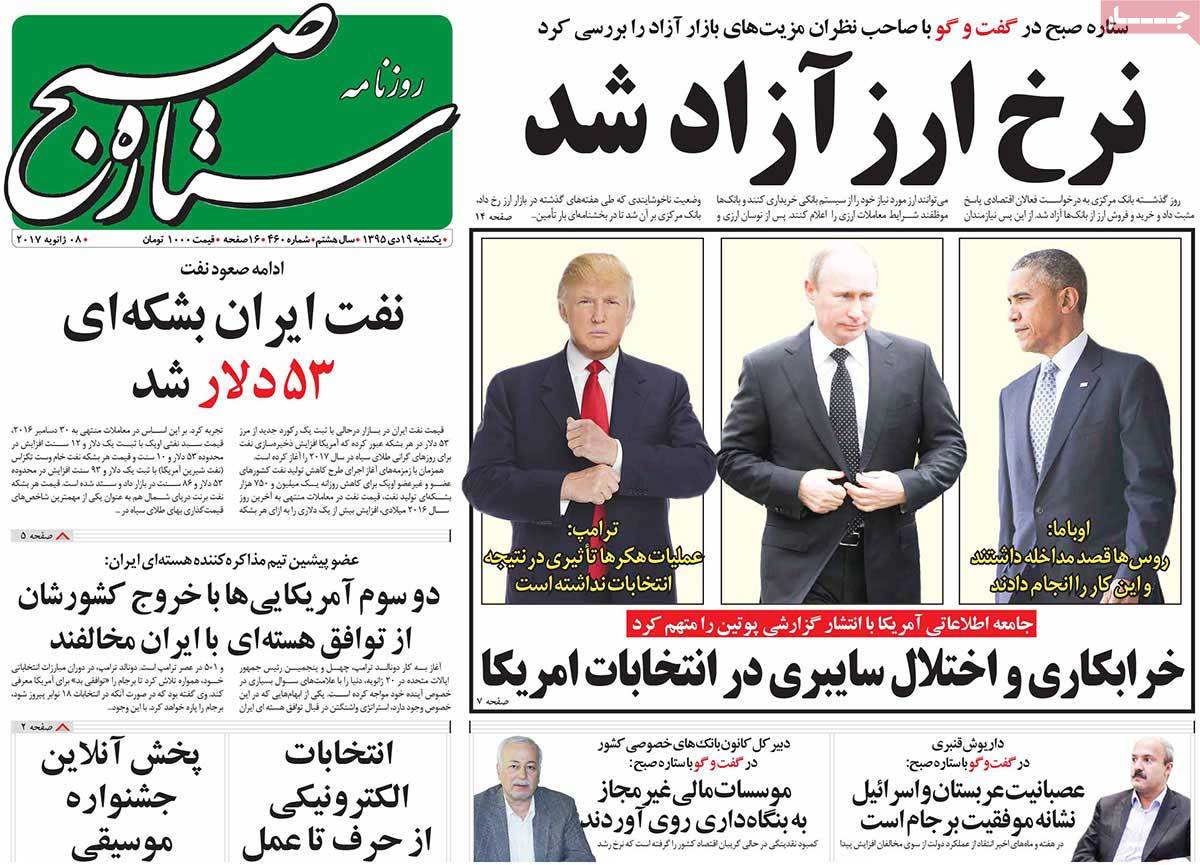 ---
Shargh:
1- This Angry Group: How Trump's Cabinet Think about Iran and JCPOA? Proposed Cabinet Consists of Men and Women Who Are All against Iran
---
Vaghaye Ettefaghieh:
1- Maedeh Borhani Joins Bulgarian Team: Iran's First Female Volleyball Player Playing for a Foreign Team
2- Ayatollah Mousavi Tabrizi: Government Should Avoid Responding to Lies
3- A Number of Iranian People Residing in US in a New Letter to Trump Urge Him Not to Scrap Nuclear Deal