The remarks made by Ayatollah Seyyed Ali Khamenei, the Leader of Iran's Islamic Revolution, in a meeting with a number of poets were widely covered by Iranian newspapers. Ayatollah Khamenei's comments about the West's effort to change the lifestyle of non-Western countries were the top story in many front pages today.
Another top story was President Hassan Rouhani's visit to Iran's southwestern province Khuzestan and his promise to resolve the crisis-hit province's problems.
Newspaper also covered the ongoing Environment Exhibition in Tehran and the remarks made by Iranian Foreign Minister Mohammad Javad Zarif at its opening ceremony about the incorrect policies of Middle Eastern countries that have led to current pollution crisis and water shortage.
The above issues, as well as many more, are highlighted in the following headlines and top stories:
19 Dey:
1- President Rouhani Underlines National Resolve to Settle Dust Pollution Issue
2- Zarif: Environment Is National and Regional Security Issue
3- Iran's Nuclear Chief Warns against Penetration of Trumpism into Iran's Domestic Politics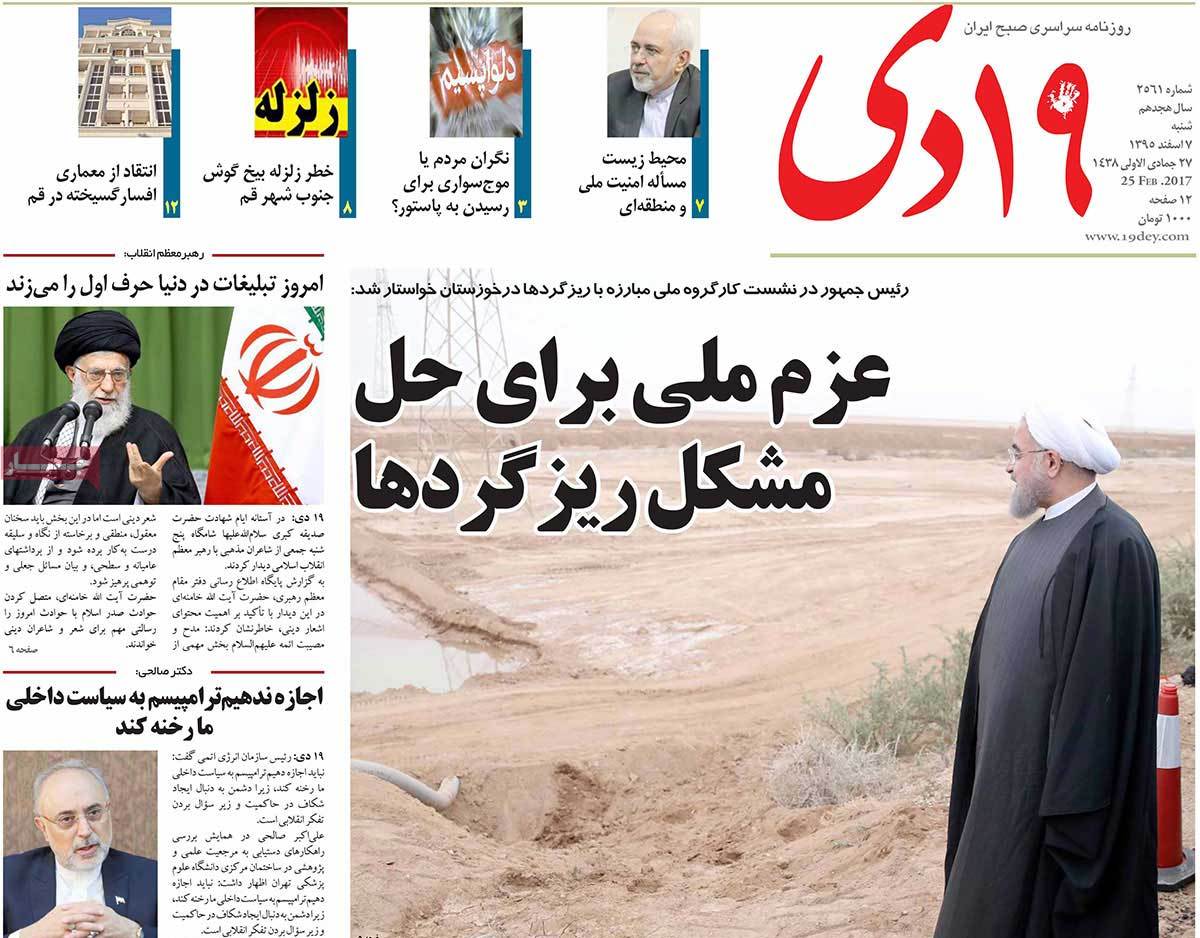 ---
Abrar:
1- Ayatollah Khamenei: There Are Centres in West to Change Lifestyle in Iran
2- Mosul Airport Liberated: Iraqi Forces Enter First District in Western Mosul
3- Deputy FM: JCPOA Legitimised Iran's Nuclear Energy Program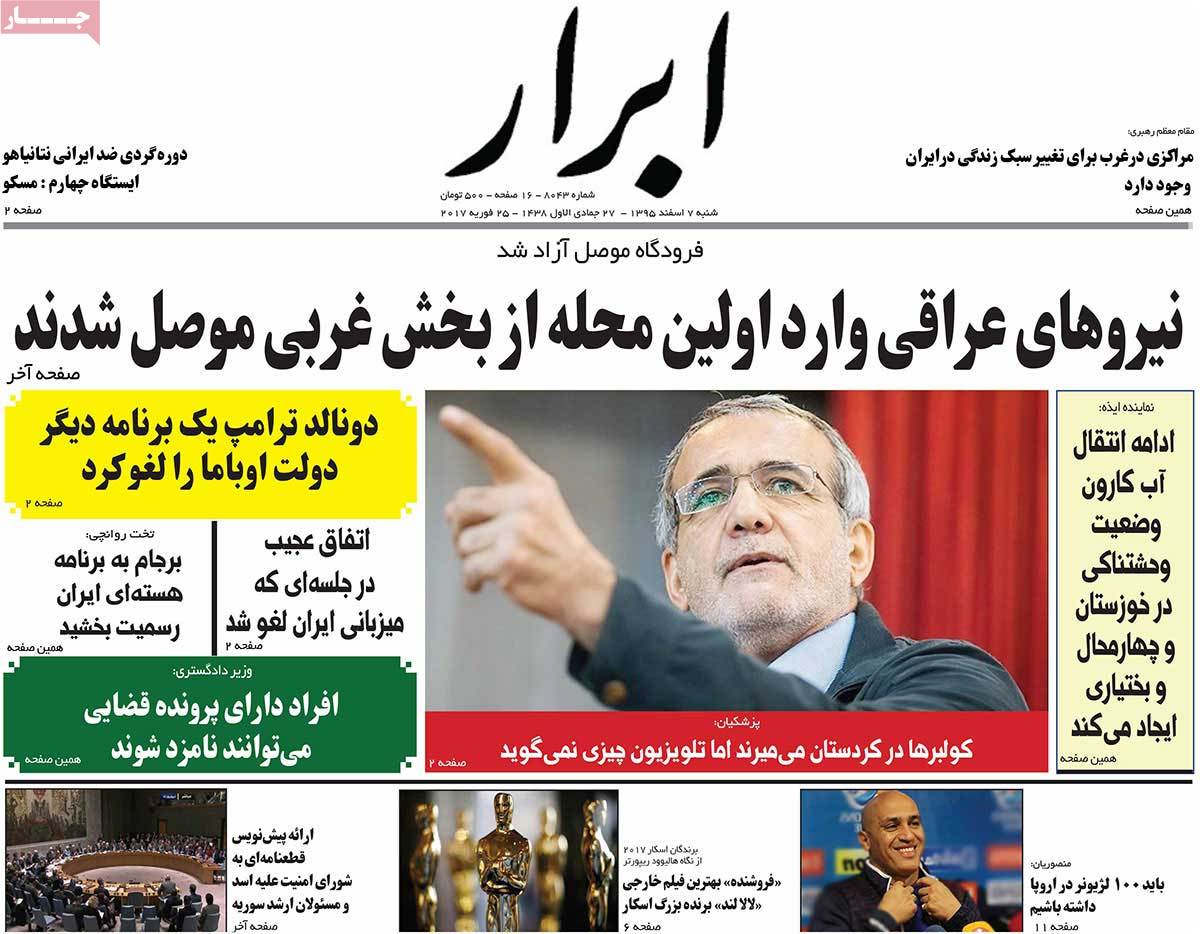 ---
Abrar-e Eqtesadi:
1- Expansion of Iran-Malaysia Trade Ties Using Local Currencies
2- Goodbye to Oil-for-Goods Deals: No More Use of Barter System in Iran's Oil Sale
3- Russia Offers to Manufacture Plane in Iran
---
Aftab-e Yazd:
1- Hopes Returns to Khuzestan: Iranian president and cabinet members visited southwestern crisis-hit province
2- Saudi Minister: Iranian Pilgrims to Attend Upcoming Hajj Pilgrimage
---
Arman-e Emrooz:
1- Sword Not Only Weapon Used in Struggles: Iran's Leader highlights role of propaganda in today's world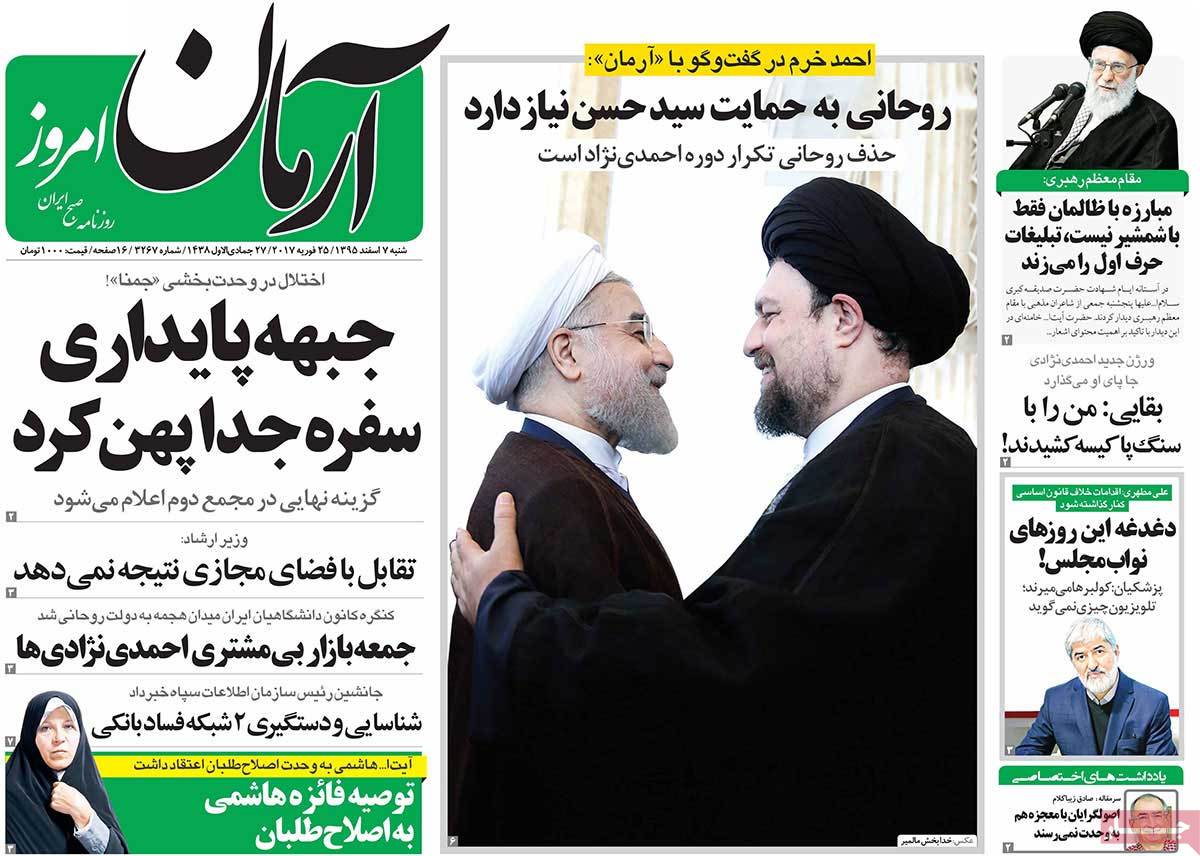 ---
Ebtekar:
1- $324m Injected to Ahvaz's Air: How Much Can AMAK Plan Help Khuzestan?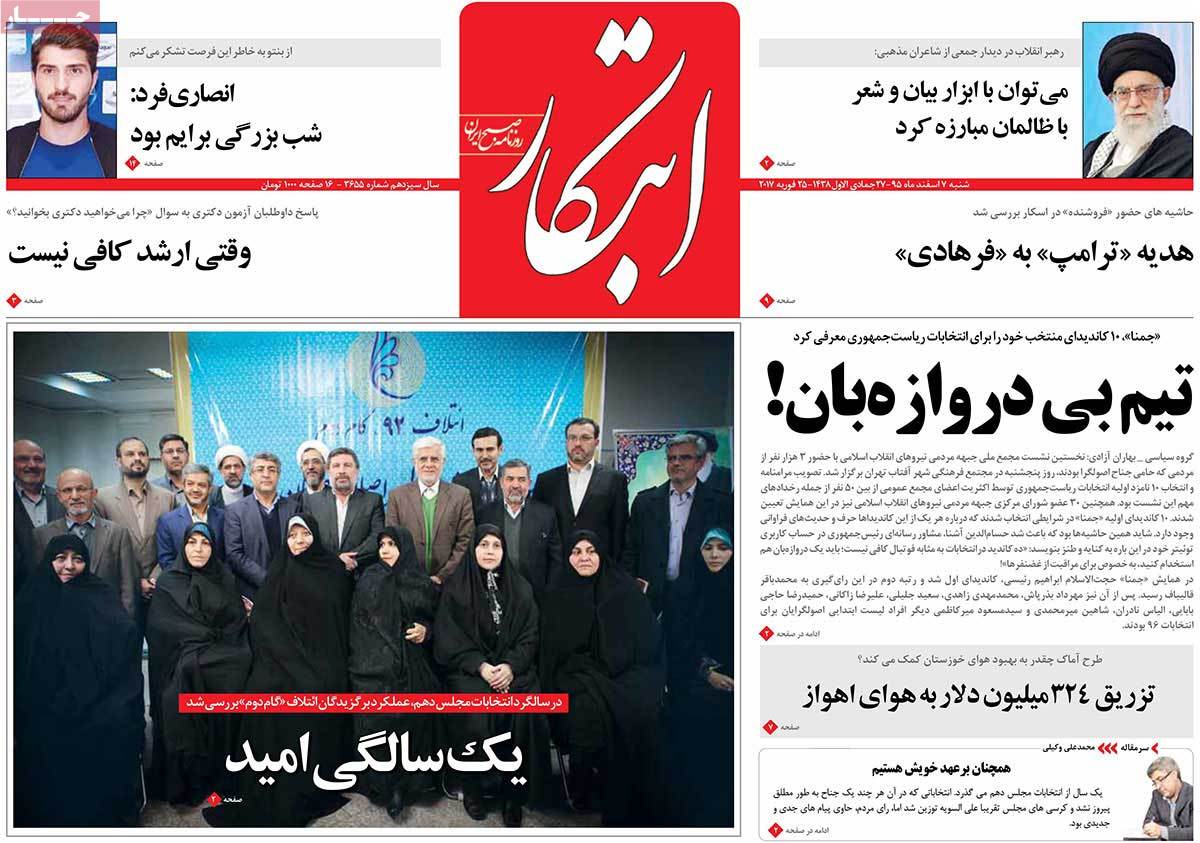 ---
Etemad:
1- Living Where Oil Is Smelled: President vows to counter environmental problems in Khuzestan
2- Iran's Ambassador to Kuwait: Formation of Regional Coalition against Iran Unlikely
---
Ettela'at:
1- Iran's Leader: Europe, US Trying to Change Non-Western Countries' Lifestyles
2- Islamic Jihad Appreciates Iran's Leader for Supporting Resistance Cause
---
Haft-e Sobh:
1- Hollywood-Style Robbery in Tehran: Armoured cash transport car carrying over $250,000 in cash was stolen in daylight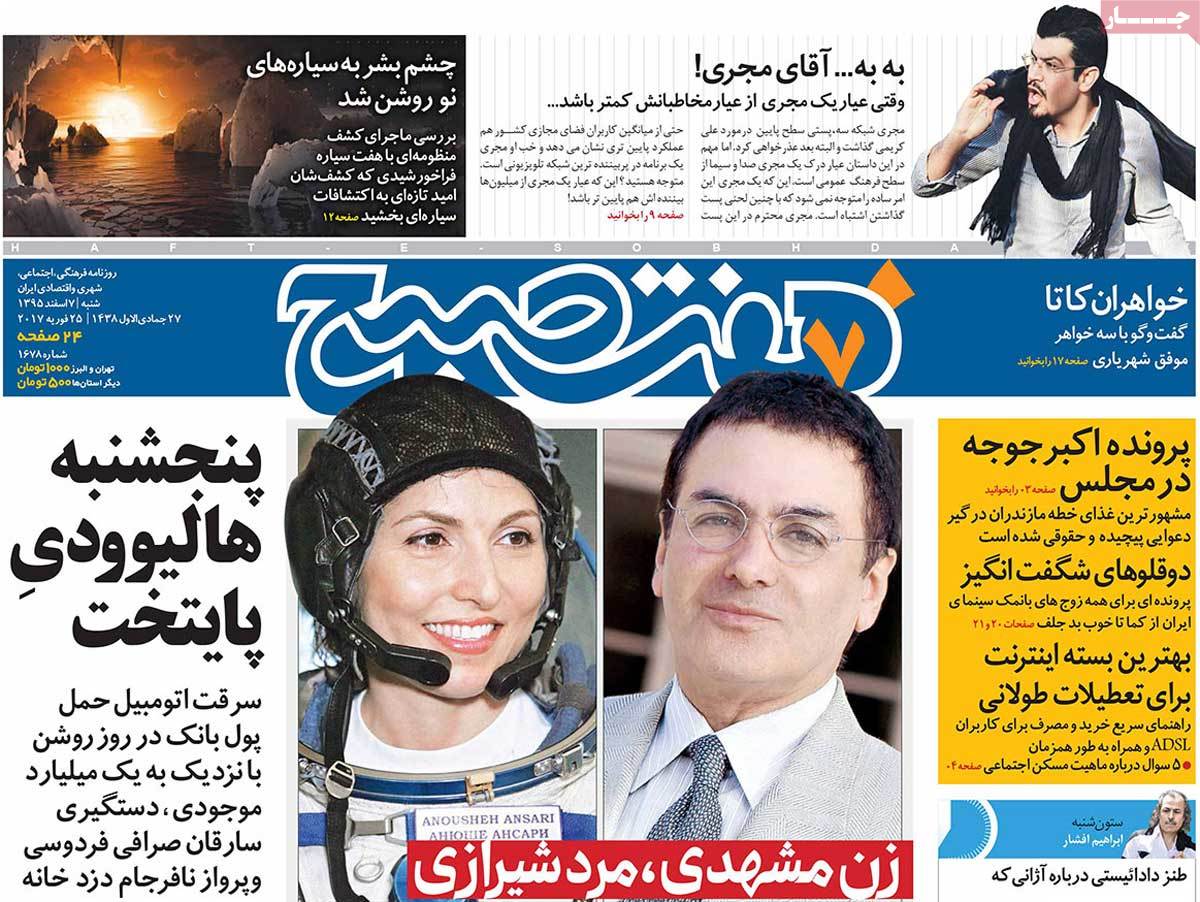 ---
Iran:
1- First Female Space Tourist and NASA Executive to Represent Iran at Oscars
2- Seven Planets Similar to Earth Discovered by NASA: One of them might be warm enough to be liveable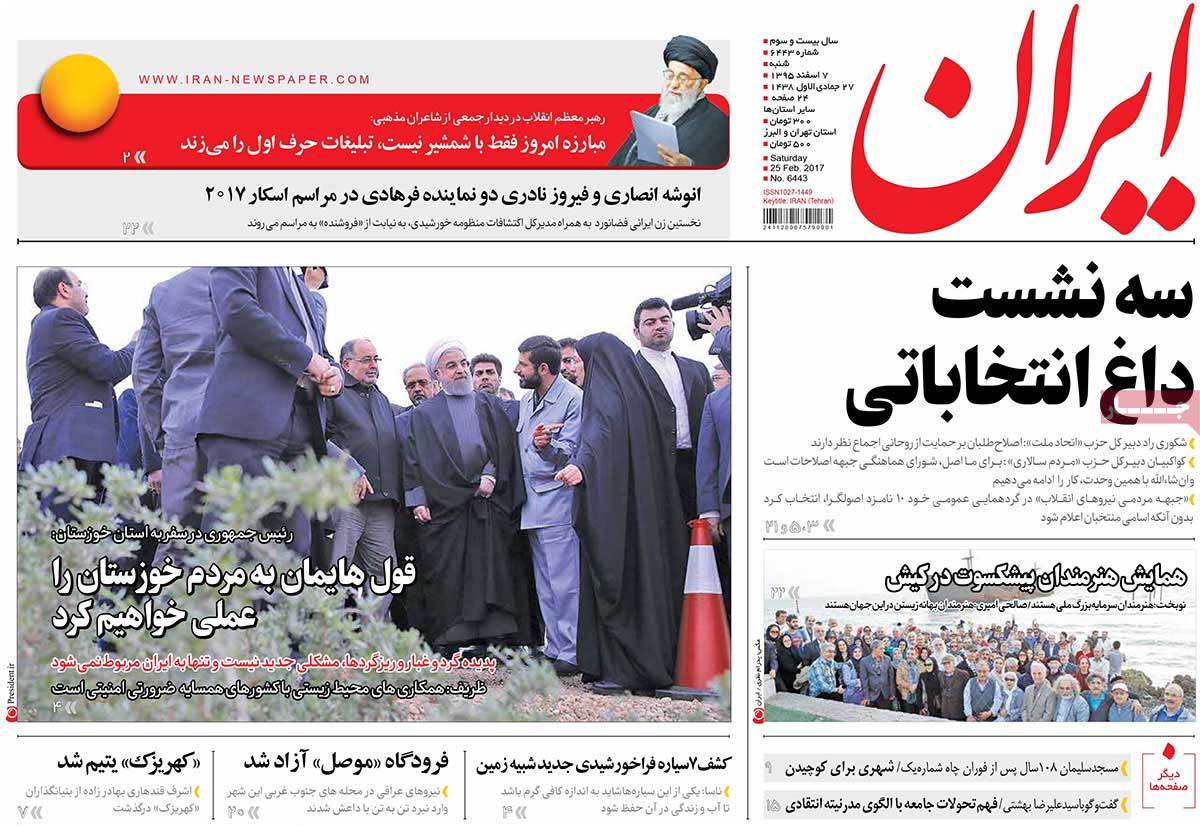 ---
Javan:
1- 82% Dissatisfaction with Shutdown of Aerospace Projects
2- One More Step towards Confrontation with Moscow
Trump: We Should Have Best Atomic Weapons
---
Jomhouri Eslami:
1- Iran's President: Government Standing by People of Khuzestan
2- Deputy FM: In JCPOA, Some Parties Preferred Partisan Interests to National Ones
3- ISIS Gives City of Al-Bab to Turkey-Backed Armed Forces!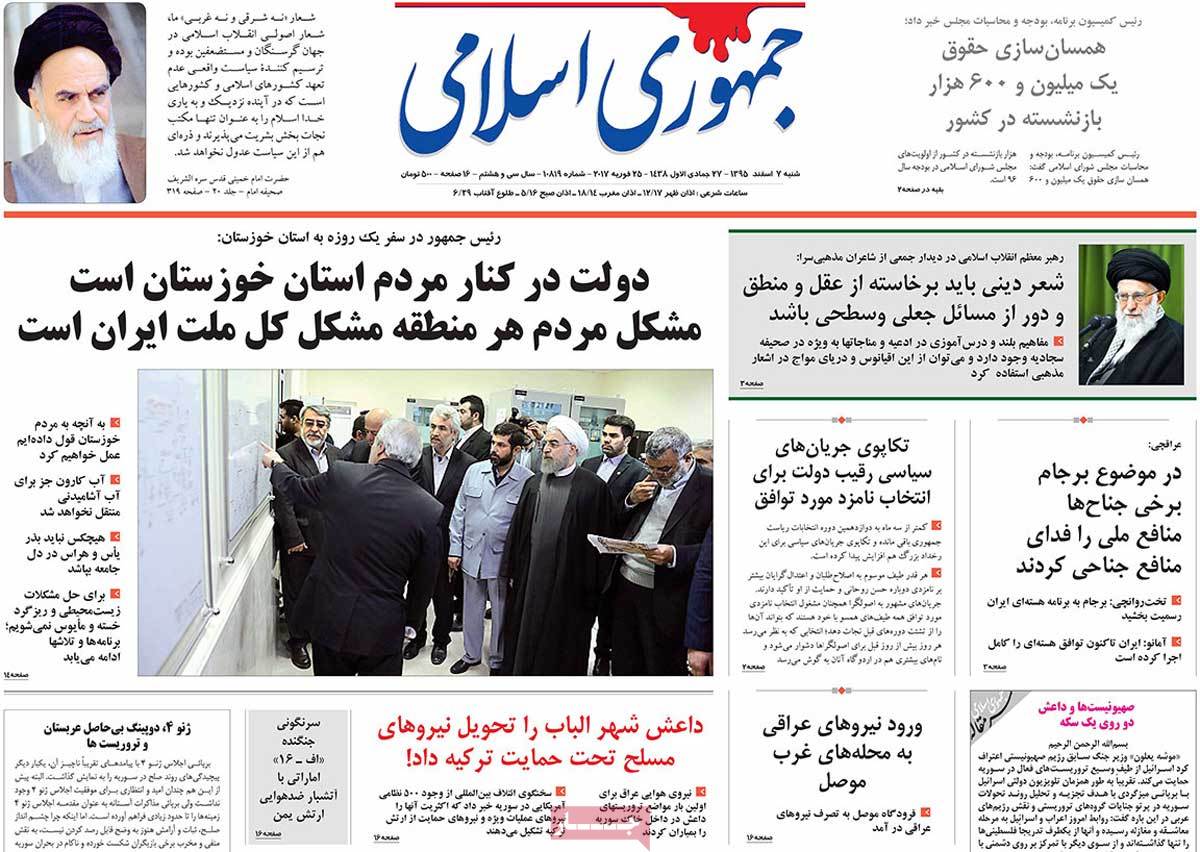 ---
Kayhan:
1- Iran's Leader Urges Poets to Explain Islamic Lifestyle in Reaction to West's Cultural Plots
2- Mosul Airport Liberated: ISIS' Key Communications Line Cut
3- Amano: Iran's Uranium Reserves Much Lower than What Agreed
---
Khorasan:
1- Hot Electoral Weekend: Conservatives gather votes of 3,000 figures to name final 10 candidates; 4 reformist parties making plans for May elections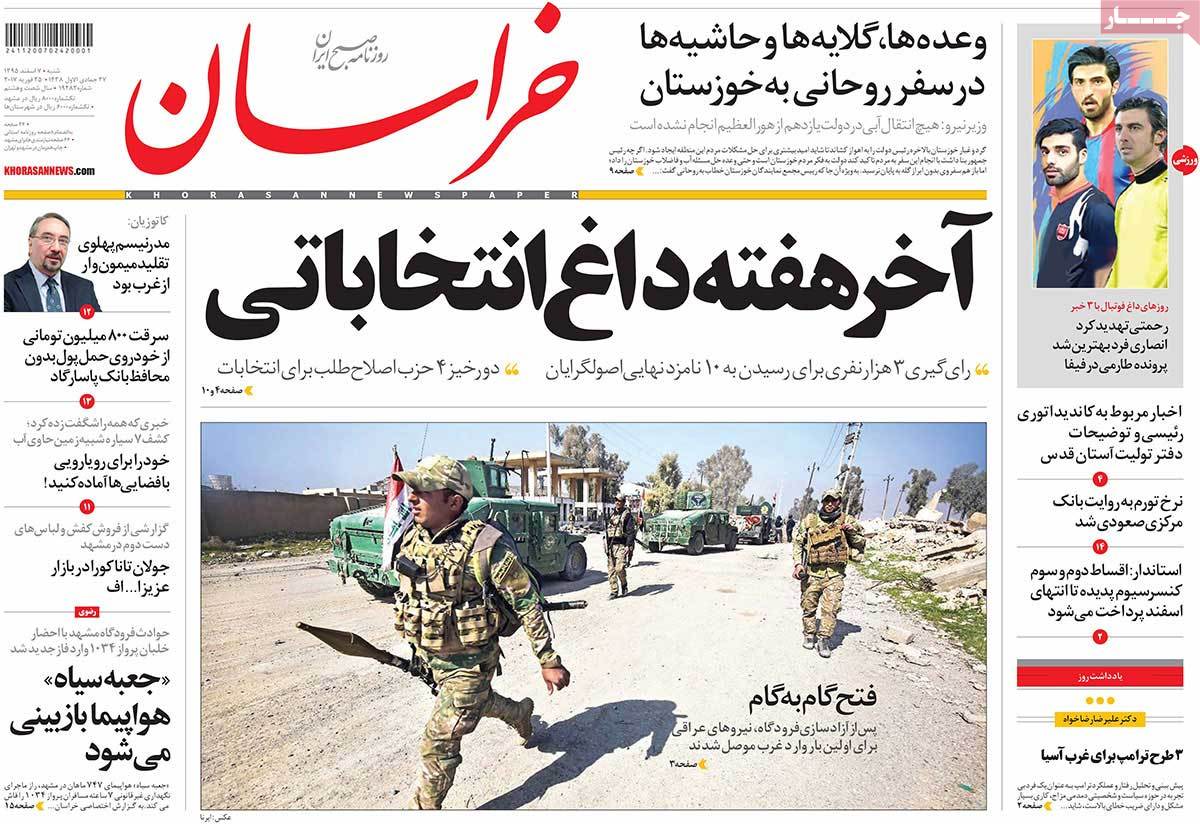 ---
Shahrvand:
1- World to Get Thirsty: A Report on Global Water Crisis
2- Zarif: Security Means Nothing without Water
3- Tension: Iran's Water Resources beyond Critical Conditions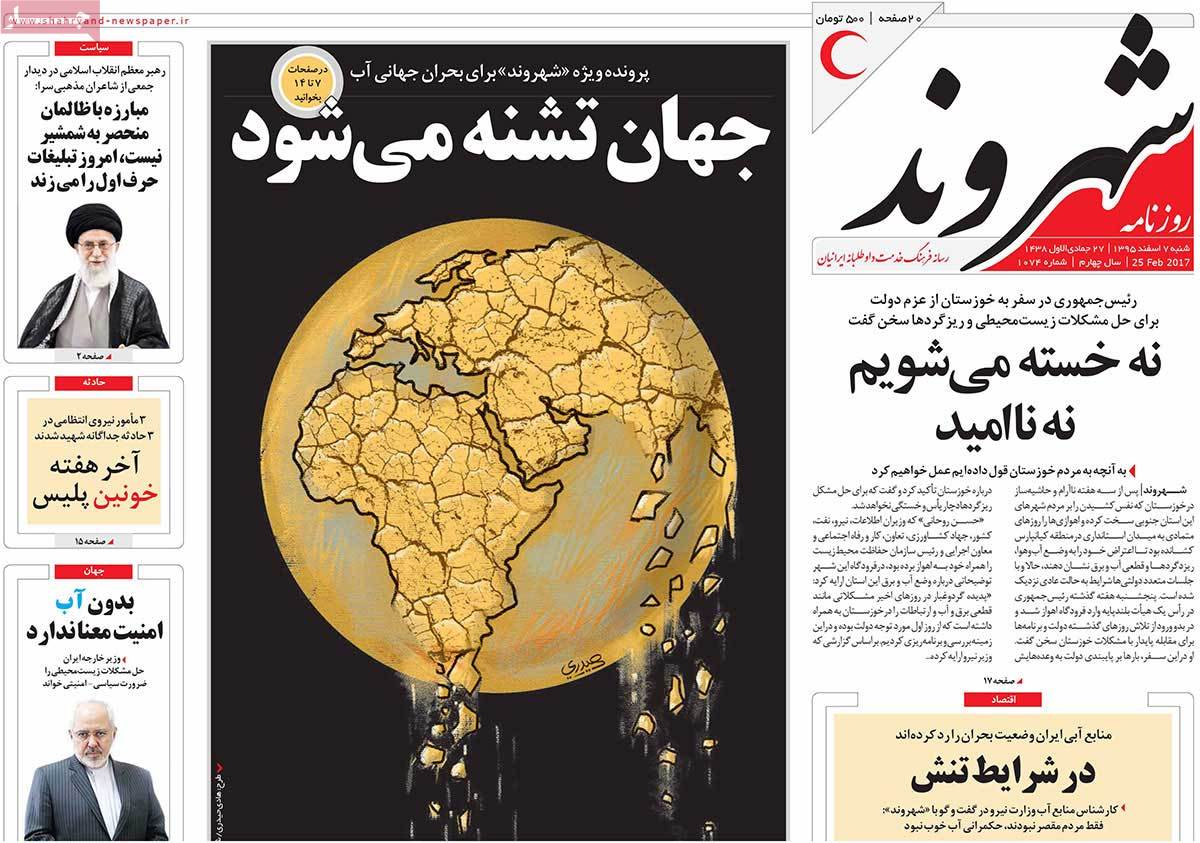 ---
Shargh:
1- IAEA Once Again Confirms Iran's Commitment to JCPOA
2- Trade Minister: I'm Accountable for Secret Deals
---
Vaghaye Ettefaghieh:
1- Reformist and conservative parties holding their national congress ahead of May presidential votes
2- 'Lobatak', Symbol of Fighting Deprivation
Girls in several villages in Iran's deprived province Sistan and Baluchestan make handmade cloth dolls in protest at being deprived of education
3- We Just Have One Earth Planet
All-out efforts to realise green economy were emphasised in this year's Environment Exhibition in Tehran