Newspapers today widely covered the remarks made by Iranian President Hassan Rouhani in an address to a science and technology exhibition in Tehran.
Also a top story was comments made by Secretary of Iran's Supreme National Security Council (SNSC) Ali Shamkhani about possible close of the Strait of Hormuz in case the US manages to cut down Iran's oil exports to zero.
The above issues, as well as many more, are highlighted in the following headlines and top stories:
Abrar:
1- Europeans, Arabs to Hold First High-Level Meeting Today
2- DM: 85% of Armed Forces' Needs Supplied inside Iran
3- Pompeo: We Try to Prevent Sanctions from Harming Iranian People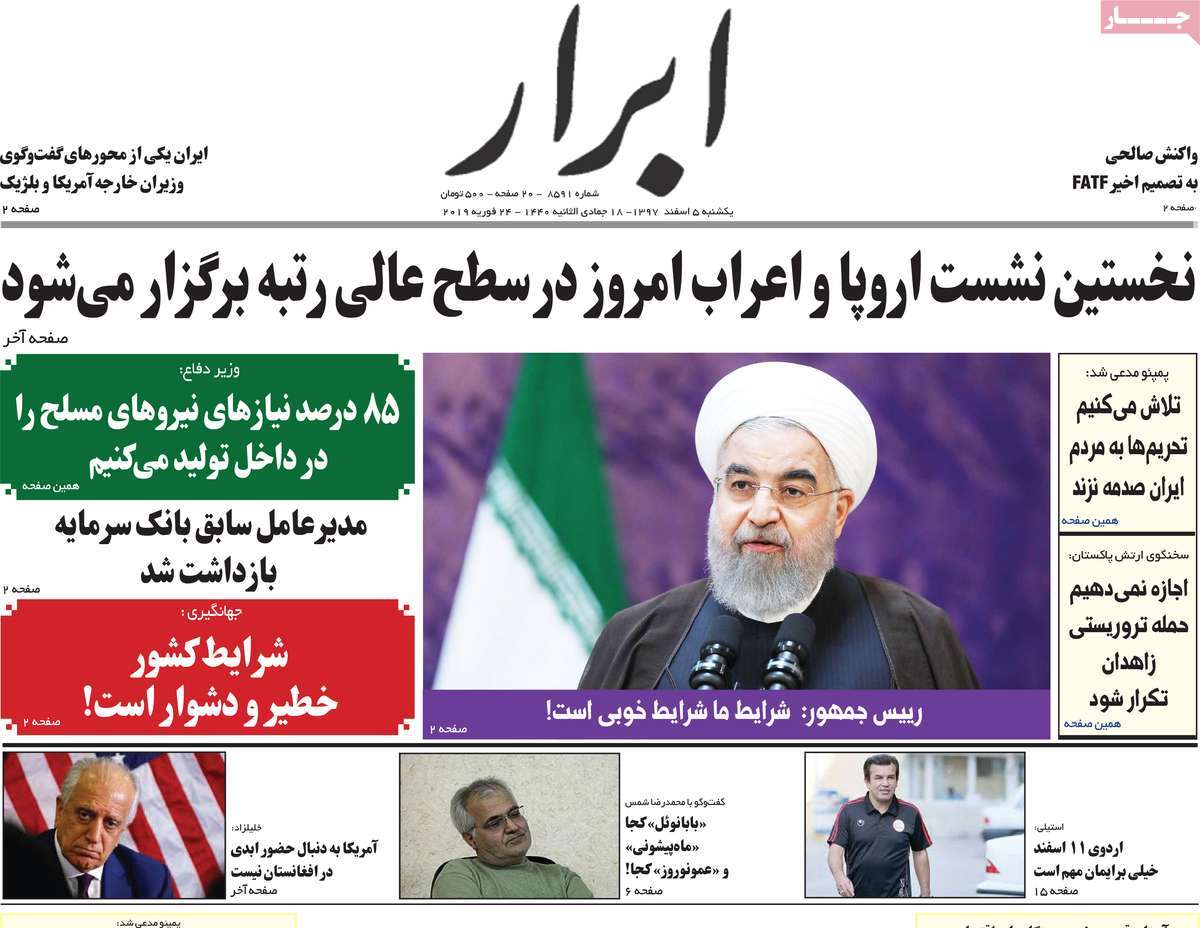 ---
Aftab-e Yazd:
1- Shamkhani: Iran Doesn't Need Any Deal with US Given New Mechanisms
2- Rouhani: Any Country that Builds Walls around Itself Will Be Destroyed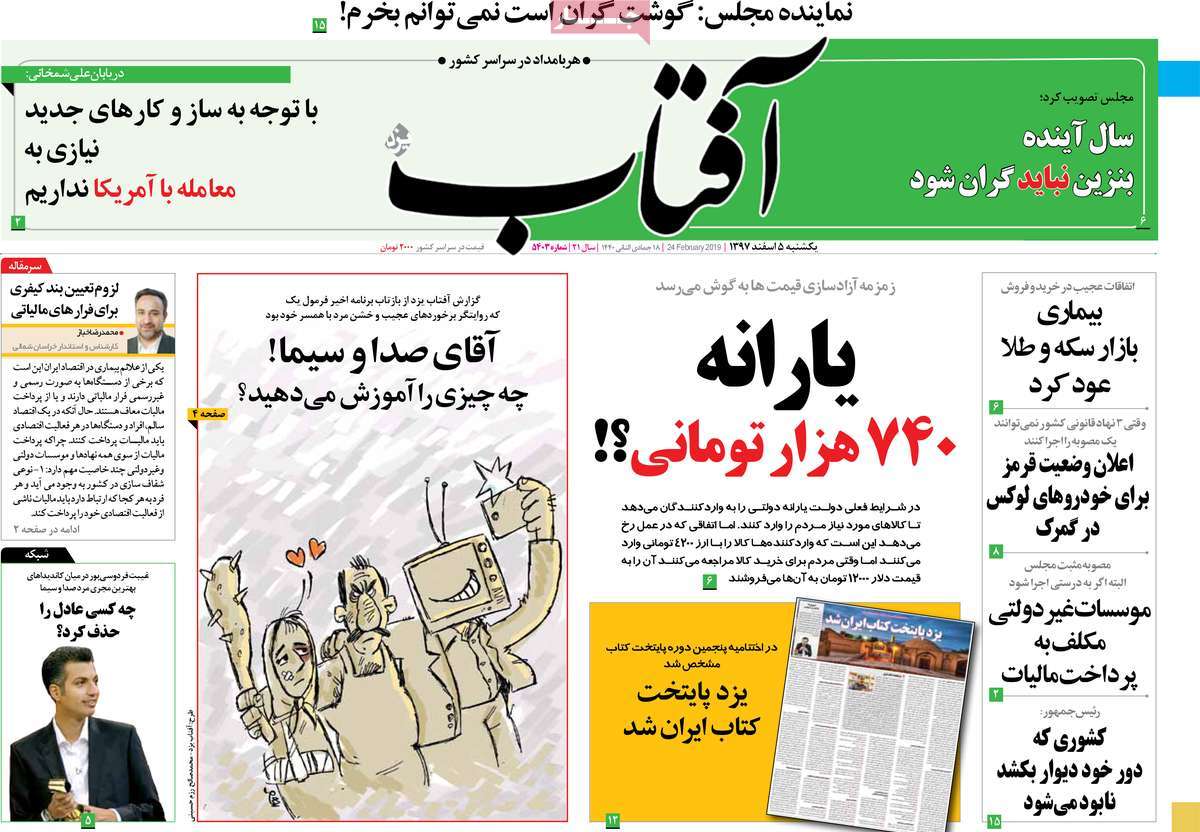 ---
Arman-e Emrooz:
1- Parliament's Long Step to Help Gov't with Taxes
2- Iran Breaks Record of Using Domestically-Developed Refinery Equipment in Phase 14 of South Pars
---
Asr-e Iranian:
1- Germany Admits: Europeans Not Capable of Saving JCPOA
2- Shamkhani: We Have Various Ways to Stop Oil Supplies [through Persian Gulf]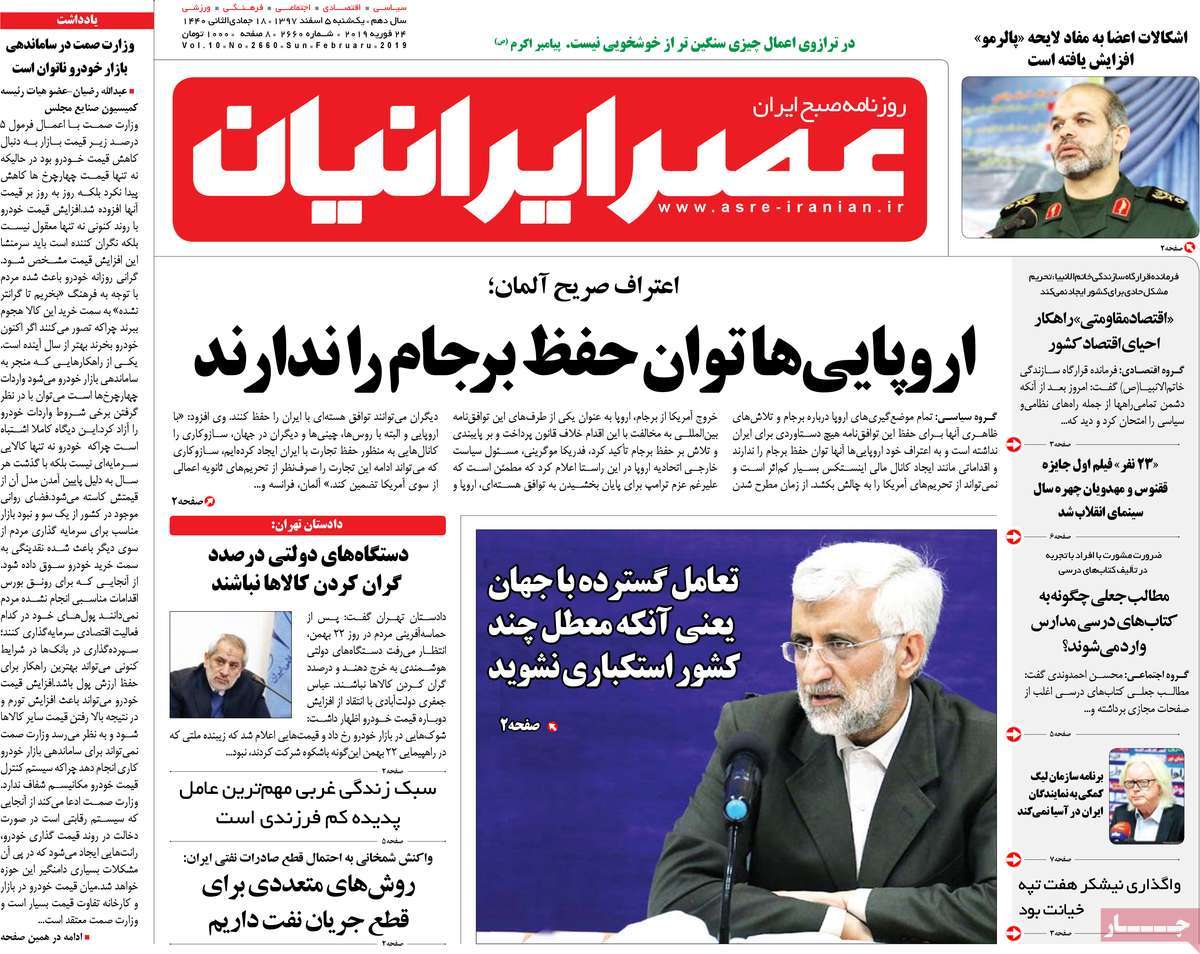 ---
Ebtekar:
1- Zarif: INSTEX Does Not Normalize Iran's Ties with World, It Rather Does Opposite
2- Iran First VP: Elites Must Help Us Overcome This Crisis
---
Etemad:
1- Shamkhani: Cutting Iran's Oil Exports Will Not Necessarily Lead to Closure of Strait of Hormuz
2- Rouhani: Iran's Situation Today Both Good, Difficult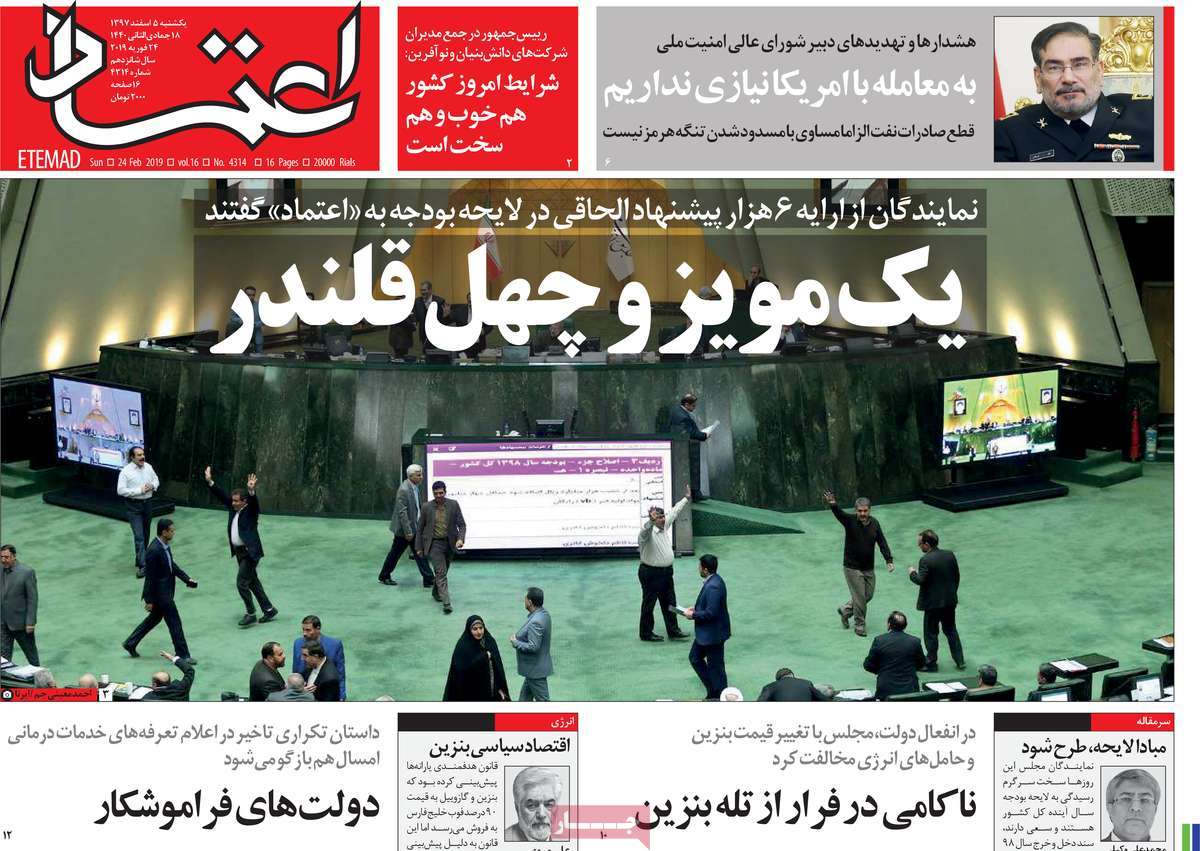 ---
Ettela'at:
1- Rouhani: Freedom of Speech Basis of Progress in All Fields
2- Yazd Named Iranian Capital of Book
3- Pakistani Army: We Won't Let Zahedan Terror Attack Happen Again
4- Shamkhani: UAE Has Given Iran Message of Cooperation
---
Javan:
1- Shamkhani: We Can Stop Supply of Oil without Closing Hormuz Strait
2- Iran Destroys Remote Targets with Cruise Missile in Massive Naval Drill
3- US One Step from War of Veto between Trump, Democrats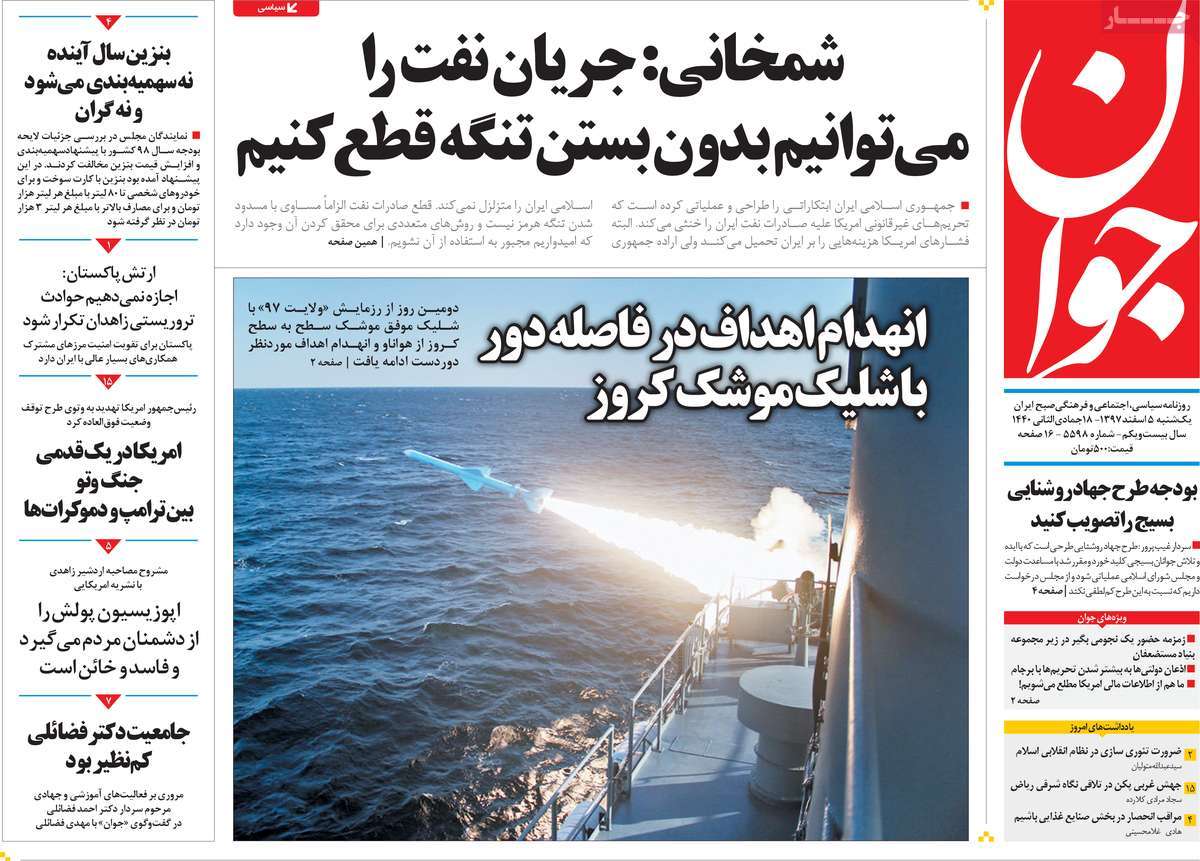 ---
Jomhouri Eslami:
1- Government Obliged to Stop Paying Cash Subsidies to Rich People
2- Rouhani Visits Exhibition of New Sci-Tech Achievements
3- Scandal in Germany: Berlin Police Colluding with Arab Criminals
4- MI6 Chief Makes Secret Visit to Occupied Territories for Plotting against Iran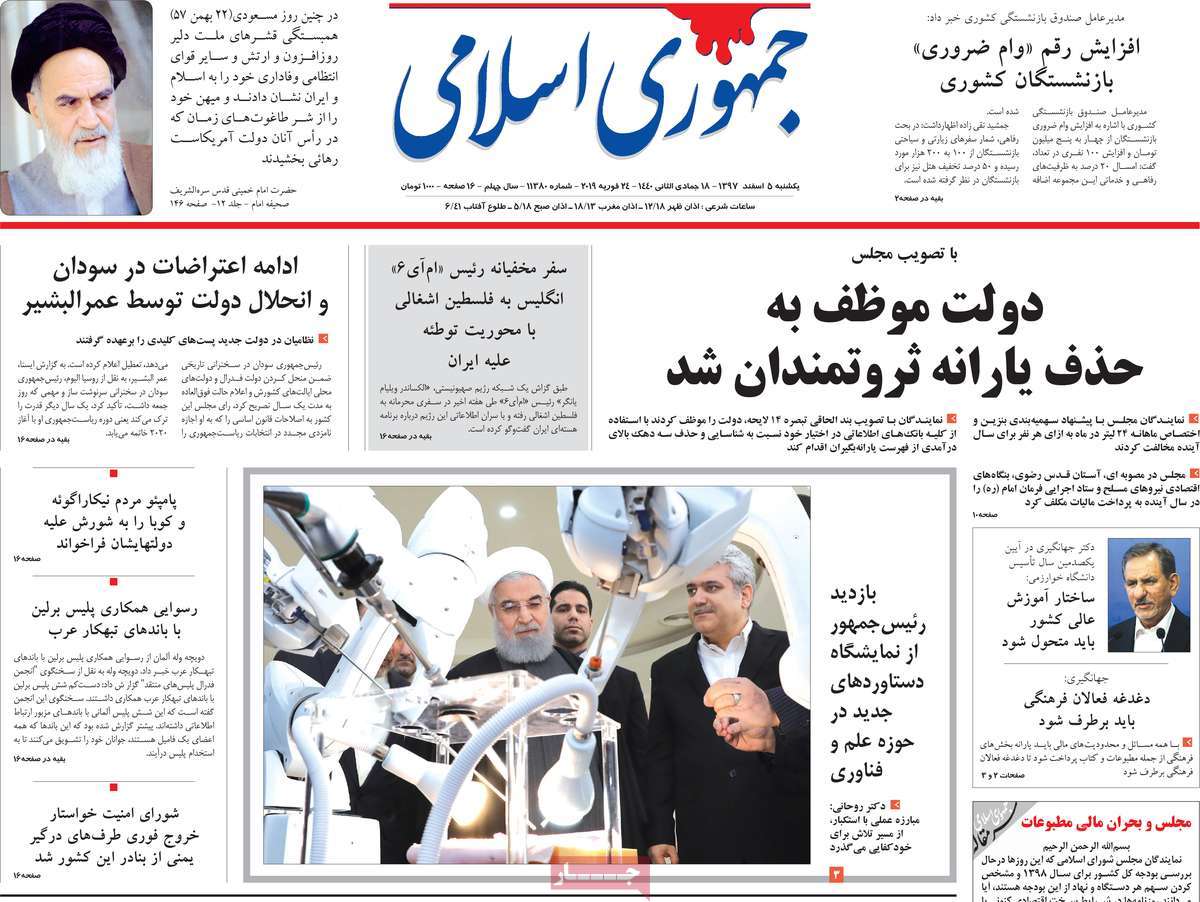 ---
Kayhan:
1- A Report on Reasons for Price Hikes
2- Beijing, Riyadh Sign MoU on Teaching Chinese in Saudi Schools!
3- Syrian Kurds Hand Over 500 ISIS Prisoners to Iraqi Army
4- The Gun of FATF Threatening People's Livelihood
---
Khorasan:
1- Rouhani: We Can Cushion Enemy's Pressure Using Technology
2- Six Offending Foreign Fishing Boats Stopped by IRGC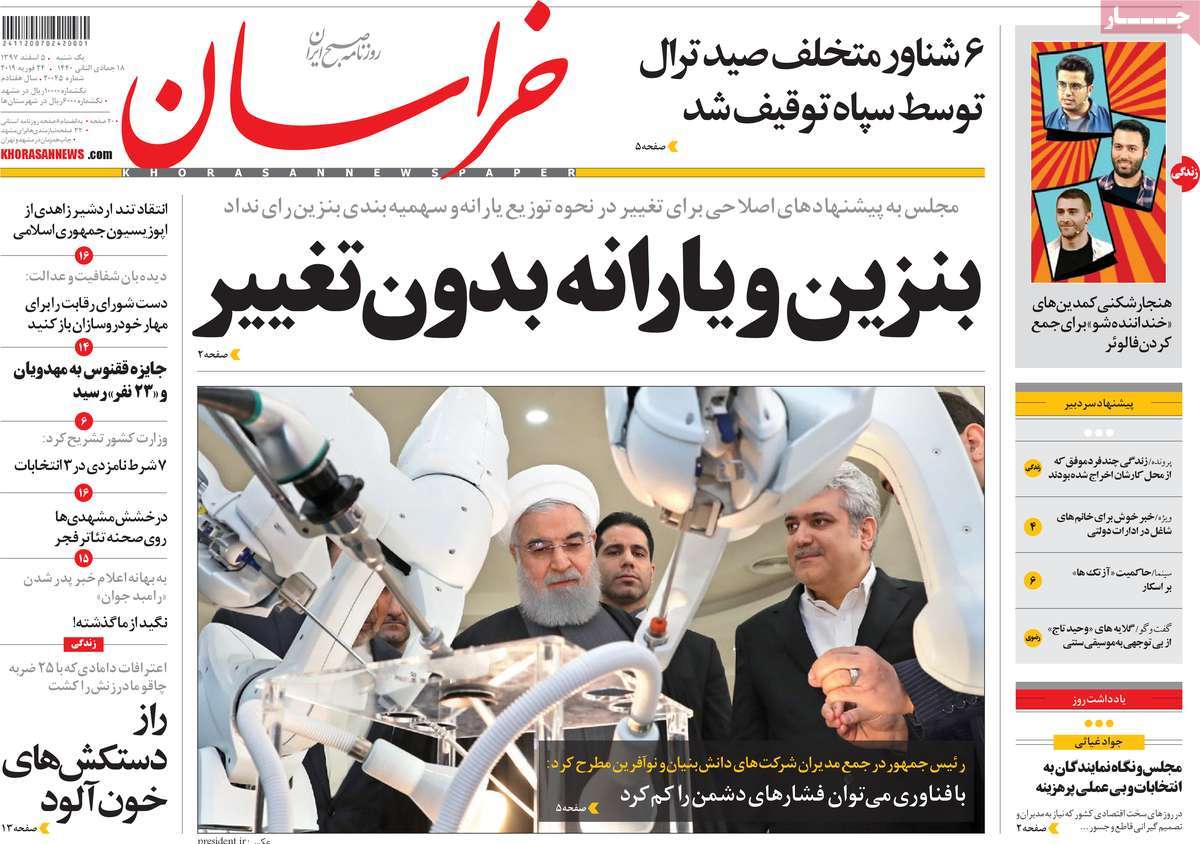 ---
Shargh:
1- Parliament's Research Centre Warns of Legal Ways for Money Laundering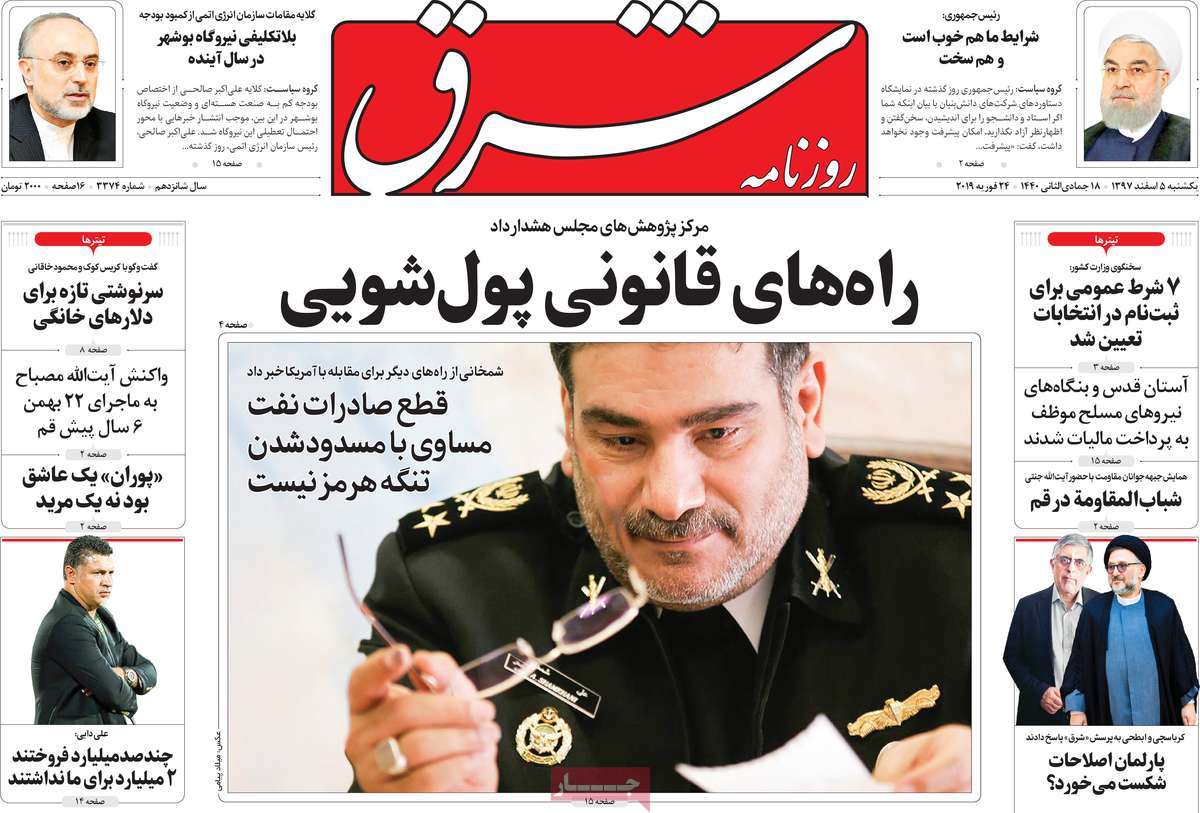 ---
Vatan-e Emrooz:
1- Parliament Opposed to Rationing, Increasing Price of Petrol
2- Yellow Vest Protesters' Movement Overshadowed by French Anti-Zionism