Leader of the Islamic Revolution Ayatollah Seyyed Ali Khamenei paid tribute to the mausoleum of Imam Khomeini, the late founder of the Islamic Republic, and the tombs of martyrs including the firefighters killed in recent Plasco Building collapse and the pilgrims killed in 2015 Mina tragedy. The homage paid by the Leader was widely covered today.
President Hassan Rouhani's remarks against his US counterpart's visa ban also received great coverage. Rouhani described Trump as a novice politician in his Wednesday remarks.
Many newspapers also criticized officials, including Mayor of Tehran Mohammad Baqer Qalibaf and Interior Minister Abdolreza Rahmani Fazli, for refusing to apologize over the recent deadly collapse of Plasco high-rise in Tehran. The two officials had attended a Wednesday parliamentary session to brief MPs on the incident.
Defence Minister Brigadier General Hossein Dehqan's remarks about Iran's missile test were also a top story today. Dehqan confirmed the test, but stressed that it was not a violation of nuclear deal or the UNSC Resolution 2231.
The above issues, as well as many more, are highlighted in the following headlines:
Abrar:
1- Michael Phelps Doesn't Have Any Position in US with 28 Olympic Medals [A criticism of athletes elected Tehran City Council]
2- Mayor of Tehran: 31 Minutes before Plasco Collapse, Forces Had Been Ordered to Evacuate the Building
3- US Envoy to UN: You'll See We'll Taken Action against Iran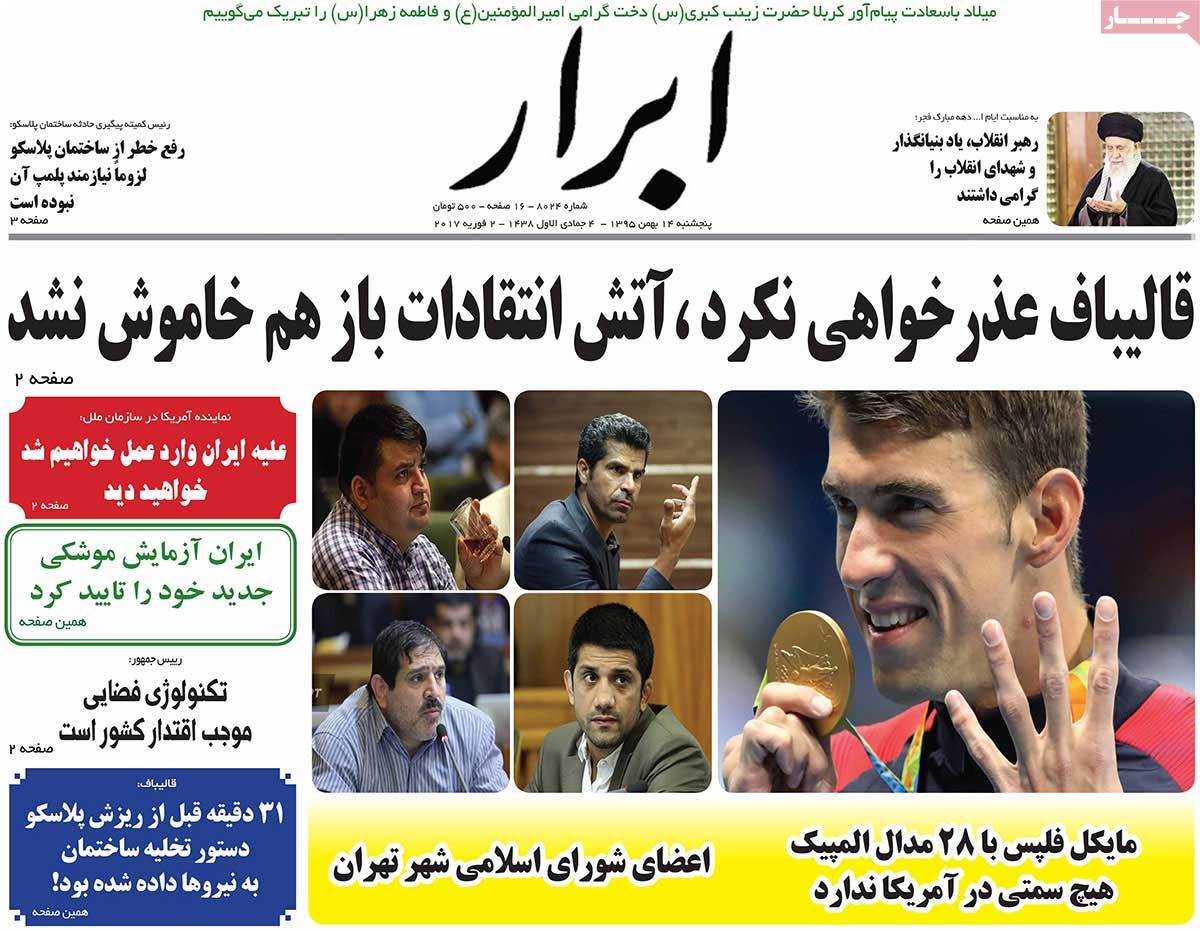 ---
Afkar:
1- Iran's Leader Pays Tribute to Imam Khomeini
2- Iran Has the World's Biggest Oil Tanker Fleet
3- Space Technology Brings Power for Iran
---
Arman-e Emrooz:
1- Iran's Leader Recites Quran While Visiting Tomb of Ayatollah Rafsanjani, Pays Tribute to Imam Khomeini and Martyrs
2- US Missile Challenge against Iran
3- Iran's DM: We've Test-Fired Missile, but It's Not Violation of Nuclear Deal
4- They Didn't Even Apologize! Mayor of Tehran Briefs MPs on Plasco Collapse
Qalibaf: Firefighting Department Wasn't Short of Equipment
Parliament Speaker: Tell Us Where You Need Authority
Fire of Criticisms Not Extinguished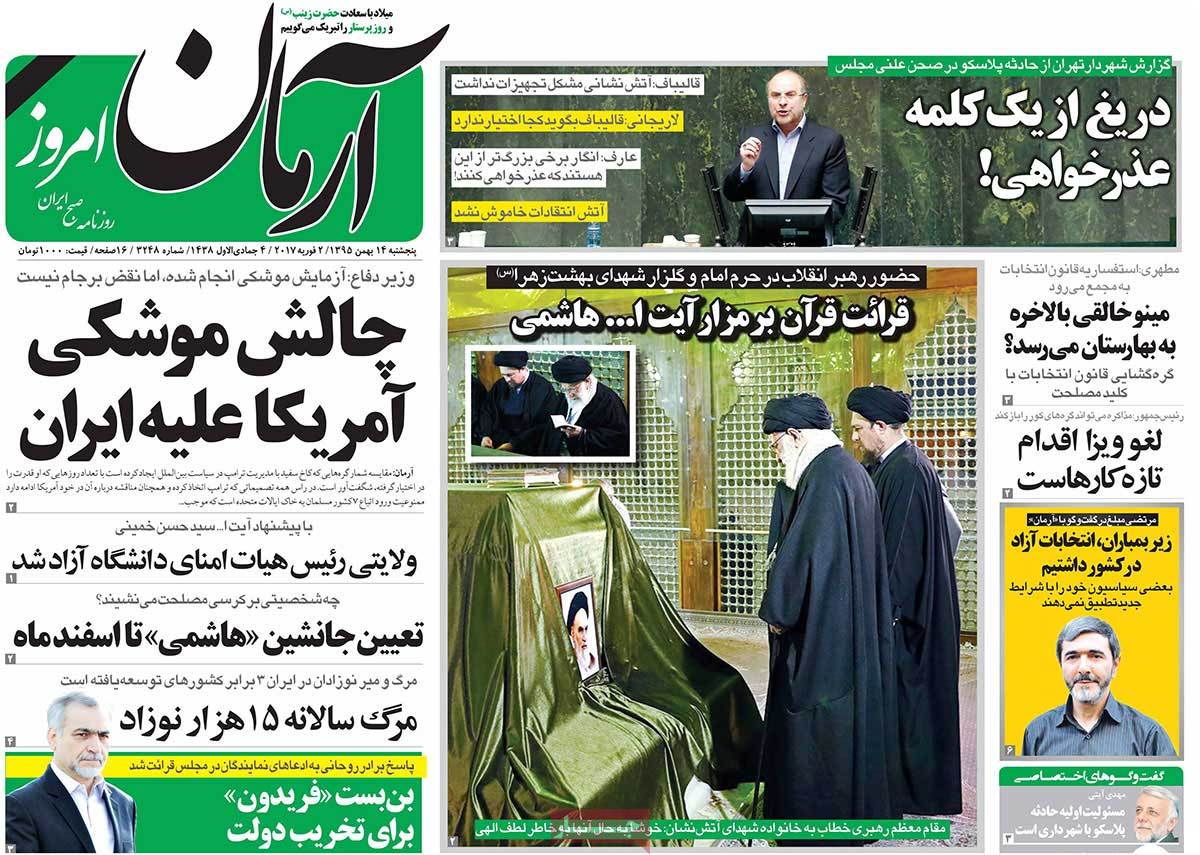 ---
Emtiaz:
1- Danger of Bird Flu in 14 Provinces
2- Iran to Launch Production Line for Peugeot 2008 in Coming Days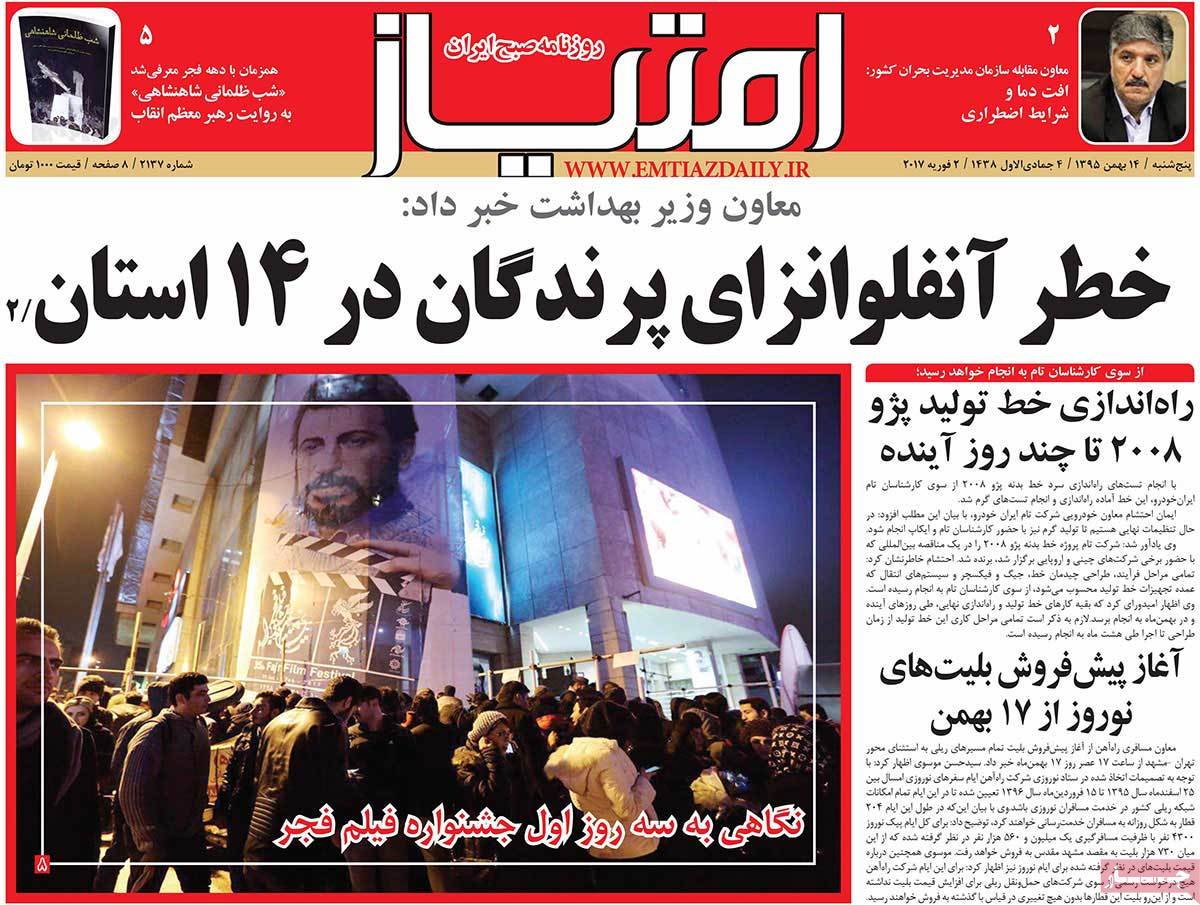 ---
Ettela'at:
1- President: It's Now Time to Use Others' Experience
2- Reformist Figure: Best Strategy to Counter Trump Is to Pursue Dialogue among Civilisations
3- Daily Telegraph: Trump's Actions Beginning of Clash of Civilisations
4- Mogherini's Spokesperson: Iran's Missile Test Not a Violation of Nuclear Deal
---
Iran:
1- Cancelling Other Nations' Visa Is What Novice Politicians Do: President
2- DM: Iran's Missile Test Not in Violation of JCPOA and UNSC
3- Chaos in the Policies of the Businessman President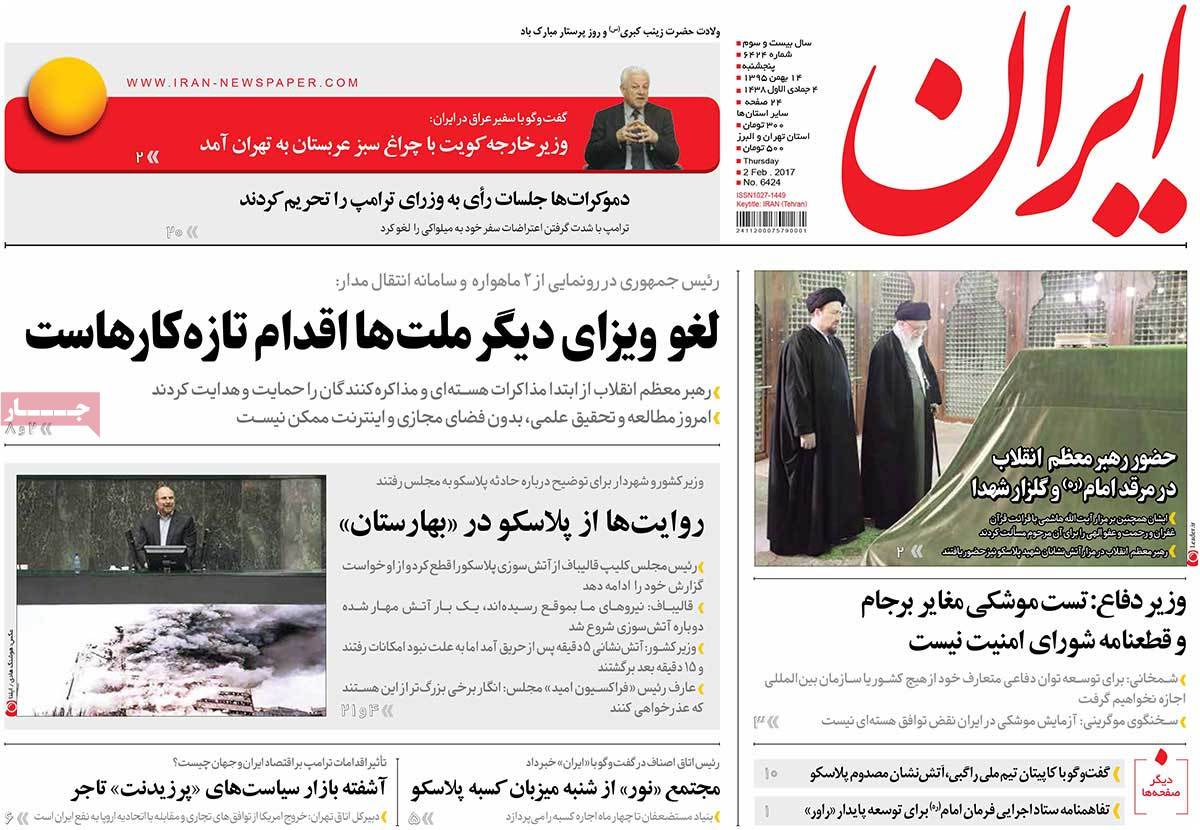 ---
Jame Jam:
1- Plasco in Iran's Parliament: Interior Minister and Mayor of Tehran Brief MPs on New Aspects of Plasco Incident
2- Iran's Leader Pays Tribute to Imam Khomeini and Martyrs
---
Javan:
1- Iran's Leader Pays Homage to Imam Khomeini and Martyrs
2- Visa Ban Reveals US Hypocrisy
3- Rouhani: Trump Is a Novice and Doesn't Have Correct Perception of Politics
4- Americans Always Chant Slogans of Commitment to Obligations, but They Have Violated All Int'l Principles and Commitments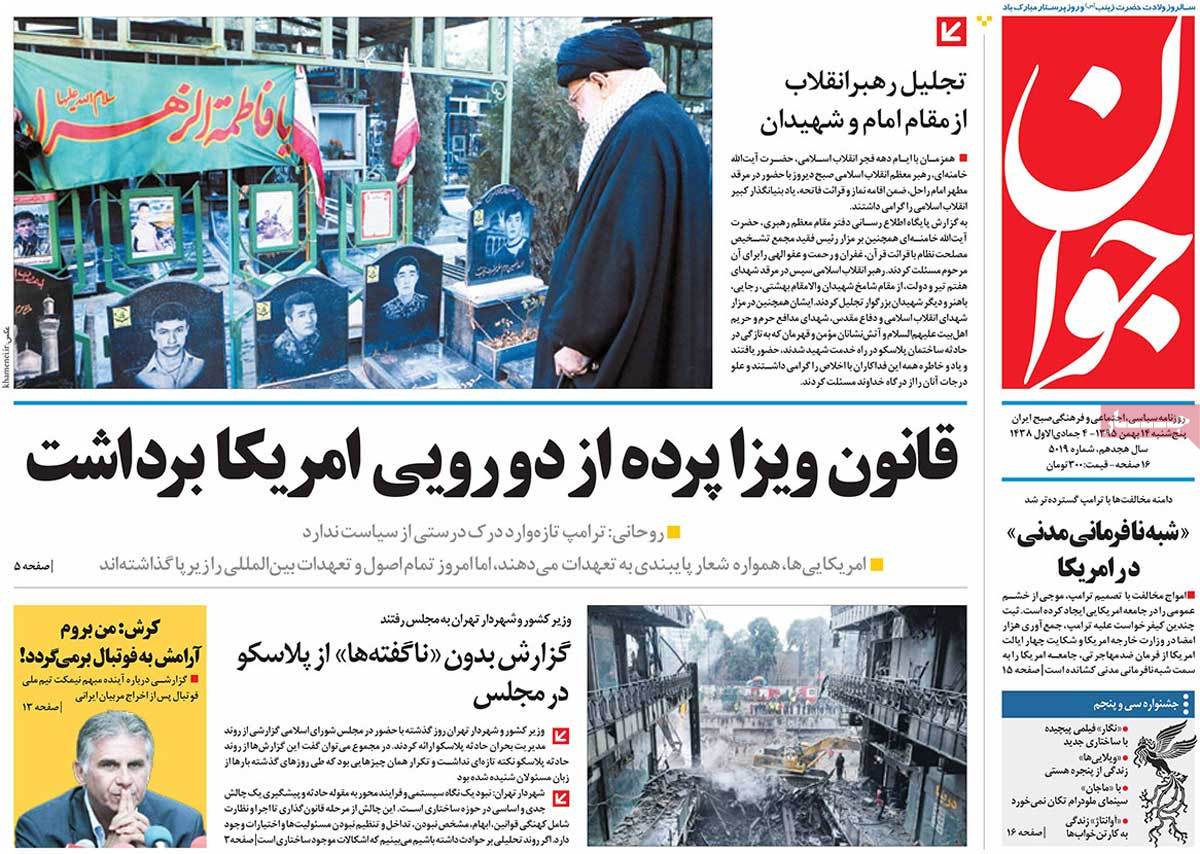 ---
Jomhouri Eslami:
1- Aerospace Achievements Unveiled in National Space Day: Amirkabir and Nahid I Satellites and Saman I System
2- Trump Cancels First State Visit for Fear of Protesters
---
Ka'enat:
1- Moscow Will Convince Trump to Nuclear Deal Commitment
2- Date of Rouhani's Visit to Moscow Specified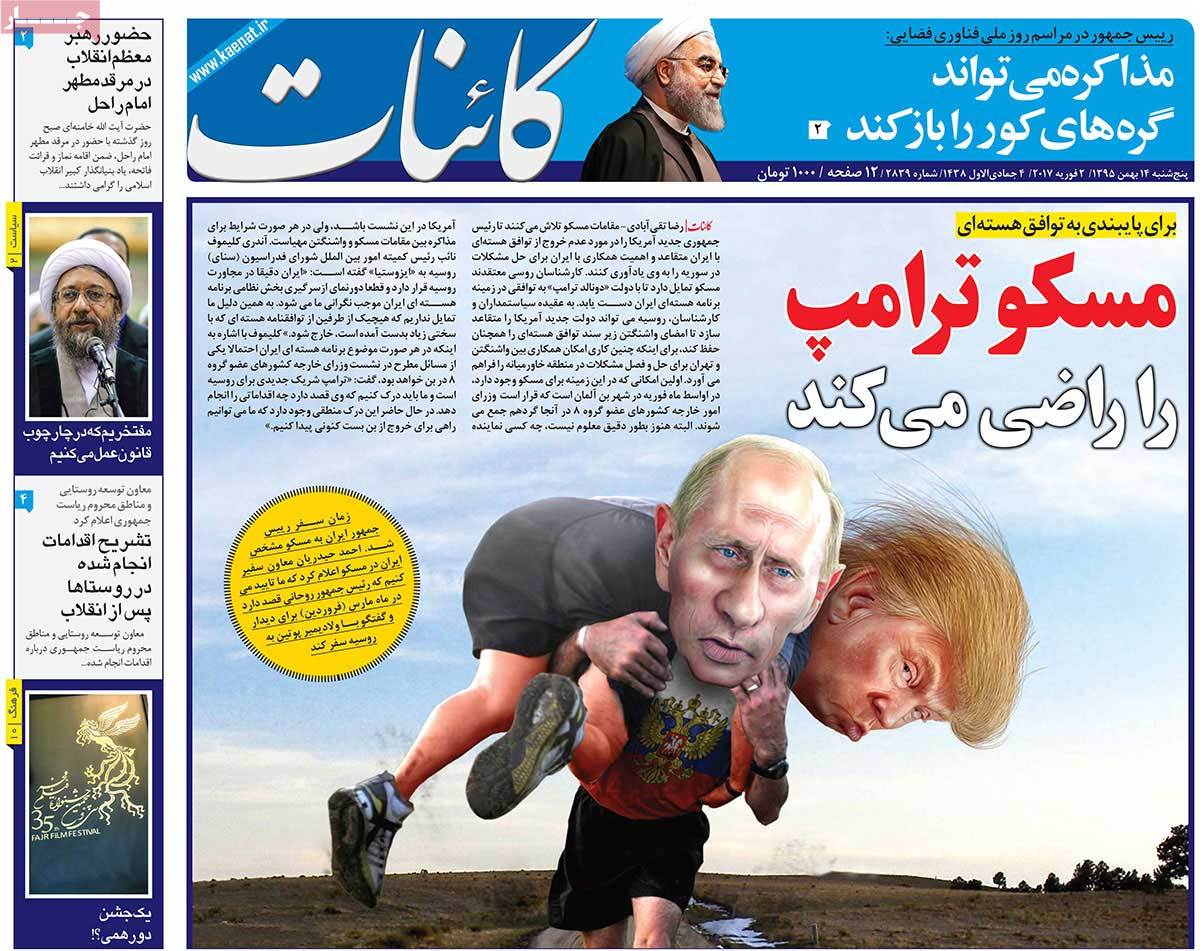 ---
Kayhan:
1- Rouhani's Government Giving Wrong Clues about Latest US Hypocrisy: Rouhani Says Trump's Visa Ban Is Because He's Novice!
2- Don't Release Contradictory Statistics to Avoid Media Criticism: Expert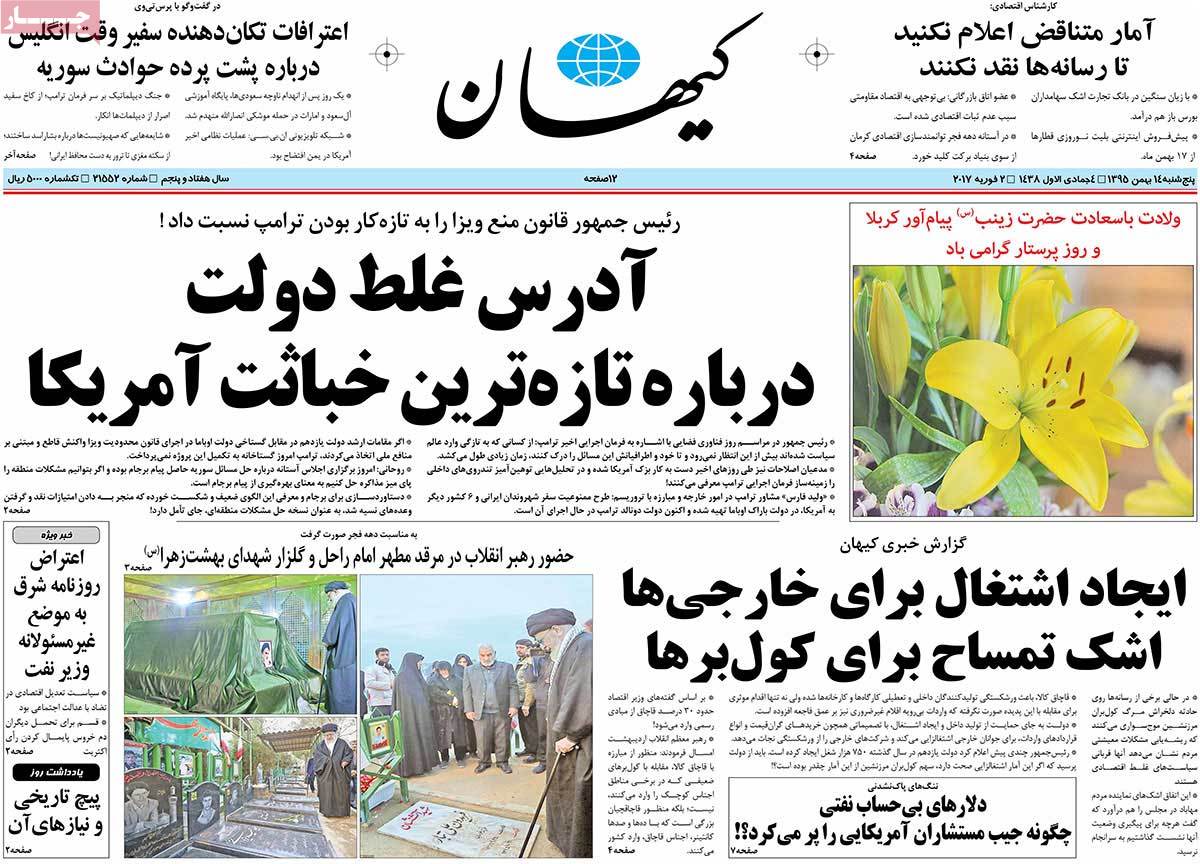 ---
Kelid:
1- Clash between Two Presidents: Rouhani in Words, Trump in Action
2- Parliament Issues Statement to Defend Enhancement of Iran's Defensive Power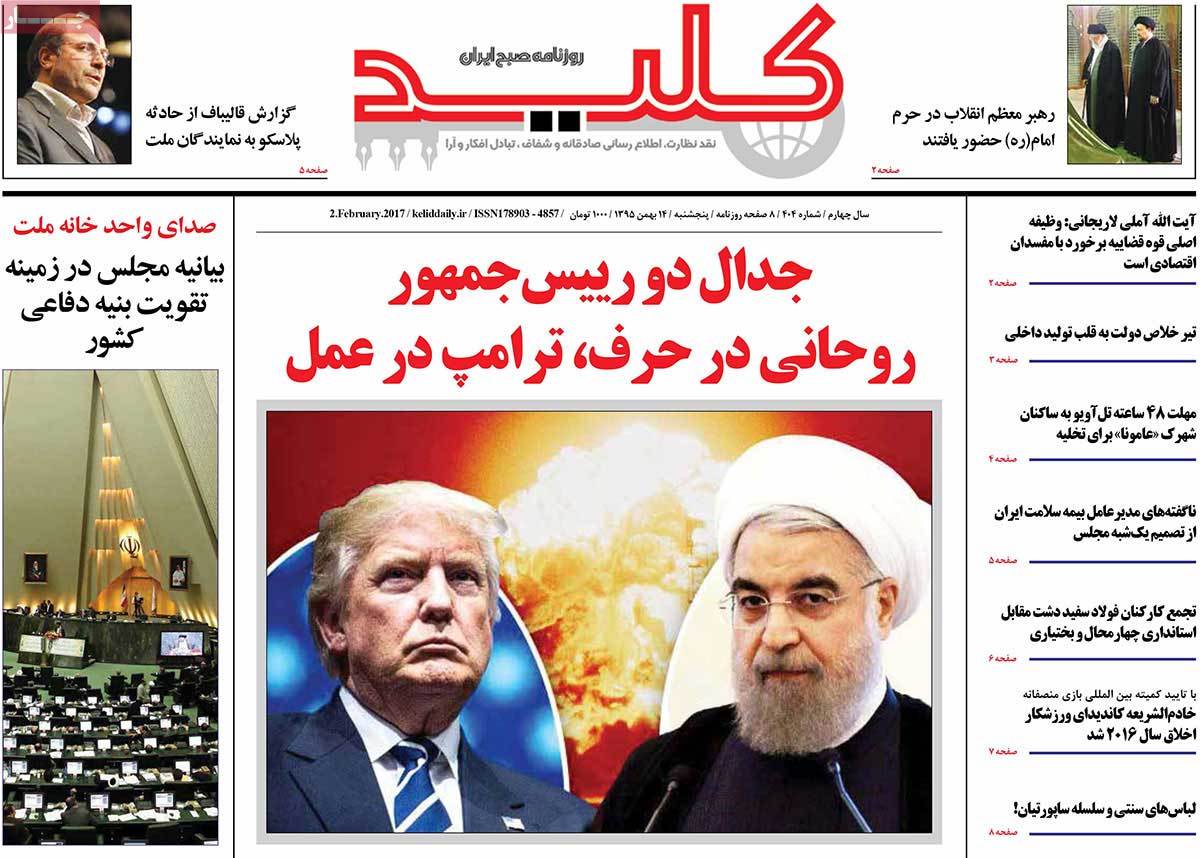 ---
Resalat:
1- If We Trust in God, It Means We Shouldn't Trust US: Senior Cleric
2- Homegrown Satellites Unveiled
3- Secrets behind US Missile Plot against Iran
4- Ayatollah Noori Hamedani: Britain's Impudence Should Not Remain Unanswered
---
Saheb Qalam:
1- Three Hyundai Cars to Be Produced in Iran
2- Parliament Speaker: State-Sponsors of Terrorism Not Included in Trump's Visa Ban List
---
Setareh Sobh:
1- Mayor of Tehran and Interior Minister Embarrassed in Parliament
2- President: Iran's Leader Supported and Guided Nuclear Talks from the Beginning
3- Major Oil Deal between Iran and Japan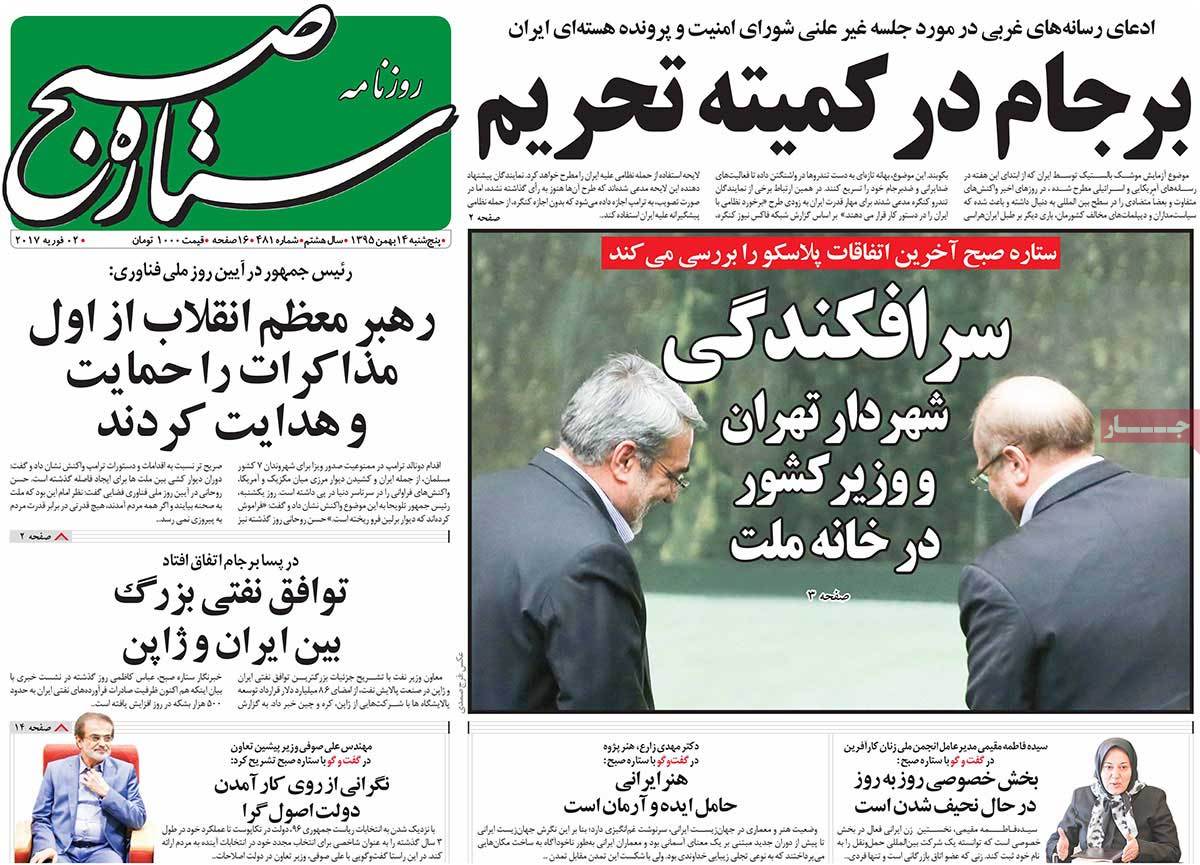 ---
Shahrvand:
1- Trump Is an Amateur: President Rouhani in Criticism of US Visa Ban