Reactions to the Wednesday terrorist attack in south-eastern Iran, which killed 27 and wounded 13 IRGC forces, remained a top story today, with several papers covering Iran's warning to Pakistan over its failure to counter the terrorists along the Iranian border.
Also a top story today was the Expediency Council's failure to reach a consensus over a bill on Iran's accession to the Palermo Convention, which has been proposed by the government to get Iran out of the blacklist of the Financial Action Task Force (FATF). The Council has postponed the voting to its next meeting two weeks later.
Europe's rejection of the US' call for withdrawing from the Iran nuclear deal also received great coverage today.
The above issues, as well as many more, are highlighted in the following headlines and top stories:
Abrar:
1- German Chancellor Defends European Powers' Decision to Save JCPOA
2- Erdogan Says Turkey, Iran, Russia May Launch Joint Operation in Idlib
3- Berlin Rejects Washington's Call for Withdrawing from JCPOA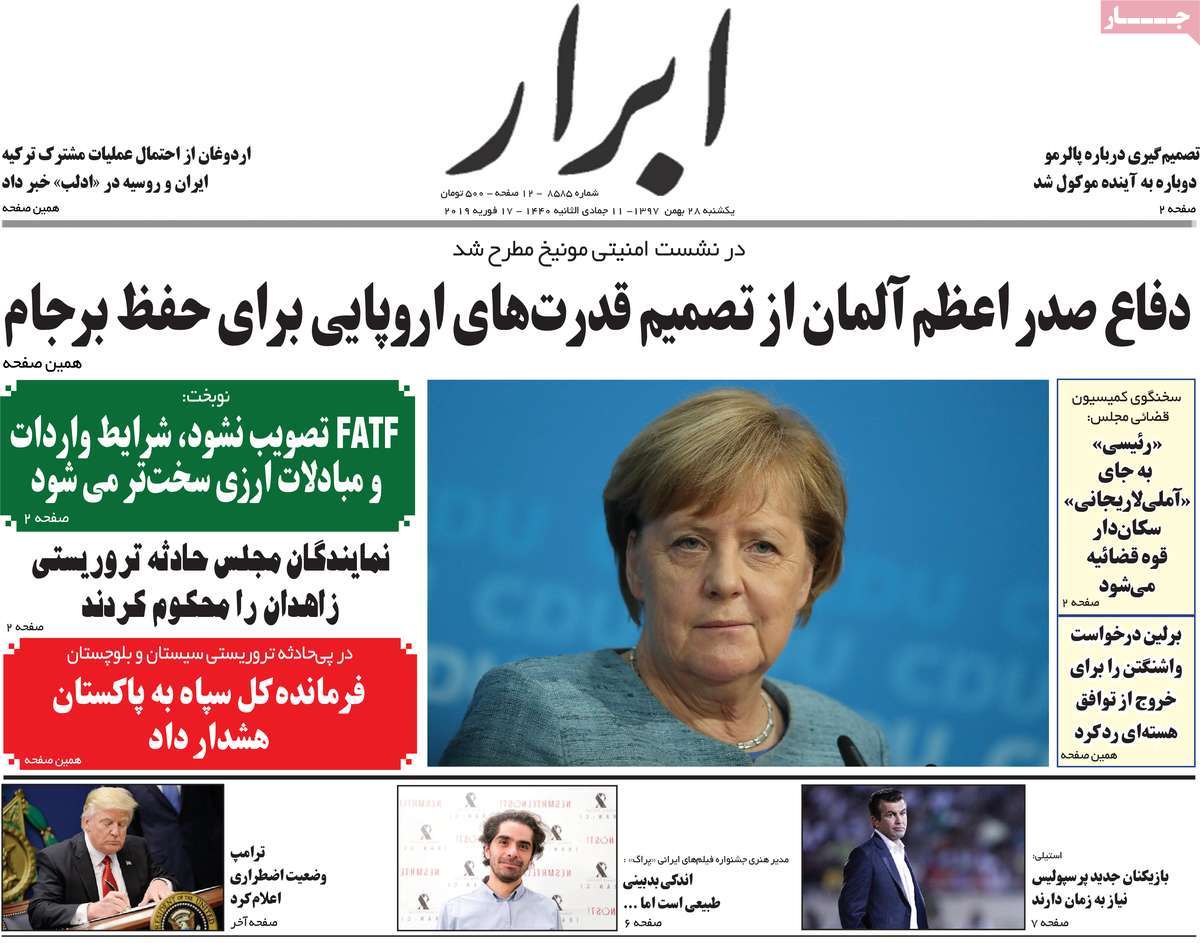 ---
Aftab-e Yazd:
1- IRGC Chief-Commander: Iran's Patience towards Saudi, UAE Over
2- Oil Minister: China Has Done Nothing to Develop 11th Phase of South Pars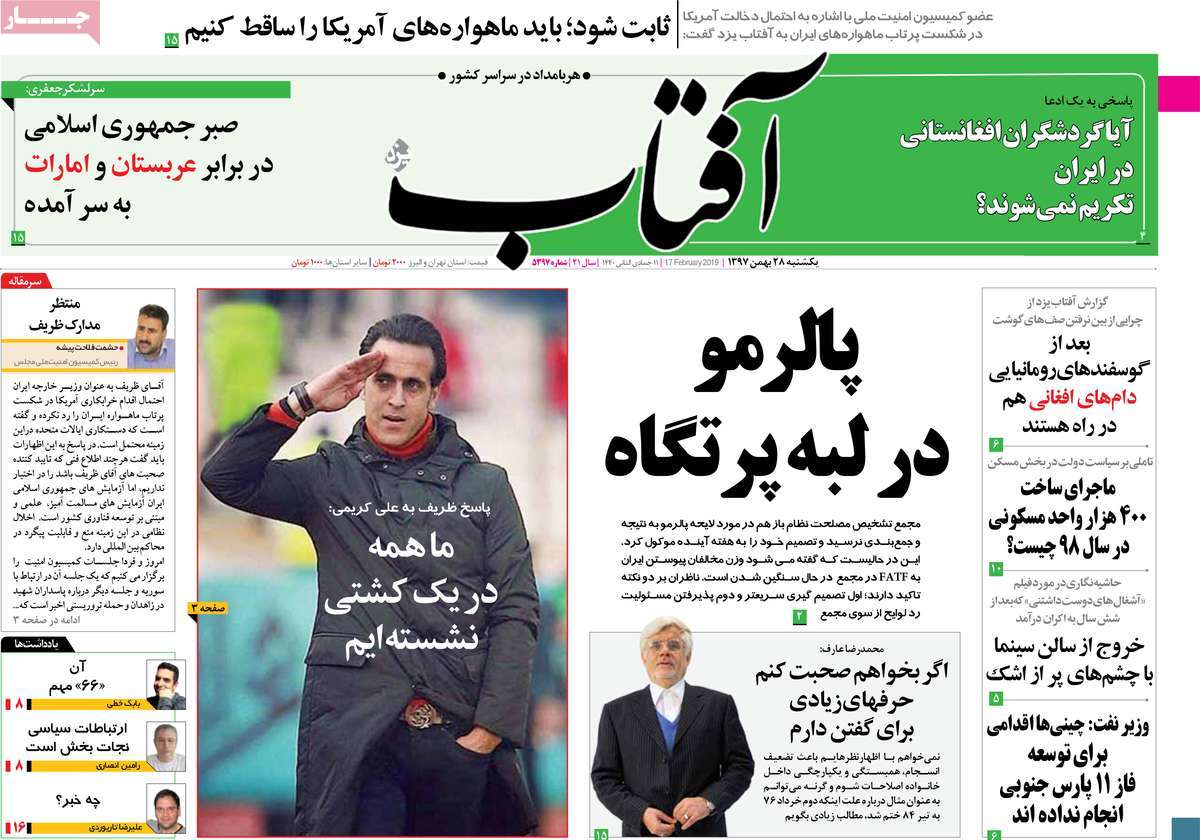 ---
Arman-e Emrooz:
1- Challenge of Approving Palermo Convention Postponed to Next Week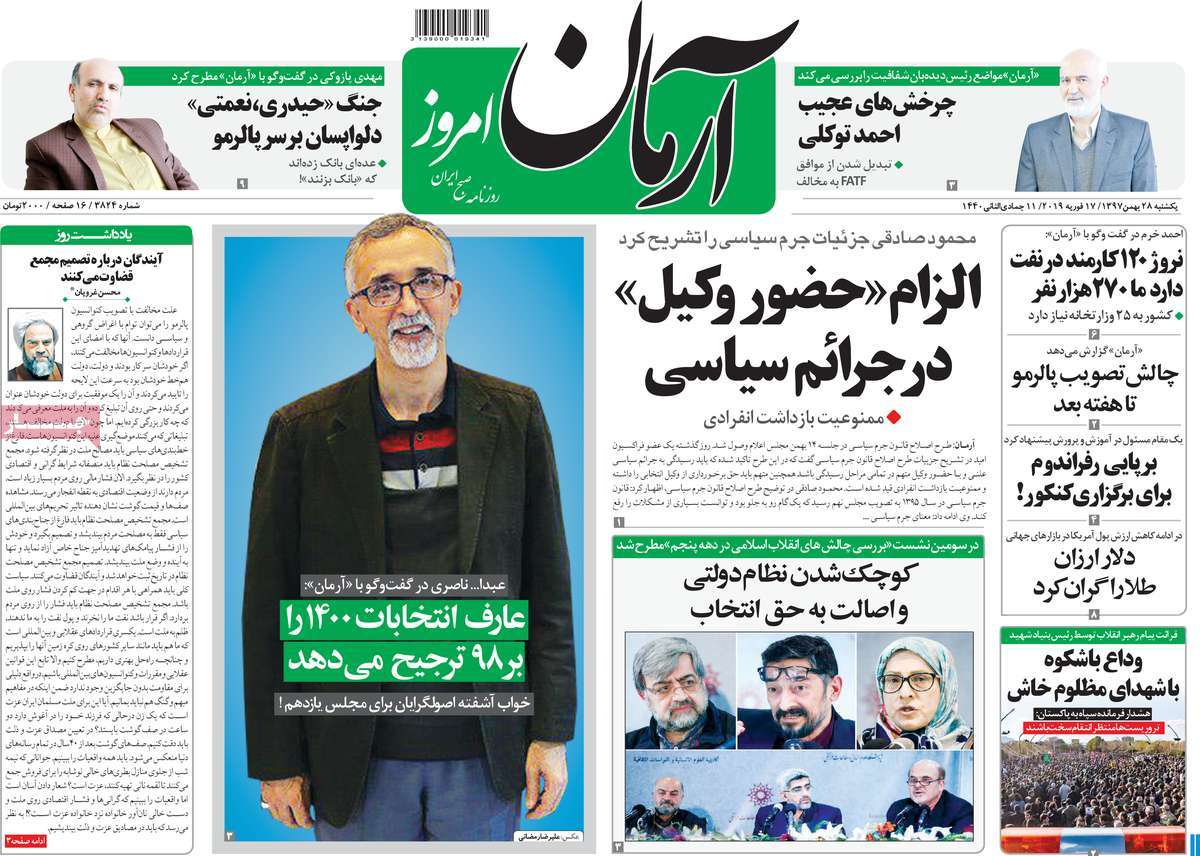 ---
Ebtekar:
1- Washington in Shock
Trump Declares National Emergency despite Deal between Dems, GOP
2- Last ISIS Stronghold Conquered in Eastern Syria?
Conflicting Reports of ISIS' Total Defeat
3- Iran's Patience over: Tehran's Response to Zahedan Terror Attack
---
Etemad:
1- Expediency Council Postpones Voting on Palermo Convention
2- We'll Maintain Iran Nuclear Deal: Europe's Response to Pence's Request
---
Ettela'at:
1- Third Phase of Persian Gulf Star Refinery to Be Unveiled Tomorrow
2- Nasrallah: Iran Too Strong that Likes of Netanyahu Cannot Wage War against It
3- Trump Declares National Emergency in US
---
Jomhouri Eslami:
1- Central Bank Governor: Banks Financing Iran's Big Industrial Units
2- People of Isfahan Bid Glorious Farewell to Martyrs of Zahedan Terror Attack
3- Pakistan Sets Conditions for Normalization of Ties with Israel
4- UK Foreign Secretary: Assad to Stay in Power
5- US-led Coalition Kills 20,000 Civilians in Syria, Iraq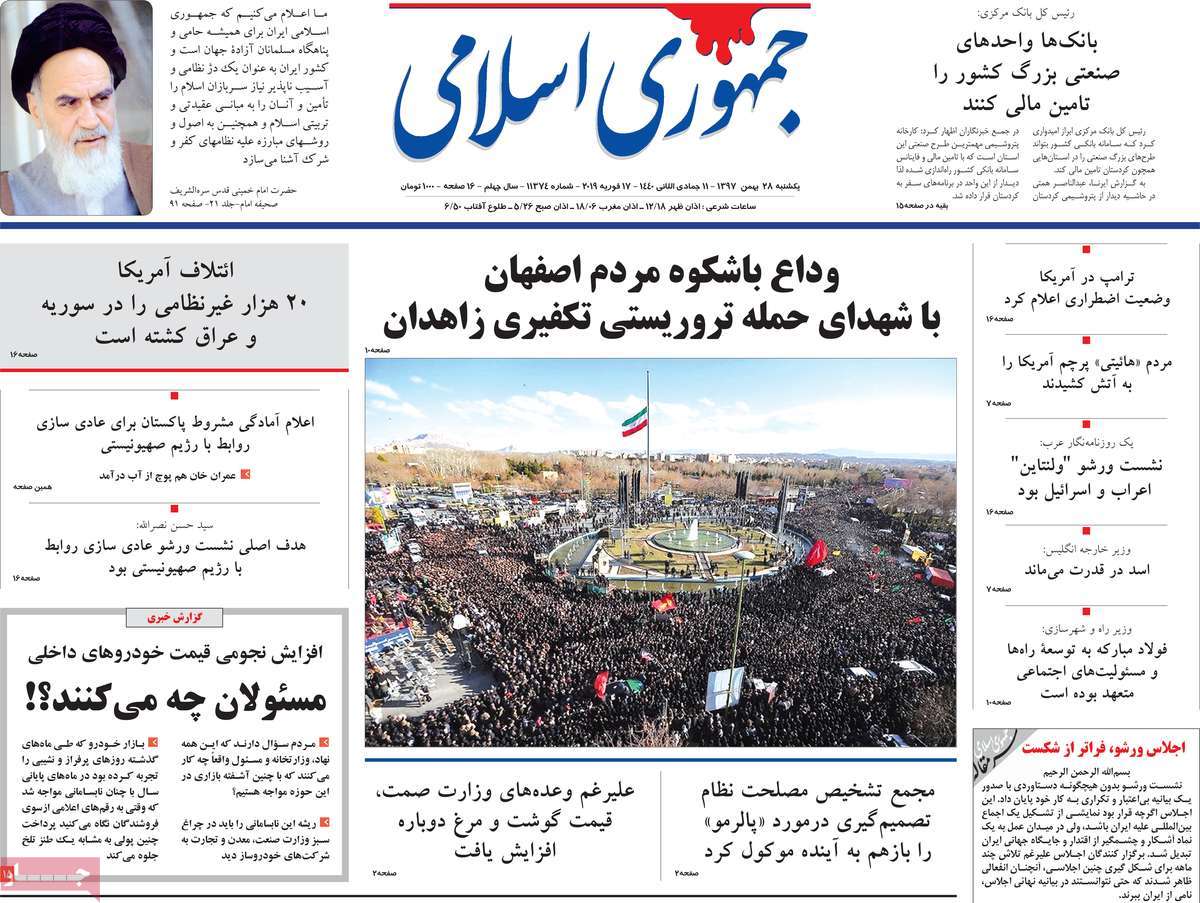 ---
Kayhan:
1- Haaretz' Report of Israel's Role in Yemen War, Al Saud Crimes
2- Economic Terrorists Store 17,000 Tonnes of Meat in Customs
3- Merkel: Why Should We Tear Apart JCPOA; It's a Means to Control Iran
---
Khorasan:
1- IRGC Top General Warns Pakistan, Saudi, UAE over Terror Attack
2- Imran Khan to Drive Bin Salman's Car!
Flight Cancelled, Phone Services Disrupted amid bin Salman's Visit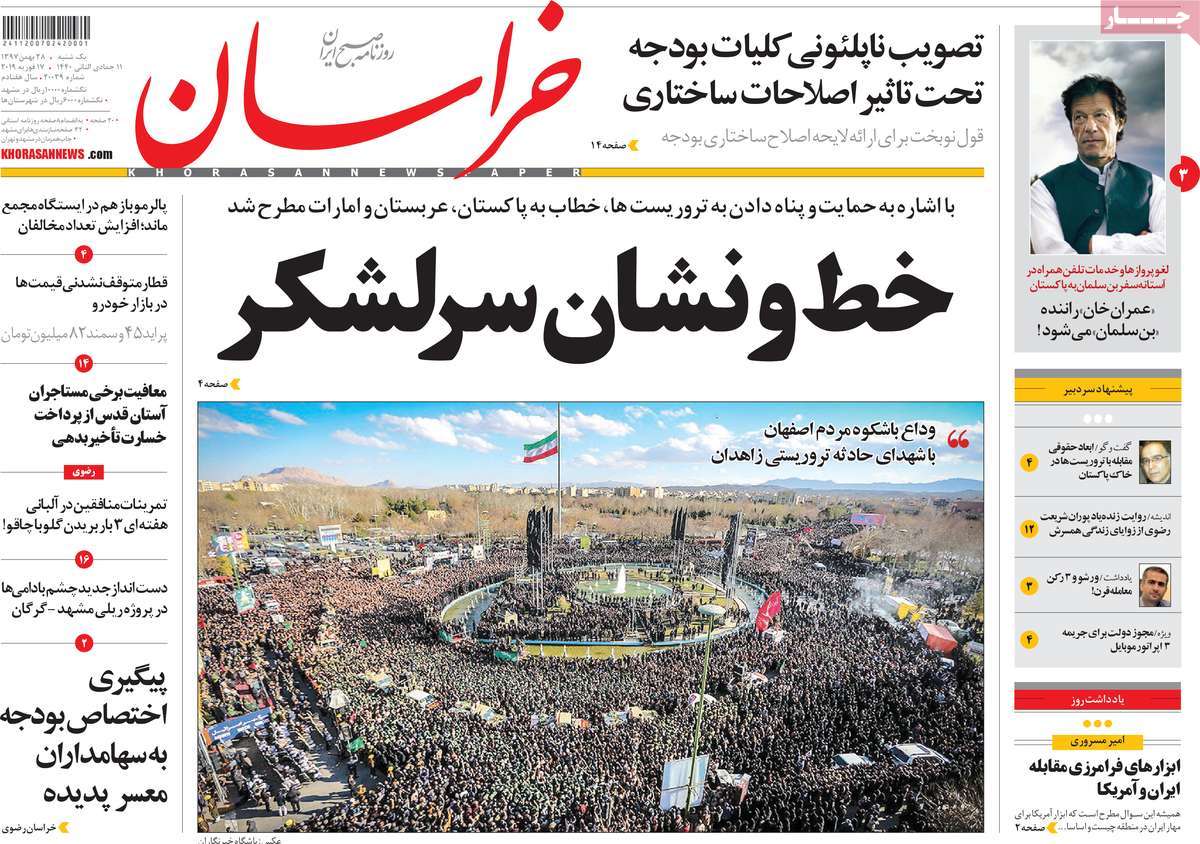 ---
Mardom Salari:
1- Controversy over JCPOA in Munich Conference: Europe, US Disagree over Iran
2- Congressmen Outraged by White House's Insistence on Border Wall
Democrats to Sue President Trump
---
Sazandegi:
1- Trump to Get Divorce from Europe
Munich Security Conference Turns into Second Failure for US after Warsaw
---
Setareh Sobh:
1- IRGC Chief-Commander: Give Us More Authority for Getting Revenge
2- Warsaw Summit Shouldn't Be Underestimated: Ex-Diplomat
---
Shargh:
1- Busy Days of Foreign Minister: Zarif Meets Mogherini, German FM
2- Europe's Financial Channel May Be Cancelled If Iran Fails to Ratify FATF
3- Hysteria of Iranophobia in Warsaw [Editorial]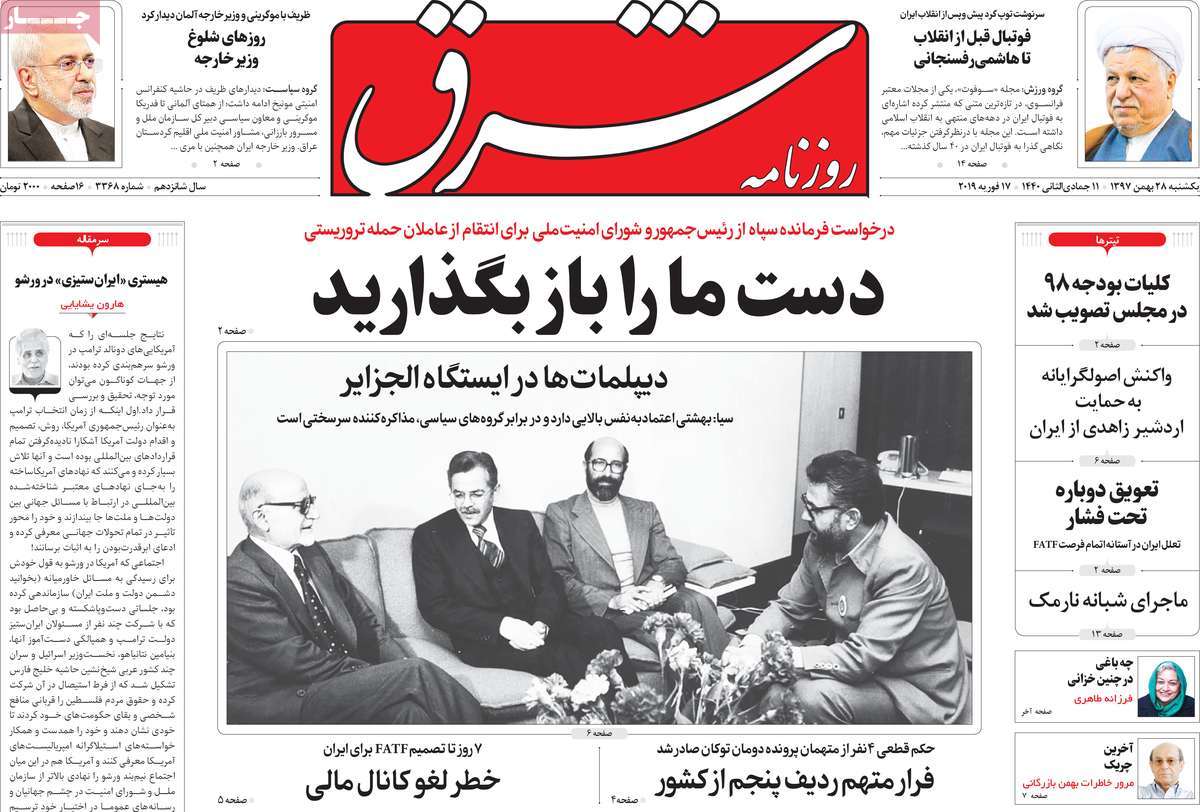 ---
Sobh-e Now:
1- Pakistan Victim of Saudi Arabia: Two Similar Terror Attacks on Verge of Bin Salman's Pakistan Visit
2- Intelligence Blow: New York Times Says American Officer Spied for Iran