Newspapers today widely covered the Iranian Parliament's ratification of an amendment to a bill on Iran's accession to the Combating the Financing of Terrorism (CFT) convention, which had been earlier rejected by the Guardian Council.
Also a top story was the Iranian officials' comments about Europe's efforts to establish the Special Purpose Vehicle (SPV), a financial channel aimed at facilitating trade with Tehran and bypassing the US sanctions.
The Yellow Vest protests in France and French President Emmanuel Macron's abandonment of his tax fuel hikes also remained a top story, with some papers covering the rally of some Iranian students in front of the French embassy in Tehran in protest at the French police's brutality against protesters.
The above issues, as well as many more, are highlighted in the following headlines and top stories:
Abrar:
1- Rouhani: Europe's Talks with Iran on Defence Capabilities Not Acceptable
2- We Should Deal with CFT with National Consensus: Foreign Ministry
3- Larijani: Iran Leader Wasn't Opposed to CFT Discussion in Parliament
4- Austria Ambassador: JCPOA Key Measure to Ensure Int'l Security
5- Parliament Amends CFT Bill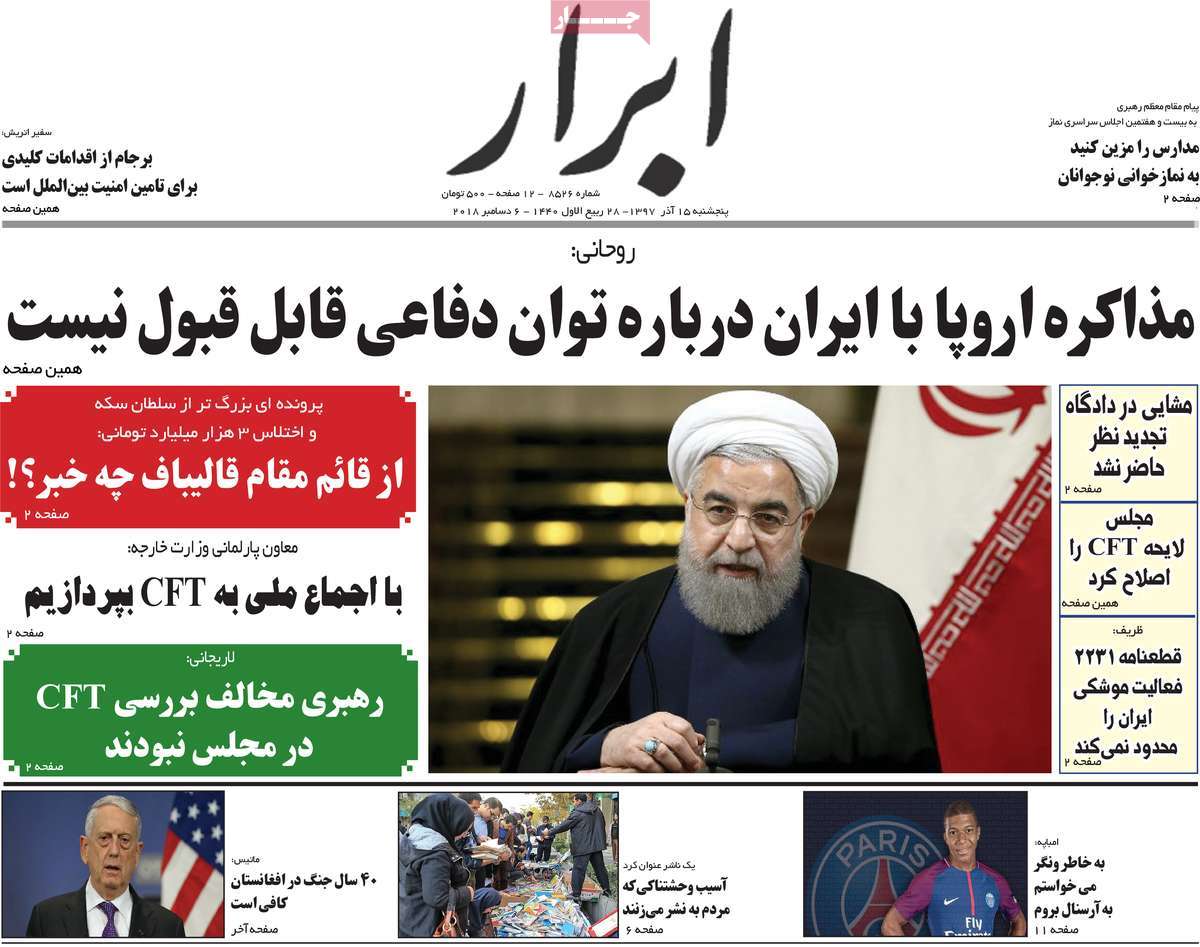 ---
Aftab-e Yazd:
1- Controversy over Alleged Dual Nationality of Iranian Lawmaker
---
Arman-e Emrooz:
1- Short Take on Law that Bans Employment of Retired Officials [Editorial]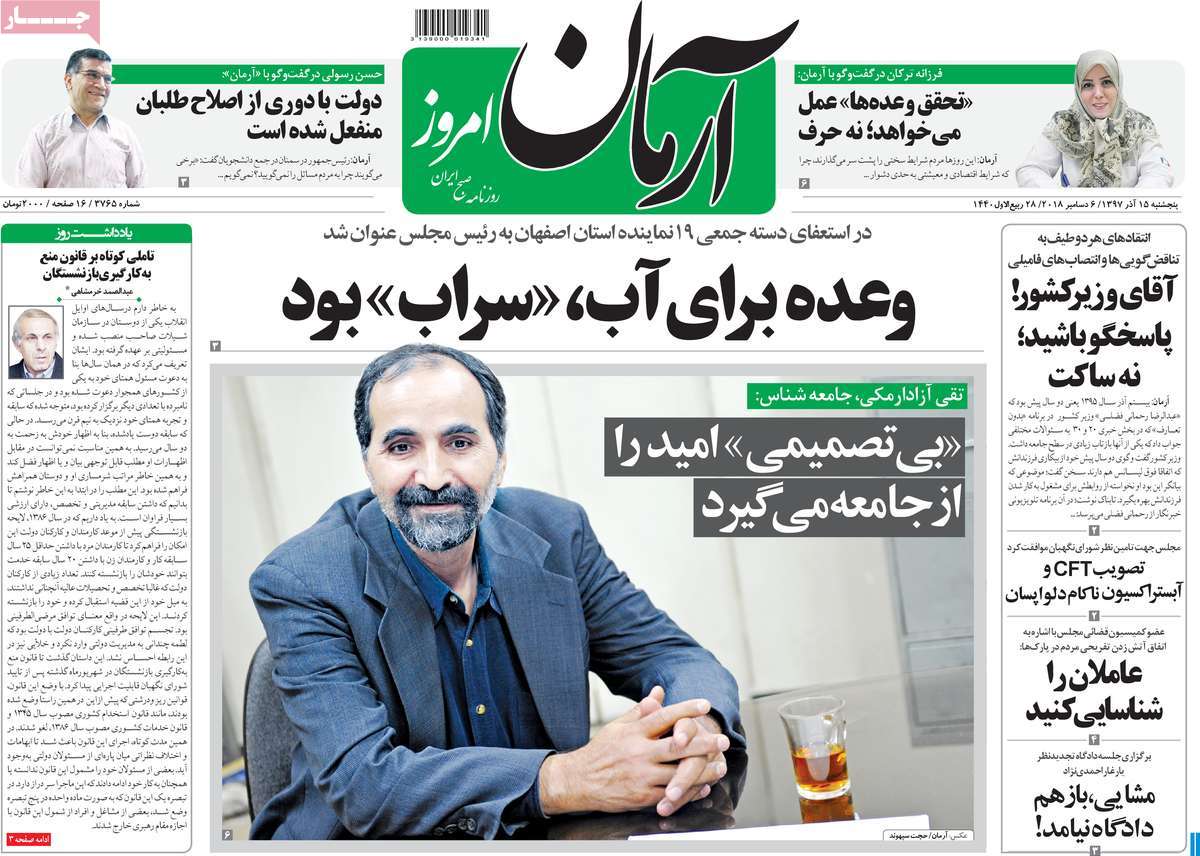 ---
Ebtekar:
1- Zarif's Impeachment Cancelled
2- CFT Once Again Passed by Parliament
3- Iran Has Freest Universities of World: Rouhani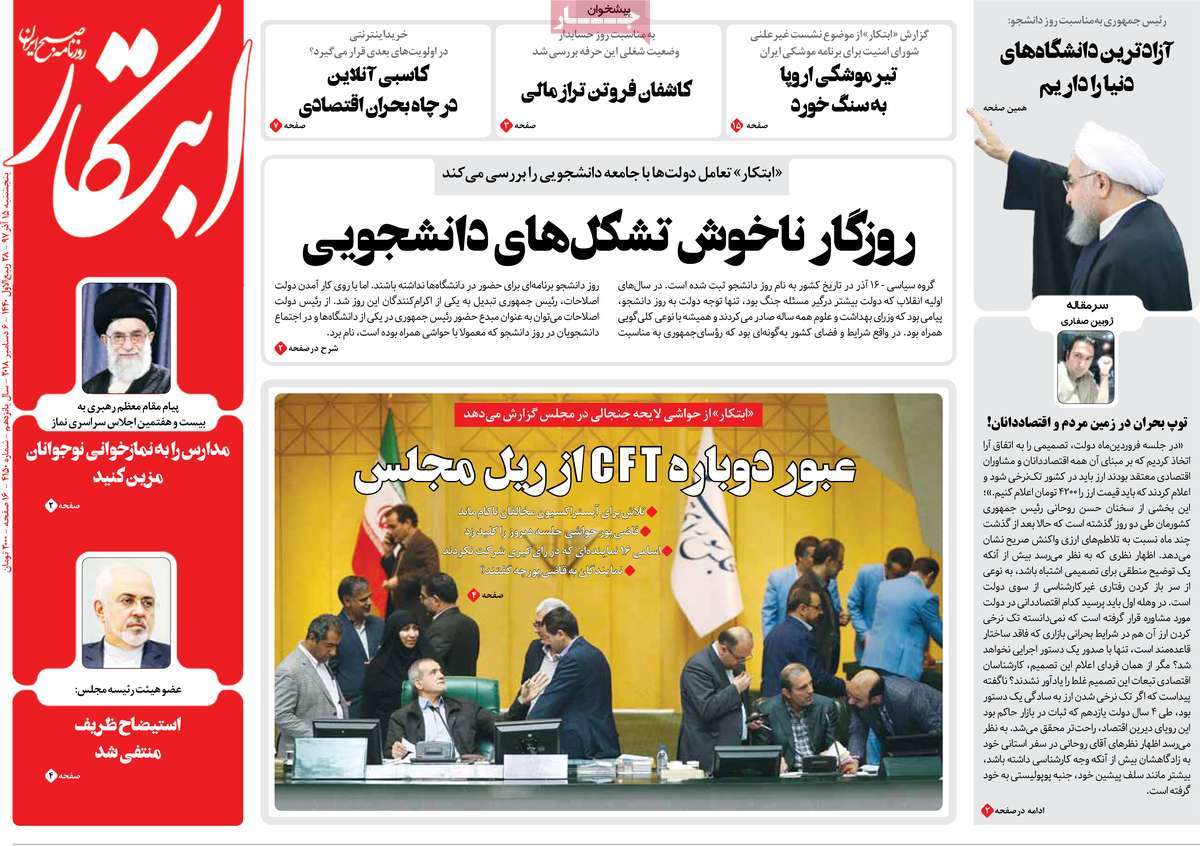 ---
Etemad:
1- Strange Day of Ratifying CFT Amendments in Parliament
2- Istanbul Prosecutor Issues Arrest Warrant for Close Aides of Bin Salman
3- Iran's Missile Program Not to Be Restricted: Zarif
---
Ettela'at:
1- Iran Seeding Clouds Using Airplane, Drone
2- West Fails to United UN Security Council against Iran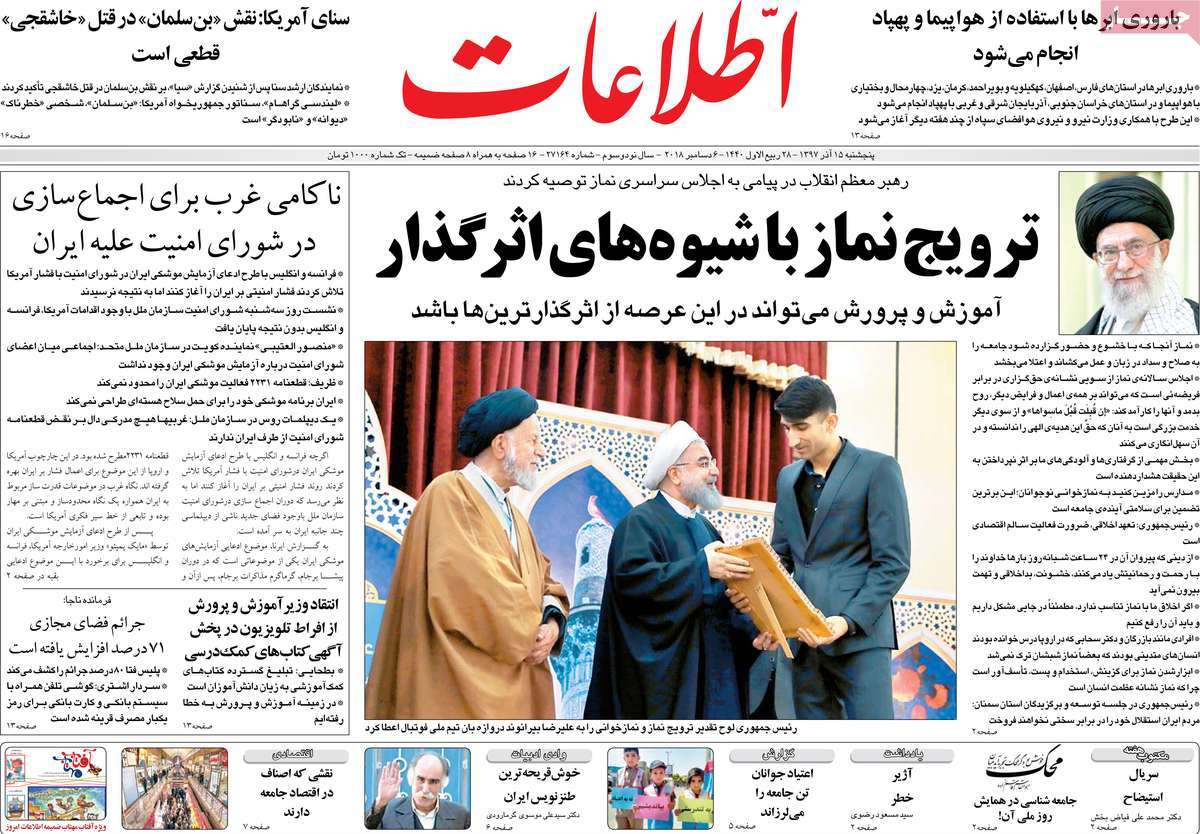 ---
Haft-e Sobh:
1- Controversial Election of 25-Year-Old Woman as Deputy Interior Minister in Afghanistan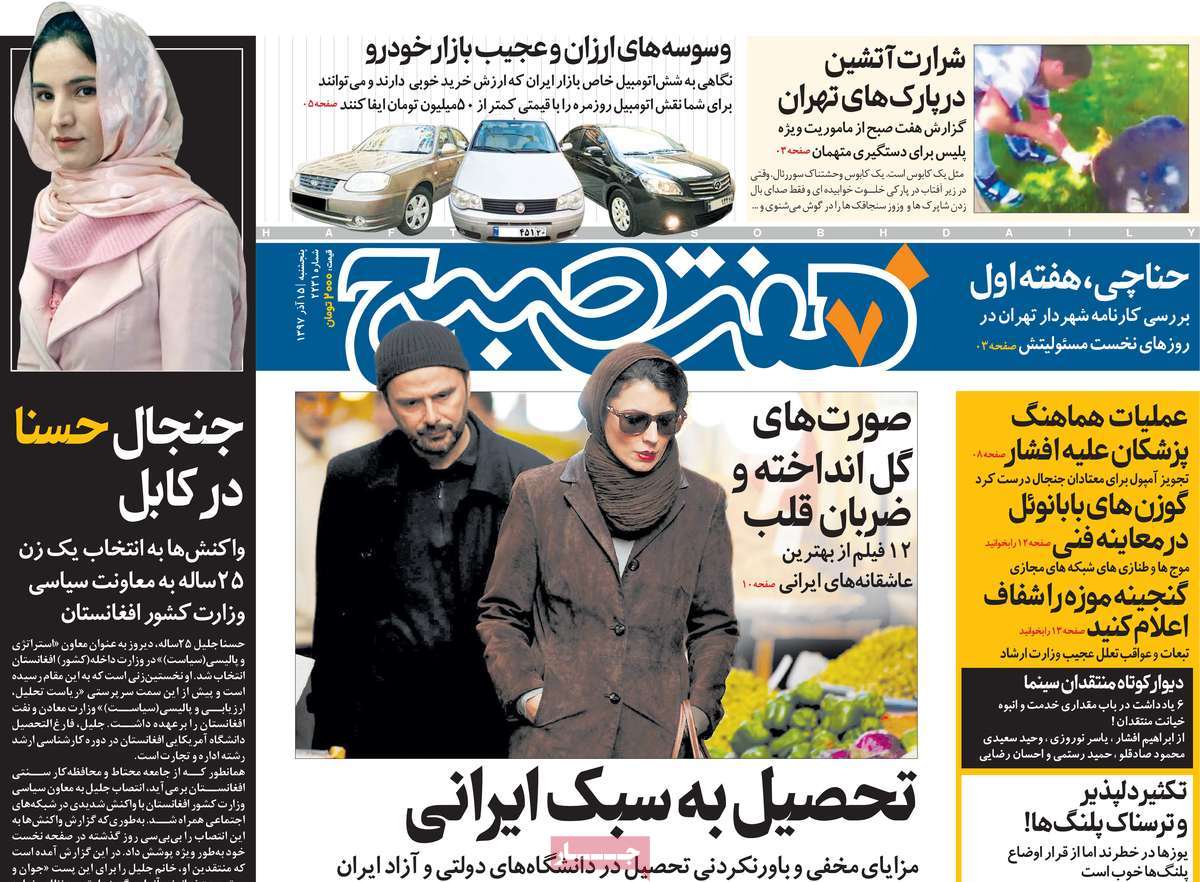 ---
Iran:
1- Iran First VP: We Have New Clients for Our Oil
2- Americans Sending Messages to Iran on Daily Basis: Rouhani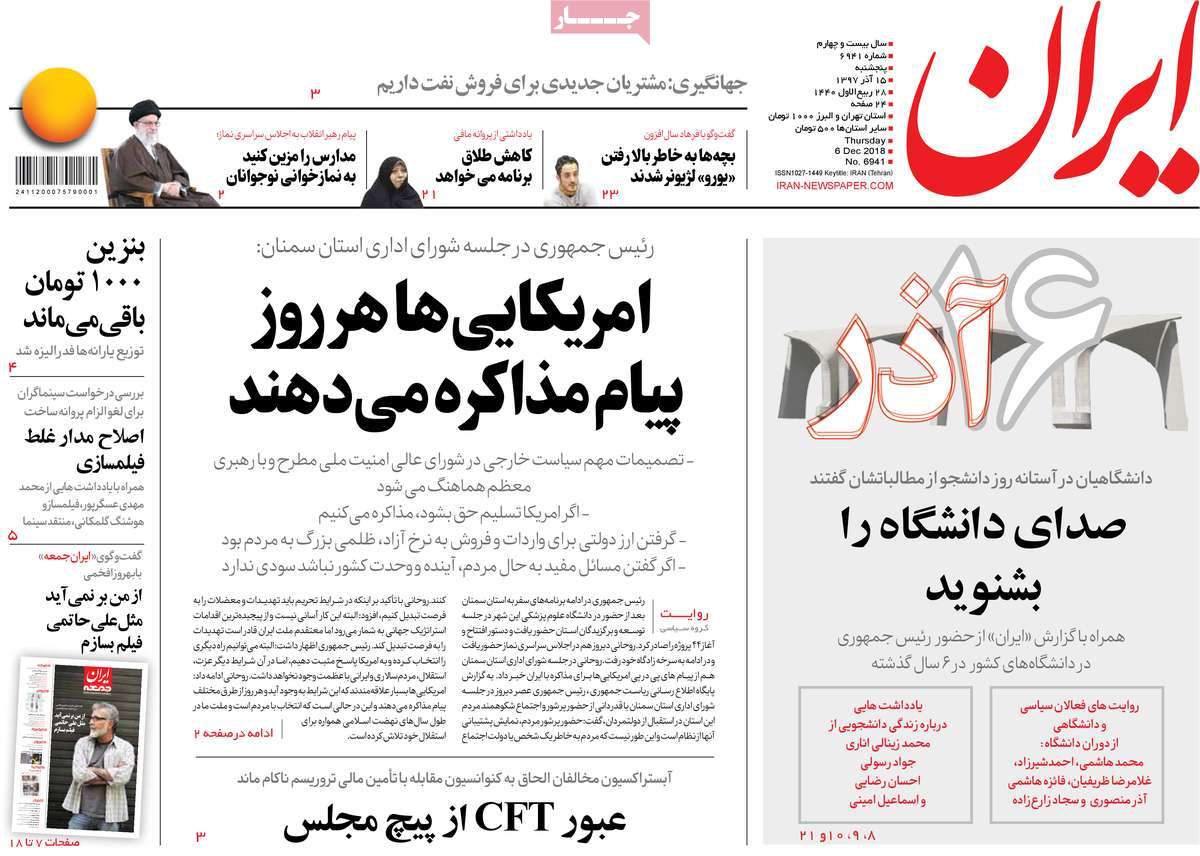 ---
Jame Jam:
1- Exporters Refuse to Sell Gov't 15 Billion Euro Earned from Their Exports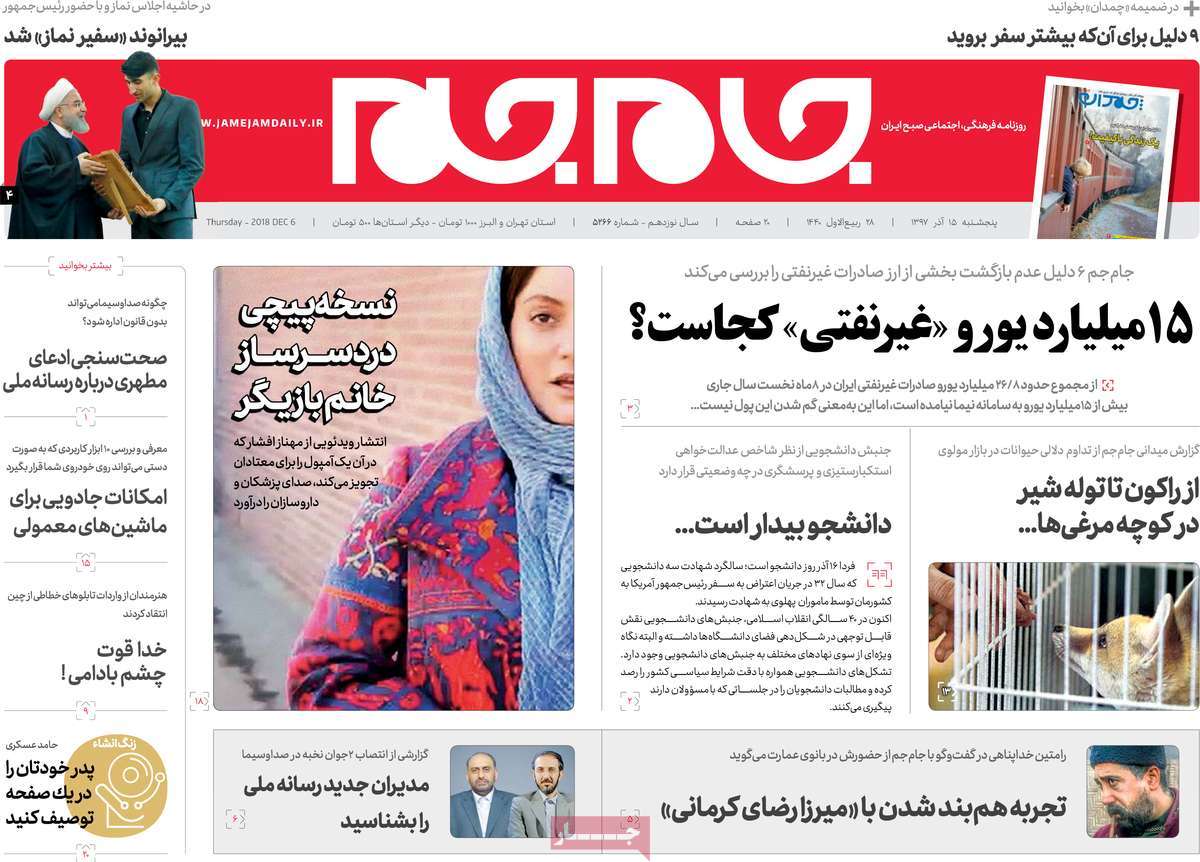 ---
Kayhan:
1- Yellow Vest Protester: Macron's Promise Not Enough; We'll Continue Protests
2- 500 Physicians from 21 Countries Attend Second Congress of Iran-Europe Heart Surgeons
3- Students in Tehran Hold Rally in Front of French Embassy to Protest Police Brutality in Paris
4- Tunnel Controversy in Lebanese-Israeli Borders
---
Resalat:
1- Qalibaf Criticizes Officials' Distance from Ordinary People, Leading to Aristocracy, Injustice
2- Yemenis Have Missiles with Range of 400km, Accuracy of 10m: Iranian General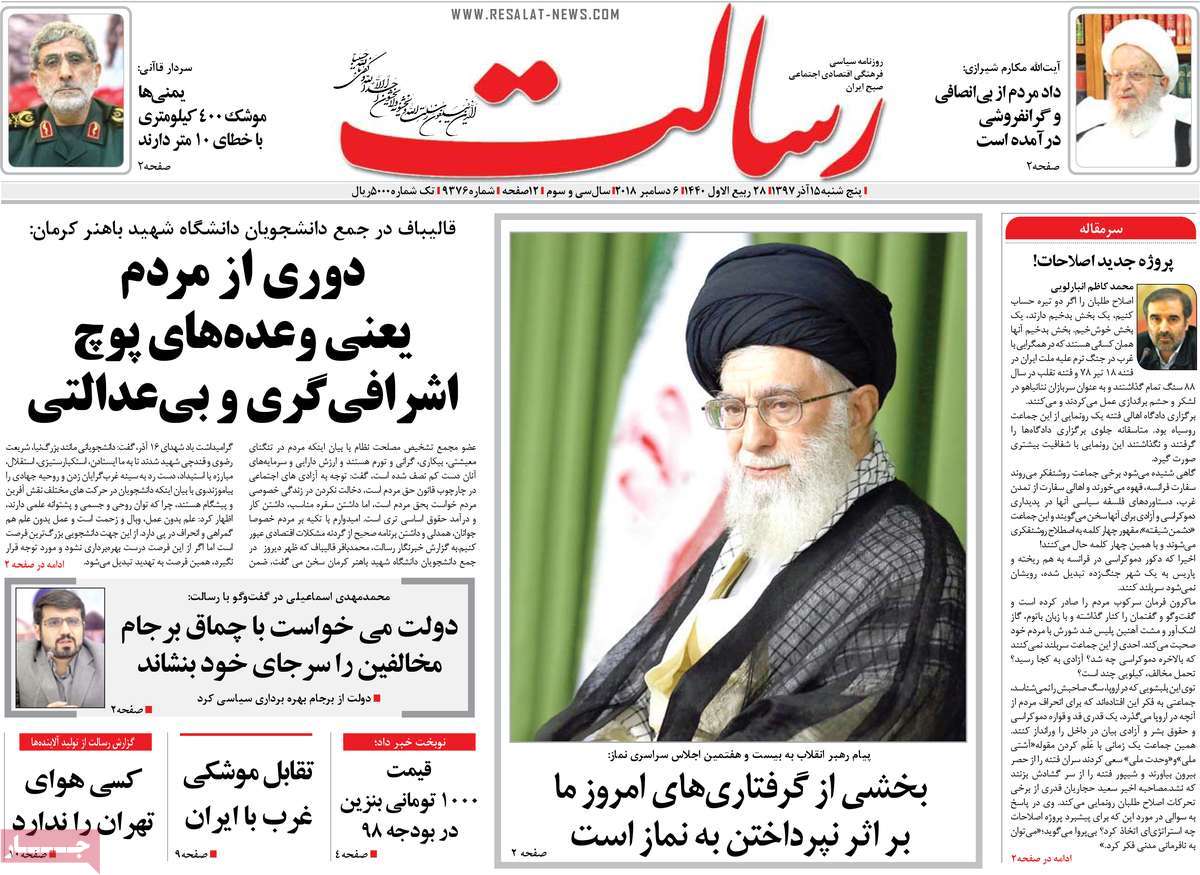 ---
Shargh:
1- Iran-Europe Financial Channel to Be Established in Coming Weeks: Rouhani's VP
2- Bin Salman's Case to Be Discussed in Senate
3- Iran Leader Calls for Promotion of Islamic Prayers (Salah) at Schools
4- Iran to Overcome Sanctions by Selling One Million Barrels of Oil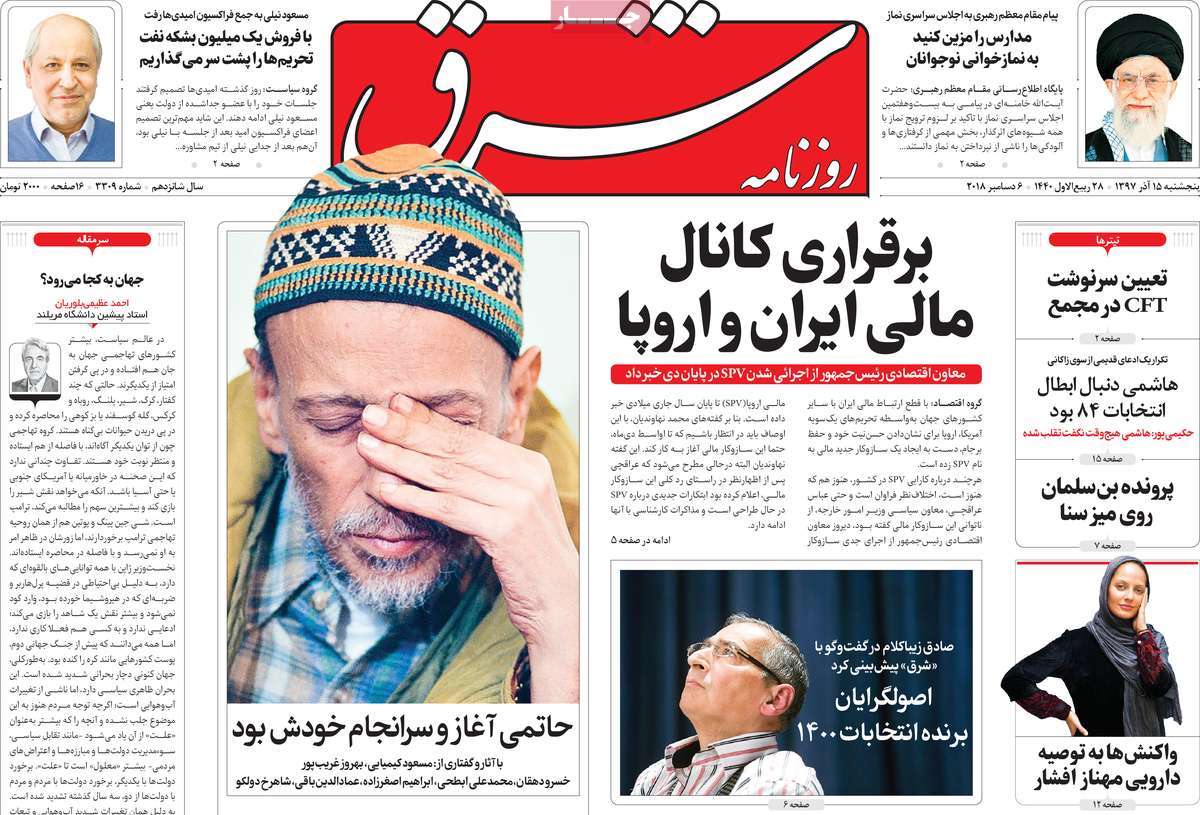 ---
Vatan-e Emrooz:
1- Europe Working Confidentially to Register SPV!
Despite Witnessing E3's Violation of Commitments, Zarif Still Trusts Them