The top story in almost all papers today was a trilateral meeting between Iran, Turkey, and Russia in Moscow which was held to discuss ways to resolve the Syria crisis.
The recent historic meeting between the leaders of North and South Korea also remained a top story. A key point of analysis was a possible decision by the US to negotiate another JCPOA, this time on the North Korean nuke program.
The visit of Angela Merkel, the German chancellor, to the US and her meeting with Trump on the Iran nuclear deal was also a top story today. Many papers described her stances as a 'betrayal of the deal' and denounced Berlin for its double-standard policies.
The above issues, as well as many more, are highlighted in the following headlines and top stories:
19 Dey:
Zarif: Change of JCPOA Not Acceptable
ICT Minister: Iranian Digital Currency Prepared
Central Bank Governor: Iran Not Worried about Trump's Withdrawal from JCPOA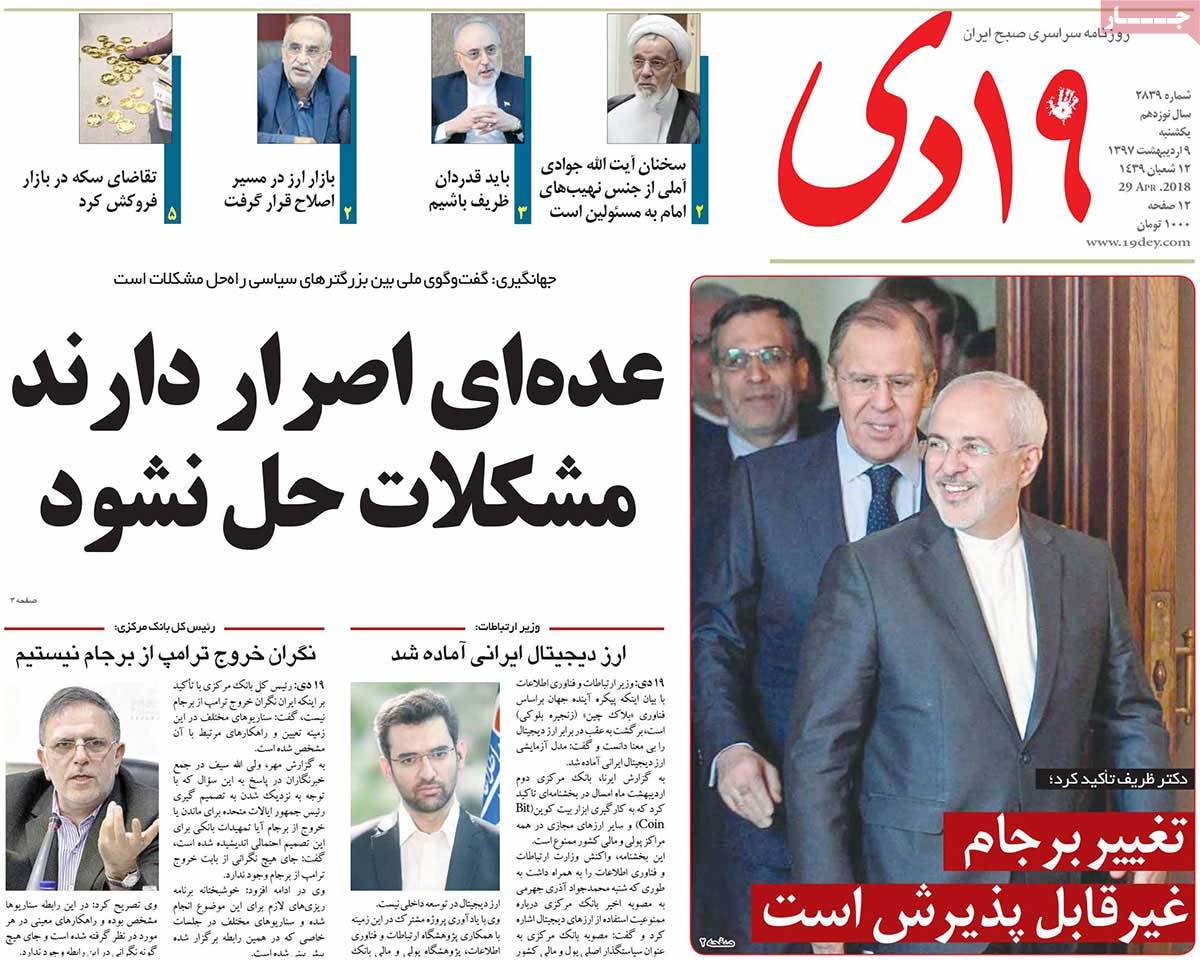 ---
Abrar:
EU Has Invested in Iran Nuclear Deal
Trump: Iran Won't Achieve Nuclear Weapons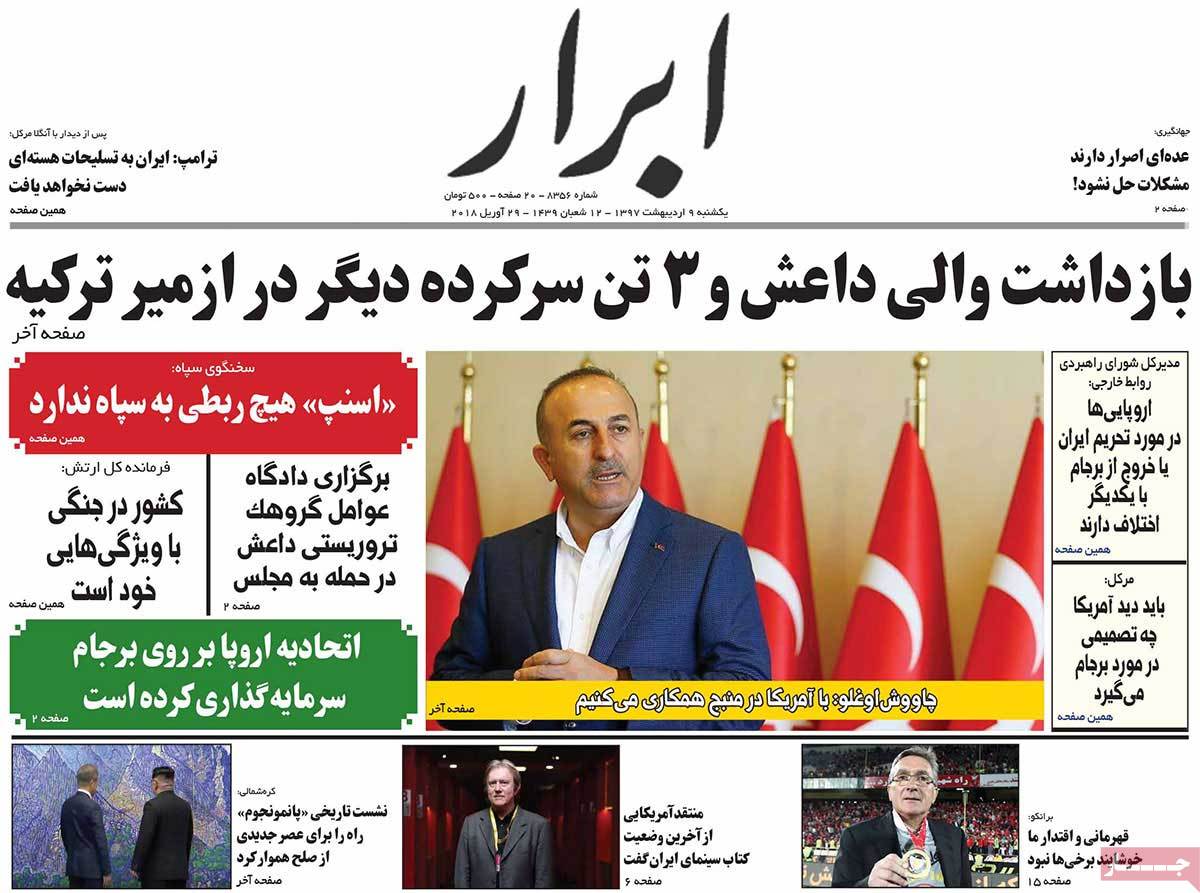 ---
Abrar-e Eqtesadi:
India Main Rival of Iran in Global Handmade Carpet Market
French Firms Eager to Work with Iranian Companies in Petchem Industry
---
Aftab-e Yazd:
Economic Analyst: Rouhani's Gov't Has Made Good Use of Oil Revenues
Triangle of 2021
Rouhani Will Likely Support Nateq Noori, Larijani in Next Presidential Votes
---
Arman-e Emrooz:
250 European Banks Working with Iran
ISIS Elements behind Tehran Parliament Appear in Their First Court Sessions
Judge: 26 People Accused of Complicity in the Attack
---
Asrar:
Energy Minister: Water Crisis Influences 17 Million People in Iran
---
Donya-ye Eqtesad:
Iran-Europe Banking Talks
New Aspect of Problems in Working with Trump Disclosed
---
Ebtekar:
European Saviour of JCPOA!
After Macron, Merkel Heads to Washington to Meet with Trump
Maximum Punishment Called for Eight People Involved in Tehran Parliament Raid
FATF, Prison Guard of International Banking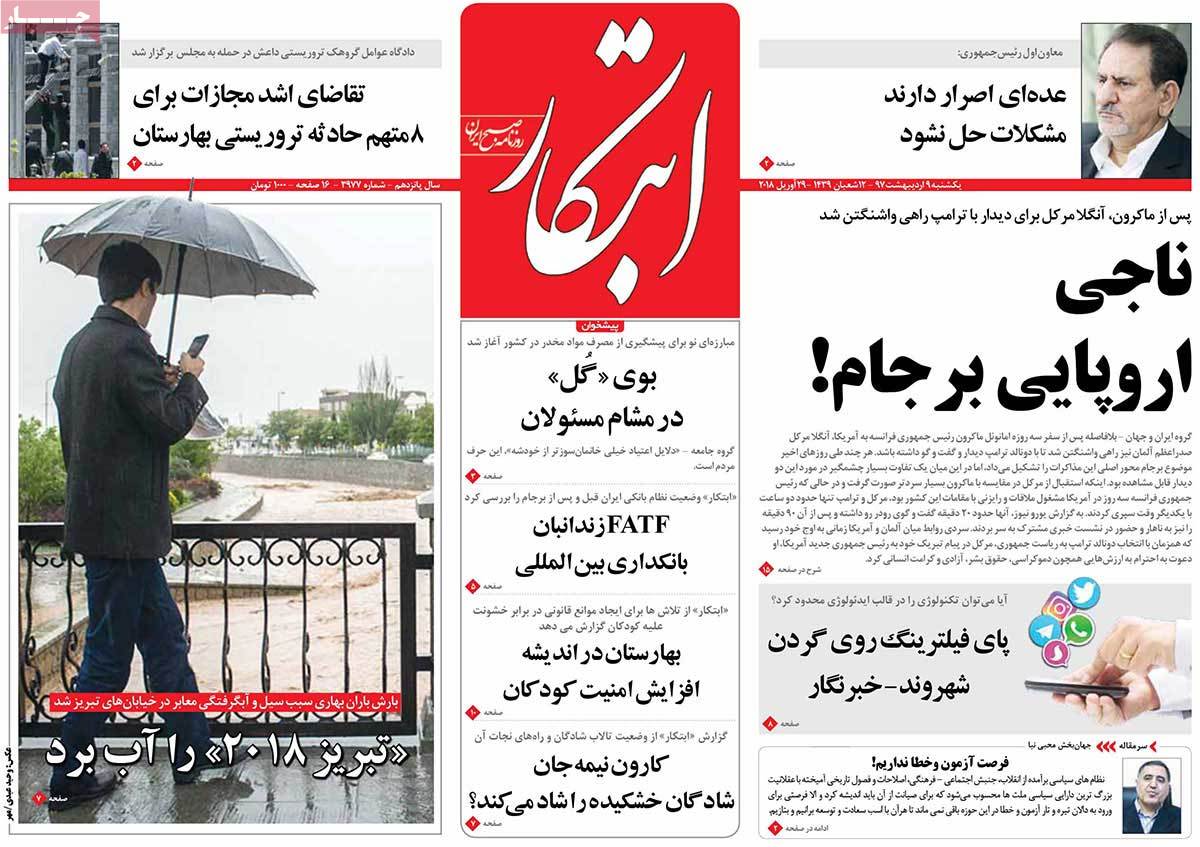 ---
Etemad:
Iran, Turkey, Russia Hold Trilateral Meeting in Moscow
Efforts to Achieve Consensus on Syria
---
Ettela'at:
Iran First VP: Some Are Trying to Prevent Problems from Being Resolved
Funeral Held for Saleh al-Samad in Yemen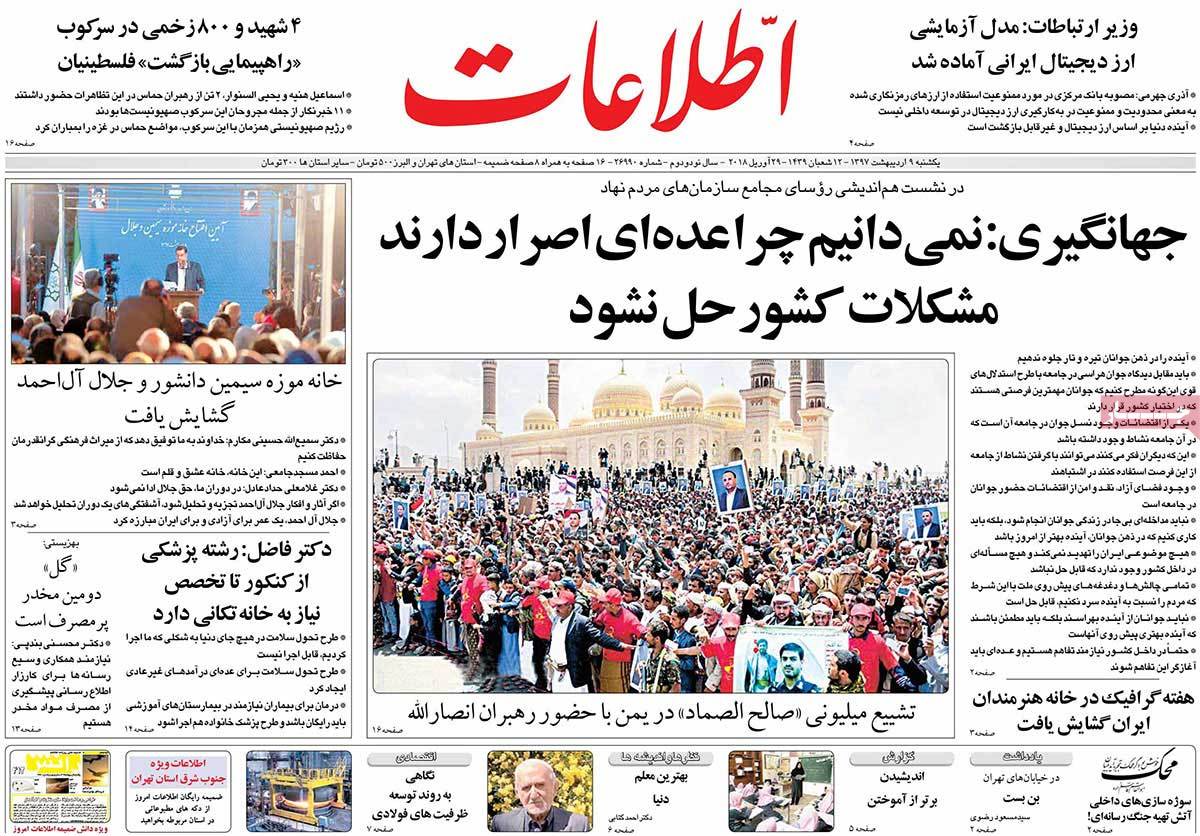 ---
Iran:
Merkel in Meeting with Trump: JCPOA Has Been Effective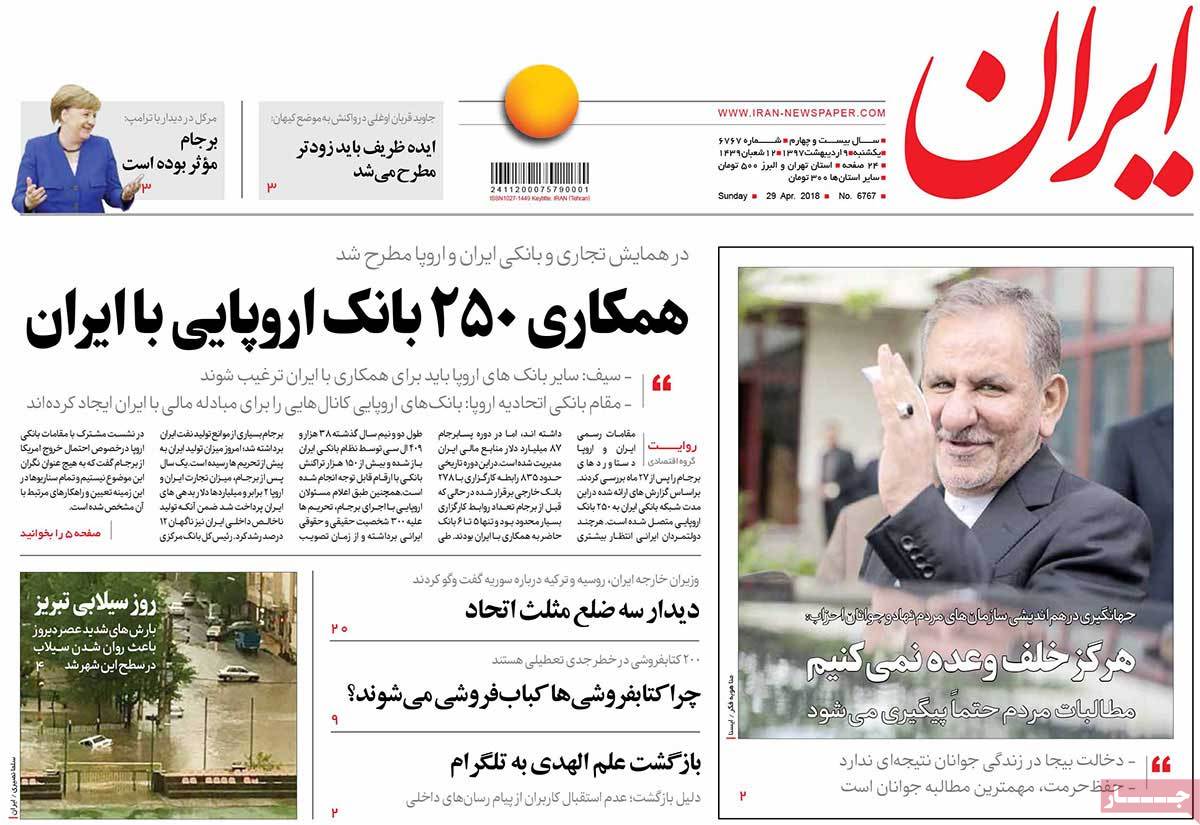 ---
Jame Jam:
Europe, Continent of Harassment
How Sexual Abuse of Female Immigrants Turned into Common Practice in Germany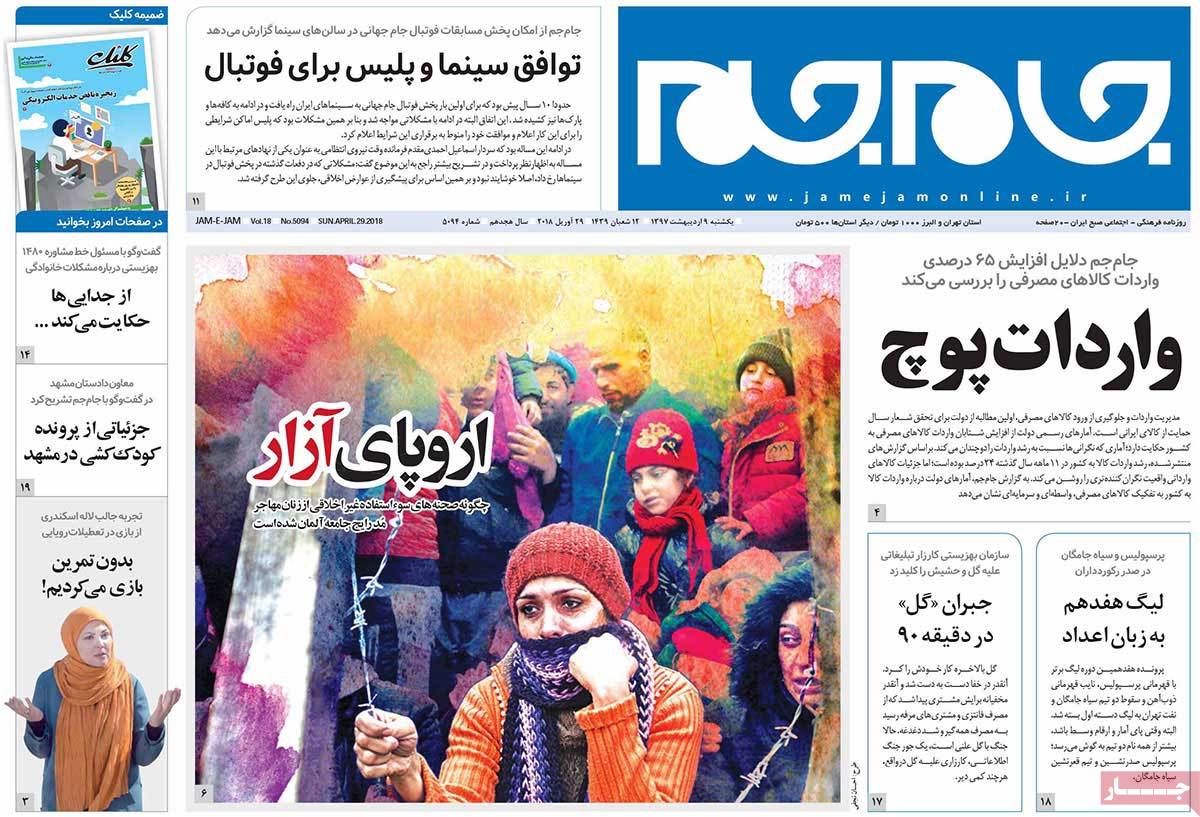 ---
Javan:
Epic Funeral held for al-Samad under Saudi Bombardment
Merkel, Latest Leader to Betray Iran Nuclear Deal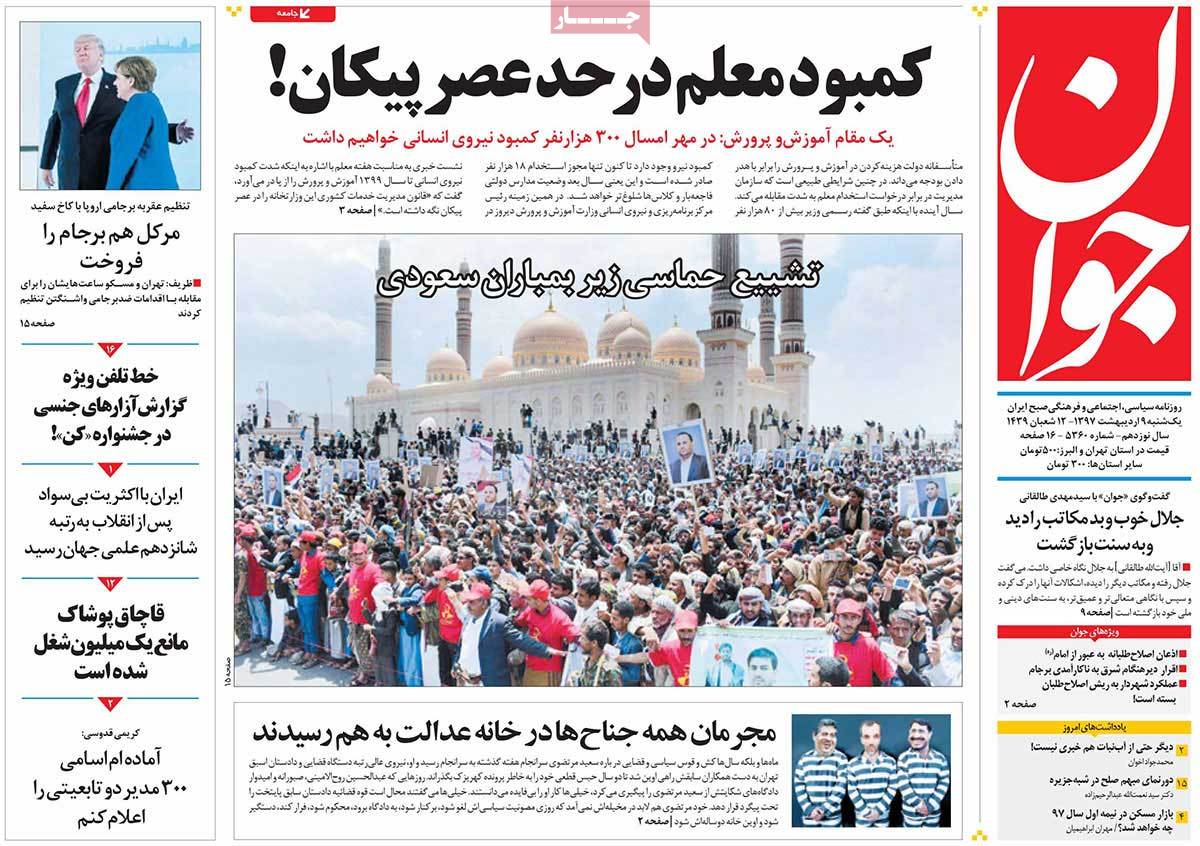 ---
Jomhouri Eslami:
France 24: Europe United against Trump on Iran Nuclear Deal
Iran, Turkey, Russia Hold Firm Stance on Final Eradication of ISIS, Nusra Front in Syria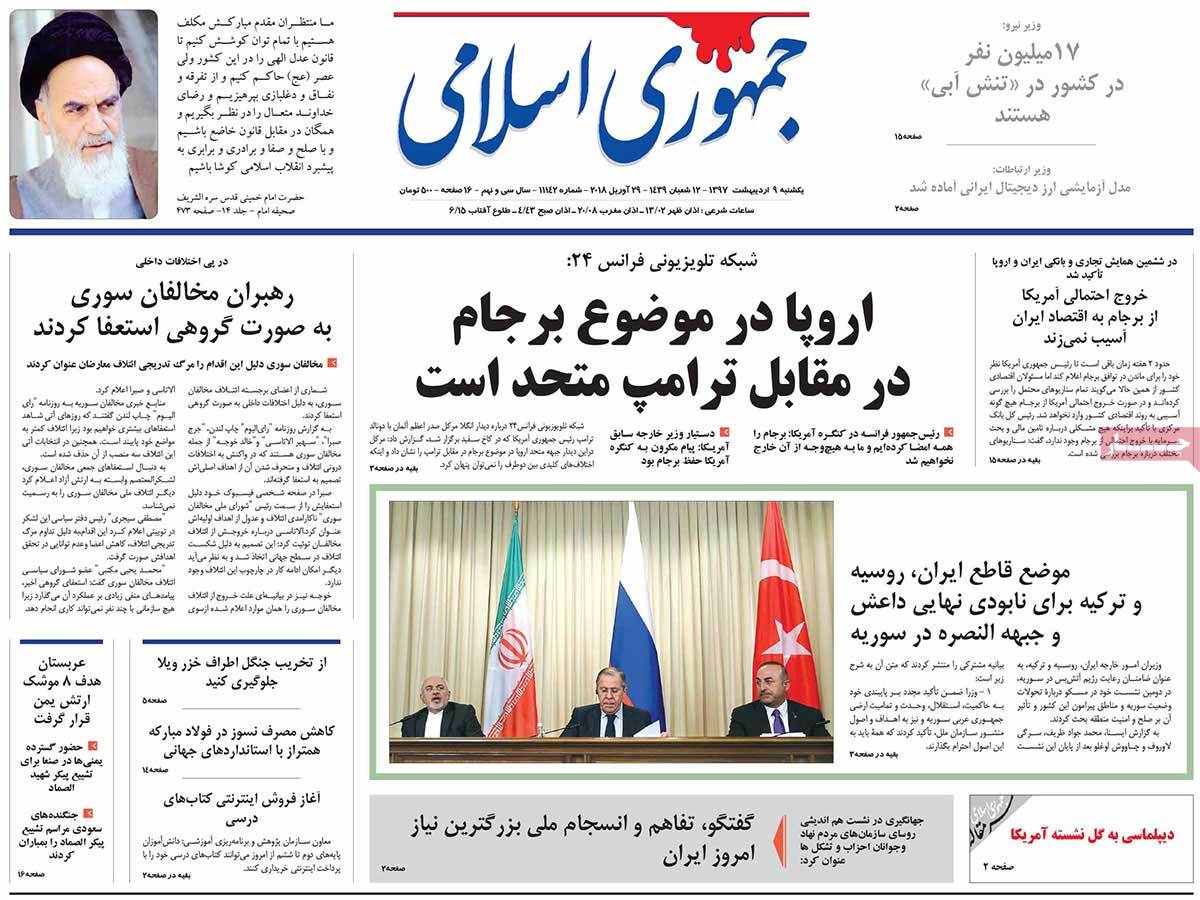 ---
Kayhan:
Leaving NPT Must Be Iran's Response to Betrayal; Don't Give More Concessions
Ansarullah, Al Saud Exchange Heavy Fire
Revolutionaries Attack Jizan with 8 Ballistic Missiles
---
Resalat:
Germans Betray Iran Nuclear Deal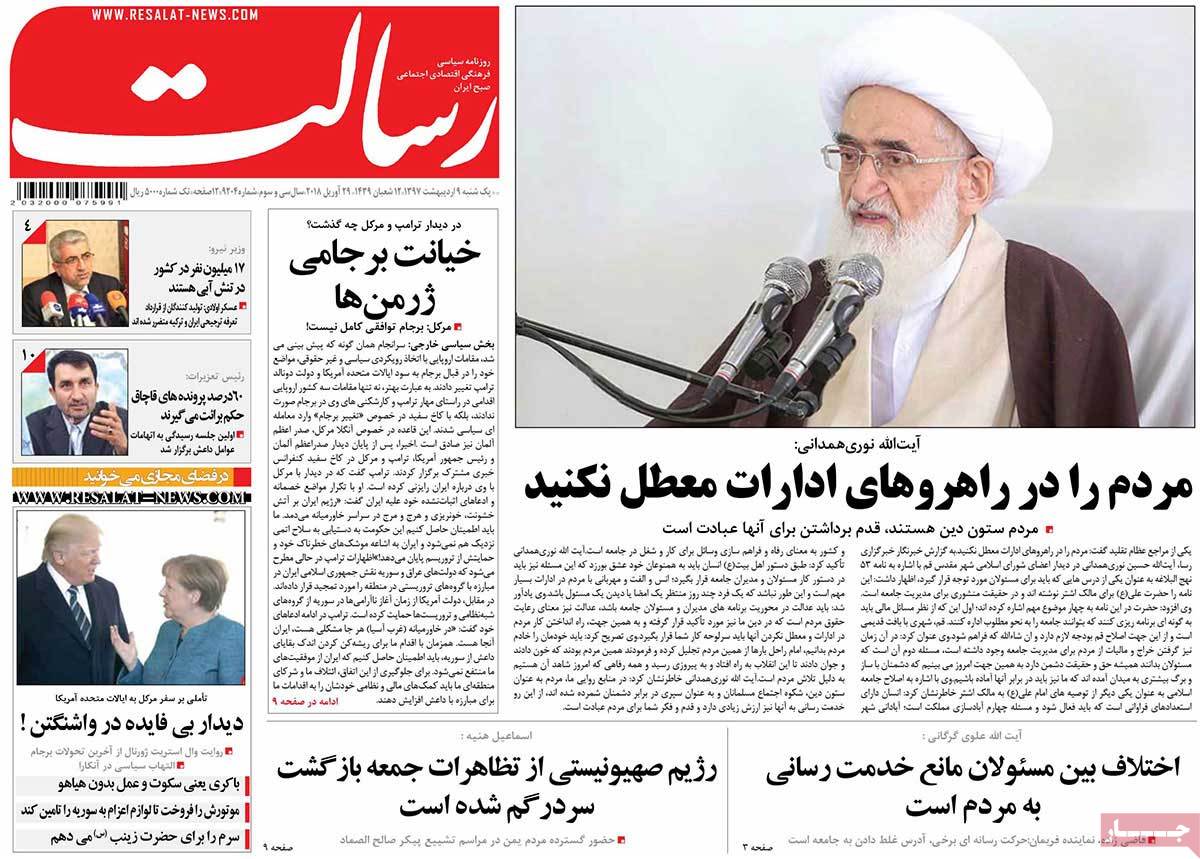 ---
Rooyesh-e Mellat:
Peace in Peninsula: Trump Thinking of Korean JCPOA?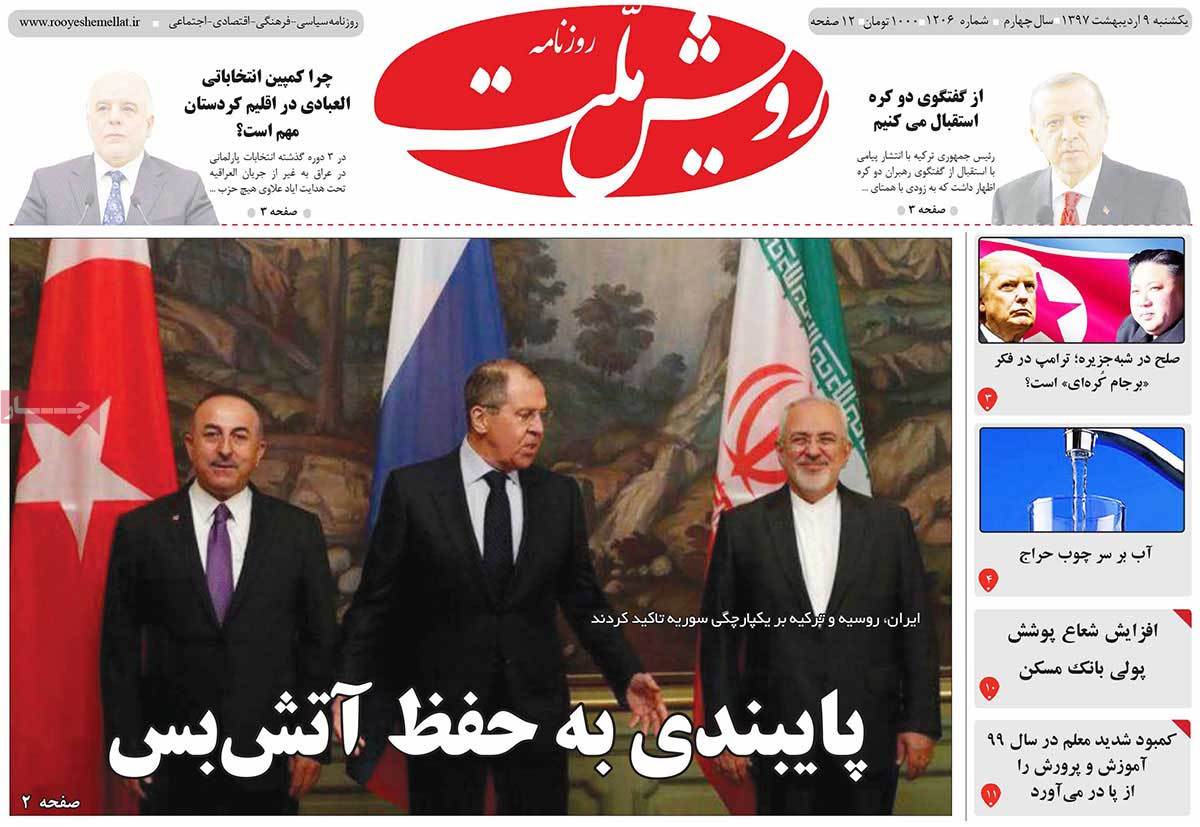 ---
Roozan:
Triangle of Astana Renew Allegiance in Moscow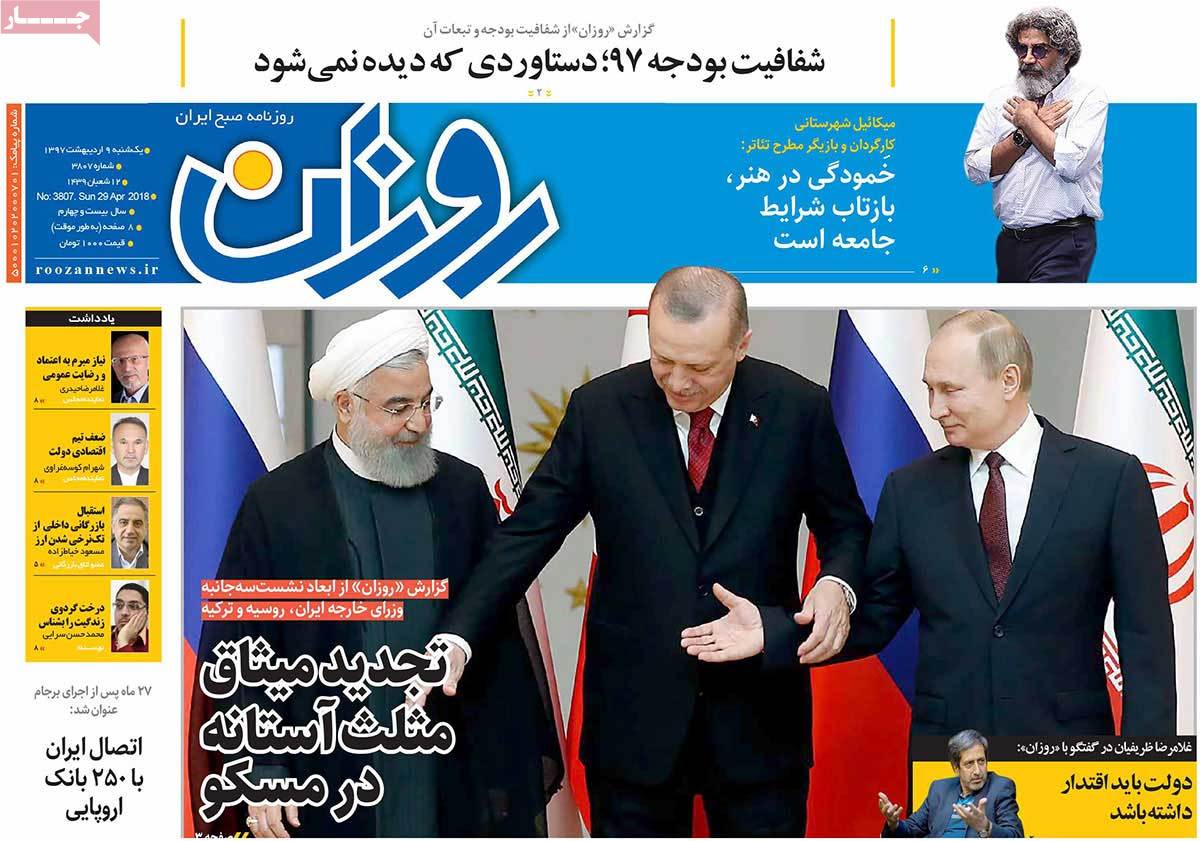 ---
Sazandegi:
What JCPOA?
It's Totally Wrong to Compare Iran with North Korea
Iran Nuclear Deal Better than Possible Korean JCPOA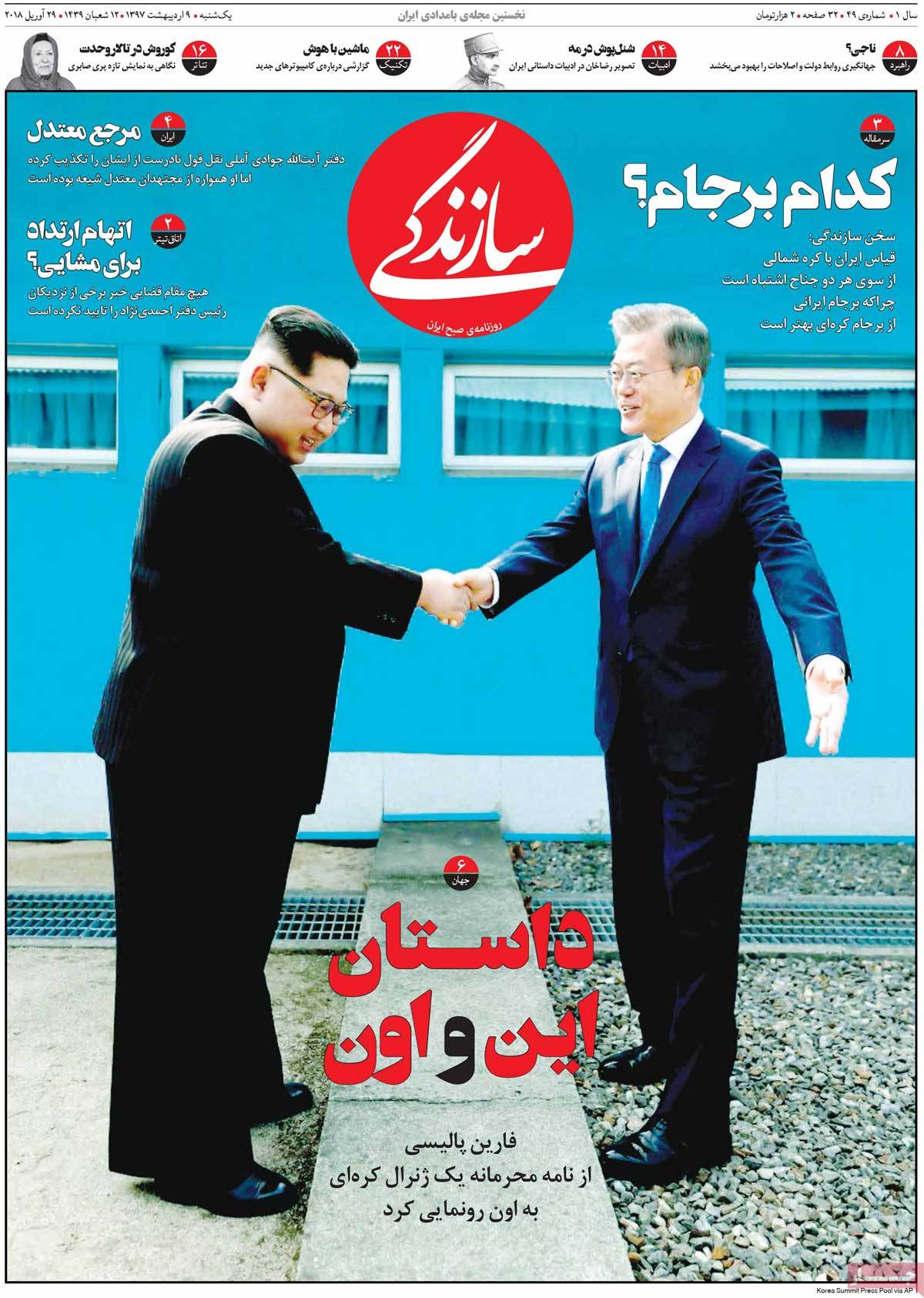 ---
Sepid:
MP: Iran's Regional Rank in Health Cares Down to 10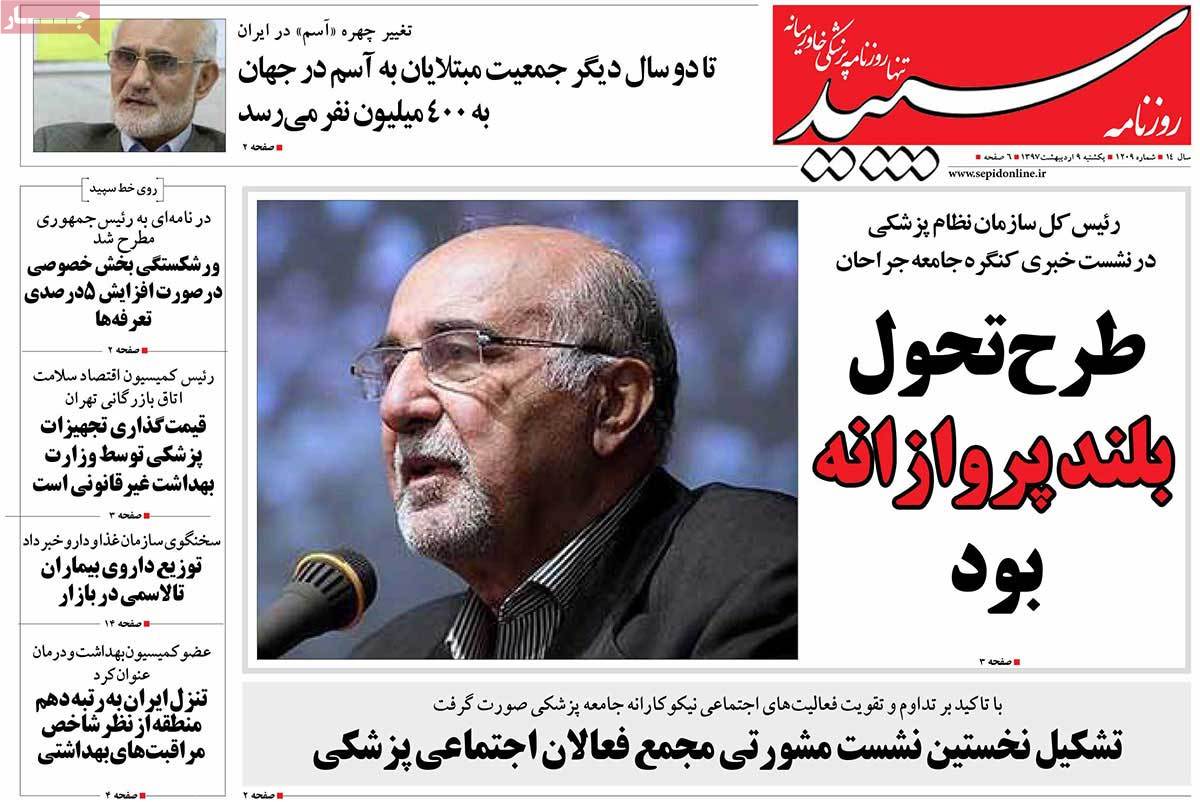 ---
Shargh:
Zarif: Syria Has No Military Solution
---
Sobh-e Now:
Dream of JCPOA Gone
Deputy Transport Minister Resigns as Boeing Breaks Promises
---
Vatan-e Emrooz:
Pompeo: It's Unlikely that We Won't Withdraw from Iran Nuclear Deal