Comments by the first vice-president about the government's determination to take on corruption dominated the front pages of Iranian newspapers on Tuesday. Also in the news were the remarks of Foreign Minister Mohammad Javad Zarif about the NPT and commitment of the American side to the Lausanne statement.
Afarinesh: "Acceptance of the Additional Protocol depends on clinching an agreement on all issues".
The comment was made by Director of the Atomic Energy Organization of Iran Ali Akbar Salehi.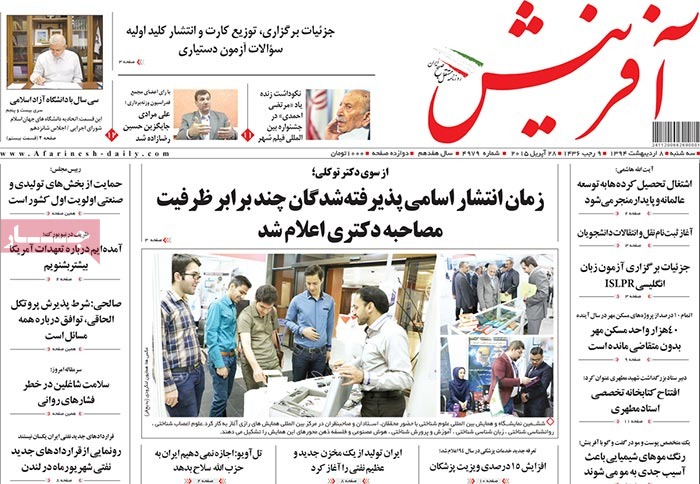 ---
Afkar: Energy consumption in Iran is three times as much as the global average.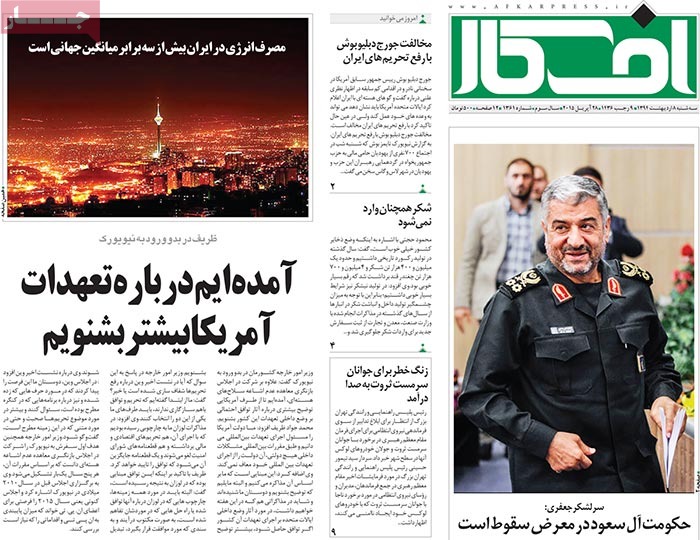 ---
Aftab-e Yazd: Mr. President we need brave ministers.
Tehran MP Ali Motahari has said that the speech Interior Minister Abdolreza Rahmani Fazli delivered in parliament on the so-called dirty money being channeled into electoral campaigns was not courageous.
Aftab-e Yazd: Handout of cash subsidies to some 6 million individuals will stop.
---
Arman-e Emrooz: The local chapter of Hezbollah in Gorgan has invited the grandson of the founder of the Islamic Republic to visit the city.
[It came after a statement attributed to the group threatened Seyyed Hassan Khomeini not to visit the northern province of Golestan.]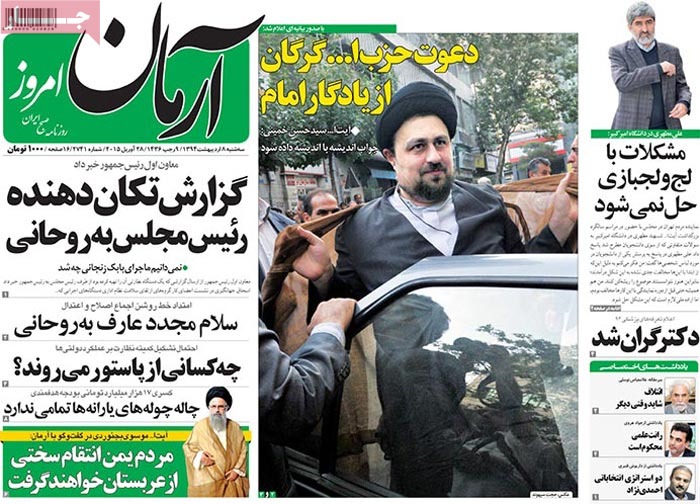 ---
Asia: Representatives of the private sectors of Iran and Switzerland held talks on establishing trade ties while sanctions are still in place.
---
Ebtekar: "Police have been ordered to deal with individuals who disrupt concerts," said Minister of Culture and Islamic Guidance Ali Jannati.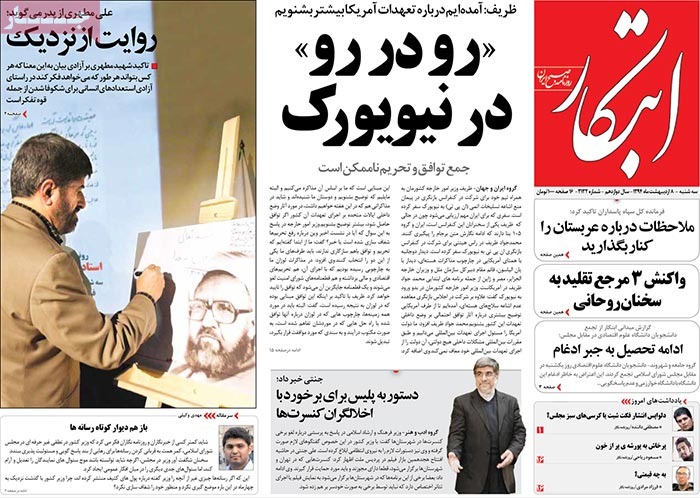 ---
Ettela'at: "We have no red lines in the fight against corruption," said First Vice-President Eshagh Jahangiri.
He further said, "We are at a point which requires giant strides toward economic growth and development."
---
Hemayat: "Iranian Officials need to drop conservatism in dealing with the Saudi government," said the commander of the Islamic Revolution Guard Corps.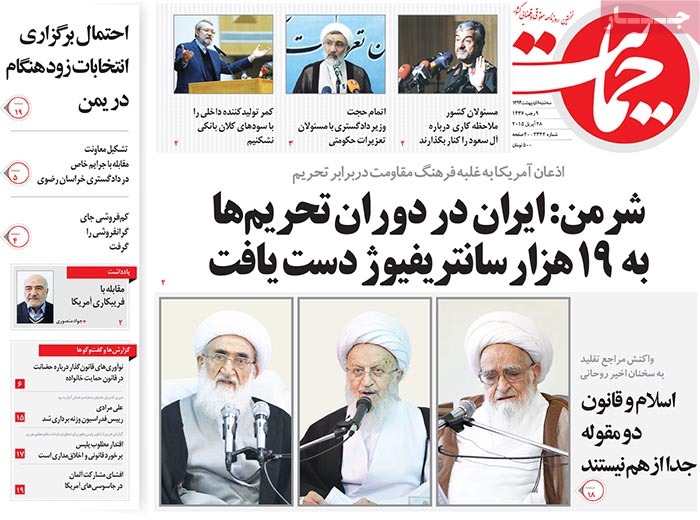 ---
Javan: To say that police's duty is not to implement the rules of Islam amounts to the green-light to immorality.
Three senior clerics have criticized the president for making the comment at a meeting with senior police commanders.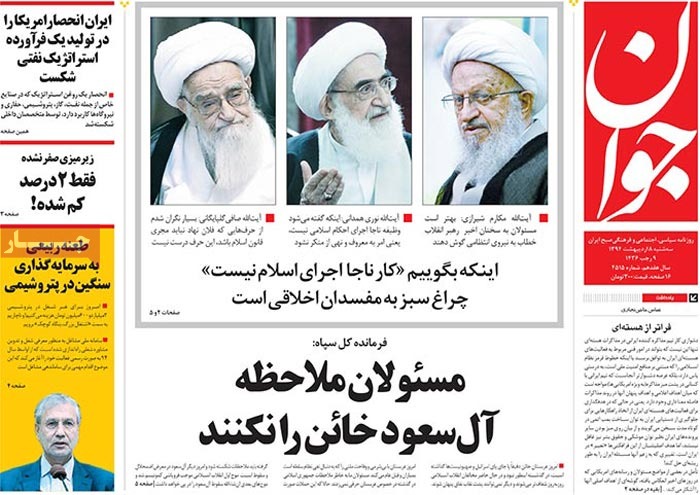 ---
Jomhouri Islami: Life is gradually returning to Orumiyeh Lake.
[The vast lake in northwestern Iran was on the brink of drying up until a couple of years ago.]
Jomhouri Islami: Twelve Western giants are waiting for Iran sanctions to be lifted.
---
Kaenat: The war minister of the IS terrorist grouping has been killed.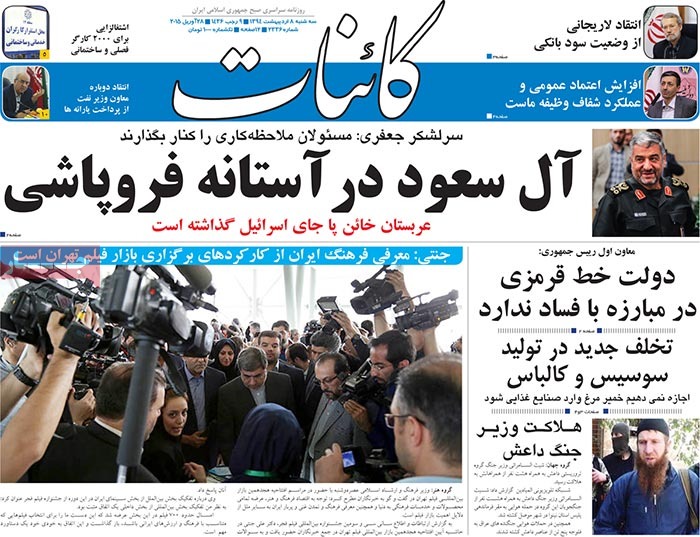 ---
Resalat: "The Zionist regime is the biggest obstacle standing in the way of the NPT," said Iranian Foreign Minister Mohammad Javad Zarif.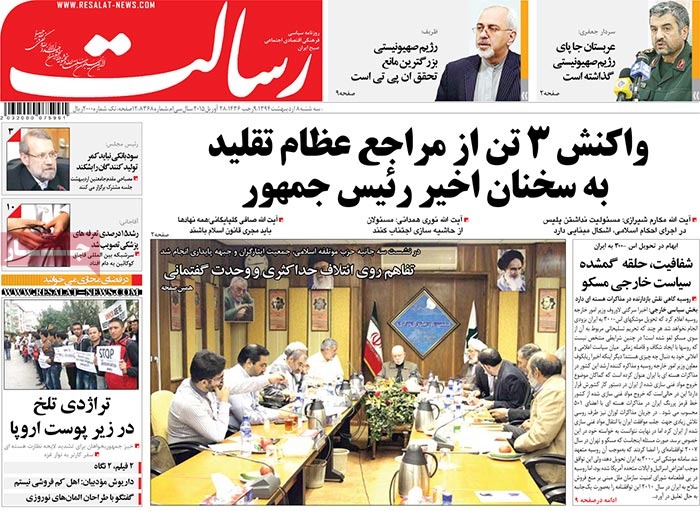 ---
Roozan: "I am concerned about the way critics are treated," said Tehran MP Ali Motahari.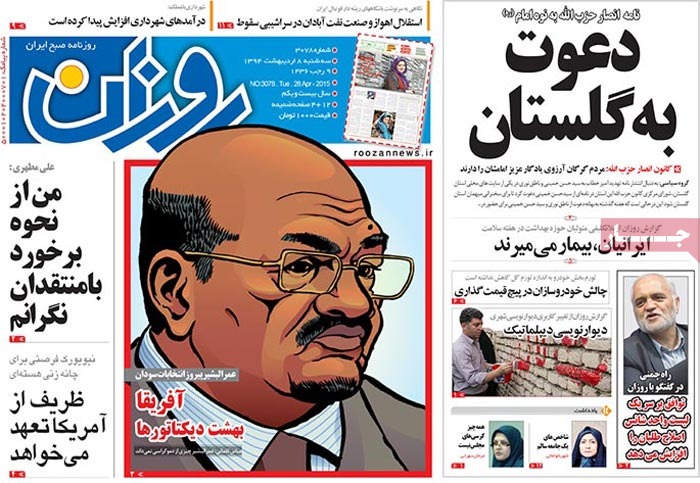 ---
Saheb Ghalam: "Support for production and industry is the country's top priority," said Parliament Speaker Ali Larijani.