Almost all newspapers today covered the remarks made by Iranian Foreign Minister Mohammad Javad Zarif about Tehran's reaction to Washington's possible withdrawal from the Iran nuclear deal.
Several papers also highlighted the comments made by IRGC Lieutenant Commander Brigadier General Hossein Salami about Iran's crushing response to the Israeli regime's possible aggression against the country.
A viral video that shows a morality policewoman clashing with a girl with 'loose' hijab in Tehran, and the widespread reactions it sparked, was also a top story today, particularly in reformist and pro-government papers.
The above issues, as well as many more, are highlighted in the following headlines and top stories:
19 Dey:
Zarif: US to Pull Mideast in Very Dangerous Direction
Health Minister: Danger of Modern Illiteracy Threatening Society
Economy Minister: We Won't Let Foreign Currencies Be Transferred Out of Iran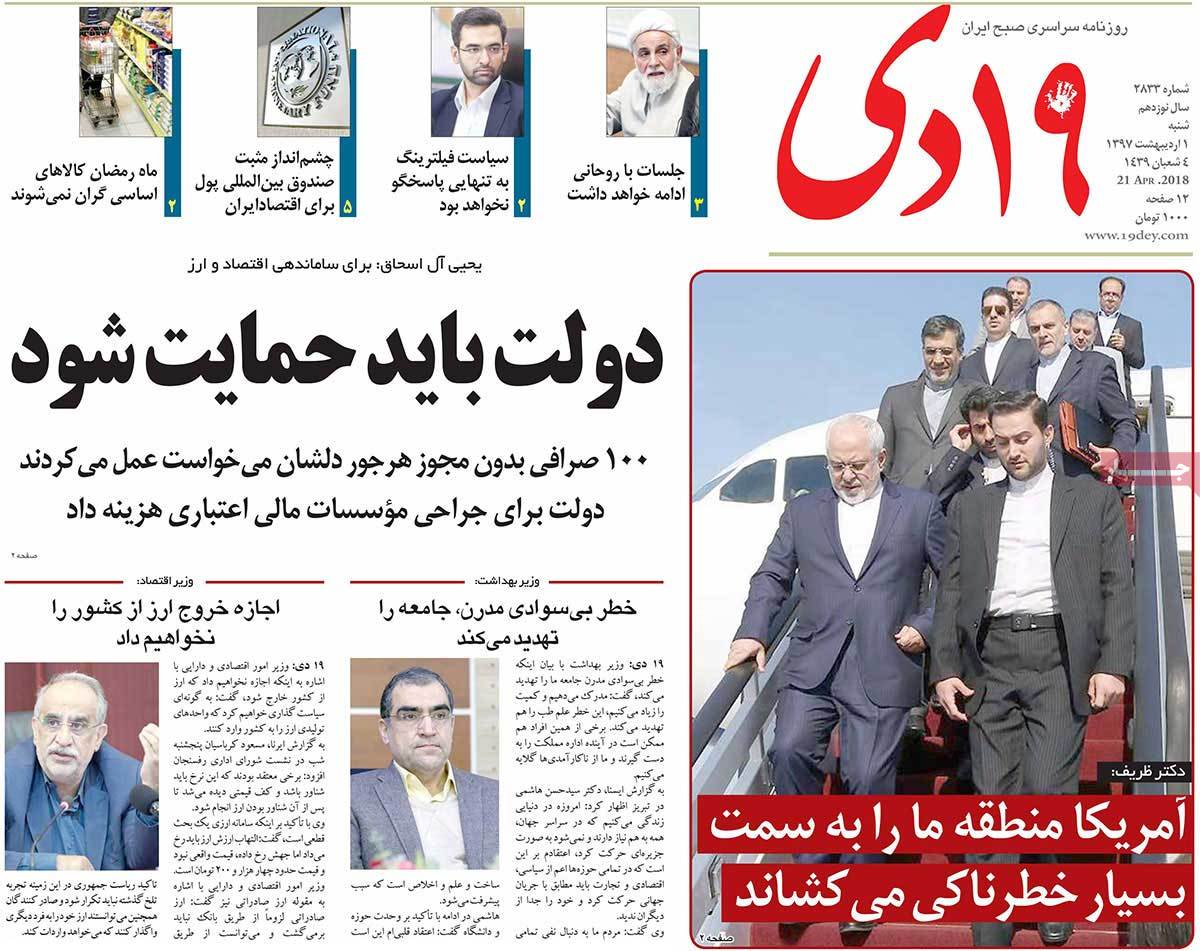 ---
Abrar:
IRGC Lieutenant Commander: Our Missiles Ready to Fire
Araqchi: Big Mistake to Think Iran Will Stay in Nuclear Deal under Any Conditions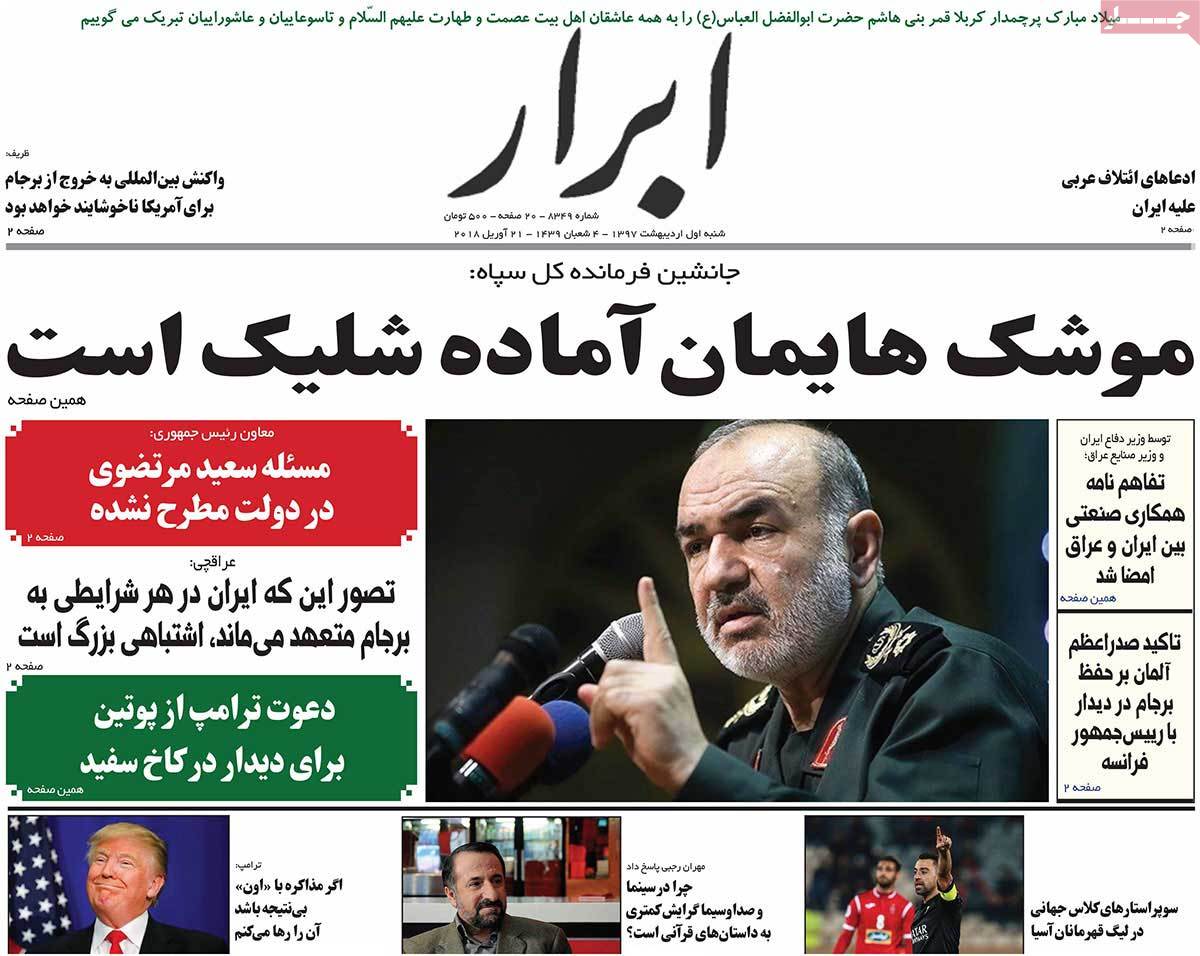 ---
Afkar:
Iranian Cleric: US Missile Attack on Syria Resulted in Nothing but Disgrace
---
Aftab-e Yazd:
Analyst: Pompeo, Bolton, Haley's Joining Together Not Accidental
Half of Iran's Small Mines May Be Shut Down
IRGC General: Iranians Living in Better, More Beautiful Way than Americans
MP Questions Benefits of Lawmakers' Foreign Trips for Iranian Nation
---
Arman-e Emrooz:
Russian Can Become Second Language in Iranian Schools!
Education Minister's Unexpected Proposal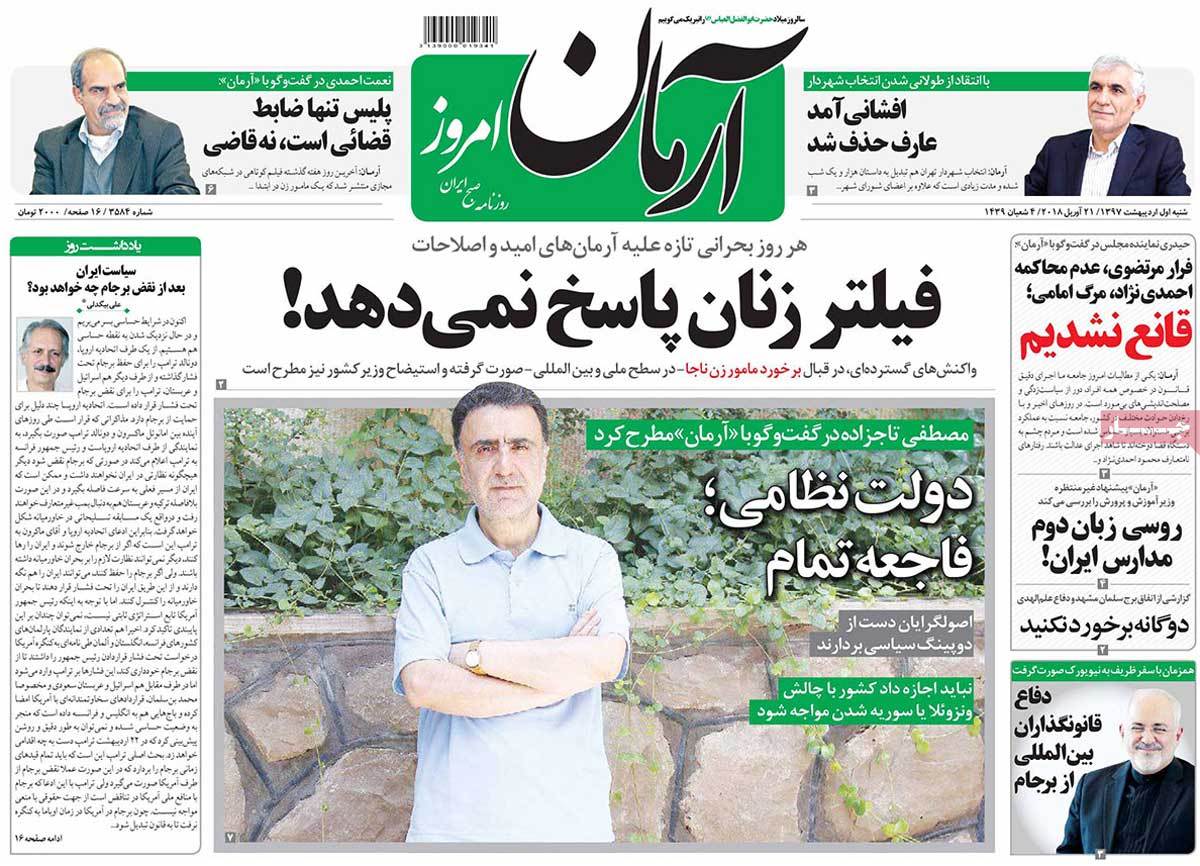 ---
Asrar:
Health Minister: All Iranians Will Have "Health Mentor" by End of Next Year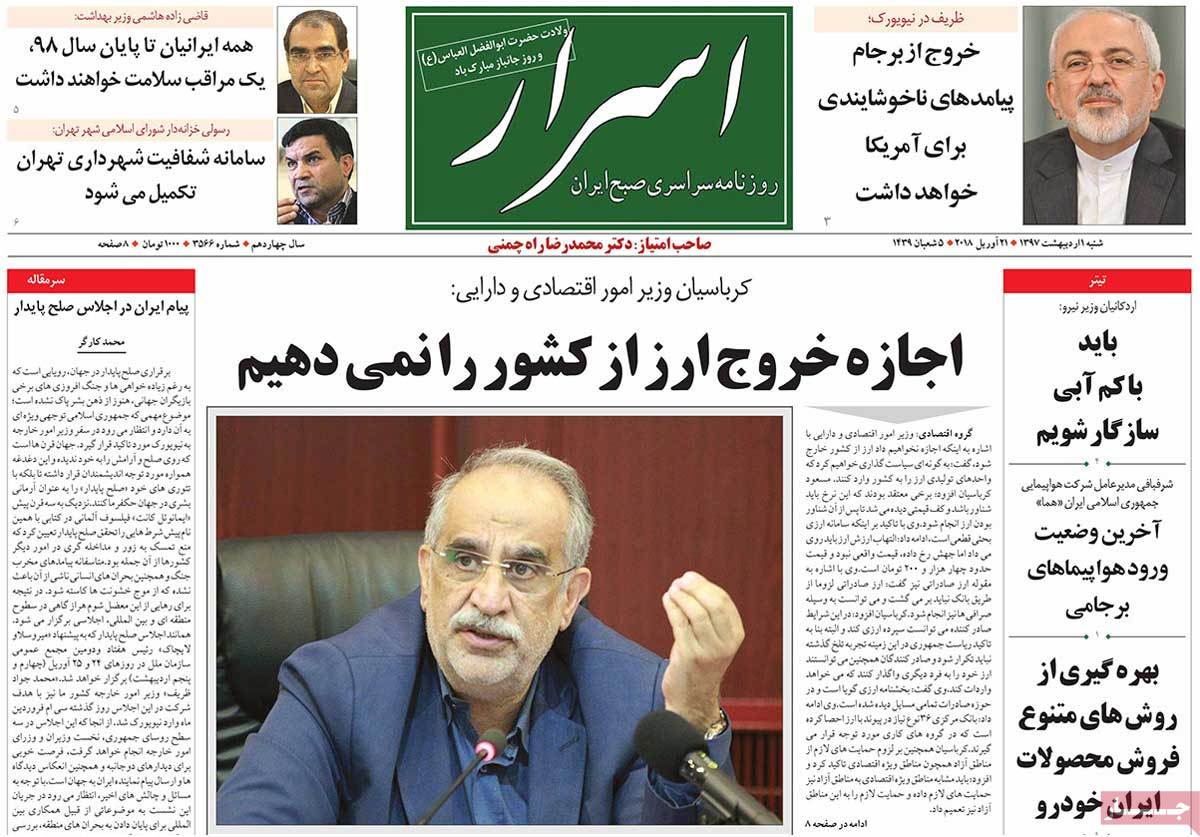 ---
Ebtekar:
Zarif: Iran's Reaction to US Withdrawal from JCPOA to Be Unpleasant for Them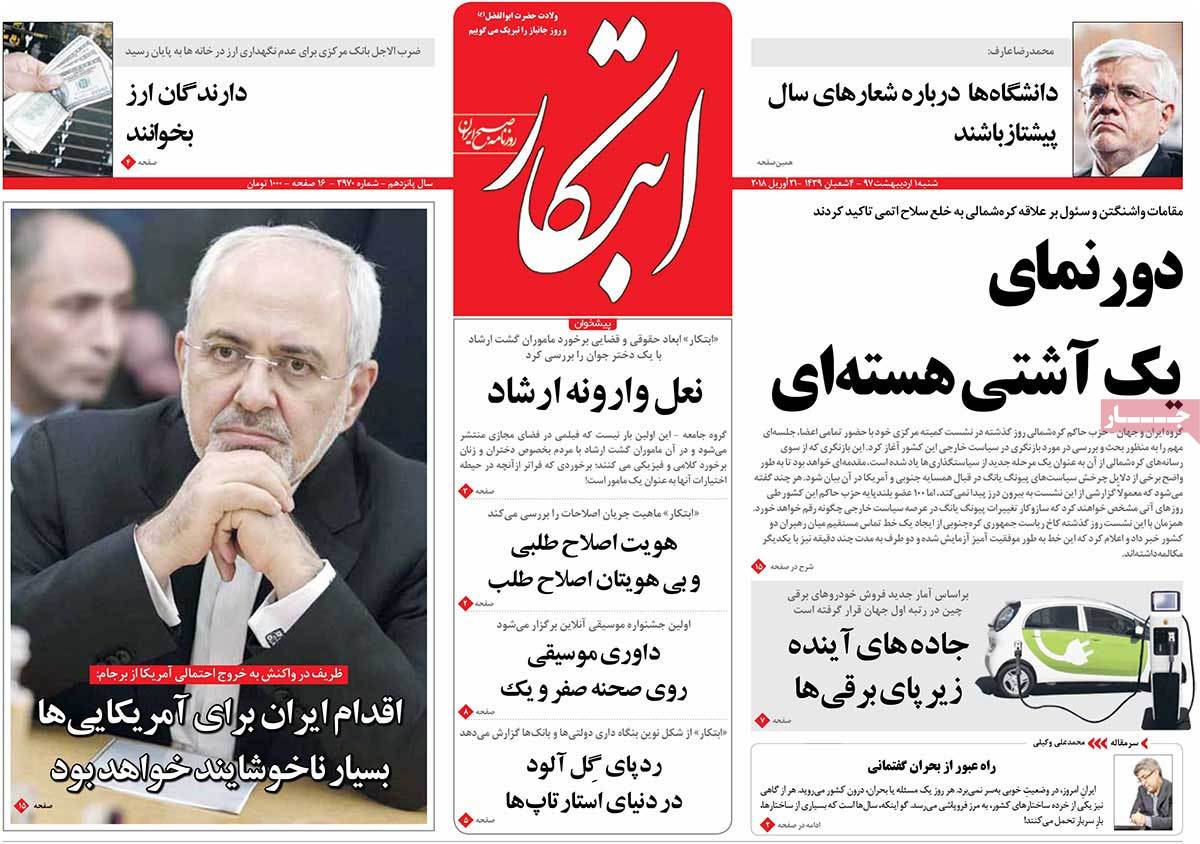 ---
Etemad:
Pentagon Declares Its Syria Strategy: Creating Local Governments in Ruins
VP for Women Affairs Ebtekar Calls for Beginning of Inter-Generation Dialogue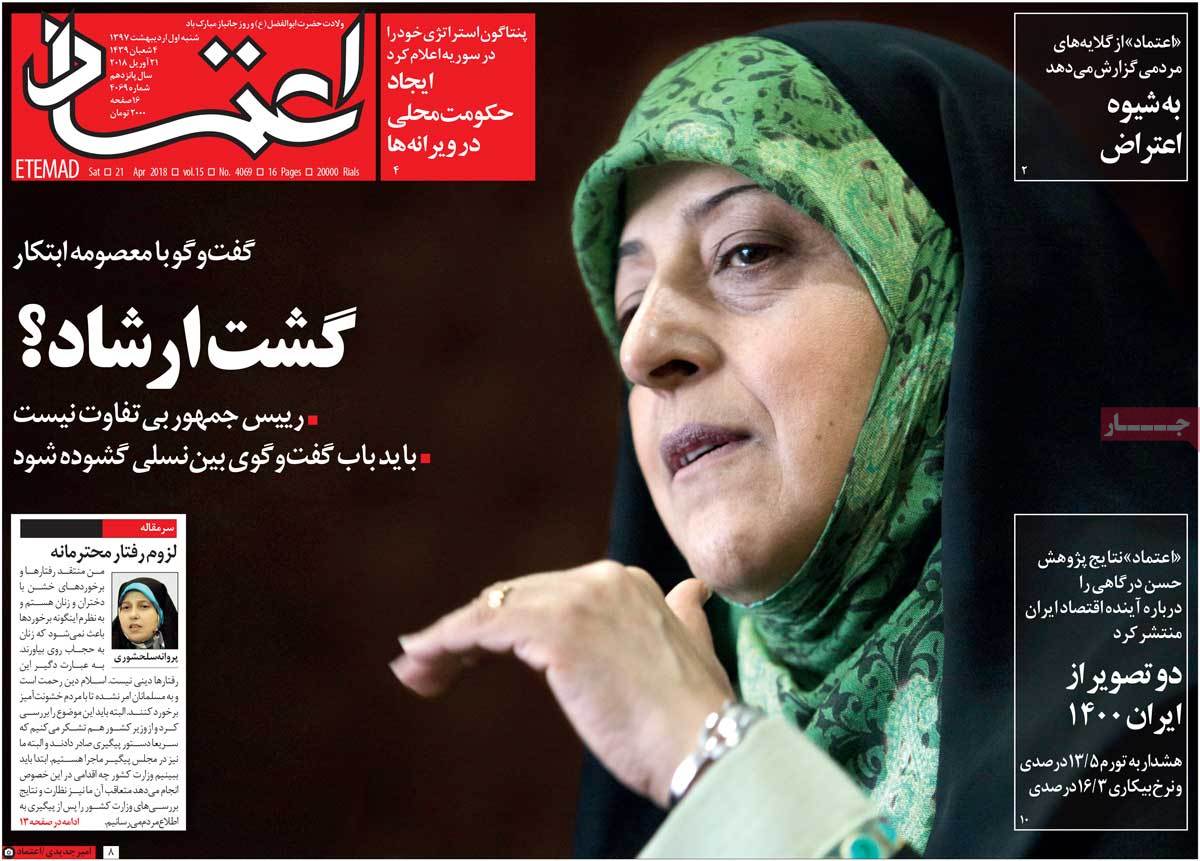 ---
Ettela'at:
500 French, British, German MPs Warn US about JCPOA Withdrawal
Interior Minister: Morality Police's Inappropriate Behaviour to Be Pursued
Castro Family Bids Farewell to Power in Cuba after 60 Years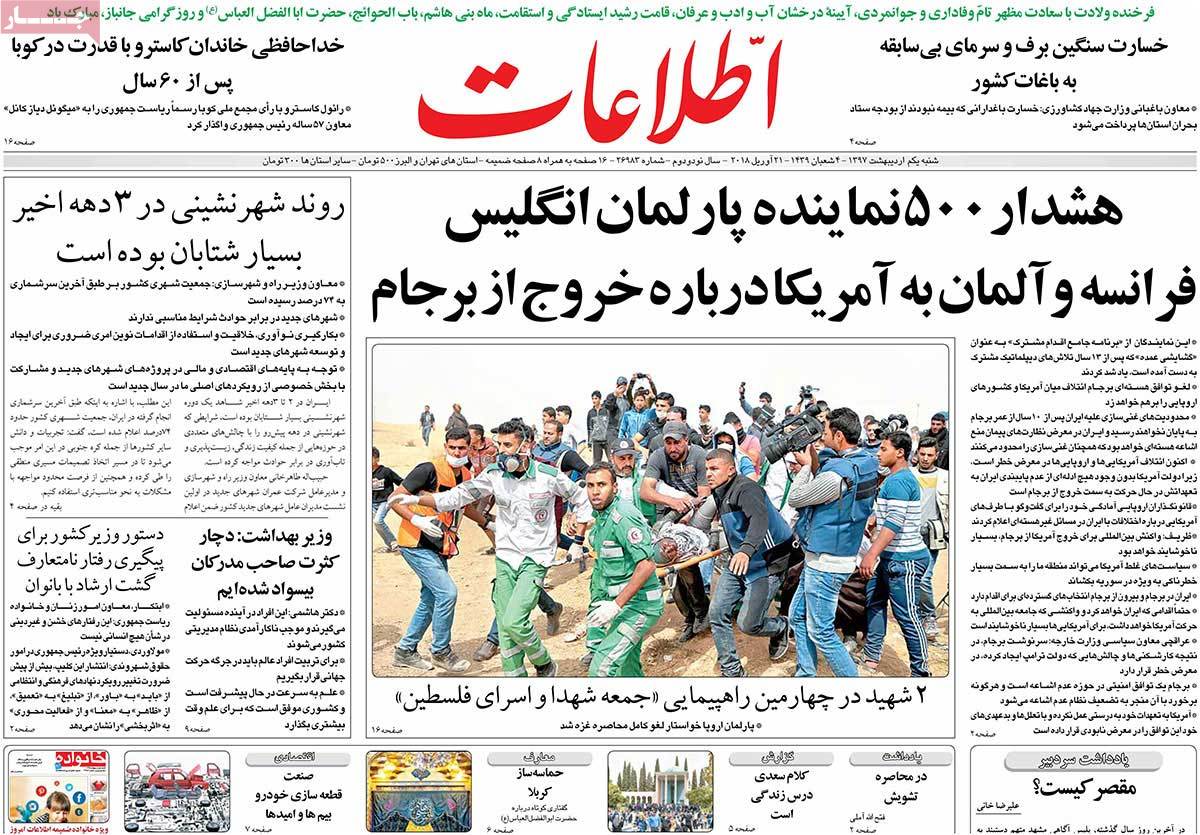 ---
Hemayat:
Assad Returns French Legion of Honour
---
Javan:
Withdrawal from Iran Nuclear Deal More Likely than Ever
France Paralysed by Protests in 133 Cities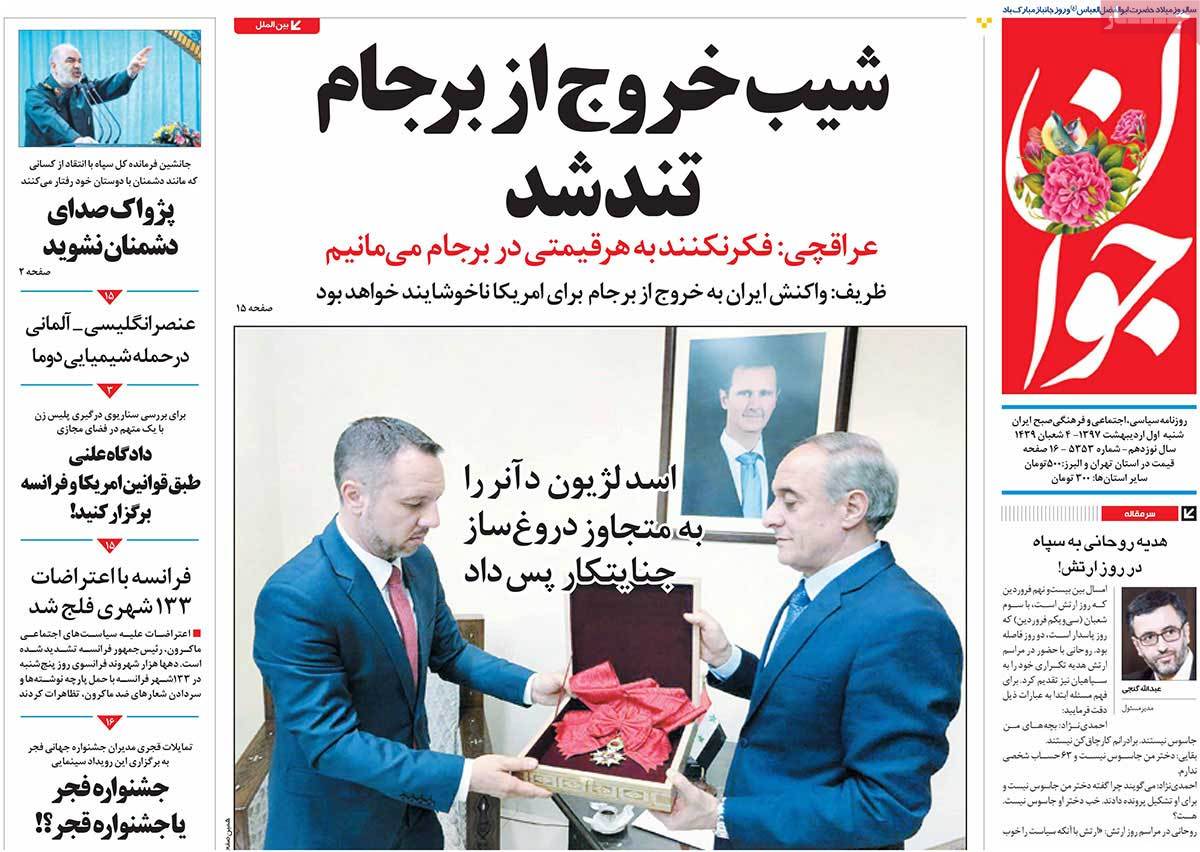 ---
Jomhouri Eslami:
Europeans at End of Luxembourg Conference: We'll Stay in JCPOA
Malcolm Rifkind: London Has Interfered in Iran's Affairs in Past 100 Years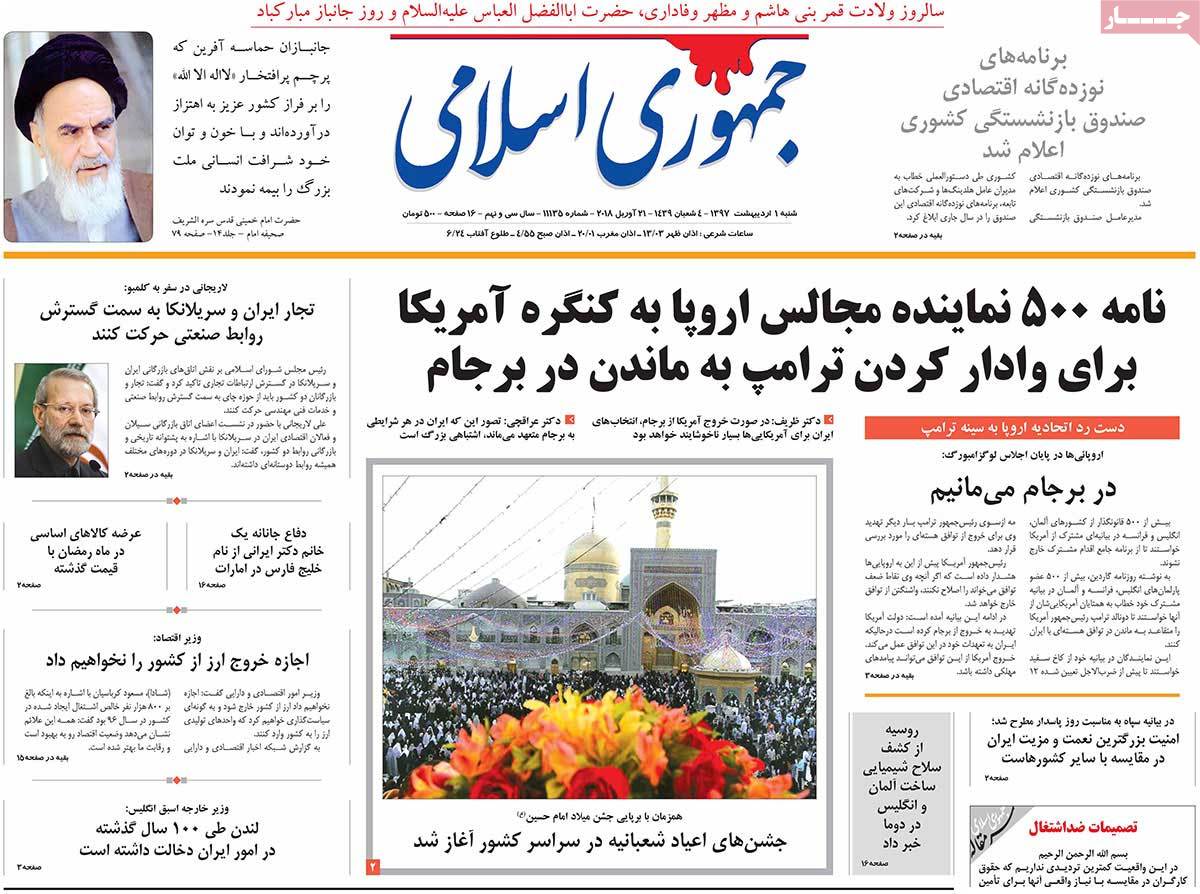 ---
Kayhan:
IRGC General: Israelis Have No Way to Escape
First Mission of Iraqi Army in Syria: ISIS Leaders' Hideout Bombarded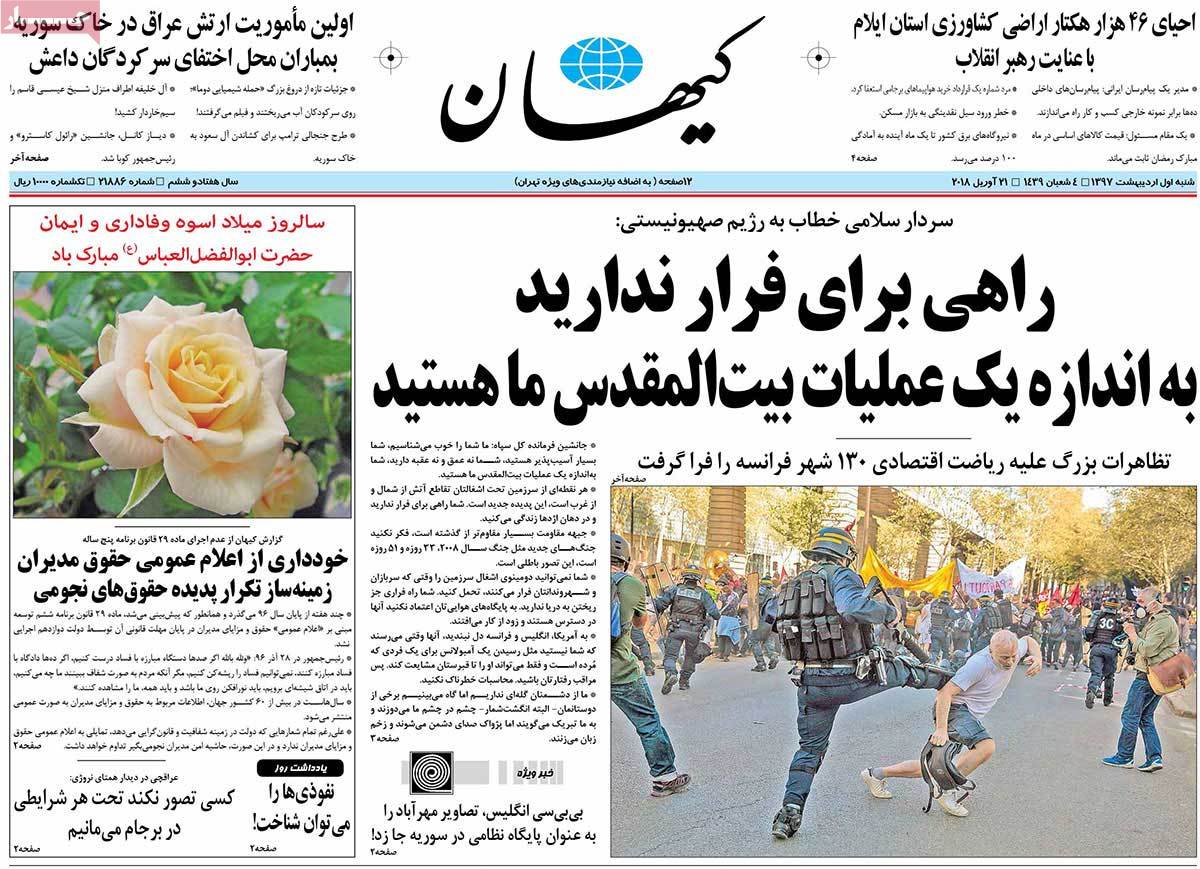 ---
Khorasan:
Keeping More than €10,000 Considered as Smuggling of Foreign Currencies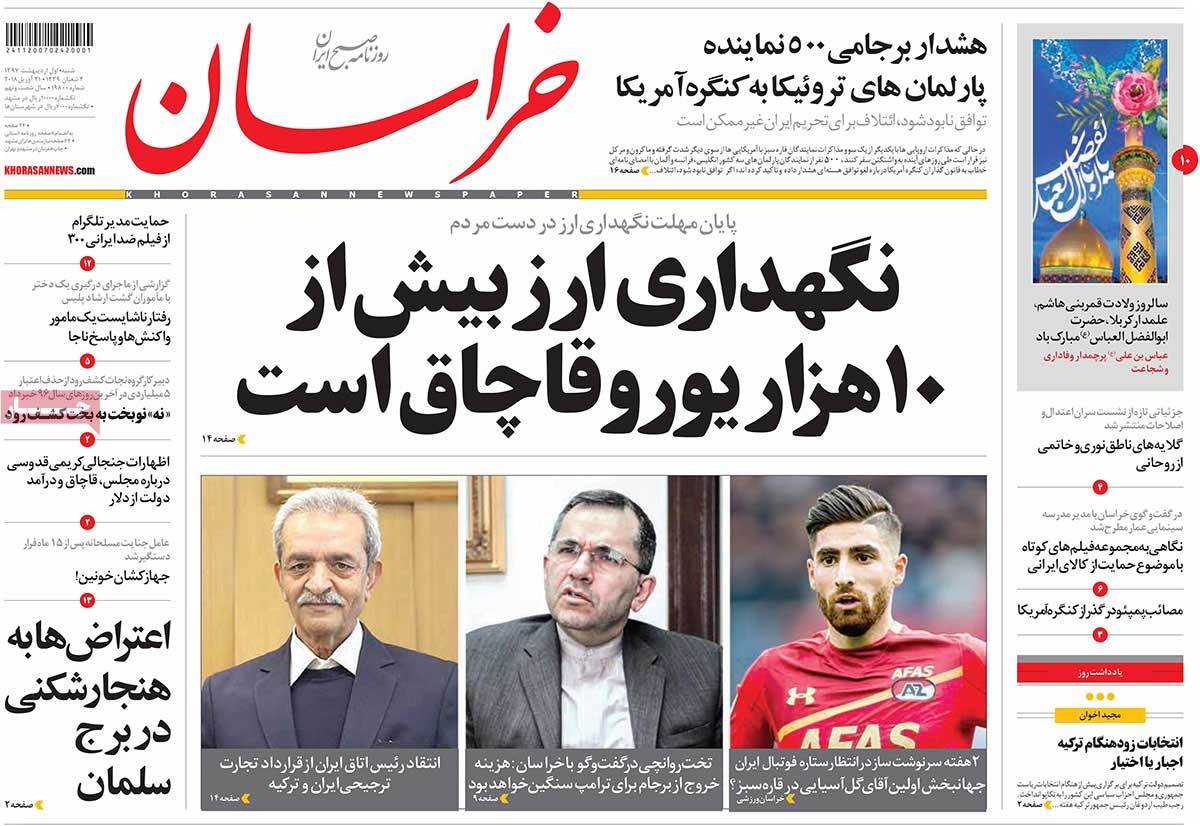 ---
Payam-e Zaman:
IRGC Lieutenant Commander: Any Aggression Will Lead to Israel's Annihilation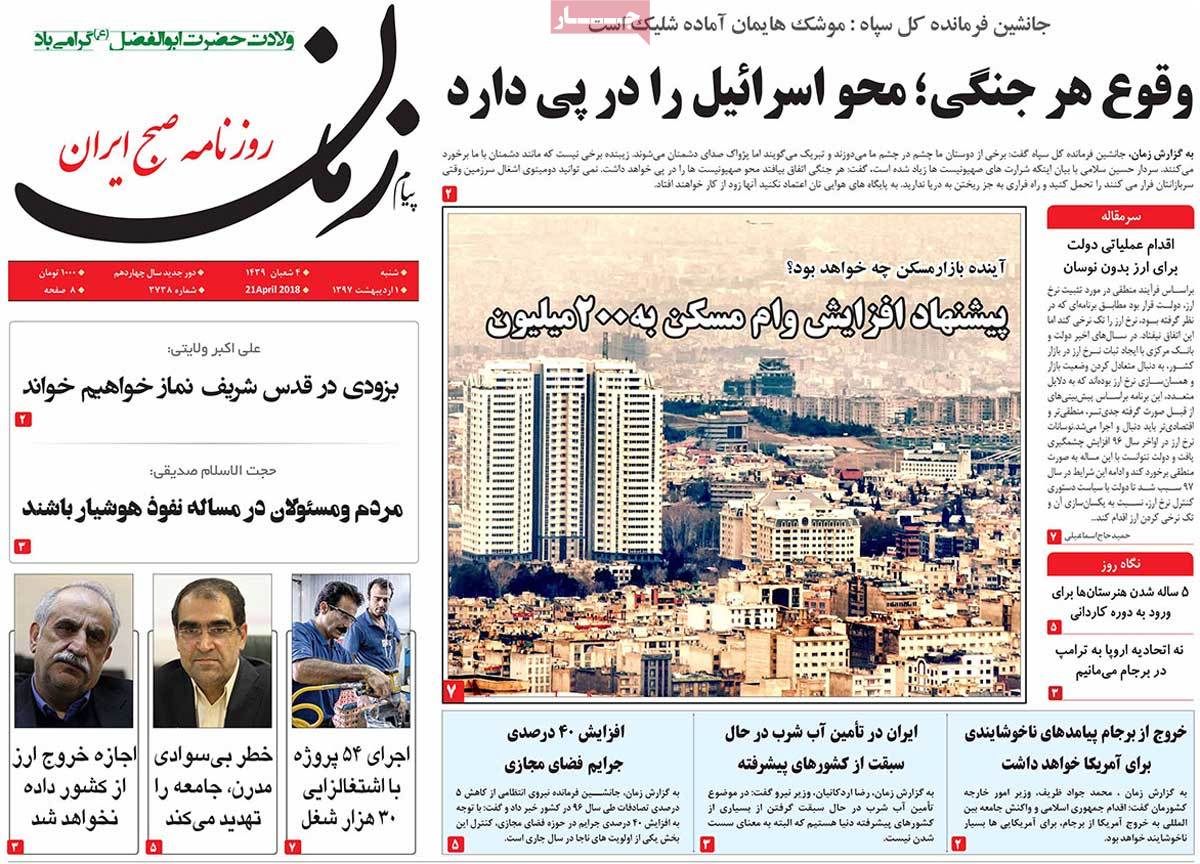 ---
Rah-e Mardom:
Drought Awaiting 27 Iranian Provinces
---
Rooyesh-e Mellat:
Trump Triggering Arms Race in the World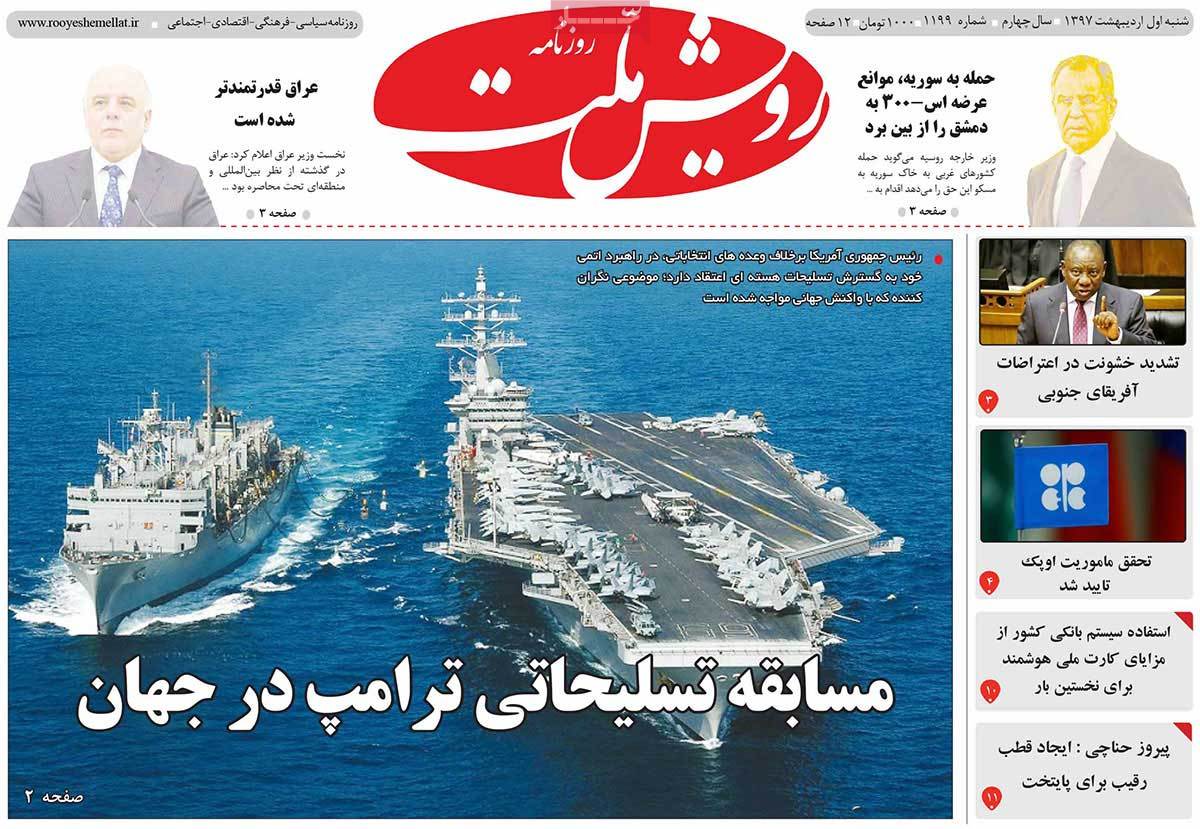 ---
Sazandegi:
Female Morality Police Force's Behaviour towards Young Girl Sparks Controversy
Fars News Agency: Police Force's Finger Broken
VP for Women Affairs: We'll Pursue the Issue to Prevent Such Moves
---
Setareh Sobh:
Korea Gives Green Light to Nuclear Disarmament
North Korea, South Korea Open First Direct Phone Line between Leaders
Morality Police under Scrutiny of Media, Officials
---
Shargh:
Iran FM's Top Aide Talks about Hidden Game Played by Russia, Turkey in Syria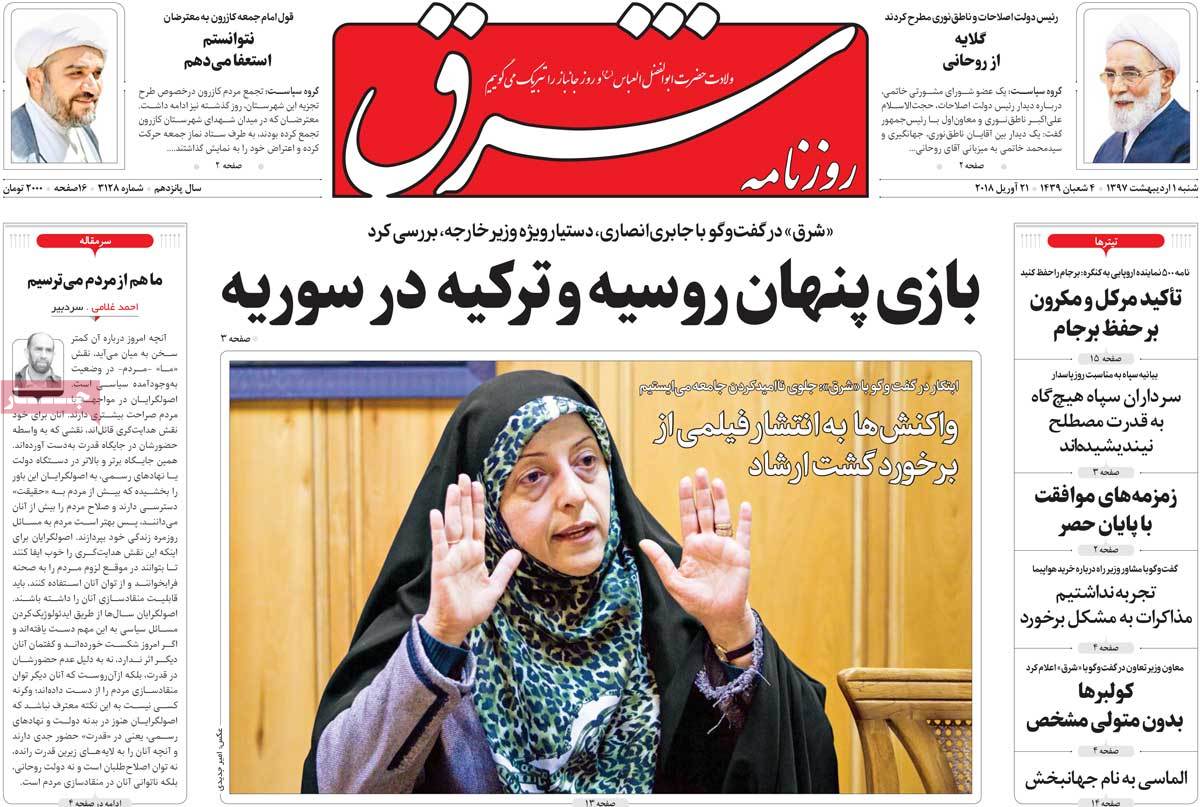 ---
Sobh-e Now:
IRGC Warns Zionists: Our Fingers on the Trigger