IFP has taken a look at the front pages of newspapers on Wednesday and picked headlines from 20 of them. IFP has simply translated the headlines and does not vouch for their accuracy.
Abrar:
1-Obama: Mosul to be liberated by the end of 2016
2-Zarif: meeting Kerry was needed
3-Customs duty on imported cigarettes increased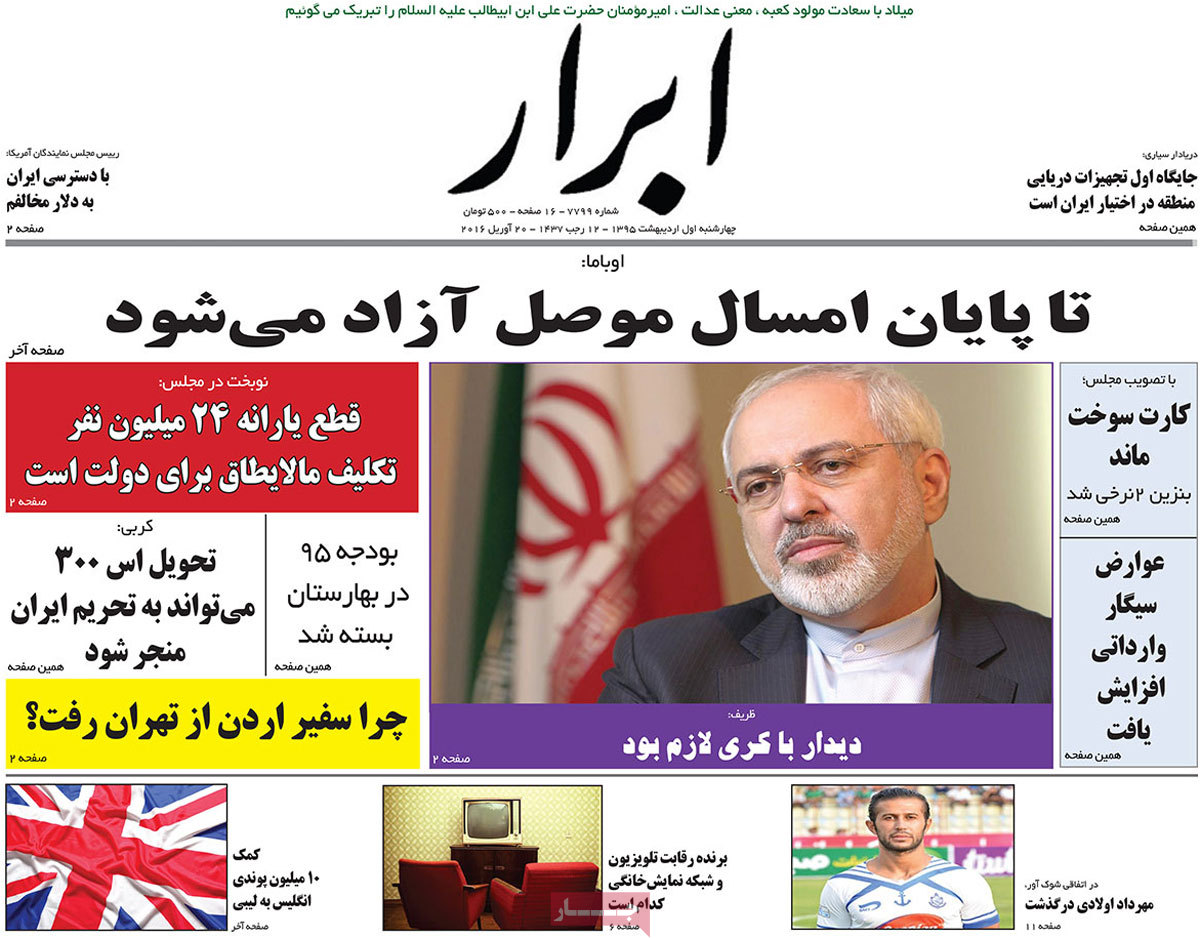 ---
Asrar:
1-Ayatollah Hashemi Rafsanjani: No need to worry about future of Revolution
2-Joe Biden: New sanctions against Iran will be counterproductive
3-Health Minister: Diabetes affects school children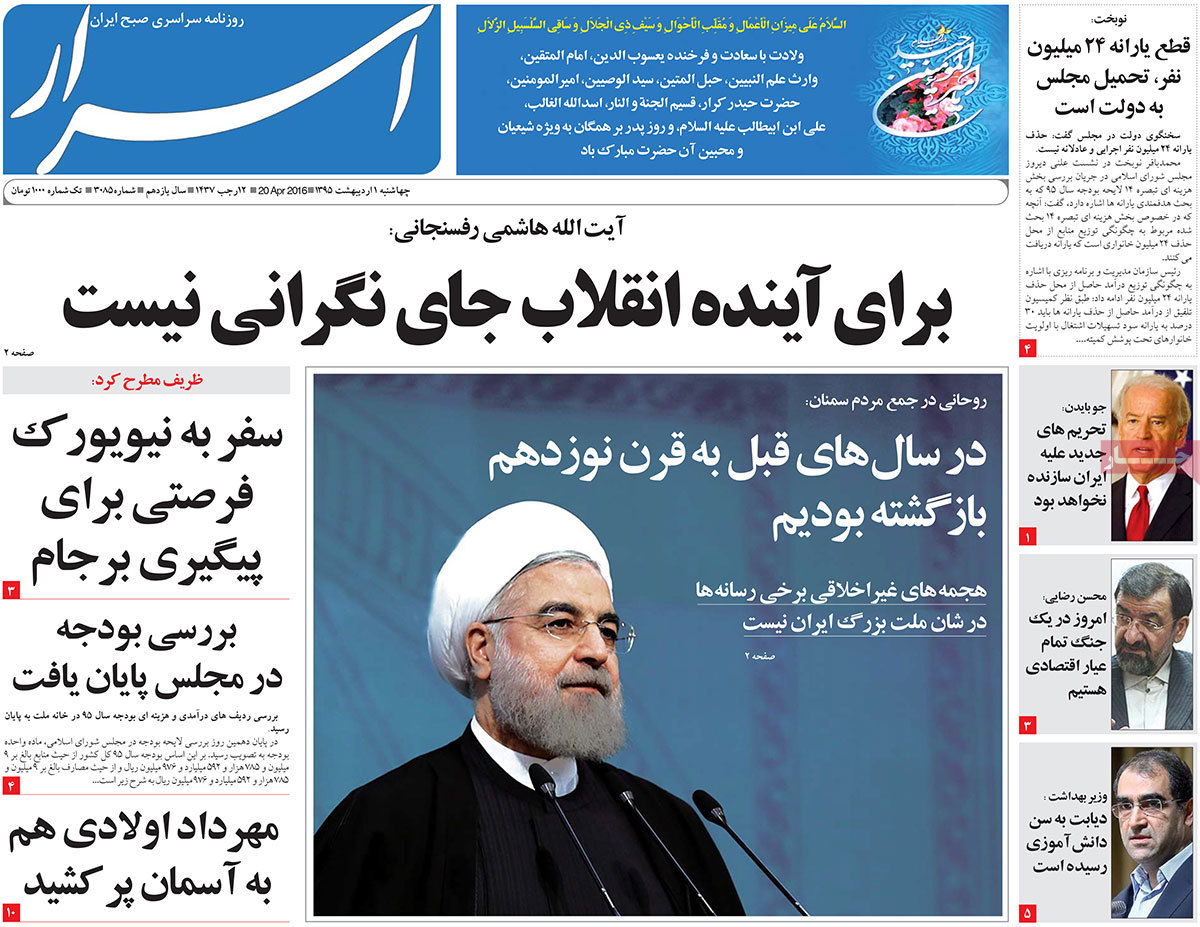 ---
Afkar:
1-Parliament Speaker: Governments should join to counter terrorism
2-Explosion in Kabul leaves 27 dead and injured
3-2m new cases of diabetes diagnosed globally each year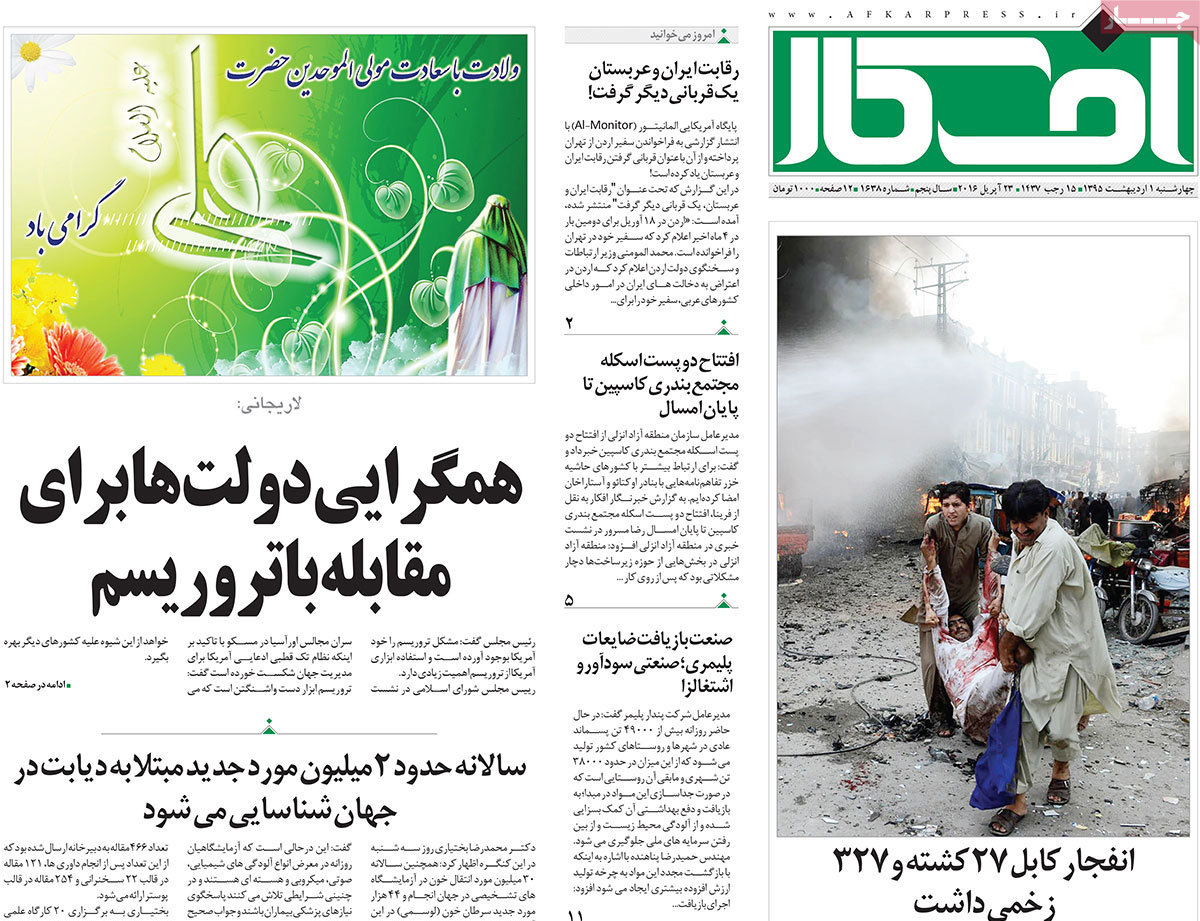 ---
Arman-e Emrouz:
1-Rouhani: 3 months since JCPOA, not 30 years
2-Death of footballer Mehrdad Oladi, a new shock
---
Ebtekar:
1-IRR9,785,529,974,000,000 budget for current Iranian year approved by Parliament
2-Renewed hope: Lake Urmiye water level up 16cm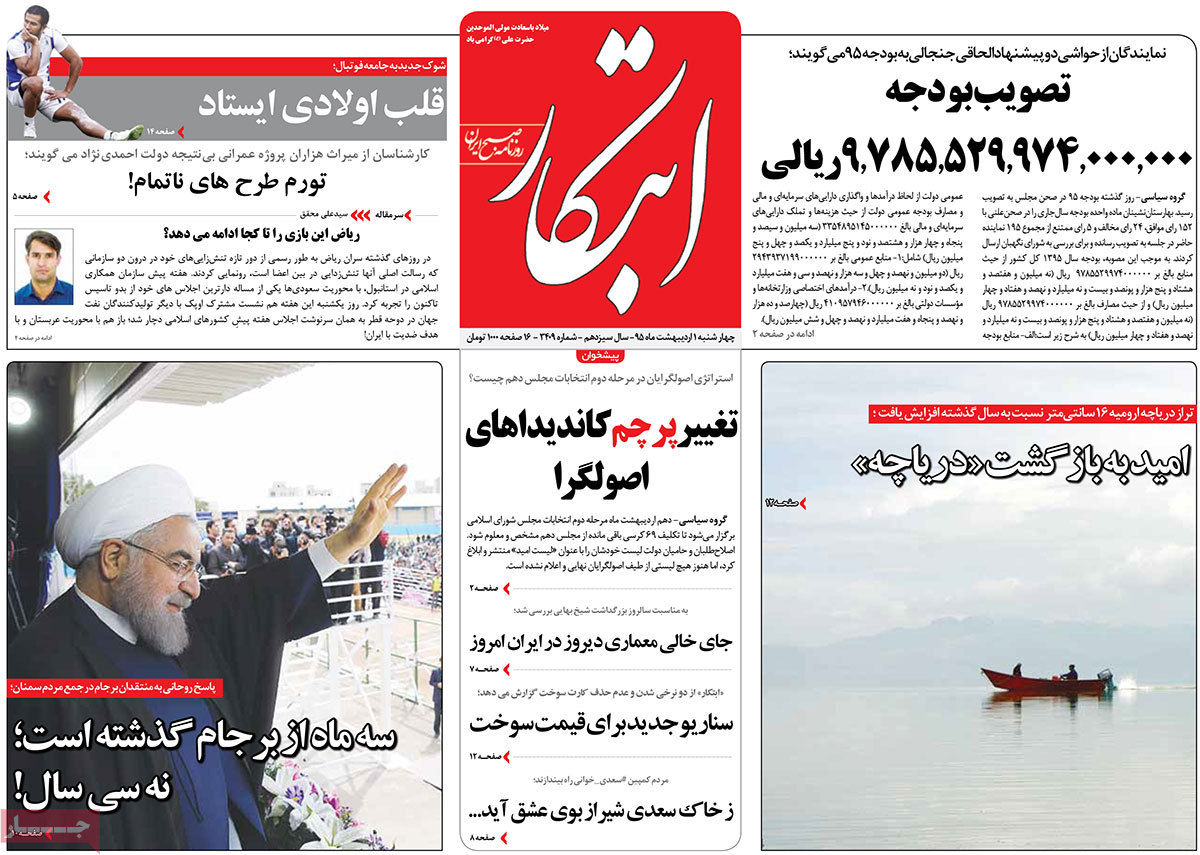 ---
Ettela'at:
1-President Rouhani in Semnan: JCPOA is Iranian political and legal glory
2-CBI Governor Seif: Banking ties with global financial centers growing
3-Larijani addresses Eurasia Parliamentary Speakers Conference in Moscow: Cooperation should replace competition globally in the world
---
Etemad:
1-Petrol rationing and cash subsidies for 24m people
2-Zarif-Kerry: discussing challenges facing implementation of JCPOA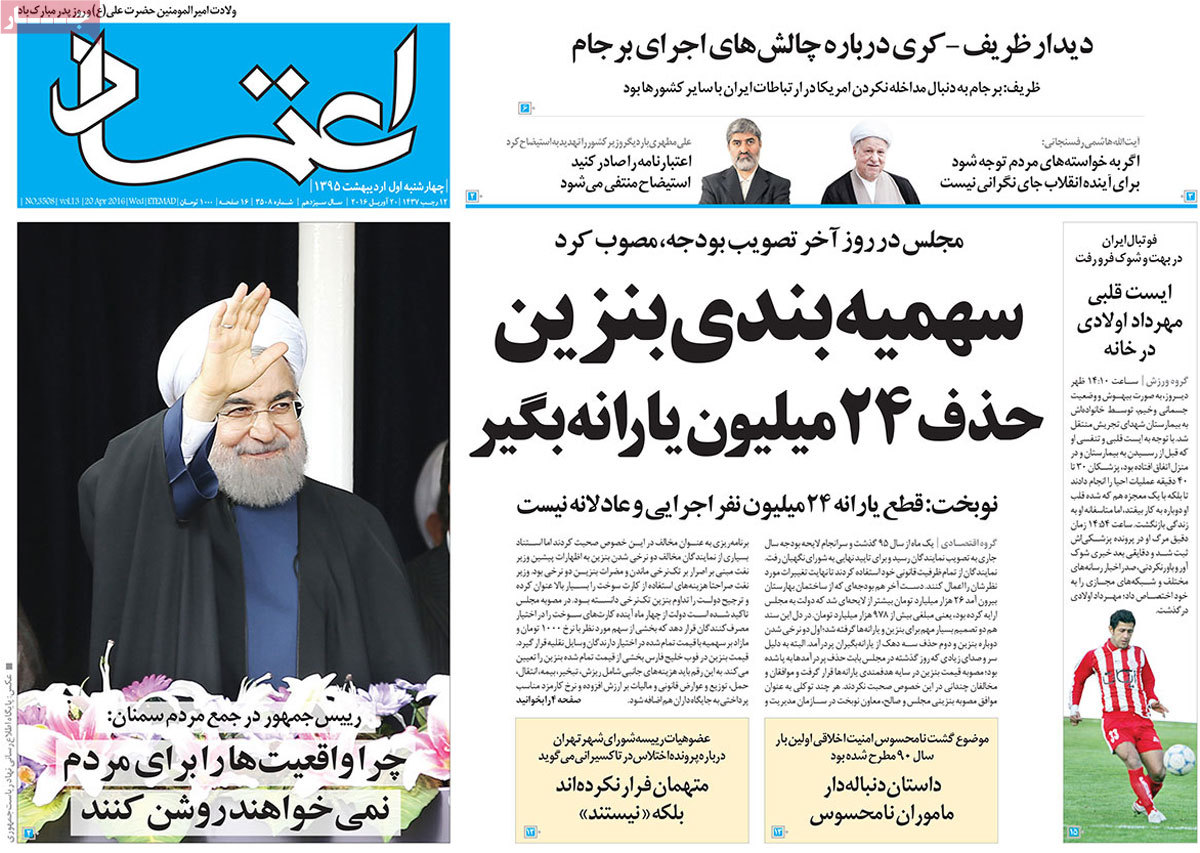 ---
Emtiaz:
1-Health Minister: Diabetes Alarm Bell Ringing In Schools
2-18,000 Hectares of Forest Destroyed by Wildfire in Past Year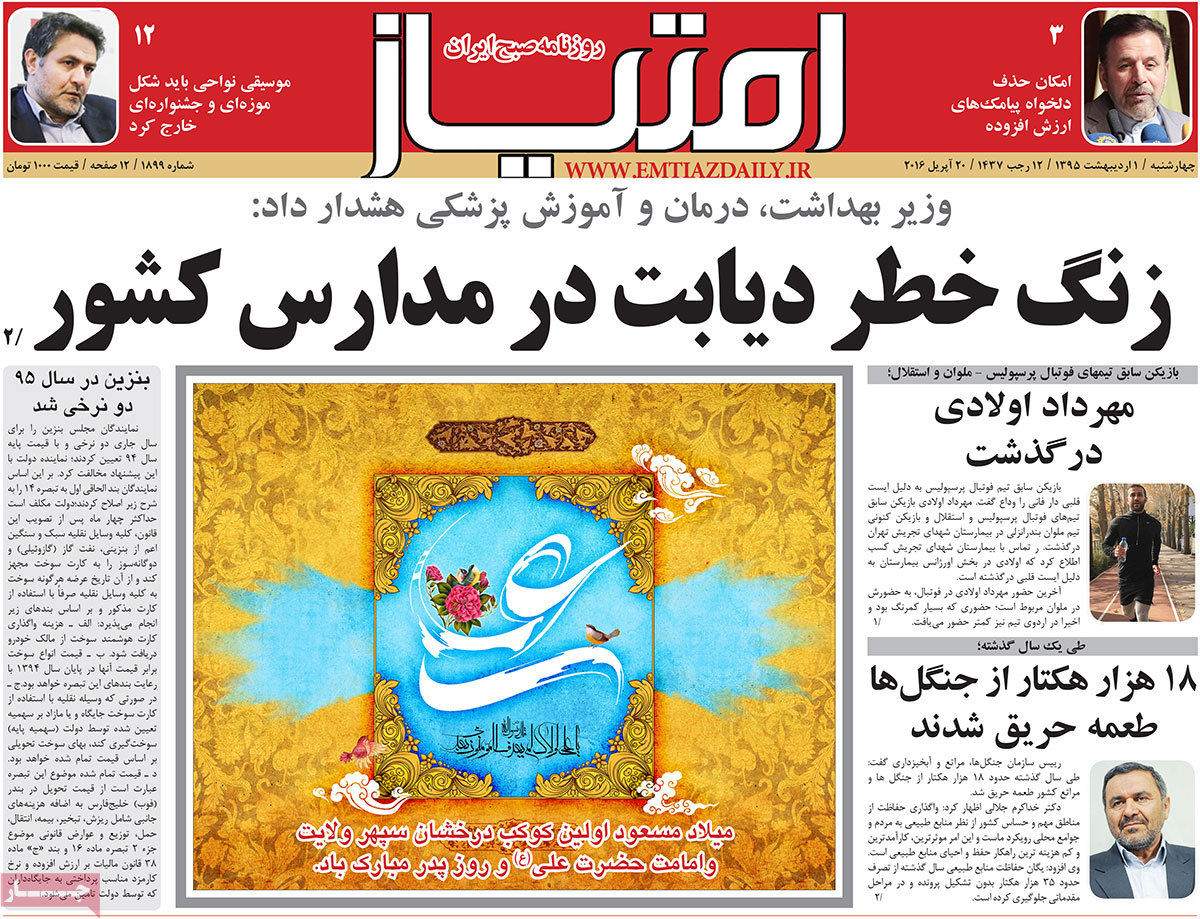 ---
Iran:
1-Rouhani: 3 months since JCPOA has given relief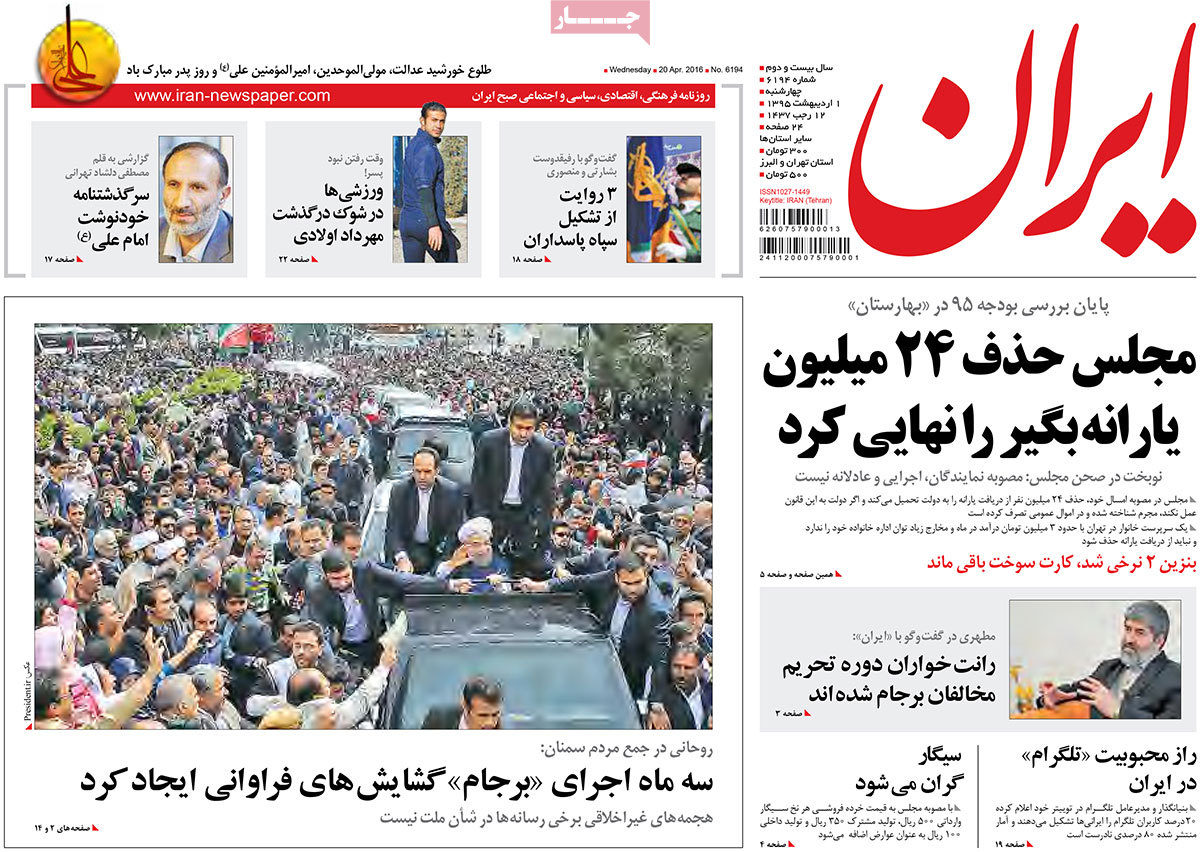 ---
JameJam:
1-Amin Tarokh, Iranian film star: Respect your parents while they're alive
2-Only $3bn of Iranian blocked money has been released
---
Javan:
1-Supreme Leader: Pluralism is my view
2-Rouhani: JCPOA has brought lots of relief for people
3-Human rights watchdogs close their eyes to Saudi crimes in Yemen, says Washington University Professor in interview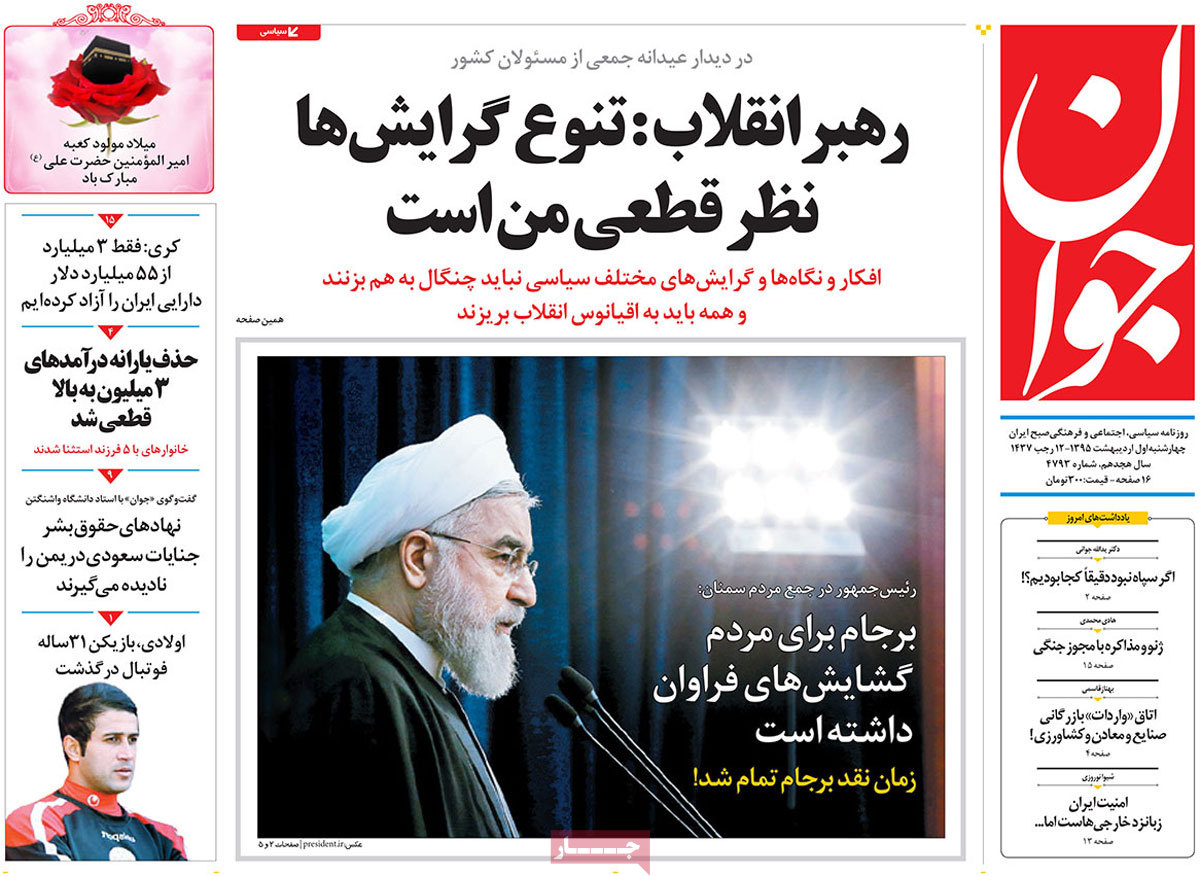 ---
Hemayat:
1-Pressure and sanctions tactics in post-JCPOA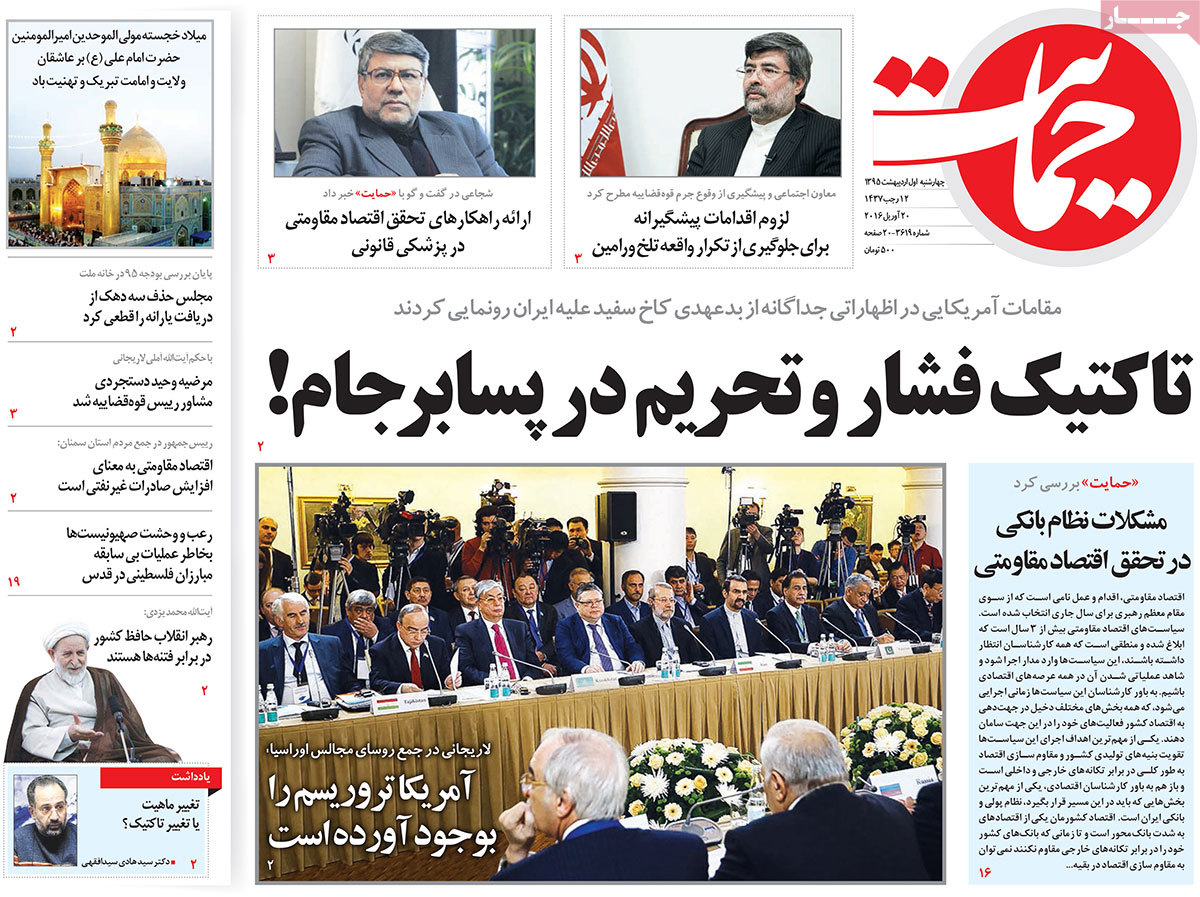 ---
Resalat:
1- White House openly supports terrorism
Obama to veto complaint against Saudi Arabia
2-Saudi dollars worth more than lives of  US citizens
Bob Graham: Many pieces of evidence about Saudi role in September 11 attacks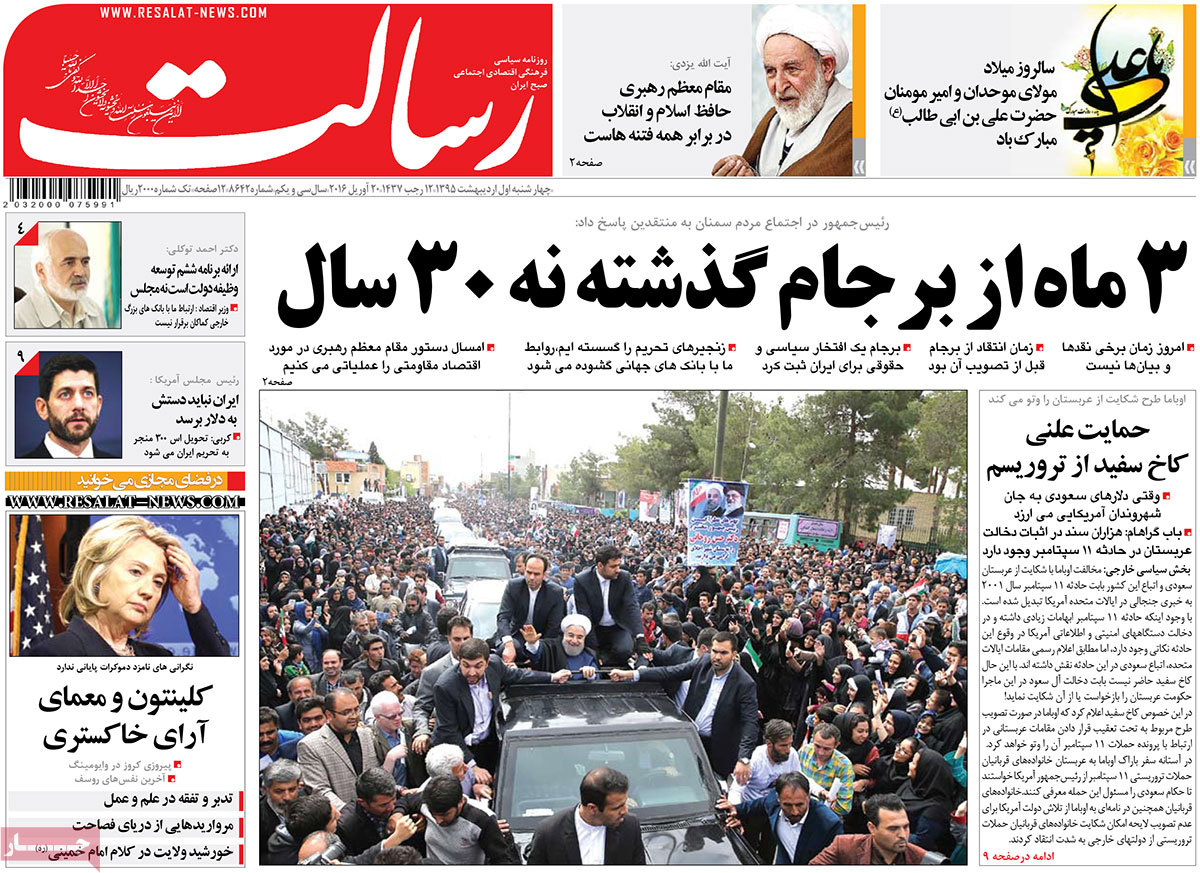 ---
Siasat-e Rouz:
1-Afghanistan relives bloody days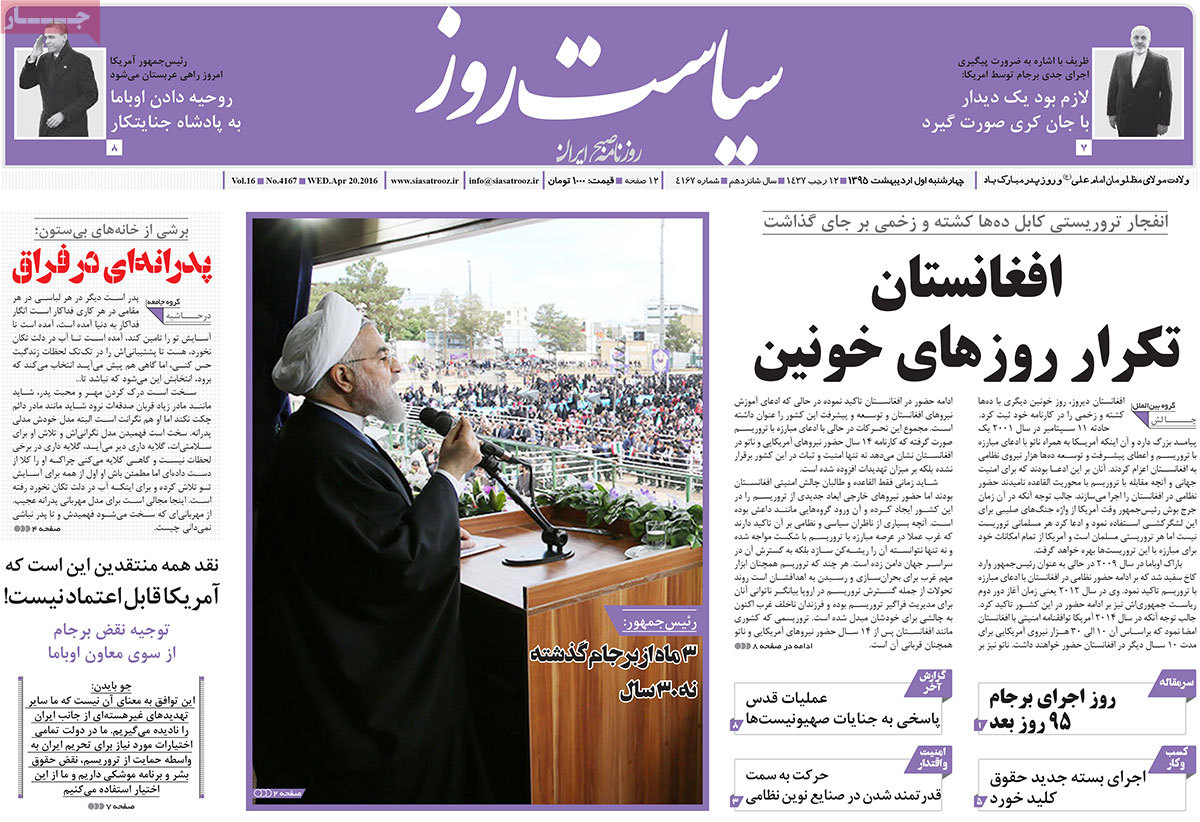 ---
Shahrvand:
1-People are living on rooftops
A shortage of clean drinking water makes life difficult for flood-stricken people
---
Asr-e Iranian:
1-Iranian airliners are refueled in Europe, Rouhani speaks about results of JCPOA
---
Kayhan:
1-Rouhani in Semnan: Look how much relief has taken place in 3 months!
2-US message for its allies: Don't talk about Assad's departure yet
---
Mardom Salari:
1-President: Without people's support, no JCPOA success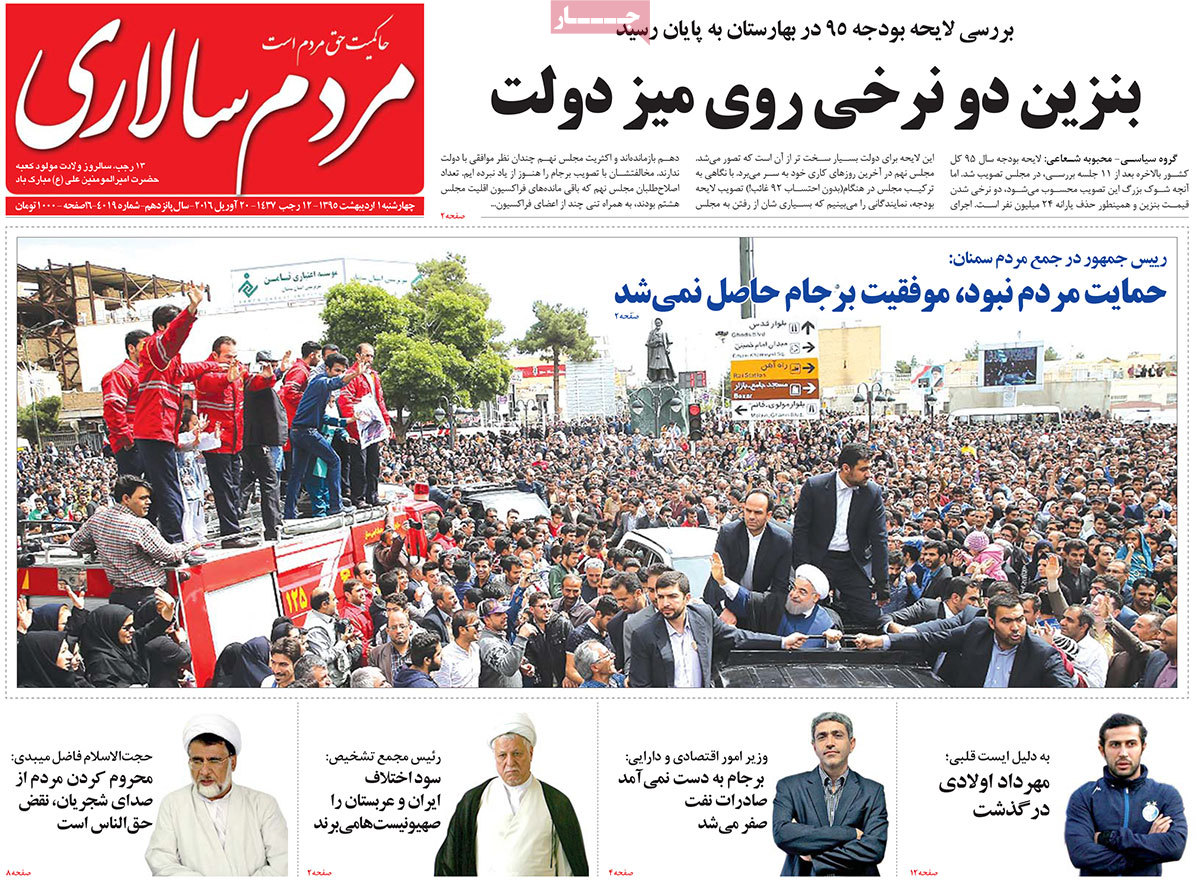 ---
Tejarat:
1-Obama has issued orders to 50 states on JCPOA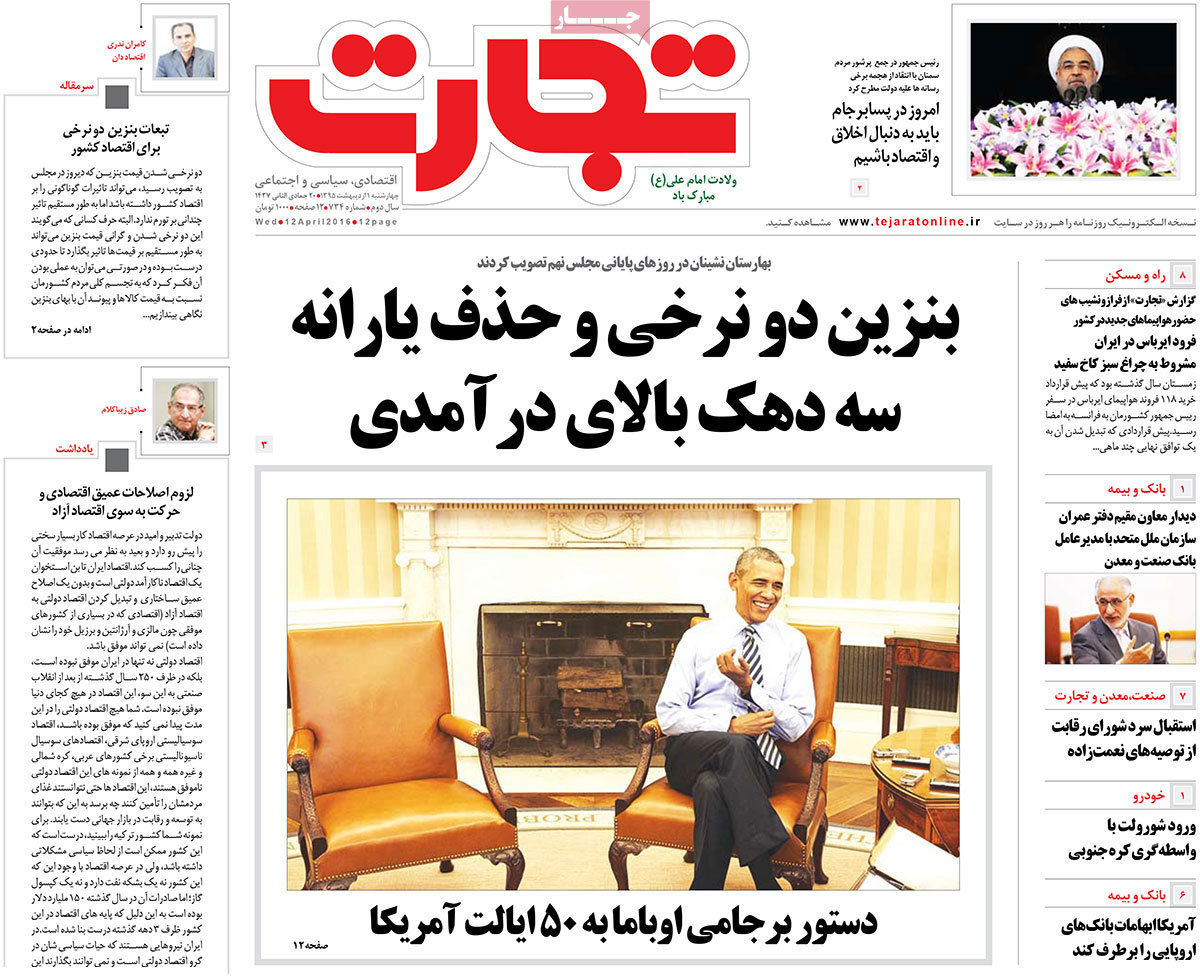 ---
Asr-e Eghtesad:
1- Iranian Petroleum minister: Accepting oil freeze is tantamount to voluntary sanctions