Abrar:
1- French Defense Minister: DAESH has used chemical weapons in Iraq
2- UNICEF warning: Using children for suicide attacks by Boko Haram has increased by ten time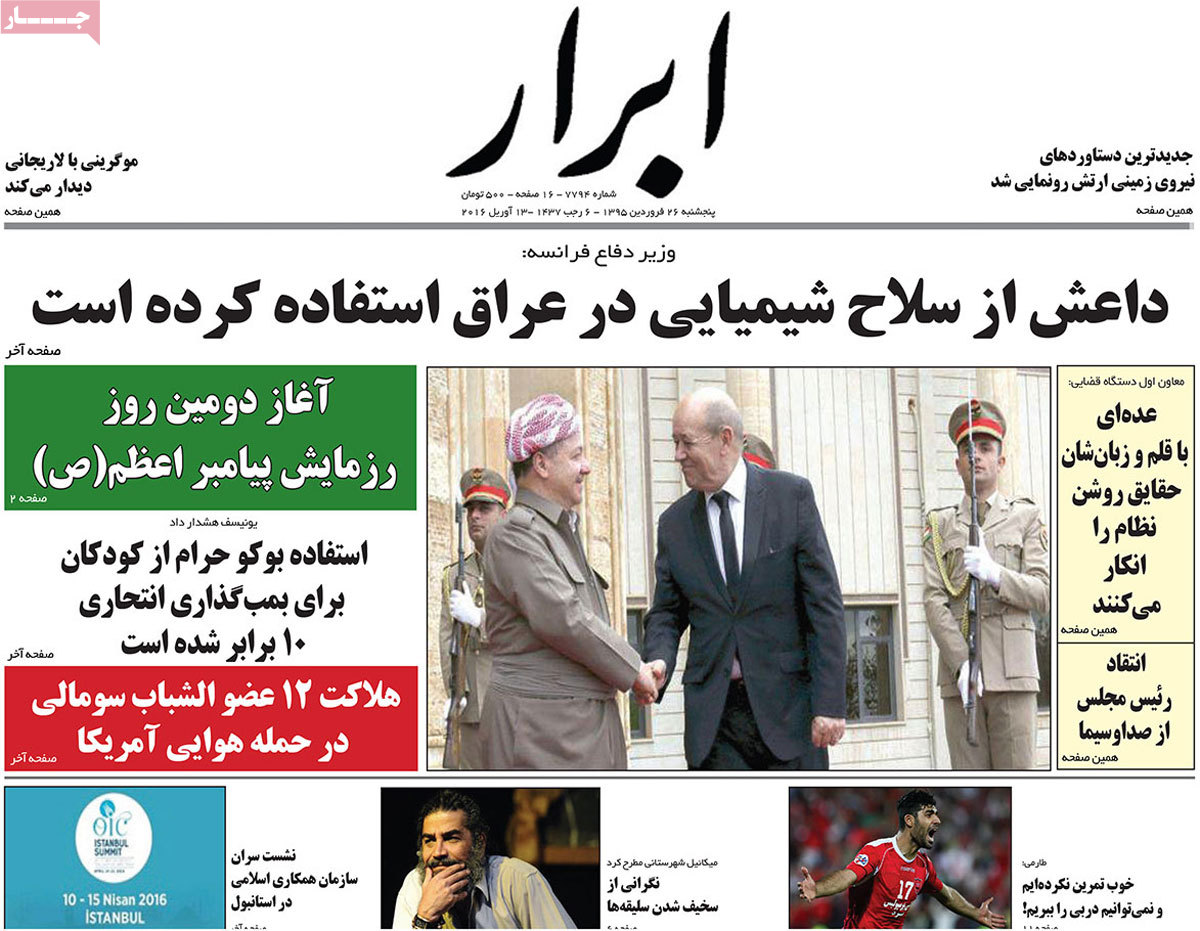 ---
Asrar:
1- Iran warns Saudi Arabia in Istanbul summit meeting
2- US congressmen plan to visit Iran
3- Italian Premier: Calling Muslims terrorist in the West is wrong
4- Ayatollah Makarem Shrazi: Saudi Arabia is the cradle of Takfiries and violence
5- Spokesman of Boeing Company: Selling commercial planes to Iran requires US government authorization
---
Arman-e Emrouz:

1- Resumption of Tehran Washington flight?
–  3 US Congressmen write to Zarif asking permission to visit Iran
2- Larijani or Aref to occupy the seat of Parliament Speaker?
---
Aftabe Yazd:
1- Zarif warns:
– Saudi Arabia should learn a lesson from fate of Tariq Aziz
2- European Union to open representative office in Tehran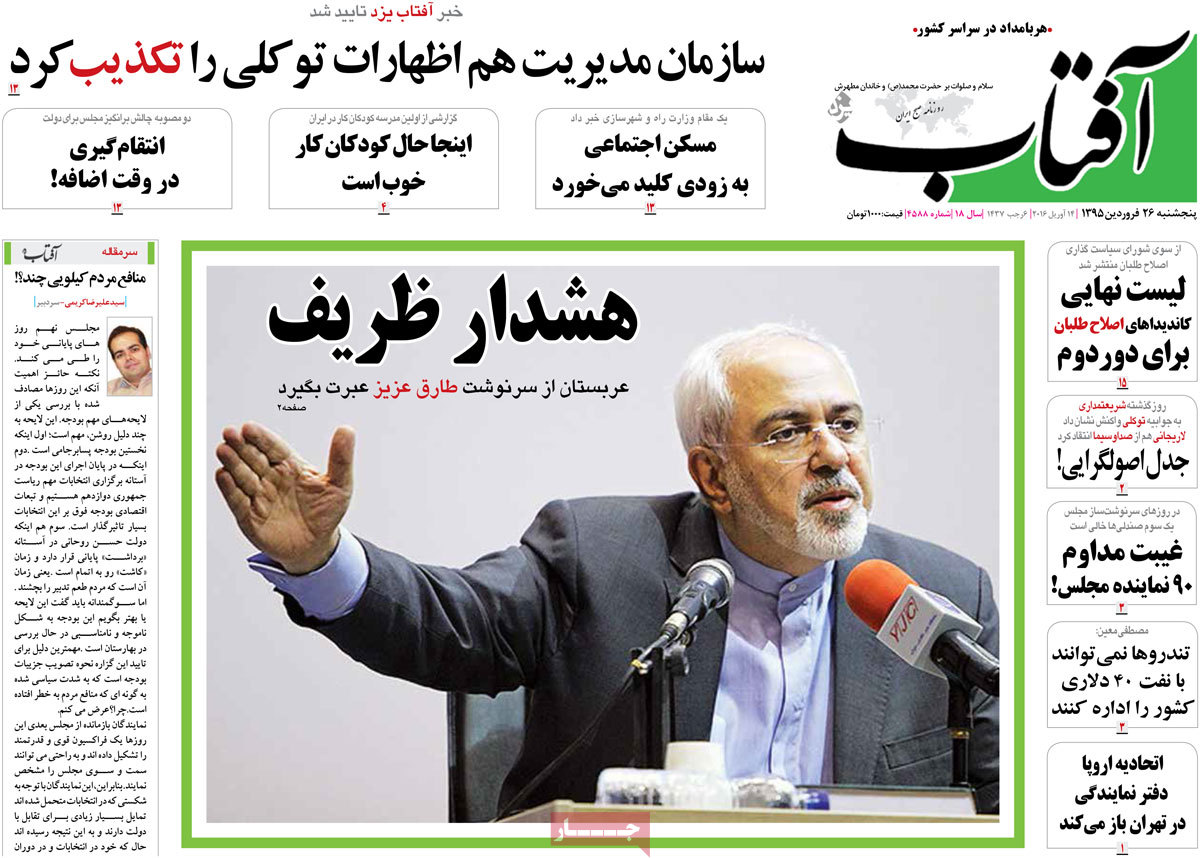 ---
Ebtekar:
1- Rise of terrorists government
– A report on indifference of world community to ruling of a group of extremists in numerous counties
---
Etemad:
1- Zarif gets angry in Istanbul
– Iranian Foreign Minister reacts angrily to draft of the final communiqué of the Islamic Cooperation Organization Summit which contains anti Iranian clauses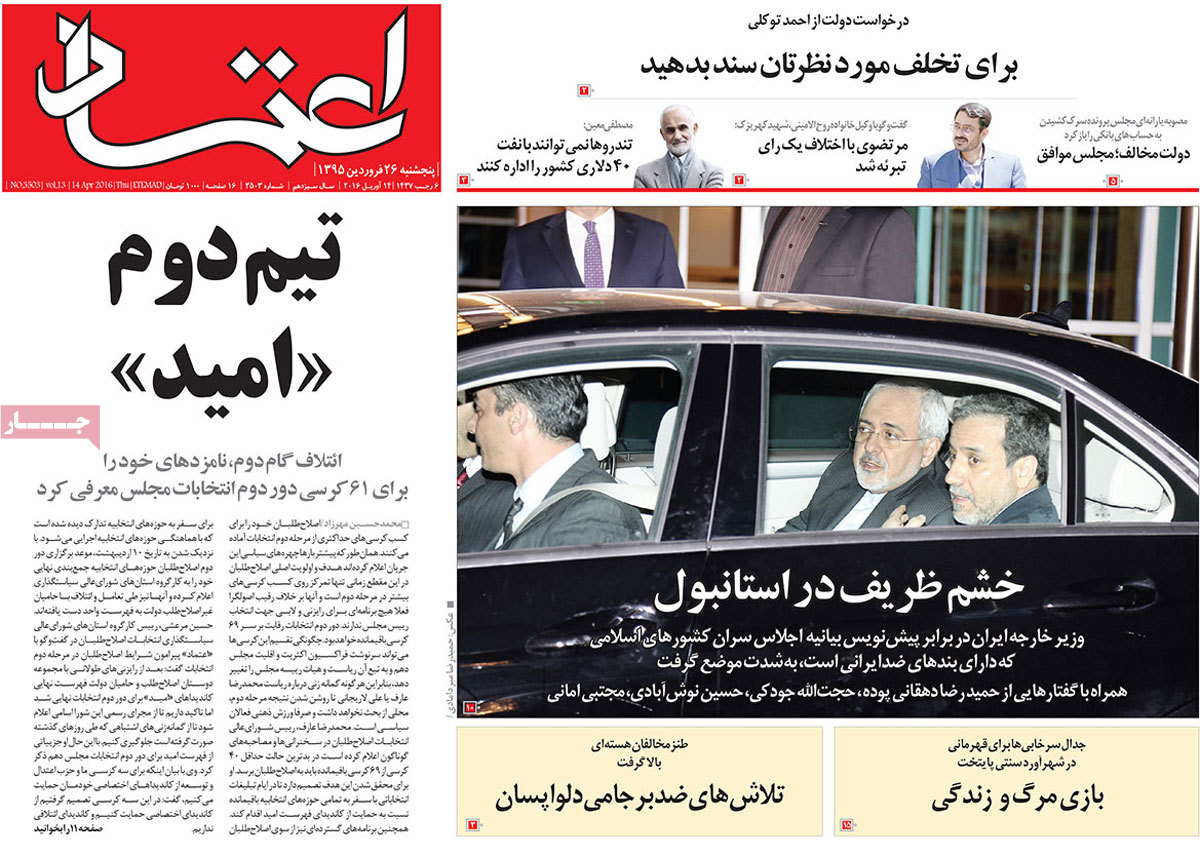 ---
Afkar:
1- Boeing makes sale of commercial planes to Iran conditional
2- New anxieties about coalition of Taliban and Al Qaida in Afghanistan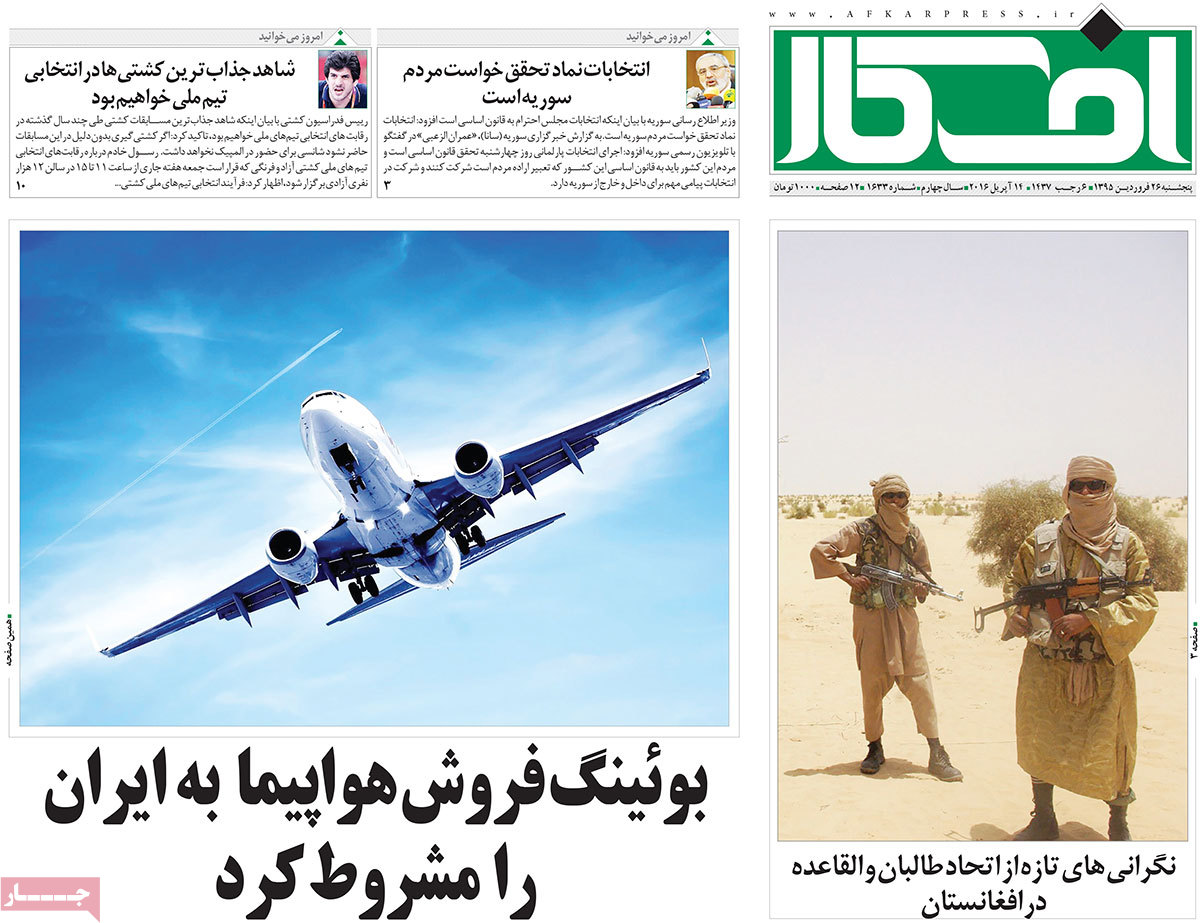 ---
Ettela'at:
1- Iran stands firm against desperate machinations by Saudis in Islamic Cooperation Summit in Istanbul( Rouhani to attend the Summit)
2- Annexation of two Egyptian islands to Saudi Arabia, took place by US and Israeli approval:
– Saudi Arabia has committed itself to allow Israeli vessel to pass through Tiran Strait
3- Massive participation of Syrians in Parliamentary election
4- Dr. Aref: Reformist faction has no concern but to uphold the Establishment
---
Emtiaz:
1- Marriage related Cyber activities  have became legalized, says Director General of Marriage Department of Sport and Youth Ministry
2- 12 New Petrochemical projects to be commissioned :
– Minister of Petroleum says by commissioning 12 petrochemical projects and complexes in this Iranian calendar year, production of liquid gas from South Pars gas field will amount to 14 million tons
---
Iran:
1- Rain and dust rick havoc in Khozestan Province
---
Jame Jam:
1- Cash subsidies of better offs is in limbo:
–  Opposition by government makes Parliaments approval doubtful
---
Jomhuri Eslami:
1- Iran issues strong warning to supporters of Terrorism against making use of Islamic Cooperation Organization( Reaction by Iranian Foreign Minister in Istanbul Summit
2- Latest achievements of Iranian Army were on display
3- Massive participation of Syrian voters in Parliamentary election, as peace talks kicks off in Geneva
4- Implementation of 8 agreements signed by Iran and Italy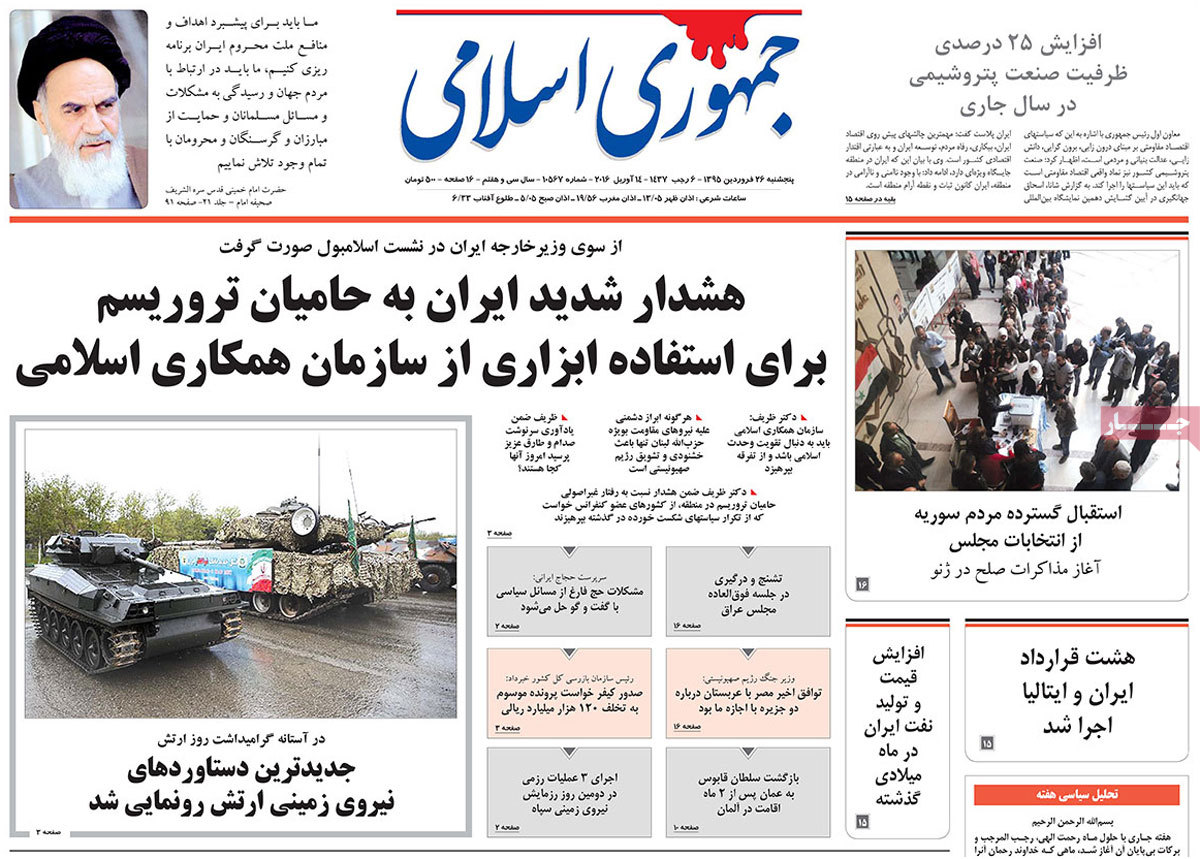 ---
Javan:
1- Saudis cause division in Istanbul Islamic meeting
– Saudi Arabia is trying to formulate an anti Iranian and Hezbollah communiqué at the Islamic Cooperation Organization Summit
– Zarif: Saudis should learn lesson from the fate of Tariq Aziz( Saddam's Foreign Minister)
2- Download your favorite spouse!
– Government gives green light to marriage matchmaking websites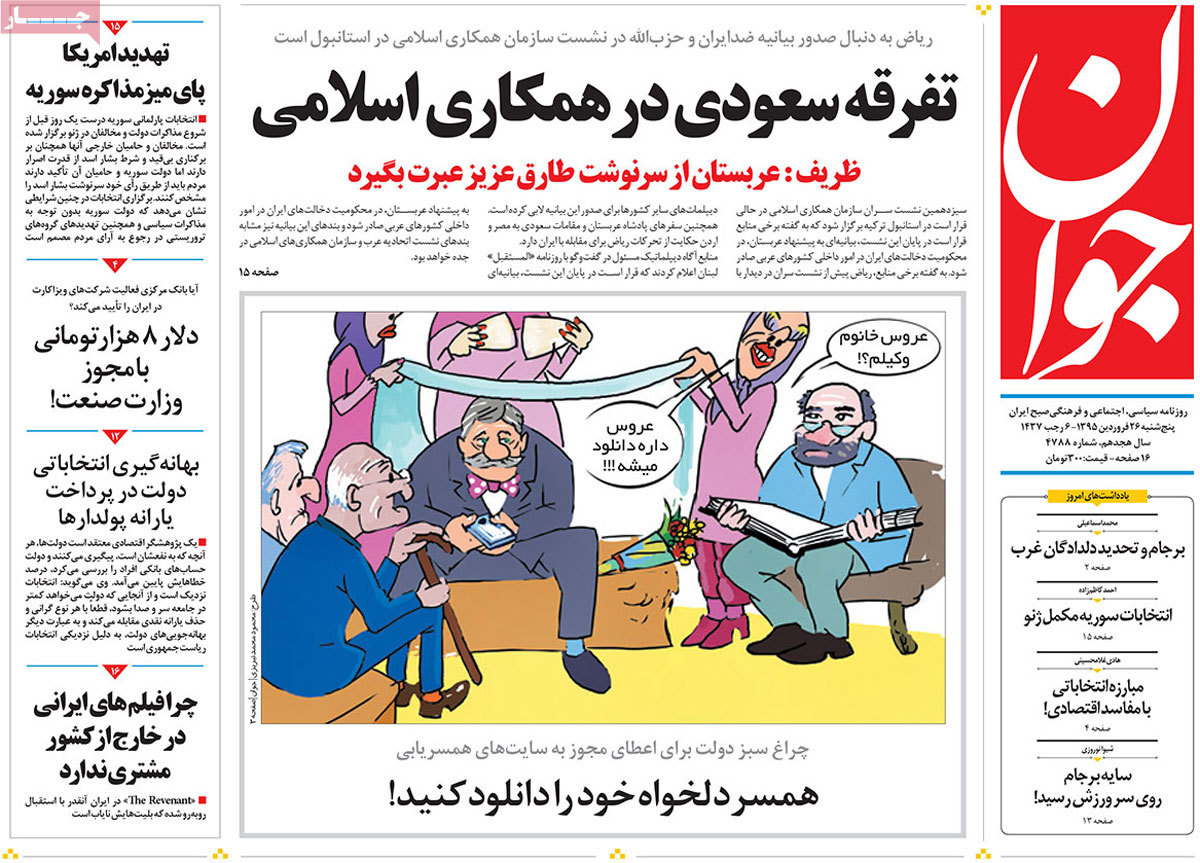 ---
Korasan:
1- 350 more bodies were discovered in Nigerian town of Zaria who were massacred by Nigerian Army
2- Another Gul in Turkey
– Will Davutoglu have the same fate as Abdullah Gul? Widespread unconfirmed news about growing tension between Prime Minister and Ordegan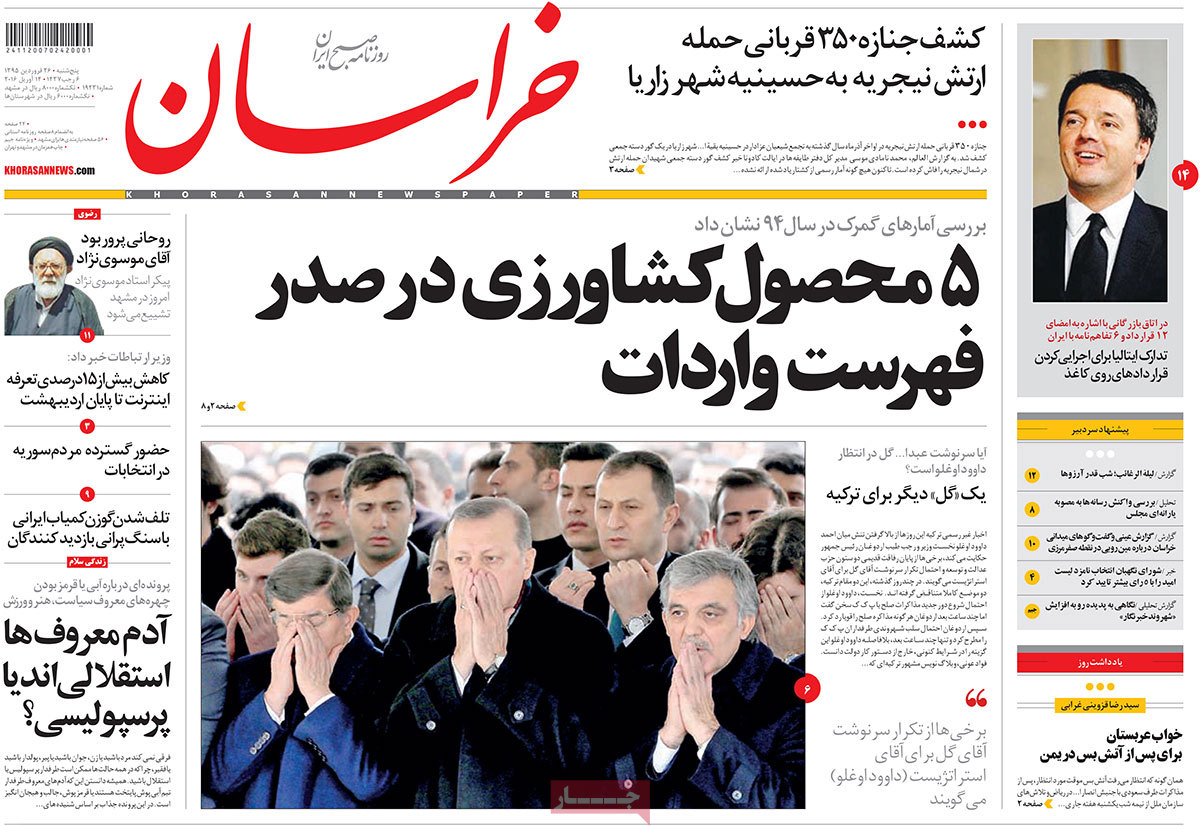 ---
Rahe Mardom:
1- Efforts are underway to set up Wall of Compassion for books
-Wall of Compassion is a campaign by benevolent Iranians who hang up their unused clothing on the wall to be used by needy people
---
Resalat:
1- Syrian people respond to 5 years of meddling by Americans
2- Ayatollah Makarem Shirazi: Iran is on the frontline of war on Terrorism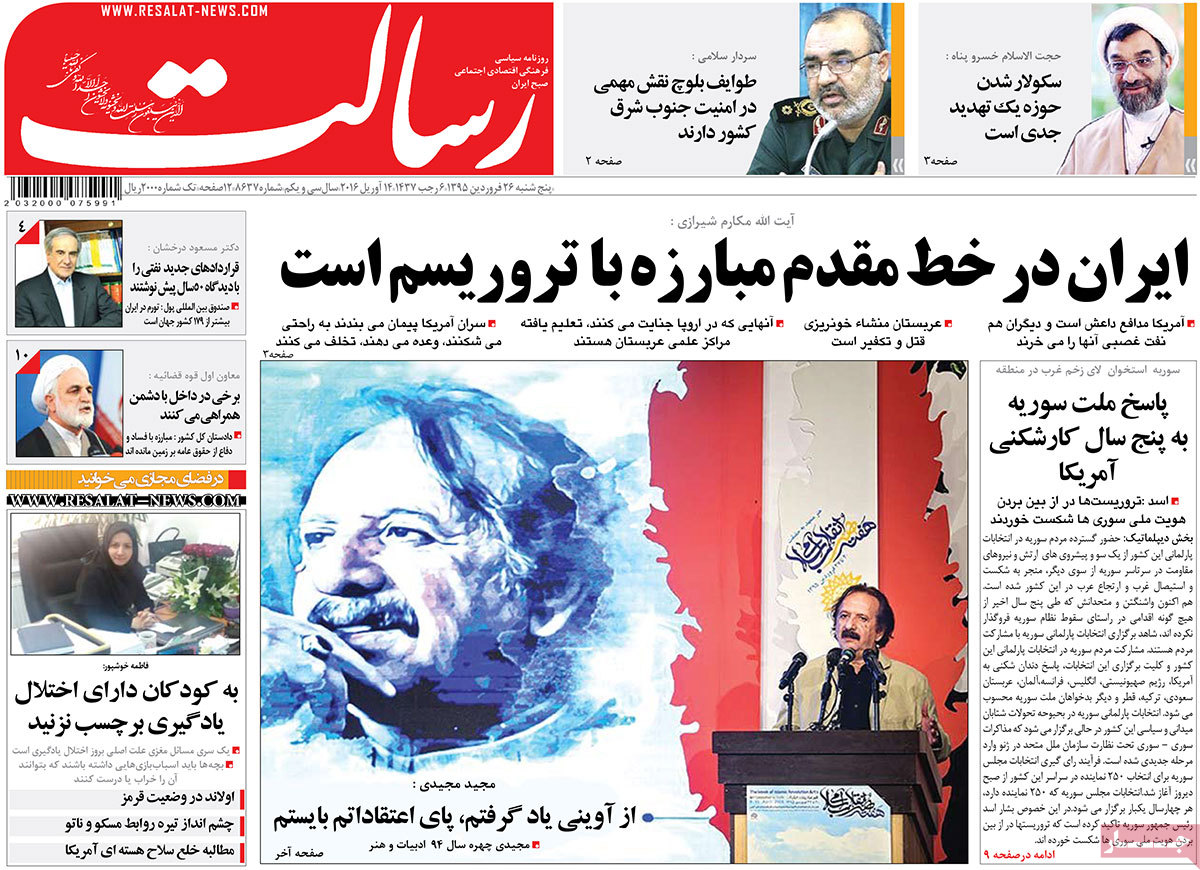 ---
Roozan:
1- Iran's message to Istanbul meeting:
– President Rouhani: Iran's main slogan is " a world free from violence and extremism"
2- Ordegan's most pompous welcome ceremony for Saudi King Salaman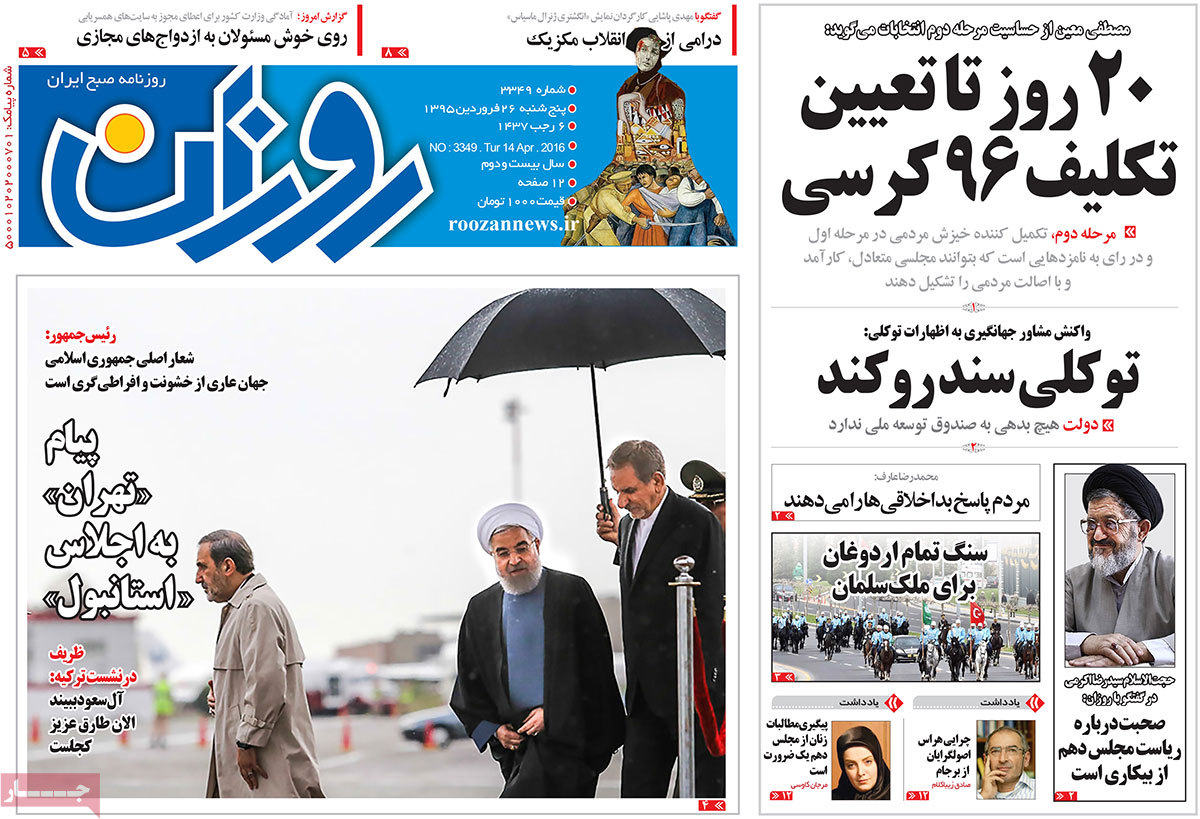 ---
Rooyesh Mellat:
1- Italian Premier: Iran and Italy can promote message of stability in the region
2- Vice President: Economy is the number one priority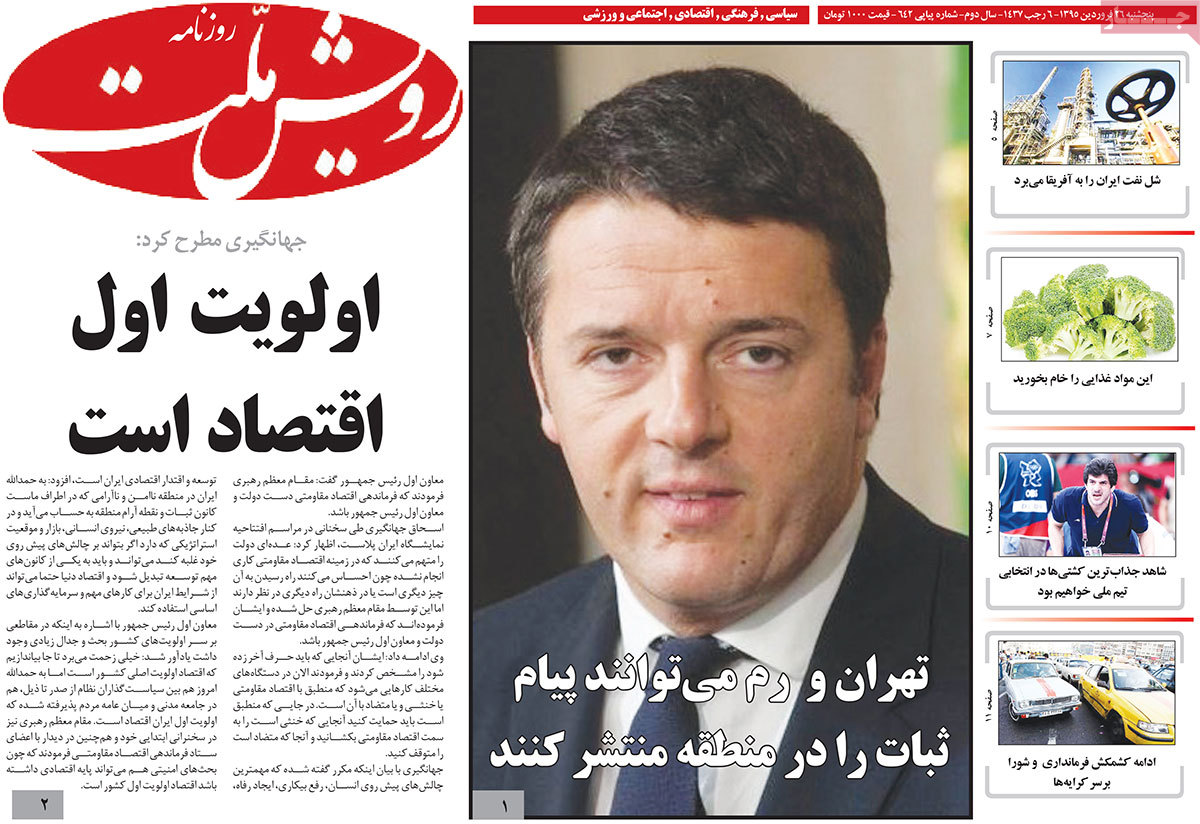 ---
Siasat Rouz:
1- Cordiality of People and government:
– Americans and terrorists fail in their attempts to delegitimize Assad by dissuading people from voting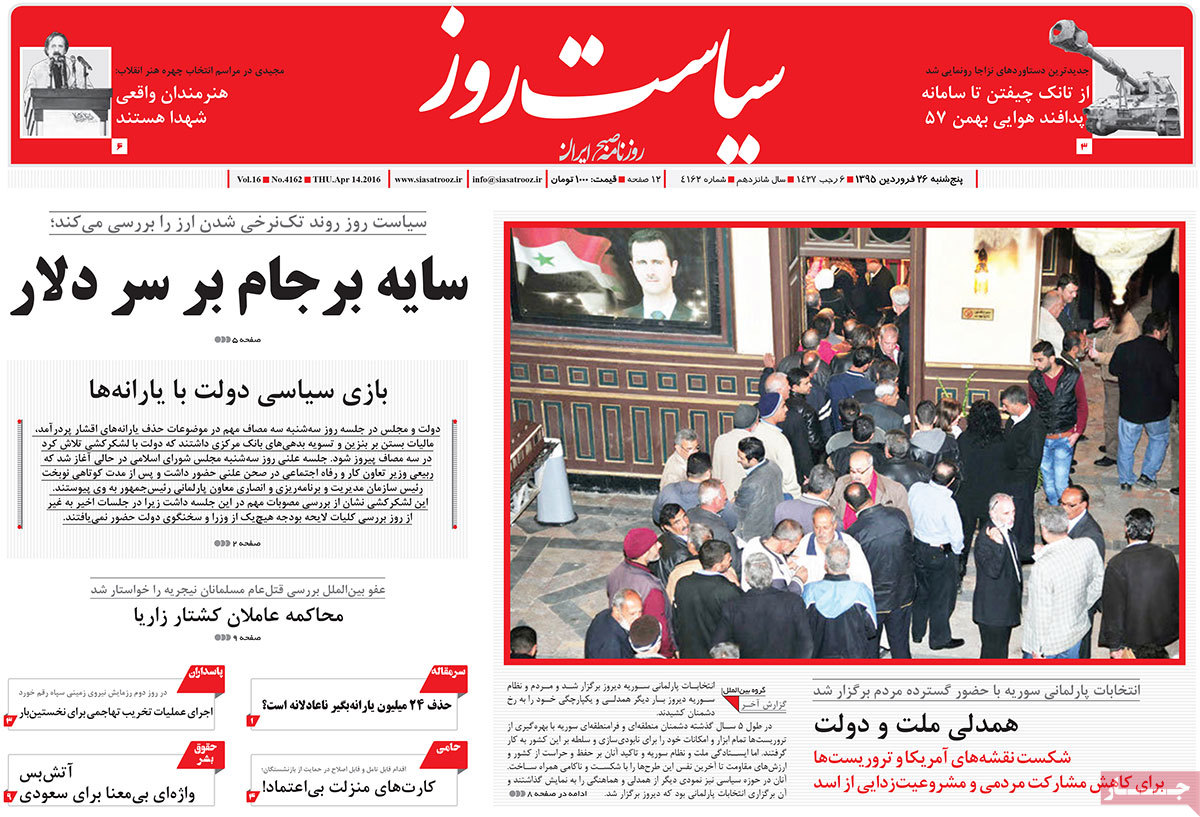 ---
Shargh:
1- Mogherini in Tehran on Saturday
2- Rouhani before departing for Istanbul: the problem of terrorism could be solved through cooperation of all countries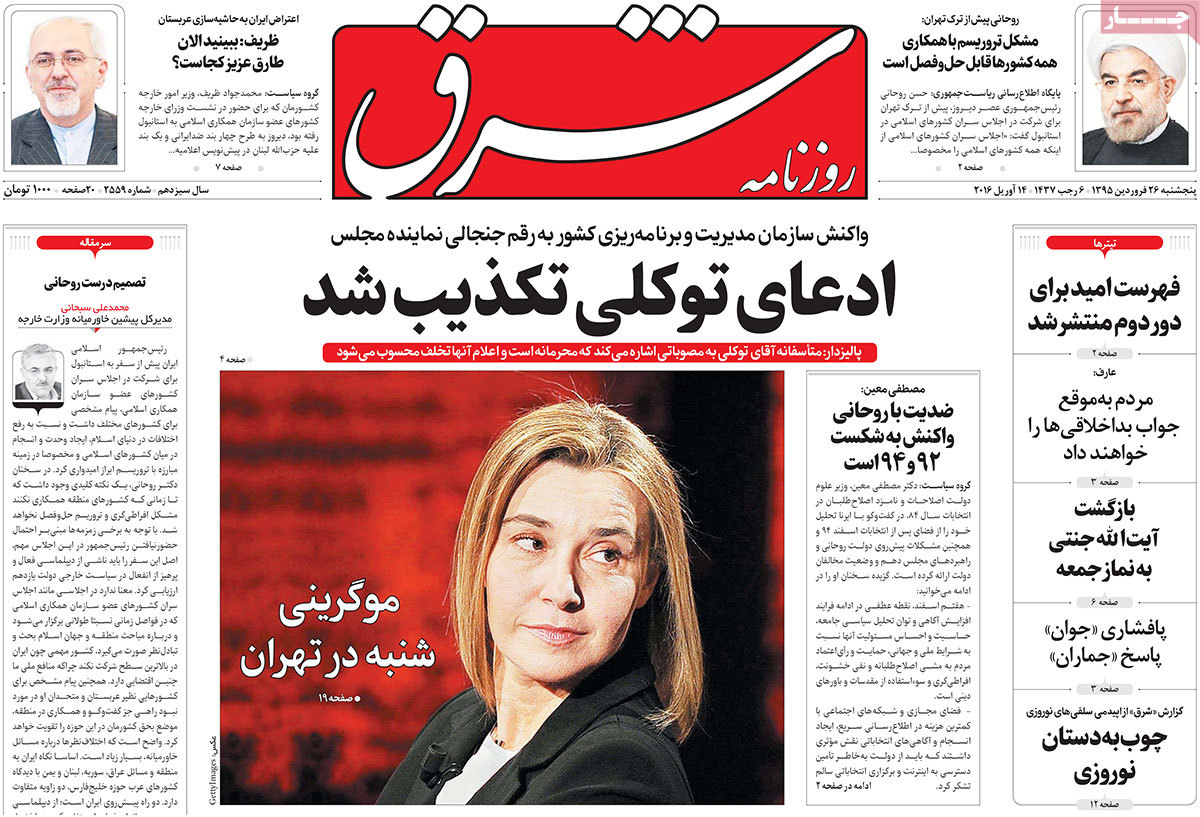 ---
Keyhan:
1- Massive participation of Syrian people in parliamentary election has angered American and Europeans
2- Second phase of Gran Prophet war games underway with Sunni Basijis taking part
---
Mardomsalari:
1- Damascus victories is supplemented by democracy
2- Italy by signing 50 agreements and MOU has left behind all other countries in cooperating with Iran
---
Vatan Emrouz:
1- Saudi Army in East:
– Muqrin Bin Abdulaziz, Saudi dismissed crown prince expressed his concern over military adventurism against Iran
– 5 cases of delivery of military hardware by C-130 cargo planes to Dalbandin Airport in Pakistan to handover to anti- Iranian terrorist groups