IFP has taken a look at the front pages of Iranian newspapers on Thursday, April 12, and picked headlines from 20 of them. IFP has simply translated the headlines and does not vouch for their accuracy.
The top story in almost all newspapers today was the ongoing debates over the possibility of a war by the US and its allies on Syria.
Several papers also covered the latest developments regarding the country's forex market, and the recent decision by the Iranian government to control the market.
The above issues, as well as many more, are highlighted in the following headlines and top stories:
Abrar:
European Parliament to Discuss Ways to Implement JCPOA without US
Sadr Movement Spokesman: Muqtada Sadr Has Good Ties with Both Iran, Saudi Arabia
Rumours that Assad, His Family Have Escaped to Tehran Dismissed
---
Afkar:
Ayatollah Jannati Calls for Strong Support of Iranian Products
Certain Executives Don't Feel Responsible for Domestic Production
---
Aftab-e Yazd:
Saudi FM: Europe Has Opposed Washington's Idea about Iran Missile
Former IRGC Official: Ahmadinejad Will Soon Be Prosecuted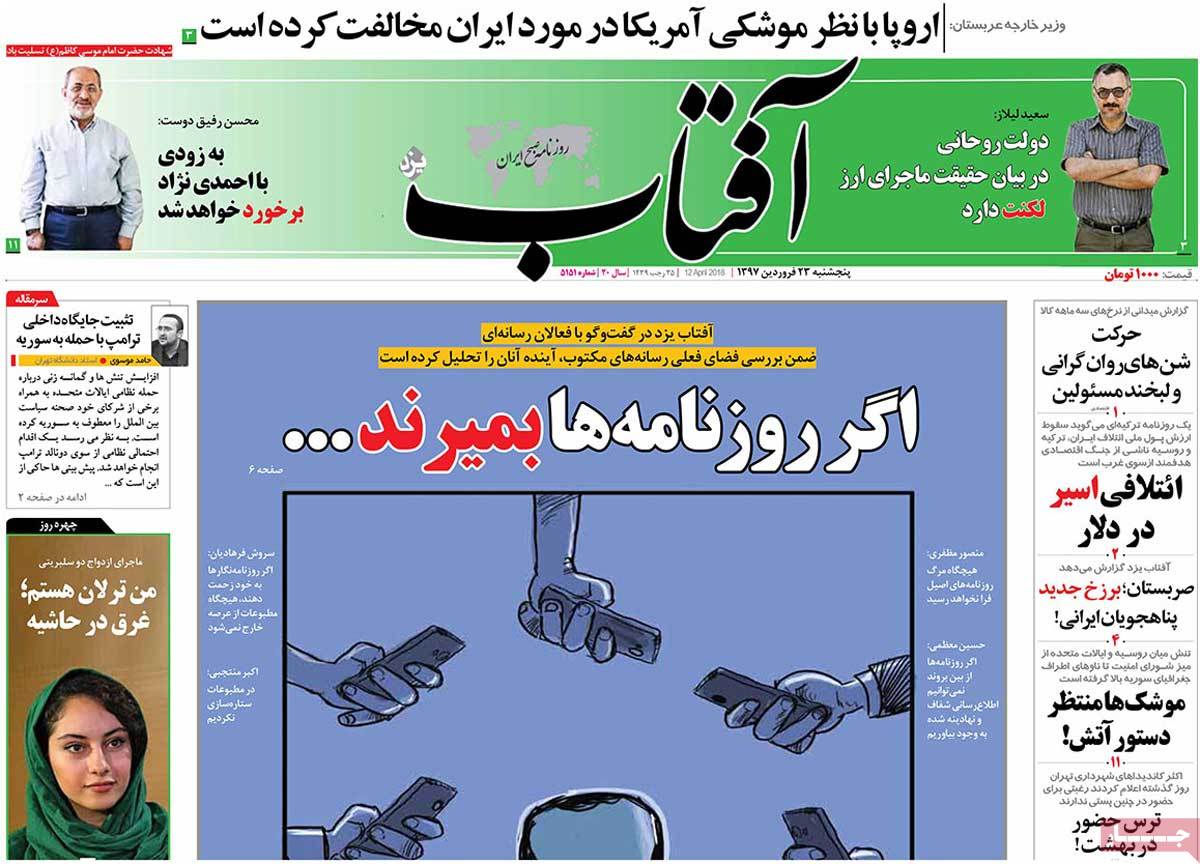 ---
Afarinesh:
Political Inflammation, Economic Distrust in Society Main Cause of Forex Rate Crisis
---
Arman-e Emrooz:
Trump Intends to Wage Psychological War against Russia: Analyst
---
Arman-e Melli:
Culture Minister: No Decision Made for Blocking Telegram Yet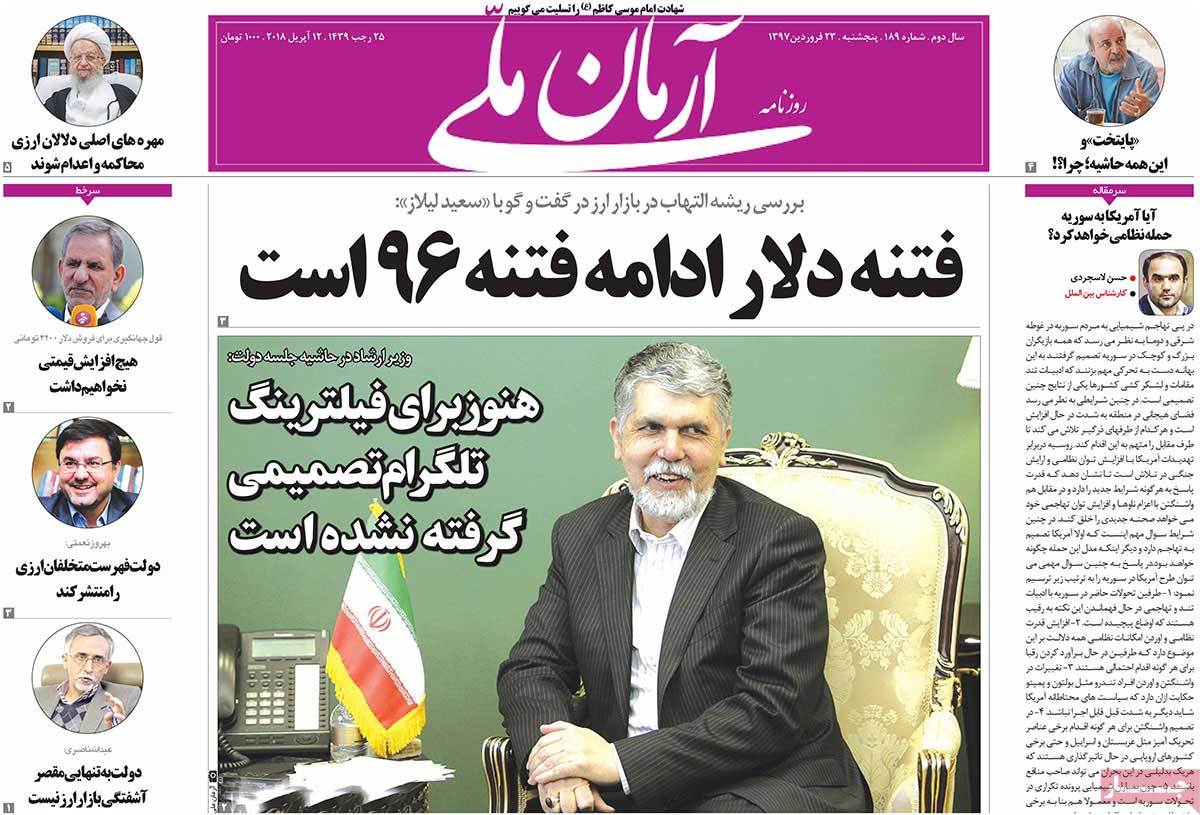 ---
Ebtekar
Iranian Diplomacy in Latin America
Zarif Arrives in Uruguay after Meeting Brazilian Officials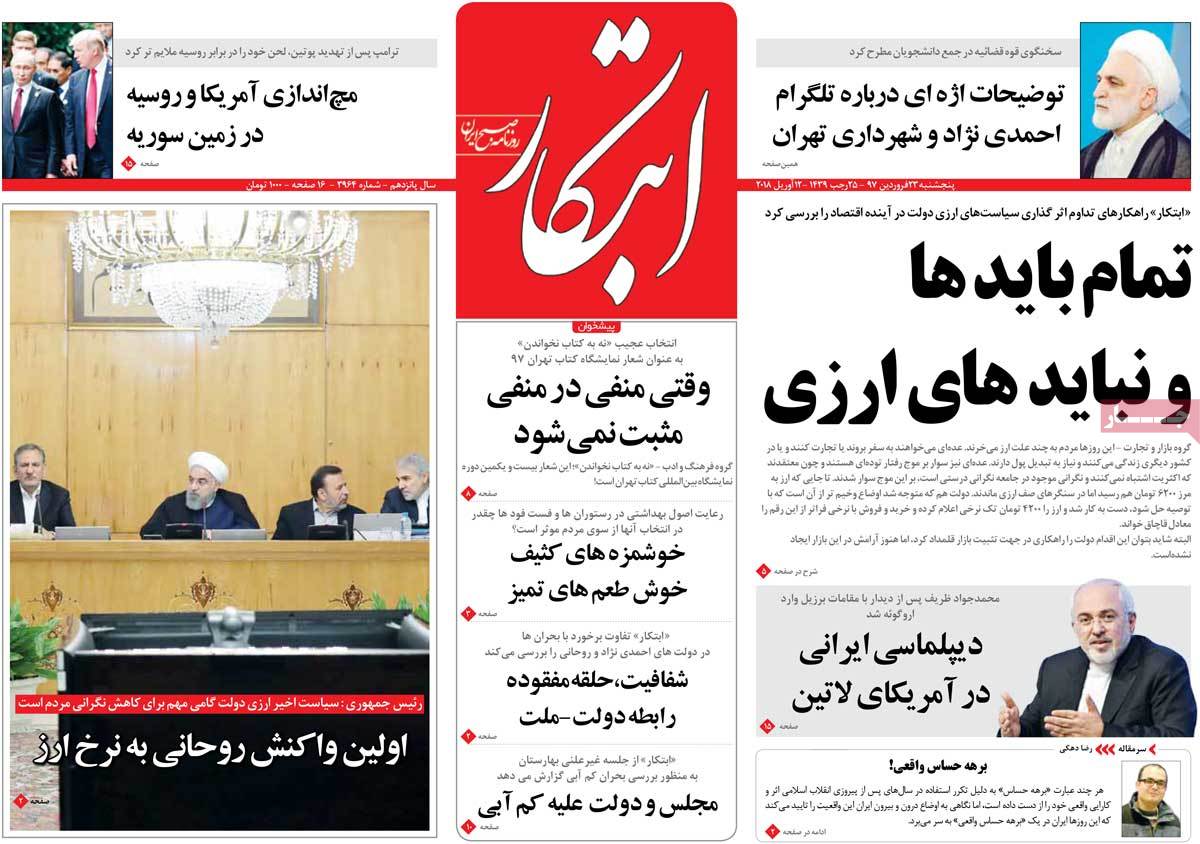 ---
Emtiaz:
Economy Minister: Iran in Good Conditions in Terms of Forex Resources, Prospect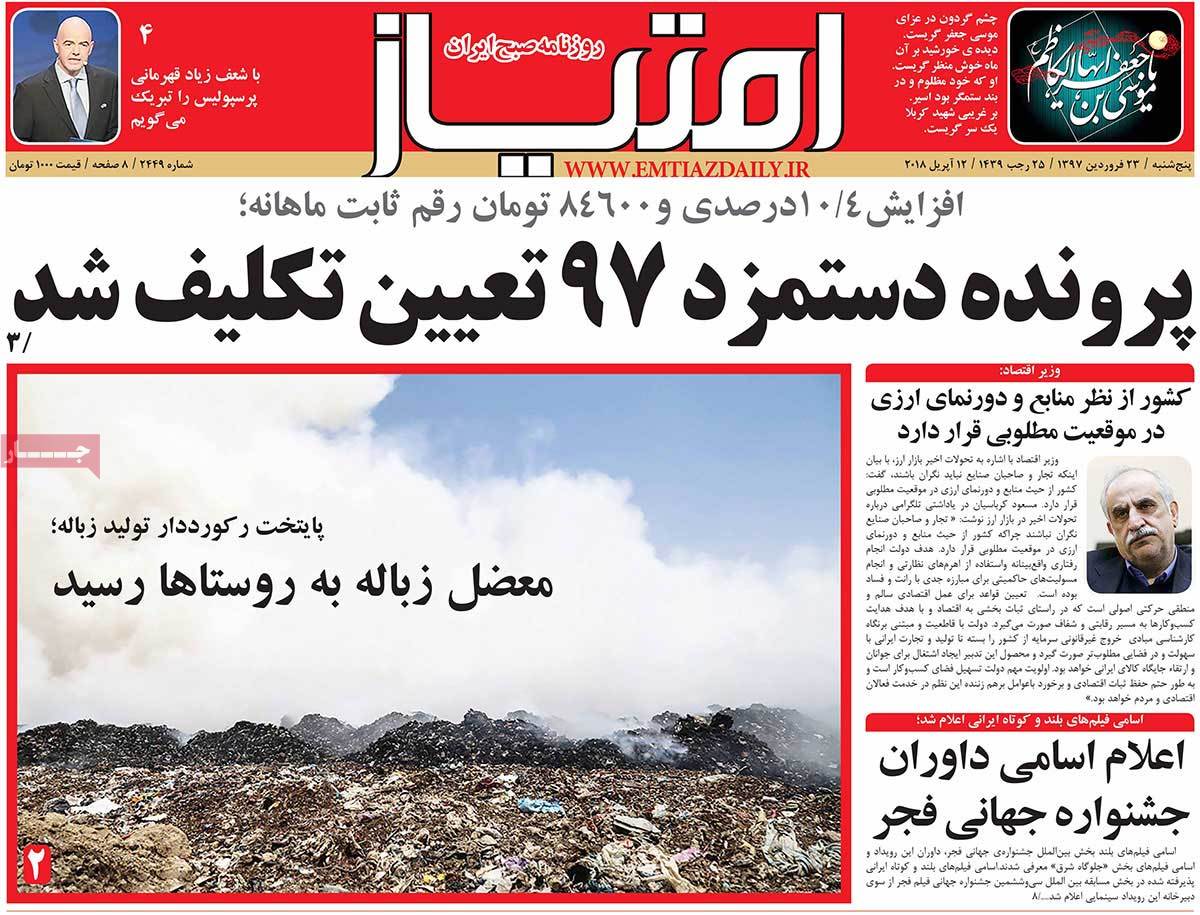 ---
Etemad:
Waiting for Another Bitter Incident: Trump Playing with Mideast in Twitter
Three Explosions Heard in Saudi Sky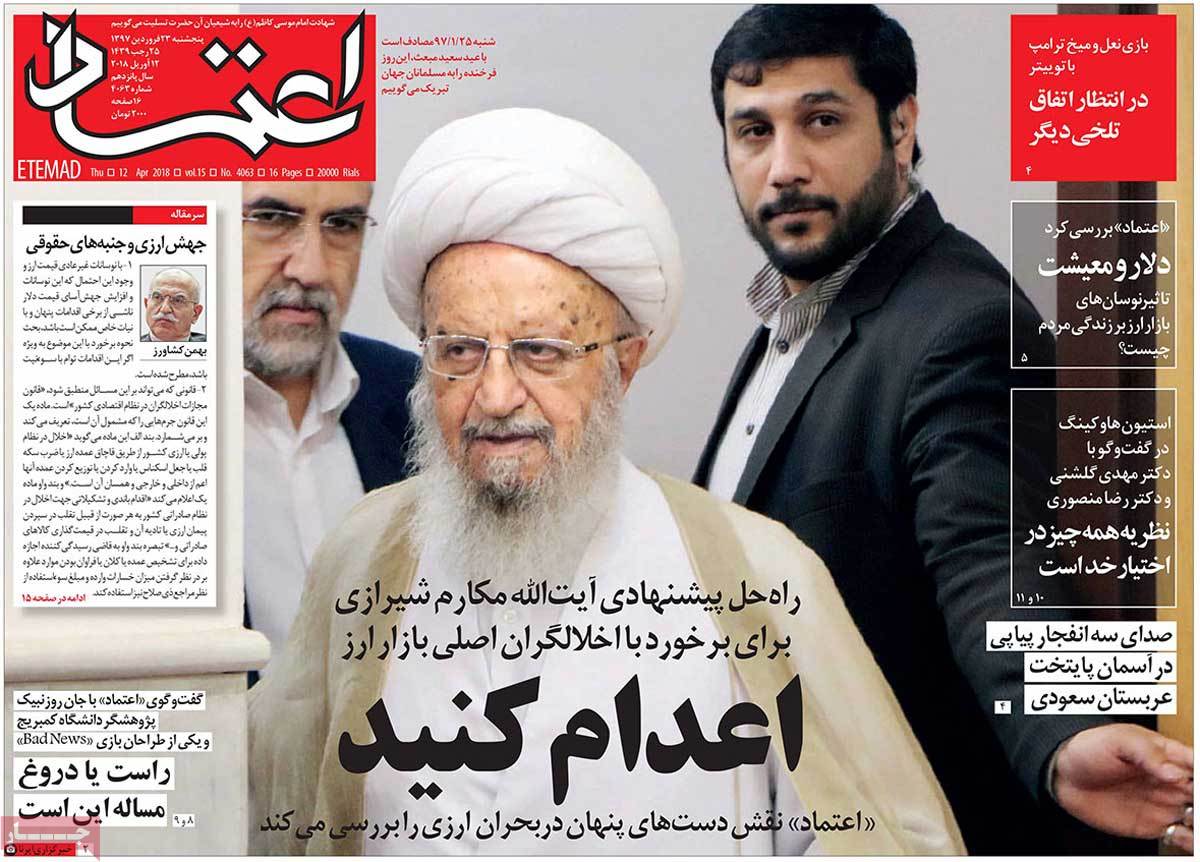 ---
Ettela'at:
US Planning Attack on Syria
Russia: Our Reaction Rapid, Any Missile to Be Shot Down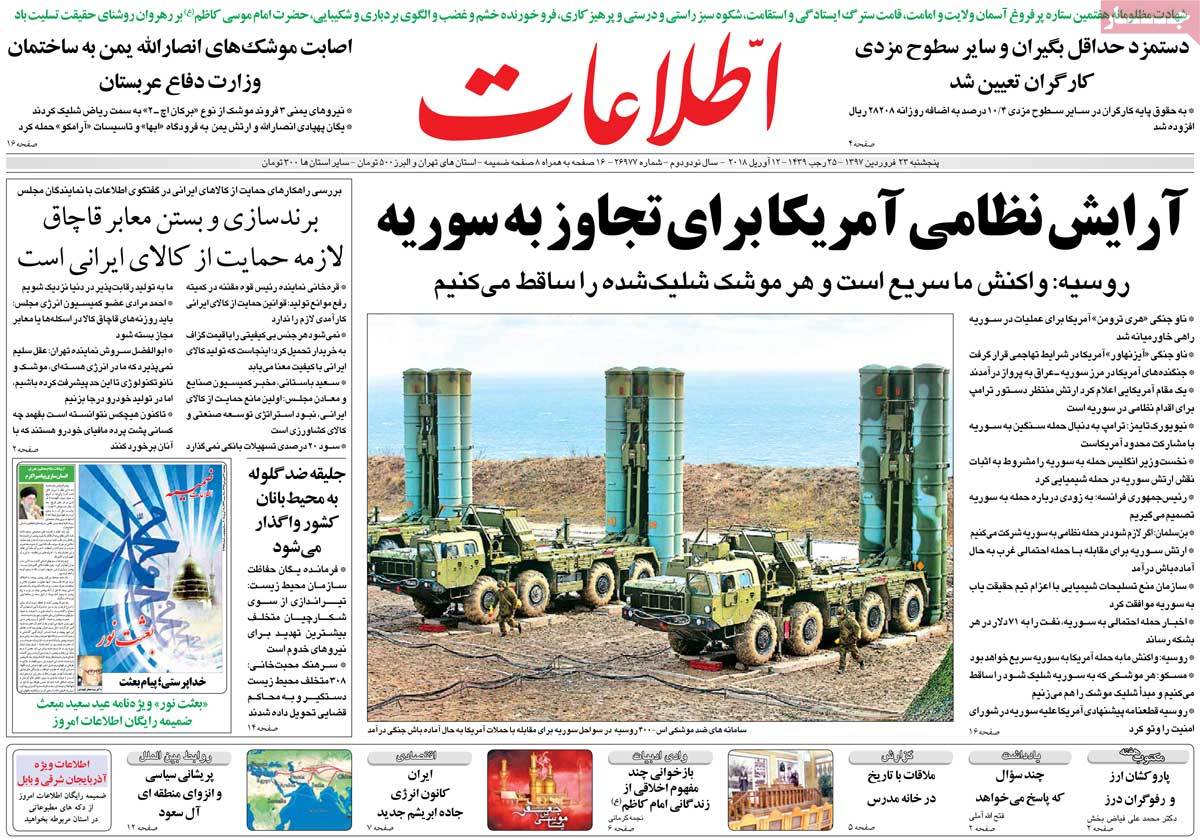 ---
Iran:
5% Increase in Workers' Salaries Next Year
---
Javan:
World Threatened with Insanity of Hawkish US President
Trump: Russia Be Prepared for Our Missiles Because They're Coming!
257 Dead in Crash of Algerian Military Plane
---
Jomhouri Eslami:
Rouhani: Gov't Trying to Allay Concerns of People, Producers
Differences with India on Farzad B Gas Field Resolved: Iran
---
Kayhan:
Ansarullah Shows Off Its Power to Al Saud
Ansarullah's Pinpoint-Accuracy Missile Hits Saudi Defence Ministry in Riyadh
Takfiri Mercenaries in Syria Defeated, Trump Starts Talking Nonsense
Facebook Founder Confesses to Violating Privacy of 87 Million Americans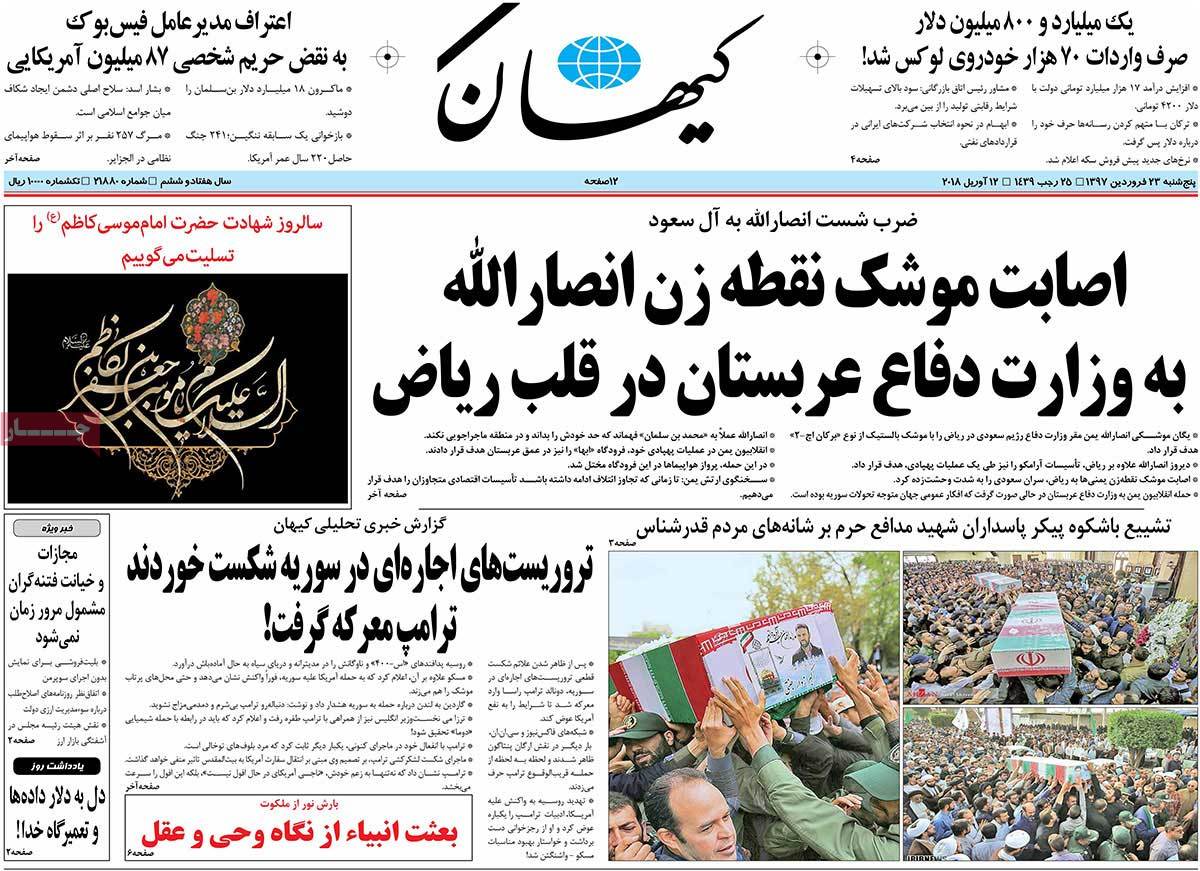 ---
Khorasan:
Cold War Turning Hot
Escalation of War of Words between US, Russia; Deployment of Forces in Syria Coasts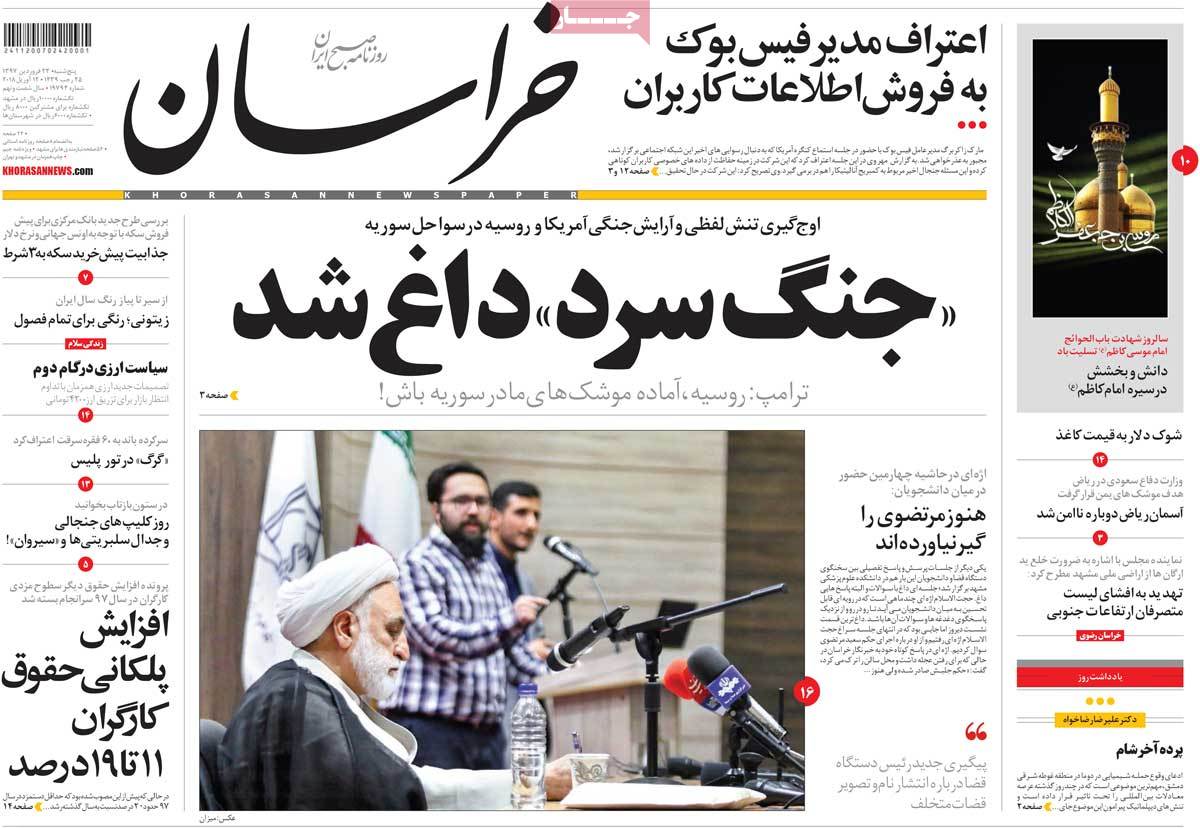 ---
Resalat:
Ayatollah Nouri Hamadani: We Must Give Good Response to Zionist Regime
Silence to Embolden Zionists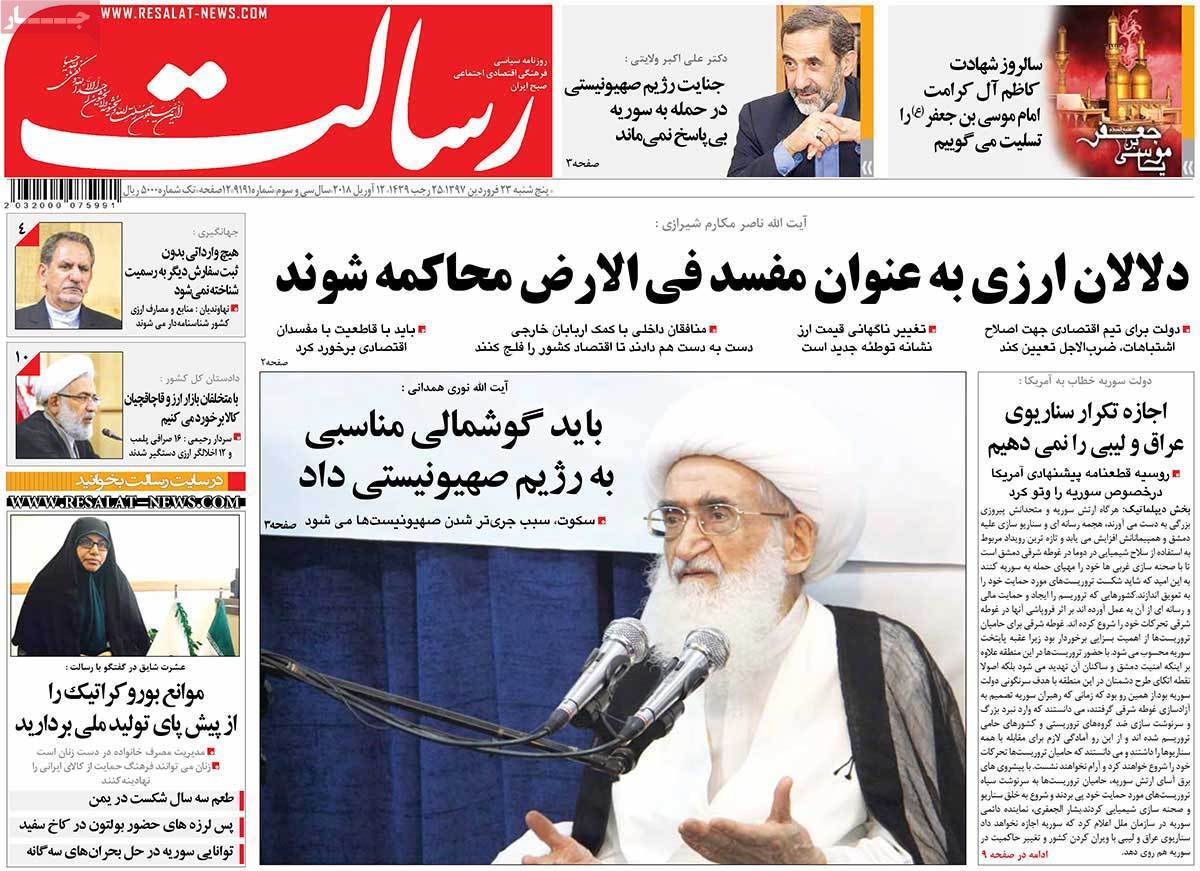 ---
Rooyesh-e Mellat:
Qassemi: Saudi Rulers Turned to Symbols of Aggression, Crime in Mideast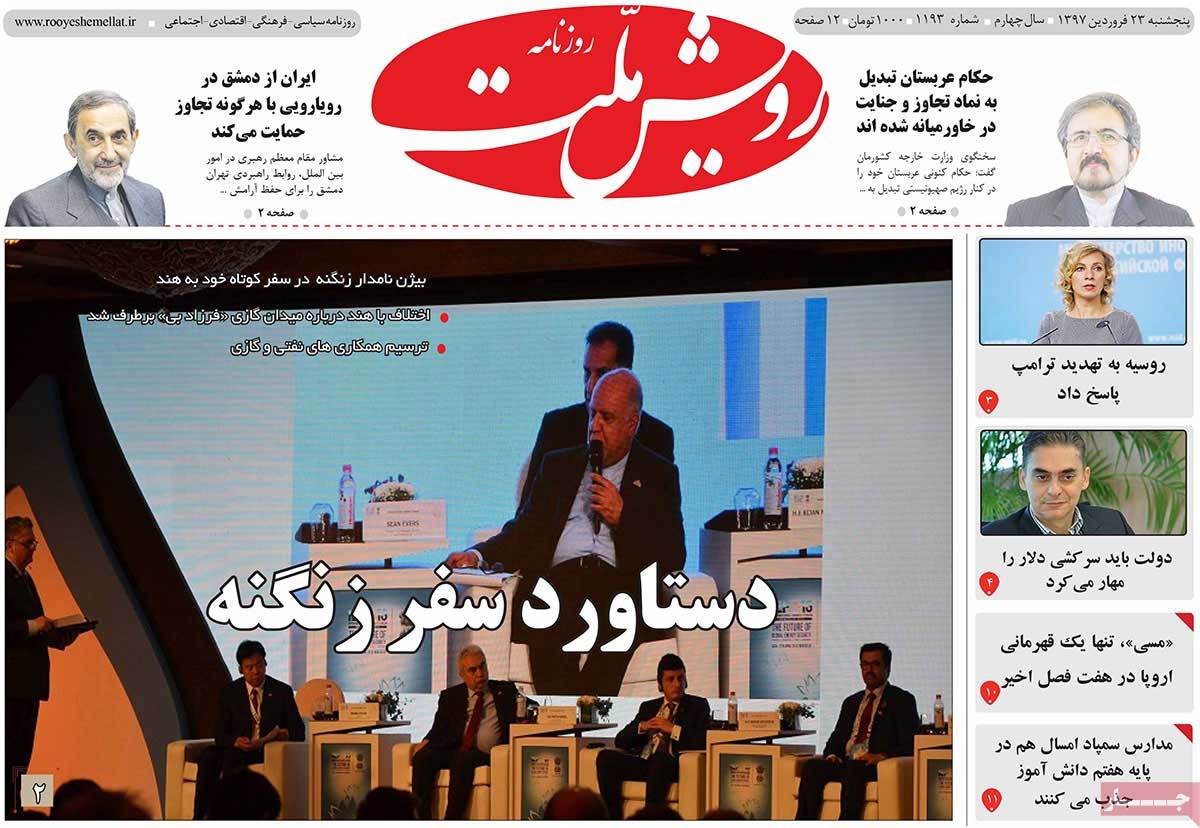 ---
Sayeh:
Number of Cars in Tehran Five Times More than Its Capacity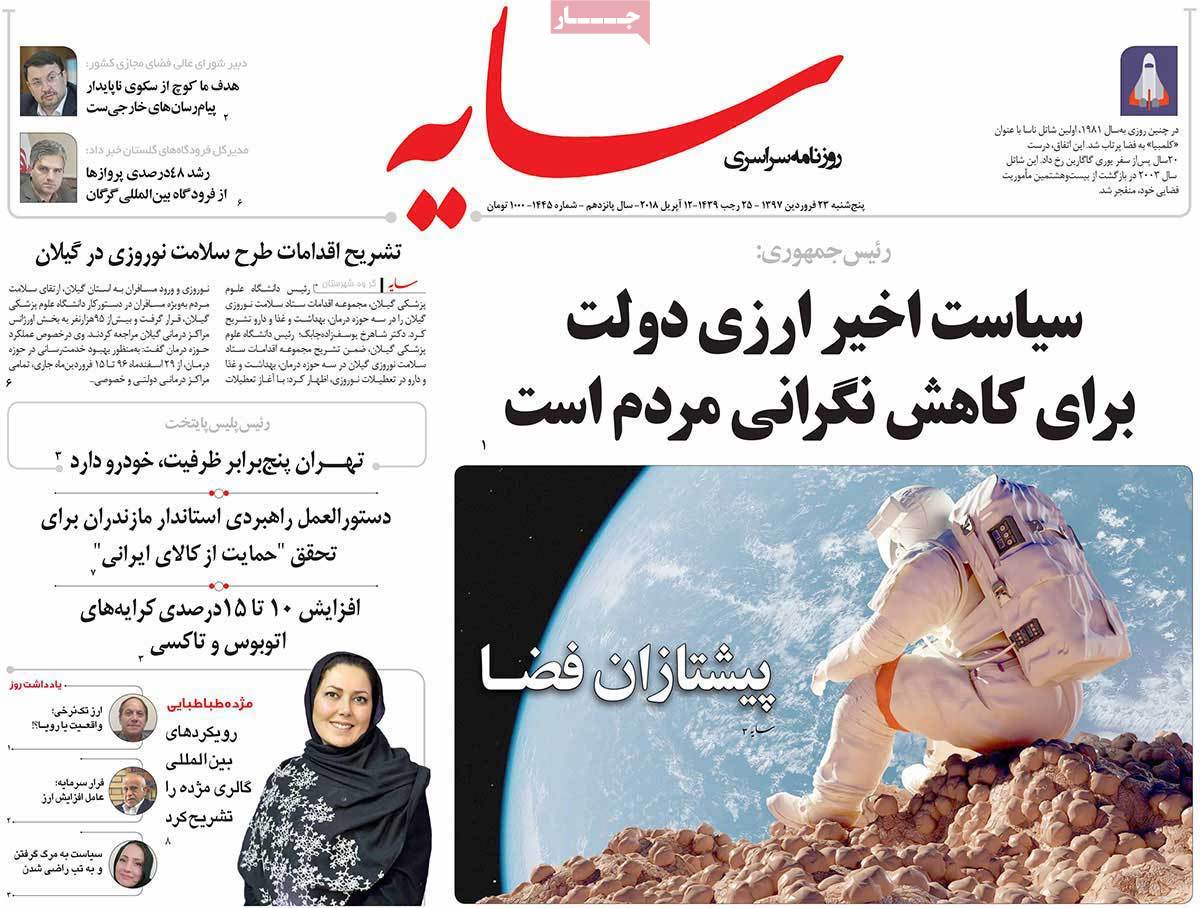 ---
Shargh:
Central Bank Chief: US Dollars Kept in People's Houses Might Be Declared Null and Void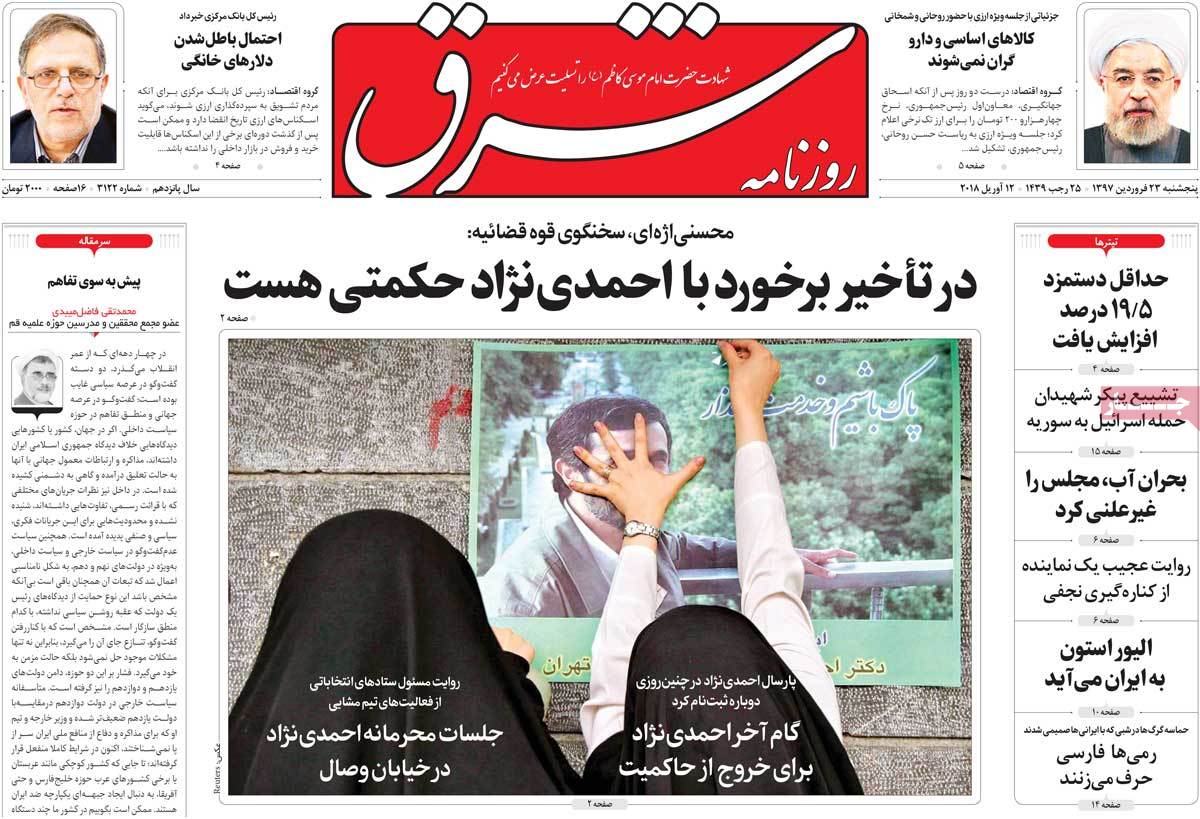 ---
Vatan-e Emrooz:
Macron: Iran Nuclear Deal Not Enough!
French President Seeks to Milk King Salman's Rich Son