IFP has taken a look at the front pages of newspapers on Tuesday and picked headlines from 21 of them. IFP has simply translated the headlines and does not vouch for their accuracy.
Abrar:
1-President Rouhani: Extremism, religious conflicts and terrorism are threatening the World of Islam
2-Foreign Ministry Spokesman: Mogherini and 7 European commissioners will arrive in Tehran on Saturday
3-Spokesman for Atomic Energy Organization: Cooperation agreement with Europe is under preparation
---
Asrar:
1-Secret documents showing Saudi connection to Sep.11 attacks revealed
2-Talks with Saudis about Hajj Rituals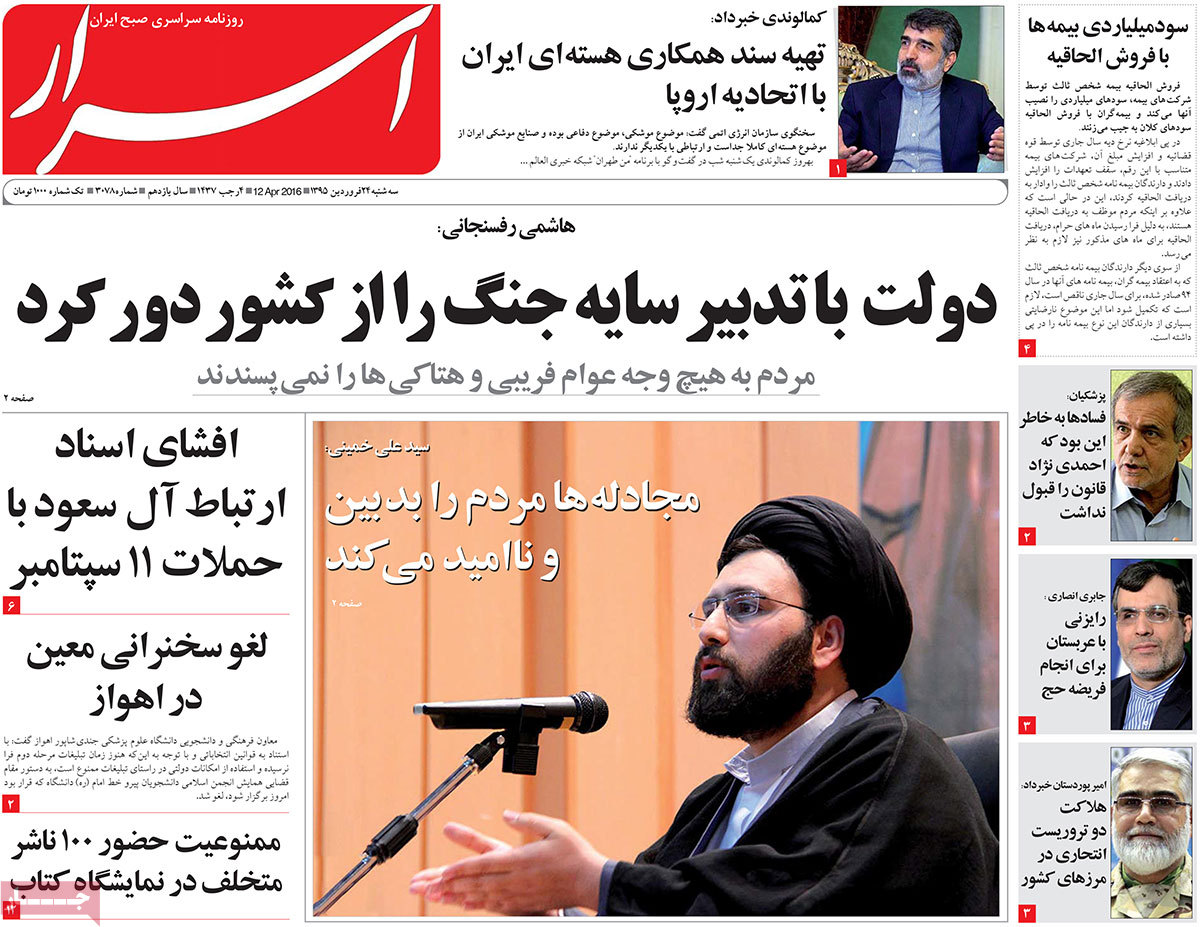 ---
Armane Emrouz:
1-Supreme Leader meets Kazakh President: Islamic countries should cooperate honestly
2-S-300  Anti-Missile system on its way
Jaberi Ansari says the first part of the Iran- Russia agreement has been fulfilled.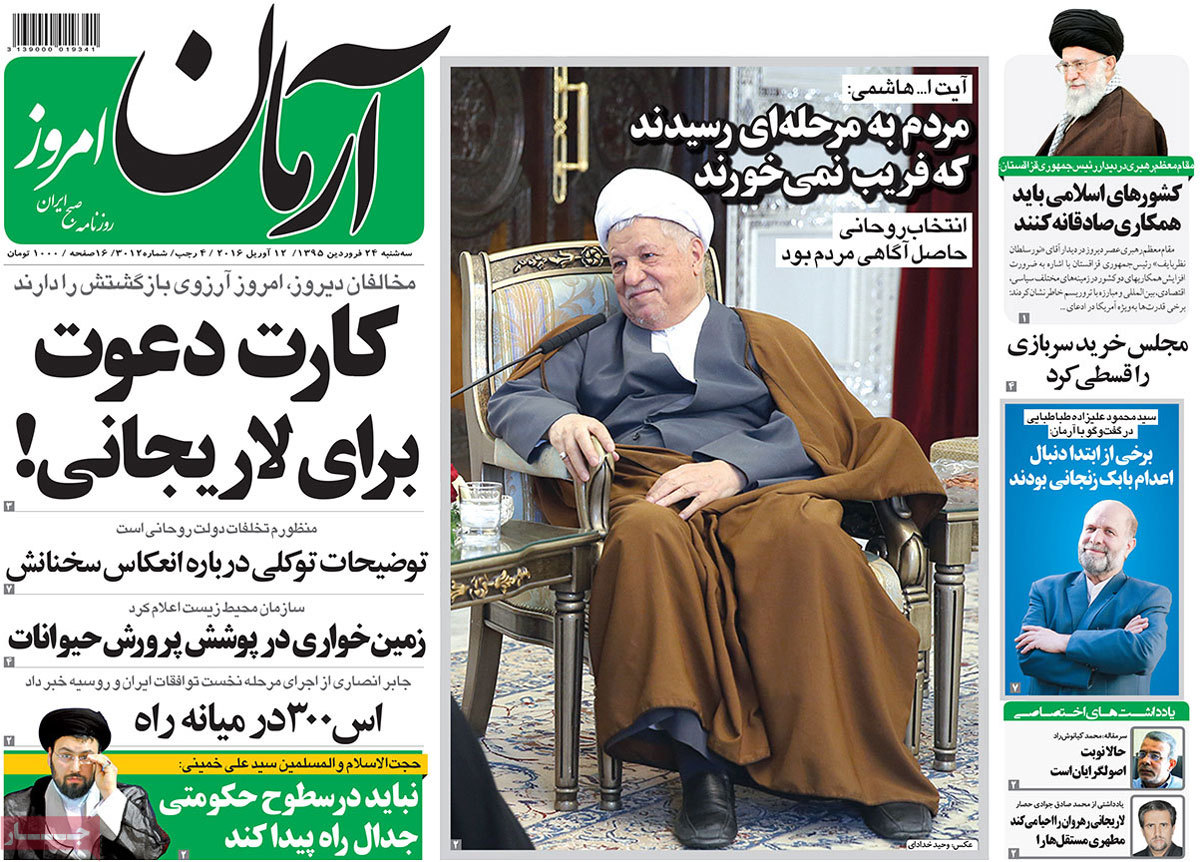 ---
Etela'at:
1-Anti-terrorist Rapid Response Unit been established within Army
2-Supreme Leader with Kazakh President: The West is not serious in its war on terror
3-Iran and Kazakhstan sign 66 cooperation agreements
4-Germans to build petrochemical plant in Iran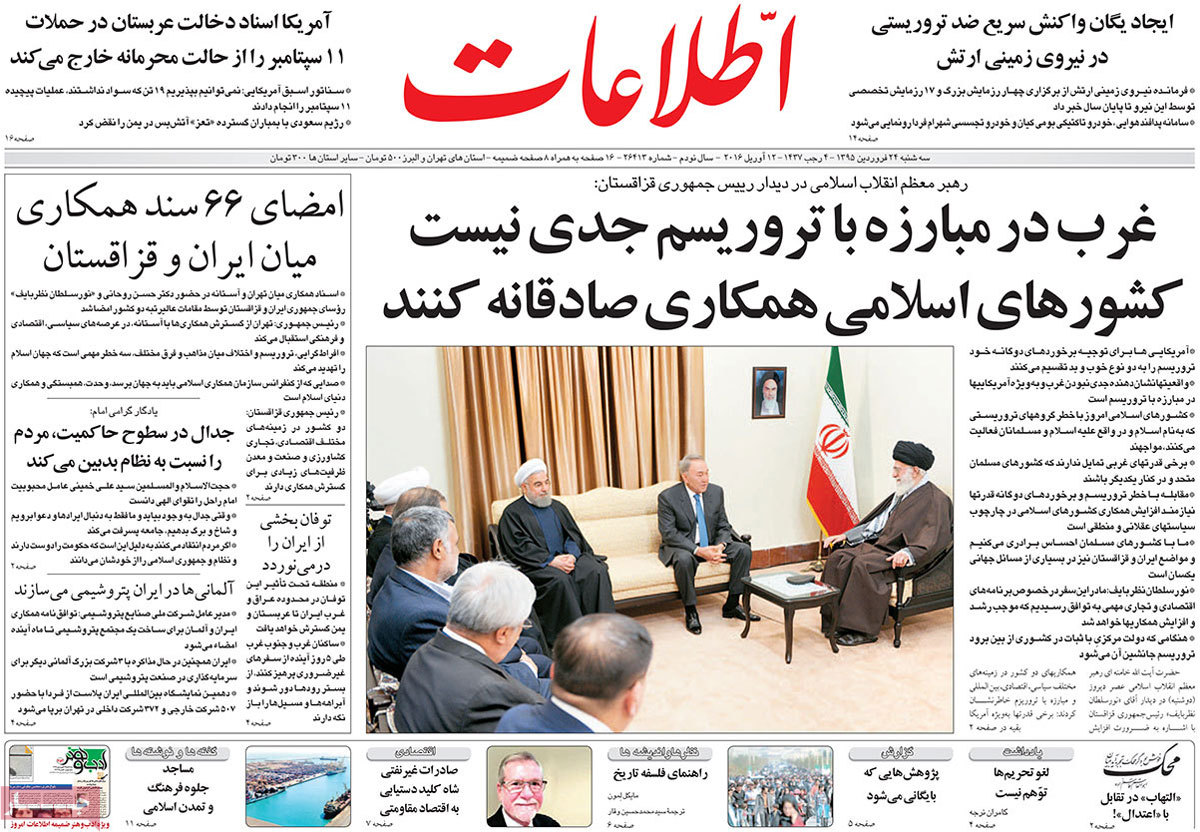 ---
Etemad:
1-Spring of Diplomacy:
The veteran President of the most economically important Central Asian country, a young Italian Premier, the UN special envoy on Syrian Affairs and Federica Mogherini are all being hosted in Tehran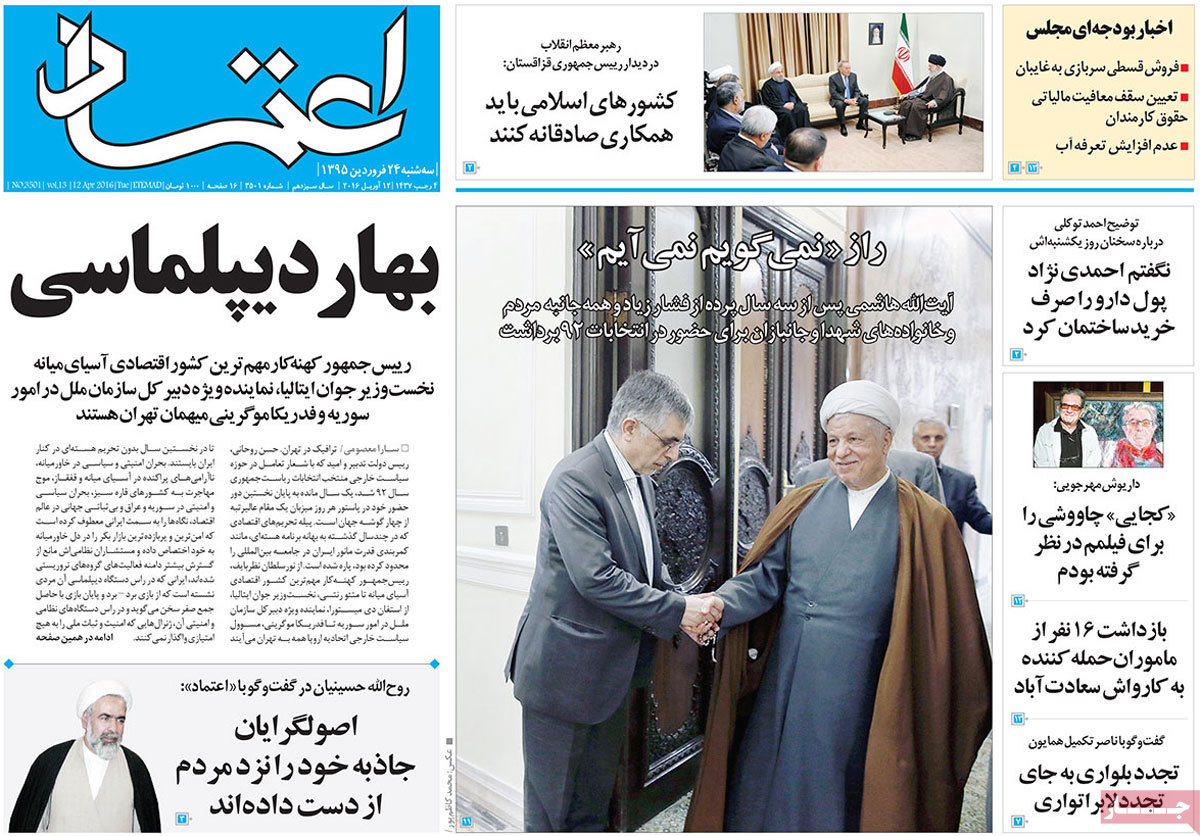 ---
Afkar:
1-Iran and Turkey sign important protocols
2-Rouhani in talks with Kazakh President: Sound of Islamic unity should echo globally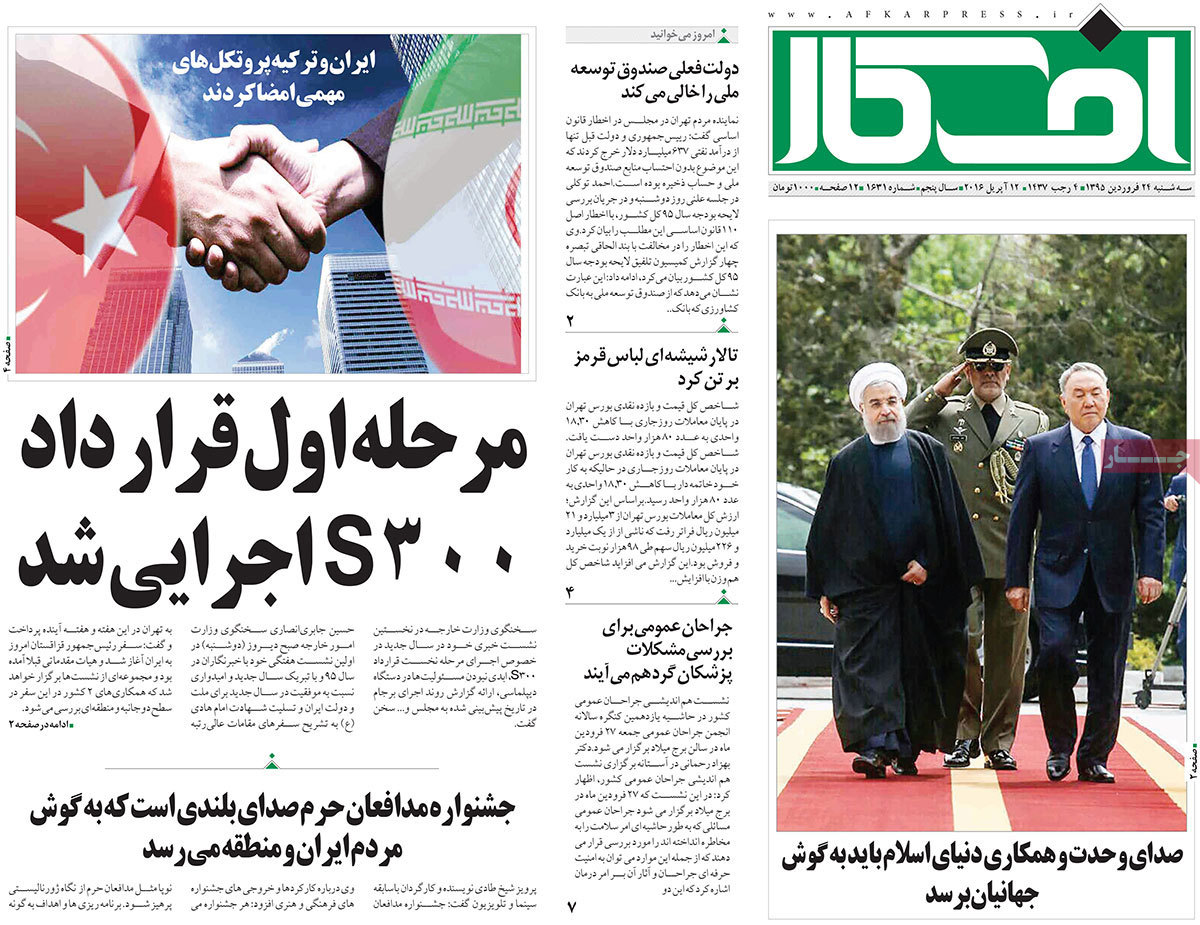 ---
Emtiaz:
1-Pilot project in 10 provinces to reduce divorce rate
2-Warning about marriage matchmaking channels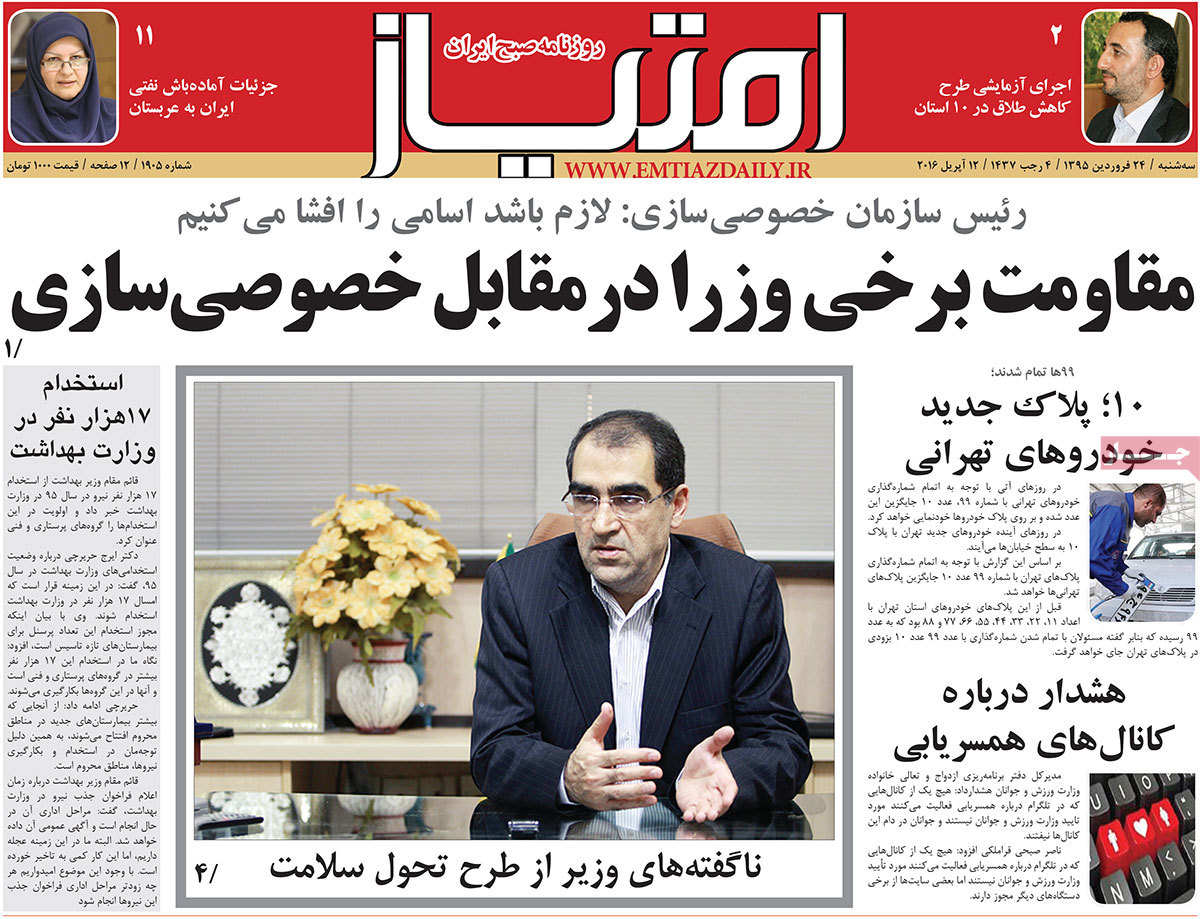 ---
Iran:
1- Kerry on zero point: ashamed but not apologetic
2- Tight election competition next month
3- Two Hugo athletes work hard to find their way to Olympics 
4- Ecological campaign by local people in southern city of Shush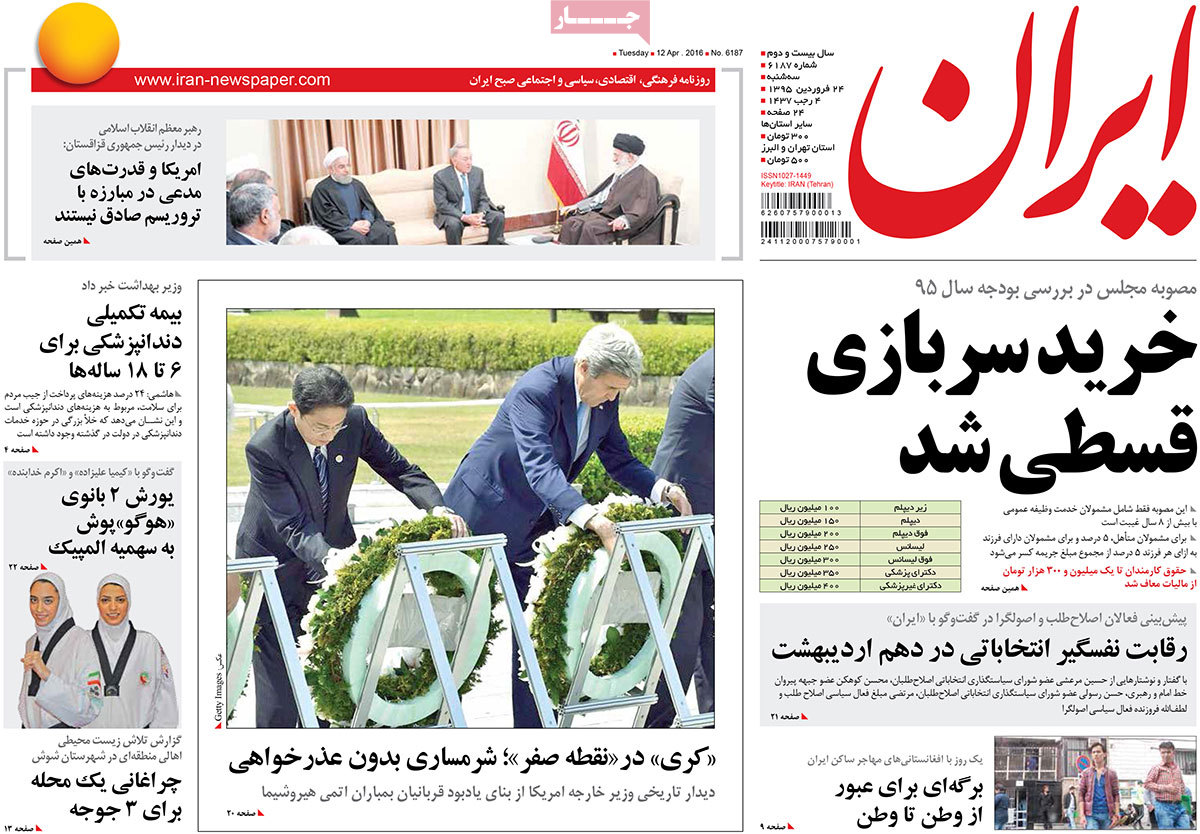 ---
Payame Zaman:
1- Health Minister: People are hopeful for health scheme implementation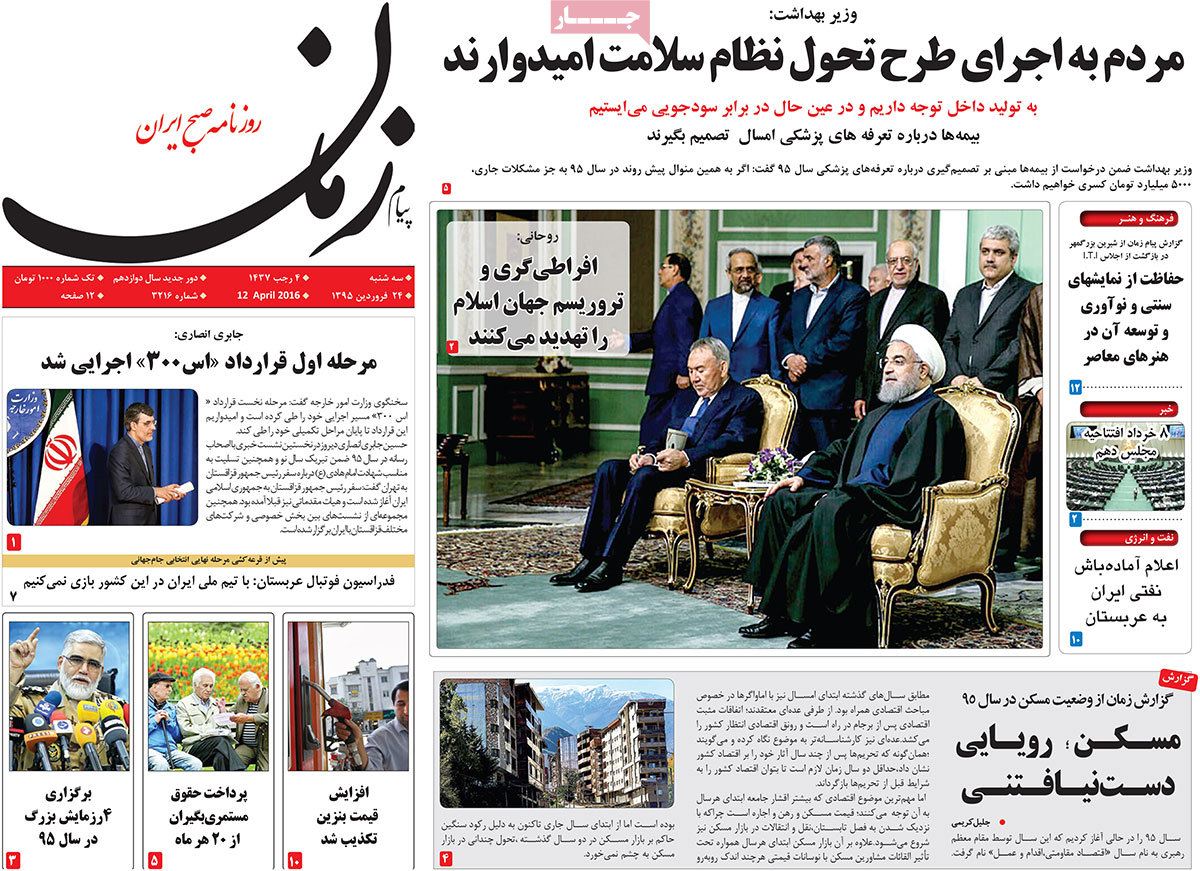 ---
Javan:
1-Supreme Leader and Kazakh President: West divides terrorism into good and bad
2-S-300 agreement has entered implementation phase
Kremlin has not denied delivery of first shipment of S-300 system to Iran
3-Insecurity in Turkey: 1300 hotels up for sale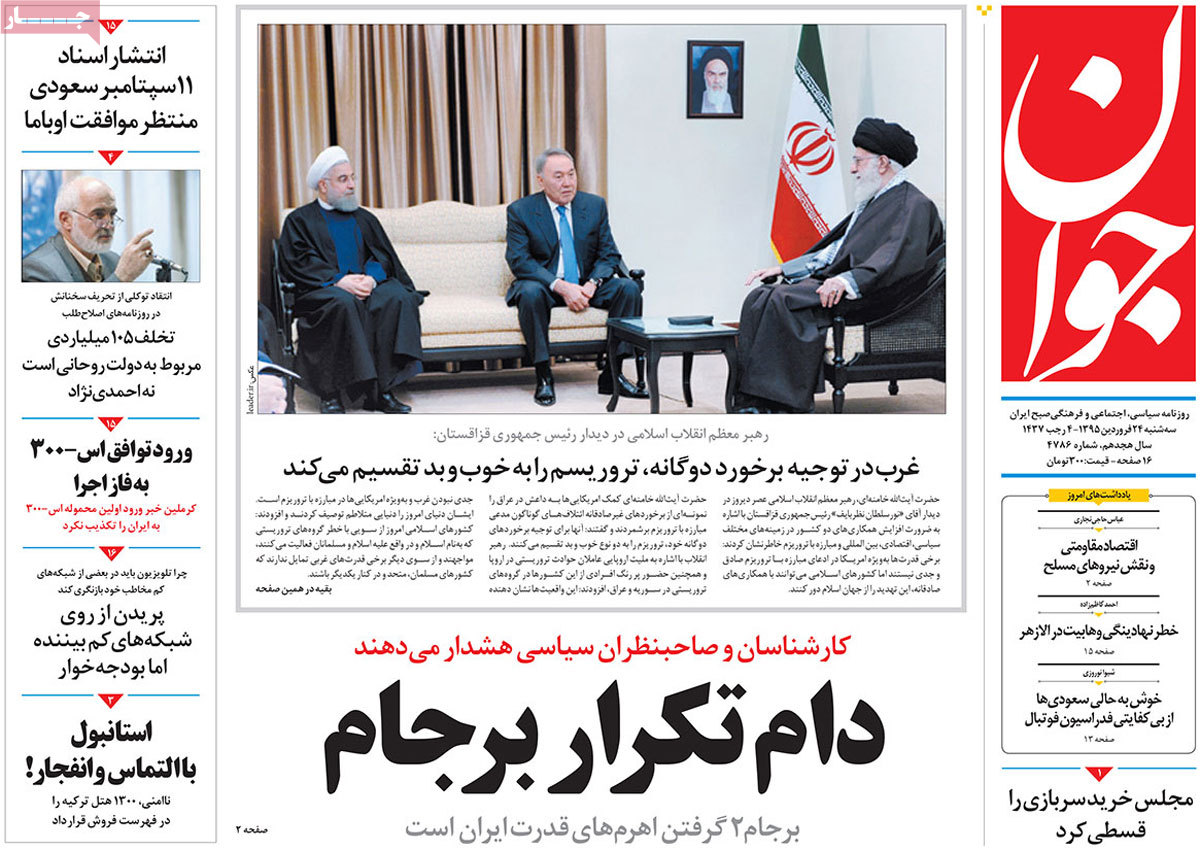 ---
Jomhouri Eslami:
1-India to invest $20bn in Iranian energy industry
---
Hosban:
1-462 sport facilities in Tehran are allocated for women
---
Hemayat:
1-Head of Judiciary: Americans can not alter the essence of the Iranian system of government with new JCPOA
2-Chief Prosecutor: Labelling Iran a human rights violator because of its anti-drug trafficking policy is regrettable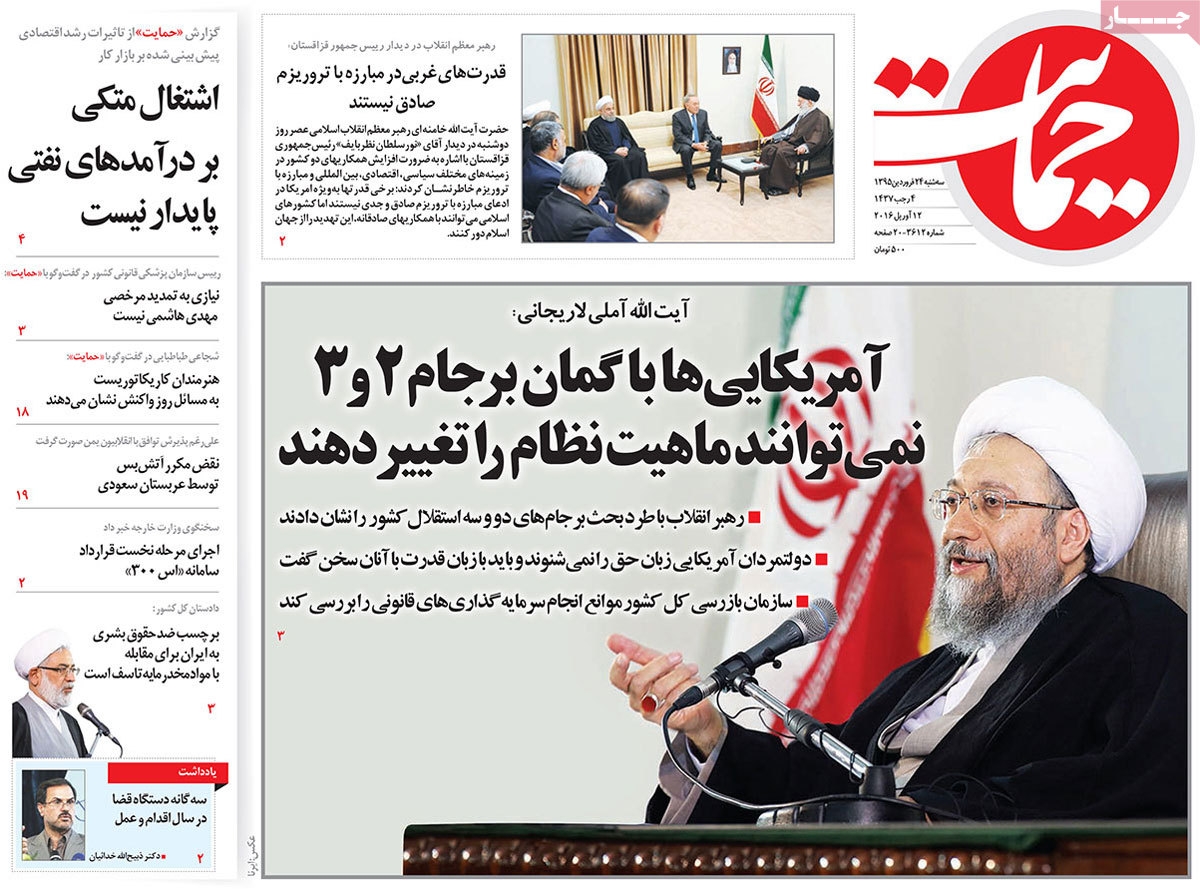 ---
Khorasan:
1-Zarif exclusive: Not getting swallowed by global systems is one of the attributes of our power
---
Resalat:
1-Grandson of Imam Khomeini, Seyyed Ali Khomeini: Judiciary's words are definitive – there should be no quarrel
2-Leader: West does not want to see Muslim nations united
3-Kazakh President: We should show the world Islam is progressive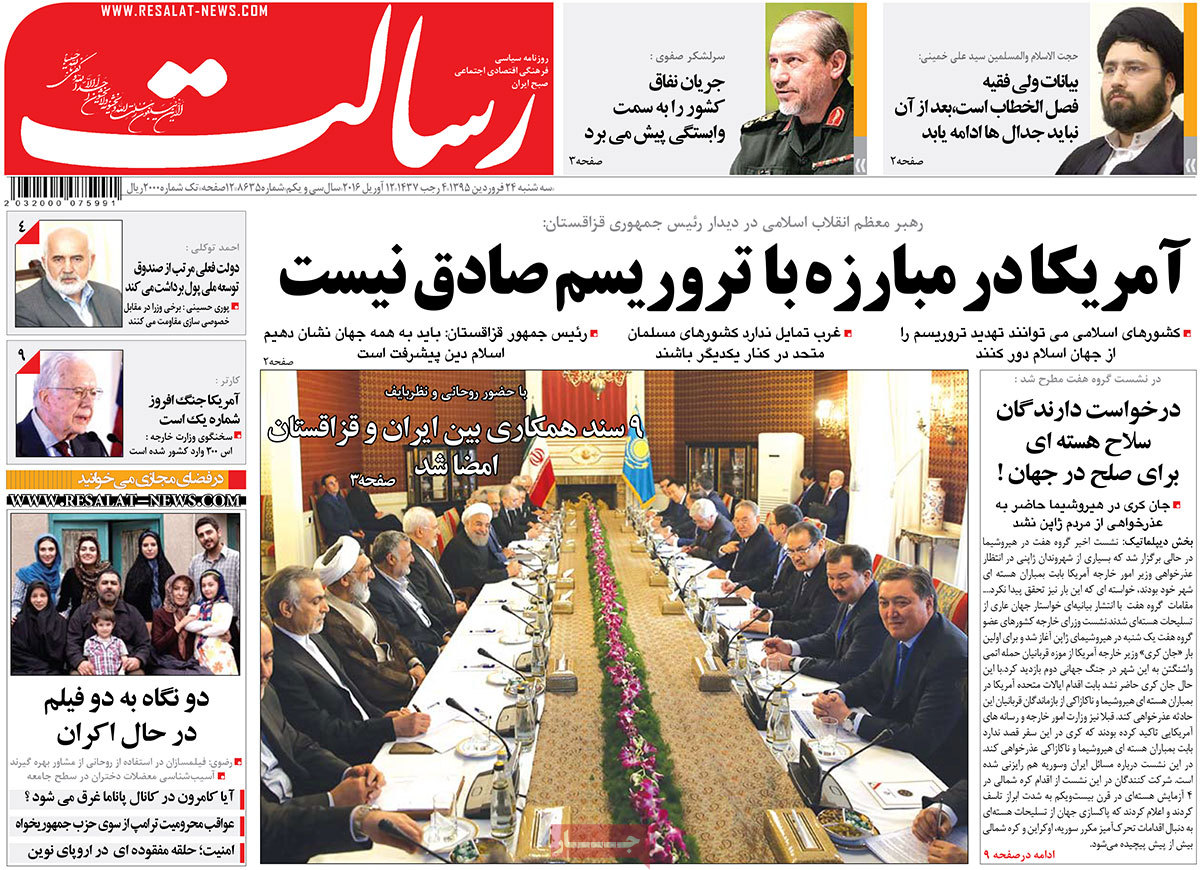 ---
Sharvand:
1-Boats return to Urmiye Lake
2-Turkey has plans to attract Iranian tourists
special report on the tourism crisis in Iran's western neighbour
---
Saheb Ghalam:
1-Iran and Italy to invest €6.2bn jointly in Iranian mine industry
2-Countdown starts for International Fajr Film Festival
3-Total to enter Iranian petrochemical sector
---
Asre Iranian:
1-Failed infiltration by Daesh [ISIS] through Iranian eastern borders last March
2-Saudis violate ceasefire and bomb two towns in Yemen
3-One ton of narcotics was seized during armed clashed with drug traffickers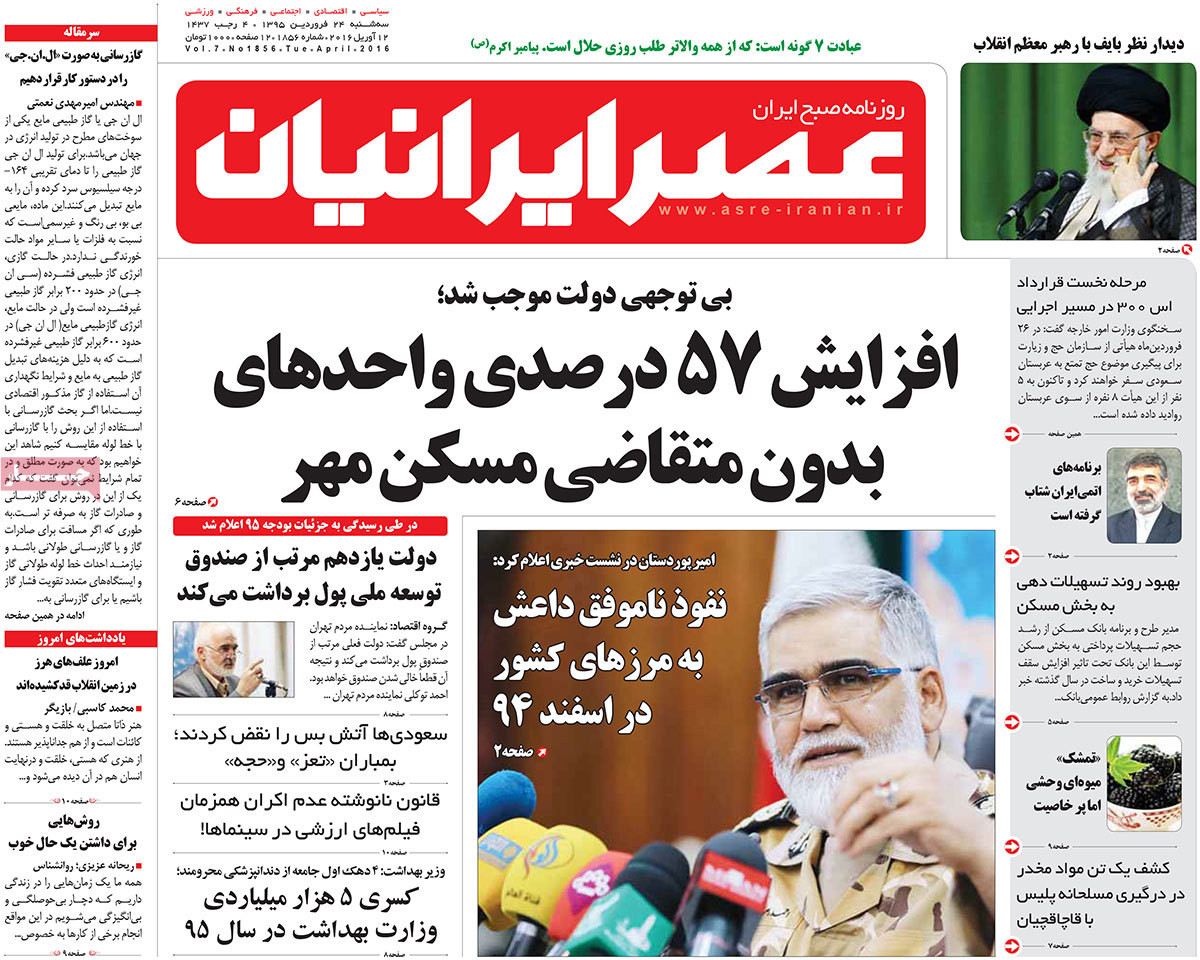 ---
Kar va Kargar:
1-Commander of Iranian Ground Forces: Iranian Army has no military presence at unit level in Syria
2-Ayatollah Hashemi Rafsanjani with Estonian Foreign Minister: Negative publicity by foreign media about Iran is politically motivated  exaggeration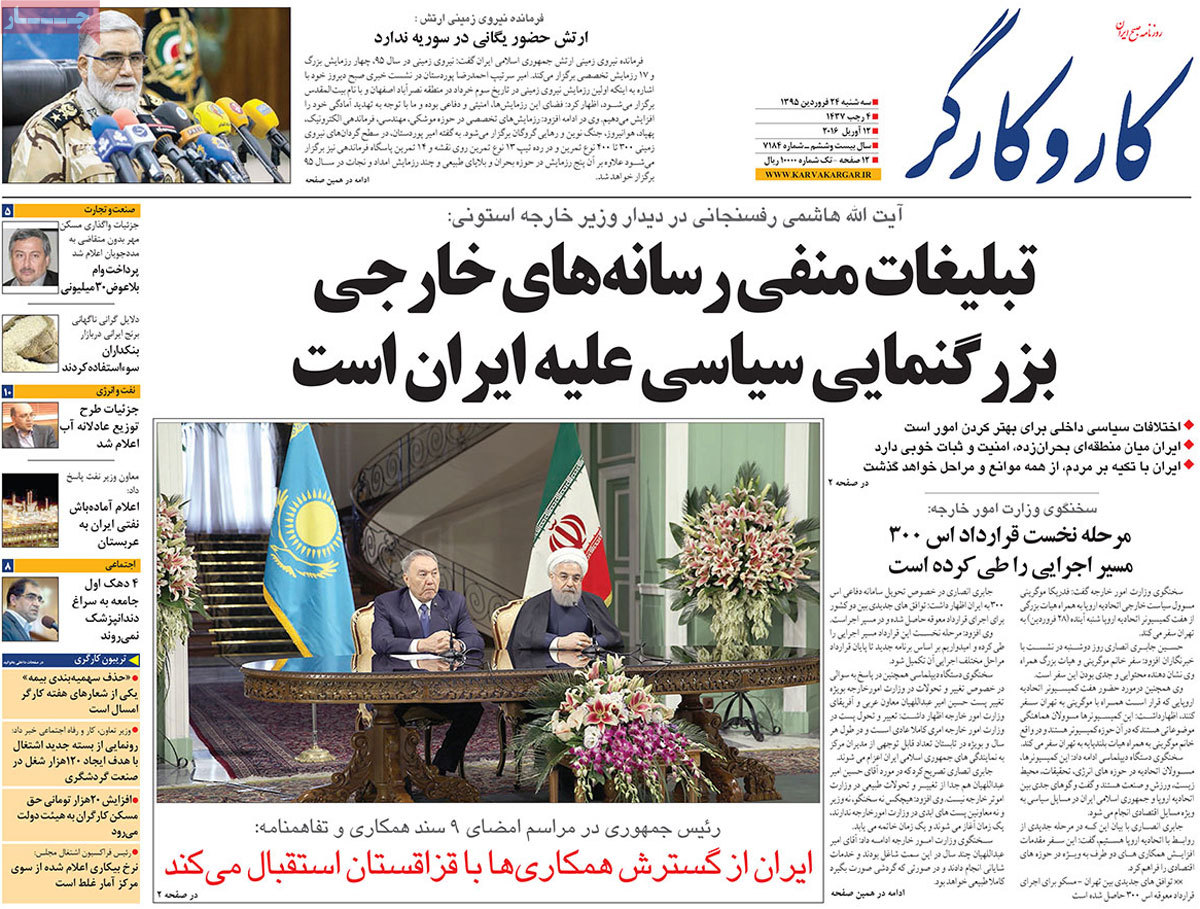 ---
Hamdeli:
1-Iran gives oil warning to Saudis
---
Honarmand:
1- Tehran Municipality supports artists through its Spring Scheme
2-Hello Mumbai Director: I considered all Bollywood  elements in my movie