Almost all newspapers covered the decision by Iran's cabinet to change the country's currency from rial to toman.
The imminent liberation of Syria's Aleppo was also a top story in many newspapers today.
The appointment of Brigadier General Gholam-Hossein Gheibparvar as the new head of Iran's Basij [Voluntary Forces] Organization also received great coverage.
Newspapers also covered the meeting of Iranian Committee in Charge of Monitoring Implementation of Nuclear Deal, whose members convened to made decisions in reaction to the US violation of JCPOA.
The above issues, as well as many more, are highlighted in the following headlines:
Abrar:
1- Toman, the New Official Currency of Iran
2- 84 MPs Urge Transport Minister to Explain about Recent Train Collision
3- Obama in Meeting with Trump Underlined Maintaining Nuclear Deal with Iran: Kerry
4- MP: Lake Urmia Can Never Be Revived with These Regulations and Budgets
5- Science Minister: Mixed [Boys and Girls Together] Camping Banned in Iranian Universities
6- British PM: London's Cooperation with Persian Gulf Arab States to Counter Iran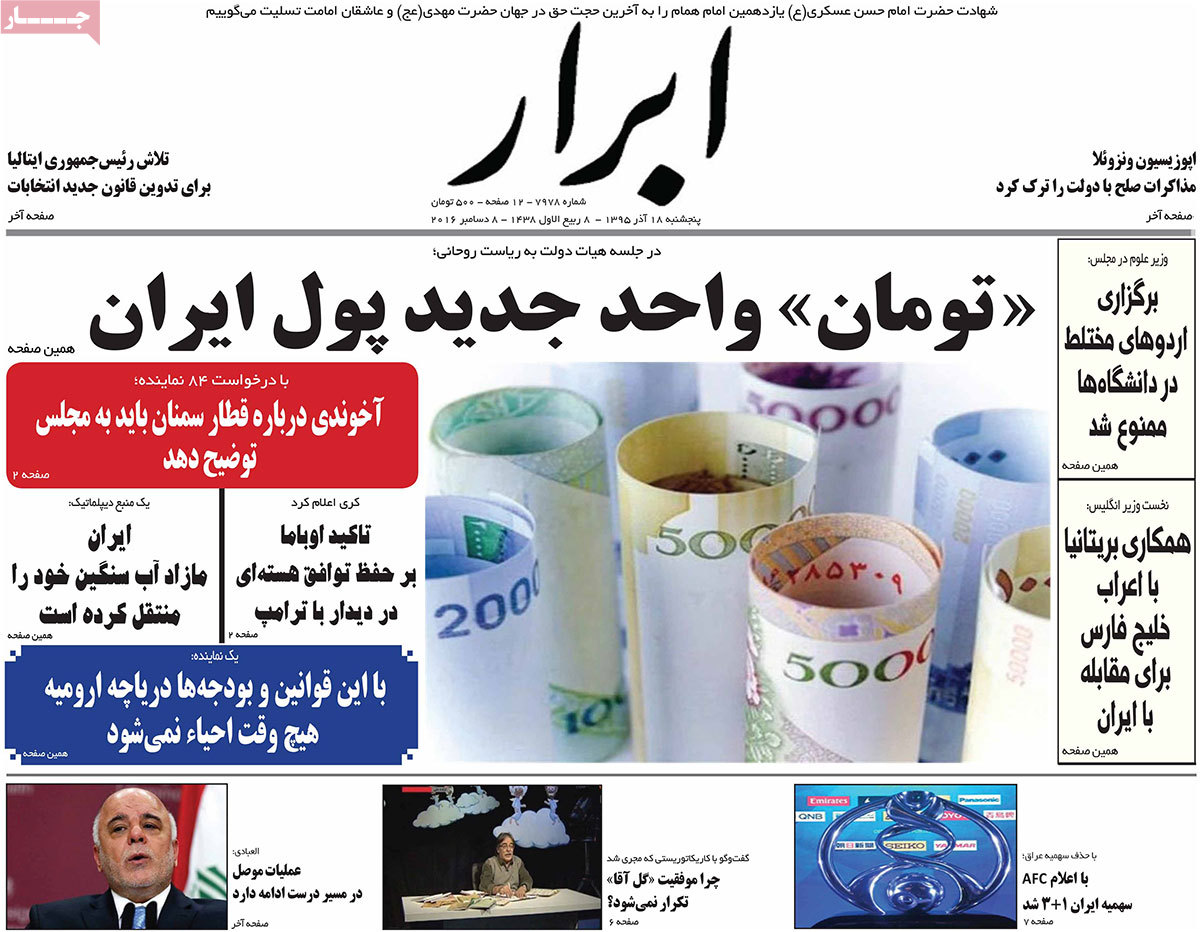 ---
Aftab-e Yazd:
1- Brigadier General Gheibparvar Appointed as Head of Basij [Voluntary Forces] Organization
2- Iran and Britain Sign Meaningful Oil Deal in Spite of US Senate's Pressure
3- Germany Resolved to Promote Economic Cooperation with Iran
4- Russians Interested in Qalibaf's Presidency? Expert Says Putin Wants a President for Iran Who Is Less Interested in West
---
Arman-e Emrooz:
1- Ayatollah Rafsanjani's Gift to Iran's Singing Master Mohammad Reza Shajarian
2- Reciprocation of JCPOA Violation on Rouhani's Agenda
3- Iran and Shell Sign Oil Dea
4- Solidarity Has Become a Dream for Conservatives: Expert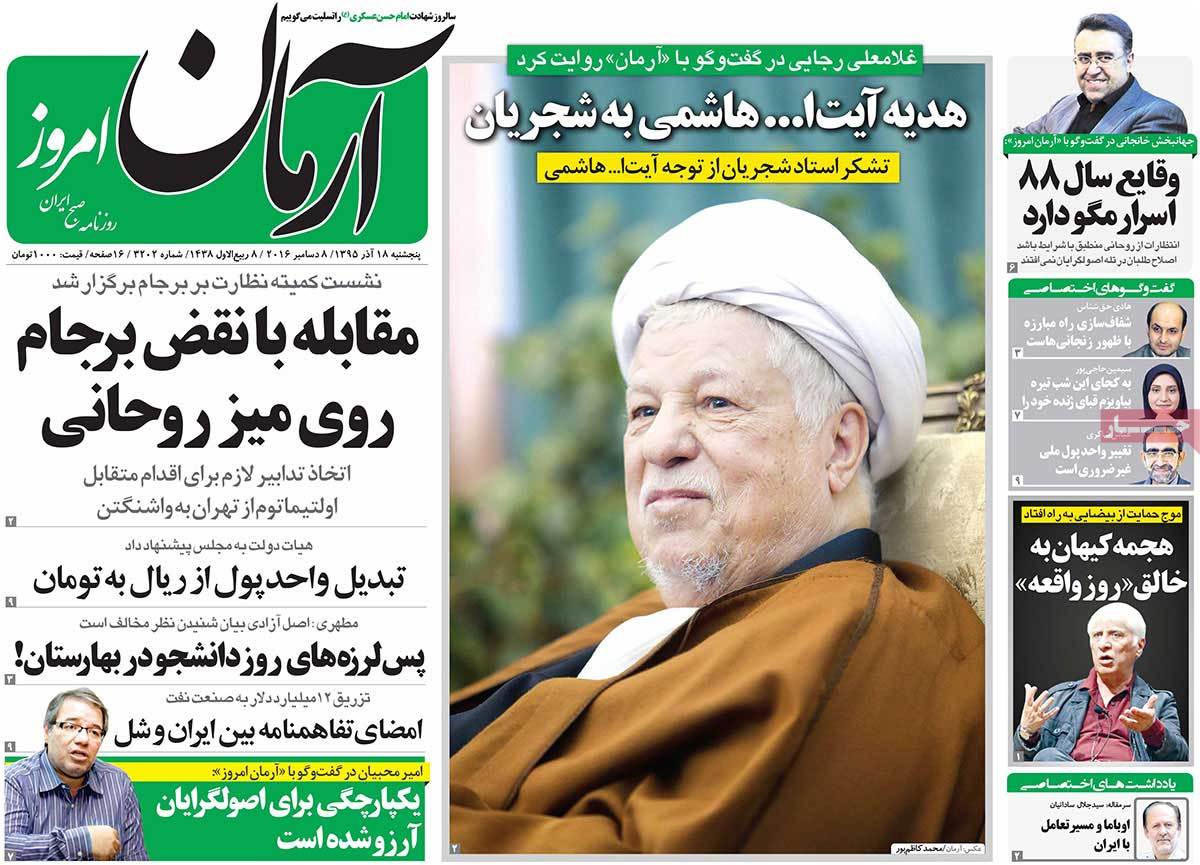 ---
Asrar:
1- Zarif's Asian Diplomacy to Strengthen JCPOA: Tokyo Supports Full Implementation of Nuclear Deal
2- Freedom of Speech Means Freedom of Opposition: Outspoken MP Motahari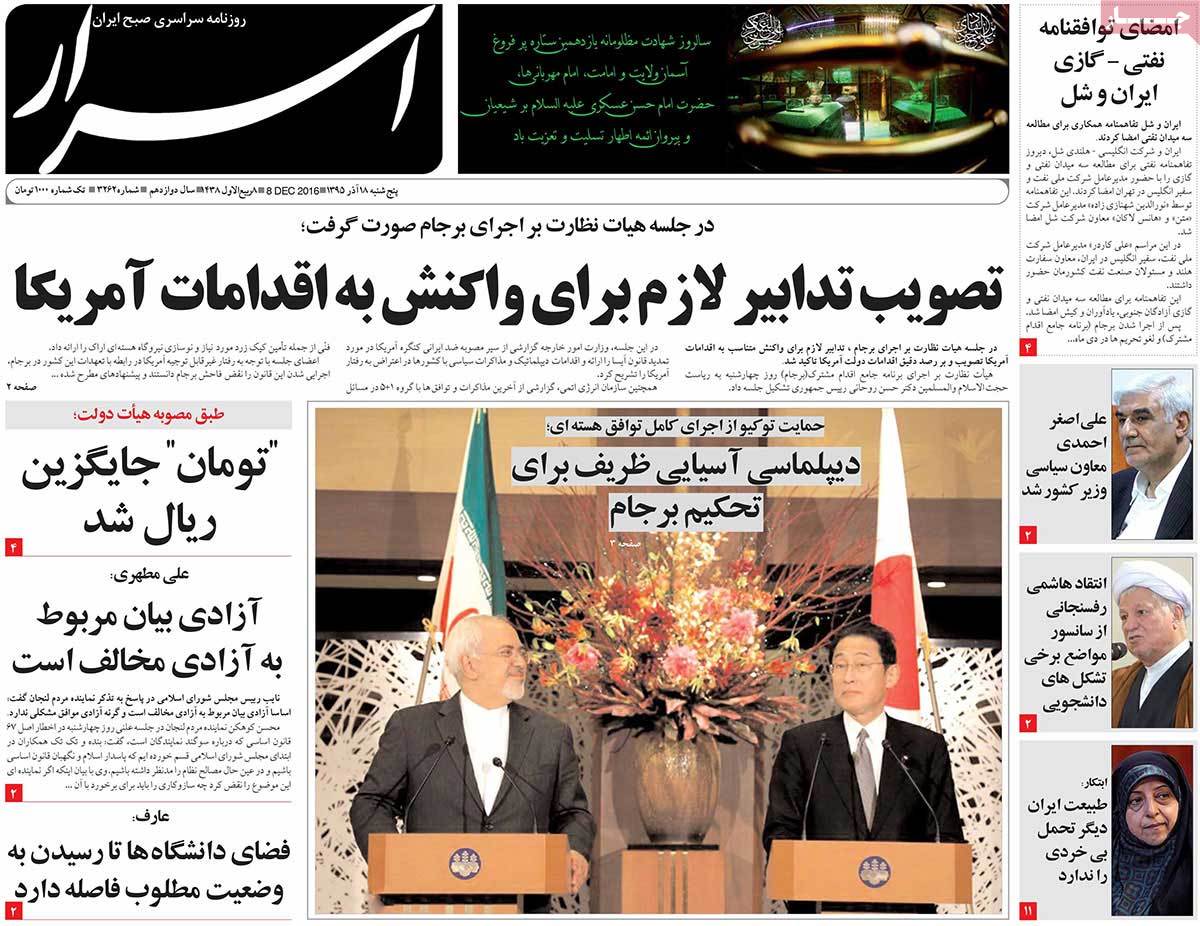 ---
Ebtekar:
1- Dropping a Zero from Iran's National Currency: What Are Consequences of Switching to Toman for Economy?
2- Victory in Diplomatic War: Today Is Anniversary of the Day Iraq Was Introduced as Aggressor in Its War with Iran
3- Ayatollah Rafsanjani's Gift to Master Shajarian: Two Rings for Shajarian and His Wife with Signets Made of Imam Hussein's Gravestone
4- Nature Can No Longer Tolerate Imprudence: Iran's Environment Dept. Chief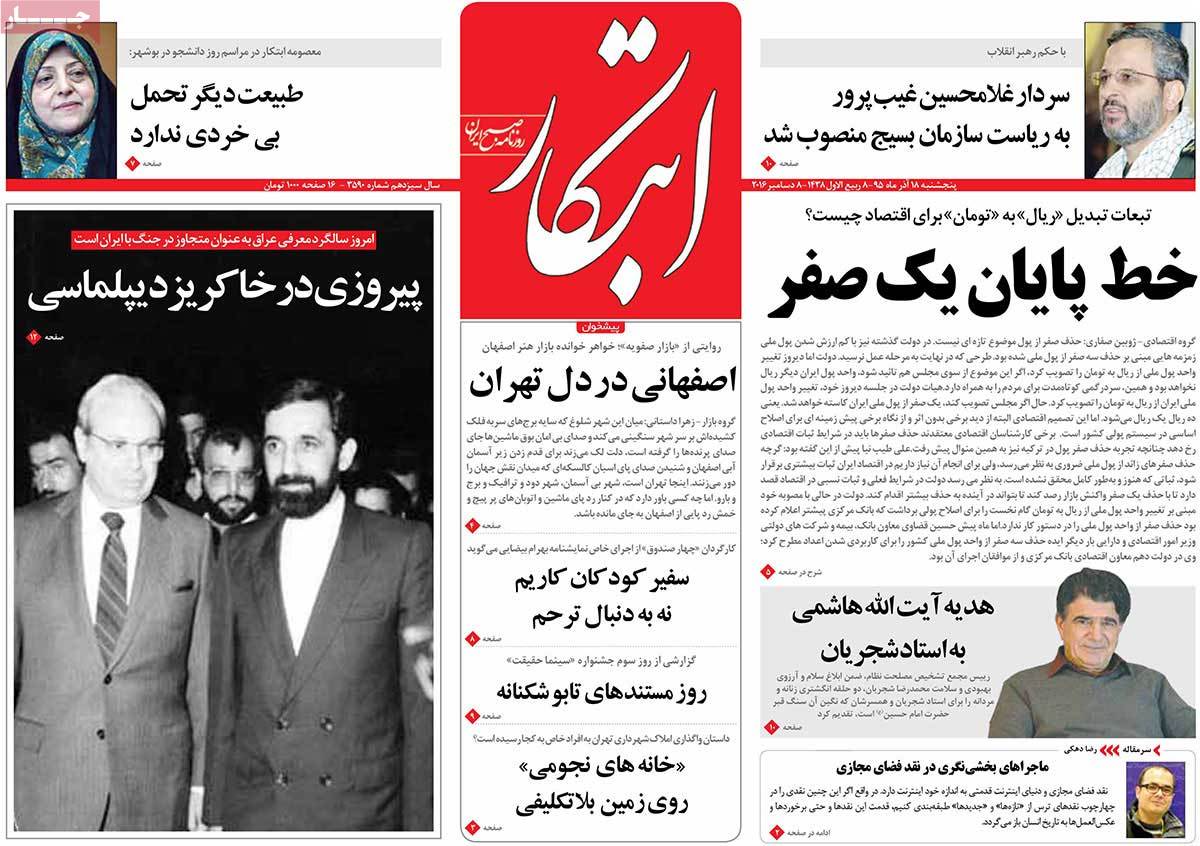 ---
Etemad:
1- Goodbye to Rial after 87 Years
2- The Train Didn't Come Back, Dad Didn't Return; Interview with Wife of Train Attendant Missing after Semnan Train Crash: My Daughter Says Why Dad Leave the Train and Come Home?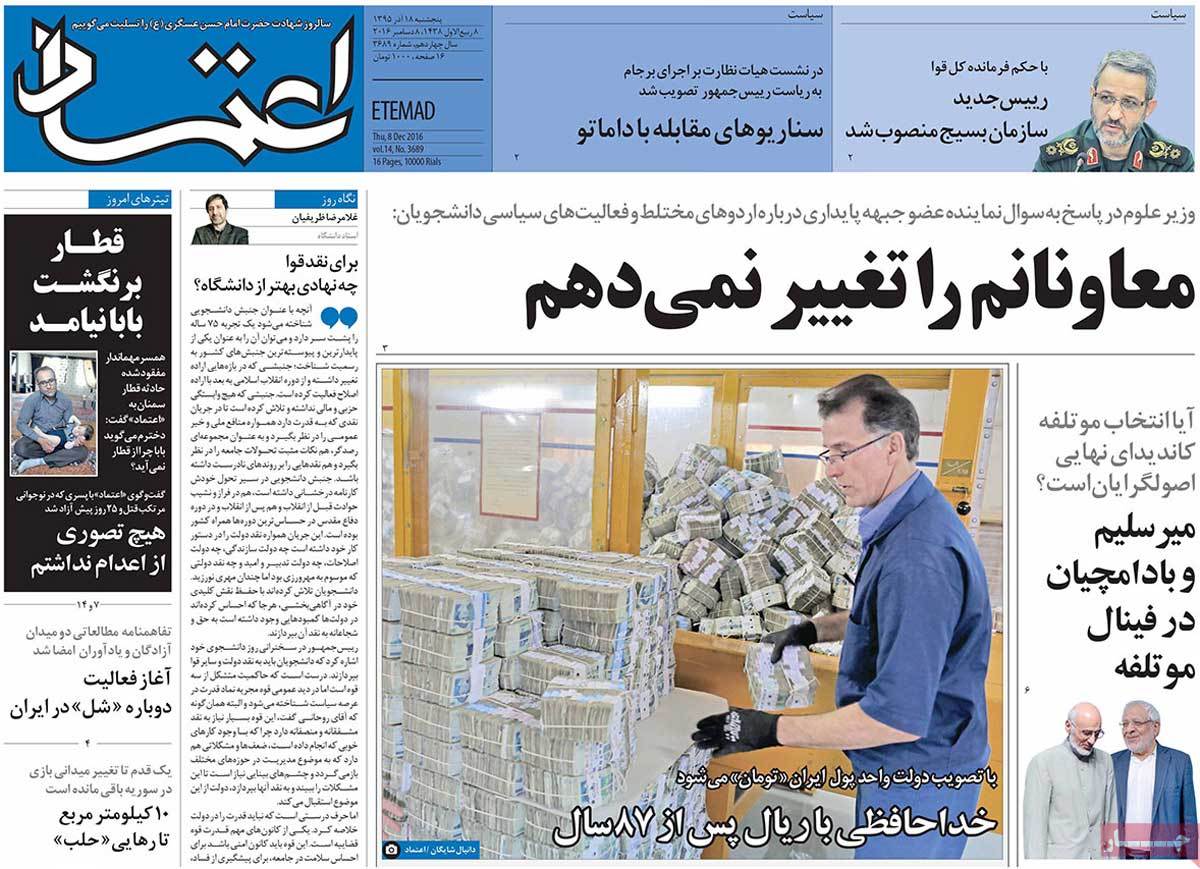 ---
Ettela'at:
1- Iran's Official Objection to UN over US Congress' Bill
2- Aleppo on Verge of Liberation; Terrorists Smashed
3- Earthquake in Indonesia Claims Lives of 100 People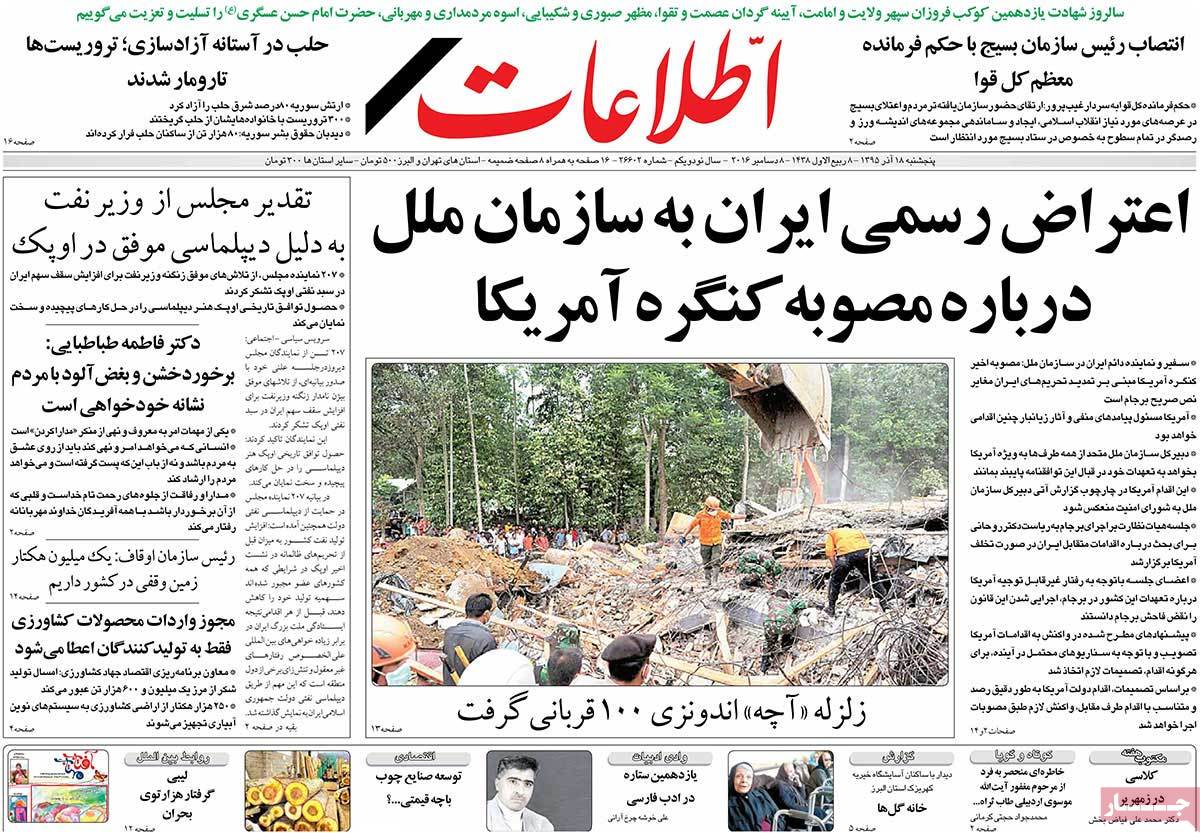 ---
Haft-e Sobh:
1- Reinforcement of National Spirit! Government Finally Approves the Bill to Change Iran's Currency; Bill Should Be Ratified by Parliament
2- Three Forgotten Principles: Citizens' Rights of House, Education, and Health Which Are Clearly Mentioned in Iran's Constitution
---
Hemayat:
1- US Military Interference in Middle East Should Stop: Trump
2- Prosecutor-General Warns of Increase in Social Ills through Cyberspace
---
Iran:
1- Iran Signs 3 Oil MoUs with Britain's Shell
2- British Ambassador to Tehran: Britain and London's European Partners Acknowledge JCPOA
3- Abadan Refinery Construction Kicked Off with China's $3bn Investment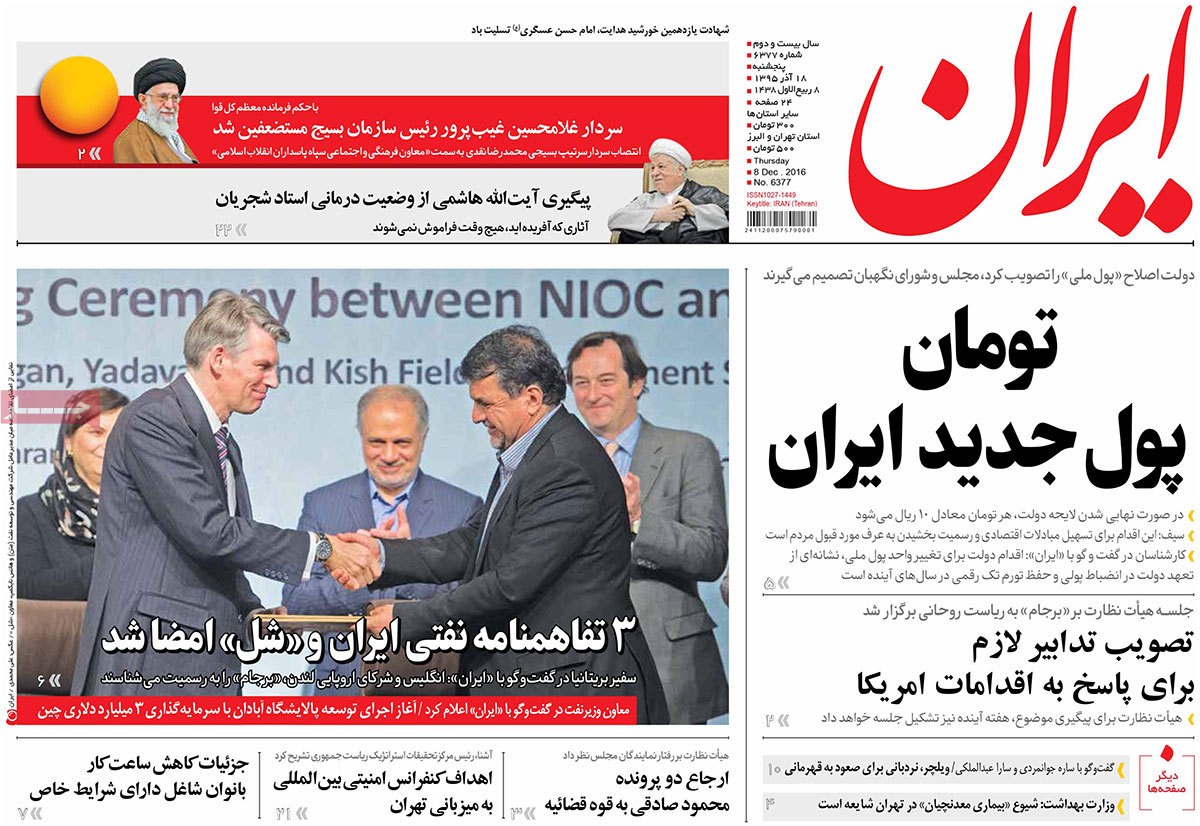 ---
Jame Jam:
1- Experts' Reaction to Government Bill to Swap Iran's Currency from Rial to Toman
2- Meeting Tehran, Protest in New York: Committee in Charge of Monitoring JCPOA Implementation Underlines Close Inspection of US Administration's Measures
3- Details of Decrease in Women's Working Hours
4- Liberation of Aleppo Will Foil Plot to Disintegrate Syria: Foreign Ministry Advisor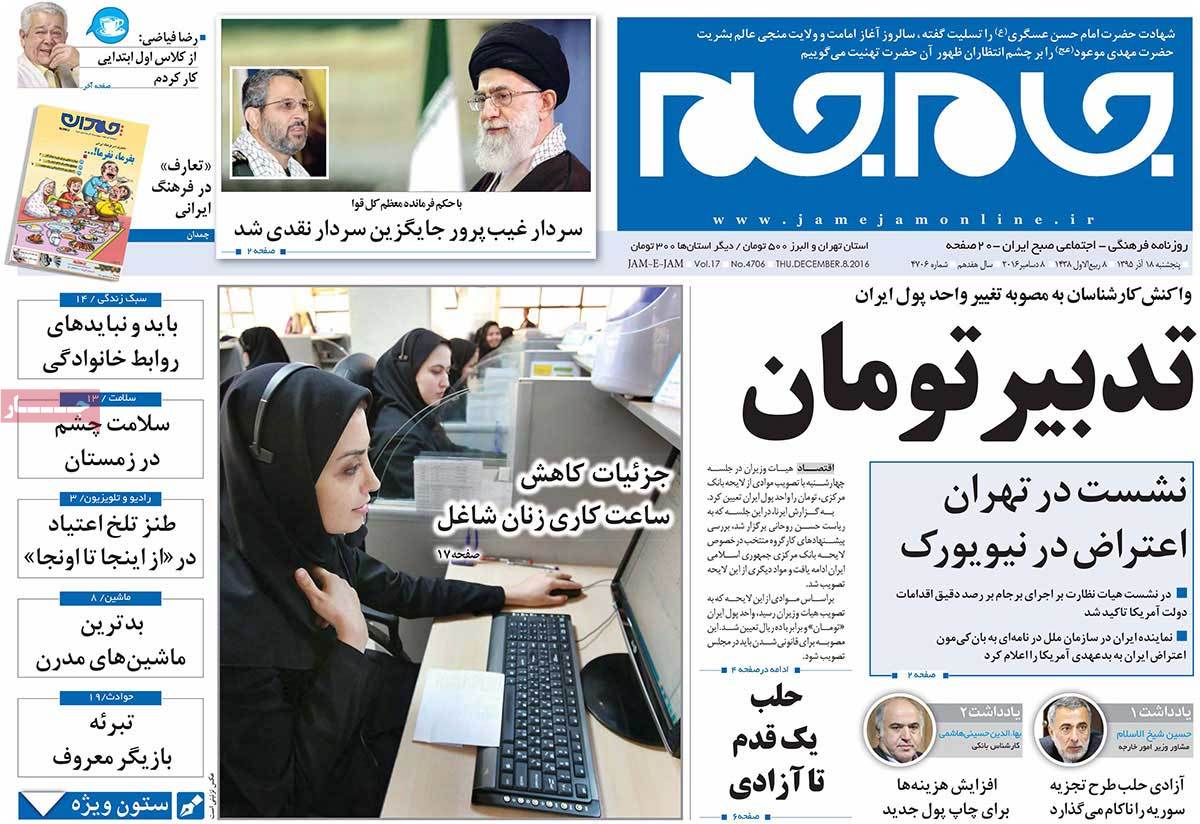 ---
Javan:
1- Gheibparvar Appointed as Basij Commander, Naqdi as Lieutenant Commander of IRGC in Cultural and Social Affairs
2- Counteracting JCPOA Violation behind Close Doors! 2.5-Hour Meeting Not Successful in Taking a Decision to Counteract Violation of the Nuclear Deal Passed in 20 Minutes!
3- Iran Reports Violation of Nuclear Deal to UN
4- Resistance Front Ready for Celebration of Aleppo Liberation
5- Arab Dance of 'the Country Expelled from Europe' in Southern Iran: Britain Looking for Return through Window of Bahrain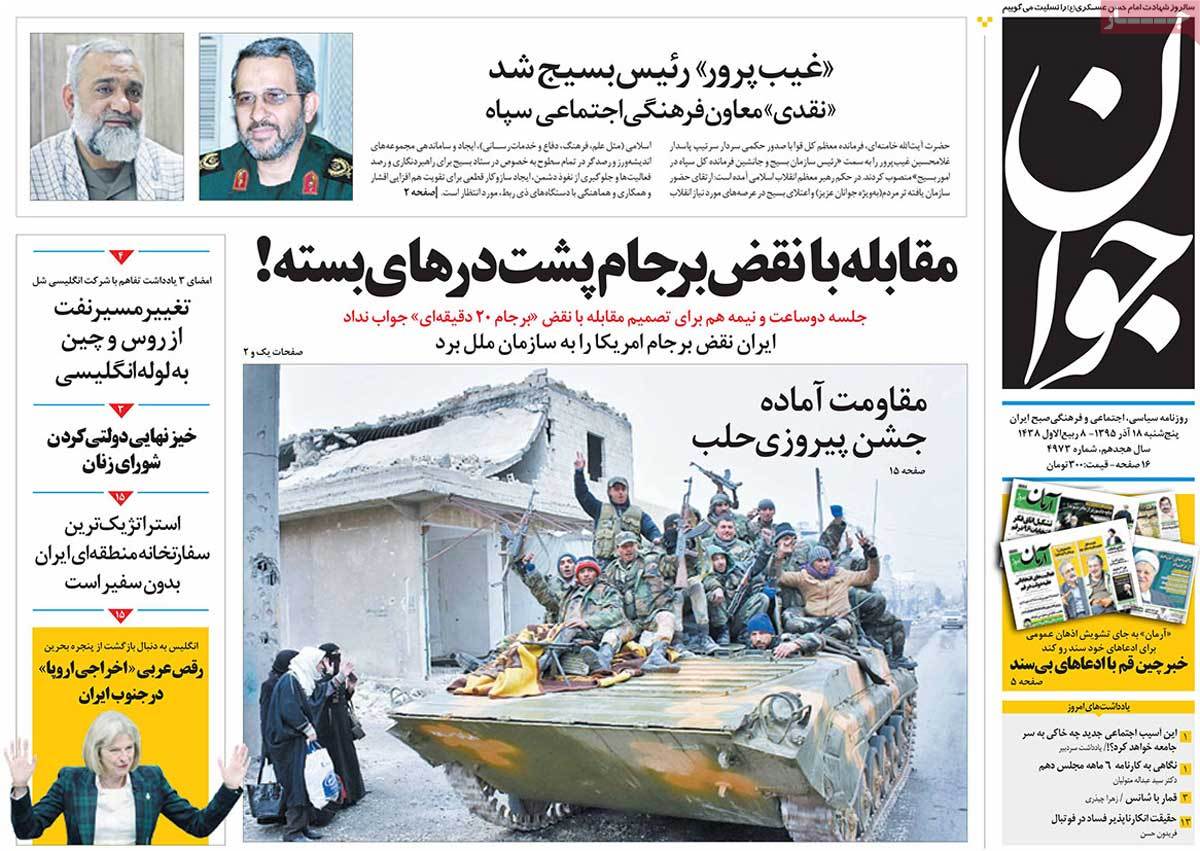 ---
Jomhouri Eslami:
1- New Round of Foreign Companies' Economic Cooperation with Iran in Spite of US Sanctions
2- Negotiations for Manufacturing 4 Models of BMW in Iran
3- 207 MPs Praise Government's Oil Diplomacy
4- Terrorists Surrender to Be Saved from Nusra Front's Execution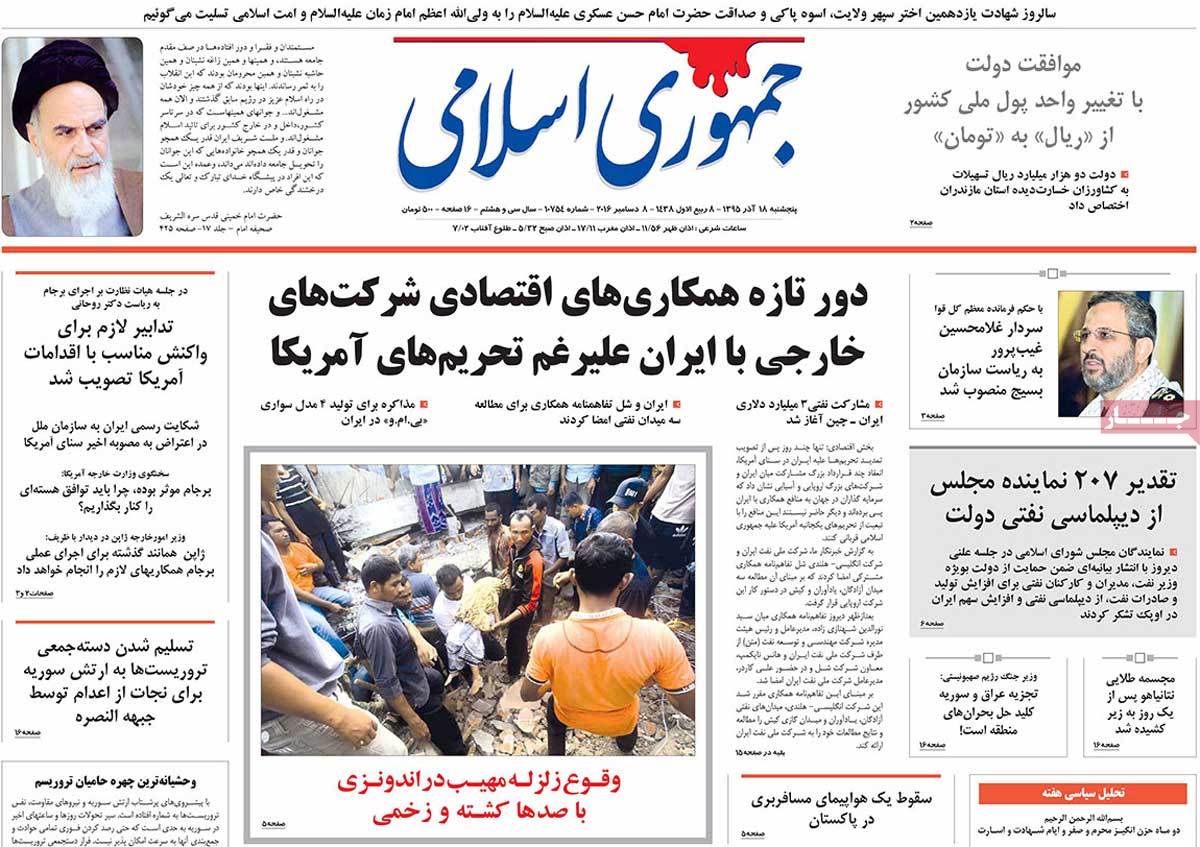 ---
Ka'enat:
1- Philanthropy in Practice: A Report on Philanthropic Moves in Deprived Areas
2- Don't Buy Dollar, It Will Get Cheaper
3- Beginning of Monetary Reform in Iran
---
Kayhan:
1- The Old Fox [Britain] Threatens Iran, Oil Ministry Offers Gift to Shell!
2- Zionists Take Down Netanyahu's Statue Hours after Installation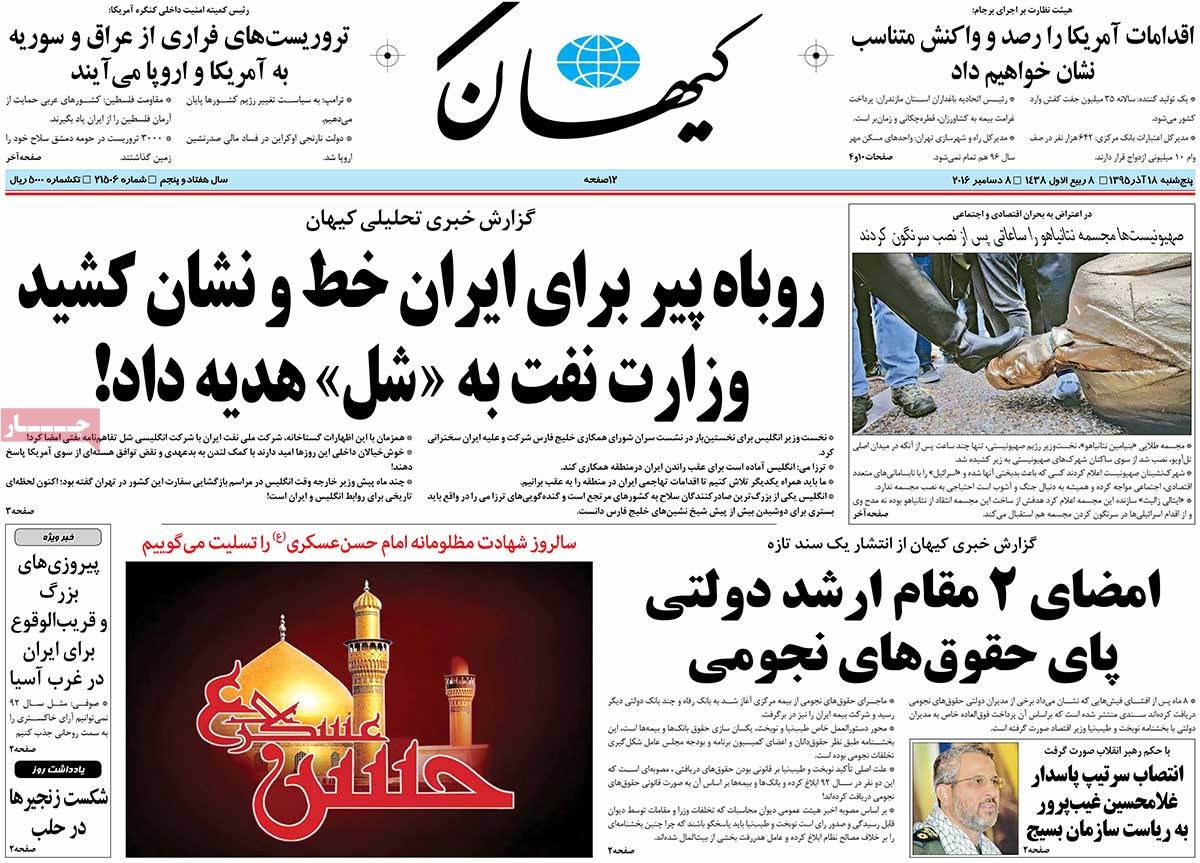 ---
Khorasan:
1- Aleppo on Verge of Full Liberation
2- And Suddenly a Bill on National Currency Unit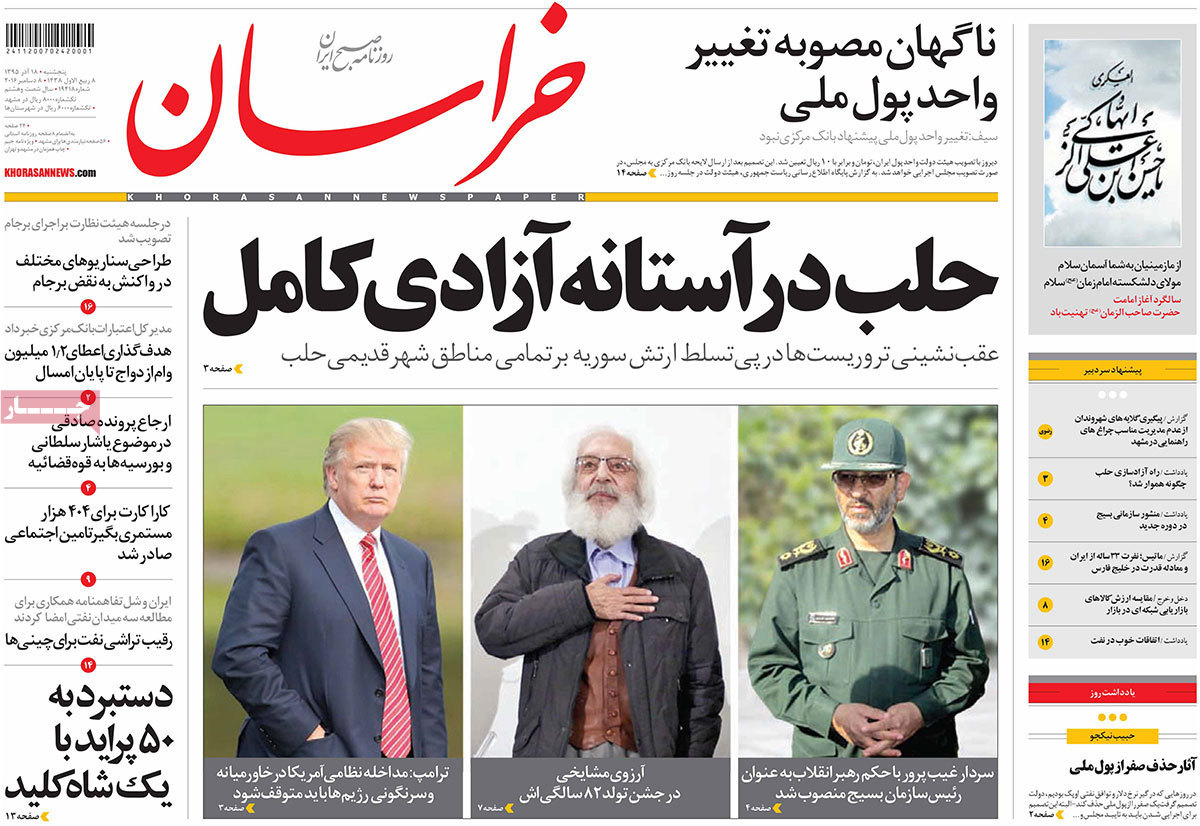 ---
Mardom Salari:
1- Iran and Europe Show Off Their Power by Signing $12 Billion Oil Deal
2- Shell Tasked with Studying 3 Iranian Oil and Gas Fields
3- Babak Zanjani's Death Sentence Can Be Reduced If He Returns the $2.5 Billion [Iranian oil ministry's money]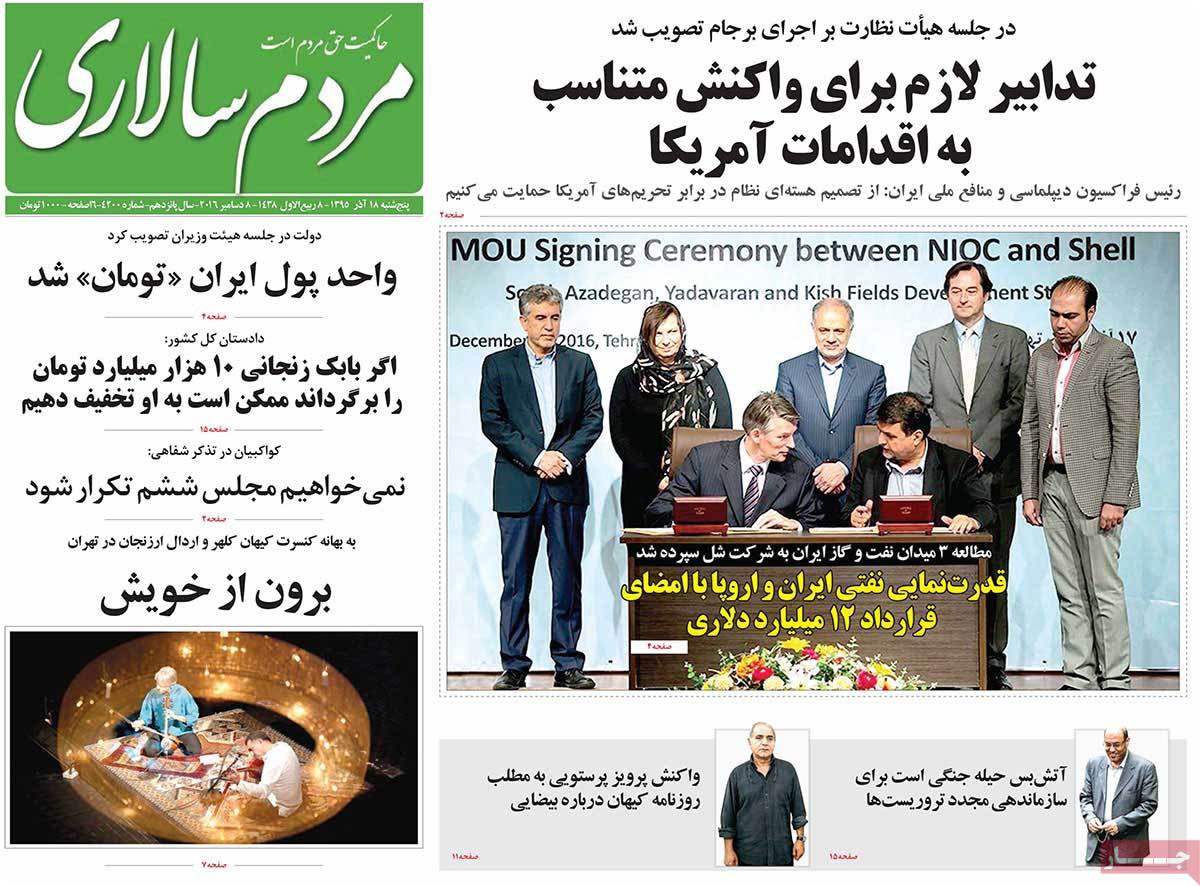 ---
Resalat:
1- Putting an End to Poverty and Unemployment Is Not Less Valuable than Liberation of Khorramshahr [during Iran-Iraq war]
2- Epic Victory of Resistance Front in Aleppo
3- It's Not Possible to Talk to US Unless Language of Power Is Used: Ayatollah Makarem Shirazi
---
Rooyesh-e Mellat:
1- Foreign Ministry Spokesman Rejects Saudi Arabia's Baseless Claims over Disbanding an Espionage Network
2- Former UN Secretary-General: Genocide in Myanmar Is a Very Serious Accusation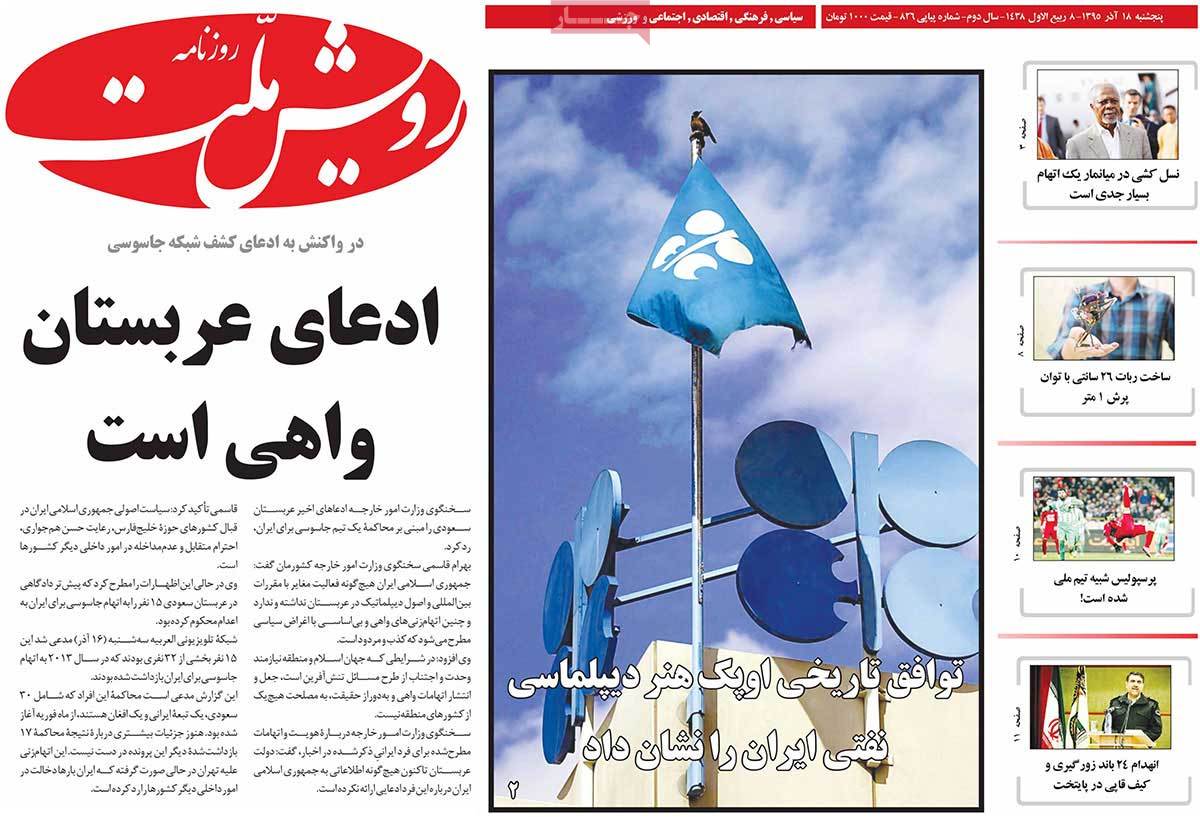 ---
Shahrvand:
1- Rial's Retirement
2- Peace IS Best Choice for Humanity: Ayatollah Makarem Shirazi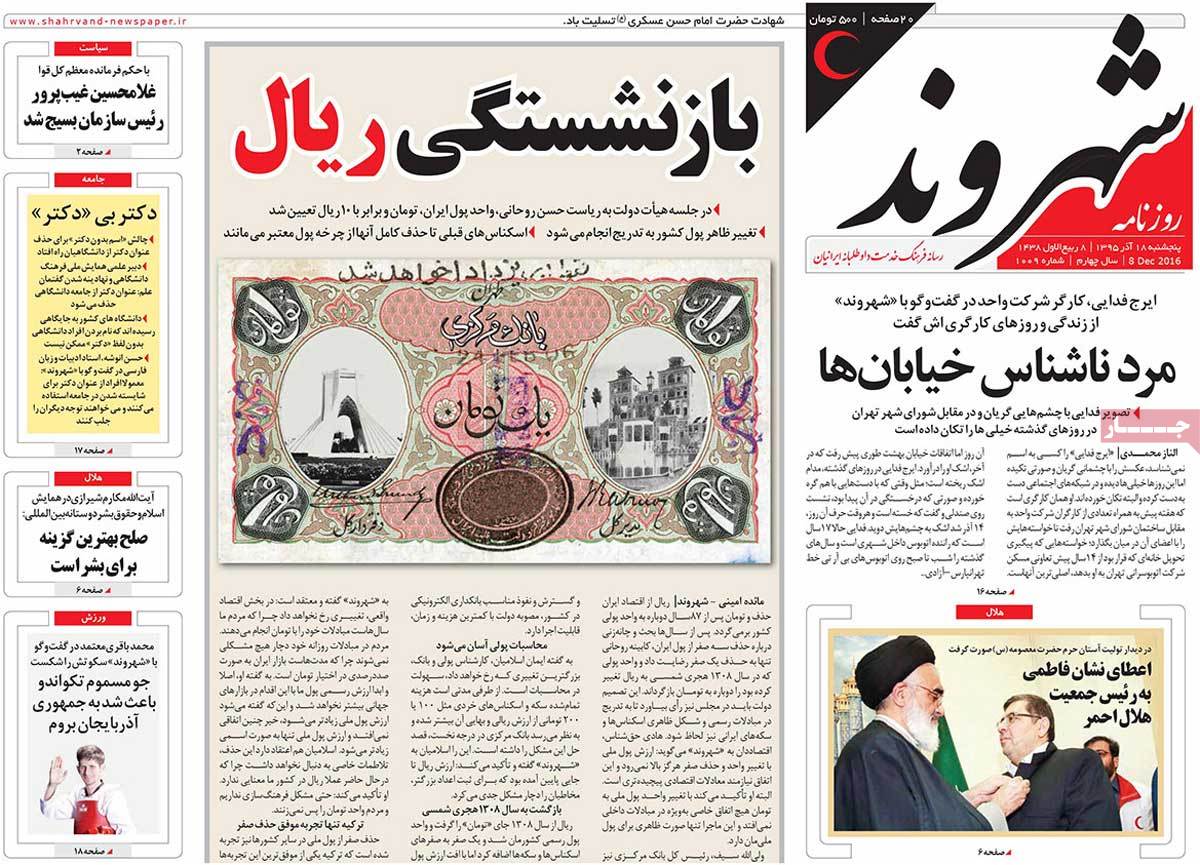 ---
Shargh:
1- Change in Management of Basij Force: Gheibparvar Replaces Naqdi with Leader's Order
2- British PM Joins Arabs in Opposing Iran
3- Shell and Iran Join Hands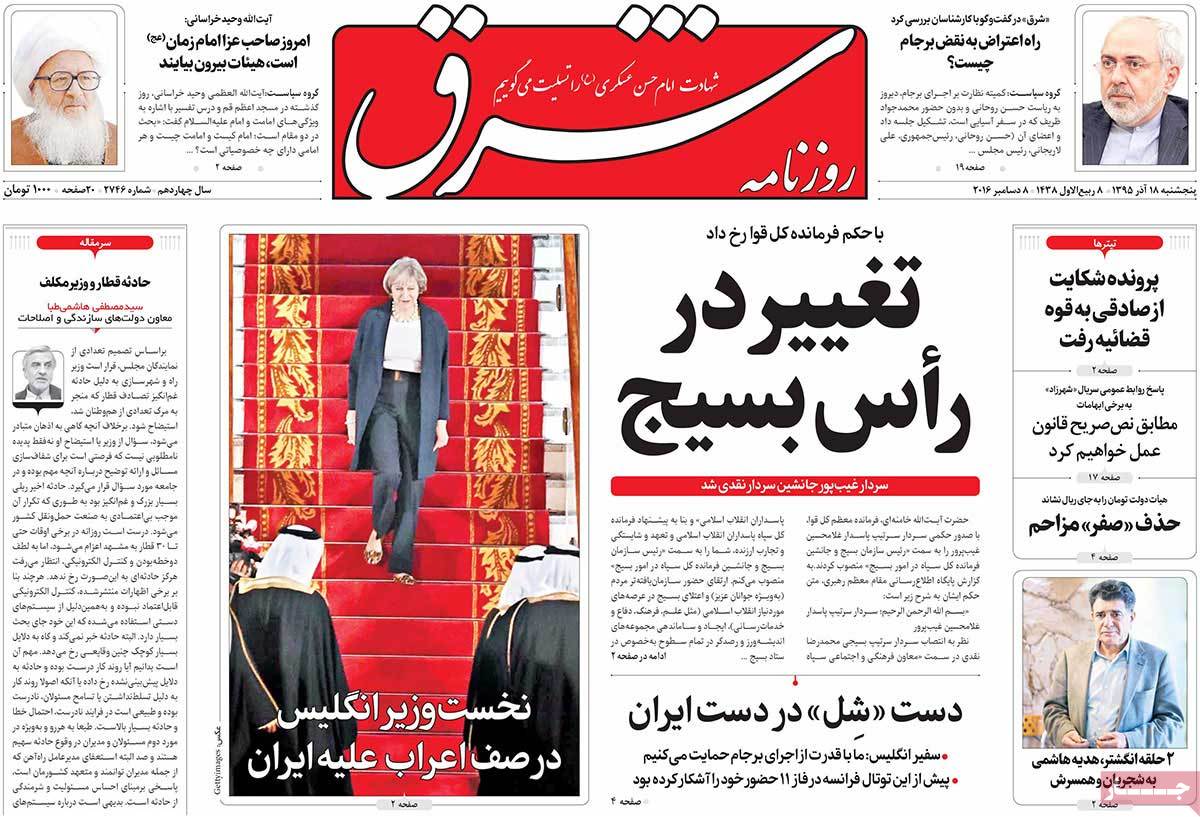 ---
Vatan-e Emrooz:
1- Turning Point in Battle of Levant
2- Time: Trump Is the President of the Divided States