Almost all newspapers on Sunday covered the remarks made by President Hassan Rouhani in the opening ceremony of the 22nd Press Exhibition, which is underway in Tehran.
They also covered the US presidential elections and the ongoing competition between Donald Trump and Hillary Clinton, whose difference has decreased to lowest levels.
The ongoing efforts by the anti-ISIS forces in Iraq and Syria, and the terrorist group's escape from its last strongholds also received great coverage.
The above issues, as well as many more, are highlighted in the following headlines:
Abrar:
1- Press Exhibition Opened by President Rouhani
2- IRGC General: We Don't Say the Americans Have Created Takfiris [Extremists]
3- Saudi Arabia Sentences Friday Prayer Imam to Prison Because of Referring to an Actor as an Infidel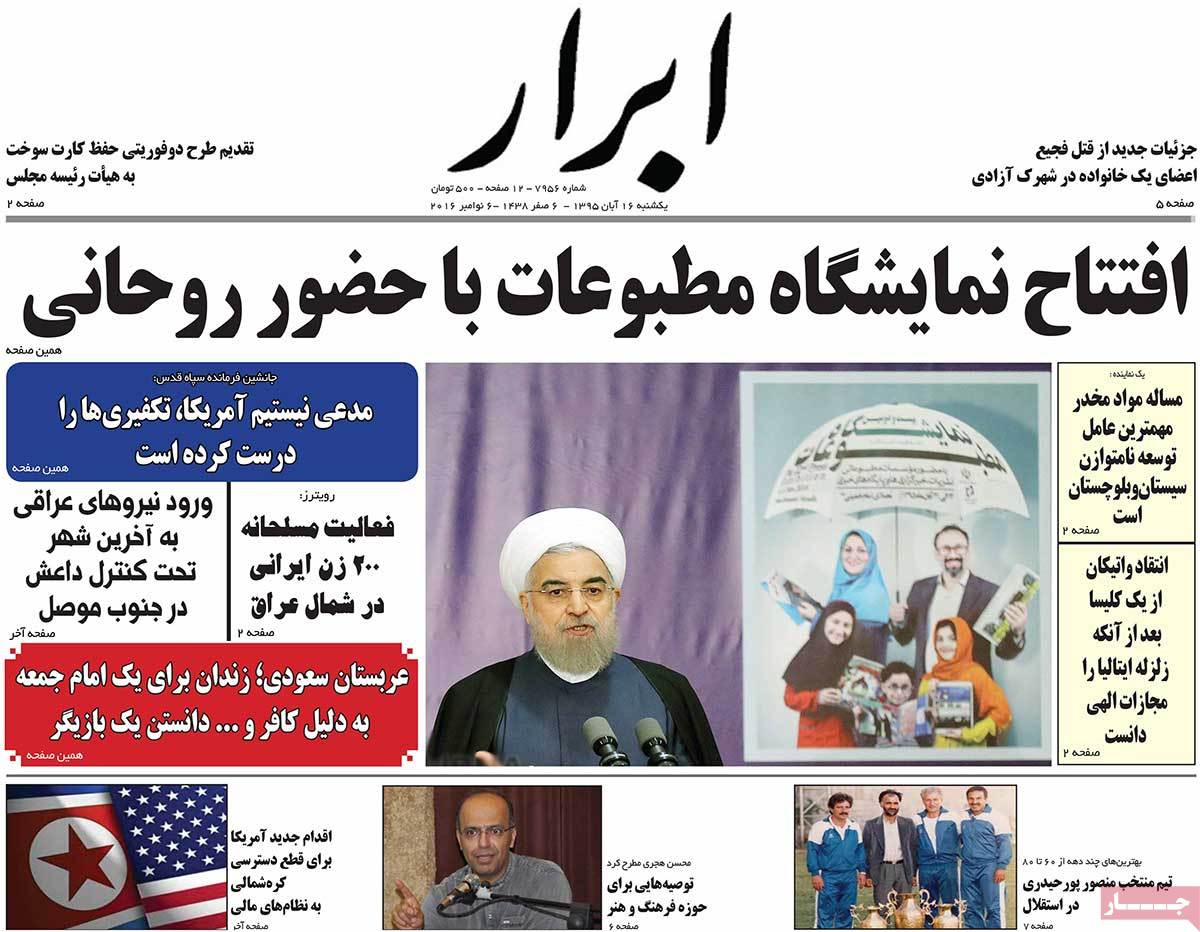 ---
Abrar-e Eqtesadi:
1- Government's Expenses in Past 6 Months Were $5.2bn More than Its Income
2- Iran's Exports to US Stands at $62m
3- Tehran-Caracas Petchem Partnership Cancelled: Iran Buys Venezuelan Side's Shares
4- Oil Agreement between Iran and Poland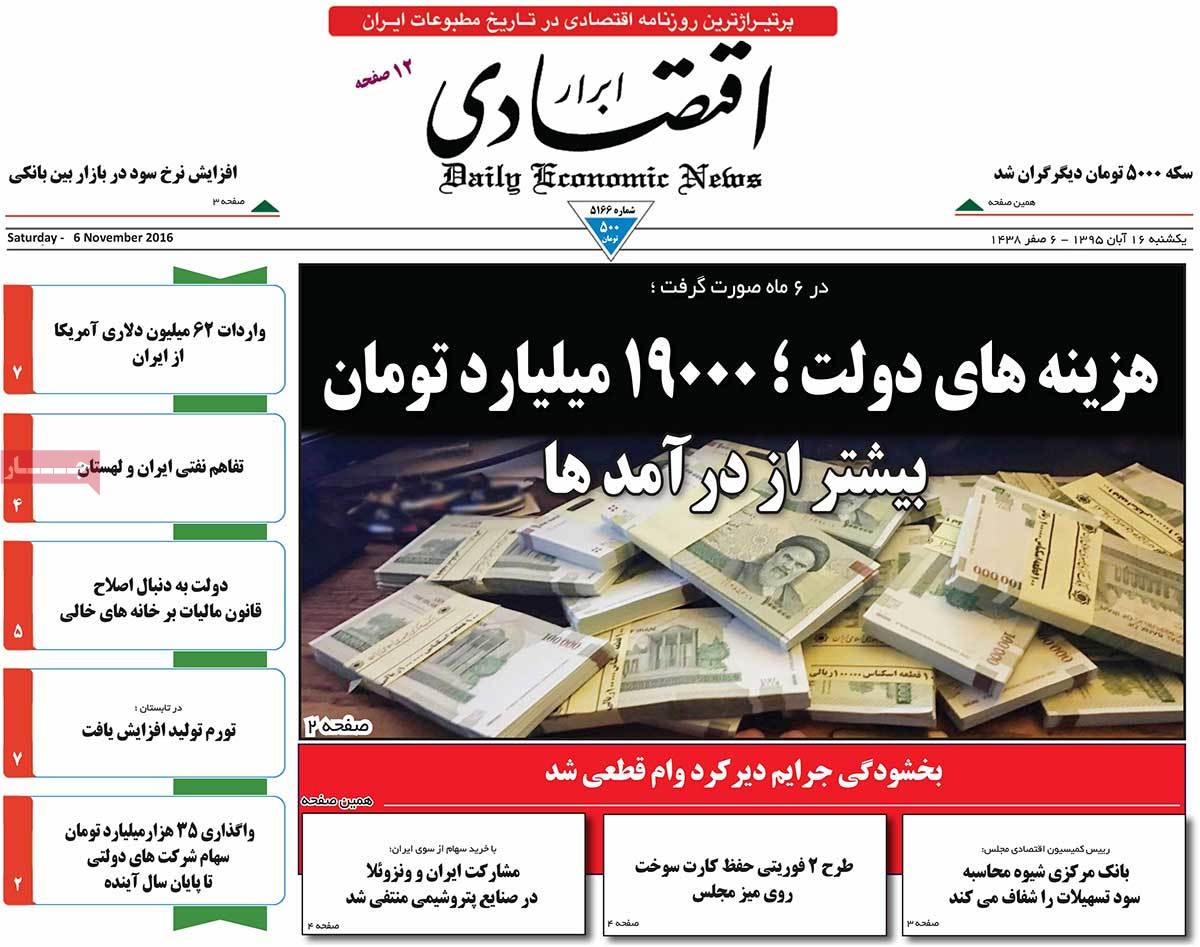 ---
Afkar:
1- Rouhani: Power of Culture Is Much More than that of Gun and Diplomacy
2- Artists Urge President to Pay Serious Attention to Air Pollution
3- Iran and ITER Sign First Document of Cooperation
---
Aftab-e Yazd:
1- Zahra Ahmadipour Elected by President Rouhani as Head of Cultural Heritage and Tourism Organization: Another Woman in Rouhani's Cabinet
2- Tehran Prosecutor-General: Underground Singer Sentenced to 10 Years in Prison
---
Asrar:
1- Rouhani: Extremism Should Not Have Any Audience in Iran
2- Military Advisor to Leader: ISIS Was Hit by Iran 40km Away from Our Borders
3- Zarif May Meet Lebanese PM Hariri in Beirut
4- North Korean Leader: We'll Turn US to Ashes
---
Amin:
1- Rouhani: Iran's Security Dependent on Security of Culture and Media Professionals
2- Iran to Officially Join ITER by End of 2016: Salehi
3- 11 Turkish MPs Arrested at Night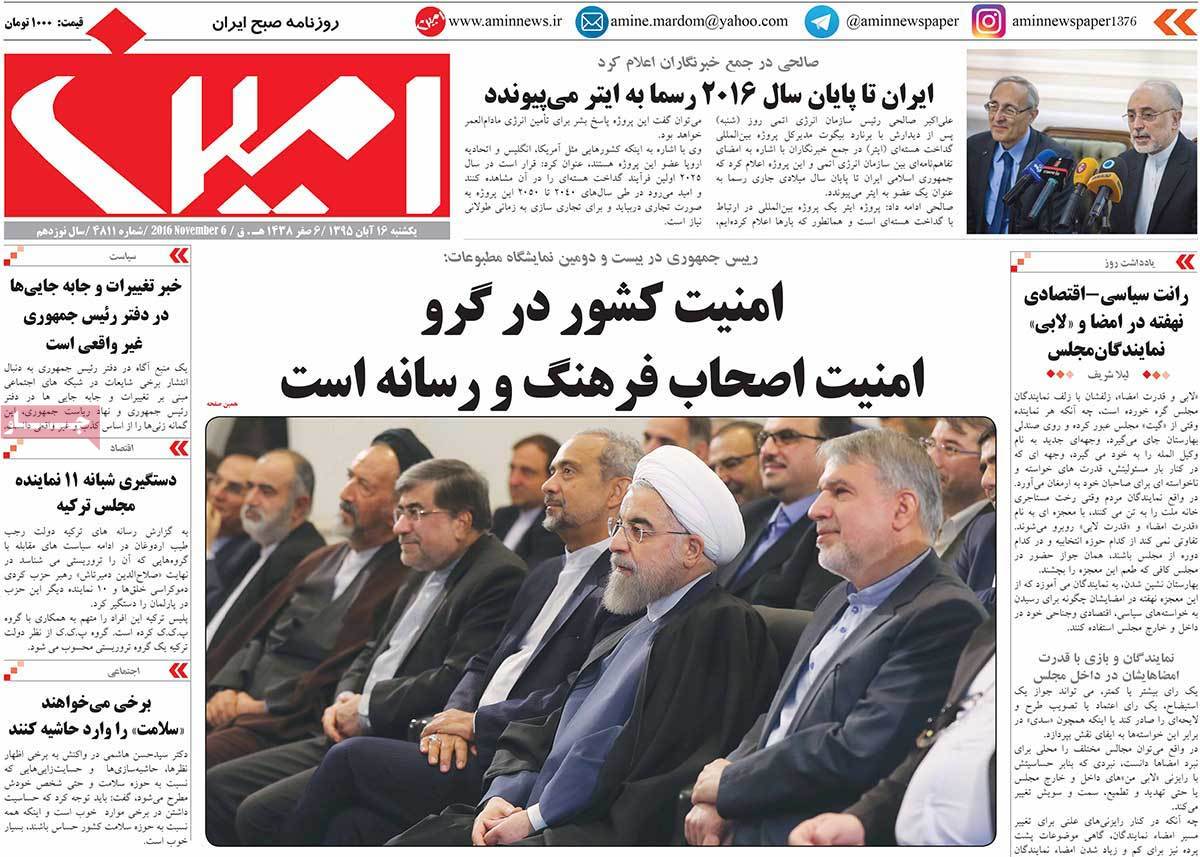 ---
Asr-e Rasaneh:
1- Iran's Petchem Exports to Europe Doubled
2- Nationwide Distribution of Euro IV Gasoline in Iran
3- Negotiations for Delivery of Purchased Planes Will Soon Yield Results: Transport Minister
---
Etemad:
1- Clinton or Trump: Which One Is Better for Iran? Experts Discuss the Issue
2- Mousavian, Int'l Relations Expert, Urges JCPOA Opponents Not to Raise Accusations against Iran's Establishment
---
Ettela'at:
1- Media Can Increase Hope and Satisfaction in Society: Rouhani
2- Intelligence Minister: Intelligence System's Connection with People Is a Necessity
3- VP for Women Affairs: Early Marriage and Poverty Are Barriers to Girls' Education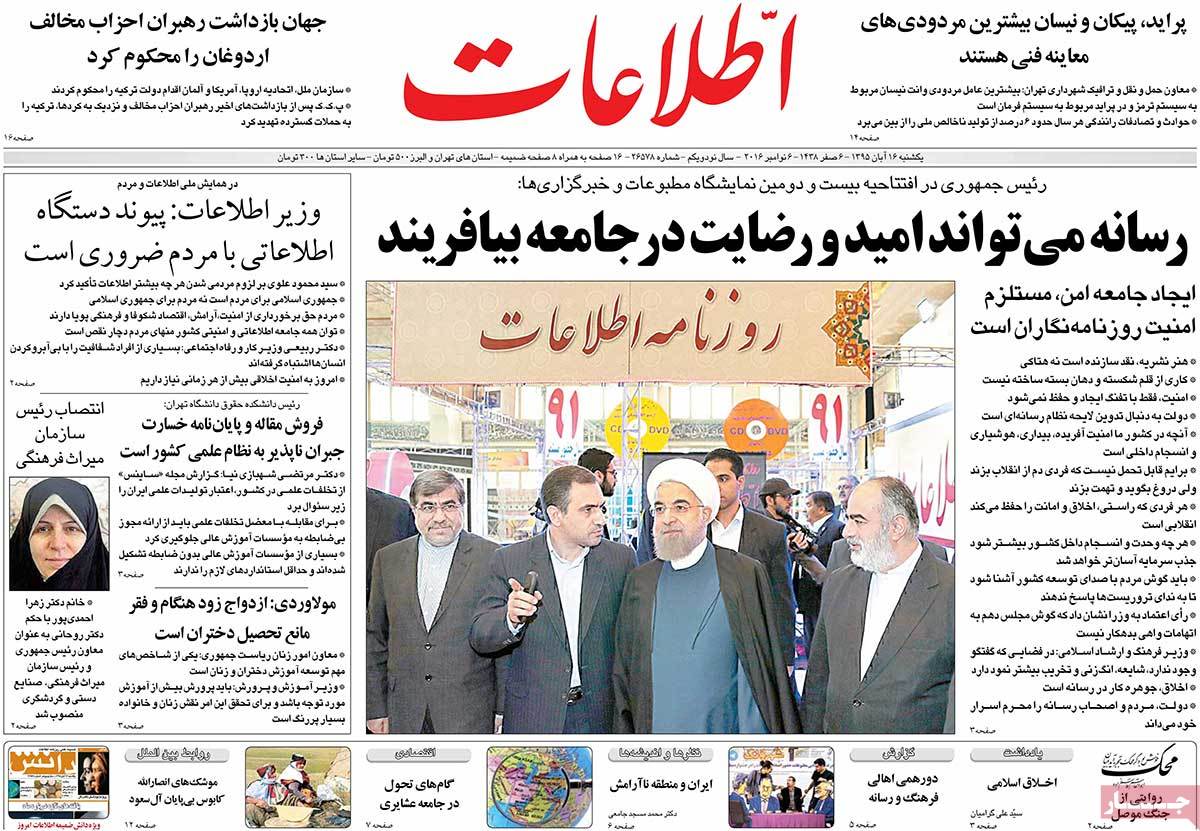 ---
Hemayat:
1- Iraqi Flag Raised over Government Buildings of Hammam al-Alil Town: Last ISIS Base in South of Mosul Is Retaken
2- Judiciary Chief: Judicial Talks between Iran and Iraq Were Constructive
3- Deputy Commander of IRGC Quds Force: Syria's Fate Will Be Determined This Year
---
Iran:
1- Iran's Might Stems from People's Power: Intelligence Minister
2- We Won't Accept False Remarks about Iran's Territorial Integrity: First VP Warns in Meeting with Turkey's Economy Minister
---
Javan:
1- Doctors Making Profit by Hiding Patients' Cancer: 90% of Cancers Can Be Prevented and Cured
2- 'Muhammad, the Messenger of God' Becomes Turkey's Third Best-Selling Film
3- Rouhani: Let's Run in the Fresh Air of JCPOA; Constructive Criticism Is an Art, Criticize Us and Shows the Right Path If We're Wrong
4- ISIS Gives Up Ambitions of Caliphate: In His New Strategy, al-Baghdadi Calls for Network Actions after Fall of Mosul and Aleppo
---
Jomhouri Eslami:
1- Iran's First VP Strongly Criticizes Turkey's Collaboration with Persian Gulf Cooperation Council against Iran
2- European Banks Are Resuming Ties with Iranian Banks
3- New Scandal for Clinton: She Has Received $30m Aid from Saudi Arabia and Qatar
---
Kayhan:
1- 8,500 University Professors Write Open Letter to Heads of 3 Branches of Iran's Establishment: Why Was Iran's Nuclear Industry Shut Down, But Sanctions Were Not Removed?
---
Khorasan:
1- Second Phase of RouhaniCare Started Yesterday: Free Health Services Provided in Six Metropolises
2- Monkey Predicts Trump Will Become US President; Famous Singers Join Clinton's Campaign
---
Payam-e Zaman:
1- IRGC General: Pen Is Our Most Powerful Weapon
2- Iraqi PM: We'll Cut Off ISIS' Head
3- Some Are Upset by Removal of Anti-Iran Sanctions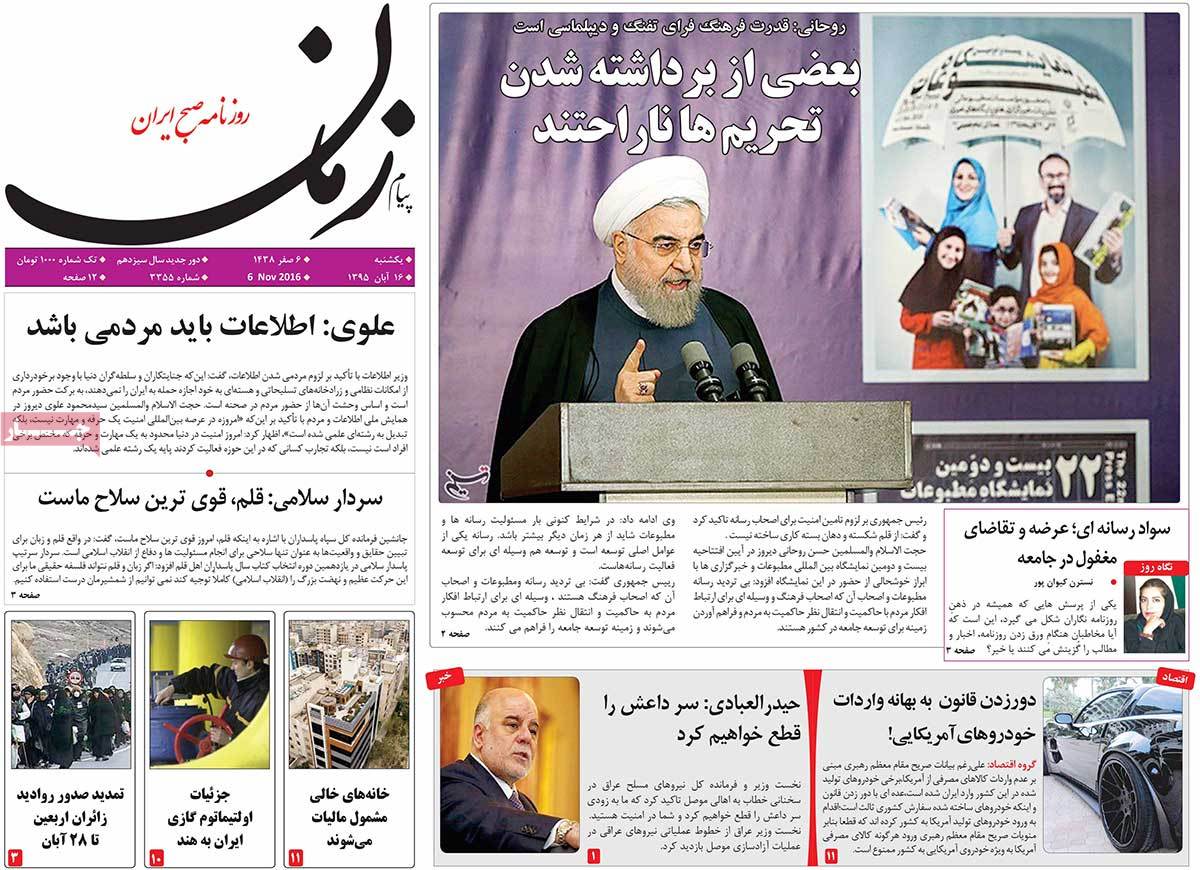 ---
Resalat:
1- President: Hundreds of Sanctions Are Removed, a Few of Them Have Remain in Place
2- New York Times: 80% of US Voters Believe Presidential Candidates Are Cheaters
Majority of Voters Hate US Government and Politics
40% of Trump Voters Said They Won't Accept the Results of Elections If He's Not Elected
---
Roozan:
1- Opium a Major Cause of Cancer among Iranians: Some People Use Opium More than Cigarette
2- Iranian Girl Wins Gold Medal in World Wushu Championship
---
Saheb Qalam:
1- Rouhani: Iran's Security Not Ensured by Missile and Tank
2- Details of Iran's Ultimatum to India over Gas Trade
3- Isfahan's Naghsh-e Jahan Stadium Inaugurated by First VP after 22 Years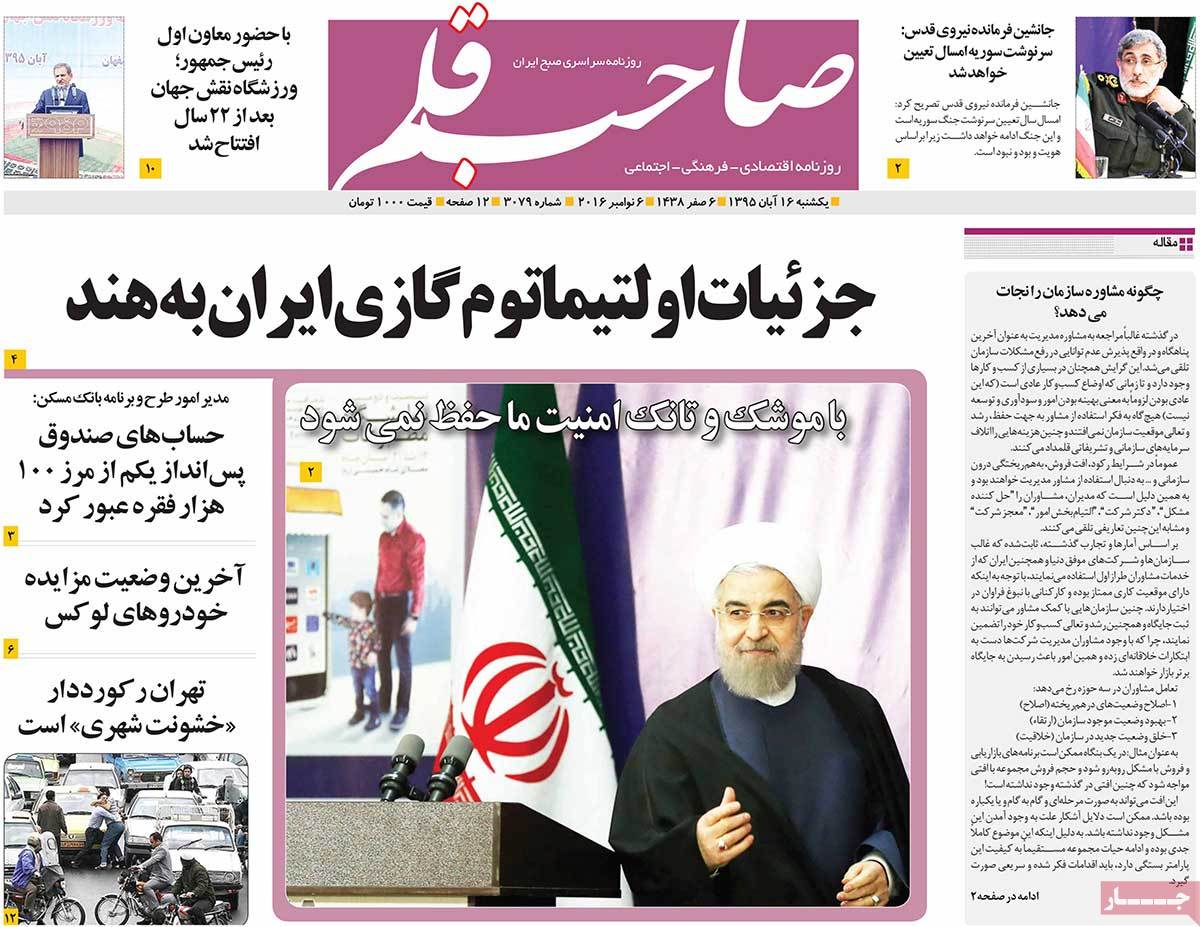 ---
Shargh:
1- Iran's Economy Gripped by Issue of Exporting Materials in Raw State: Giving Away the Market to Foreigners
---
Vatan-e Emrooz:
1- King Kong: US Mainstream Media Terrified and Confused by Trump; His Fans Are More Important than Him