A top story today was the nationwide rallies held on Thursday across the country on the National Day of Fight against Global Arrogance and the 'death to America' slogans chanted in the demonstrations.
The beginning of 22nd edition of Press Exhibition in Tehran also received great coverage today. The exhibition was officially inaugurated on Saturday morning in a ceremony attended by President Hassan Rouhani.
Foreign Minister Mohammad Javad Zarif was also on newspaper front pages with his remarks about the restoration of Iran's strategic power in the region.
The above issues, as well as many more, are highlighted in the following headlines:
Abrar:
1- Hariri Officially Urged to Form New Cabinet
2- Toner: 'Death to America' Slogan Is No Barrier to Tehran-Washington Cooperation
3- Inquiry into Political Espionage in Iran Talks Hotel Halted
4- Government Spokesman: Iran's Development Hindered by a Lack of Long-Term View
---
Abrar-e Eqtesadi:
1- Deputy Oil Minister: European Companies' Offer to Develop Iran's Risky Oilfields
2- Iran's Imports from Turkey Doubled
3- Major European Companies Want to Make Investment in Iran's Insurance Industry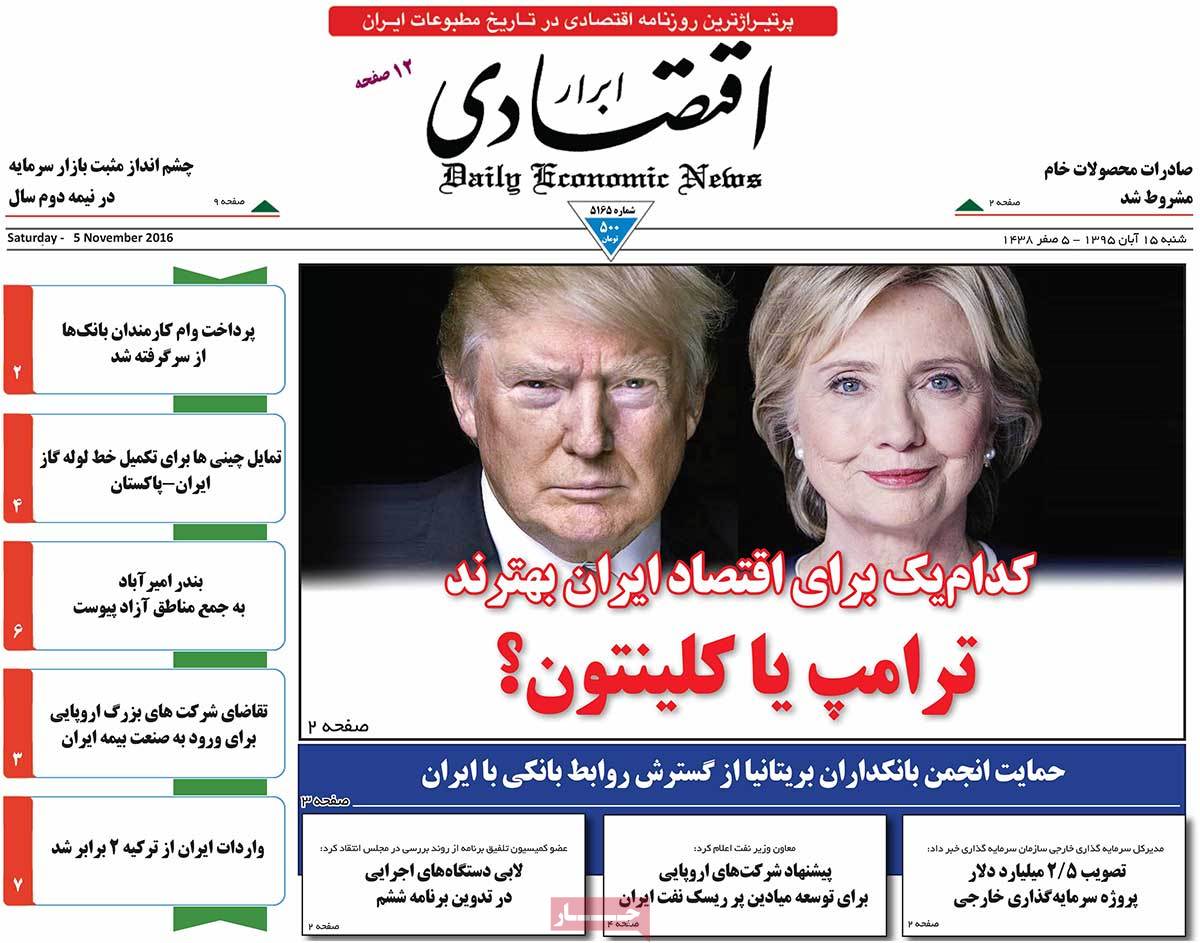 ---
Afkar:
1- Leader: Negotiation with the US Won't Resolve Iran's Problems
2- Deputy Health Minister: Nutrition Problems Is the Root Cause of 50% of Deaths in Iran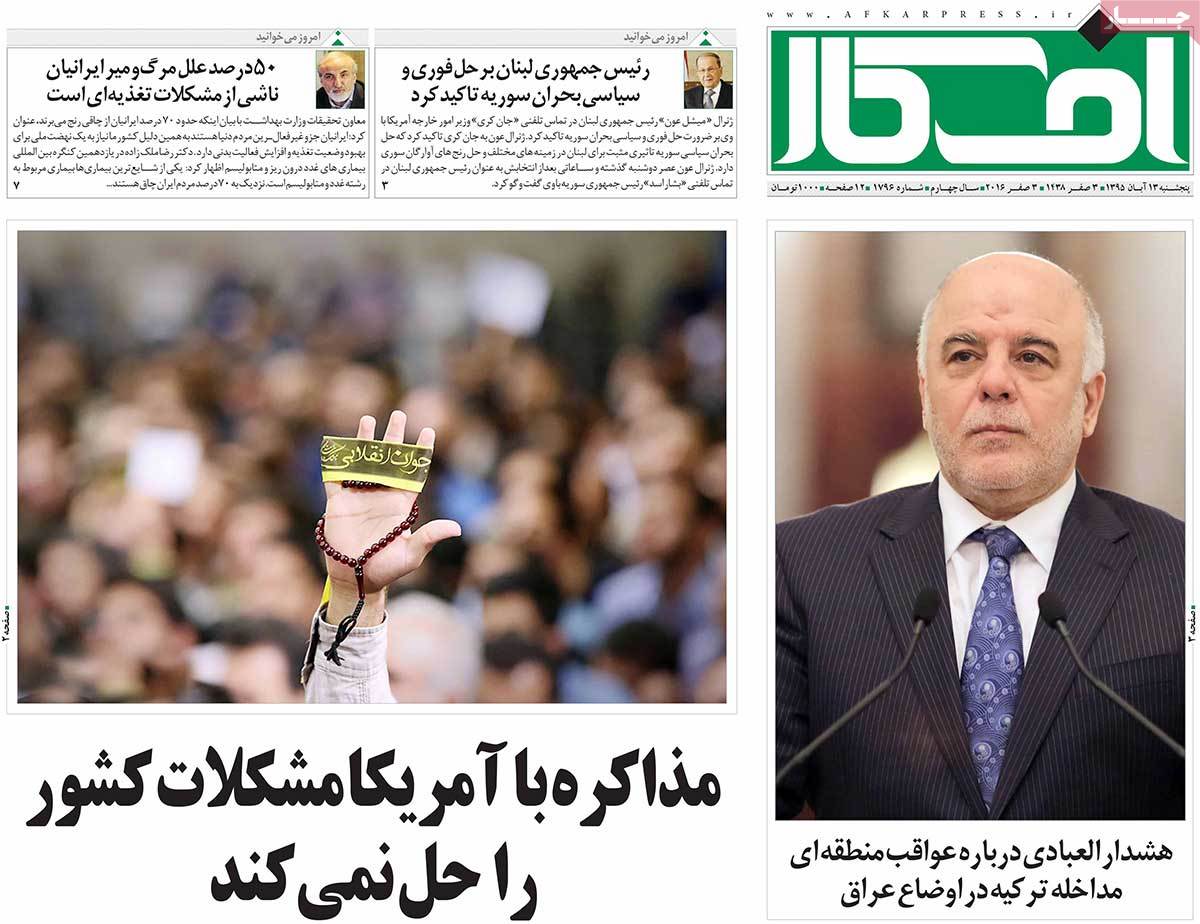 ---
Aftab-e Yazd:
1- Melania Trump Caught Plagiarising Again: This Time from One of Donald Trump's Ex-Wives
2- Public Pharmacies Making Huge Profits; Private Ones Going Bankrupt
---
Arman-e Emrooz:
1- Education Ministru: 136,000 Students Exposed to Drug Addiction
---
Asrar:
1- Zarif: We Should Keep Our Defence Capabilities at Highest Level
2- Britain Seeks to Create a Channel in Baking Ties with Iran
3- Environment Department Chief: Air Pollution Conditions Improving
4- Culture Minister: We Can't Ignore the Concept and Value of Music
---
Amin:
1- 22nd Press Exhibition Kicks Off in Tehran
2- Iran Ranks Second in World's Unhappiest Countries
3- Government Spokesman: We Never Rely on Americans' Promises
4- Culture Minister: We Shouldn't Talk to Culture Professionals Imperiously
---
Ebtekar:
1- IRGC Lieutenant Commander: If Americans Fail to Fulfil Their Commitments, We'll Send JCPOA to Museum
2- Stroke Is Second Cause of Death among Iranians
---
Emtiaz:
1- End of the Father: Mansour Pourheydari, Former Coach of Team Melli and Esteghlal FC, Dies
2- FIFA Extends Condolences over Death of 'Father of Esteghlal'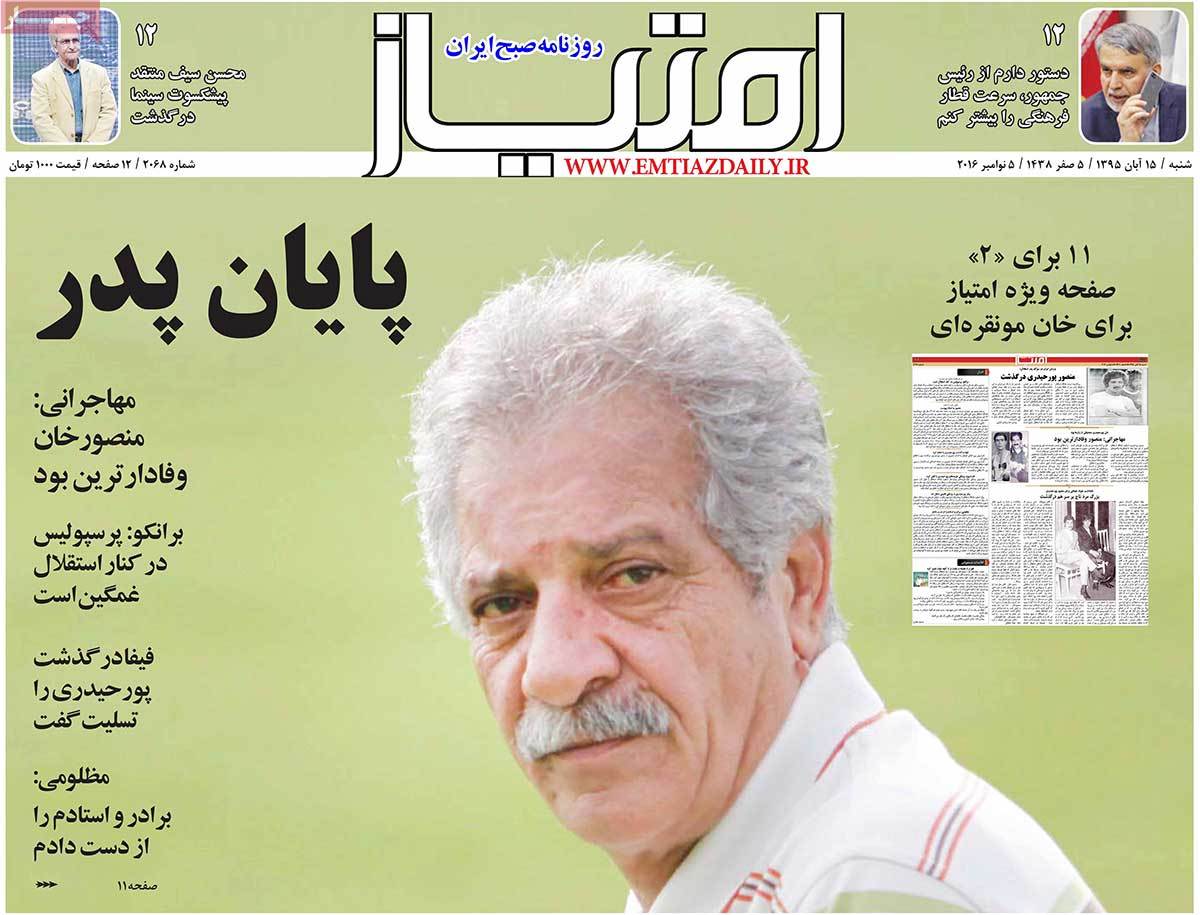 ---
Ettela'at:
1- Rouhani: Iran Is Moving towards Economic Prosperity
2- Nationwide Demonstrations against Global Arrogance Held across Iran
3- Iran to Join Petrol Exporting Countries
4- Zarif: Iran's Power Is Based on Not Believing US Strength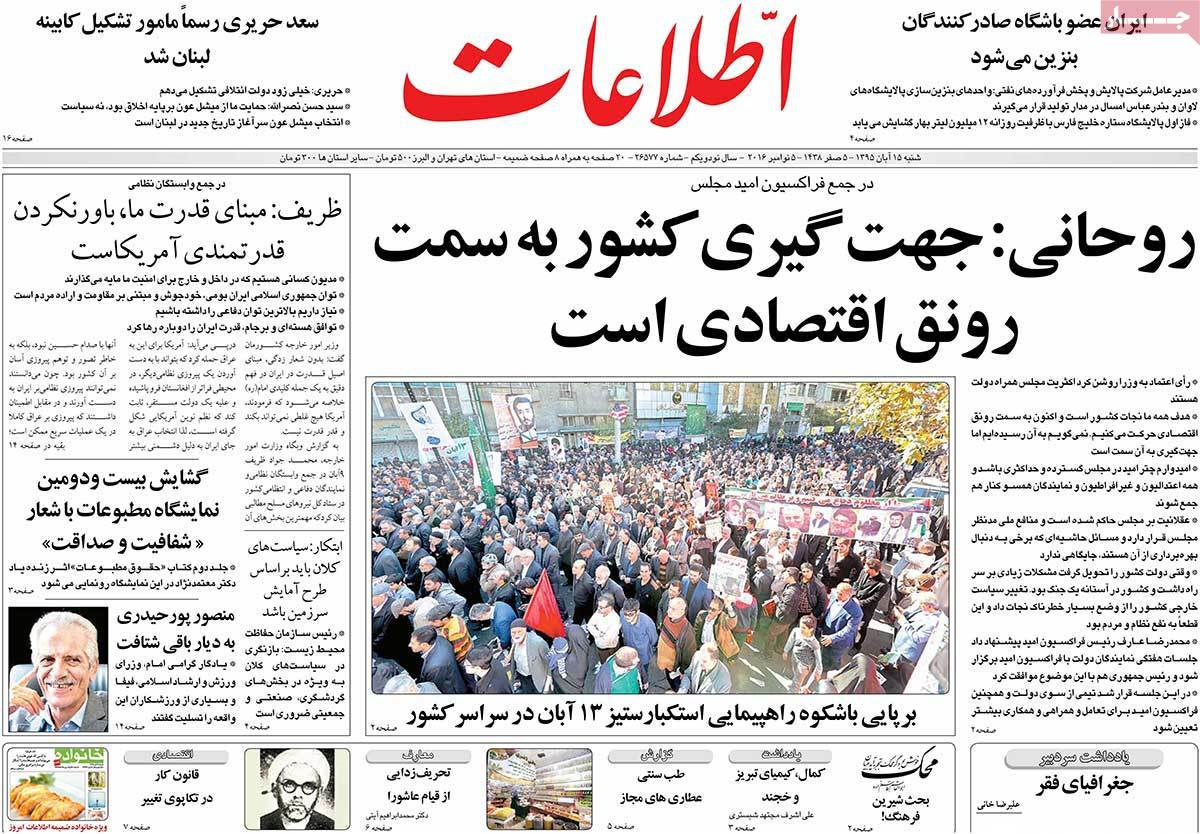 ---
Hemayat:
1- Judiciary Chief: US Has a Role Wherever There's a Fire in Muslim World
2- Iranian Nation Voices Its Hatred towards the Promise-Breaking US
3- Obama Extends National Emergency on Iran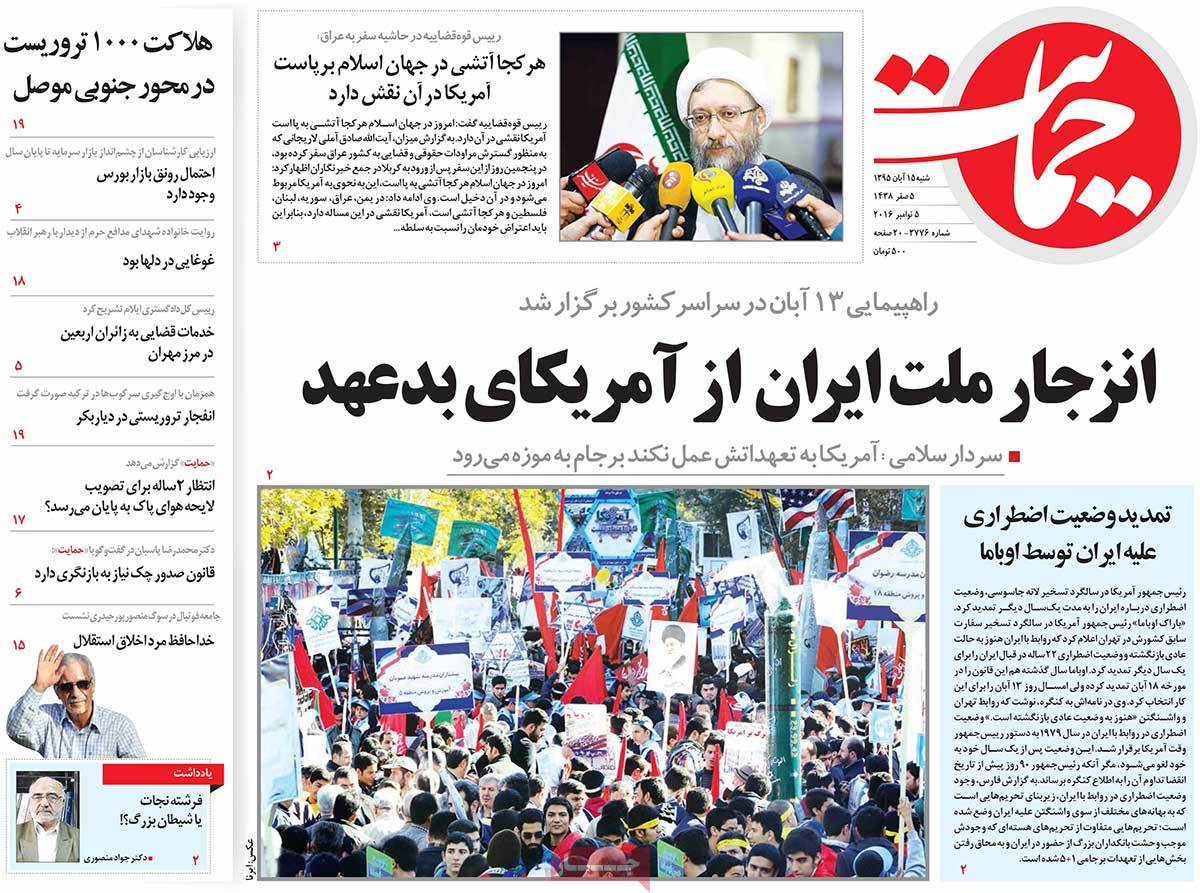 ---
Iran:
1- People Come to Visit Press Exhibition before Official Inauguration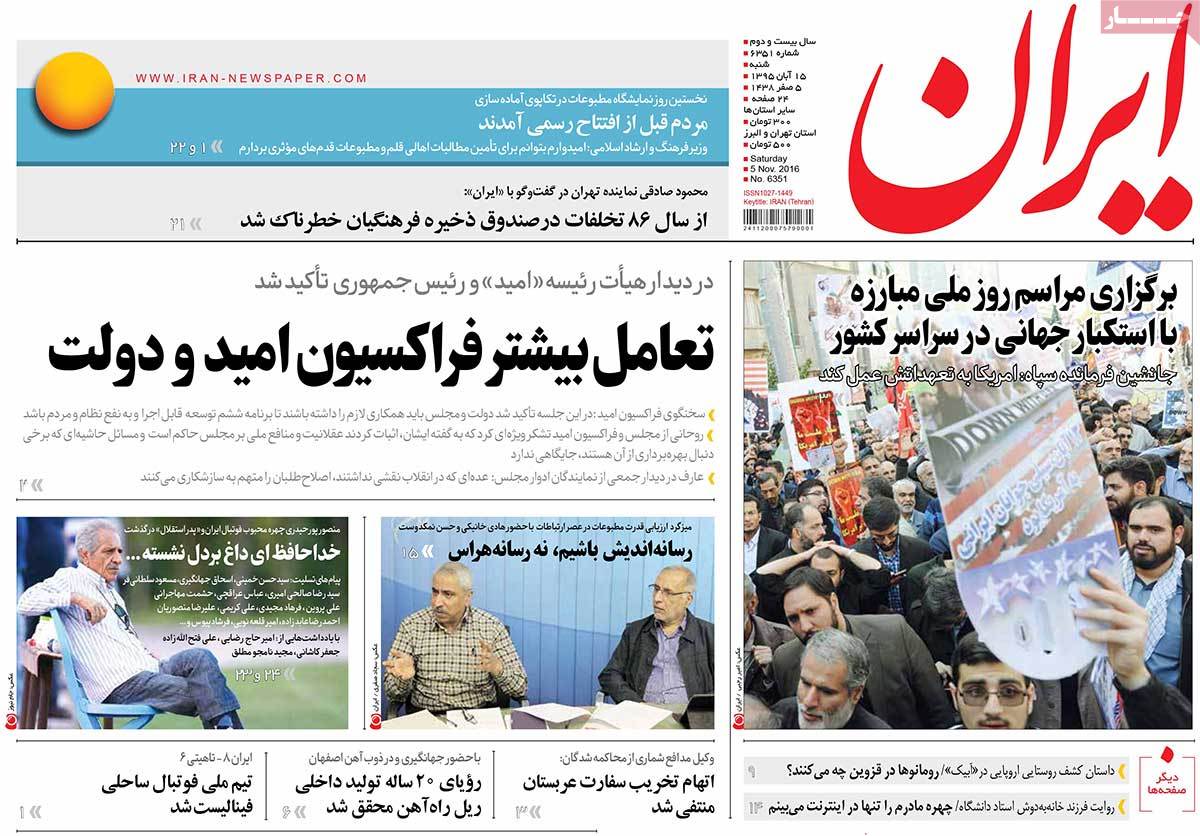 ---
Javan:
1- 'Death to America' Slogan Turns 37 Years Old
2- Friday Prayer Leader: Some Government Officials Are Inclined towards US, and This Should Be Resolved
---
Jomhouri Eslami:
1- Biggest Line of Railway Making in Middle East Opened in Iran's Isfahan
2- Tunisian Minister of Religious Affairs: Saudi Arabia Is Root Cause of Terrorism and Extremism
3- Mogherini: It Is European Citizens' Right to Boycott Israel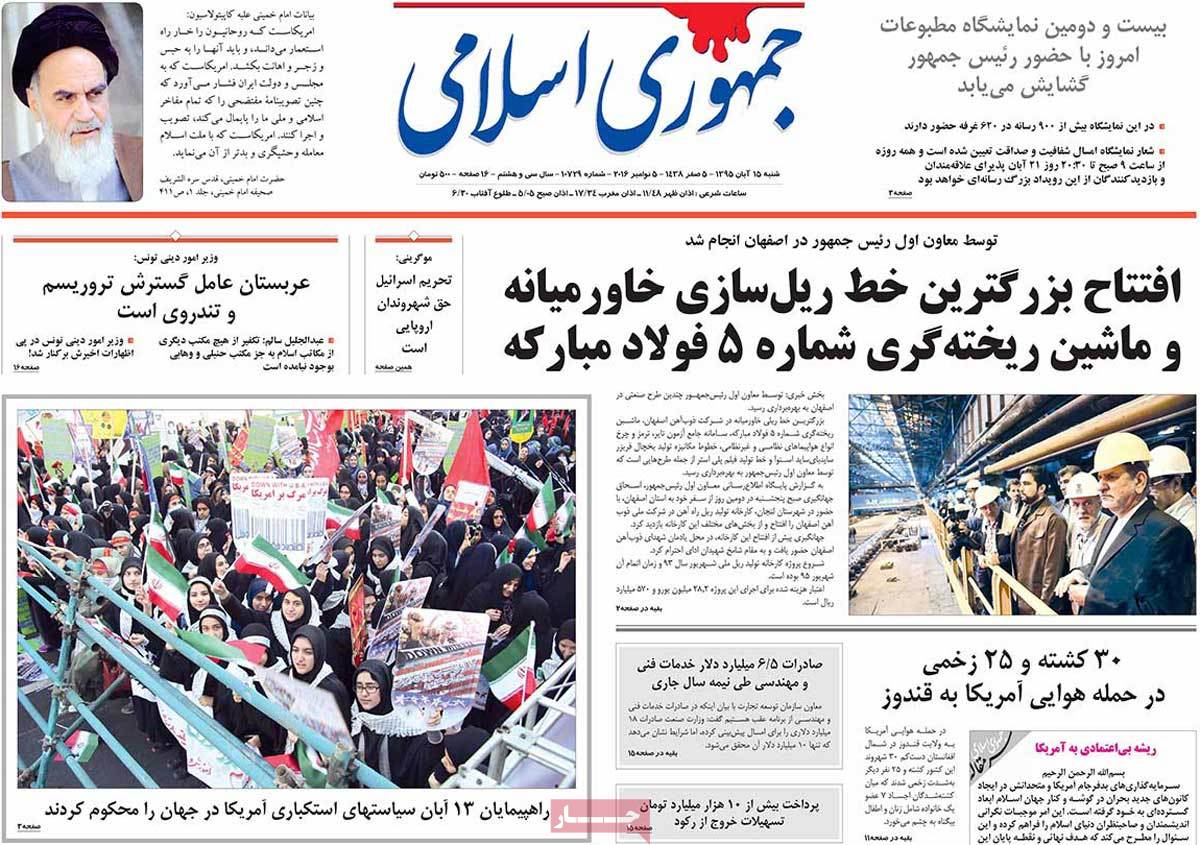 ---
Kayhan:
1- On National Day of Fight against Arrogance: People Shouted at the US
2- Two Preconditions Set by Iraqi Popular Forces for Helping Syrian People: Syrian President Assad Calls for It, Iraqi PM Abadi Allows Us to Go
---
Khorasan:
1- Iran's Strategic Power in Zarif's Words: I Don't Claim Nuclear Negotiations Created Power for Iran; Iran's Power Existed Long before the Talks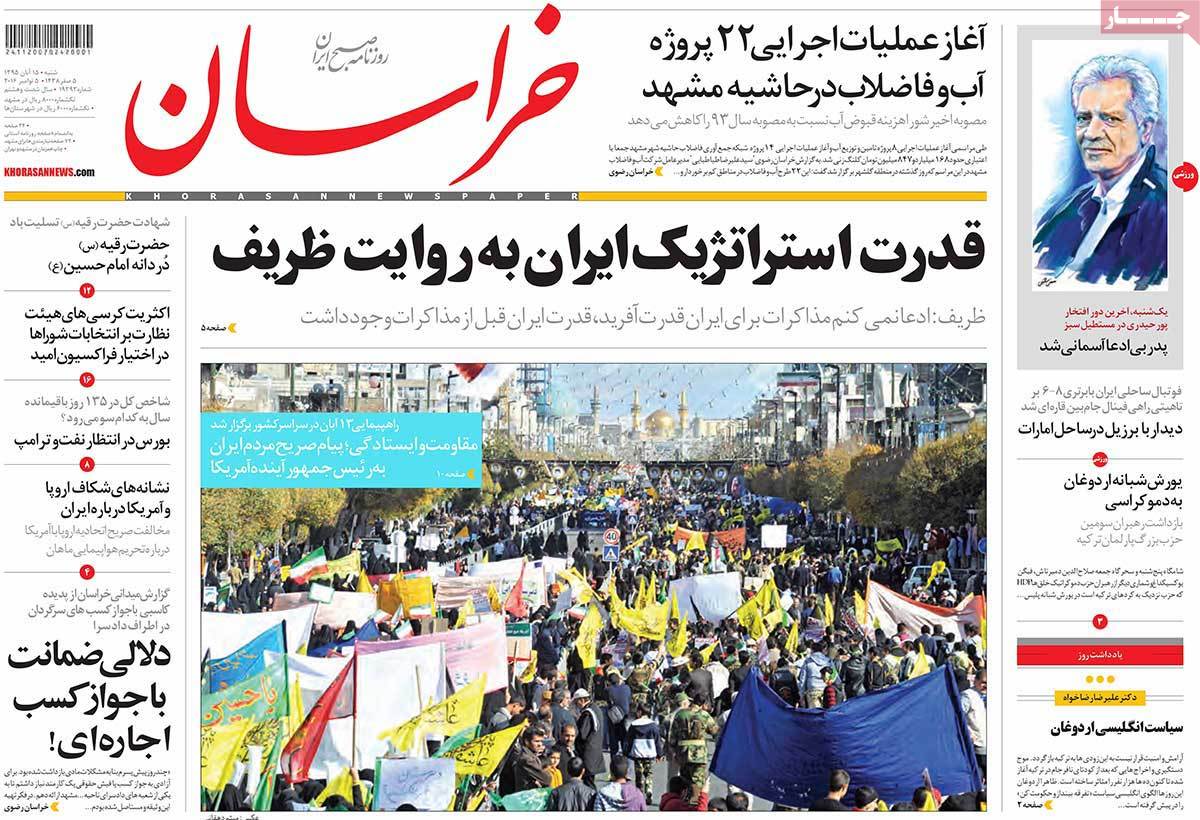 ---
Resalat:
1- Senior Cleric: We Should Beware of USA's Return to Iran
2- US Is Still Number One Enemy of Human Kind: Final Resolution Declared after Nationwide Anti-Arrogance Demonstrations
3- City Council Chief: Some Cars in Tehran Don't Even Have Euro II Standard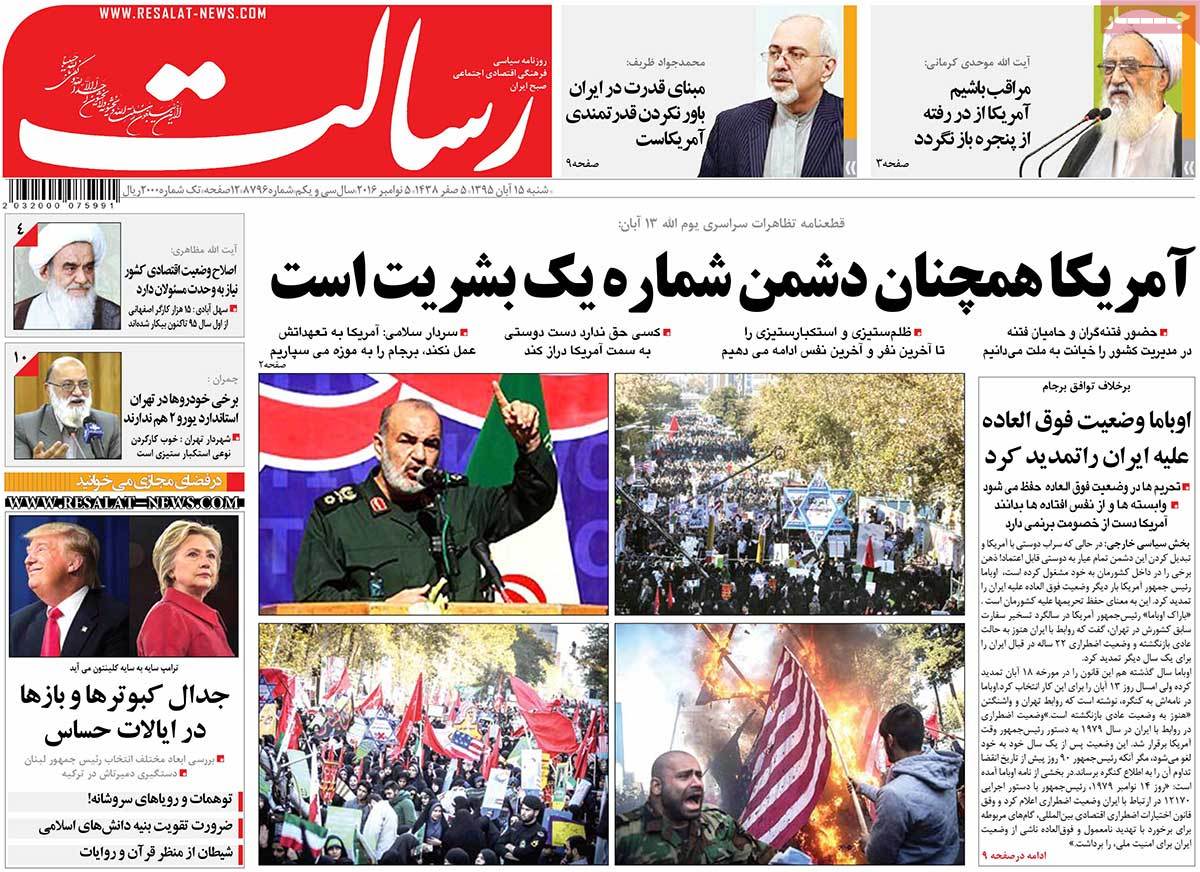 ---
Shargh:
1- Zarif: JCPOA Is the Result of a Political Give-and-Take
2- Assad in Interview with Iranian Journal: We Need Strategic Relations with Iran
---
Vaghaye Ettefaghieh:
1- Zarif in an Address to Military Attachés and Defence Envoys: JCPOA Brought Back Iran's Strategic Power
2- Egyptian Strategist Highlights Iran's Exceptional Success: Region's Map Will Be Changed by 2020