Newspapers today covered the ongoing war of words between the Iranian government and the Judiciary. There were also calls by newspapers and clerics who invited the two branches of Iranian Establishment to end the clash.
The tragic death of a Muslim kid from Myanmar also received great coverage, with newspapers slamming the world's silence on the case.
Syrian President Bashar al-Assad's appreciation of Iran's support for the Arab country was also a top story today.
The above issues, as well as many more, are highlighted in the following headlines:
Abrar:
1- ISIS' Second in Command Killed in Syria's Raqqa
2- There's No Guarantee that Presidents Are Always Qualified to Run for Second Term: Guardian Council
3- UN: 13,000 Iraqis Have Escaped from Mosul in 5 Days
---
Afkar:
1- Nothing Is More Important than Issue of Tehran's Traffic Jam: Interior Minister
2- Assad: Syria Victories Realized Thanks to Iran's Supports
---
Arman-e Emrooz:
1- Qalibaf [Conservative Mayor of Tehran] Thinking about Presidency
2- Charter on Citizens' Rights Proposed by Rouhani Is Binding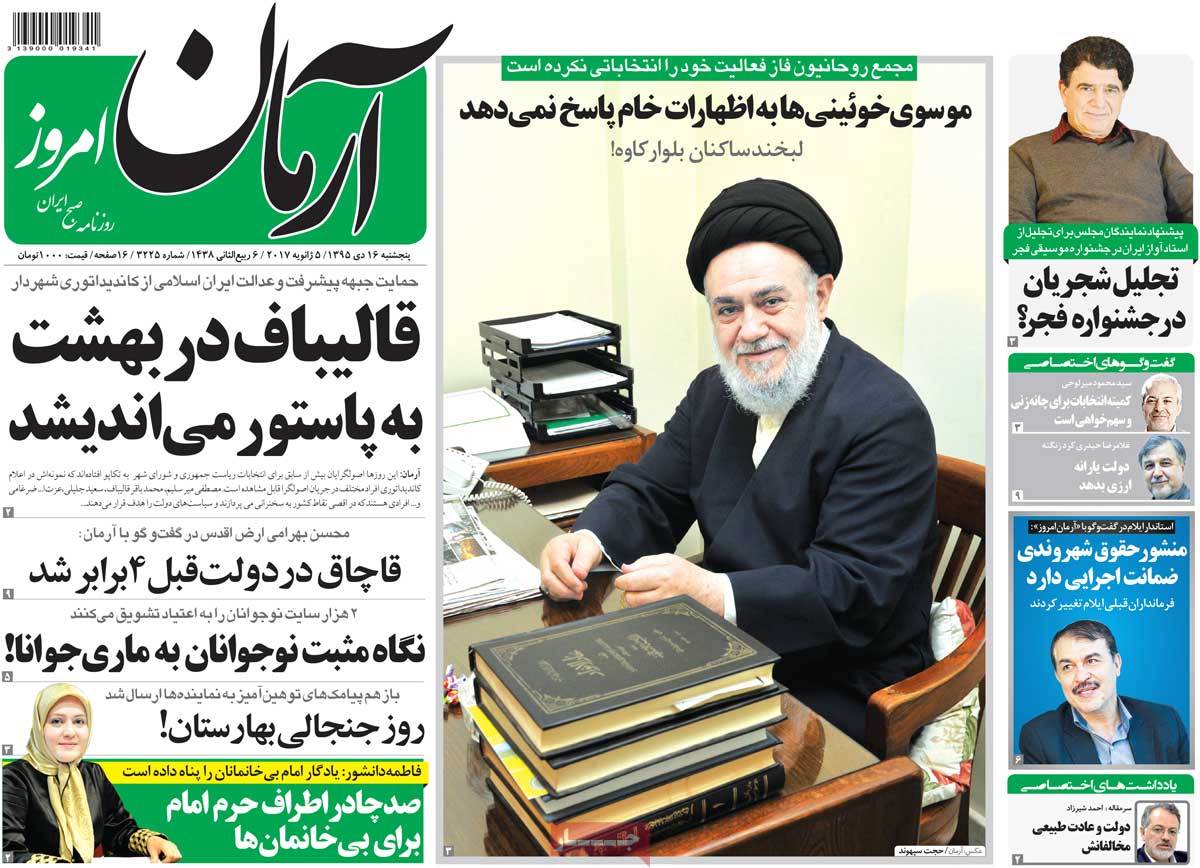 ---
Emtiaz:
1- 30 Archaeological Relics Returned to Iran from Italy
2- MPs Propose a Plan to Commemorate Master Shajarian [Iranian master of singing who has been banned from singing in Iran]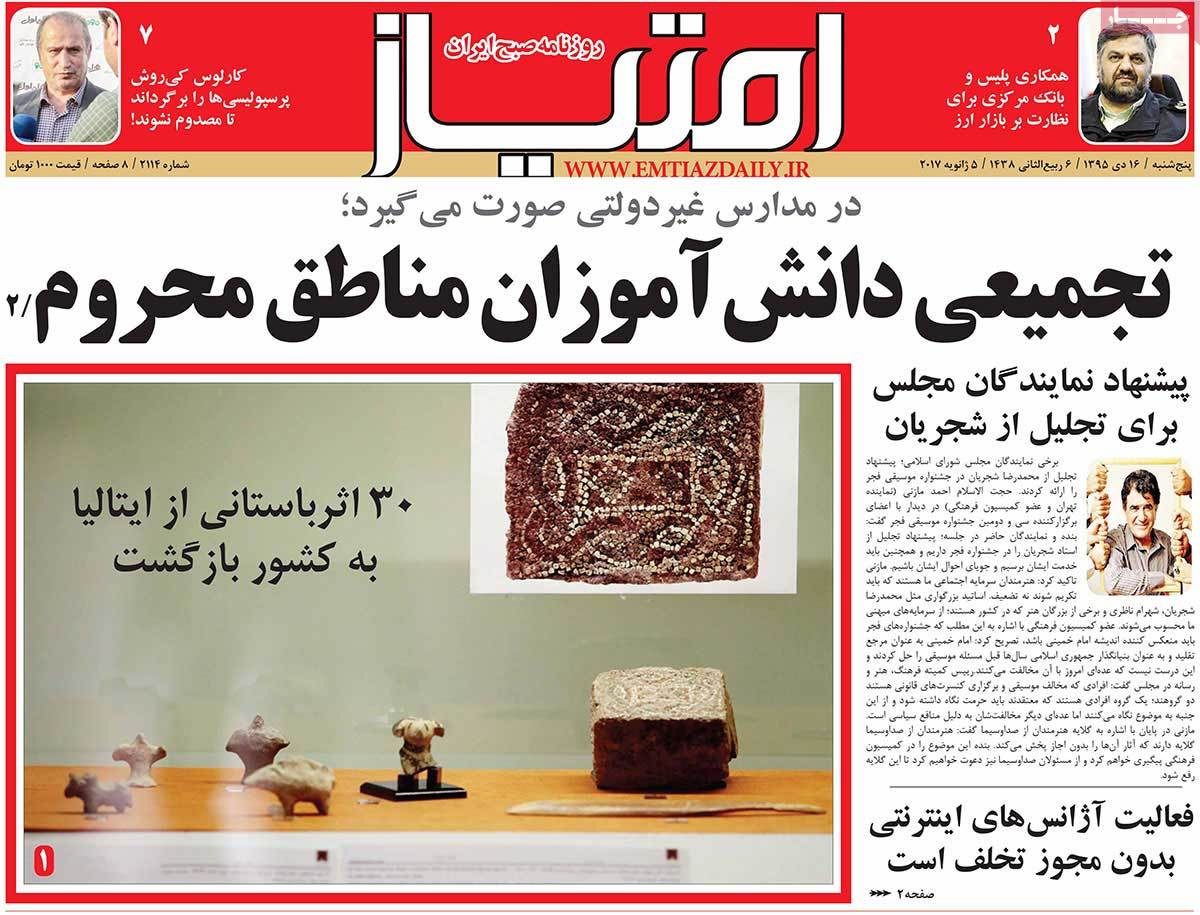 ---
Ettela'at:
1- 98 Pigeons with Bloody Wings [martyrs] Return Home
2- China Ready for All-Out Economic War against US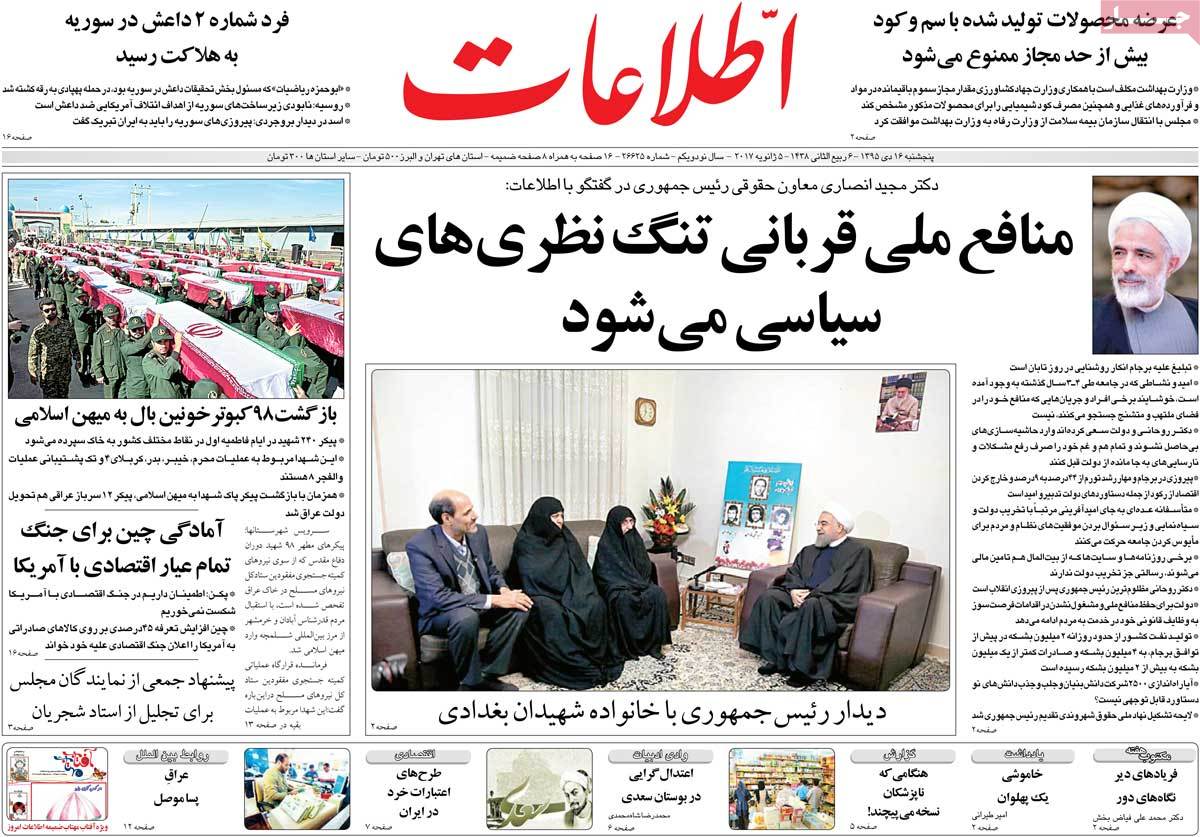 ---
Ghanoon:
1- Hurting People: Heads of Iranian Establishment Should Stop War of Words
2- Increasing Damages Caused by Construction of Huge Malls in Megacities
---
Haft-e Sobh:
1- Time Bomb: Poll Results Show 27% of Turkish People Have No Problem with ISIS!
2- Americans Not among Oil Partners of Iran: Giant Oil Companies, Except for Americans and BP, Cooperate with Iran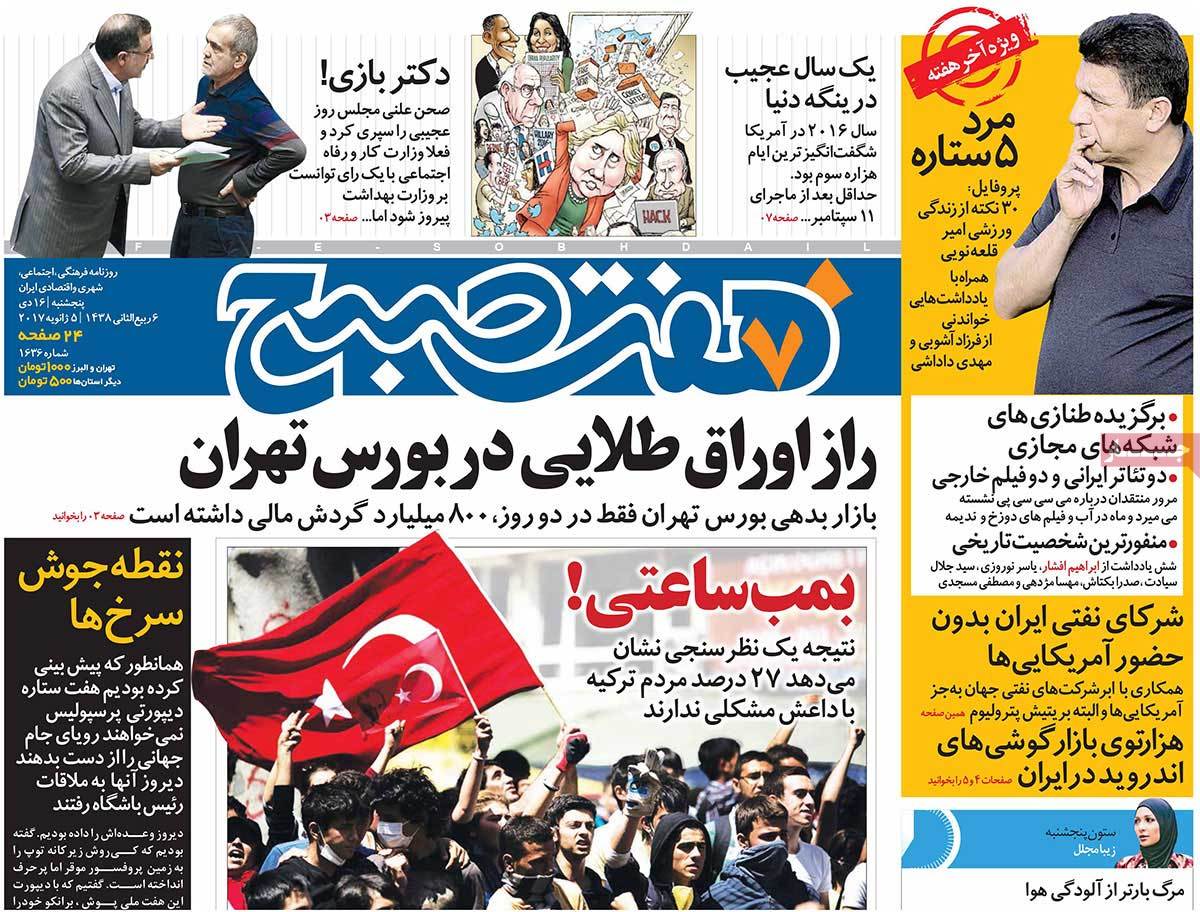 ---
Iran:
1- Villager's Spontaneous Move to Feed Wildlife in Touran
2- Alan Kurdi Tragedy Repeated in Myanmar While the World Is Silent about It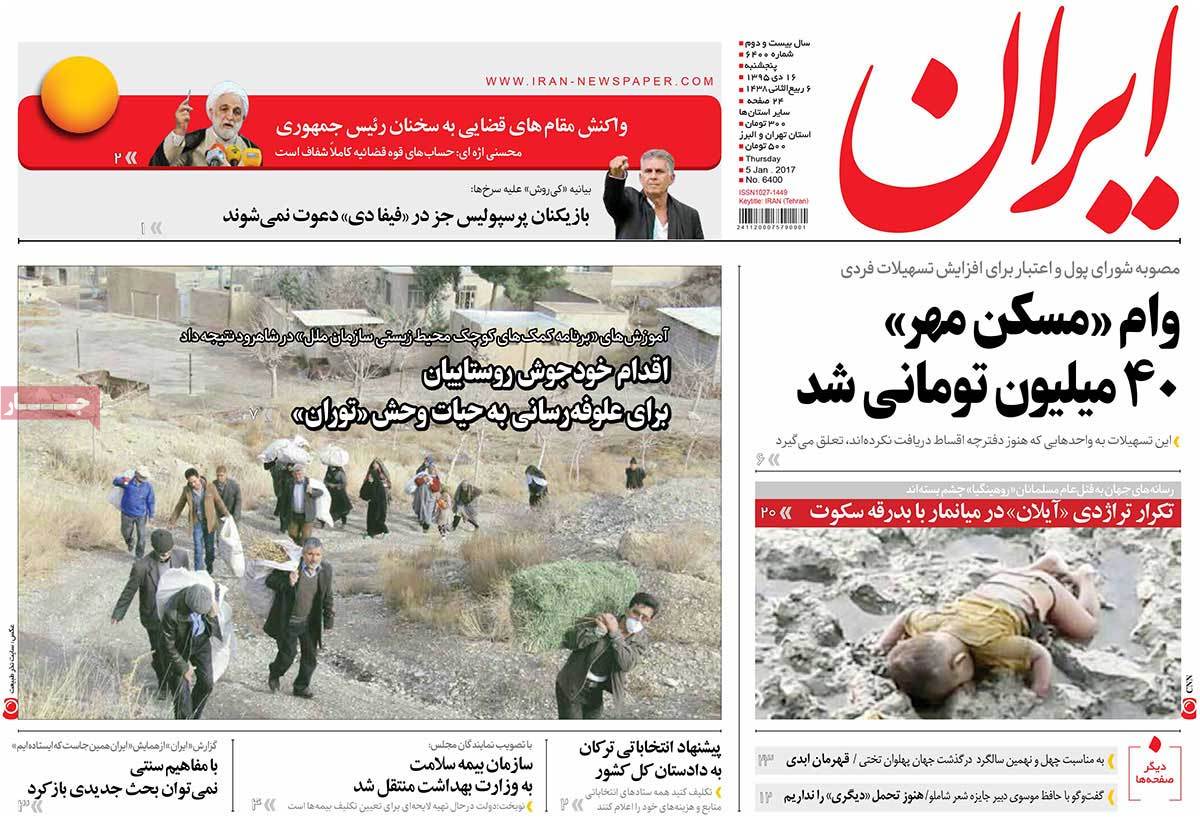 ---
Jame Jam:
1- Iranian Cinema Not Paying Enough Attention to Issue of Environment
2- American Barrier to Iranian Businessmen's Trade
3- Hot Market of Online Taxis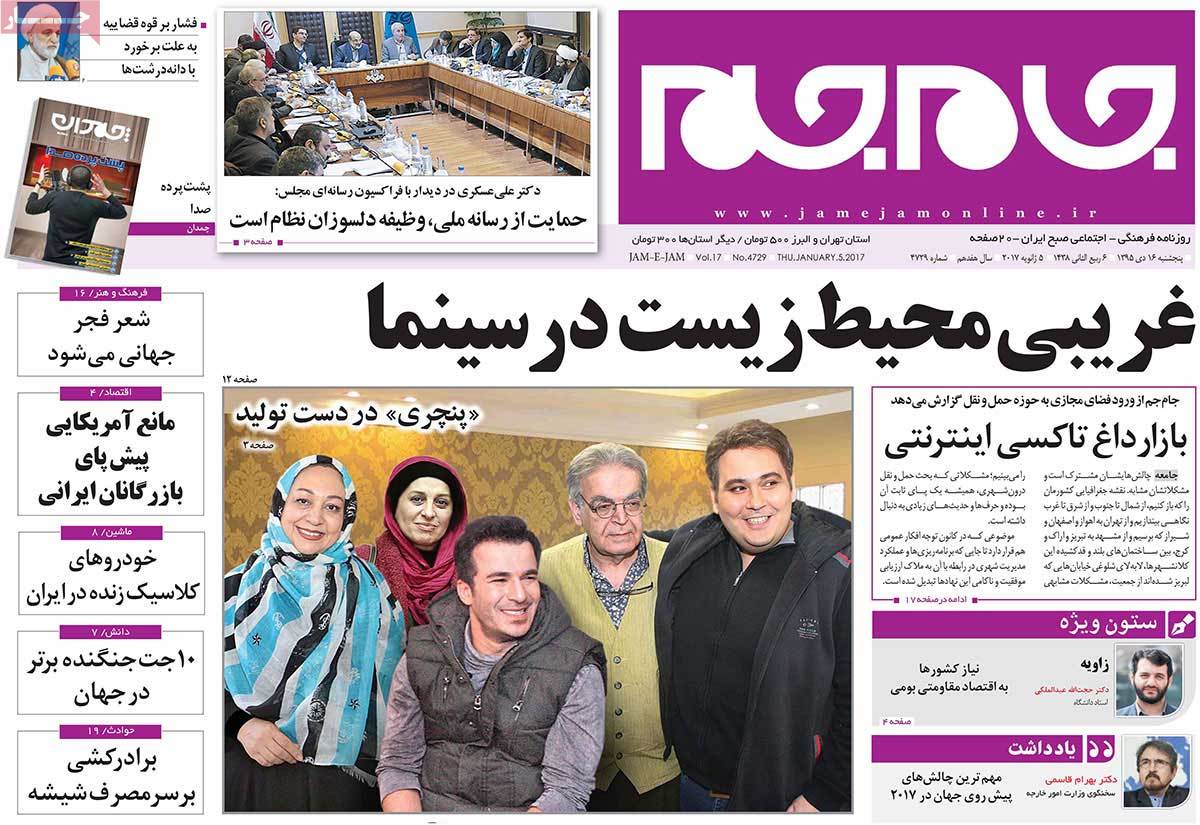 ---
Javan:
1- Spokesman: They'll Continue Putting Pressure on Judiciary until Presidential Election
2- Capitulation of Employment in Cyberspace: With Domestic Infrastructure, Cyberspace Is a Good Opportunity for Young People's Employment; but Now that It Is Based on Foreign Servers, It Might Be Lost Any Minute
---
Kayhan:
1- 16-Month-Old Baby Who Disgraced All Advocates of Human Rights: Genocide of Muslims in Myanmar Continues
2- Europeans Escaping from 2016, Afraid of 2017
---
Resalat:
1- Trump and Congress' Coordinated Moves against Iran
2- Assad: Iran Should Be Congratulated on Syria's Victory
3- Ayatollah Makarem Shirazi Calls on President to Improve Cyberspace Atmosphere Based on Seminary's Suggestions
---
Seda-ye Eslahat:
1- Parliament's Atmosphere Is Like Laleh Park!
2- Mayor of Tehran: Southern Parts of the City Have Always Been Beginning Point for Major Infrastructure Developments