Almost all newspapers highlighted the remarks made by President Hassan Rouhani in Iran's Parliament. Rouhani harshly criticized the US Senate's move to extend anti-Iran sanctions, and described it as a violation of nuclear deal.
Rouhani made the remarks while he was in the Parliament to present the next fiscal year's budget to be discussed by lawmakers. The details of Iran's next year budget were also widely covered in today's newspapers.
The above issues, as well as many more, are highlighted in the following headlines:
Abrar:
1- Motion to Impeach Transport Minister Presented to Parliament's Presiding Board
2- An ISIS Commander Killed in Coalition's Drone Attack on Syria
3- Malaysian PM Attends Protest Rallies against Genocide of Muslims in Myanmar
4- Admirable 10-Million-Litre Decrease in Cars' Petrol Consumption: MPs Praise Environment Department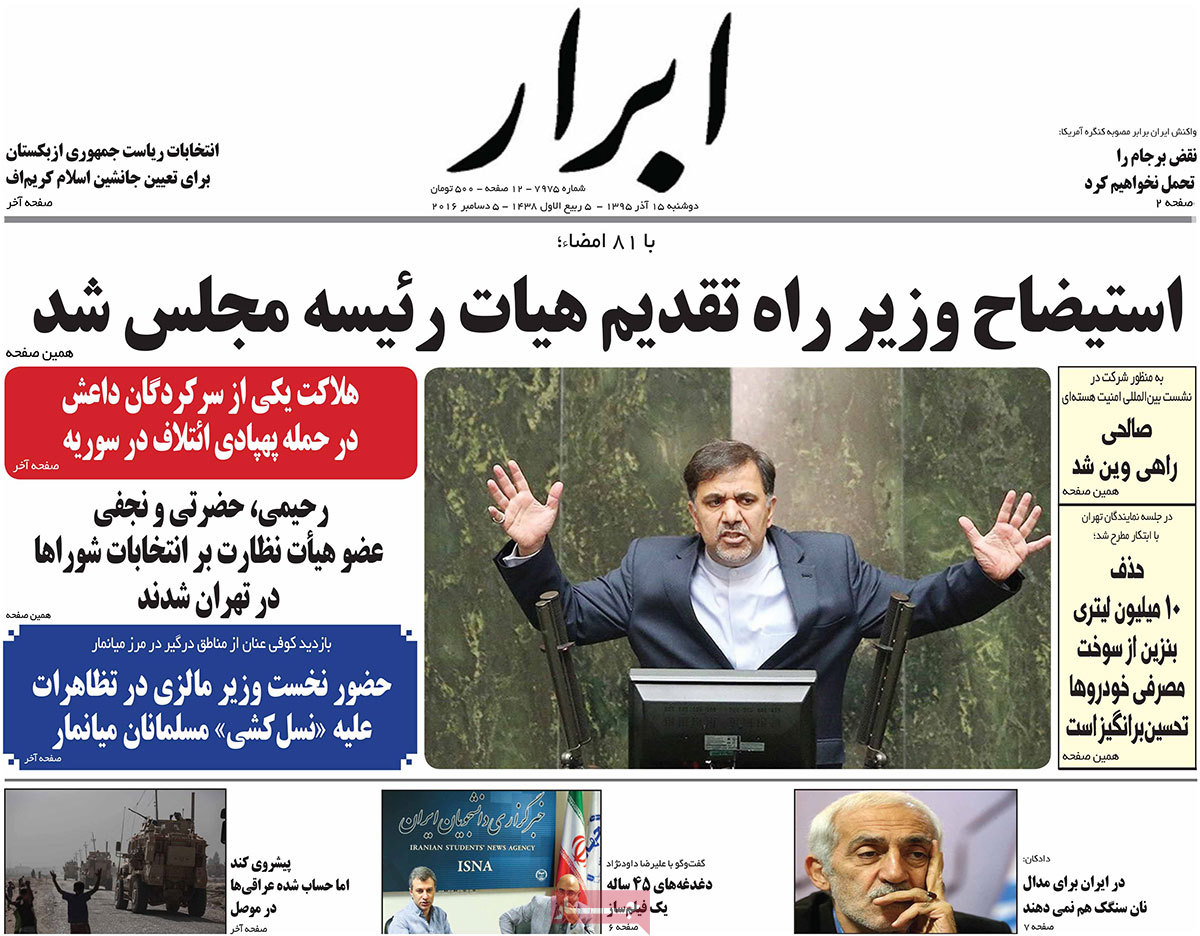 ---
Afkar:
1- Rouhani: If Anti-Iran Sanctions Are Extended, We'll Show Firm Reaction
2- Iran Supports Afghanistan's Stability, Security, and Prosperity: Zarif
---
Aftab-e Yazd:
1- Government Raises State TV's Budget: Rouhani Gives Reward to IRIB for Ignoring Iran's OPEC Victory!
2- Rouhani's Smart Warning to US
3- Reformist MP: Alien Is Alien, No Difference between American or Russian
4- The Forgotten Ones: A Report on Deprived Areas of Kerman Province
---
Arman-e Emrooz:
1- We Won't Tolerate Violation of Nuclear Deal: President
2- Reformist MP: Our Option for Presidential Election Is Rouhani for Now, but We Won't Give Anybody a Blank Cheque
3- I Feel Choked If I Don't Criticize Oppression: Outspoken MP Motahari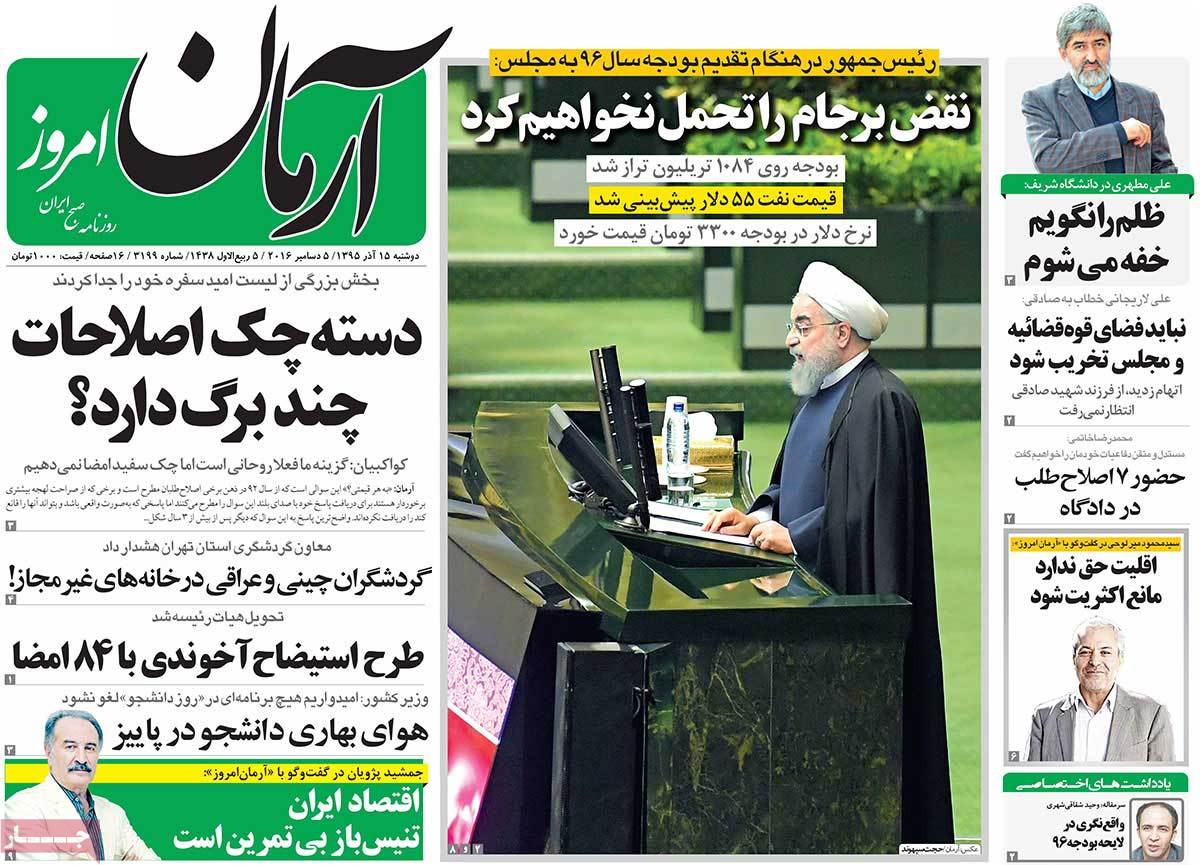 ---
Etemad:
1- Government's Budget, Country's Expenses: Oil Price Set at $50; 5% Increase in Petrol Price; 10% Raise in Wages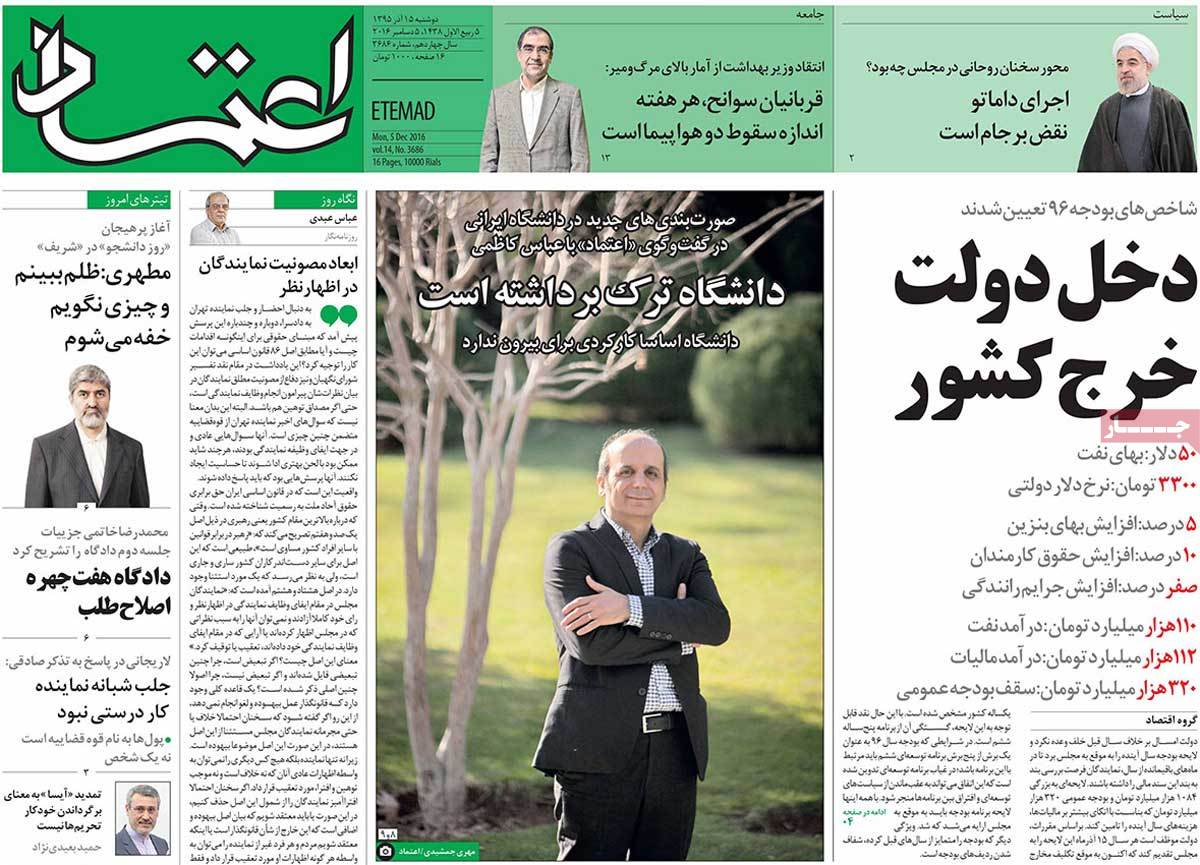 ---
Ettela'at:
1- Rouhani: We'll Show Firm Reaction to Violation of Nuclear Deal
2- Iraqi Forces Liberate Regions in North, East, and West of Mosul
3- Health Minister: Spread of AIDS Caused by Negligence of Those Responsible for Social Harms
4- We Have Problem in Communication with Our Youths: Culture Minister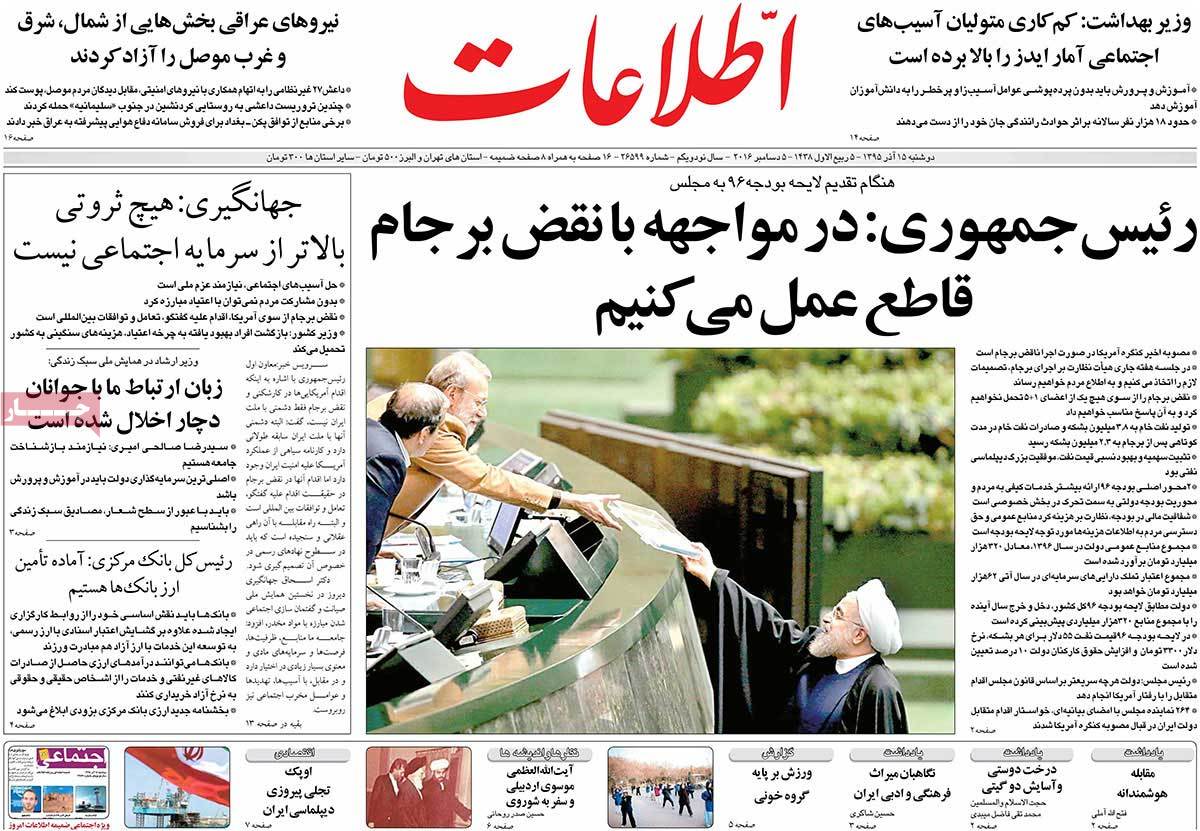 ---
Haft-e Sobh:
1- United Coalition against Digital Market: Traditional Economic Syndicates Explicitly Talking against Online Businesses. Will They Succeed?
2- TV Dominated by Pots: Amazing Increase of Cooking Programs in Different IRIB Channels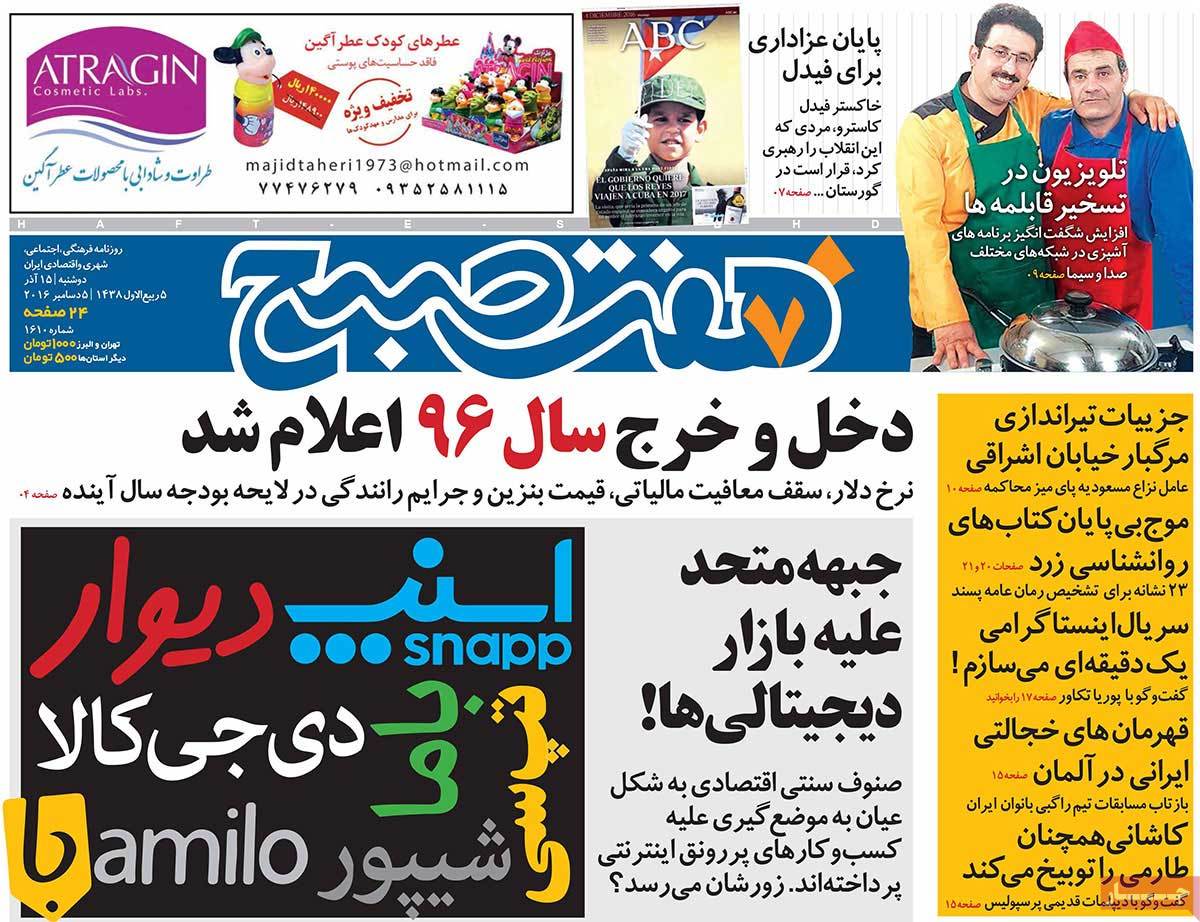 ---
Iran:
1- Government-Nation Coalition for Fight against Drugs: First VP
2- Parliament Speaker: US Congress Bill Is against JCPOA
3- Iran's Water Resources Are at Disastrous Level: Power Minister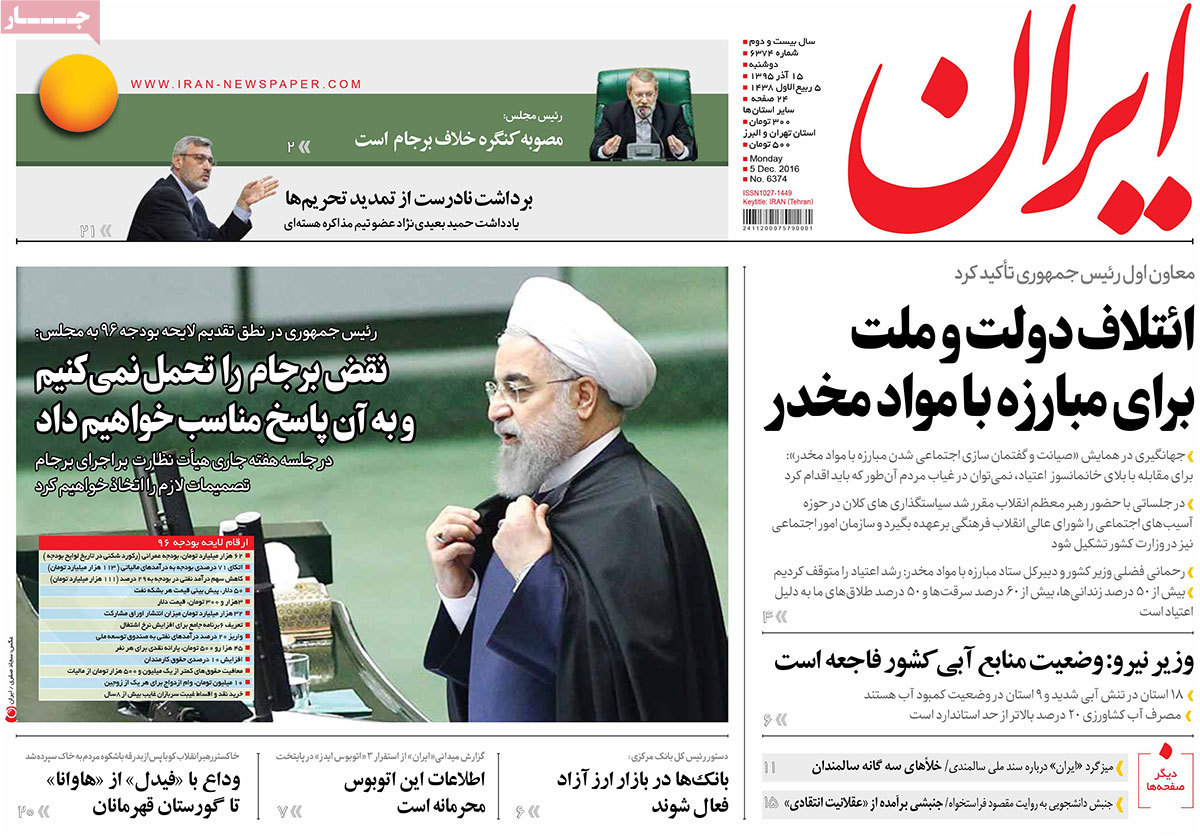 ---
Jame Jam:
1- Next Year's Budget to Be Discussed in Iran's Parliament
2- Health Tourism Exposed to Middlemen's Abuse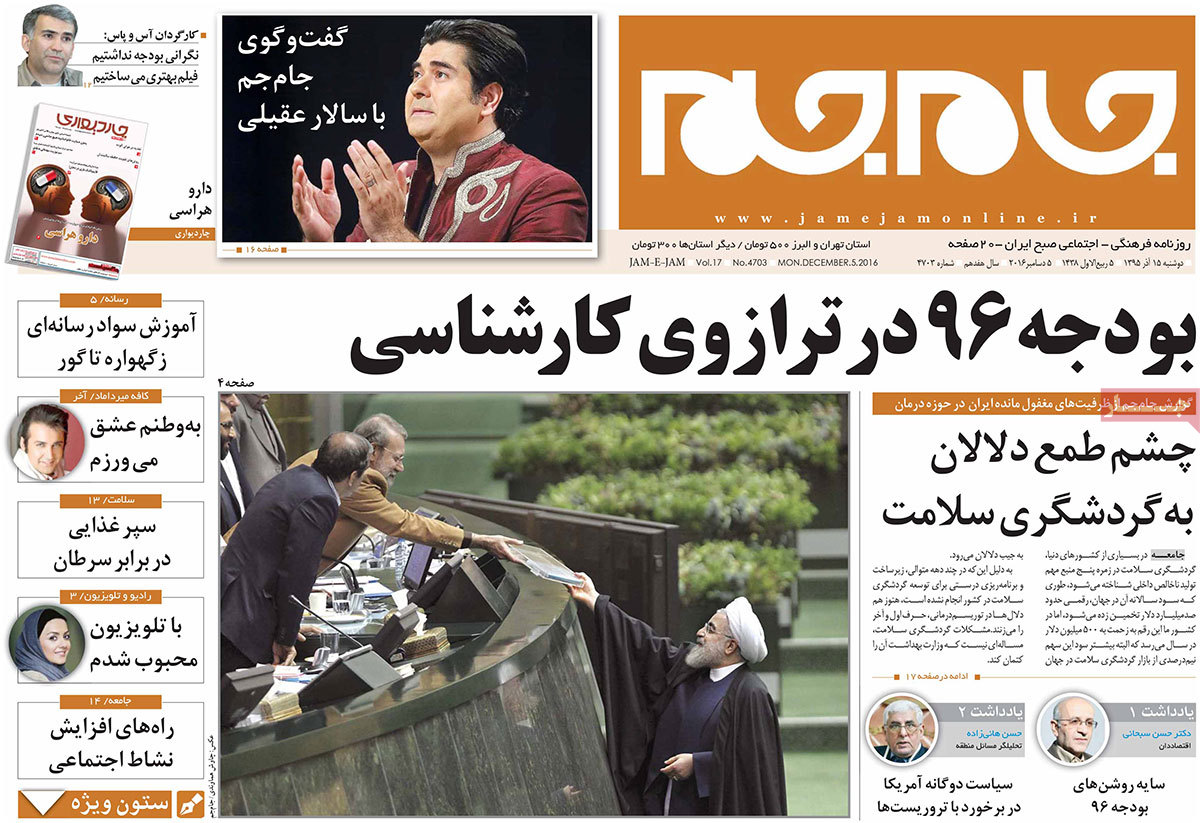 ---
Javan:
1- Rouhani: I Explicitly Announce Implementation of US Congress' Bill Is Clear Violation of JCPOA and Will Receive Iran's Strong Reaction
2- Larijani to Irreverent MP: Insulting Is Not Part of Freedom of Speech
3- Greater Presence of Oil Income in Rouhani's Last Proposed Budget
---
Jomhouri Eslami:
1- 264 MPs Urge Iran's Retaliation in Reaction to US
2- Syrian Army Invites Aleppo Residents to Return Home
3- Iran and Japan Sign Second Deal for €320m Finance of Petchem Industry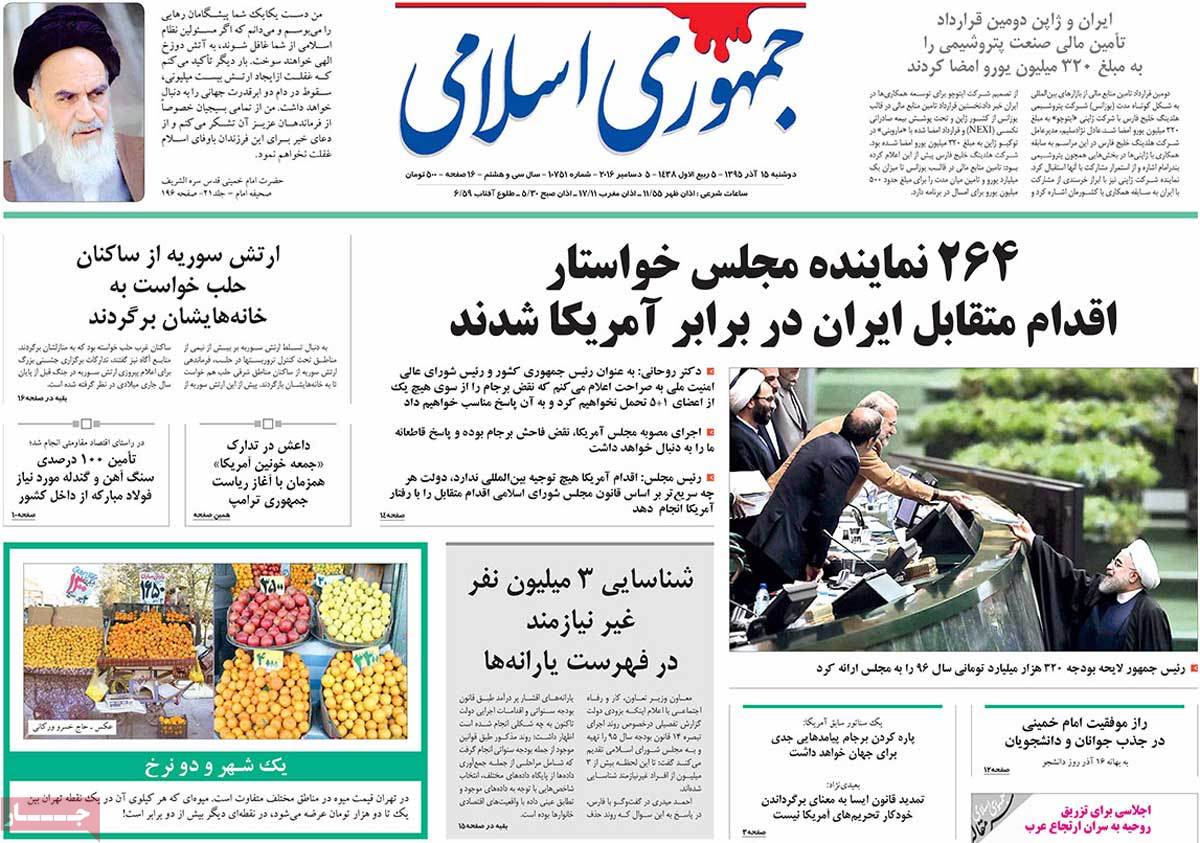 ---
Ka'enat:
1- Iran, Iran, Iran Are Three Concerns of Pentagon: Trump's Defence Minister Says Iran Is Main Barrier to Stability in Middle East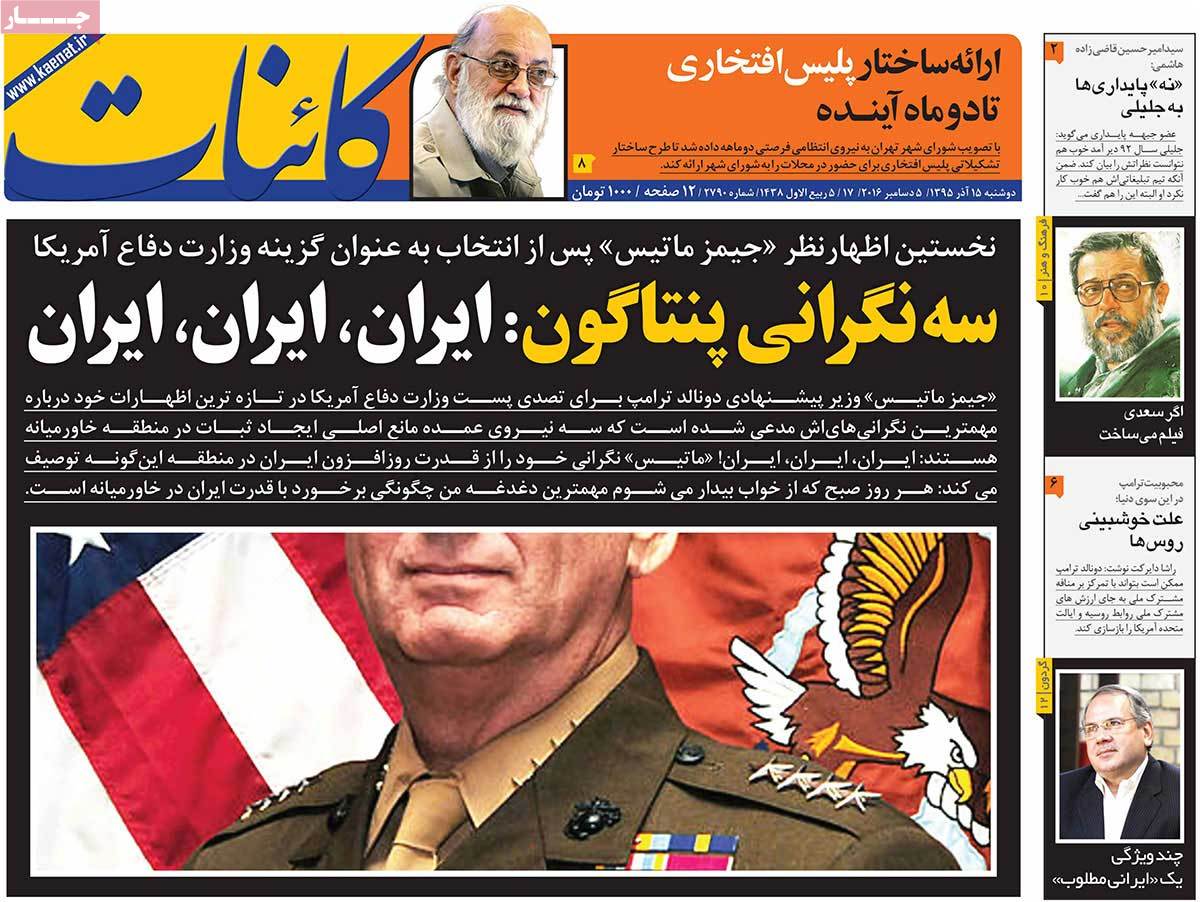 ---
Kayhan:
1- 18% Growth in Iran's Export of Agriproducts in Past 7 Months
2- Parliament Speaker in Reaction to Mahmoud Sadeqi's Controversial Remarks: Insulting Others Is Not Freedom of Speech; You Were Aware that Judiciary Chief's Bank Accounts Were Not Personal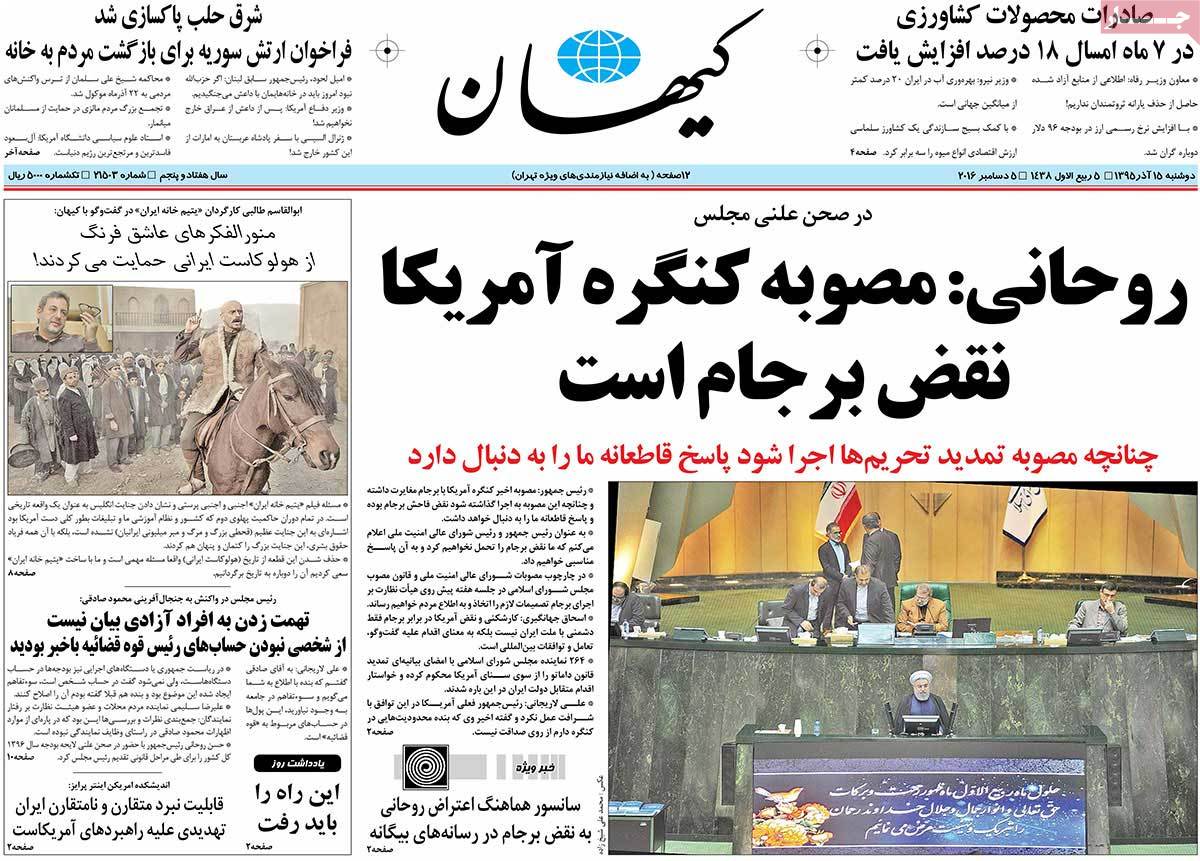 ---
Payam-e Zaman:
1- Financial Transparency and Fighting Administrative Corruption in Next Year's Budget: President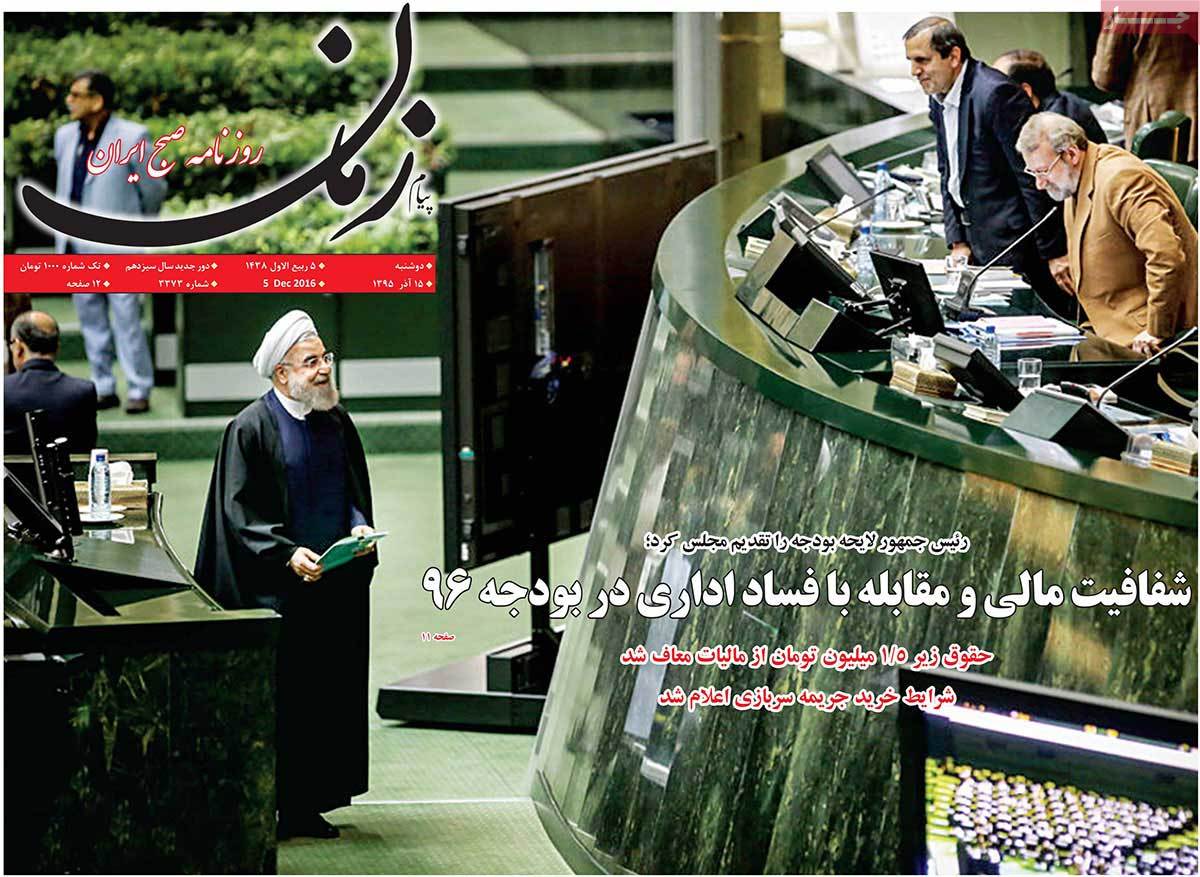 ---
Sayeh:
1- 20th Century Dracula Waiting for Fresh Blood: Horrible Statistics of Children's Development of AIDS
2- 40,000 Disabled Persons Added to Iran's Disabled Population Each Year: Parliament's Social Commission Chairman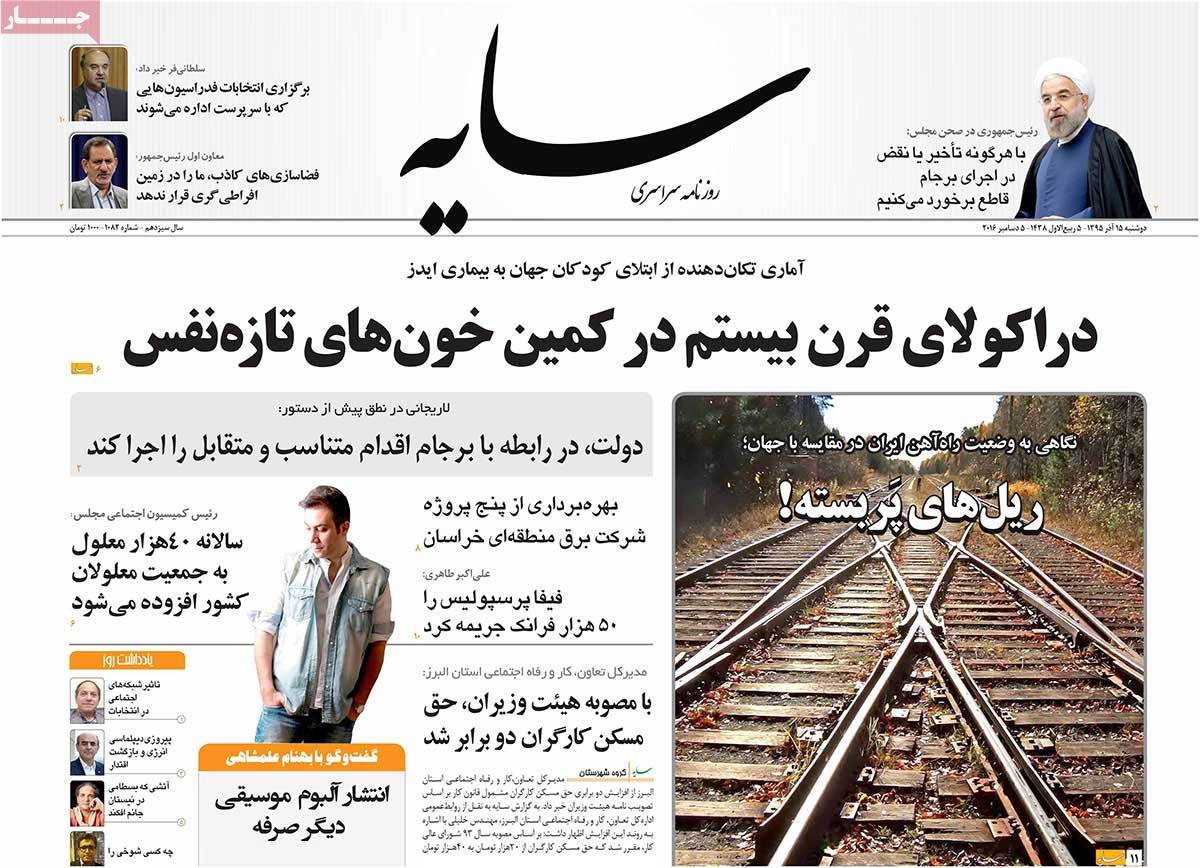 ---
Shargh:
1- End of Imaginary Budgets: Rouhani's Proposed Budget Is Based on Realities
2- Zarif's Talks behind Wall of China
3- Islamic Establishment's Sanctity Does Not Mean It Can't Be Criticized: Outspoken MP Motahari