Newspapers today covered the recent diplomatic row between the US and Russia, which started with the White House's decision to expel a number of Russian diplomats.
The US Secretary of State John Kerry's remarks against the Israeli regime and its Prime Minister Benjamin Netanyahu also received great coverage.
An article by Iranian Foreign Minister Mohammad Javad Zarif about the ways to end the Syrian war was also among the top stories today.
The above issues, as well as many more, are highlighted in the following headlines:
19 Dey:
1- Adversaries of Iran and Russia Confounded: Financial Times
2- Kerry's Clash with Netanyahu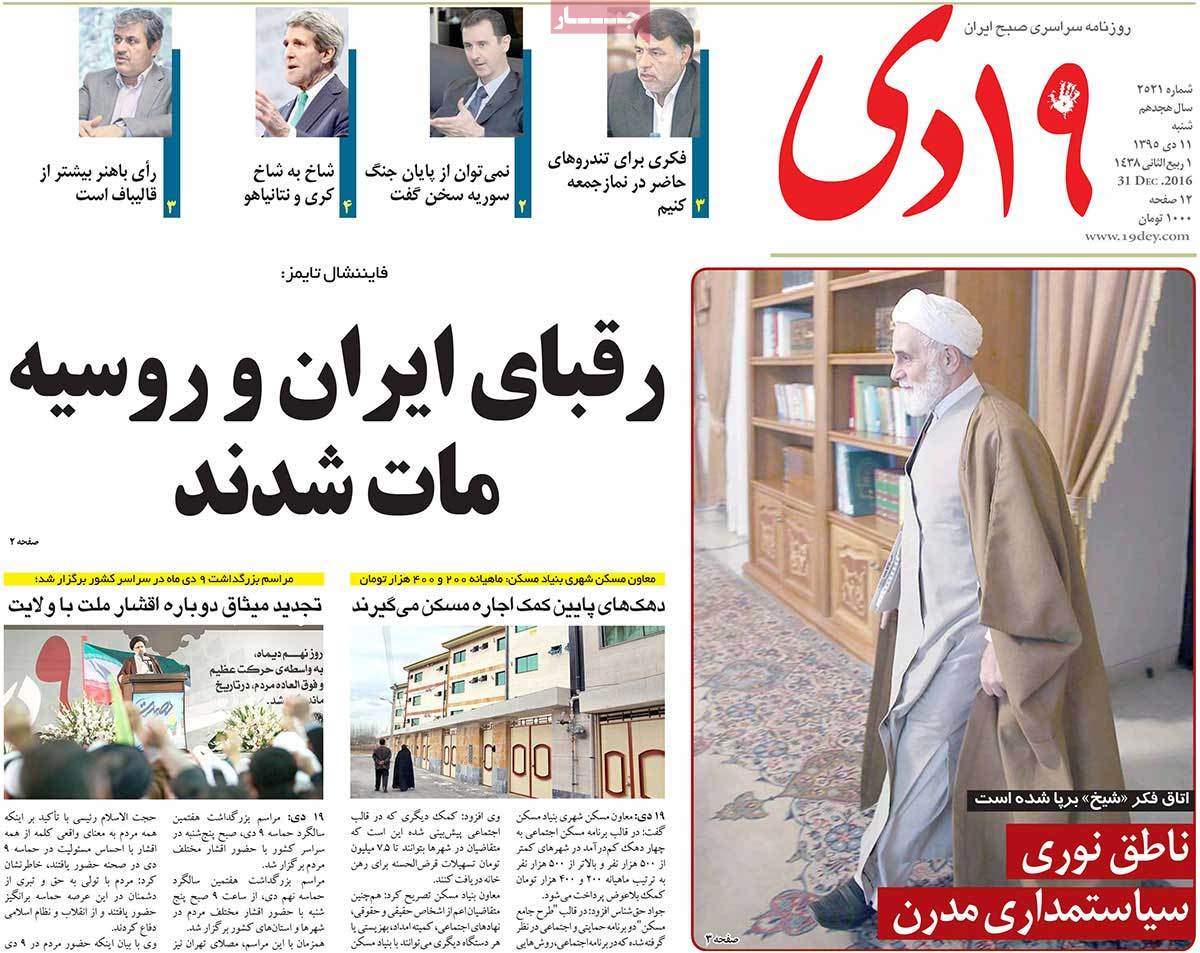 ---
Abrar:
1- Trump to Veto Anti-Russia Sanctions
2- Saudi Arabia Invites Iran for Discussion on Resumption of Hajj Pilgrimage Next Year
3- CNN: Kerry's Efforts to Clinch JCPOA Were Decisive
4- Oman to Join Saudi-Led Military Coalition: Saudi News Agency
---
Abrar-e Eqtesadi:
1- MoU Signed on Iran-Russia Economic Cooperation
2- France Biggest European Customer of Iranian Products
3- South Korean Industrial Giant's Refinery Cooperation with Iran
4- MoU Signed for Development of Iran-Serbia Cooperation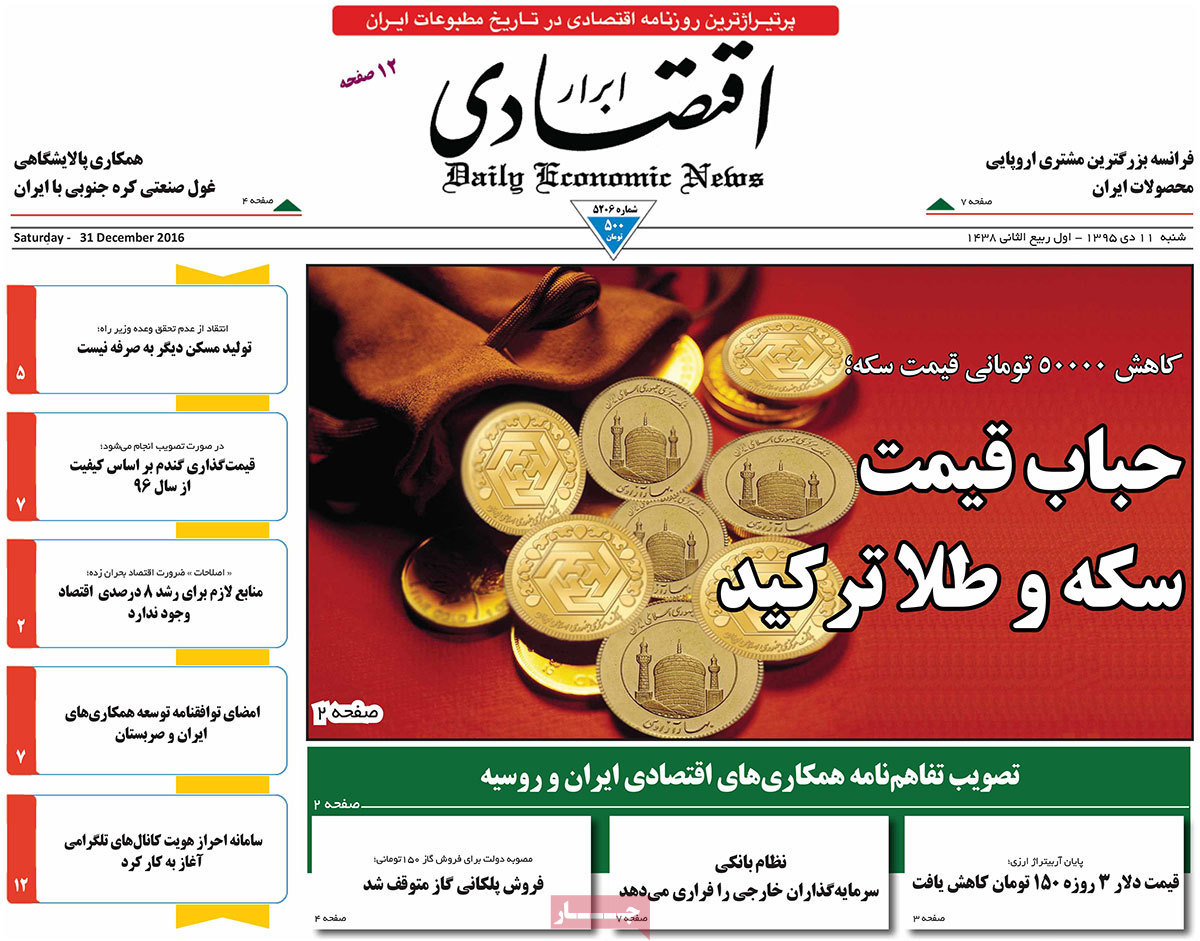 ---
Afkar:
1- Ceasefire in Syria, Washington's Submission to Iran and Russia
2- Turkmens' Excessive Demands Prevent Gas Deal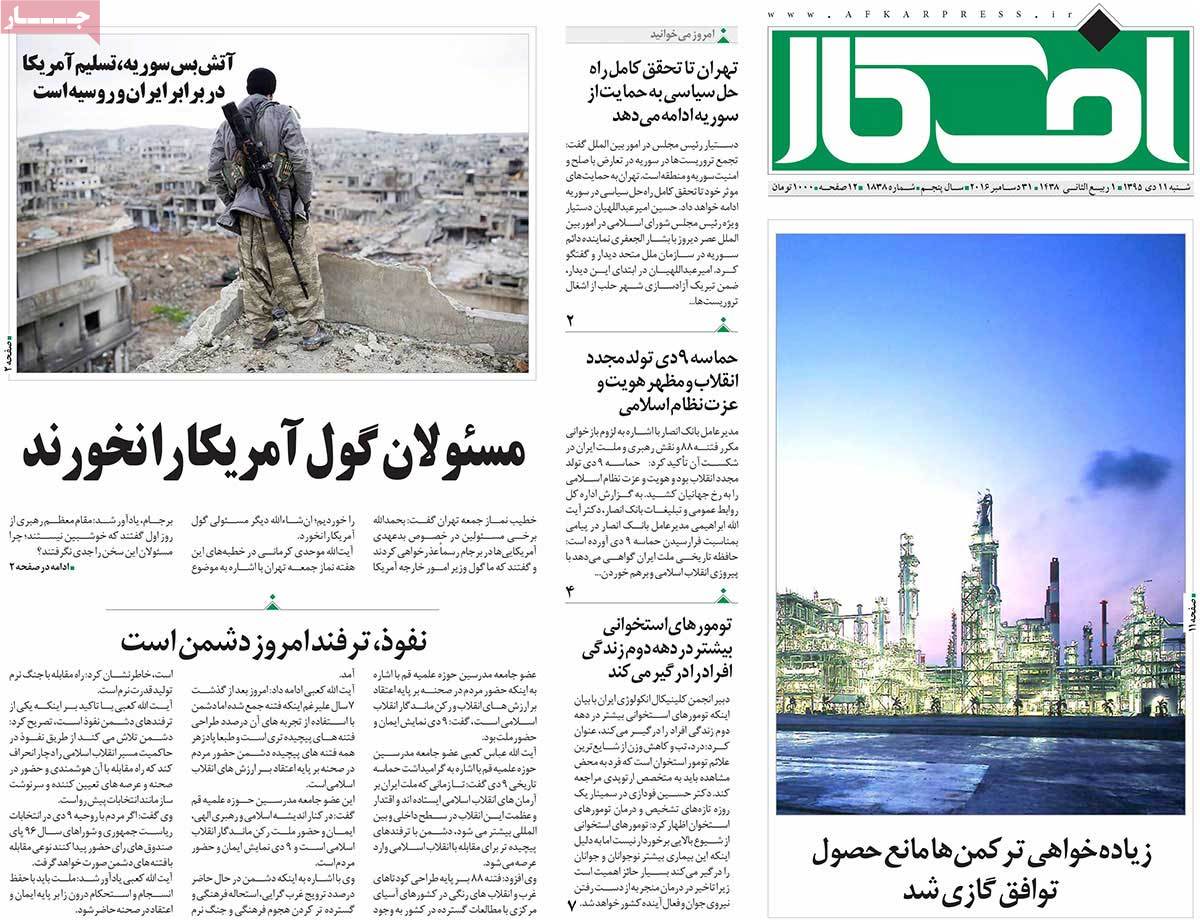 ---
Aftab-e Yazd:
1- Misery of Iranian Refugees in Germany: Extensive Presence of African and Syrian Asylum-Seekers in Europe Has Made Troubles for Iranians
2- US Harsh Diplomacy, Russia's Calm Diplomacy: 25 Russian Diplomats Expelled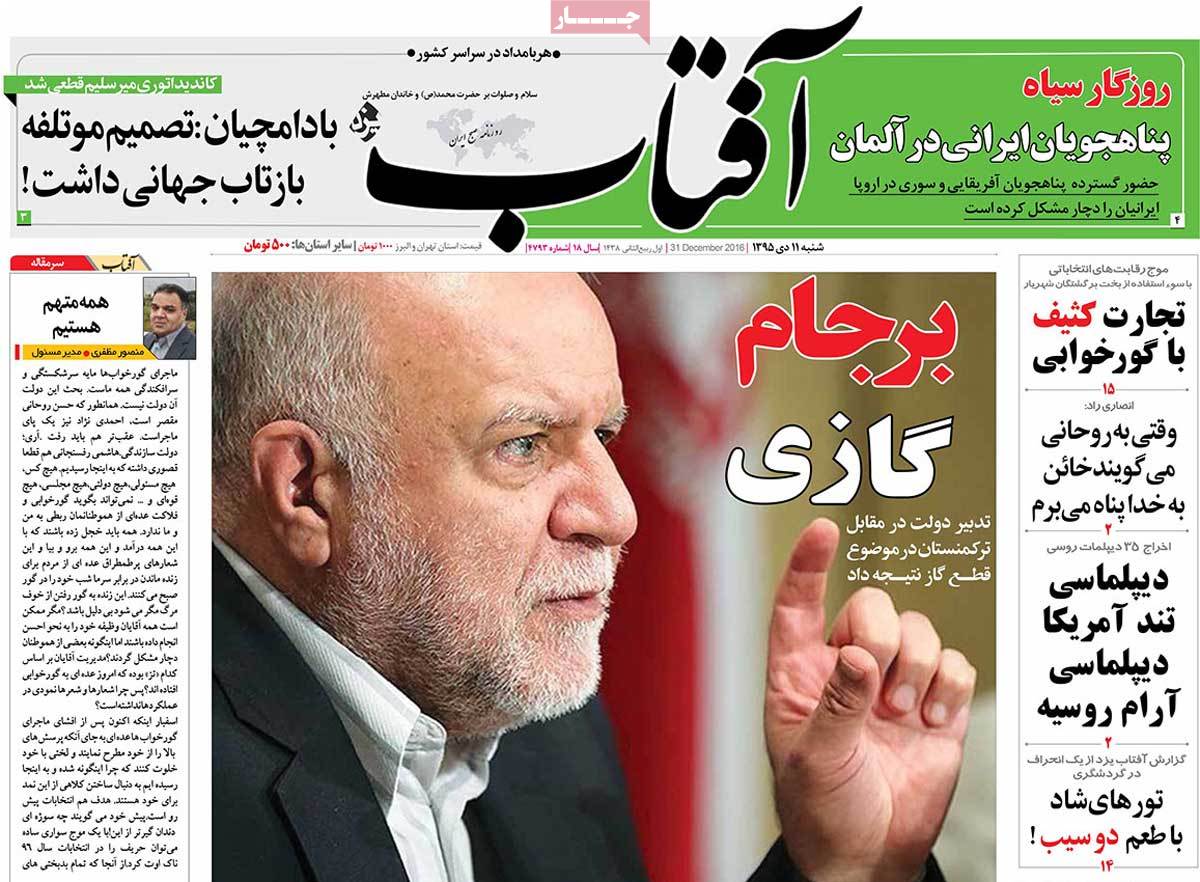 ---
Arman-e Emrooz:
1- Reformist Figure: Rouhani Faced with an Organised Radical Movement; Rouhani's Conditions More Difficult than Khatami's Era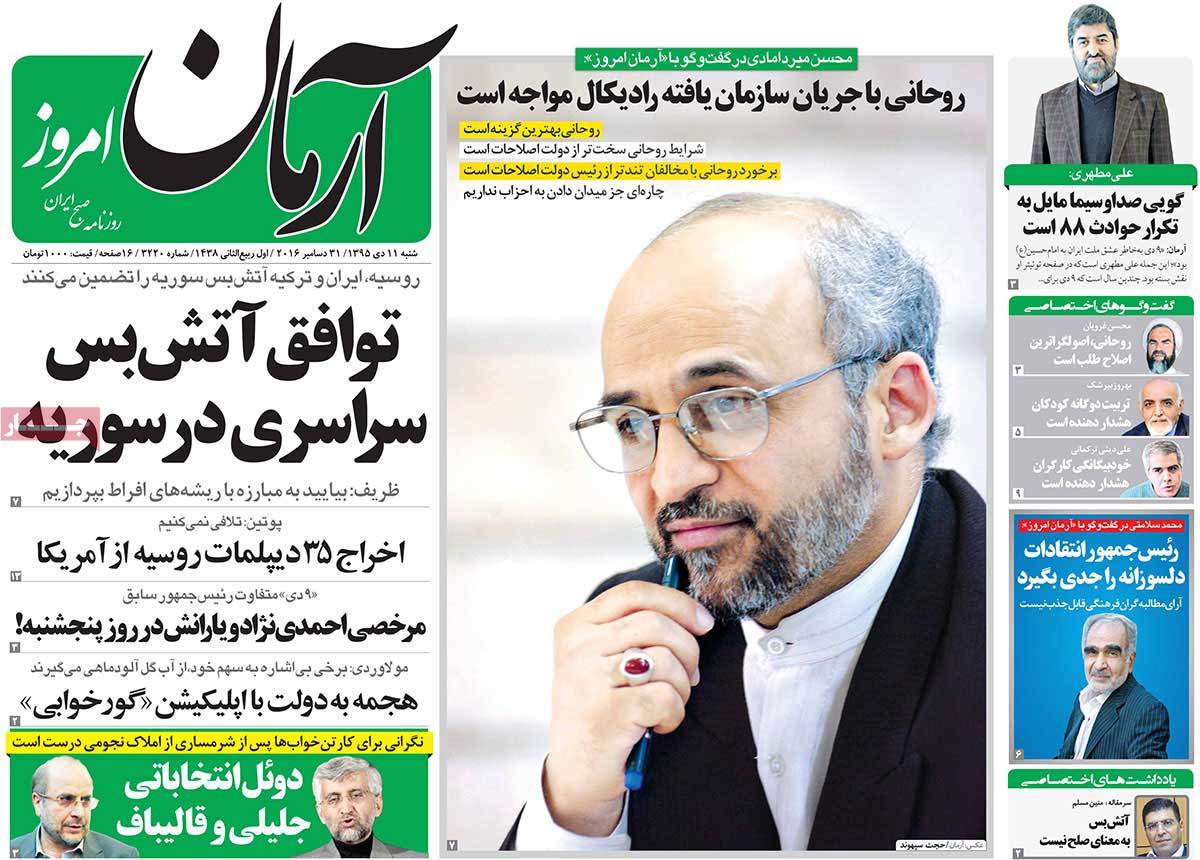 ---
Asrar:
1- Putin: I Won't Reciprocate Washington's Move [to Expel 35 Russian Diplomats]
2- Zarif: There's Always a Way to Reach an Agreement
3- Beginning of Comprehensive Ceasefire in Syria
4- Yonhap: Daewoo to Construct Ship-Building Factory in Iran
5- Pakistani Foreign Ministry Spokesman: Airstrike on Iranian Ship with Pakistani Crew in Yemeni Waters Cannot Be Confirmed
---
Besharat-e Now:
1- Mostafa Mirsalim Selected as Major Conservative Party's Candidate for Upcoming Presidential Elections
2- Erdogan's Crackdown on Media: Reporters Arrested as a Move to Hide Facts
3- Watching TV Causes Early Death, Spend Fewer Hours Watching It
---
Ebtekar:
1- Putin Avoids Reciprocal Action to Maintain Ties with Trump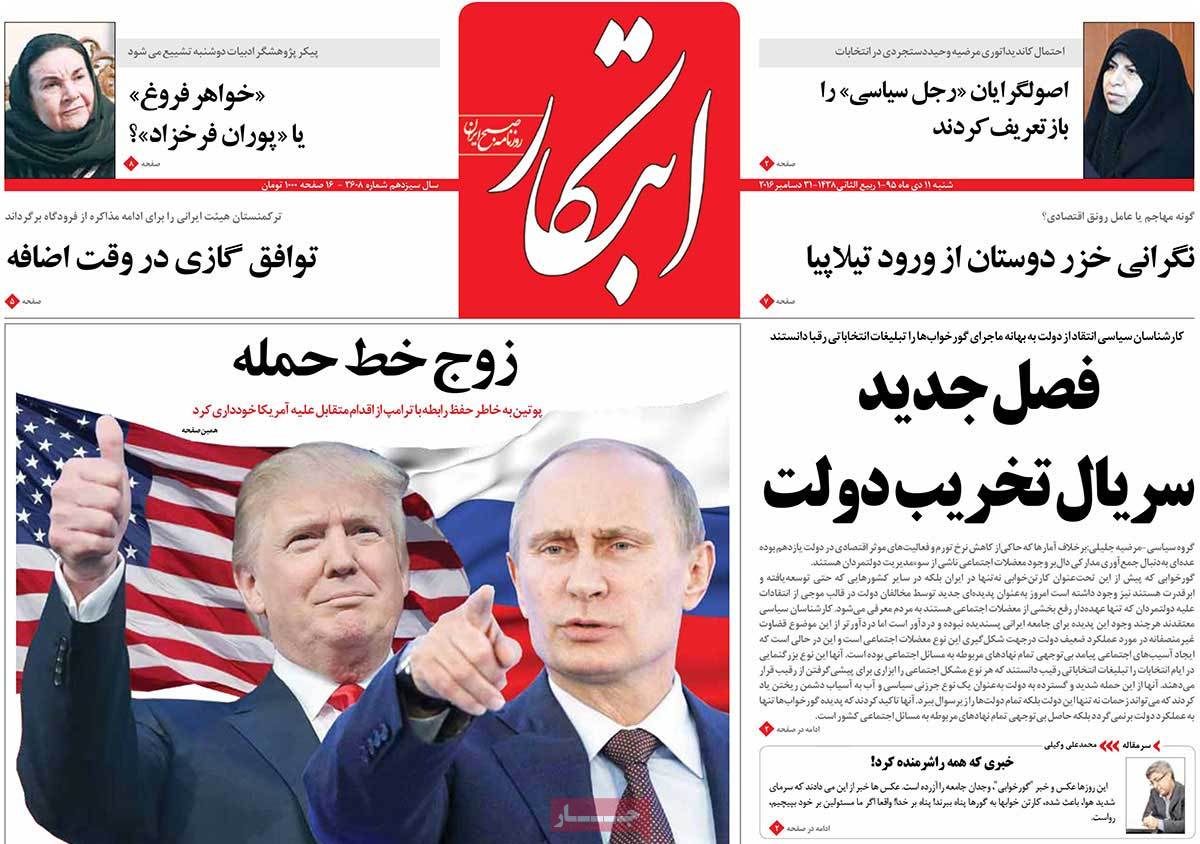 ---
Etemad:
1- Cold War between Obama and Putin: US Expels 35 Russian Diplomats, Putin Sent the Message He'll Wait for Trump
2- Transport Minister: In Case of Airbus and Boeing's Unkind Behaviour, We'll Receive Compensation
---
Ettela'at:
1- Comprehensive Ceasefire in Syria
2- Israeli PM Prosecuted for Financial Corruption
3- Tensions Mounting between Moscow and Washington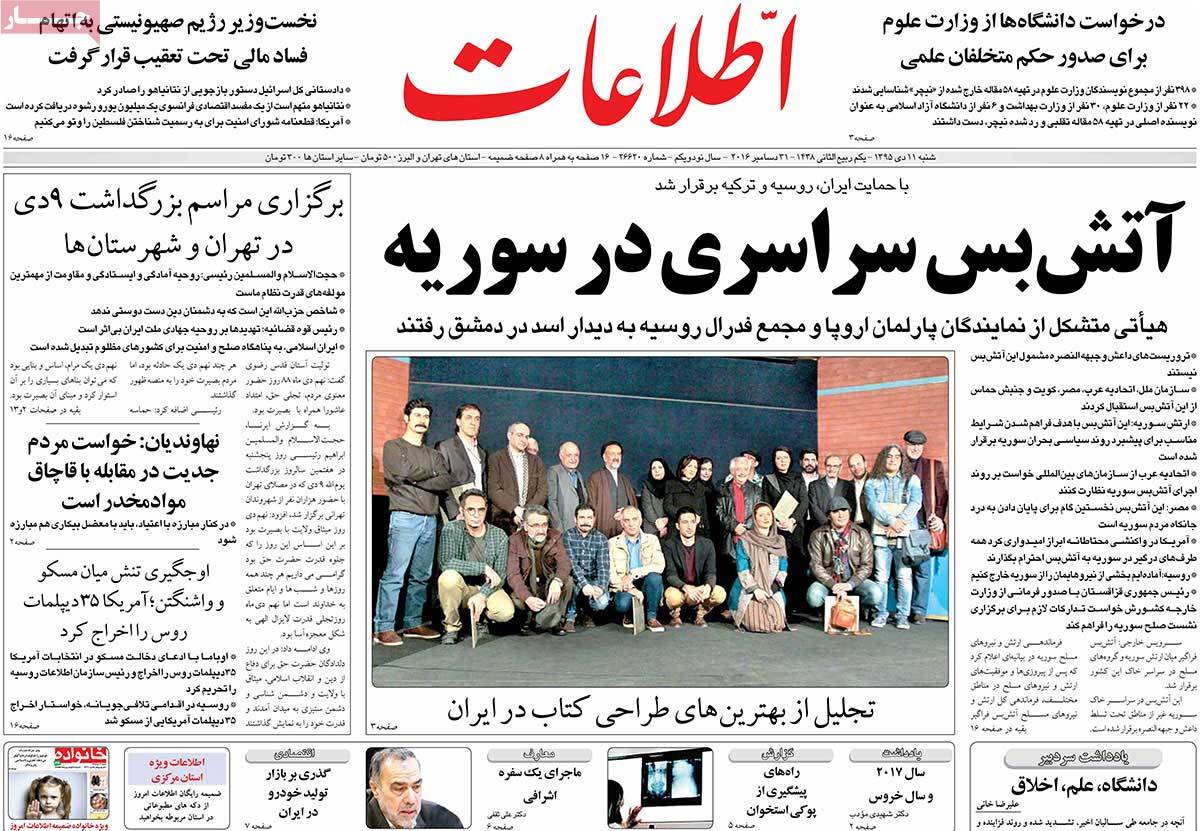 ---
Haft-e Sobh:
1- Major Changes in Middle East
Saudi Arabia Invites Iran for Hajj Talks
Iran, Russia, and Turkey Start Comprehensive Ceasefire in Syria
US Ties with Israel and Russia Soured
Oman Leaning towards Saudi Arabia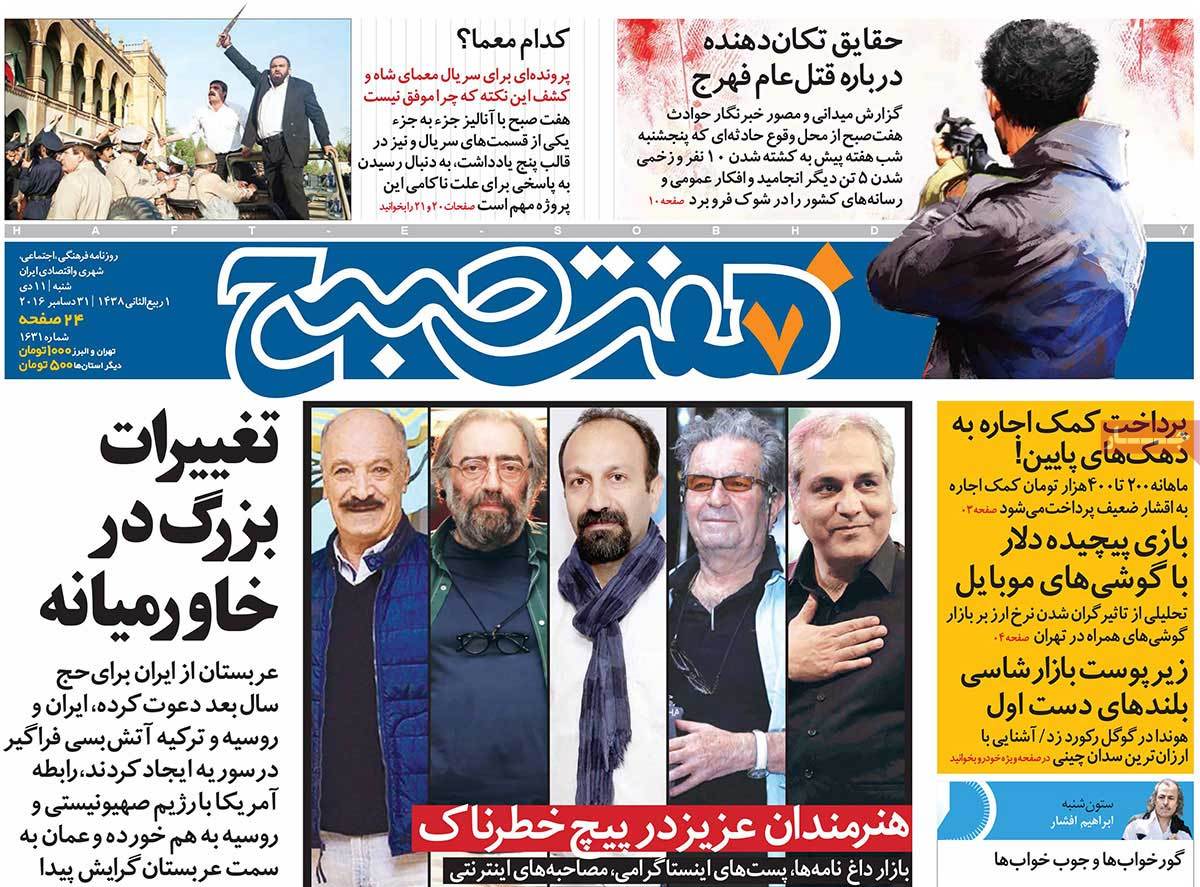 ---
Iran:
1- President Rouhani's Chief of Staff Nahavandian and Labour Minister Rabi'ei Visit the Rehab Centre Taking Care of Junkies Who Used to Live inside Grave
Nahavandian: Drug Addicts Will Be Transferred to Baharan Centre [a place for socially-harmed people] after Learning Skills
2- Assad's Government and Armed Dissidents Sign Agreement Thanks to Iran, Russia, and Turkey's Mediation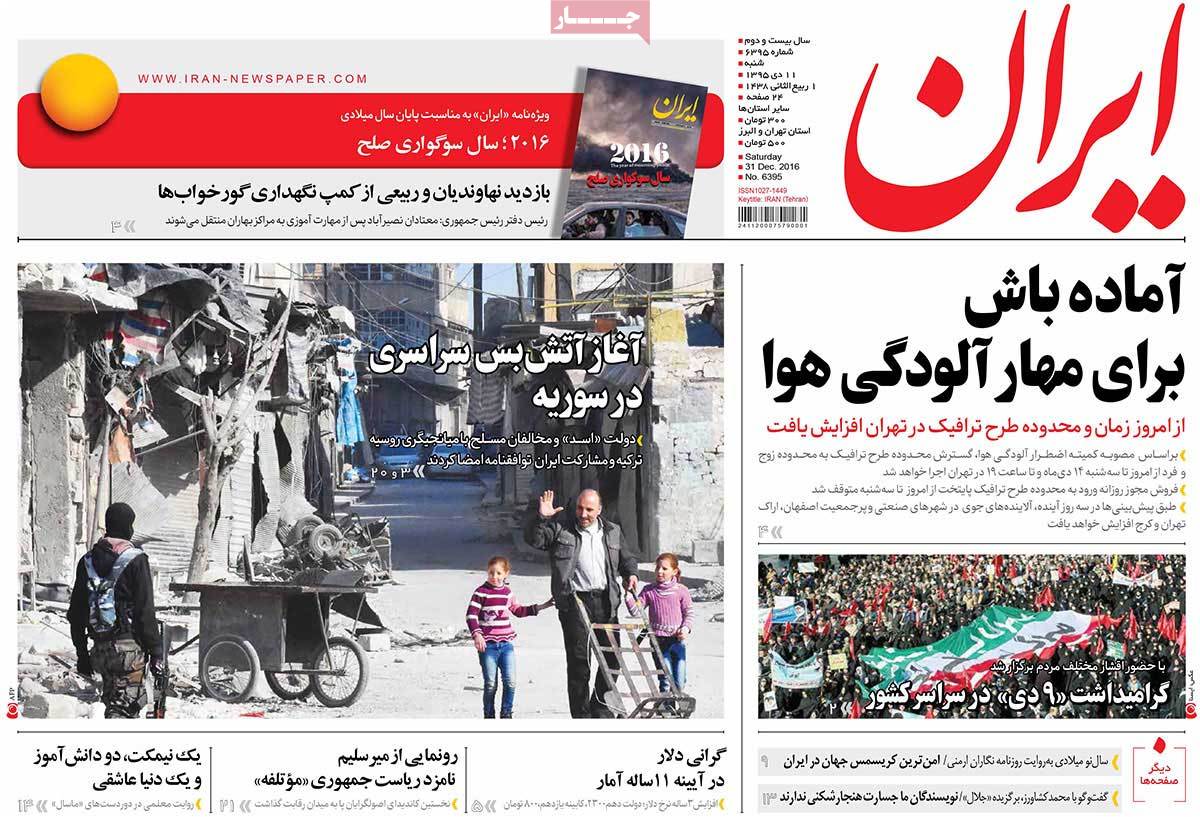 ---
Jame Jam:
1- Cold Diplomatic War Becoming Warm: White House's Threatens Kremlin by Expelling Russian Diplomats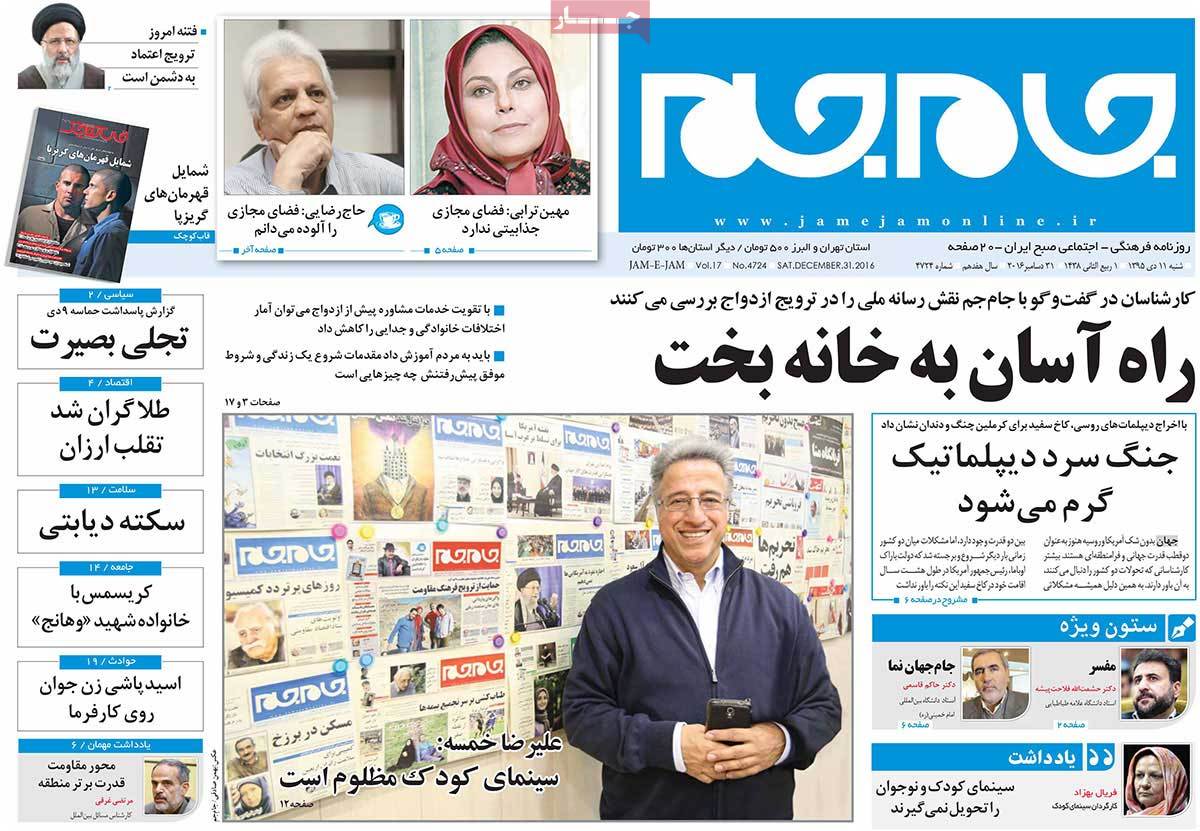 ---
Javan:
1- Father-Child Tensions between US and Israel
2- Pro-Government Economists: Government Is behind Recent Surge in Dollar Rates
3- Obama's Last-Minute Blow to Putin-Trump Honeymoon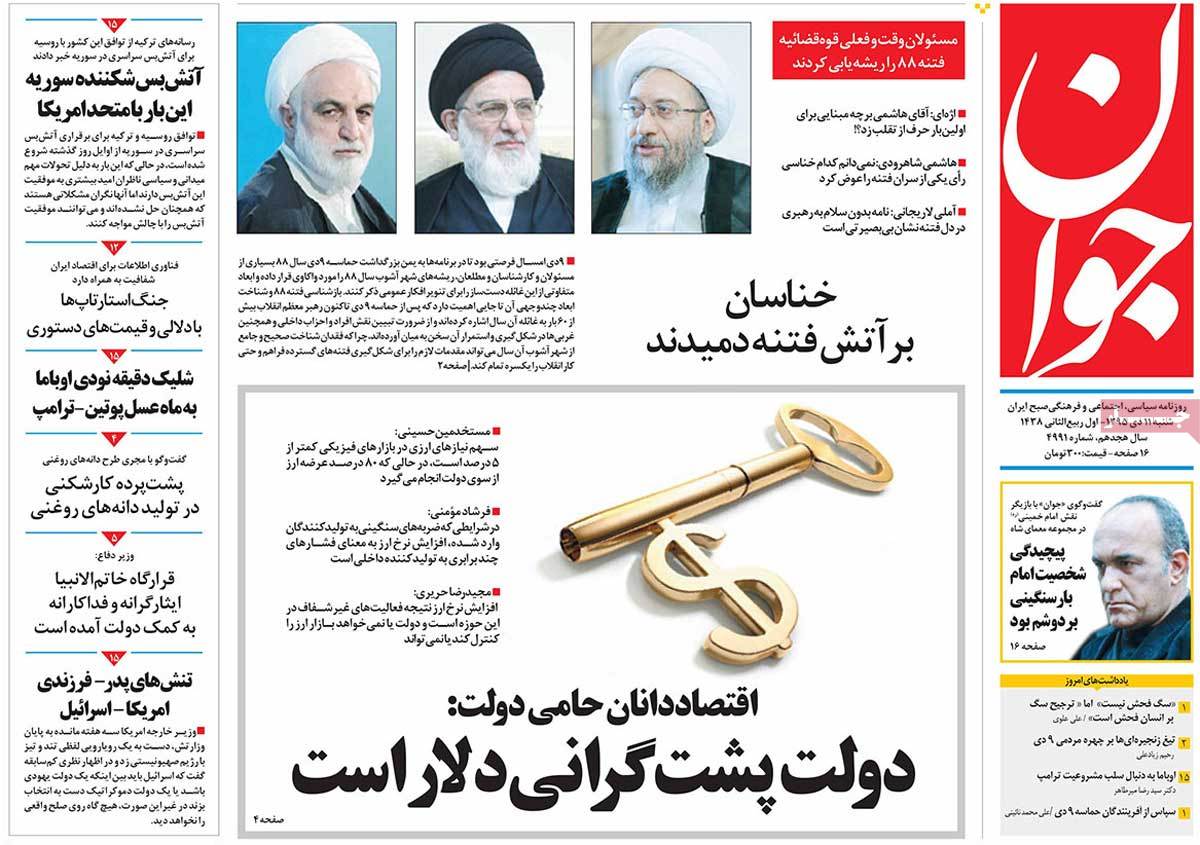 ---
Jomhouri Eslami:
1- Beginning of a New Stage to End Syrian War through Comprehensive Ceasefire
2- Egyptian People Angered by Ratification of a Bill to Give Two Islands to Saudi Arabia
3- Bahraini People Set Fire on Israeli Flag
4- US Secretary of State's Unprecedented Criticism of Zionist Regime of Israel: Kerry Says Netanyahu's Cabinet Is the Most Rightist Cabinet in History and Most Radical People Are Working in His Administration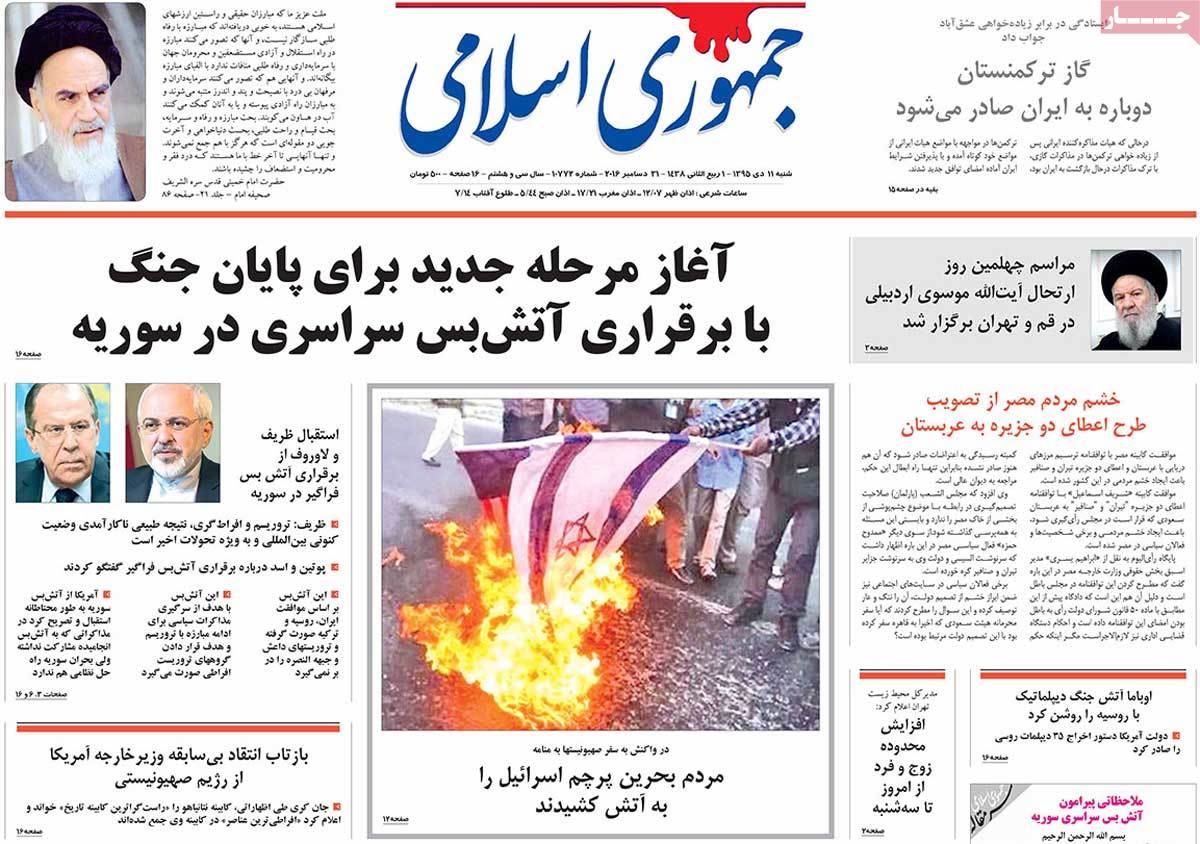 ---
Ka'enat:
1- Final Destruction: Kremlin Says in a Statement Washington Seeks to Destroy US-Russia Ties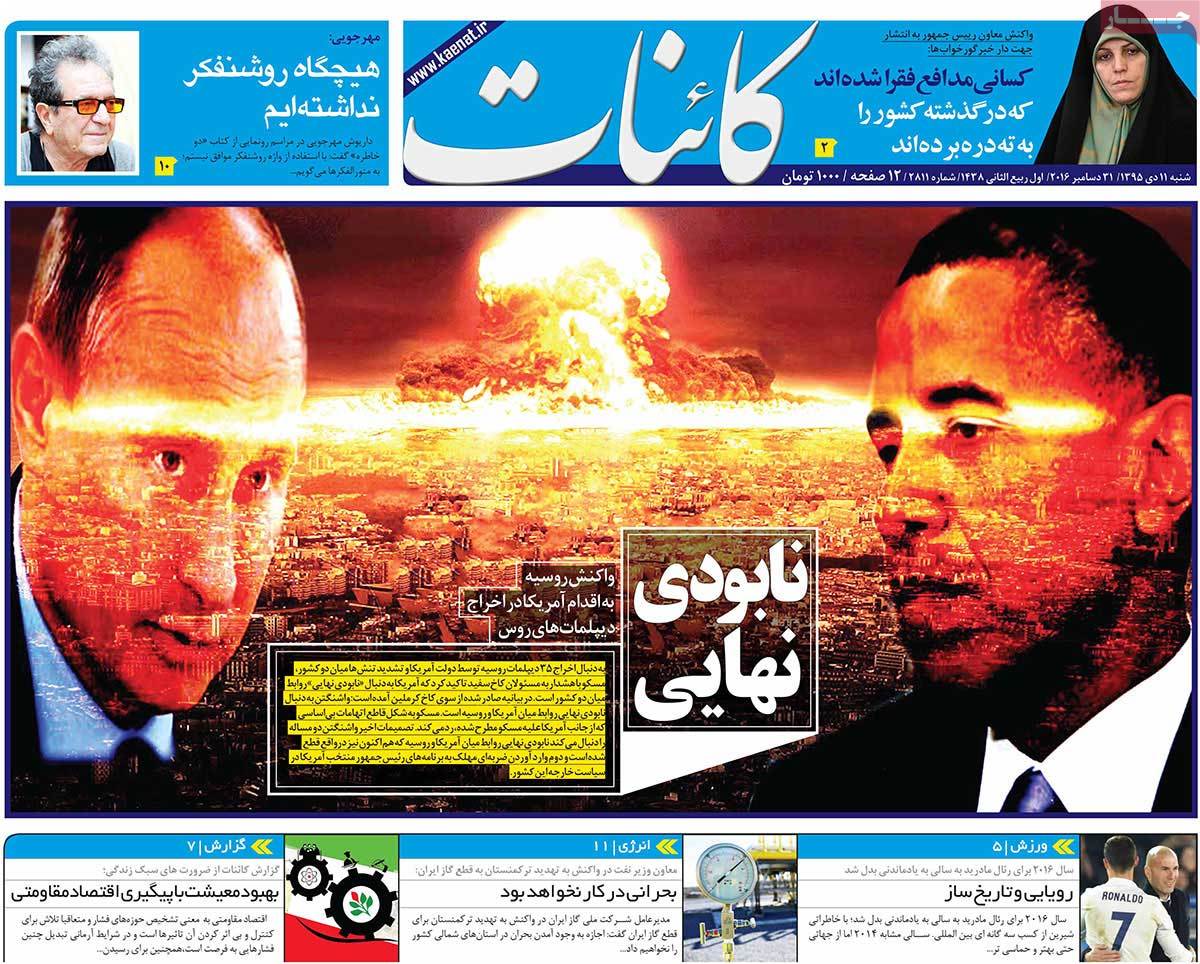 ---
Kayhan:
1- JCPOA Was Not without Any Achievement: Iran's National Currency Value Decreased by 17%!
2- All-Out Diplomatic War between Russia and US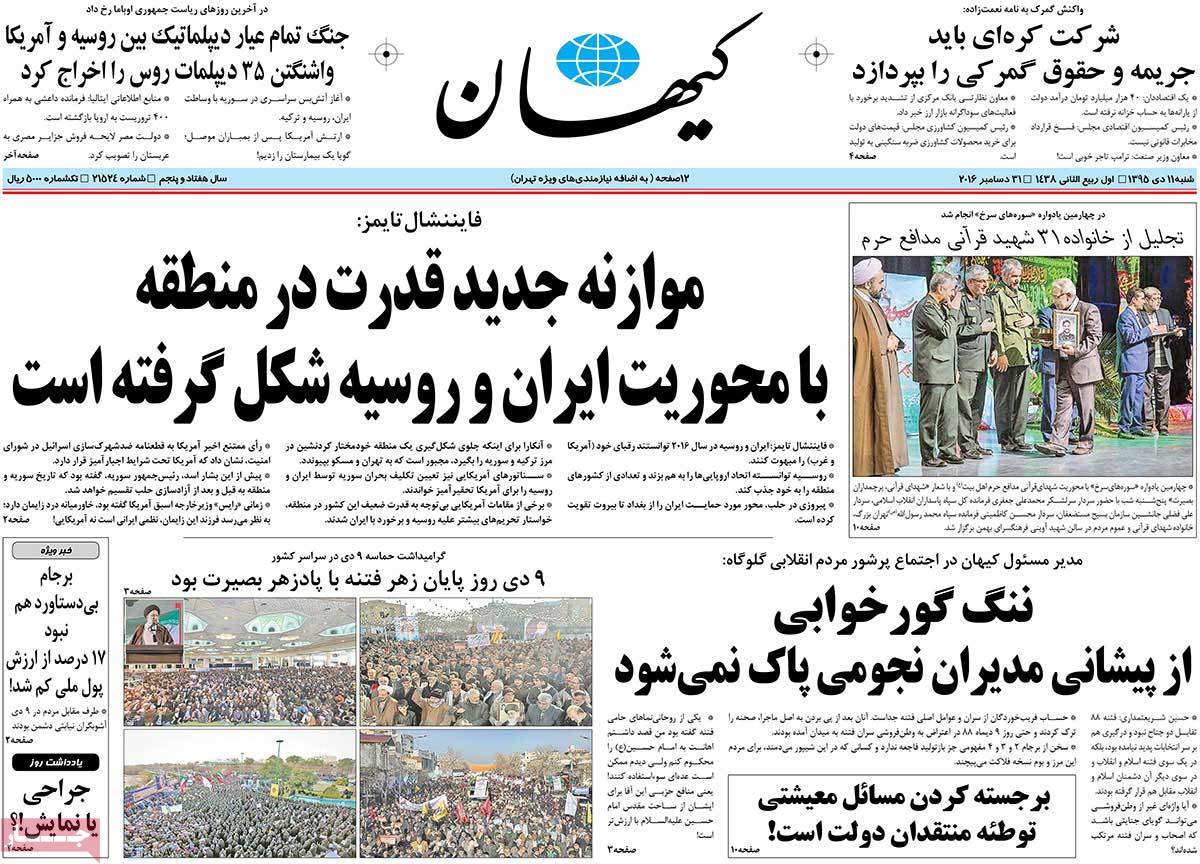 ---
Mardom Salari:
1- Interview with Narges Kalbasi, the Iranian Girl Who Wishes to Return to Iran
---
Shahrvand:
1- President Rouhani Gives Order to Follow Up Issue of Homeless People
2- Autopsy of Sleeping in Graves: An Article by Labour Minister Ali Rabi'ei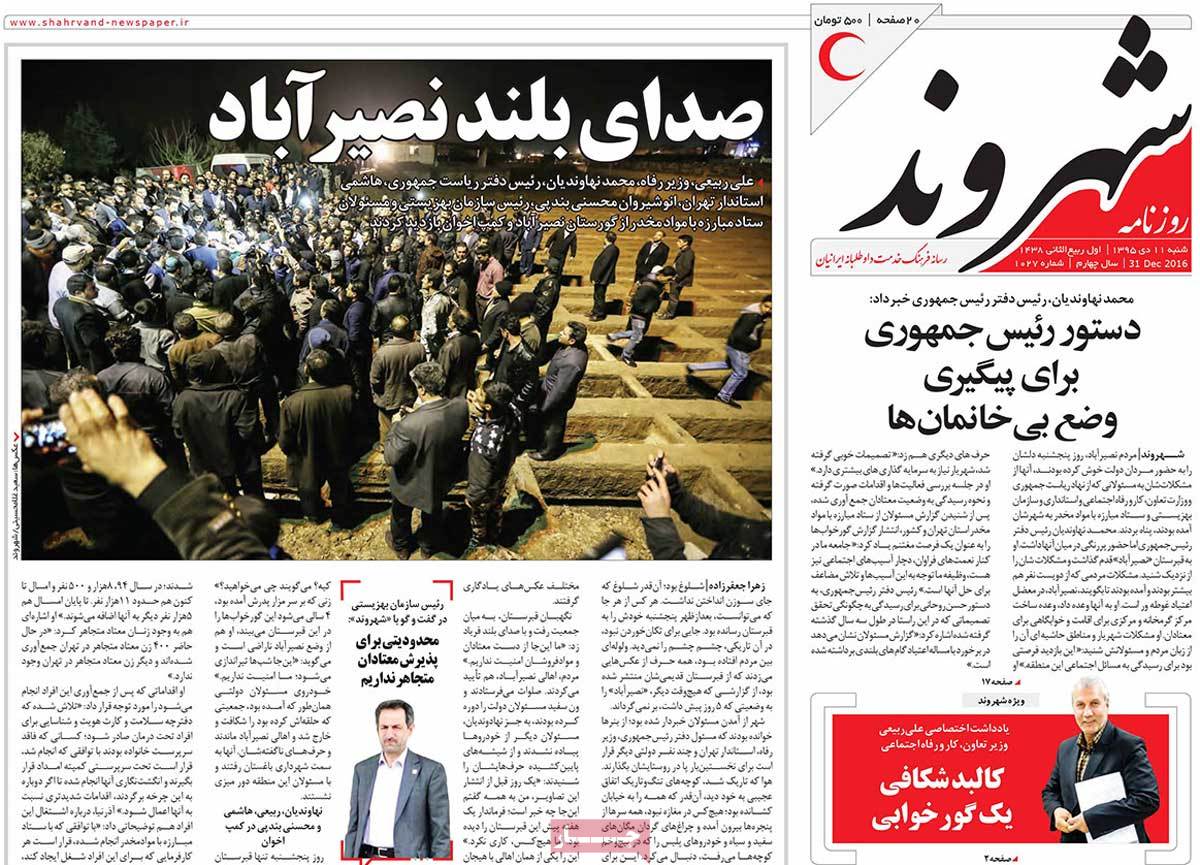 ---
Shargh:
1- Zarif's Article: Ways to Counter Terrorism and Political Violence in Iranian FM's View
2- Everyone vs. One [Editorial about Rouhani's government]