All newspapers on Sunday covered the message of condolence by the Leader of the Islamic Revolution Ayatollah Seyyed Ali Khamenei on the recent deadly train crash and the ISIS' attack on pilgrims in Iraq's Hilla.
The other top story today was the death of Cuban Revolution leader Fidel Castro who died at the age of 90.
The Iraqi Parliament's move to recognize Iraqi Popular Forces (Hashd al-Shaabi) also received great coverage today.
The above issues, as well as many more, are highlighted in the following headlines:
Abrar:
1- There Is No Security and Military Threat against Iran's Revolution: IRGC Commander
2- Death Toll of Train Collision in Iran's Semnan Increased to 45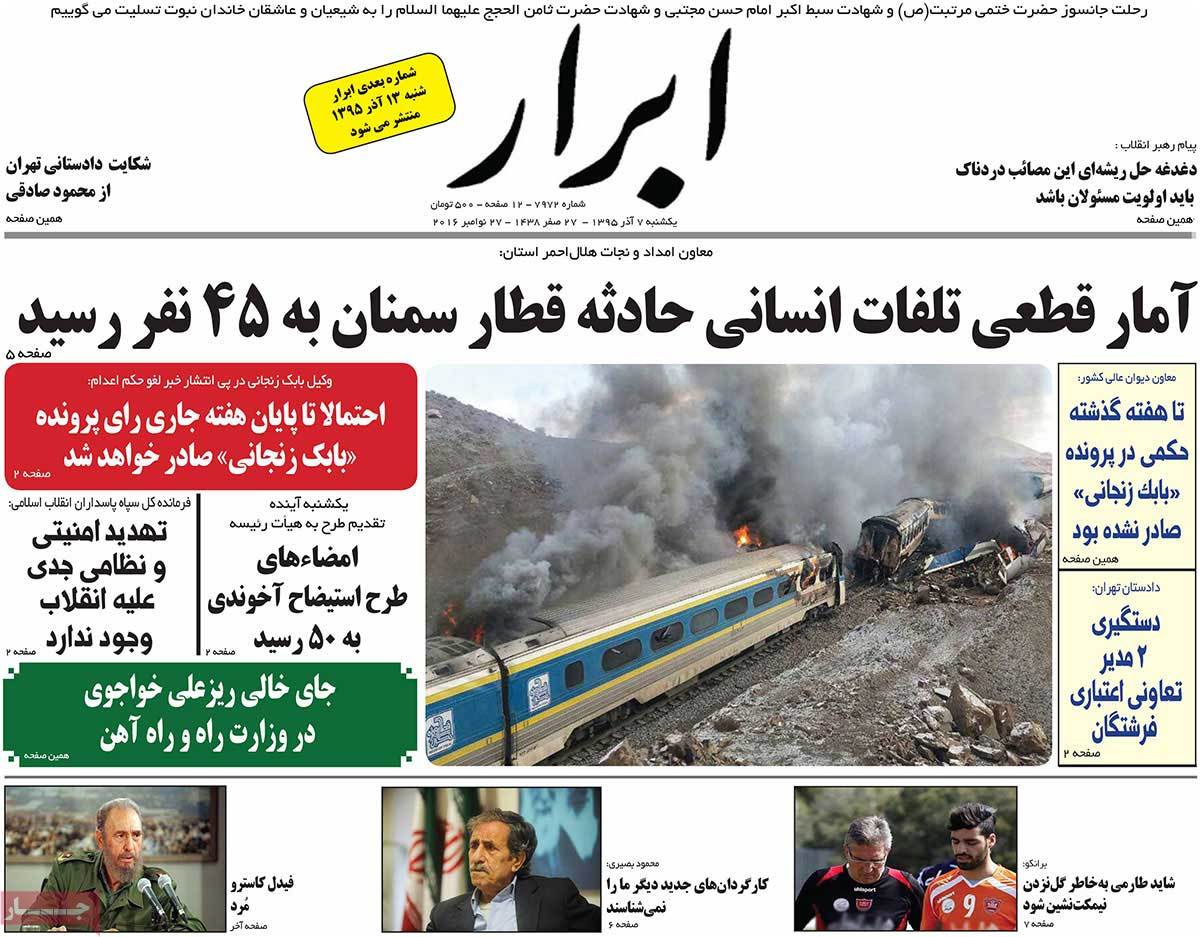 ---
Abrar-e Eqtesadi:
1- German Car Official Highlights Iran's Capacity for Manufacturing German Cars
2- Iran's 3% Share of Iraq's Agriculture Market
3- Iran Starts Cooperation with World Trade Organization
4- Spain to Build Petchem Complex in Iran
---
Afkar:
1- Iranian MPs May Impeach Transport Minister after Deadly Train Collision
2- IRGC Commander: Governments Should Move towards Free Health and Medical Services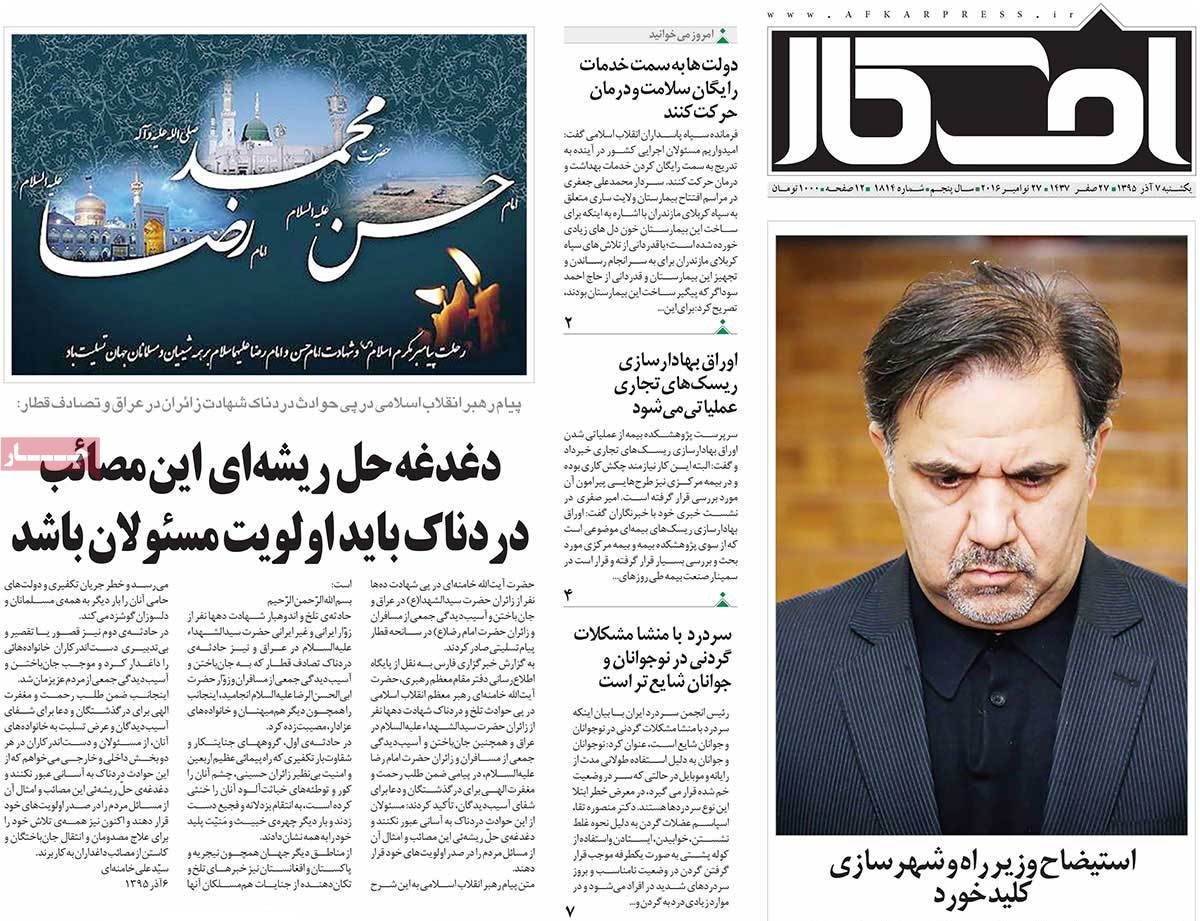 ---
Aftab-e Yazd:
1- Leader Urges Officials to Find Root Causes of Such Painful Incidents as Recent Train Crash and Hilla Attack
2- Political Abuse of People's Blood: Certain Conservative Media Take Strange Approaches towards Recent Train Collision
3- Three Individuals Arrested over Semnan Train Crash
4- Turkish FM Makes Surprise Visit to Iran: What Is Çavuşoğlu Doing in Tehran?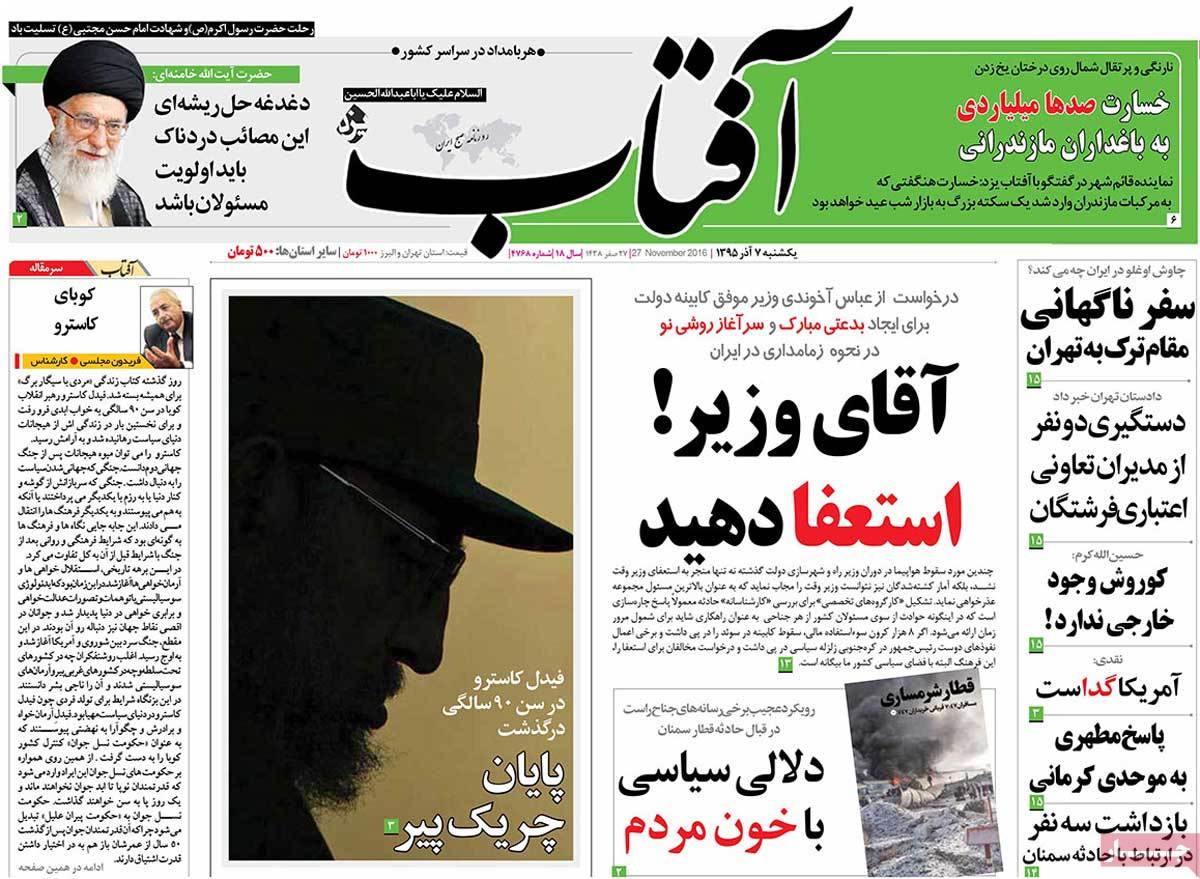 ---
Arman-e Emrooz:
1- Champion of Cuba Crosses the Finish Line; Iran's President: Death of Castro, the Relentless Struggler, Is a Source of Sorrow
---
Asrar:
1- Rouhani: Iran and Turkey Share Views on Major Regional Affairs
2- DM: We'll Let Russia Use Nojeh Airbase Again If Necessary
3- Suspects of Hilla Terrorist Attack Arrested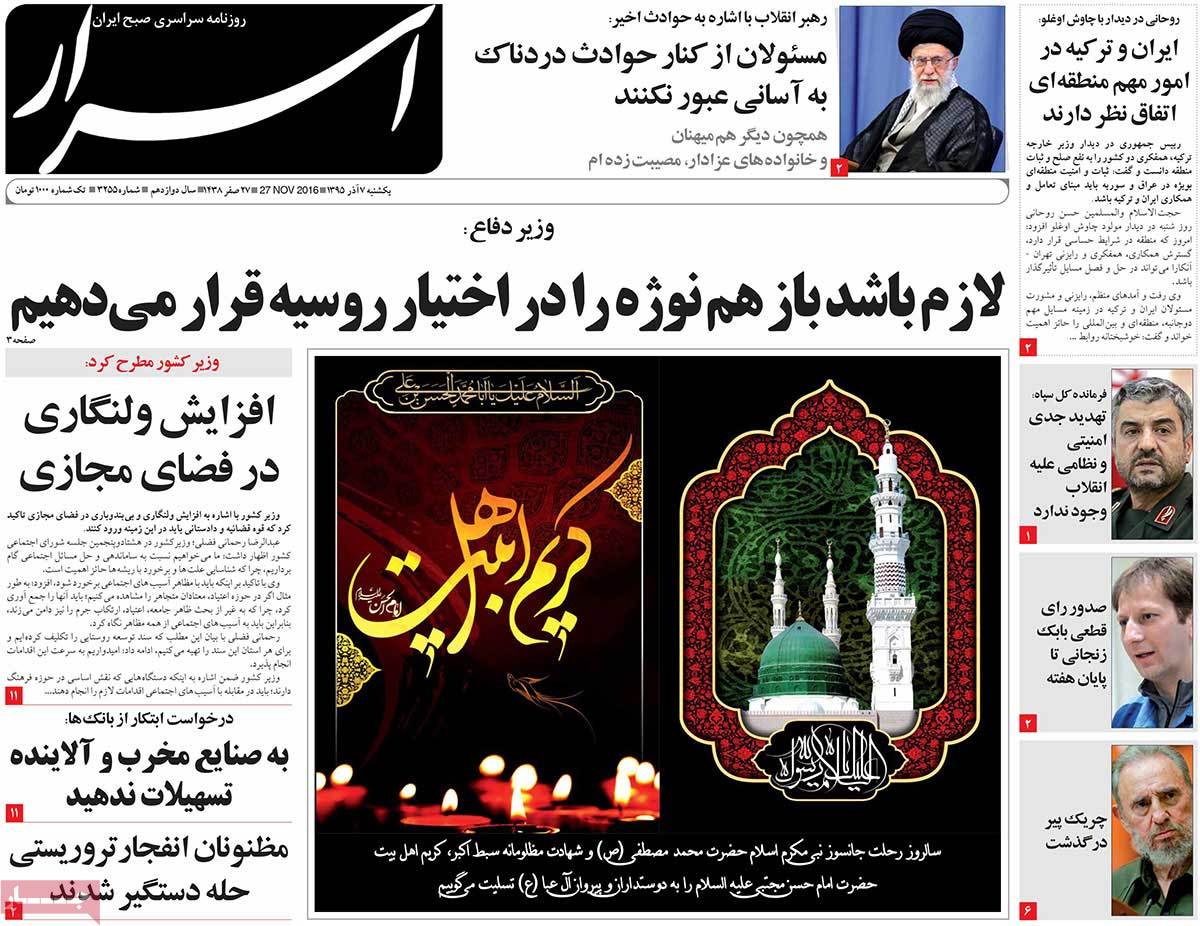 ---
Besharat-e Now:
1- Don't Show the Leader of Islamic Revolution as Someone Opposed with Freedom: Iran's Parliament Vice-Speaker Motahari Reacts to Senior Conservative Cleric's Remarks [who said Motahari should check his words with Ayatollah Khamenei before delivering speech]
2- Return of Populism to Iran Is Possible: Reformist Figure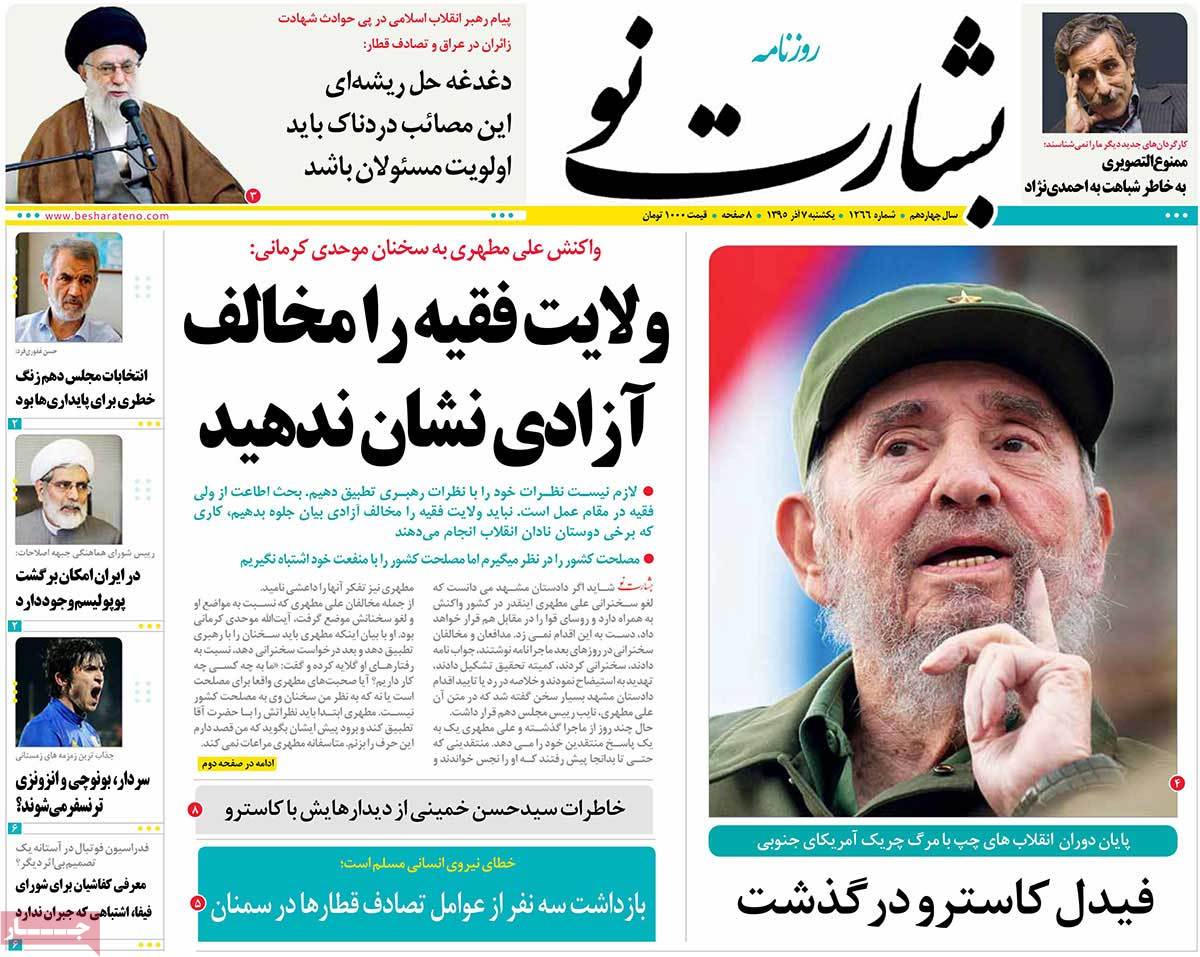 ---
Ebtekar:
1- Oil Freeze under Shadow of Trump's Election and Saudi Arabia's Opposition
2- Culture of Resignation? Political Experts Discuss the Way Officials React to Unfortunate Incidents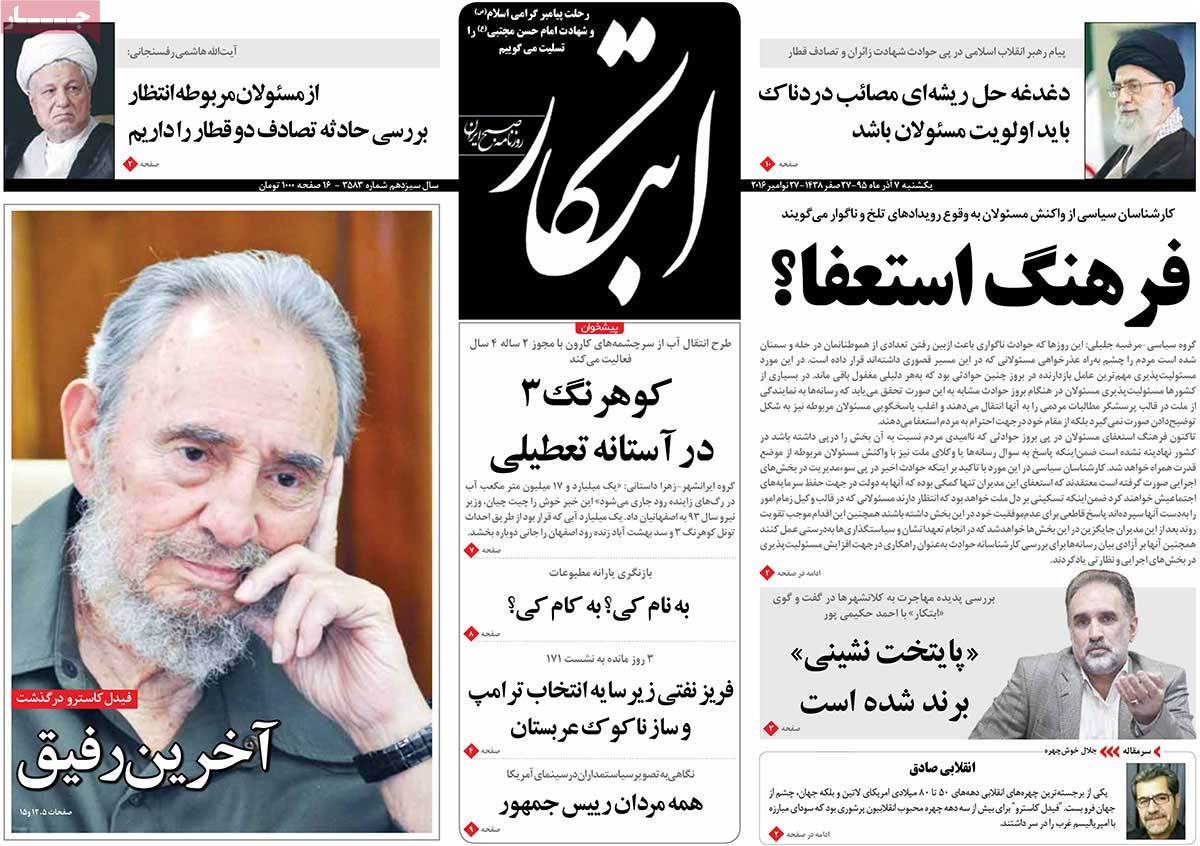 ---
Etemad:
1- A Report on Families of Those Killed in Train Crash and ISIS Attack on Pilgrims: Survivors Talk
2- After Train Collision, Head of Iran Railway Company Resigns on Live TV
3- Without a Commander: Analysis of Cuba with Fidel and Cuba without Castro
4- Algeria's Oil Pact for Tehran: Algerian Oil Minister Arrives in Tehran for Talks on Oil Freeze
5- Political-Security Party in Tehran: Turkish FM and Security Chief Come to Tehran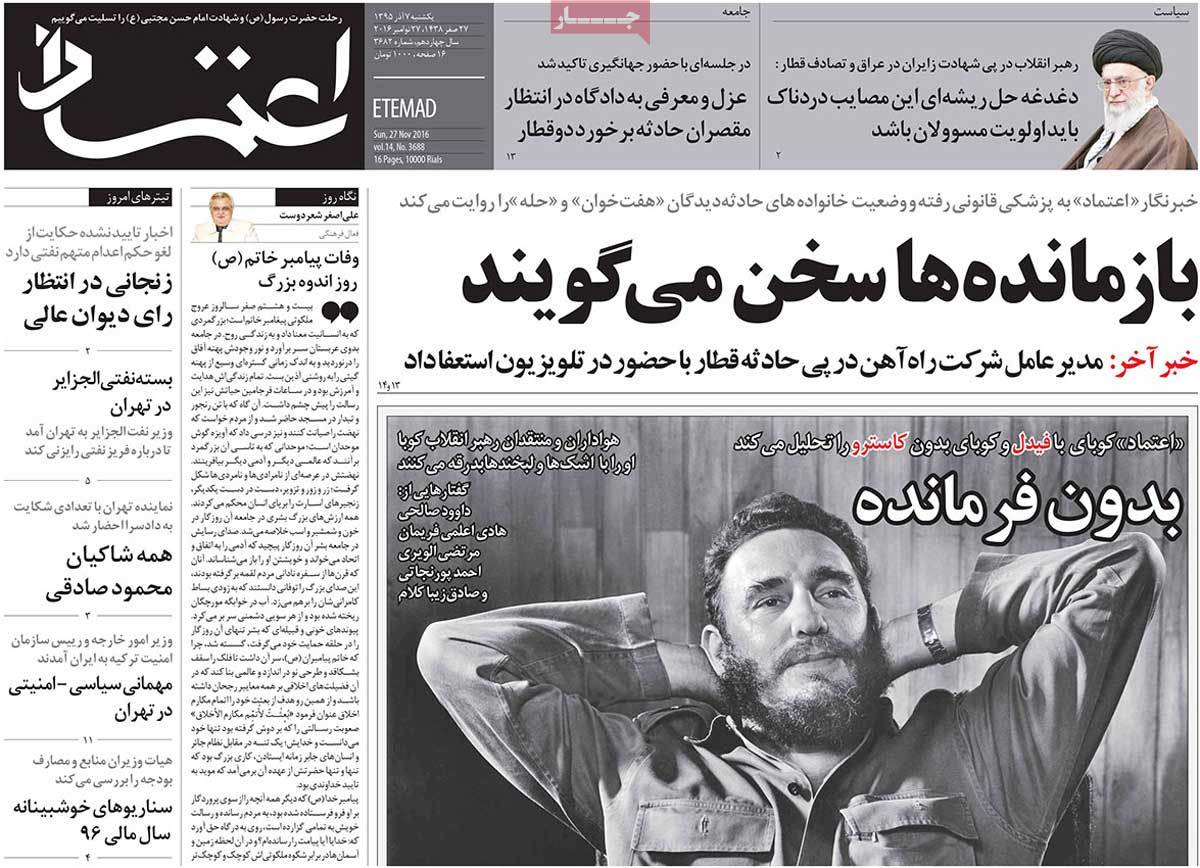 ---
Ettela'at:
1- First Vice-President Seriously Pursuing Train Collision
2- DM: Purchase of Su-30 Fighter Jets in Iran's Agenda
3- Popular Mobilisation Forces Officially Join Iraqi Armed Forces
4- Fidel Castro, the Anti-Colonialism Leader of Cuba, Passes Away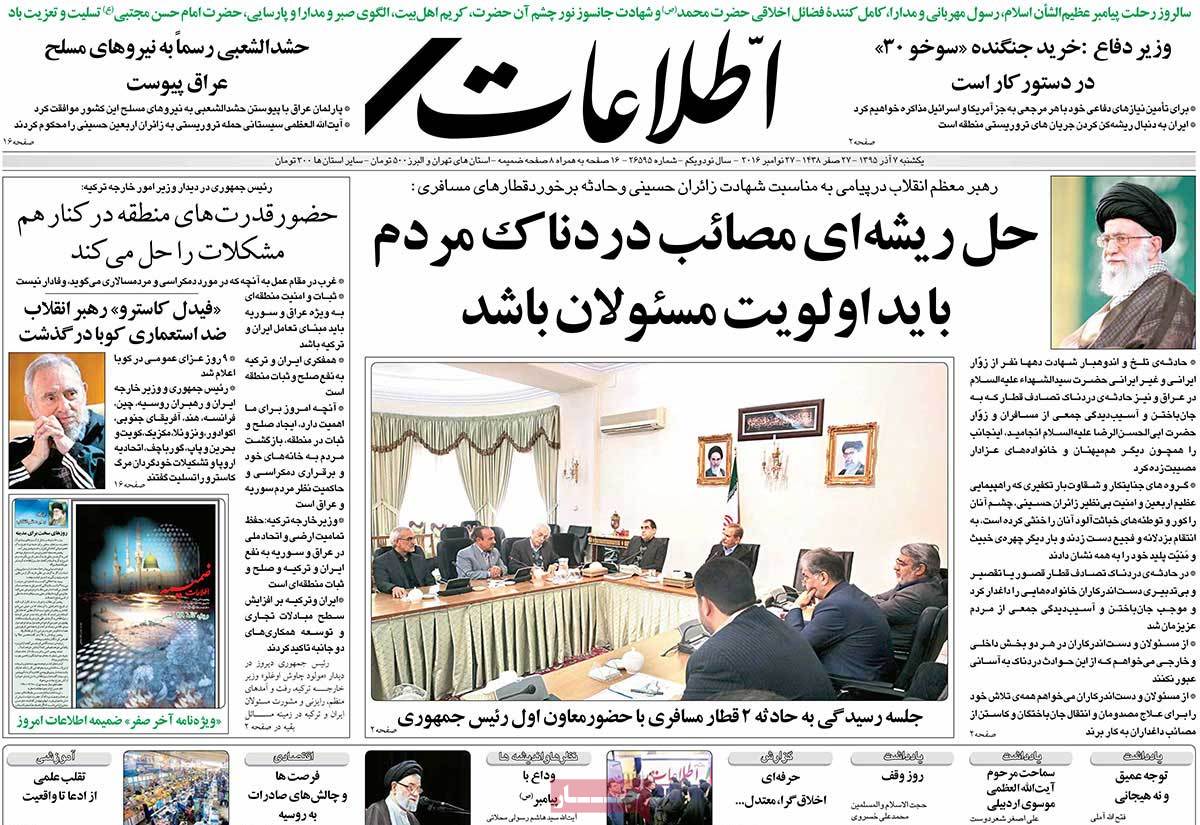 ---
Haft-e Sobh:
1- Secrets of Lasting Investment in Iran
2- Bewildered! Ministers Speed Up Efforts to Deal with Fatal Train Crash in Semnan and ISIS Terrorist Attack on Pilgrims in Iraq
3- Farewell to Last Classic Guerrilla
---
Hemayat:
1- Following Martyrdom of Iranian Pilgrims in Iraq and Iranian Passengers in Semnan Train Crash, Leader Said:
Takfiris Took Cowardly Revenge in Reaction to Massive Arba'een Processions
Negligence and Imprudence of Those Involved Made Many Families Bereaved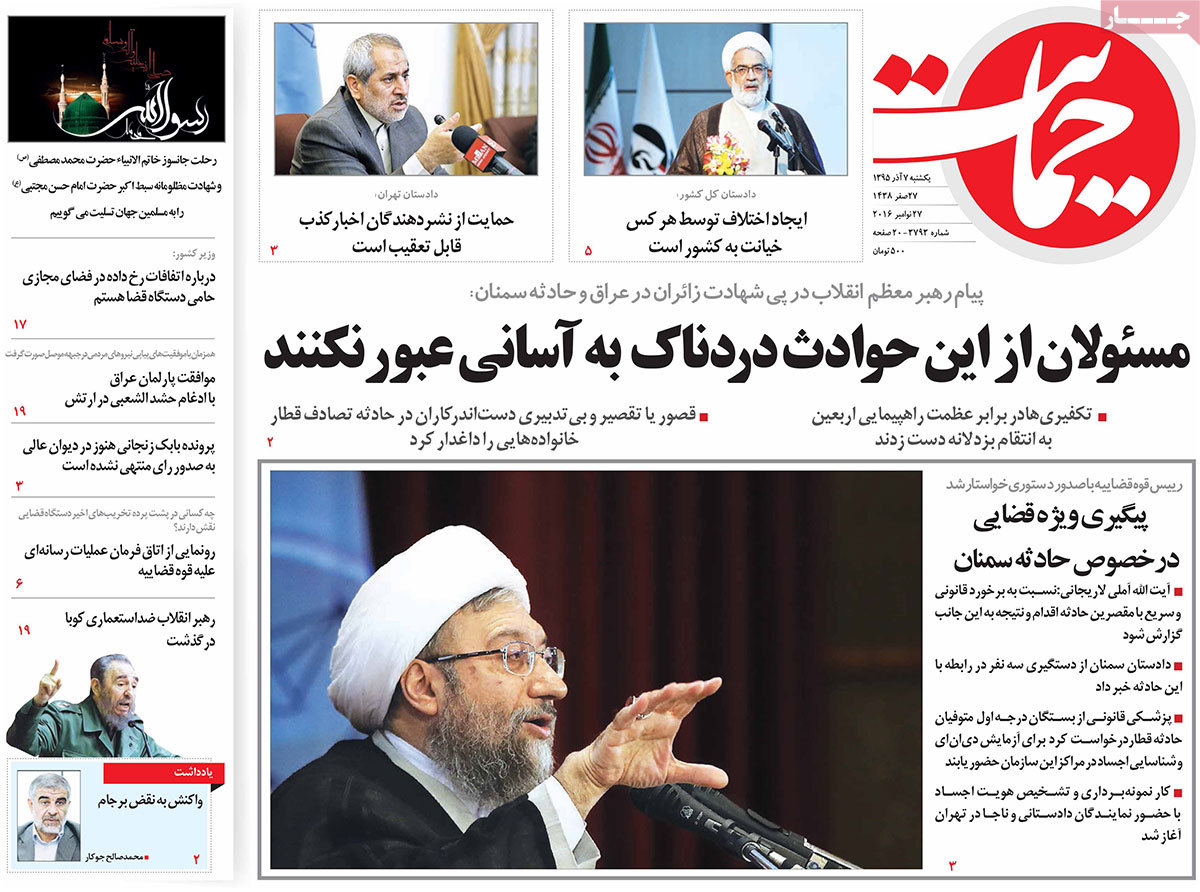 ---
Iran:
1- Last Page of the Guerrilla: Leader of Cuban Revolution Dies
2- Turkish FM Suddenly in Tehran; Çavuşoğlu: It Is to the Interest of Turkey and Iran and Regional Peace and Stability to Maintain Territorial Integrity and National Unity of Iraq and Syria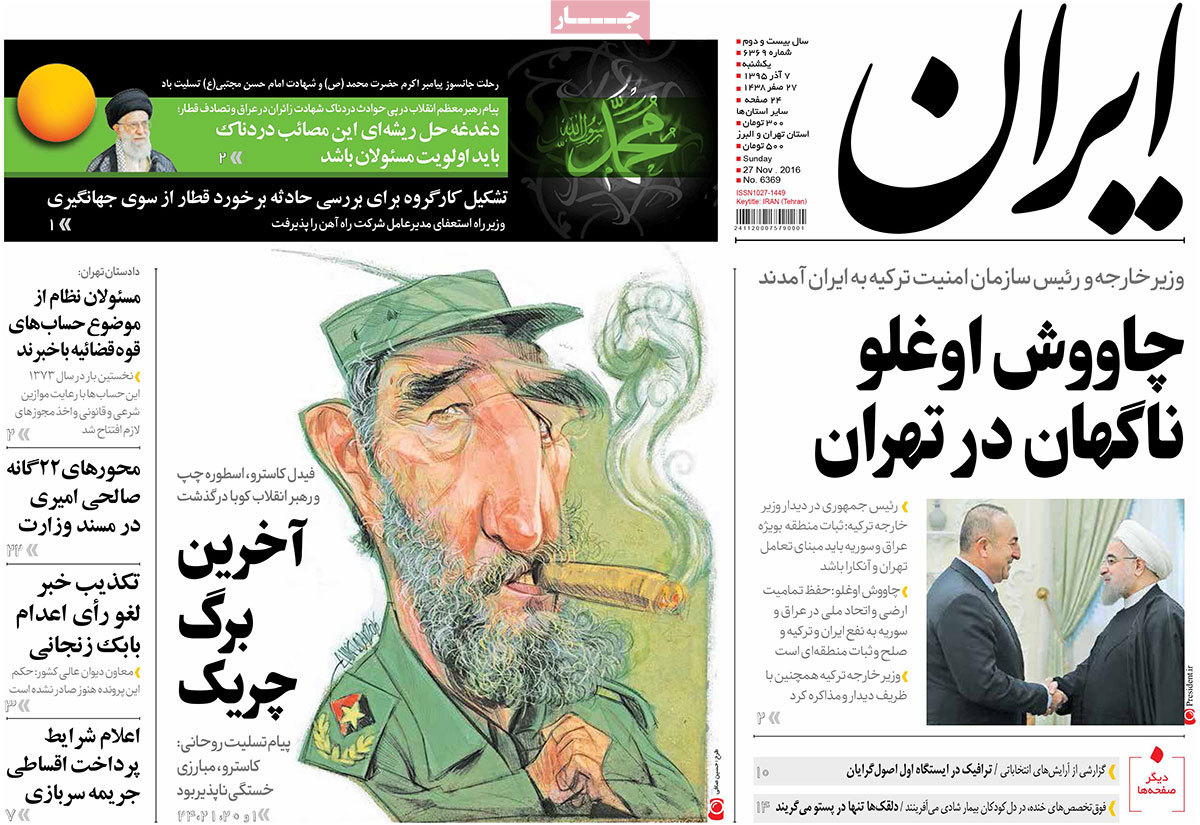 ---
Jame Jam:
1- Leader's Order for Pursuing Recent Incidents
2- Cuba without Castro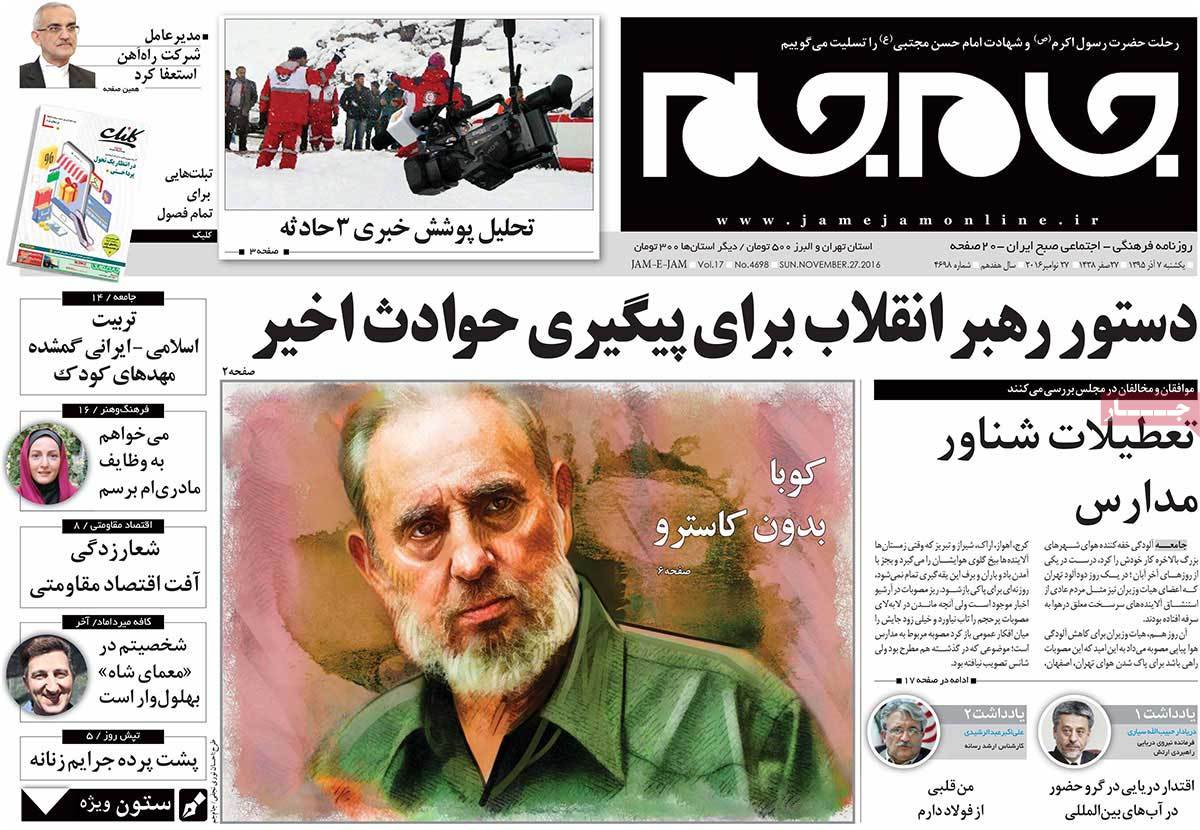 ---
Javan:
1- Iraqi Popular Forces Become Official after Parliament's Vote
2- He Remained Anti-US and Died: Castro Passed Away at 90
---
Jomhouri Eslami:
1- Iraqi Special Forces on Verge of Entering Centre of Tal Afar
2- Former Iraqi PM Maliki Calls on Int'l Community to Insert Wahhabism into List of Terrorists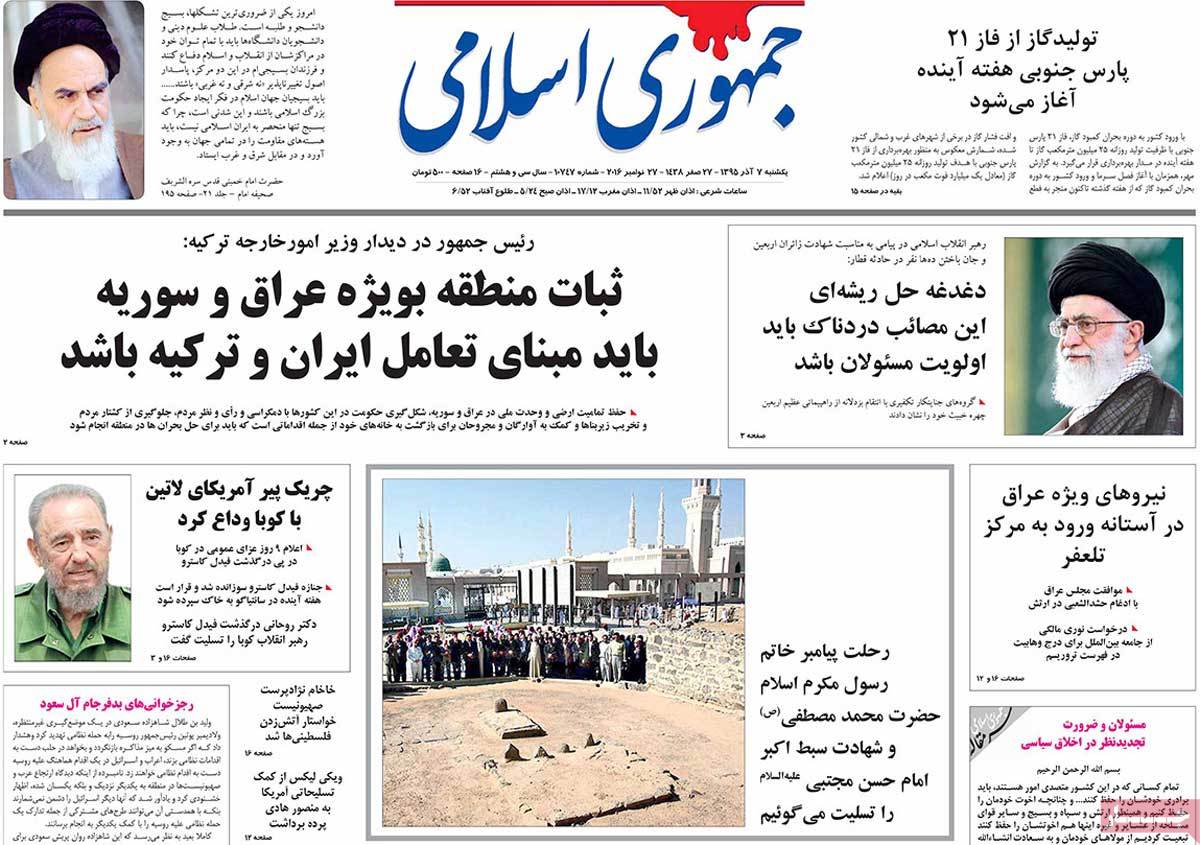 ---
Kayhan:
1- Train Crash Shows Government's Inefficiency
2- For Second Time, American Aboriginals Hold Demonstration against Corrupt System of West with Iran Leader's Message
3- Israel Nuclear Plant Surrounded by Fire
4- Washington Post: Trump Was Right, the US Political System Is Corrupt and Collapsing
---
Mardom Salari:
1- Continued Trend of Whistle-Blowing in US National Security Agency: Know More about 6 NSA Whistle-Blowers
2- End of the Guerrilla of Love and Hatred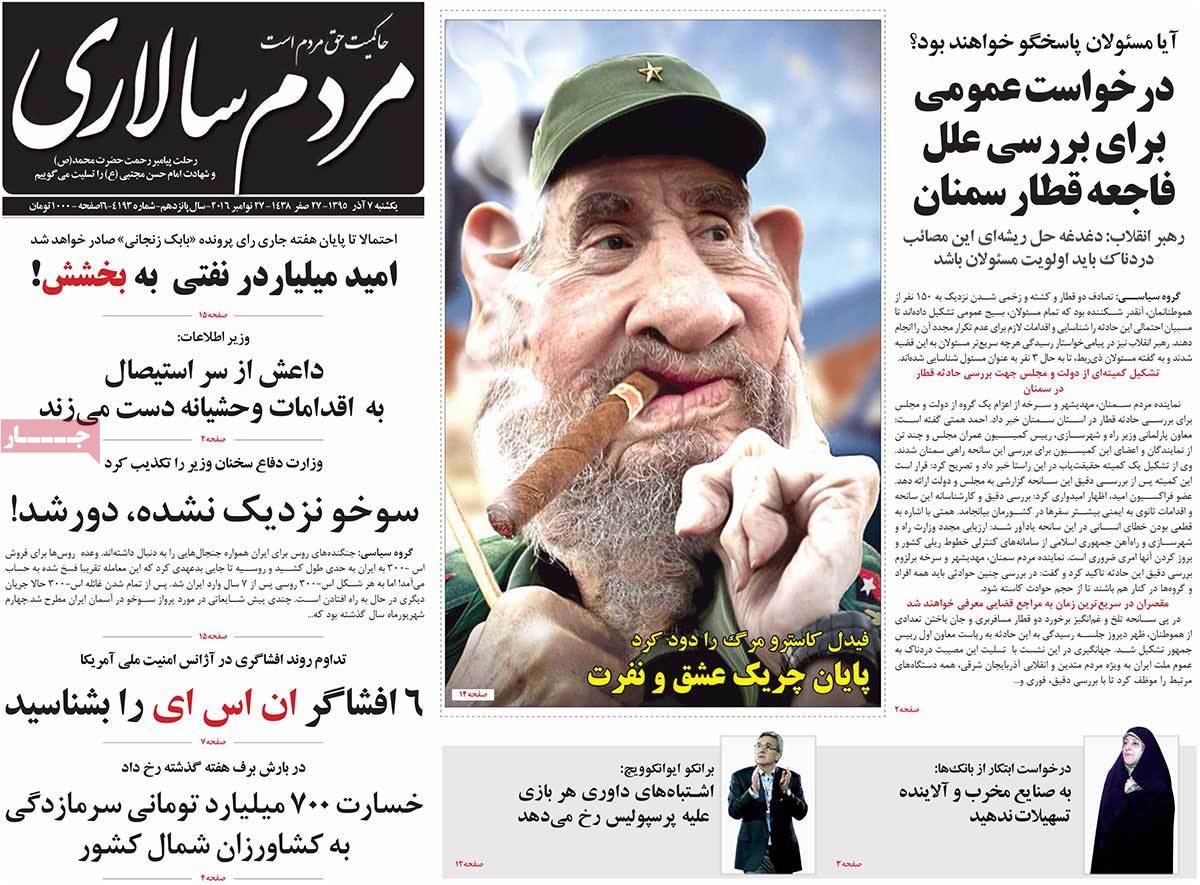 ---
Resalat:
1- Leader Urges Officials Not to Easily Pass over Painful Incidents
2- Democracy Flavoured by Mocking Public Opinion: Not All Votes Have Been Counted Yet; Clinton Calls for Re-Count of Votes
3- Tornado of Nationalism in Europe: Is a Change Possible in United Europe?
---
Setareh Sobh:
1- 2016, the Great Year for Iran: Economist Discusses Iran's Positive Economic Perspective
2- Political Expert Sadeq Zibakalam: Government's Weak Media Team Doesn't Attach Importance to Role of Media
---
Shahrvand:
1- The Old Man Leaves the Judgement to History: Castro Dies
2- Interview with Afghan MP on Int'l Day for Elimination of Violence against Women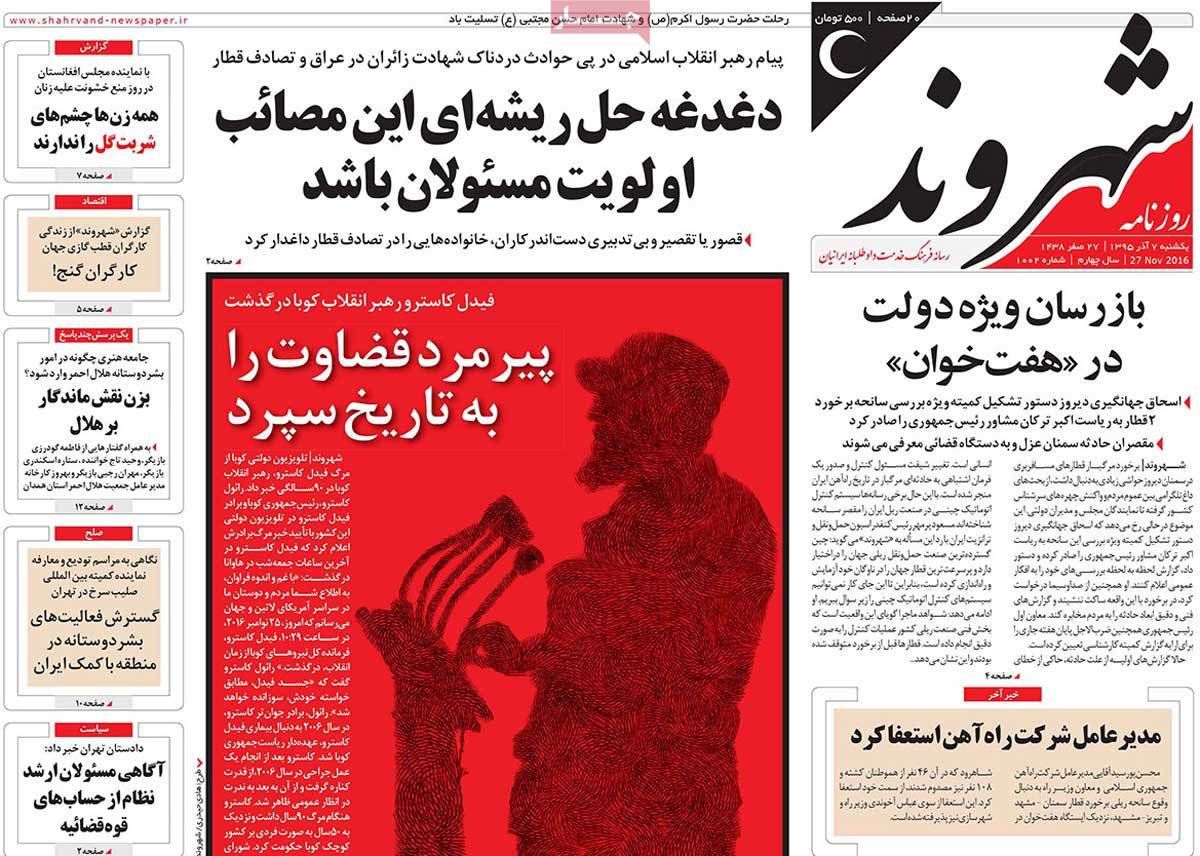 ---
Shargh:
1- Chief of Iran's Armed Forces Highlights Need for Marine Bases in Yemen and Syria
2- Erdogan's Envoy Meets with Rouhani
---
Vaghaye Ettefaghieh:
1- Decrease in Rainfall in Past Two Months Has Brought Iran's Water Resources to Critical Level: 21 Provinces in Dire Water Tension
---
Vatan-e Emrooz:
1- Iran's Top Officer: Country Is Still Gripped by Sanctions; Iran Has Yet to Receive Oil Sale Money
2- Interior Minister Urges Judiciary to Take Action against Misbehaviour in Cyberspace
3- Continued Demonstrations against Corruption in Seoul