Newspapers today covered the remarks made by President Hassan Rouhani, who stressed that the country has only one leader and one government, and is governed by only one body.
They also highlighted the ongoing battle in Iraq to retake the ISIS-held city of Mosul, and also Turkey's efforts to play a role in the liberation operation.
The US Presidential Election has also remained a top story in many newspapers including Etemad which discussed the possible options for the post of US Secretary of State.
The above issues, as well as many more, are highlighted in the following headlines:
Abrar:
1- Rouhani Refers to Both US Presidential Candidates as Corrupt Politicians
2- We'll Stay in Iraq after Mosul Liberation If Baghdad Is OK: US
3- Turkey's Presidential Term to Be Increased to 5 Years
4- Rouhani: One Country, One Leader, and One Government
---
Aftab-e Yazd:
1- Leader: It's a Great Mistake to Think that US Is Invincible
2- Ahmadinejad Can't Get Rid of His Global Management Concerns! Former Iranian President Writes Letter to New UN Secretary General
3- How Much Are Trump's Affairs with Women Important to American People?
---
Asrar:
1- Iran Governed by a Single Body; There's No Dual Management: Rouhani
2- Air Leasing Becomes Possible with Germans: Transport Minister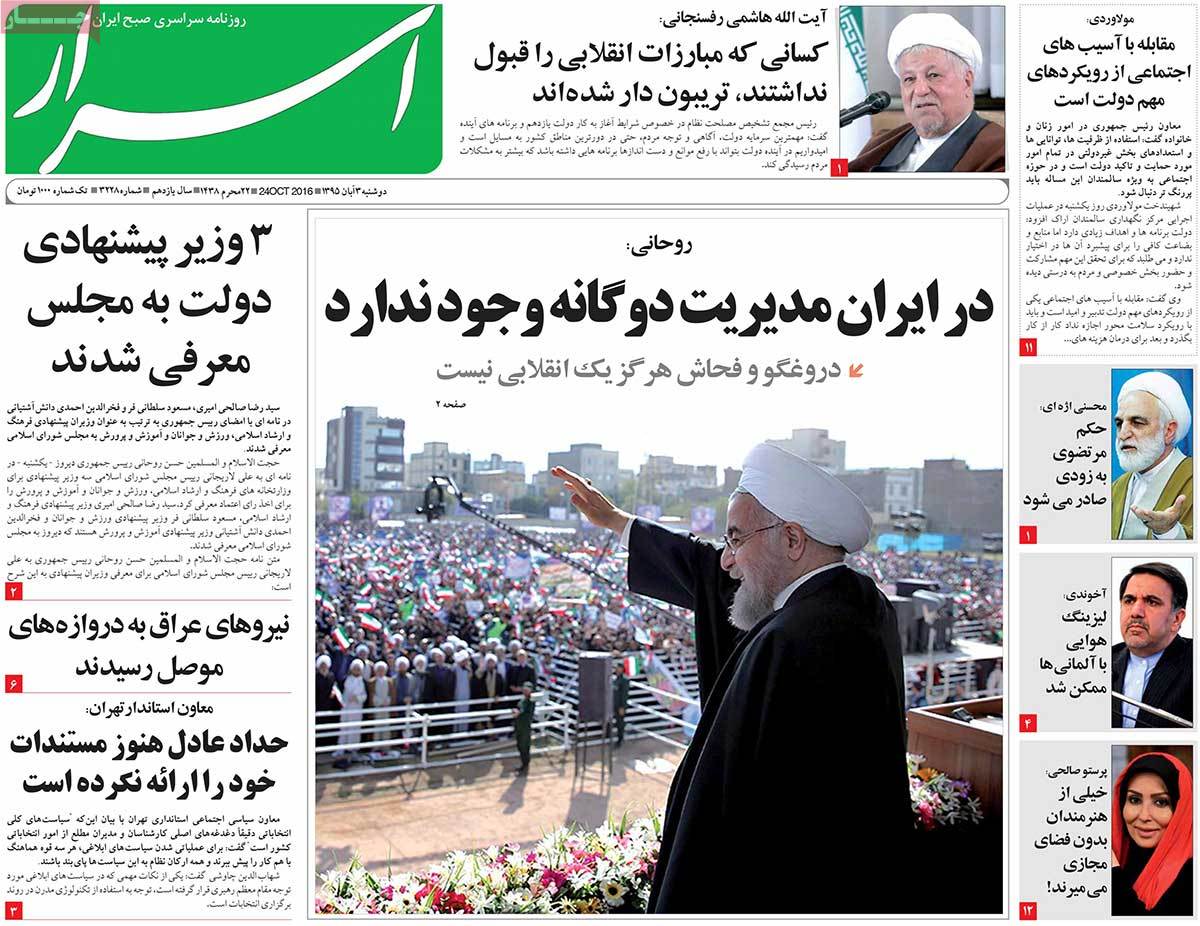 ---
Ebtekar:
1- Leaving the Habit of Being Used to Inflation Disease
2- Symphony of Horn Noise: Districts 11, 10, and 6 in Tehran Are the Most Polluted Districts in Terms of Noise Pollution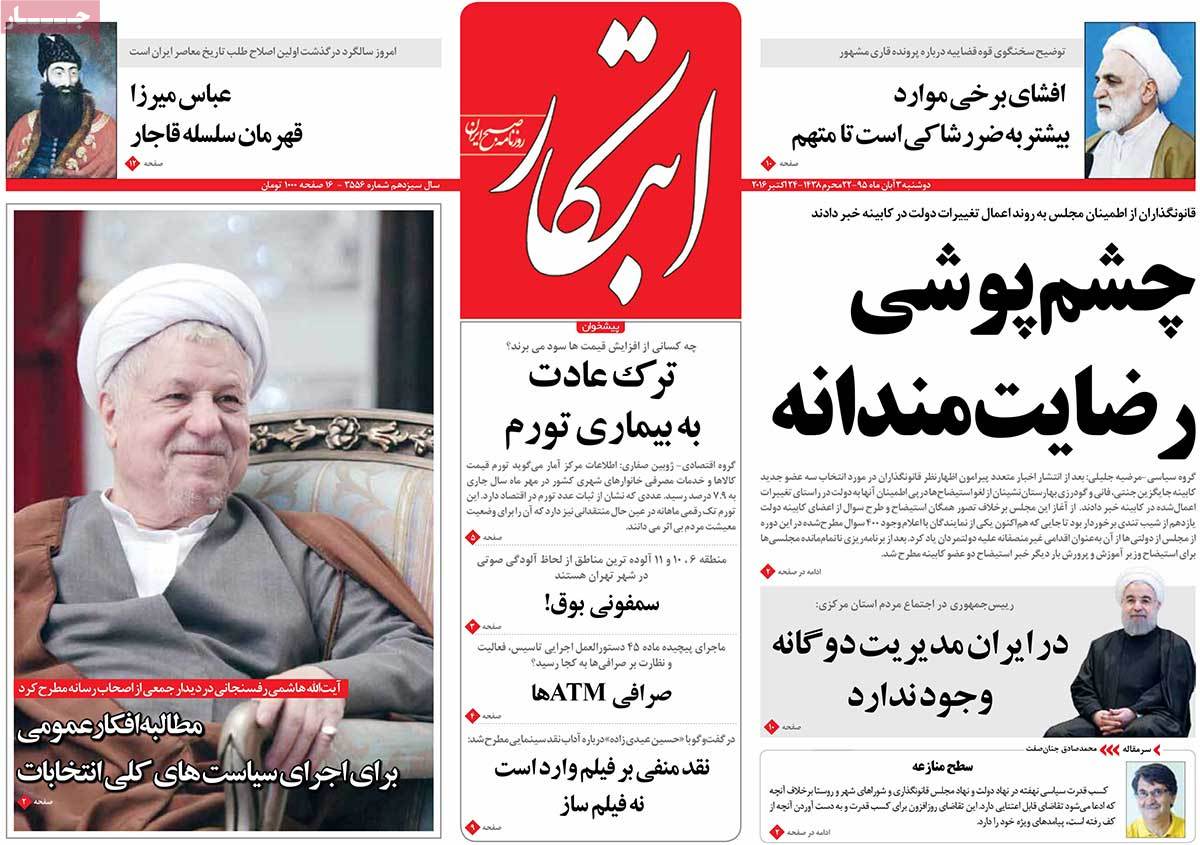 ---
Emtiaz:
1- 38m People Exposed to Air Pollution: Deputy Health Minister
2- More than 10 Tons of Narcotics Discovered in Past Month
3- Iran Becomes Self-Sufficient in Manufacturing CNG Tanks for Cars
---
Etemad:
1- Rouhani Criticizes Those Who Criticize JCPOA
2- Heirs to JCPOA: A Report on Possible Candidates for Post of US Secretary of State under Clinton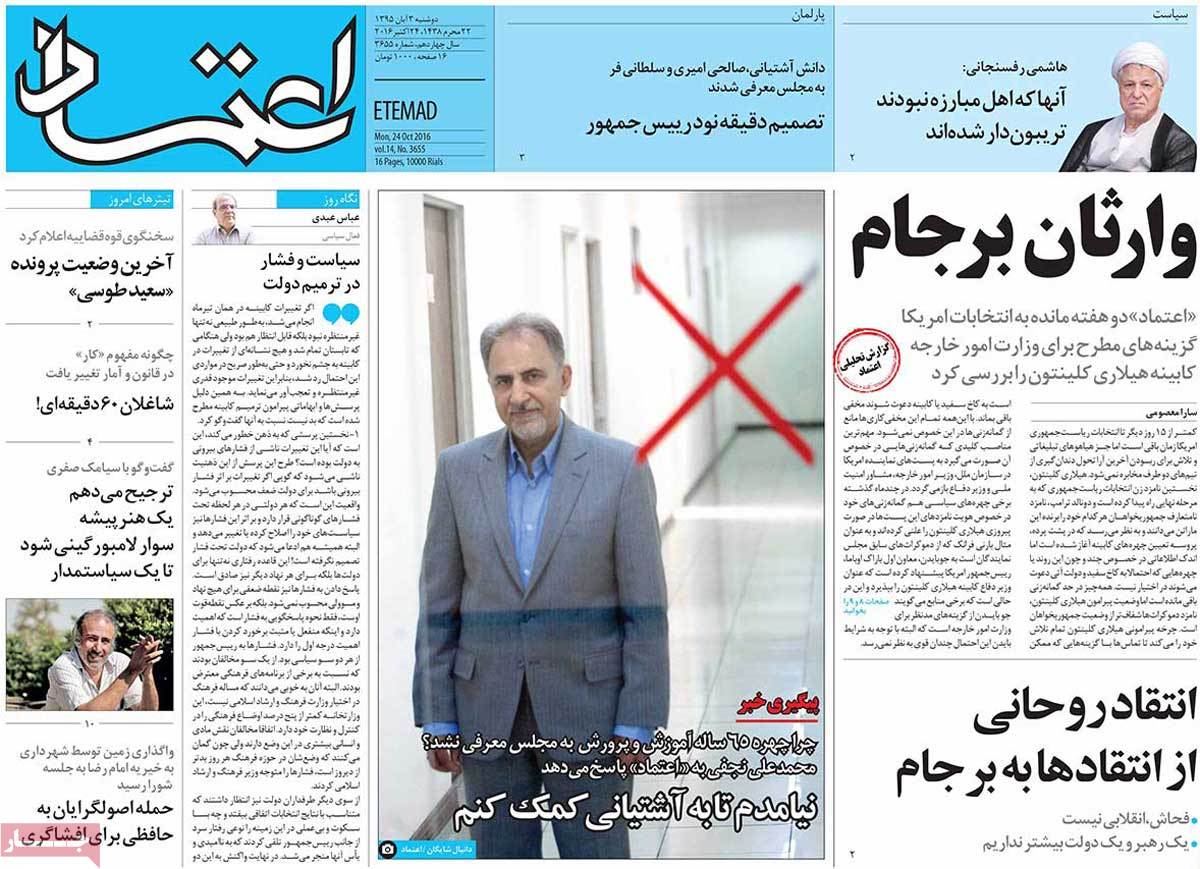 ---
Ettela'at:
1- Inflation Rate Stands at 7.9% in Past Month
2- Rouhani: $1.6bn Foreign Investment Absorbed in Iran's Industry, Mines, and Trade Sector in Post-JCPOA Era
3- Iranians Are Compatible People, Not Compromisers: Analyst
4- Freedom of Expression and Post-Expression Security Should Be Welcomed: Ayatollah Rafsanjani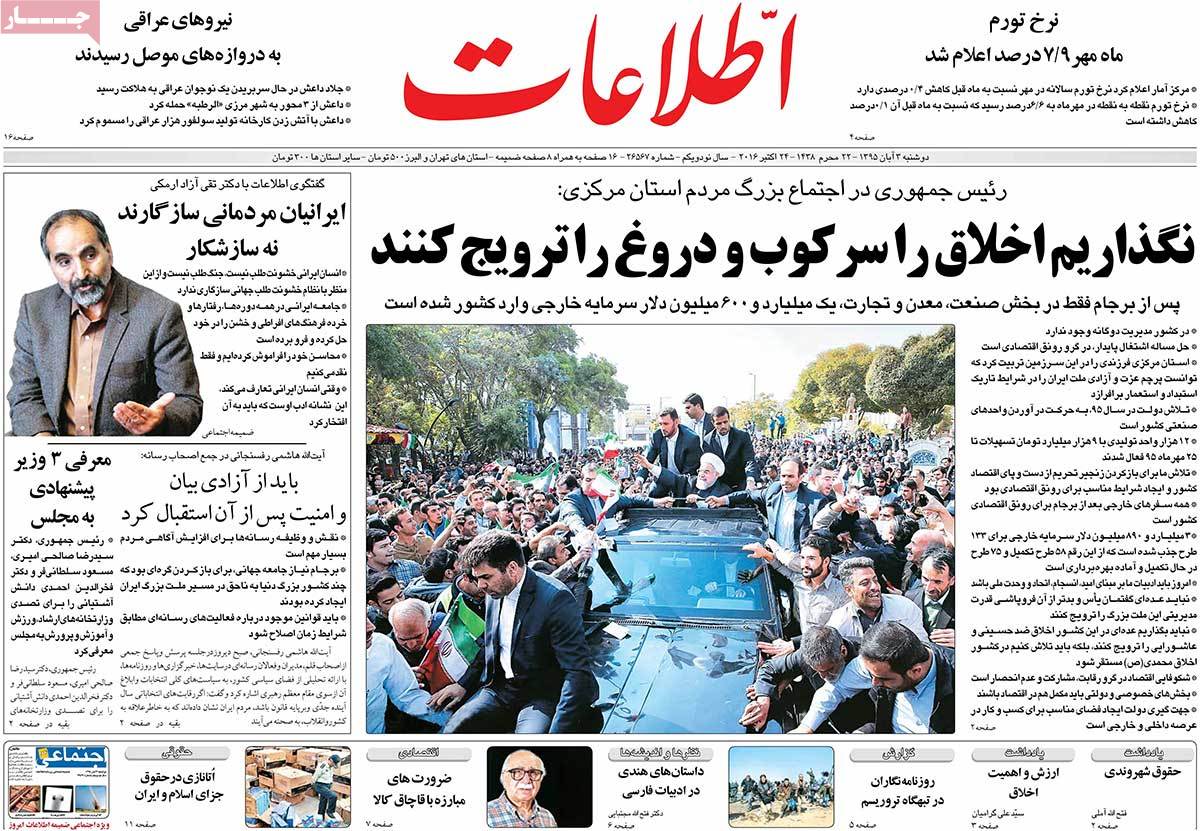 ---
Haft-e Sobh:
1- When John Rates Iranians: Story of the American Tourist Who Came to Iran and Loved People and Architecture Here
---
Hemayat:
1- Officials with Dual Nationality to Be Dismissed: Judiciary Spokesman
2- Iranian People Can Now Receive Foreign Exchange Using ATMs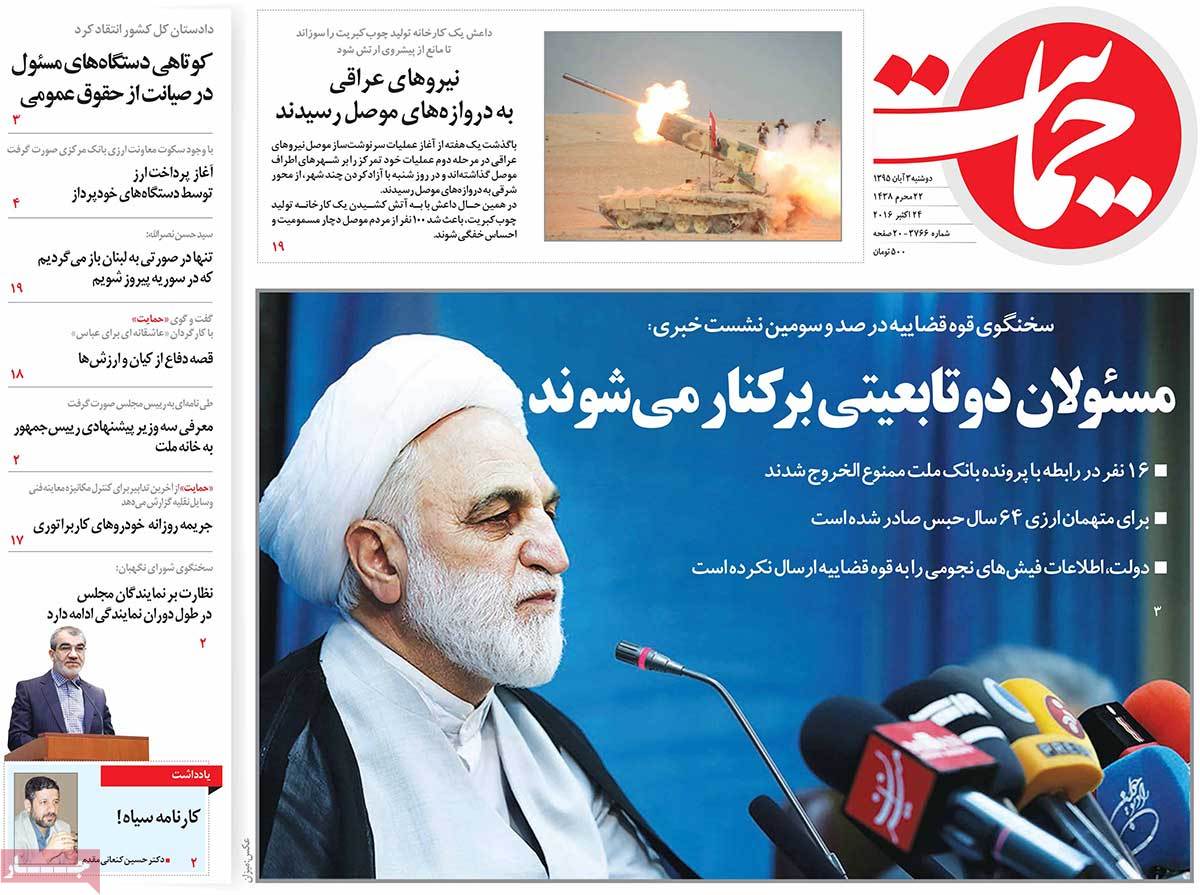 ---
Hosban:
1- Rouhani: Over 12,000 Production Units Start Their Work Using Bank Facilities
2- Oil Minister: Non-OPEC Oil Producers to Accompany OPEC Member States
---
Iran:
1- Beginning of Amsterdam-Tehran Flights: Dutch Airline Introduces 21 World Heritage Sites in Iran to Its Passengers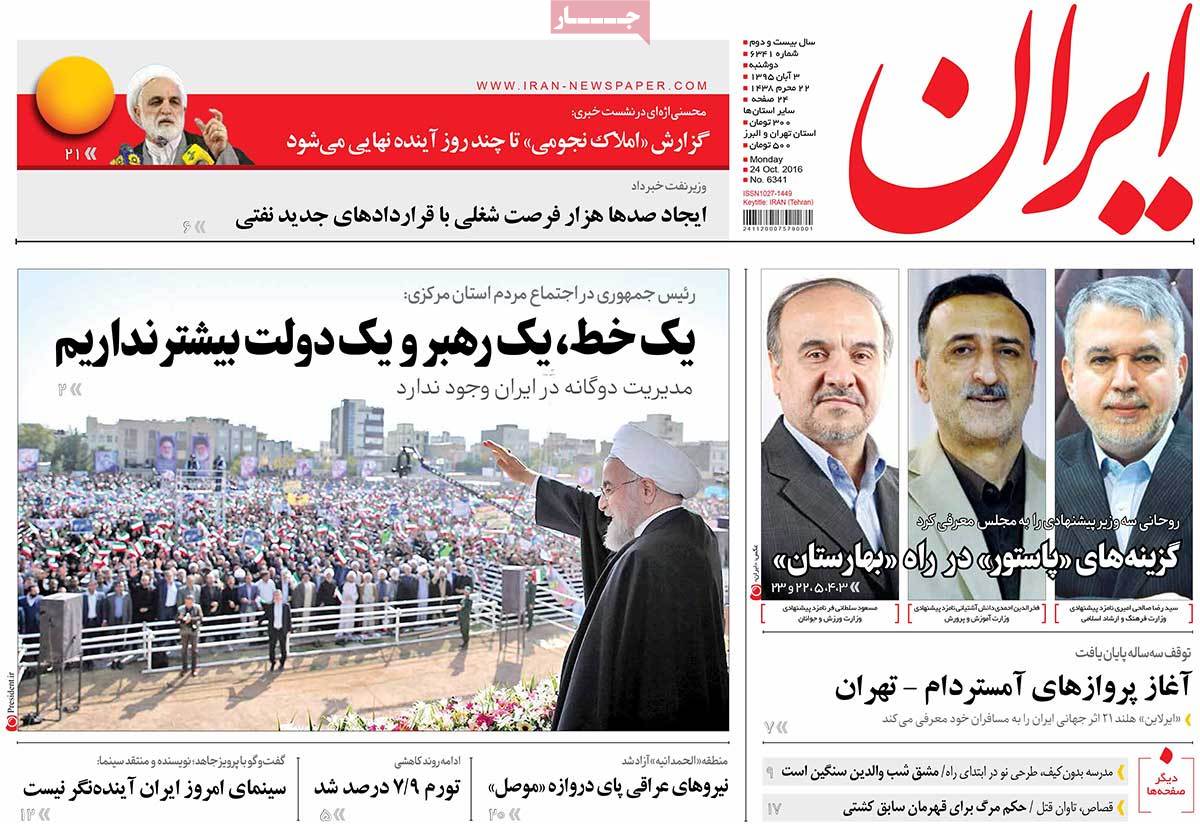 ---
Jame Jam:
1- Drug Addiction, the Godfather of AIDS
---
Javan:
1- Rouhani: JCPOA Opened the Door of a Garden to Iranian People. A Bunch of Kids Came to the Garden's Door and Asked Where the Apples and Pears Are!
2- Advertisement for Taking Part in US Green Card Lottery Becomes Public! 5,000 Iranians Annually Permitted to Take Part in US Project While Iranian Officials Are Asleep!
3- Al Saud and Al Khalifa Regimes Playing with Their Warships in Persian Gulf! Bahrain and Saudi Arabia's 5-Day Drills Started in Persian Gulf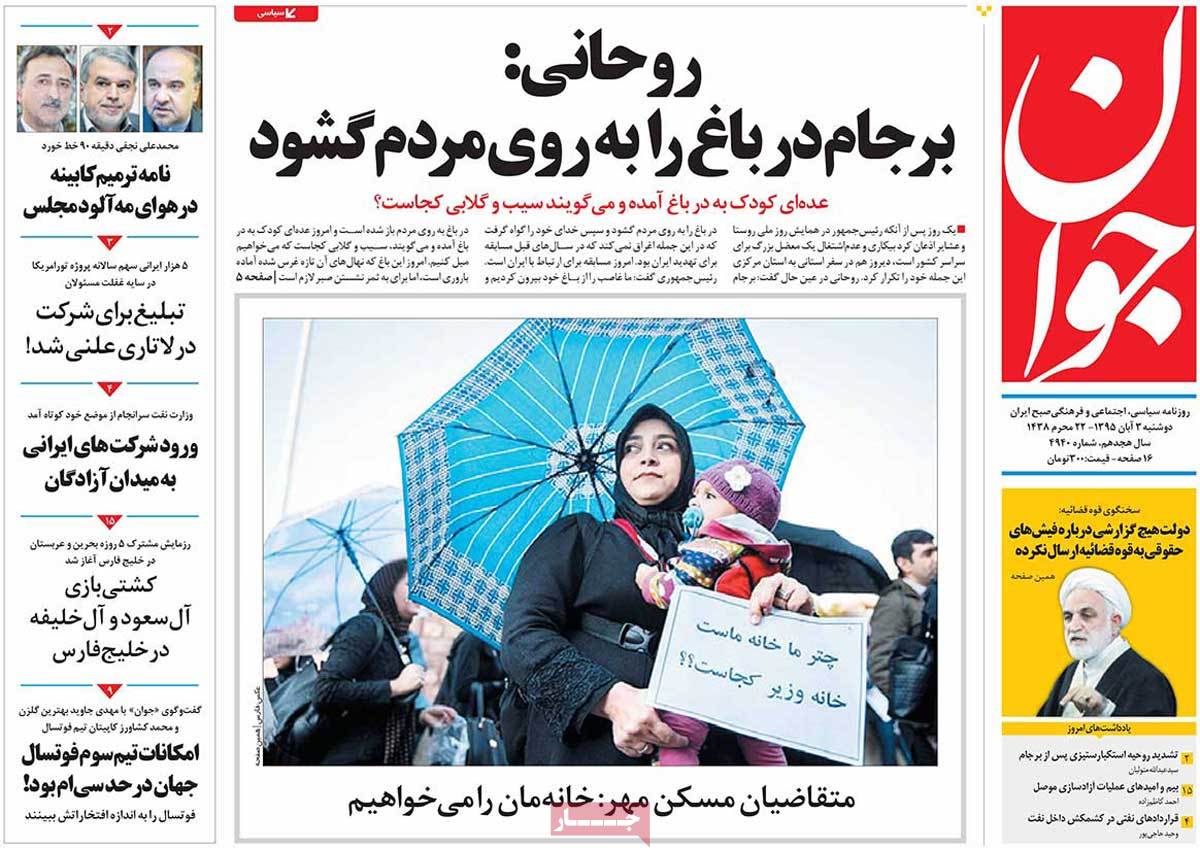 ---
Jomhouri Eslami:
1- Iran and Germany Sign 6 Documents of Cooperation in Rail Transportation
2- Independent Media Should Be Supported: Ayatollah Rafsanjani
3- Syria Gives Warning to Turkey's Aggressive Troopers
4- Iran-Austria Ties Are Expanding after JCPOA: Larijani in Meeting with Austrian Counterpart
5- Karlheinz Kopf: Cooperation with Iran, Which Has Stabilizing Role in Middle East, Should Be Taken into Account
6- Iraqi Forces Arrive at Mosul Gates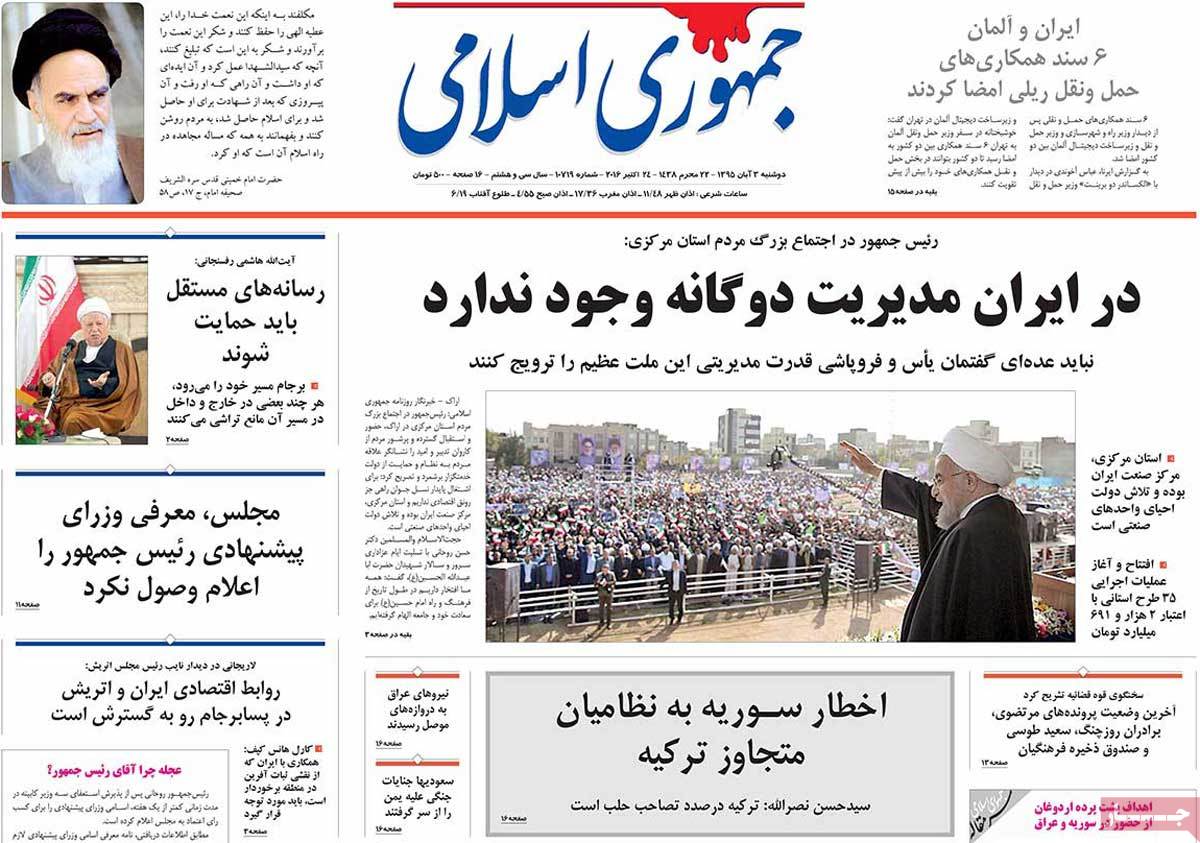 ---
Kayhan:
1- Rouhani: We've Planted Apple and Pear Trees, Wait for It to Bear Fruits!
2- Nasrallah: Erdogan Will Claim Tomorrow that Aleppo Belongs to Turkey!
3- Oppression in France, Rape in Germany, and Torture in Australia: Conditions of Asylum-Seekers in Countries that Claim to Be Advocates of Human Rights
---
Khorasan:
1- Ups and Downs of Polls in US Elections
2- 43% Increase in Production of Illicit Drugs in Afghanistan
---
Payam-e Zaman:
1- Defensive Might Lies behind Our Politicians' Smile: Civil Defence Chief
2- Carlos Queiroz's Team Has Remained Top Asian Football Team for 22 Months
---
Resalat:
1- Nowhere in the World Can You See 12,000 Candidates Competing for 300 Seats: Guardian Council Spokesman
2- New Concerns in Europe: Plan for Formation of a European Army and Britain's Worries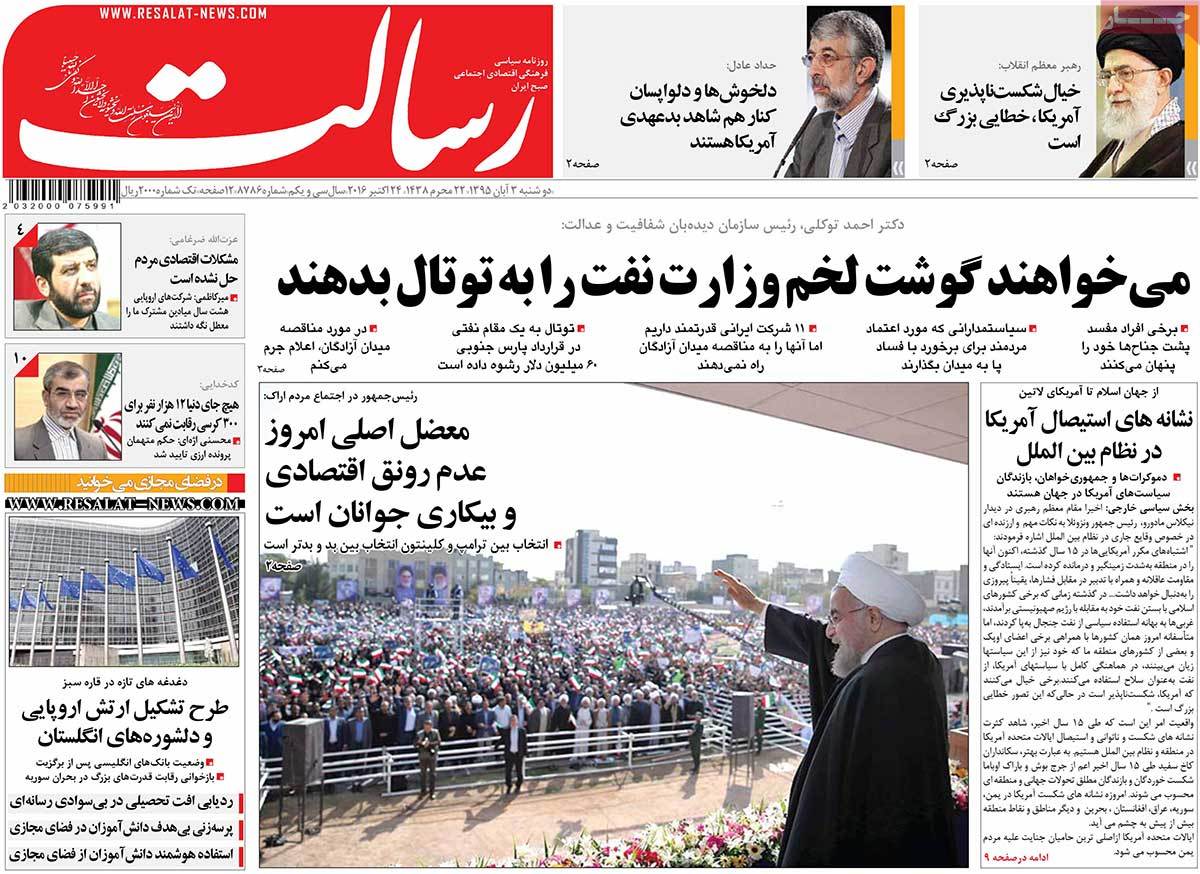 ---
Shahrvand:
1- Tehran's Noise Pollution Is Now in a More Serious Level: Members of City Council Warn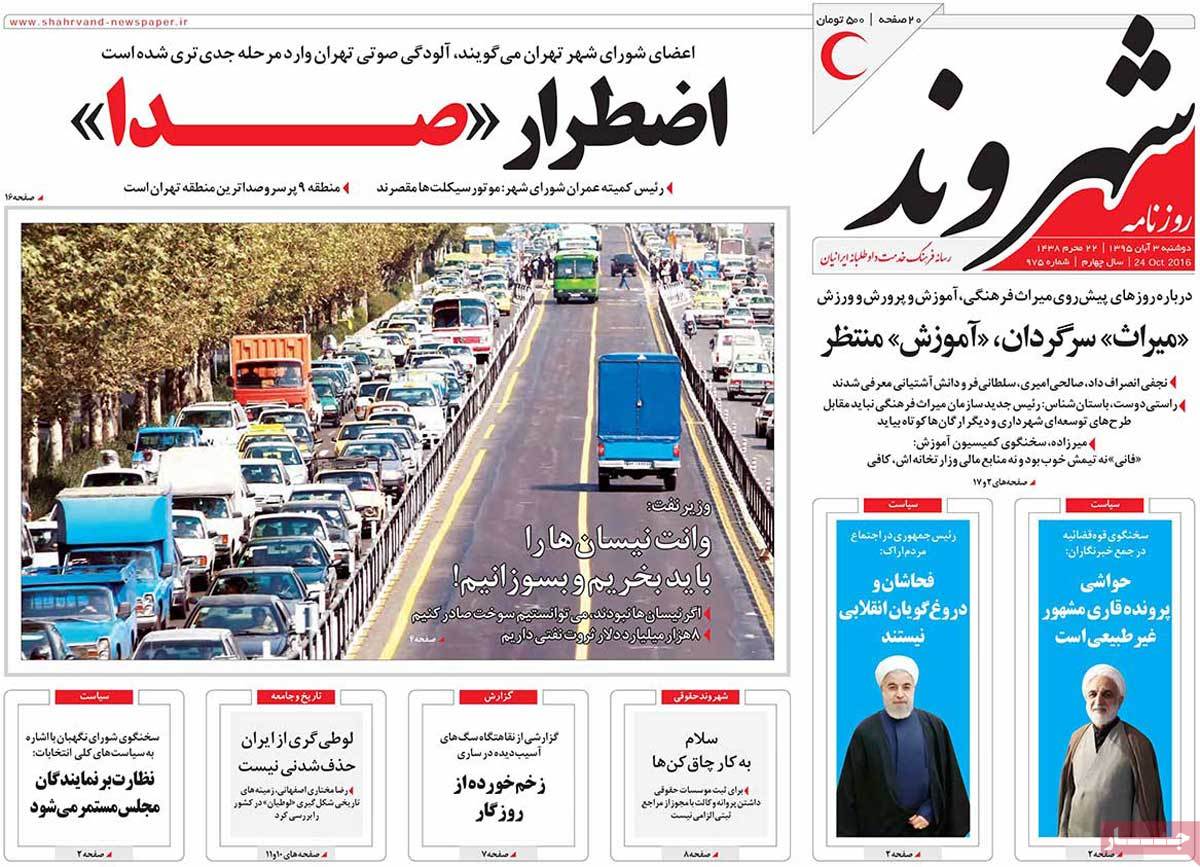 ---
Sobh-e Now:
1- Increase in Zarif's Chance: Latest Poll about Possible Presidential Candidates
2- Nasrallah: Aleppo and Mosul Will Influence Middle East's Fate