Newspapers on Saturday covered the recent attack by ISIS terrorists on a power plant in Iraq's Kirkuk and the martyrdom of three Iranian nationals in this attack.
They also widely covered the last presidential debate and the charity gala dinner between US Presidential candidates Donald Trump and Hillary Clinton.
The remarks made by President Hassan Rouhani in an address on National Export Day were also a top story today.
The above issues, as well as many more, are highlighted in the following headlines:
Abrar:
1- Reuters Claims Iran Has Increased Its Support for Yemen
2- Argentinian Judge Urges Iraq to Extradite Former Iranian FM Velayati
3- Trump and Clinton Exchange Barbs and Sarcastic Jokes at a Charity Gala Dinner
4- EU to Consider All Options against Russia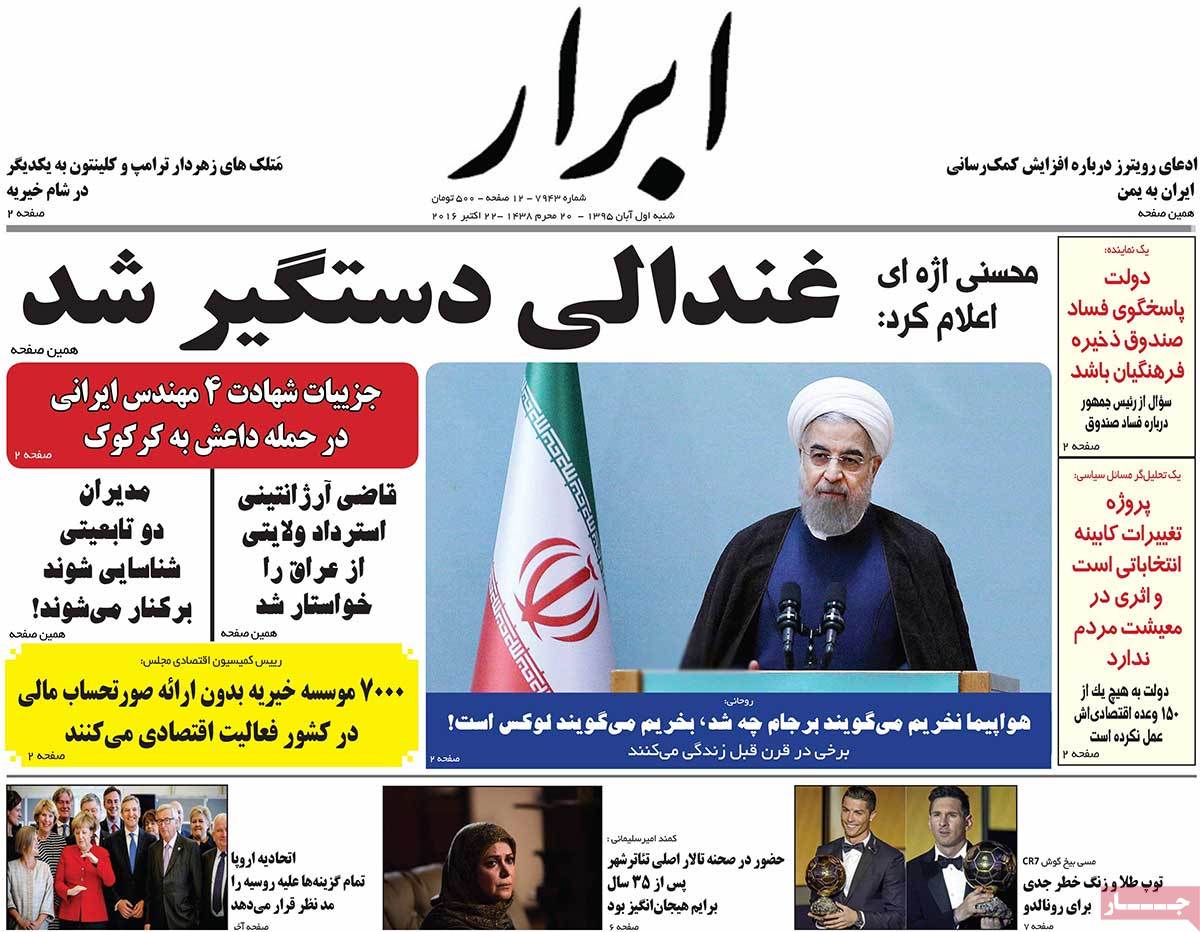 ---
Abrar-e Eqtesadi:
1- Return of World's Biggest Shipping Company to Iran
2- IMF: Iran Needs an Oil Price of $55.3 to Compensate for Its Deficit
3- Return of Denmark's Petchem Giant to Iran
4- Deals with 4 Central Asian Countries for Transit of Goods through Iran Route
5- Tehran and Athens Reach New Deal: Greece to Pay Its Oil Debts on Installments
---
Afkar:
1- Tehran Friday Prayers Imam: Al Saud Is Like [the tyrant rulers of] Al Umayyad Dynasty
2- Iran's UN Envoy: UN Should Be Realistic and Concentrate on Current Needs of Eastern Aleppo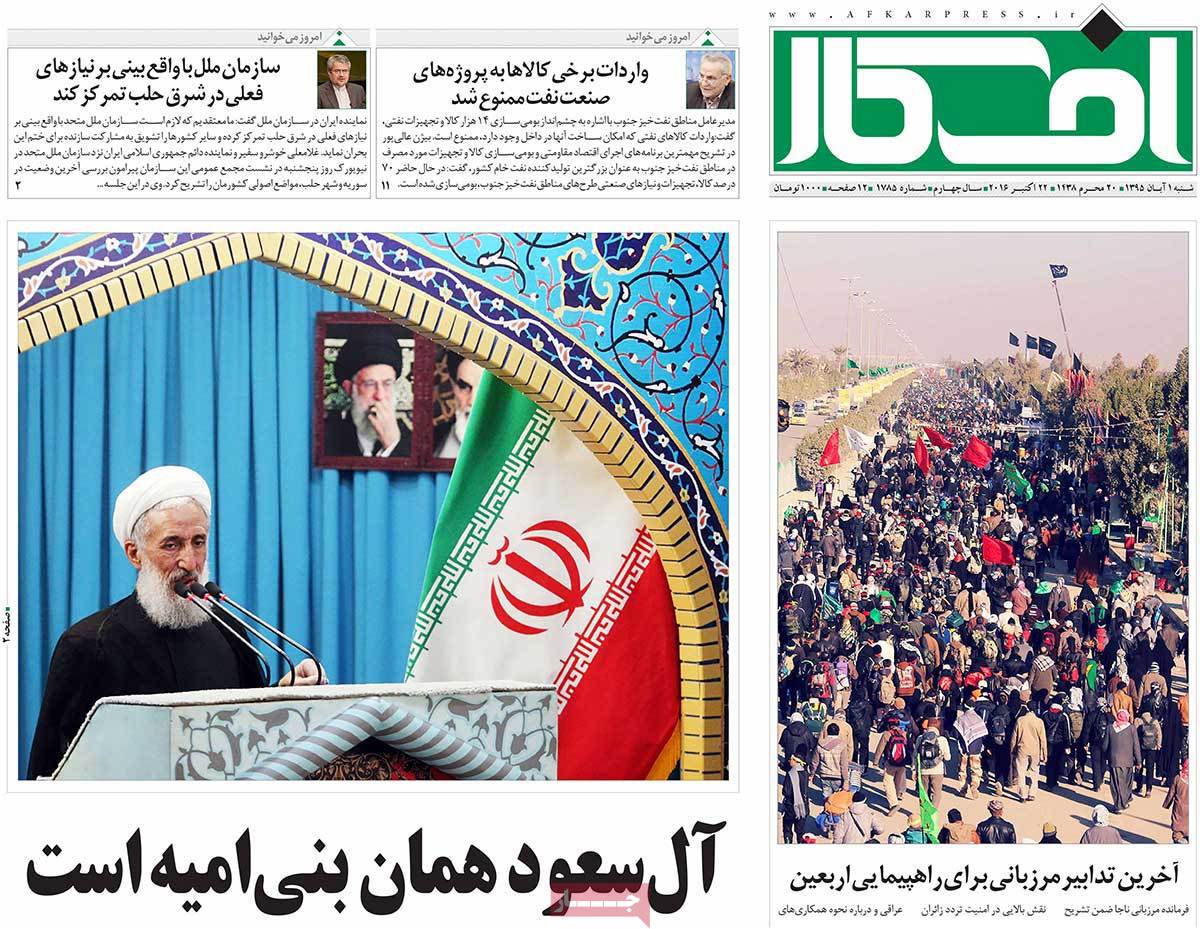 ---
Aftab-e Yazd:
1- Al Saud Resorts to Foreign Loans: Unprecedented Deficit Crisis in Saudi Arabia
---
Amin:
1- Iran, the Subject of Argument between Clinton and Trump in Last US Presidential Debate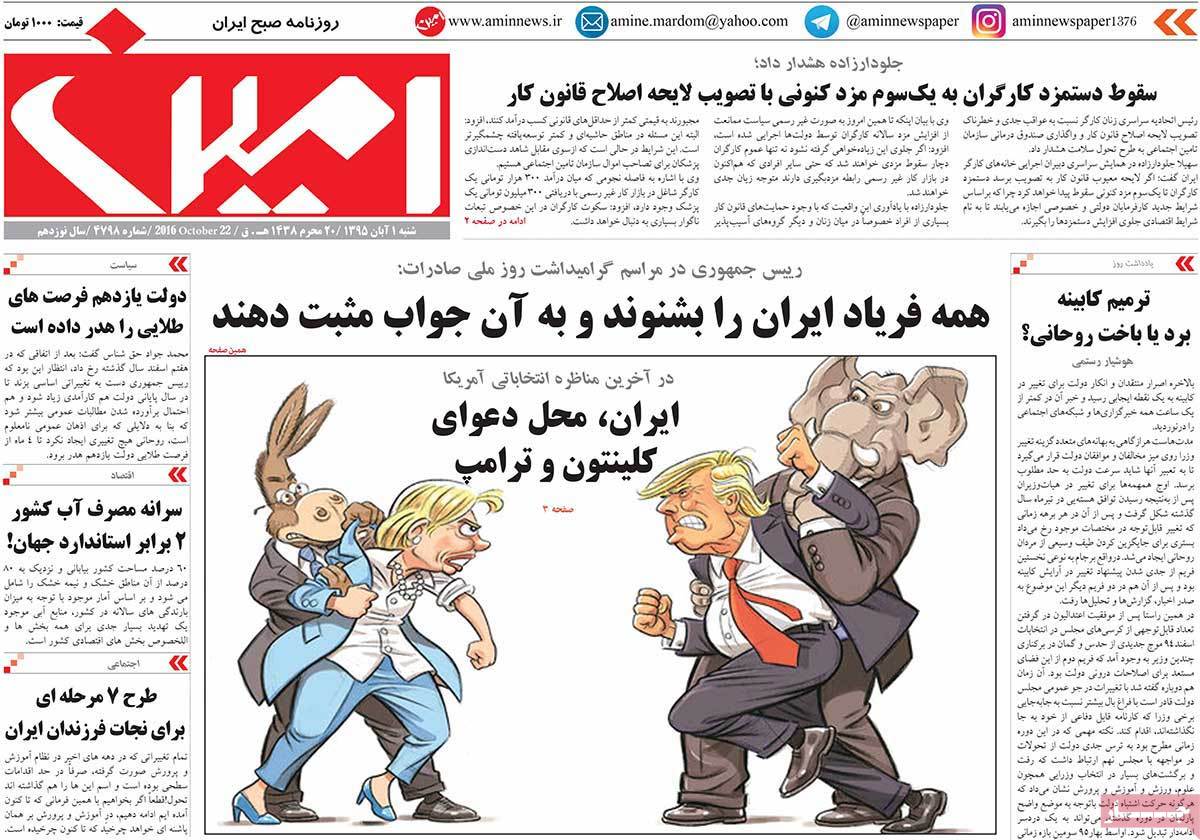 ---
Arman-e Emrooz:
1- Presidential Battles in Last Debate: Iran, Trump's Chance for Victory? Trump's Populist Approaches Are in Iran's Advantage
---
Asrar:
1- US Green Light to Banks by Issuing Permission for Boeing Sale to Iran
2- Vice-President for Legal Affairs: Undermining JCPOA Means Undermining People's Rights, Not the Government
3- Government Spokesman: Development and Growth Was the Basis for Cabinet Reshuffle
4- Iran's Javanmardi Named as Best Female Athlete of September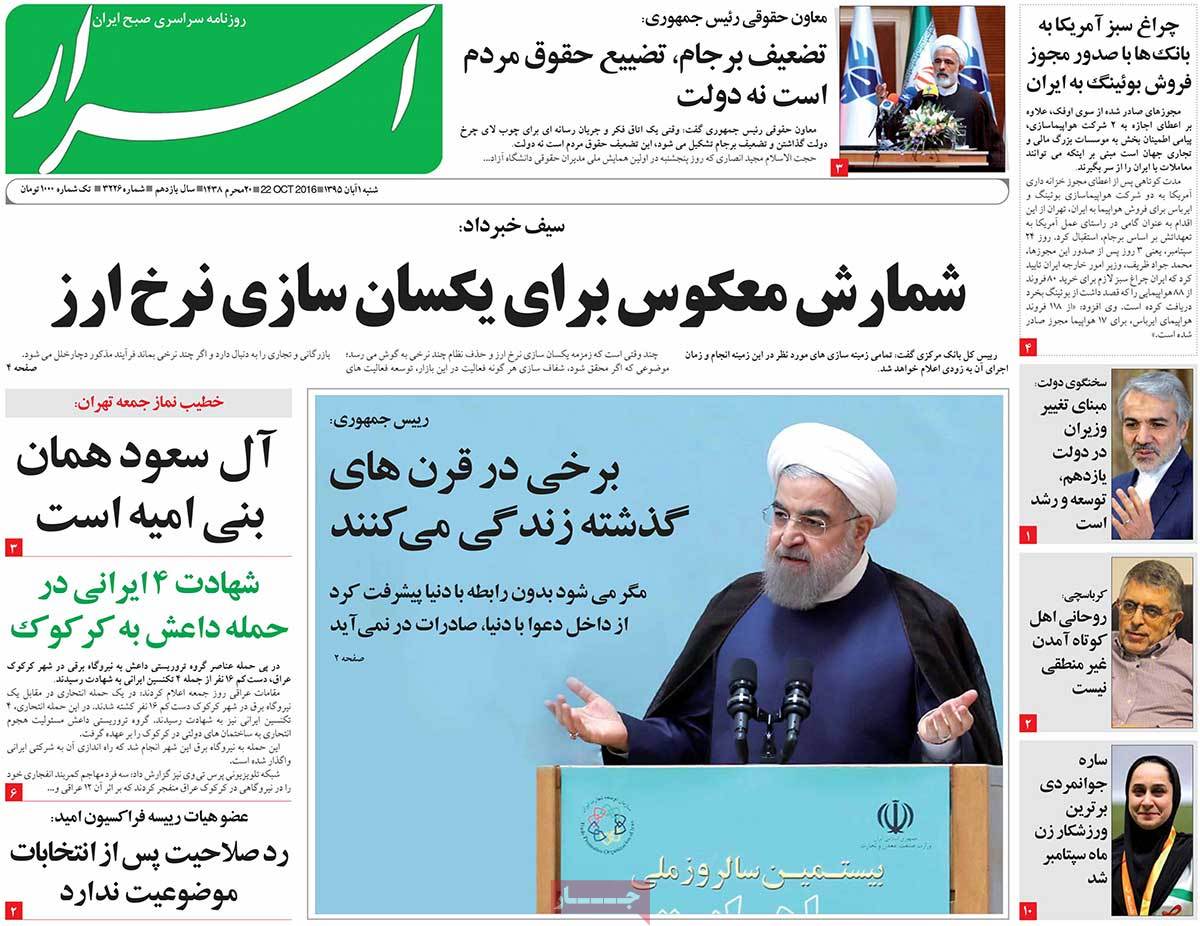 ---
Donya-ye Eqtesad:
1- The Winning Economy of Middle East: Reuters, IMF, and Bloomberg Introduce Iran as the Winner of Middle East's Economic Developments from Different Perspectives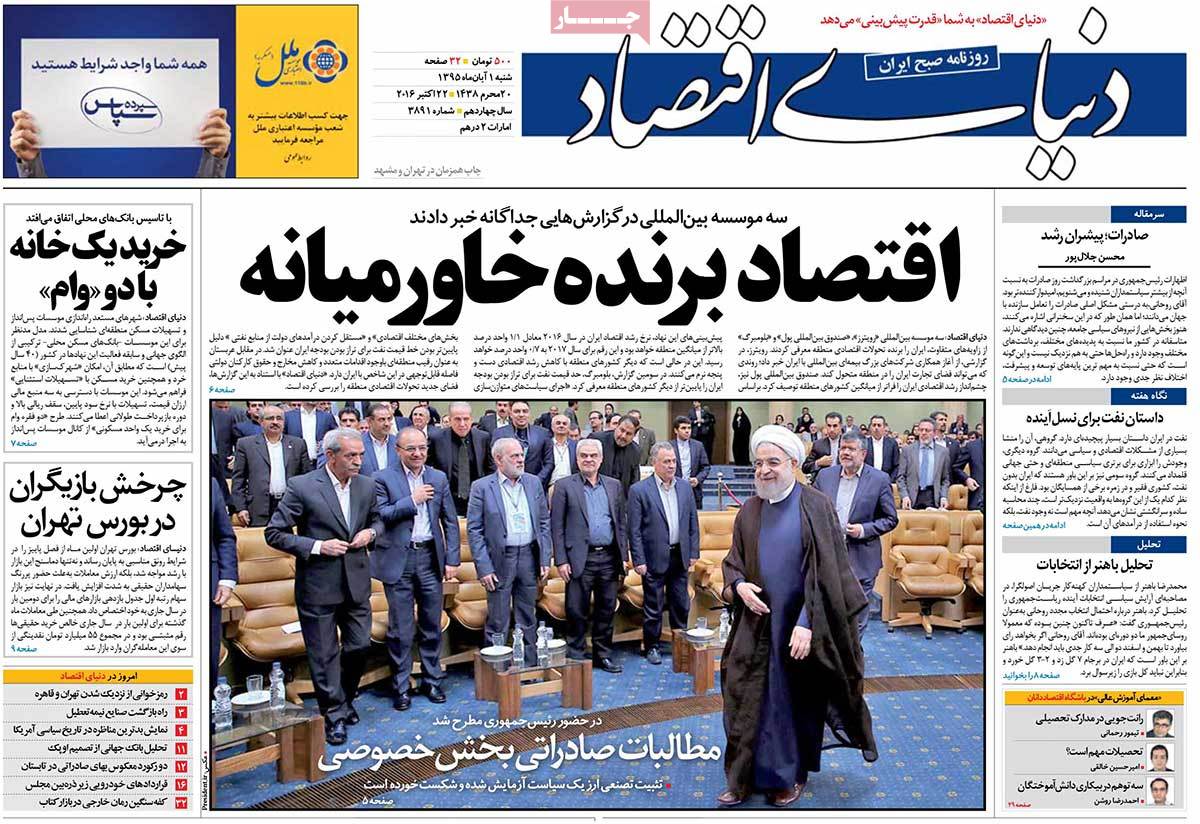 ---
Ebtekar:
1- Hariri Officially Supports Aoun: After 30 Months of Power Vacuum, Hope Returned to Lebanon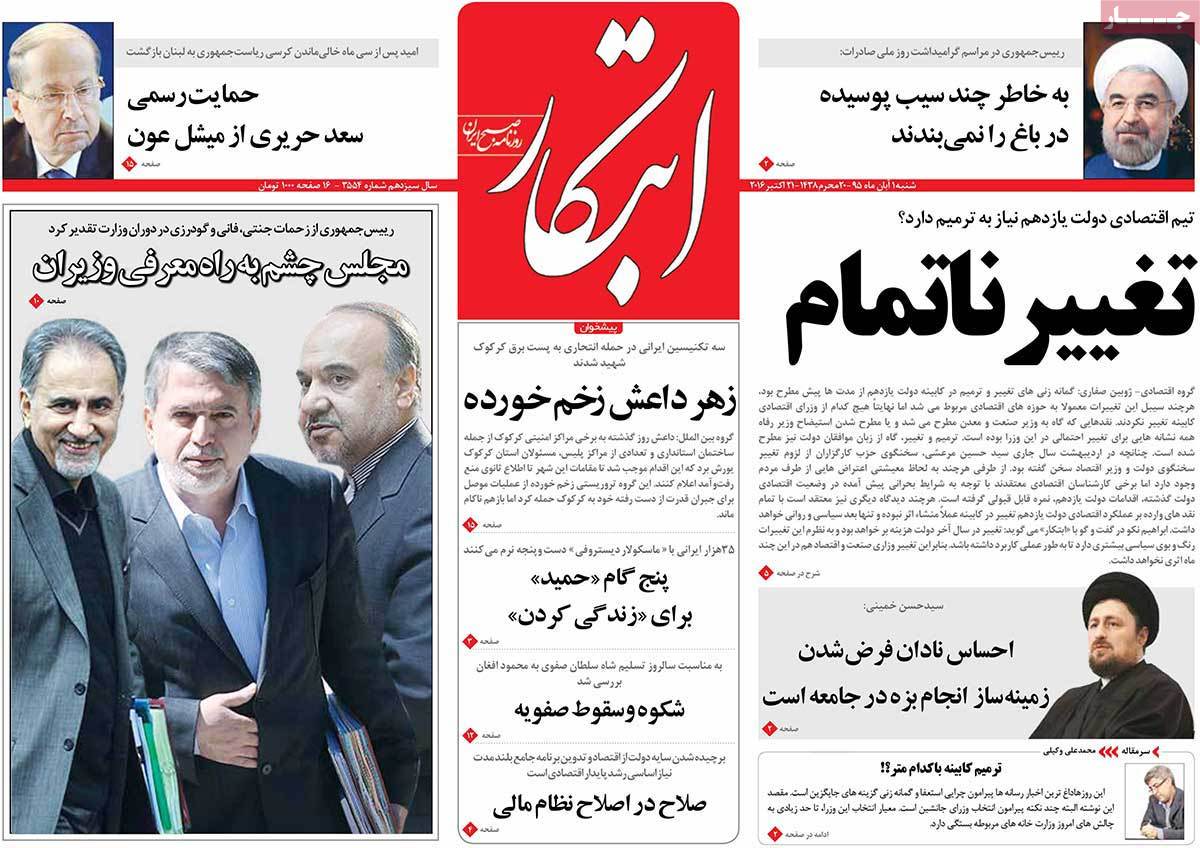 ---
Etemad:
1- Suggesting Ministers to Rouhani: After the Iranian President's Advisor Called for Recommendations, 13 Political Figures Offer Their Candidates
2- Bitter Last Supper: Hillary and Trump Face Off for the Last Time
---
Ettela'at:
1- President: Some Have Yet to Believe Iran's Might
---
Hemayat:
1- SNSC Secretary: Takfiri [extremist] Terrorists in Middle East Are Being Defeated
2- IRGC Commander: Islamic Revolution Prevented Zionist Regime [of Israel] from Expanding
3- US without Any Mask: More Secrets Revealed in Last Controversial Debate between Trump and Clinton
---
Iran:
1- Presidents of 10 Iranian Universities Hold Meeting with 19 Russian Counterparts in Tehran
2- 15 Environment Projects Finalized with Germany
3- Total's $2bn Investment in Iran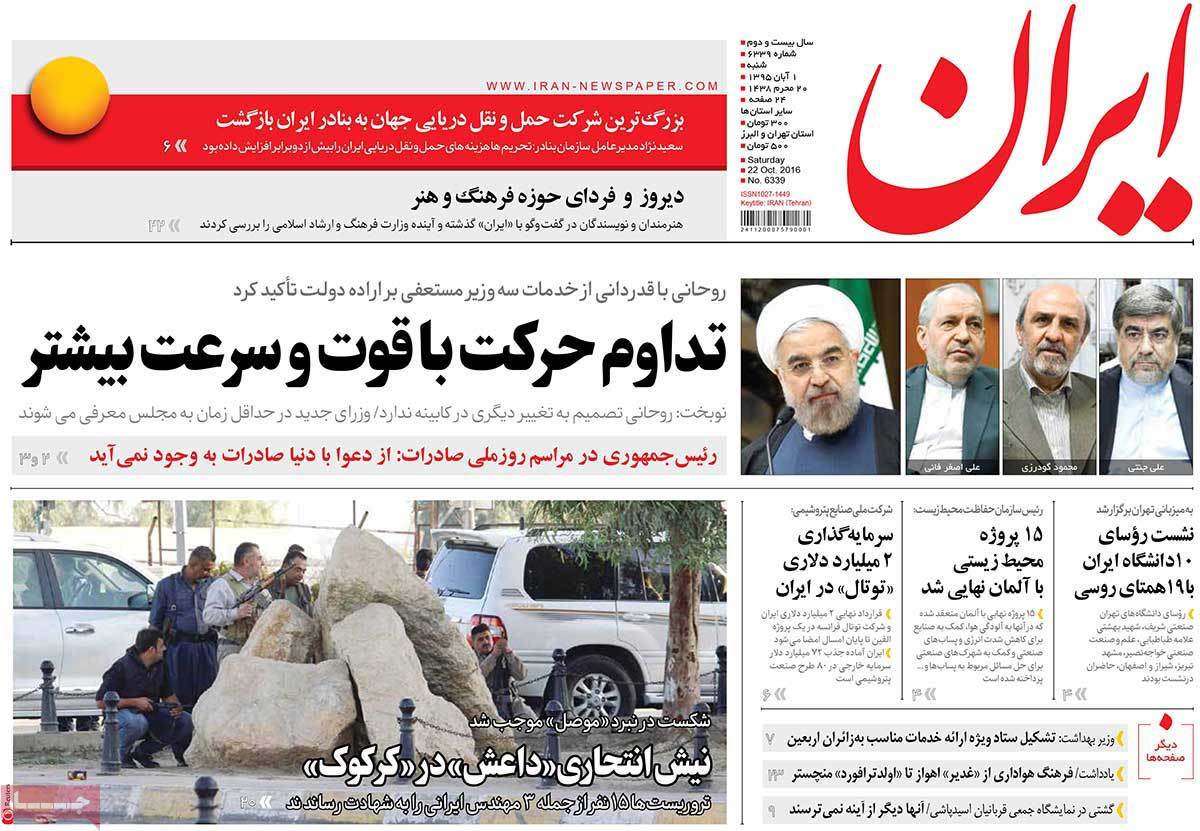 ---
Jame Jam:
1- Revealed in Last US Presidential Debate: $6bn, the Cost of Creating ISIS
2- Three Iranians Martyred in Kirkuk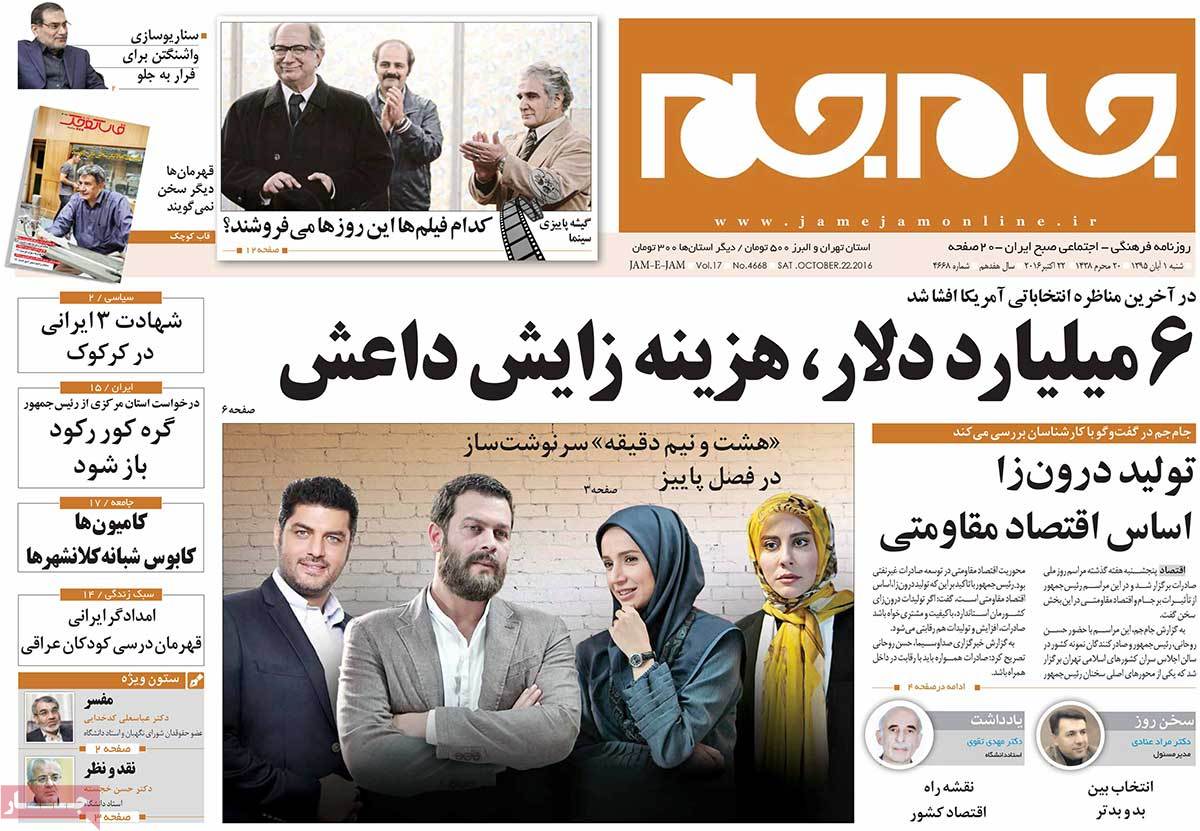 ---
Javan:
1- West's Threatening Gathering to Save Terrorists from Aleppo
2- Rouhani Proud of Importing Airplanes to Iran in His Speech on National Day of Exports!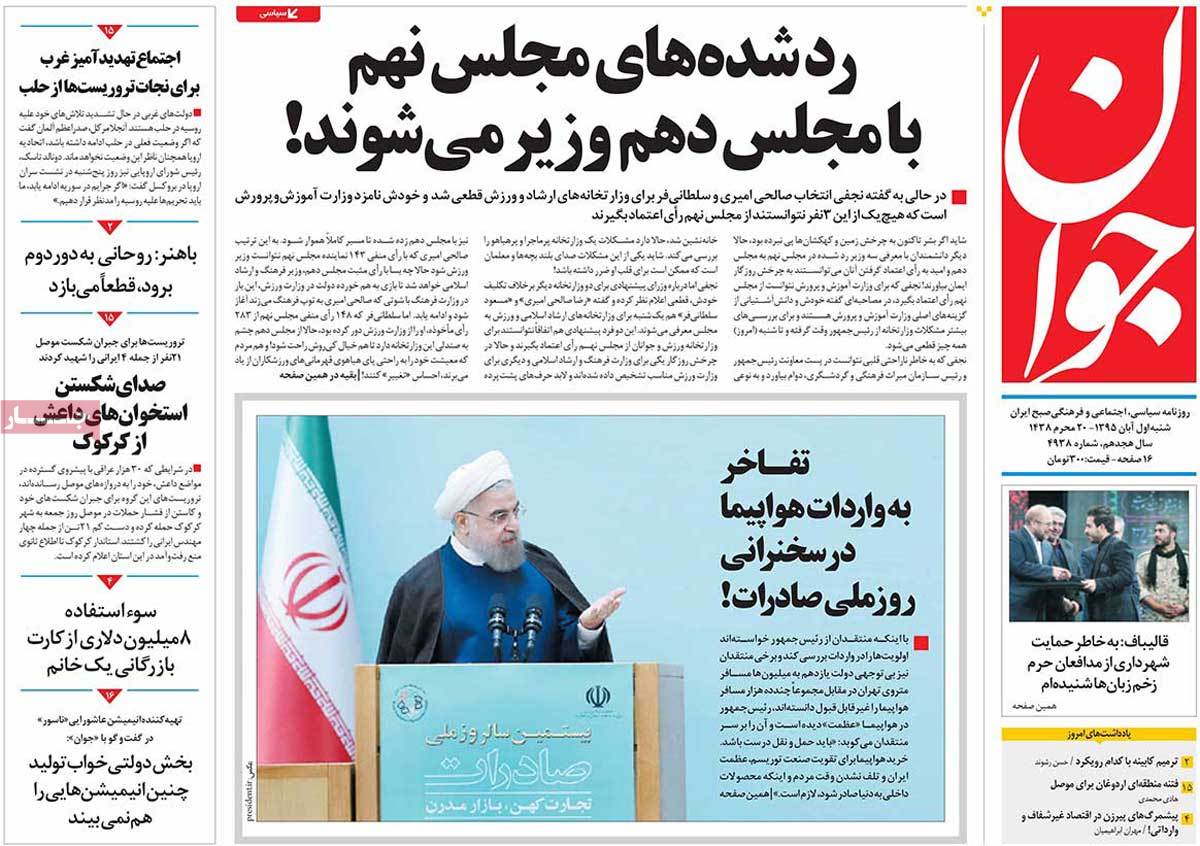 ---
Jomhouri Eslami:
1- Lavrov: Instability in Middle East Is the Result of West's Plots
2- Russian Futsal Team Shows Respect for Muslims and Wears Hijab in Match against Iranian Futsal Players
3- Kerry after Meeting with Saudi FM: Saudi Arabia Has the Right to Defend Itself against Aggression!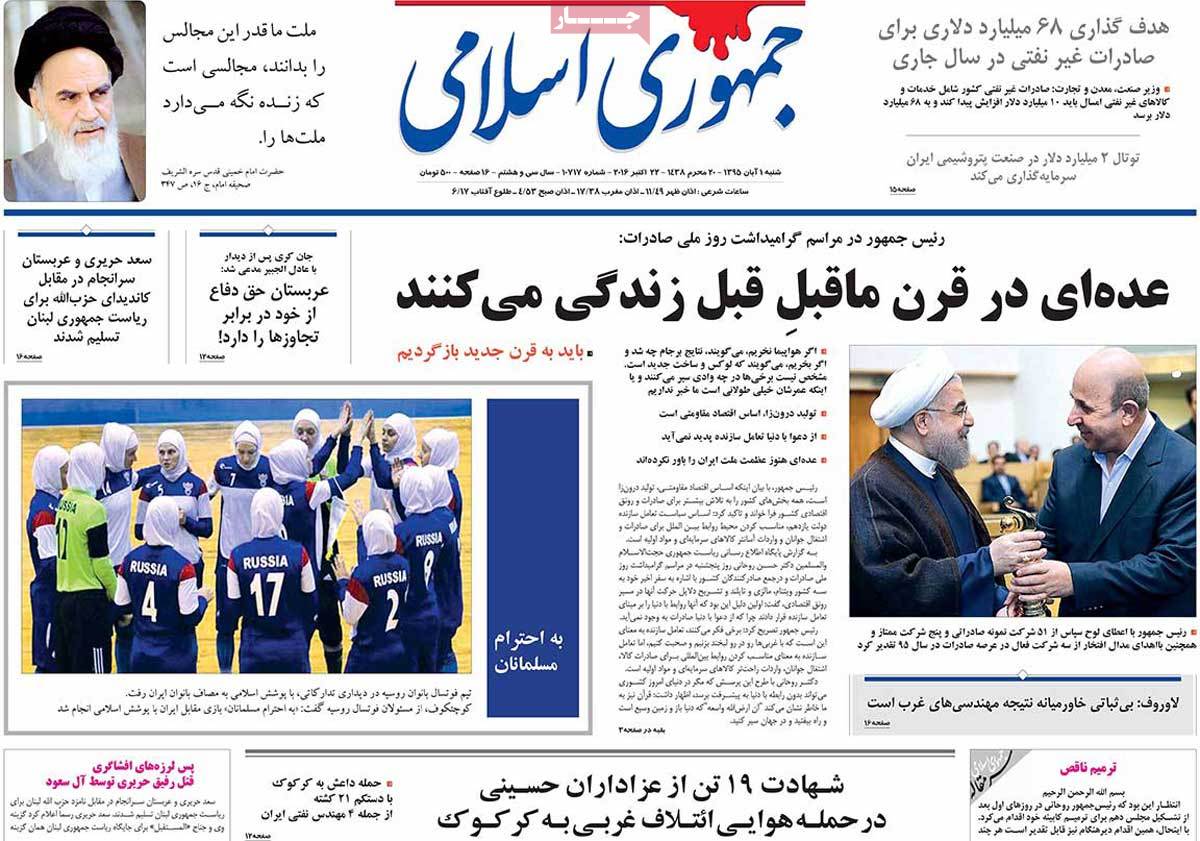 ---
Kayhan:
1- Turkey Takes Revenge of Mosul from Aleppo: 200 Civilians Killed in 40 Airstrikes
2- Americans Preparing the Grounds for Robbery of $6.6bn of Iran's Assets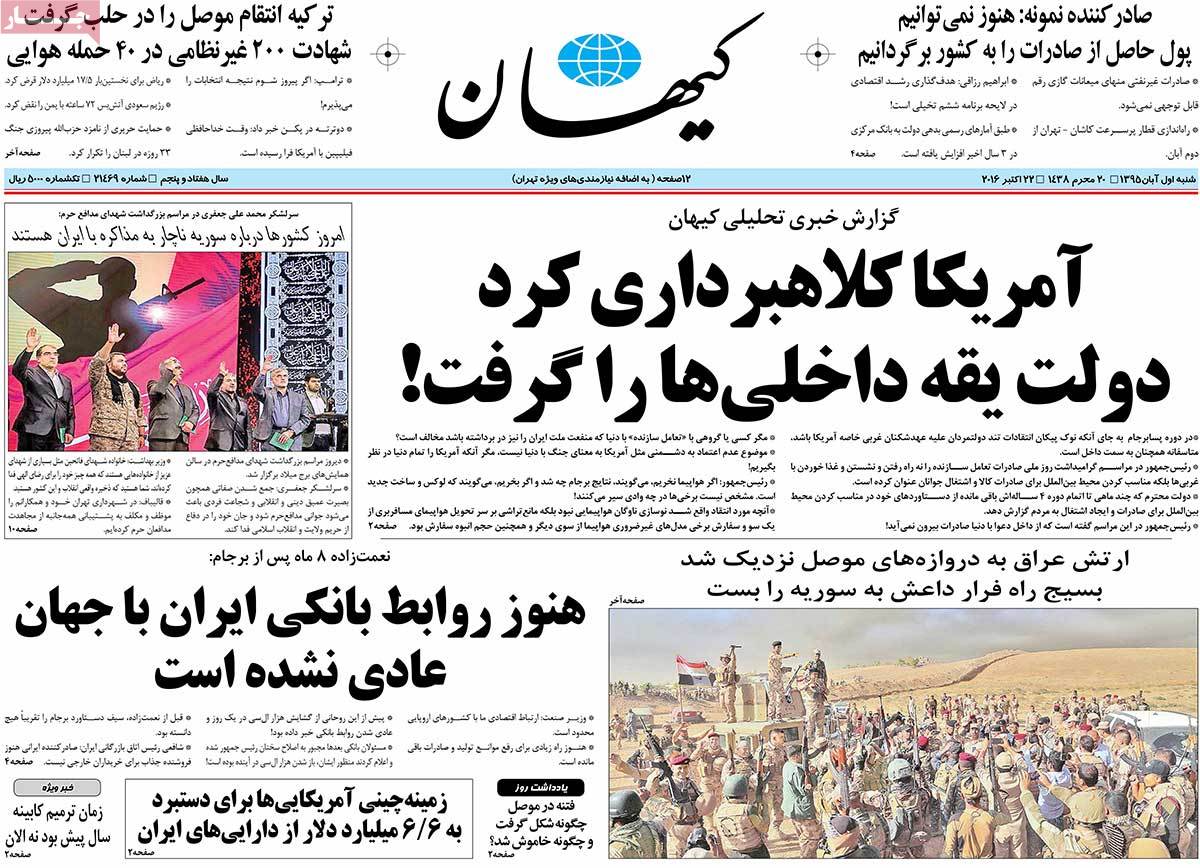 ---
Khorasan:
1- Speculations about Possible Options for Three Ministries: Government Spokesman Says Rouhani Is Not Going to Change Other Cabinet Members
2- March 14 Alliance Backs Off: Hariri Officially Supports Hezbollah's Candidate for Lebanese Elections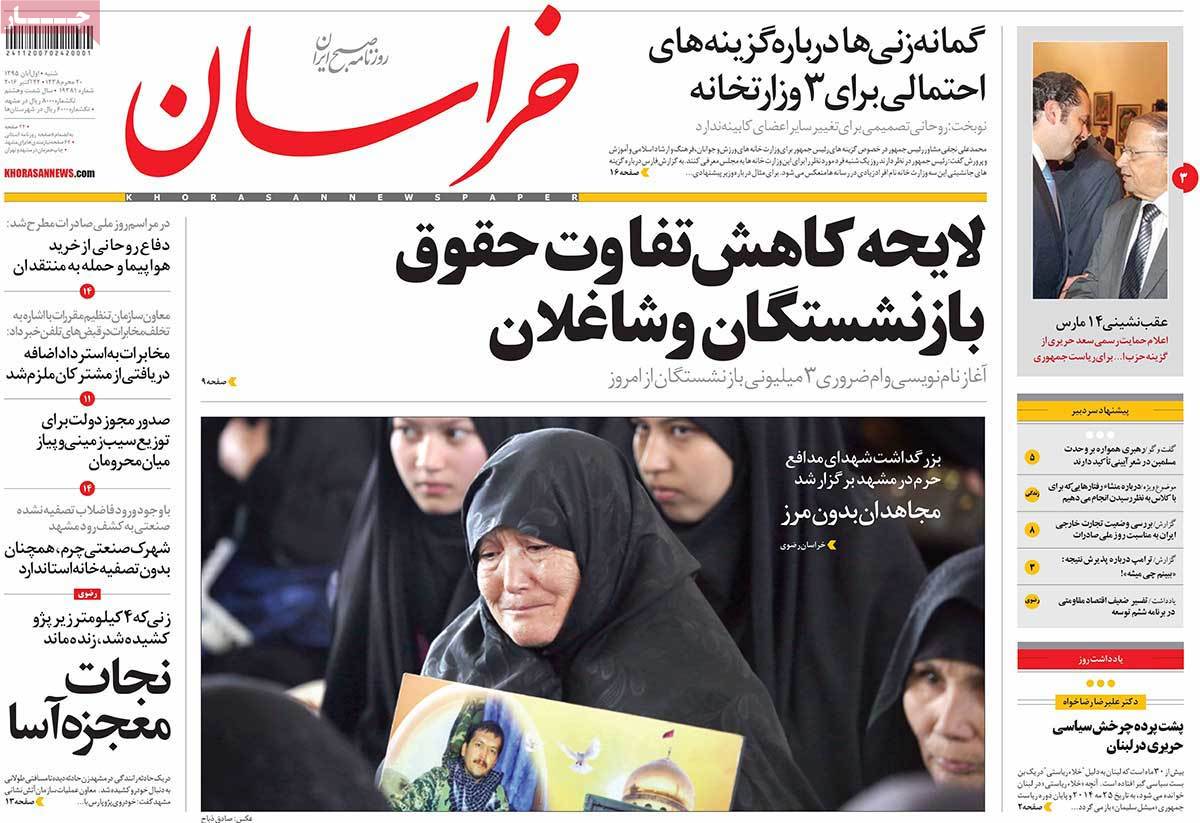 ---
Sepid:
1- 3 Iranians Martyred in ISIS Terrorist Attack: Iranian Officials Condemn Extremists' Attack on a Power Plant in Kirkuk
2- Humans Can Live 115 Years at Most: Studies of Albert Einstein Medical Faculty Indicate Immortality Is Not Possible
---
Setareh Sobh:
1- President: Fights Don't Lead to Exports; We're Looking for Peaceful Coexistence with Region and the World
2- In Last Duel between US Presidential Candidates: A Roomful of Money Delivered to Iran
---
Shahrvand:
1- New Ambassadors of Saving: Wives of 12 Ambassadors Living in Iran Join "I'm Lake Urmia" Campaign
2- Trump's Last Chance Is Lost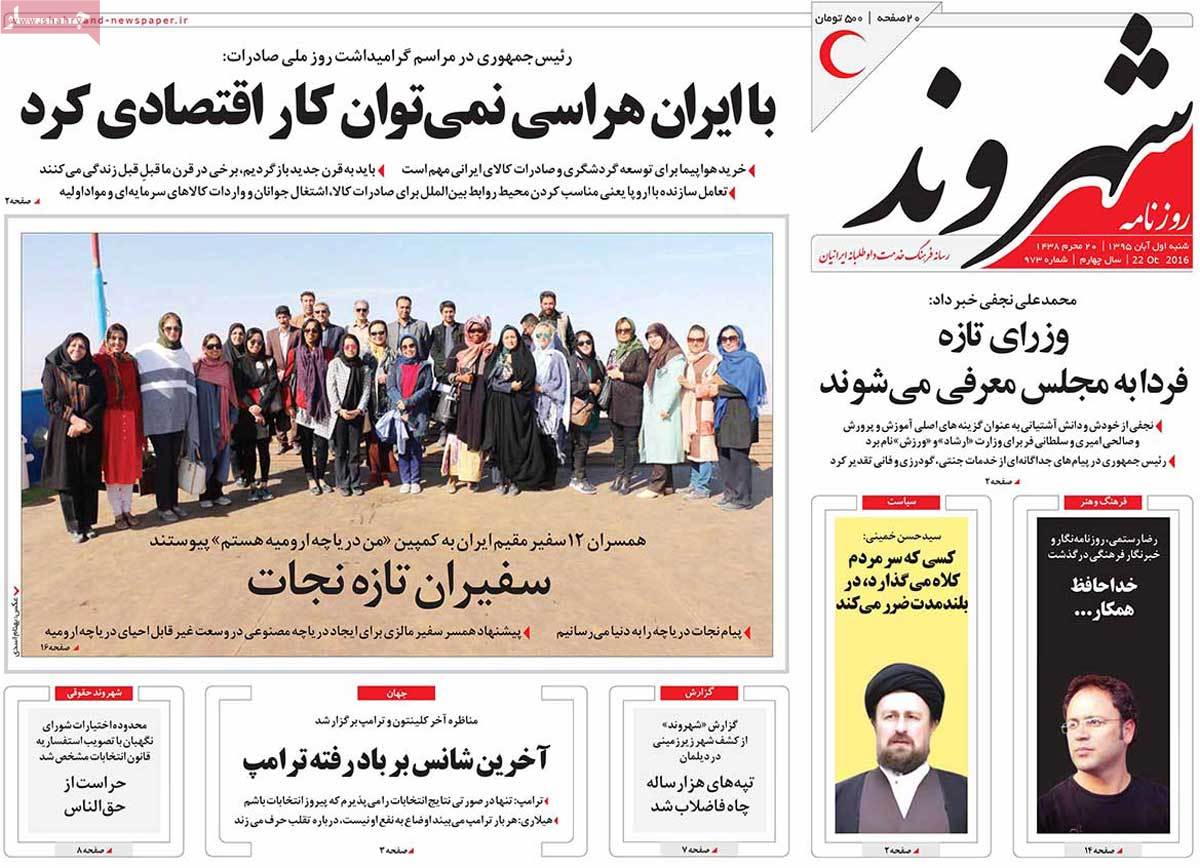 ---
Shargh:
1- Interview with Senior Energy Analyst John Roberts: Iran's Art Is to Change the Negotiating Table into the Signing Table
2- Should We Buy or Shouldn't We? President: If We Buy Planes, They Say Its Luxury, If We Don't, They Say What Happened to JCPAO Outcomes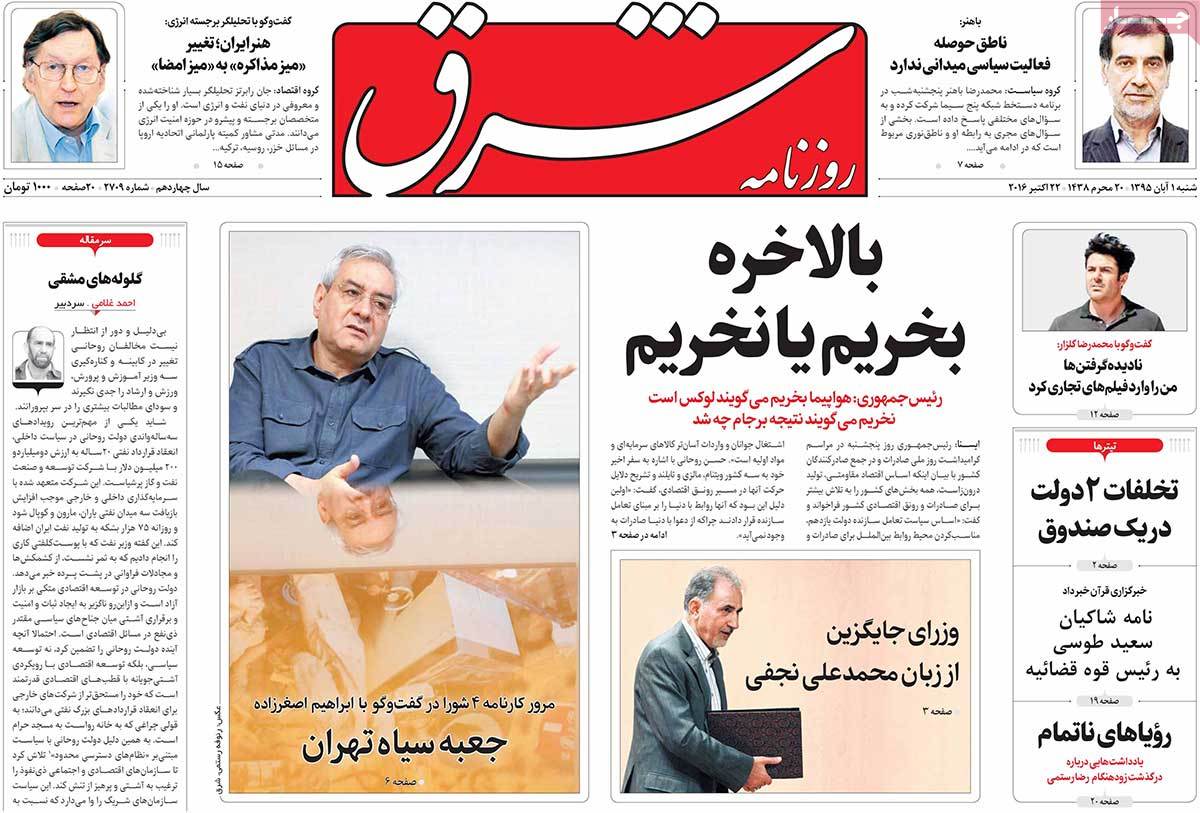 ---
Vatan-e Emrooz:
1- Trump's Refusal to Accept Results of US Elections in Last Debate with Clinton: If I Win, I'll Accept the Results