Newspapers on Wednesday covered the results of a trilateral meeting between Iranian, Turkish, and Russian foreign ministers in Moscow, which was focused on the issue of Syria and ways to resolve the crisis there.
The assassination of Russian Ambassador to Ankara also remained a top story today, with many newspapers covering the issue from different aspects.
An anti-Iran resolution passed by the United Nations Security Council also received great coverage.
The above issues, as well as many more, are highlighted in the following headlines:
19 Dey:
1- Senior MP: Iran Has Used Nuclear Deal; Trump Won't Be Able to Scrap JCPOA
2- Iran-Russia-Turkey Trilateral Meeting Results in a Decision to Revive Syria Peace Negotiation Talks
3- Bosnian Parliament Speaker: JCPOA Was the Victory of Wisdom over Tyranny and Sanction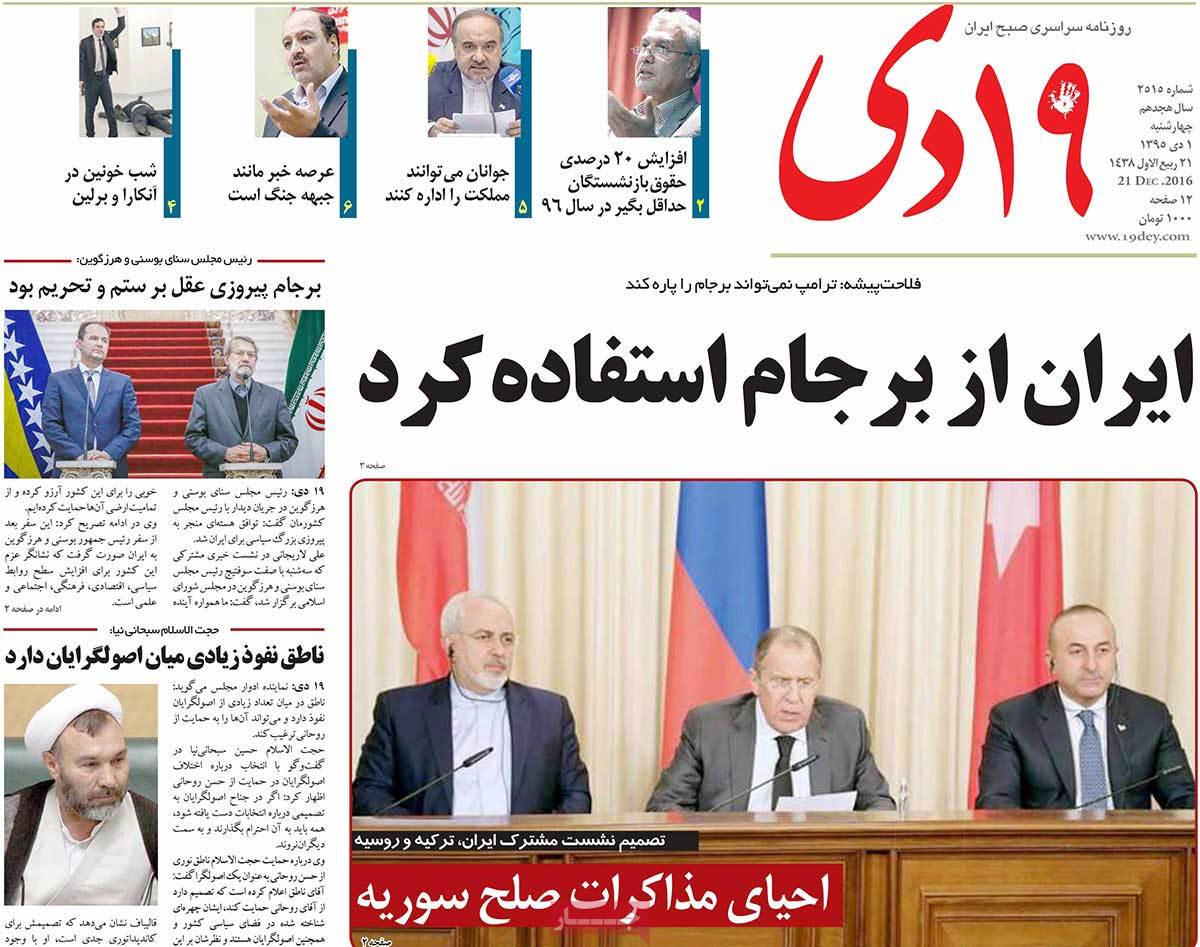 ---
Abrar:
1- Zarif: We Will Obey the Decisions Made by Supreme Board in Charge of Monitoring JCPOA Implementation
2- US State Dept.: Iran Has the Right to Urge JCPOA Joint Commission to Hold Session
3- Iranian Nuclear Energy Organization Spokesman: Fordow Nuclear Facility Won't Be Turned to Football Pitch
4- UN's Ban Worried about Genocide in South Sudan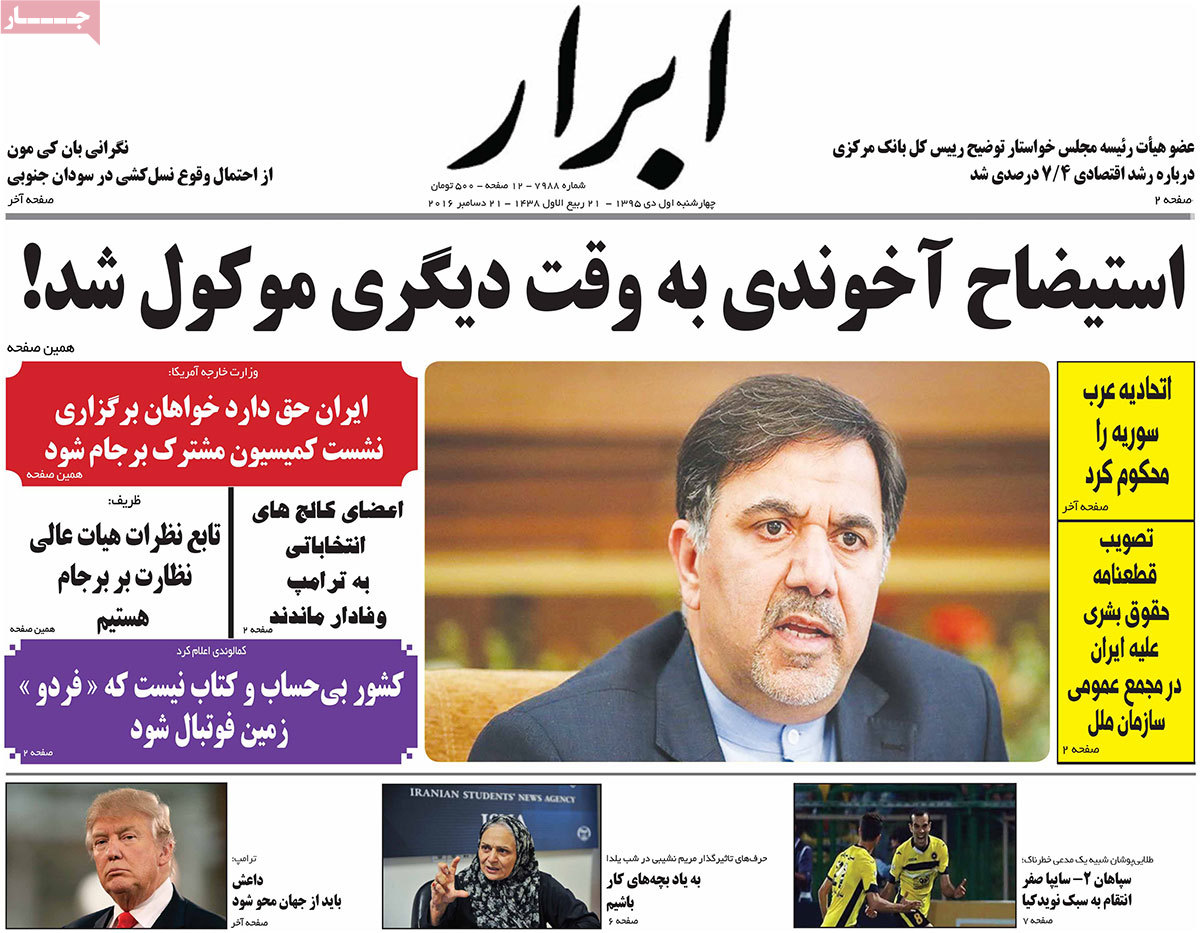 ---
Abrar Eqtesadi:
1- IMF Envoy Predicts: Decrease of Iran's Economic Growth of 3.5%
2- New List of Iran's European Oil Customers Announced
3- Greece Joins Customers of Iran's Gas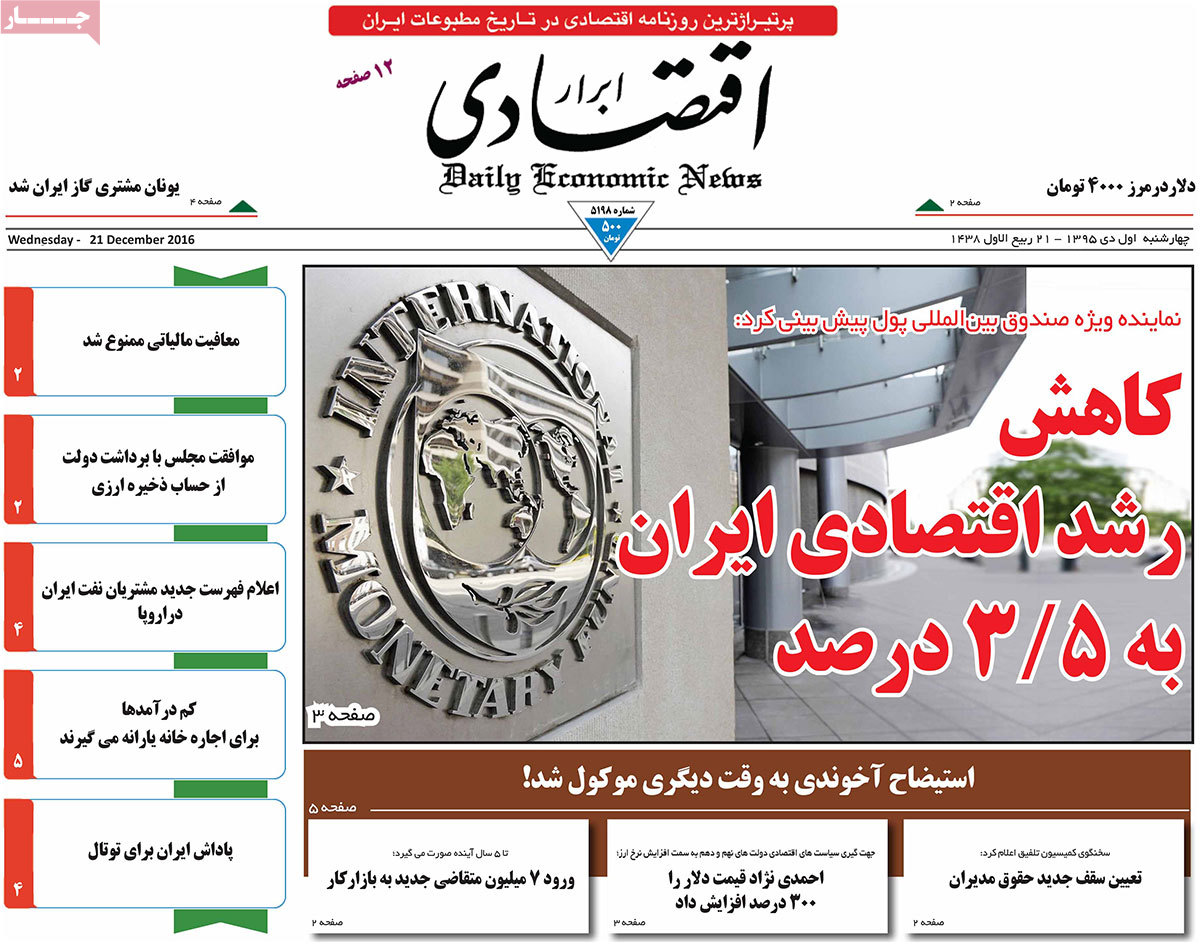 ---
Aftab-e Yazd:
1- A Corrupt Man Fighting Corruption: Who's the Only Rival of Putin in Russian Presidential Elections
2- Russian President Has His Own Fans Because He Has Revived Nationalism: Analyst
3- Thought-Provoking Results of Comparing Iran and Germany's Education Budgets
4- Iran, Turkey, and Russia Hold Trilateral Meeting: Ankara Accompanies Tehran and Moscow
---
Arman-e Emrooz:
1- Bitter Christmas in Europe: 3 Terrorist Operations in One Day with Same Objectives
2- Parliament's Research Centre: Men Insistent on Marrying Younger Women
3- Iran's Top Security Official Shamkhani: Iran and Russia Have a Joint Base in Syria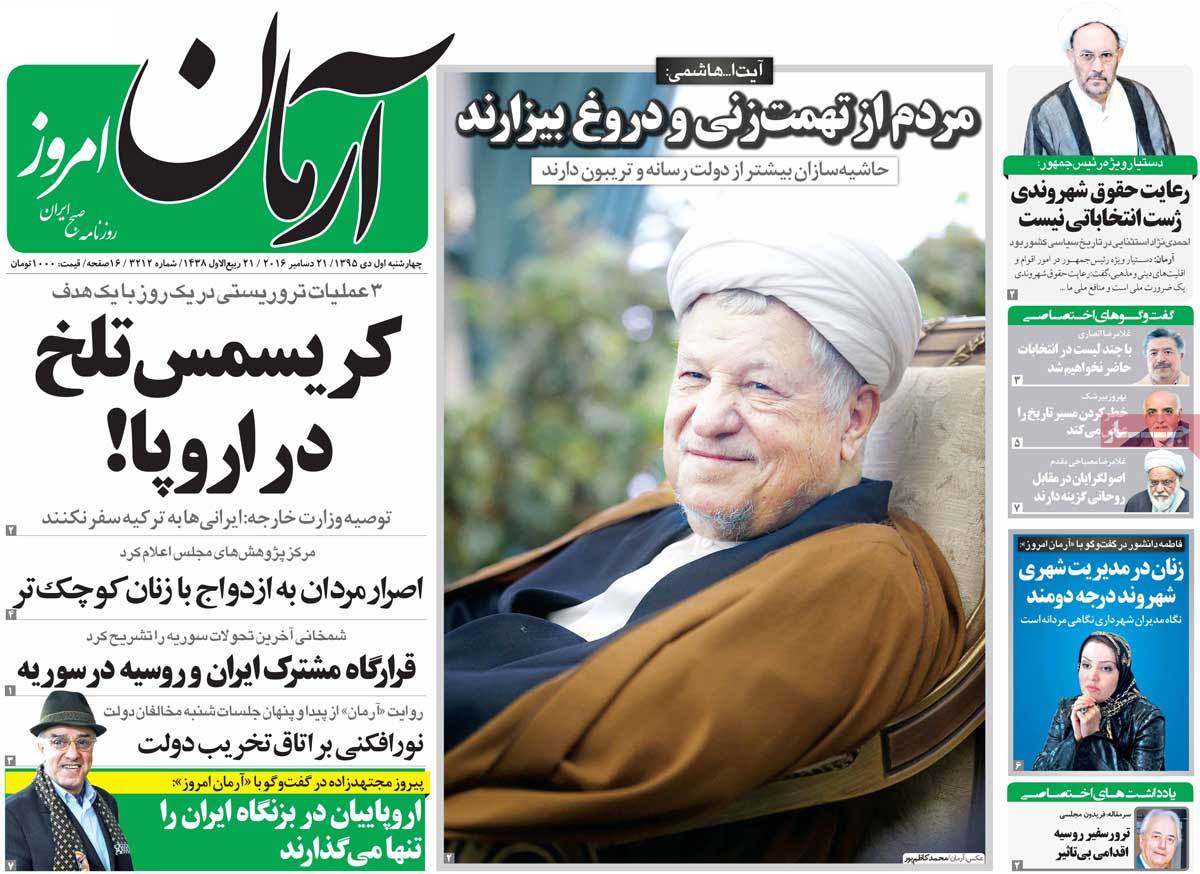 ---
Asrar:
1- Economy Minister: Iran Has $100 Billion Foreign Exchange Reserves outside the Country
2- Ayatollah Rafsanjani: Opponents Have Much More Media and Tribunes than the Government
3- JCPOA Joint Commission to Hold Session on January 10
4- Ahmadinejad's Government Was the Worst One in Terms of Violating the Law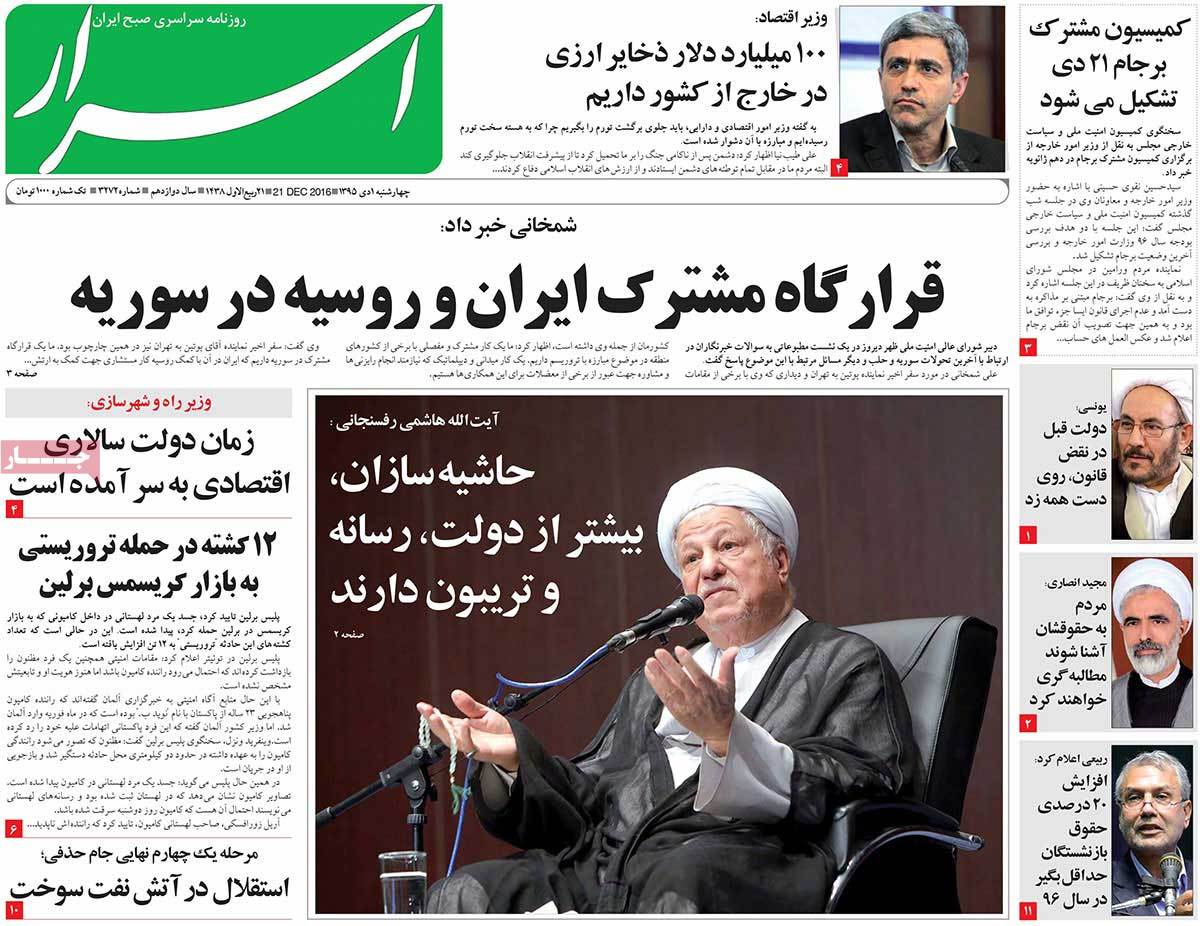 ---
Besharat-e Now:
1- Judiciary Chief: Some Claim that Iran's Islamic Establishment Is Afraid of Human Sciences
2- Zarif: Iran Standing by Russian Government in Fight against Terrorists
---
Etemad:
1- No One Will Be Exempted from Paying Tax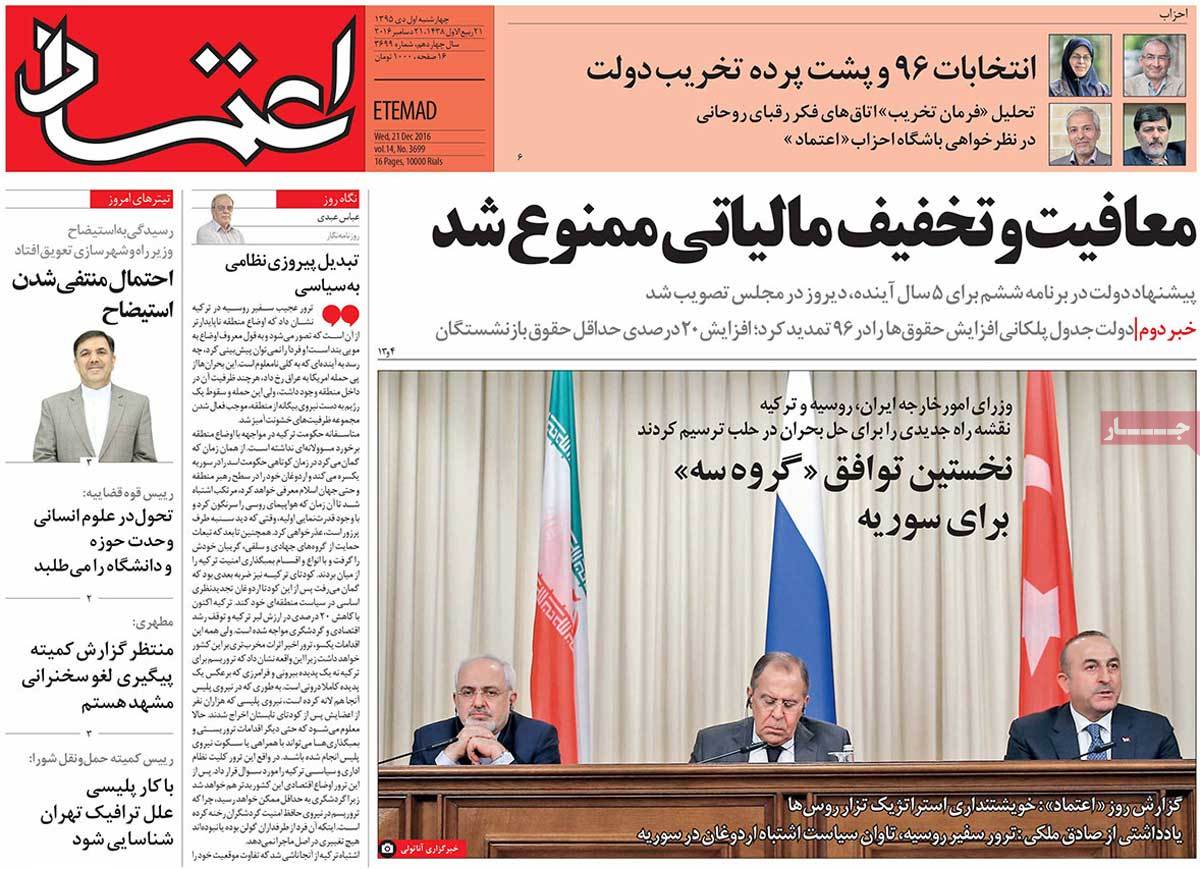 ---
Ettela'at:
1- Moscow Summit Supports Syria's Sovereignty and Territorial Integrity
2- After Karlov's Assassination, We'll Enter New Phase of Fight against Terrorism: Putin
3- President Rouhani's Special Aide: Civil Rights Is Not a Presidential Campaign Gesture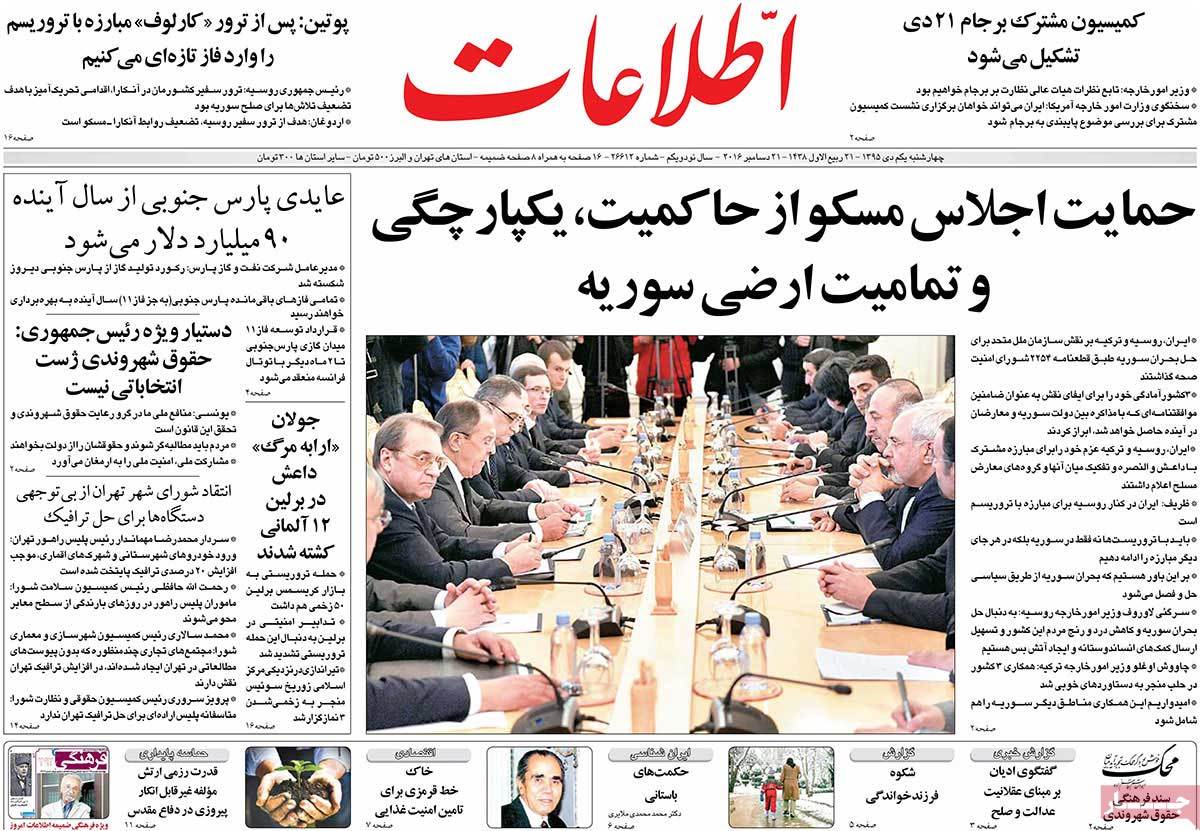 ---
Haft-e Sobh:
1- Gallery of Fear: A Review of Russian Envoy's Assassination in Ankara in 9 Takes; From Atrocity of Shooter to Courage of Photographer
2- Life in Middle East Has Become Like Horror Criminal Films Apparently Made by Tarantino
3- Tragedy in Northwestern Iranian Barracks: 19-Year-Old Soldier Loses His Leg in Mine Explosion after He Rushed to Save a Dog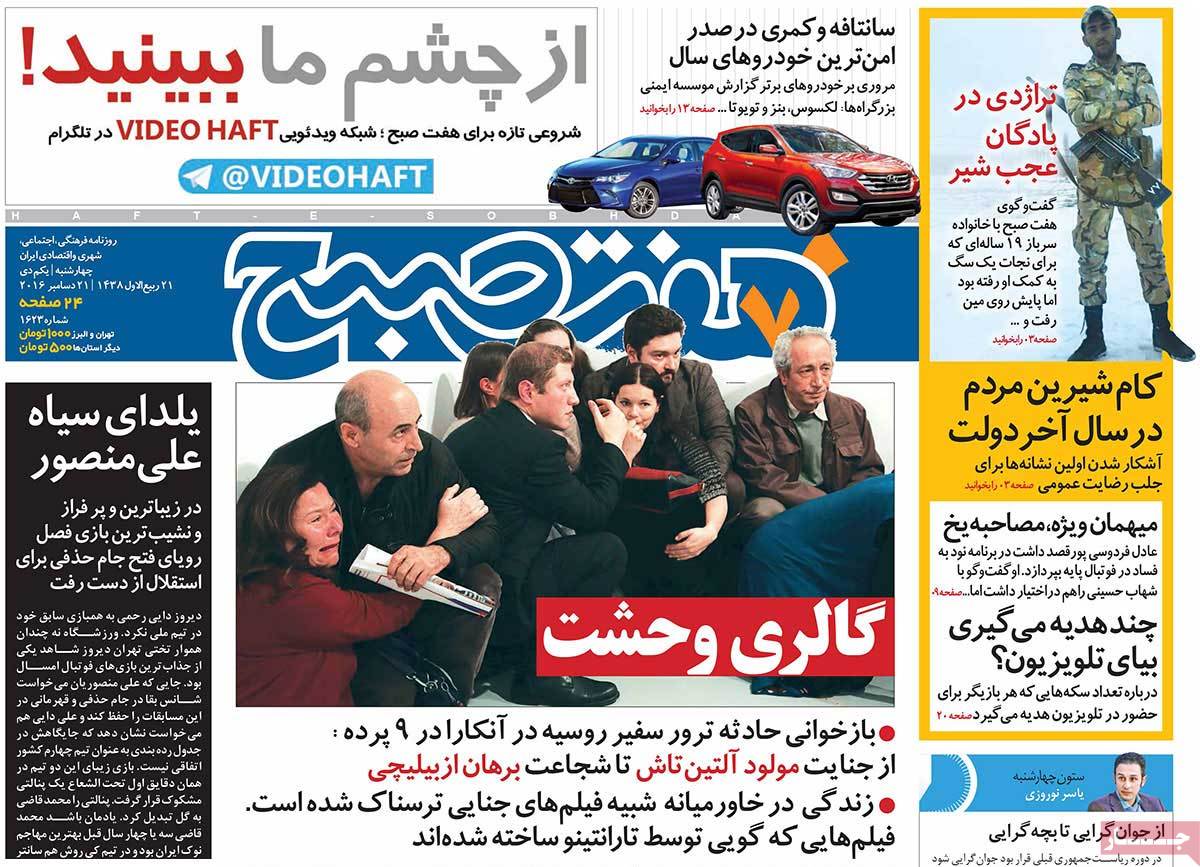 ---
Hemayat:
1- The Big Violator of Human Rights Initiates Anti-Iran UNSC Resolution!
Canada, as the Initiator of Anti-Iran Resolution, Is a Violator of Black and Indigenous People's Rights
2- Putin: They Will Taste the Fight against Terrorism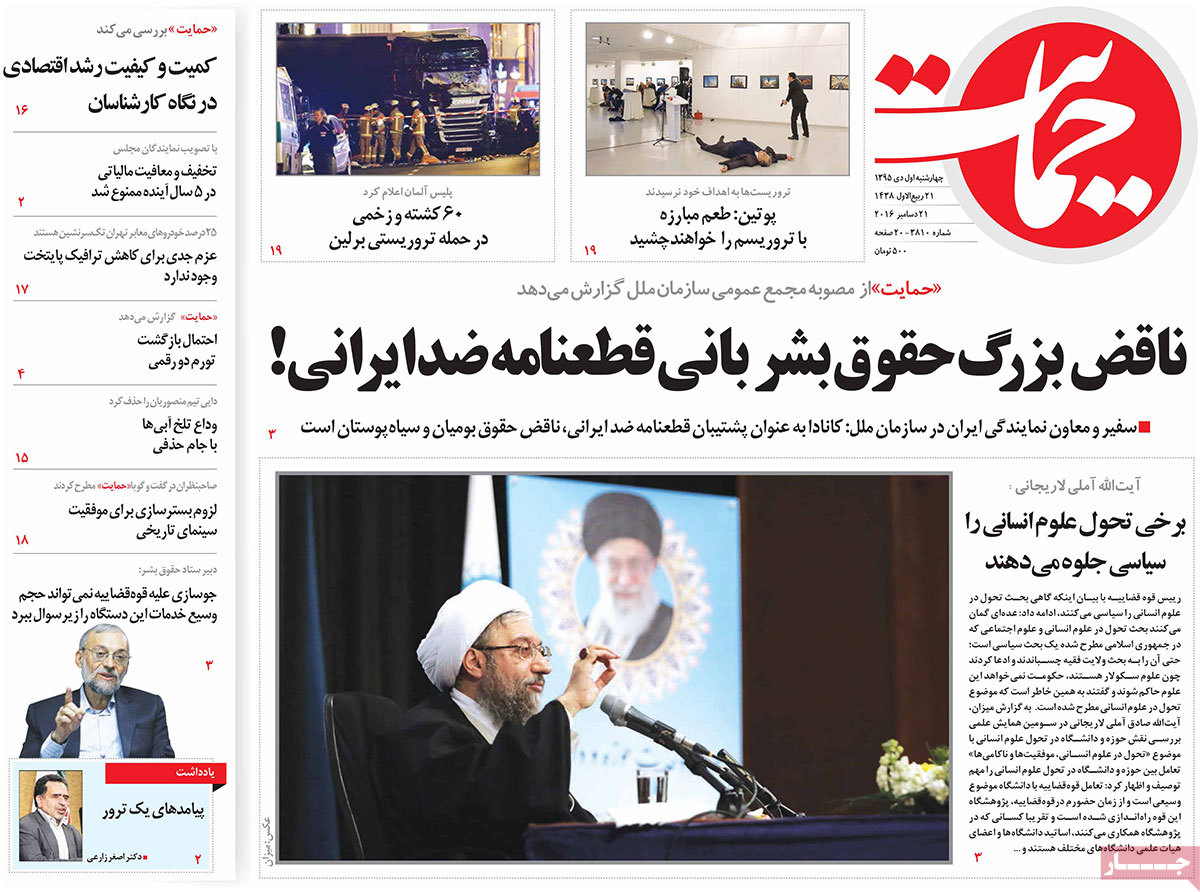 ---
Iran:
1- Minister of Labour: 20% Increase in Salaries of Retired Government Employees
2- World Shocked by Assassination of Ambassador: FMs in Moscow Summit Pay Tribute to Karlov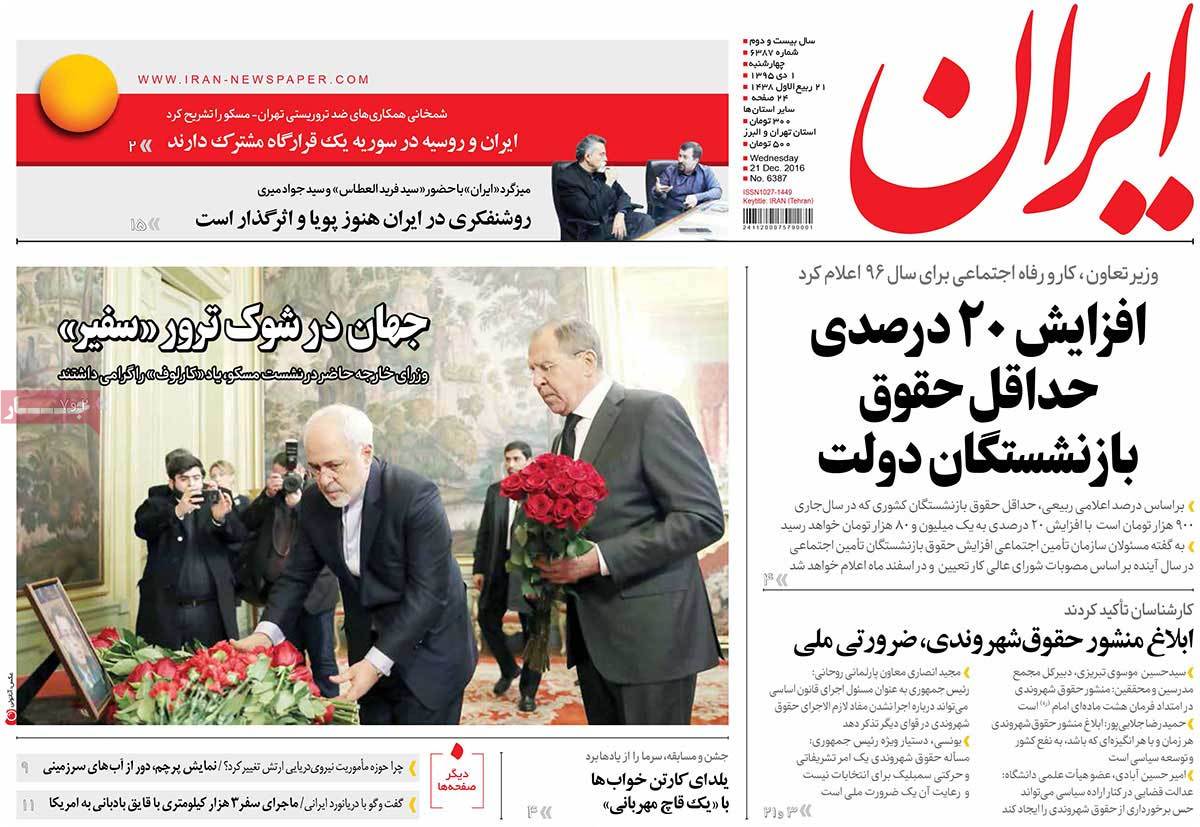 ---
Jame Jam:
1- Riyadh's Genocide under Shadow of London: British DM Reveals Sale of Cluster Bombs to Saudis
---
Javan:
1- Saudi Terrorism Implemented by a Policeman Who Was Erdogan Fan: Saudis Post Tweets of Happiness after Assassination of Russian Ambassador to Ankara
2- Putin to Erdogan: The One Who Issued the Order for Killing Russian Envoy Should Be Exactly Identified
3- Iran's Government Has No Informal Think-Tank or Secret Organization: VP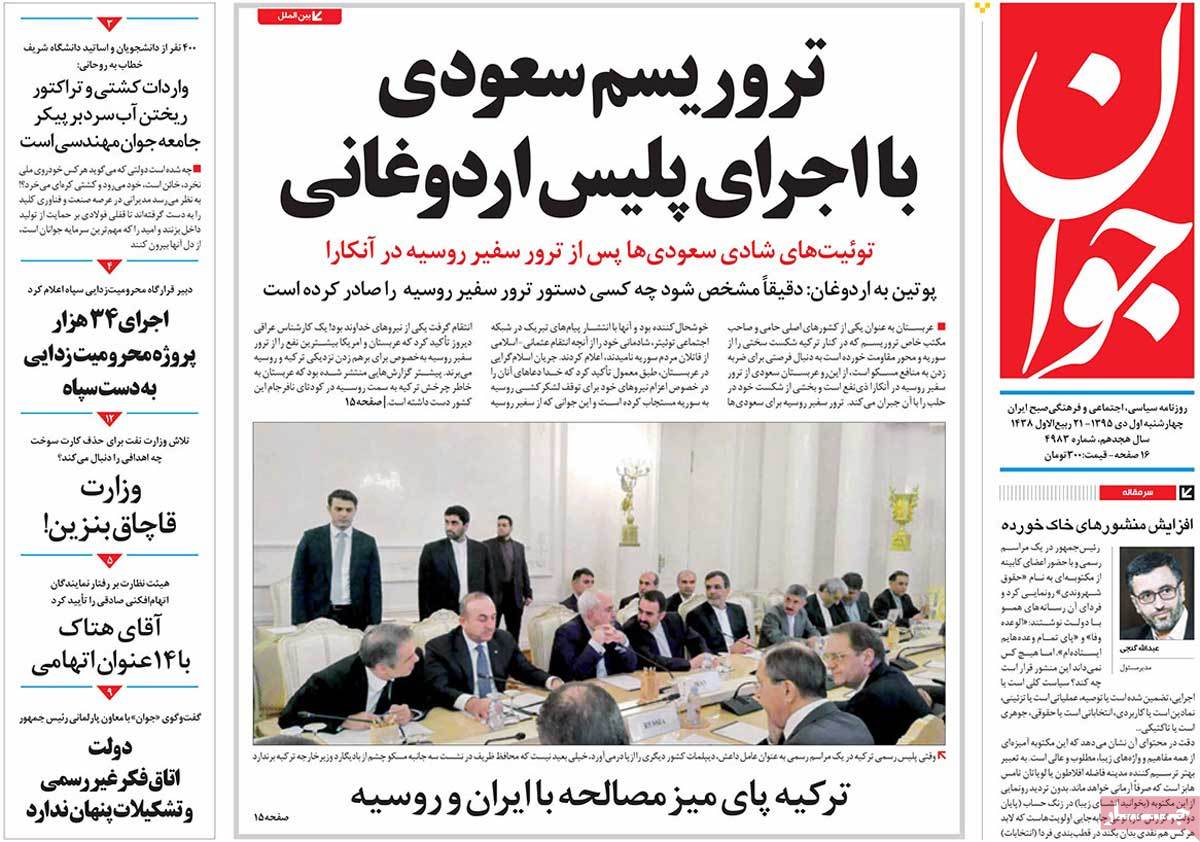 ---
Jomhouri Eslami:
1- Iran, Russia, Turkey Underline Nationwide Ceasefire in Syria
2- International Coverage of Russian Ambassador's Assassination in Ankara: Was Mossad behind the Terror?
3- Amnesty Int'l Accuses Myanmar of Crime against Humanity
---
Kayhan:
1- Designing in Washington, Pulling the Trigger in Ankara: A Report on Terrorist Attack against Russian Envoy to Ankara
2- Former CIA Deputy Chief: Kill Russians and Iranians
3- Intelligence Officers of Israel, Saudi Arabia, Qatar, and Jordan Trying to Escape Aleppo
---
Khorasan:
1- Ayatollah Rafsanjani: Opponents of Government Humiliating the Charter on Citizens' Rights Proposed by Rouhani in Their Media
2- Health Minister: All Iranians Will Have Electronic File Showing All Their Health Records
---
Payam-e Zaman:
1- Iran, Russia, and Turkey Issue Joint Statement: No Military Solution to Syria Conflict
2- New Record in World's Largest Gas Field: South Pars Gas Field Brings $378 Billion Income for Iran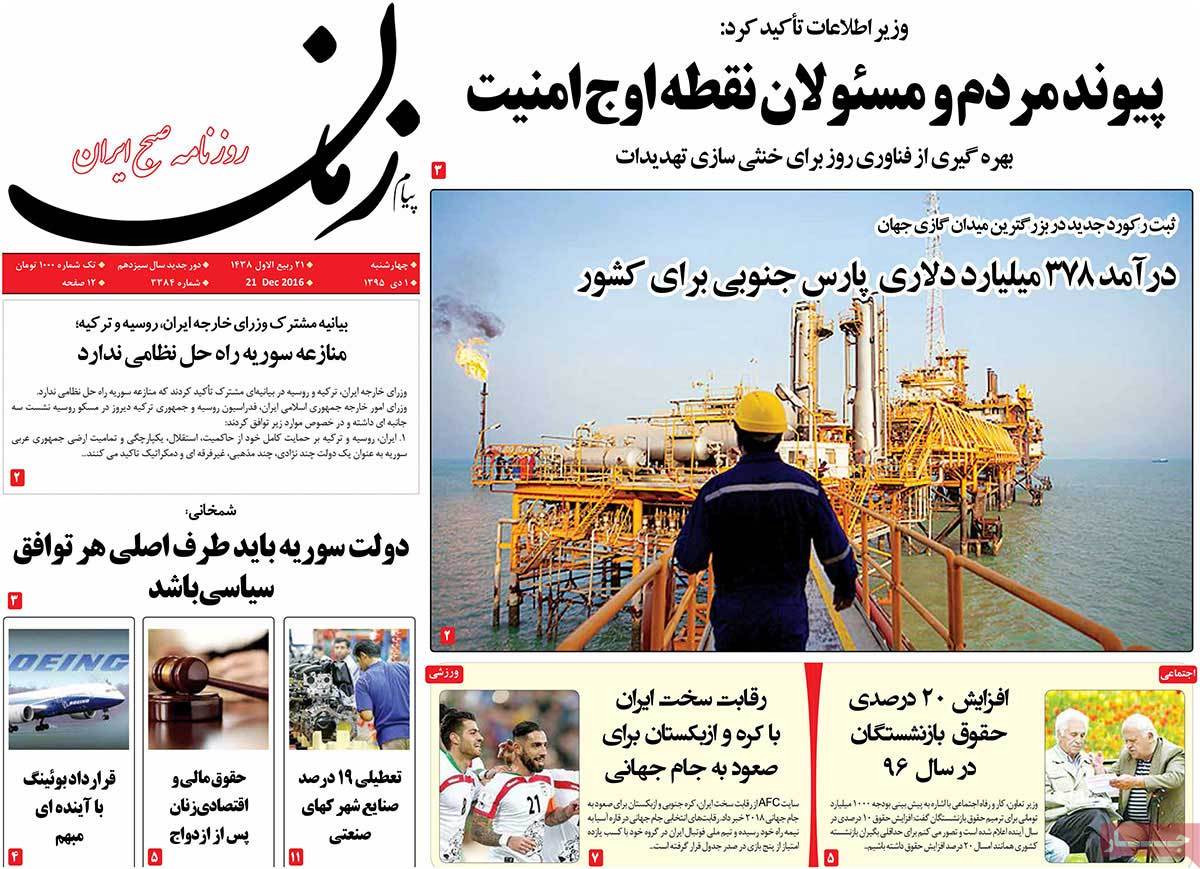 ---
Rah-e Mardom:
1- Labour Minister: Rouhani Government's Successful Diplomacy Doubled the Country's Oil Exports
2- Government Doesn't Trust Domestic Producers: A Report on What Foreign Contracts Do to Domestic Production
3- Decrease in Young Population in Alarming Level: Why Increase of Population Is Important for Iran?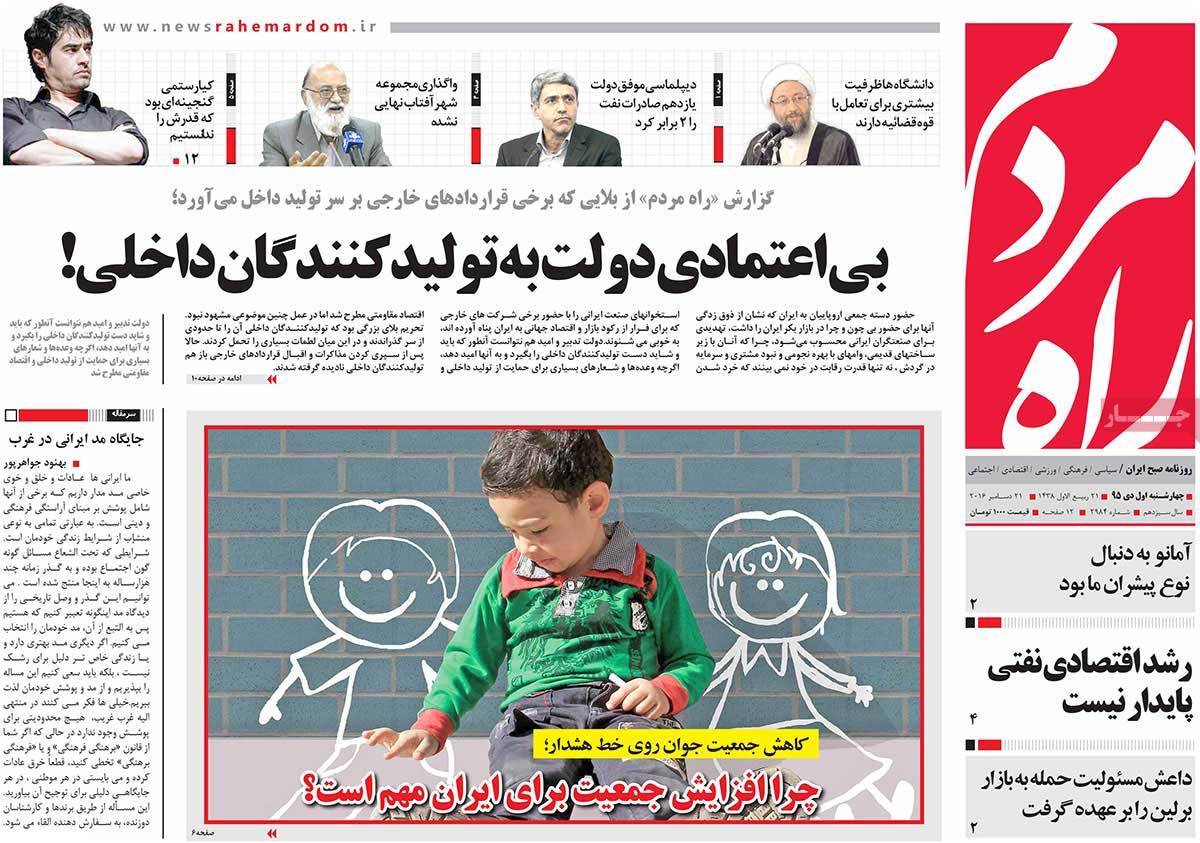 ---
Resalat:
1- Iranian Spokesman: Our Nuclear Snapback Will Surprise Everyone
2- Former MP's Letter to Parliament: Fighting Corruption Has No Other Way than Transparency
3- Ayatollah Noori Hamadani: Authorities Should Not Raise Their Problems in Media
---
Saheb Qalam:
1- Daily Sale of 700,000 Barrels of Oil to 15 European Countries
2- SNSC Secretary Shamkhani: Syrian Government Should Be Main Party in Every Political Deal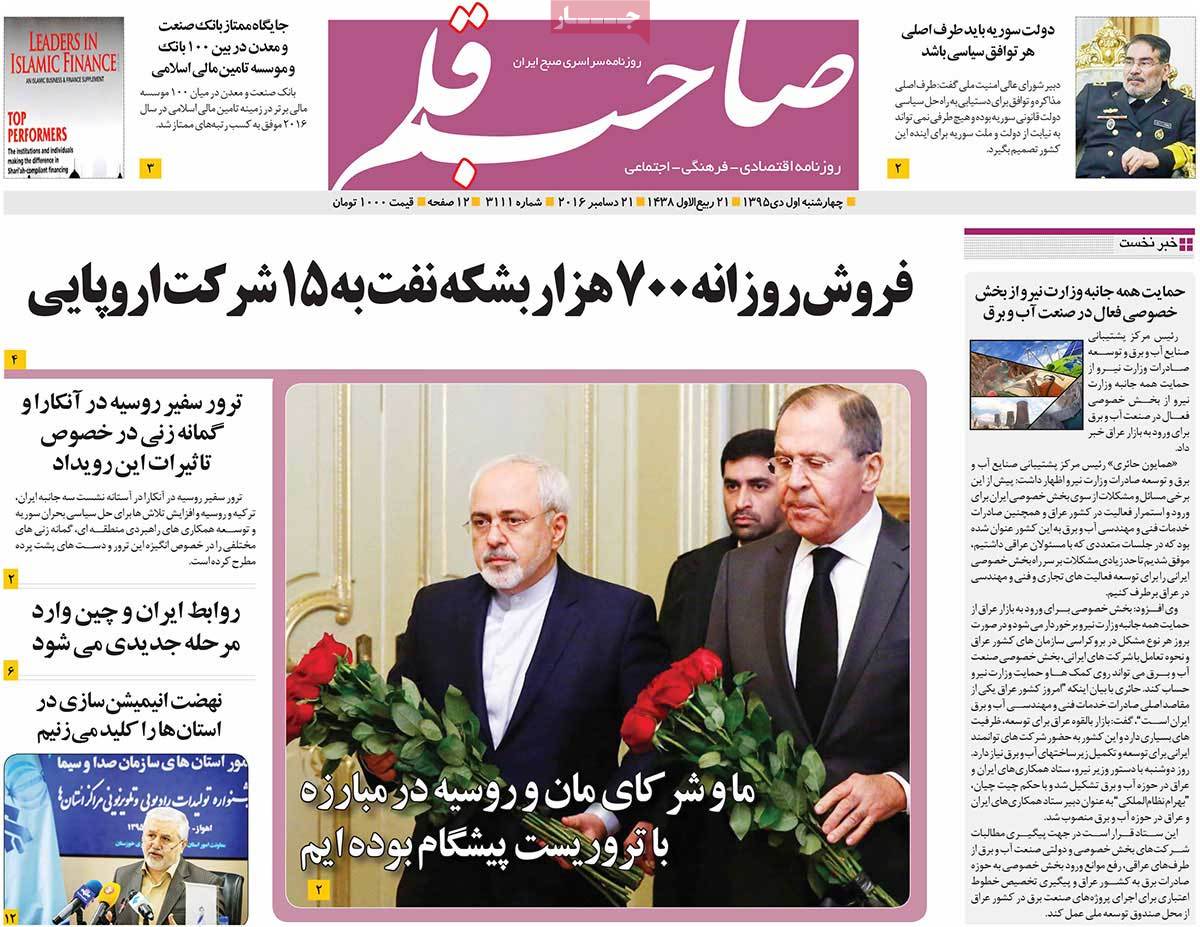 ---
Shargh:
1- Mediation Offer to Resolve Syrian Crisis
2- Russia to Send Investigation Team to Turkey over Assassination of Envoy
3- What Iranian Users Said in Twitter?
4- Rouhani: I Keep My Promises about Young People
5- Spokesman: Those Who Don't Have Enough Information Should Keep Silent on JCPOA
---
Vaghaye Ettefaghieh:
1- Sexual Crisis in Weak Education: A Report on a Lack of Sexual Health in Iranian Schools and Cyberspace Challenges Swallowing Students
2- Silence over Death of Wildlife: Cold Weather, Illness, and Car Crashes Are Not Causes of Death among Humans Only; 6 Iranian Cheetahs Have Been Killed in Only One 12-Kilometre-Long Road in Iran
3- New Front Formed to Support Assad: Turkey Joins Iran and Russia