The remarks made by the Leader of the Islamic Revolution Ayatollah Seyyed Ali Khamenei about the responsibilities of clerics and seminarians as well as the necessity for getting familiar with the cyberspace received great coverage by newspapers on Wednesday.
They also covered the meetings between President of French National Assembly Claude Bartolone and Iranian officials including President Hassan Rouhani and Parliament Speaker Ali Larijani.
The anniversary of Mina stampede, 2015, was also a top story in many papers today.
The above issues as well as many more are highlighted in the following headlines:
Abrar:
1- Staff at Iranian Embassy in Kabul Are Safe
2- British Foreign Office's Statement about Its New Ambassador to Tehran
3- Moscow: More than Half of the Promised S-300 Equipment Delivered to Iran
4- Hungarian PM Warns of Increase in Number of Refugees Coming to Europe
---
Abrar-e Eqtesadi:
1- Iran Sends 500 Barrels of Oil to Europe per Day
2- Transfer of German Construction Technology to Iran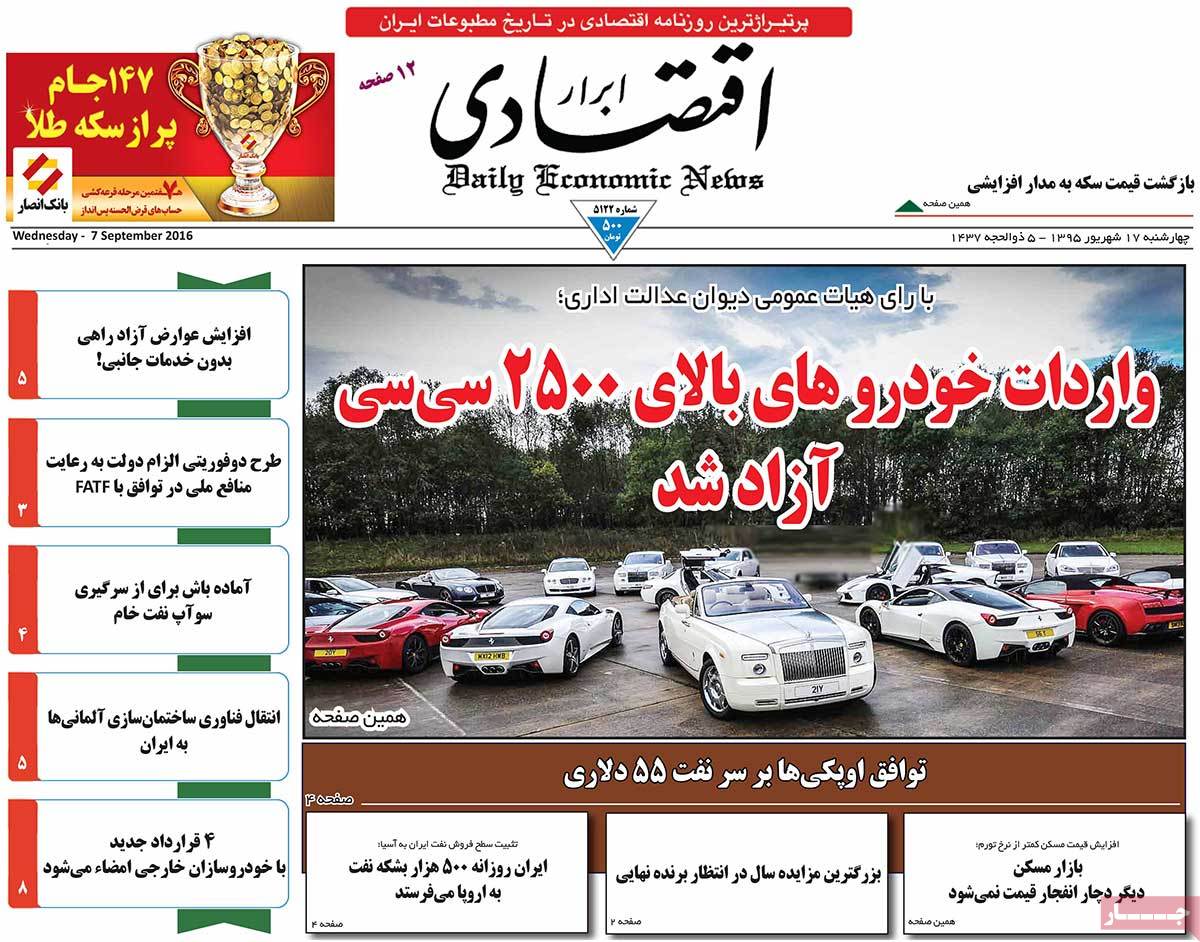 ---
Afkar:
1- Rouhani: Regional Stability Hinges on Cutting Support for Terrorism
---
Aftab-e Yazd:
1- Leader: Most Important Duty of Clerics Is to Clarify Religious Doubts and Counter Plots for Secularization
2- Israel's Extensive Efforts to Prevent Iran from Joining FATF
3- Warning against Use of Alcohol in Iran
4- Important and Meaningful Visit of Intelligence Minister to Germany: Iran's Top Security Official in Heart of Europe
5- Has Iran Lost Russia's Market after Thaw in Moscow-Ankara Ties?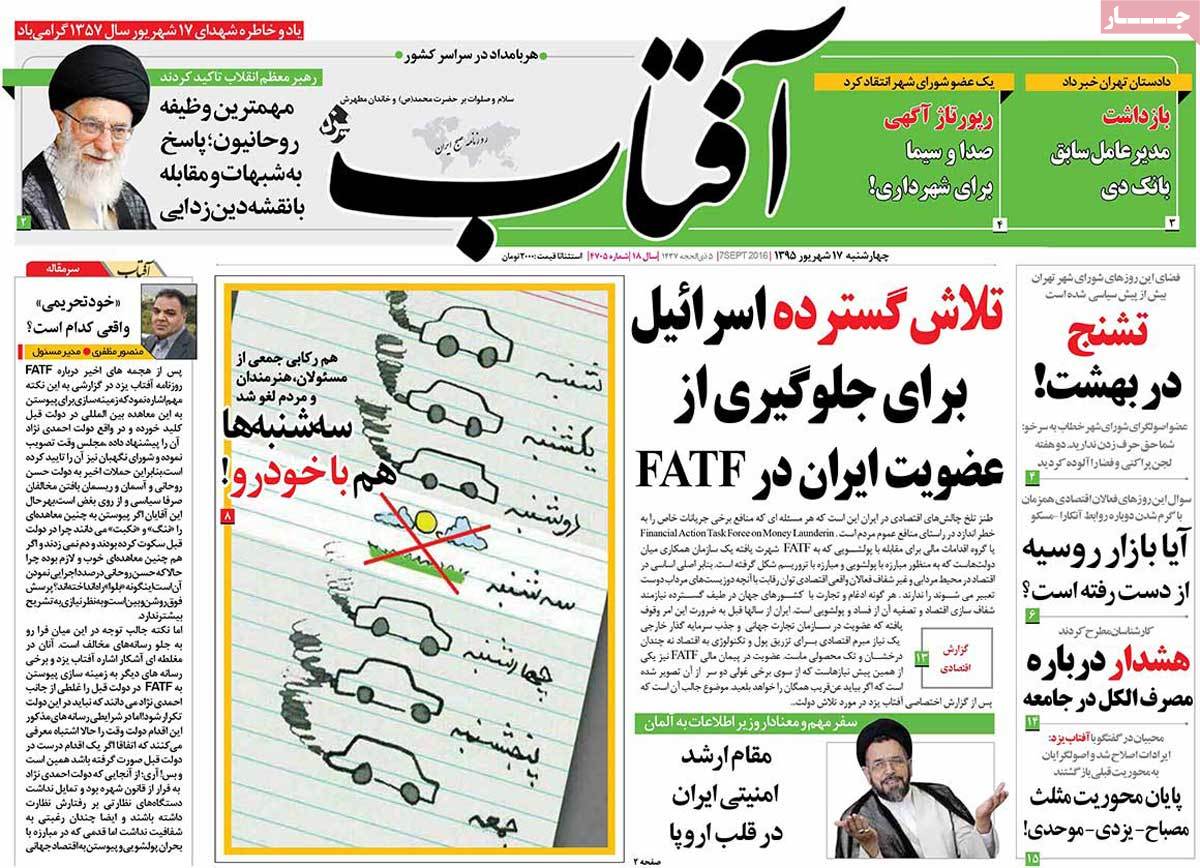 ---
Amin:
1- No-Fly Zone and Rejection of Erdogan's Request by US and Russia
2- Israeli Newspaper's Claim about Cooperation of Iran and Hezbollah with Israel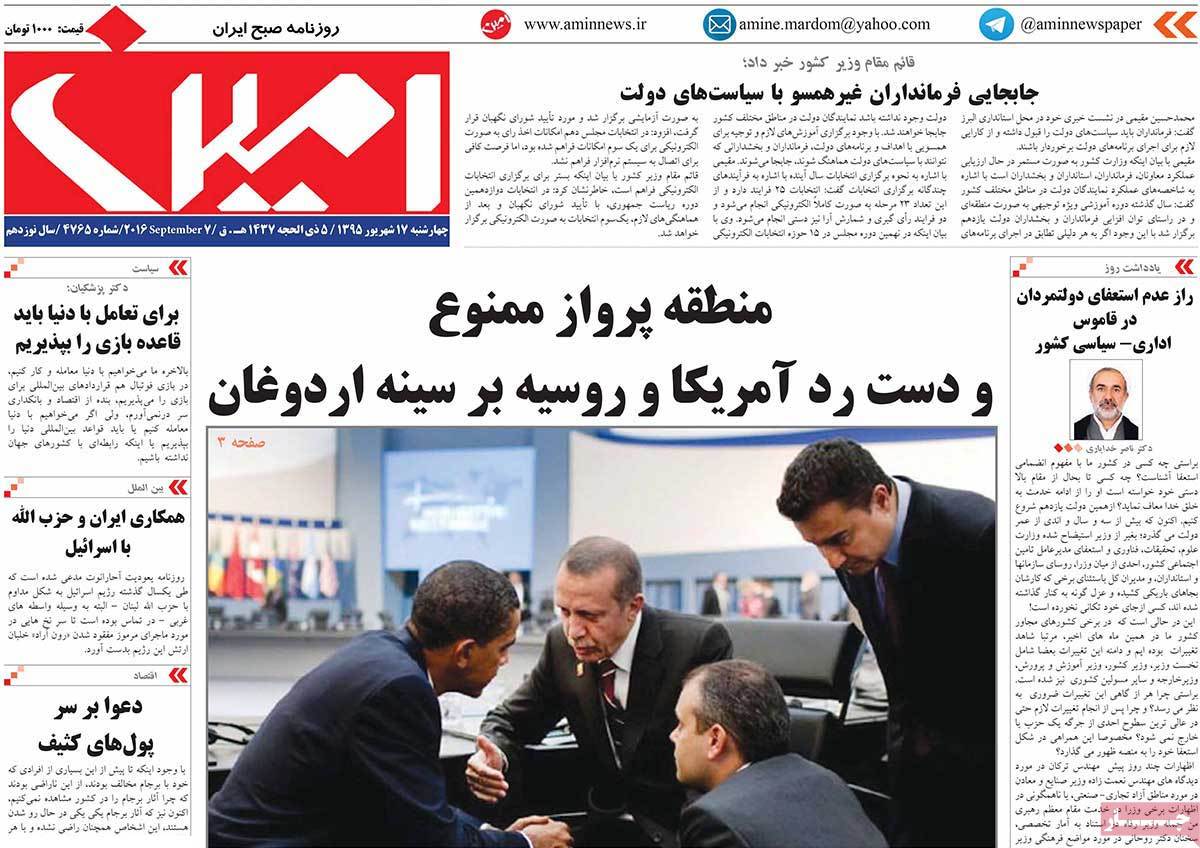 ---
Arman-e Emrooz:
1- Leader: Seminary Should Use Opportunities of Cyberspace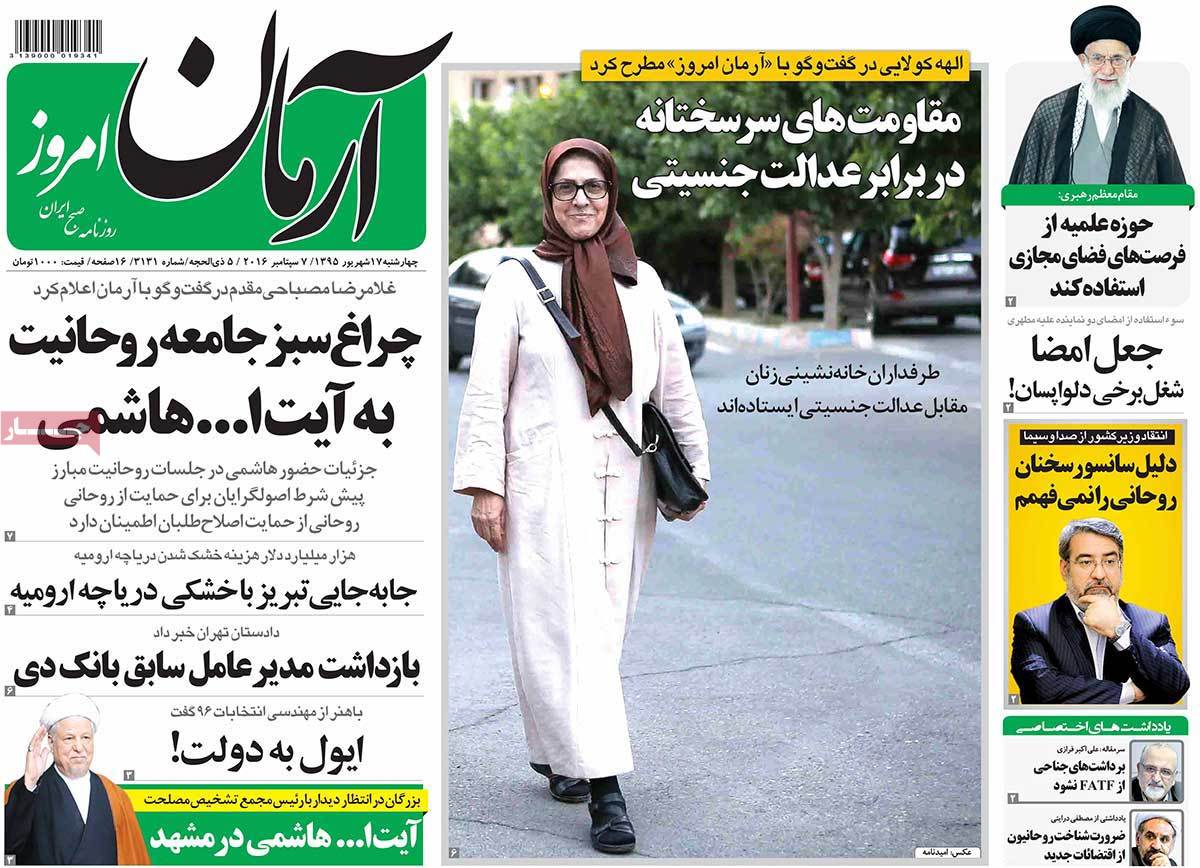 ---
Asrar:
1- Larijani in Meeting with French Counterpart: France Should Not Be a Base for Terrorists
2- Reformist Figure: Conservatives Have Deep Conflicts inside Themselves
3- Iranian Cheetahs' 1-Point Souvenir from Land of Dragons: Iran 0-0 China in 2018 World Cup Qualifier
---
Ebtekar:
1- French Senate President in Meeting with Rouhani: Iran Is Key to Stability
2- Early Presidential Campaigns: Violation of Law or Necessity; Political Experts and Lawmakers Call for Revision of Election Laws
3- Iran's Oil Minister Zanganeh to Attend OPEC's Unofficial Summit in Algeria
4- Kremlin's Political and Economic Chess
---
Emtiaz:
1- Ban on Import of Luxury Cars Lifted by Iran's Supreme Court
2- Iran Should Expect a Wave of MS Disease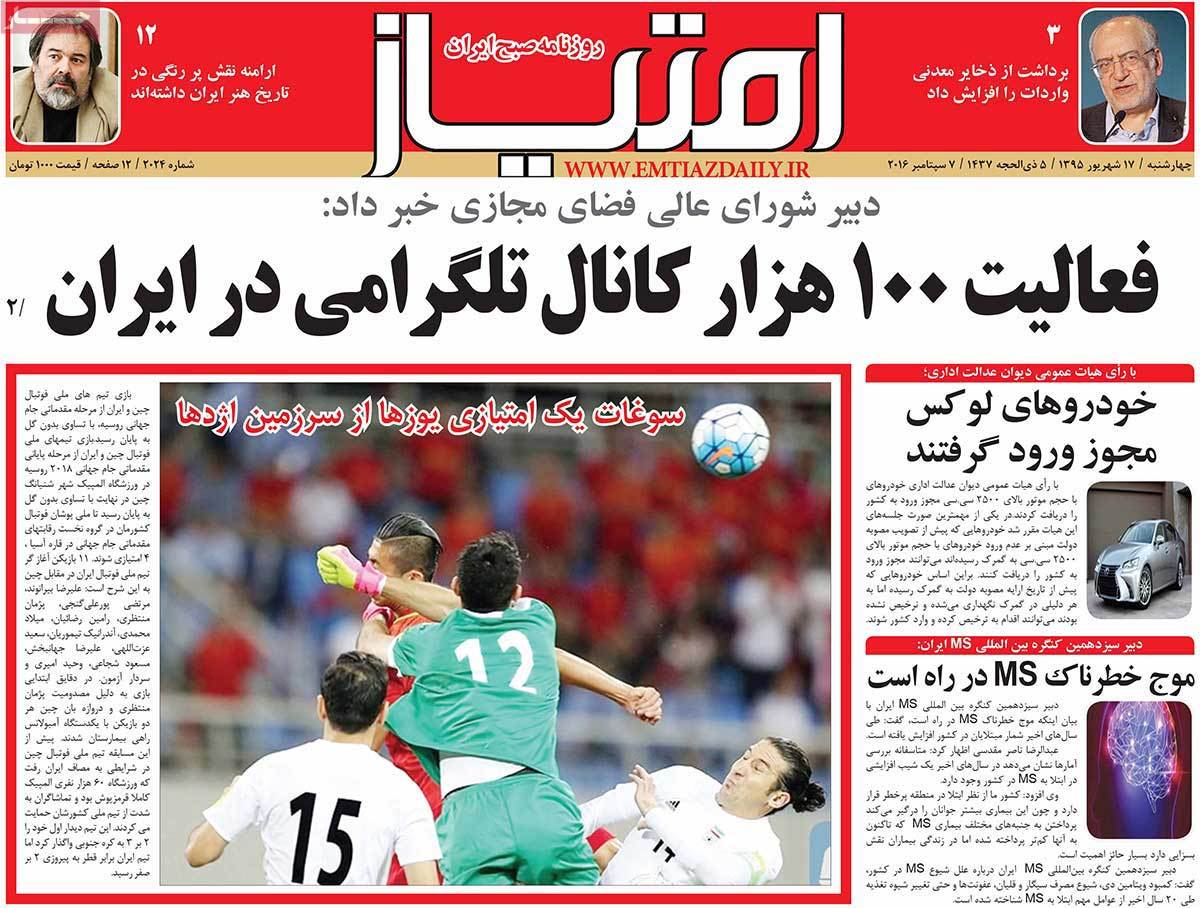 ---
Etemad:
1- Against Money Laundry: Iran's High Council of Fight against Money Laundry Defends Accession to FATF
2- Tehran Votes for $55 Oil: OPEC Secretary General's Visit to Iran Was Not Futile
3- Queiroz: We're Returning to Iran with a Strange Feeling
---
Ettela'at:
1- President: Full Implementation of JCPOA Commitments, a Yardstick for Trust
---
Iran:
1- Rouhani in a Meeting with New OPEC Secretary General: Oil Price Should Be Fair and Stable
2- Venice Film Festival Awards Iranian Filmmaker Amir Naderi with Jaeger-LeCoultre Glory to the Filmmaker
---
Jame Jam:
1- Killing Muslims under Shadow of 'Buddhacracy'
2- Academic: Int'l Bodies Excited about Addressing Saudi Crimes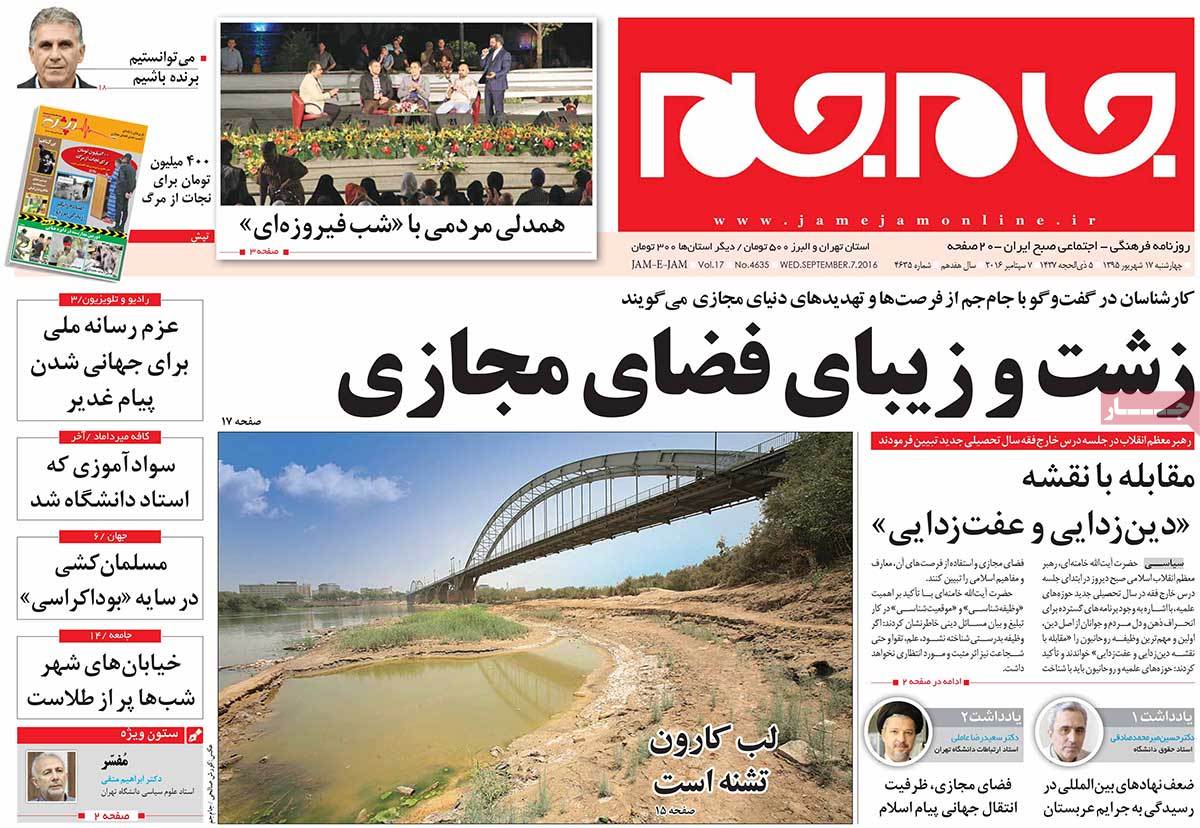 ---
Javan:
1- 2 Anti-Iran Plans by US Congress to Take Back Payments
2- Rockefeller Foundation's Infiltration into Iran's Northern Fields through Transgenic Rice [The rice had been mass-produced in 2004 and 2005]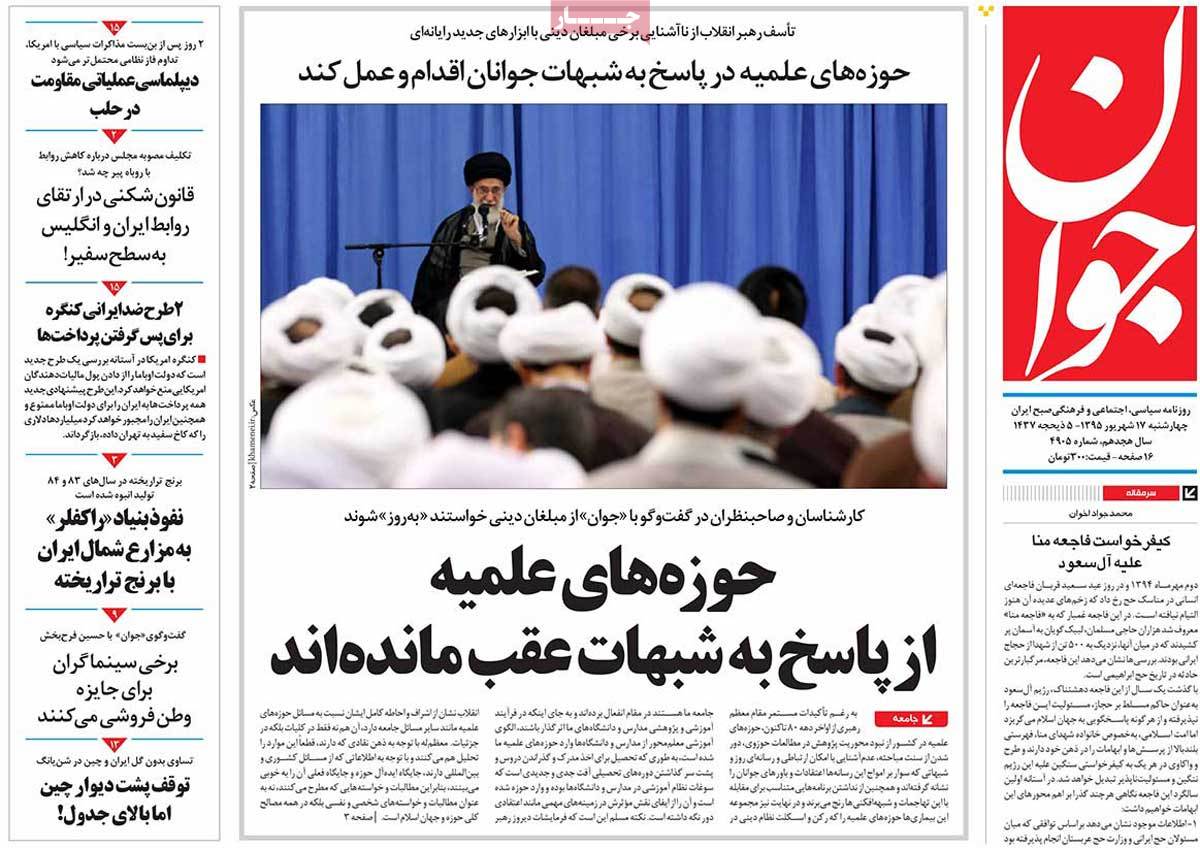 ---
Jomhouri Eslami:
1- High Council of Fight against Money Laundry Responds to 5 Anti- FATF Criticisms
2- Rouhani: Rapid and Accurate Implementation of Deals Will Make a Tangible Change in Tehran-Paris Ties
3- Zanganeh: Iran Would Support Any Decision to Return Stability to Oil Market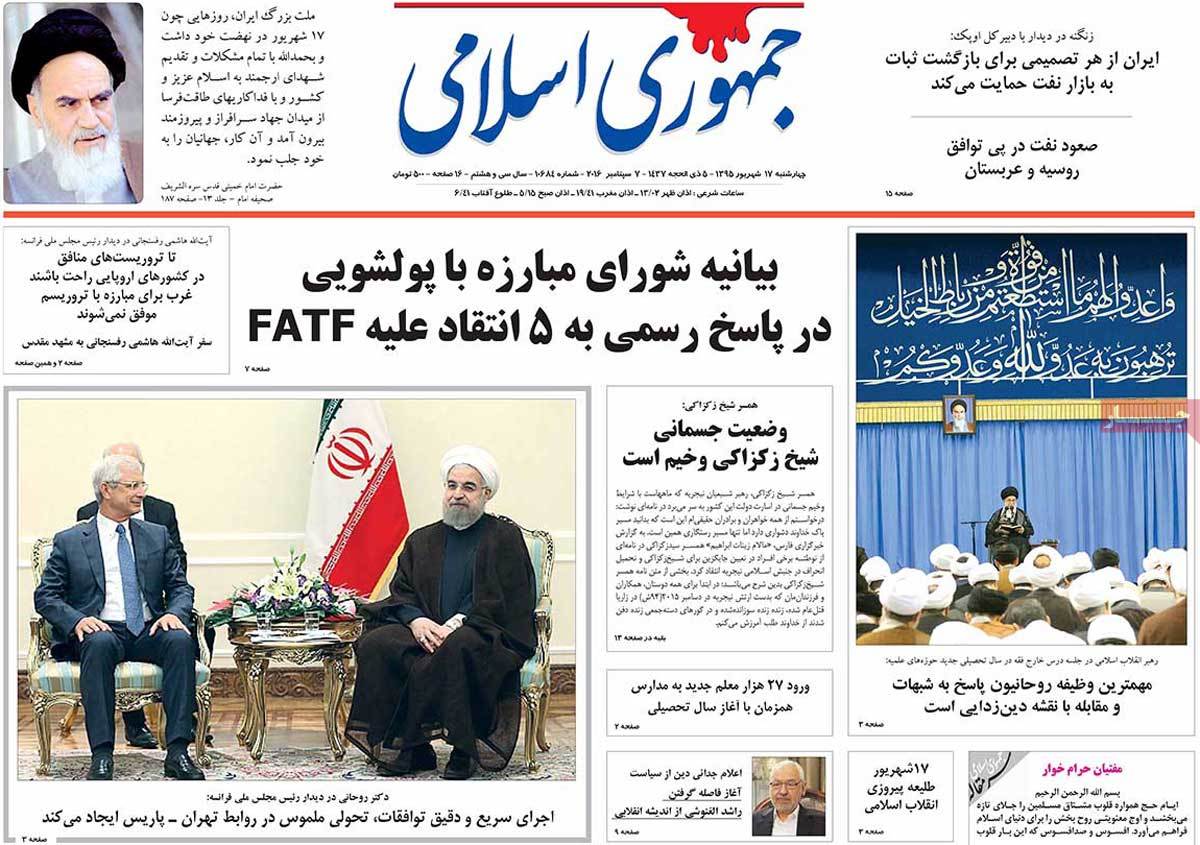 ---
Kayhan:
1- Evil Shadow of FATF Can't Be Removed with Statements
2- 648 Jurists Ready to File Lawsuit against Al Saud
3- If Sheikh Zakzaky Is Killed, Street Riots Will Begin: Cleric's Wife to Nigerian People
---
Khorasan:
1- Leader Regrets Some Preachers and Officials Don't Understand Cyberspace
2- Larijani's Criticisms in Meeting with French Counterpart
3- French Senate President: West's JCPOA Commitment Should Be Implemented without Waste of Time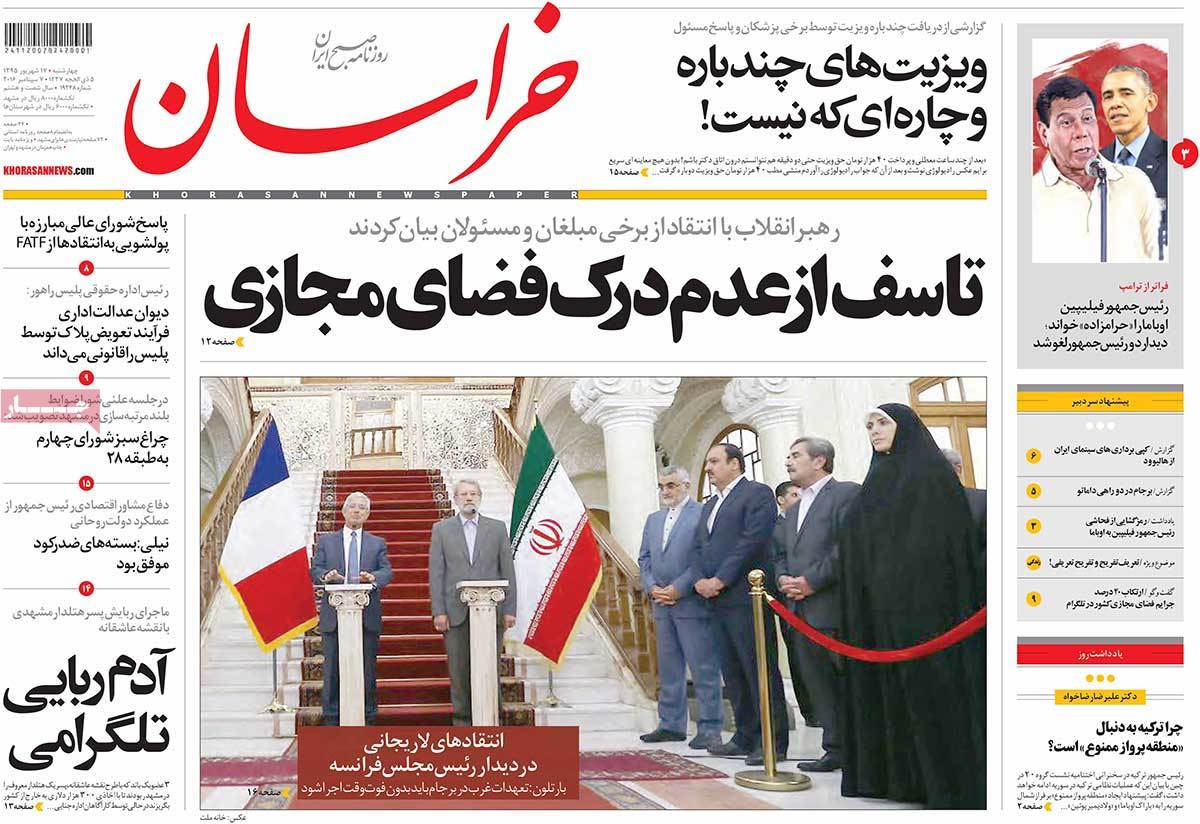 ---
Payam-e Zaman:
1- Interior Ministry Ready to Hold 2017 Presidential Elections Electronically
---
Rah-e Mardom:
1- 11m Iranians in the Queue for Marriage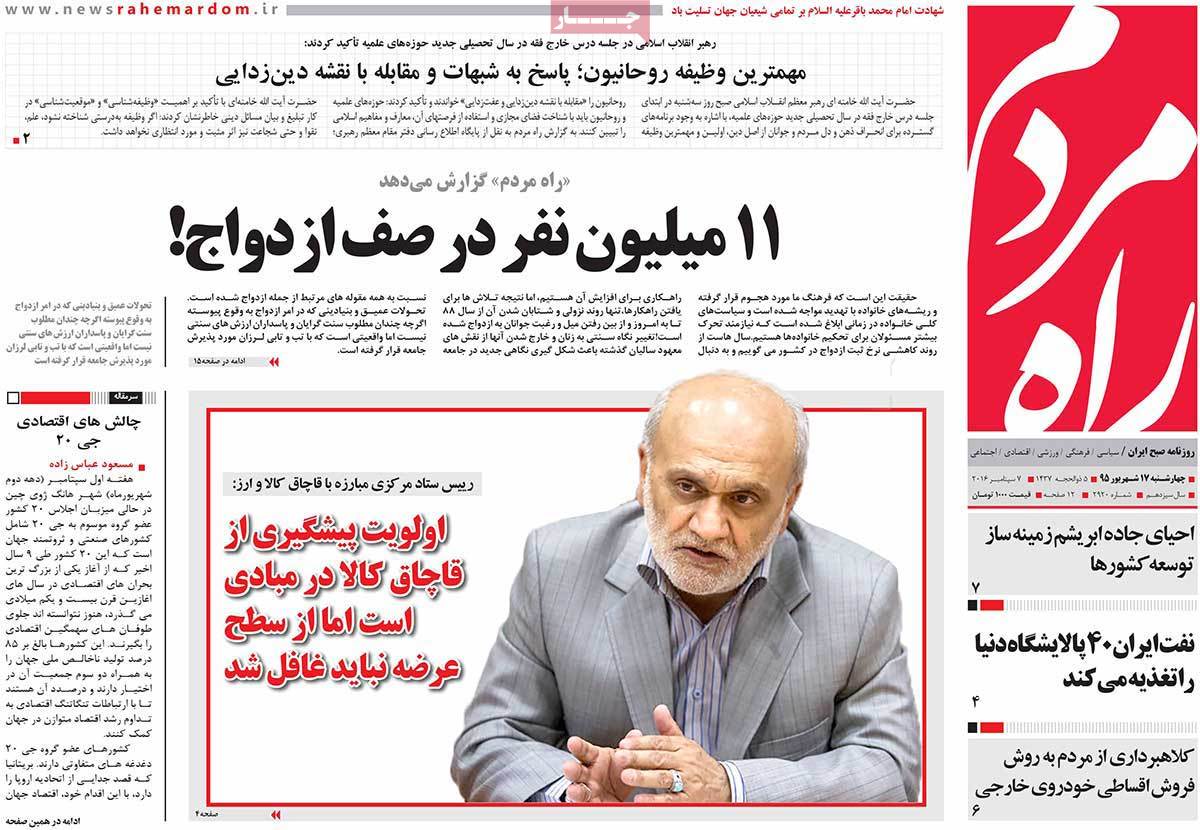 ---
Resalat:
1- Leader's Adviser: Mina Tragedy to Uproot Al Saud Regime
2- Prosecutor-General: Former Chief of Iran's Bank Dey
---
Sayeh:
1- Rouhani: Iran Has Shown Its Will to Have Constructive Interaction with the World
2- 2,000 Tribe Girls Achieve Literacy: Eradication of Cultural Poverty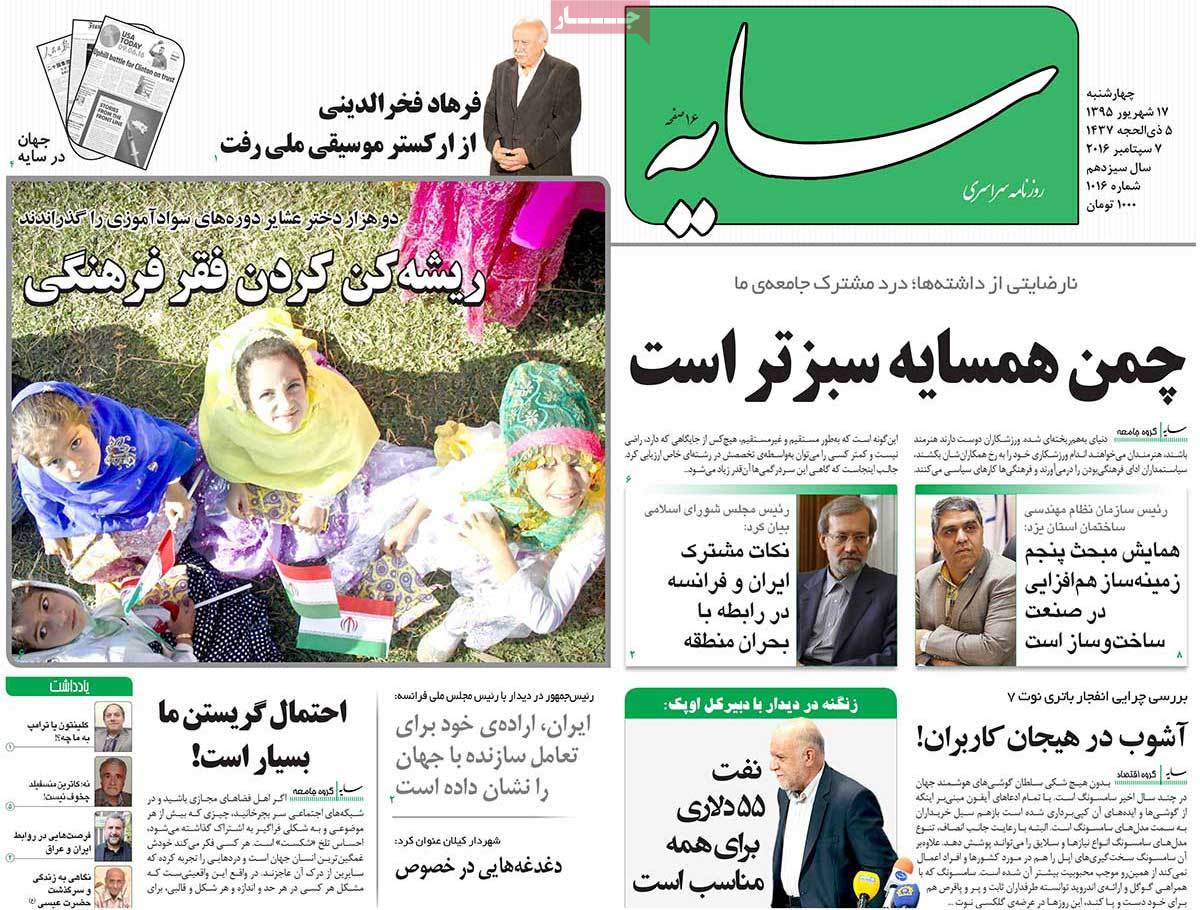 ---
Shahrvand:
1- A New Season for Iran's Tourism: Austrian Airline Starts Direct Flights between Isfahan and Vienna
---
Shargh:
1- Zionists Are against Iran's Interaction with FATF
2- Parliament's Vice-Speaker: Traitors Are Those Who Are Afraid of Transparency
---
Vatan-e Emrooz:
1- Saudi Arabia's Grand Mufti: Iranians Are Not Muslims!
2- Wife of a Mina Tragedy Victim: We've Not Received Any Support from Gov't