Several newspapers today covered the latest developments in the Korean peninsula, particularly the continued reactions to Pyongyang's recent test of nuclear weapons.
The plight of Muslim people in Myanmar and the brutal massacre of Rohingya Muslims there was also a top story today.
Iraqi Prime Minister Haider al-Abadi's praise of Iran's help in Baghdad's fight against terrorism also received great coverage.
The above issues, as well as many more, are highlighted in the following headlines and top stories:
Aftab-e Yazd:
1- Baghdad Supports Iran's Contribution to Iraq's Reconstruction
2- Senior Economist: Absolute Poverty Cannot Be Eradicated in Four Years
---
Asrar:
1- Judiciary Spokesman: Opposition Figures to Remain under House Arrest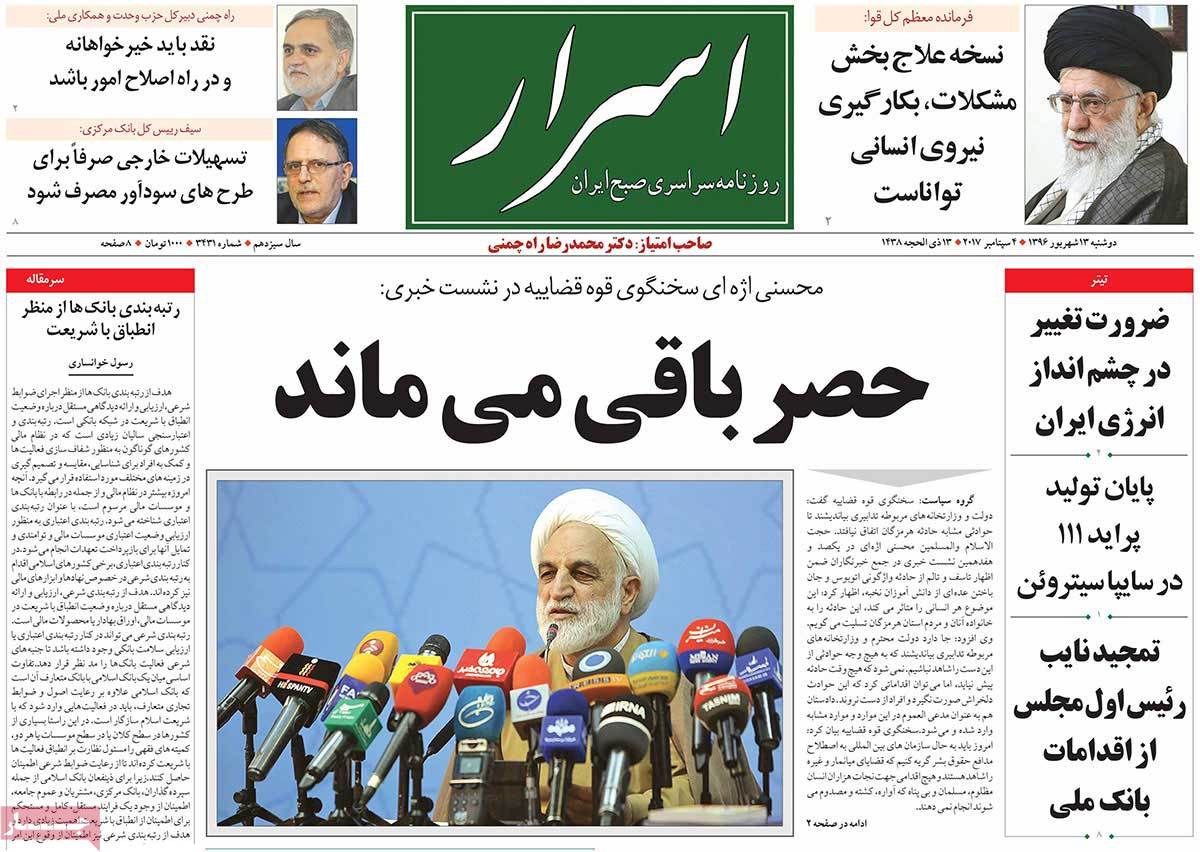 ---
Donya-ye Eqtesad:
1- Siege on Pyongyang to Get Tighter: Oil Sanctions against N. Korea
2- Omani Secret of Attracting Capital
---
Ebtekar:
1- Obama in Letter to Trump Warns against Weakening Principles of Democracy
2- Environment Chief: Water or Cheetah, Revival of Which One More Important?
---
Ettela'at:
1- We Should Develop People's Skills to Counter Poverty: Minister
2- South Korean Army Exercises Attacking Pyongyang Bases Using Ballistic Missiles
3- Larijani: We Should Leave Political Fights to Resolve Economic Problems
---
Iran:
1- Environment Chief: 70% of Iran's Problems Caused by Shortage of Water
2- Myanmar Muslims in Deadlock of Displacement
3- Iran Starts Plan to Produce Apparel in Rural Areas
---
Jahan-e San'at:
1- Economy Minister's Contradictory Remarks about Living Conditions
Economy Minister Says Stagflation Is Over
2- Mobile Cafes: Tehran's Cultural Night Life Revived
---
Javan:
1- Health Minister's Surgery on RouhaniCare
2- Buddhists Beheading, Burning Alive Muslims
A Shocking Report on Slaughter of Muslims in Myanmar
3- We're Moving Backward with This Cinema!
---
Jomhouri Eslami:
1- Shocking Report on New Round of Muslim Genocide in Myanmar
2- First VP: Grounds Prepared for Private Sector's Use of Foreign Financial Facilities
3- Iraqi PM Thanks Iran's Support in Fight against Terror
4- Israel's Role Revealed in Genocide of Rohingya Muslims
---
Kayhan:
1- Audit Court's Response to Report on Astronomical Salaries: General and Ambiguous!
Those Who Received Such Salaries Should Be Punished
2- 3-Year Siege on Deir ez-Zor Broken: One Step Left to Full Liberation
3- MP: No Country Allows Aliens to Inspect Its Military Sites
4- Trade Minister: We've Easily Given Our Apparel Market to Foreigners
---
Kelid:
1- US Trying to Imply that Iran Is Isolated
---
Shahrvand:
1- 400 Rohingya Muslims Killed in Past Week: Smell of Death in Maynmar
2- People without Plasco: Destiny of Those Who Had Business in Collapsed Building
---
Tejarat:
1- Trade Minister: Iran's Apparel Industry Victim of Contraband Goods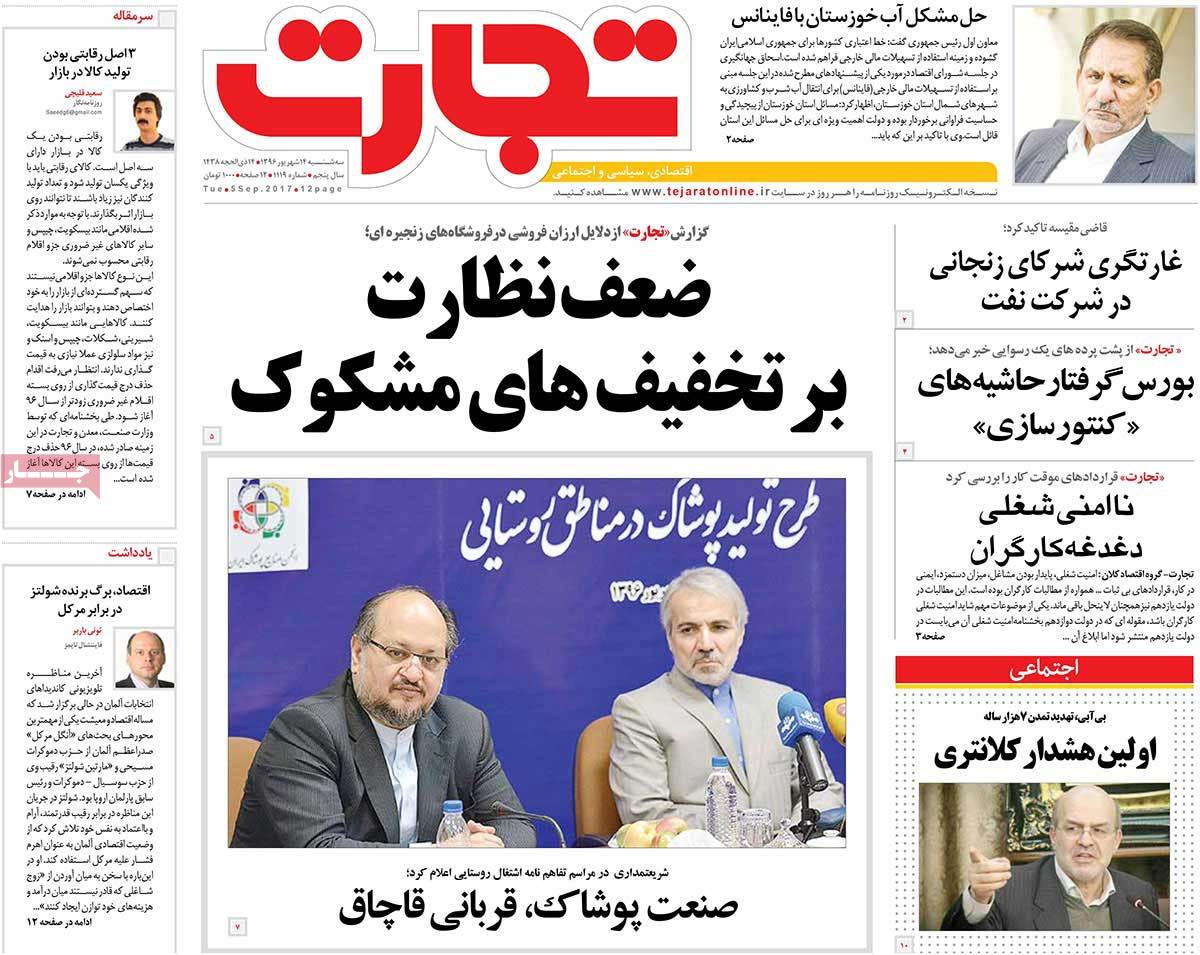 ---
Vatan-e Emrooz:
1- Secure Sky: From 3,700 Air Defence Points to 1.5 Flights per Year
2- IRGC General Rezaei: Saudi Arabia Should Apologise to Iran
3- No Inspection: MPs' Reaction to US Demand of Inspecting Iran Military Sites