Newspapers on Monday reported the unveiling of Iranian missiles in a ceremony, and also the remarks made by Iranian Defence Minister Brigadier General Hossein Dehqan during an open session of the parliament, where he highlighted the technological advances made in the country's missile industry.
They also covered the upcoming presidential debate between US candidates Hillary Clinton and Donald Trump.
IRGC General Mohsen Rezaei, who was Iran's commander during the imposed war with Iraq, also appeared on front pages with his confessions about the continuation of war with the Arab country after the liberation of Khorramshahr in 1982.
The above issues, as well as many more, are highlighted in the following headlines:
Abrar:
1- Merkel Calls for Prevention of Illegal Immigrations to Europe
2- DM: Qadir, Sejjil, and Khorramshahr Missiles to Be Mass Produced by March 2017
3- National Interest: Direct Communication Channel Should Be Created between Iran and US Navies
4- Italian Ambassador to Iran: Tehran and Rome Have Friendliest Ties
5- South Korean Defence Minister: We'll Kill North Korean Leader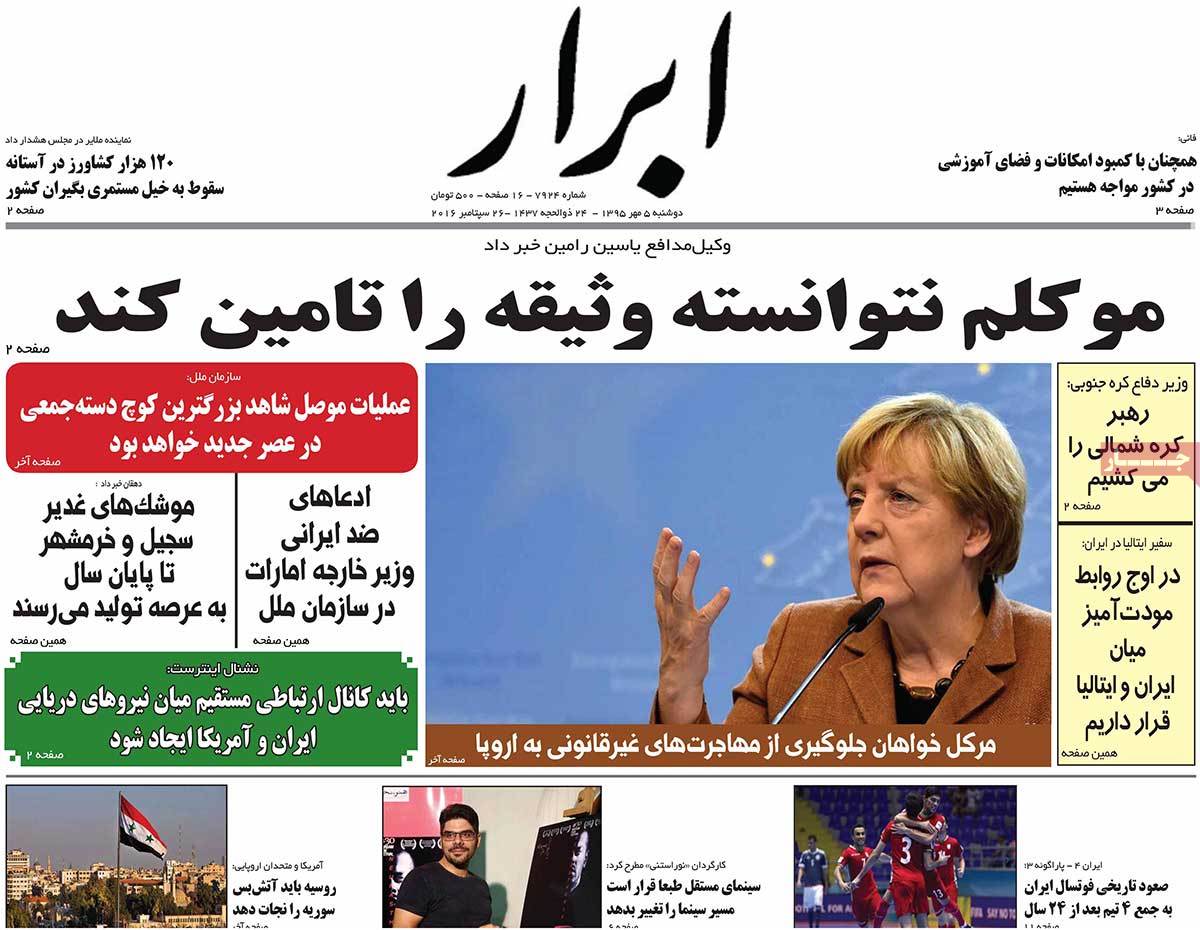 ---
Abrar-e Eqtesadi:
1- Beginning of Iran-US Water Talks
2- Armenia Ready for Preferred Trade with Iran
3- Italian Airline Starts Flights to Iran
4- Decrease of Imports and Increase of Exports in Iran's Preferred Trade History
5- Iran's New Oil Talks with Shell and Total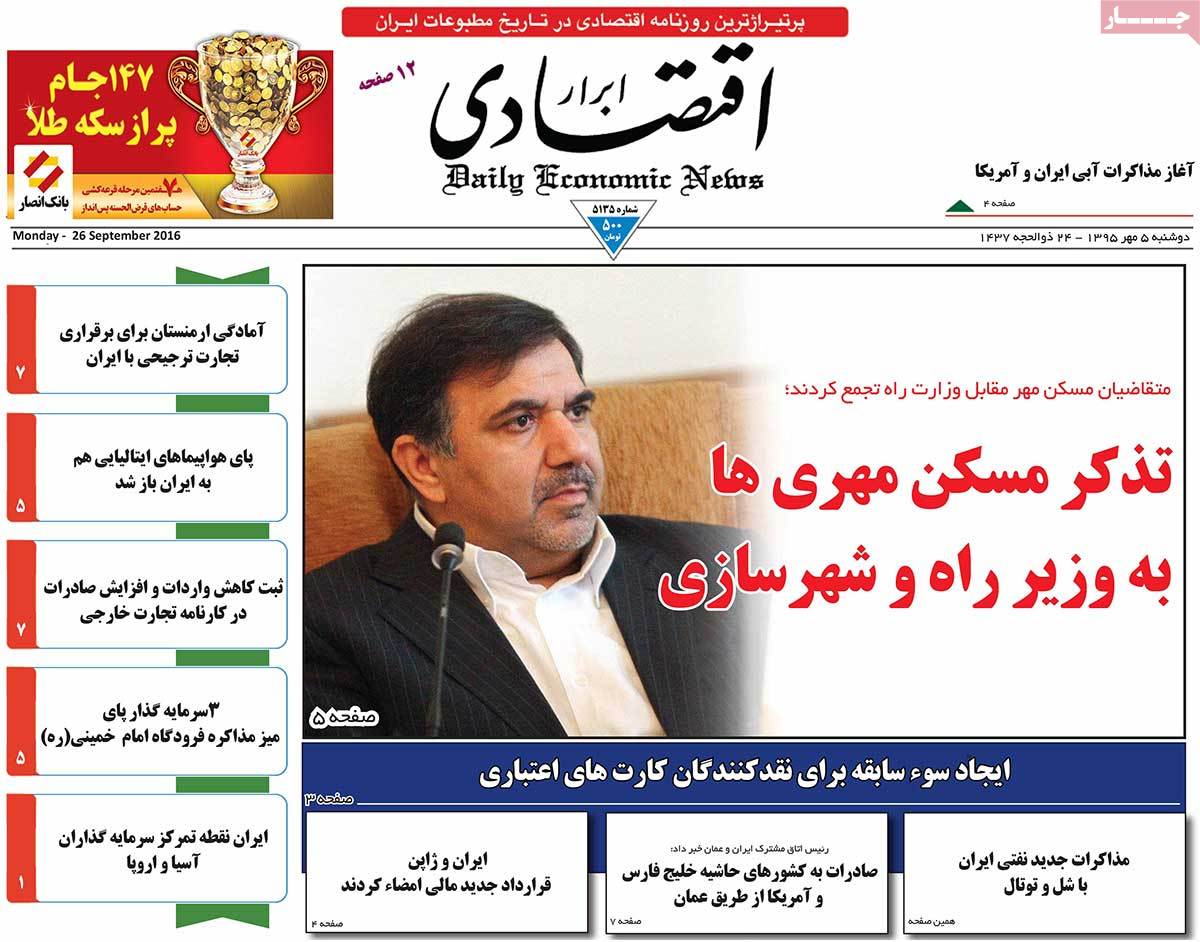 ---
Afarinesh:
1- Rouhani in Meeting with Kenyan Parliament Speaker: Expansion of Ties with Africa, a Principle of Iran's Foreign Policy
2- Zarif: Saudis Doing Anything Not to Lose US Support
3- President Rouhani's Chief of Staff: Iran's Diplomacy Looking for Those Who Want to Have Friendly Ties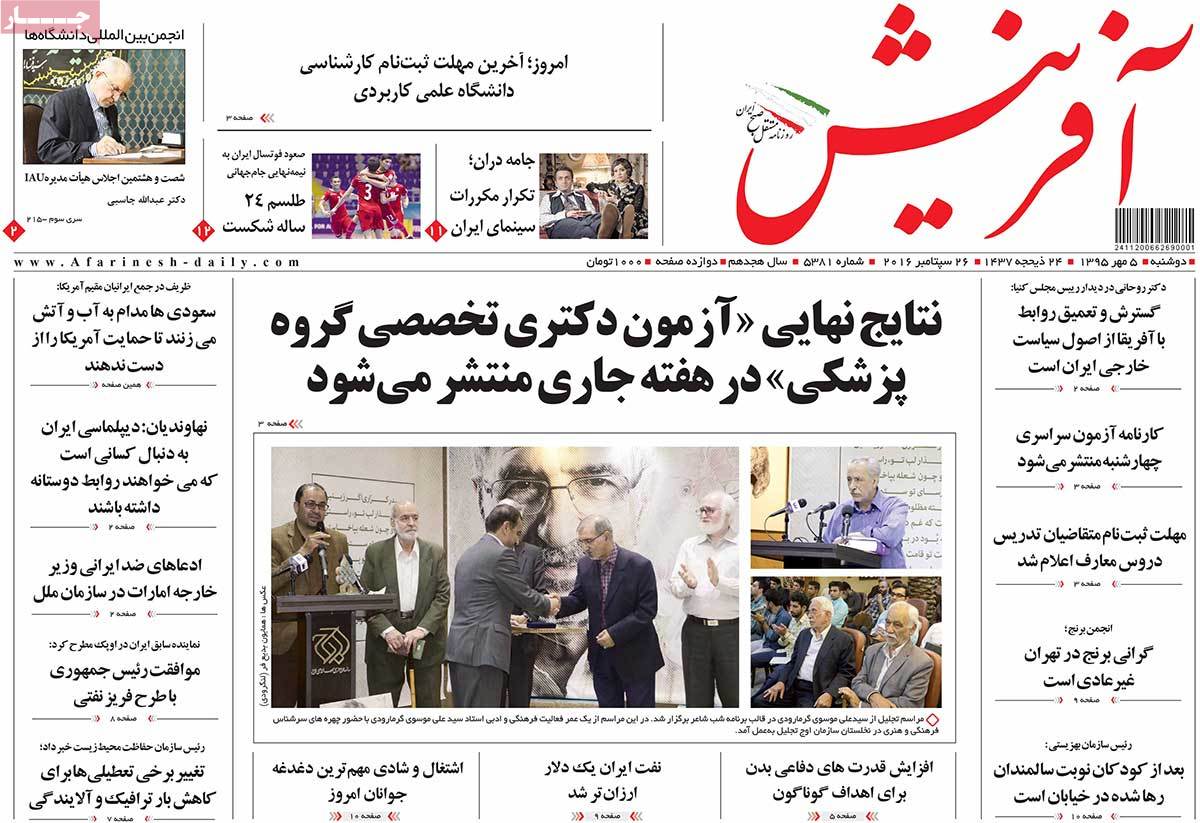 ---
Aftab-e Yazd:
1- Economy Minister: We Were Removed from FATF Black List without Giving Any Concession
2- Export of 3m Tons of Wheat for First Time in Iran's History
3- Former IRGC Commander: IRGC Ground Force Five Times Bigger than That of US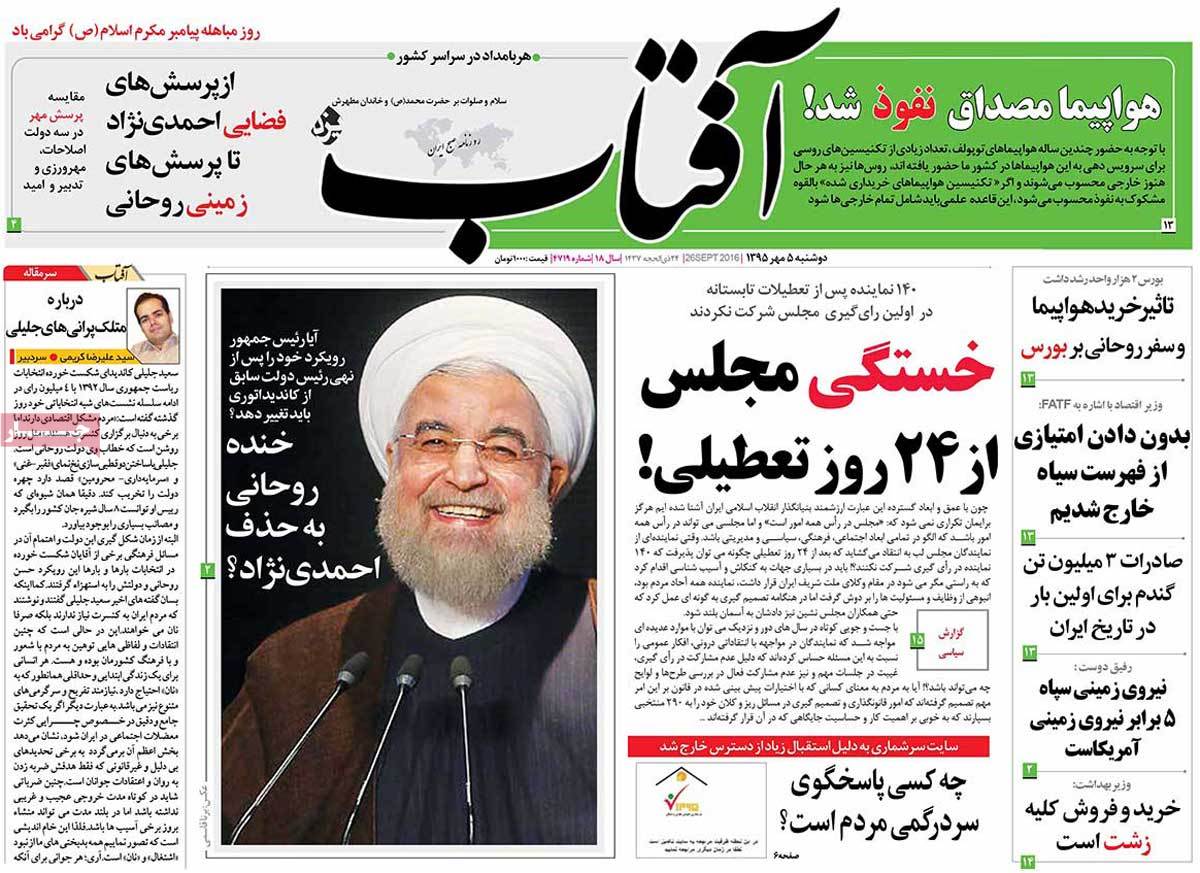 ---
Amin:
1- New York Times Officially Supports Clinton's Presidency
---
Arman-e Emrooz:
1- Analyst: Conservatives Are Supporting Rouhani Because They Have No Other Option
2- Politician: Rouhani to Be Focal Point of Conservatives' Scenario for Elections
---
Asrar:
1- Rouhani's Chief of Staff: Europe Echoing Iran's Stances against US
2- Historic Advancement of Iran's Futsal Team to World Cup Semi-Finals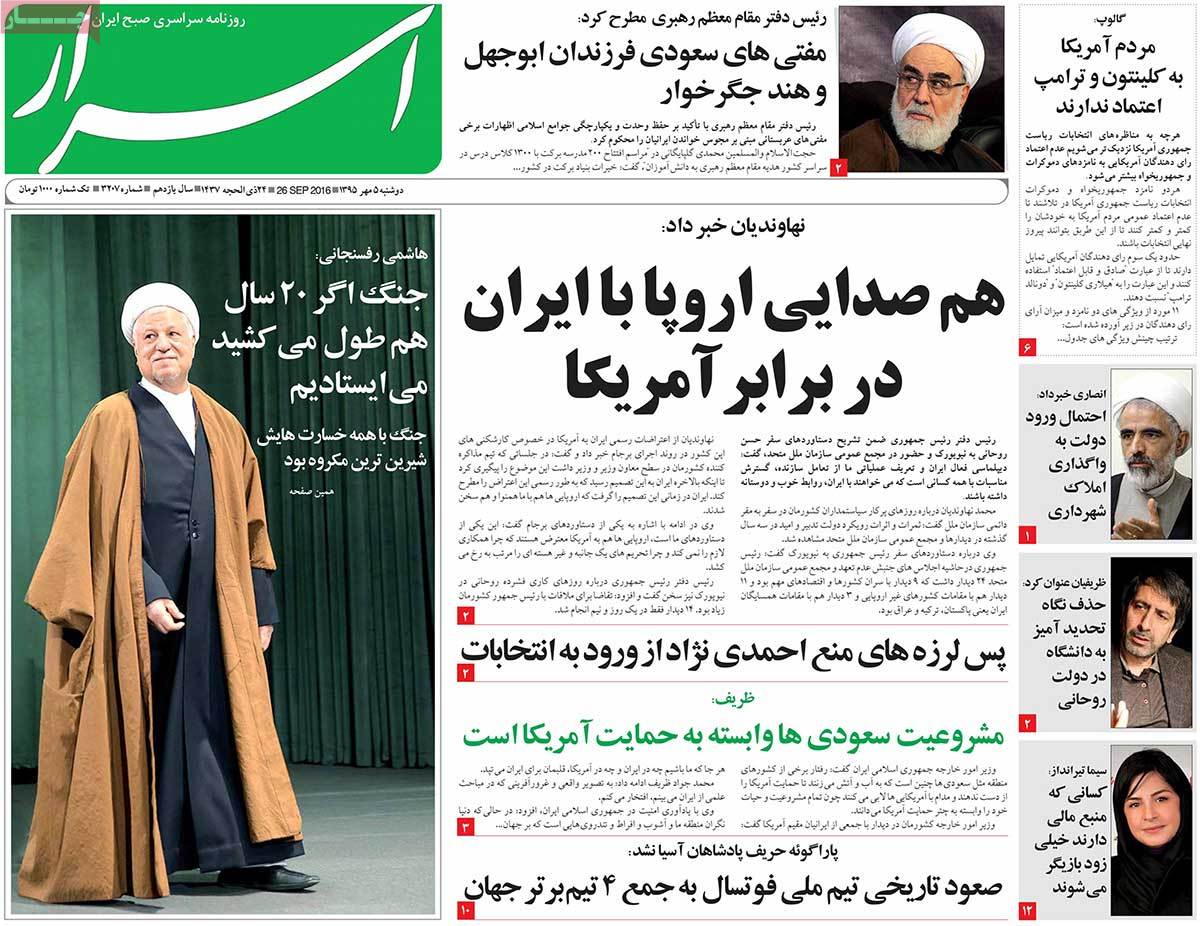 ---
Ebtekar:
1- Ayatollah Rafsanjani's Account of Iran-Iraq War: We Would Keep Standing against Iraq Even If the War Continued for 20 Years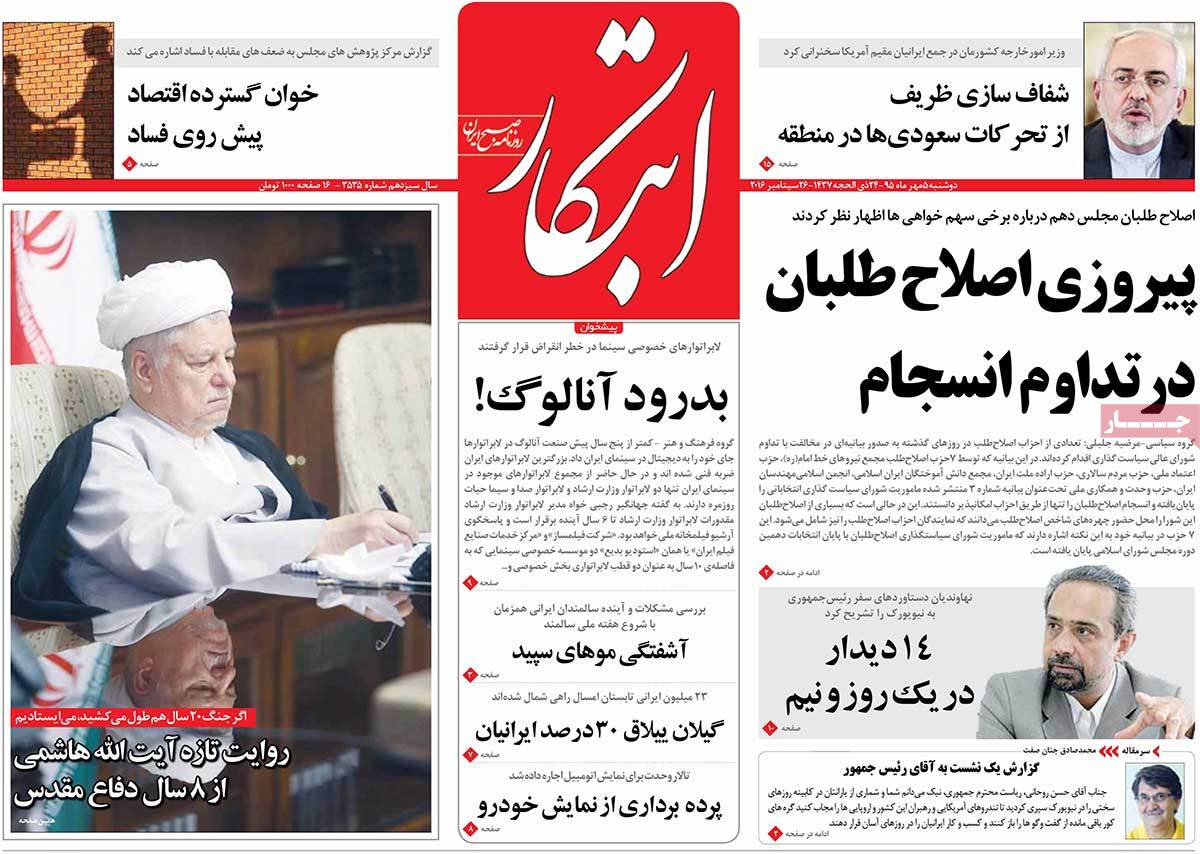 ---
Emtiaz:
1- Deputy Prosecutor-General: Serious Action to Be Taken against Betting Websites; Betting Is a Type of Gambling and Is Considered a Crime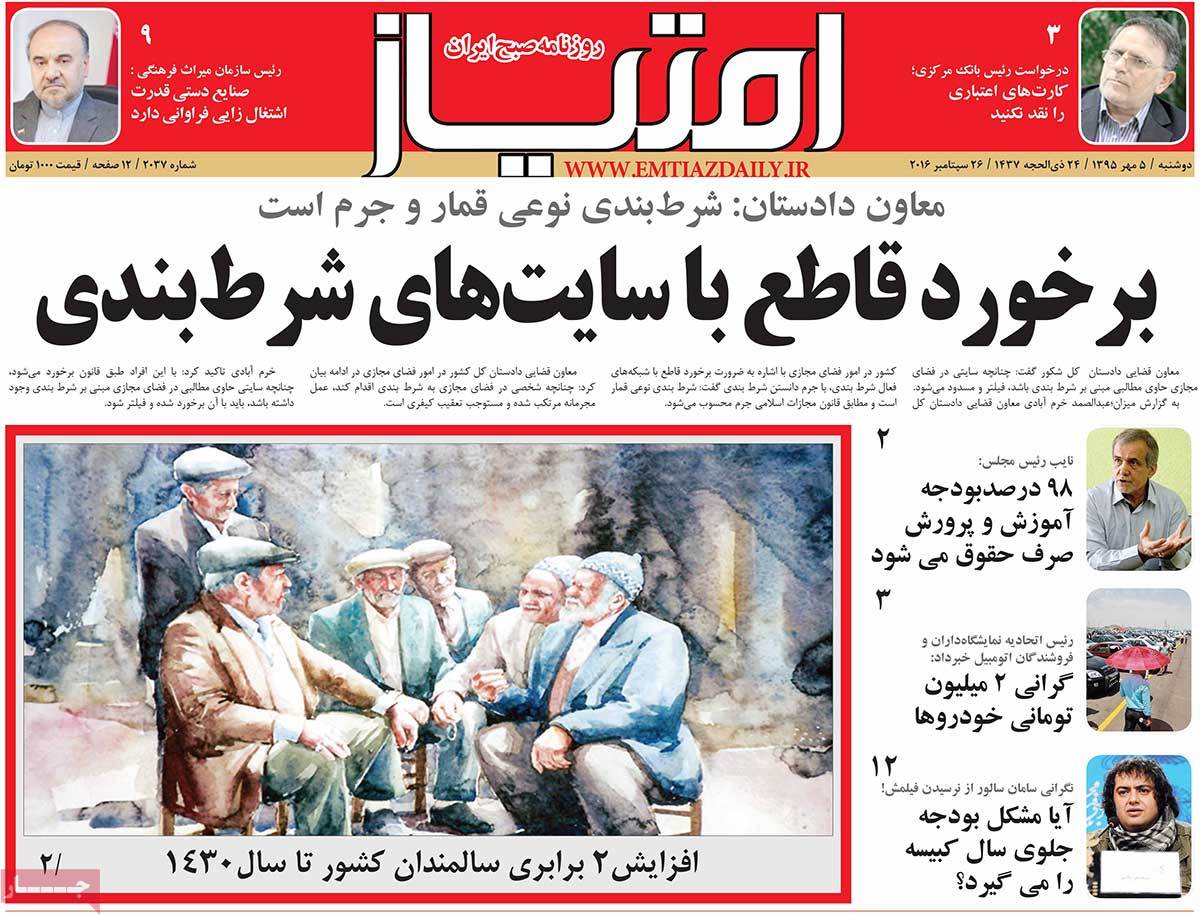 ---
Etemad:
1- Top Secrets Revealed by War Commanders: Iran's Commander during War with Iraq Says If Time Goes Back to 1982, Iran Would Consider Ending the War after Liberation of Khorramshahr
2- Hekmatyar Talks about Salafism and Democracy at Same Time
3- Former IRGC Commander: We Have 6m Warriors Ready to Fight
4- Crisis in Aleppo: Europe and US Consider Russia as the Culprit
5- Lovely Ambitious Guys: Iran Beats Paraguay to Advance to FIFA Futsal World Cup Semi-Finals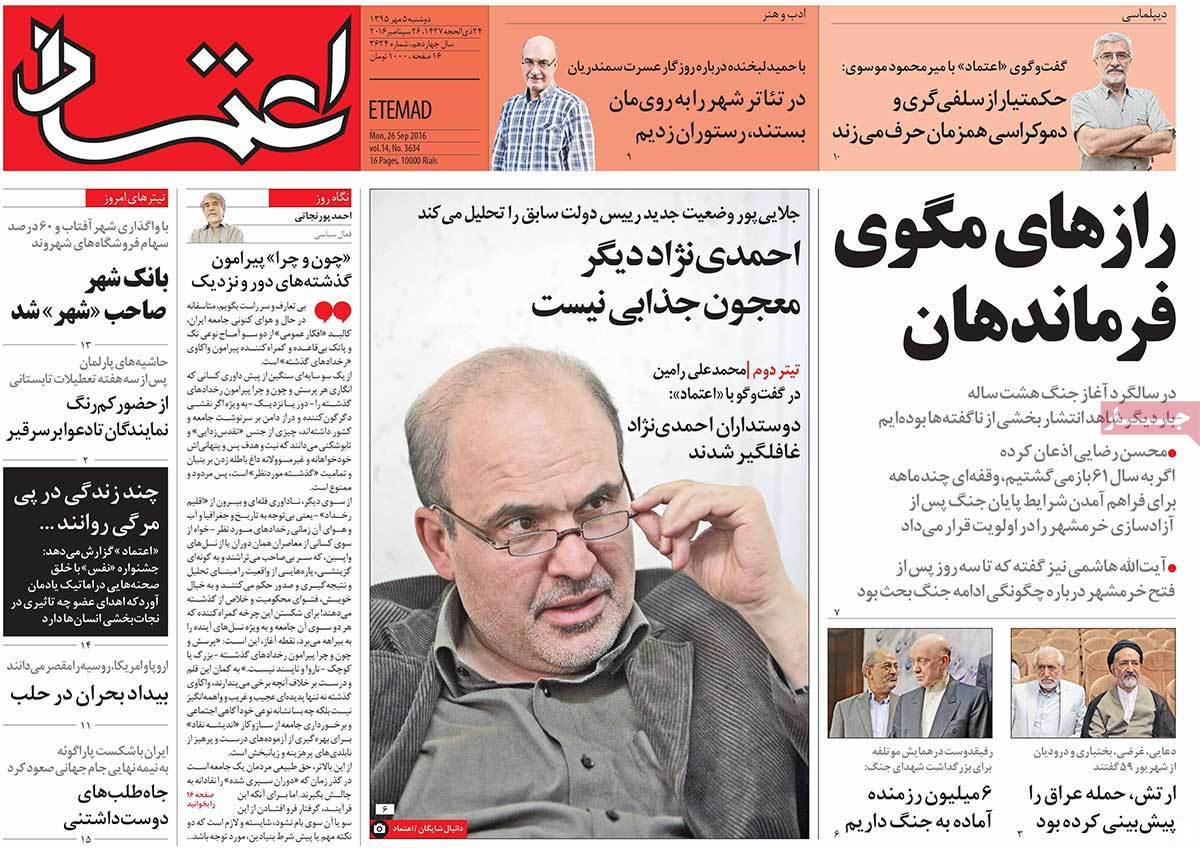 ---
Ettela'at:
1- Defence Minister: Iran Capable of Developing Accurate Missiles with Any Range and Any Destructive Power
2- Iraqi Forces' Counter-Attack on ISIS in Hit Kills 60 Terrorists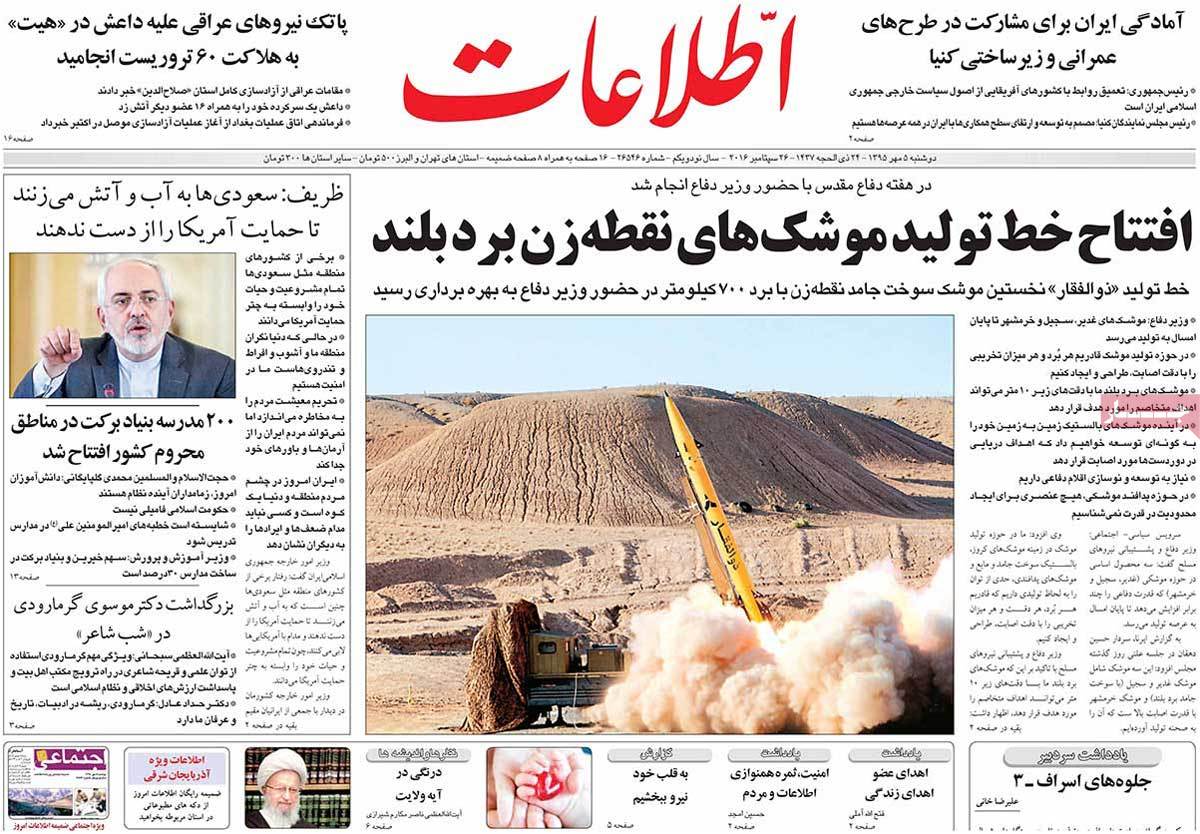 ---
Iran:
1- Isfahan, World Centre of Handicrafts: 18th General Assembly of World Crafts Council Kicks Off in Isfahan with 200 Representatives from 22 Countries in Attendance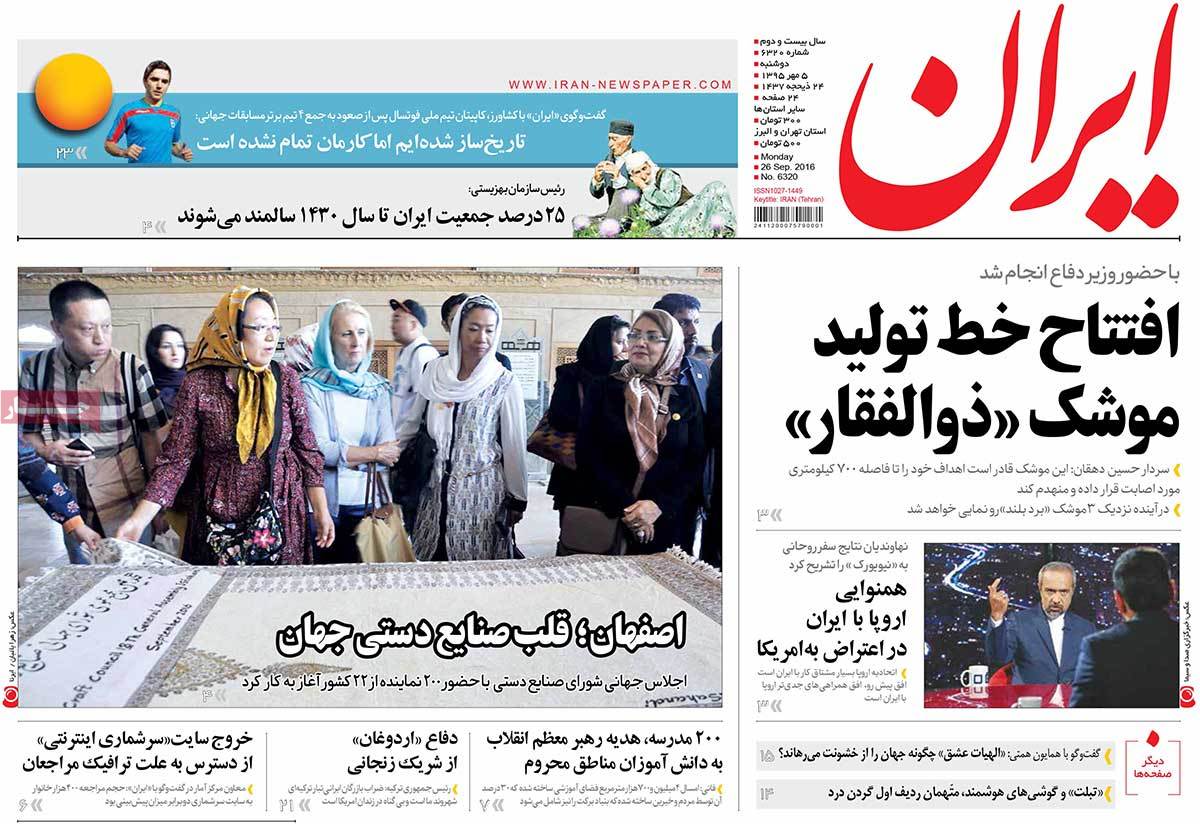 Jame Jam:
1- Zolfaqar Missile to Be Mass Produced; DM: No Limit in Accuracy and Range of Missiles
2- Iran's Top Officer: Russia's Request for Transfer of Iran's Drone Technology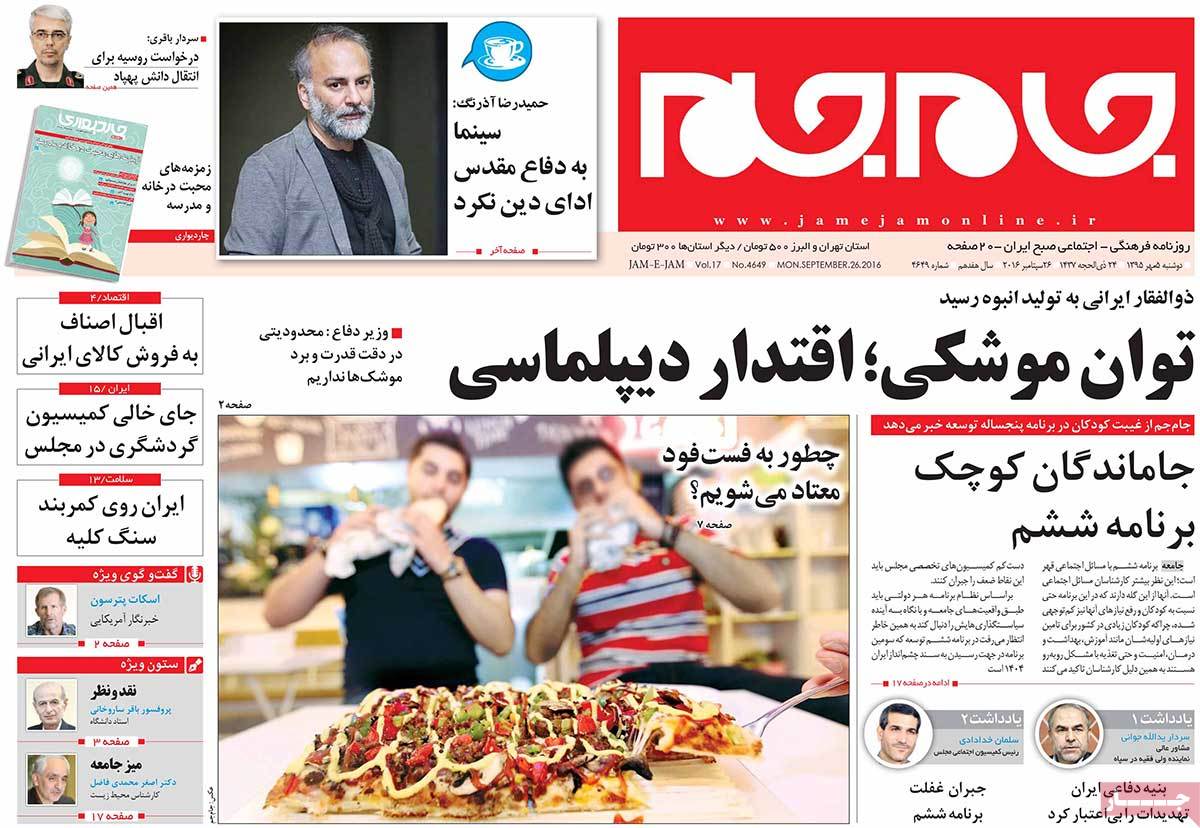 ---
Javan:
1- 200 New 'Barakat' Schools, a Gift by Ayatollah Khamenei to Students in Deprived Regions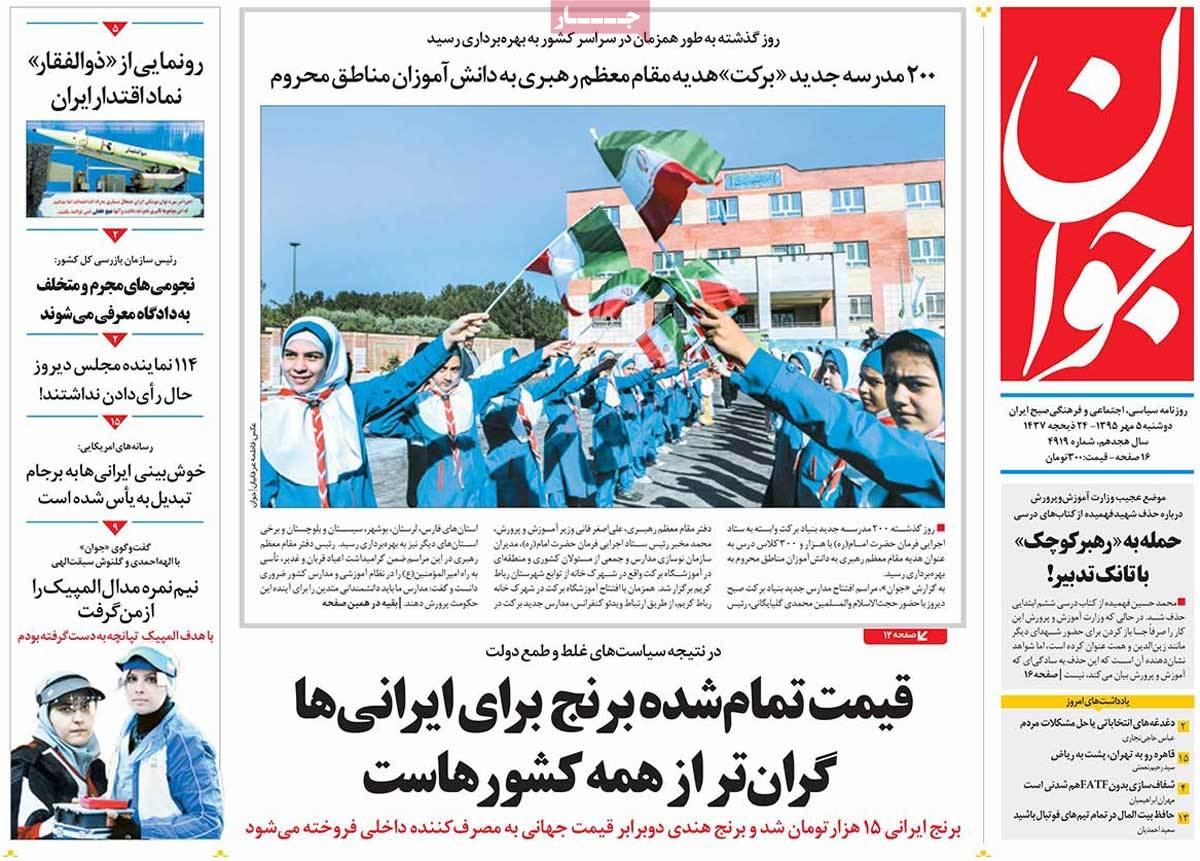 ---
Jomhouri Eslami:
1- Iran's Agriculture Minister Signs MoU with China: $3bn Investment to Be Made in Iran's Fishery
2- Syrian FM Reveals Roles of Turkey, Qatar, and Saudi Arabia in Promotion of Terrorism in Syria: Wahhabism Is Root Cause of Terrorism
3- Nahed Hattar, Anti-Saudi Journalist, Shot Dead in Jordan
---
Kayhan:
1- Admitting US Violation of Its Commitments Not Enough: Compensate for JCPOA Damages
2- Deputy Agriculture Minister: Wheat Production Has Increased, No Need for Imports
3- Guardian: Britain Preventing Investigations into Al Saud's Crimes in Yemen
---
Khorasan:
1- Psychological War ahead of First Debate; Trump: I'll Take Bill Clinton's Former Lover to Presidential Debate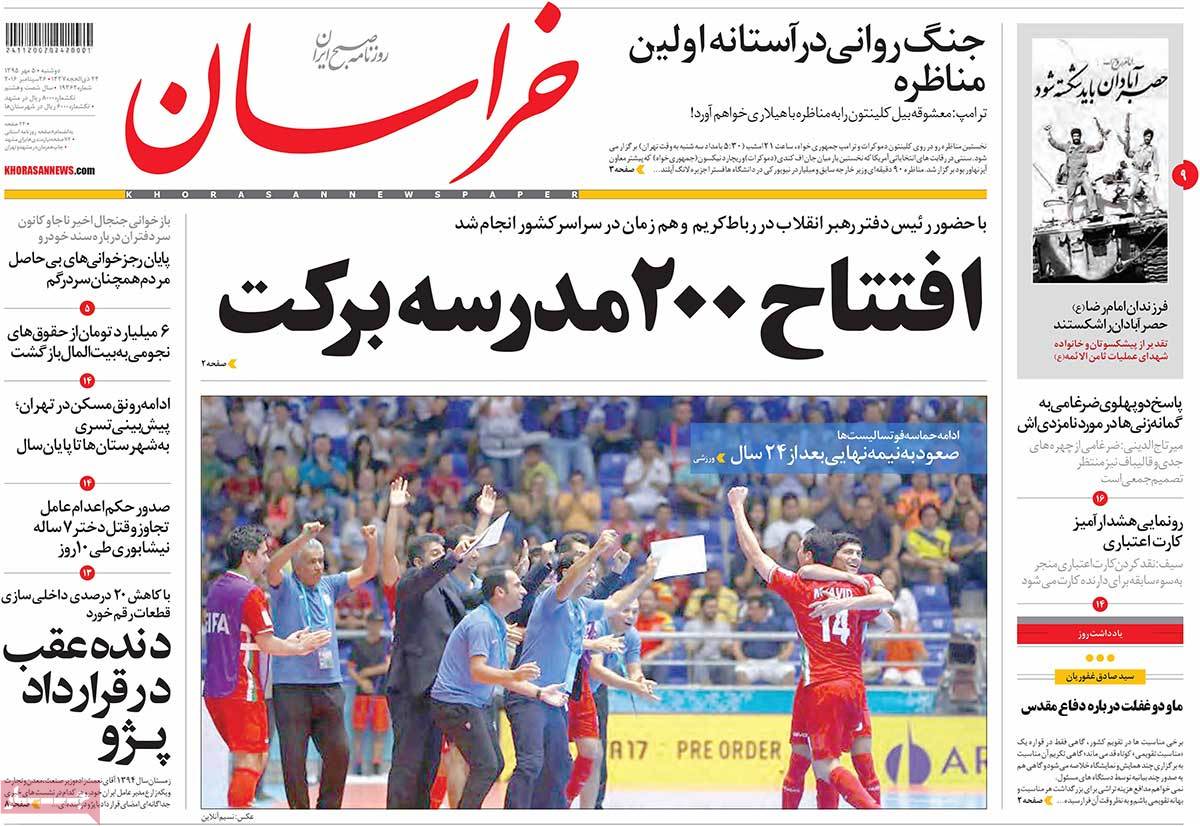 ---
Resalat:
1- President's Chief of Staff: US Has Yet to Lift Anti-Iran Sanctions
2- Senior Conservative Bahonar: We Hope We'll Have a Single and Efficient Candidate in Next Year's Presidential Elections
---
Rooyesh-e Mellat:
1- Abu Dhabi Encourages Warmongering Policies: Iran's Foreign Ministry Spokesman
---
Roozan:
1- Ahead of Most Important Event of US 2016 Elections: A Presidential Debate Just for Victory
2- Conservatives Welcome Removal of Ahmadinejad; Analyst: He Could Cause Rift among Conservatives
---
Setareh Sobh:
1- Expert: Key to Decrease of Tehran-Riyadh Differences Lies in Iraq and Syria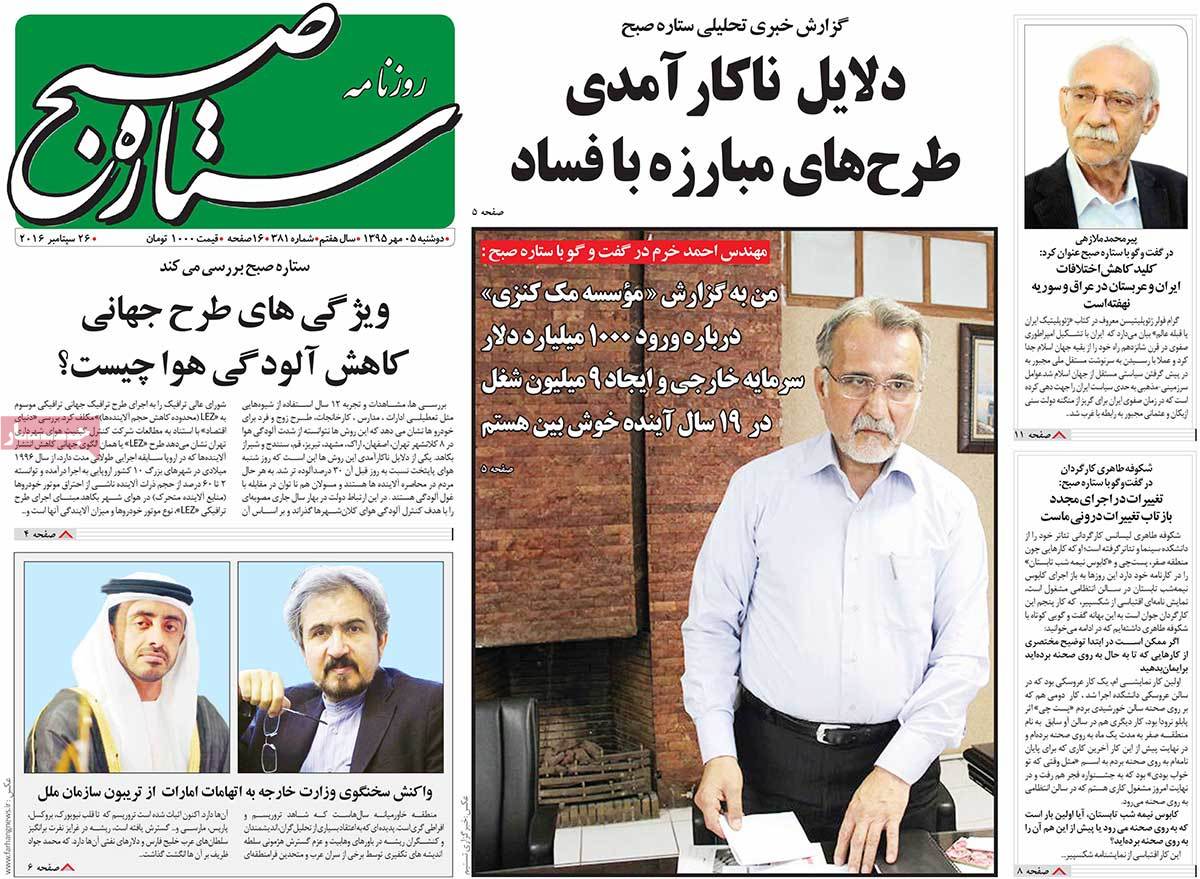 ---
Shargh:
1- Erdogan's Support for Reza Zarrab
2- Minister Defends the Way Oil Was Sold during Ahmadinejad's Era
---
Vaghaye Ettefaghieh:
1- Sunni Clerics' Attack on Wahhabi Beliefs: Even Sunnis Outraged by Saudis