The top story in all Iranian newspapers today was the Monday referendum on the Iraqi Kurdistan's independence. The referendum is being held despite international and regional opposition and warnings by its neighbours. Newspapers widely covered the move by Iran and Turkey to close their airspaces to the Iraqi Kurdistan at Baghdad's request.
The remarks made by Iranian Foreign Minister Mohammad Javad Zarif in an interview with CNN about the nuclear deal between Tehran and world powers also received great coverage.
Meanwhile, reformist papers covered the speculations about incumbent Parliament Speaker Ali Larijani's possible bid for presidency in 2021 as a reformist candidate, and quoted reformist figures as saying they have better options for the next presidential votes. The speculations were raised after Larijani, in a ceremony, sat next to reformist leader Seyyed Mohammad Khatami and had informal talks with him.
The above issues, as well as many more, are highlighted in the following headlines and top stories:
19 Dey:
1- Larijani Thanks Rouhani for His 'Decisive' Response to Trump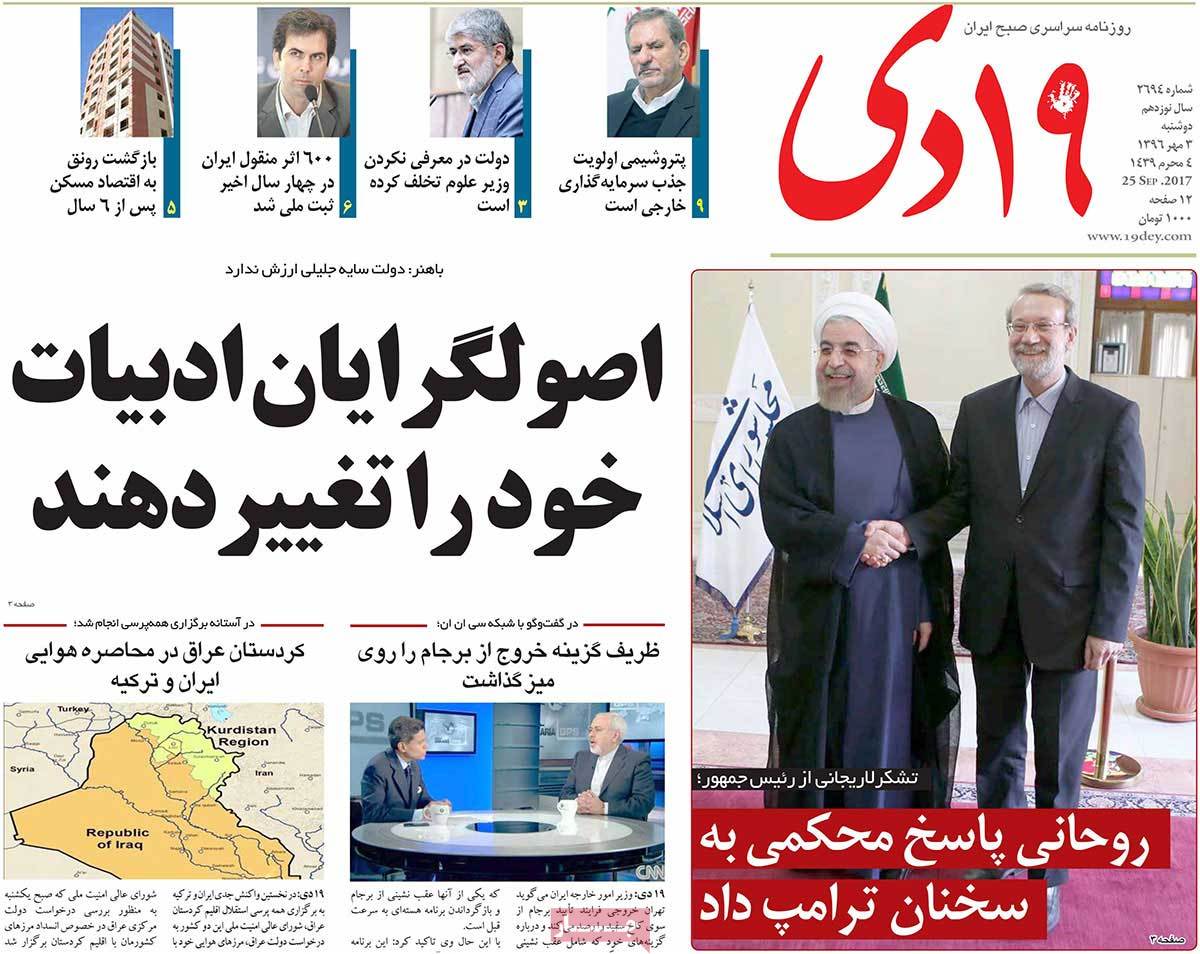 ---
Abrar:
1- Iraqi FM: Kurdish Referendum Illegal
2- Zarif to CNN: We Proved Our Missiles Are for Defence
3- Sunni Iranian MP: Parliament's Kurd MPs Condemn Formation of Kurdish State
---
Afkar:
1- Rise against Usury: Senior Cleric Urges People to Refrain from Paying Late Payment Penalty
2- IRGC General: We Won't Allow US to Visit Even a Small Police Station
---
Aftab-e Yazd:
1- Iran, Turkey Start Aerial Siege of Kurdistan Region
2- German Far-Rightists Enter Parliament for First Time
3- Rouhani's First VP: Iran Has Potential to Become World's Economic Hub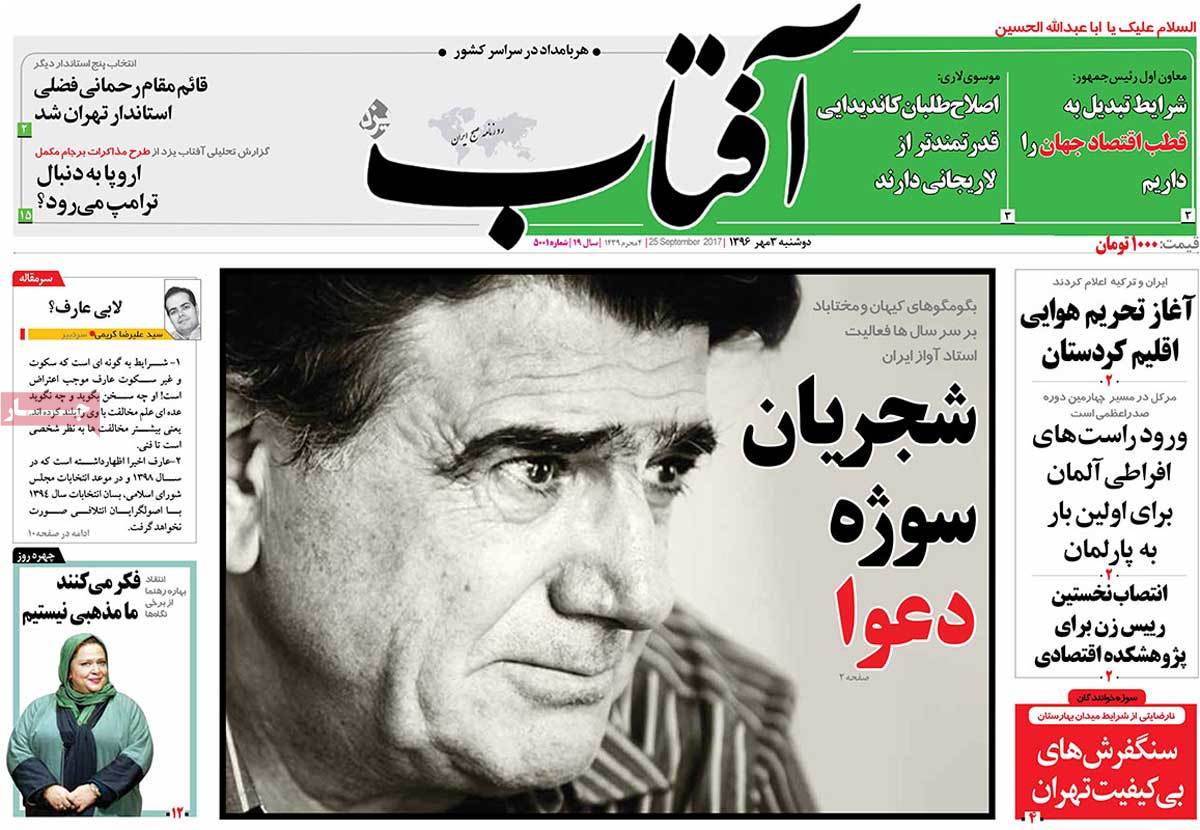 ---
Arman-e Emrooz:
1- A Region for Secession: Iran Closes Airspace to Iraqi Kurdistan
2- Merkel Remains German Chancellor: Fans Are Happy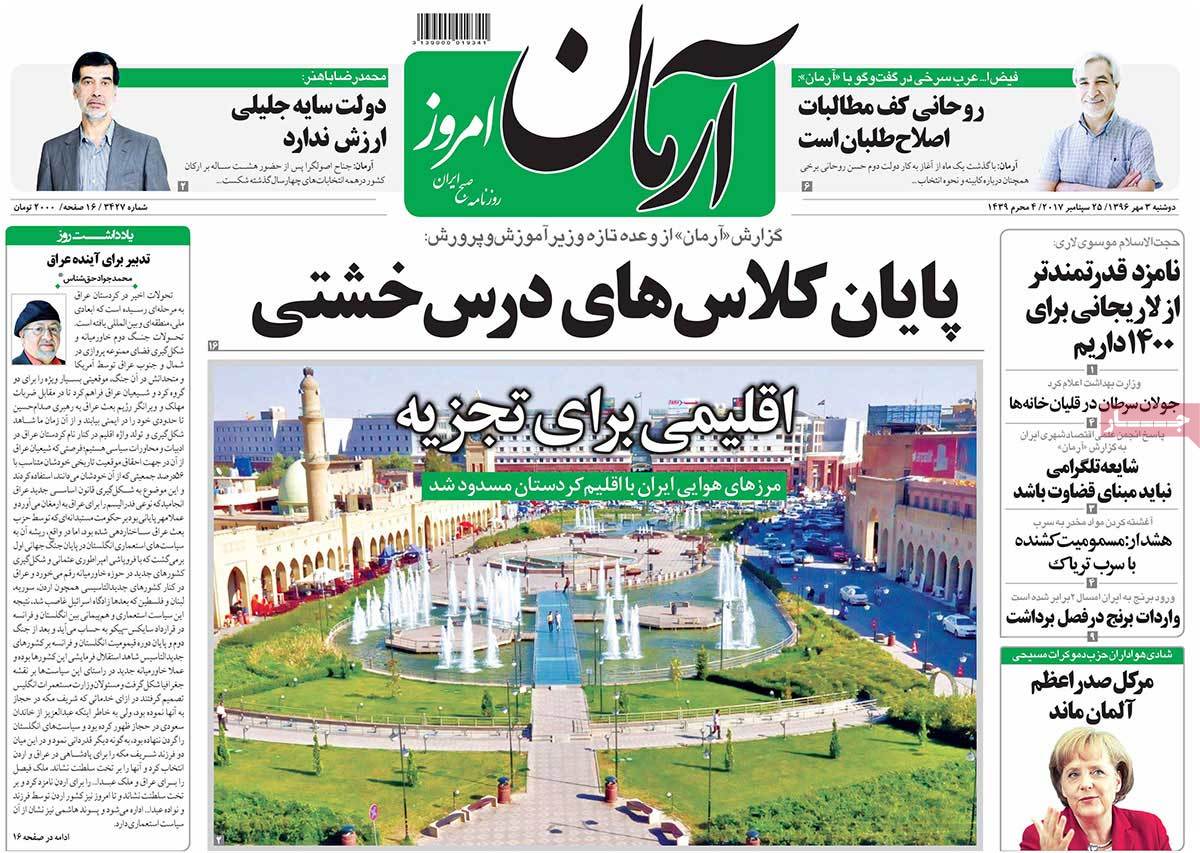 ---
Asrar:
1- Oil Minister: Foreign Companies Very Interested in Making Investment in Iran's Petchem Industry
2- Zarif to CNN: US Proved It's Not Trustworthy
---
Ebtekar:
1- First VP: Iran Ready to Counter Global Threats
2- Larijani: Power of World Leaders Lies in Rationality, Not Shouting
3- Complicated Path of Referendum amid Mideast Crisis
---
Etemad:
1- The Invincible Lady: Merkel Wins Forth Term in German Elections
2- MP: Reformism Has Enough Options for 2021 Election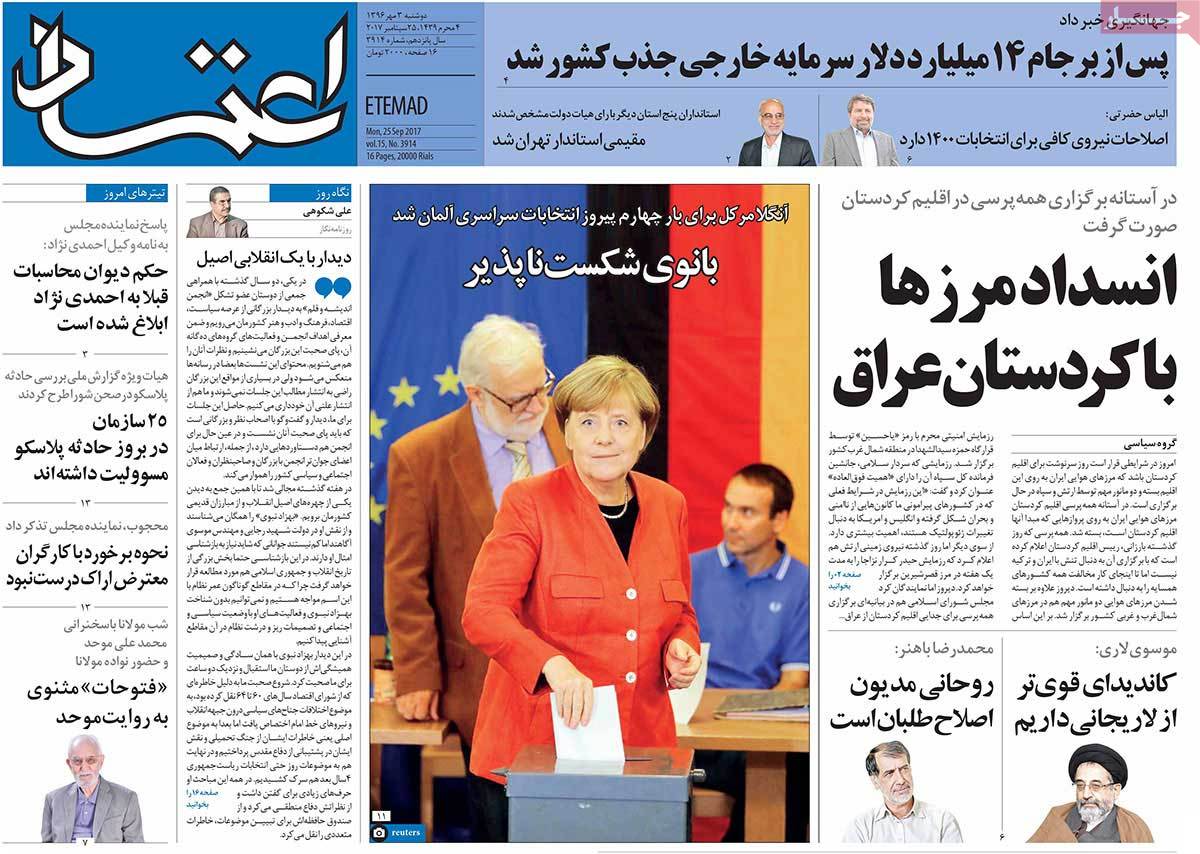 ---
Ettela'at:
1- Economist Explains 6 Super-Challenges of Iran's Economy
2- Huge Demonstration in Paris in Protest at Macron's Economic Policies
---
Iran:
1- Painful Combination of Colour, Pain: A Report on Rohingya Refugees in Bangladesh
2- It's Necessary to Activate Iran's Lobby Groups in US: Analyst
---
Jame Jam:
1- American Elites Ashamed of Trump: 27 US Elites Embarrassed about US President
---
Javan:
1- Kurdistan Region's Sedition under Coffin of ISIS
Despite Regional, Int'l Opposition, KRG to Hold Independence Referendum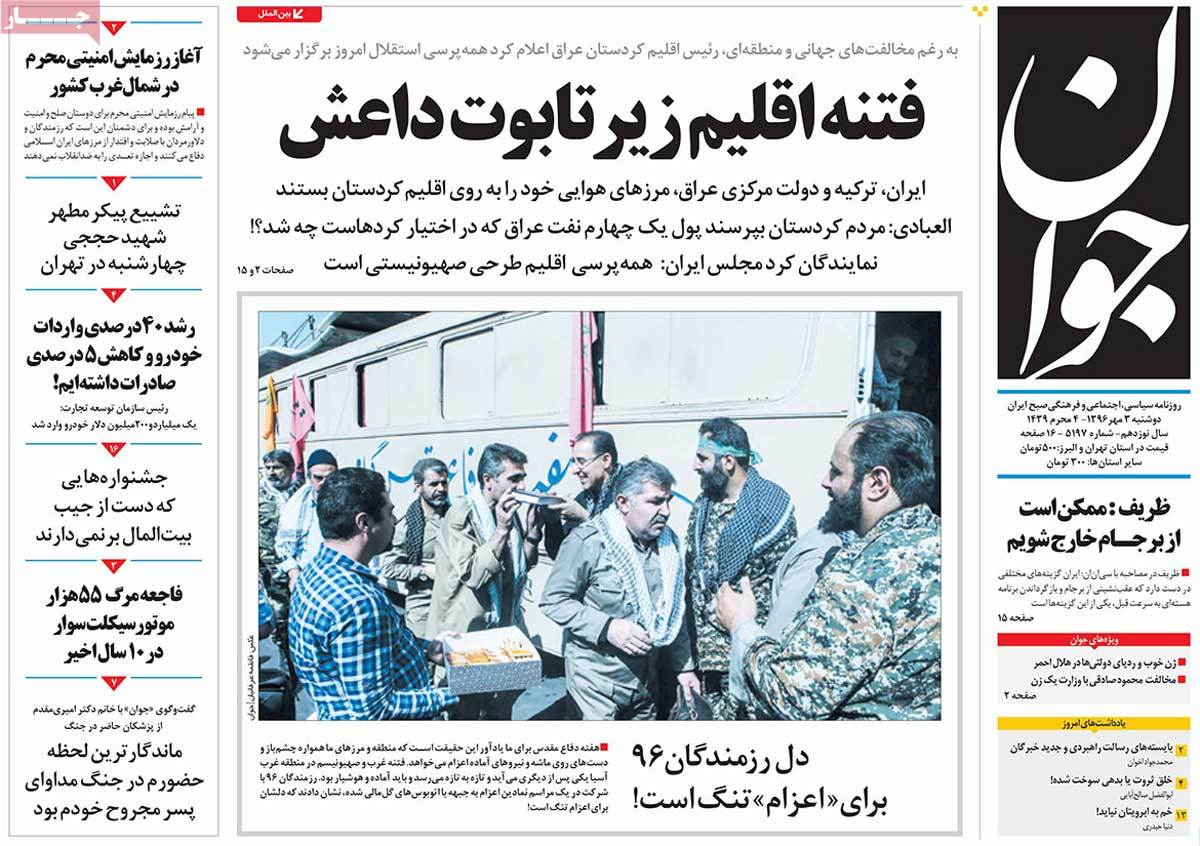 ---
Jomhouri Eslami:
1- First Reaction to Barzani's Secessionism: Iran, Turkey's Military Warnings in Kurdish Borders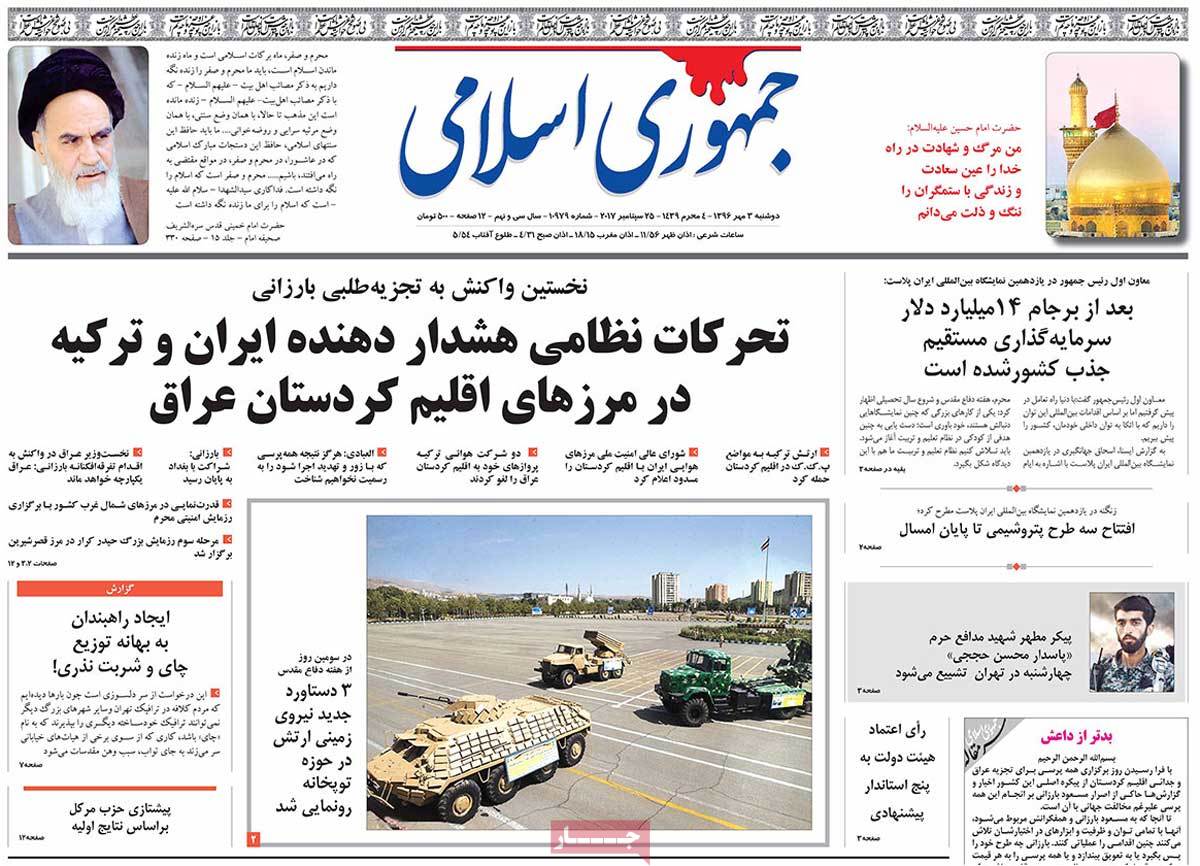 ---
Kayhan:
1- Zarif: Iran's Options Include Withdrawing from JCPOA, Rapidly Returning to Nuclear Program
2- Barzani's Aide: We've Pinned Our Hopes on Israel's Support
3- Barzani Gambling with Destiny of Iraqi Kurds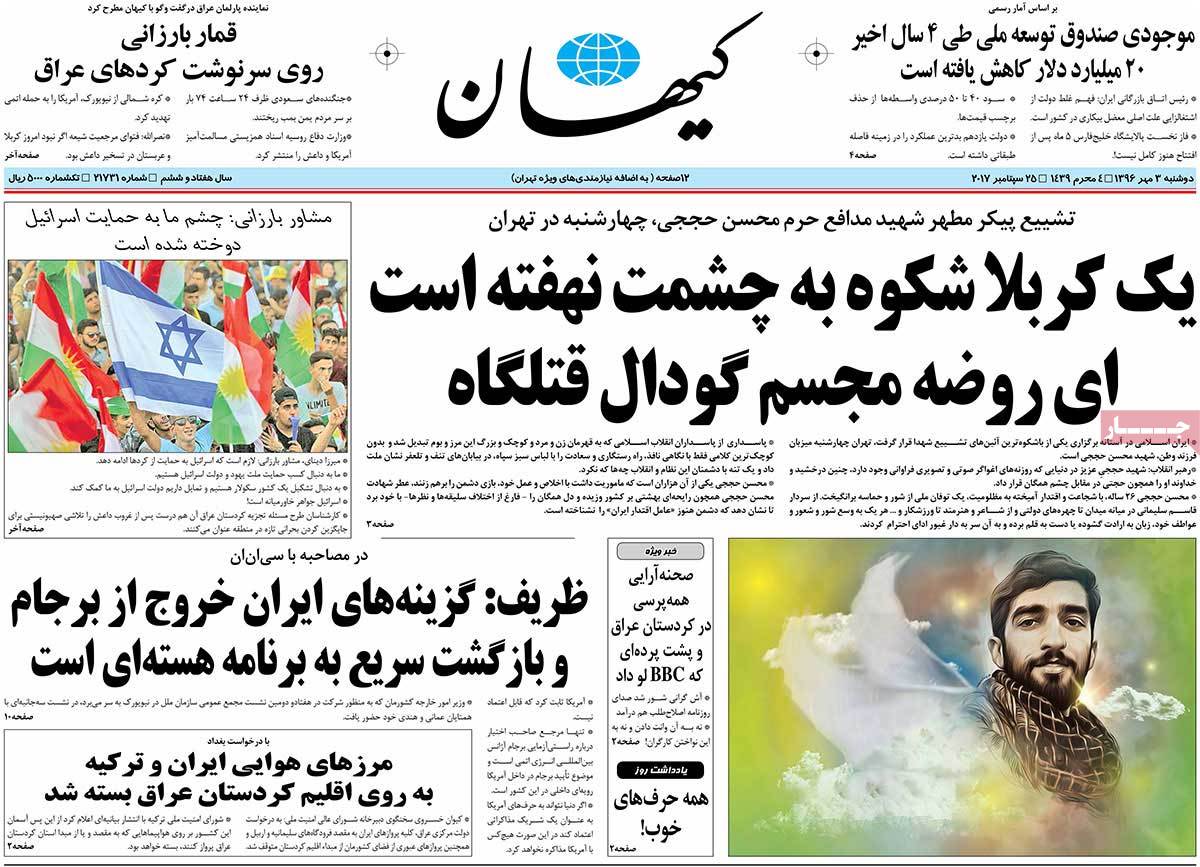 ---
Shahrvand:
1- Iran's First Clear Message to Barzani: Aerial Borders with Kurdistan Blocked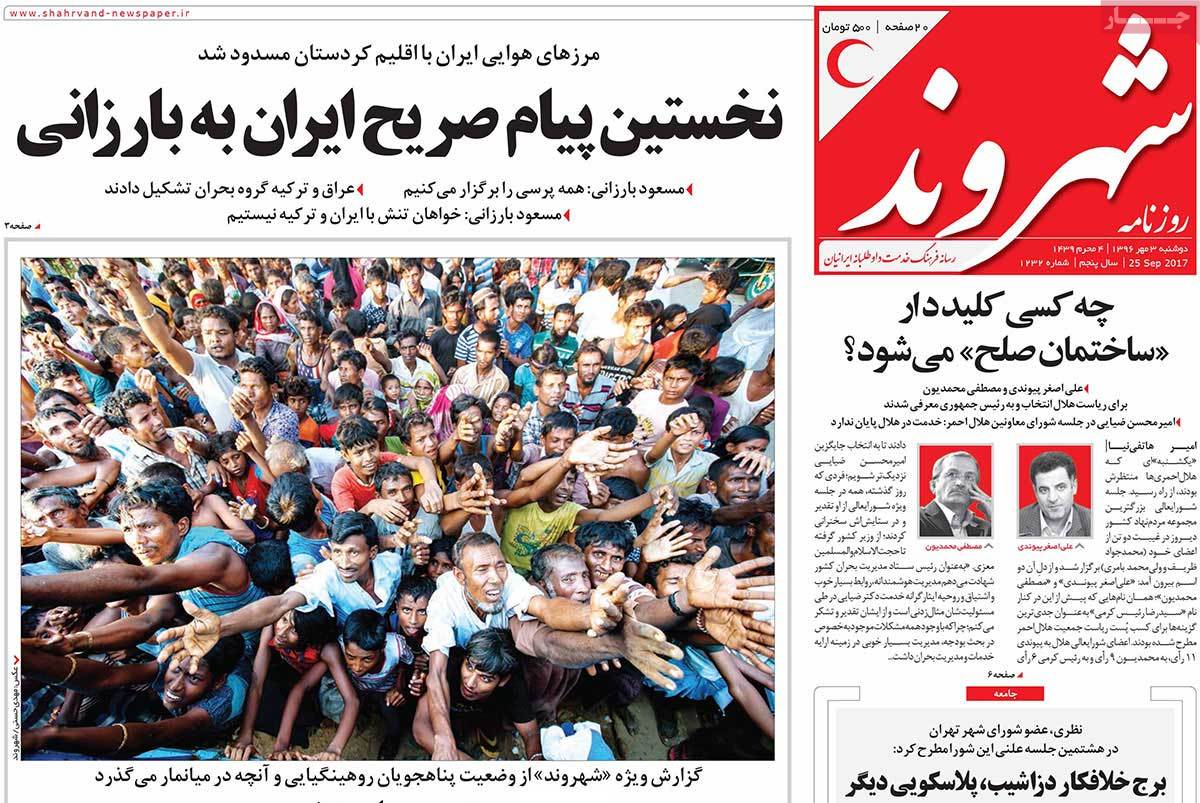 ---
Shargh:
1- General Soleimani Meets Barzani
Barzani Confirms He Has Met IRGC Quds Force Commander in Recent Days
2- Merkel Makes History
3- Reformists Have Candidates More Powerful than Larijani for 2021 Election: Politician
---
Vatan-e Emrooz:
1- Britain Once Again Makes a Promise!
Britons Have Promised Rouhani to Convince US Not to Scrap Nuclear Deal: Chief of Staff