The top story today was the world's opposition to the Iraqi Kurdistan's independence referendum ahead of the Monday votes.
Iran's successful test-launch of its Khorramshahr ballistic missile and the global reactions to the move also received great coverage.
The support for the nuclear deal between Tehran and world powers voiced by the Group 77 and China as well as the EU Foreign Policy Chief Federica Mogherini was also a top story today.
The above issues, as well as many more, are highlighted in the following headlines and top stories:
19 Dey:
1- Imam Khomeini's Grandson: Trump's Words Lead to US Isolation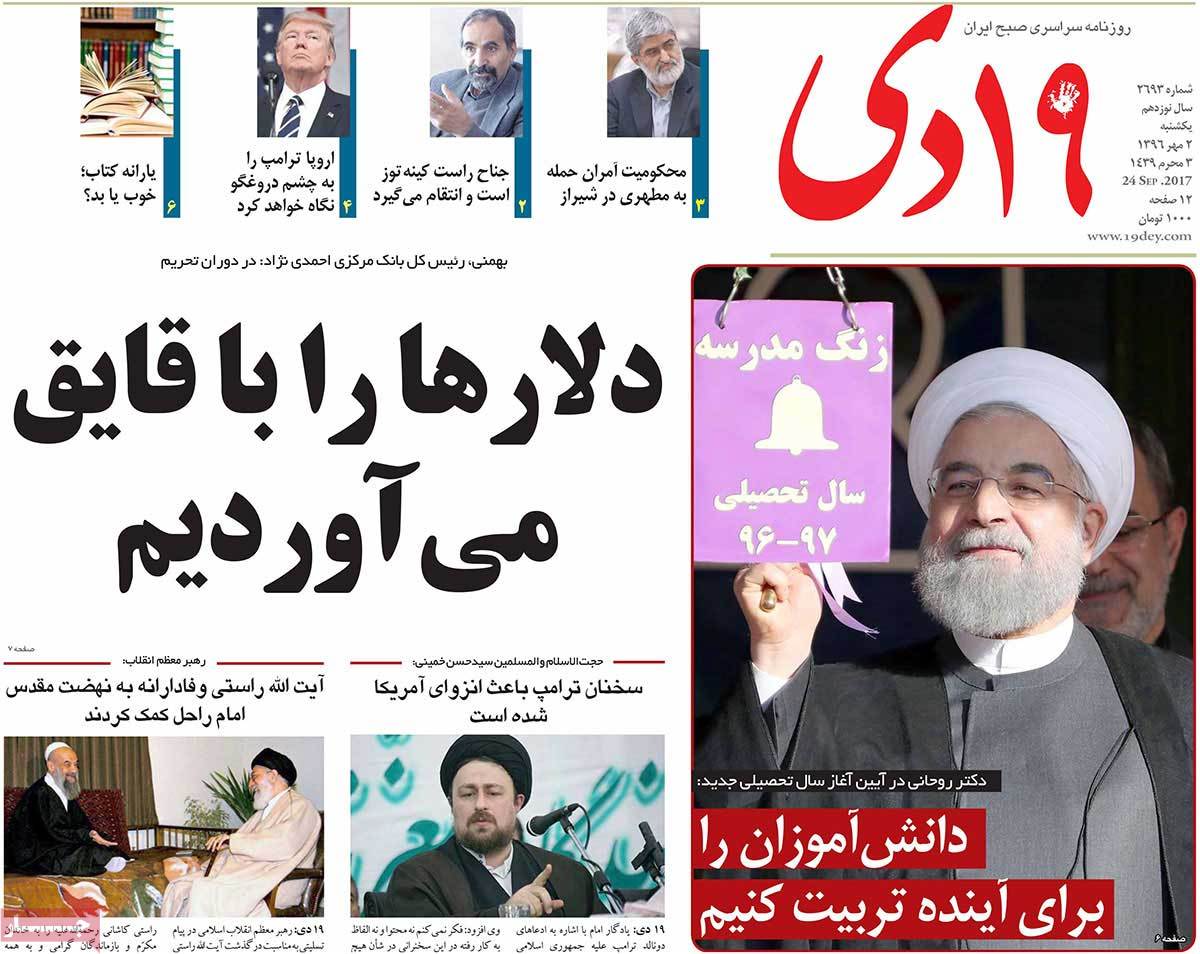 ---
Abrar:
1- Ammar al-Hakim: Everyone Will Lose If Iraq Is Disintegrated
2- UAE: Iran Has Violated Nuclear Deal
3- Defence Minister: Iran Not to Obtain Anyone's Permission for Missile Production
4- Saudi Arabia's Opposition to Iraqi Kurdistan's Independence Referendum
---
Afkar:
1- Larijani: Claims that Iran Helping Terrorists Are Talking Nonsense
2- Leila Hatami among Top 25 Actresses of Century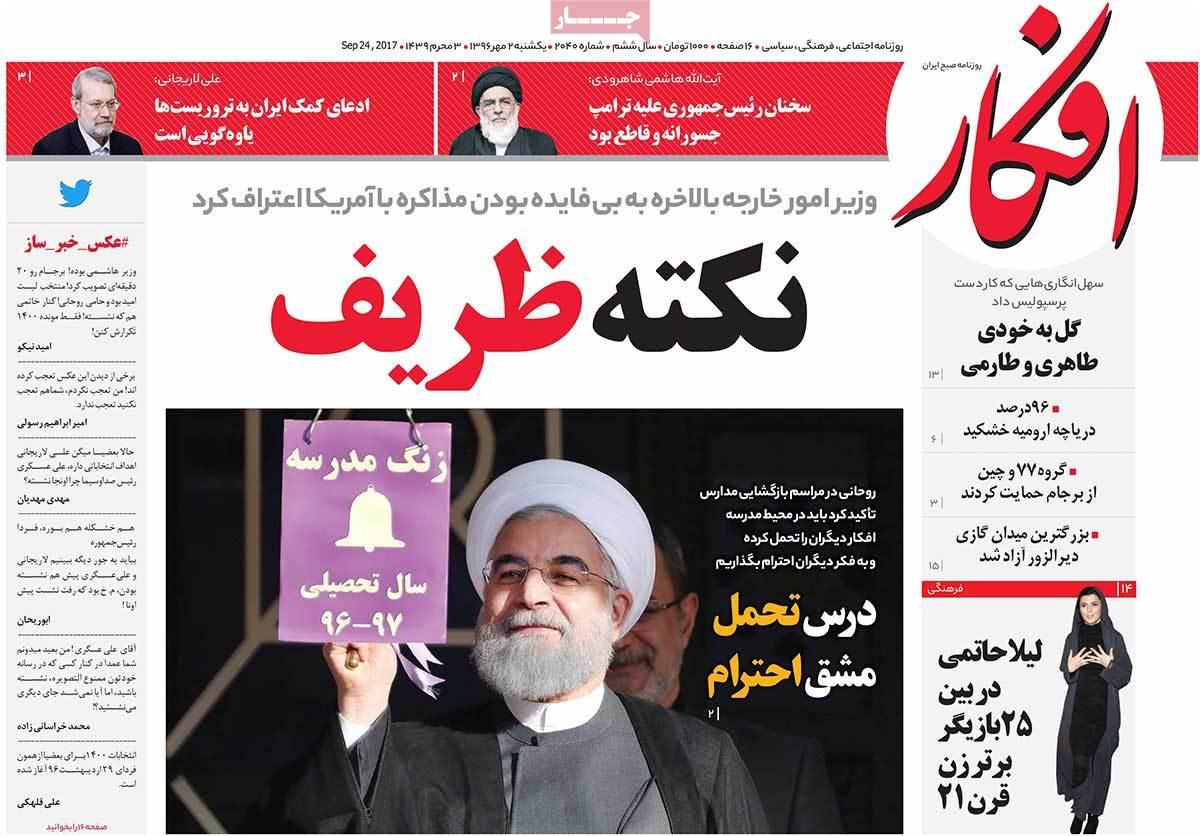 ---
Aftab-e Yazd:
1- Tehran-Ankara More United than Ever
2- Japan's Amateurish Request from Iran: Tokyo Urges Iran to Interfere in N. Korea Crisis
3- Oil Minister: We've Heard Many Insults for New Oil Contracts
---
Arman-e Emrooz:
1- 134 Countries Throw Their Weight behind Iran Nuclear Deal
2- Growing Trend of Rabies in Iran's Southeast at Alarming Level
Huge Number of Rabid Dogs in Sistan and Baluchestan Province
---
Asrar:
1- Mogherini: No Need for Revision of JCPOA
---
Ebtekar:
1- German Woman Closer than Ever to Fourth Term as Chancellor
A Review of How German Parliamentary Votes Work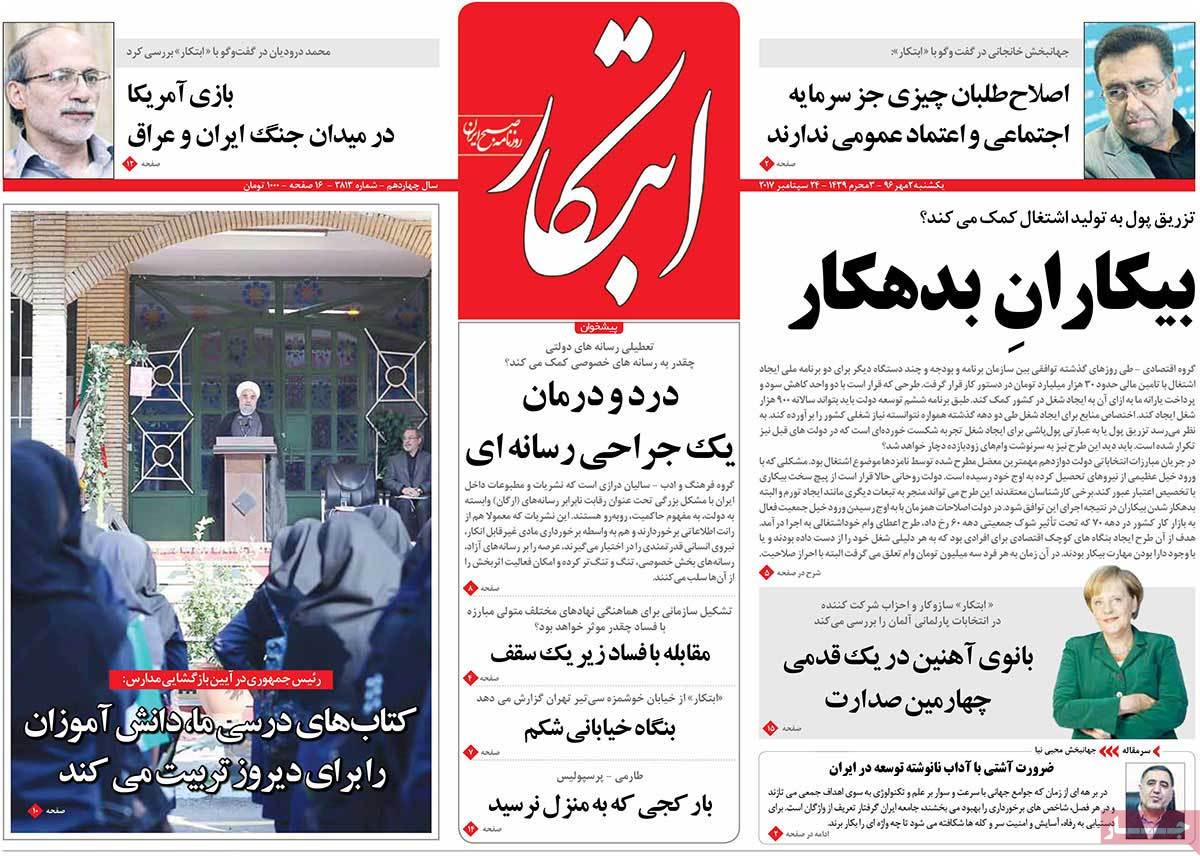 ---
Etemad:
1- Chaos ahead of Referendum
People of Kurdistan to Pay Price of Barzani's Behaviour: Kurdish Figure
2- Iranian Weightlifter Breaks World Record in Asian Competition
---
Ettela'at:
1- Rouhani: Schools Should Turn into Places for Tolerating Others' Opinions
2- Ayatollah Hashemi Shahroudi: Rouhani's UNGA Speech Decisive, Appropriate
3- Sanders: Washington Needs to Correct Its Stance towards Iran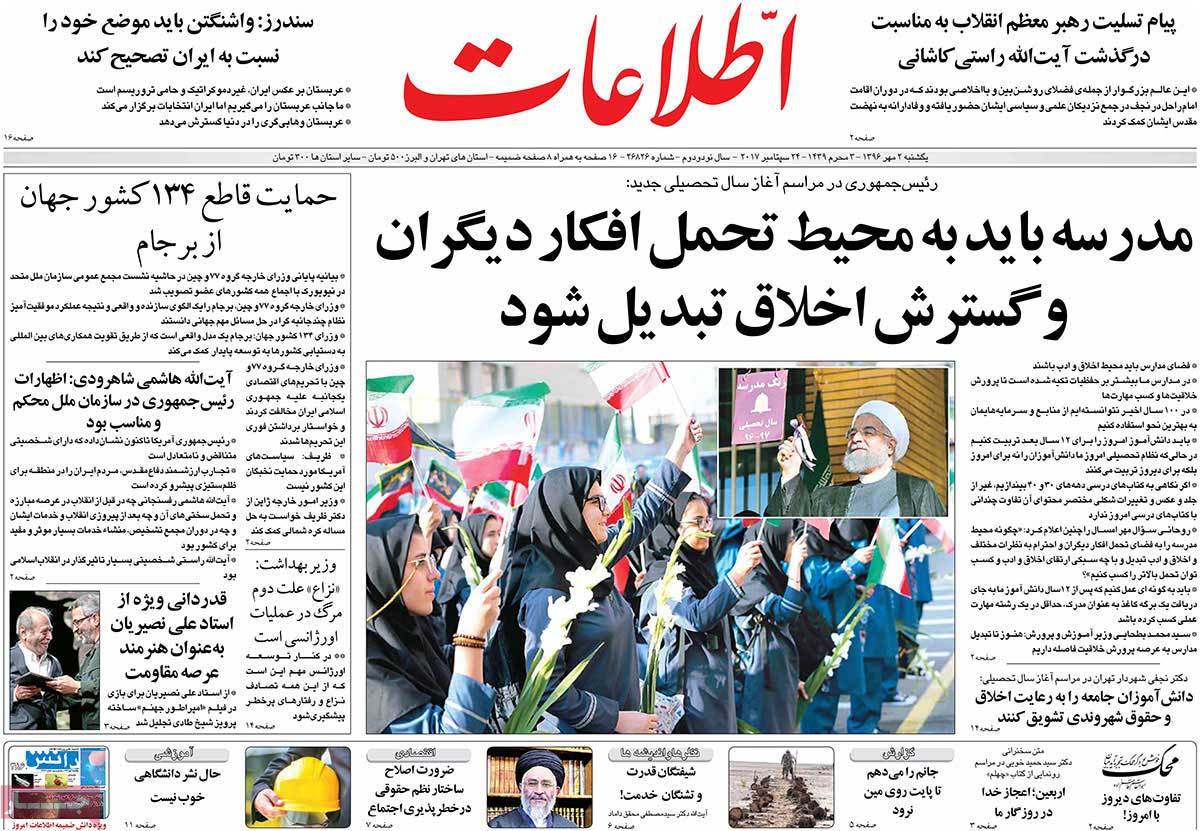 ---
Iran:
1- Group 77 and China Voice Opposition to Unilateral Sanctions against Iran
---
Javan:
1- Severe Domestic Tension ahead of Referendum
Talabani's Son Says Referendum Postponed, Barzani's Party Dismisses
2- Amnesty Int'l: Suu Kyi Lying that Ethnic Genocide Has Stopped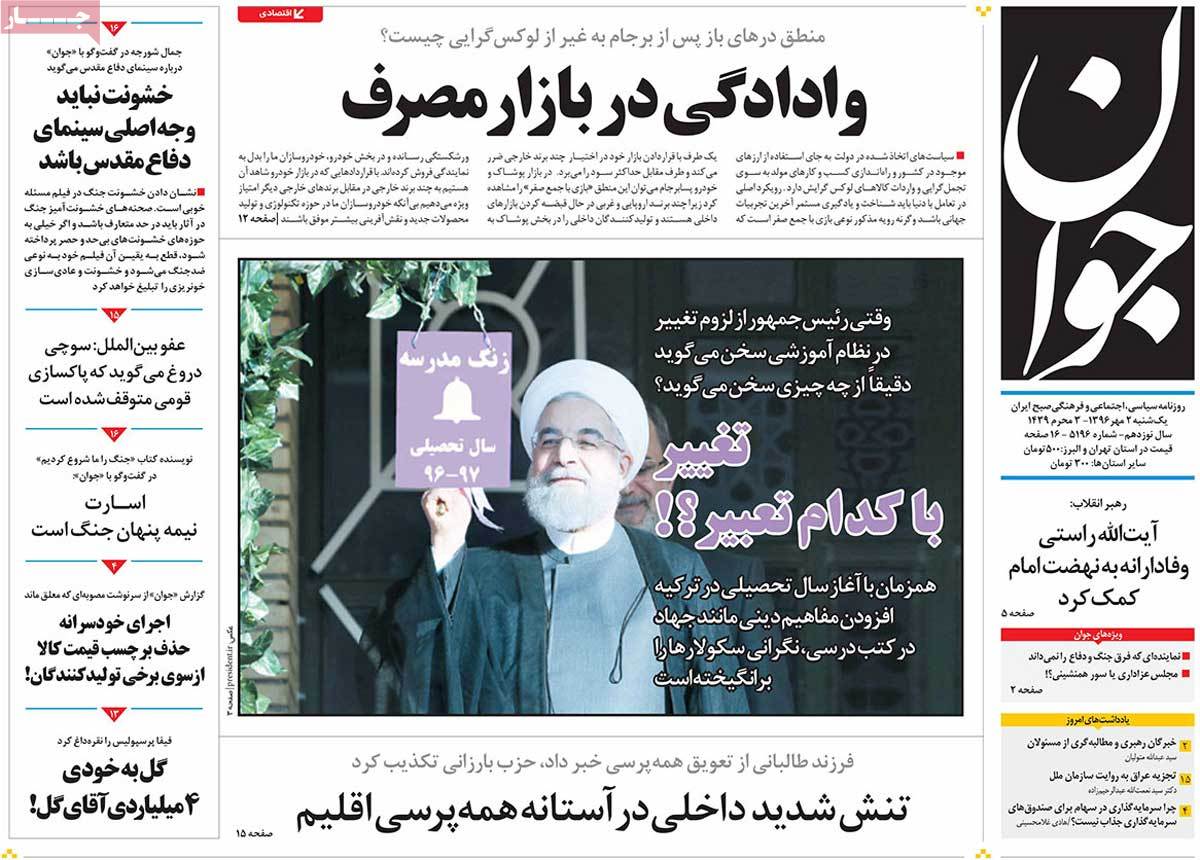 ---
Jomhouri Eslami:
1- Global Opposition One Day before Referendum on Separation of Iraqi Kurdistan
Kurdish Parties Opposed to Barzani's Insistence on Holding Referendum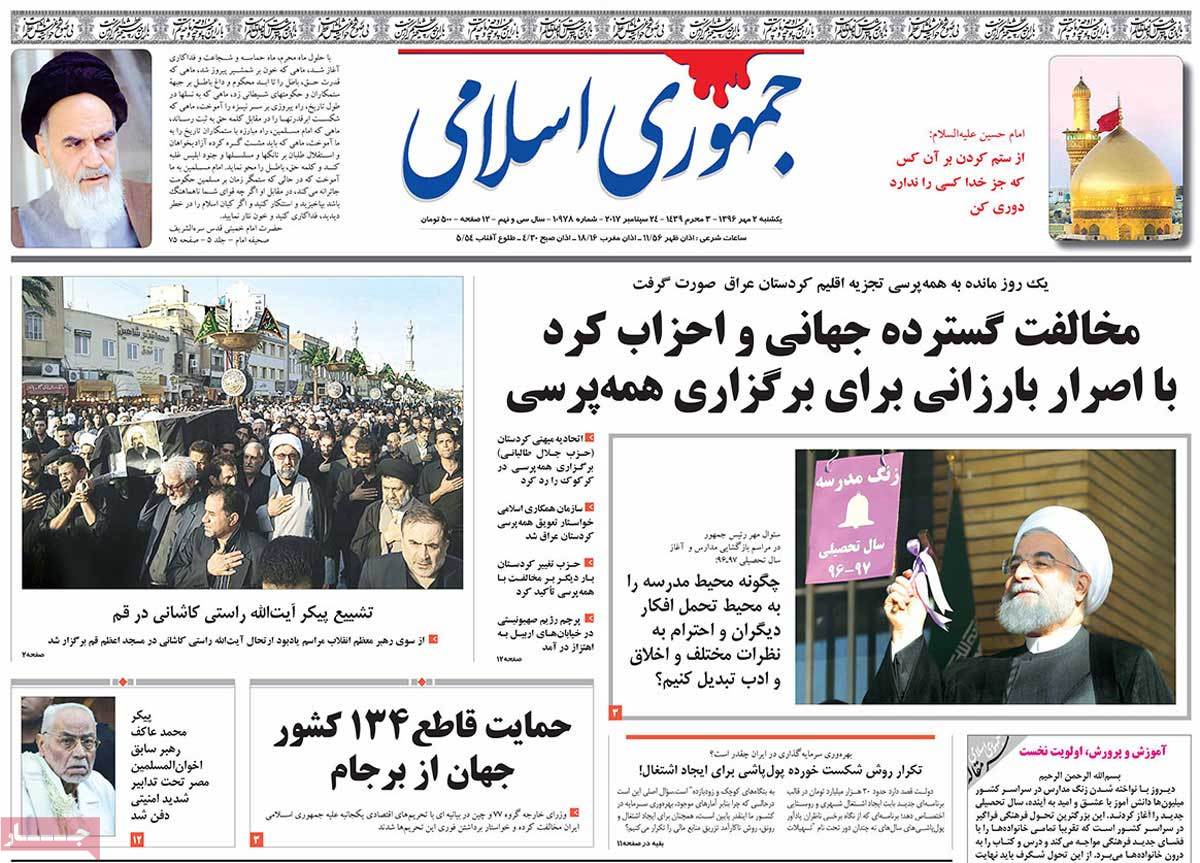 ---
Kayhan:
1- Claw of Excessive Imports, Contraband Goods on Throat of Iranian Worker
2- Iraqi Academic Tells Why Barzani Insists on Holding Votes despite Knowing about Consequences
3- Zionists Terrified by Iran's Successful Test-Launch of Strategic Missile Khorramshahr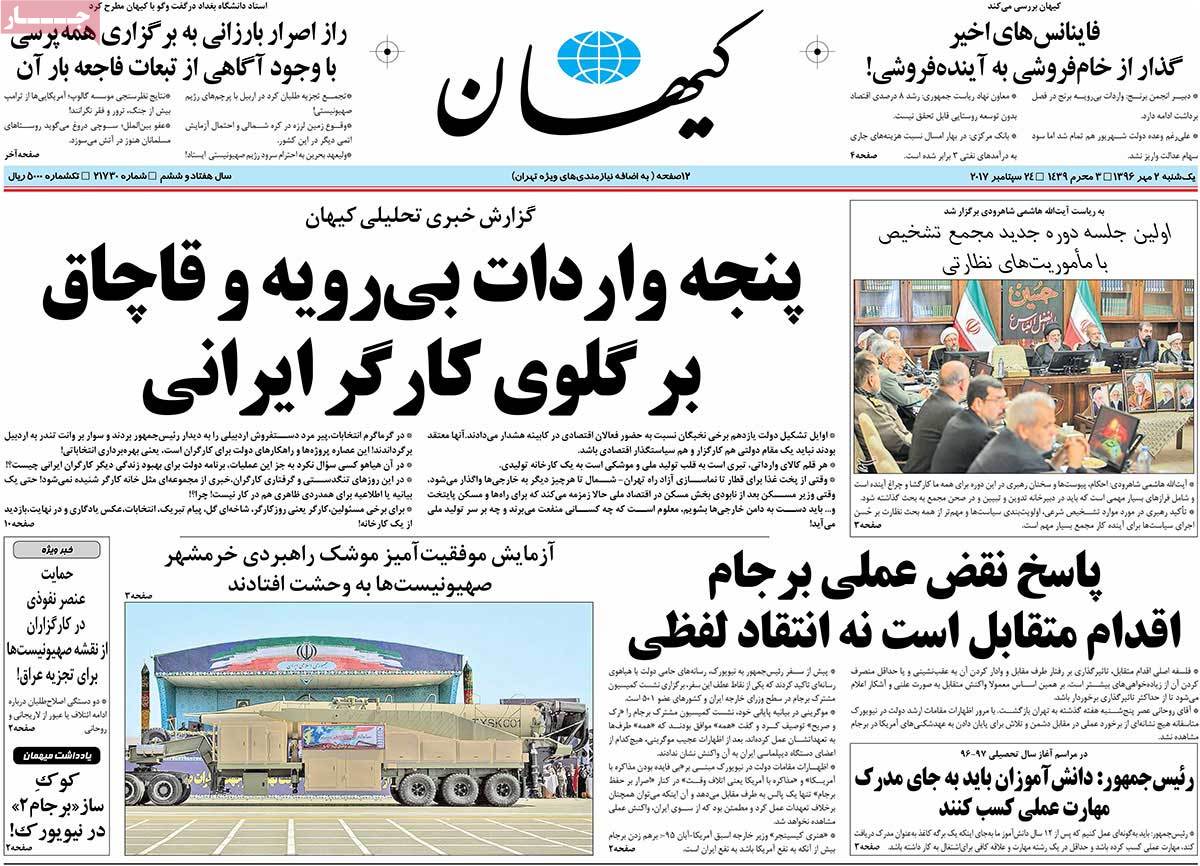 ---
Rooyesh-e Mellat:
1- Barzani: We're Ready for Negotiation after September 25
First Independence, Then Negotiation
2- Super Malaria Threatening Entire World
3- Sanders: US Complicit in Israeli Occupation
---
Shahrvand:
1- Strife, Second Cause of Deaths in Emergency Operations among Iranians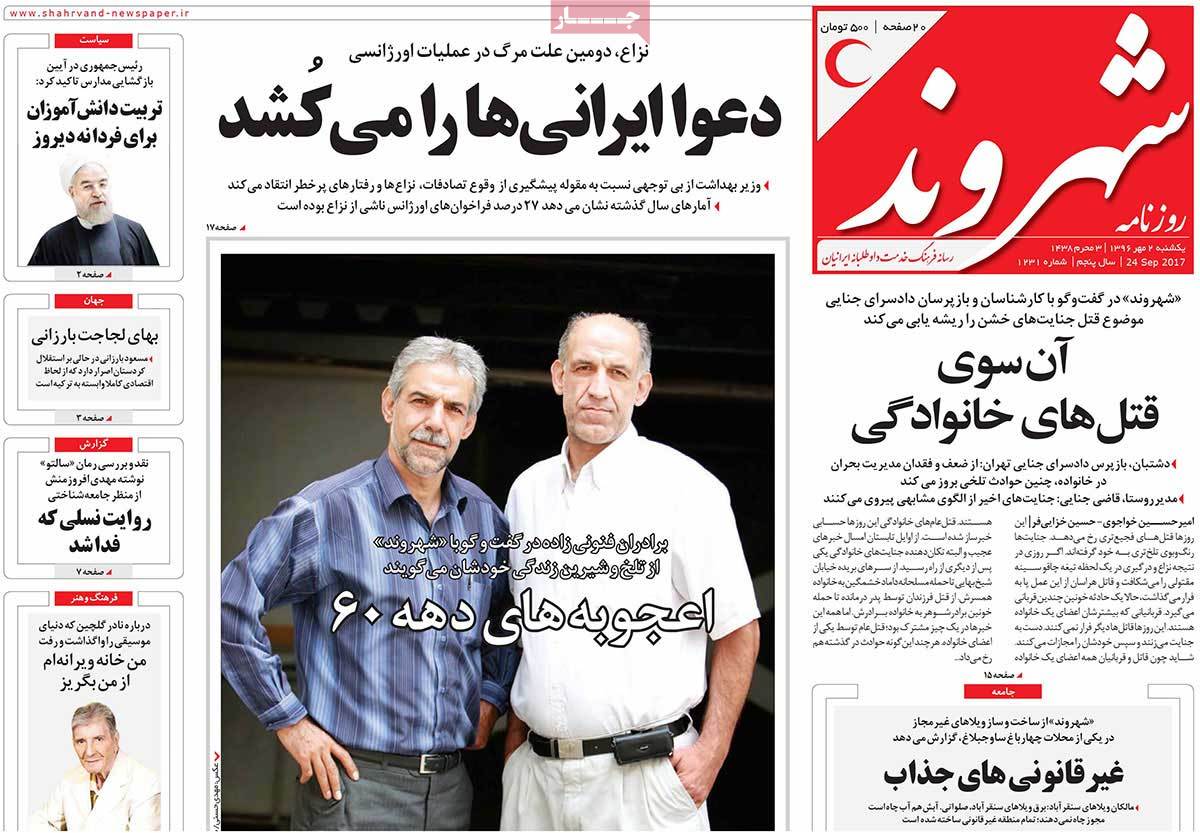 ---
Shargh:
1- Trump's Impeachment Not Unlikely: Analysts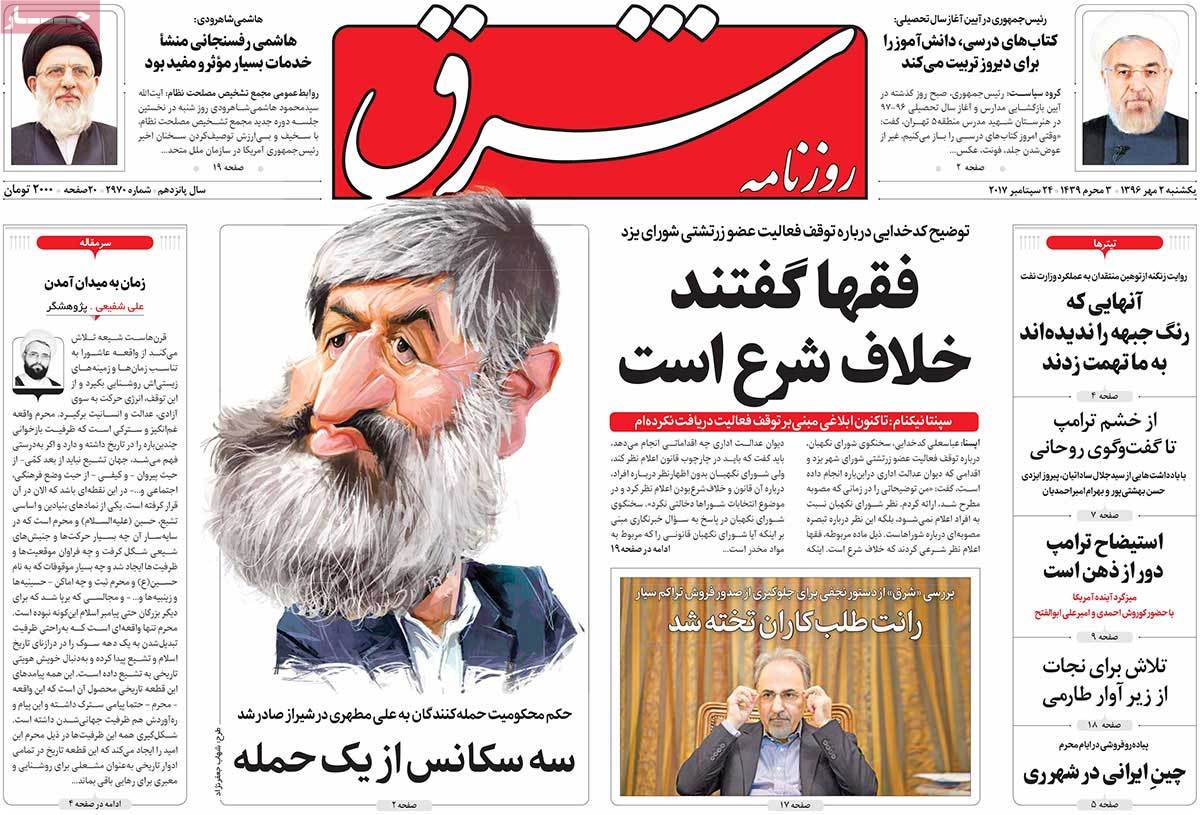 ---
Vatan-e Emrooz:
1- Khorramshahr Shakes London
British FM Voices Severe Opposition to Iran's Test-Launch of Missile with 2,000km Range
2- New Instruction for Preventing Iranians from Entering US