The majority of newspapers on Thursday covered the meetings between President Hassan Rouhani and world leaders on the sidelines of the ongoing United Nations General Assembly in New York City.
They also covered the nationwide parades and the display of Iran's military capabilities on the anniversary of the onset of Iraqi imposed war.
Many newspapers, particularly the reformist ones, published special reports and articles about Mohammad Reza Shajarian, the well-known Iranian singer, on his 76th birthday anniversary, who is suffering from cancer these days. He has been censored by the Islamic Republic of Iran Broadcasting (IRIB) and barred from holding concerts in Iran since 2009.
The above issues, as well as many more, are highlighted in the following headlines:
Abrar:
1- We Should Focus on Commonalities to Protect Muslims' Interests: Rouhani
2- Iranian and Canadian FMs Hold Talks in New York
3- GOP's Continued Anger at White House's Payment of Its Debts to Iran
4- Putin Getting Prepared for 2018 Elections: CIA
---
Abrar-e Eqtesadi:
1- Albania and Sweden Join Customers of Iran's Petchem Products
2- An Opportunity for Italy to Become Iran's First Trade Partner
3- Middle East's Economy on Verge of Collapse: IMF Chief Warns
4- Azerbaijan Republic Becomes Iran's 11th Trade Partner
5- Banks on Standby for Distribution of New Credit Cards
---
Aftab-e Yazd:
1- Shajarian: The Heritage We Didn't Value
2- Many World Leaders Fail to Meet Rouhani Due to Shortage of Time!
3- New York Playing Host to Diplomacy of Prudence
4- US Issues Licence for Immediate Sale of 17 Airbus Planes to Iran
5- Different Parts of S-300 Missile Defence System Put on Display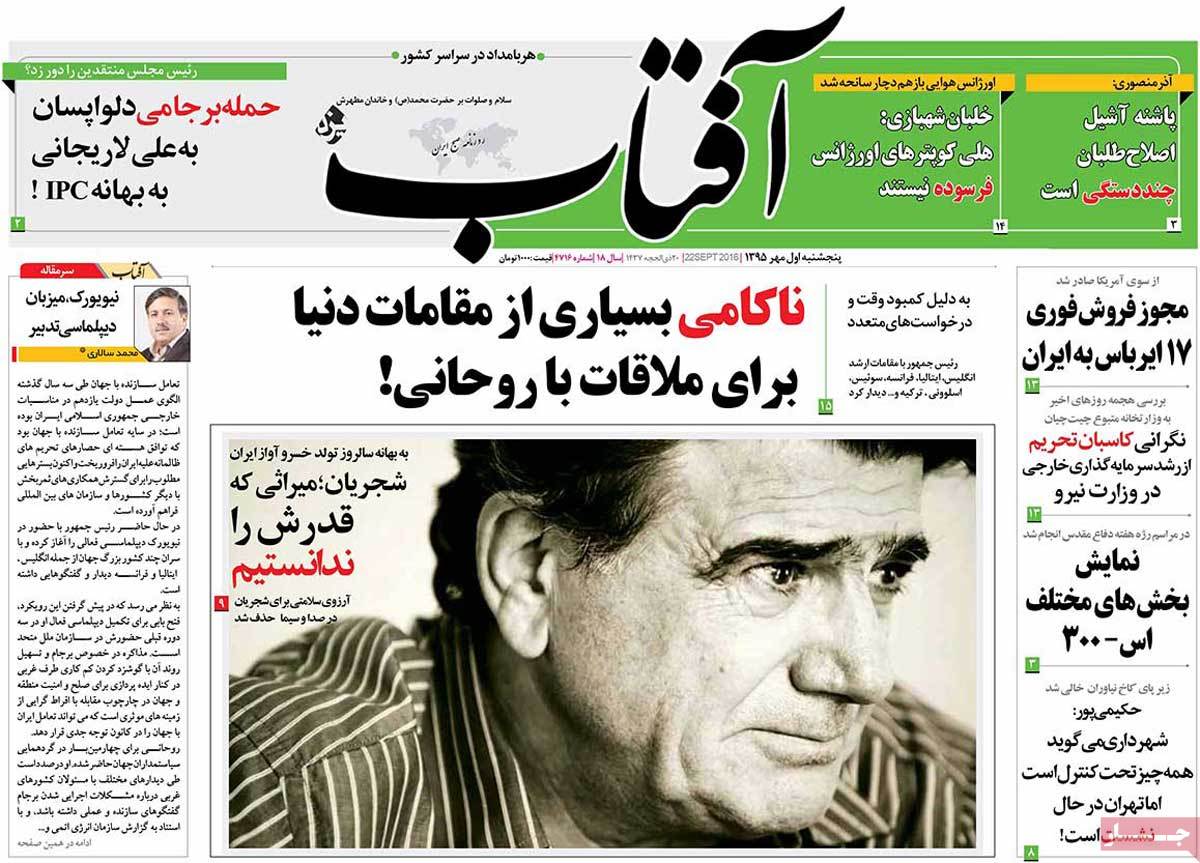 ---
Arman-e Emrooz:
1- President Rouhani Meets European Leaders: Diplomatic Traffic in New York
2- Iran and Canada Smile in New York; Zarif's JCPOA Meetings with G5+1 Counterparts
3- Prosecutor-General Warns Government Organizations against Using Telegram for Work
4- Reformists to Meet Ayatollah Rafsanjani on Upcoming Elections
5- Purchase of 200 Planes from 2 Aviation Giants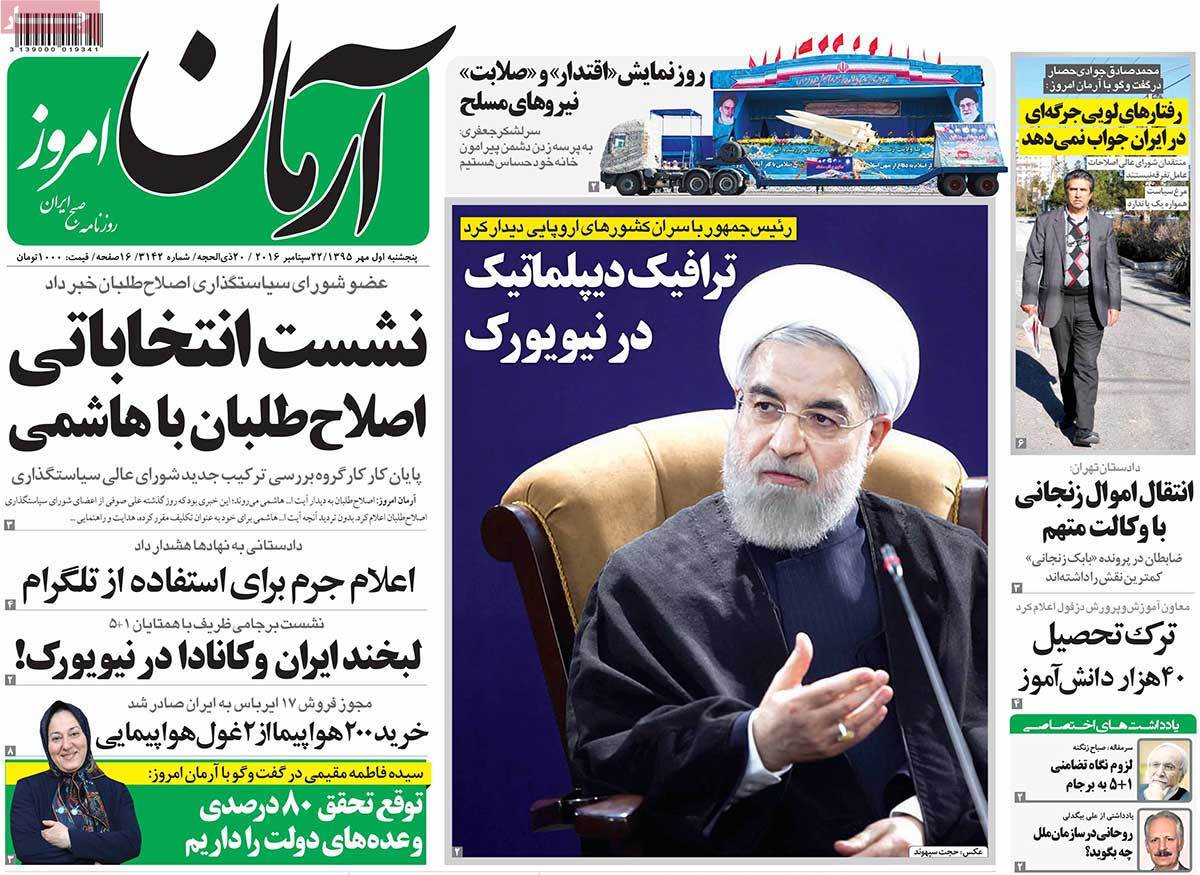 ---
Asrar:
1- Saudi Arabia Will Be Slapped in the Face If Commits Even a Little Mistake: IRGC General Rezaei
2- Iran Helped World Security: Obama to UNGA
3- In Post-JCPOA, Path to Foreign Investment Is Paved: Rafsanjani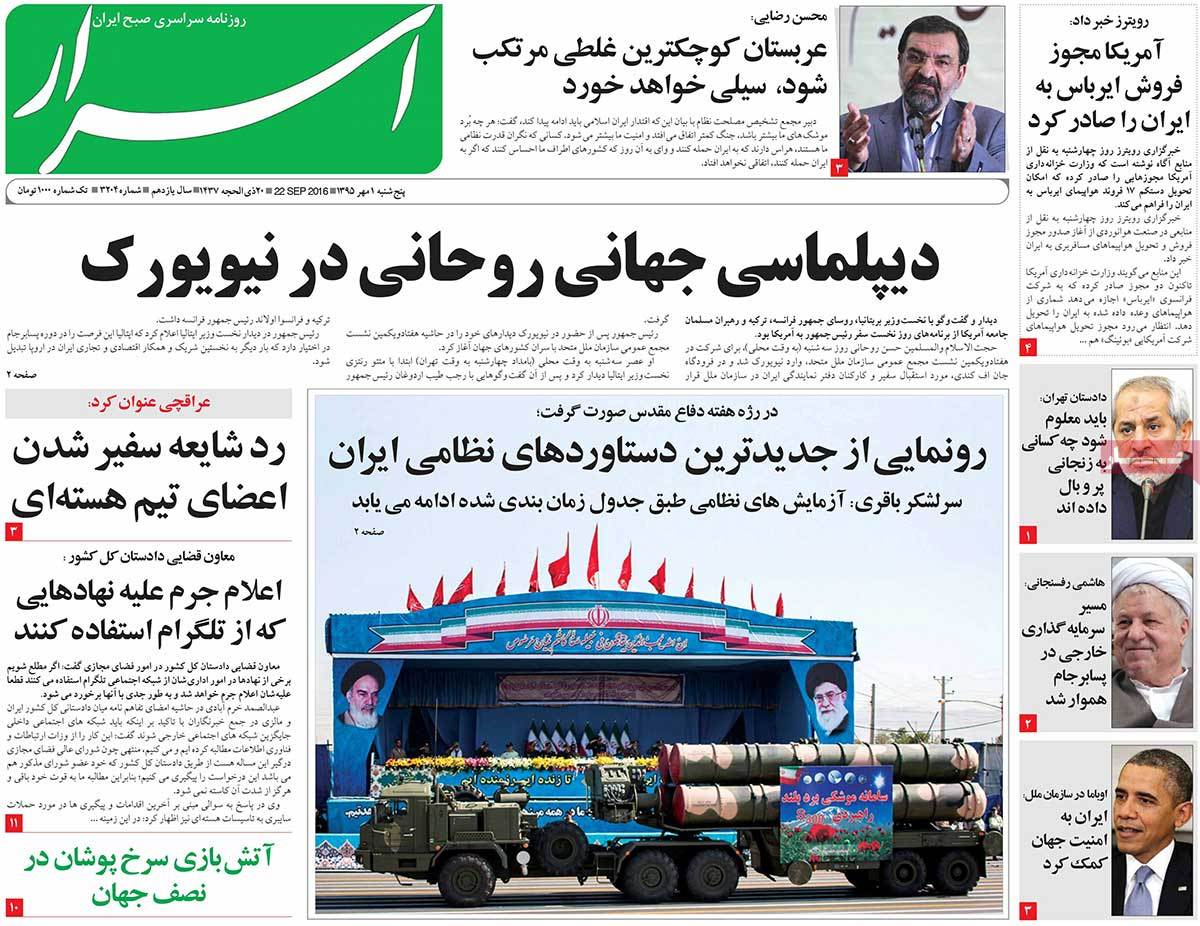 ---
Ettela'at:
1- Rouhani in Meetings with World Leaders: Iran Ready for Mutual Cooperation
2- Obama: Israel Can't Continue Occupying Palestinian Territories Forever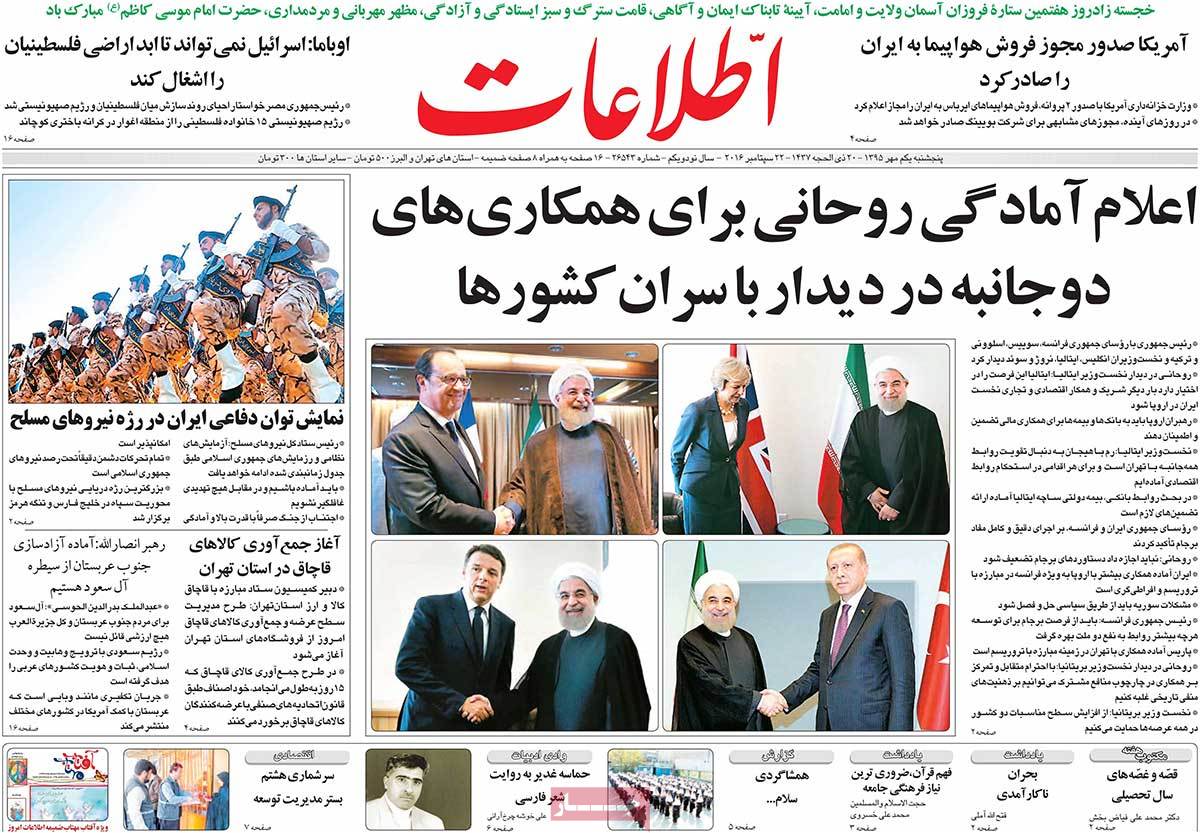 ---
Haft-e Sobh:
1- A Report on an Online Funeral: Interesting Details of a Website that Held Funeral for Professor Javan
2- Hello to Credit Cards: As of Today, Customers Can Register for Credit Cards in Iran
3- Troubles of Theresa May's Skirt and Shoes in Meeting with Rouhani! Are They against Protocols?
---
Iran:
1- Iran's Modern Weapons Unveiled: Zolfaqar Ballistic Missile with Range of 750km
2- Rouhani European Governments Should Give Assurance to Major Banks about Cooperation with Iran
---
Jame Jam:
1- Prices of Major Food Products on the Rise
2- Busy Day of Iran's Diplomatic Talks in New York City: Rouhani Pursuing West's Violation of Its JCPOA Commitments
3- Coverage of Iran's Display of Its Defensive Might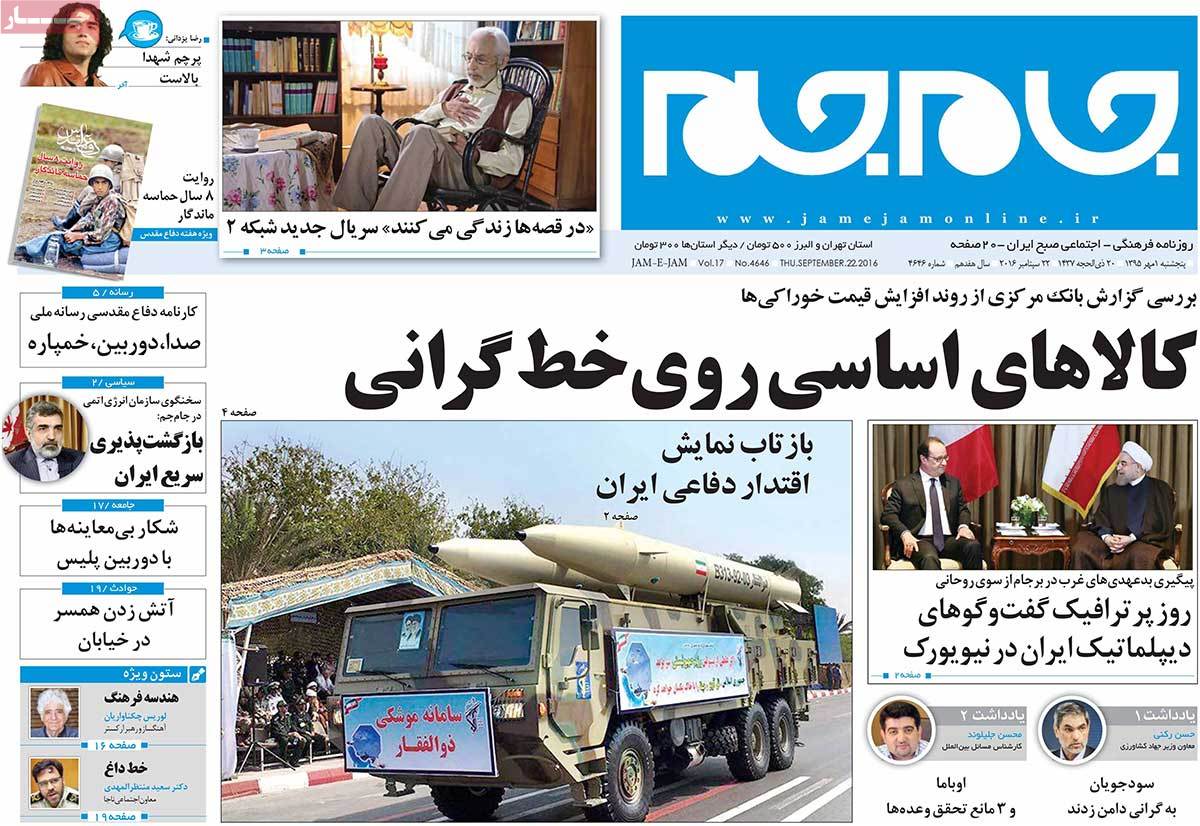 ---
Javan:
1- It's Iran's Right to Develop Its Defensive Might: Power of Iran's Armed Forces Showcased in Tehran, Bandar Abbas, and Other Parts of the Country
2- Trade Ministry Imports Wheat and Agriculture Ministry Exports It!
3- Open Anti-Iran Meeting of Arab Ambassadors with Zionists in New York
4- US Police Once Again Beats and Kills Black People
---
Jomhouri Eslami:
1- Swiss Company Signs $800m Deal for Building Wind Power Plant in Iran
2- Pakistan's Strong 'No' to US over Restriction of Its Nuclear Program
3- UN Denies Airstrike on Aid Convoy in Aleppo
4- In Separate Meetings, Rouhani Underlines Precise Implementation of JCPOA and Global Fight against Terrorism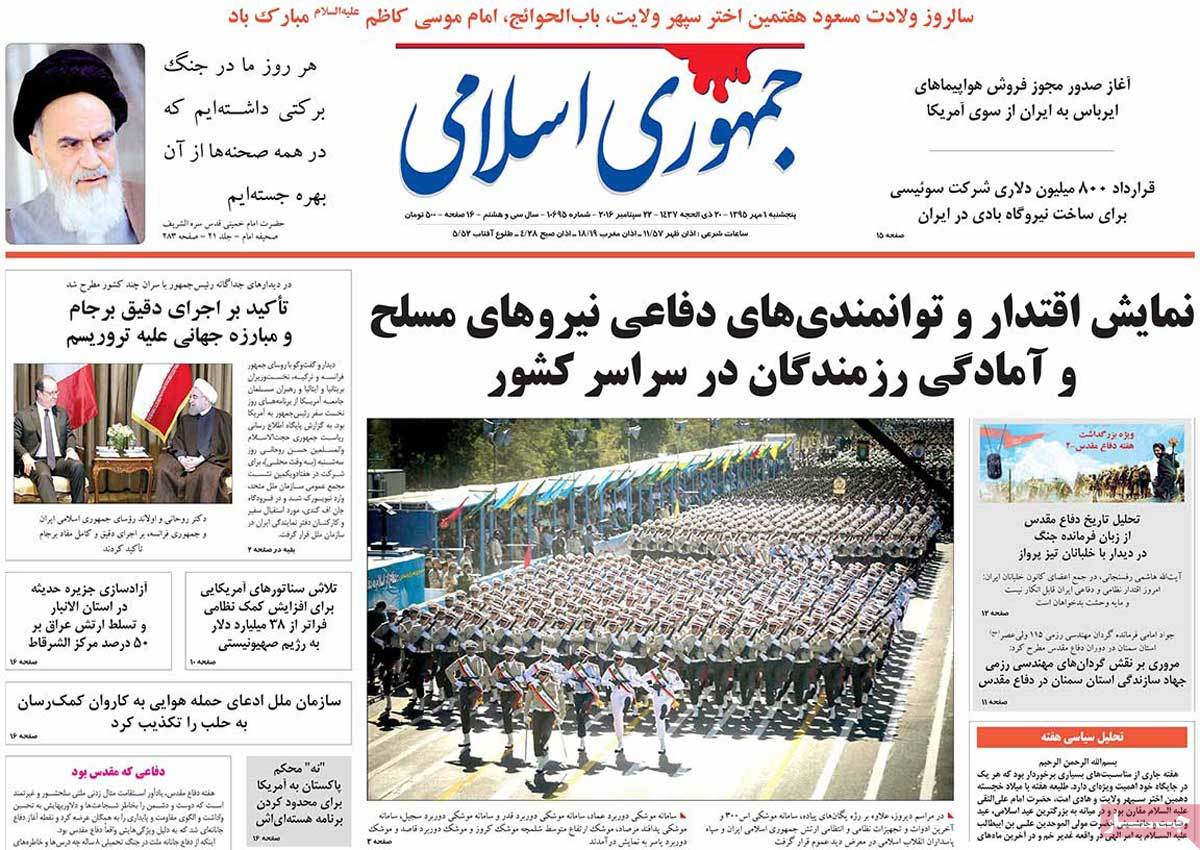 ---
Ka'enat:
1- This 'Ongoing' War: Damages of Iran-Iraq War and Lives of Disabled Veterans
2- JCPOA Was My Achievement: Obama
3- Rouhani's Defeat in Elections Means Israel's Victory: National Interest
4- Marriage and Divorce in Cinema: A Report on Separation of Hollywood Stars Brad Pitt and Angelina Jolie
---
Kayhan:
1- Iran's Car Market Dominated by Foreign Companies
2- Iran's Military Power Will Surprise Enemies on Day of Battle: Chief of Staff of Armed Forces
3- 3,000 Russian Soldiers Enter Aleppo One Day after End of Ceasefire
---
Roozan:
1- This President, That President: Analytical Comparison of Speeches Delivered by Ahmadinejad and Rouhani in UNGA
2- Iranians' Hatred of Cats and Environment: Massacre of Cats in Tehran Using Poison
3- Perspolis FC Wins Iran's El Clasico [with Sepahan of Isfahan]
---
Shahrvand:
1- War Tourism, an Excuse for Peace
2- Plane Sale to Iran, a Priority for France: French Ambassador
---
Shargh:
1- Parade of Armed Forces to Commemorate Sacred Defence
2- Reformists Start Their Campaigns for 2017 Elections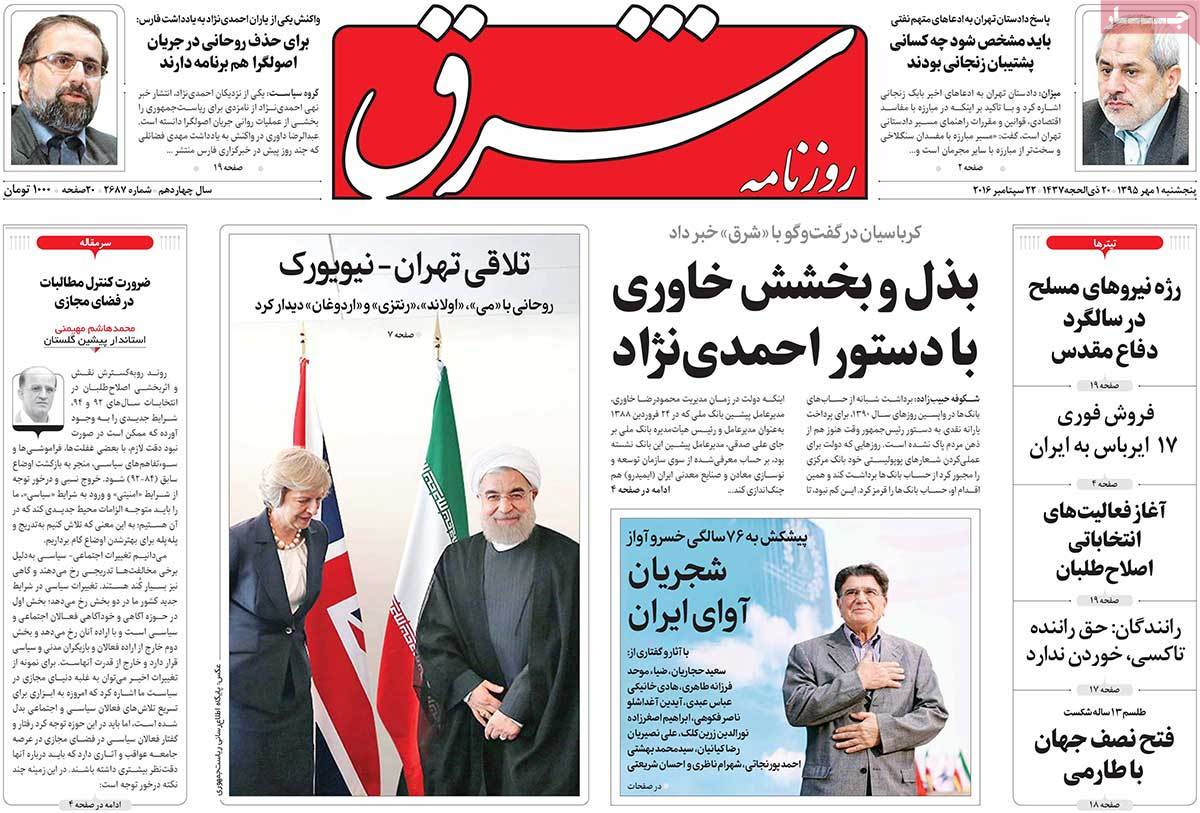 ---
Vaghaye Ettefaghieh:
1- Families in Urban Areas Spend $845 per Month: Nearly 4 Times More than Minimum Wage
2- Rouhani Meets with World Leaders before His UN Address: Diplomatic Activity in New York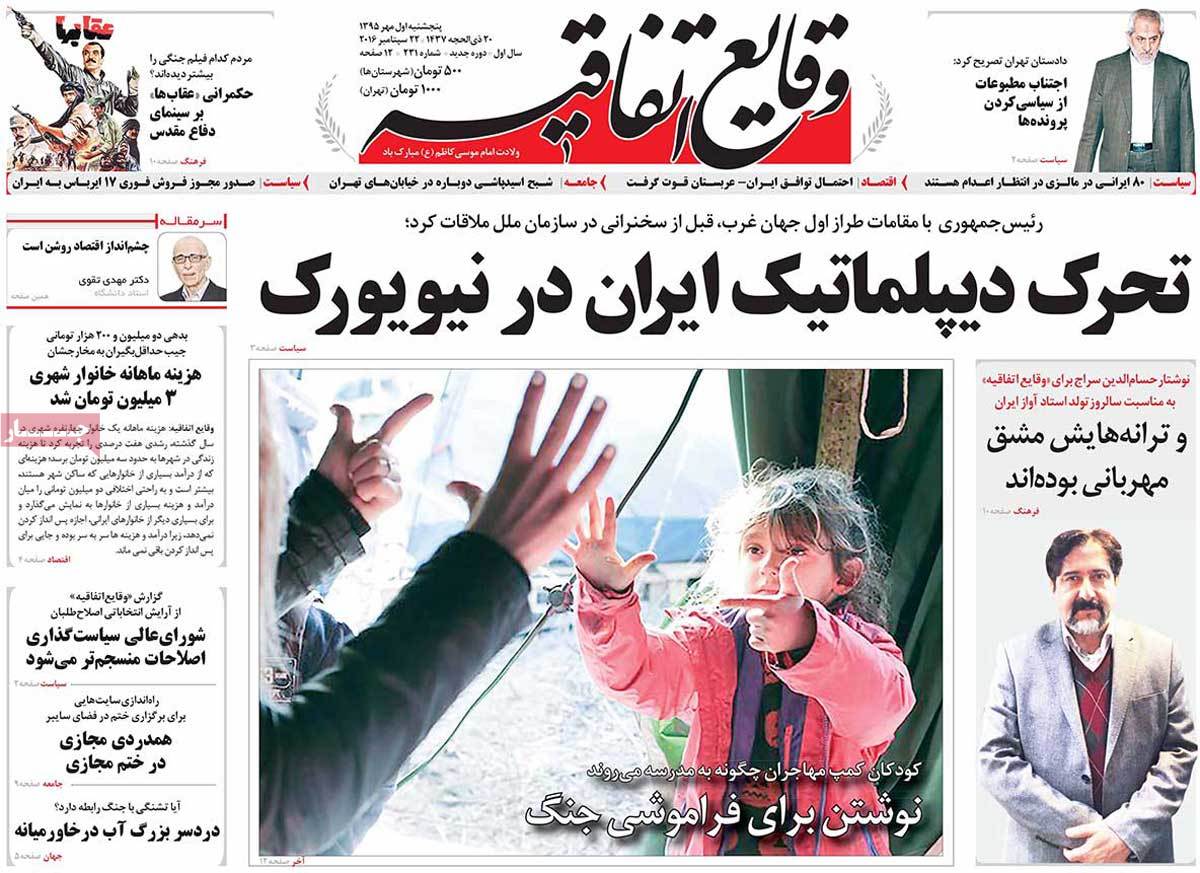 ---
Vatan-e Emrooz:
1- MPs to Discuss a Plan for Checking Dual Nationality of Officials
2- Executives with Astronomical Salaries Still Working!
3- Terrorists Receive Supplies under Cover of UN
4- Creating Crisis through Credit Cards [Editorial]