Newspapers on Wednesday covered the remarks made by Ayatollah Seyyed Ali Khamneei, the Leader of the Islamic Revolution, in a meeting with people from all walks of life.
They also pointed to President Hassan Rouhani's ongoing visit to New York City, and also raised the possibility of a meeting between Rouhani and his US counterpart Barack Obama on the sidelines of the United Nations General Assembly.
A ban on smoking in public places, due to be enforced as of today, also received great coverage.
The above issues, as well as many more, are highlighted in the following headlines:
Abrar:
1- Tehran and Havana Sign MoU
2- Tehran Withdraws from Buying 6 Airbus Planes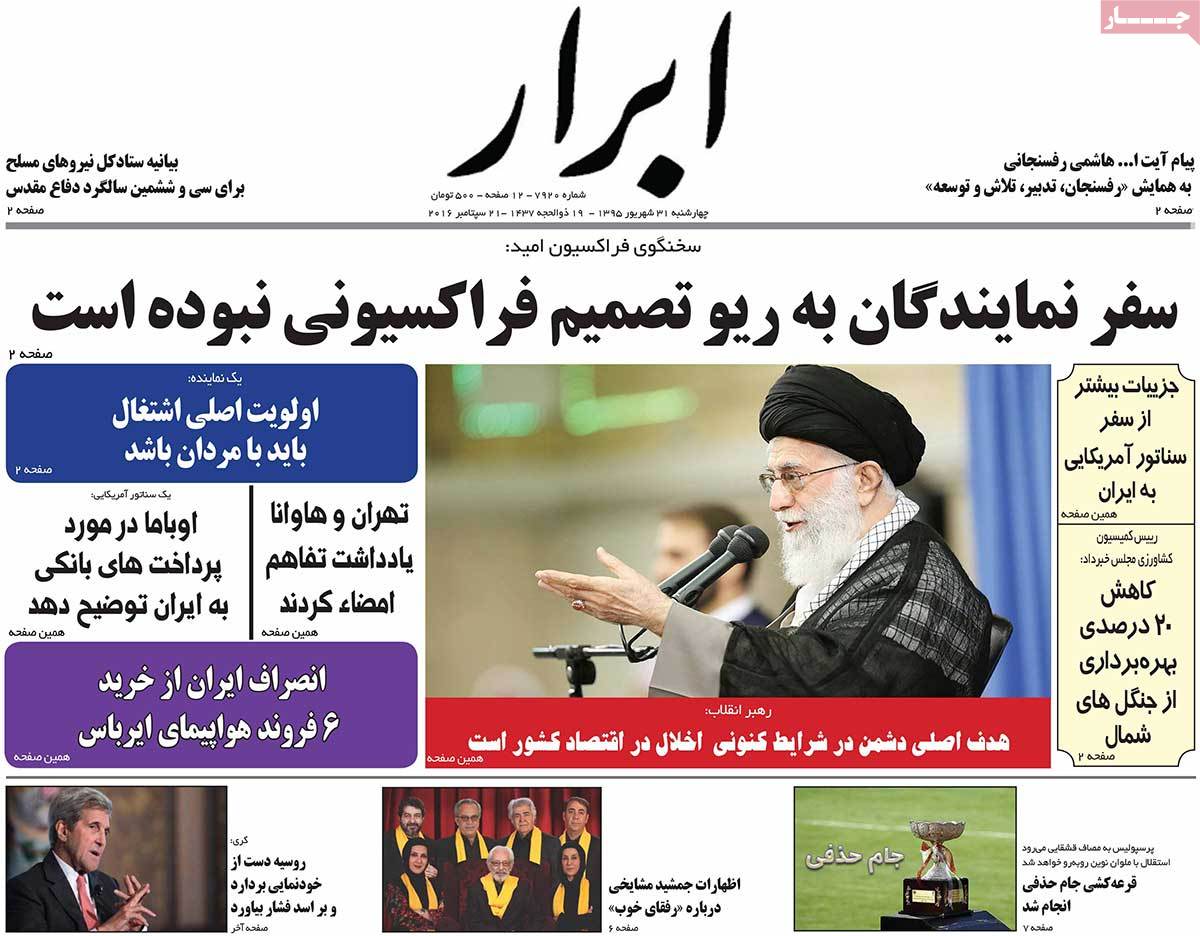 ---
Abrar-e Eqtesadi:
1- 70% Increase in Iran-Azerbaijan Trade
2- 21% Jump in Iran's Exports to Europe
3- British Airways' Advertisement to Promote Air Trips to Tehran
4- Iranian Trade Delegation to Visit Thailand
5- Talks with Lukoil for Development of 2 Oil Fields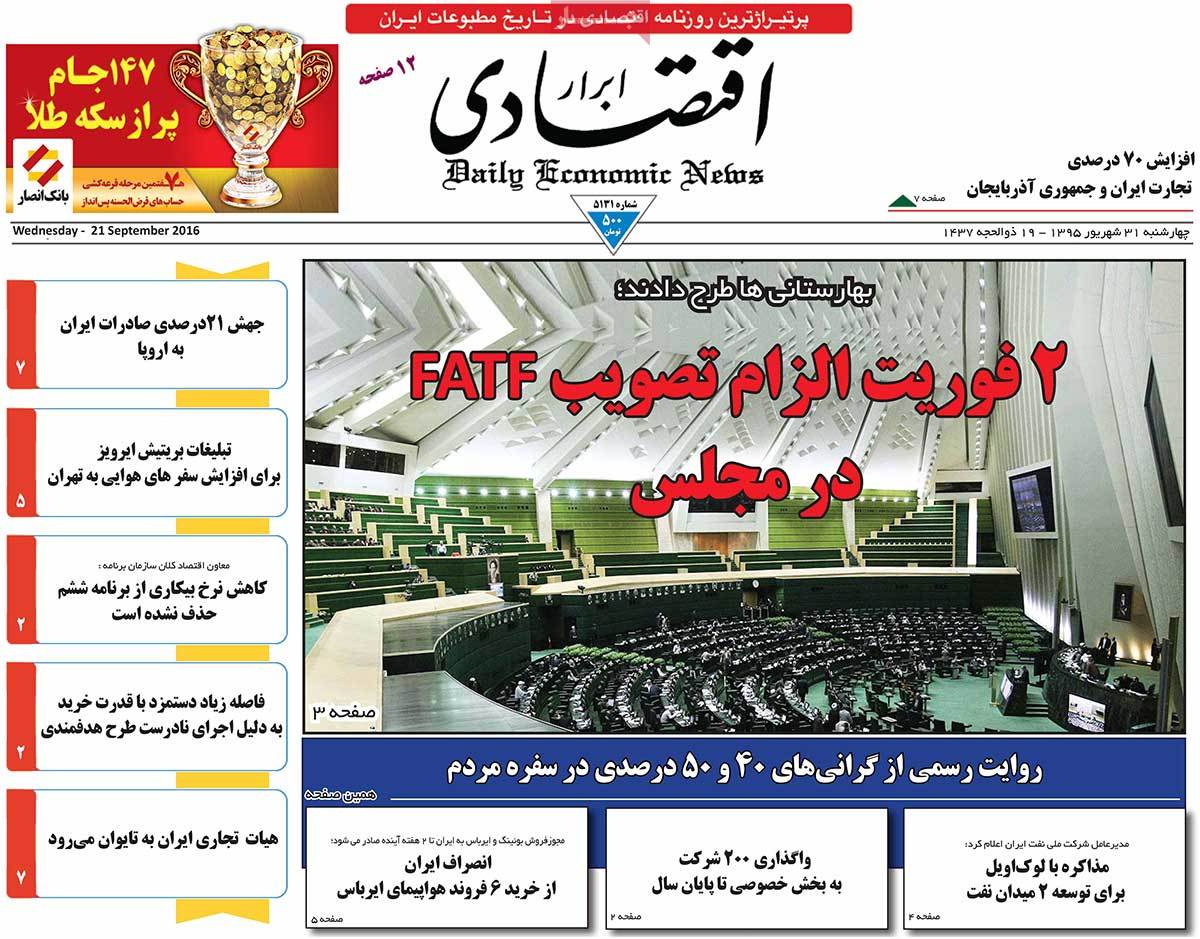 ---
Afarinesh:
1- Leader: Provoking the Emotions of Other Islamic Religions Leads to Emergence of Such Groups as ISIS
---

Aftab-e Yazd:
1- Suspicious Support for Purchase of Low-Quality Russian Wagons: Trade Minister's Objection to Imports from Russia Receives Harsh Reaction by Iranian Conservatives
2- Two Revolutionaries with Common Pains: Behind the Scenes of Meeting between Rouhani and Castro
3- Obama in UNGA Address: Russia Wants to Restore Its Glory Days by Force
4- Opponents and Proponents of a Plan to Shut Down Schools in Polluted Days: Schools Are Closed for Air Pollution in UK as Well
---
Arman-e Emrooz:
1- Leader: Enemy's Main Objective under Current Circumstances Is to Disrupt the Country's Economy
2- US State Department's Persian-Speaking Spokeswoman: Obama and Rouhani May Meet in New York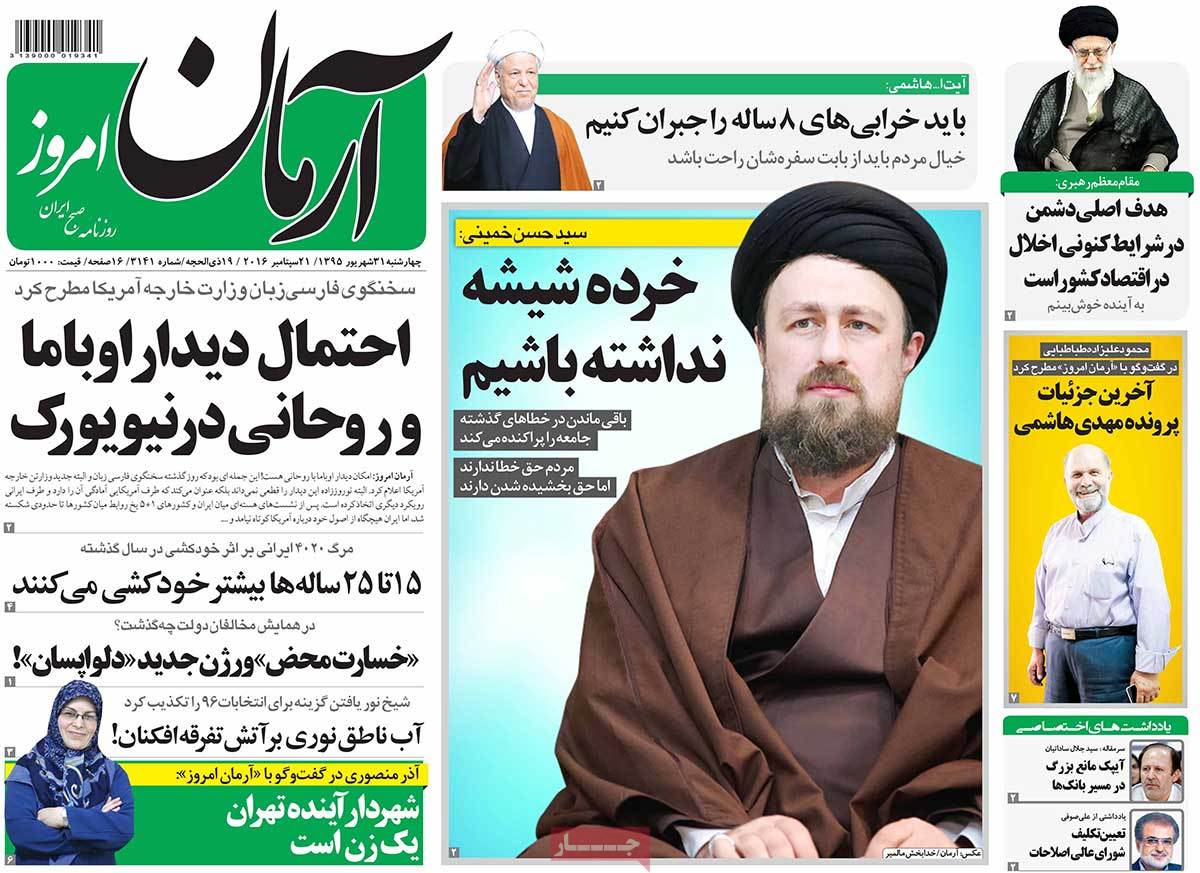 ---
Asrar:
1- Ayatollah Rafsanjani: Iran's Defensive and Military Might Is Not Deniable
2- Senior Cleric Nateq Noori: Rouhani Is Our Only Choice
3- Iran Receives First Boeing Aircraft
4- Rouhani: Iran and Cuba Are Symbols of Resistance to Most Severe Sanctions
---
Ebtekar:
1- Close Encounter of the Fourth Kind: Political Experts Talk about Rouhani's Possible Meeting with Obama
2- Golden Age of Dollar Getting Over
3- Rouhani's Meeting with Castro Brothers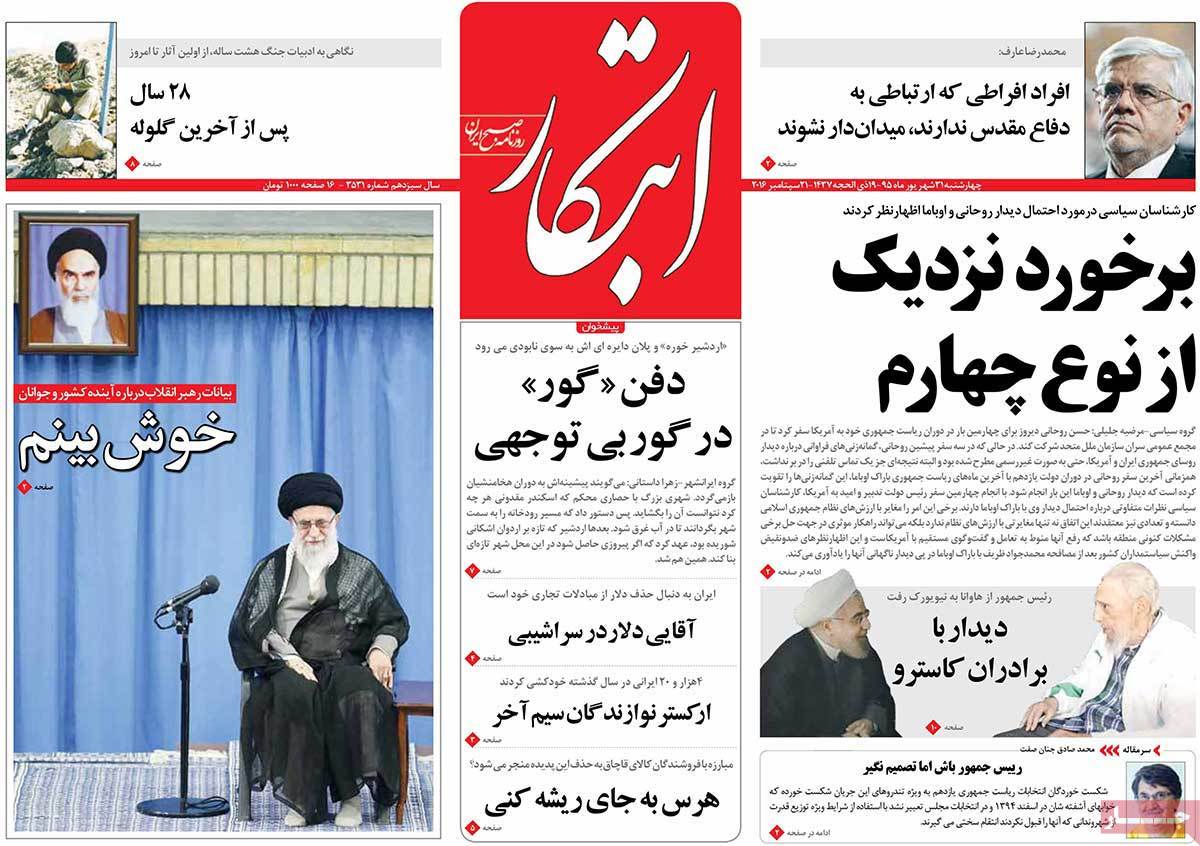 ---
Emtiaz:
1- Ban on Smoking in Public Places
2- $44m Income through Export of Chocolate
3- Biggest Smuggler of Wild Birds Arrested
4- 15,000 Foreign Nationals Covered by Insurance in Iran
---
Etemad:
1- Leader: Don't Provoke Emotions of Sunnis
2- Israel Cannot Continue Occupying Palestinian Territories Forever: Obama
---
Ettela'at:
1- Leader: Wasting Should Be Avoided to Strengthen Iran's Economy from Inside
2- Putin Supporters Landslide Victory in Russian Parliamentary Polls
3- Nateq Noori: Syria Is Iran's First Bulwark against Enemies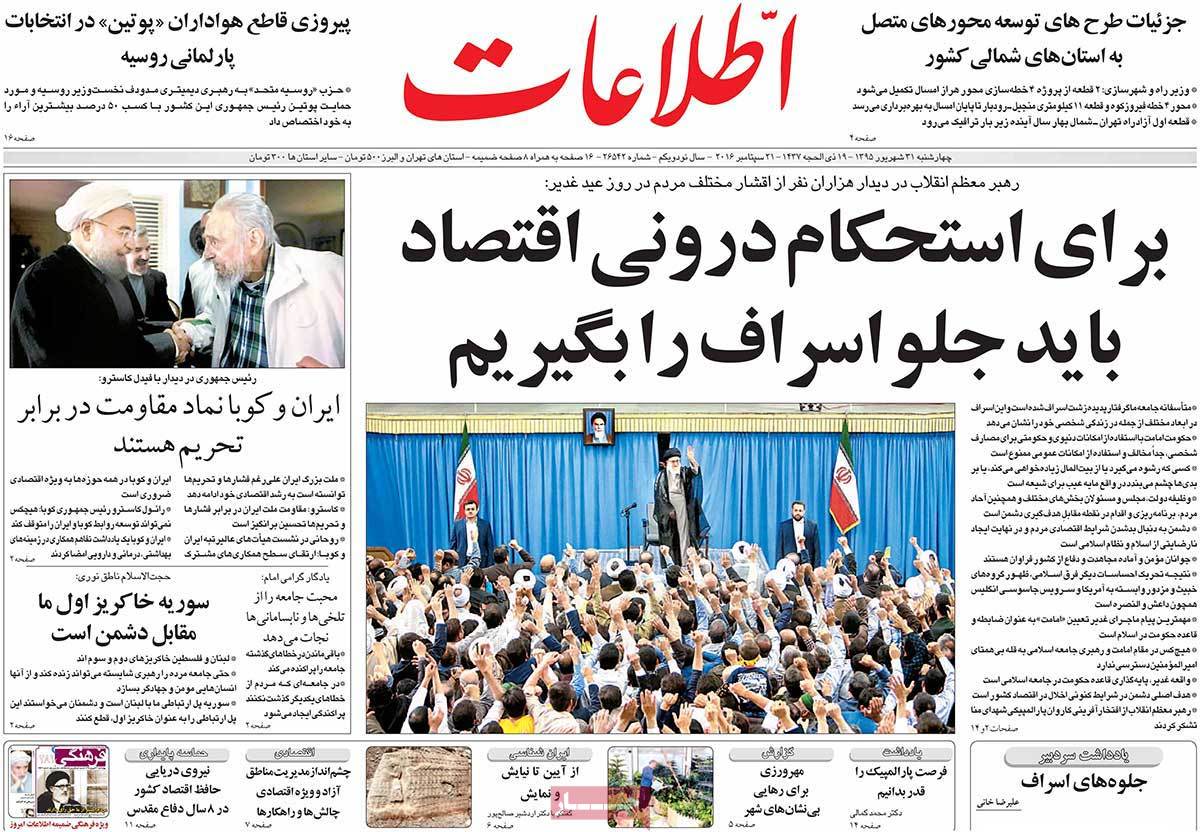 ---
Haft-e Sobh:
1- Meeting the Lovely Fidel: Cuba's 90-Year-Old Leader Is Still One of the Most Interesting Revolutionary Leaders
2- Mr. President's Happy Summer: Recent Developments Have Increased Rouhani's Re-Election Chance
3- Senator in Iran: Dabakis Visits Tehran and Returns to US; He Seems to Have Had a Good Time!
---
Hamshahri:
1- Autumn Vacation of Schools, Maybe One Month
2- 60% of Afghans Living in Iran Dream of Going to Europe
3- Law to Be Implemented to Ban Smoking in Public Places
4- Diplomacy Priorities in New York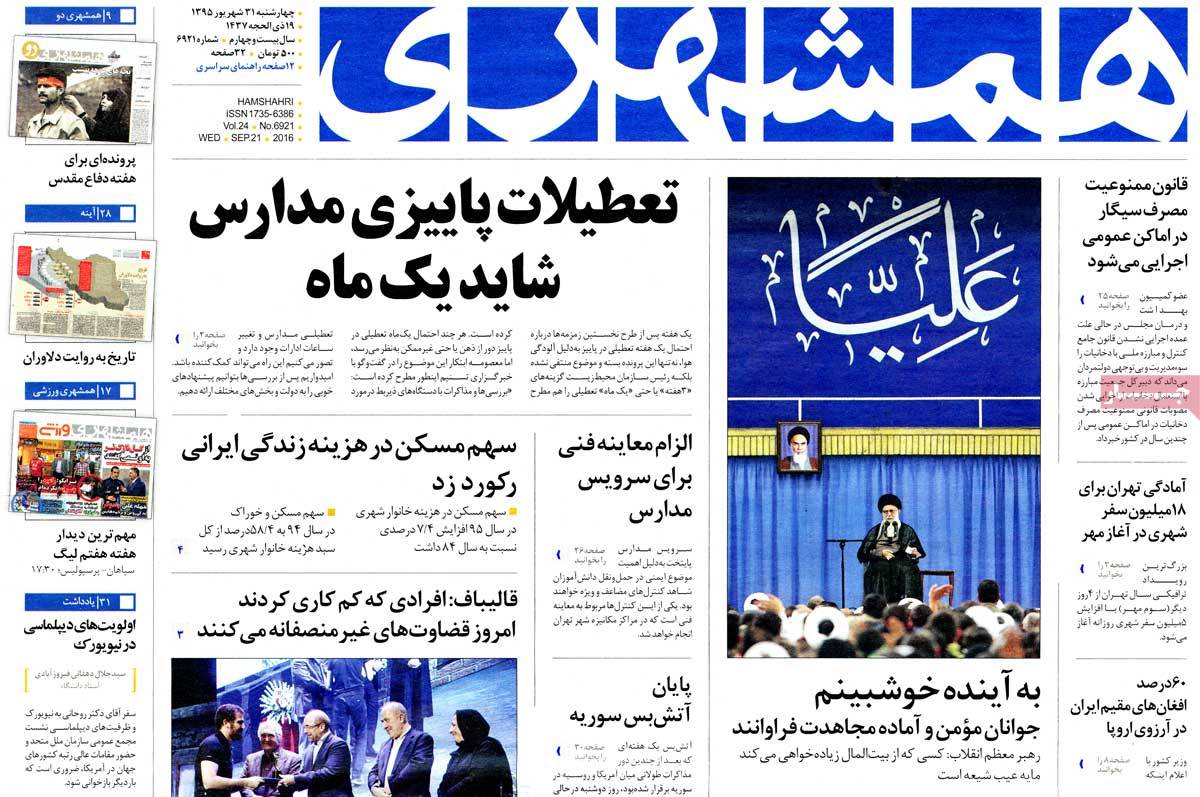 ---
Iran:
1- Girls Pioneers in Overcoming the University Entrance Exam in Iran
2- JCPOA a Symbol of Global Cooperation: Obama in Last UNGA Address
---
Javan:
1- Leader: I'm Optimistic about the Future
2- Ayatollah Khamenei's Message to Paralympic Team: You Brought Honour
3- Castro: I Admire Iranian Nation
4- 99% of World's Economy Possessed by 1%: Obama
5- Vote of Confidence to Putin's Anti-West Policies
---
Jomhouri Eslami:
1- It's against the Infallibles' Way of Life to Insult Respectable Sunni Figures
2- Europeans Concerned about Widespread Violation of Human Rights in Bahrain
3- 16 Killed in Terrorist Attack on Aid Convoy in Aleppo
4- 21% Growth in Value of Iran's Non-Oil Exports to Europe in Past 5 Months
---
Kayhan:
1- Iranian Youths Will Bring US and Zionist Regime [Israel] to Their Knees: Leader
2- 1.4m First-Graders in Iran Go to School Today
3- Clinton Has Just Two Options, To Die or to Withdraw from Elections: American Experts Told Kayhan
4- Official Declaration of End of Ceasefire by Damascus: Syria Continue Attacks against Terrorists
---
Khorasan:
1- Leader: Insulting Senior Sunni Figures Is What Shiites of British Type [a deviated form] Do
2- Interior Minister: 60% of Afghans Living in Iran Long to Leave for Europe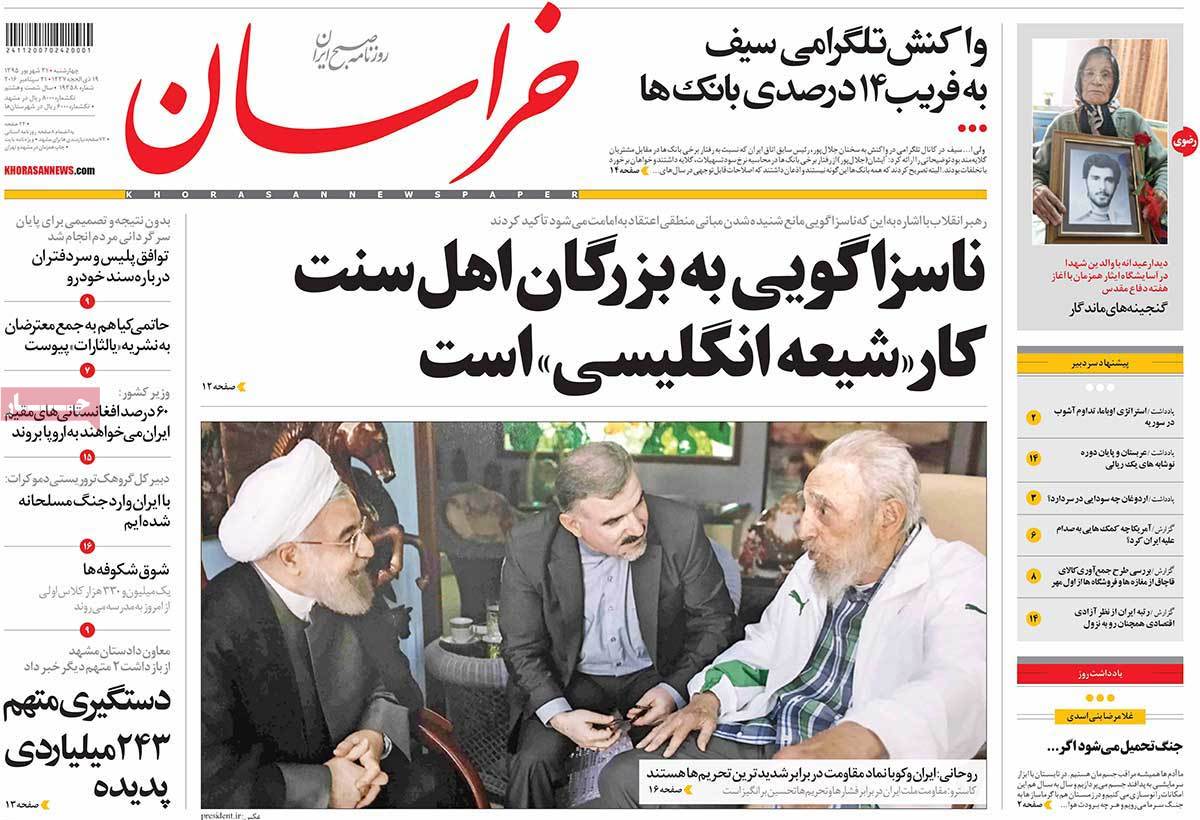 ---
Rooyesh-e Mellat:
1- Issue of Human Rights Has Moved Far Away from Its Humanitarian Nature and Roots
---
Shahrvand:
1- End of Ahmadinejad?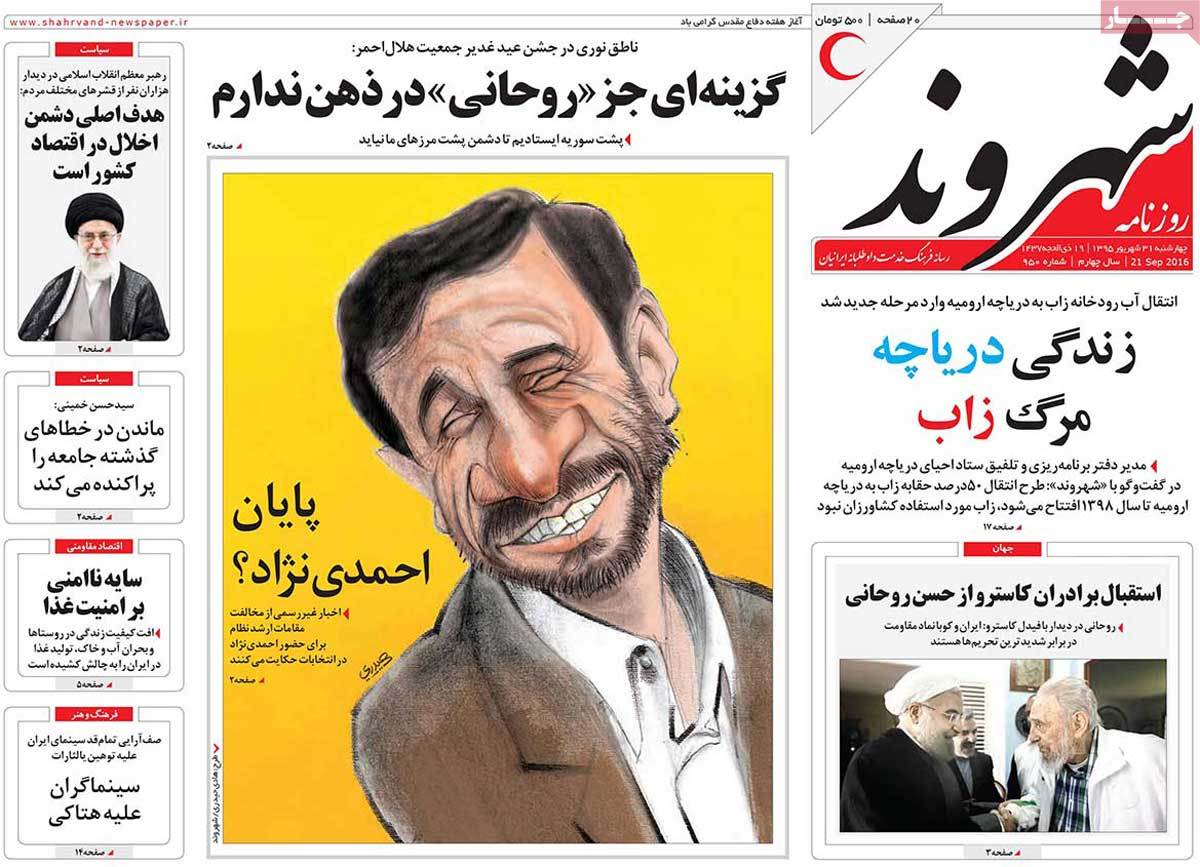 ---
Shakheh Sabz:
1- Leader: If You Know Imam Ali, You Would Respect Him Even If You're Not a Muslim
2- Larijani: Western Countries Refraining from Fulfilling Their JCPOA Commitments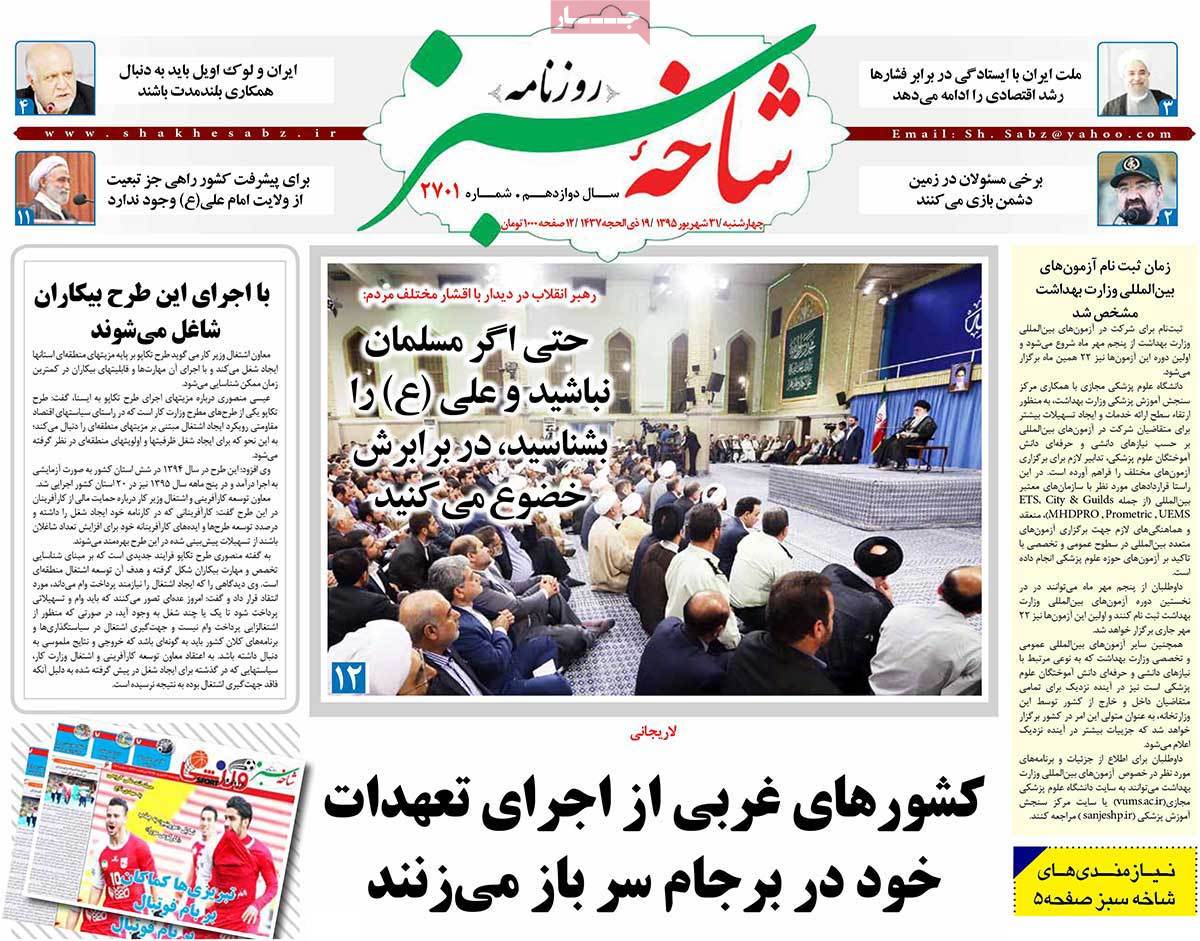 ---
Shargh:
1- Five Iranian Artists Receive Peace Medals
2- An Iranian Woman Becomes US State Dept. Spokesperson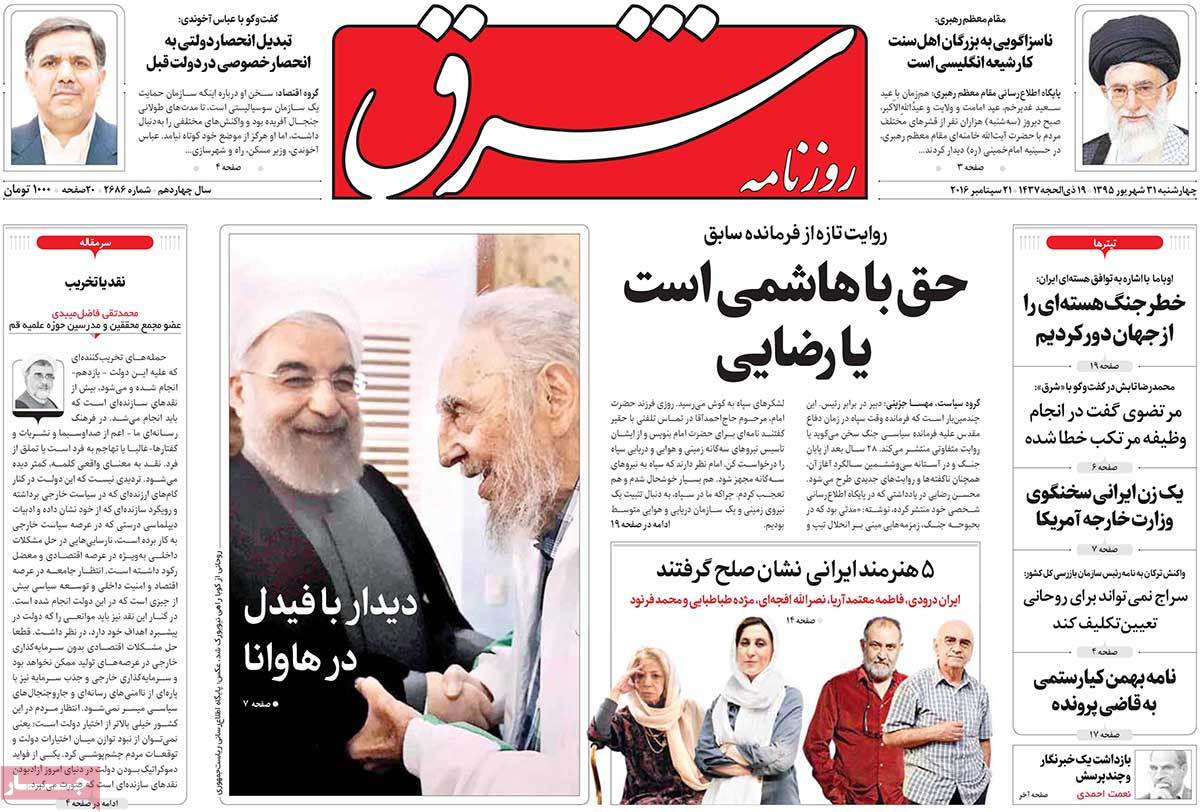 ---
Sobh-e Now:
1- Vice-Speaker Motahari Dissatisfied with Selection of Asghar Farhadi's 'The Salesman' as Iran's Submission to Academy Awards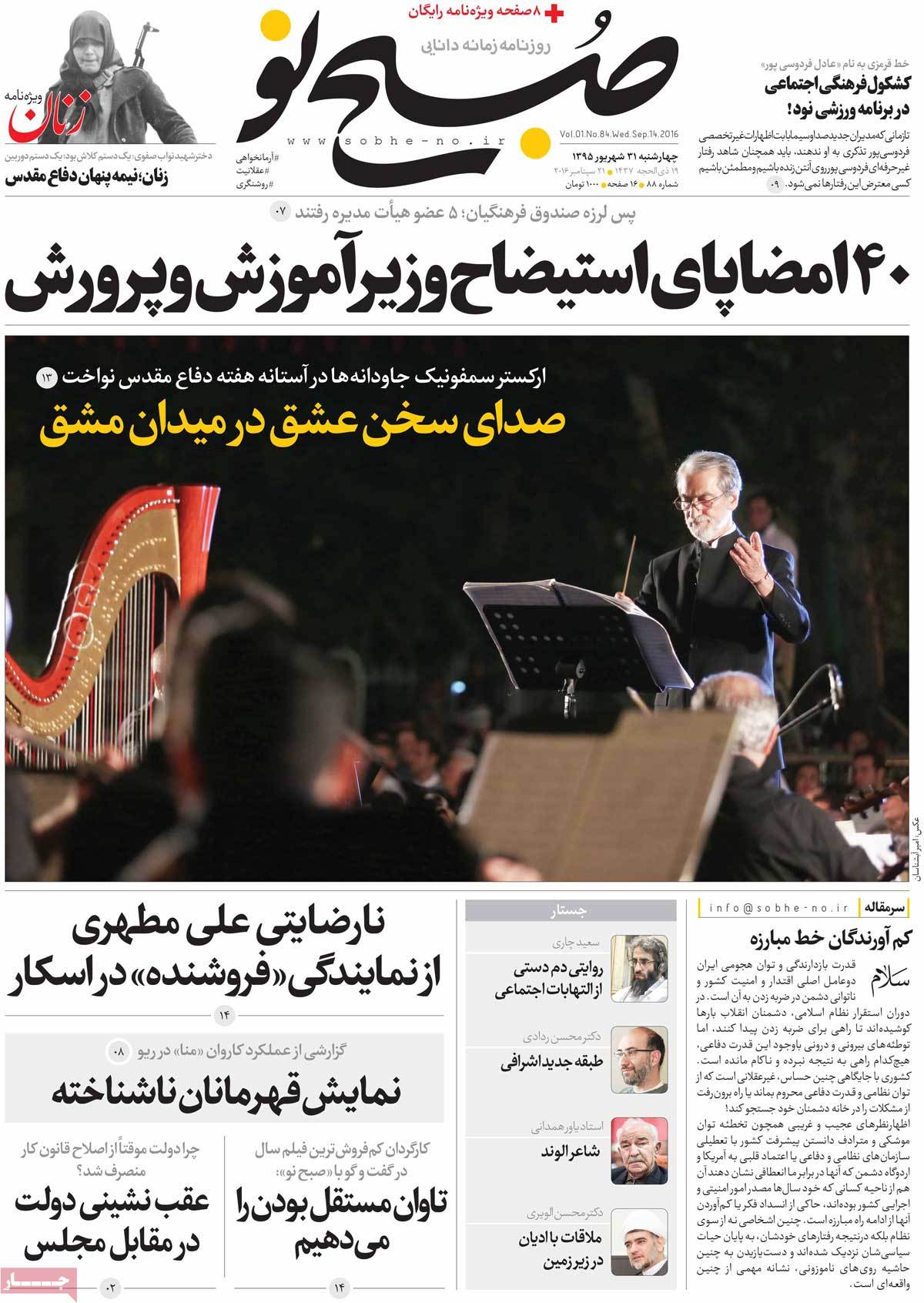 ---
Vatan-e Emrooz:
1- Why US Destroyed Ceasefire in Syria?
2- Re-Emergence of Nazis in Germany?