Newspapers on Sunday covered the Parliament's approval of the IPC, a new model of oil contracts proposed by the Oil Ministry, and published reactions to the move.
A related top story was the conditional approval of Financial Action Task Force [FATF] deal by the Supreme National Security Council.
The remarks by Atomic Energy Organization of Iran (AEOI) Chief Ali Akbar Salehi about the West's failure to fulfil its JCPOA commitments also received great coverage.
The above issues as well as many more are highlighted in the following headlines:
Abrar:
1- West Has Failed to Fulfil Its Commitments: AEOI Chief
2- Rouhani: We Welcome Expansion of Economic Cooperation with Caracas
3- FATF Implementation Hinges on SNSC's Decision: MP
4- ISIS' Information Minister Killed in Syria
5- EU Has Called for IAEA's Access to Information about Iranian Centrifuges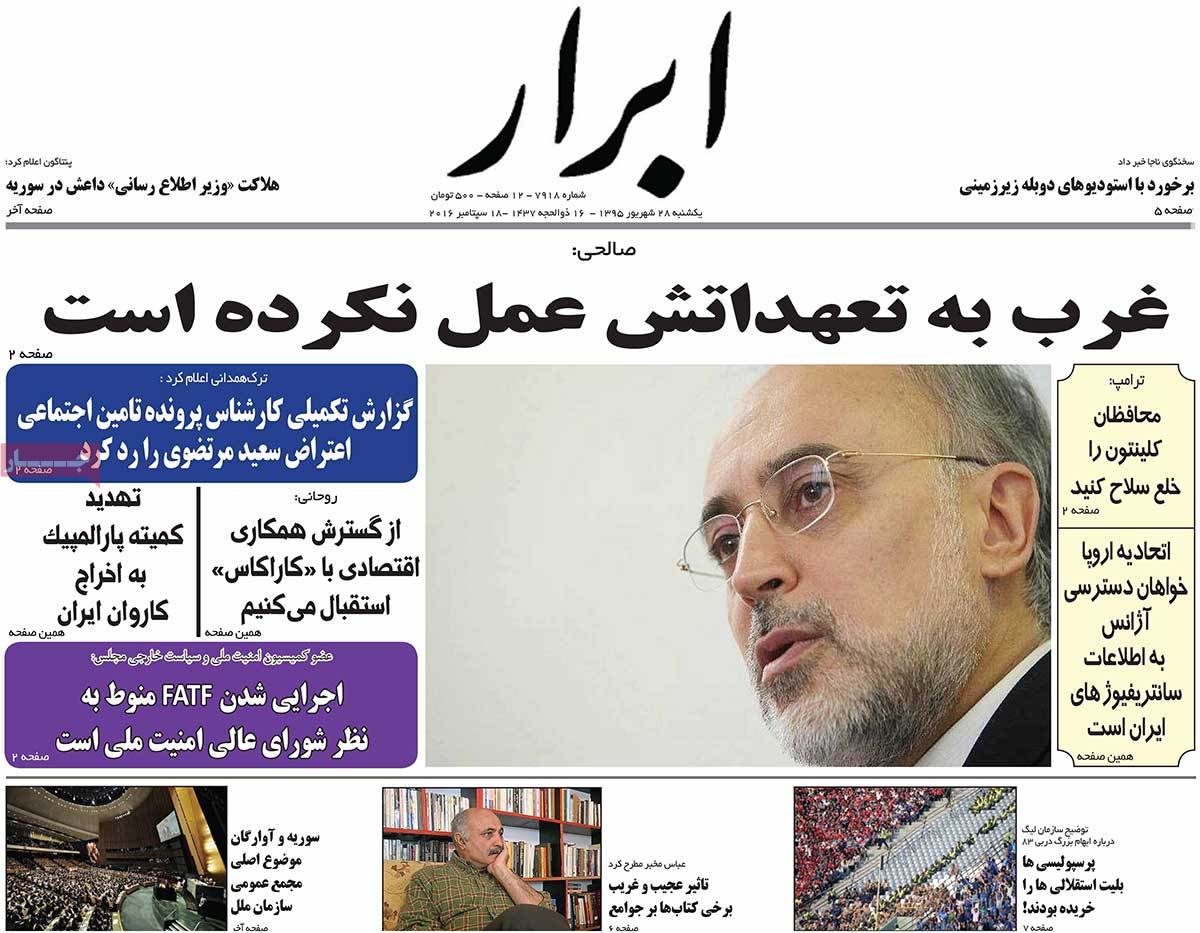 ---
Abrar-e Eqtesadi:
1- World Aviation Industry Leaders to Come to Iran Once Again
2- Iran Sells 1m Barrels of Oil to Austria
3- Barriers to Iran-Russia Trade Ties Still in Place
4- New Banking Talks between Iran and Netherlands
5- Iran's Conditions for Buying Airbus Planes
6- Iran's Oil Exports to India Break Records of Past 15 Years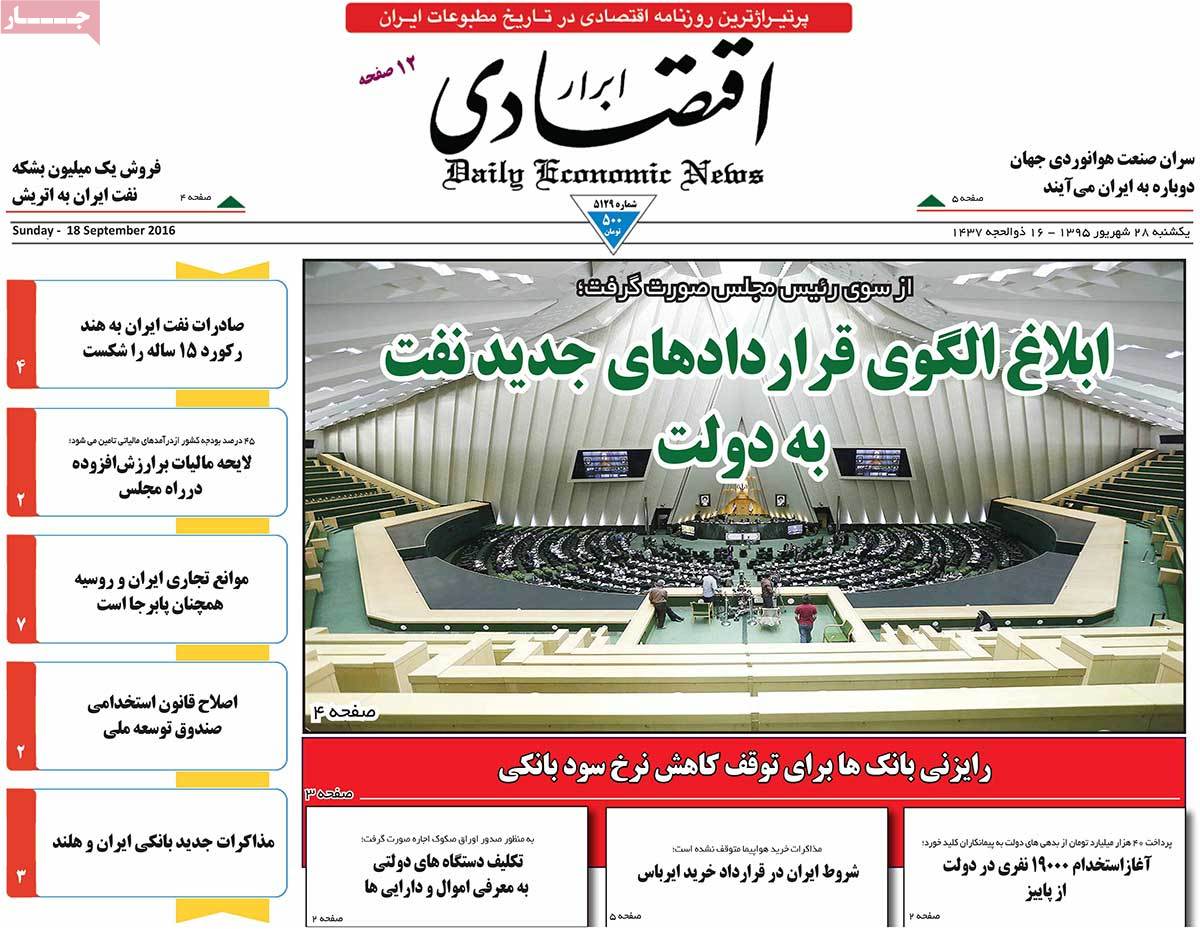 ---
Afkar:
1- 90% of Iranian Labourers Don't Have Job Security
2- NAM Can Play Influential Role in Today's World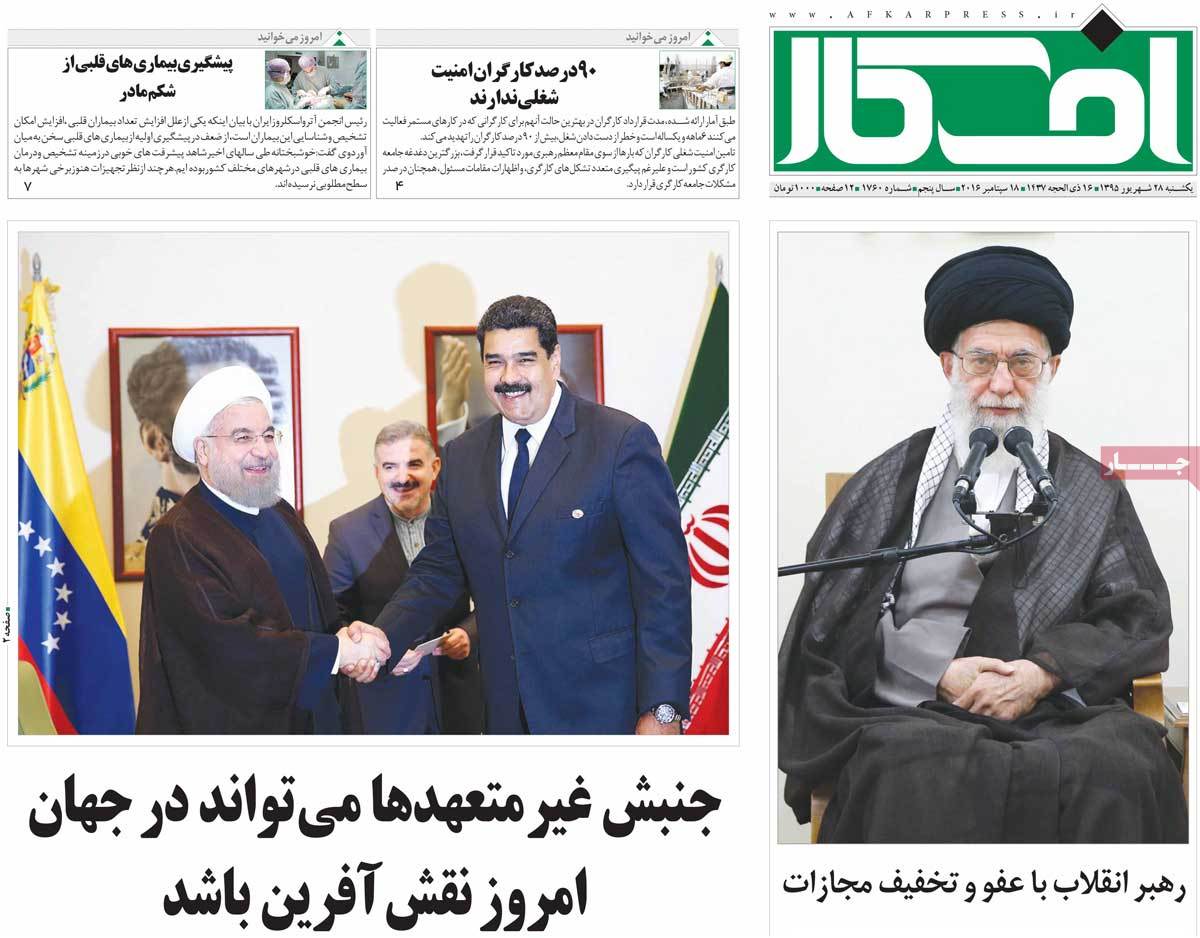 ---
Aftab-e Yazd:
1- Fortunate Fate of FATF and IPC [Iran Petroleum Contracts]: Two Projects by Opponents of Gov't Fail Simultaneously
2- Only 3 Signatures on a Letter by Some MPs to Urge President to Remove His Brother Hossein Fereydoun from His Office [no one but the three MPs has supported the plan]
3- 9 Million Jobs Can Be Created in Iran Thanks to JCPOA
4- People Were Present, Sports Minister Was Absent! Absence of Goudarzi and His Deputies When People Welcomed Paralympic Medallists at Airport
5- Crazy Move by a Soldier: Shootout in a Youth Detention Centre in Yasuj Leaves 4 Dead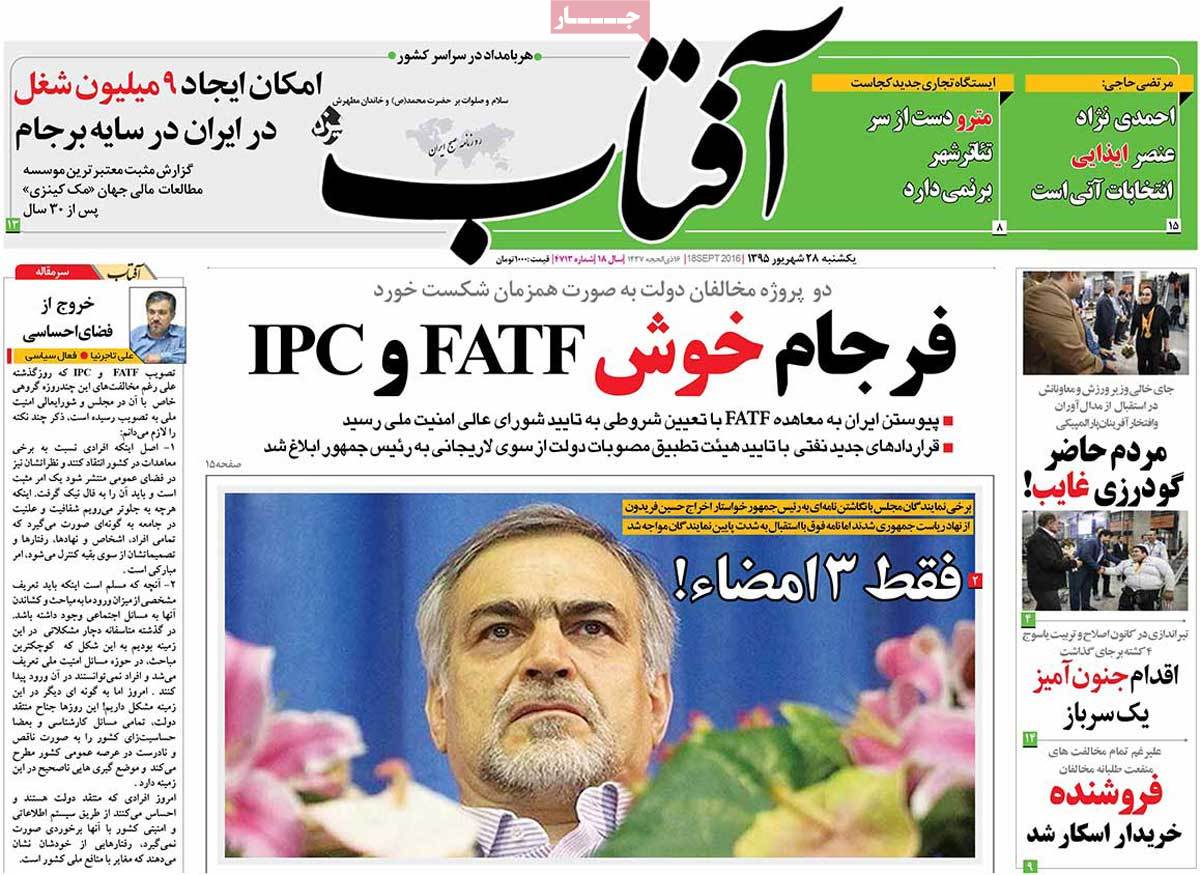 ---
Arman-e Emrooz:
1- British Parliament Invites Iranian Academic Sadegh Zibakalam for an Address; Zibakalam: It's an Honour for Me that an Iranian Professor Is Invited
2- Carnage in Juvenile Detention Centre: A Soldier in Yasuj Opened Fire on 5 Other Soldiers and Then Committed Suicide
3- Women Not Allowed in Cafeterias [which serve hookah]
4- Asghar Farhadi's 'The Salesman' Selected as Iran's Official Submission to Academy Awards: After Success in Cannes, It's Now Time for Los Angeles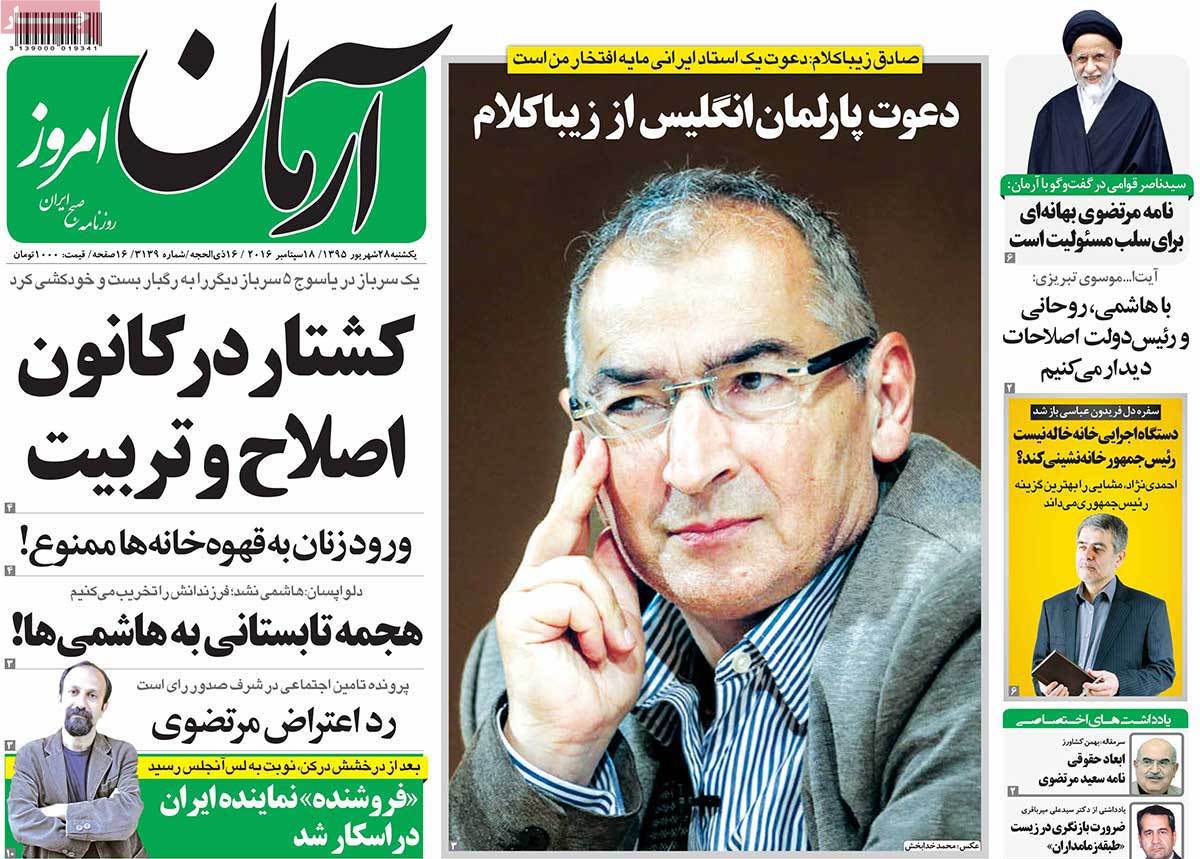 ---
Asrar:
1- Iran Has Received No Message from US: Foreign Ministry Spokesman
2- Iran Hands Over NAM Presidency to Venezuela
3- Austria Added to Iran's Oil Customers
4- Rouhani Is Best Candidate Even for Moderate Conservatives: Expert
5- FATF Shouldn't Be Used as a Pretext to Attack Government: MP
6- Government Spokesman: Rouhani's Administration Defends Production of Genetically Modified Products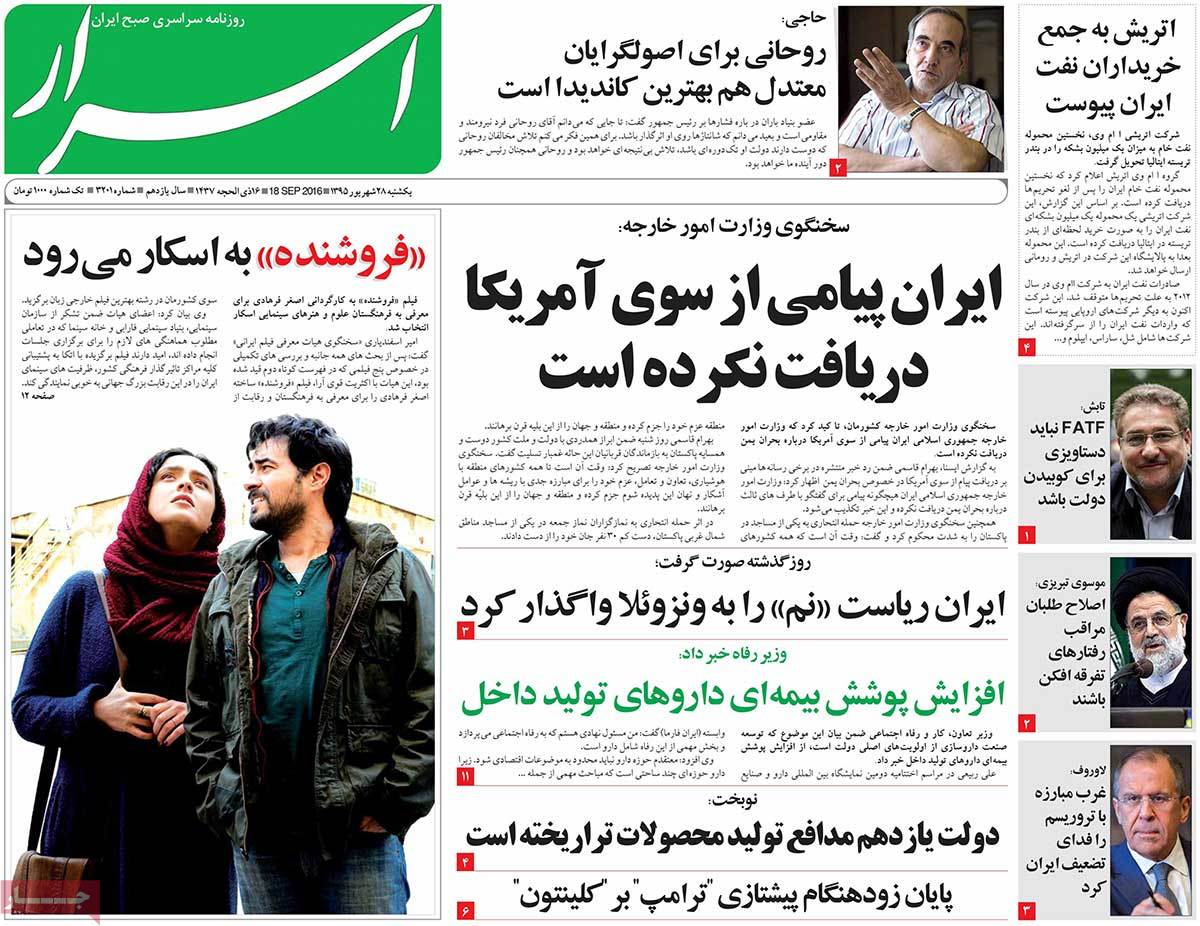 ---
Ebtekar:
1- Leader Pardons or Commutes Prison Terms of 582 Convicts
2- Victory of Technology over Slogan: New Model of Oil Contracts Approved by Parliament, Communicated to Government for Implementation
3- $5bn Earned by Foreign Airlines [out of Iran's market]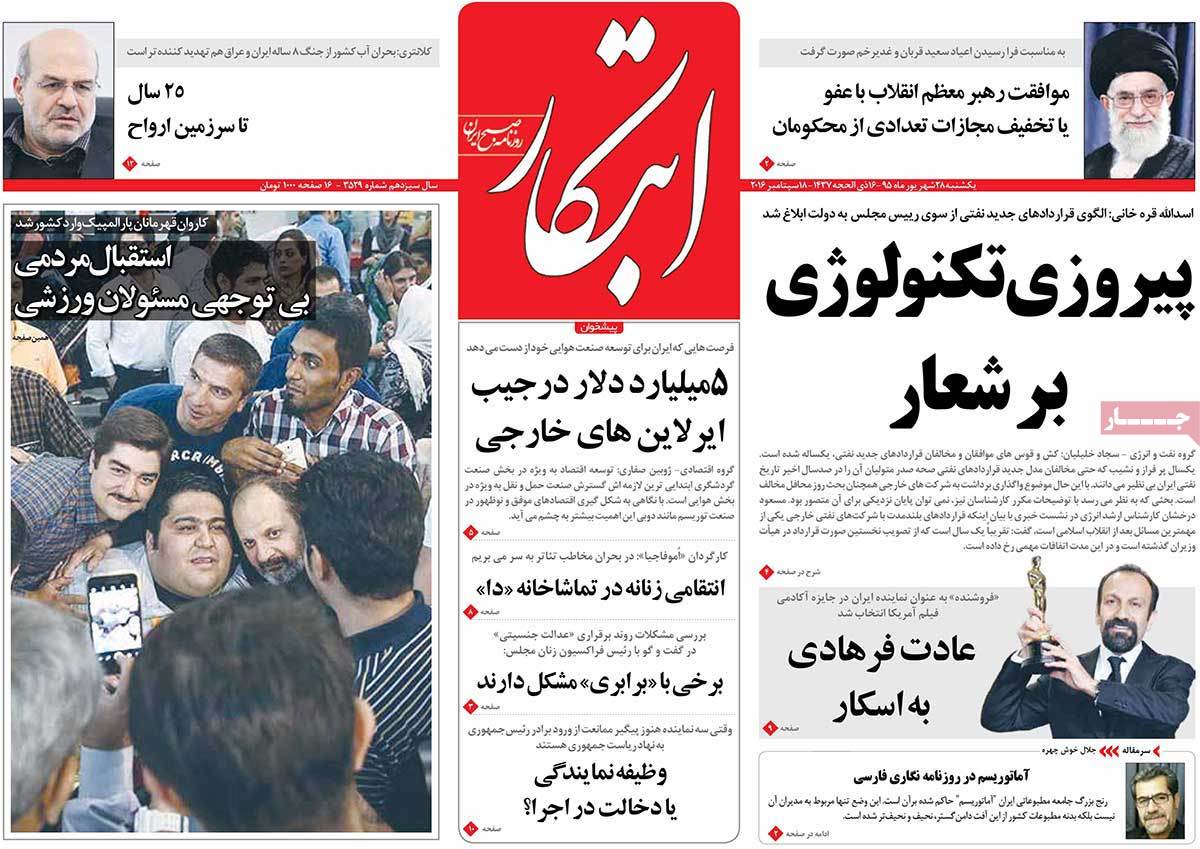 ---
Emtiaz:
1- Police Starts Countering Underground Dubbing Studios
2- Iran's Petrol Production to Be Increased to 67 Million Litres
3- 13% Increase in Deadly Car Accidents in Third Week of Shahrivar [Iranian month]
---
Ettela'at:
1- Interventionist Powers Have No Choice But to Surrender to Nations: Rouhani
2- Moscow: In Spite of West's Claims, Assad's Popularity Is on the Rise
---
Haft-e Sobh:
1- Disaster in Yasuj: Deadly Attack of a Soldier on His Comrades in Youth Detention Centre
2- Champion, Gentle, and Lonely: People Appreciate Their Champions, But Where Are the Officials?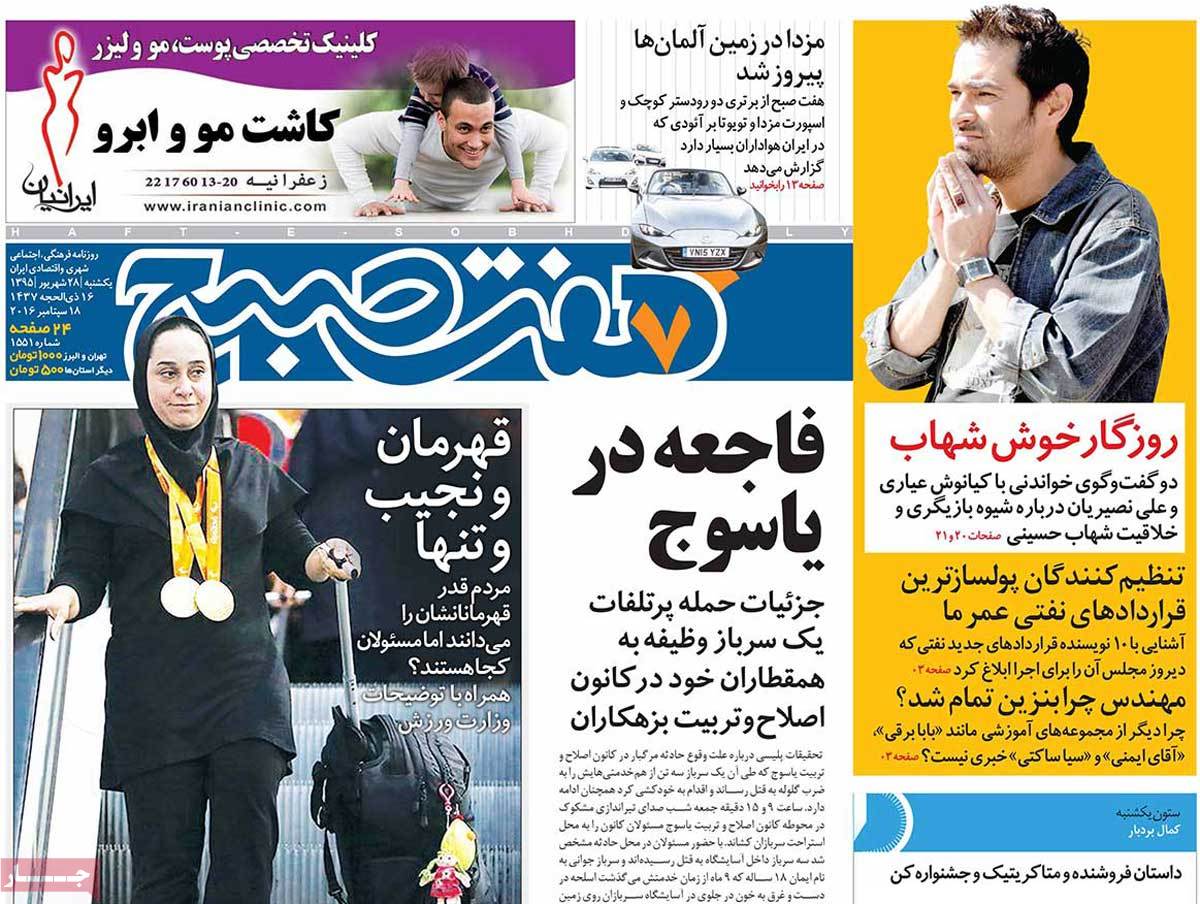 ---
Hemayat:
1- Special Move by Judiciary to Decrease Number of Prisoners
2- SNSC's Conditions for Iran's Accession to FATF
3- US Congress to Increase Financial Aid to Israel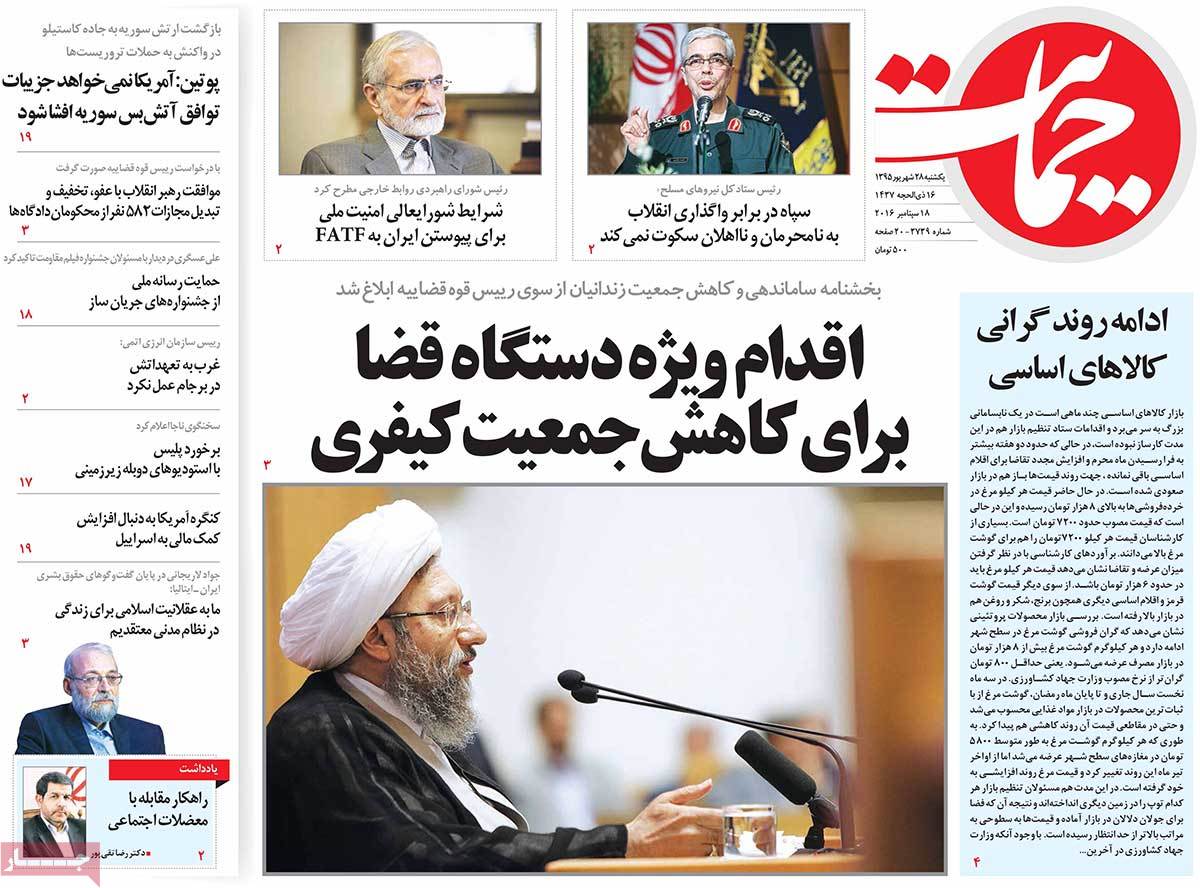 ---
Iran:
1- New Era in Oil Industry through Foreign Investment: New Model of Oil Contracts Finalized
2- Dialogue Is Best Solution to Regional and Global Conflicts: Rouhani
---
Jame Jam:
1- JCPOA Proved US Untrustworthy: Latest Reactions to US Violation of Its Commitments
2- Rouhani: One Shouldn't Pin Hopes on Major World Powers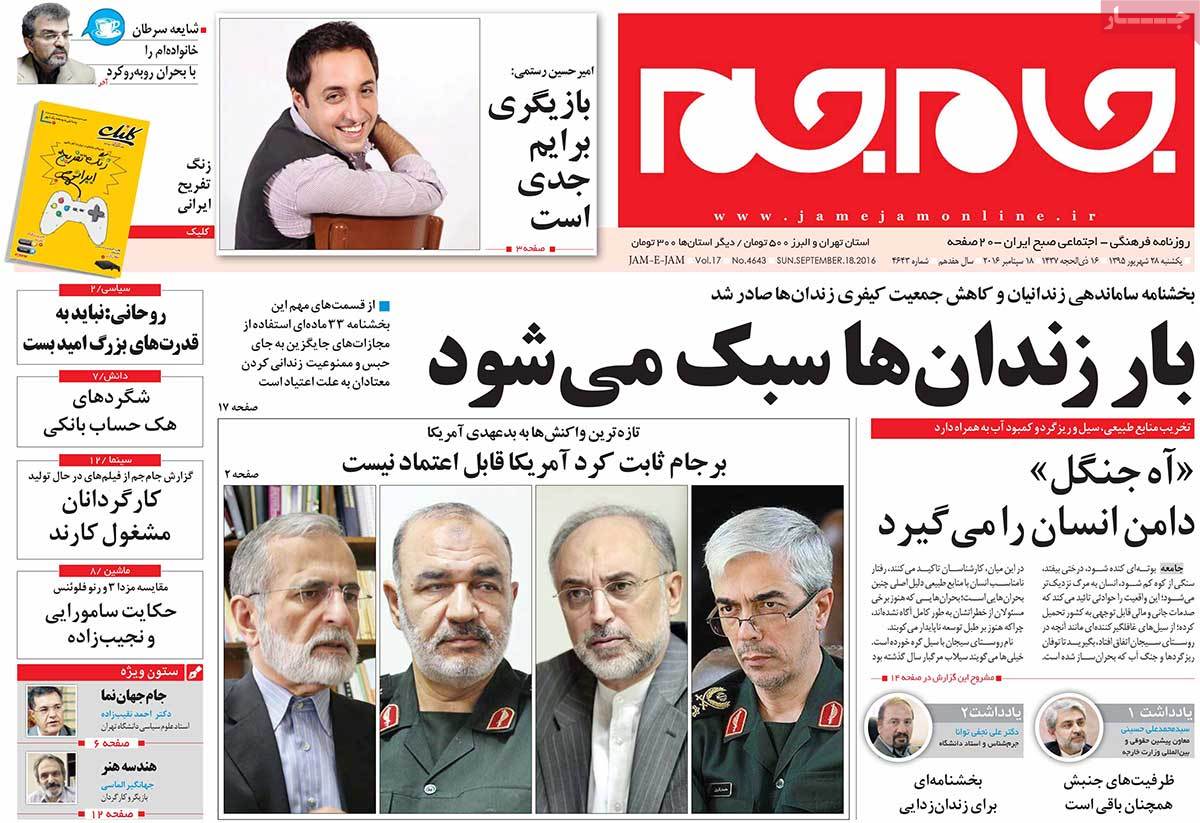 ---
Javan:
1- IRGC Won't Remain Silent If It Sees Iran's Revolution Is Being Handed Over to Aliens: Top Officer
2- Danger of Enemy Plots' Influence Felt More than Ever: IRGC Commander
3- They've Exempted Britain's Shell from Paying $250m in Damage
4- Former MP Tavakoli to Shamkhani: Oil Contracts Will Endanger Iran's Sovereignty
5- Government Spokesman's Mocking Reaction to a Fatwa by Senior Clerics about Genetically Modified Products; Nobakht: Some People Once Even Used to Consider Speaker as a Satanic Instrument!
6- We Won't Provide the West with Information beyond JCPOA: AEOI Official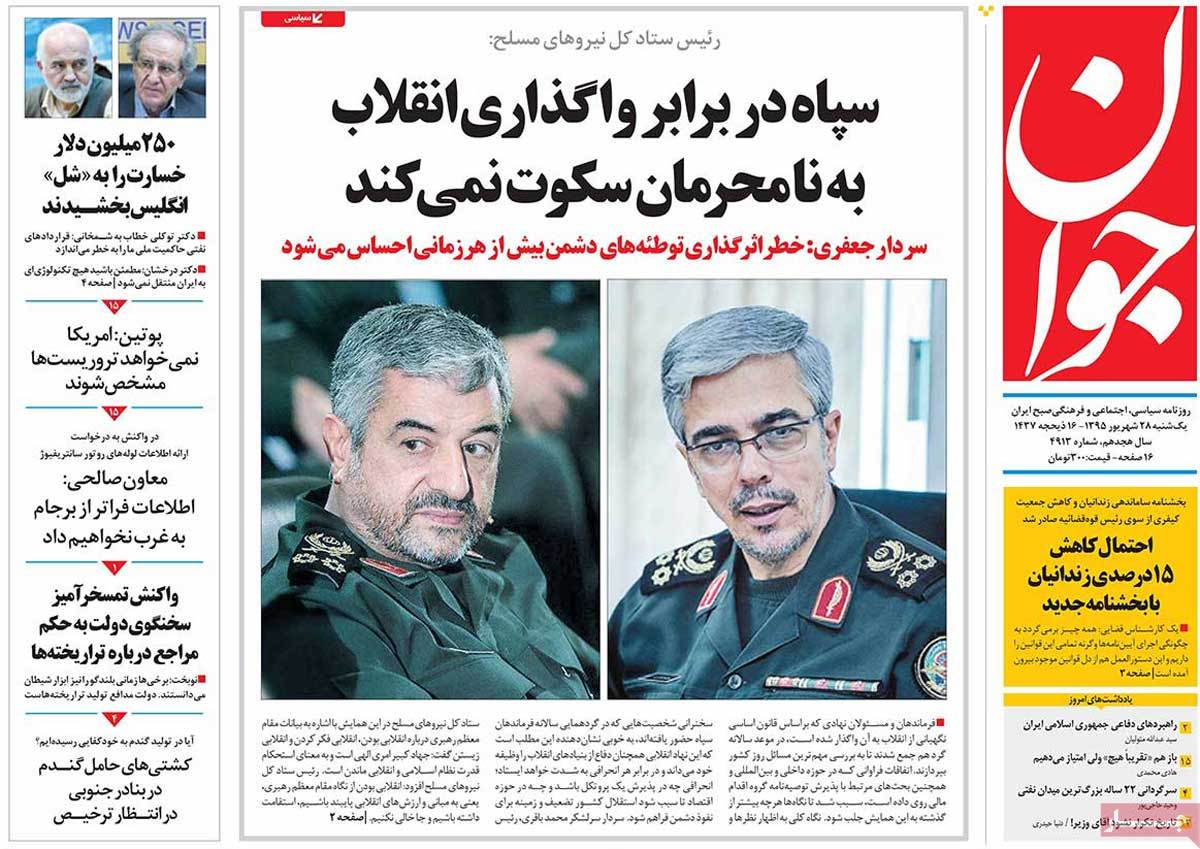 ---
Jomhouri Eslami:
1- Iran's Defence of World's Right-Seeking Movements Totally Based on Accepted Humanitarian Values: Rouhani
2- Al Saud Will Collapse and West Won't Support Them: Advisor to Former Saudi King
---
Kayhan:
1- Collin Powel's Remarks, New Evidence Showing Necessity for Enhancement of Military Capabilities
2- Rallies in Aleppo against UN's Aid to Terrorists
3- Transfer of Technology Not Possible with New Oil Contracts
4- Al Saud, White House, and Buckingham Palace All Come from Same Family: Saeid Jalili
5- Common Dangers Posed by JCPOA and FATF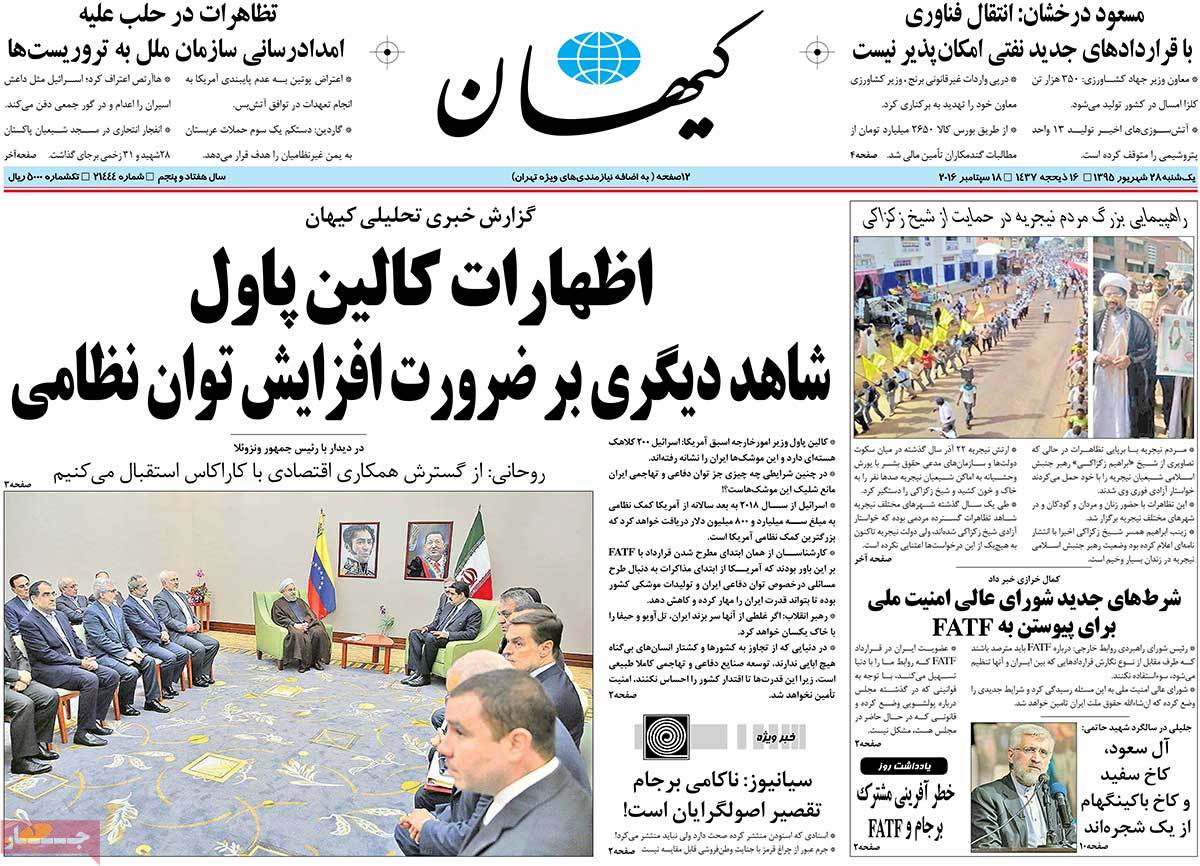 ---
Khorasan:
1- 5,000 Theses Bought from Iran's Market Each Year: Science Magazine's Report on Sale of Science in Iran
2- All Iranian Forests Will Be Destroyed in 30 Years If Current Trend Continues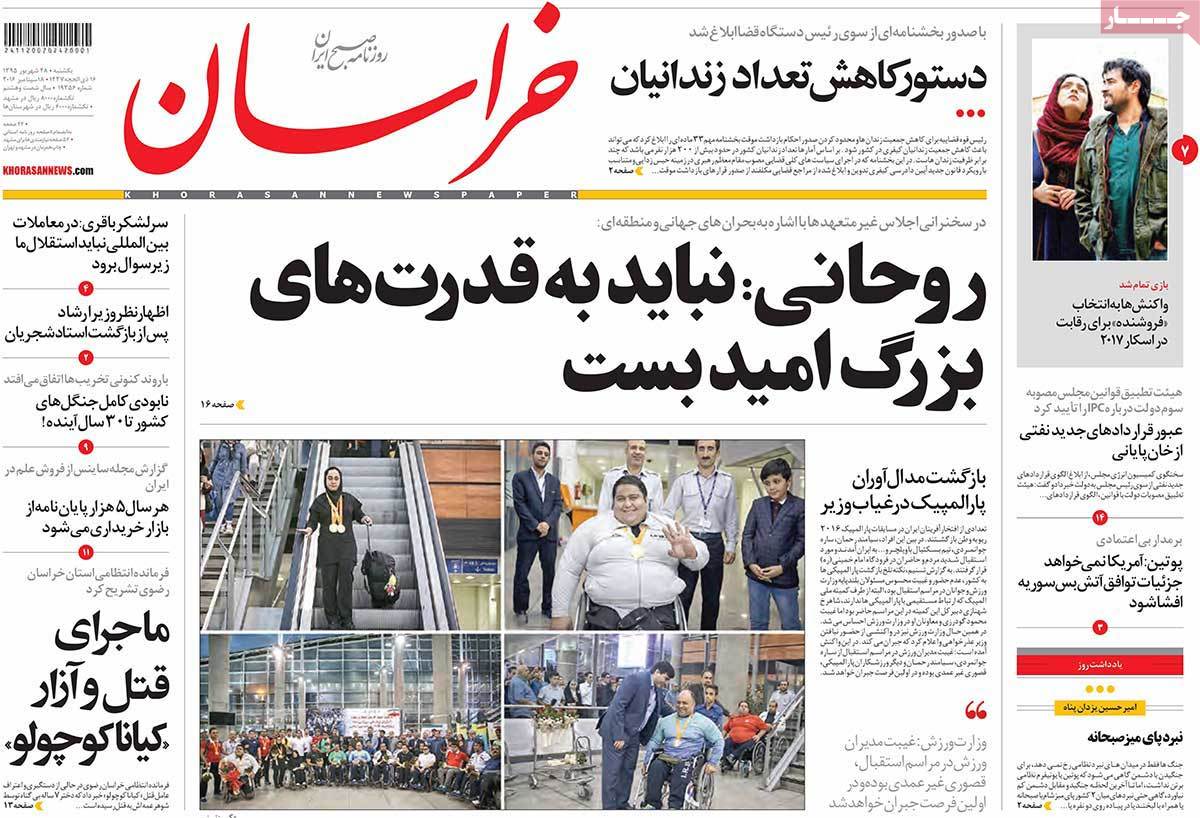 ---
Rah-e Mardom:
1- Enemy's Silent Attack to Spoil Children's Religious Beliefs: Anti-Cultural Products for Most Cultural Groups
2- Enemies' Fear of a Legend Called 'Iranian Living Martyr', General Qassem Soleimani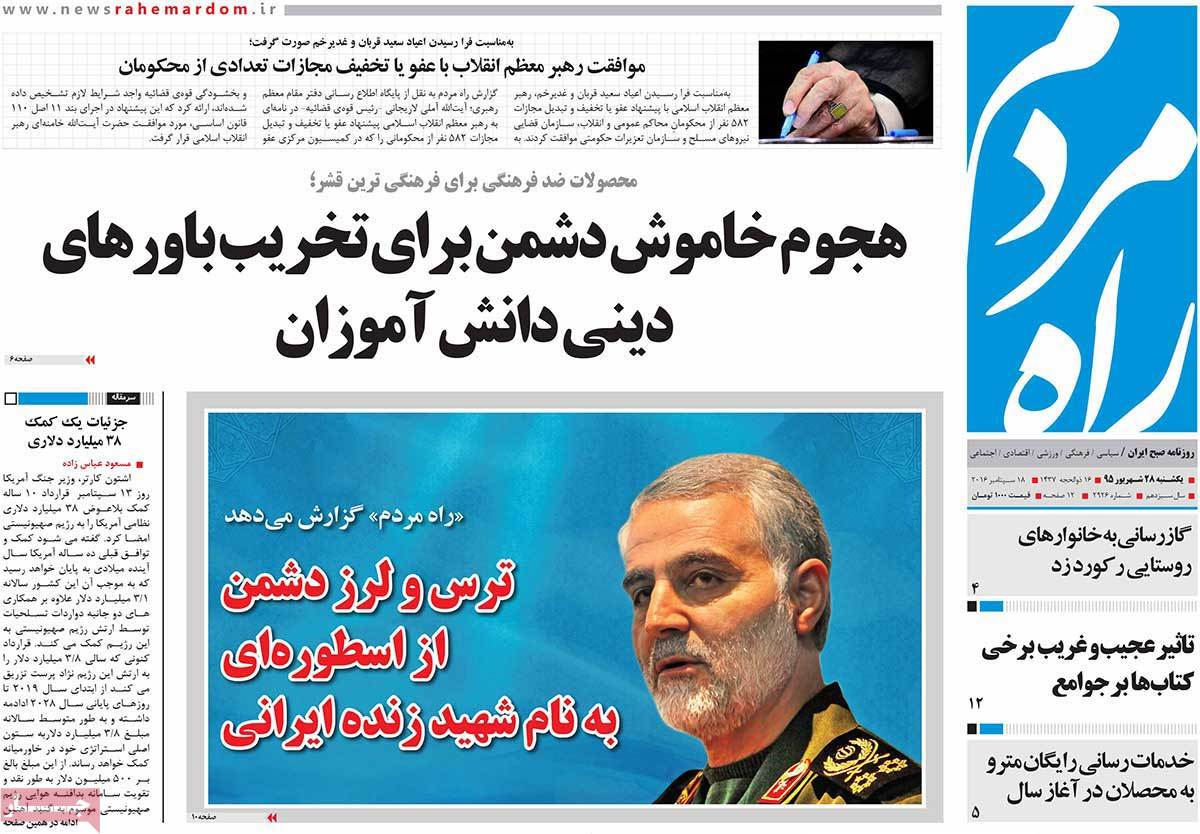 ---
Resalat:
1- US Failed in Ceasefire Test: Washington Aims to Save Terrorists
2- General Salami: Enemy Is Withdrawing from Muslim World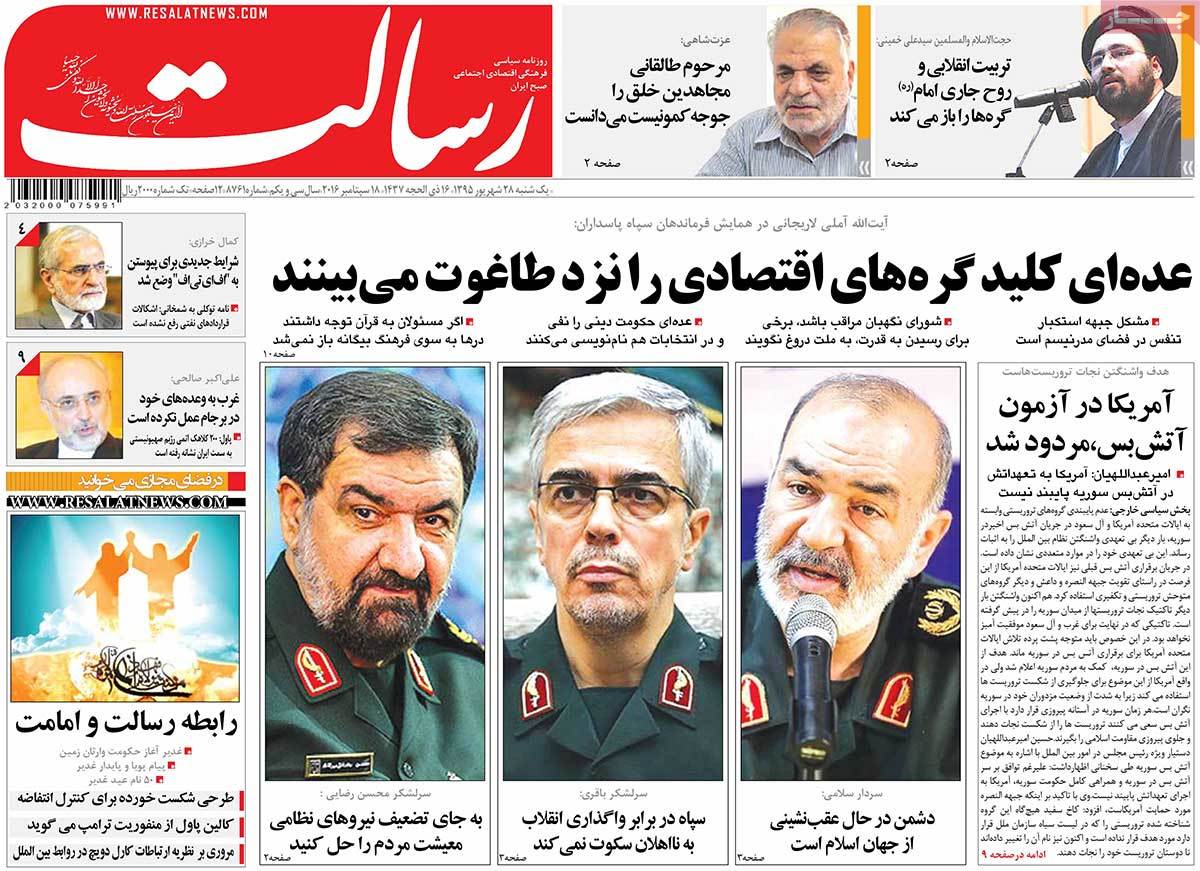 ---
Vatan-e Emrooz:
1- West Really Didn't Fulfil Its Commitments: Salehi
2- Iran's Independence Shouldn't Be Questioned: Major General Baqeri
3- Saudis' Policy Is Stupid: Powel