Almost all newspapers today covered the remarks made by President Hassan Rouhani about the US violation of the nuclear deal and the need for Europe to send Washington a strong message in this regard.
The beginning of a visit to the US by Rouhani and his foreign minister Mohammad Javad Zarif also received great coverage. Iranian media particularly wrote about a possible meeting between Zarif and his US counterpart Rex Tillerson in New York.
The remarks by Deputy Foreign Minister Seyyed Abbas Araqchi about the imminence of a war on water in the Middle East also received great coverage.
The above issues, as well as many more, are highlighted in the following headlines and top stories:
Abrar:
1- Interior Minister: Iran's First Priority Now Is Not Security, but Economy
2- Haley: Iran Won't Have Any Role in Syria after Asad
3- Erdogan: Iraqi Kurds' Decision to Hold Referendum Very Wrong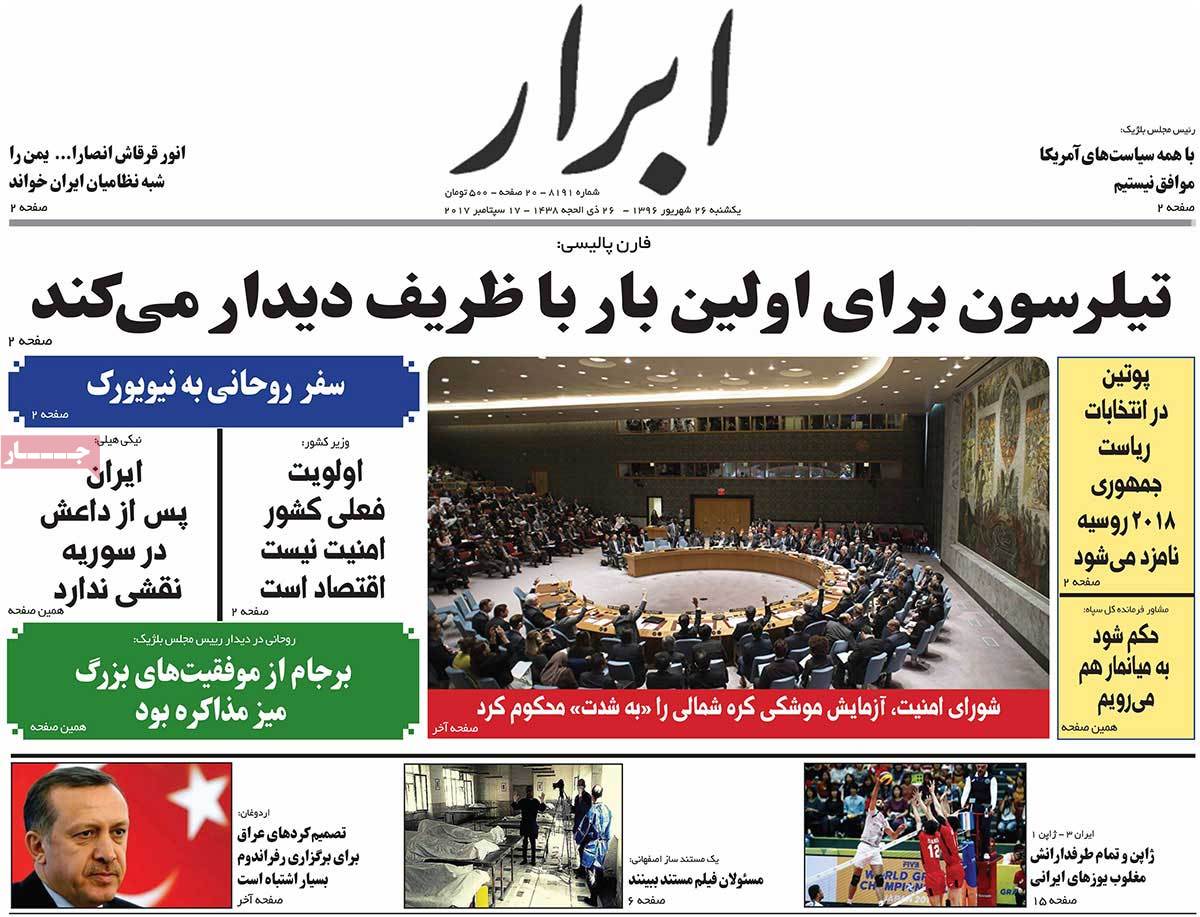 ---
Aftab-e Yazd:
1- World Expecting Possible Bilateral Meeting between Iran's Zarif, US's Tillerson
2- Rouhani, FM Zarif Start Visit to New York
3- Foreign Policy: US Official to Hold Meeting with Iranian Counterpart for First Time
4- If Ordered, We'll Even Go to Myanmar (for military intervention): IRGC Chief's Aide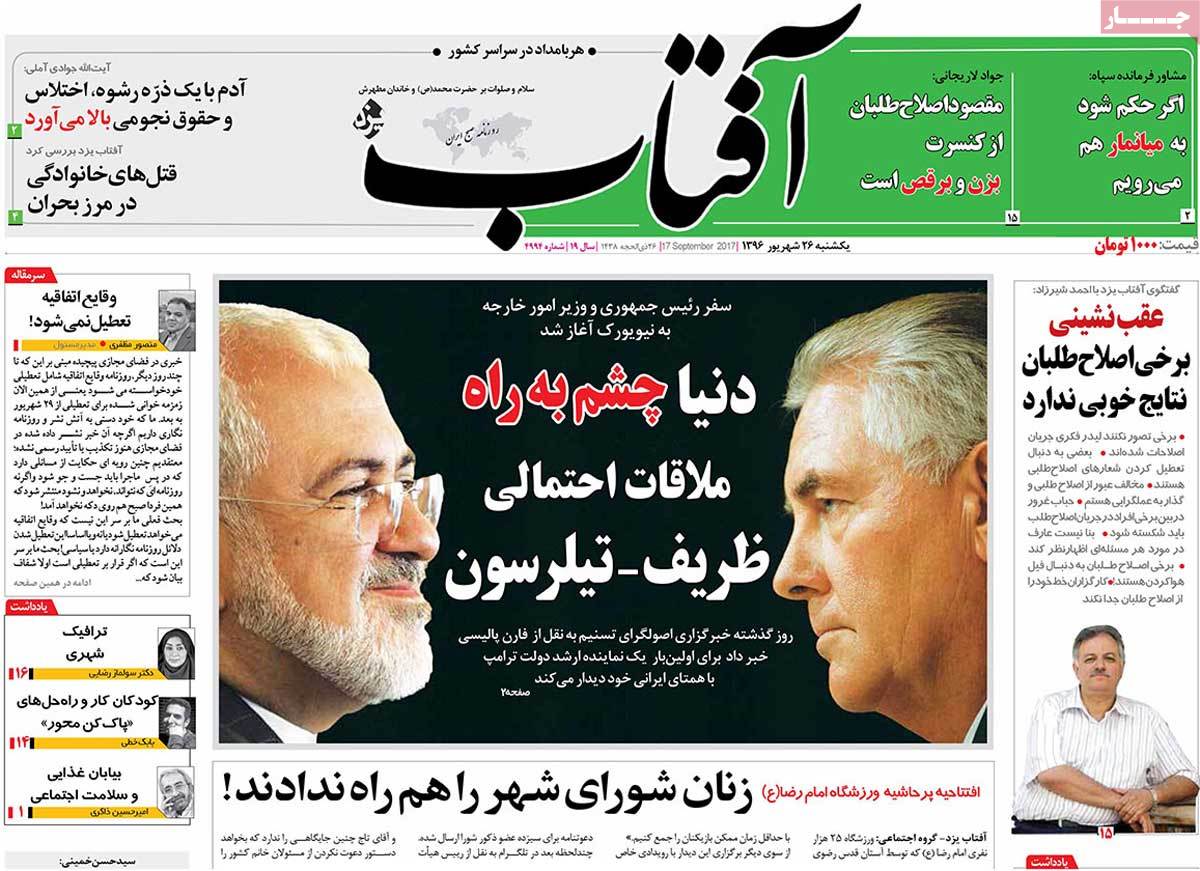 ---
Asrar:
1- Rouhani to Belgian Speaker: Europeans Should Give US Decisive Message on JCPOA
2- Imam Khomeini's Grandson: We Wouldn't See Myanmar Crimes If Muslims World Was United
3- Interior Minister: Iran Not to Be Harmed by Activity of Parties
---
Etemad:
1- Iran's Zahra Nemati Wins Gold Medal in World Para-Archery Championships
2- Iran Deputy FM Warns of War on Water in Middle East
When There's No Water, There'll Be Poverty, Immigration, Security Concerns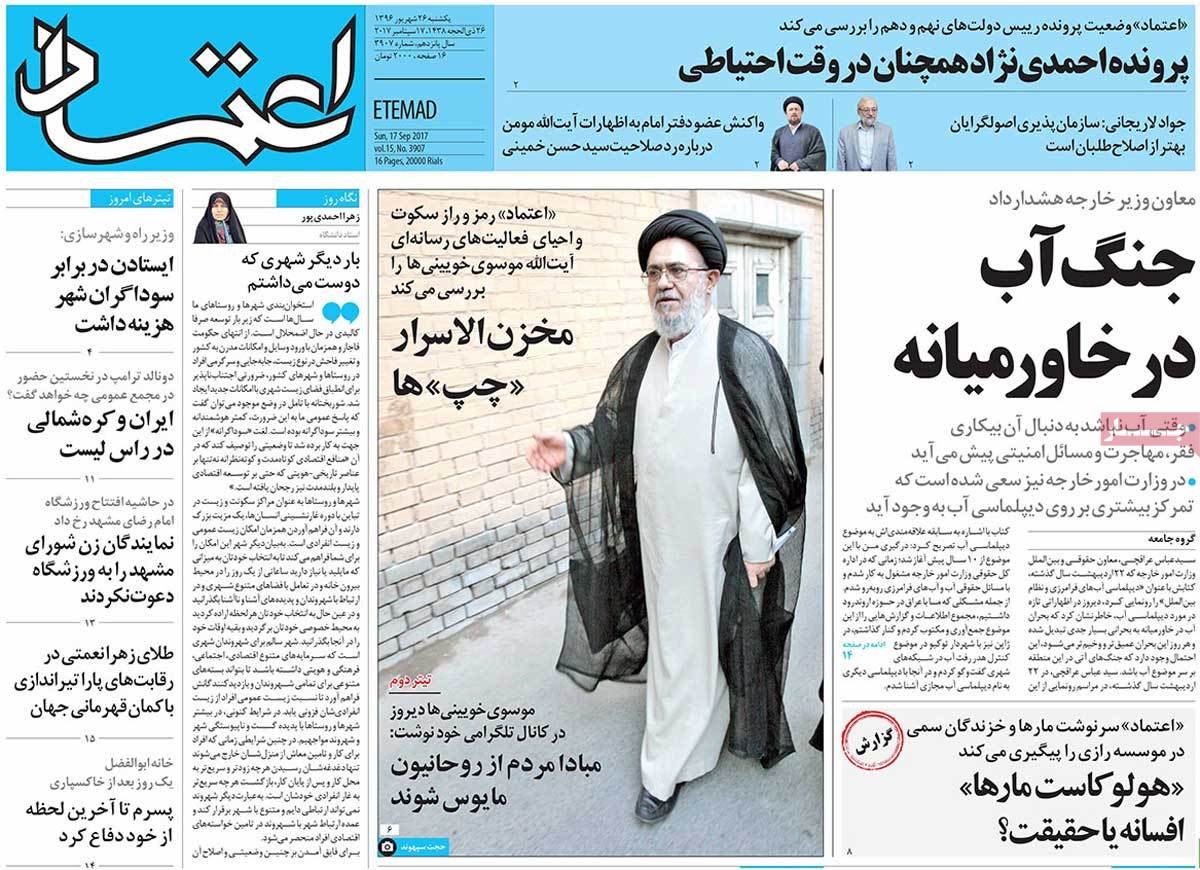 ---
Ettela'at:
1- Rouhani: Europe Should Press US for JCPOA Commitment
2- 60% of Those Accepted in Iran's National University Entrance Exams Are Women
3- China Urges US to Stop Threatening North Korea
4- Aerospace Commander: IRGC Has Infiltrated into US Command Centres
---
Ghanoon:
1- Spokesman: Foreign Ministry to Undergo Major Changes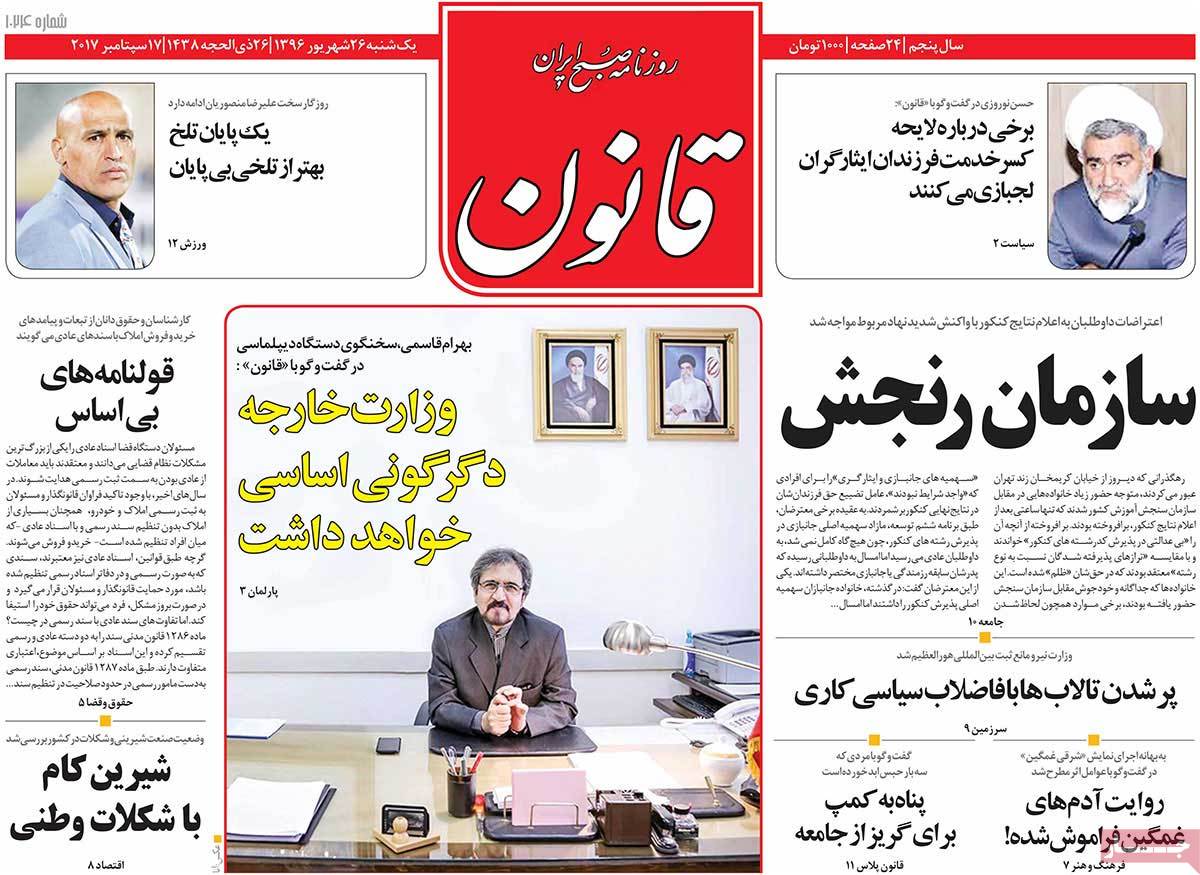 ---
Iran:
1- Nuclear Deal Very Important to Europe: Belgian Parliament Speaker
2- Iran's Larijani Urges Europe to Reinforce Banking, Trade Transactions besides Political Ties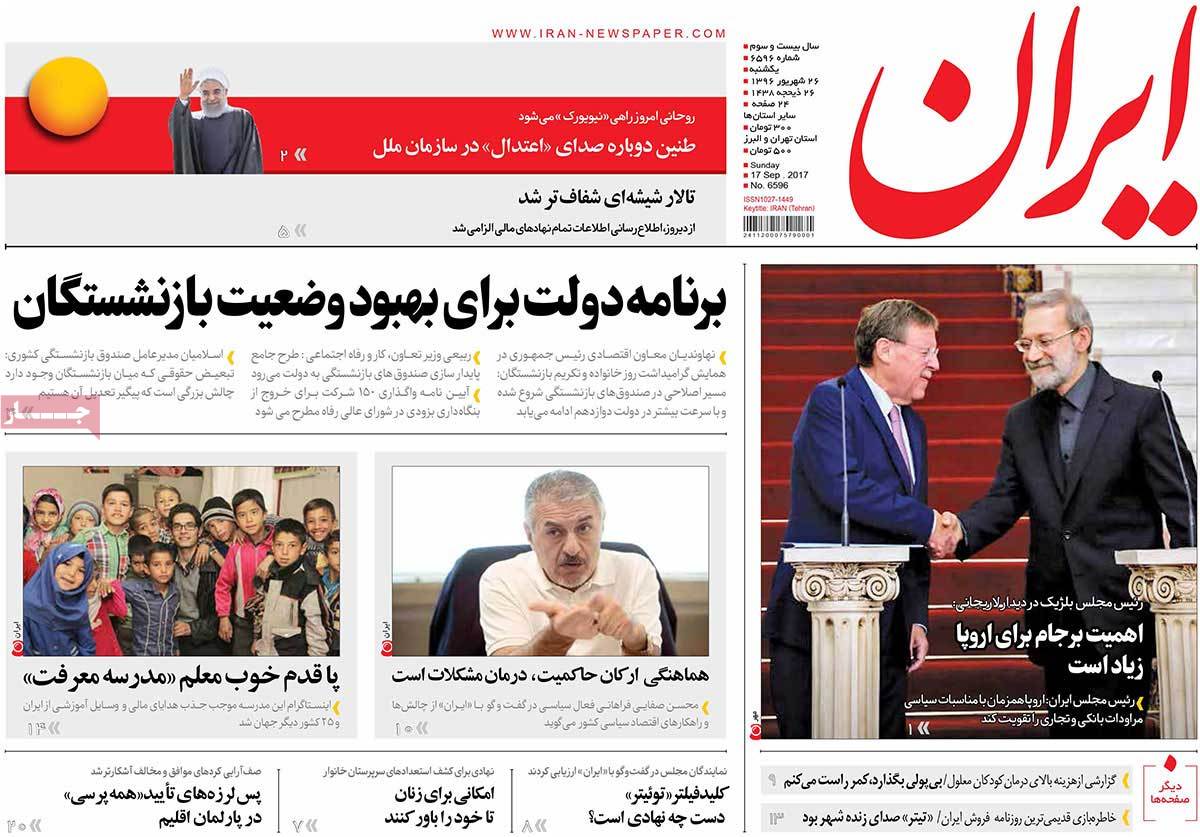 ---
Javan:
1- Rouhani Shares JCPOA Concerns with Unknown European Official
While Rouhani held his nuclear talks with US, now he's asking an unknown European to send US a strong message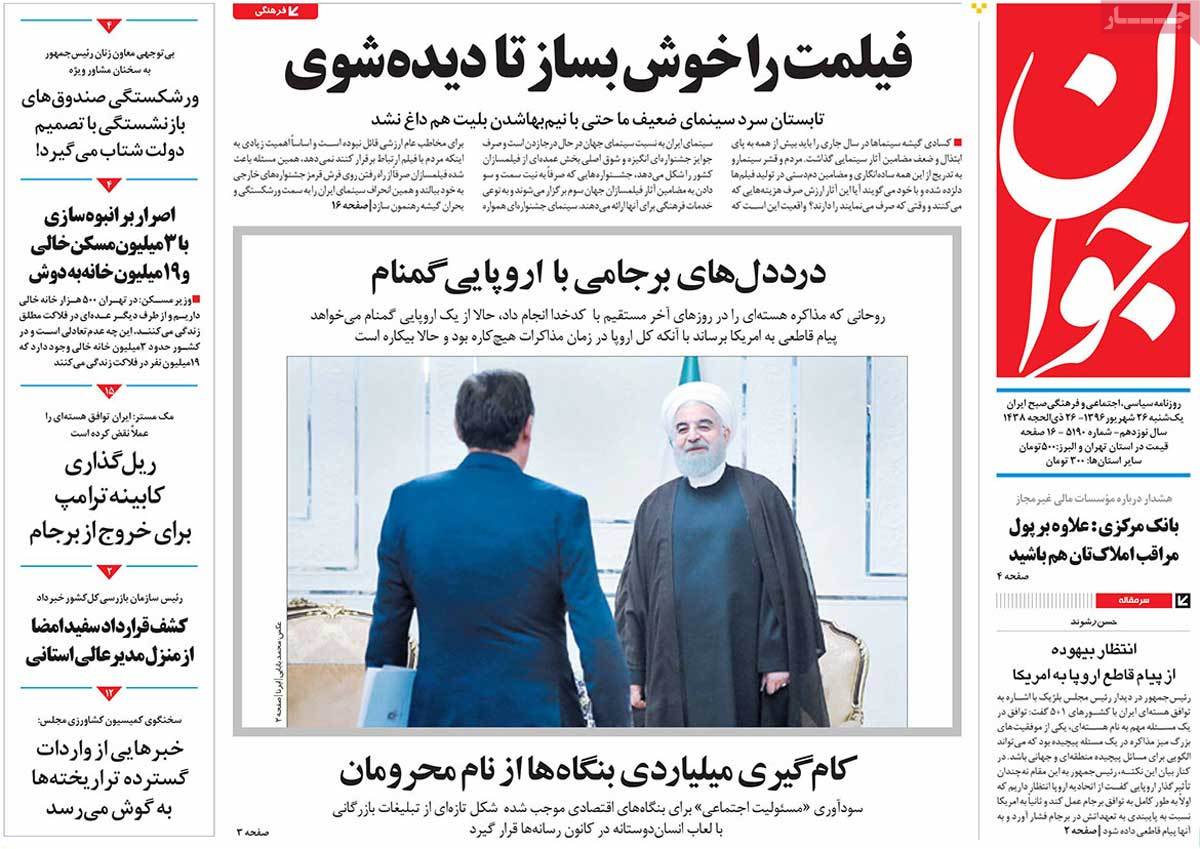 ---
Jomhouri Eslami:
1- Russia: Maintaining Iran Nuclear Deal Is Our Message to US
2- Iran, China Sign MoU on €15 Billion Line of Credit
3- Three Factories Used by ISIS for Making Tanks, Booby-Trapped Cars in Syria Destroyed
---
Kayhan:
1- Violation of JCPOA Now in Plane Purchase. How Much Will Gov't Tolerate?
2- St. Louis Rises against Racism: African-Americans Set Fire on US Flag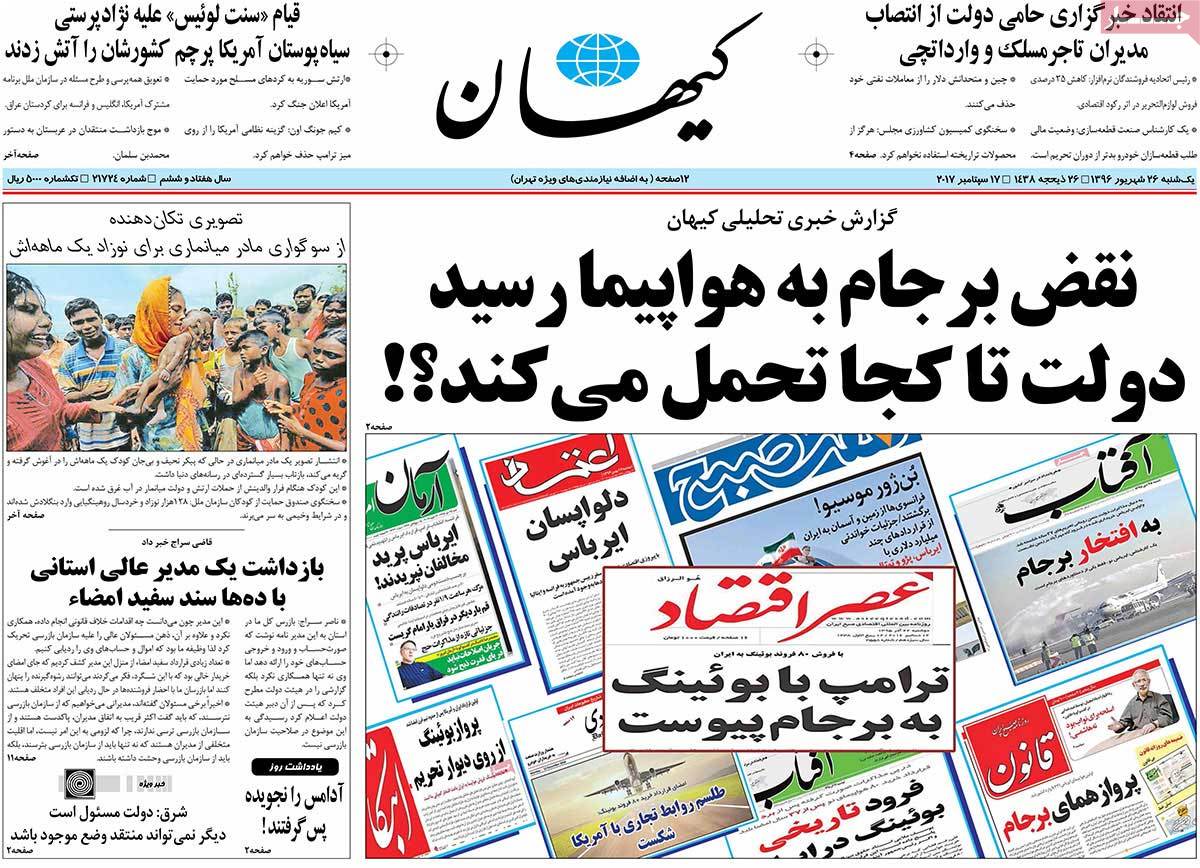 ---
Resalat:
1- Rouhani: US Violation of JCPOA Blow on an International Deal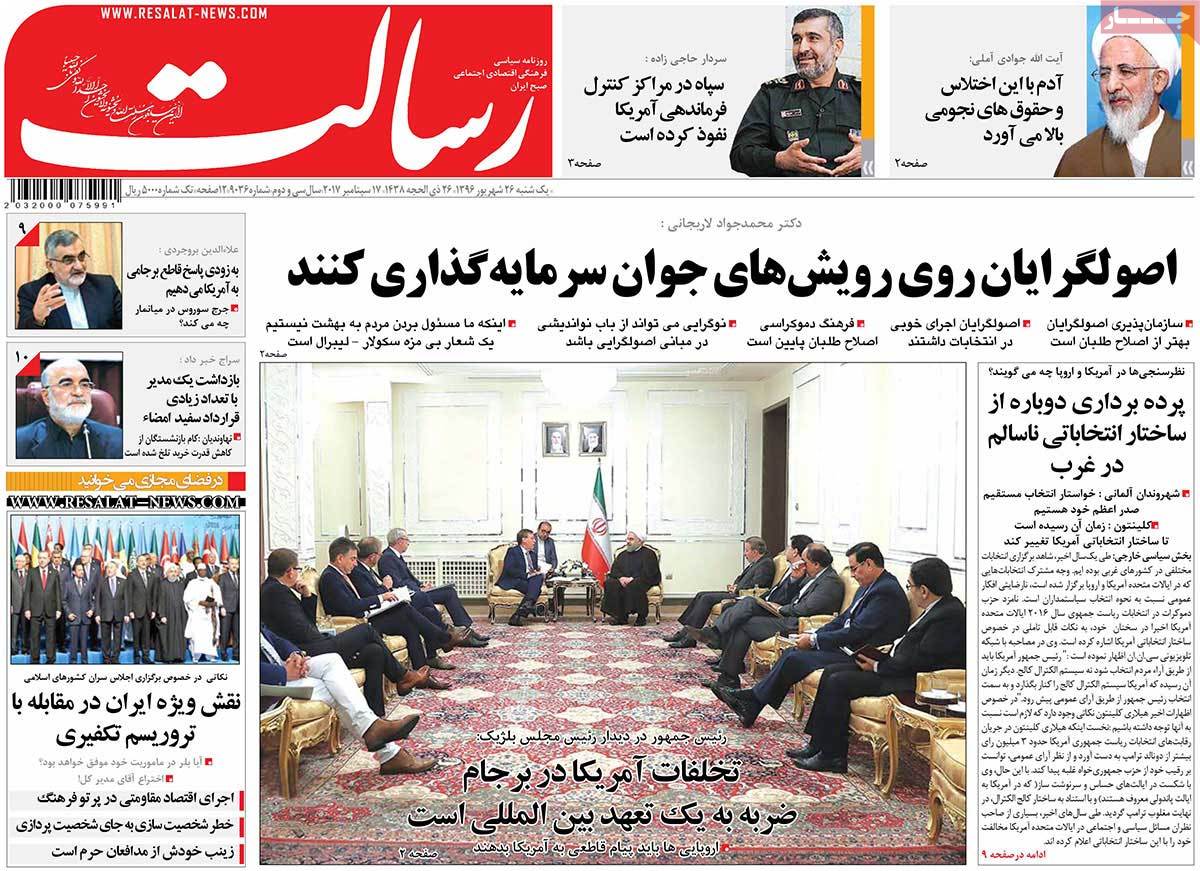 ---
Rooyesh-e Mellat:
1- Shamkhani: West's Instrumental Use of Terrorism to Spread It into Heart of Europe
2- Deputy FM: Turkey's Claim about Their Water Project Not Convincing to Iran