The top story today was the European visits of Iran's nuclear chief Ali Akbar Salehi and his remarks about the future of Iran's nuclear industry.
Newspapers also covered the visits of President Hassan Rouhani to Venezuela and then the US. Rouhani is due to attend the Non-Alignment Movement (NAM) Summit and the United Nations General Assembly (UNGA) in Margarita Island and New York City, respectively.
The remarks by Seyyed Ali Khomeini, the grandson of Imam Khomeini, about Iran's fight against terrorism also received good coverage.
The above issues as well as many more are highlighted in the following headlines:
Abrar:
1- Barzani Calls for Agreement with Baghdad before Beginning of Mosul Operation
2- AEOI Spokesman: Draft to Be Prepared on Tehran-Europe Cooperation in 2 Weeks
3- Kerry's Deputy Consults with Abadi on Preparations for Mosul Liberation
4- Mogherini: Trade Ties between Iran and Europe Have Had Unbelievable Increase
---
Abrar-e Eqtesadi:
1- Crisis of Gini Coefficient Decrease in Ahmadinejad's Gov't: In His Term, Capital Output Was $25bn More than Its Input to Iran
2- World Bank: One-Place Improvement in Iran's Rank in Purchasing Power Parity (PPP) Index
3- Lukoil's Talks with Iran for Oil Extraction from Caspian Sea
4- Beginning of a New Era in Iran-South Africa Trade Ties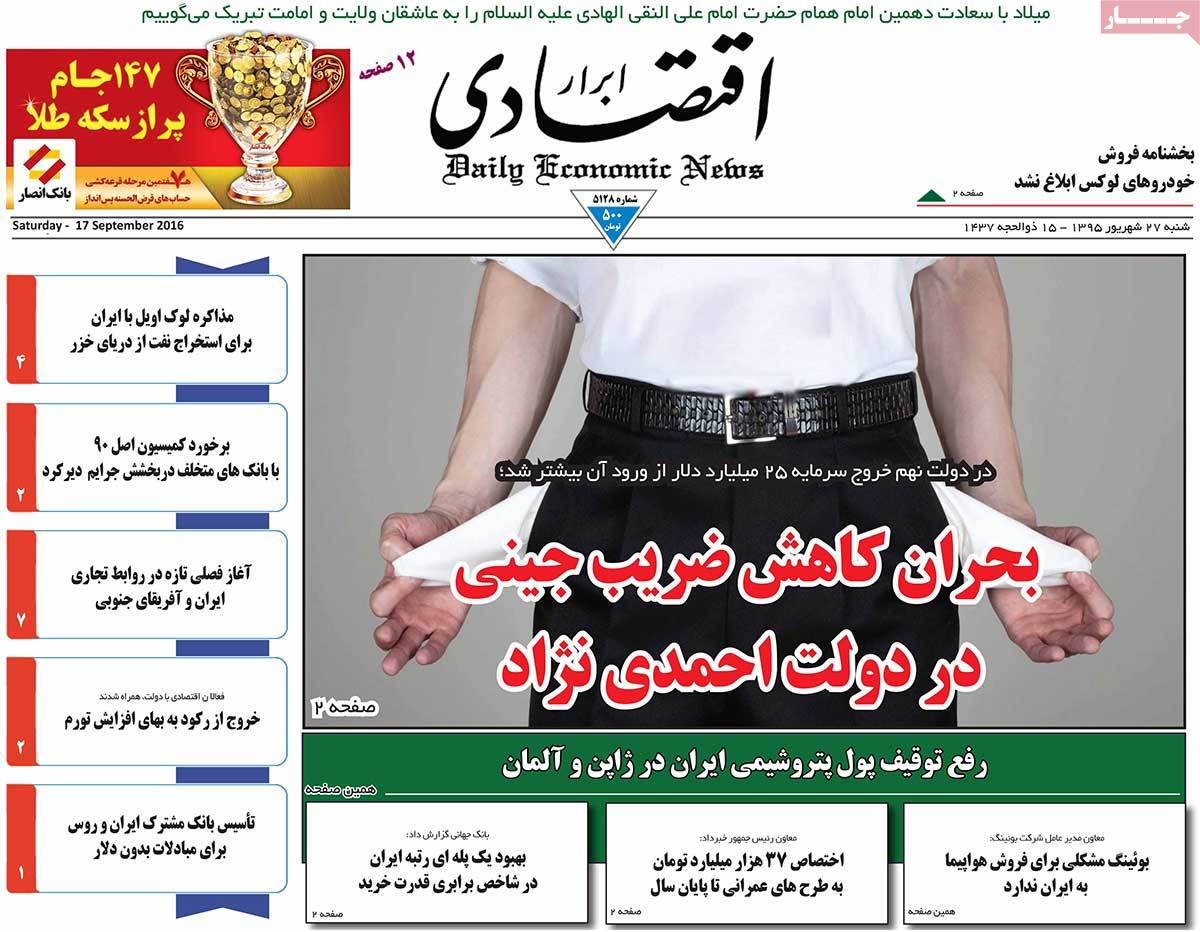 ---
Afarinesh:
1- Zarif in NAM Summit: Interference in Other Countries' Affairs and Extremism Are Threatening World Peace
2- Before Departing for Venezuela, President Rouhani Said We Should All Be Looking for Peace and Stability in Region and World
---
Afkar:
1- Ayatollah Khatami: Others Should Be Allowed to Criticize FATF
2- Ban Urges Syrian Opposition Groups to Return to Peace Negotiations
3- Saudi Arabia's Serious Concern about US Congress' Bill
4- Abbas Kiarostami Becomes Busan's Artist of the Year
---
Aftab-e Yazd:
1- Ahmadinejad's Gov't Imported Wheat from Britain, Rouhani's Administration Is Exporting Wheat to Italy: Rouhani's Major Achievement in Wheat Self-Sufficiency
2- Improved GDP in Spite of Decline in Oil Price: Rouhani's Economic Success Confirmed by World Bank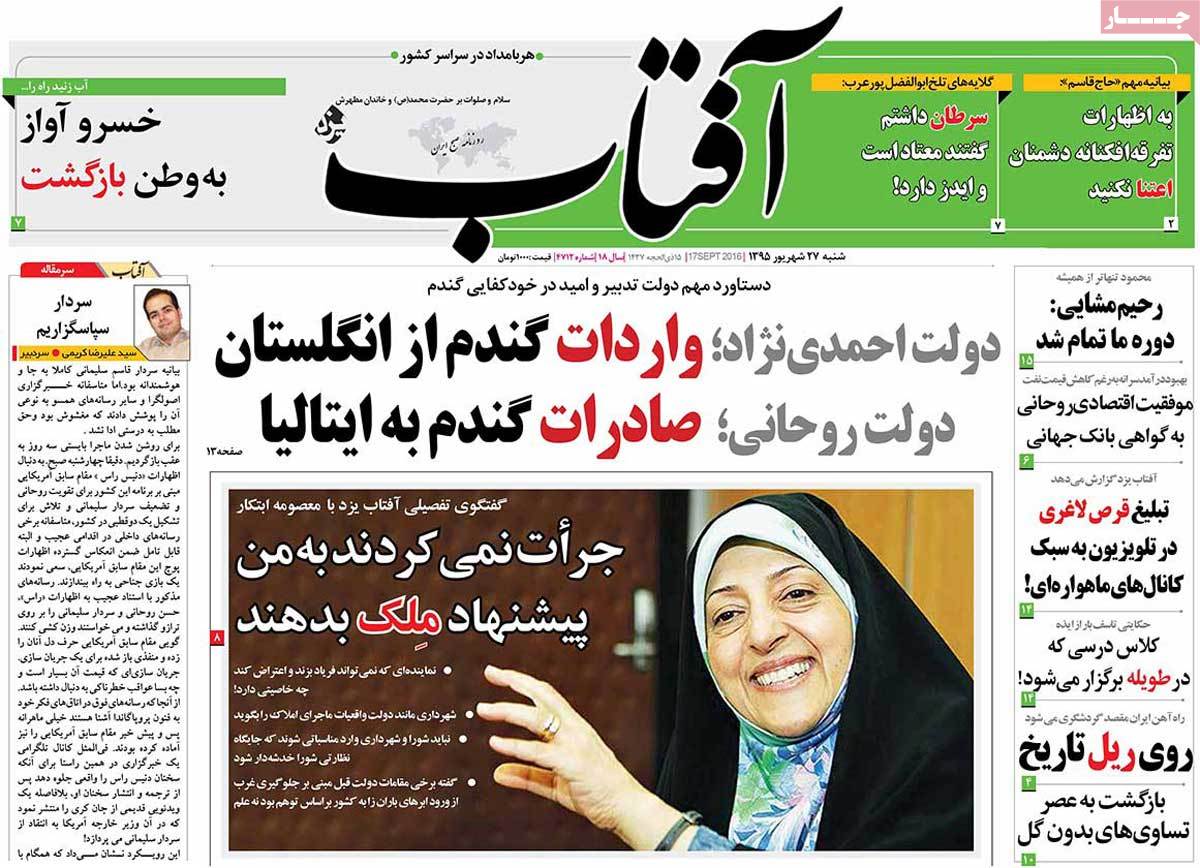 ---
Amin:
1- Iran and Group 5+1 FMs to Convene in New York on September 22
2- Salehi: Iran's Official Accession to International Thermonuclear Experimental Reactor (ITER) to Be Announced Soon
3- Jimmy Carter: US Policies in Worst Conditions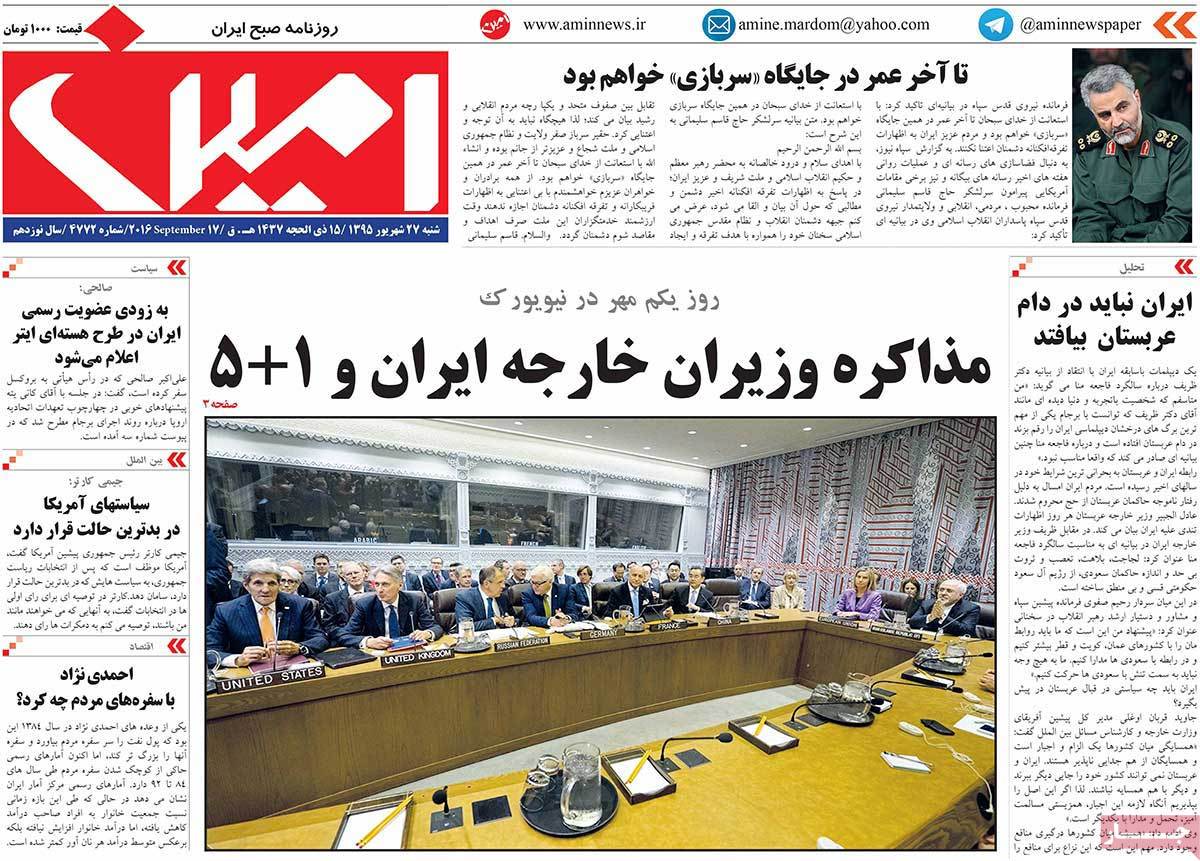 ---
Arman-e Emrooz:
1- Kerry to Become US Representative in Iran Affairs If Clinton Wins Elections: US Hand of Friendship Extended to Iran
2- Adviser: Ahmadinejad Won't Run for Presidency in 2017 Elections
3- General Soleimani Dismisses Rumours of His Bid for Presidency, Saying He'll Remain a Soldier
---
Asrar:
1- Spokesman: Global Centres' Reports Confirm Iran's Economic Stability
2- Justice Minister: US Doesn't Have the Power to Shoot Iran
3- Boeing Official: Boeing Has No Problem with Selling Planes to Iran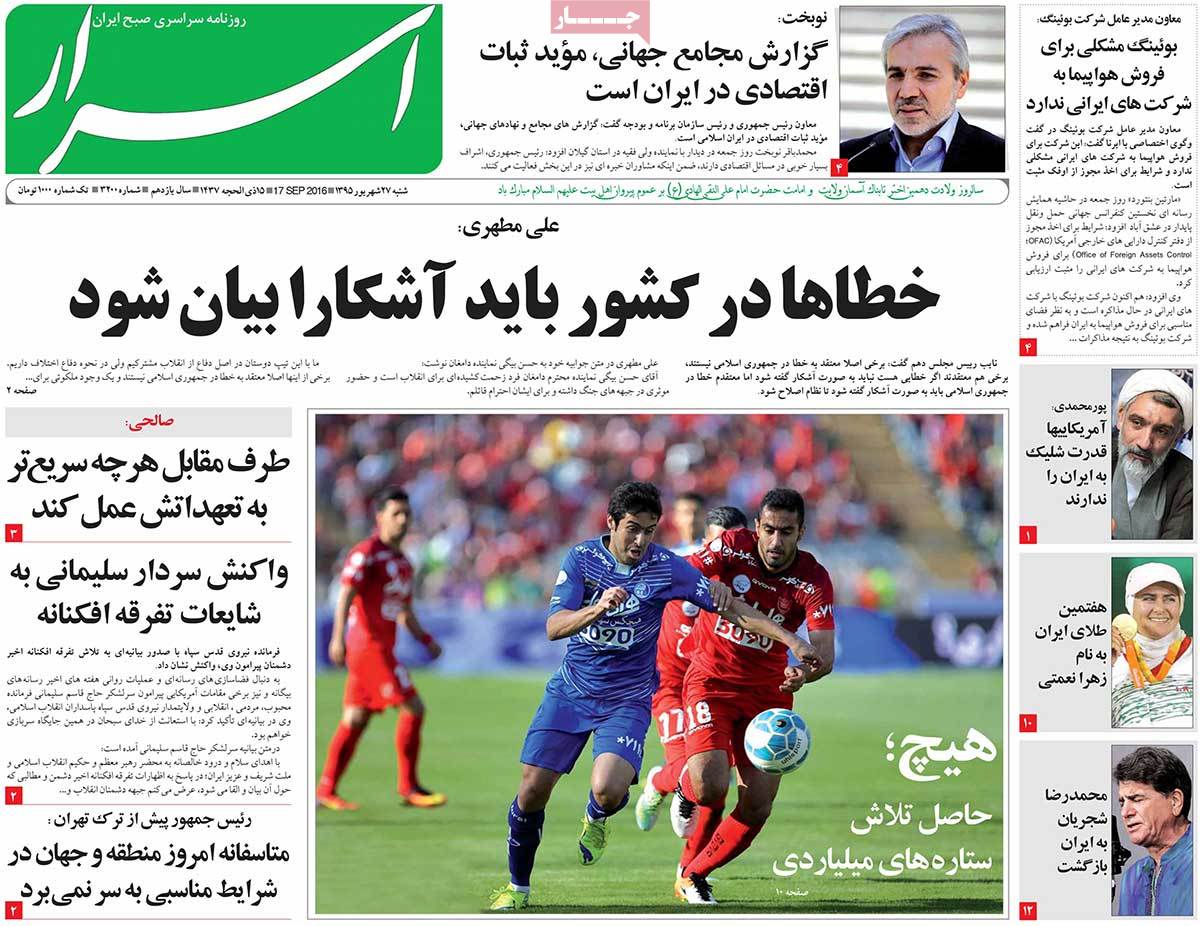 ---
Ebtekar:
1- Fourth Visit to US: President Leaves Tehran for Americas to Attend NAM Summit and UNGA
2- 7th Gold Medal for Iran's Paralympics Team Won by Zahra Nemati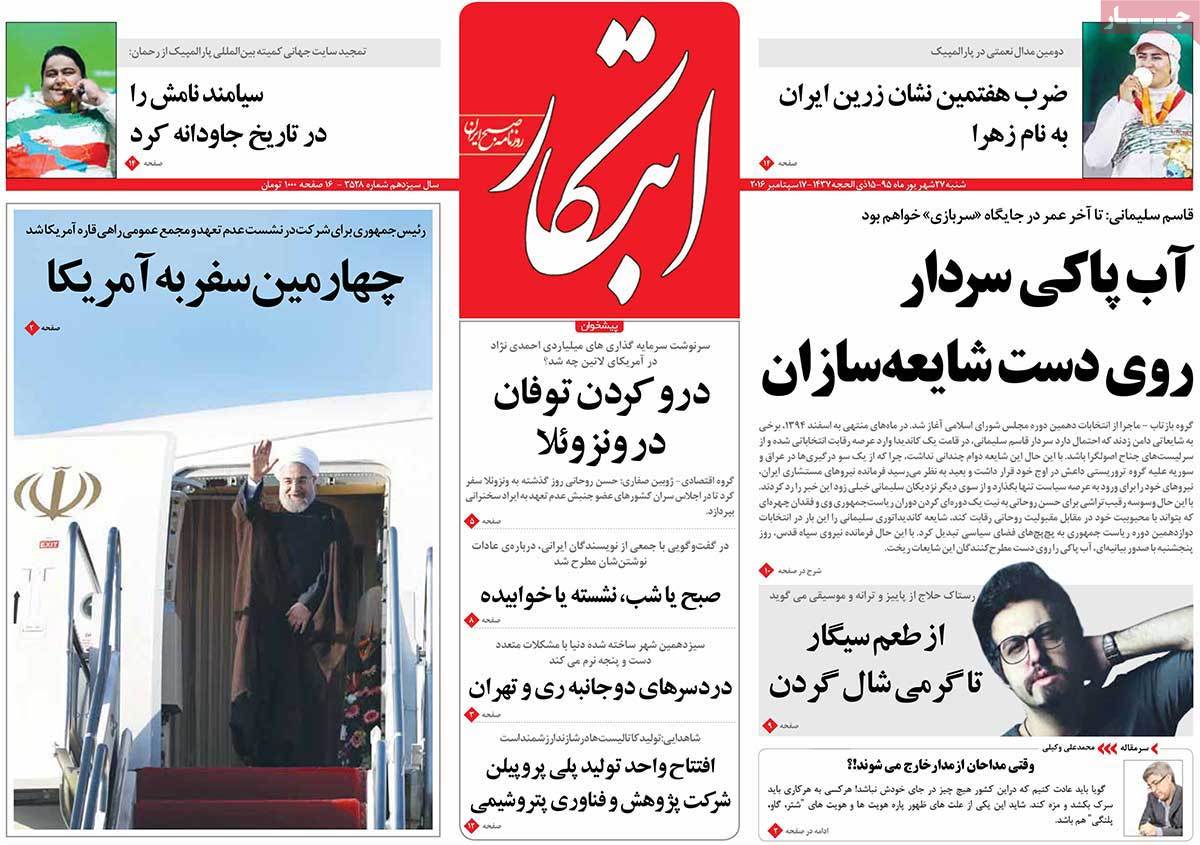 ---
Etemad:
1- Repetition of Rouhani, the Strategy of Reformists
2- Master Shajarian Returns Home after Treatment in US
3- Clinton: Shooting Iranian Boats Would Lead to War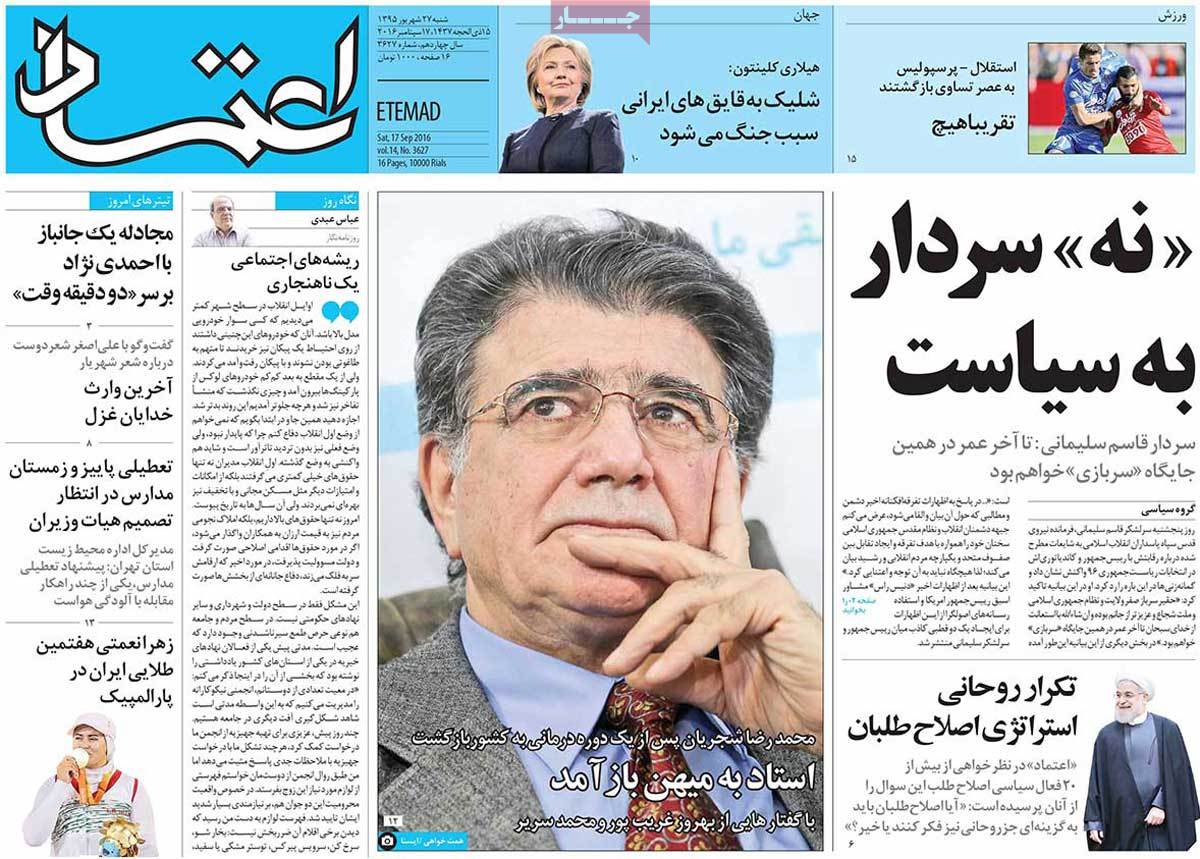 ---
Ettela'at:
1- Salehi: Nuclear Energy Should Be a Ground for Regional Cooperation
2- UN Secretary General: Israel's Occupation, Tyranny, and Oppression Should Be Ended
3- Energy Minister: Recent Droughts Were Caused by Greenhouse Gases
4- Former US Ambassador to Riyadh: Saudis Support Extremist Groups in Region
5- Iran Goes Up in Paralympics Medal Ranking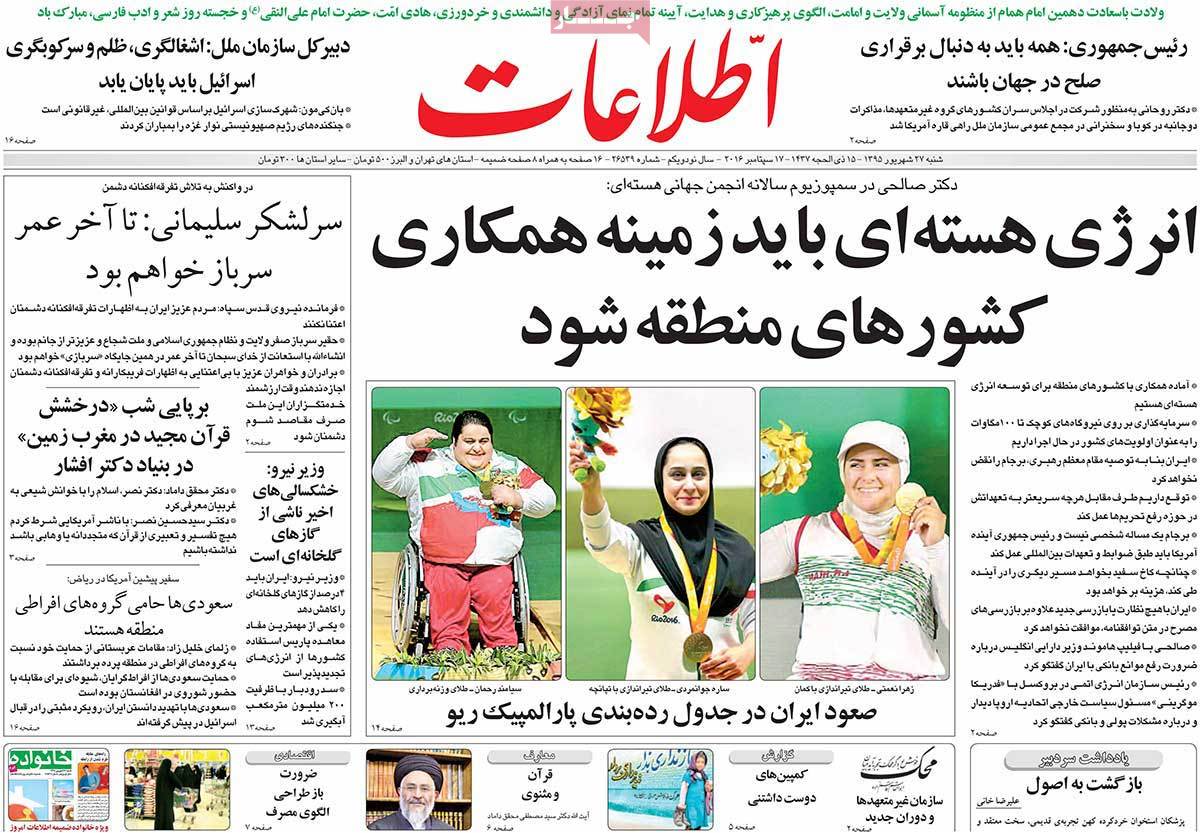 ---
Hemayat:
1- Iran's Human Rights Council Chief: US Division of Terrorism into Good and Bad Categories Not Acceptable to Tehran
2- Bloody Rallies of Workers in France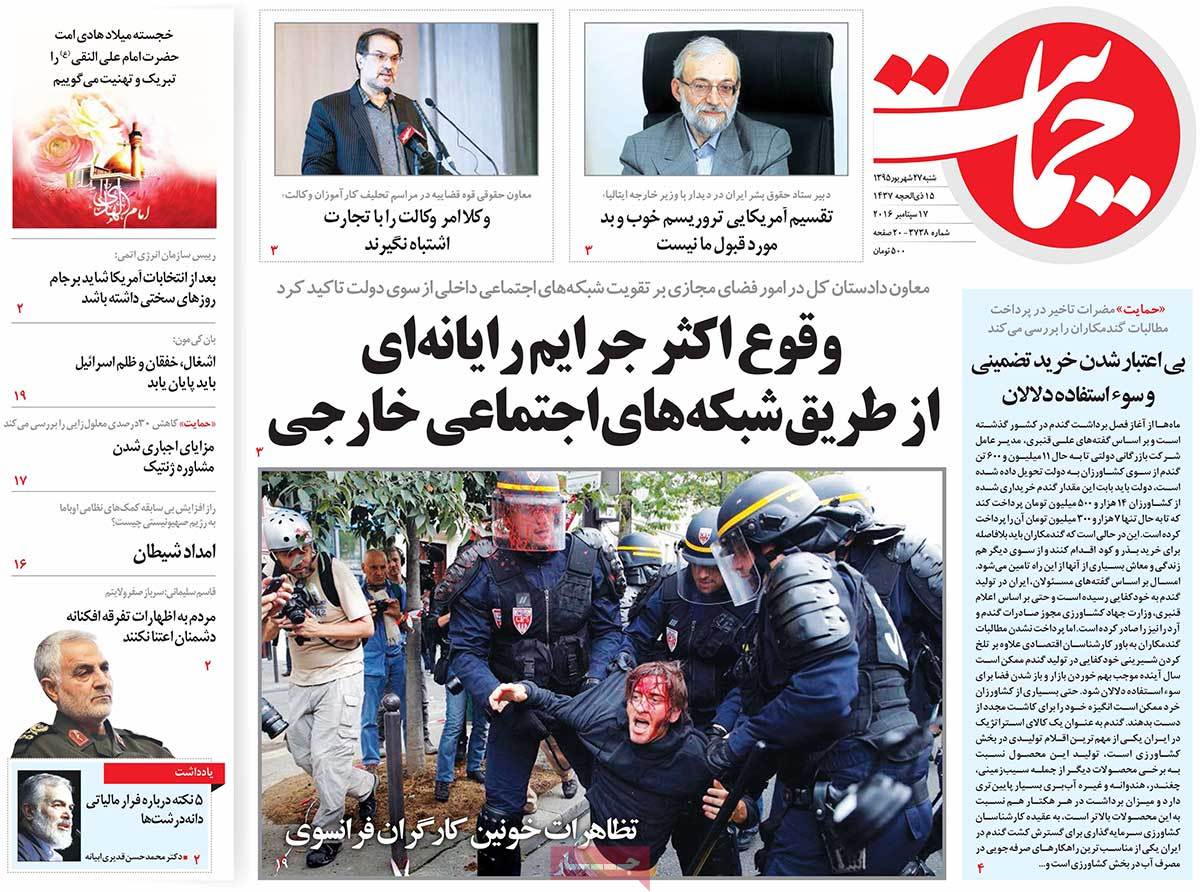 ---
Iran:
1- Joint Statement by US, France, Britain, China, and Russia: We Stick to Our JCPOA Commitments
2- Rouhani Arrives in Americas with Message of Peace and Security
3- Salehi's Talks with Europeans about Banking and Financial Problems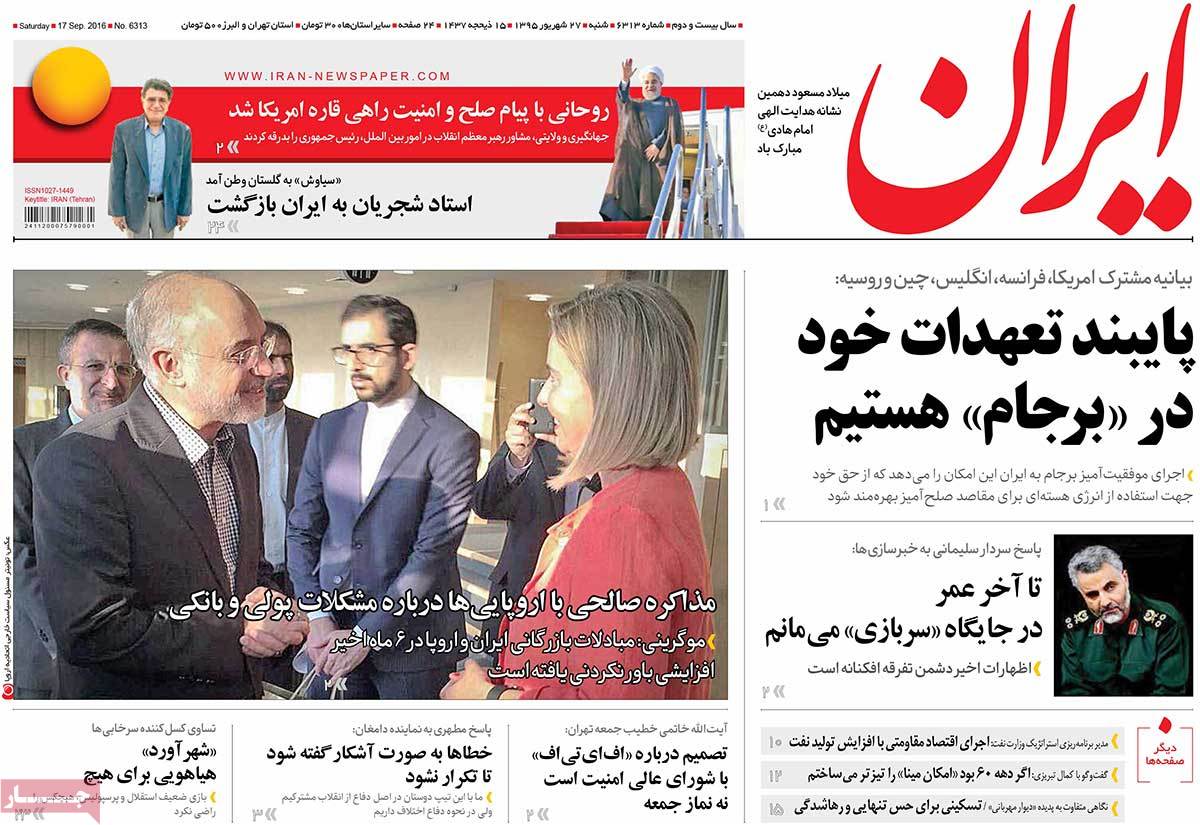 ---
Javan:
1- Salehi: We're Worried about More Difficult Days of JCPOA after US Elections
2- 7 Gold Medals until 8th Day for Iran's Paralympics Team: Siamand, Nemati and Javanmardi  Win Gold
---
Jomhouri Eslami:
1- US Flag, instead of Terrorists', Raised in Northern Syria
2- Trump Is a Problem for Entire World: EP President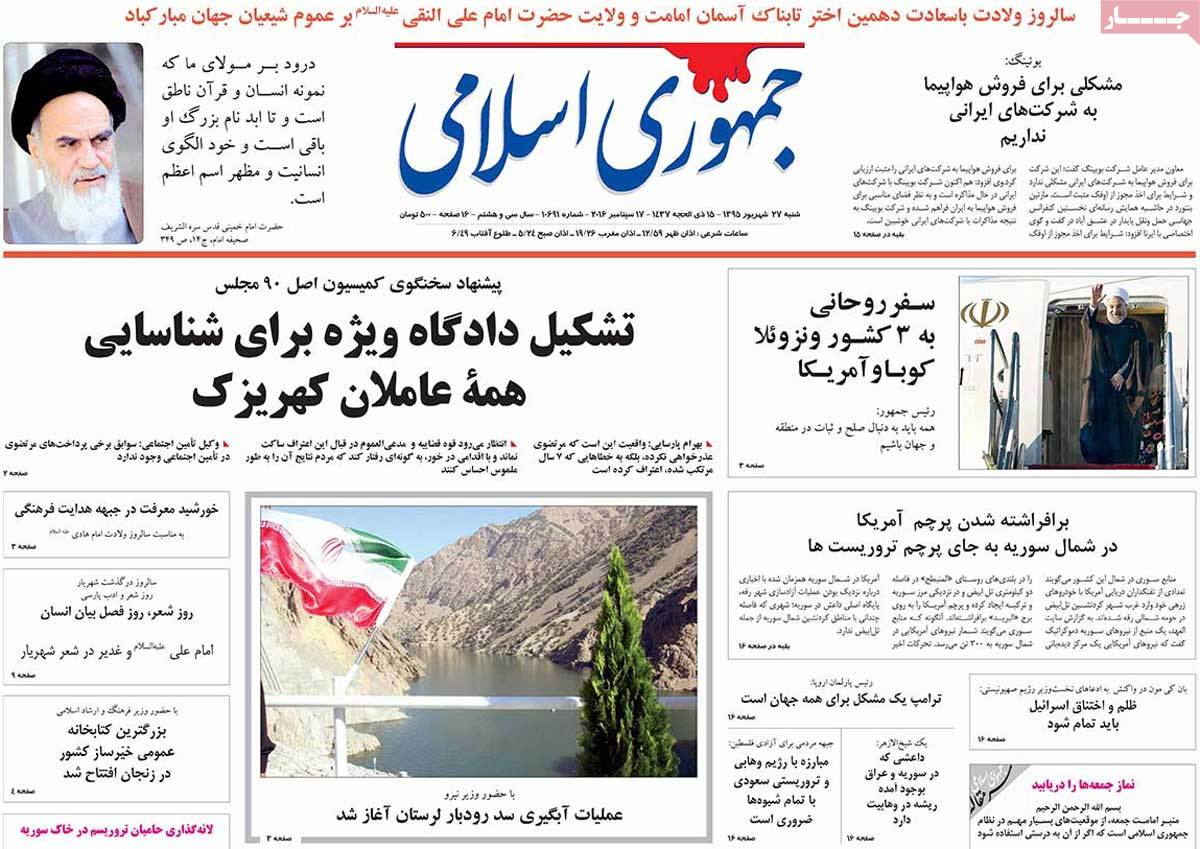 ---
Ka'enat:
1- Tropical Storm En Route to Iran's Southern Coasts: Official Warning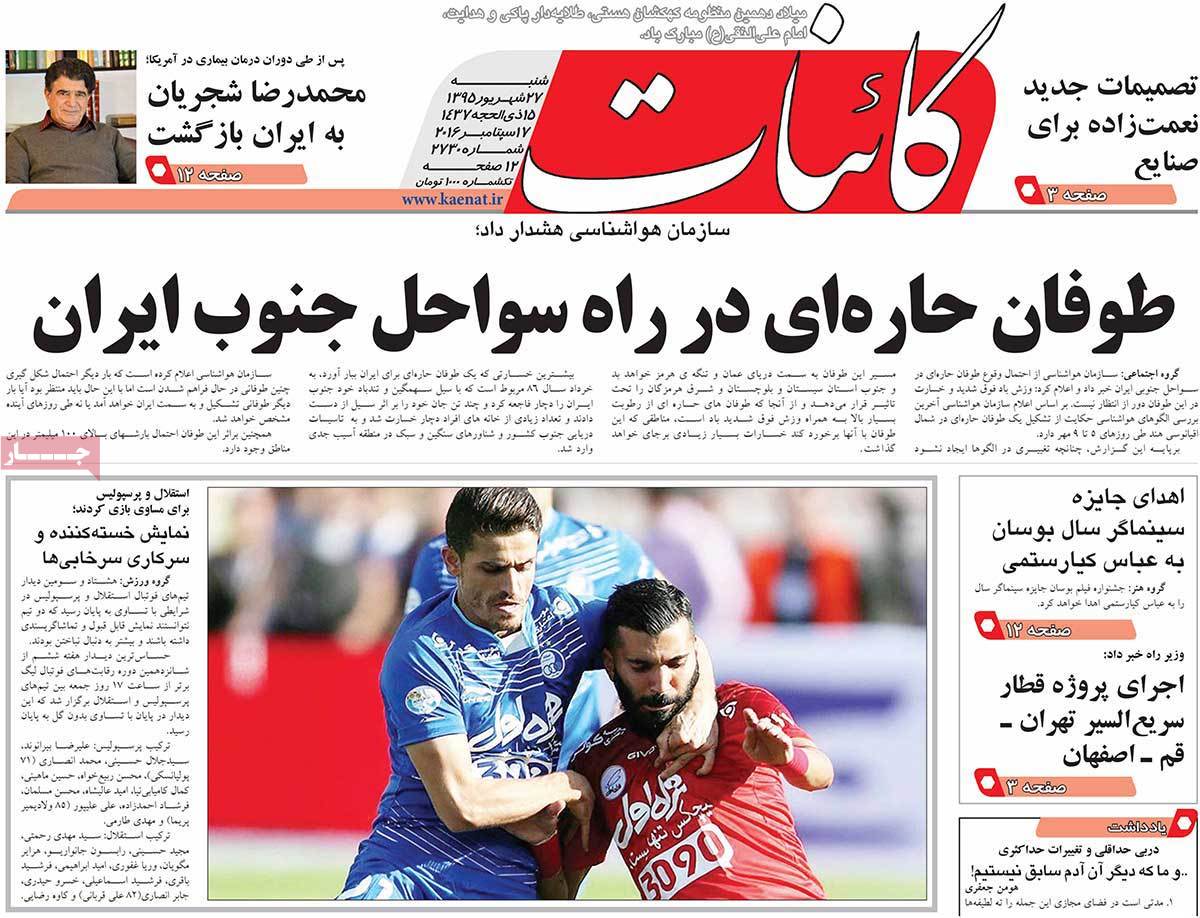 ---
Kayhan:
1- Iran-Russia Joint Bank to Be Established for Dollar-Free Transactions
2- Salehi Confirms Critics' Arguments after 3 Years! West Raises New Excuses Each Day in a Bid to Evade Fulfilling JCPOA Commitments
3- Saudi Arabia's Largest Military Base in Najran Seized by Yemeni Revolutionaries
4- Al-Azhar Cleric: Saudi Wahhabis Have Stolen the Title 'Sunni'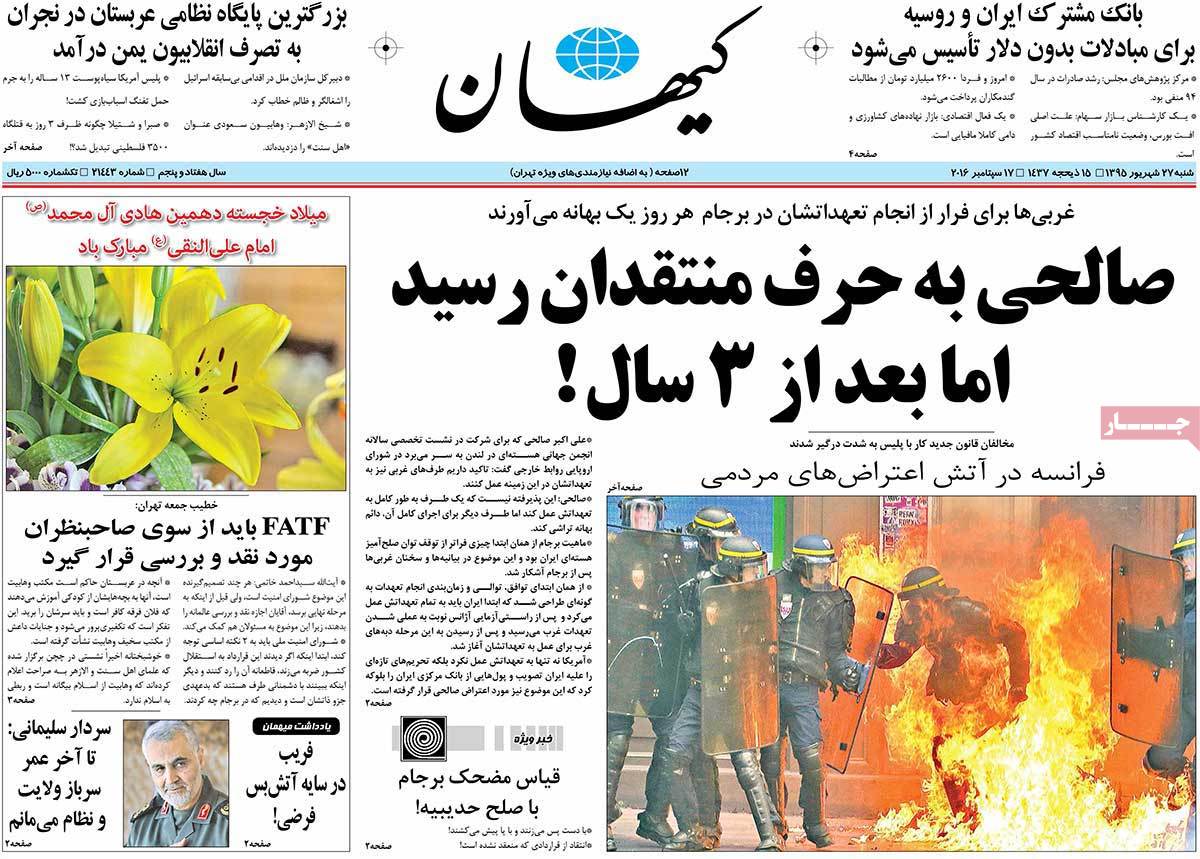 ---
Khorasan:
1- Imam Khomeini's Grandson [Seyyed Ali]: They Say Those Who Fight in Syria to Defend Holy Shrines Do It for Money; Who Would Risk His Life for Money?
2- Salehi: Construction of Small Reactors, Iran's New Nuclear Strategy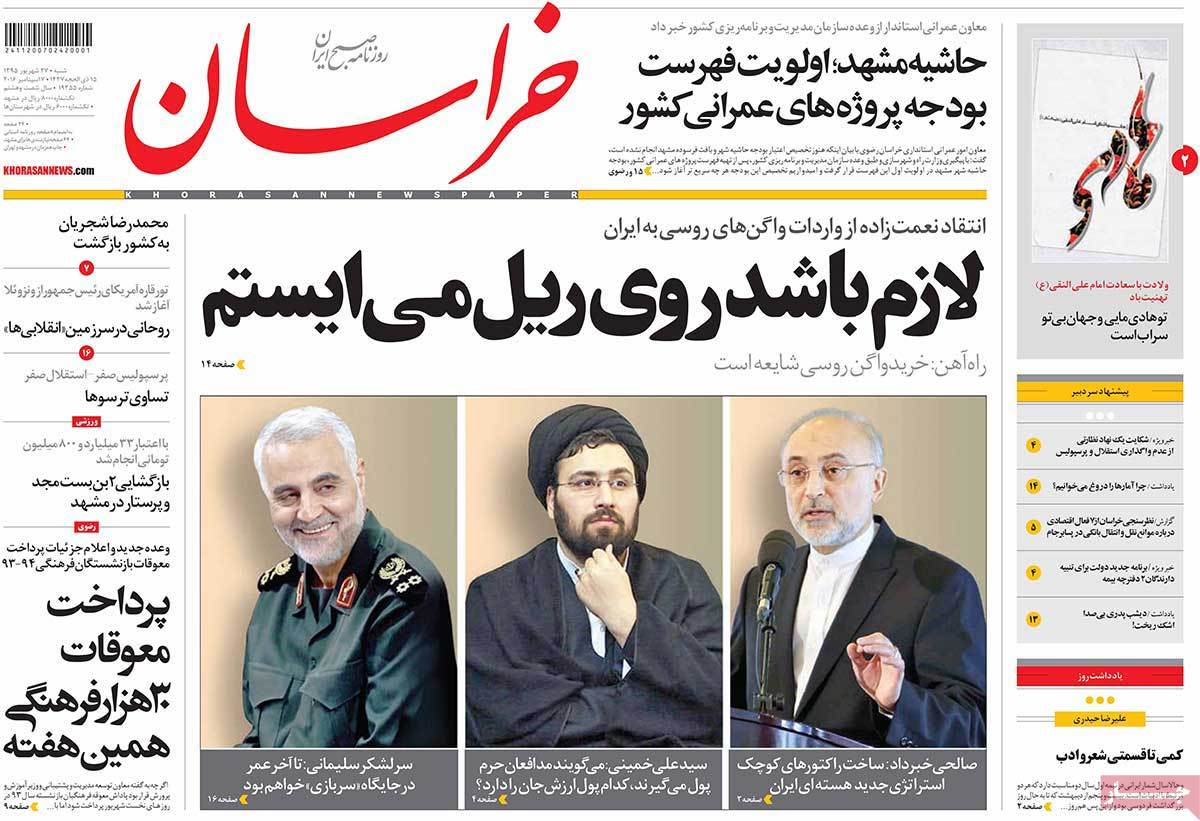 ---
Resalat:
1- Ayatollah Khatami: Syria Ceasefire Is Aimed at Regrouping US and Takfiri Forces
2- Ban's Unprecedented Attack against Zionist Regime [Israel]
---
Roozan:
1- Imam Khomeini's Grandson: Islamic Republic Is Exercising Self-Restraint in Countering ISIS
---
Shargh:
1- Trade Minister: I'll Stand Still on the Railway and Won't Allow Entry of Russian Wagons
2- Reformist Figure: JCPOA Is a Required Condition for Improving the Country's Situation, But It's Not Enough
3- Trump Leads the Polls: Hot Competition between Two Unpopular Figures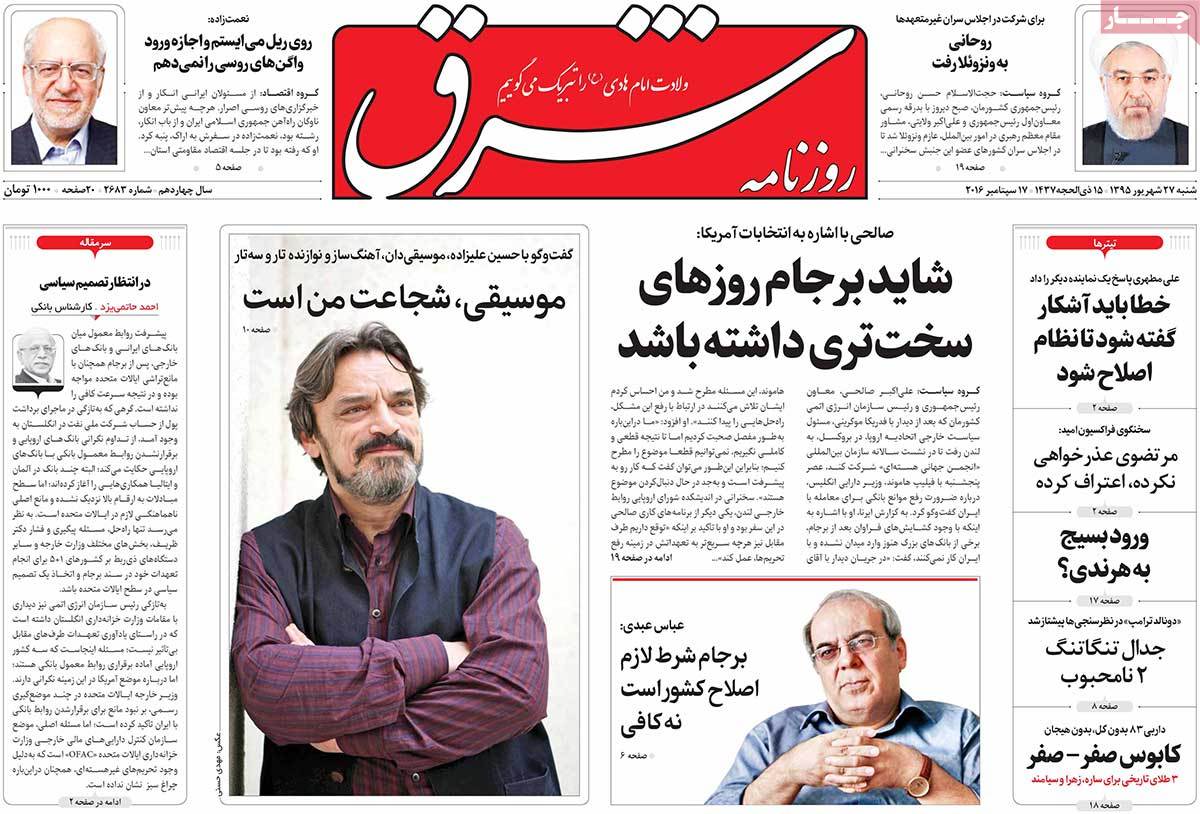 ---
Vatan-e Emrooz:
1- Saudi Arabia Files Lawsuit against Iran in UNSC
2- US Analysts Say Democrats' Conditions in US Presidential Campaigns Are Worse than Clinton's Health