Newspapers today covered the US administration's decision to extend the suspension of anti-Iran nuclear-related sanctions while imposing fresh non-nuclear embargoes in Iranian entities.
The Iraqi Kurdistan region's independence referendum also remained a top story today, with several top officials reacting to the September 25 planned plebiscite.
The above issues, as well as many more, are highlighted in the following headlines and top stories:
19 Dey:
1- First VP: Rouhani Committed to His Campaign Promises
2- China's $10 Billion Investment in Iran
3- Trump Backs Off on Nuclear Deal for Third Time
---
Abrar:
1- US Extends Suspension of Anti-Iran Sanctions
2- Iranian Nationals Killed in Iraq Terrorist Attack
3- Houthi Leader: We'll Target UAE by Our Missiles
4- Zarif, Tillerson May Meet on Sidelines of UNGA
5- Barzani: Referendum Can Be Suspended Only with a Better Alternative
---
Afkar:
1- Sanctions Followed by Sanctions
US Puts New Iranian Entities in Sanctions List
2- Zarif: Nuclear Deal Cannot Be Renegotiated
3- 'Hello Doctor', Goodbye Freedom
Anti-Gov't Gathering 'Hello Doctor' Held in Small Hall under Rouhani Administration's Pressure
---
Aftab-e Yazd:
1- Trump Had No Choice but to Confirm Iran's Commitment to Nuclear Deal
2- #They_Were_Not_Left_Behind
Education Minister Fulfils Promise to Have All Non-Iranian Kids Enrolled in Schools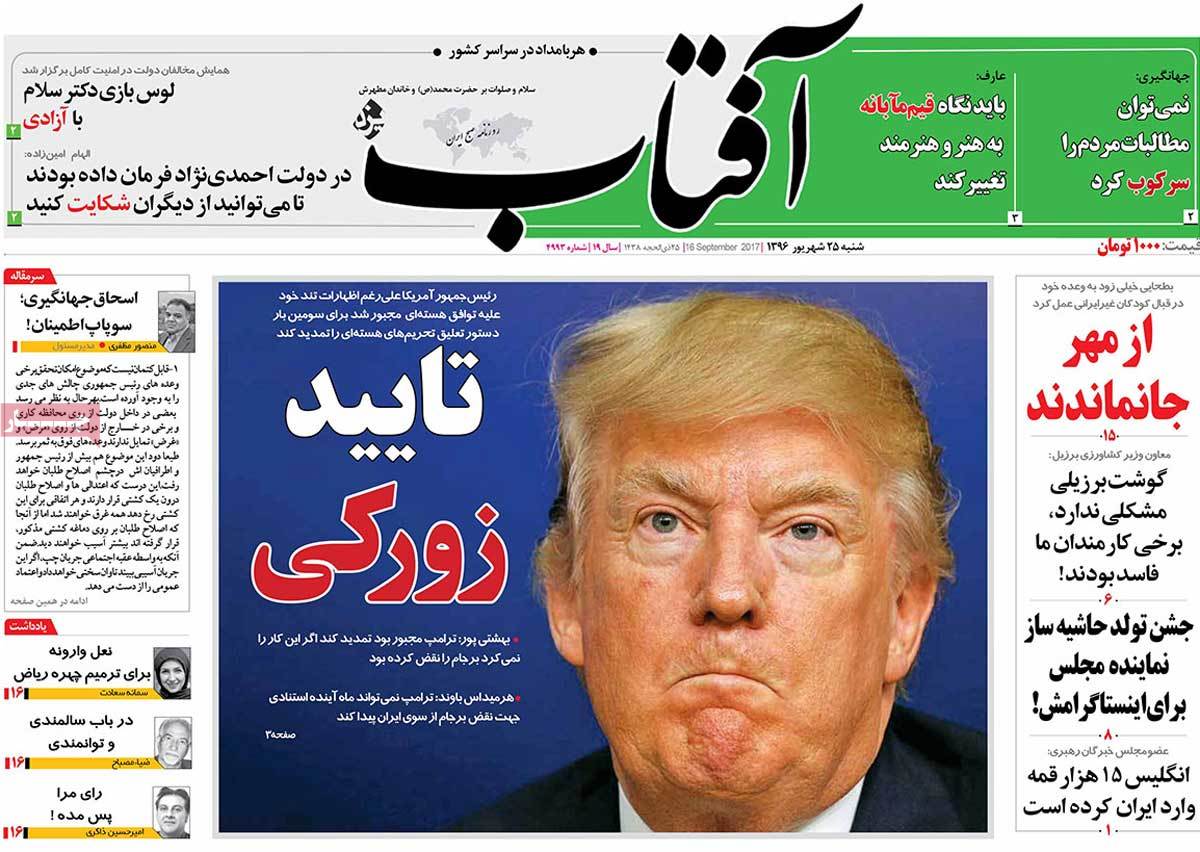 ---
Arman-e Emrooz:
1- Analyst: Third Political Movement to Come
2- First VP: You Can't Suppress People's Demands
3- Four High Medals of Peace for Four Stars
Taqvaei (Filmmaker), Shisheh-Garan (Painter), Dowlatabadi (Author), Shajarian (Singer)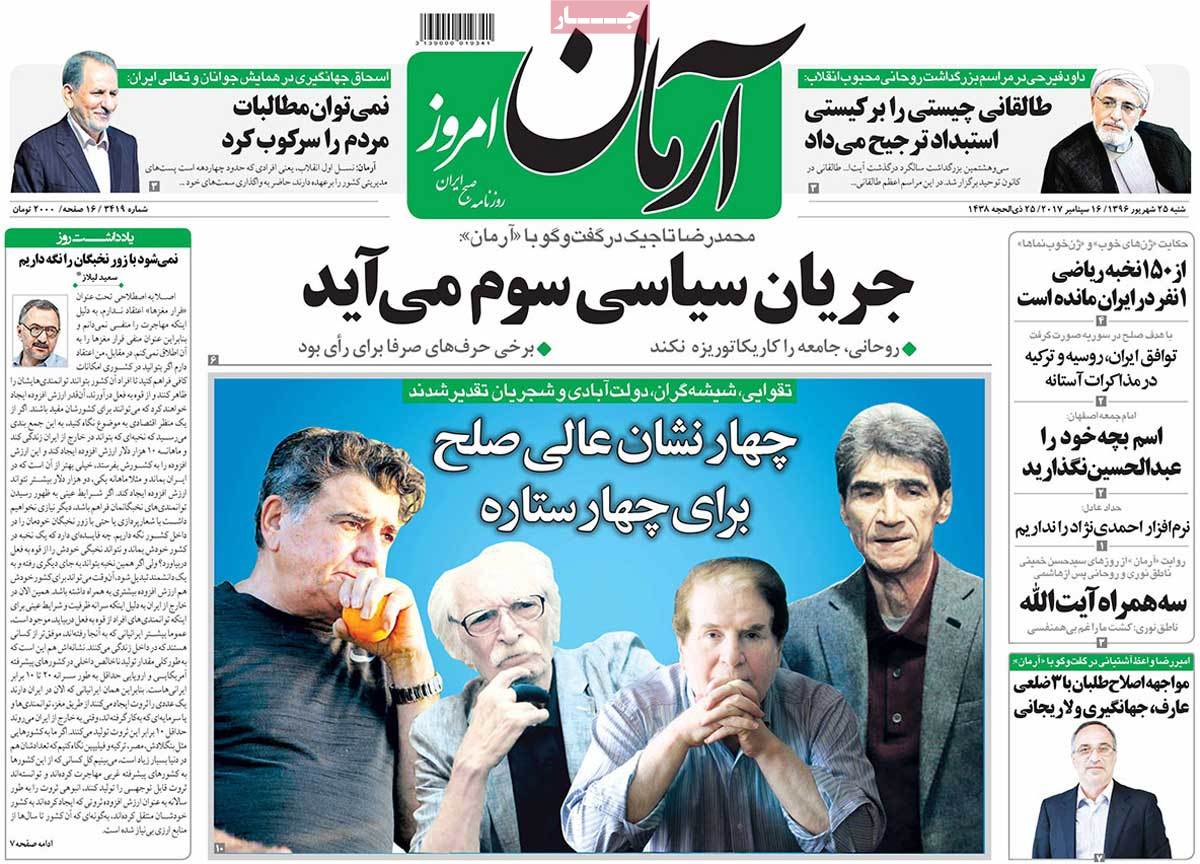 ---
Asrar:
1- Intelligence Minister: Iranian Nation Not Afraid of Options on Table
2- Iran, Russia, Turkey Agree to Continue Fight against Terror
3- Assad's Letter of Appreciation to Iran Leader
---
Bahar:
1- JCPOA Remains in Place
Anti-Iran Nuclear Sanctions Suspended despite New Non-Nuclear Sanctions
2- Trump: You'll Soon See What I Will Do
---
Ebtekar:
1- Wave of Violence, from Nasiriyah to London
2- Stock Exchange Market's Empty Vitrin!
Is Transparency Enough for Attracting People's Attention?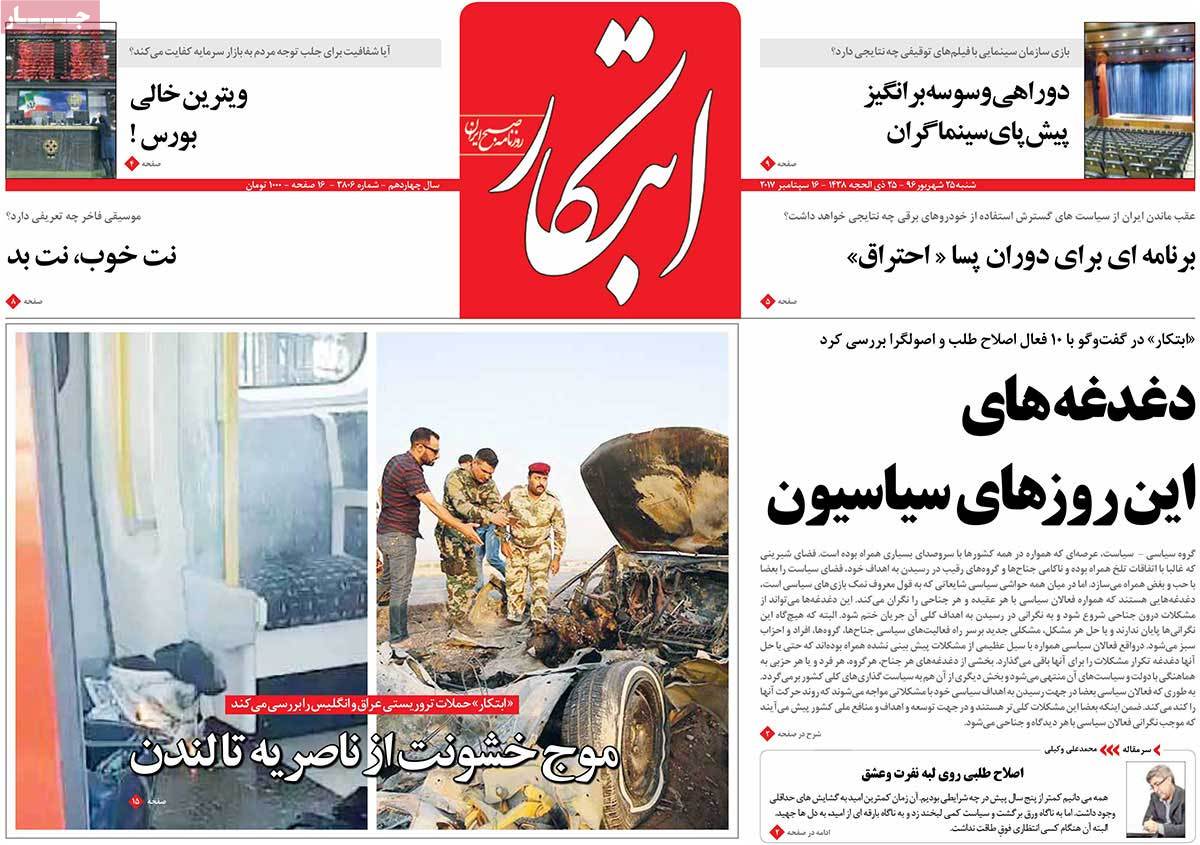 ---
Ettela'at:
1- Shamkhani: Iran Not to Accept Any Commitment beyond Nuclear Deal
2- Society to Become Disappointed If Young People Are Frustrated: First VP
3- 11 Iranian Pilgrims Killed in Terrorist Attack in Iraq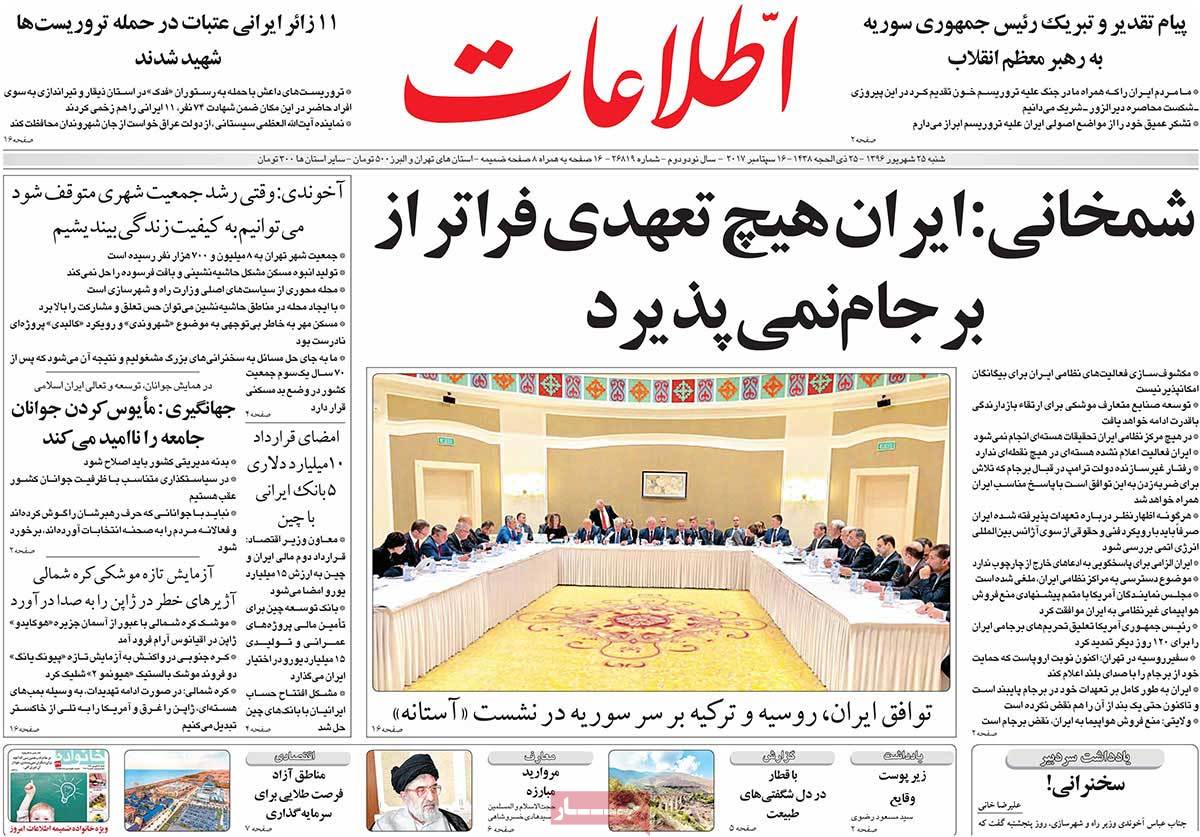 ---
Iran:
1- China's $10bn LC for Iran
2- Assad's Letter of Appreciation to Iran Leader
Iranian People Partner in Syria Victory
---
Jame Jam:
1- Double-Standard Game with Nuclear Deal
US Adds Several Iranians to Sanctions List While Extending Suspension of Sanctions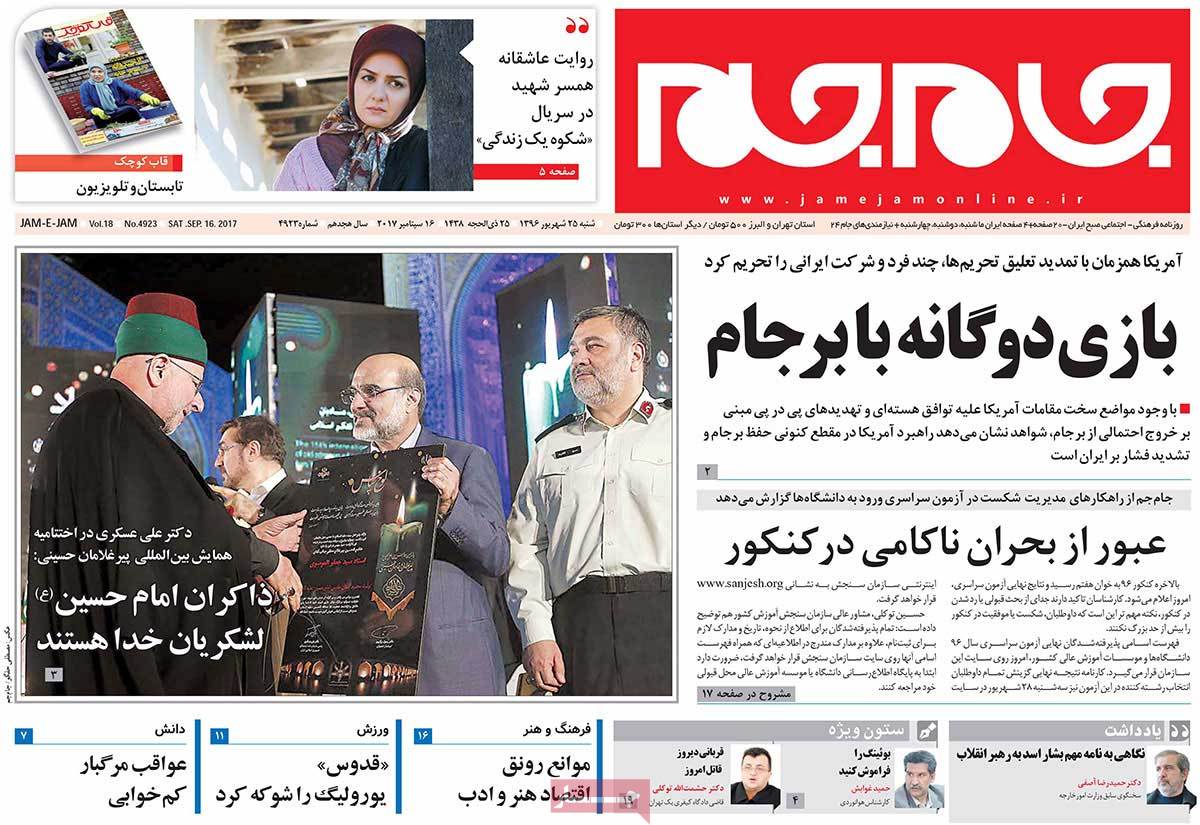 ---
Javan:
1- Syria's Victory, Iran's Triumph
2- North Korea Responds to Sanctions by Firing Missile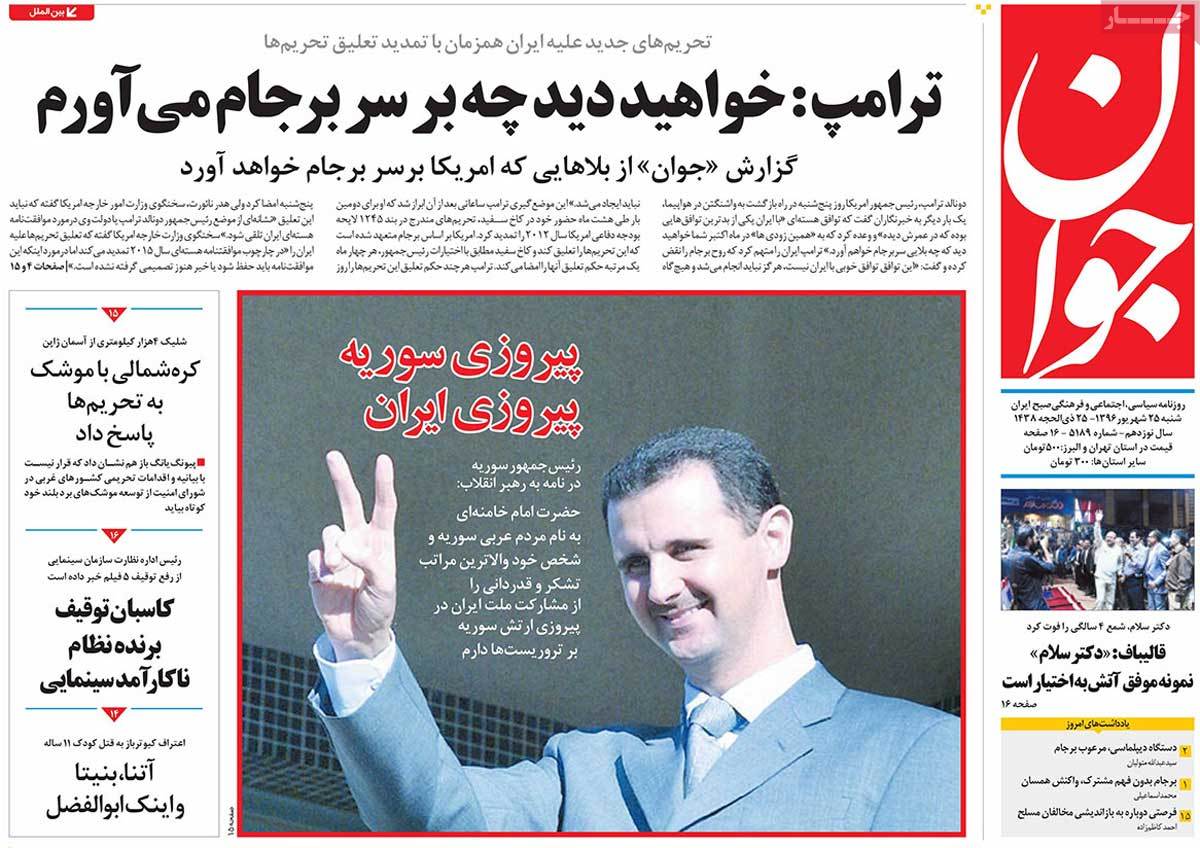 ---
Jomhouri Eslami:
1- Increased Opposition to Kurdistan Independence Referendum
2- Nobel Laurates Write to UNSC, Asking for Immediate Intervention in Rohingya Crisis
Kayhan:
1- Trump Refuses to Ignore Great Benefits of Nuclear Deal after Months of Psycho-War
2- Yemen's Ansarullah: UAE within Range of Our Missiles
3- Iranian Cleric: Weapons Killing Muslims in Gaza Murdering Myanmar Muslims as Well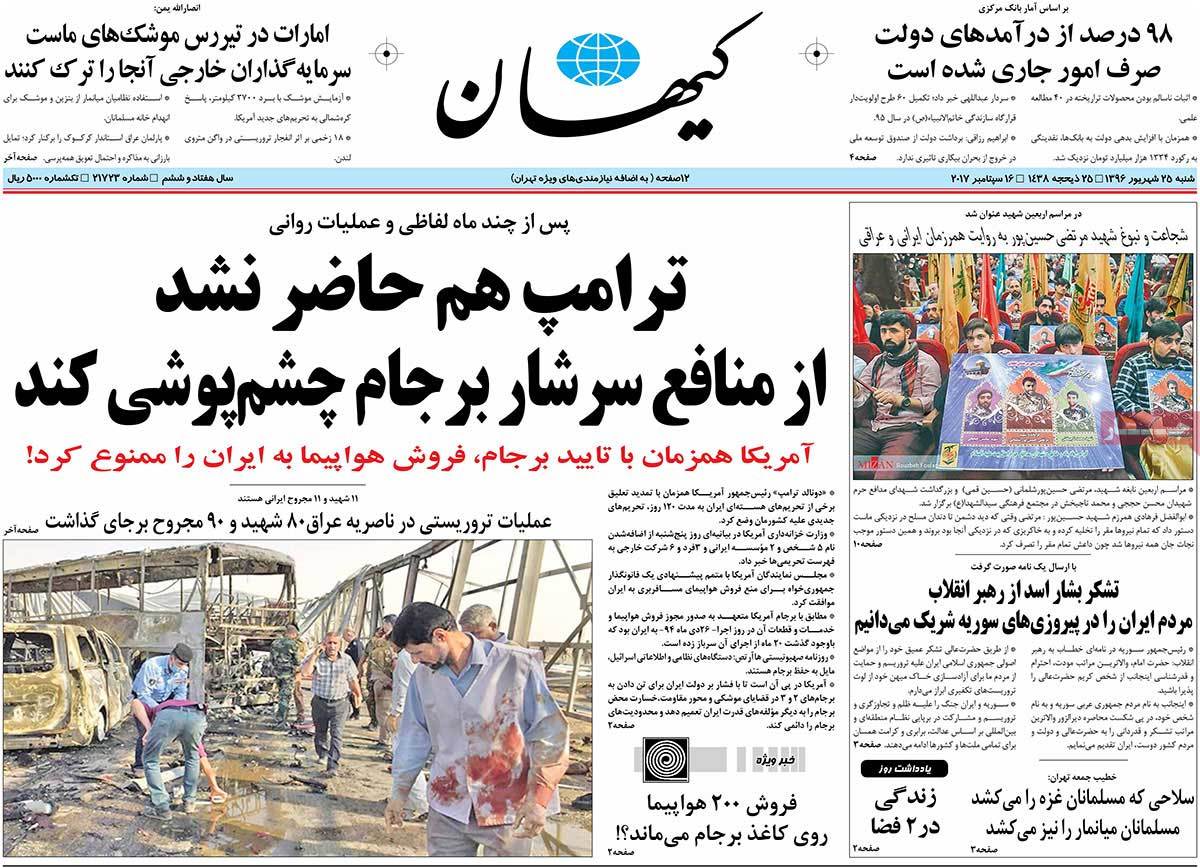 ---
Resalat:
1- 3 Members of Expediency Council: No Sign of Implementing Resistance Economy Policies
2- Iraqi Kurdistan Referendum a Zionist Plot: Iranian Cleric
3- North Korea Fires Missile at Japan