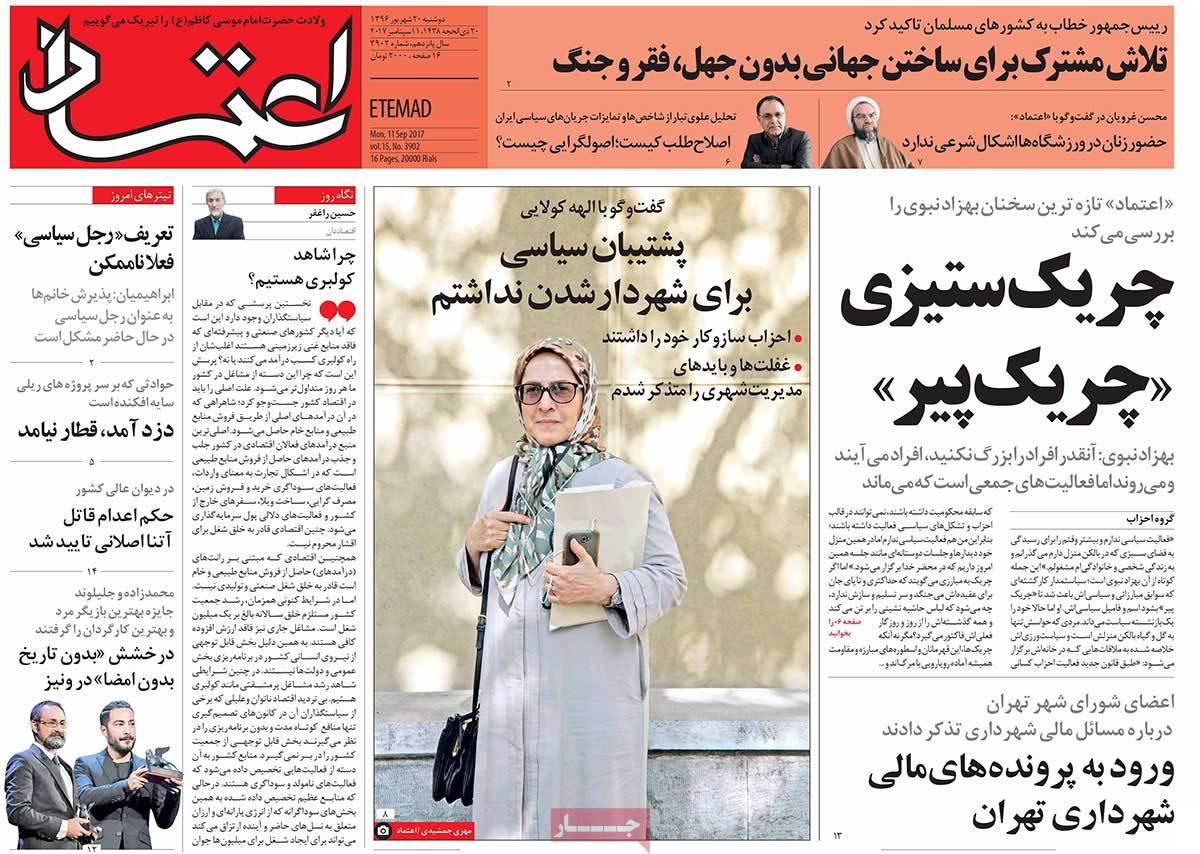 ---
On Monday, Iranian newspapers widely covered the holding of the first Organization of Islamic Cooperation (OIC) summit on science and technology in the Kazakh capital, Astana. They particularly highlighted the remarks made by Iranian President Hassan Rouhani in this conference and his Sunday meetings with the leaders of the Islamic states on the sidelines of the forum.
The issue of the implementation of the Joint Comprehensive Plan of Action (JCPOA) and the signatories', particularly the US', commitment or reluctance to carry on with the nuclear deal continued to be in the spotlight.
Also in the limelight, as has been the overall trend in the past few weeks, was the issue of the genocide of Rohingya Muslims in Myanmar and international reactions to the tragic event and humanitarian crises in the Southeast Asian state.
A number of newspapers have also paid attention on the awards won by the Iranian film titled 'No Date, No Signature' in the Horizons section of the 74th Venice Film Festival. The feature film received Horizons Awards for the best director, Vahid Jalilvand, and best actor, Navid Mohammadzadeh, during the closing ceremony of the event held on Saturday (September 9).
The above issues, as well as many more, are highlighted in the following headlines and top stories:
Abrar:
UN Secretary-General: North Korea Gravest Crisis in Recent Years
Ad-Diyar Newspaper: Lebanese President to Visit Tehran in October
Iran among Topics to Be Discussed in 2017 Arab League Summit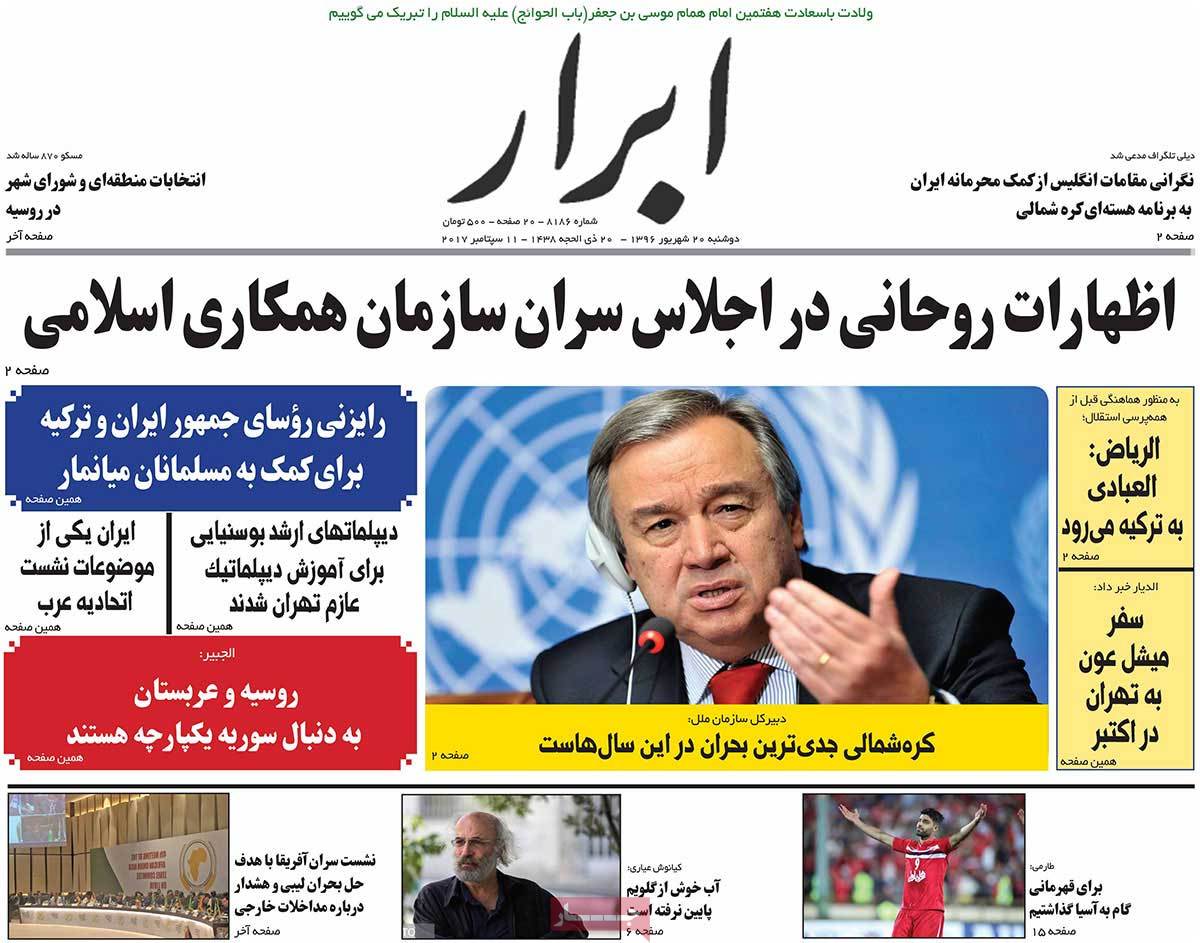 ---
Afkar:
Iran Leader's Aide: Zionists' Plot, Horrific Crime
Iranian Judiciary Official: US' Absence Would Make JCPOA Meaningless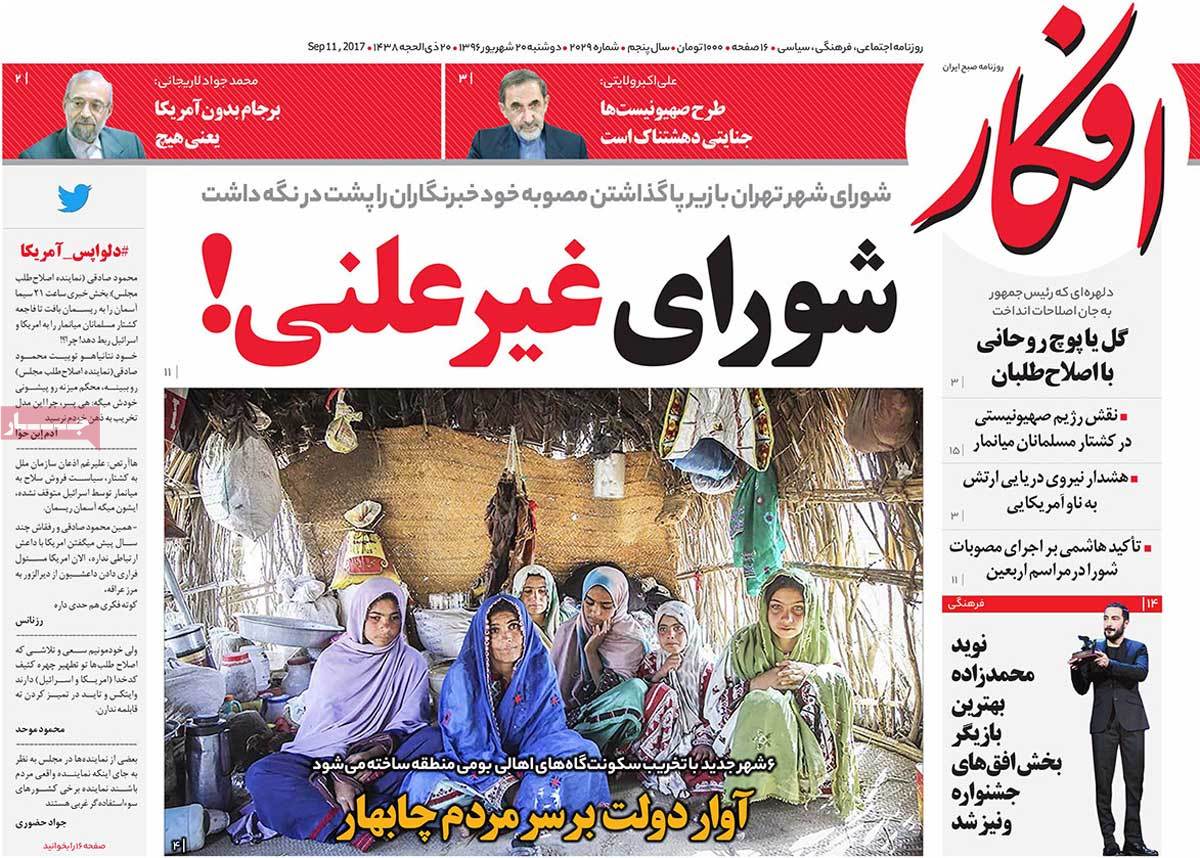 ---
Aftab-e Yazd:
Education Minister: 10% of People Illiterate in Iran, It's Shameful
Lavrov: Russia, Saudi Arabia Maintaining Paradoxical Attitudes
Iranian Reformist Politician: JCPOA Nothing Per Se, Solely Road to Development
Russia to Cooperate in Electrification of Iran's Railway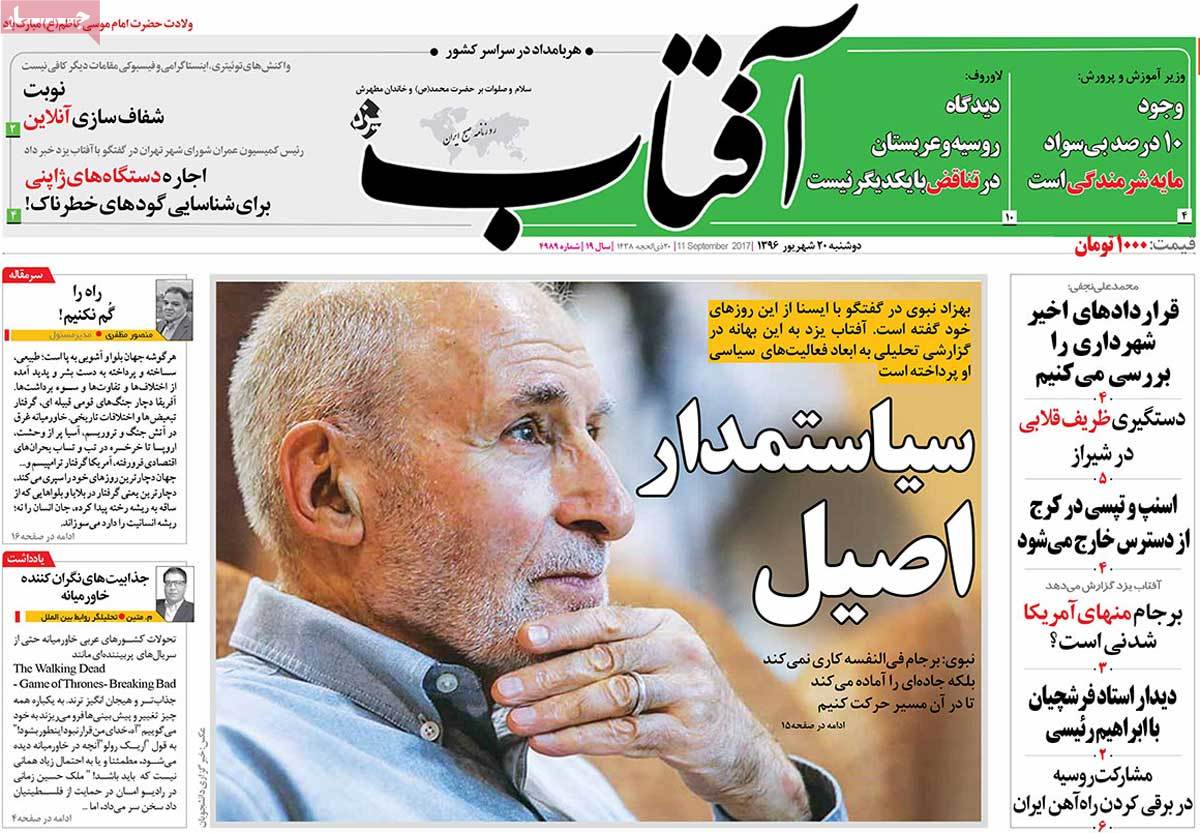 ---
Arman-e Emrooz:
Tehran City Council to Address Issue of Municipality's Heavy Spending in Iraq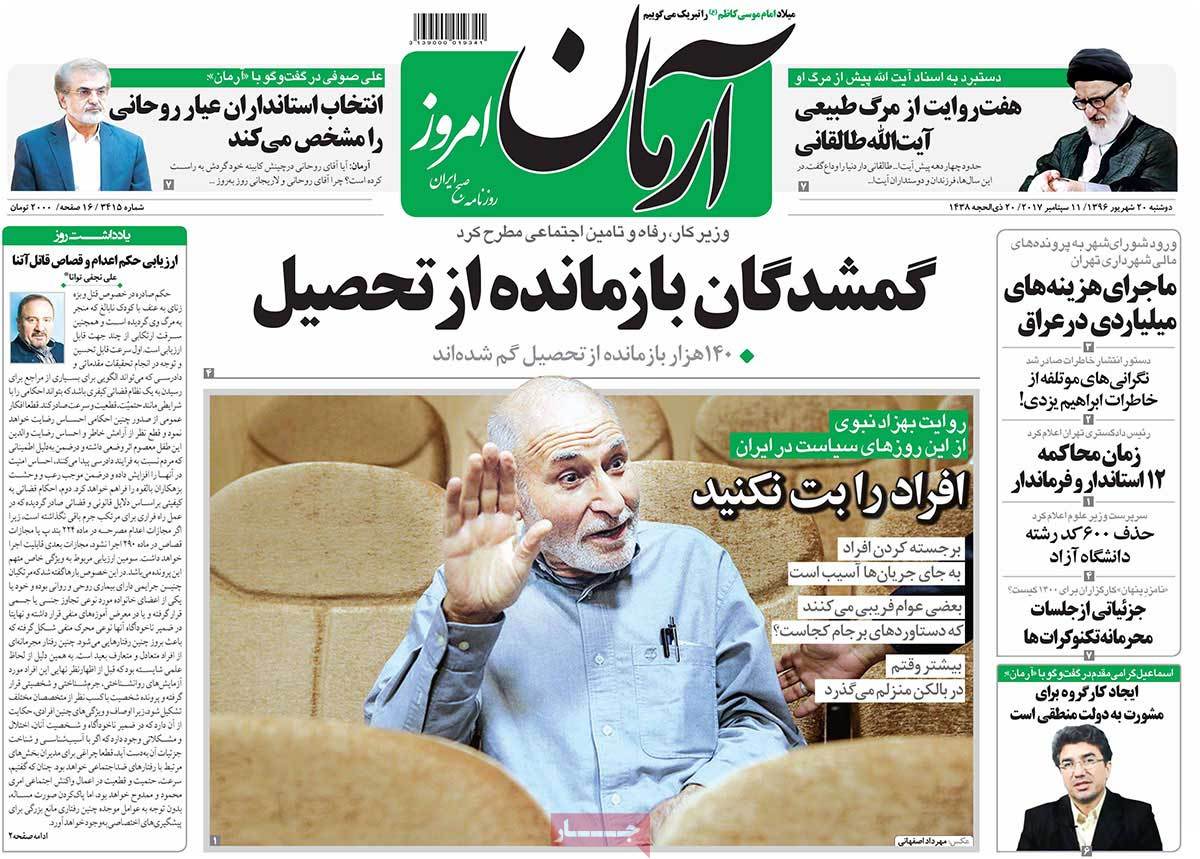 ---
Asrar:
Rouhani to OIC Summit: Promoting Hope, Construction to Dry Up Roots of Inclination for Extremism, Terrorism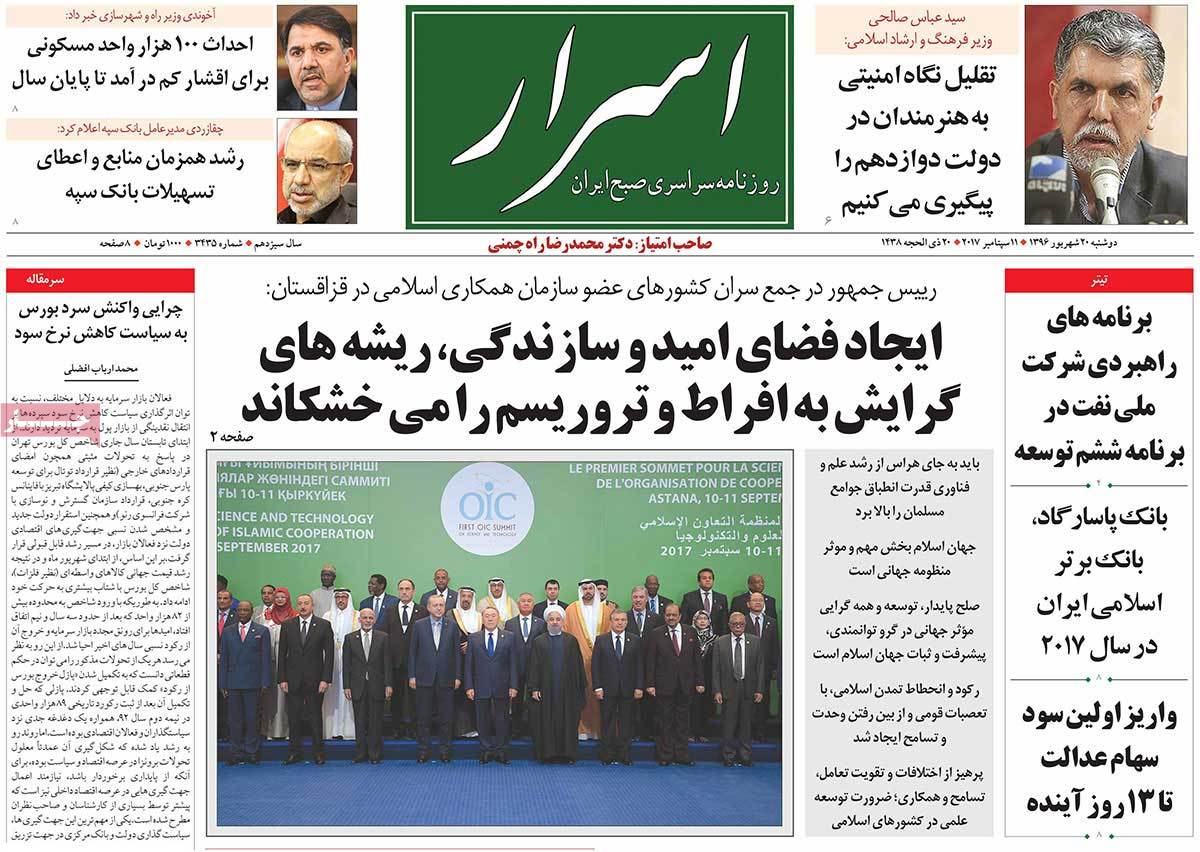 ---
Ebtekar
Rouhani to OIC Summit: Muslims' Lassitude Main Cause of Islamic World's Underdevelopment
---
Etemad:
Guardian Council Member: Iranian Women Currently Cannot Become Man of Politics (to be elected as president)
'No Date, No Signature' Shines at Venice Film Festival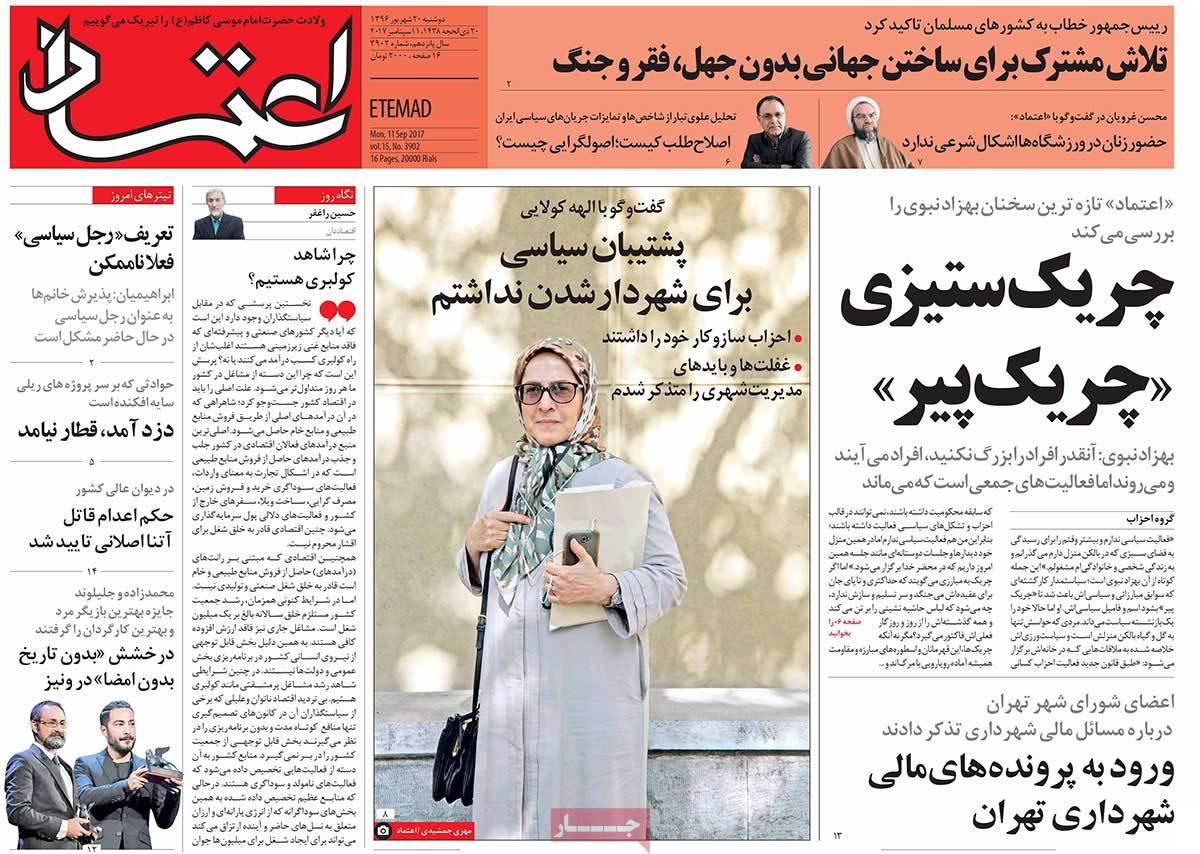 ---
Ettela'at:
Rouhani Invites OIC Heads to Making Joint Efforts to Build World Free of War, Poverty, Ignorance
Iran to Send Human into Space in Eight Years' Time
Myanmar Army Sets Four Other Muslim Villages in Rohingya on Fire
---
Iran:
Rouhani Invites OIC Heads to Practicing Islamic Moderation
German Ambassador to Iran: Berlin Insisting Upon Full Implementation of JCPOA
---
Javan:
Reverse Filtering Started by App Store, Google Play Can Lead to Closure of IP Addresses, Internet Domains in Iran
'No Date, No Signature': Extreme Realism Helps Iran's Cinema Win International Awards Again
Tehran-Based University Students Object to Genocide in Myanmar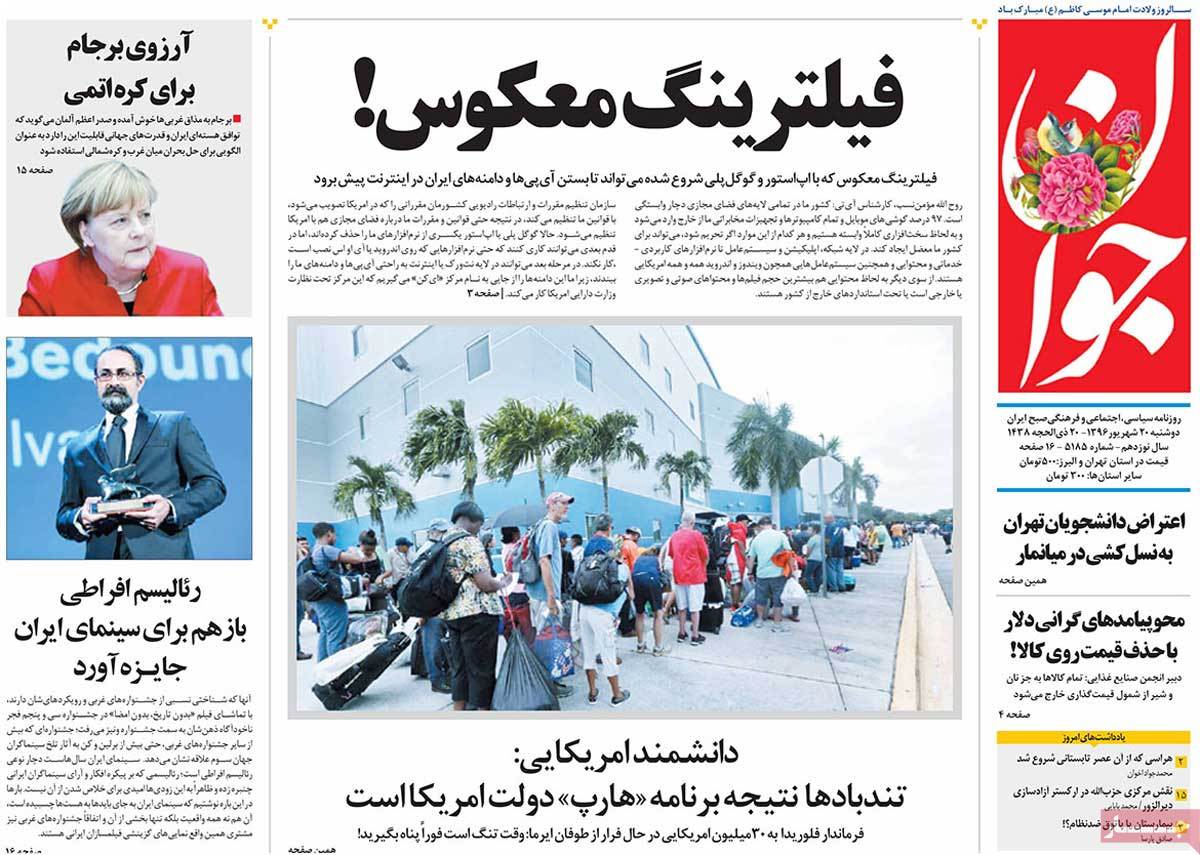 ---
Jomhouri Eslami:
OIC Heads Call for Ending Violence in Myanmar
Iraqi Turkmen Political Parties Urge Boycott of Kurdistan Region Poll
---
Kayhan:
North Korean Leader Urges Increase of National Nuclear Capabilities
Unemployment Rate Higher than National Average in 42% of Iranian Counties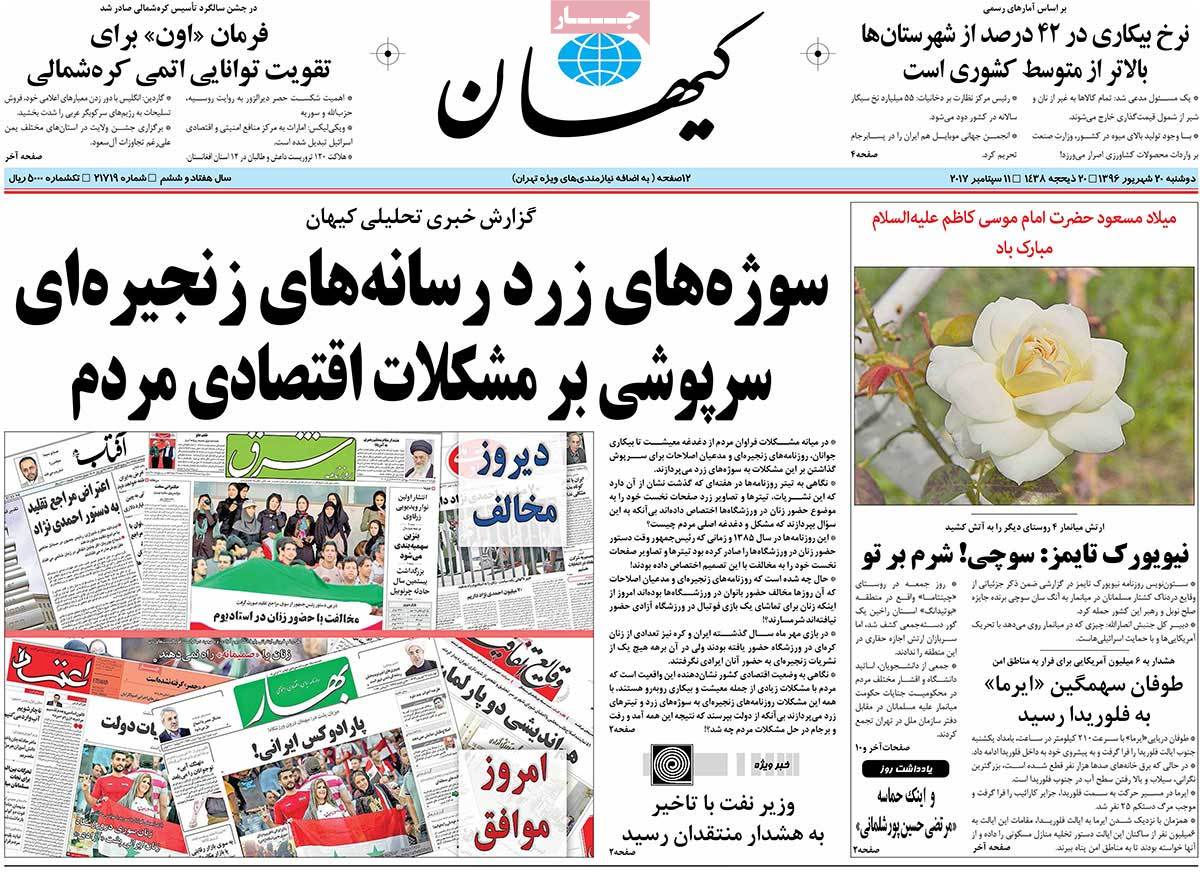 ---
Resalat:
Rouhani: Any Changes in Boundaries Tantamount to Creating Serious Tensions
Guardian Council Member: Iran Ready for Ultimate Condition, US Should Know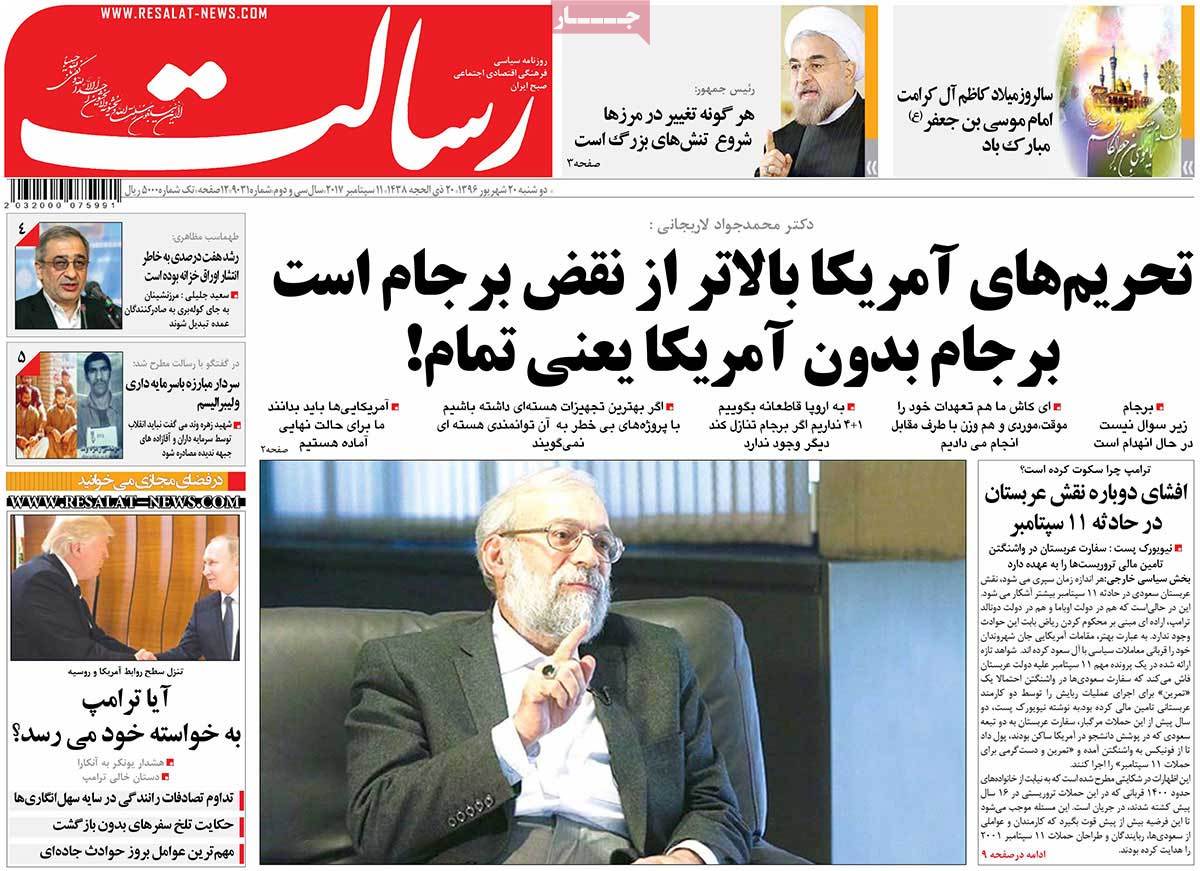 ---
Shahrvand:
Rouhani to Kazakh Counterpart: Whole Region Facing Terrorism Threat
---
Shargh:
Iran FM: Hazardous Situation Awaiting World
Iranian Politician: Growth of Fake Reformism Worrisome
Rohingya's Holocaust [Editorial]
Saudi Arabia's Involvement in 9/11 Attacks Becomes More Probable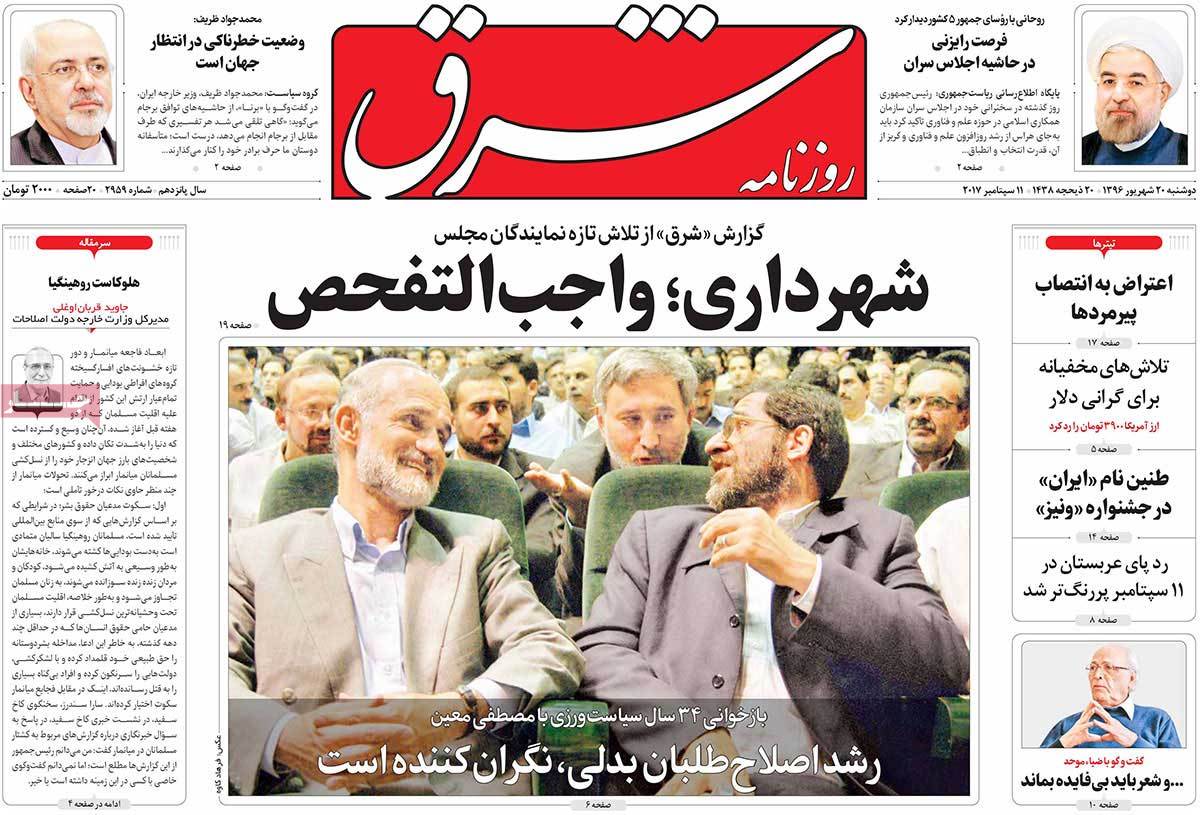 ---
Sobh-e Now:
Looting Hurricane; Irma Paralyzes US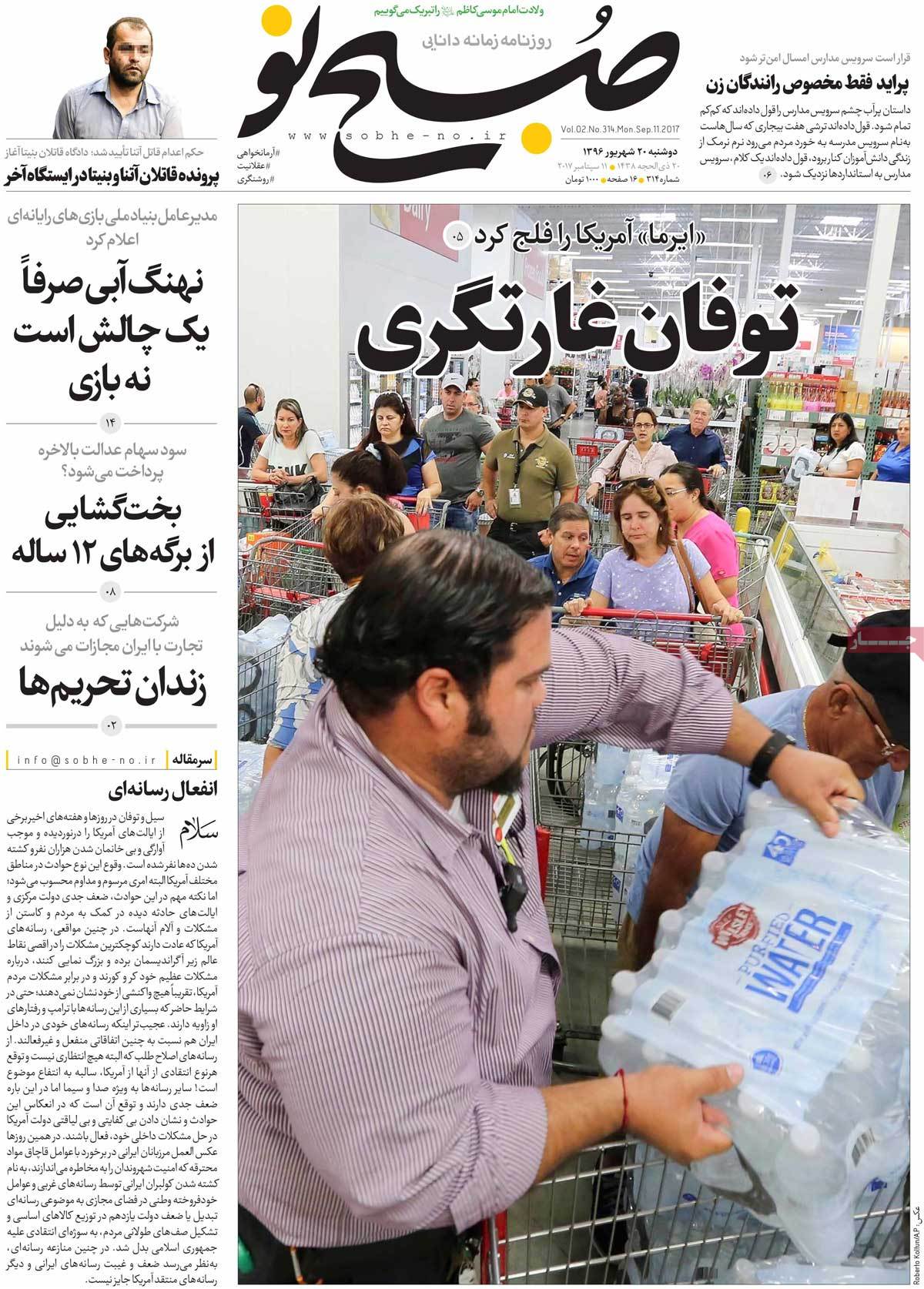 ---
Vaghaye Ettefaghiyeh:
Rouhani Performs Maneuver of Solidarity in Astana
Middle East Expert: Peace Talks Outcome of Trump's Family Trade Ties
---
Vatan-e Emrooz:
Crime Nobel: International Community Viewing Nobel Peace Prize Holder Suu Kyi as Accomplice in Genocide of Muslims in Myanmar
Western Embargoes Include Mobile Phones: Global Mobile Association Boycotts Iran in Weird Move