The majority of newspapers on Sunday covered the recent scandal involving US presidential candidate Donald Trump. The headlines used by Iranian papers will be analysed in a separate report.
US Department of Treasury's decision to lift the ban on having dollar transactions with Iran was also a top story in many newspapers today.
The ongoing war of words between US and Russia, and also the Iranian reformists' support for President Hassan Rouhani in upcoming elections also received great coverage.
The above issues, as well as many more, are highlighted in the following headlines:
Abrar:
1- Syrian Opposition Figures Call for Dismissal of De Mistura
2- Iranian Army's Air Force Capable of Overhauling Mirage Fighter Jets' Oxygen System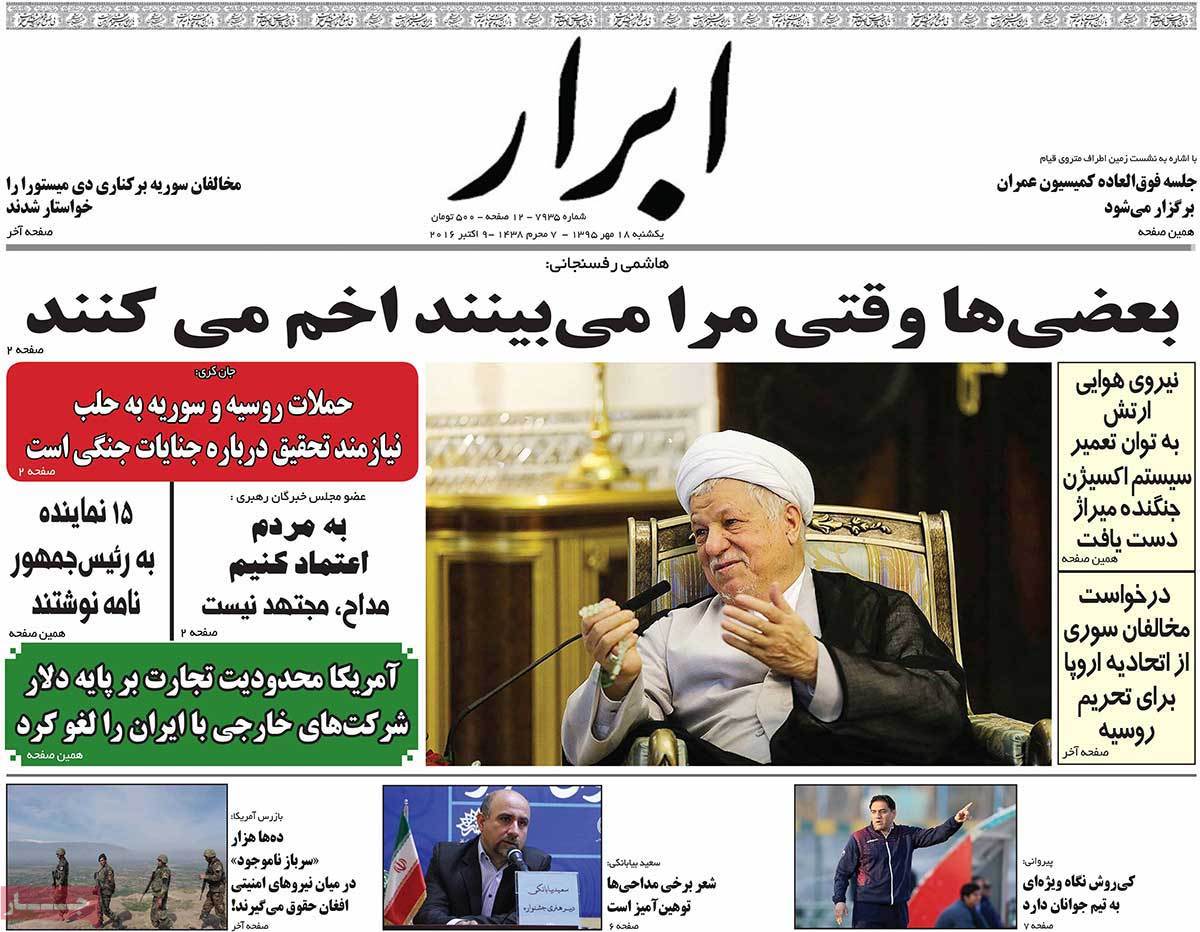 ---
Afkar:
1- Rouhani: Muslim World Needs Unity and Security
2- Terrorist Blast Hits Baghdad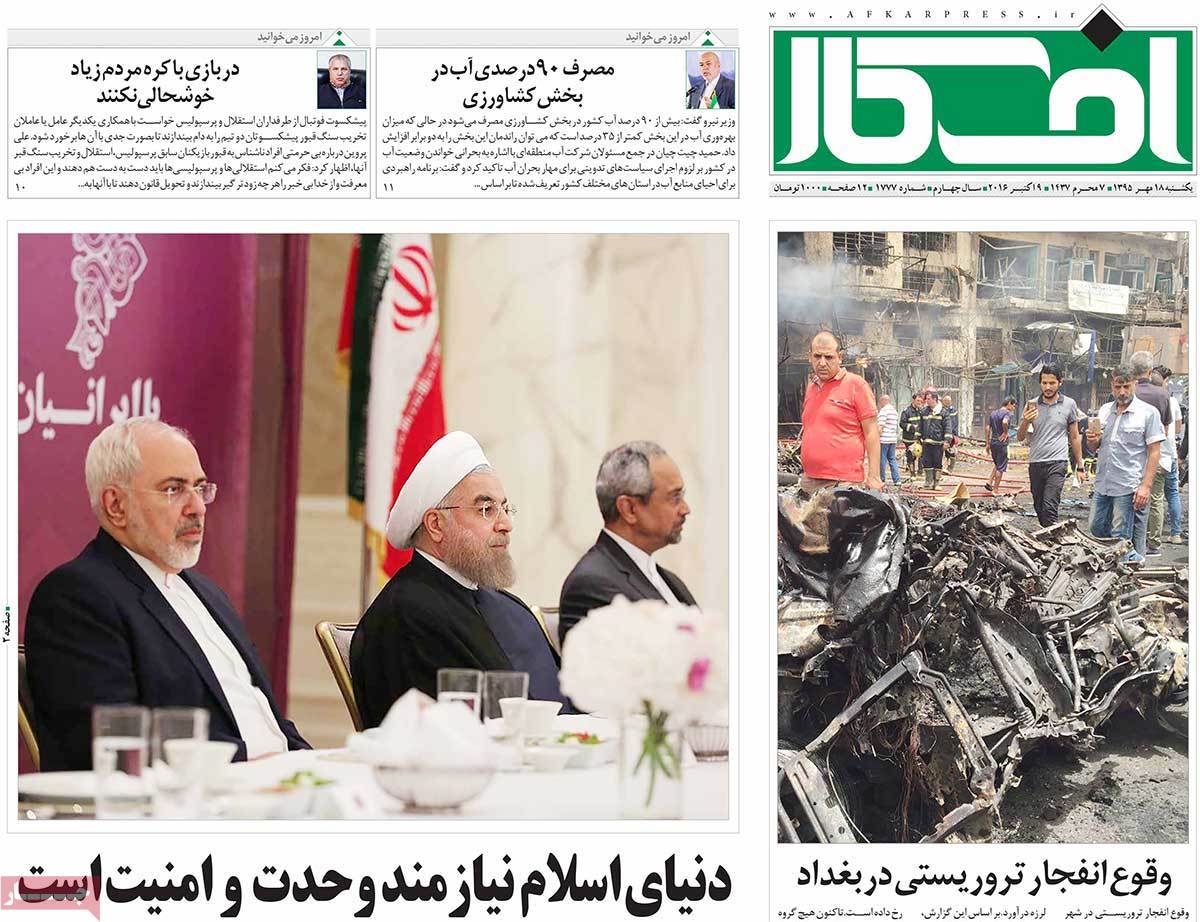 ---
Aftab-e Yazd:
1- Reformists' Strong Support for Hassan Rouhani
2- Trump's Scandal: GOP Candidate Apologizes after Release of Vulgar Video
3- Trump's Disability against the Power of Media [Editorial]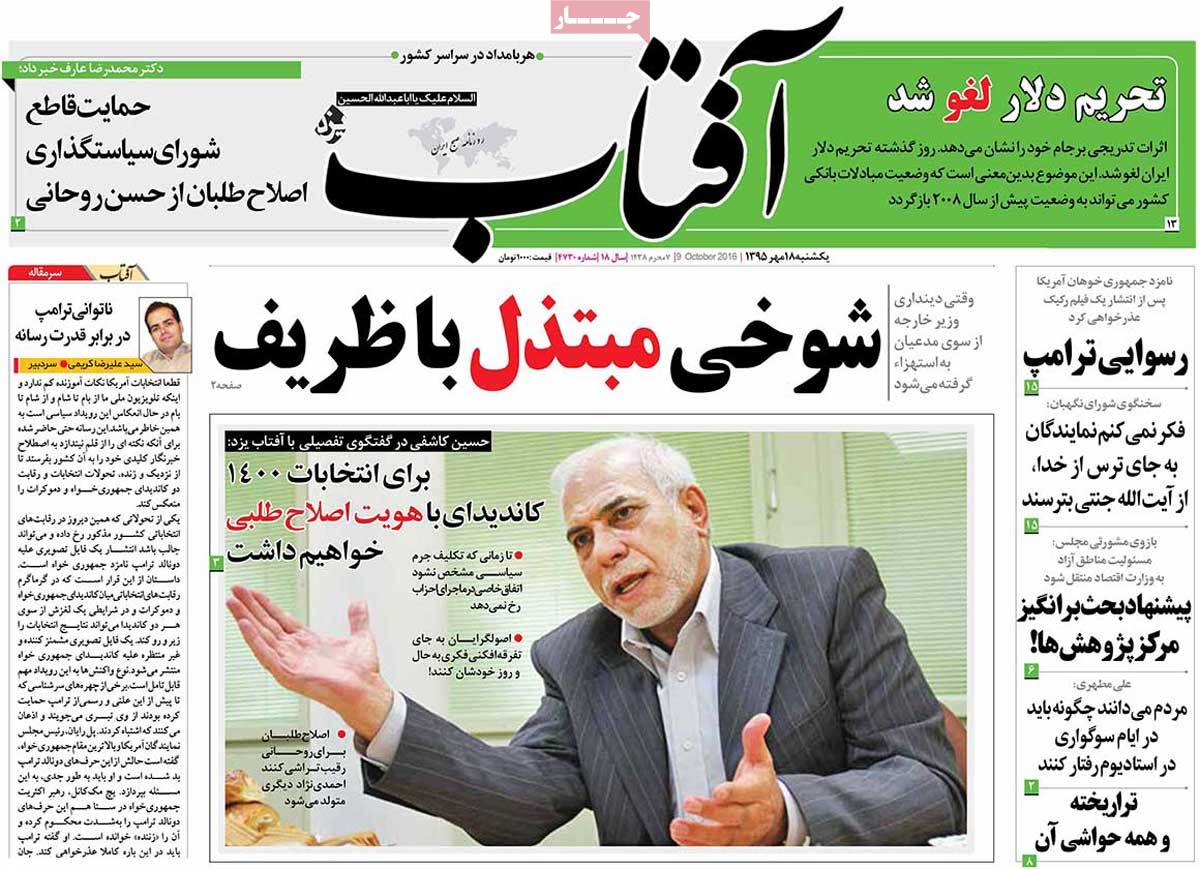 ---
Arman-e Emrooz:
1- Rouhani Urges Zarif to Tolerate the Sarcastic Remarks
2- Iran Can Now Have Dollar Transactions with Other Countries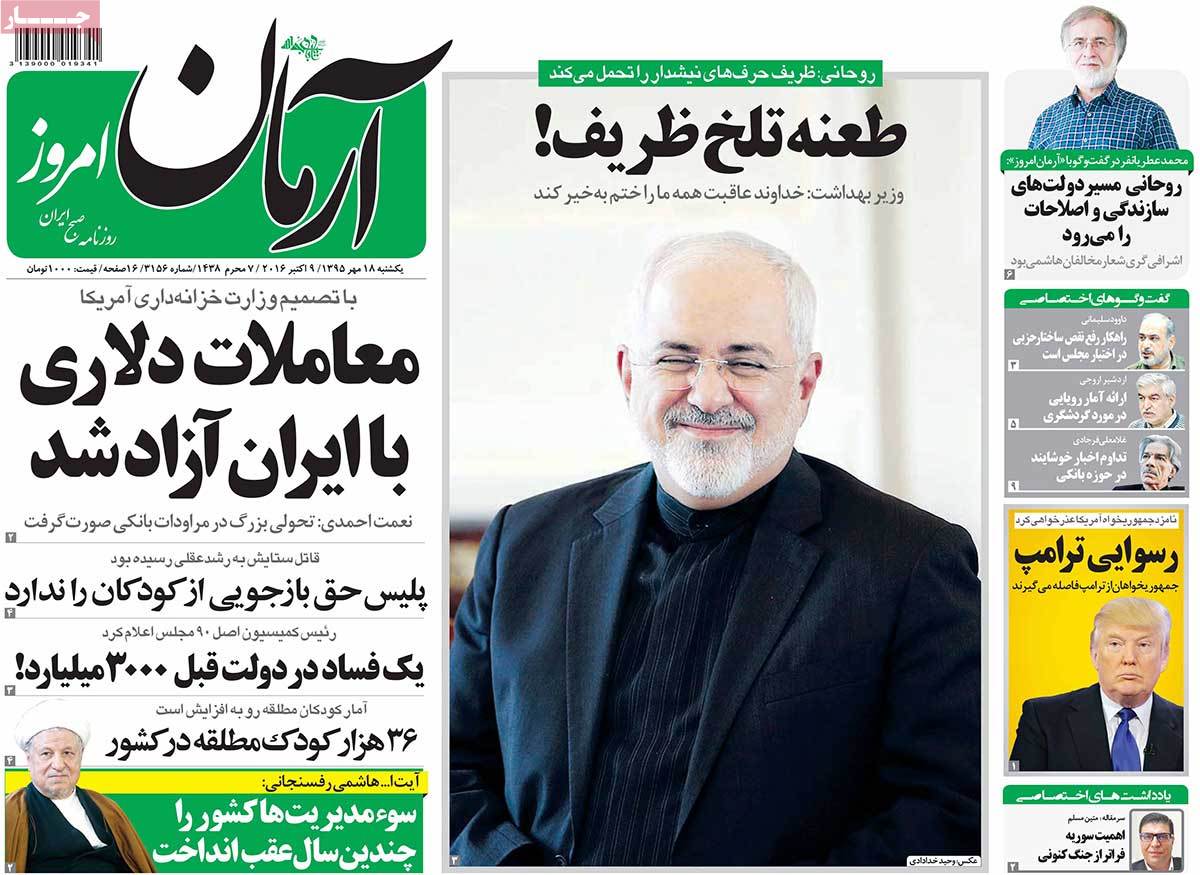 ---
Asr-e Azadi:
1- Water Crisis Is Serious in Iran: Power Minister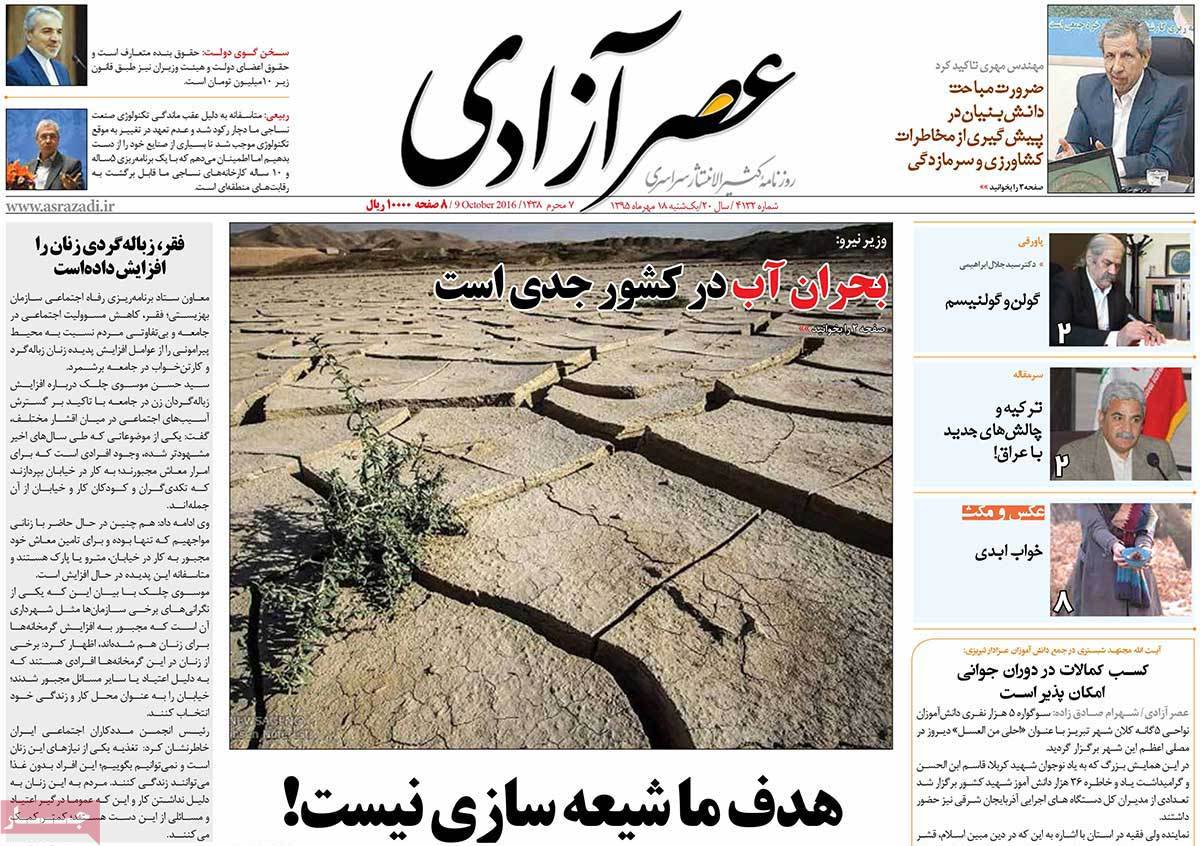 ---
Asr-e Rasaneh:
1- 40 Companies Enter Iran's Tourism Market
2- Renault to Make $400m Direct Investment in Iran
---
Asrar:
1- Guardian Council Spokesman: We're Not Willing to Disqualify Even One Candidate
2- Iran and Europe to Start Human Rights Talks Soon
3- Obama Casts His Early Vote
4- Rouhani Is the Final Candidate of Reformists: Aref
5- Rouhani: We Will Overcome Problems through Culture of Ashura
6- Economy Minister: West Should Stick to Its Banking Commitments towards Iran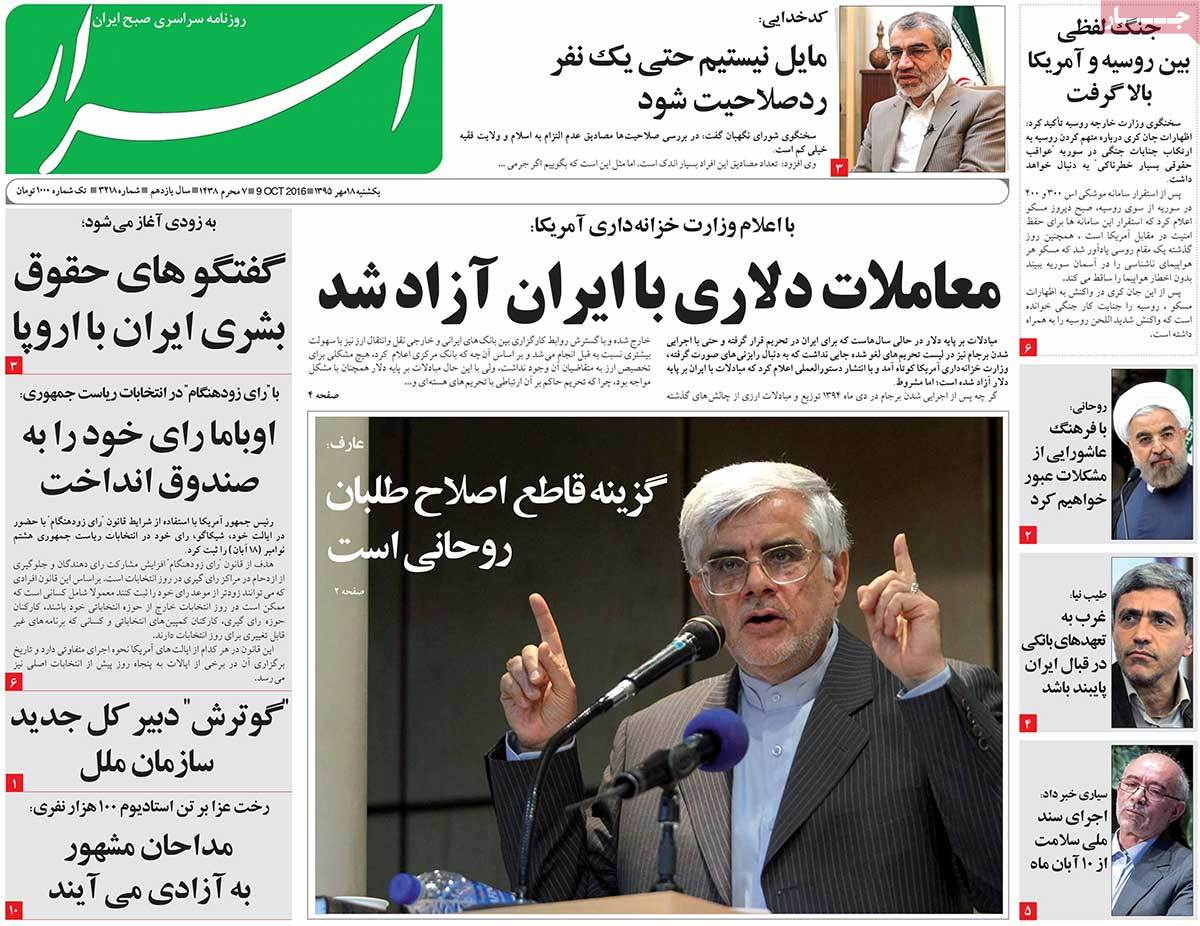 ---
Besharat-e Now:
1- End of Trump? Worst Electoral Crisis for Trump Because of His Insulting Remarks about Women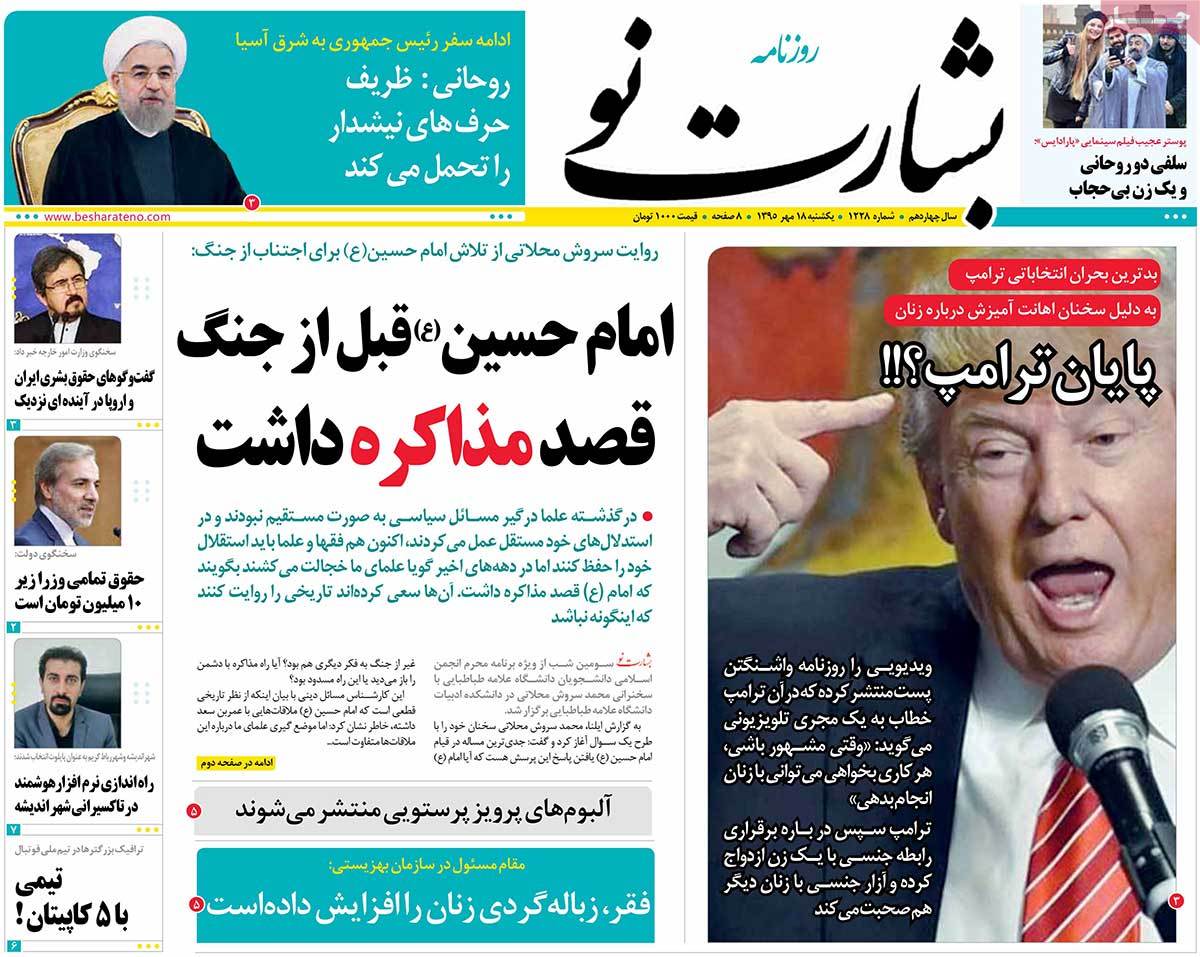 ---
Ebtekar:
1- US Finally Backs Off: US Department of Treasury Lifts Ban on Dollar Transactions with Iran
2- US Treasury's Directive Removes the USA's Most Basic Unilateral Sanction against Iran
3- Permanent Presence in Syria, Kremlin's Message to US
4- What's the Purpose behind Russia's Deployment of Forces in Syria?
5- New Trouble for Trump in US Presidential Elections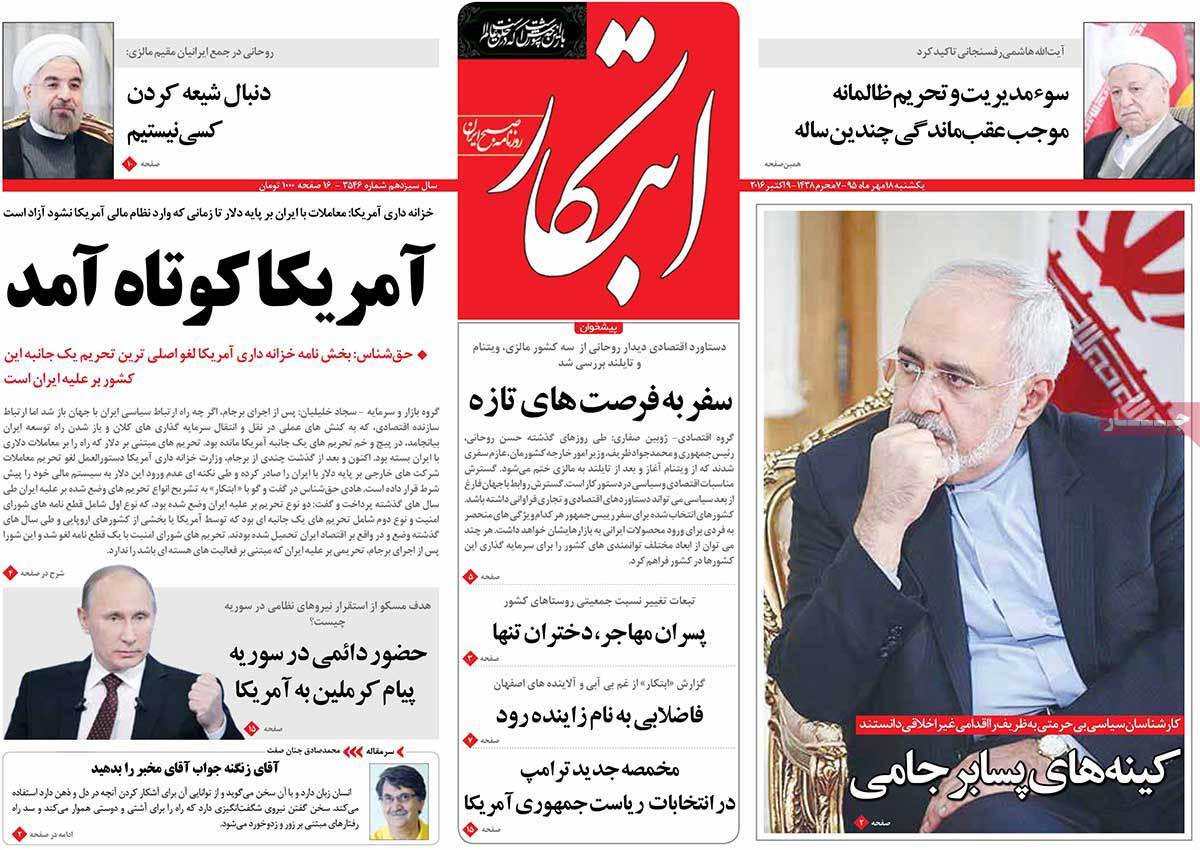 ---
Etemad:
1- Trump's Scandal: Release of Trump's Remarks about Women Hits US Like an Earthquake and Leads to His Apology
2- Deal with Iran in US Dollars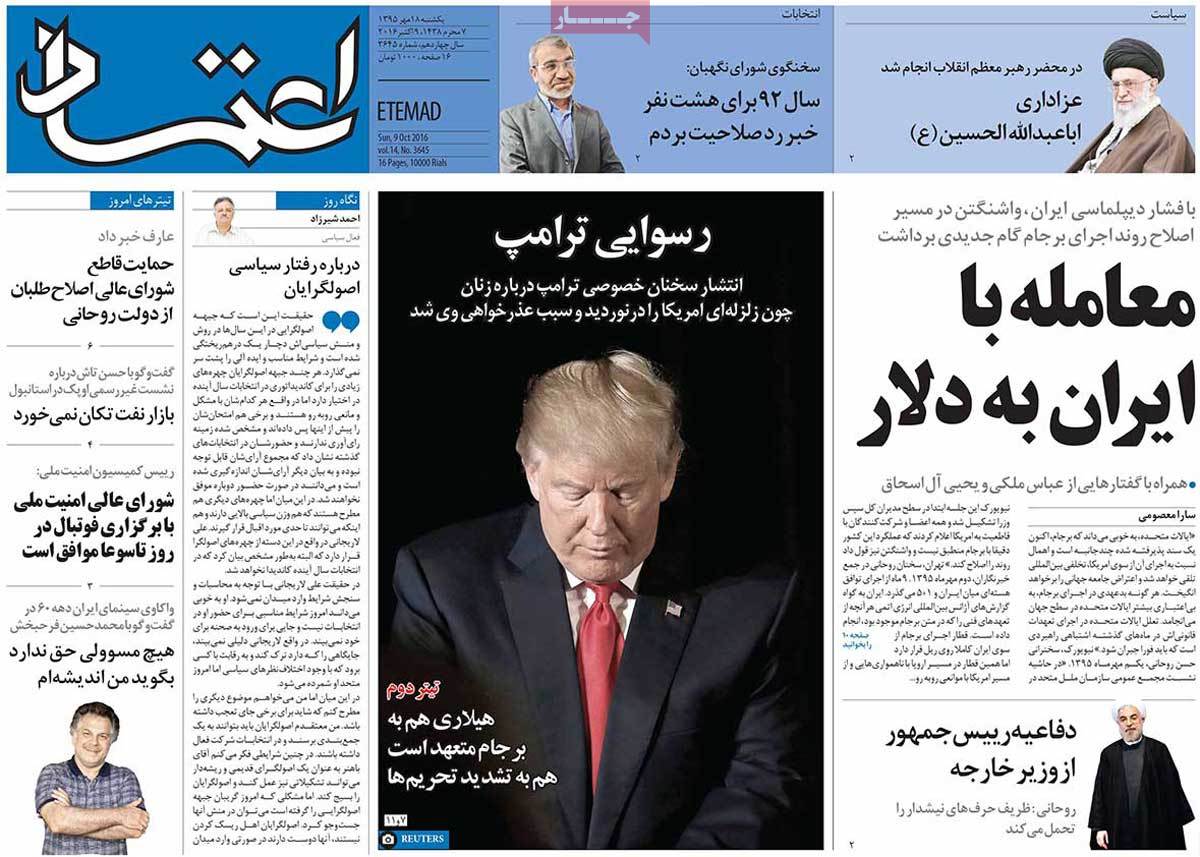 ---
Ettela'at:
1- We Would Like to Counter the World's Anti-Iran Illusions through Logic and Ethics
2- 160 Killed in the Day of Al Saud's madness.
---
Haft-e Sobh:
1- A Dangerous Weapon Named Washington Post: How a Website Close to Democrats Revealed Documents against Trump and Changed Fate of Elections?
2- The Lock on US Dollar Opened: US Treasury's New Update Lets Other Countries Have Dollar Transactions with Iran
3- One-Fourth of World's Car Market in Hands of Chinese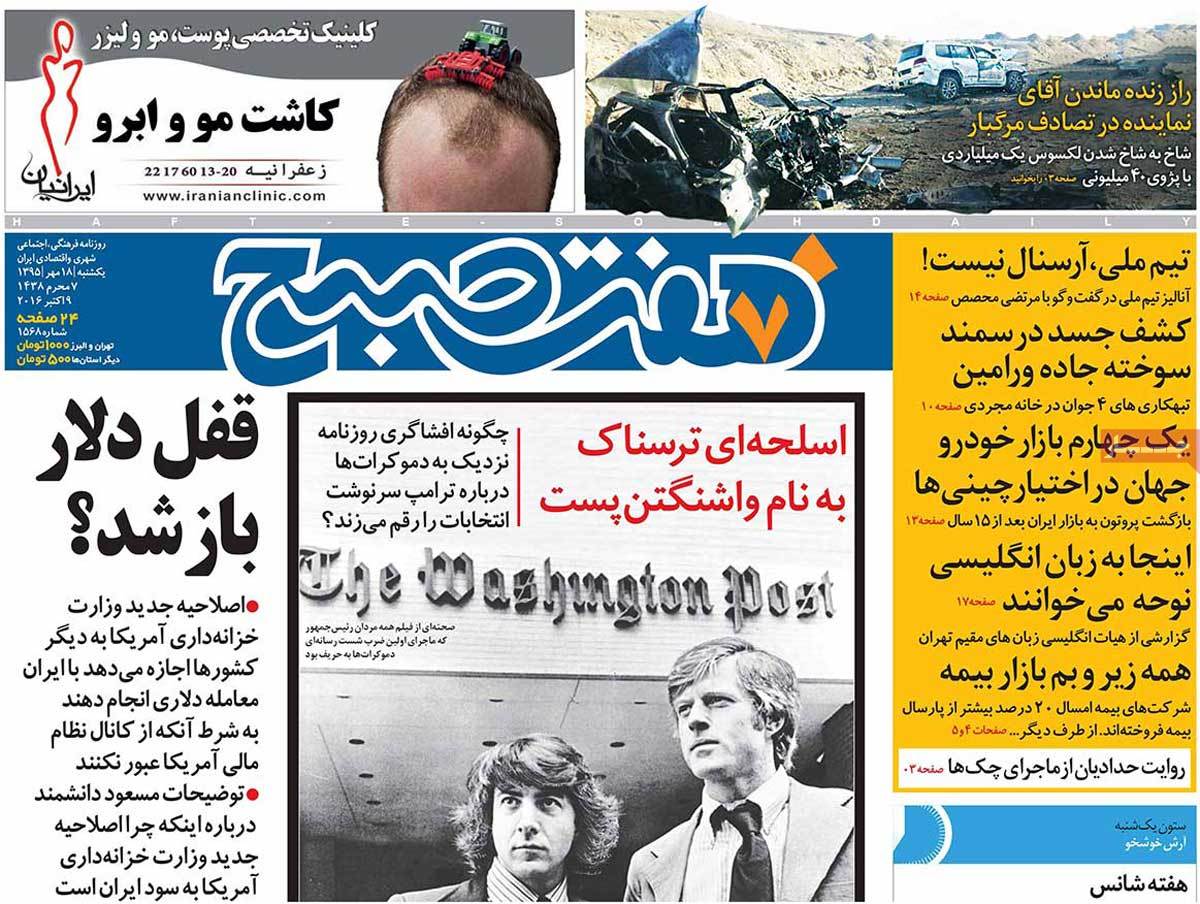 ---
Hemayat:
1- Iran Spends $200m per Year for Fighting Drug Trafficking: Official
2- President: If It Wasn't for Iran's Help, ISIS Would Have Created a Great State
3- Economy Minister: US Is Main Barrier to JCPOA Implementation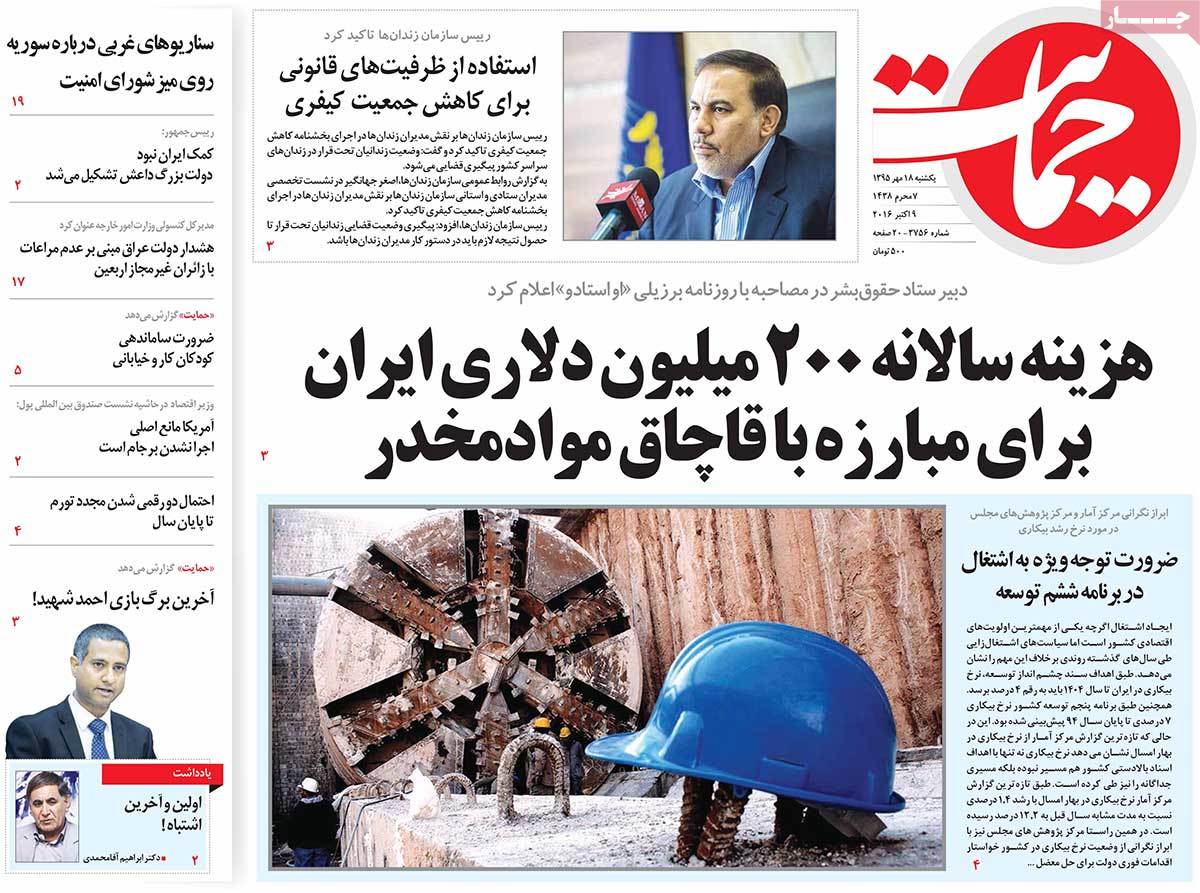 ---
Iran:
1- Non-Americans Can Do Dollar Transactions with Iran
2- Trump in Trouble after Leakage of 90-Second Audio File: Radical Candidate's Apology for His Insult to Women Was Not Useful
3- Oil Ministry: Oil Price Not to Be Raised This Year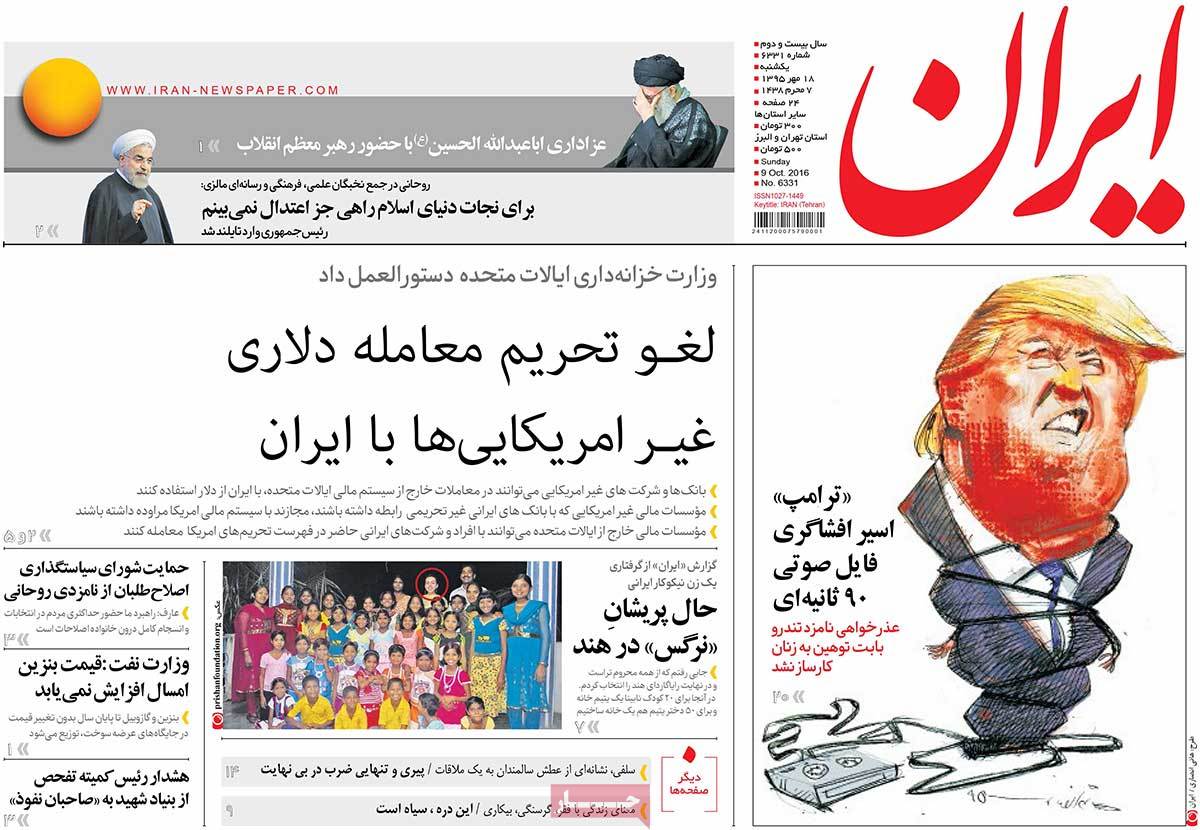 ---
Jame Jam:
1- Secret Purposes behind TV Channels that Propagate British Shiism
2- Iran's Supreme National Security Council Agrees to Iran-South Korea FIFA WCQ Match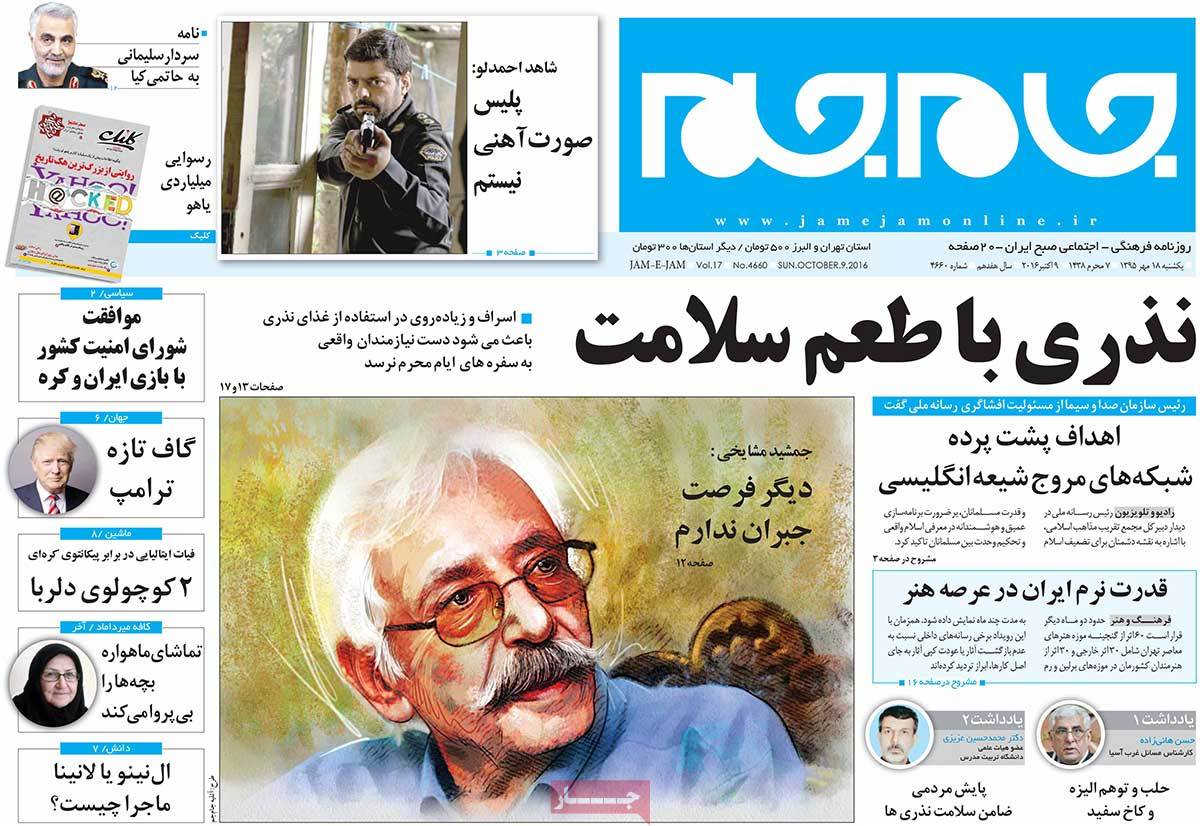 ---
Javan:
1- Saudi Arabia's Madness Leaves 700 Yemenis Killed and Wounded: More than 160 Killed and 550 Wounded in Saudi Airstrike on Funeral Ceremony
2- Death of Ethics ahead of US Elections
3- Washington's Conditional Removal of Dollar Ban Seven Months before Iran Election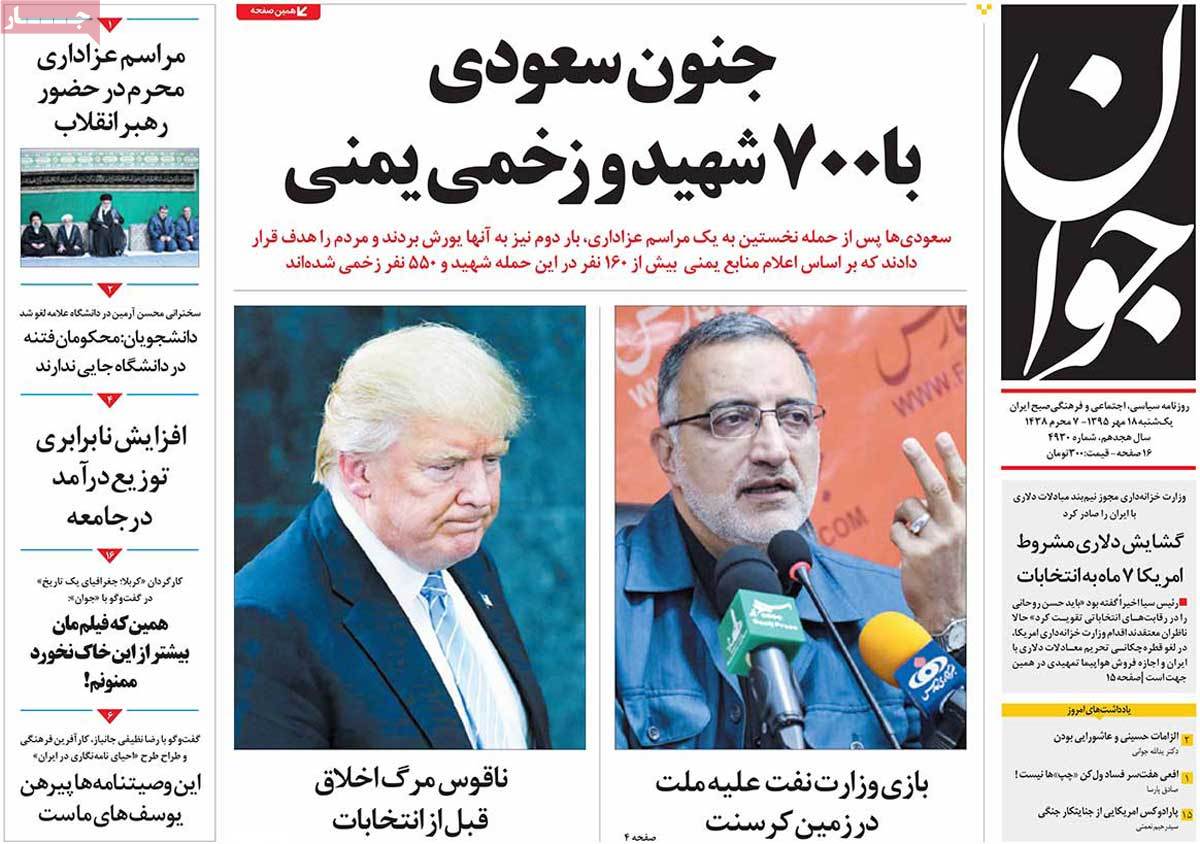 ---
Jomhouri Eslami:
1- Iranian Companies and Banks Can Have International Transactions
2- Saudi Arabia's $99m Bribe to Erdogan: Zaman Revealed Erdogan Has Received Huge Money for Coordination with Riyadh on Syria
3- WikiLeaks: US Had Planned for Overthrow of Syrian Government 10 Years Ago
4- Canadian PM Says Severance of Ties with Iran Was a Mistake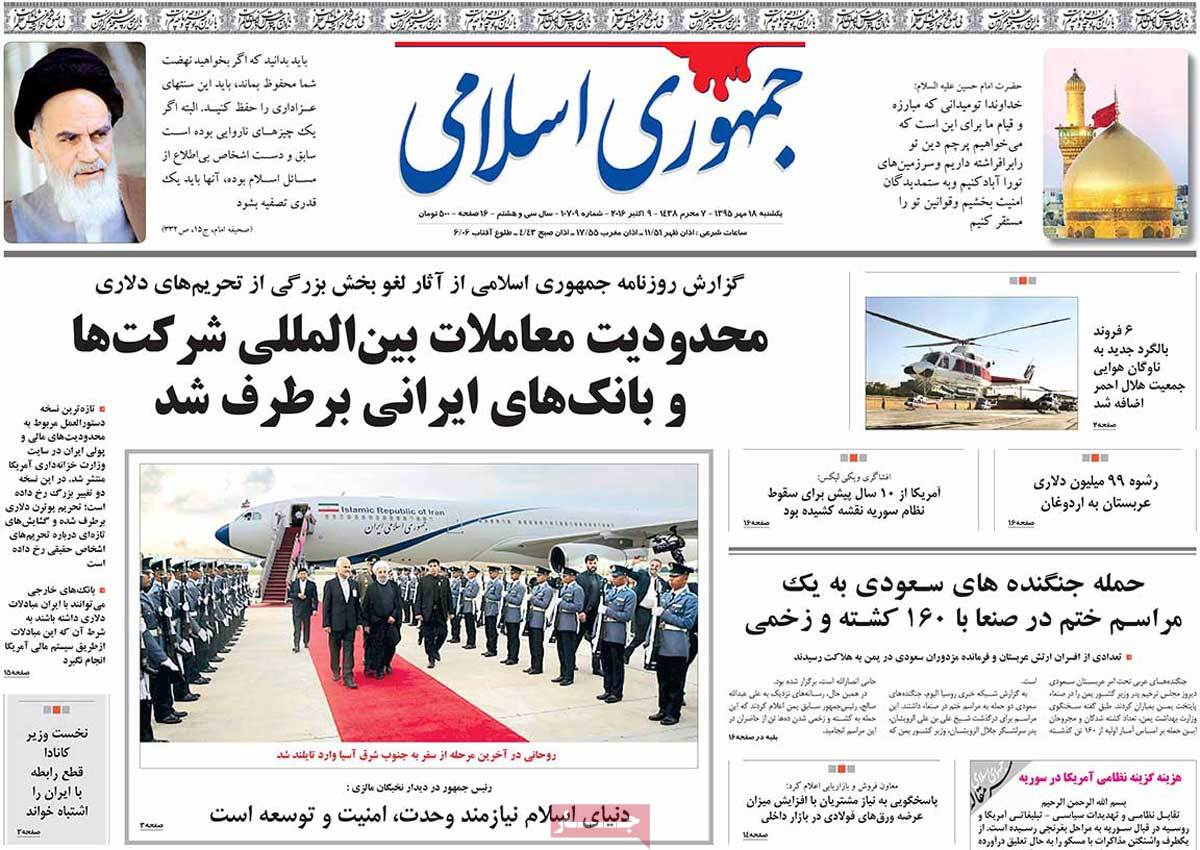 ---
Ka'enat:
1- Billions of Foreign Investment Arrives in Iran: Int'l Companies Queue Up for Partnership in Iran's Imam Khomeini Airport
---
Kayhan:
1- Rouhani's Gov't Created Job Opportunities, But for Foreigners!
2- Economy Minister: Foreign Banks Don't Cooperate with Iran
3- Moscow: We've Deployed S-300 in Syria to Counter US
4- Storm in Haiti Kills 900 and Leads to Blackout in 1m US Houses
5- Al Saud's Blood Bath in Sana'a: 300 Killed and 400 Wounded in Airstrike on Mourning Ceremony
---
Khorasan:
1- Trump on Verge of Collapse: Worst Crisis for GOP Candidate
2- Rafsanjani: I Have No Personal Property in Tehran, and I Live in a Rented House
3- Saudi Arabia's Horrible Crime in Yemen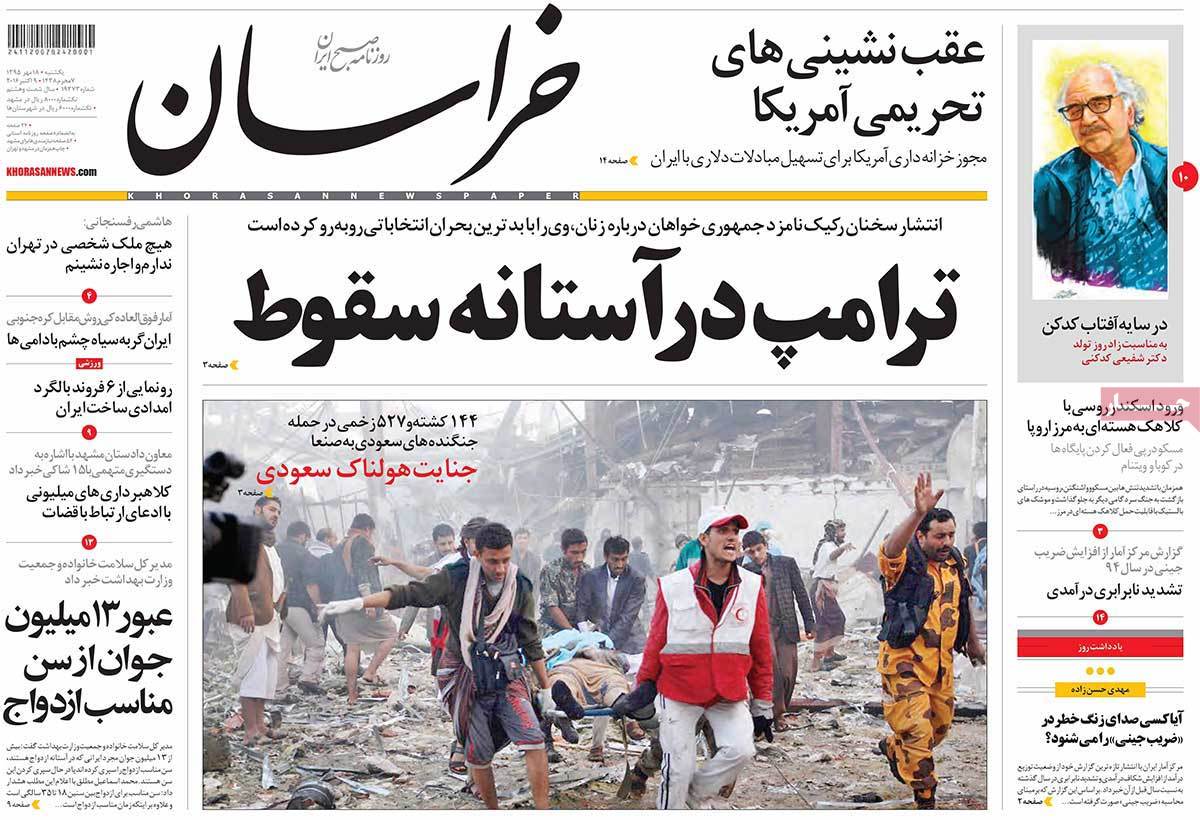 ---
Mardom Salari:
1- Trump's Ethical Chaos: GOP Candidate's Vulgar Remarks Sparks Controversy
2- Siamand Rahman, Iranian Paralympic Champion, Nominated for Best Male Athlete of September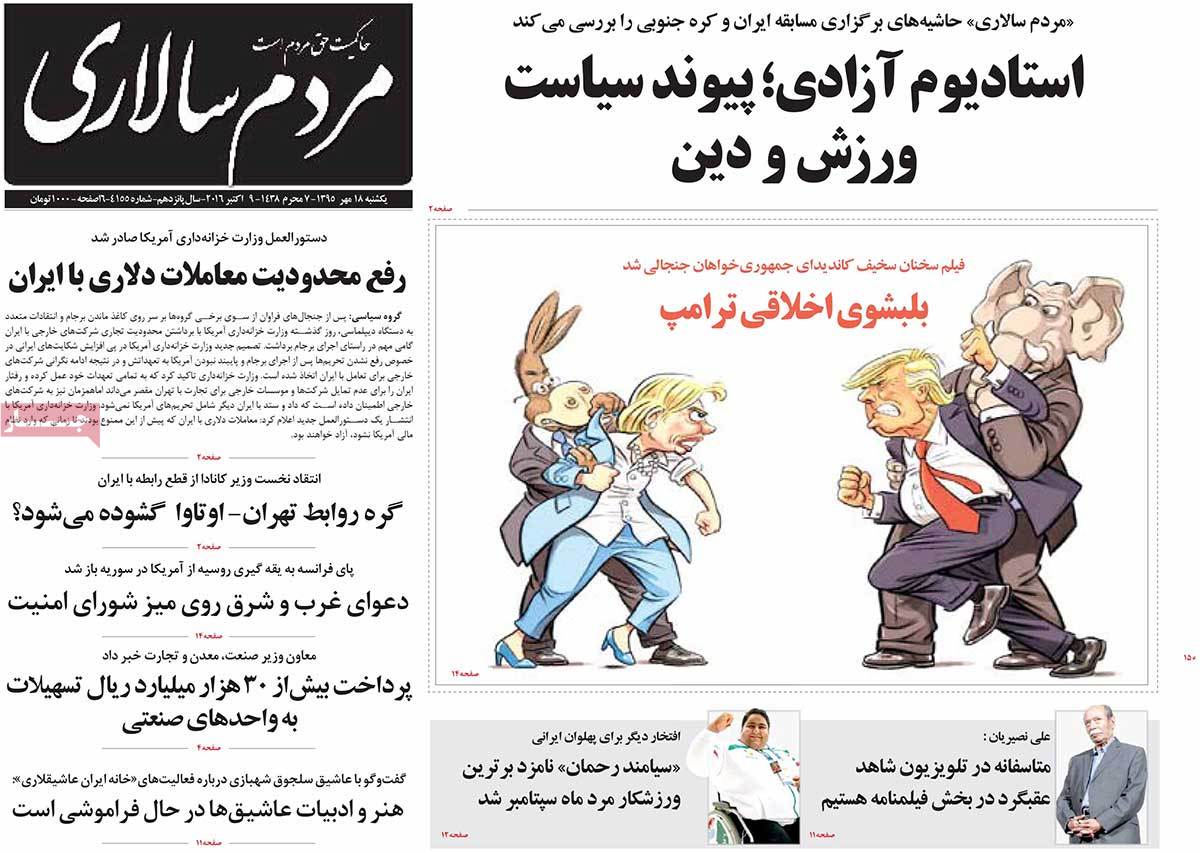 ---
Resalat:
1- IRGC Navy Commander: US Has No Right to Interfere in West Asia Affairs
2- West Is in Dire Conditions in Syria: Washington and Paris' Efforts to Save Terrorists
3- Russia: We'll Veto France's Proposed Resolution; We'll Respond to Any Attack on Syria with S400
4- New Scandal in GOP Camp: Elections Combined with Sexual Components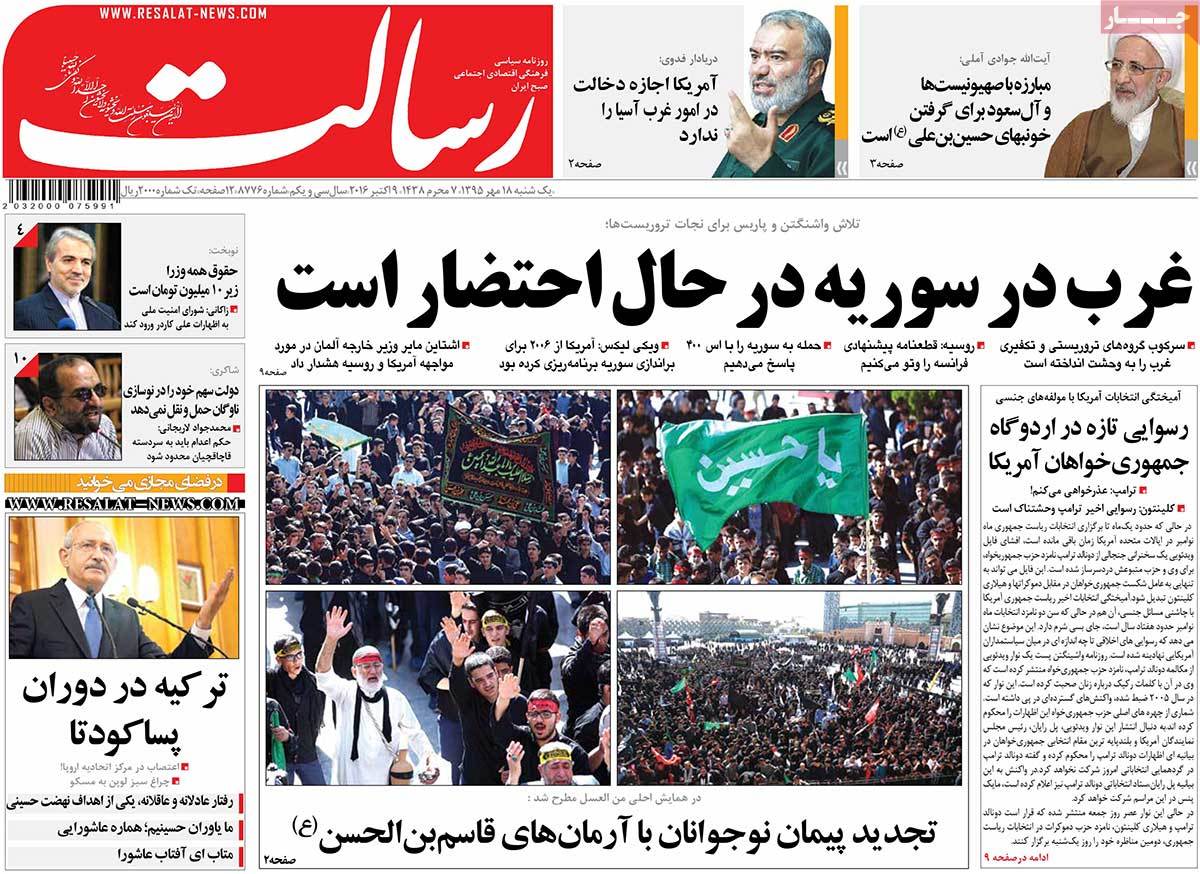 ---
Roozan:
1- Deadly Media Attack on Trump
2- FIFA Executives Ridicule Iran: Cleric [on Tehran's request for a change in Iran-South Korea FIFA WCQ match due to be held on Tuesday, on the night when Iranians mourn for Imam Hussein's martyrdom anniversary]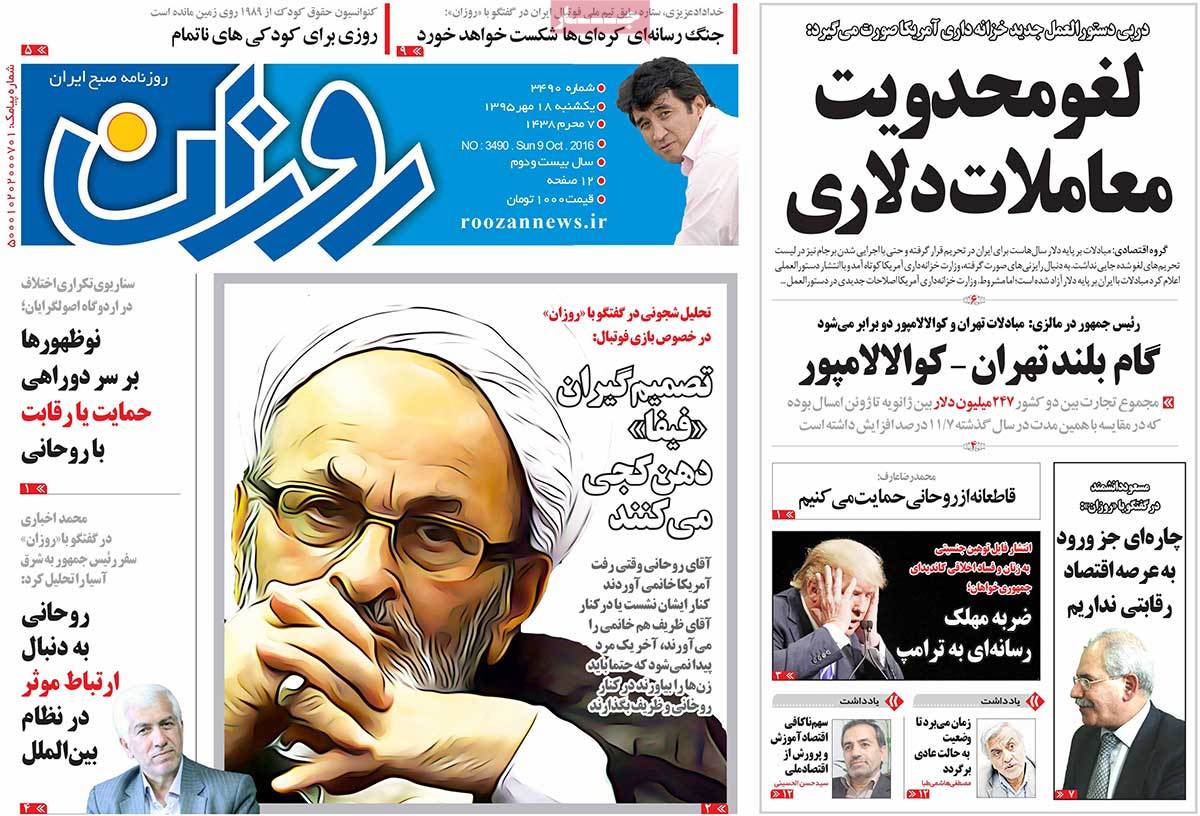 ---
Saheb Qalam:
1- Iran and Malaysia to Expand Cooperation in Islamic Banking
2- Violence and Extremism, the Threats to Muslim World: Rouhani
---
Setareh Sobh:
1- Extramarital Relationship with Greedy Women: Trump Troubled by a Video
---
Shargh:
1- Playing with Dollar with US
2- Trump's Reaction to Washington Post's Video: I Made a Mistake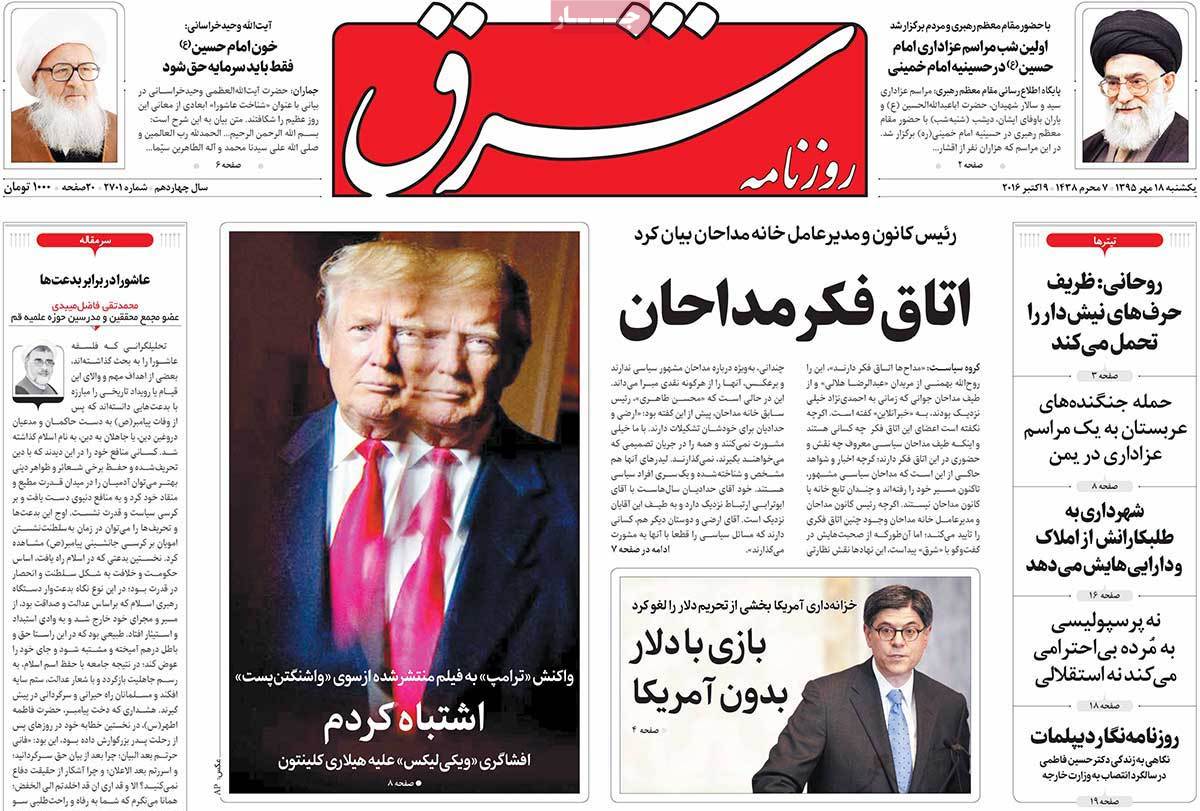 ---
Vatan-e Emrooz:
1- Dirty! Unprecedented Scandal for US Presidential Candidates