Newspapers on Saturday covered the remarks made by IRGC Quds Force Commander General Qassem Soleimani about Iran's role in Syria.
President Hassan Rouhani's trip to Southeast Asia, Vietnam and Malaysia in particular, was also a top story today.
The possibility of a clash between Russia and US in Syria also received great coverage.
The above issues, as well as many more, are highlighted in the following headlines:
Abrar:
1- IRGC Commander: We'll Crush Our Enemies in Case of Any Aggression
2- Colombian President Wins Nobel Peace Prize
3- Amano: Iran Nuclear Deal Is Still Fragile
---
Afkar:
1- Saudi Government Condemned to Violation of Children and Women's Rights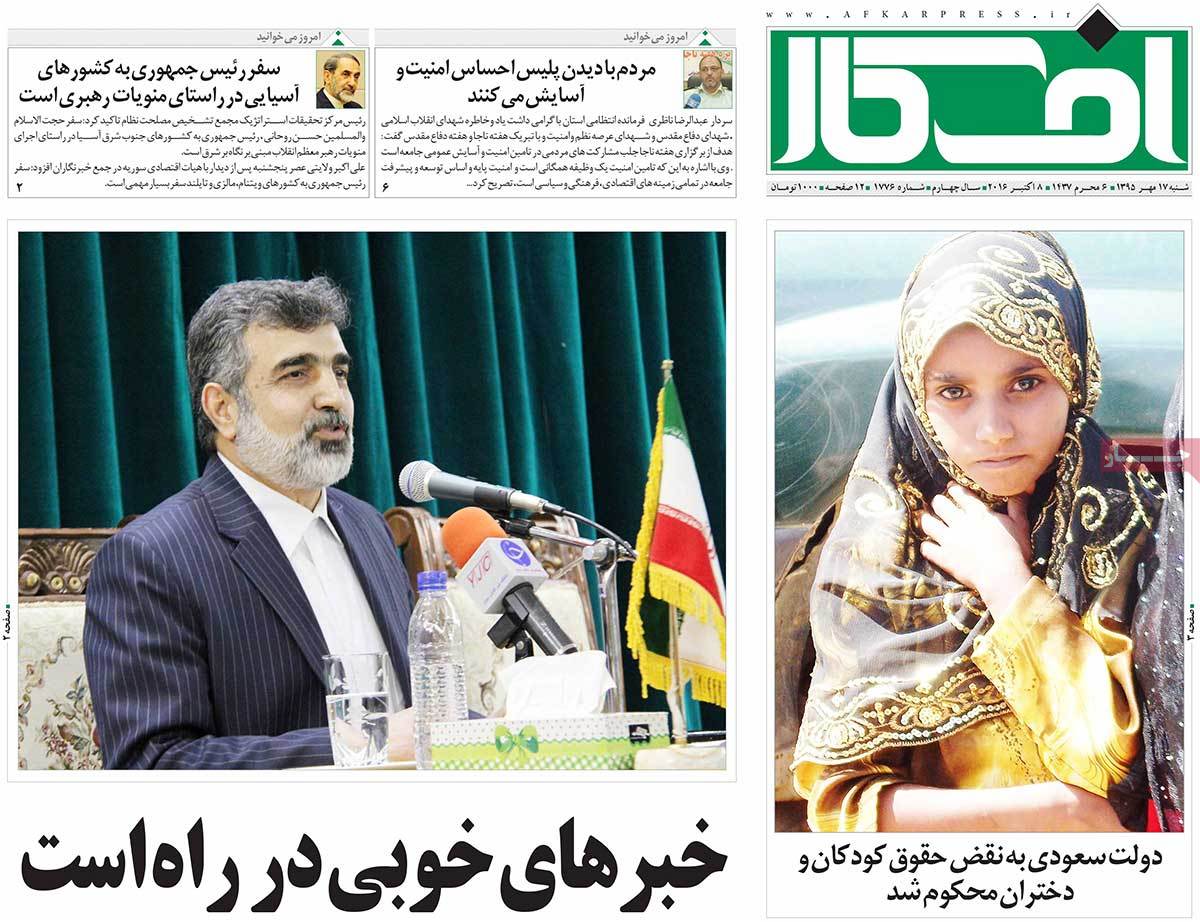 ---
Aftab-e Yazd:
1- Fabius' Untold Stories about Nuclear Talks: Iran's Negotiating Team Was Tough
2- Vietnam's Economic Lesson for Iran: Wonderful Economic Growth in Spite of Maintaining Anti-West Stances
3- Zarif Is Happy that He Was Not Given the Nobel Peace Prize
---
Arman-e Emrooz:
1- Tehran Mayor Has More Power than the President
2- Hard-line Group Ansar Hezbollah Holds Protest Rally against FIFA WCQ Match between Iran and South Korea Due to Be Held in Tehran One Day before Martyrdom Anniversary of Imam Hussein
3- Iran and Vietnam Sign Banking MoU: Iran Poised to Conquer East Asian Markets
4- Sale of Newly-Born Babies at Alarming Level: Triplets in Arak Put Up for Auction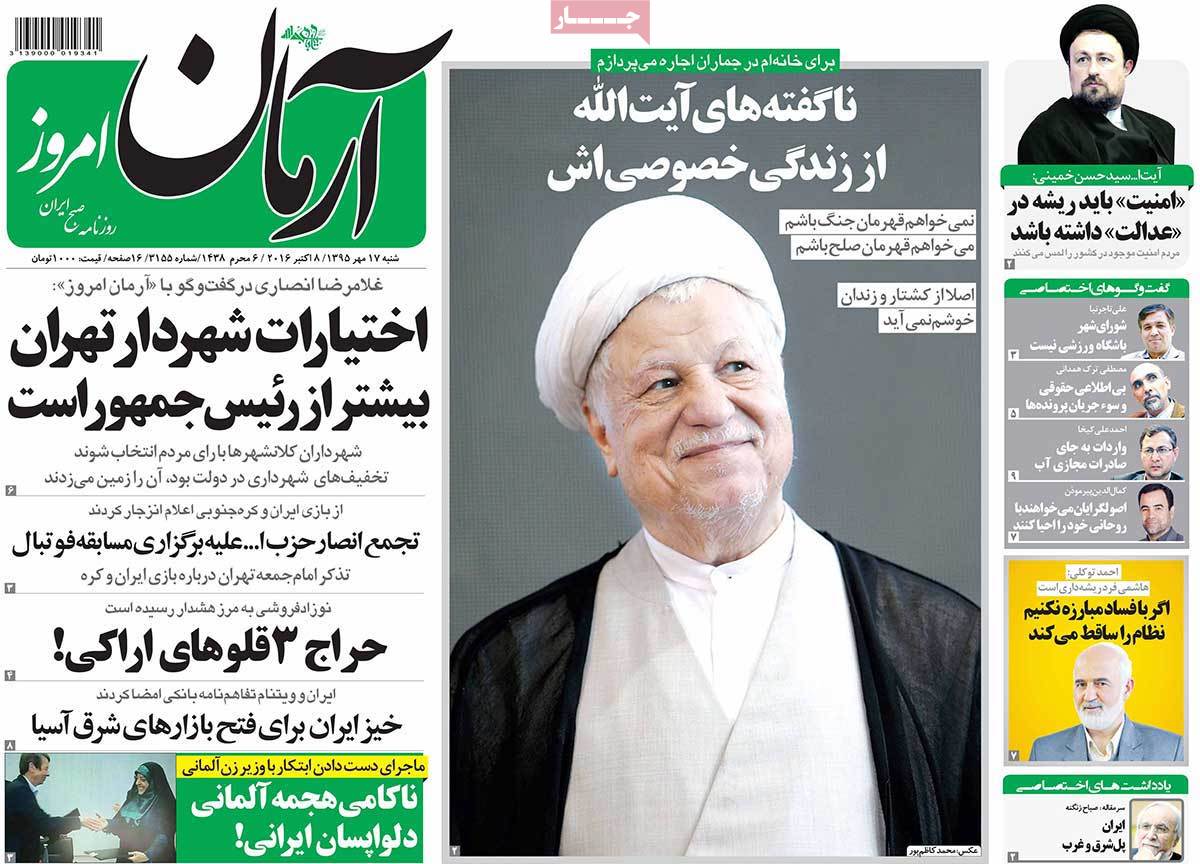 ---
Asrar:
1- Larijani: I Won't Run for Presidential Elections
2- General Soleimani: ISIS and Takfiris Were Created to Target Iran
3- Iranian Foreign Ministry Spokesman Warns against Use of Military Option in Syria
---
Etemad:
1- Turkish Ambassador to Tehran in Interview with Etemad: We've Offered to Mediate between Iran and Saudi Arabia; Erdogan Tried to Resolve Tehran-Riyadh Conflicts in Separate Meetings with Rouhani and King Salman
2- Rouhani in East Asia: Abundant Investment Flowing towards Iran
3- If We Don't Fight Corruption, the Islamic Republic Will Be Overthrown: Former MP Tavakkoli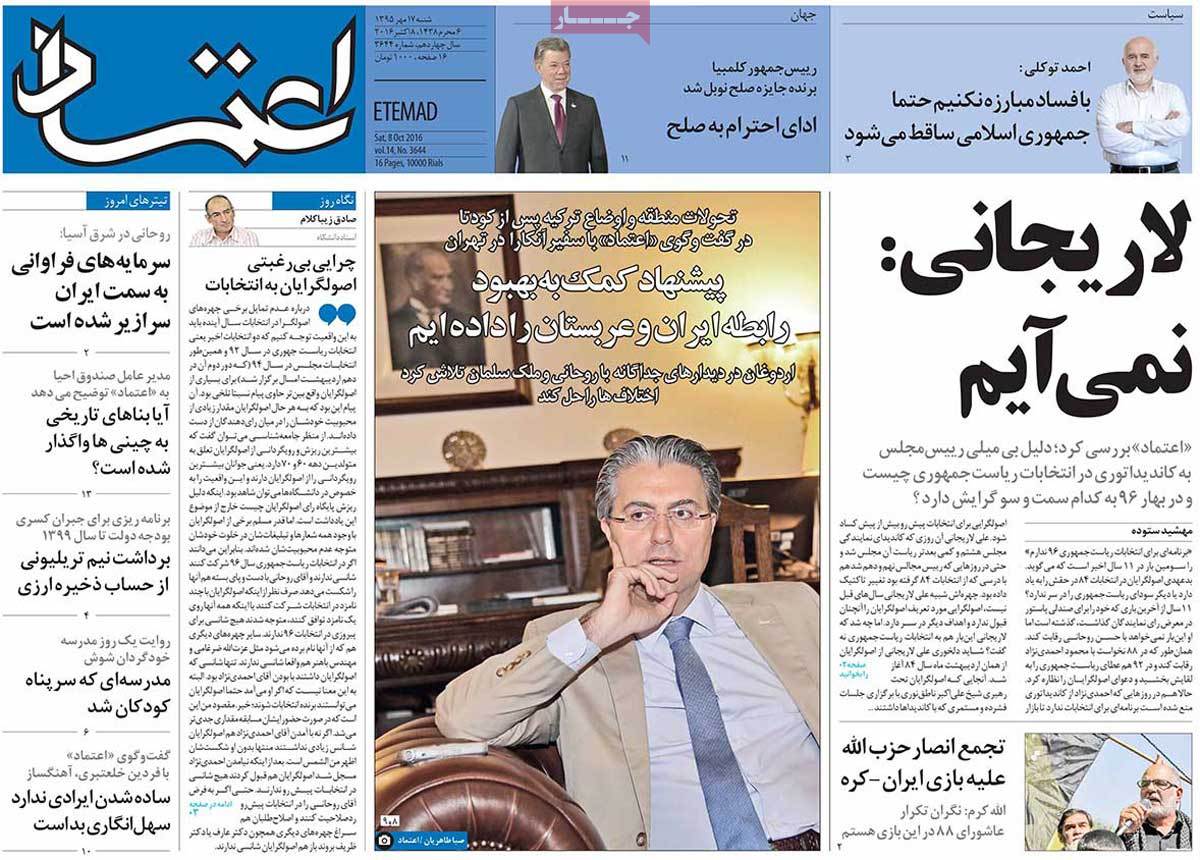 ---
Ettela'at:
1- Rouhani Hold Talks with Leaders of Vietnam and Malaysia: Jump in Iran-Southeast Asia Ties
2- General Soleimani: Iran's Resistance Prevented ISIS from Establishing a State
3- Moscow: US Attack on Syria Army Will Face Russia's Reaction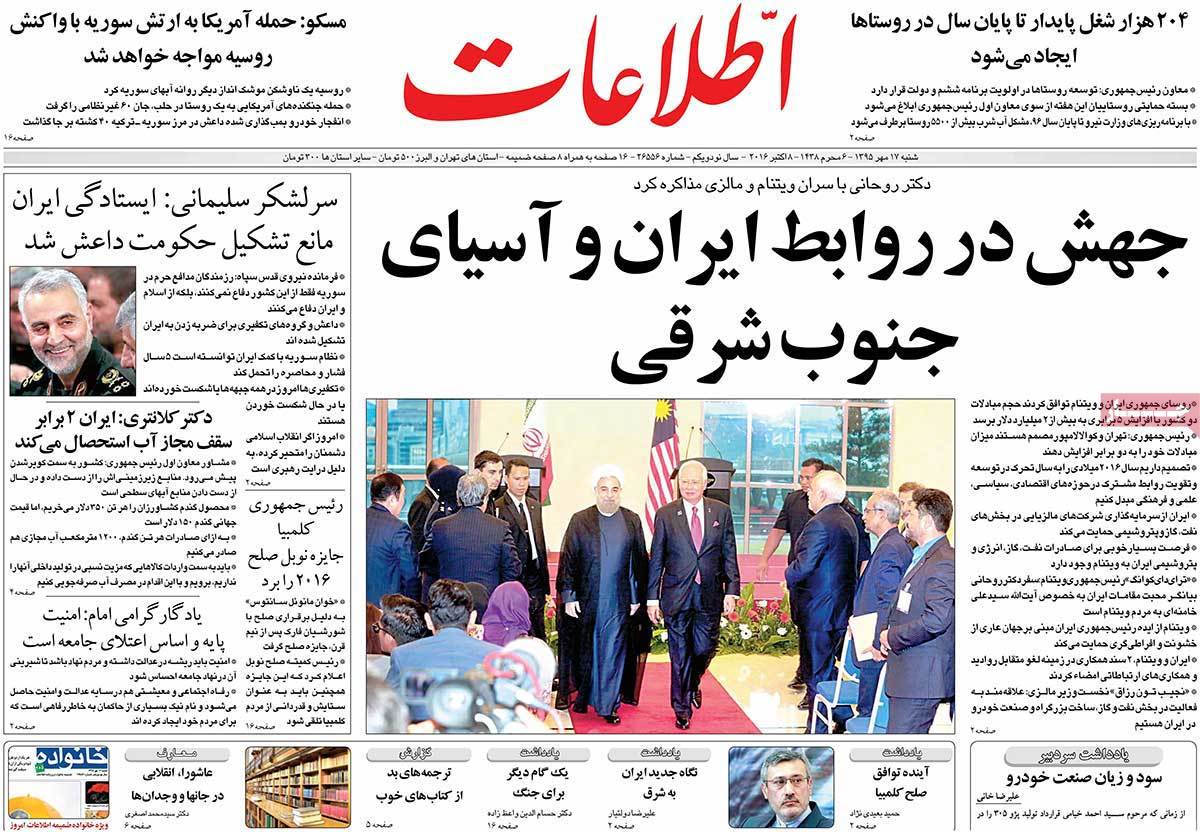 ---
Hamshahri:
1- Cars That Pollute the Air Won't Be Allowed in Tehran Anymore
2- Economy Minister: We Wasted Our Money by Paying Cash Subsidies
---
Iran:
1- Total Executive: Competition between Major Oil Companies for Return to Iran
2- EU Ratifies Draft Text of Strategic Document: We're Interested in Developing Our Economic Cooperation with Iran and Lifting the Sanctions
3- Spring of Iran's Relations with Southeast Asia in Post-JCPOA
4- Iran and Vietnam Underline Need for 5-Fold Increase of Trade Ties
5- Iranian and Vietnamese Banks Connect Their Card Switches to Each Other
6- Iran and Malaysia Resolved to Restore Level of Ties to Pre-Sanctions Level and Then Double Bilateral Trade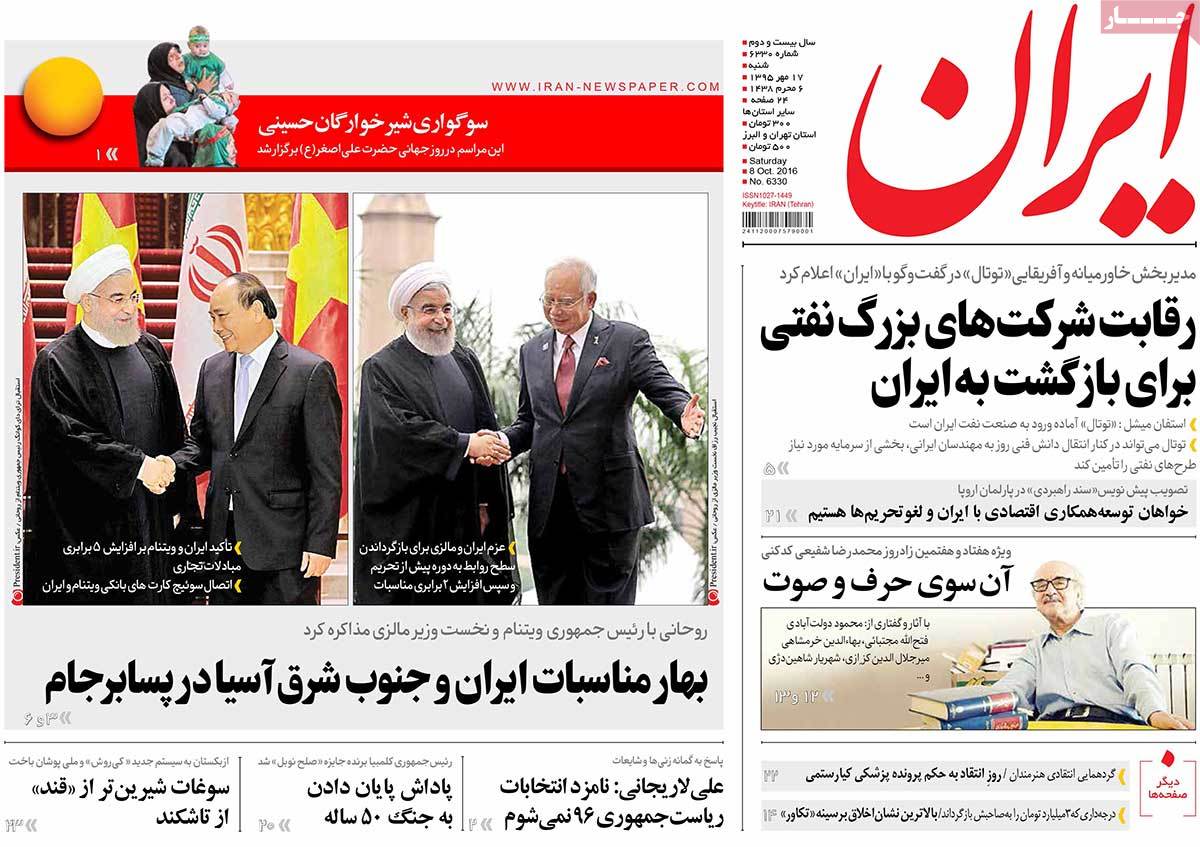 ---
Jame Jam:
1- A Report on Annual Deaths of 100,000ha of Forests in Iran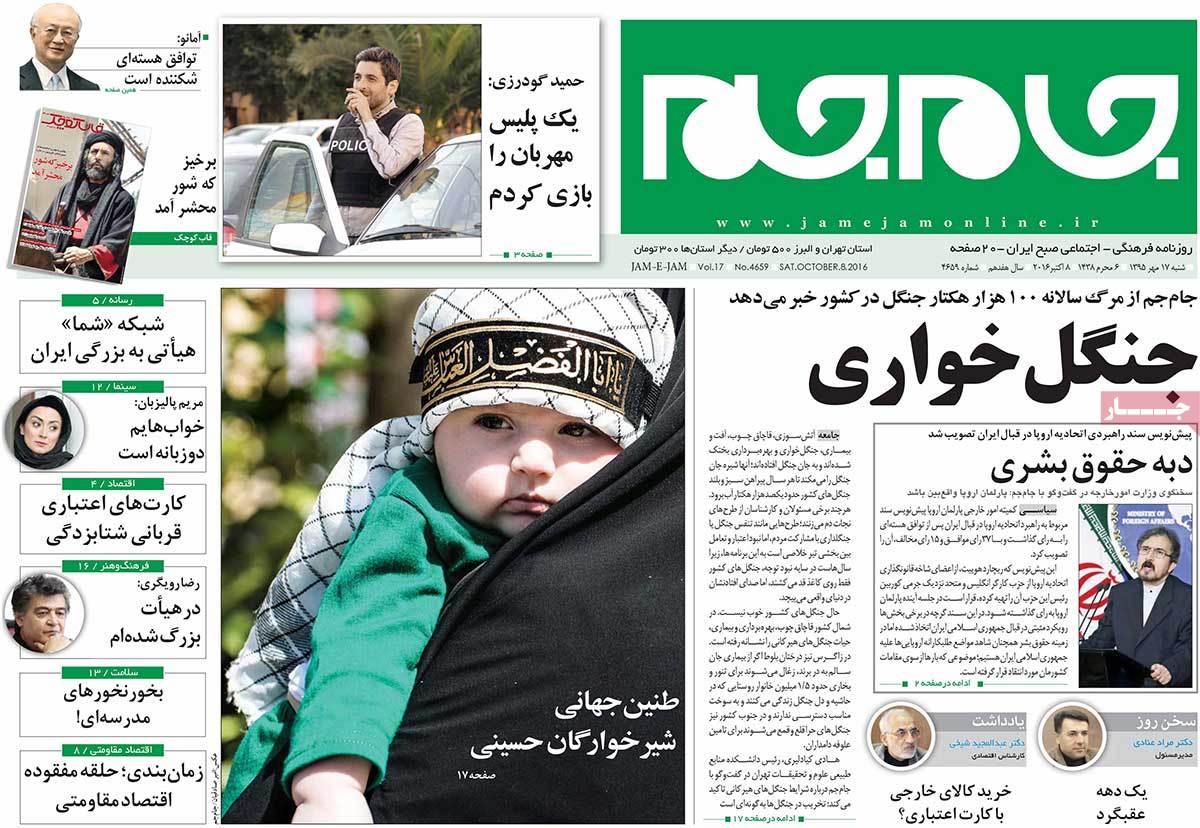 ---
Javan:
1- Renault: Iranian Car Makers Pressure Us for Selling Our Cars in Higher Prices
2- Iran's Most Developed Auto Manufacturing Company Given to the Disloyal Peugeot
3- Moscow: Attack on Syrian Army Means Attack on Russia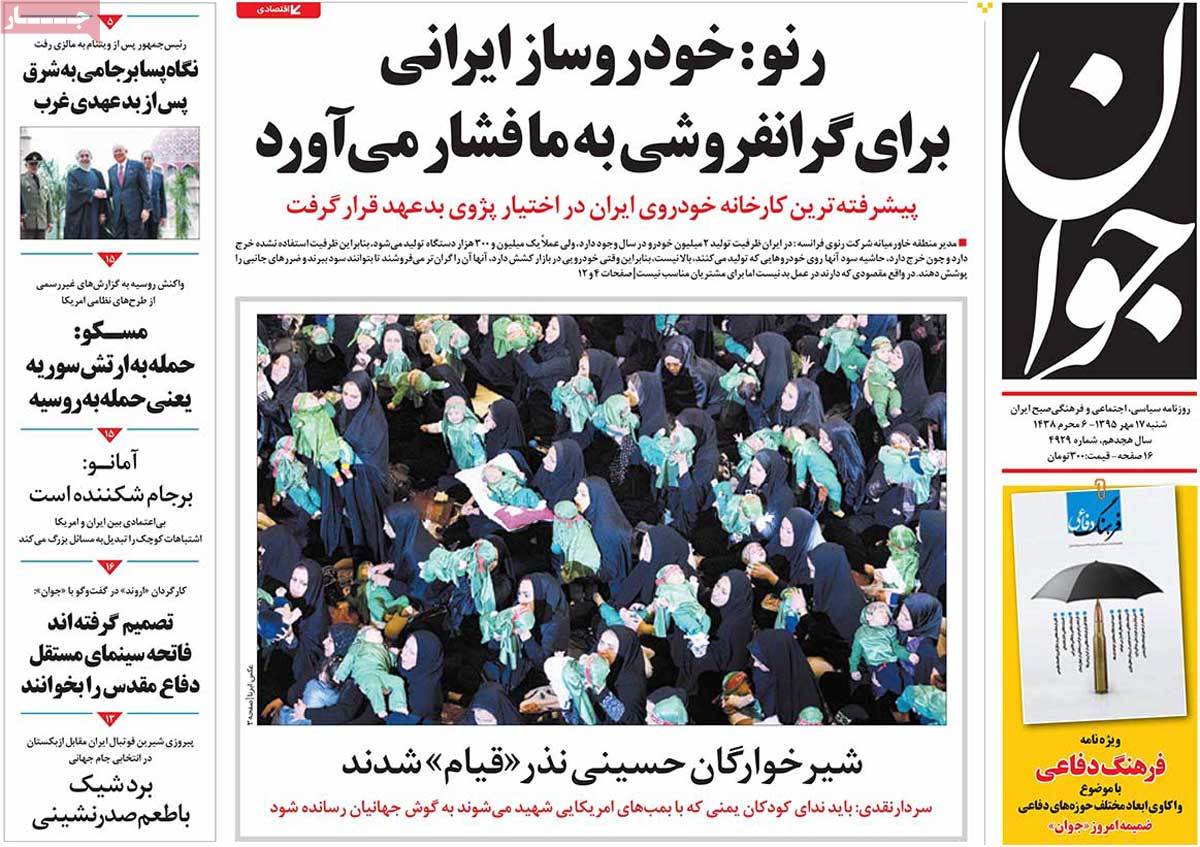 ---
Jomhouri Eslami:
1- EU Preparing for All-Out Expansion of Ties with Iran
2- Larijani: LCs of Foreign Banks Are Increasing
3- UNSC Officially Announces Guterres as New Secretary General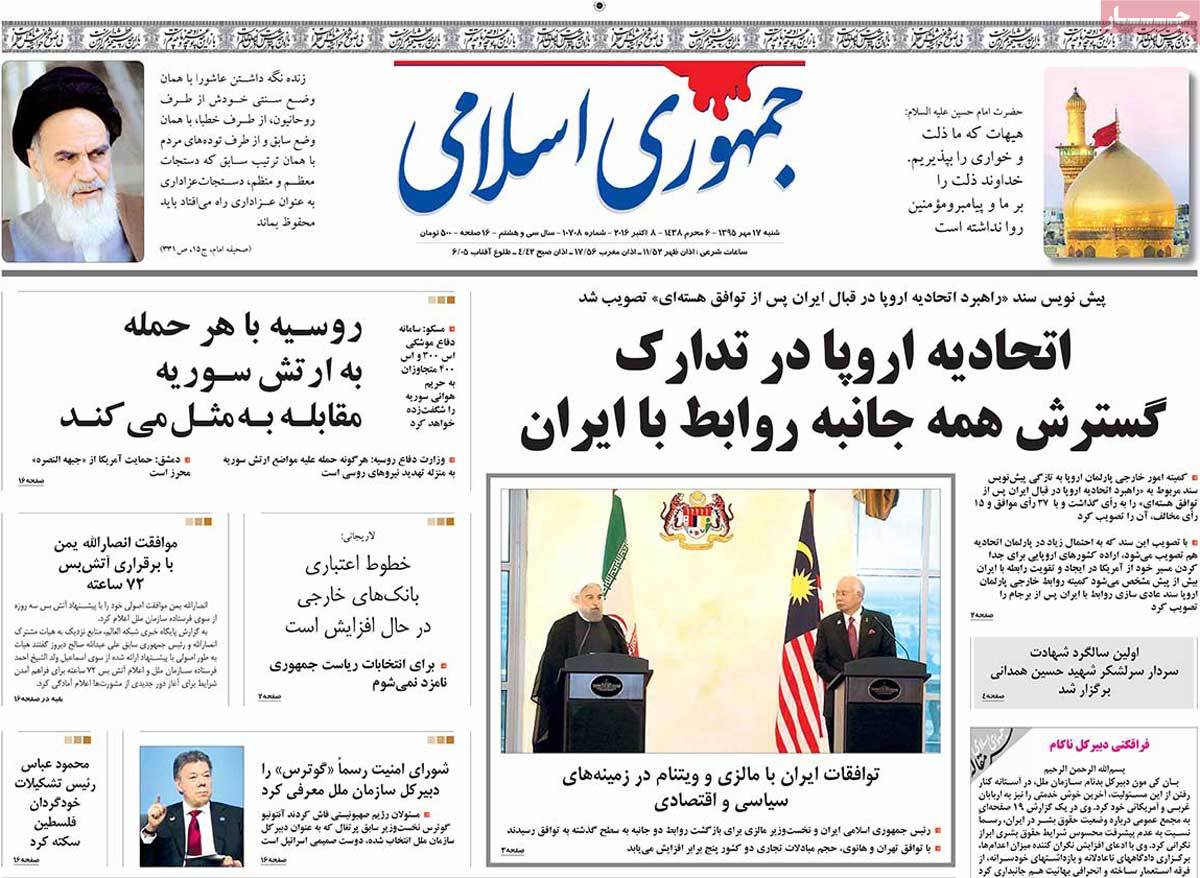 ---
Kayhan:
1- Russia's Unprecedented Threat against US: We'll Answer Any Attack on Syria with Our S-400 System; Our Experts Don't Have Enough Time to Identify the Planes: We'll Shoot Down All Fighter Jets
2- Vietnam President: Courage and Resistance of Iranian Nation Is Admirable for Nation and Gov't of Vietnam
3- Deal between IDRO and Renault Is against Iran's Constitution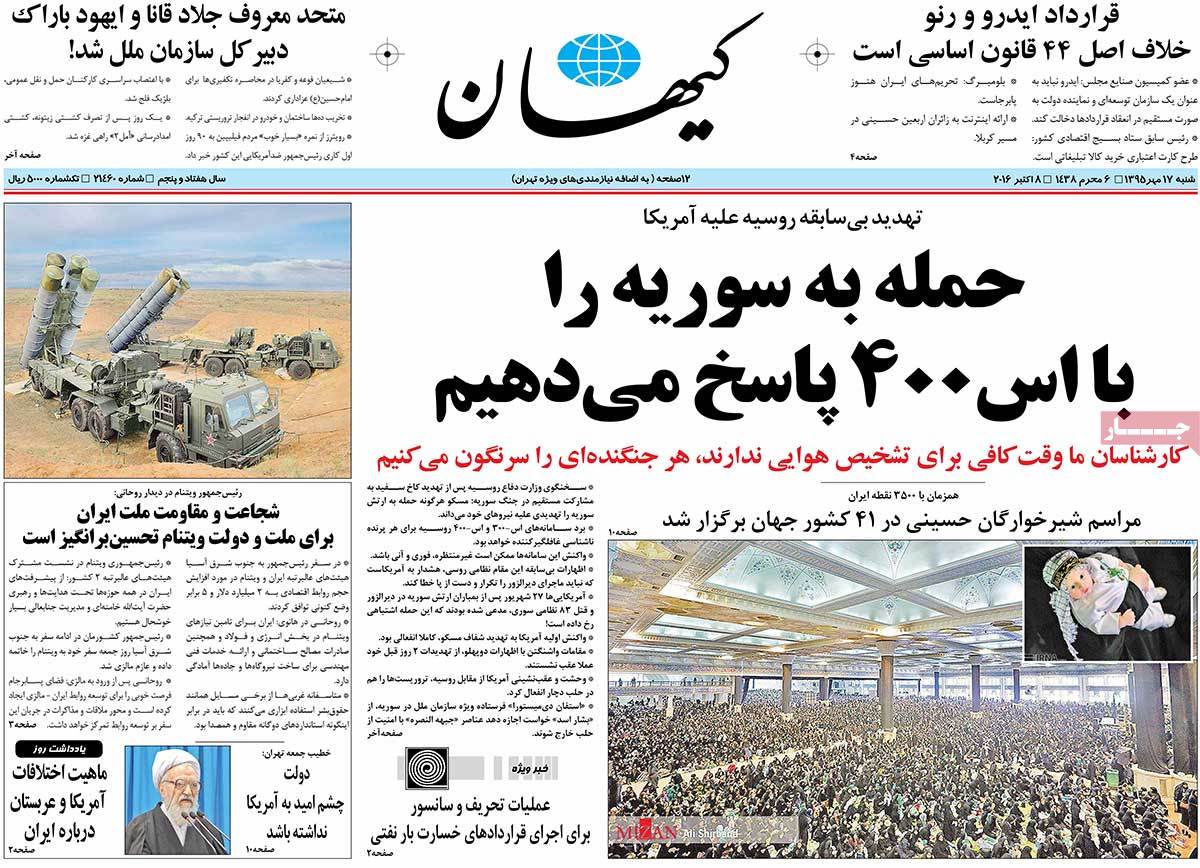 ---
Khorasan:
1- General Soleimani Says ISIS Was Created for Iran, Not for Syria
2- Vietnamese President: Rouhani's Trip Indicates Ayatollah Khamenei's Kindness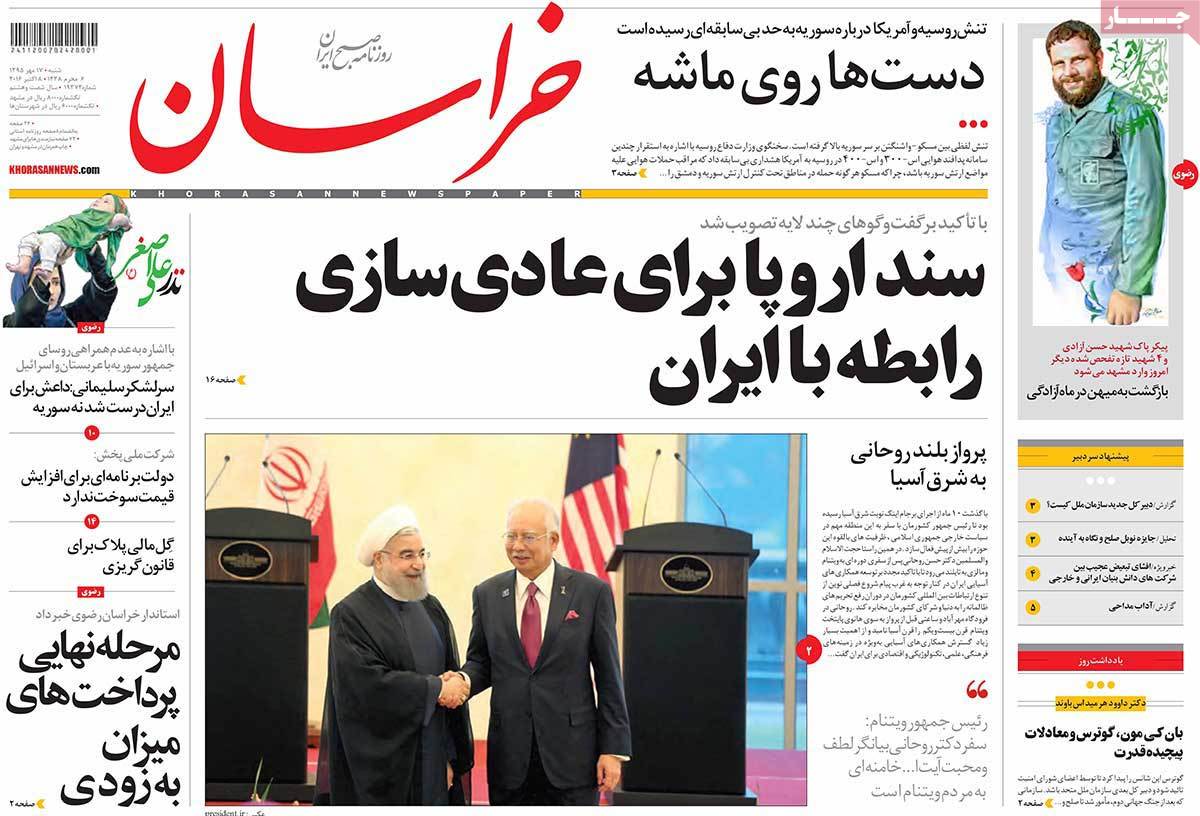 ---
Mardom Salari:
1- Deputy FM: Iran and China Start Cooperation in Arak Heavy Water Facility
2- AEOI Spokesman: We Produce 20 Tons of Heavy Water Each Year
---
Payam-e Zaman:
1- No Power Can Overcome Iranian Nation: IRGC Navy Commander
2- Good Nuclear News Will Be Released: Deputy Head of AEOI
---
Quds:
1- France's Deals with Iran Become Controversial: Secret Car Deals Bring Minister to Parliament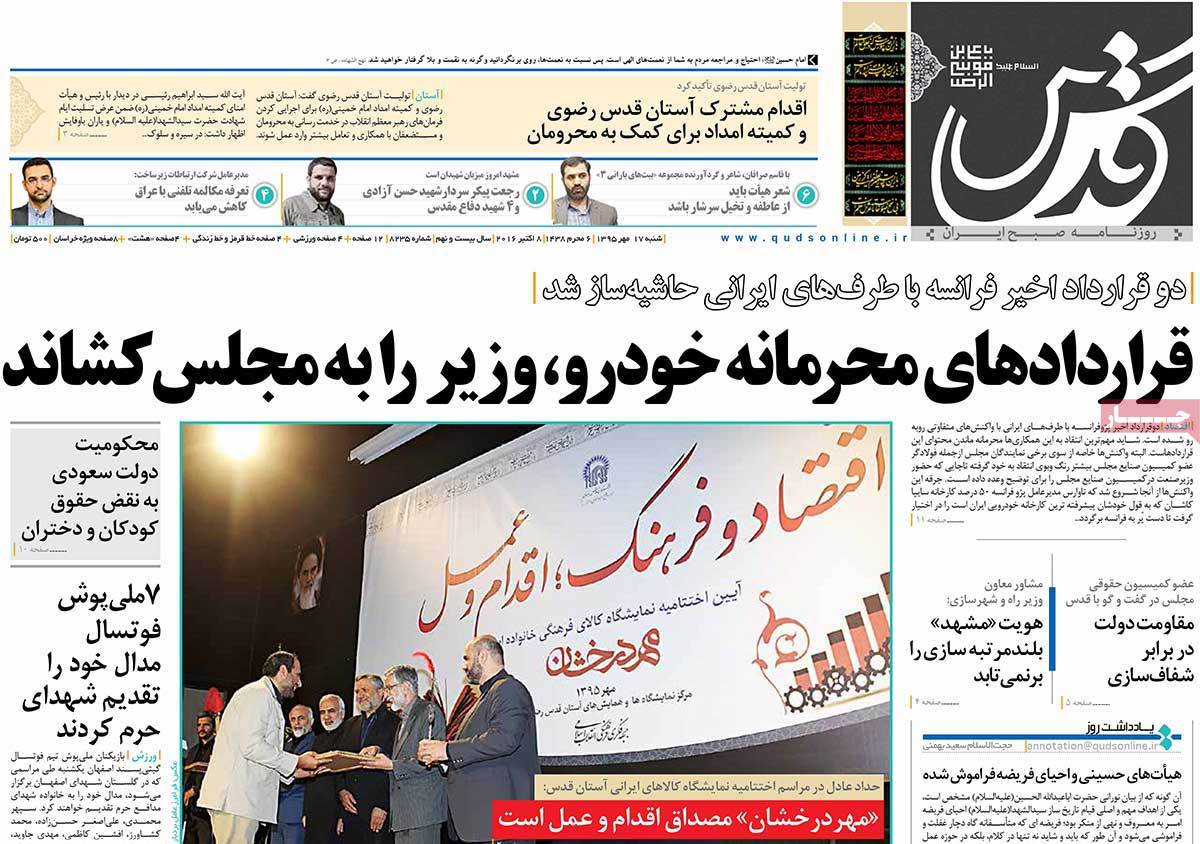 ---
Rah-e Mardom:
1- Rouhani: We'll Turn 2016 into the Year of Movement in Development of Tehran-Kuala Lampur Ties
2- Ugly Phenomenon of Scrawling on Historical Monuments: Should Historical Sites Be Given to Private Sector?
3- Central Bank Governor: Iran and Vietnam Establish Joint Banking Committee
4- Selling and Smoking Cigarette Banned around Holy Sites
---
Resalat:
1- Amir Abdollahian: US Has Failed to Manage the Gam in Aleppo in Favour of Terrorists
2- Senior Cleric: Government Should Not Be Optimistic about US
3- General Soleimani: In Syria, We're Defending Islam and Islamic Republic
---
Shargh:
1- A New Book Published about Ayatollah Rafsanjani: I Want to Be Champion of Peace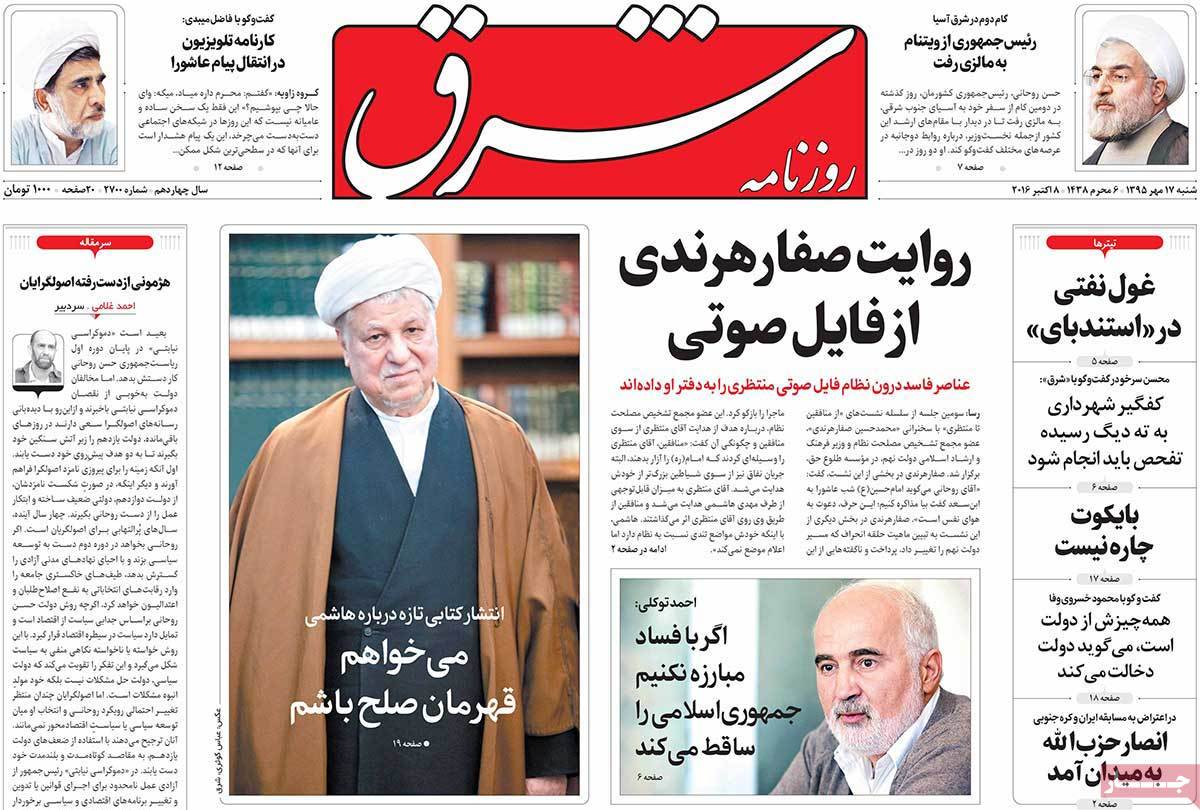 ---
Vaghaye Ettefaghieh:
1- Iranians Gripped by Obesity, Diabetes, and Lack of Movement: Age for Heart Attacks and Strokes in Iran 10 Years Less than World Average
---
Vatan-e Emrooz:
1- General Soleimani: Saudi Arabia's Deputy Crown Prince Is Too Hasty and May Even Kill Their Own King
2- Iraq Refers Turkey's Military Aggression to UNSC: Baghdad's Warning to Ankara