Almost all Iranian newspapers today covered speculations and discussions about the US possible move against Iran nuclear deal. Among the top stories in this regard was US President Donald Trump's meeting with top American military commanders, where he said the current situation is 'the calm before the storm'.
While reformist and pro-government papers underline that Iran will be the ultimate winner even if the US withdraws from JCPOA, conservative newspapers say the current situation is a result of Rouhani government's trust in the US.
Another top story today was the arrest of Mahdi Jahangiri, the brother of First Vice-President Es'haq Jahangiri, who is said to be accused of financial corruption. No detail has been released on his arrest, but it has been confirmed by Es'haq Jahangiri. Meanwhile, some papers have tried to emphasize that Rouhani's VP has never supporter his brother's activities and had no role in his possibly illegal moves.
Iranian Foreign Minister Mohammad Javad Zarif's participation in the funeral ceremony of former Iraqi president Jalal Talabani in Sulaymaniyah, the Iraqi Kurdistan region, also received great coverage today.
The above issues, as well as many more, are highlighted in the following headlines and top stories:
Abrar:
1- White House Spokesman: Trump Has Made His Decision about JCPOA
2- Brother of Rouhani's First VP Arrested
3- Washington Post: Trump to Declare Nuclear Deal to Be against US National Interests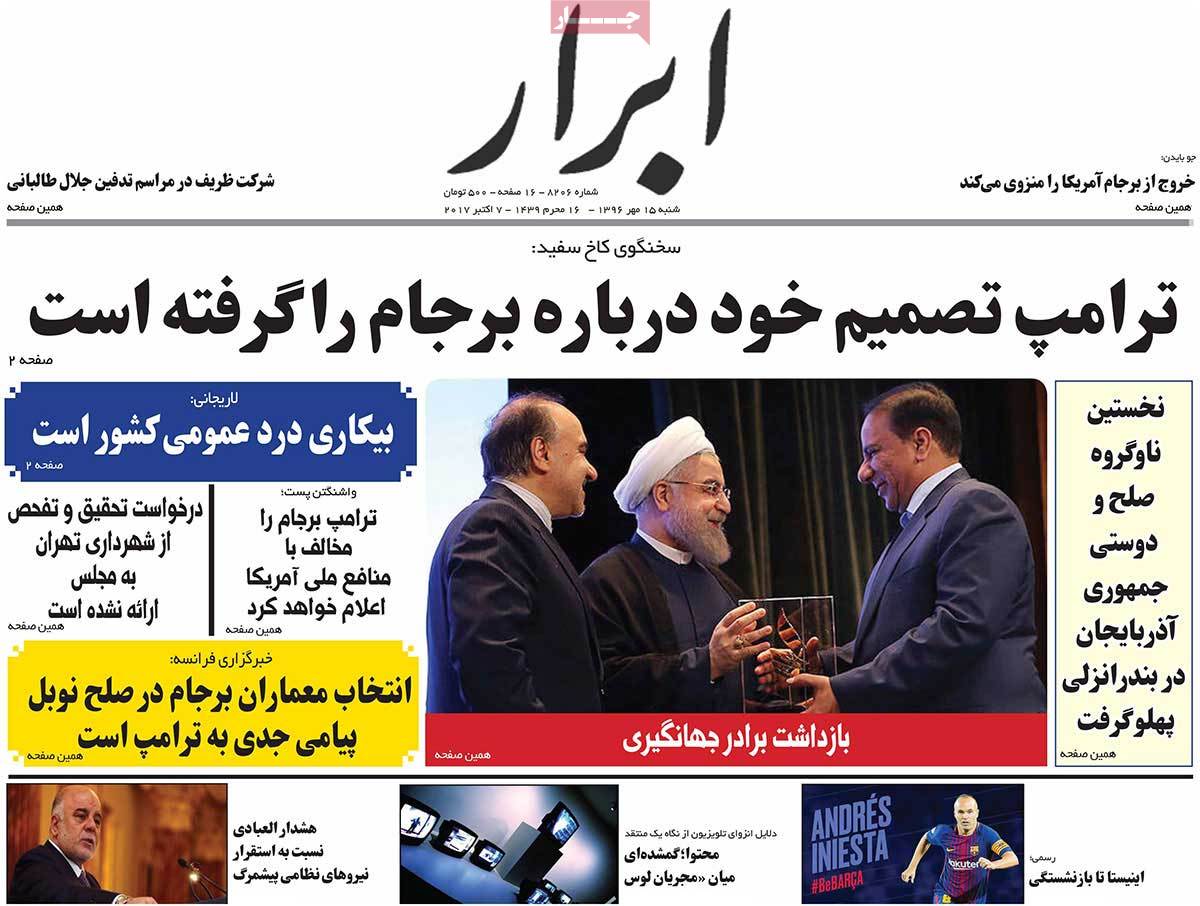 ---
Afkar:
1- Working as Mercenary for a Few Dollars
From Iran Nuclear Negotiator's Verdict to Lies Raised against Judiciary Chief
2- Huge Shopping Malls Being Opened in Historical Parts of Cities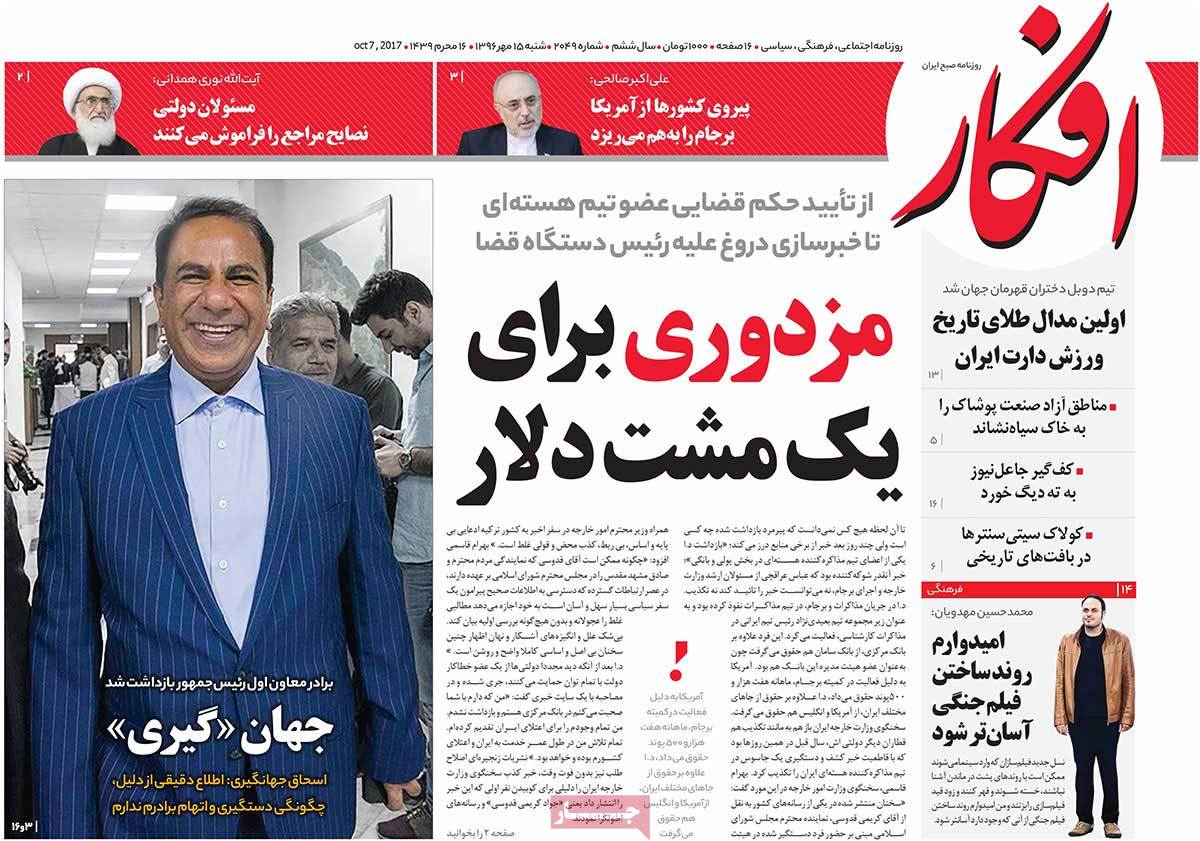 ---
Aftab-e Yazd:
1- A Report on Arrest of Iran First Vice-President's Brother
Mahdi Jahangiri Was Not Supported by His Brother Es'haq
Society Should Be Mature Enough to Distinguish between Working, Blood Relations
2- Atomic Chief: Iran to Make Decision Once US Withdraws from Nuclear Deal
3- Moscow Big Winner of King Salman's Trip
Saudi Arabia Signs Deal to Buy Russia's S-400 Missile Defence System
4- People in Northern Iraq Have Whatever They Want: Iran's Top Officer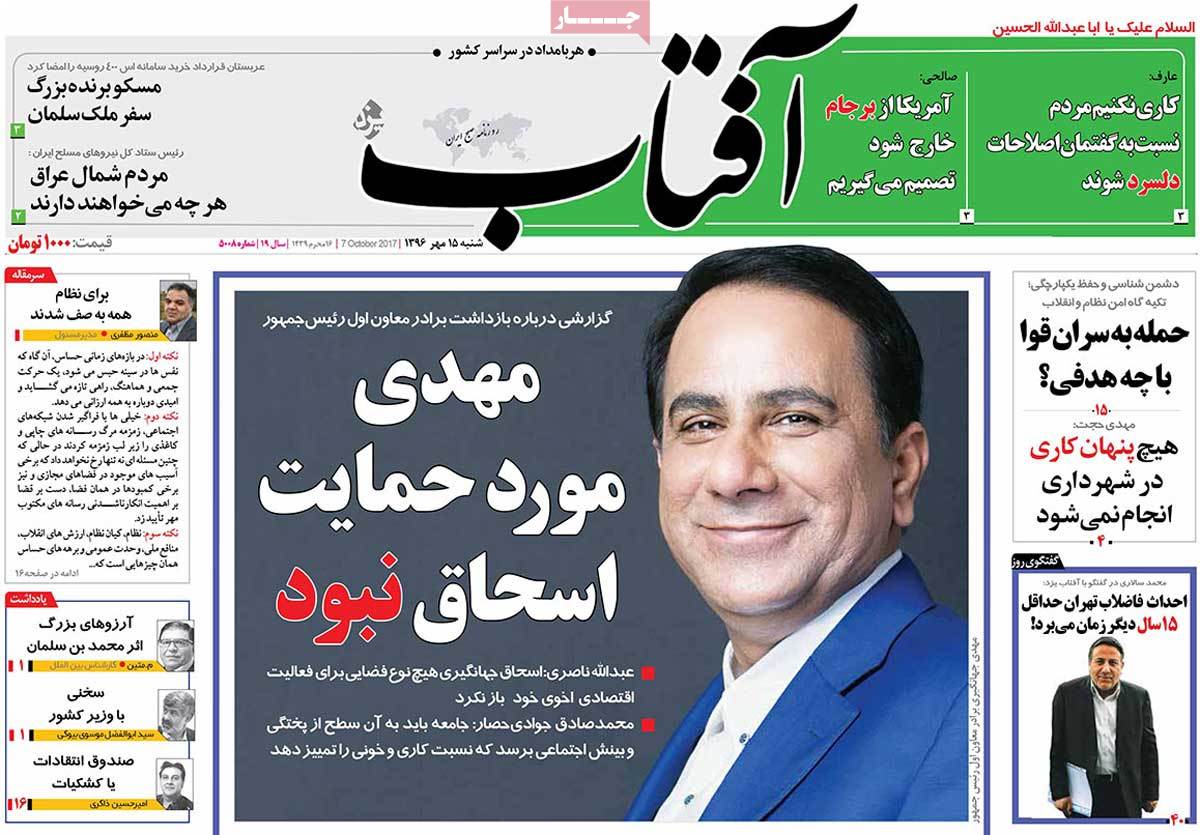 ---
Asman-e Abi:
1- Moscow Hunting Washington's Traditional Allies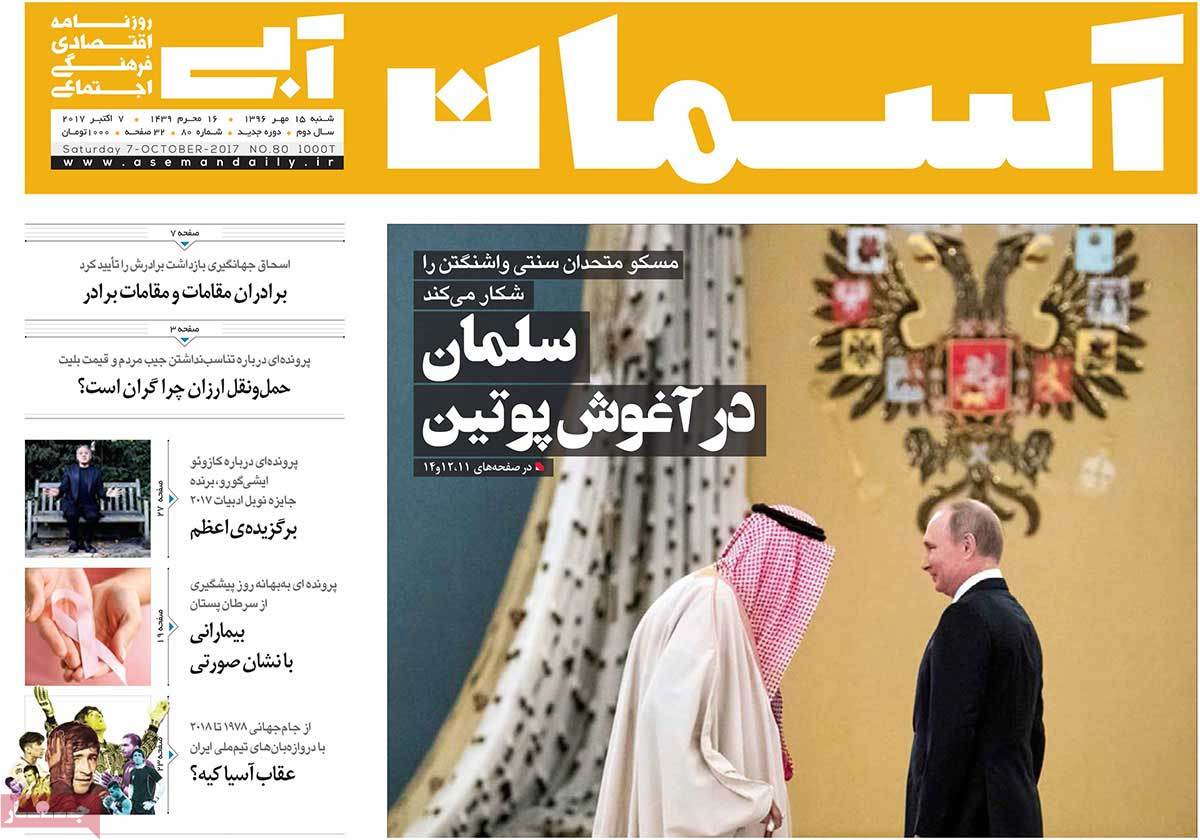 ---
Asrar:
1- Americans Mischievous in Case of Iran Nuclear Deal: Larijani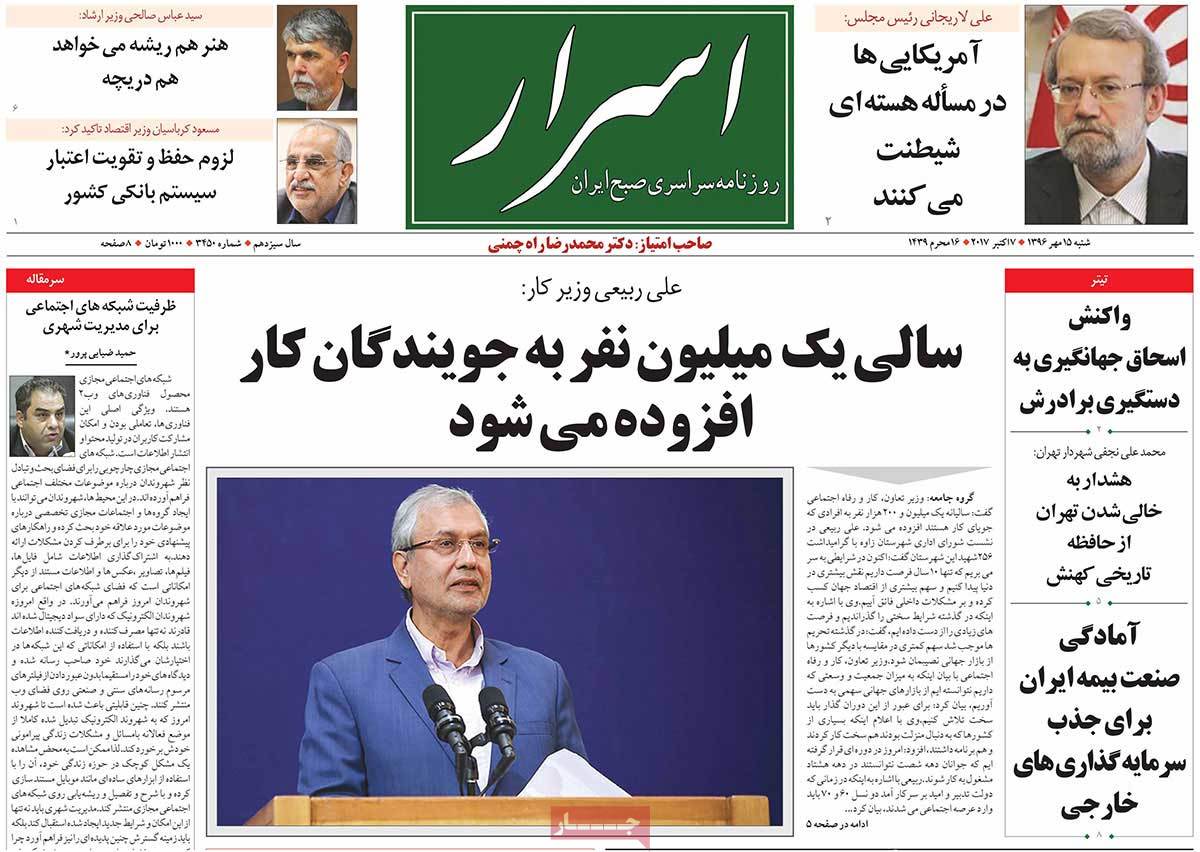 ---
Ebtekar:
1- Calm before the Storm against JCPOA, Middle East, or North Korea?
2- Nobel Literature Prize Goes to 'an Artist from Floating World'
3- Lovely Caspian Seals in Red List of Extinction
4- Nobel Peace Prize Goes to Group Opposing Nuclear Weapons
---
Emtiaz:
1- 43 Die in Car Accidents Every Day
2- Over $3 Billion worth of Industrial Machinery Produced in Iran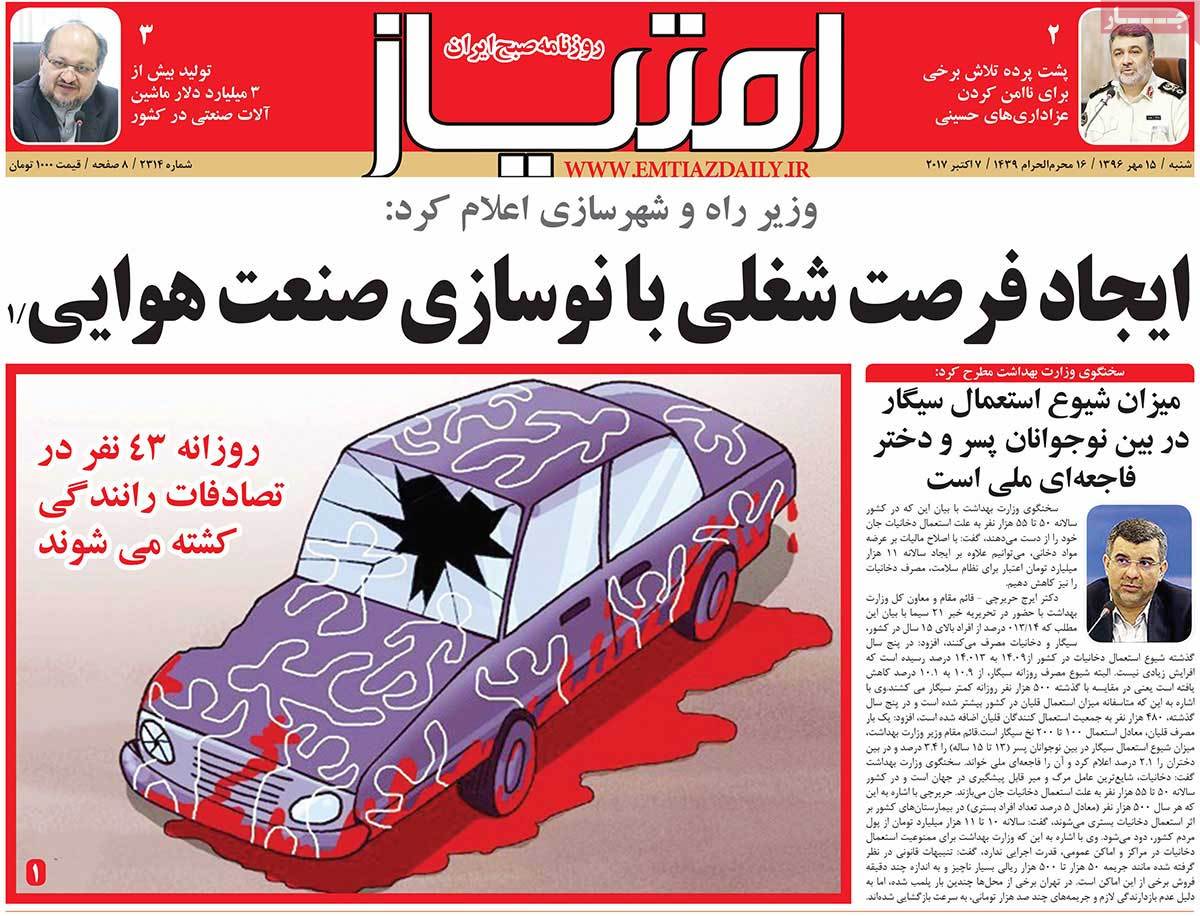 ---
Etemad:
1- Congress Ready to React to Trump's Madness
Iran's Commitment to JCPOA Won't Be Certified: US Media
2- We Are Winners Whatever Happens
A Report on Political Repercussions of Trump's JCPOA Stonewalling
Extremism Not to Be Reinforced in Iran
Reformists Will Continue to Defend Stances that Secure Iran's National Interests
Trust in US to Be Undermined after Trump's Refusal to Certify Iran's Compliance
Achievements of Nuclear Deal Irreversible
Trump's Withdrawal Shows Americans Have Been Hurt by JCPOA
Iran Managed to Create Significant Gap between Iran, Europe
3- Iraqi Flag Absent from Talabani's Funeral
---
Ettela'at:
1- Consumption of Underground Water Crosses Red Line
2- Zarif in Talabani's Funeral: We Don't Blame Kurds for Certain People's Strategic Mistakes
3- Iran's Salehi: Nuclear Deal Cannot Be Renegotiated
4- Bodies of 119 Martyrs Killed during Iran-Iraq War Repatriated to Iran
---
Haft-e Sobh:
1- Nuclear Deal and Trump's Tied Hands
Trump's Senior Advisors Join Supporters of Keeping Iran Deal
2- Lucrative Market of Hijaz: Toyota, Hyundai, Volkswagen Greedy for Saudi Women Drivers
3- Iran's State TV Holds Unprecedented Live Interview with Junkies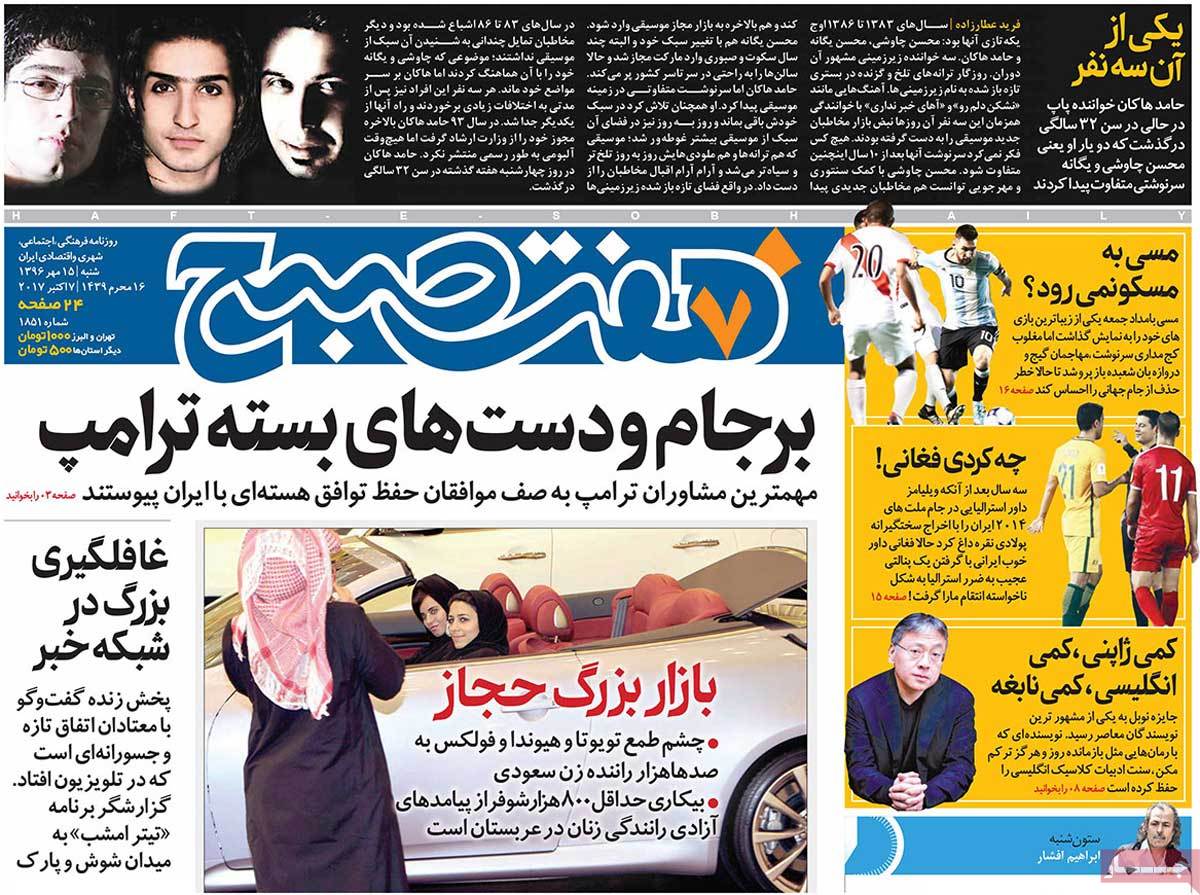 ---
Jame Jam:
1- Venice in Northern Iran: People's Lives Disrupted by Street Flooding
2- Saudi Arabia Blacklisted by UN
---
Javan:
1- Iran Leader's Prediction of US Behaviour towards JCPOA Was like that of a Prophet: Michigan University Professor
A Report on Trump's Dreams about JCPOA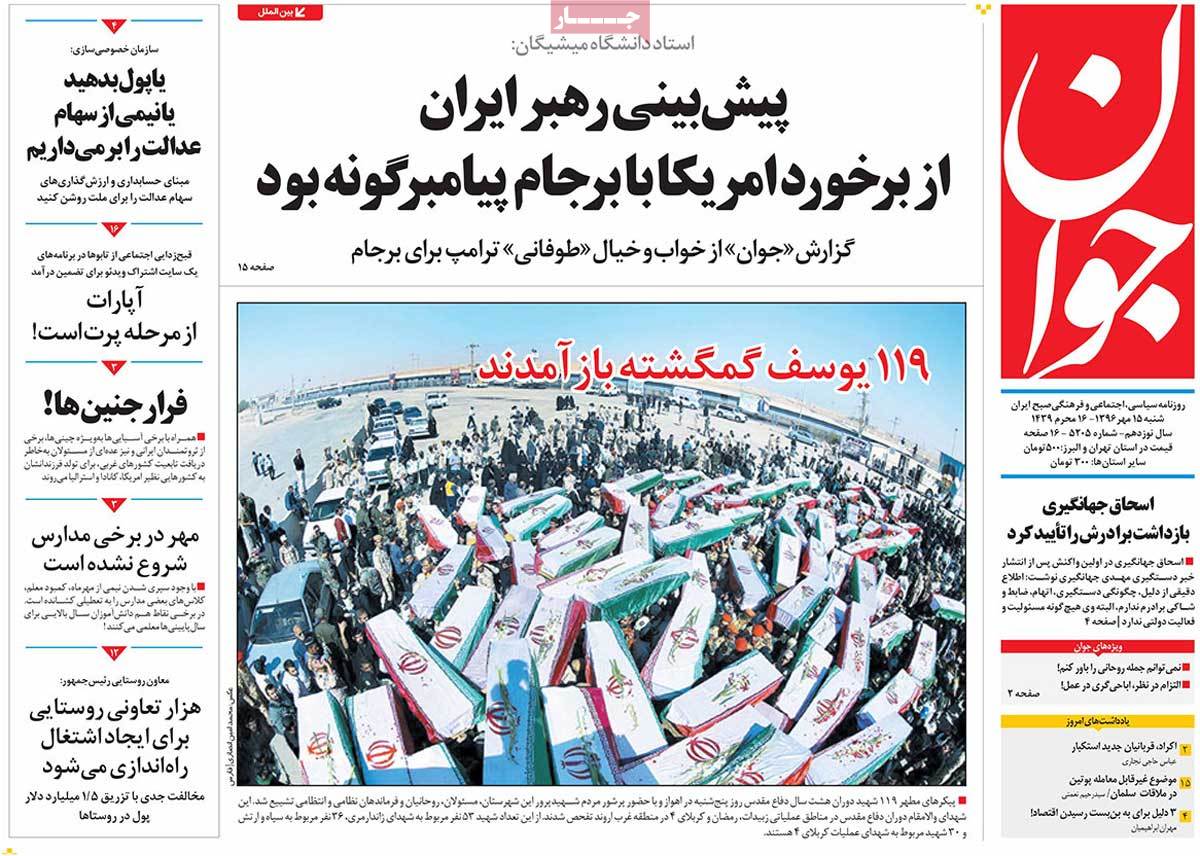 ---
Kayhan:
1- Renegotiation of Nuclear Deal, Trap Set by US, Europe, IAEA
2- Hawija Liberated in 12 Days; 217 ISIS Elements Killed
3- Syria Was Saved by Iranian General Hamadani: Iran's Top Officer
---
Resalat:
1- Ayatollah Nouri Hamadani: We Should Stand against Plot to Disintegrate Iraq
2- Foreign Ministry Should Use All Capacities to Resolve Myanmar Problem: Ayatollah Makarem Shirazi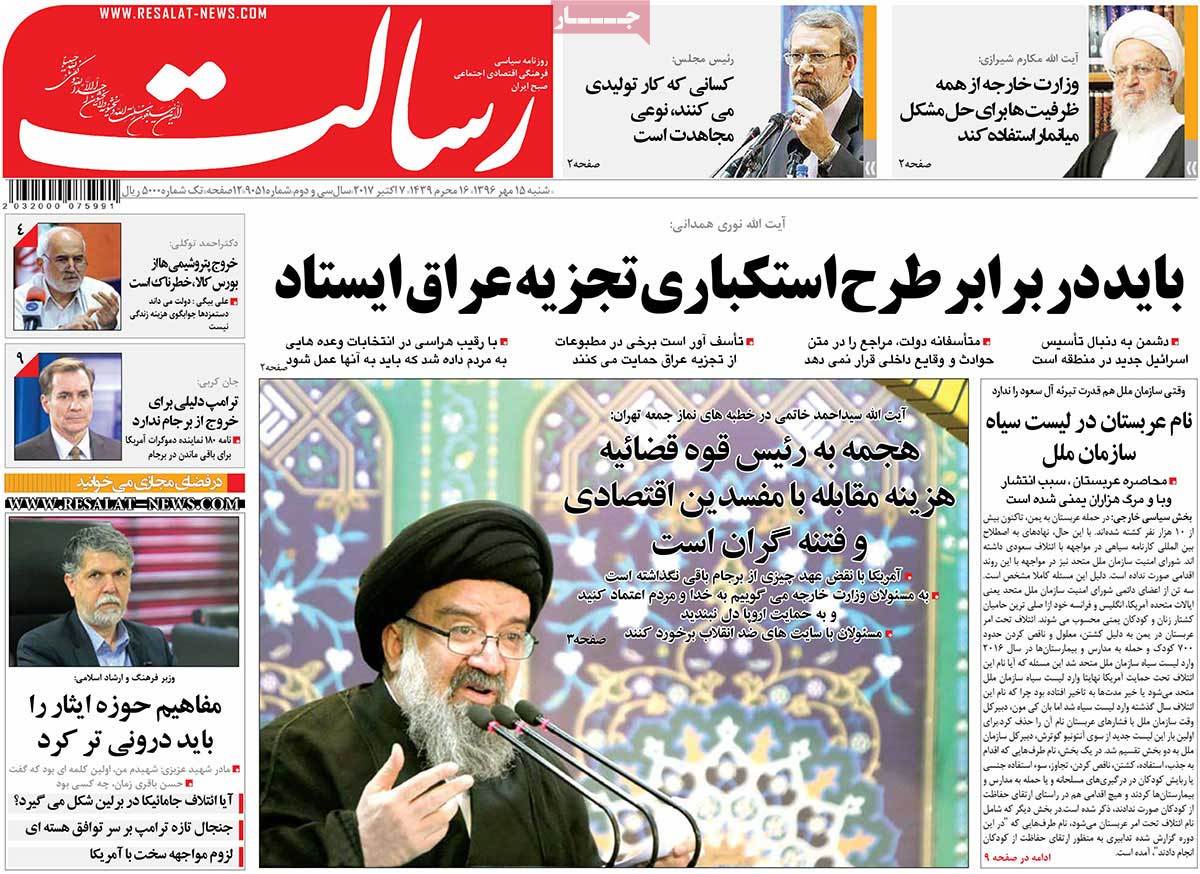 ---
Roozegar:
1- Iran Air in Talks for Purchasing New Planes: Chief