The top story in today's newspapers was the statements of Iran's Leader Ayatollah Khamenei in a meeting with officials of the Hajj and pilgrimage organization during which he emphasized the need to take advantage of the opportunity for the Iranian people during the Hajj ceremonies to communicate with other Muslims and elaborate on the policies of the Islamic Republic. With the end of the return process of all Iranian pilgrims from Saudi Arabia, Iran's leader was met by the head of Iranian pilgrims, and the organizers of this year's Hajj. Ayatollah Khamenei said that there exists a very dangerous, active, and well-equipped front against Iran. The Leader of Iran said in order to confront the dangerous fronts, insightful and effective propaganda in return is needed and Hajj is one of the main centres for that.
Another top story was the death of former President of Iraq and the Kurdish politician, Jalal Talabani which was almost covered by all the morning papers on Wednesday.
The remarks by the US Secretary of Defence on the importance of Washington's adherence to the nuclear deal with Iran and the Iranian President's emphasis on expanding ties with the EU to boost cooperation in the framework of the Joint Comprehensive Plan of Action (JCPOA) were highlighted in today's papers in a situation that in a matter of days Iran's commitment to the nuclear deal has to be confirmed by the President of the United States, and it has prompted speculations on his decision to withdraw from the nuclear agreement with Iran.
The above issues, as well as many more, are highlighted in the following headlines and top stories:
19 Dey:
1- Iraqi Kurds' Leader Dies
2- Larijani: JCPOA Must be Implemented
---
Abrar:
1- Erdogan: Iraqi Kurdistan Region Should Wait for Sanctions
2- Iraqi Parliament Suspends Membership of Pro-Independence Kurdish Representatives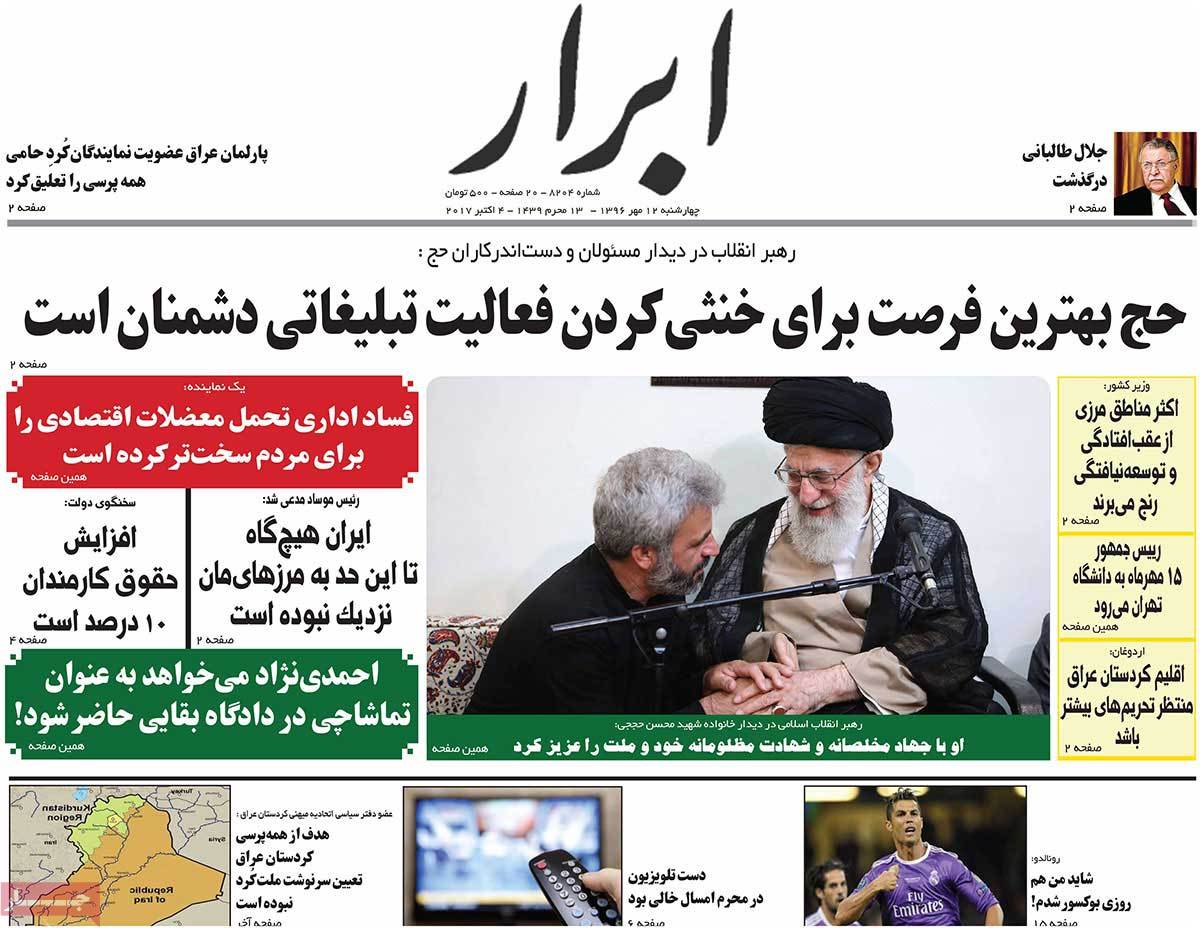 ---
Aftab-e Yazd:
1- Hajj Best Opportunity to Thwart Anti-Iran Propaganda: Ayat. Khamenei
2- Iraqi Symbol of Union Dies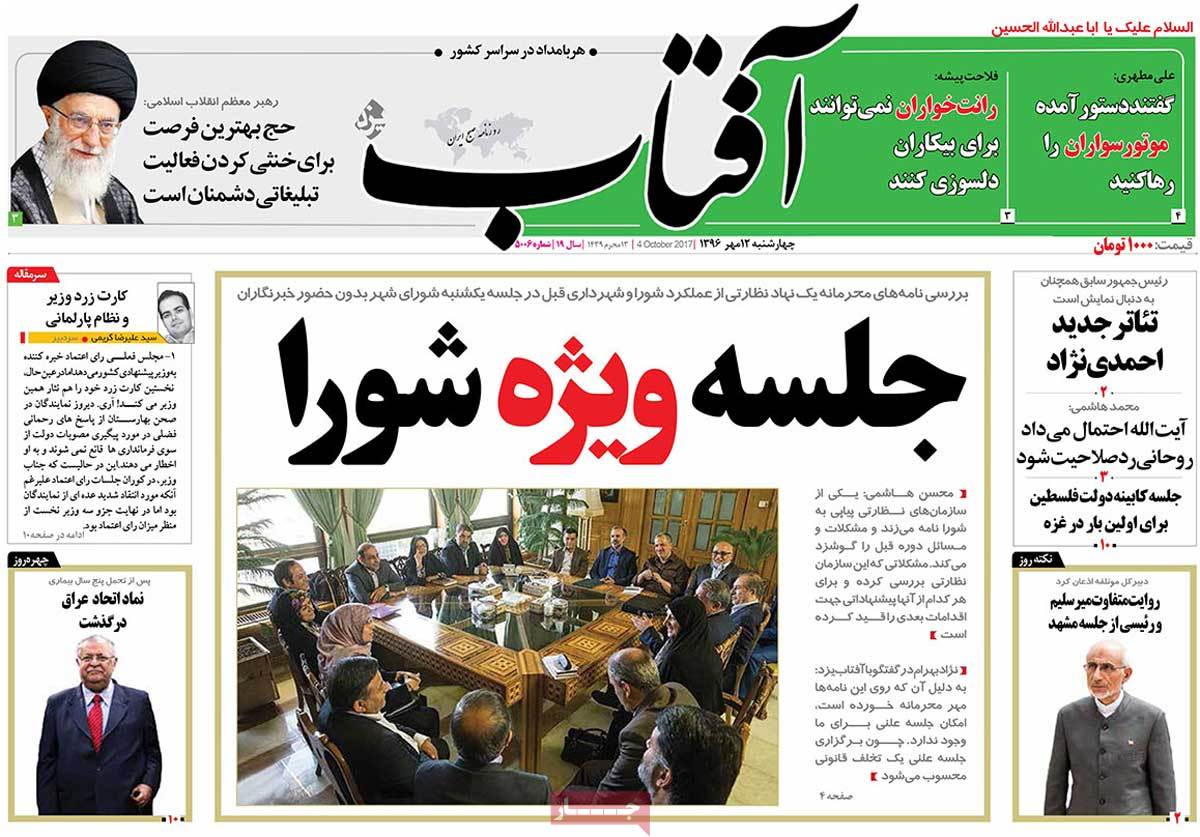 ---
Arman-e Emrooz:
1- Parliament Brings Legal Action against Ahmadinejad
Ahmadinejad's Plaintiff Not A Natural Person
Details of Ahmadinejad's Four Cases of Law Violation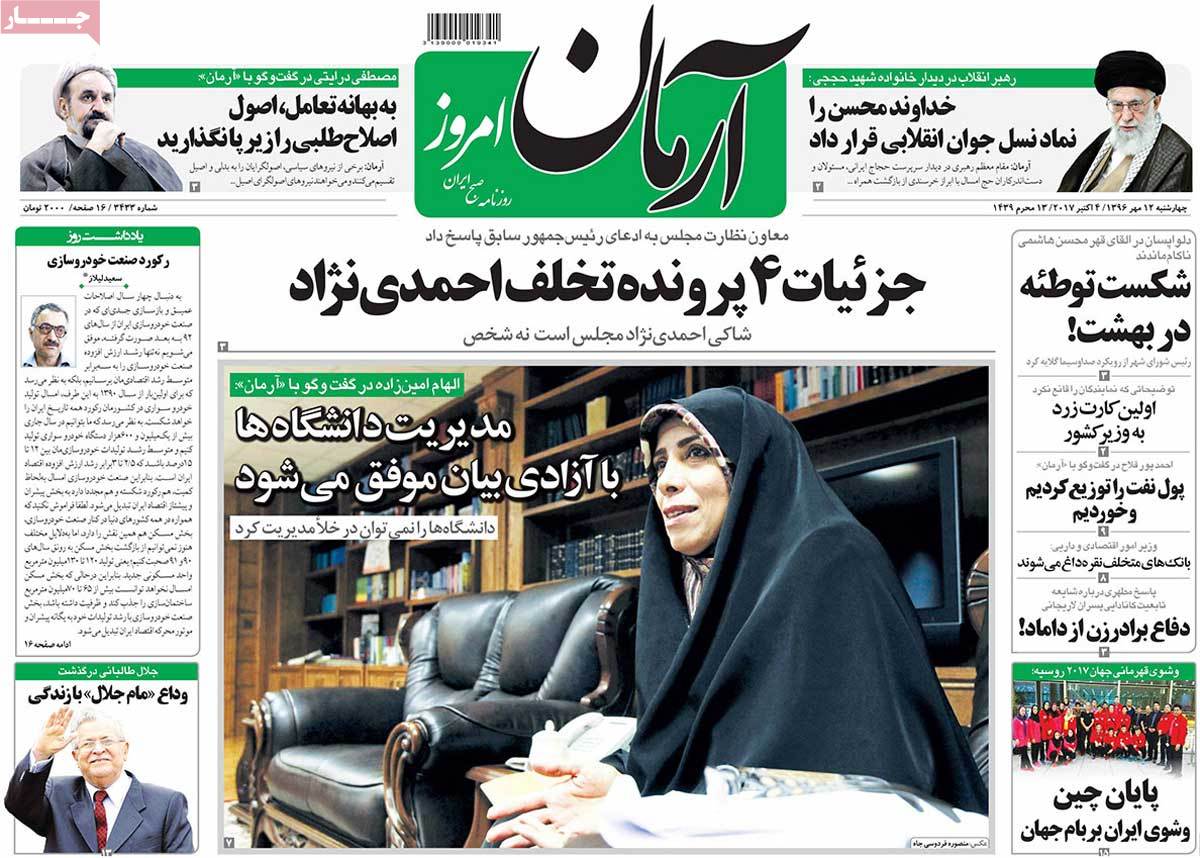 ---
Donya-e-Eghtesad:
1- Anyone Cares About Anti-JCPOA Moves?
Total Disregards Trump's Games
---
Ebtekar:
Rouhani Meets with Irish Senate Speaker
Rouhani Touches upon Ties with the EU, Implementation of JCPOA, Fight against Terror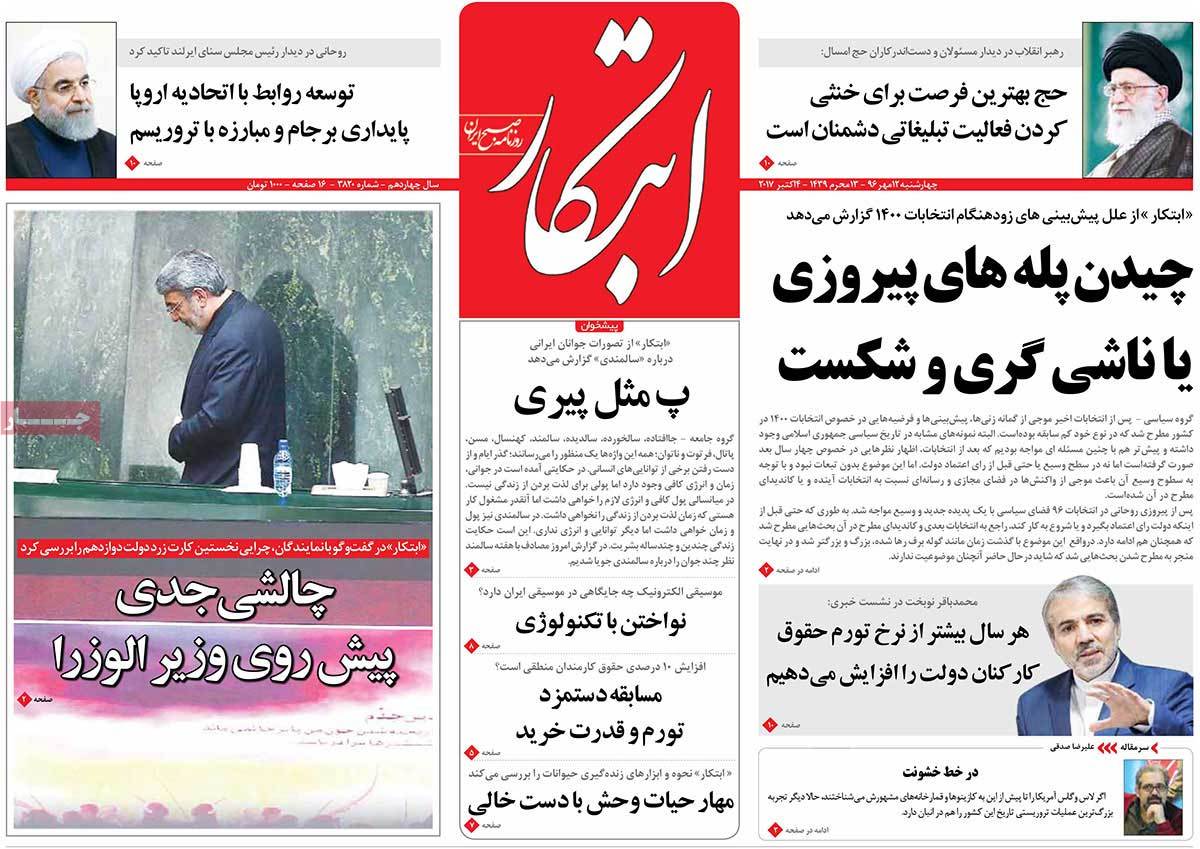 ---
Etemad:
1- Tajzadeh: Share-seeking of Groups; Achilles Heel of Reformists
2- Economy Minister's Ultimatum to Banks: Violate Laws, Face the Music
3- Omid Fraction of Parliament Calls for Modification of Court Verdicts for Reformists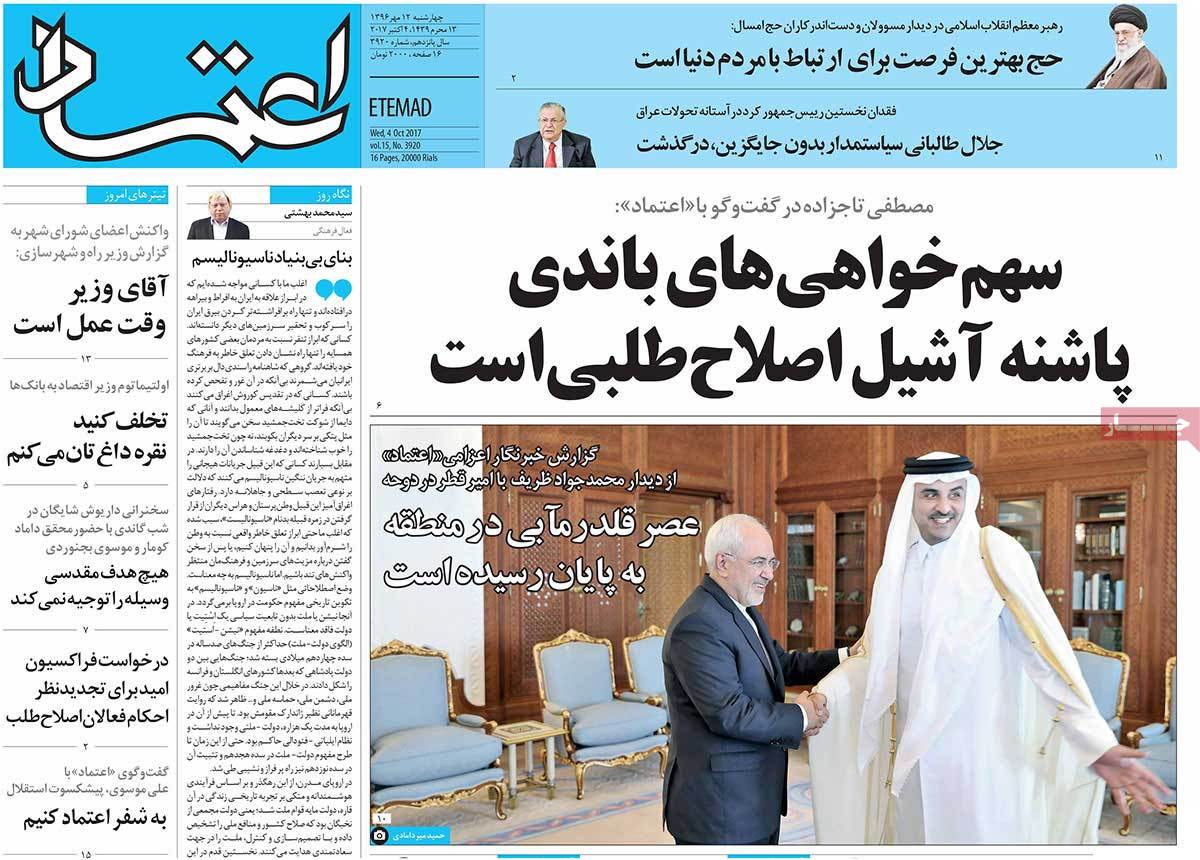 ---
Ettela'at:
1- To Confront Dangerous Fronts, Insightful, Effective Propaganda Needed: Leader
2- Israeli Defence Minister: Bashar al-Assad Wins Syria War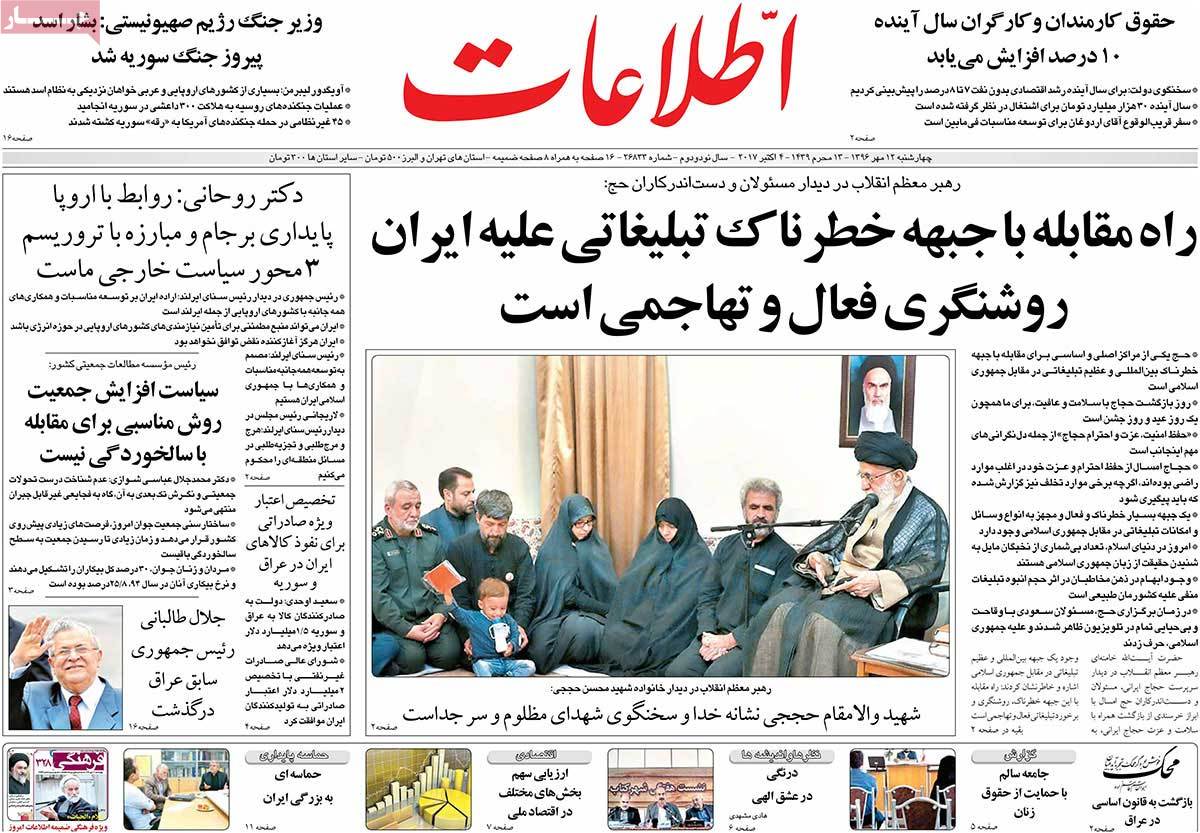 ---
Haft-e Sobh:
What Should We Do with You, Receb?
A Report on Erdogan's Policy toward Iran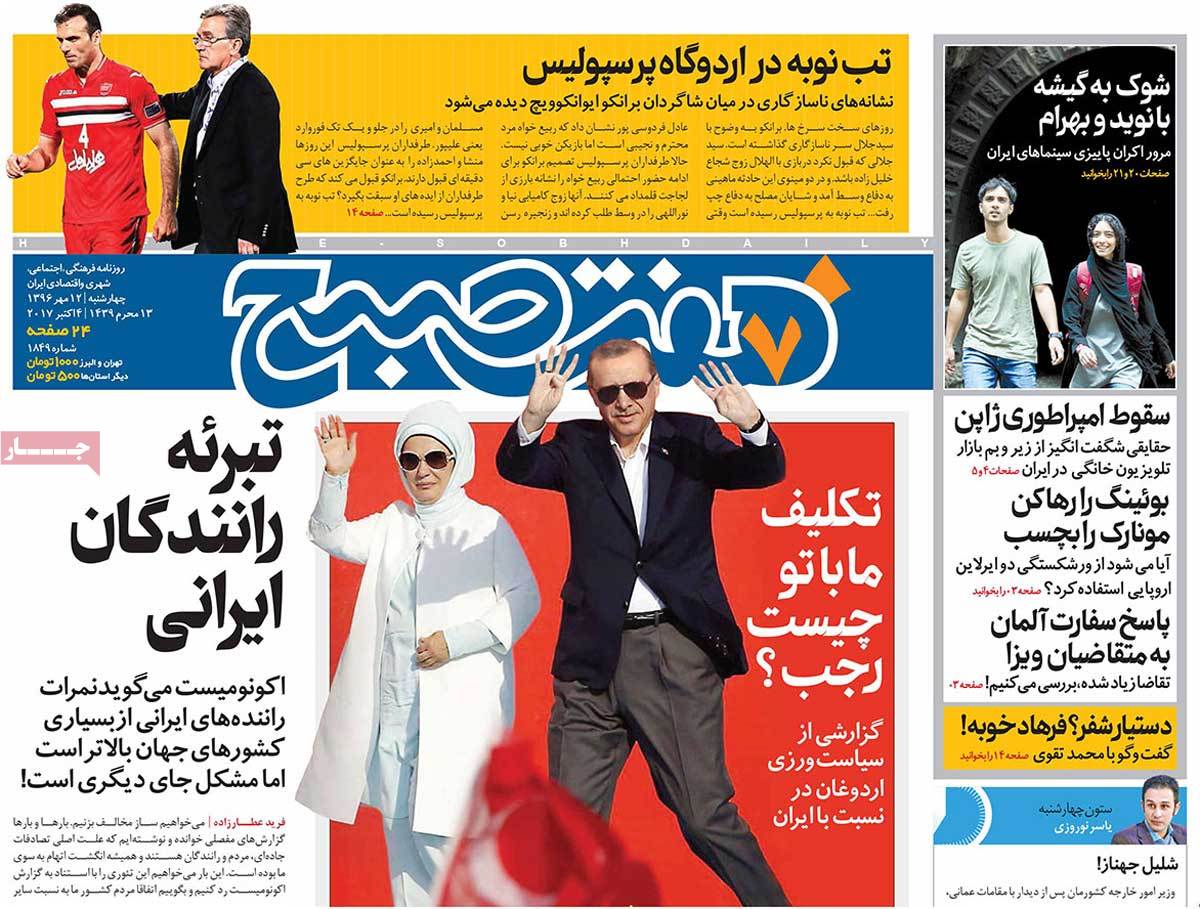 ---
Iran:
1- Economic Convergence between Iran, Western Companies
Exclusive Report on 4th Europe-Iran Forum in Zurich
Peace-seekers Mourn Mam Jajal's Death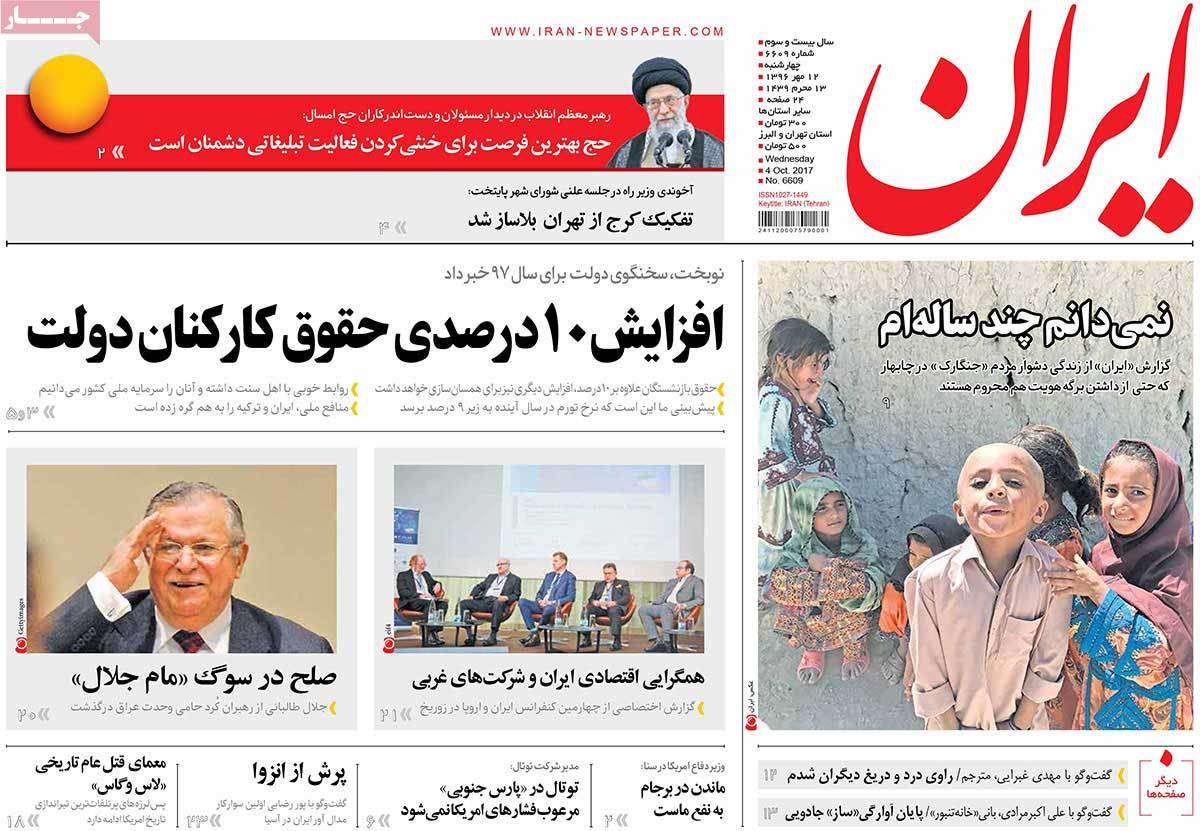 ---
Javan:
1- Martyr Hojaji Made Nation Proud: Leader
2- Talabani's Death Shocks Kurdish Separatists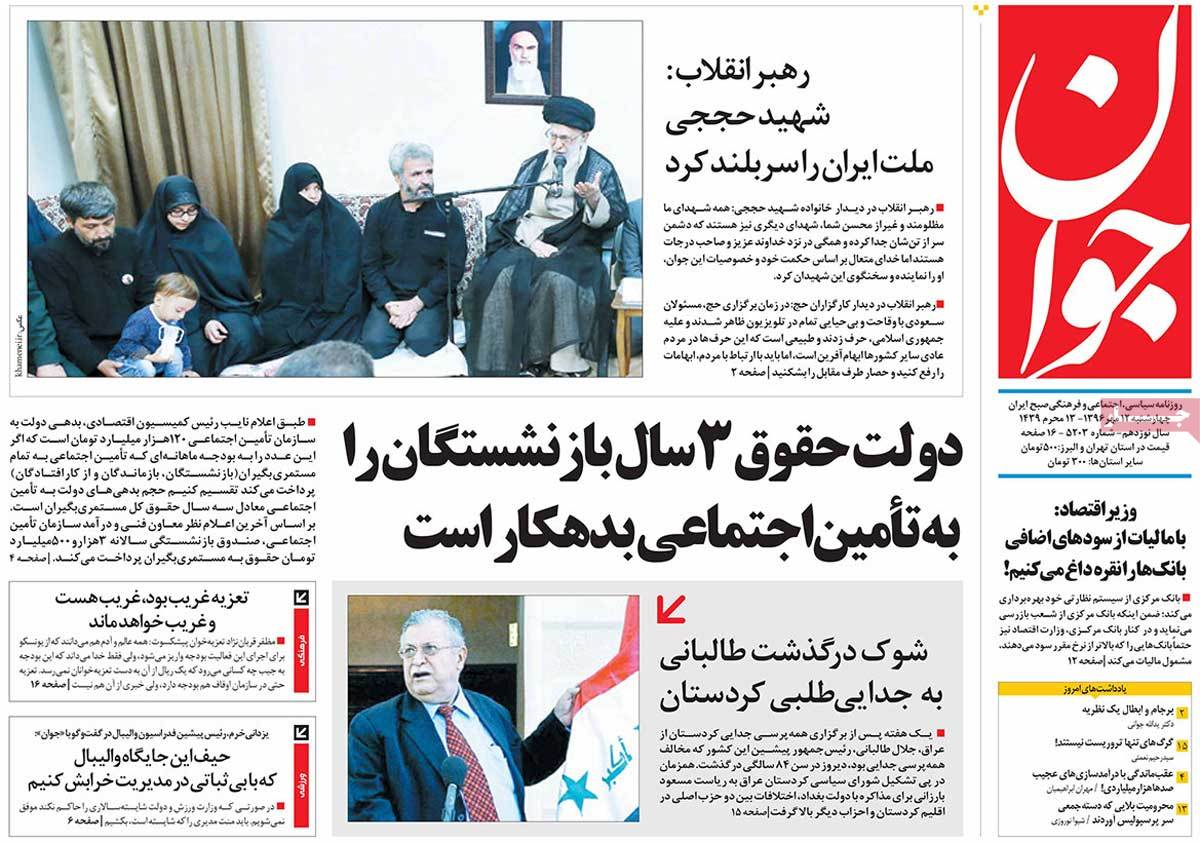 ---
Jomhouri-e-Eslami:
1- FM Zarif Meets with Qatari Emir
Military Option Not Solution for Region's Crises: Zarif
---
Kayhan:
1- US Governor: Shame on Us as Americans
We Blame World, but Can't Solve Our Own Problems
2- President's Trick to Gain Advantage from Countries: Tell I'm Crazy, Get points!
---
Khorasan:
1- Tel Aviv's Confesses: Assad Winner of War in Syria
2- What Would Oil, Aviation Giants do When They leave US?
Total Reaffirms Commitment
Boeing Predicts Losses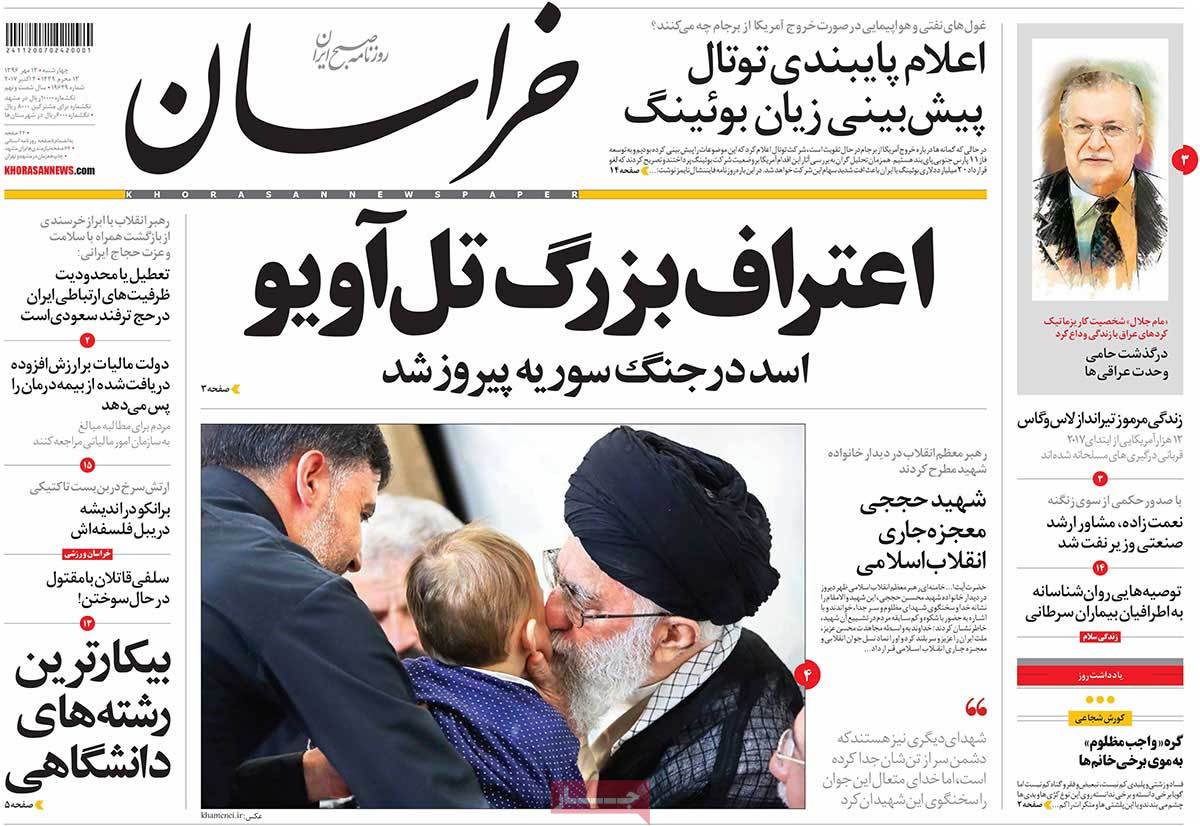 ---
Rah-e-Mardom:
1- Roads and Urban Development Minister:  Tehran on Verge of Environmental Catastrophe
---
Resalat:
1- World Eager to Hear Truth from Islamic Republic: Leader
---
Rouyesh-e-Mellat:
1- US Secretary of Defence: We'd Better Not to Withdraw from Nuclear Deal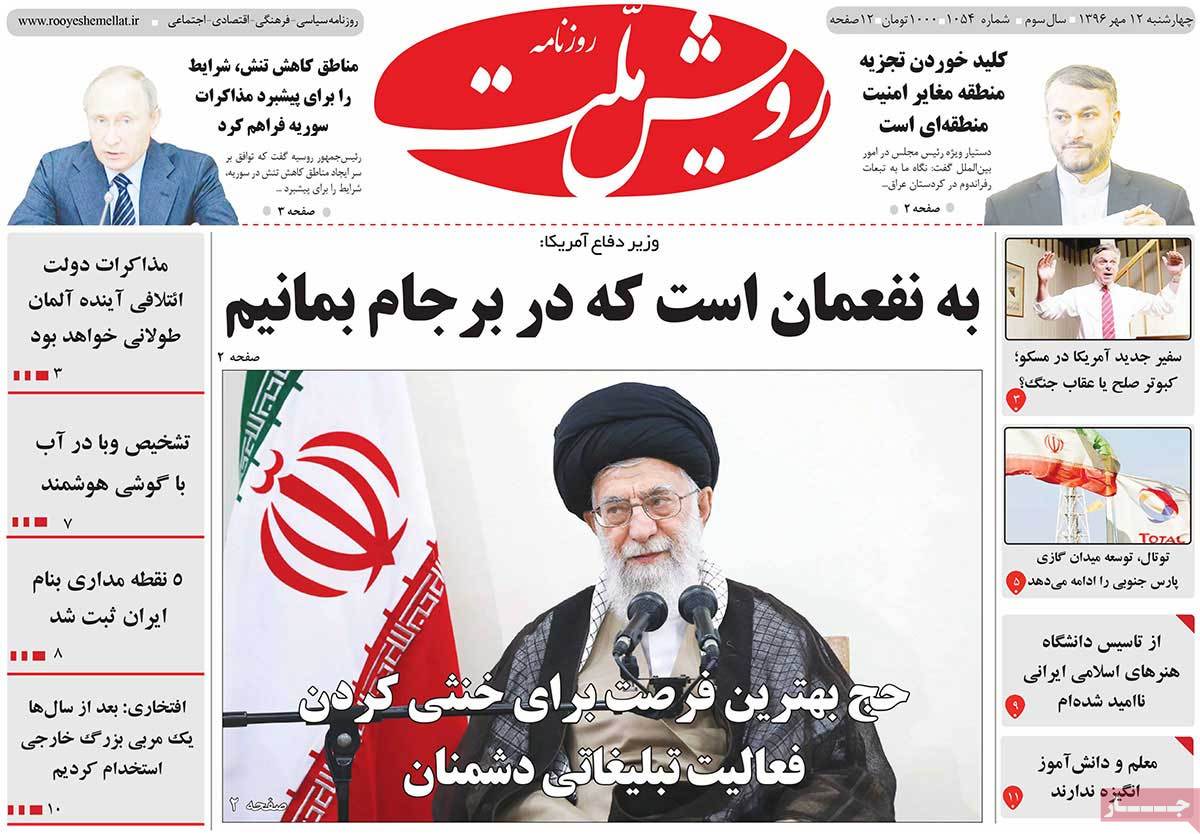 ---
Setareh Sobh:
1- International Affairs Analyst: Iranian Kurds Protecting Territorial Integrity of Country
2- Minister of Roads, Urban Development: 500,000 Vacant Houses in Tehran!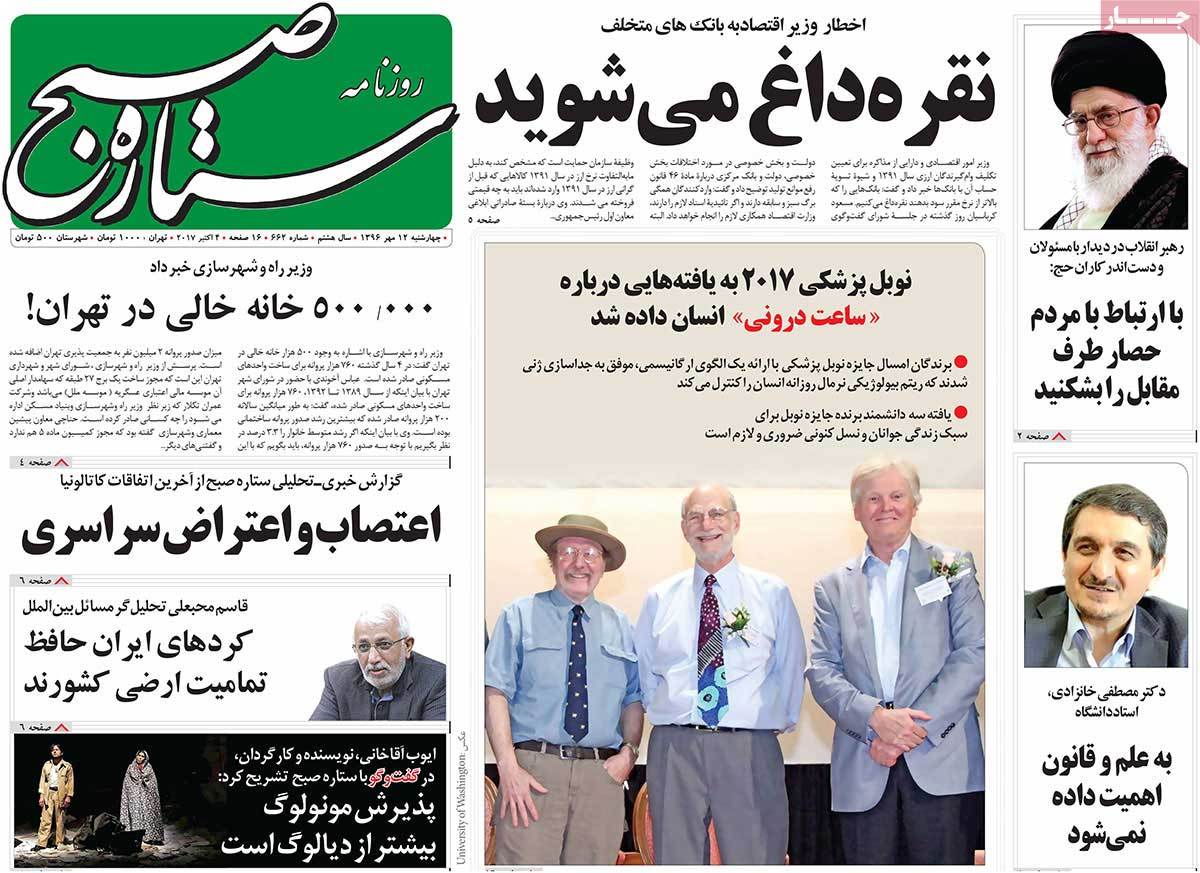 ---
Shargh:
1- Voice of Umm Kulsum Echoes in Saudi Arabia