The top story in today's newspapers was a trilateral meeting between Iranian President Hassan Rouhani, Parliament Speaker Ali Larijani, and Judiciary Chief Ayatollah Sadeq Amoli Larijani. During the meeting, the three officials discussed various domestic and international issues including the US plots and the ways to attract more investment.
Several papers also highlighted the remarks made by the Chief of Staff of the Iranian Armed Forces Major General Mohammad Baqeri about Tehran's withdrawal from the nuclear deal in case the anti-Iran sanctions are restored.
Masoud Barzani's resignation from presidency of Kurdistan Regional Government and the latest developments in the Iraqi region also received great coverage.
The above issues, as well as many more, are highlighted in the following headlines and top stories:
Abrar:
1- Iran Top General: Remaining in JCPOA Meaningless If Sanctions Re-imposed
2- Nechirvan Barzani to Seize Power in Kurdistan Region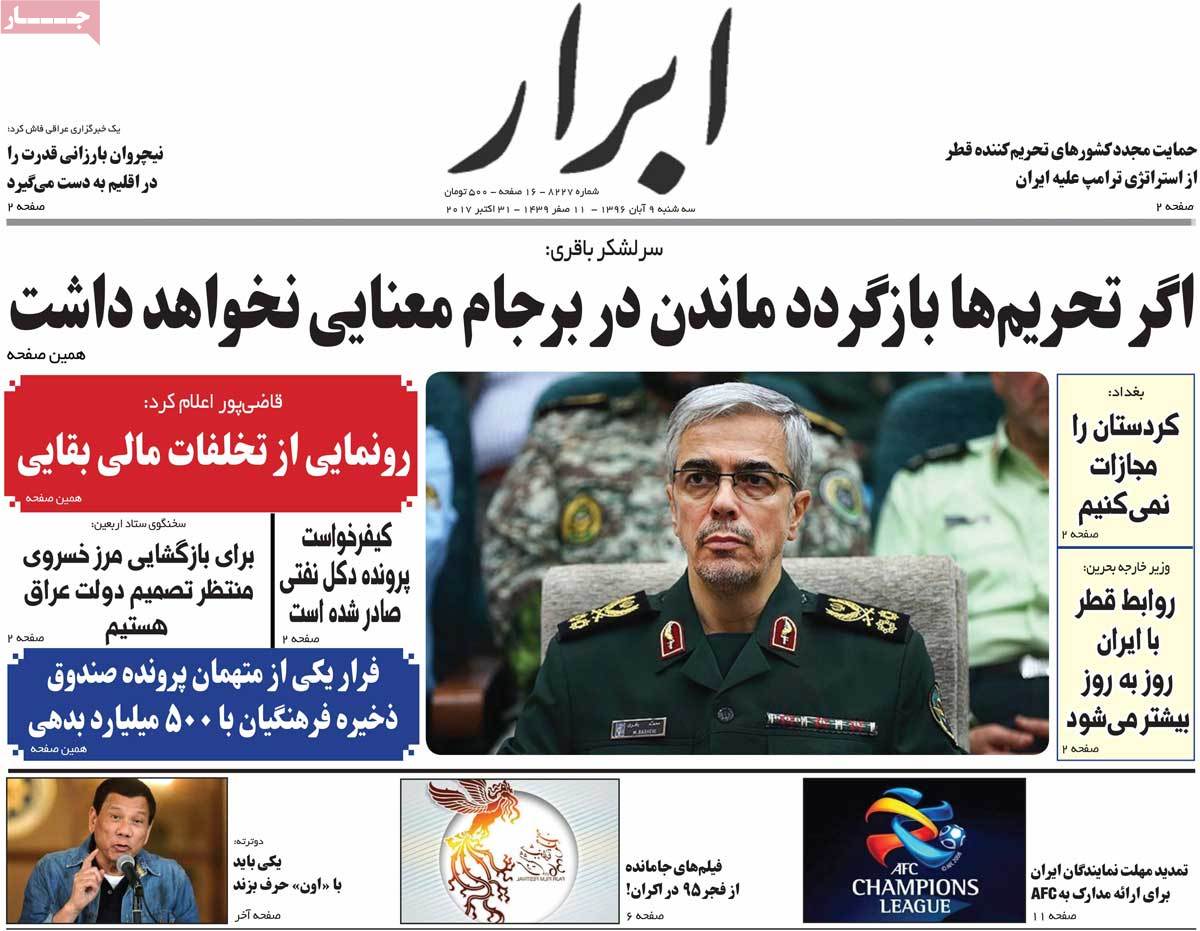 ---
Aftab-e Yazd:
1- MP: Iran Still Paying Prices of Ahmadinejad's Presidency
---
Arman-e Emrooz:
1- Shocking Information about Offences of Ahmadinejad's VP Baqaei
2- Analyst: Trump Golden Opportunity for Rivals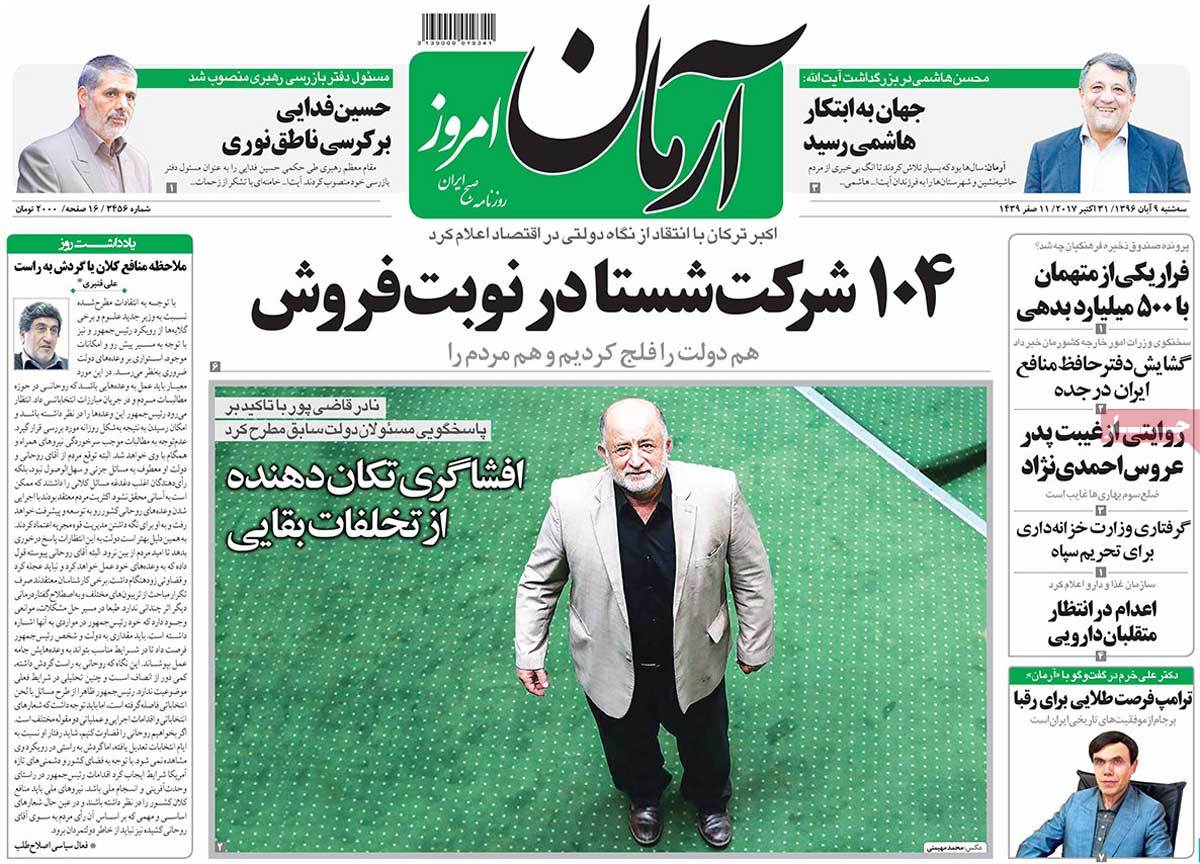 ---
Asman-e Abi:
1- 23rd Press Exhibition Underway in Tehran: The Present, Absent News Outlets
---
Ebtekar:
1- Rouhani: We Have Plans for Different Scenarios
2- Foreign Ministry Spokesman: We Have No Problem for Resolving Woes with Saudi Arabia
3- Increased Fragility in Baghdad-Erbil Ties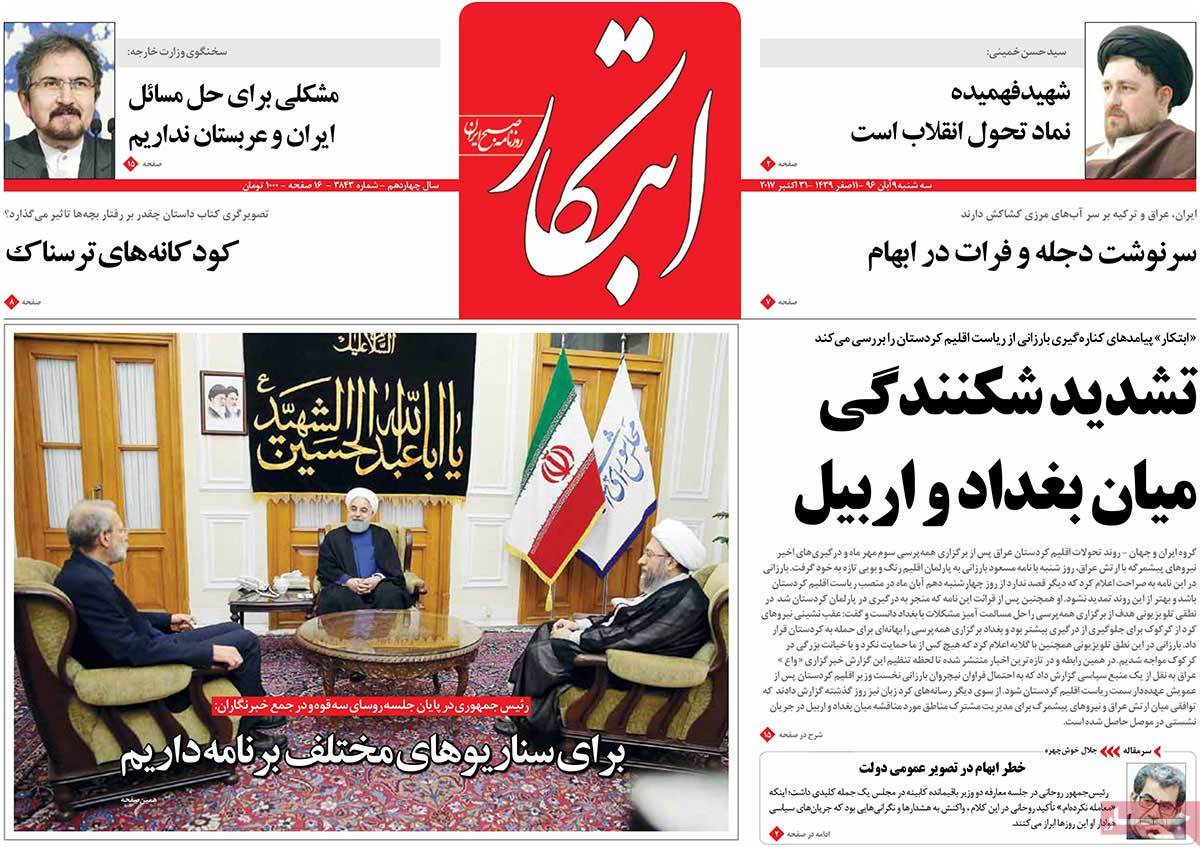 ---
Etemad:
1- Rouhani: Required Mechanisms Devised for Attracting Foreign Investment
---
Ettela'at:
1- National Super-Projects on Water Implemented in 12 Provinces with $6.2bn Budget
2- Syrian Dissidents: No One Wants Assad's Withdrawal from Power Anymore
3- Heads of Iran, Russia, Azerbaijan Republic to Meet in Tehran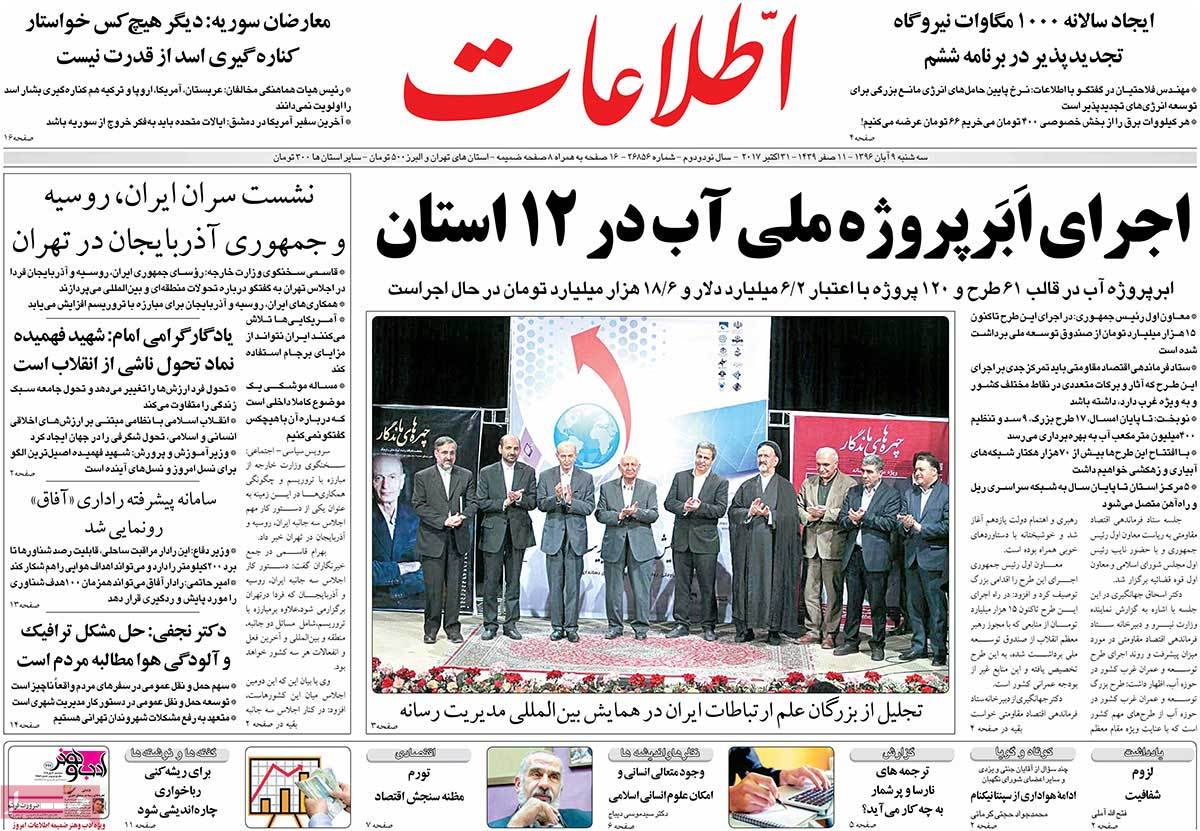 ---
Hamshahri:
1- Steps for Globalization of Iranian Cities; Interview with UN Official in Tehran
---
Iran:
1- Rouhani: All Branches of Power in Iran Resolved to Reinforce Security for Investment
2- Head of Trump's Electoral Campaign Arrested
3- Erbil's Hard Days after Referendum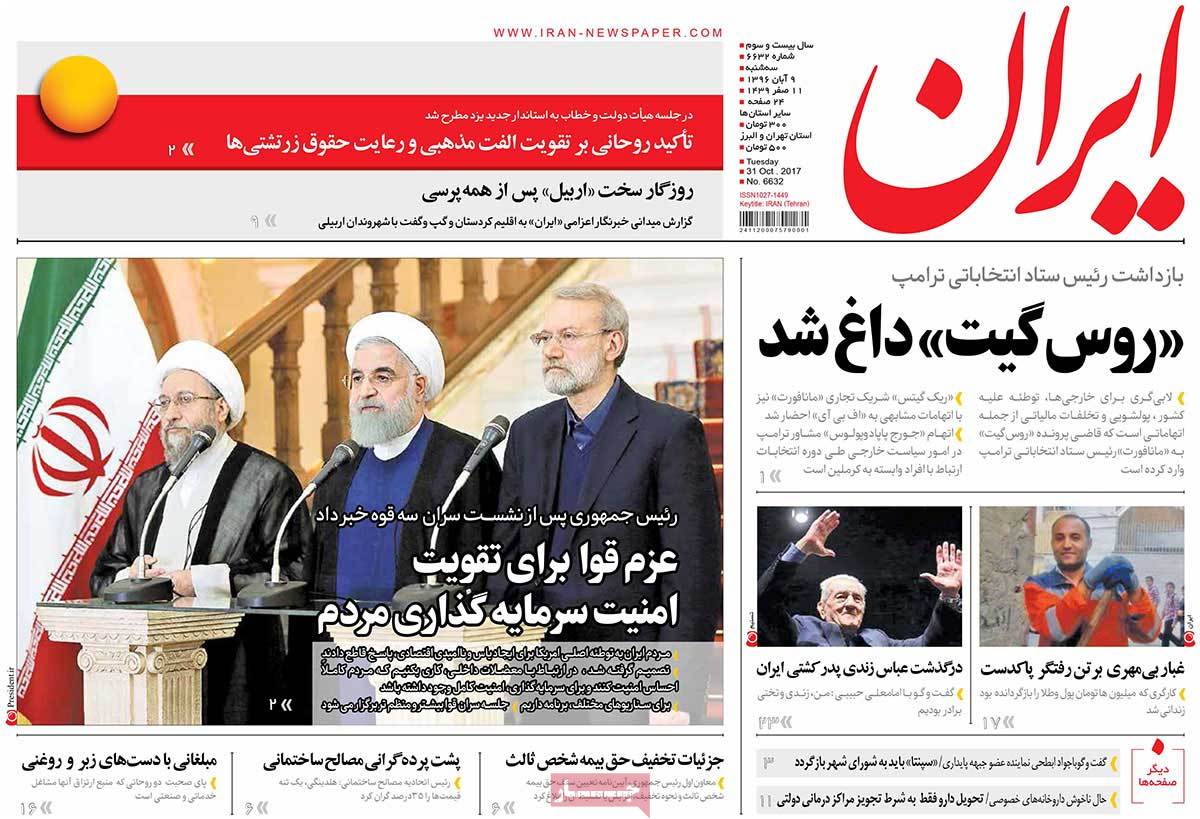 ---
Javan:
1- Female Staff of European Parliament Harassed by Politicians
British PM: Harassments in European Parliament Intolerable
2- Barzani's Supporters Create Chaos after His Resignation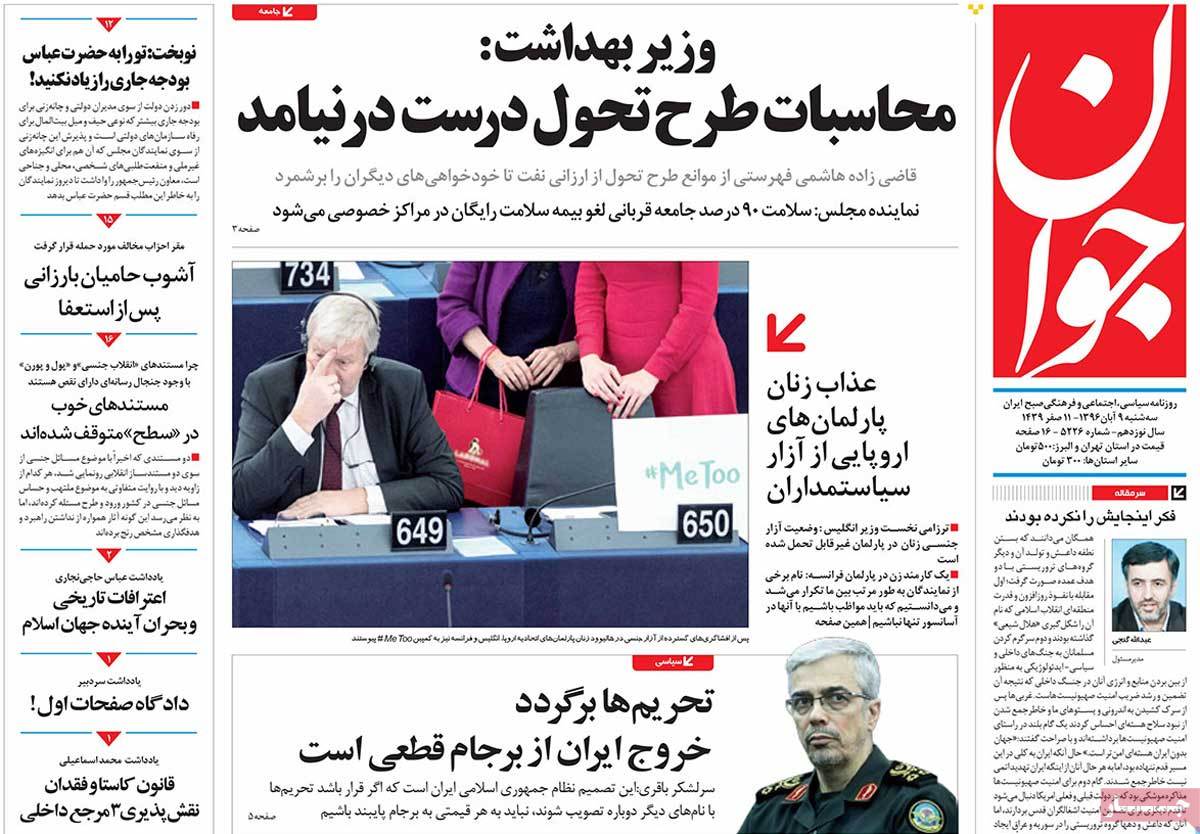 ---
Jomhouri Eslami:
1- Tehran Mayor: Citizens Want Municipality to Resolve Traffic Jam, Air Pollution
2- Unprecedented Hatred of American People towards Trump
3- Putin to Visit Tehran Tomorrow
---
Kayhan:
1- Mother of Sanctions Is Here: Those Who Embellished US Now Hiding Themselves
2- Barzani, Latest Victim of Trusting US, Zionist Regime
3- Al Saud to Let Women Go to Stadiums in Order to Cover Slaughter of Muslim Women, Kids
4- Economic Gains of Nuclear Deal for Europe, Unemployment and Recession for Us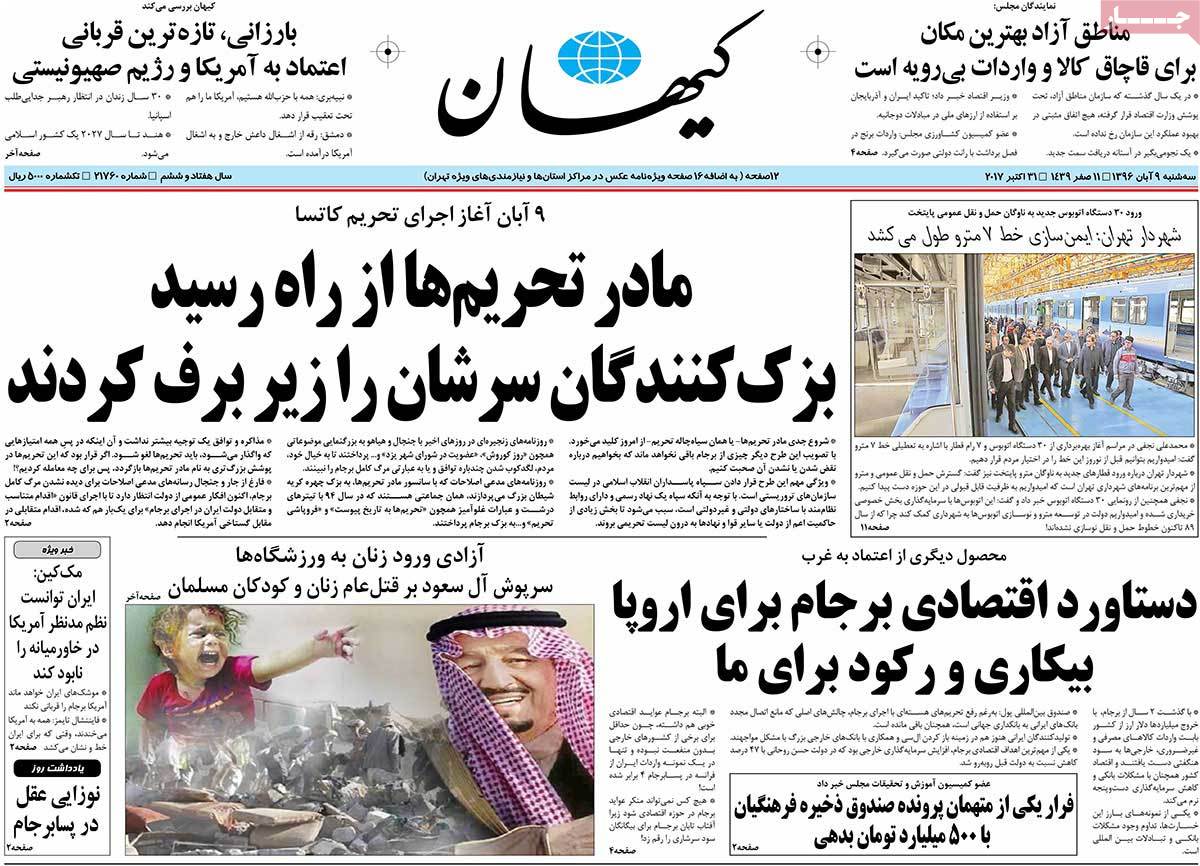 ---
Seda-ye Eslahat:
1- Moderate Gov't Getting Too Much Rightist
Consequences of Increased Role for Vaezi, Decreased One for Jahangiri
2- Backing Off, Only Thing We See in Rouhani: MP
---
Shargh:
1- Heads of Trio Branches of Iran Gov't Discuss Issue of Zoroastrian Councilor's Disqualification
2- Academic Zibakalam Writes to Rouhani: Don't Forget People's Demands
---
Siasat-e Rooz:
1- Iraqi Kurdistan's People Celebrate after Barzani's Resignation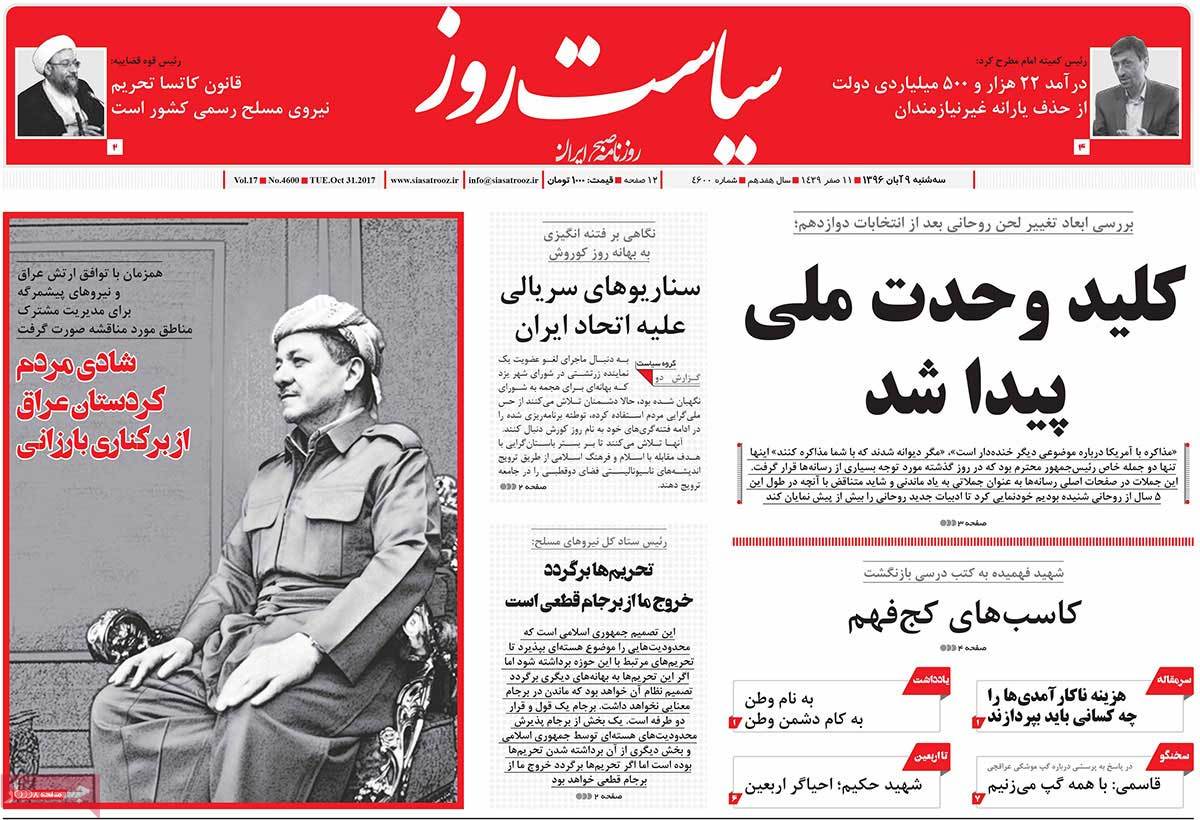 ---
SMT:
1- Those Who Have Lost Their Money Hold Protest Gathering in Press Exhibition
---
Vatan-e Emrooz:
1- English Moral Decay, from BBC to West Minister
A Report on Series of Sexual Scandals in Britain