IFP has taken a look at the front pages of Iranian newspapers on Monday and picked headlines from 25 of them. IFP has simply translated the headlines and does not vouch for their accuracy.
Newspapers on Monday covered Iranian Judiciary Chief Ayatollah Sadeq Amoli Larijani's visit to Iraq and his meetings with Iraqi judicial officials.
They also highlighted the report released by the Iranian Parliament's National Security and Foreign Policy Commission on the implementation of a nuclear deal between Tehran and world powers.
The battles in Iraq's Mosul and Syria's Aleppo against the ISIS terrorist group and Syrian opposition militants also received great coverage.
The above issues, as well as many more, are highlighted in the following headlines:
Abrar:
1- Kerry: CIA Directly Interfered in Removal of Iranian PM Mosaddeq
2- Zarif: Iran Not Worried about Voicing Its Opinions about Human Rights
3- Erdogan Threatens Iraqi Shiite Forces
4- American Diplomats to Leave Istanbul
5- Two Republicans Criticize US Prosecutor General over Payment of $1.7bn to Iran
6- Successful Predictor of US Elections: Donald Trump Will Win the Polls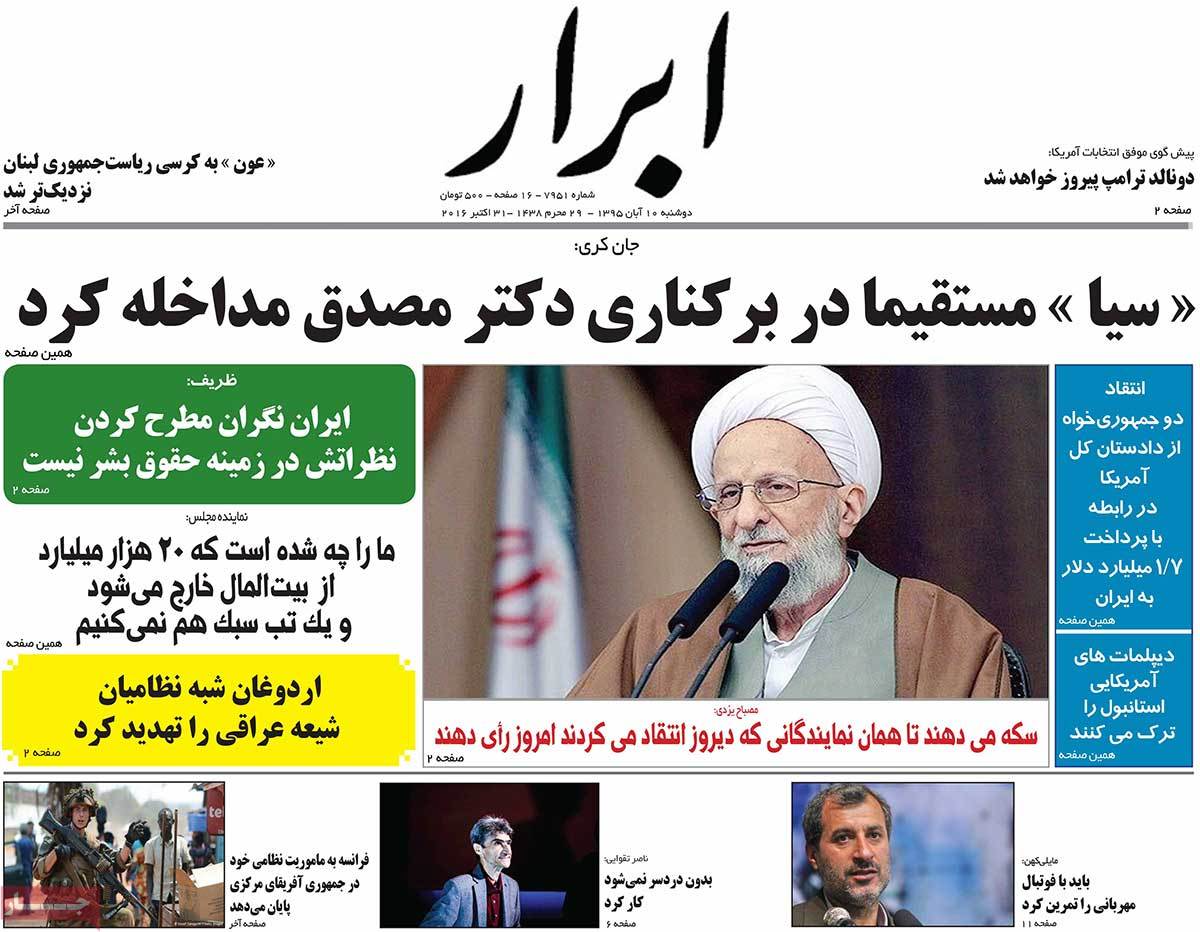 ---
Abrar-e Eqtesadi:
1- Increase in Export of Iran's Oil and Gas Condensates by March 2017
2- Iran Moves Up 7 Ranks in Latest Competitiveness Index Standing
3- Contracts with Airbus and Boeing in Final Phase: New Planes to Be Added to Iran's Air Fleet by March 2017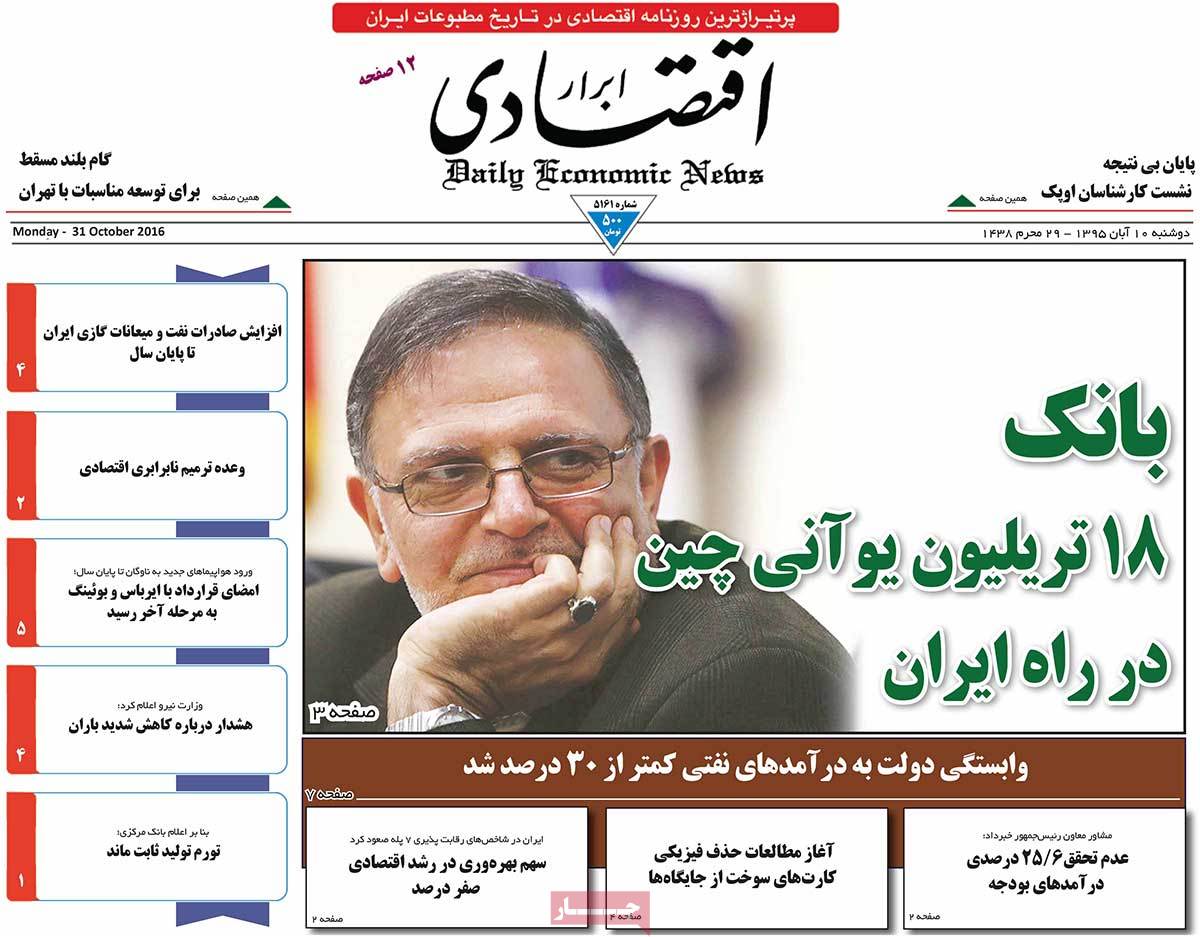 ---
Afarinesh:
1- Africa, New Market for Iran's Petchem Products
2- Heads of Iranian and Iraqi Judiciaries: Tehran and Baghdad Have Common Views about Human Rights and Terrorism
3- Zarif: Iran Is Top Power in Middle East
---
Afkar:
1- Syrian Opposition's Attack on West Aleppo with Poisonous Gas
---
Aftab-e Yazd:
1- Unbelievable Remarks by CBI Governor: Seif Claims More than $2.77bn Has Been Paid to 13,000 Businesses
2- Hardline MP Worried about Presence of American Surgeons in Iran
3- 200 MPs Appreciate Iran Nuclear Negotiating Team
---
Arman-e Emrooz:
1- Parliament's National Security and Foreign Policy Commission Gives Report of JCPOA Implementation: End of Sanctions on 606 Iranian Persons and Companies
2- End of Iranian-American Groom's Diplomacy: Kerry Says He Won't Visit Iran
---
Asrar:
1- Iraqi PM: Mosul Operation Is Going On without Any Pause
2- Canadian FM: We Are Trying to Restore Ties with Iran
---
Emtiaz:
1- Kiarostami and Shakespeare to Be Commemorated in Kolkata Film Festival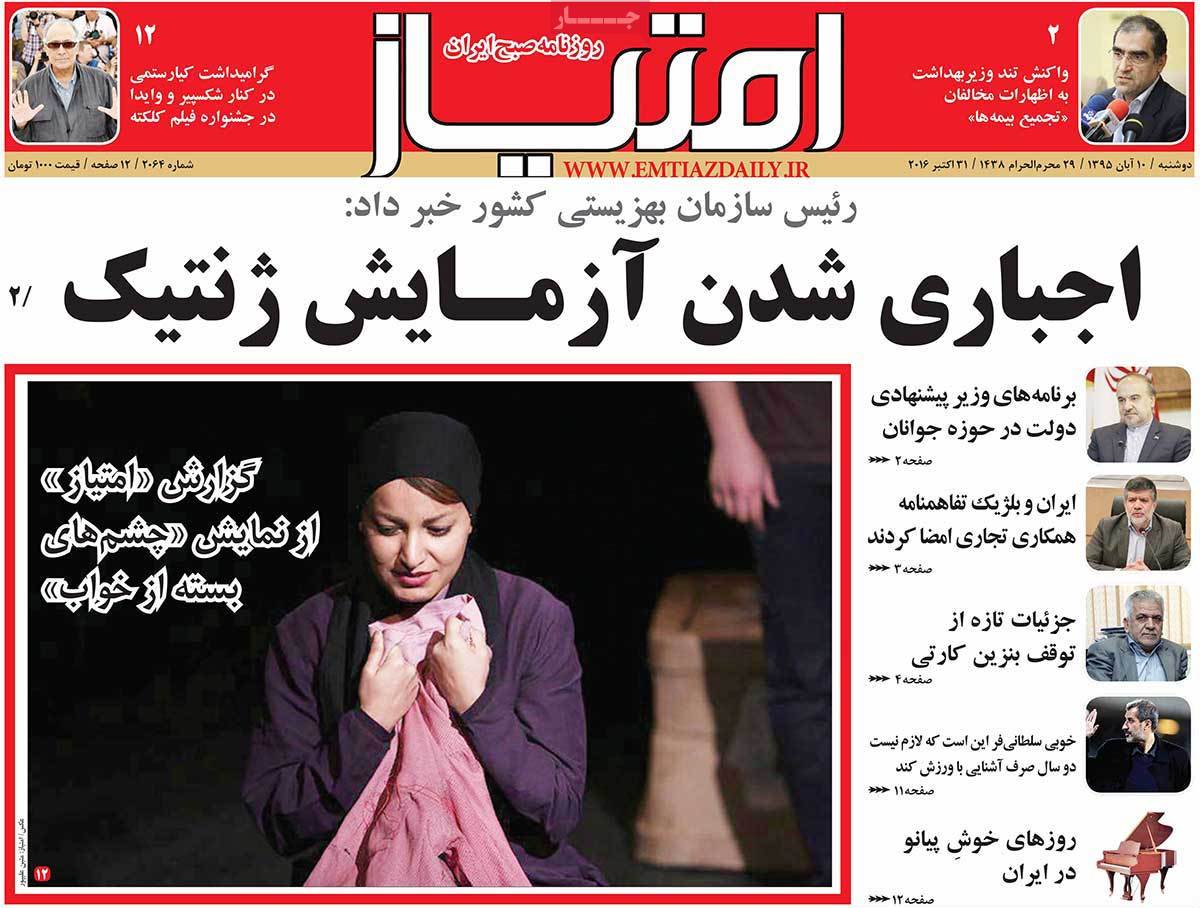 ---
Etemad:
1- Iran's Karate Claims World Title for First Time: First Place in Team Competition, Third Place in Individual
2- Clinton's Policy on Russia Is to Iran's Benefit: Academic
3- Rouhani Will Defend His Nominated Ministers in Parliament in a Positive Atmosphere: Parliament Ready for Vote of Confidence
---
Ettela'at:
1- Zarif: In the Long Run, Iran's Power Can Turn to an Institutionalized Influence, Power, and Might at Int'l Level
2- Iran and Iraq Prosecutor General Sign MoU
3- Saudi Arabia's Attack on a Prison in Yemen Kills 60
4- Several Areas in Mosul Liberated by Popular Mobilisation Forces
---
Haft-e Sobh:
1- An $8.6m Apartment in Tehran: Most Expensive House in Iran's Capital Is worth Twice the House of Matthew McConaughey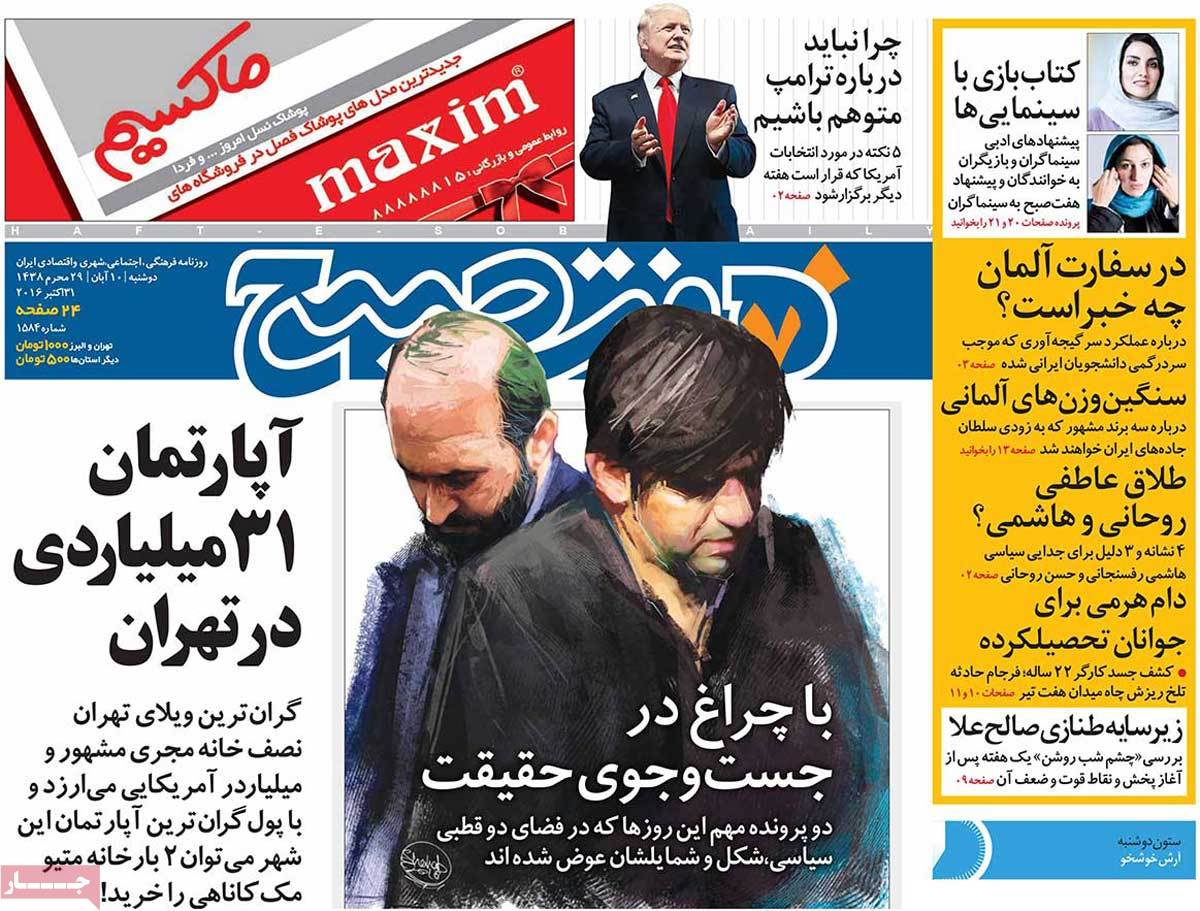 ---
Hemayat:
1- Judiciary Chief Underlines Necessity for Development of Human Rights Based on Islamic Civilization
2- Ansarullah's Artillery and Rocket Attack on Border Areas of Saudi Arabia
---
Jame Jam:
1- MPs Oblige Iranian Organizations to Put 'Clean Air' Top on Their Agenda: Clean Air under Shadow of Law
---
Javan:
1- 7 Anti-Iran Hostile Moves by the US in Post-JCPOA Era: Parliament Has Obliged Gov't to Make Timely Reciprocal Moves
2- West's Three Solutions for Saving Terrorists from Aleppo: Poisonous Gases against Army, Mogherini's Visit to Tehran. And Military Support of Turkey-US for Terrorists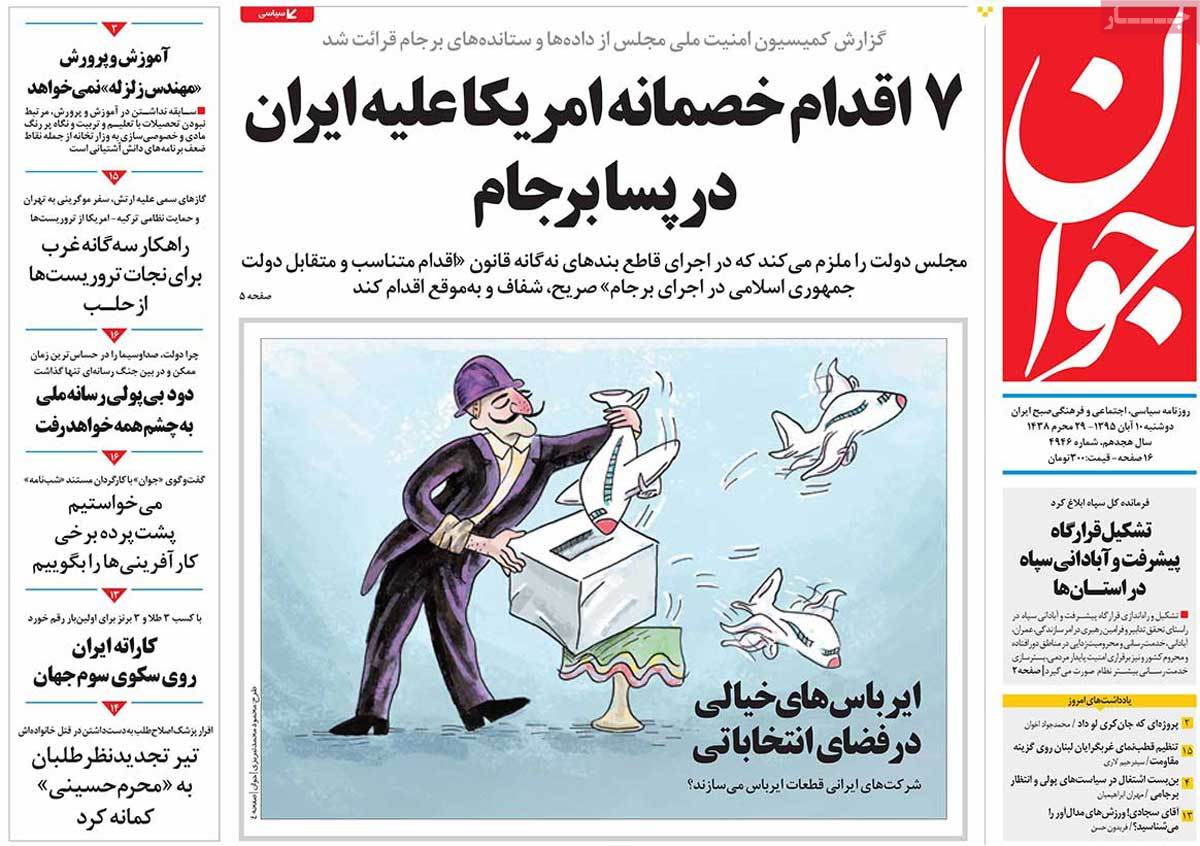 ---
Jomhouri Eslami:
1- JCPOA Achievements in Parliament's Report
2- Rafsanjani in Meeting with Senegal Ambassador: Prevent Spread of Boko Haram in Africa
3- Expansion of Tehran-Beijing Banking Ties: A Bank with 18 Trillion Yuan Capital En Route to Iran
---
Kayhan:
1- Terrorists Were Paralysed in Aleppo: Foreign Supporters Ask Them to Stay and Wait for Their Arm Supplies
2- Judiciary Chief: Iran Will Continue Its Full Support for Iraq
---
Khorasan:
1- Removing US Dollar from Iran's Trade with Other Countries: Countries Buying Oil and Other Iranian Goods Pay Local Currencies or Euru
2- 10,000 Fired from Their Jobs as Latest Victims of Turkey Coup: Erdogan Wants to Restore Death Penalty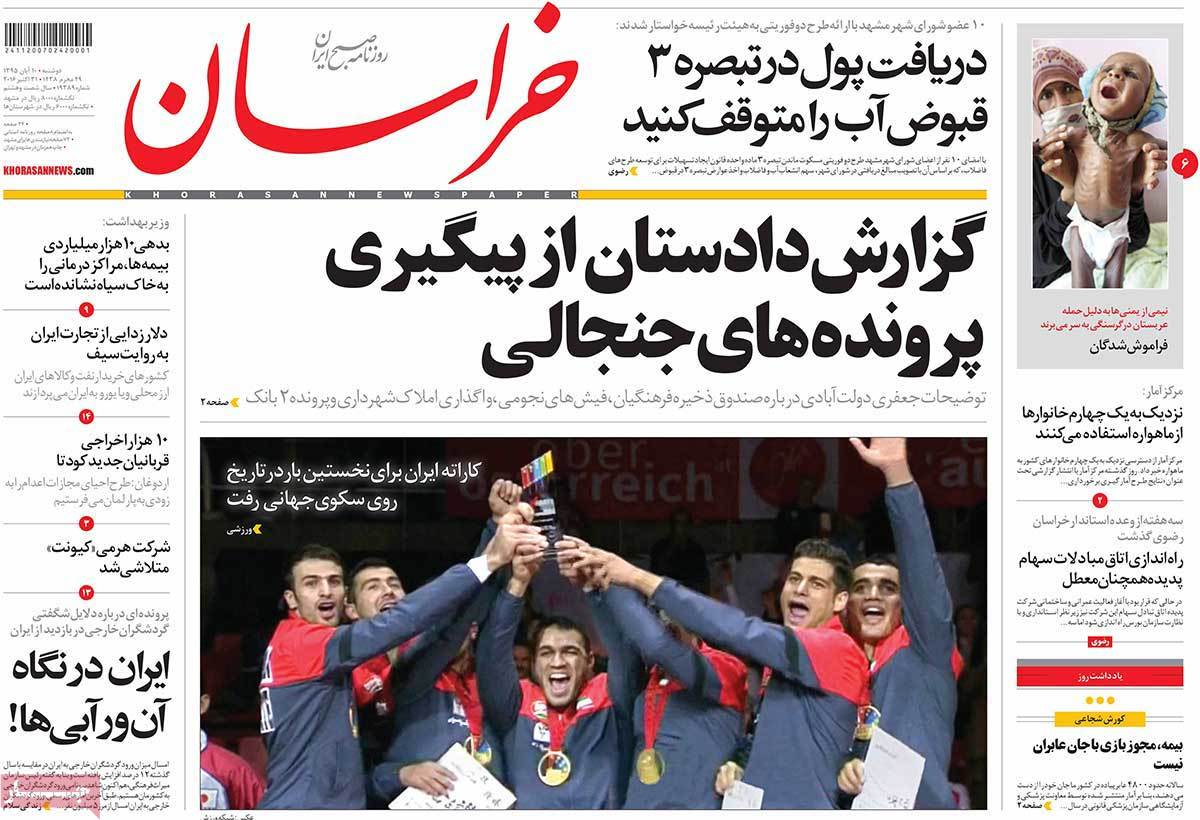 ---
Payam-e Zaman:
1- Deputy FM: UN Has Failed to Provide International Peace and Security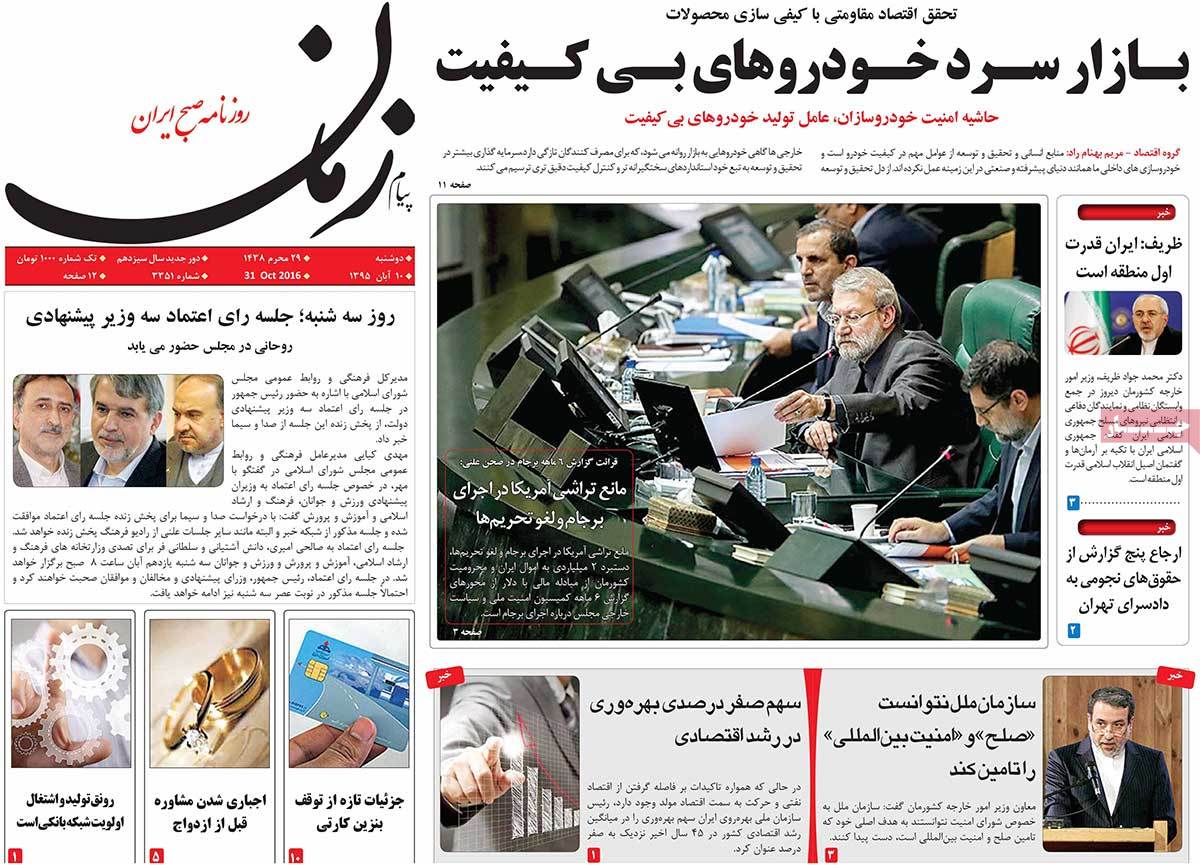 ---
Rooyesh-e Mellat:
1- Massive Arbaeen Processions Officially Started
---
Saheb Qalam:
1- Austria Opens $1bn LC for Iran
---
Setareh Sobh:
1- Barack, Michelle, Bill, Hillary vs. American Populism
Bill Clinton: Trump Endangers Global Security
Hillary: Trump Will Destroy Future of US
Michelle Obama: I'll Support Clinton for My Daughter's Future
Barack Obama: Trump Doesn't Deserve to Be US Command-in-Chief
---
Shargh:
1- Justice Minister: Basij [voluntary forces] Should Not Enter Iran Elections with Military Identity
2- Tens of People Killed in Yemen in Saudi Airstrikes
---
Sobh-e Now:
1- Germans Continue Stonewalling: Hard Days of Iranian Students Waiting for Germany Visa
2- Muhammad, the Messenger of God Screened in Turkey: Iran's Cultural Diplomacy vs. Saudi Petrodollars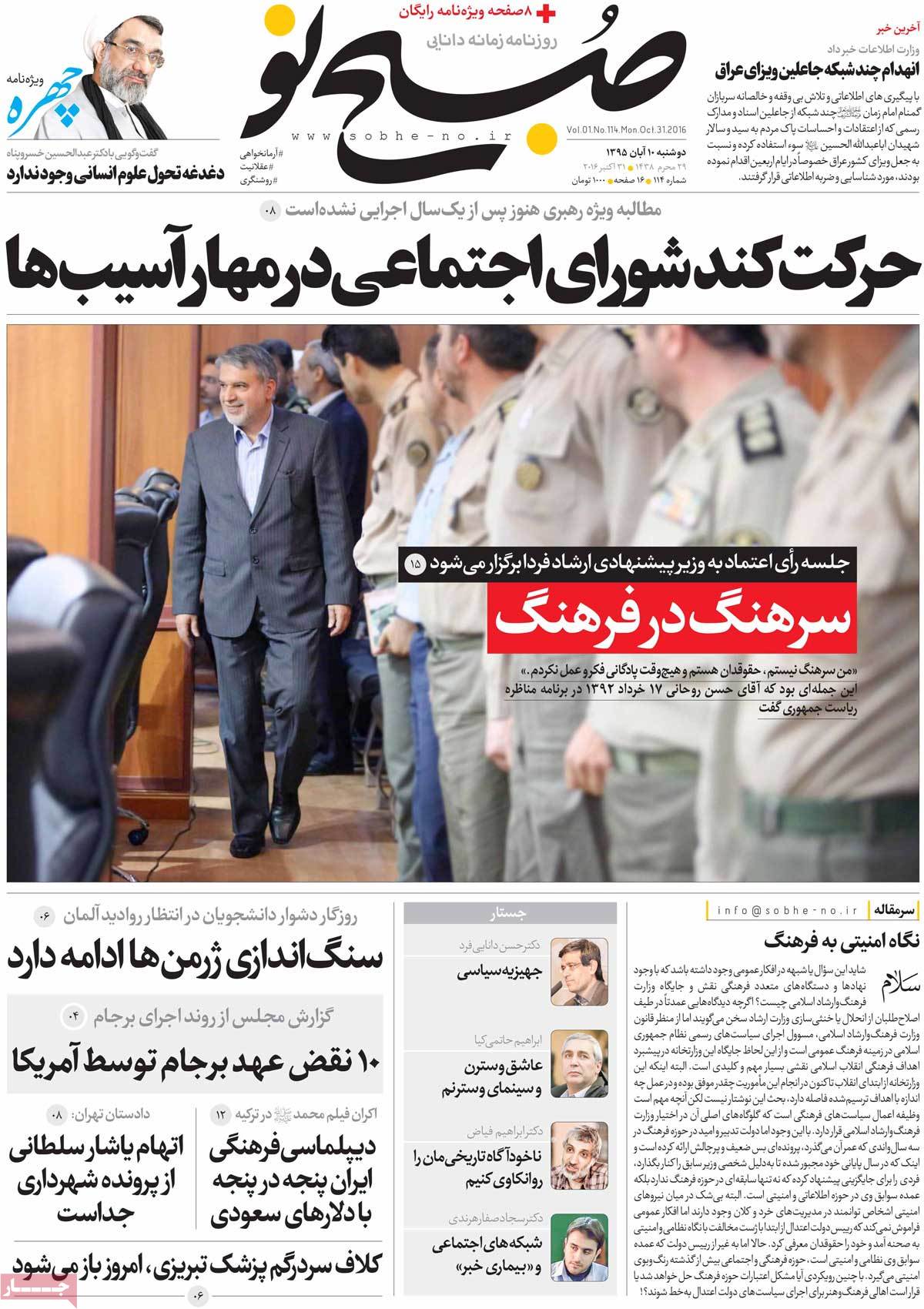 ---
Vaghaye Ettefaghieh:
1- Iran Waiting for Dust Pollution Crisis: When Dam Construction in Turkey Endangers Middle East's Environment
---
Vatan-e Emrooz:
1- Yemeni Tribes to Take Revenge from Saudis: 102 Civilians Killed in Latest Saudi Airstrike
2- Parliament: Anti-Iran Sanctions Have Not Been Lifted