The top story in all Iranian newspapers today was the remarks made by President Hassan Rouhani about negotiation with the US administration. Rouhani highlighted the US violation of its commitments as per the earlier agreements, and said no one is that crazy to hold negotiation with the US anymore.
Rouhani made the remarks in an address to a parliamentary session held to give a vote of confidence to the two ministers he had proposed. Both of his picks, Science Minister Mansour Gholami and Energy Minister Reza Ardakanian were endorsed by the lawmakers.
Newspapers today also covered the Iranian foreign ministry's remarks about a request by US President Donald Trump to meet Iran's Rouhani on the sidelines of the UN General Assembly in New York. The foreign ministry says the Iranian president had rejected the offer.
The visit of Yukiya Amano, the Director-General of the International Atomic Energy Agency (IAEA), to Tehran also received great coverage. Amano, who held separate meetings with President Rouhani, Foreign Minister Mohammad Javad Zarif, and nuclear Chief Ali Akbar Salehi, once again confirmed Tehran's compliance with its JCPOA commitments.
The above issues, as well as many more, are highlighted in the following headlines and top stories:
19 Dey:
1- Amano: Iran Has Fulfilled All Its JCPOA Commitments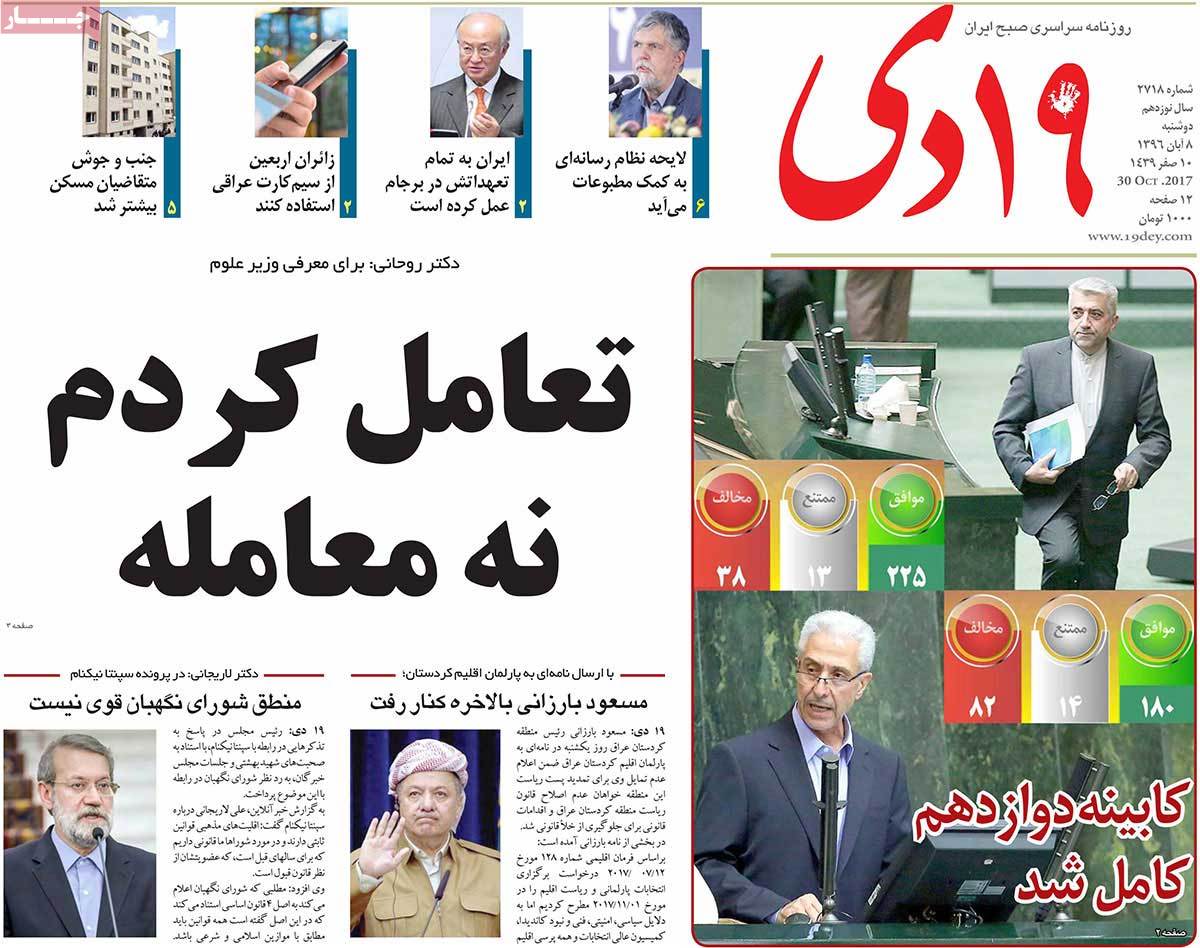 ---
Abrar:
1- Rouhani: We Have Built, Are Building, Will Build Missiles
2- Judicial Emergency Centres to Be Established in Path of Arba'een Walk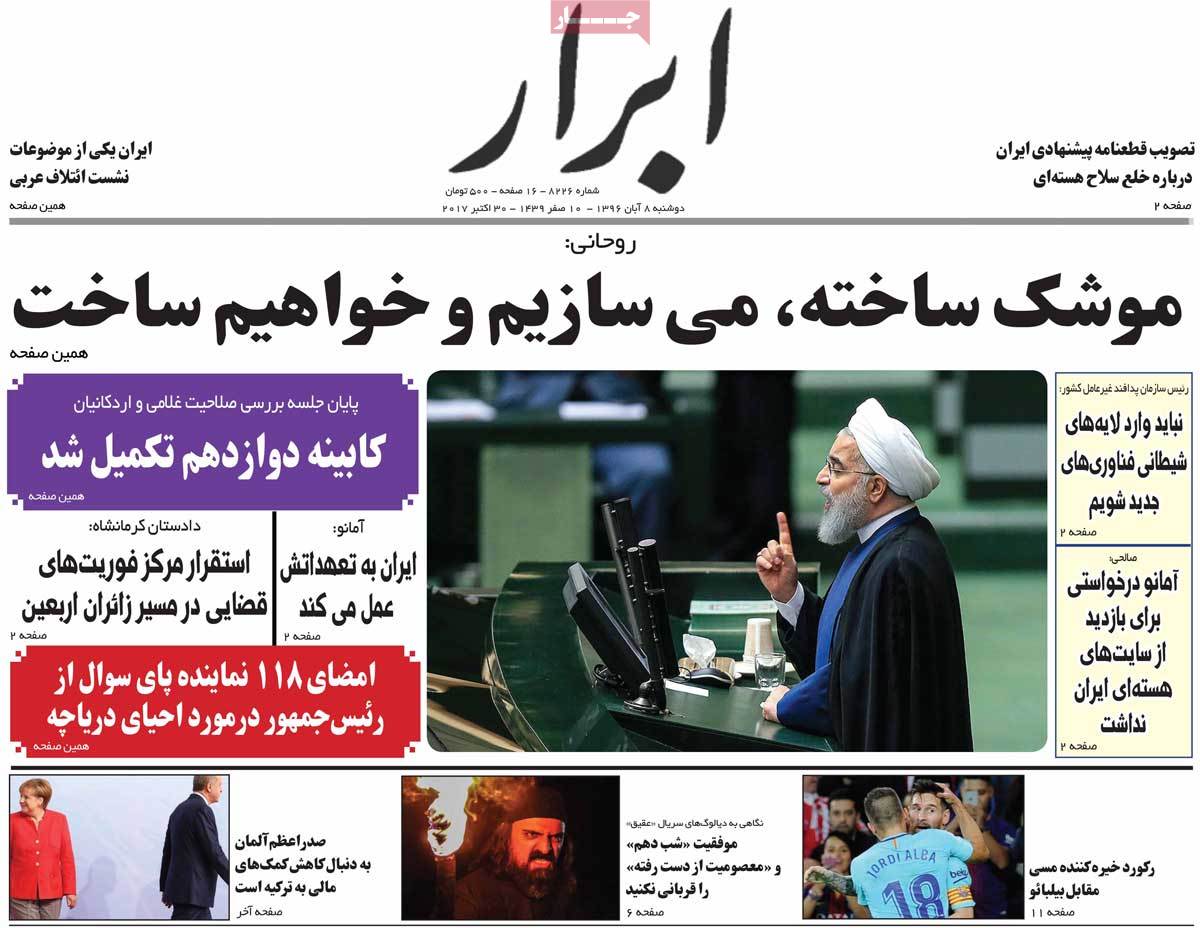 ---
Aftab-e Yazd:
1- Government's Calm Day in Parliament: Two Ministers Receive Vote of Confidence
2- Iran Nuclear Chief: IAEA under US Pressure; We Hope It Can Maintain Independence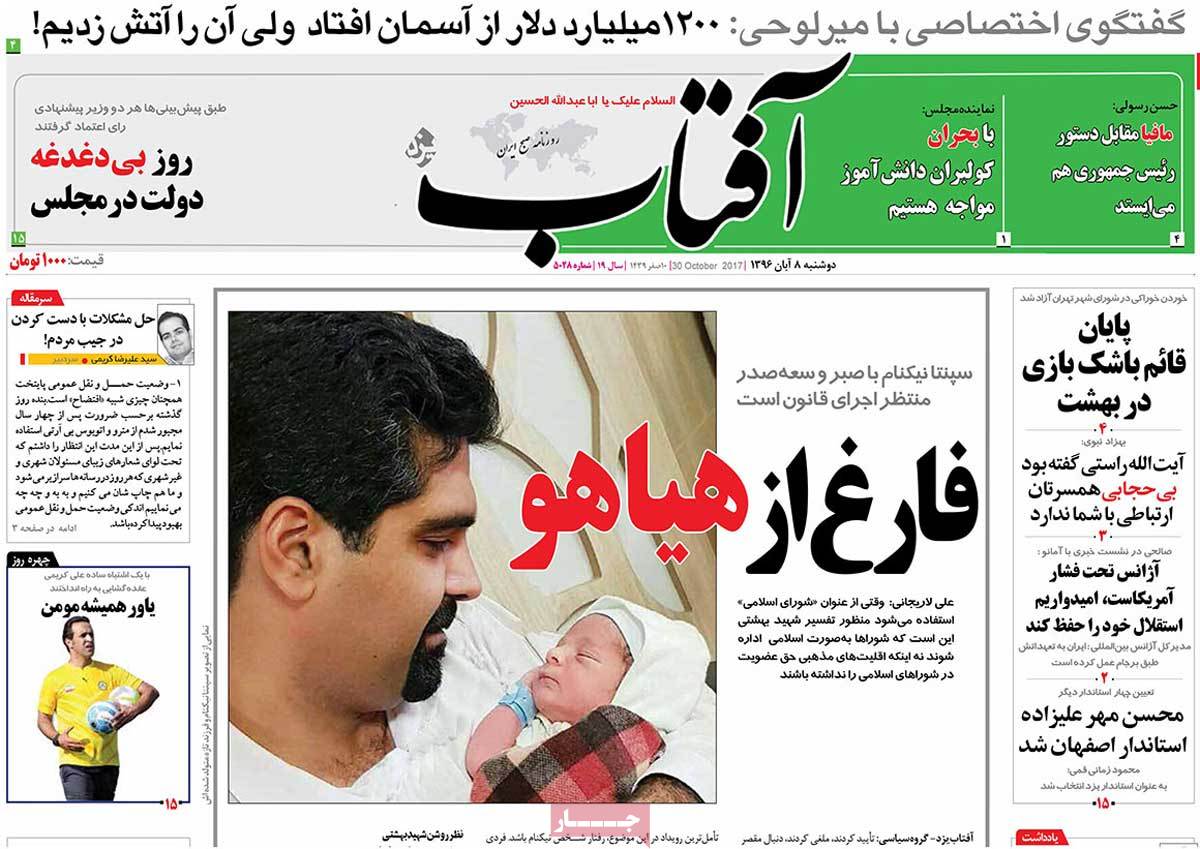 ---
Arman-e Emrooz:
1- Rouhani Rejected Trump's Request for Meeting at UNGA
2- Cabinet Completed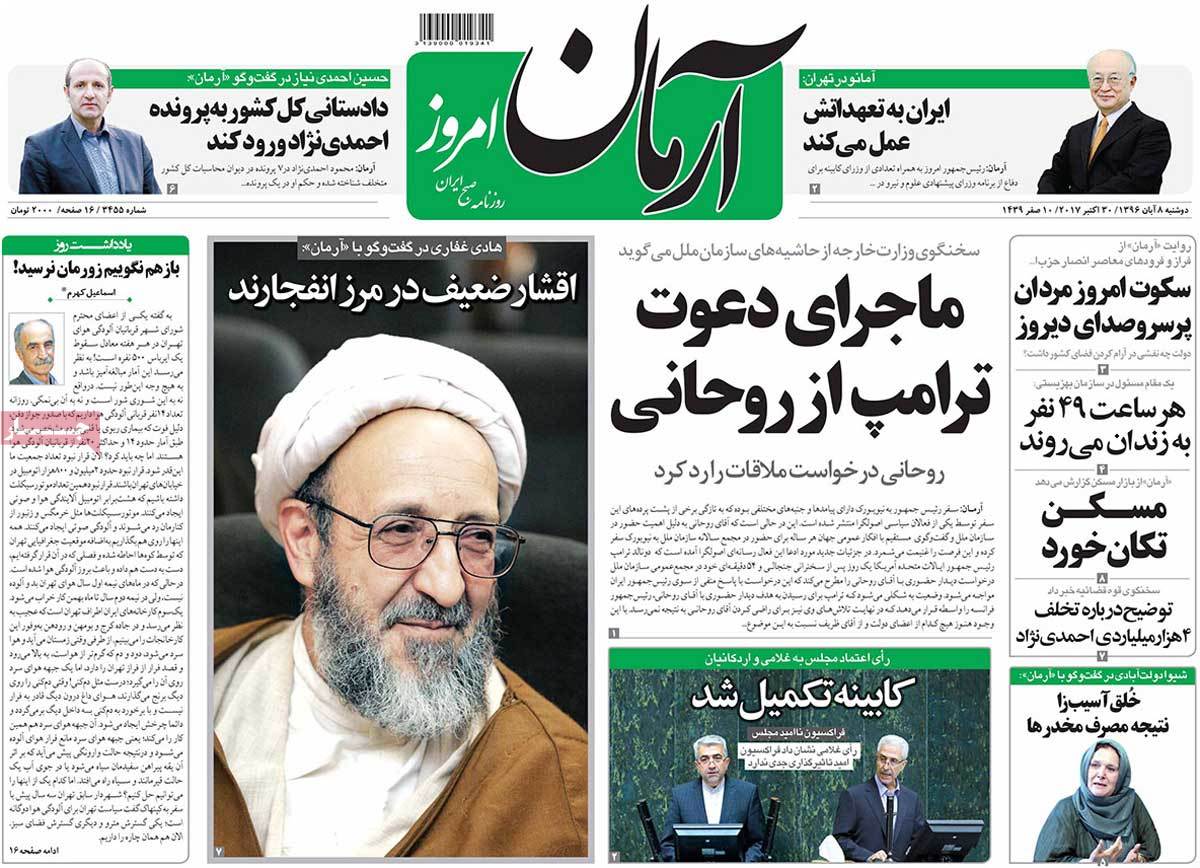 ---
Asman-e Abi:
1- Young Female Wrestler: People Keep Saying Wrestling Not Appropriate for Girls
---
Asrar:
1- Reformist MP: Either Rouhani Has Become Conservative or Conservatives Have Become Reformist
2- Vacuum Power in Iraqi Kurdistan Region: Barzani to Resign Wednesday
---
Ebtekar:
1- Amano's Message of Peace, from Tehran to Washington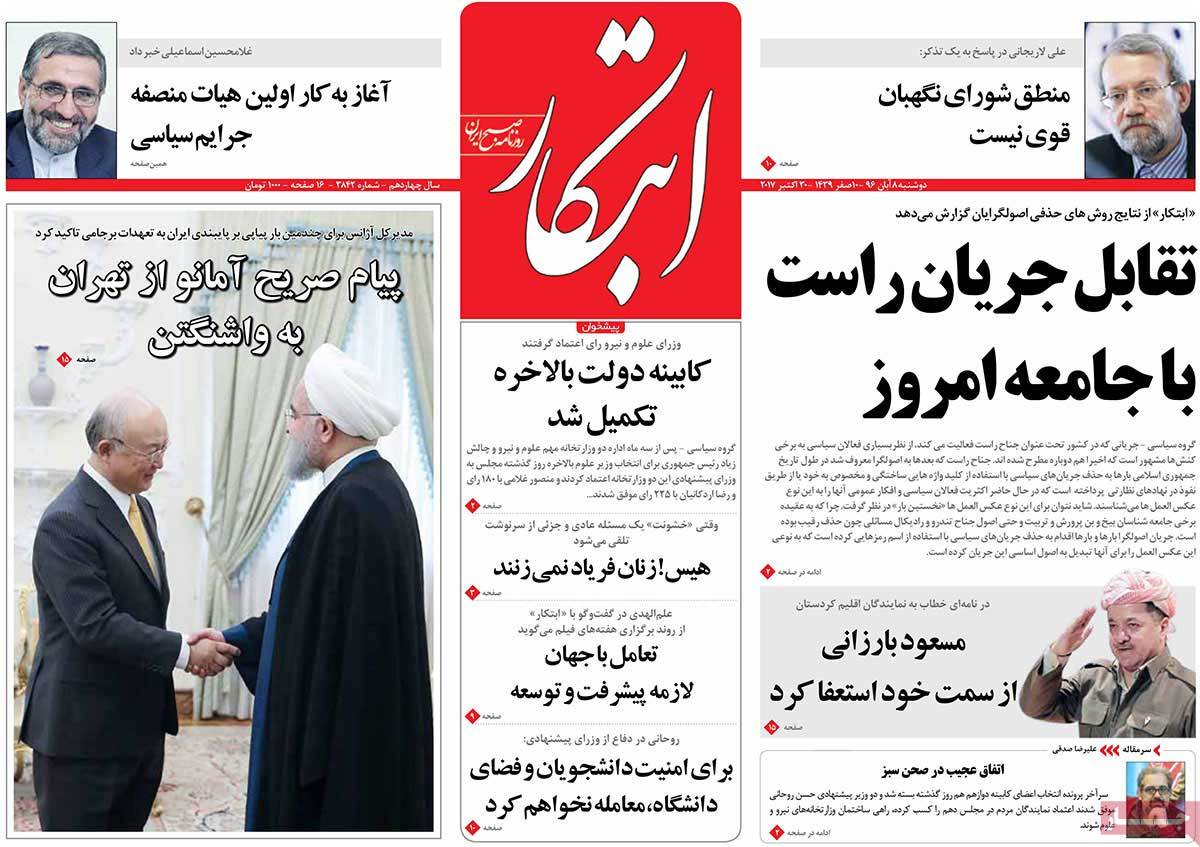 ---
Etemad:
1- Oil Minister for First Time Appoints Woman as Vice-Minister
---
Ettela'at:
1- Rouhani: IAEA Should Declare Peaceful Nature of Iran Nuclear Program ASAP
---
Iran:
1- First Jury to Be Formed for Political Crimes: Final Step to Implement Constitution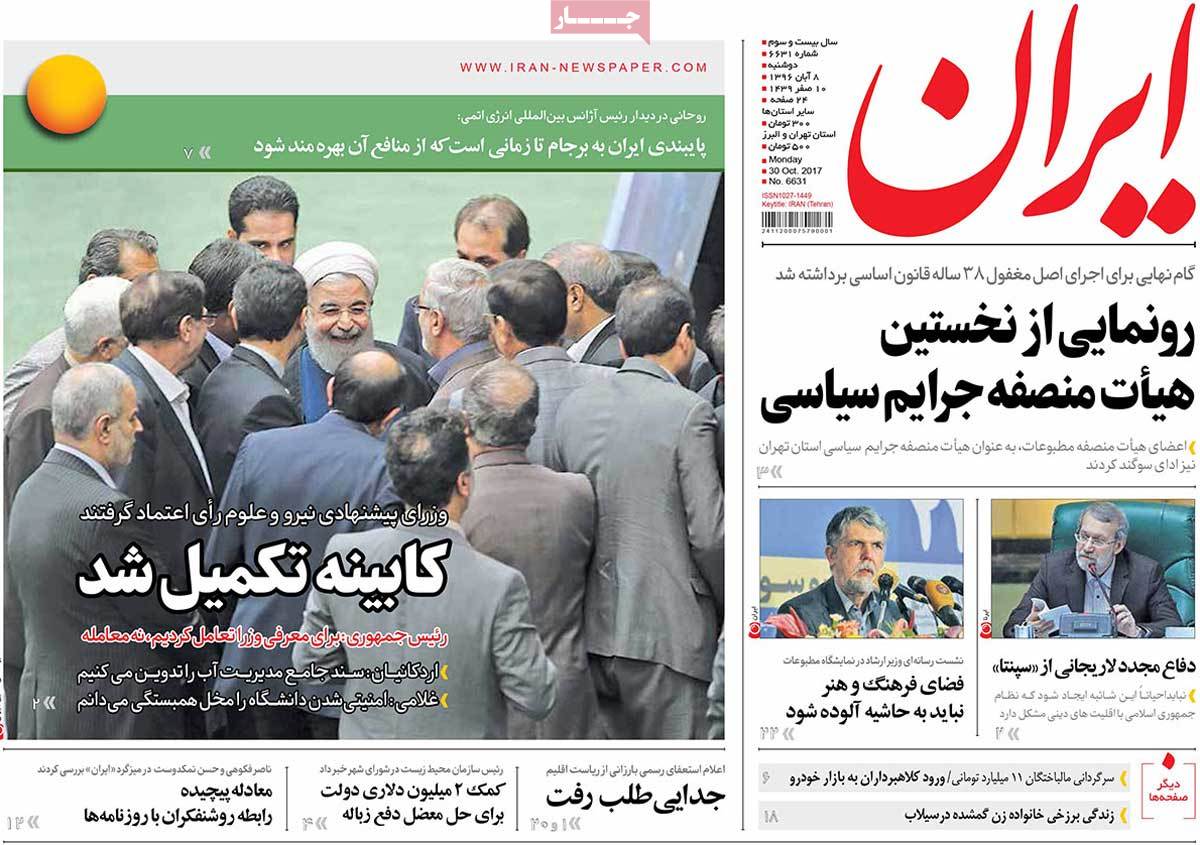 ---
Javan:
1- Rouhani's Message for Iranian Proponents of West: Negotiation with US Is Insanity
2- Armed Clash in Session on Barzani's Resignation: Masoud's Gamble Leads to His Overthrow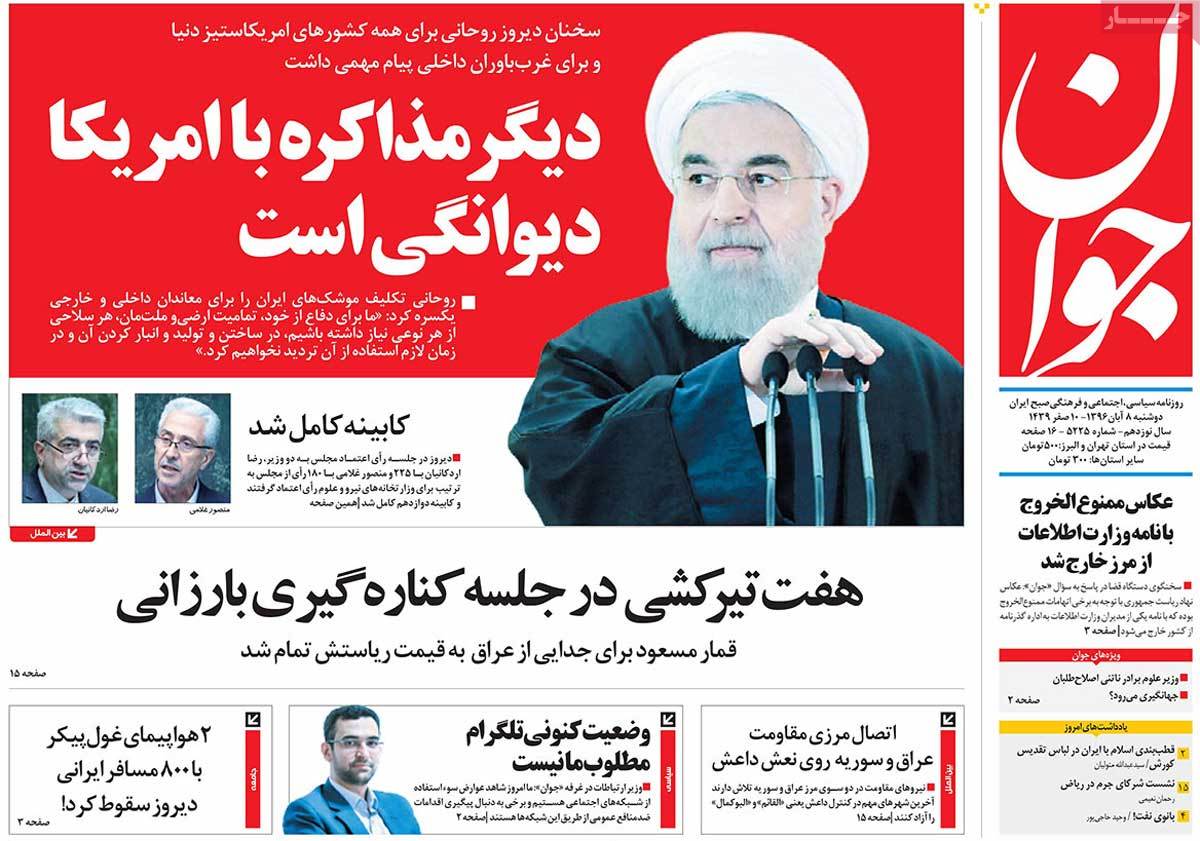 ---
Jomhouri Eslami:
1- Amano: UNSC Backs Iran Nuclear Deal, I Don't Have Anything to Say about Trump
2- Humanitarian Situation in Yemen Shocking: UN
3- Iran to Increase Oil Output from Joint Field with Saudi Arabia
---
Kayhan:
1- Rouhani: Other Countries Not That Crazy to Negotiate with US
2- Riyadh, Abu Dhabi Direct Target of Yemen's Ballistic Missiles
3- Iraqi Popular Forces Tasked with Protecting Iranian Arba'een Pilgrims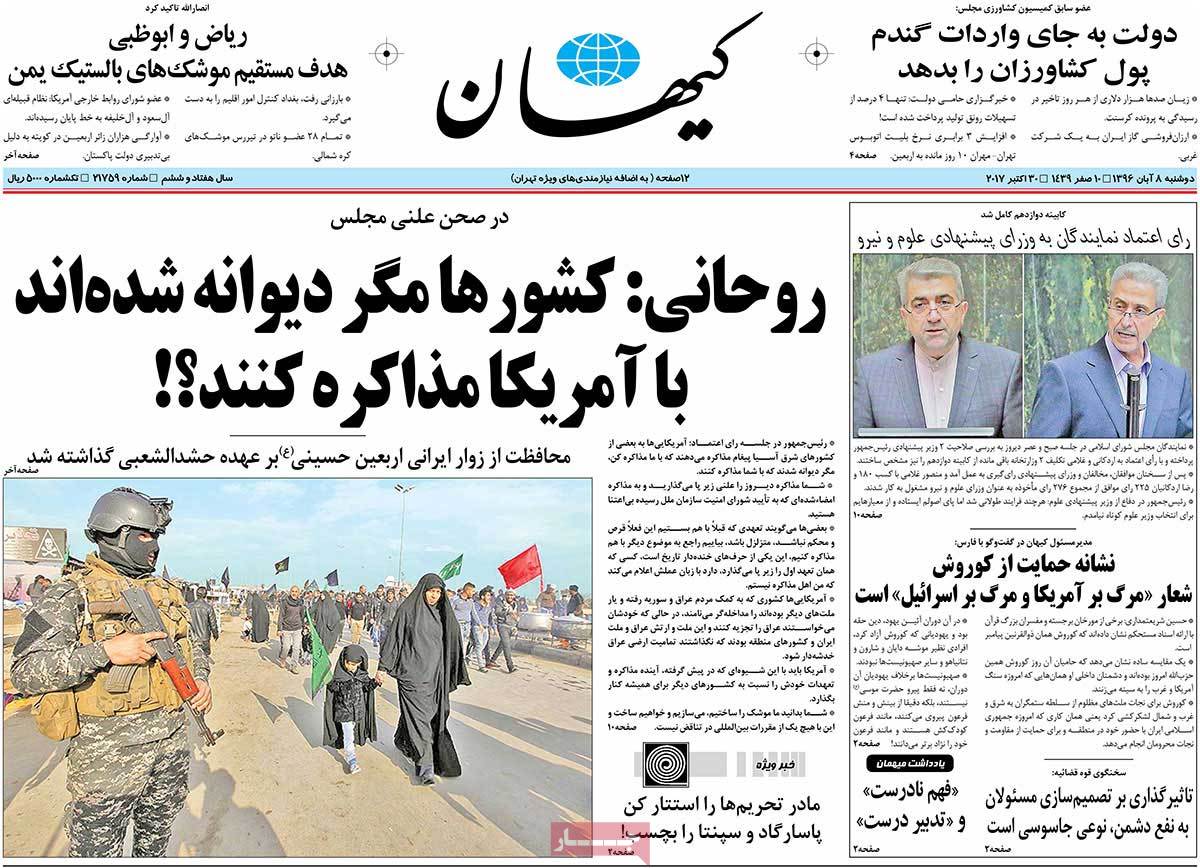 ---
Khorasan:
1- Rouhani: Call for Further Negotiations Ridiculous
---
Seda-ye Eslahat:
1- Rouhani in Defence of Proposed Minsters: I Don't Make Deal on Security, Freedom
2- Barzani to Remain in Power in another Form: Kurdish Politician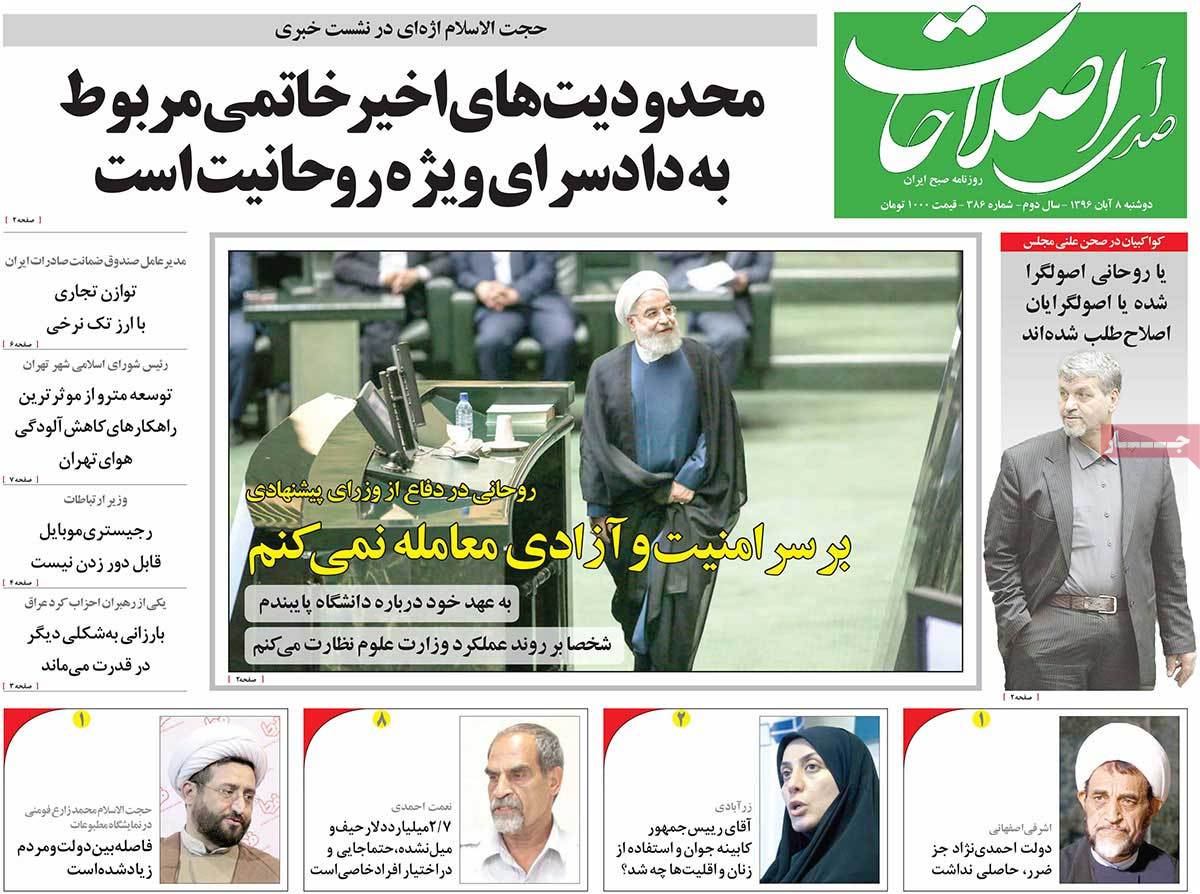 ---
Shargh:
1- Rouhani, Larijani Vow to Settle Problem of Zoroastrian Councilor
---
Siasat-e Rooz:
1- Iran Nuclear Chief: We Don't Want to See JCPOA Scrapped
2- US No Longer Trustworthy for Russia
3- Tillerson: Iran Had No Role in Recapture of Syrian Territories from ISIS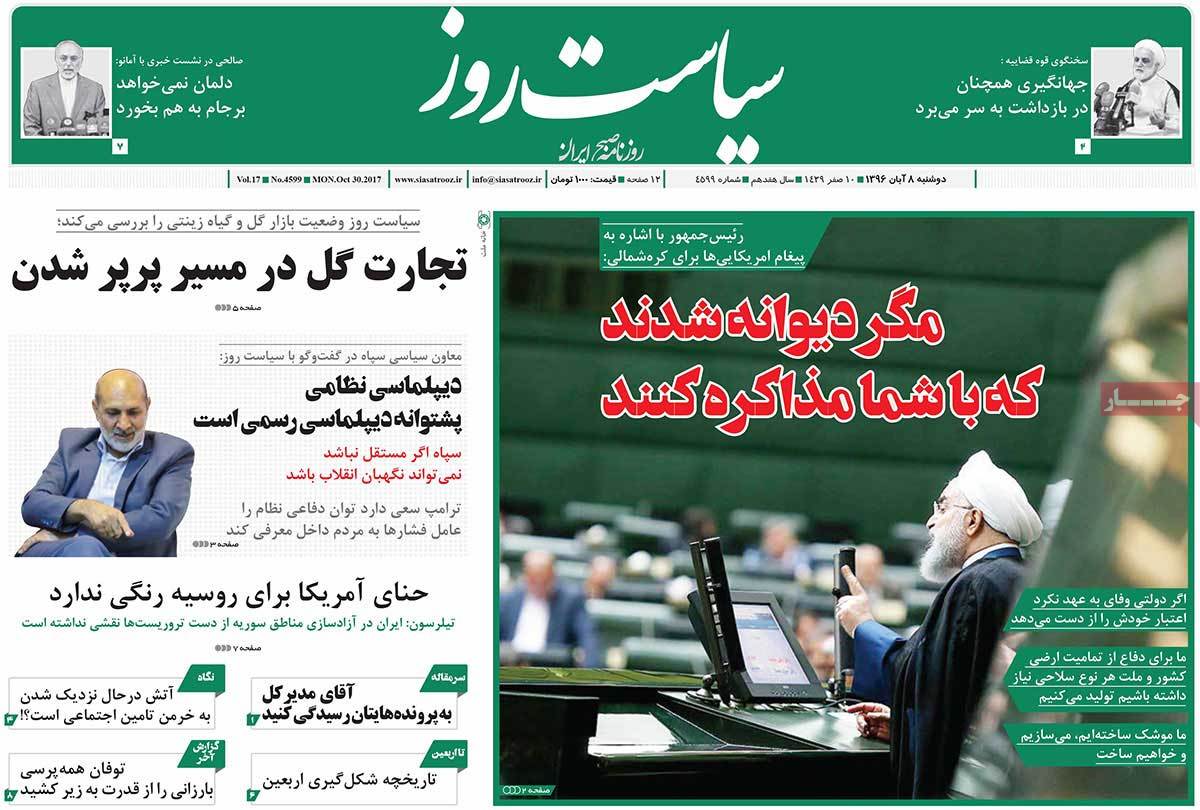 ---
Sobh-e Now:
1- Rouhani Says No to Trump's Request for Meeting
---
Vatan-e Emrooz:
1- Bin Salman's Tales from the Thousand and One Nights
Secret behind Saudi Crown Prince's Dreamlike Plan