The top story in today's newspapers was the tragic deaths of nearly 60 people in Las Vegas shooting, the deadliest such incident in the US history.
Newspapers also covered the remarks made by a number of Iranian lawmakers who raised the possibility of changing Iran's system of government to a parliamentary one if OK'd by the Leader. The MPs say they may write a letter to Ayatollah Khamenei, asking him to call for a revision in the Constitution.
A meeting between the top military chiefs of Iran and Turkey in Tehran and their talks on the Iraqi Kurdistan were also highlighted in today's papers.
Several papers also reported that German manager Winfried Schäfer has been appointed the new head coach of Tehran football giants Esteghlal.
Reformist media also reported that seven reformist politicians have been sentenced to one-year prison terms and a ban on political activities following their imprisonment.
The above issues, as well as many more, are highlighted in the following headlines and top stories:
19 Dey:
1- MP: Parliament May Ask Leader to Order Revision of Constitution
2- Terror in Capital of Gambling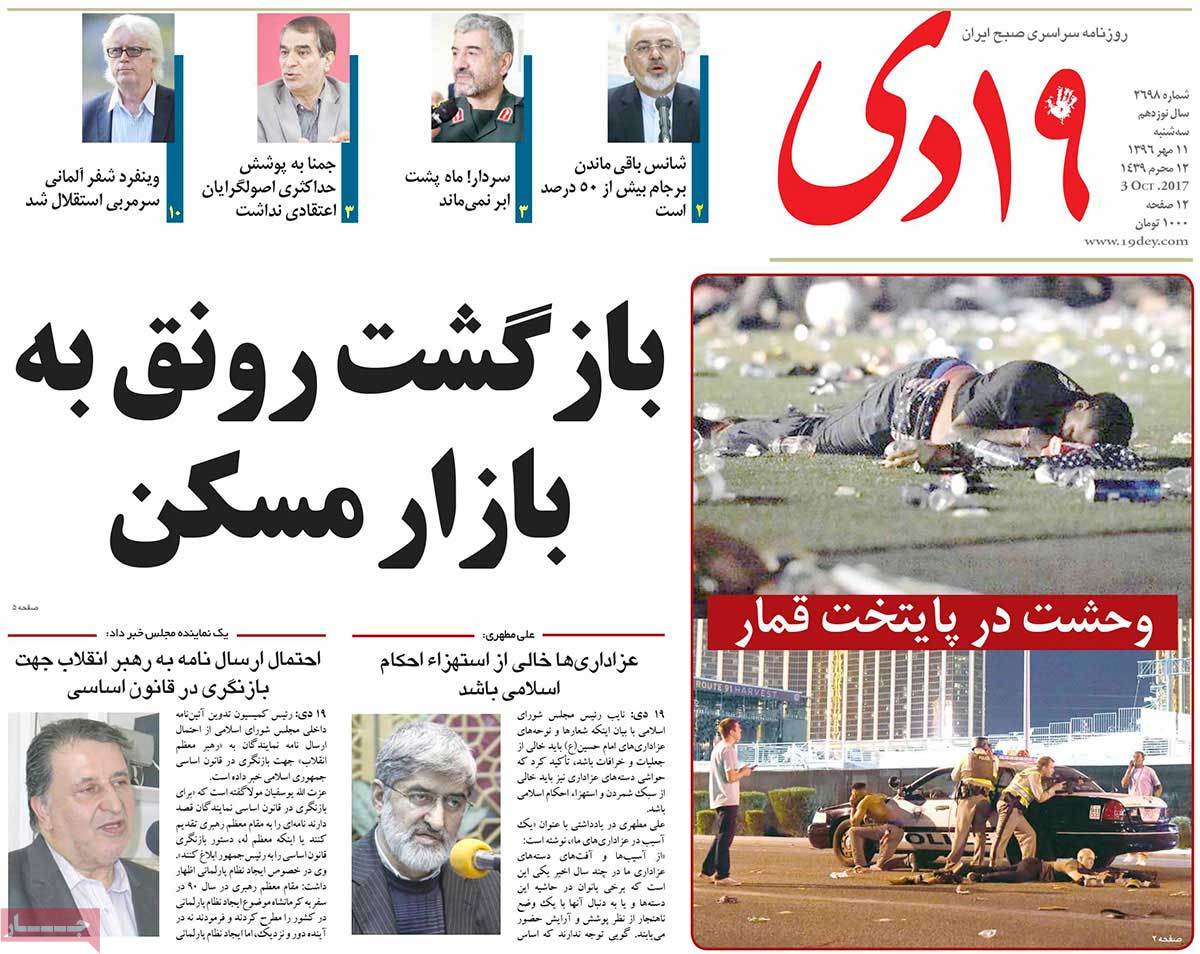 ---
Abrar:
1- Turkish Top Military Chief in Tehran
Tehran, Ankara to Expand Military Cooperation
2- Winfried Schäfer Appointed Manager of Esteghlal of Tehran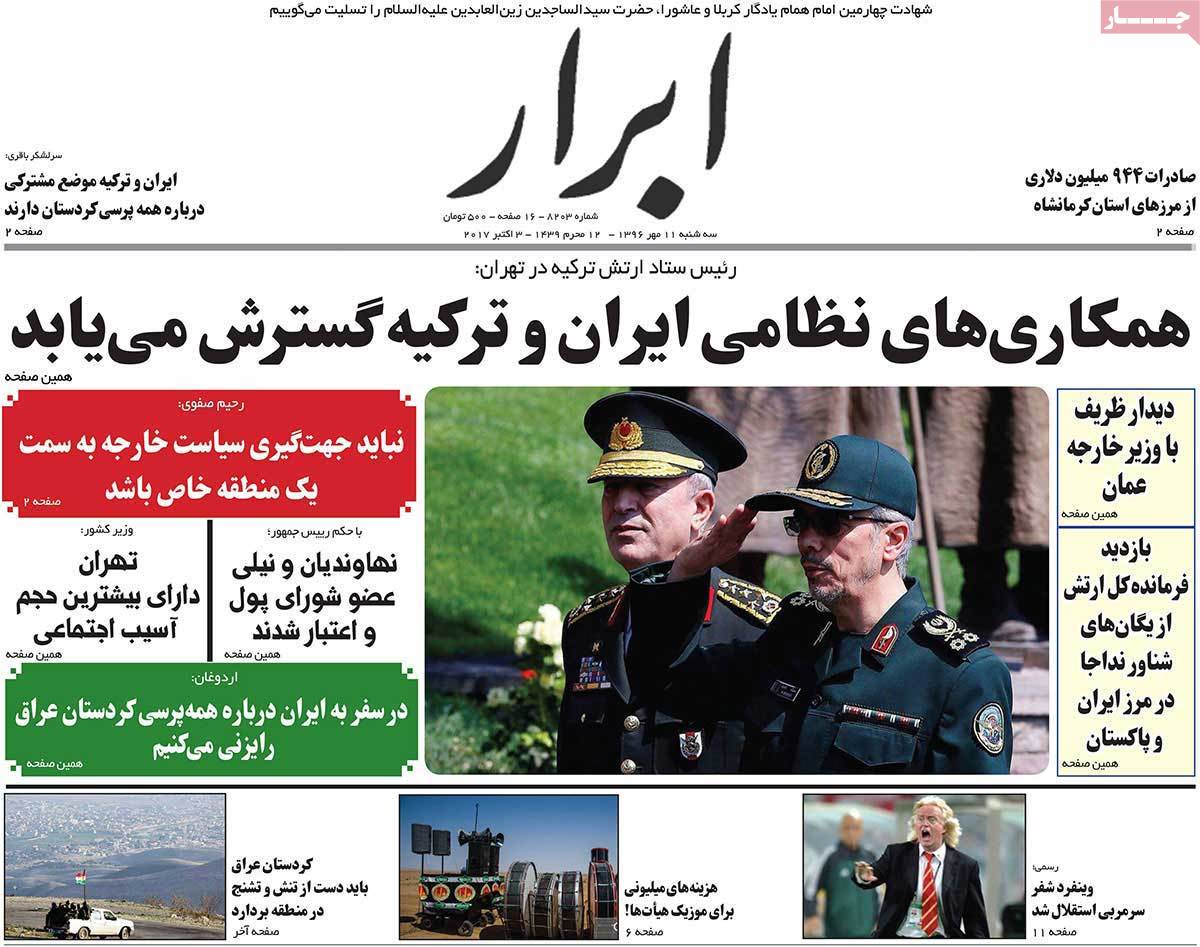 ---
Afkar:
1- Las Vegas: Over 560 Killed, Wounded in Deadliest Shooting in US History
---
Aftab-e Yazd:
1- 90% of People Vote for Independence: Catalonia Officials
2- Mohammad-Reza Khatami: Reformists Popular Because of Their Persistence
---
Arman-e Emrooz:
1- Top Commanders Meet in Tehran: Kurdistan Region, Focus of Iran-Turkey Military Talks
2- Will Iran Restore Parliamentary System of Government?
MPs May Send Letter to Leader on Revision of Constitution
3- National Day of Mourning Declared in US: ISIS Claims Responsibility for Las Vegas Attack
---
Bahar:
1- New Era? A Look at Social Reforms in Saudi Arabia
2- Zarif: Chance of JCPOA Survival Is More than 50%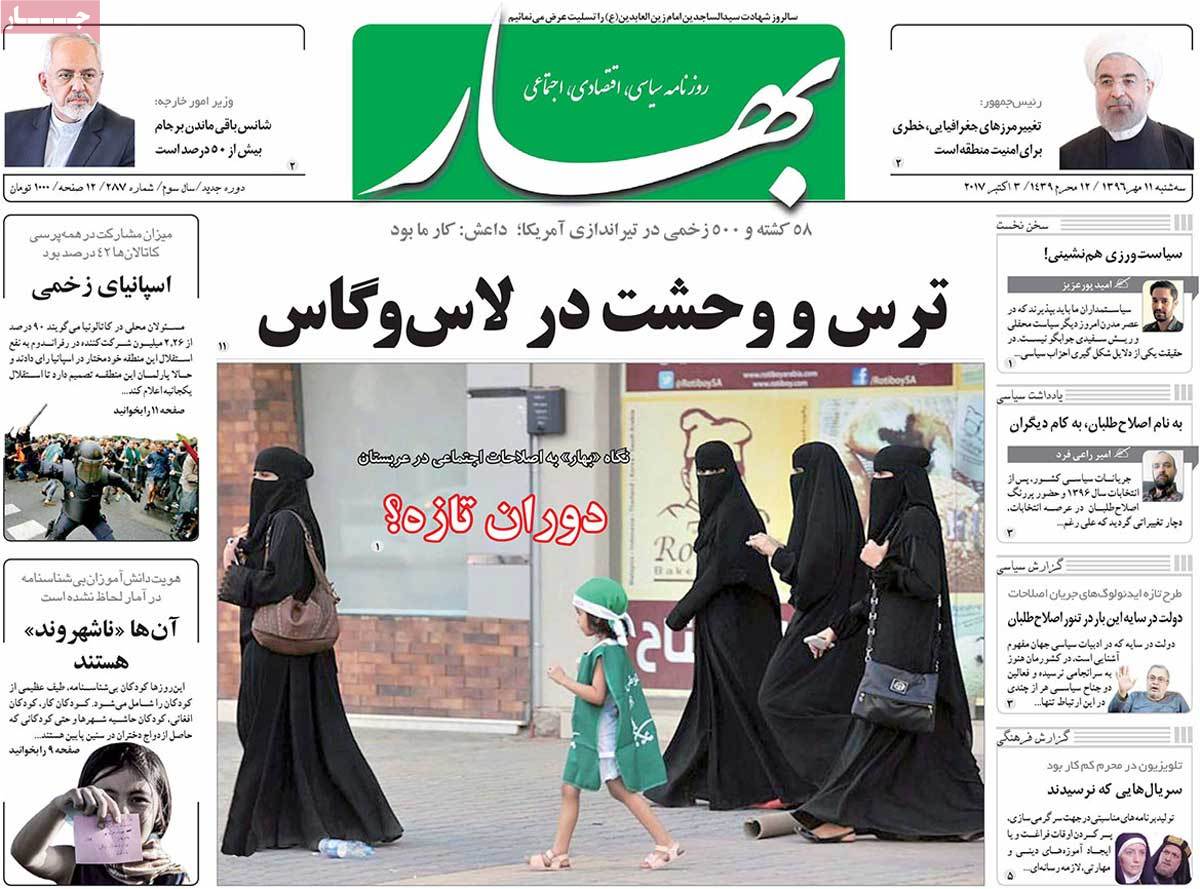 ---
Ebtekar:
1- Fear in Las Vegas
2- Zibakalam Explains How Iran's Concerns about Kurdistan Independence Can Be Allayed
3- Practicing Politics in Partisan Schools: A Report on Political Parties' Schools
4- Heavy Costs of Rabies: Increased Expenses of Rabies in Iran, Efforts to Eliminate It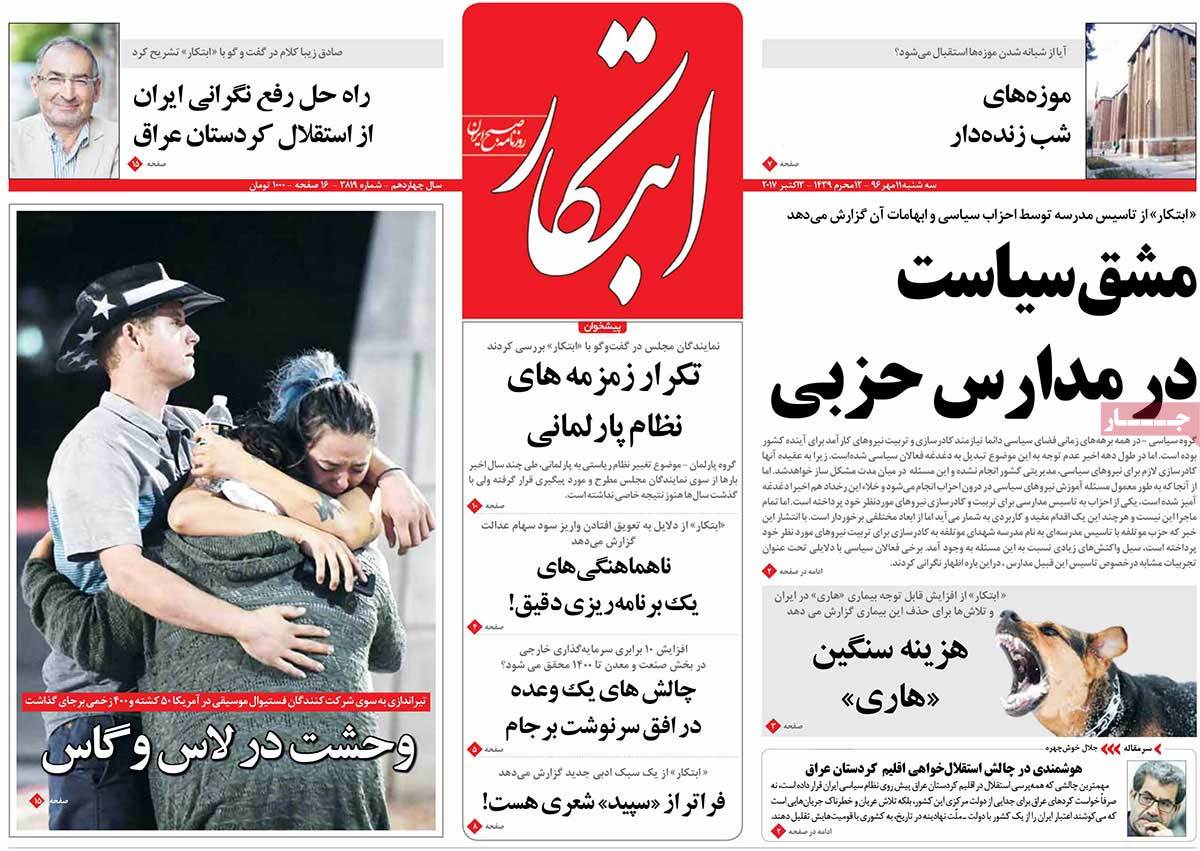 ---
Etemad:
1- Efforts to Revise Iran's Constitution
2- Festival of Death in Las Vegas
3- Iran, Turkey Emphasize Iraq's National Sovereignty, Territorial Integrity
4- Iran, Oman Call for Expansion of Economic, Regional Cooperation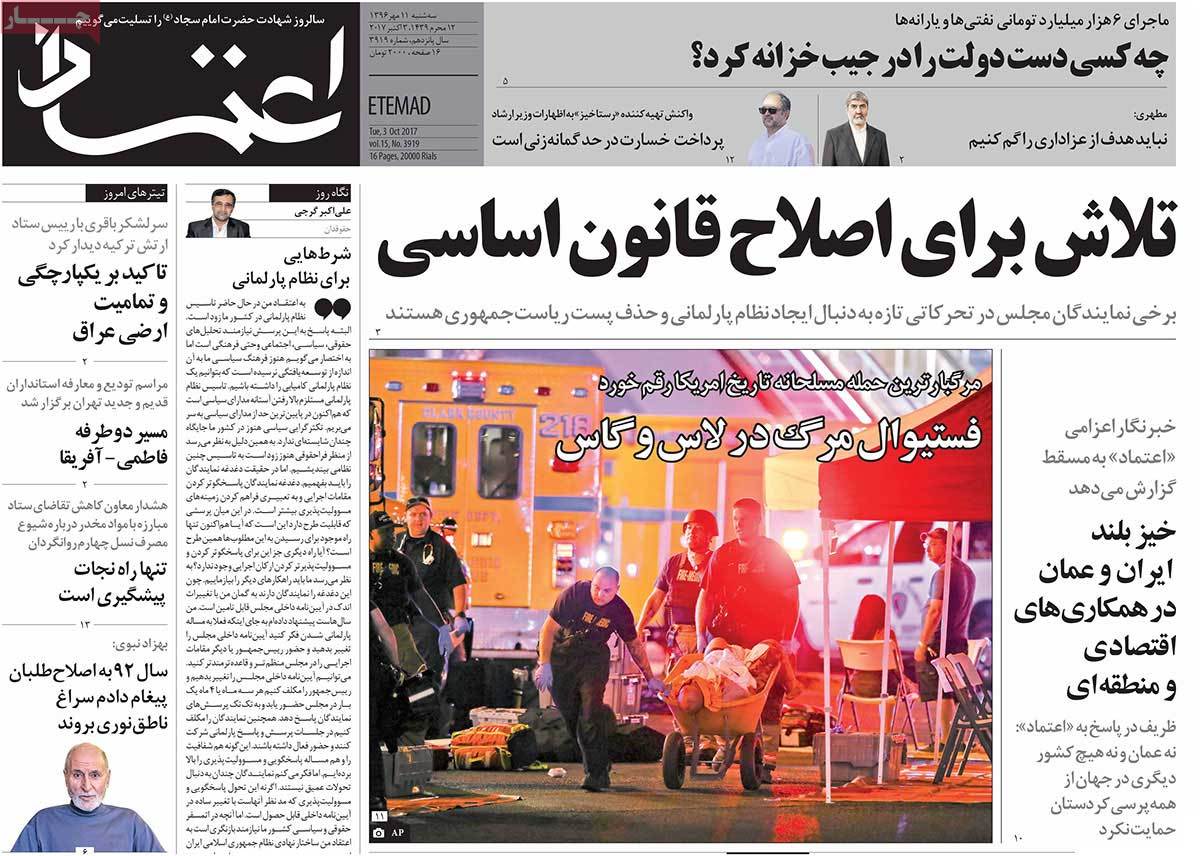 ---
Ettela'at:
1- Rouhani: Change in Geographical Borders to Increase Insecurity in Region
2- Iranian Army Starts Military Drills in Western Borders
3- Baghdad to Negotiate with Iraqi Kurdistan Only If Referendum Results Annulled
4- Zarif Holds Talks with Oman's King about Regional Issues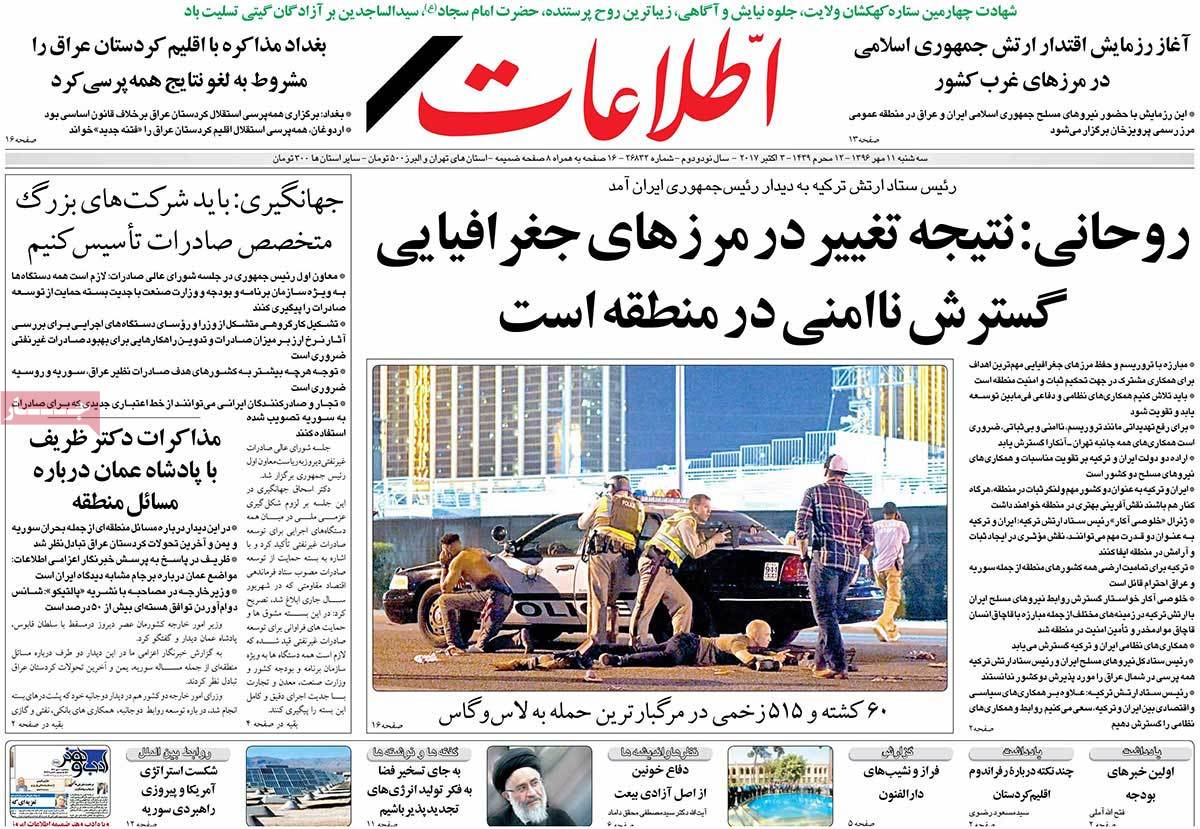 ---
Haft-e Sobh:
1- Concert of Blood and Madness in Las Vegas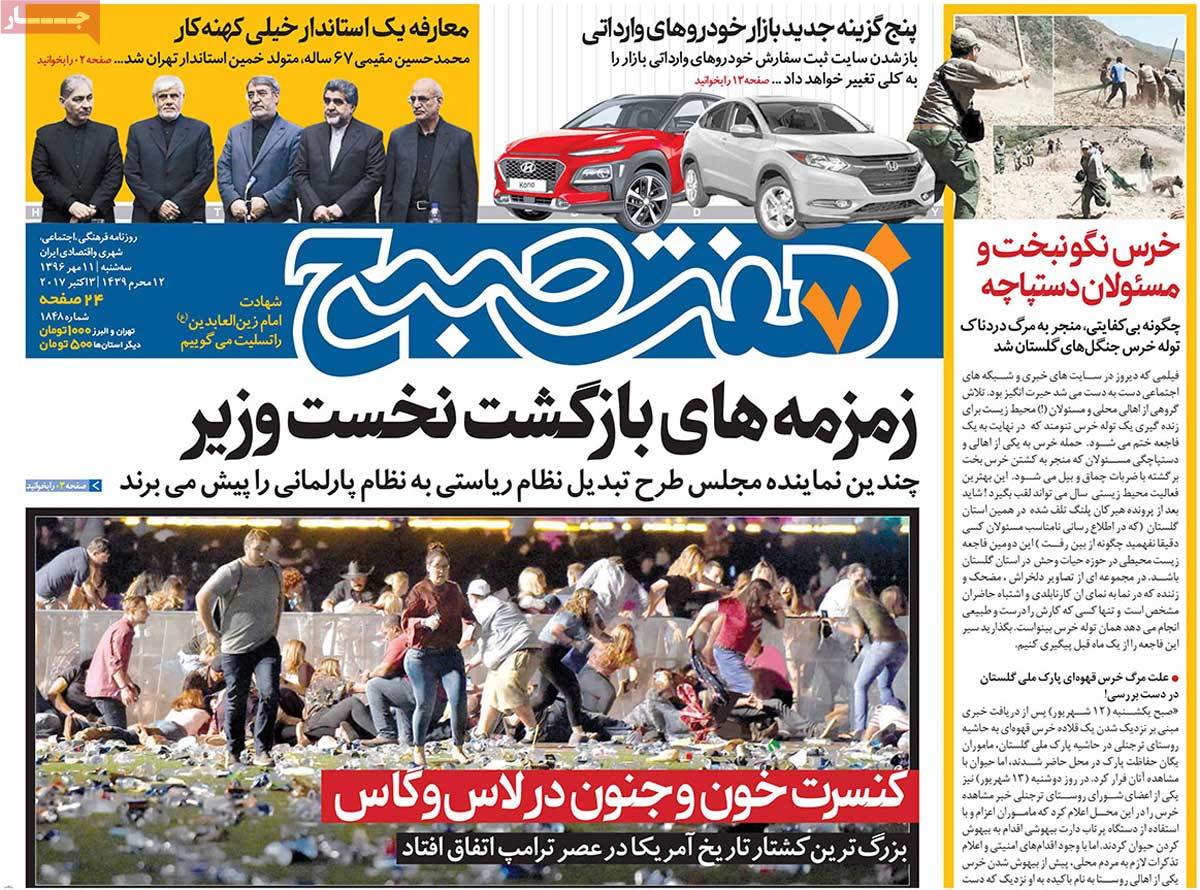 ---
Iran:
1- Melody of Death in Las Vegas
2- Seven Reformist Figures Sentenced to Prison, Ban
---
Javan:
1- US Loses in Gamble of Domestic Terrorism
2- Iraqi Kurdistan's Secessionism to Detriment of Iraq, Kurds: Iran, Turkey Top Officers
---
Kayhan:
1- Symphony of Death in Las Vegas
2- The Warnings about Nuclear Deal that Weren't Heard
No Need for Apology, Just Stop Moving on This Harmful Path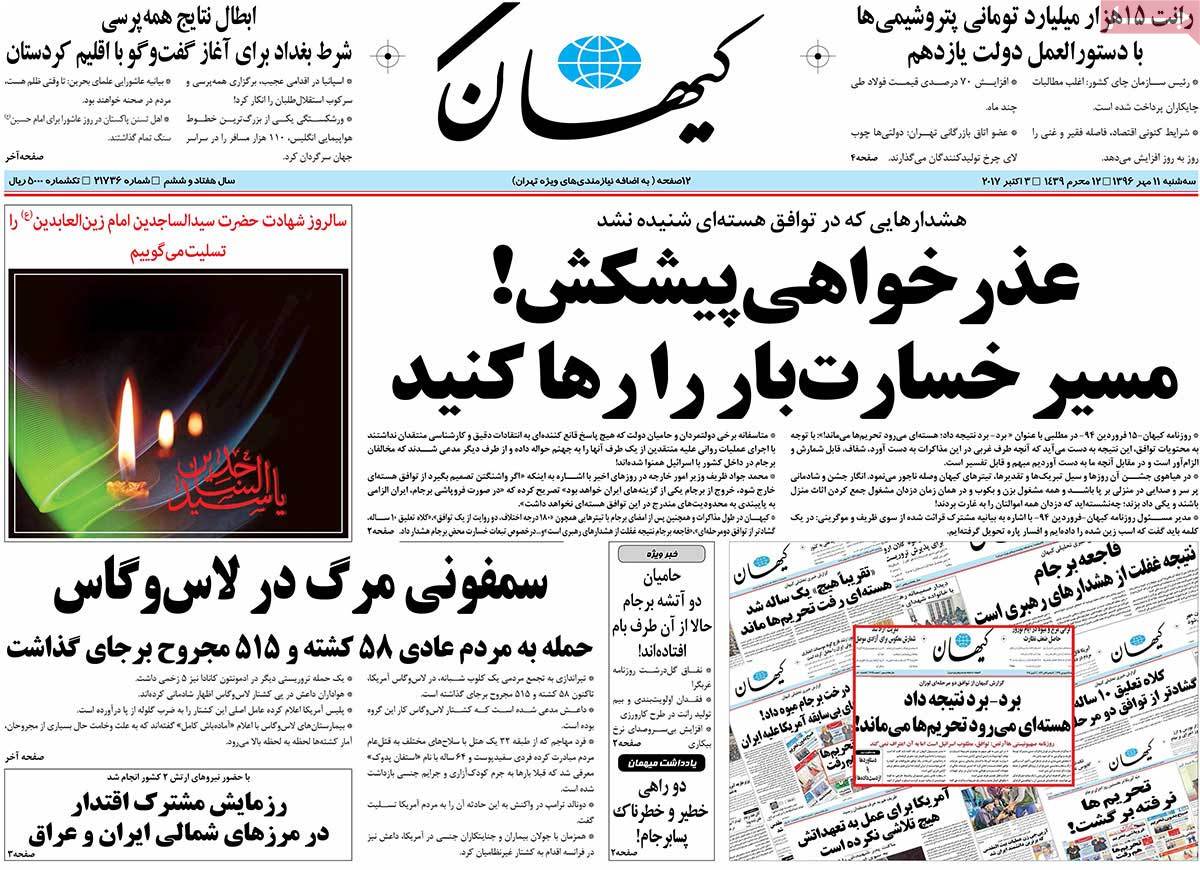 ---
Khorasan:
1- Concert of Blood in Las Vegas
2- Schäfer: Esteghlal Is like Bayern Munich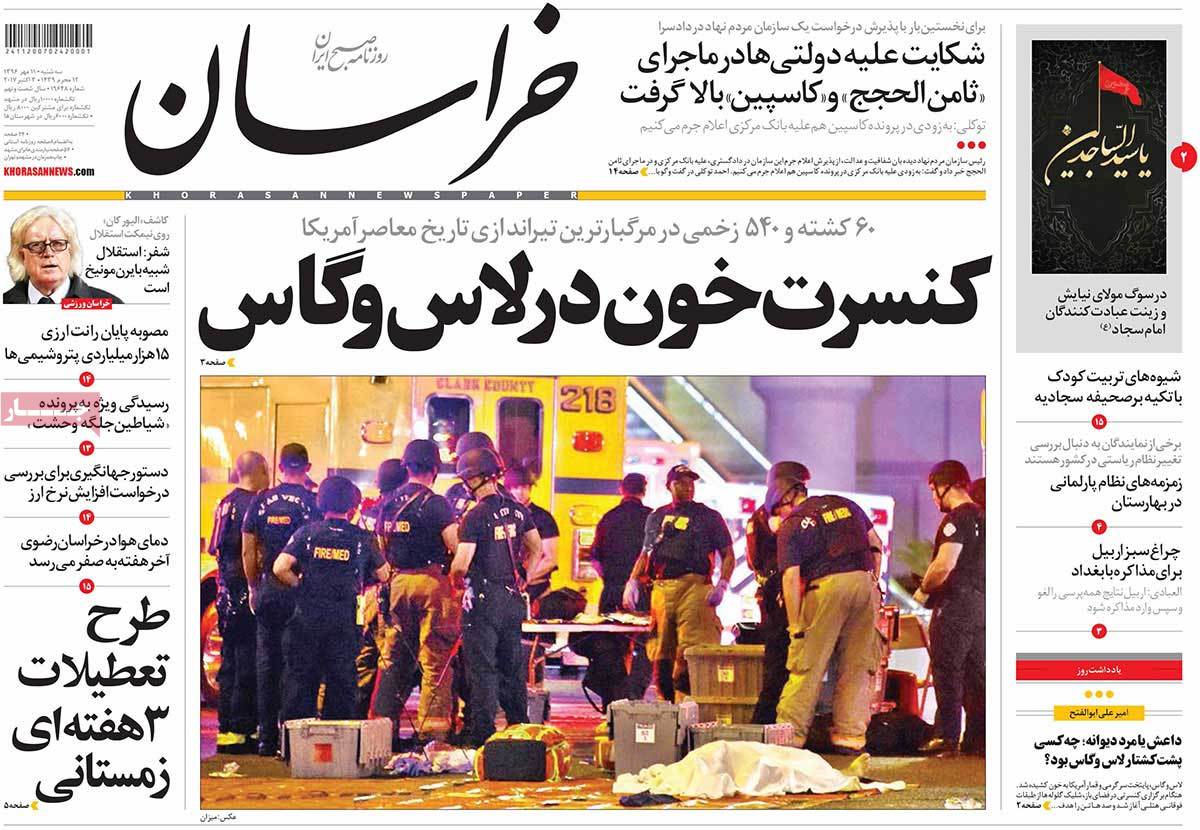 ---
Setareh Sobh:
1- Trump Once Again Threatens Iran: A Report on US Latest Move
2- Plan for Parliamentary System of Gov't
Rumours of Constitutional Change
3- Violence and Referendum: A Review of Aftershocks of Catalonia Independence Plebiscite
---
Shahrvand:
1- Interior Minister Says Tehran Has Highest Amount of Social Ills
---
Shargh:
1- Shower of Death in Las Vegas
2- Reformists Opposed to Change in Iran's System of Gov't
Shouldn't the President Be Elected by People?
---
Sobh-e Now:
1- ISIS Concert in Las Vegas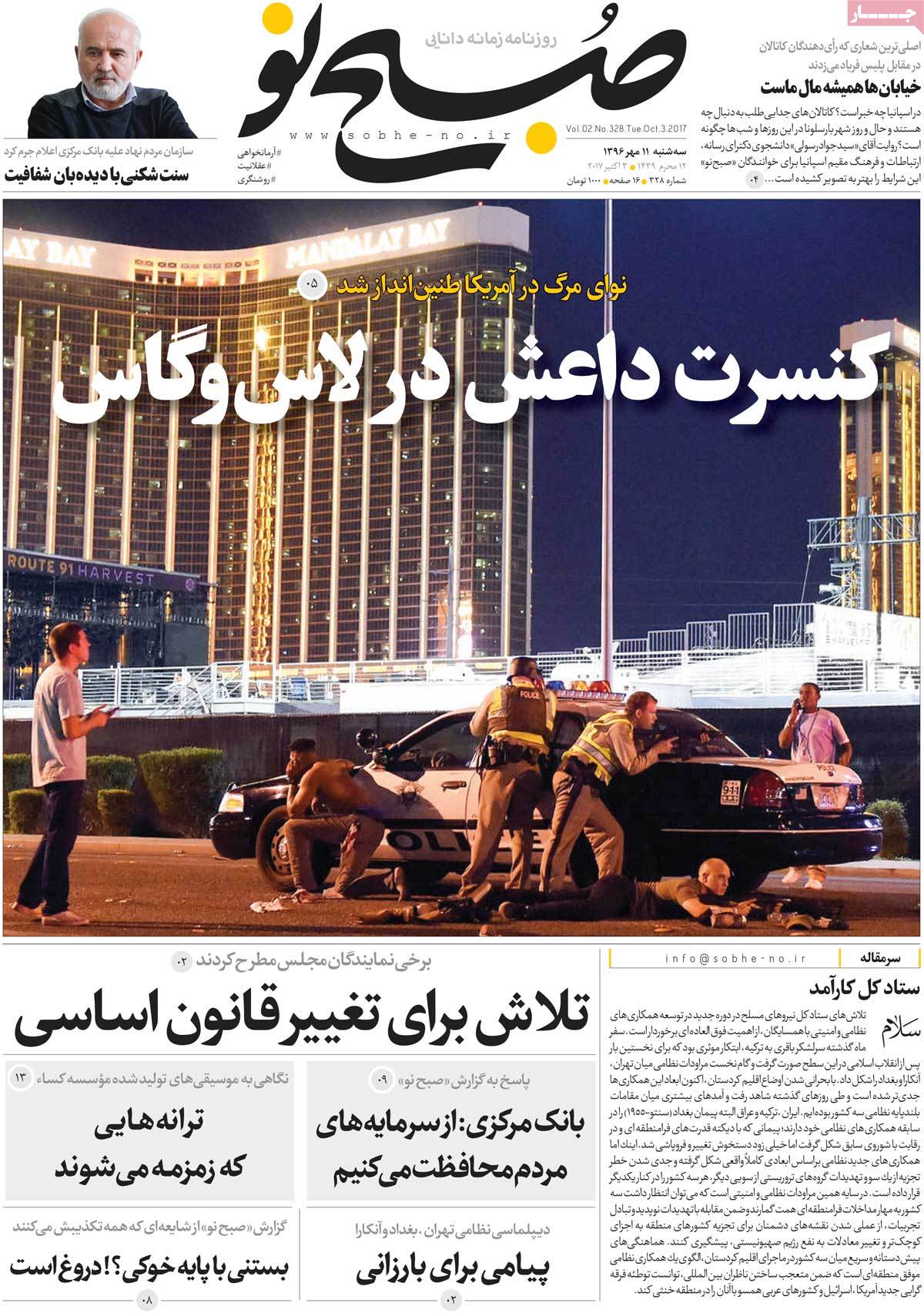 ---
Vatan-e Emrooz:
1- Concert of Terror in Las Vegas
2- Defeat of Democracy in Europe's Political El Clasico
3- Army's Drill in Western Borders