The trilateral Syria talks between Iran, Russia, and Syria in the Russian capital of Moscow was the top story in all Iranian newspapers today.
Newspapers also covered the missile fired by Yemen's Ansarullah Movement on Saudi Arabia's Jeddah Airport and the subsequent reactions.
The ongoing battle in Mosul to retake the ISIS-held city also remained a top story today.
The above issues, as well as many more, are highlighted in the following headlines:
Abrar:
1- Russian Parliament Calls on Iran to Recognize Crimea's Accession to Russia!
2- Zarif: We're Very Pleased with All-Out Expansion of Ties with Russia
3- Countdown for Beginning of Final Stage of Mosul Operation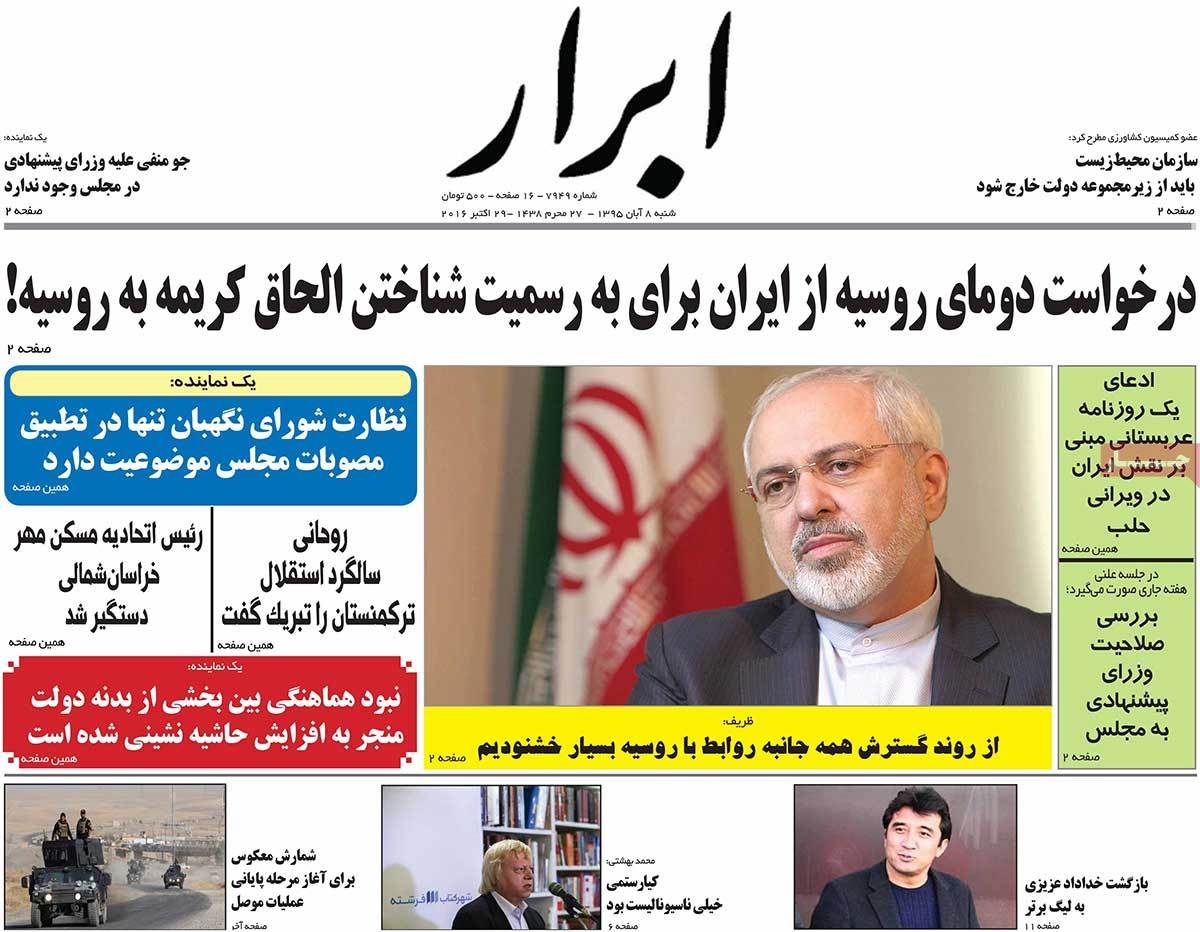 ---
Abrar-e Eqtesadi:
1- 65% of Iran's Budget Is in Hands of State-Run Companies! Iranian Governments Had Been Weak in Implementation of Privatization Law
2- Honk Kong Ready to Establish Direct Flights to Iran
3- Promotion of Cooperation between Major Banks of Iran and Spain: Ambassador to Madrid
4- 1.5-Fold Increase in Iran-Russia Trade
5- Government to Ratify a Comprehensive Bill on Supporting Working Women
6- Iran to Sign Contract for Development of Joint Oilfield with Britain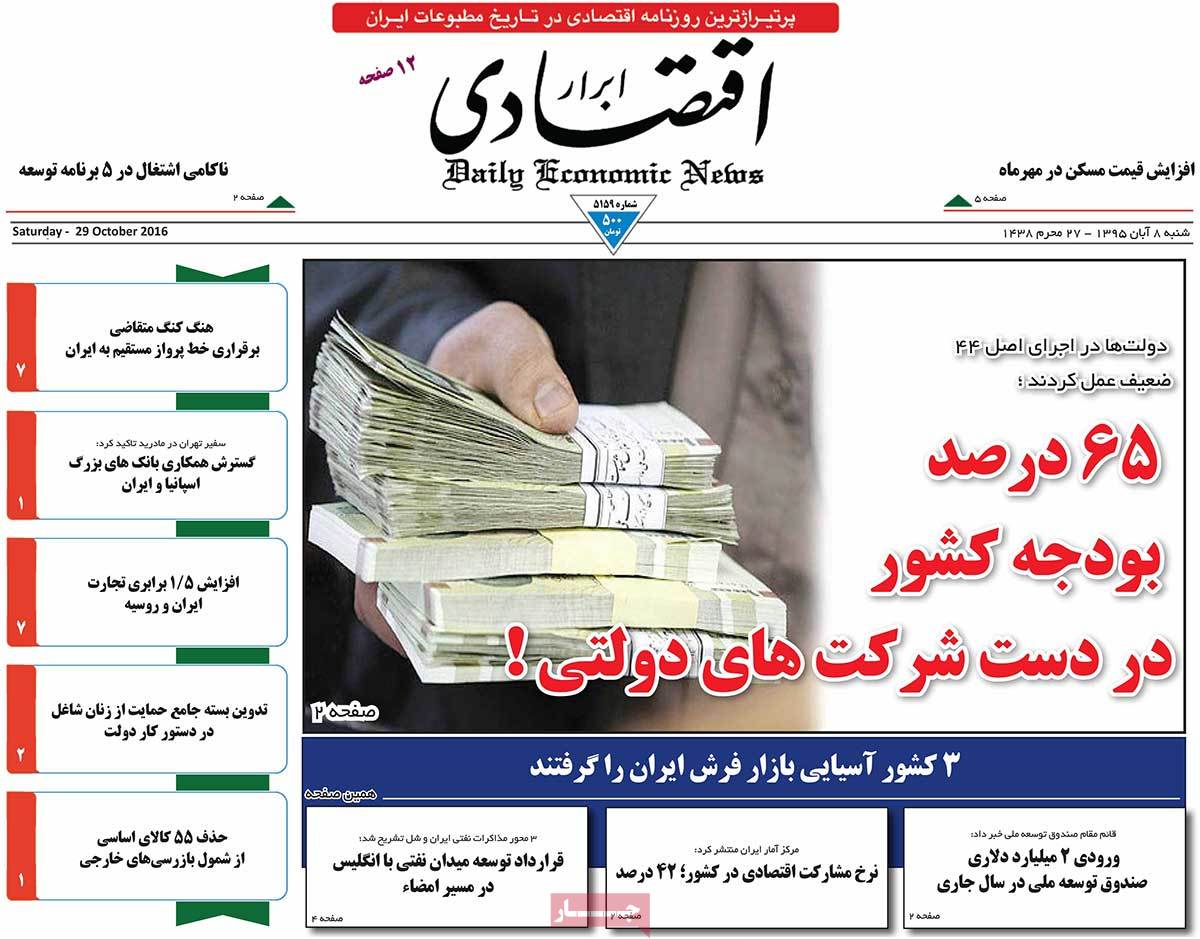 ---
Aftab-e Yazd:
1- Oman to Build Industrial Town in Iran
2- Tehran, Moscow, Damascus: Triangle of Ending Crisis in Middle East?
3- Zarif's Urgent Visit to Russia
4- Senior Cleric Ayatollah Emami Kashani: Both US Presidential Candidates Are Pieces of Crap
5- Sexual Justice Is Islamic, Not Feministic
6- Advisor Criticizes the Unprecedented Insults and Accusations against President Rouhani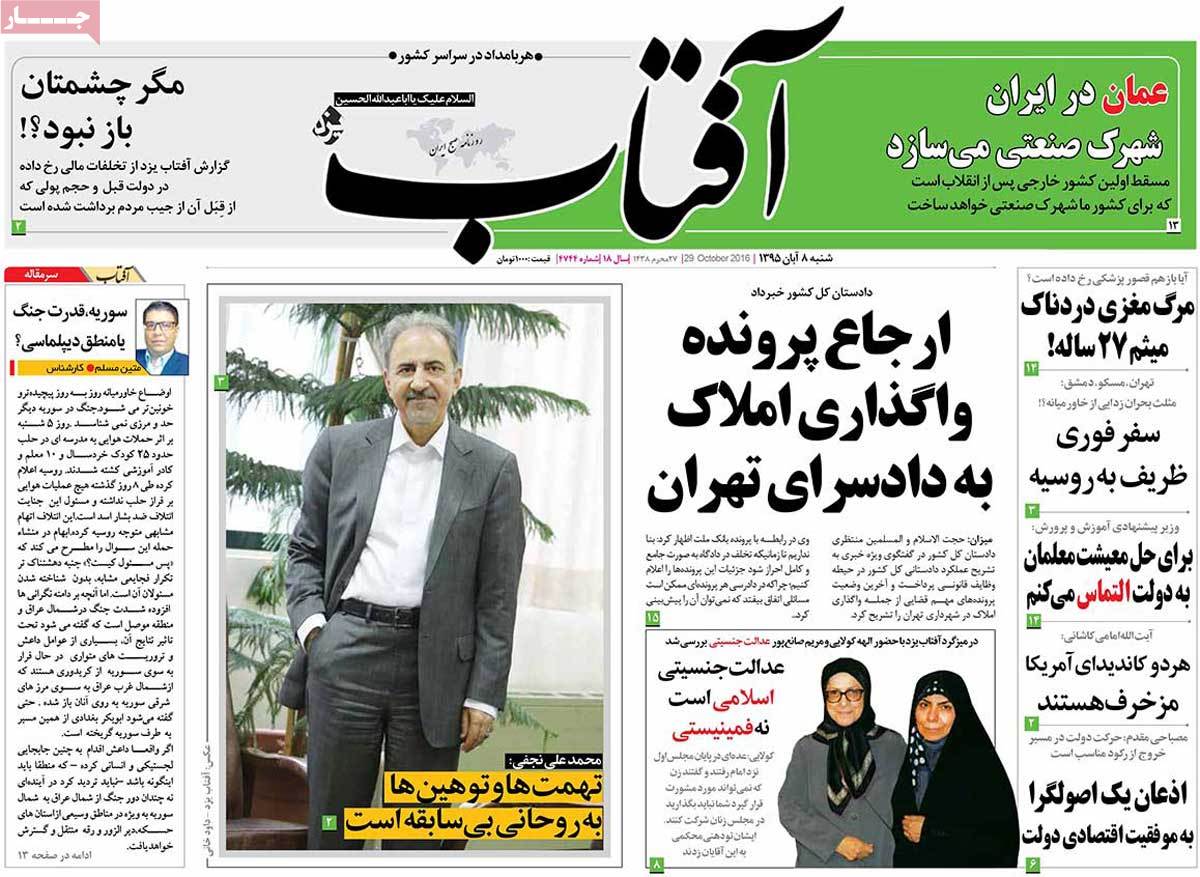 ---
Arman-e Emrooz:
1- Can Women Now Run for Presidency in Iran? Guardian Council Starts Reconsidering Definition of 'Man of Politics'
2- Iran Underlines Integrity of Syria: Zarif, Lavrov, and Muallem Hold Talks in Moscow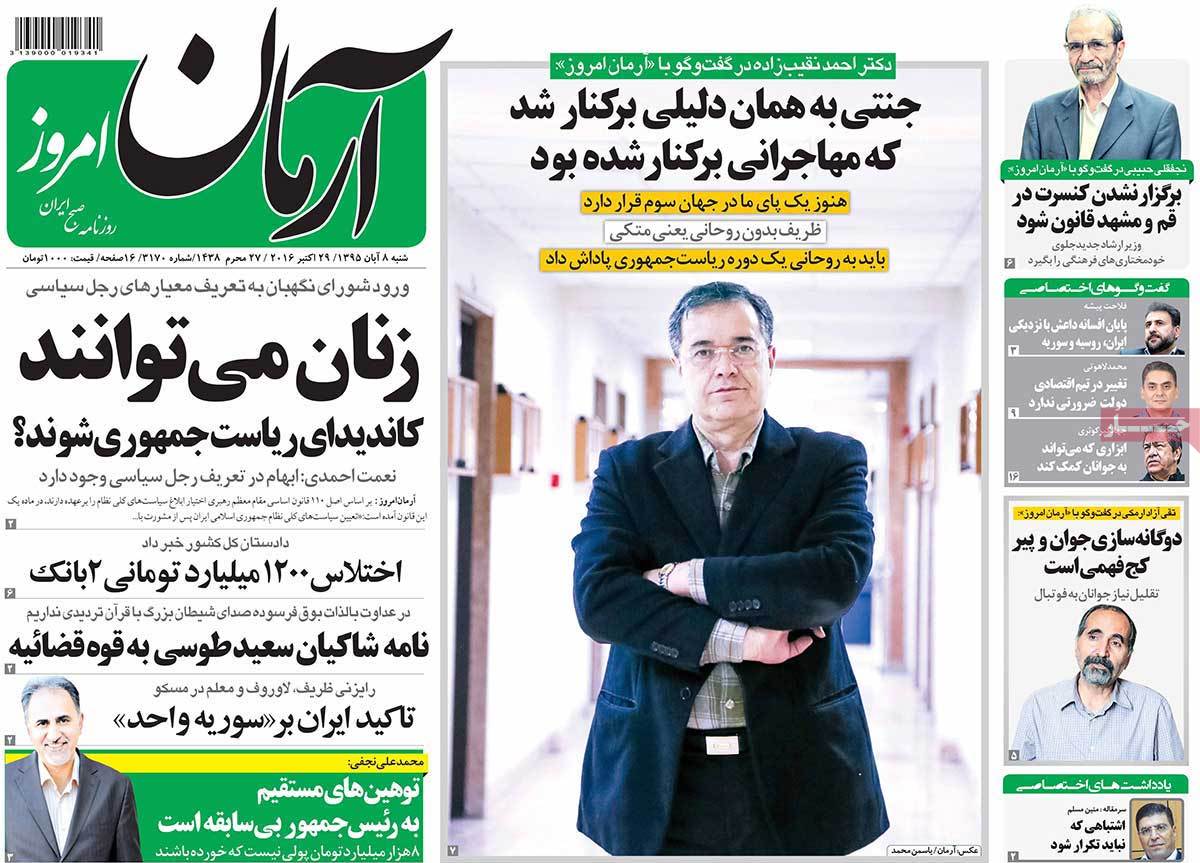 ---
Asrar:
1- In a Trilateral Meeting, Tehran, Moscow, and Damascus Underline Continued Inclusive Fight against Terrorism
2- Ansarullah: We'll Fire Missiles on Al Saud Palaces
3- Asghar Farhadi's 'The Salesman' Selected by Audiences of Mumbai Film Festival as Best Film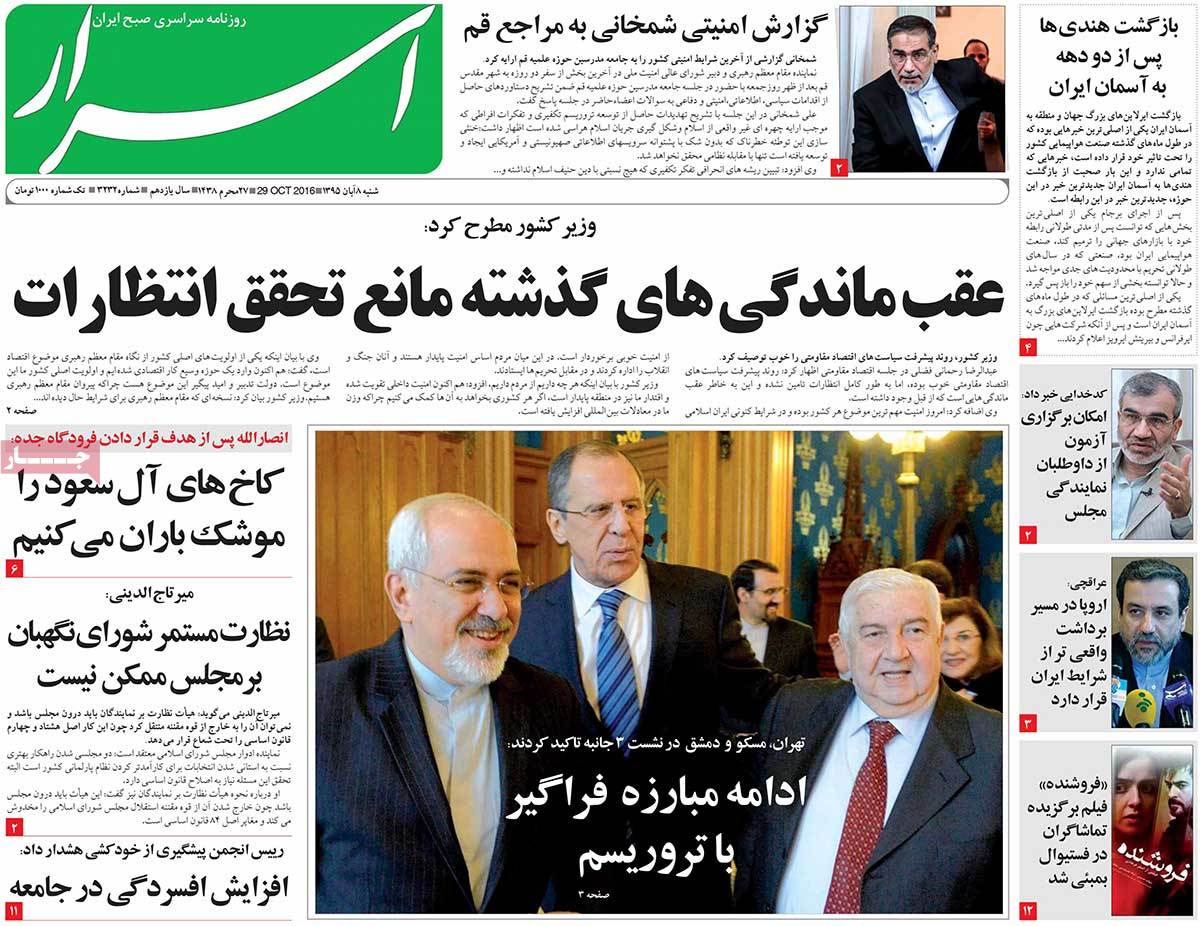 ---
Asr-e Iranian:
1- Rouhani's Government Breaks Records in Unemployment Rate
2- Iraqi Forces behind Gates of Mosul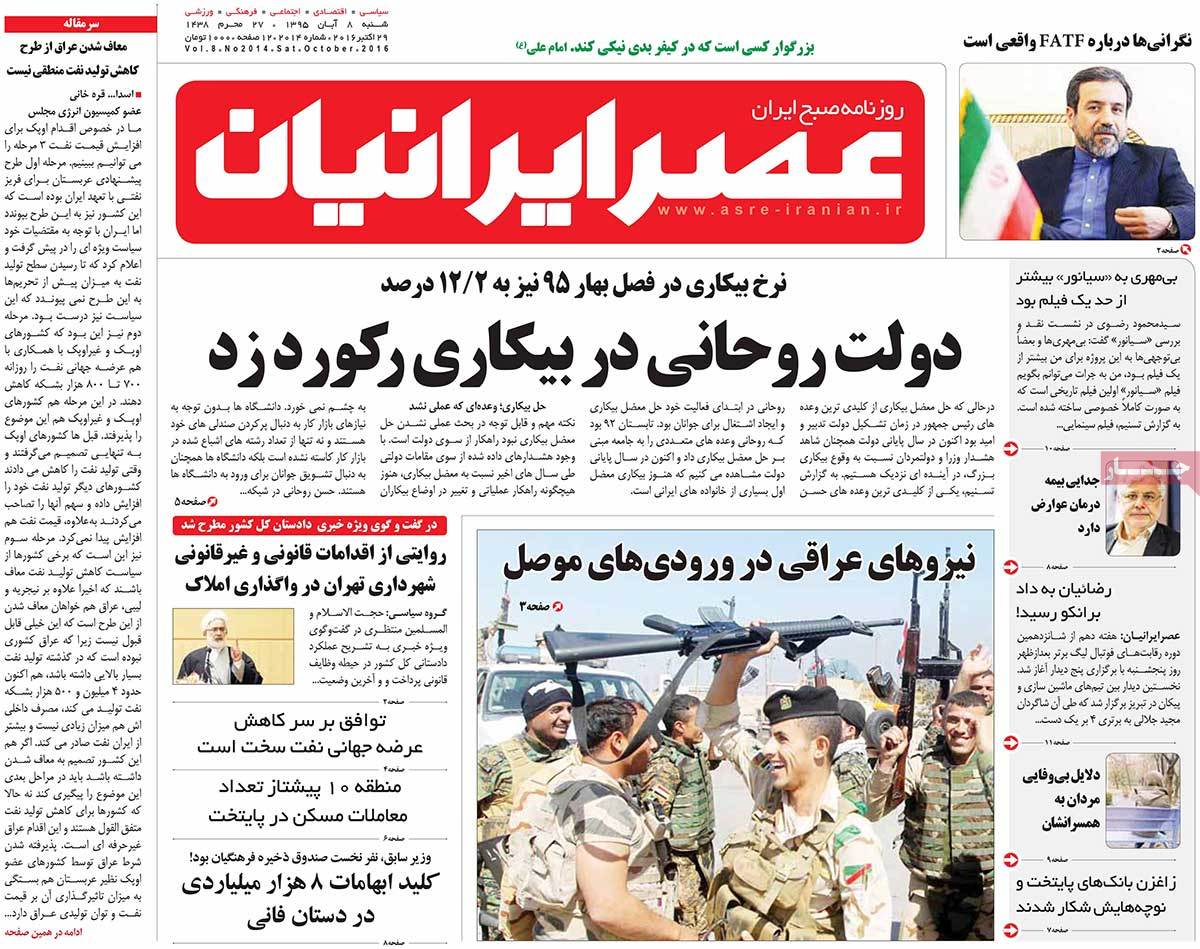 ---
Asr-e Rasaneh:
1- Plants with 26,500MW Power to Be Constructed in Five Years: Minister
2- IMF Warns Saudi Arabia: Riyadh's Austerity Plans Should Still Continue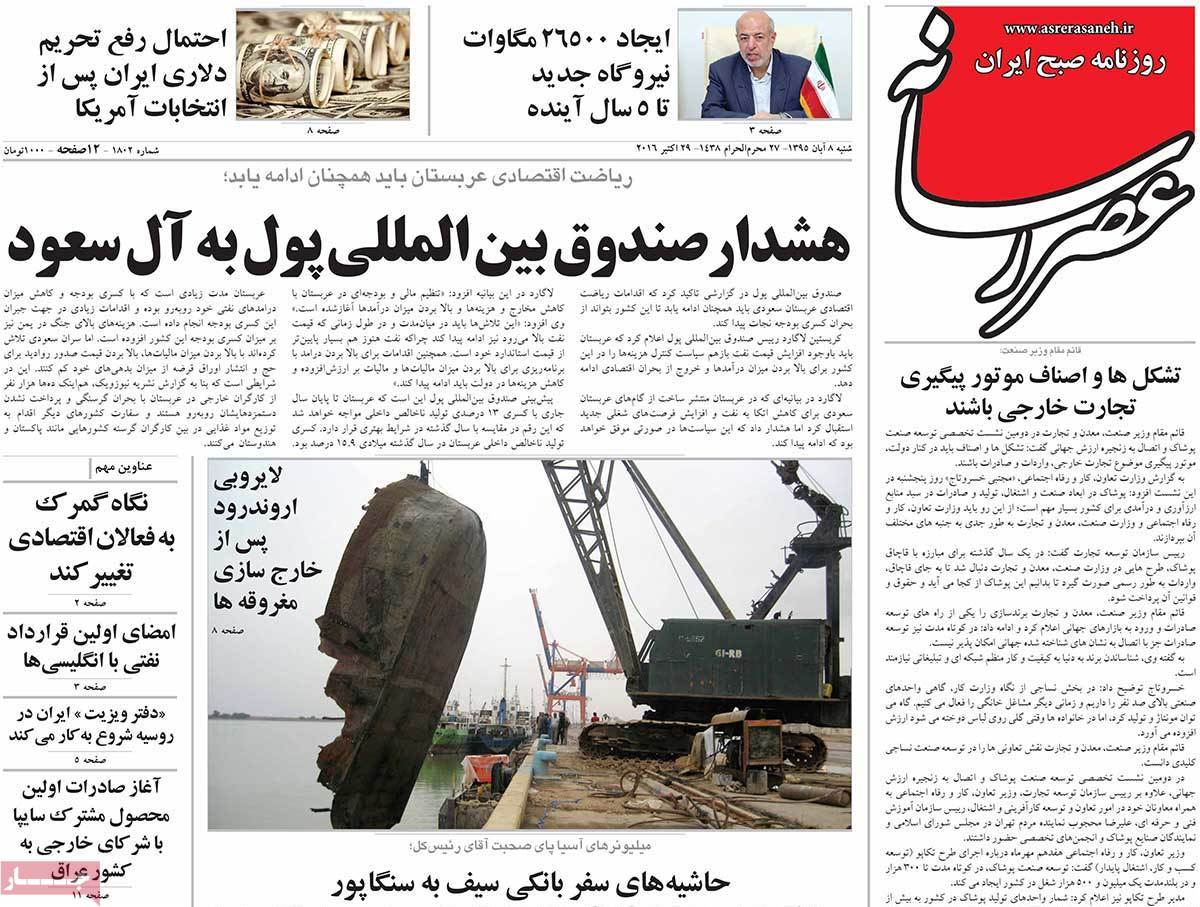 ---
Ebtekar:
1- StatesMEN! Political Experts Analyse Reasons for Absence of Female Ministers from Rouhani's Cabinet
2- Erdogan's Dream in Iraq and the Levant: Turkey Looks for Competition with Iran
3- Transfer of Artworks to Foreign Countries under Scrutiny of Parliament: Cultural Commission to Investigate Transfer of 60 Artworks from Tehran Museum of Contemporary Arts to a European Exhibition
---
Emtiaz:
1- Private Sector to Organize Street Junkies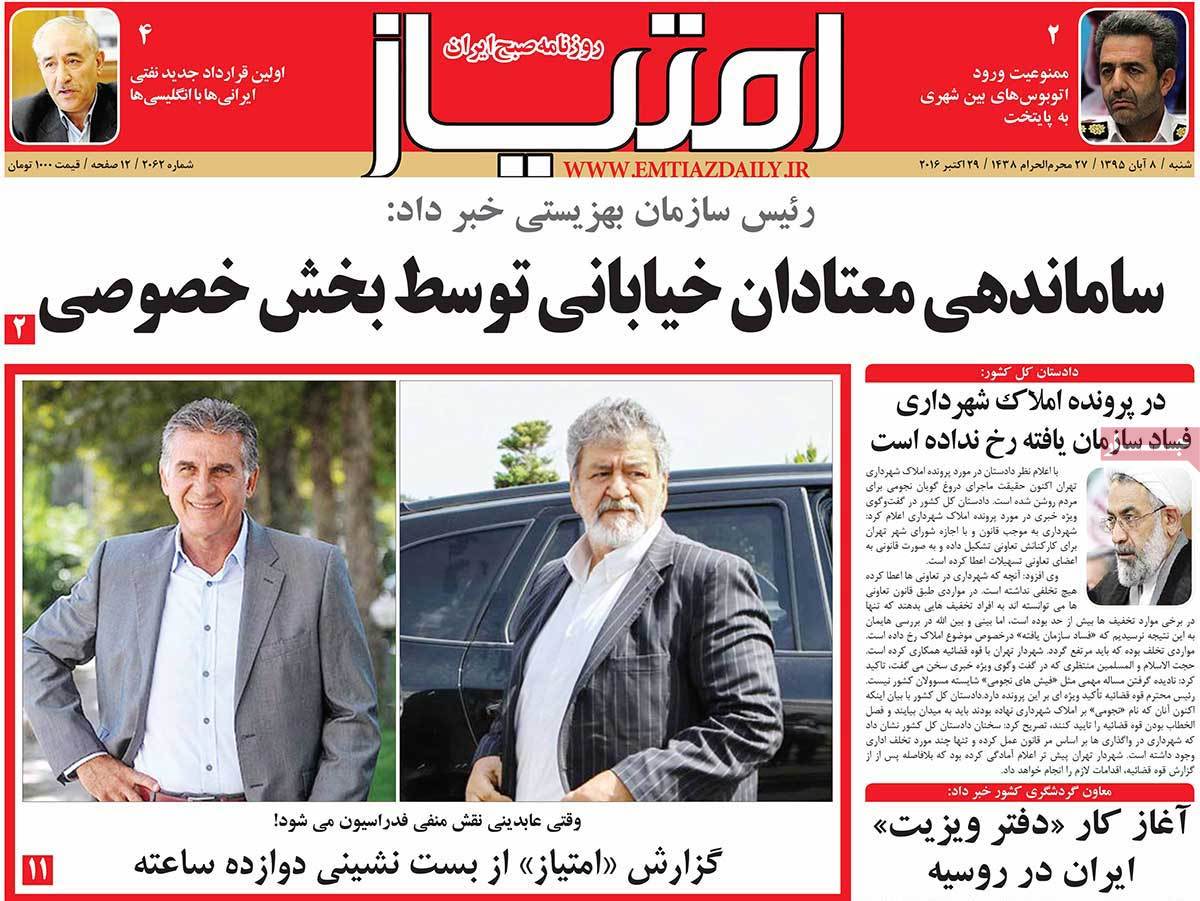 ---
Ettela'at:
1- Yemeni Forces Launch Missile Attack on Jeddah Airport Deep into Saudi Territory
2- Amid Tensions with the West, Russia Unveils World's Most Horrible Nuclear Missile
3- Precious Book on Arbaeen Is Unveiled
---
Hemayat:
1- Trust in US Is Nothing More than a Mirage [It was said during the trilateral meeting between Iran, Russia, and Syria in Moscow]
2- OPEC Once Again Tries to Implement Oil Freeze Plan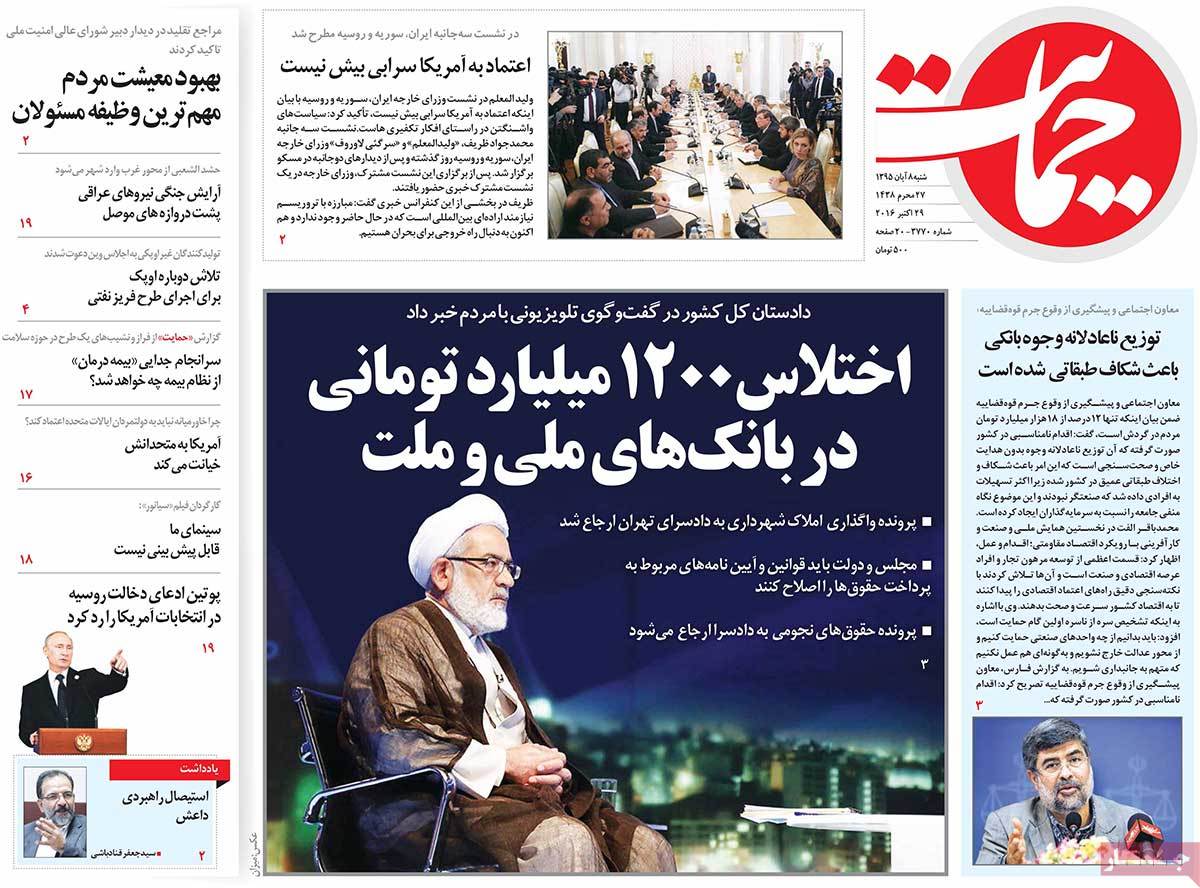 ---
Iran:
1- Foreign Ministry Spokesman: Differences Will Not Prevent Iran and Europe from Expanding Mutual Cooperation
2- Emphasis on Convergence in Fight against Terrorism: Ministers of Iran, Russia, and Syria Sit at Table of Peace Negotiations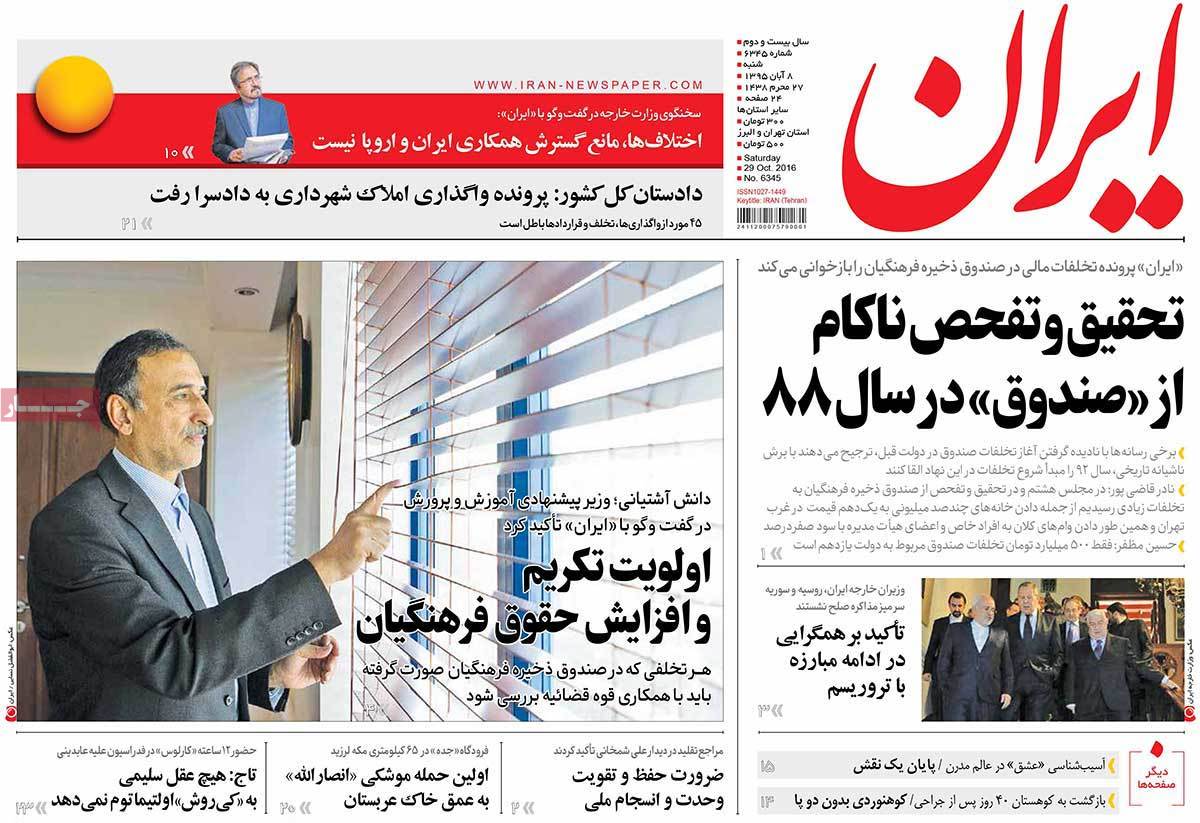 ---
Jame Jam:
1- Homeless Women, a Scar on Face of Tehran
---
Javan:
1- Grand Ayatollahs Appreciate Security, Complain about People's Livelihood in Meeting with Shamkhani
2- Yemen Fires Missile at Jeddah
3- Kerry: CIA Directly Interfered in Overthrow of Mosaddegh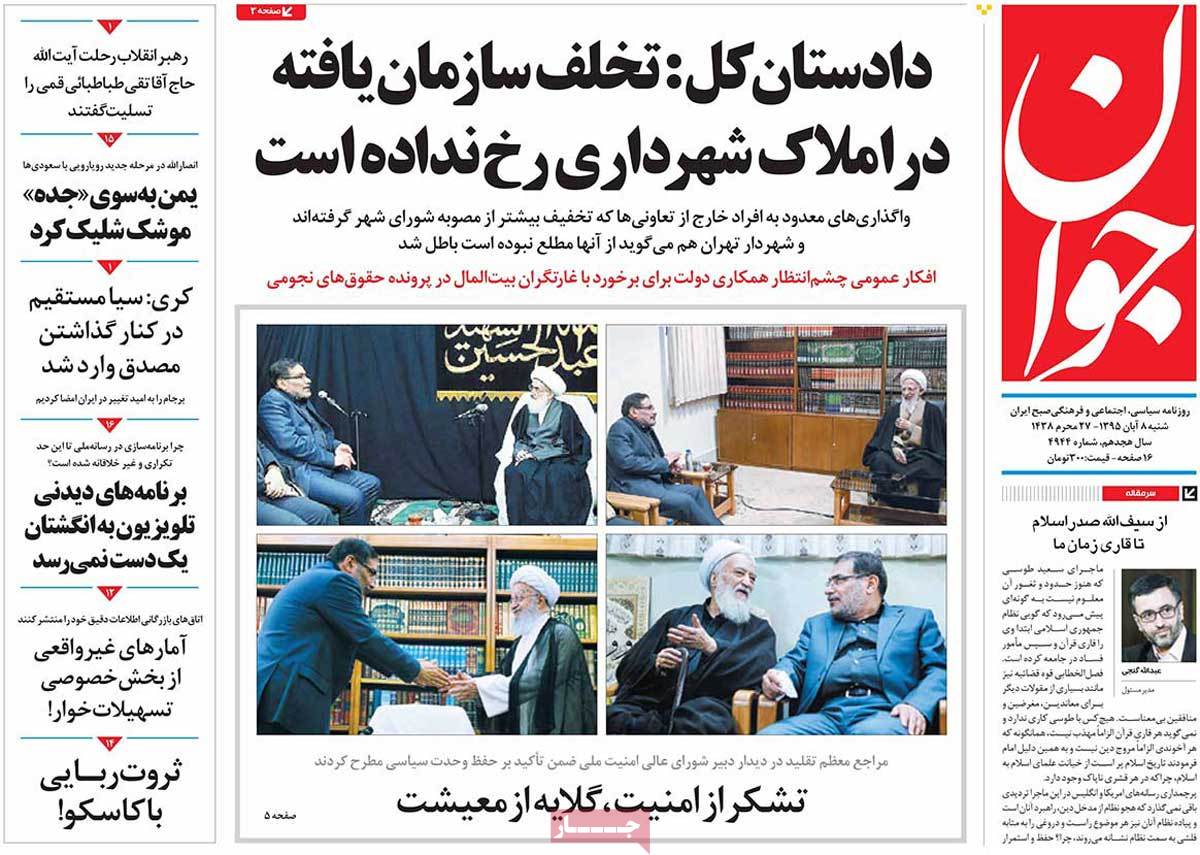 ---
Jomhouri Eslami:
1- Starvation Threatening Lives of Millions of Yemenis: UN
2- UAE Welcomes Plan to Remove Mansour Hadi
3- Countdown for Beginning of Last Step in Mosul Operation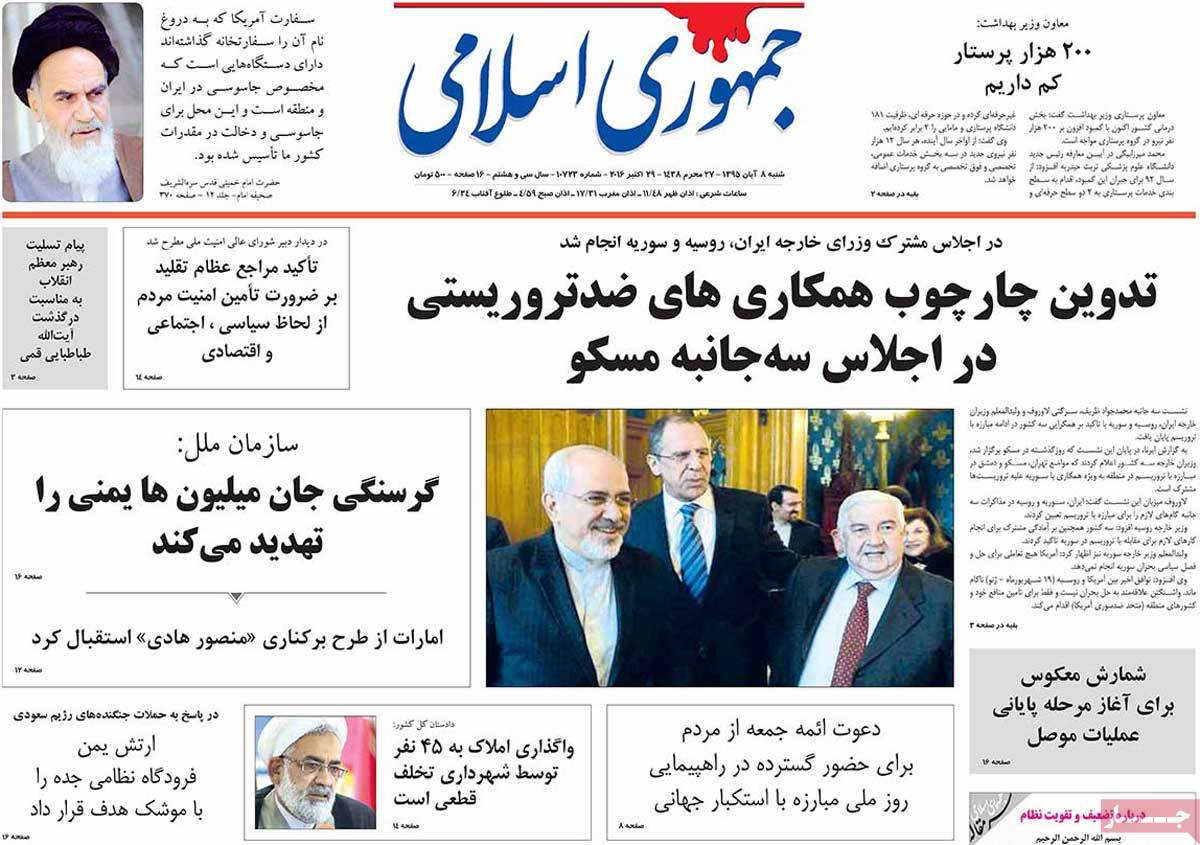 ---
Kayhan:
1- Major Victory for Resistance Front in Syria's Hama: A City and 22 Villages Liberated
2- People in Britain Attack the Car Carrying Bahrain's King in London
3- Nigerian Army Starts Arresting Veiled Shiite Women
4- Ansarullah Missiles Hit Jeddah: Al Saud Starts Talking Nonsense
---
Khorasan:
1- Iran, Russia, and Syria Criticize West's Violation of Its Commitments
2- Russia: Americans Failed to Distance Themselves from Nusra Front
3- 8,000 Civilians Abducted by ISIS to Create Human Shield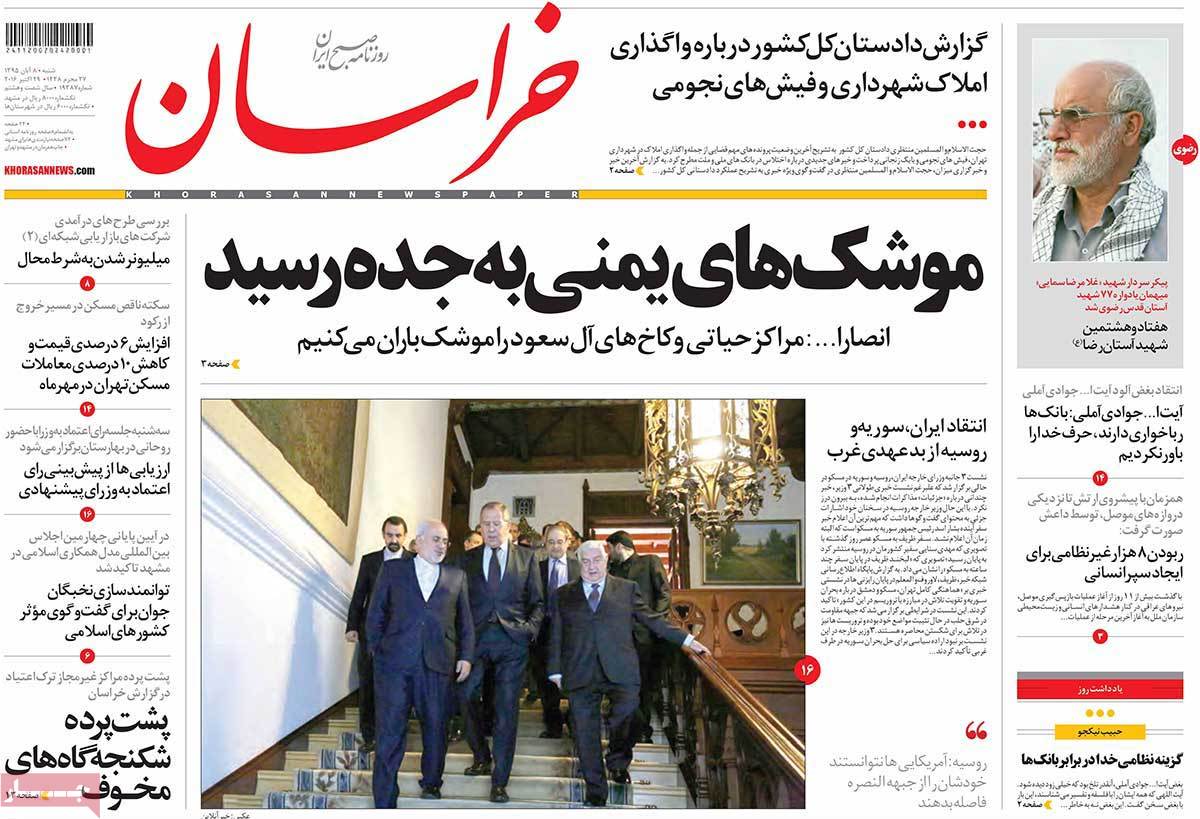 ---
Payam-e Zaman:
1- Iran's Military Might Is Unstoppable: Deputy FM
2- Iran's Advice to UAE and Saudi Officials: Don't Use Islamic Sanctities as Pretexts for Your Meagre Goals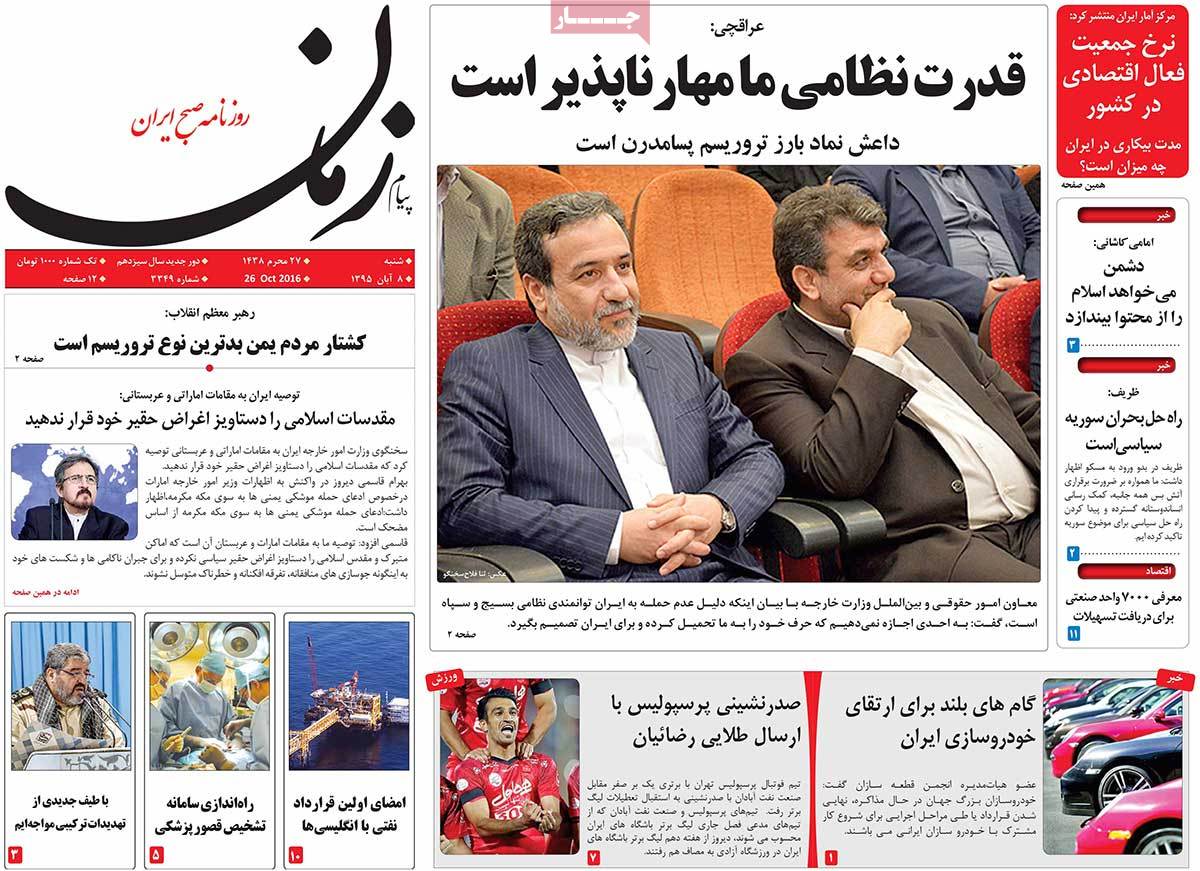 ---
Resalat:
1- Top Clerics Underline Need for Improving People's Lives in Meeting with SNSC Secretary
2- Deputy FM: Concerns about FATF Are Real
3- Anti-US Wrath IS Now Global: Cleric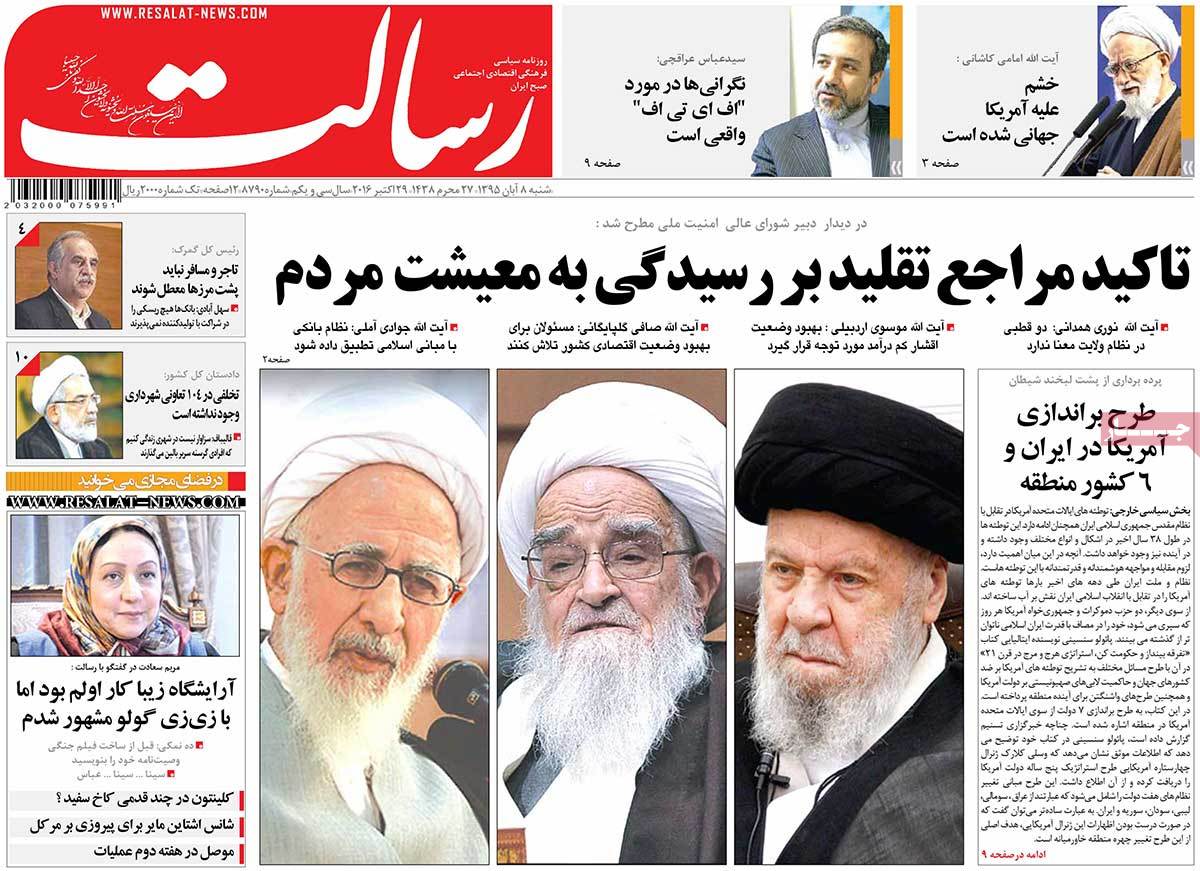 ---
Setareh Sobh:
1- Michelle and Hillary Are Worried and Try to Gain People's Votes
---
Shargh:
1- Mogherini in Tehran: One Day after Zarif's Return from Moscow
2- Iran's Cooperation with Russia and Syria to Be Developed: Trilateral Negotiations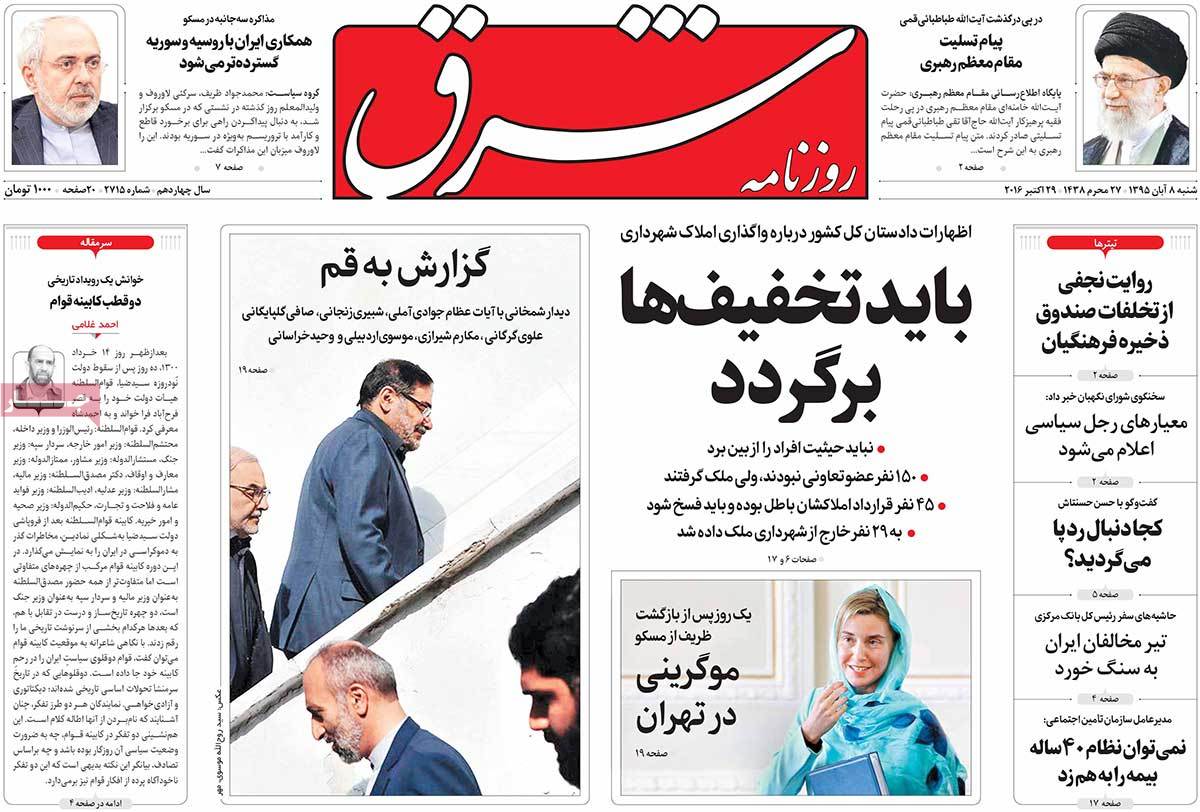 ---
Siasat-e Rooz:
1- Three Musketeers' Resolve to End Terrorism: Iran, Russia, Syria Hold Trilateral Meeting