Iraqi Prime Minister Haider al-Abadi's visit to Tehran and his meeting with the Leader of Iran's Islamic Revolution Ayatollah Seyyed Ali Khamenei was the Thursday top story of Thursday in Iran, which was widely covered in Saturday's newspapers.
Catalonia's unilateral declaration of independence and the release of confidential documents regarding the assassination of John F. Kennedy were among international issues covered by Iranian newspapers today.
Conservative papers particularly highlighted the fresh anti-Iran sanctions imposed on Iran on the pretext of Tehran's missile defence program. Kayhan also said in its front page that Iran should counter the US measures by stopping implementation of JCPOA.
The above issues, as well as many more, are highlighted in the following headlines and top stories:
19 Dey:
1- Atwan: Plot Hatched to Drag Iran into Regional War
2- Iran Leader to Iraqis: You Should Beware of US Deceitfulness
3- Iran's Biggest Gathering of Media Professionals Begins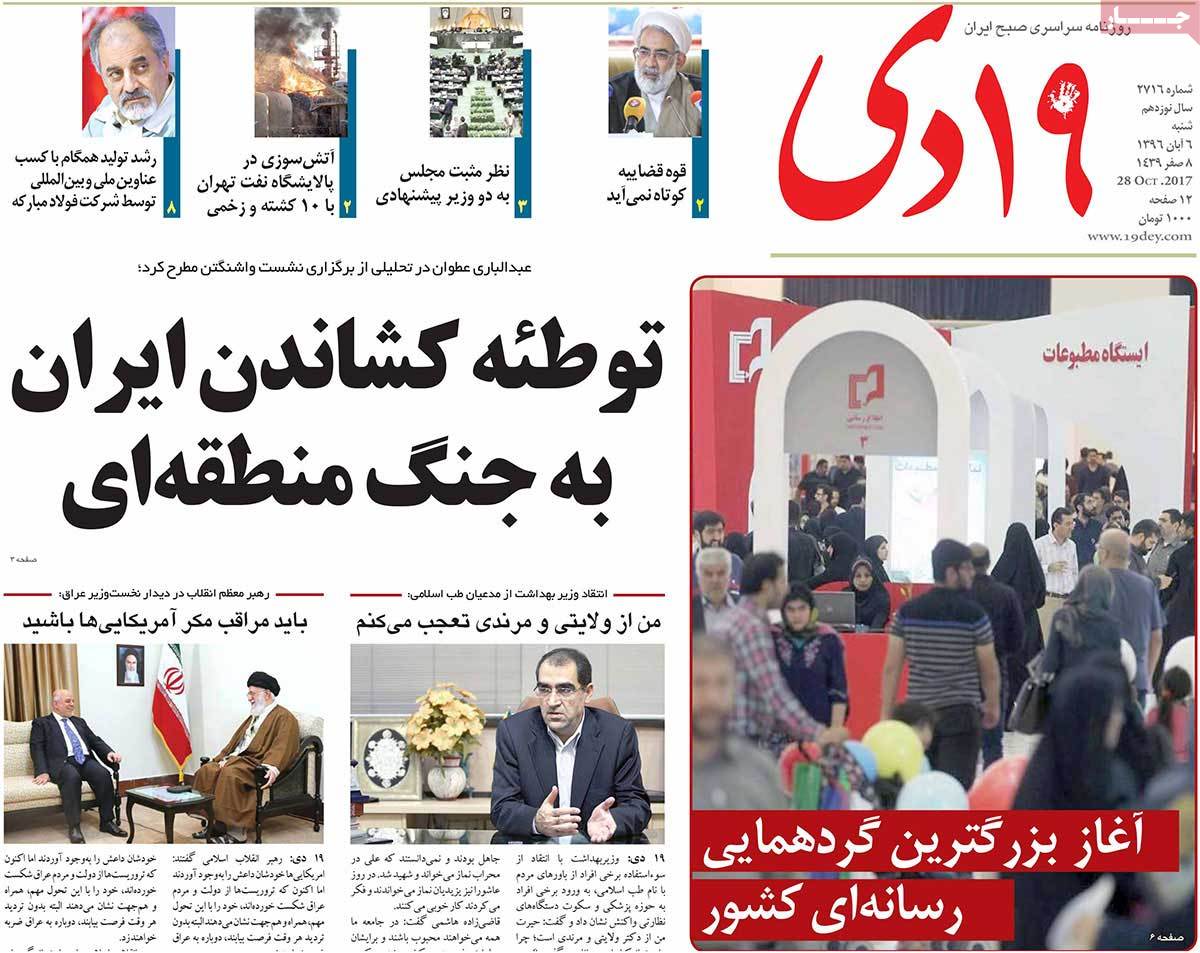 ---
Abrar:
1- Leader Underlines Iran's Support for Iraq's Territorial Integrity, Integrated Sovereignty
2- US Imposes Missile Sanctions against Iran
3- Rouhani: Iran Fully Prepared to Take Part in Iraq's Reconstruction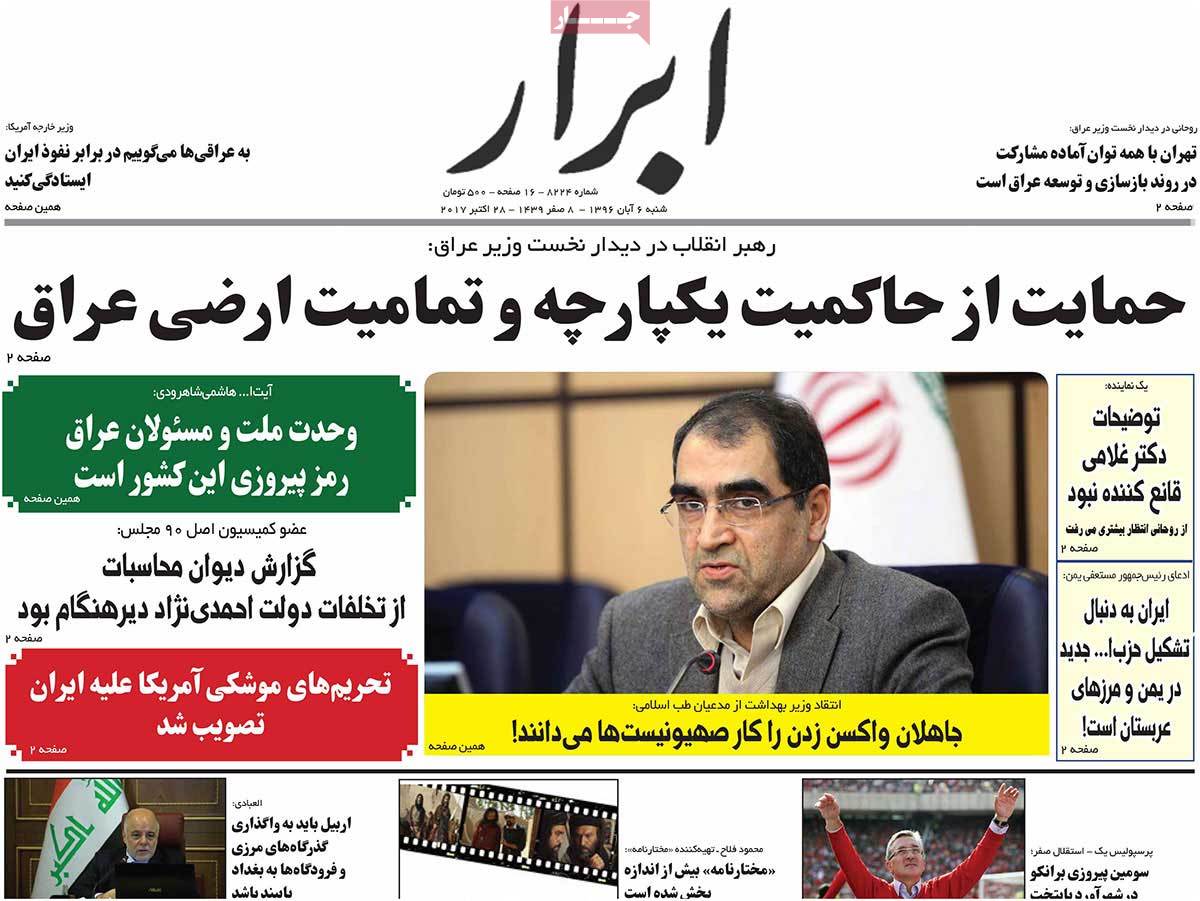 ---
Abrar-e Eqtesadi:
1- 20 Hectares of Lands in Russia's Astrakhan Special Zone Allocated to Iranian Firms
2- Negotiation with Russians for Development of 10 Oilfields
3- Iran Ready to Export 3,000 Megawatts of Power to Pakistan
---
Aftab-e Yazd:
1- Iran Parliament Expected to Give Vote of Confidence to Both Ministers Proposed
Science, Energy Ministers Not to Face Serious Challenge in Parliament
2- Iran Leader: Secret behind Iraq's Victories Was Unity, Support for Brave Young Believers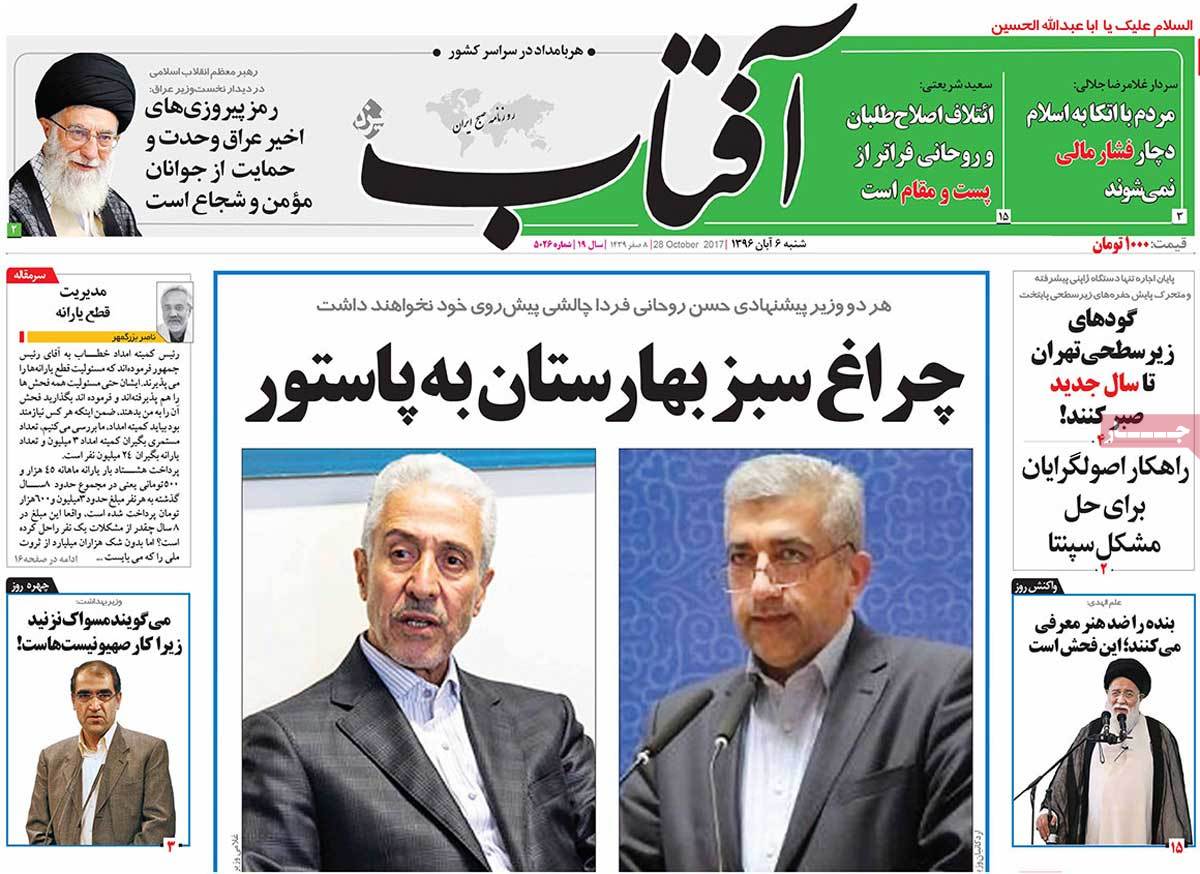 ---
Emtiaz:
1- Urban Development Minister: Document of Cooperation Signed with Russia on Housing
2- Tehran's Air Polluted in 80% of Past Week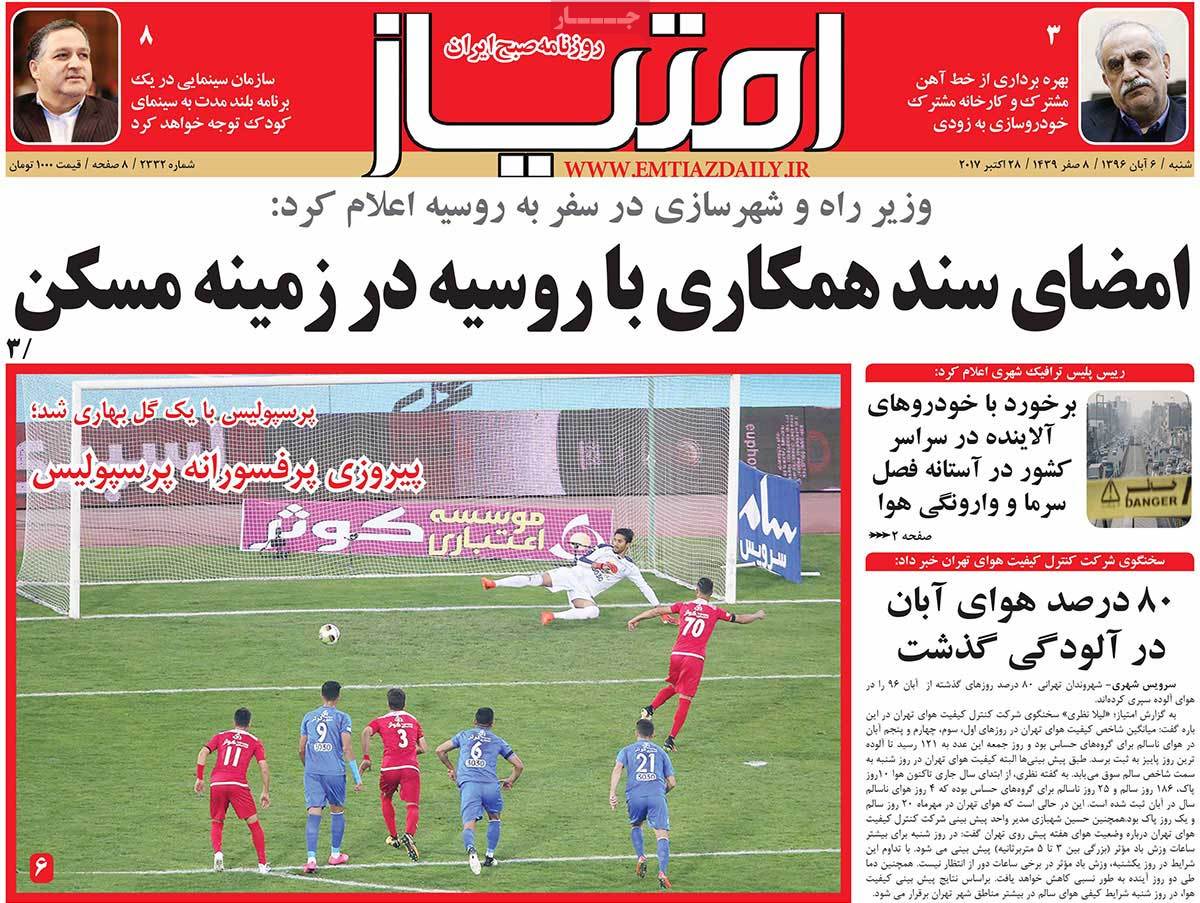 ---
Ettela'at:
1- Iran Leader Underlines Tehran's Support for Expansion of Ties with Baghdad
2- 1.2 Million Visas Issued for Arba'een Pilgrimage
3- Putin to Visit Tehran on Wednesday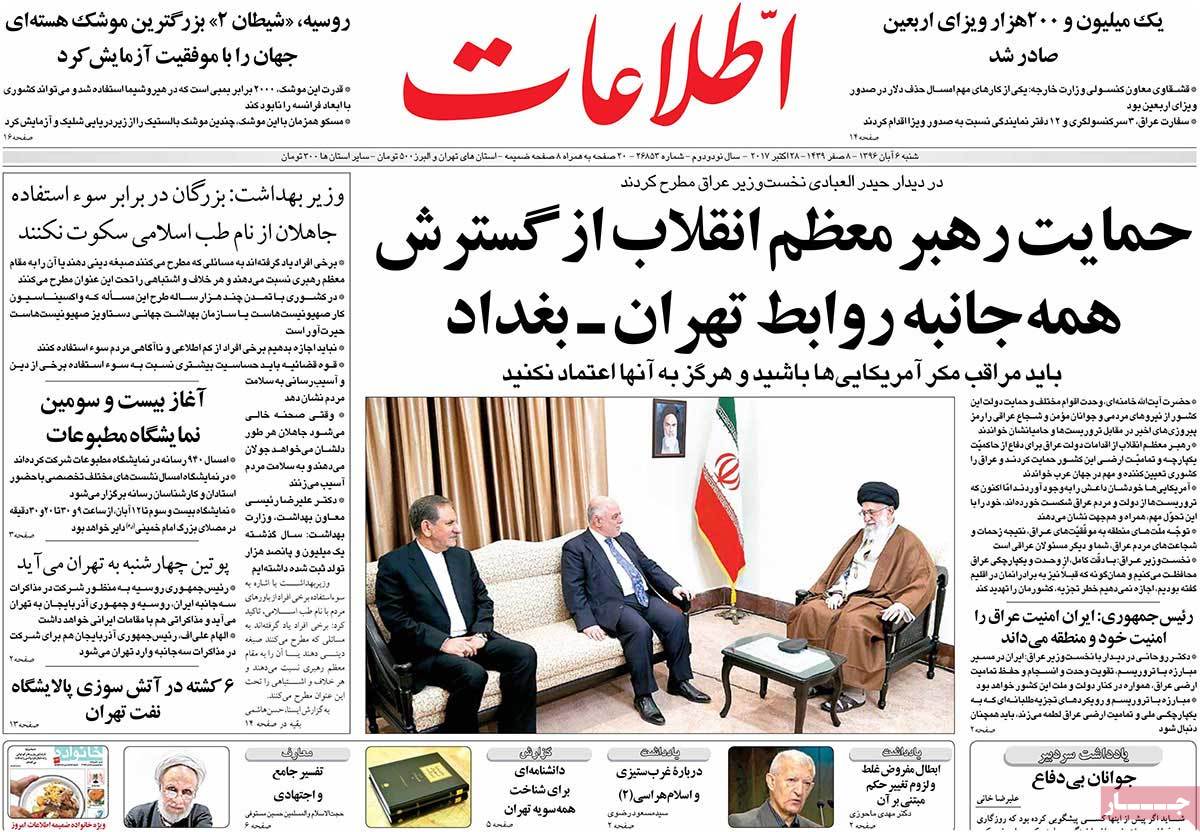 ---
Hamkari-e Melli:
1- Press Exhibition Hosting 1,000 Media Outlets in 600 Booths: Official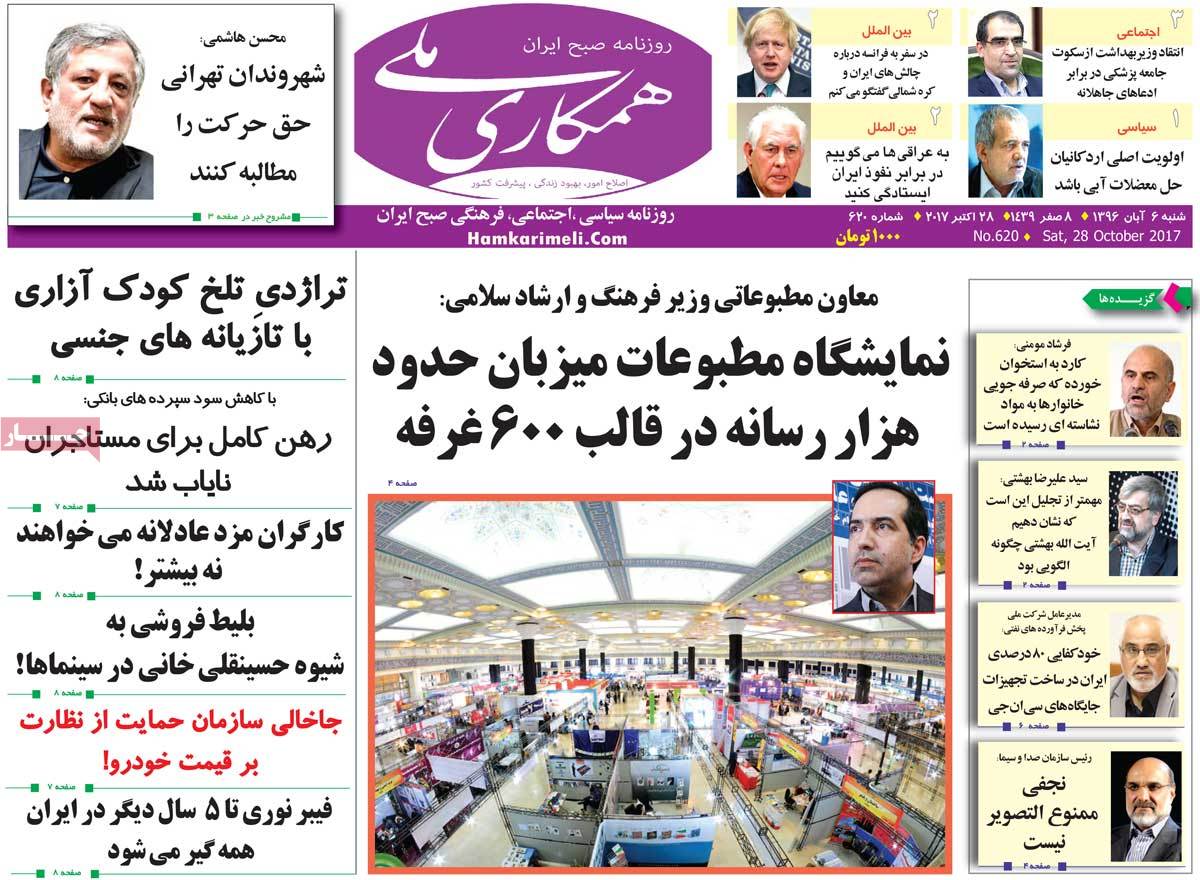 ---
Iran:
1- Politics Destroyed Us: People of Sulaymaniyah Talk about KRG Independence
2- Proposed Energy Minister: I've Been in Energy Ministry for 40 Years
3- Proposed Science Minister: We'll Continue Path of Moderation in Universities
4- One-Fifth of Christie's London Auction Sales Dedicated to Iranian Artists
Tanavoli's Artwork Most Expensive Work by Living Artist
---
Javan:
1- Iran Leader: US to Deal a Blow to Iraq If It Finds Opportunity
2- US Starts Engine of Its Non-Nuclear Sanctions against Iran
US House of Representatives Imposes Sanctions on Iran's Missile Program
Nothing Left of Spirit of Iran Nuclear Deal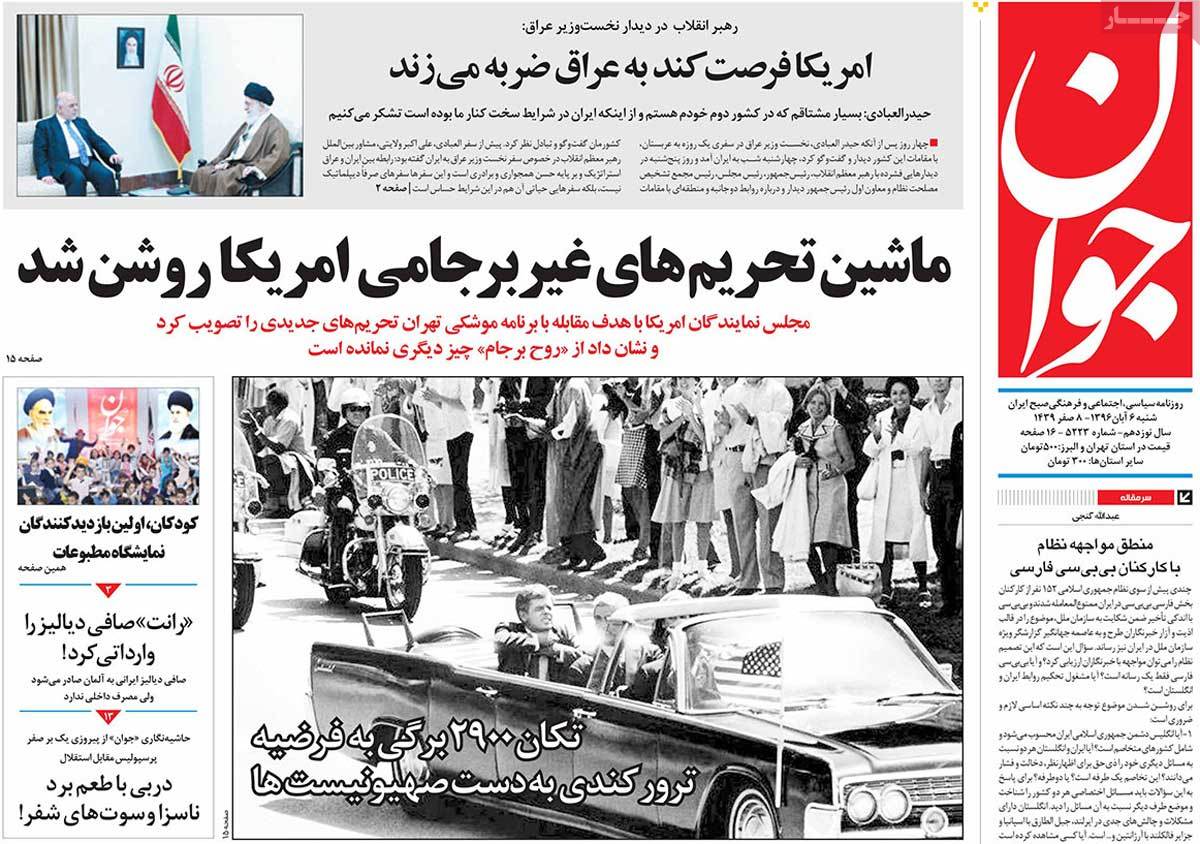 ---
Jomhouri Eslami:
1- Iran FM Advises US to Leave Mantra of 'Standing with Iranian People'
2- UNSC Once again Underlines Iraq's Territorial Integrity
3- 23rd Press Exhibition Open to Visitors
4- Deputy Oil Minister: Development of Petchem Industry Accelerated after Nuclear Deal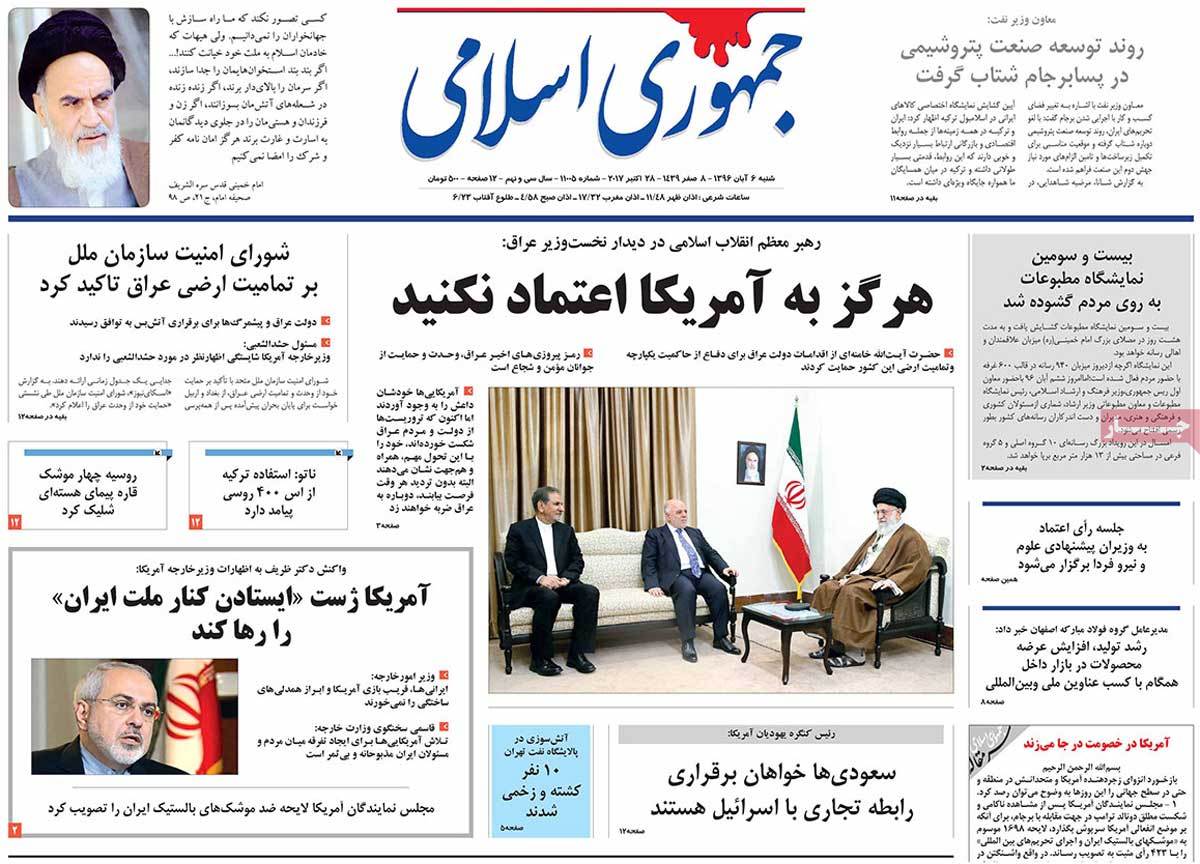 ---
Kayhan:
1- Missile Sanctions Imposed ahead of Implementation of Mother of Sanctions
2- Qatari Ex-PM's Horrible Confessions: We Devised Plan of Syria War with US, Saudi Arabia, Turkey
3- Memorial Plaque Installed on House of Rouhani's Father
Those Were The Days When Iran Unveiled 20% Uranium Enrichment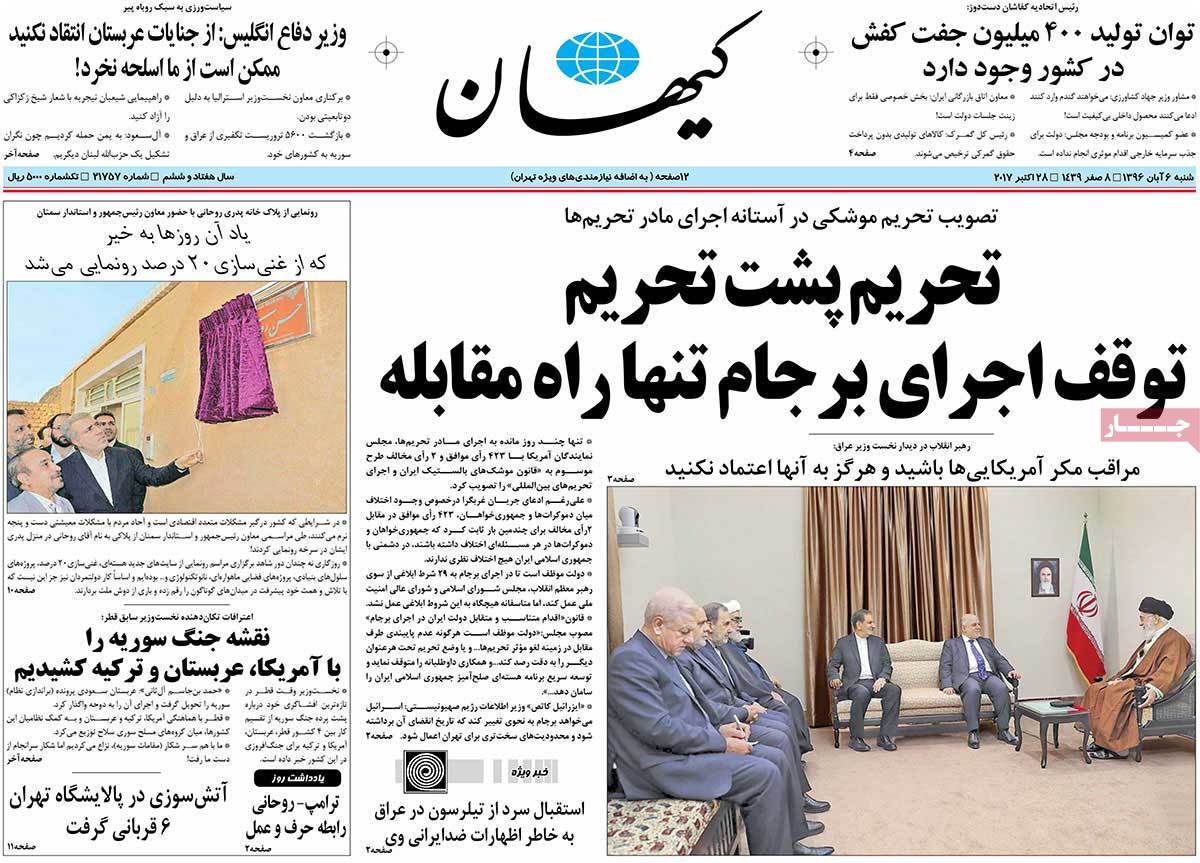 ---
Khorasan:
1- Deputy Foreign Minister: Forces Deployed to Oversee Syria Ceasefire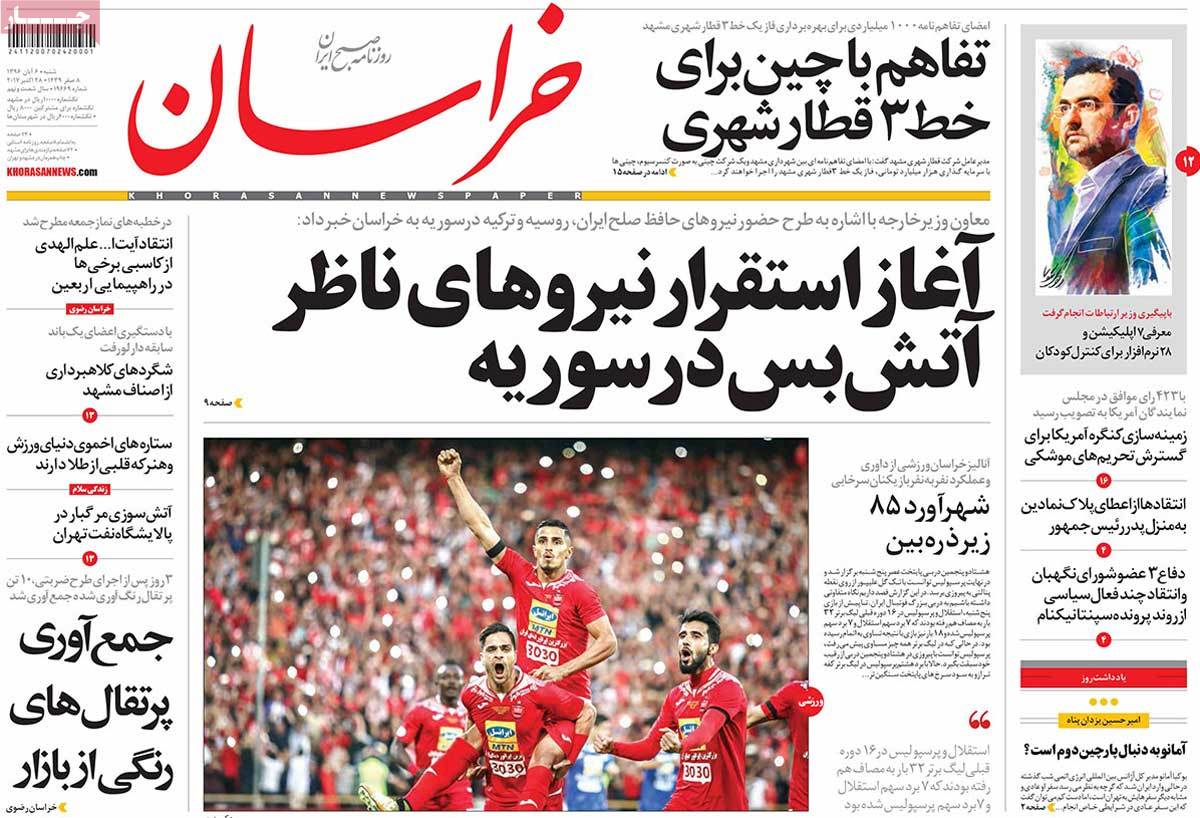 ---
Resalat:
1- Iran Leader to Iraqi PM: Don't Trust Americans
2- Ayatollah Nouri Hamadani Urges Officials to Implement Policies instead of Talking
3- US Approves Bill against Iran's Ballistic Missiles
Netanyahu: We Thank US for Imposing Recent Sanctions against Iran
---
Saheb Qalam:
1- Press Exhibition to Be Inaugurated Today by First VP Jahangiri
2- Amir-Abdollahian: Disintegration of Iraq, Syria Second Plan of Terrorists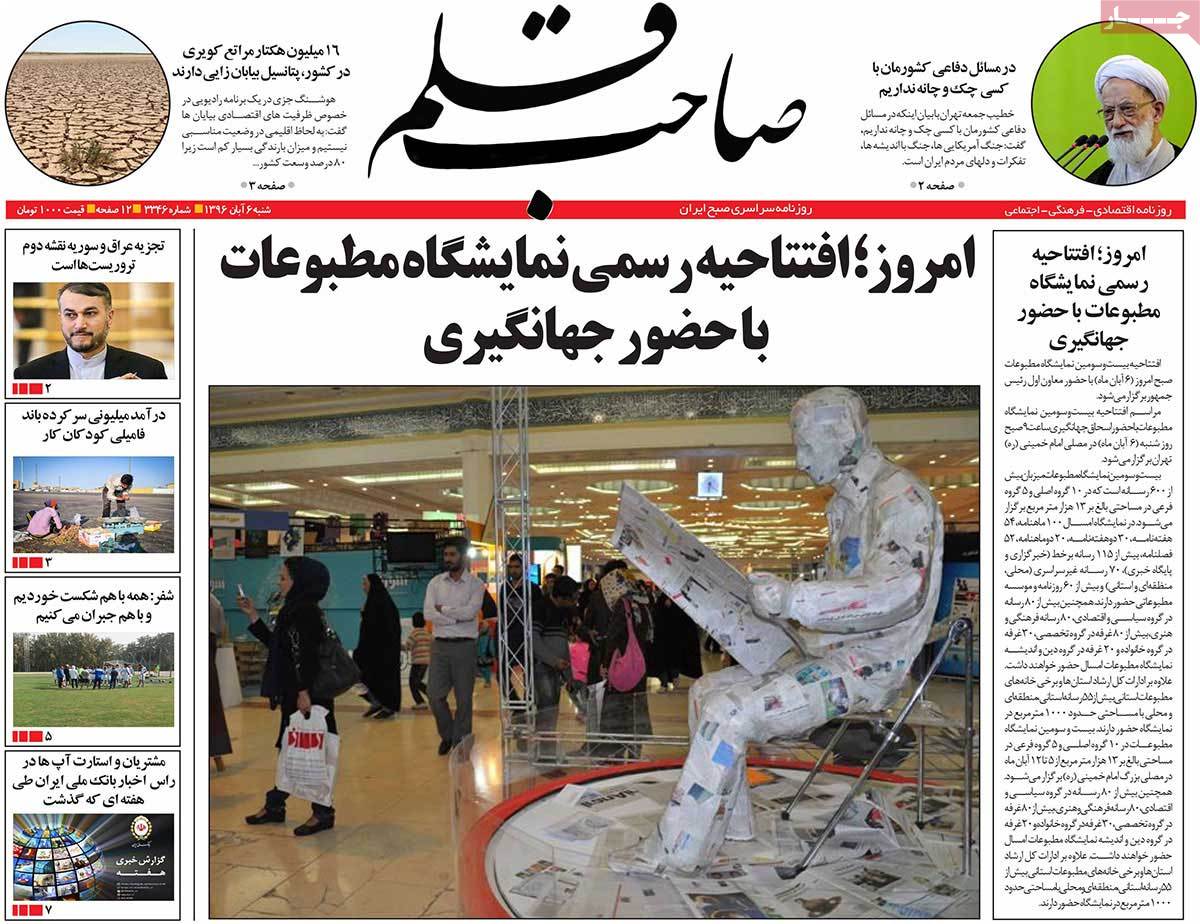 ---
Shargh:
1- Rouhani in Meeting with Iraqi PM: Iraq's Security Same as that of Iran