Newspapers on Thursday covered the remarks made by the Leader of the Islamic Revolution Ayatollah Seyyed Ali Khamenei in a meeting with the visiting Finnish President Sauli Niinistö in Tehran.
They also highlighted the harsh reaction by the Iranian Human Rights chief Mohammad Javad Larijani to the European Union's call for the establishment of an office in Tehran.
The ongoing battle to liberate the ISIS-held city of Mosul in northern Iraq also remained a top story today.
The above issues, as well as many more, are highlighted in the following headlines:
Abrar:
1- Arab League, African Union, and UN Agree on Formation of a United Libyan Army
2- France: Raqqa Is Our Strategic Target
3- Schools and Universities in Northwestern Iranian City of Ardabil Shut Down Because of Heavy Snow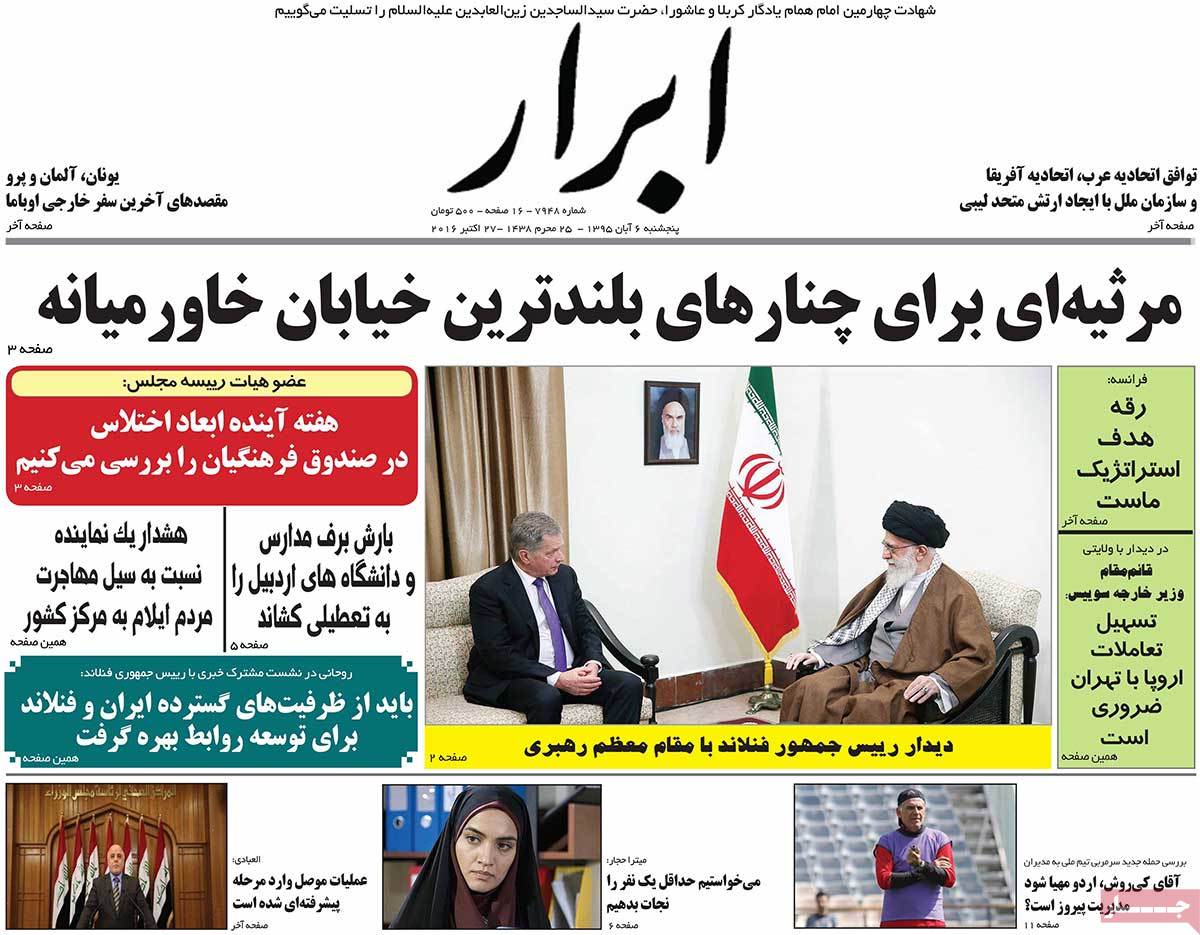 ---
Aftab-e Yazd:
1- Inflation Rate in Russia 10 Times More than EU
2- Where Will Ali Jannati, Resigned Culture Minister, Go? Continued Speculations about His Next Position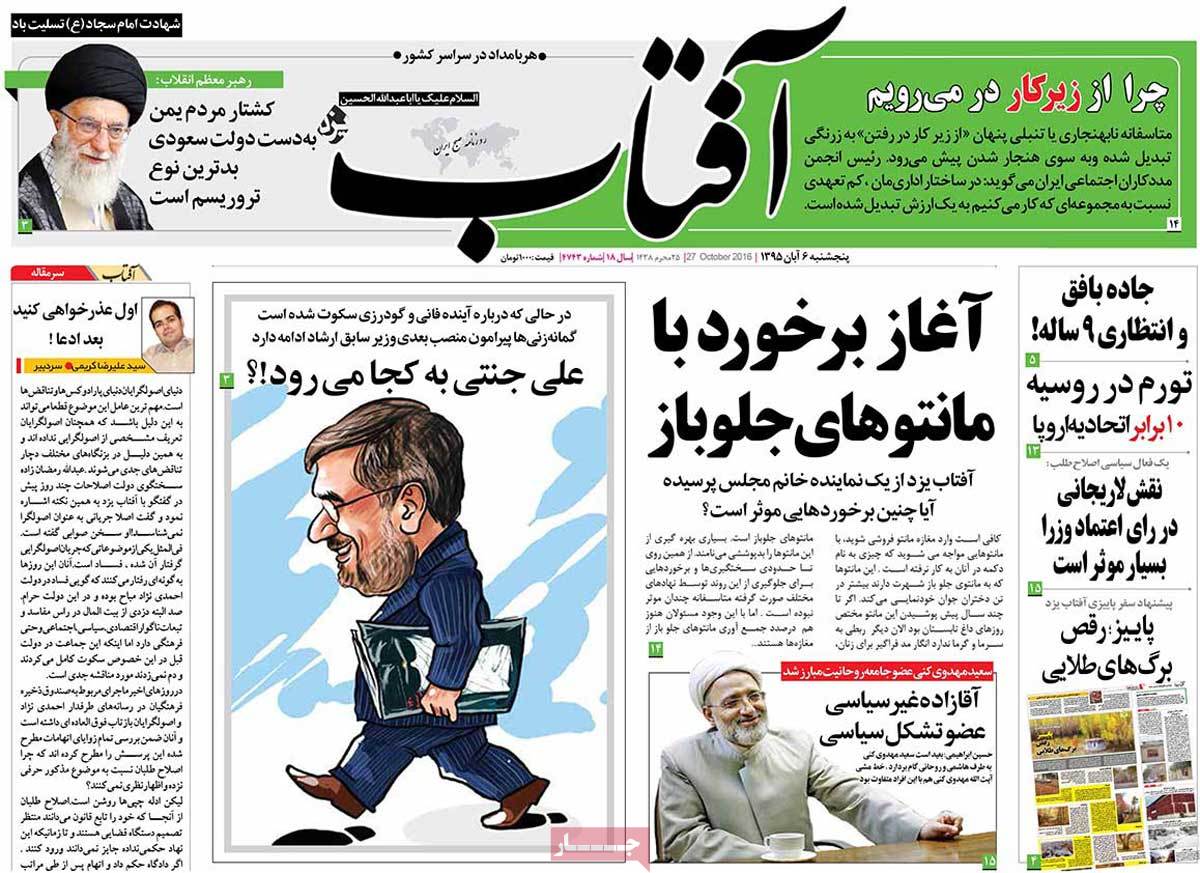 ---
Arman-e Emrooz:
1- Zibakalam: Culture Ministry Is the First Target Opponents of Government
2- US May Start Military Interference in Syria: Analyst
3- Transport Ministry: We've Bought 500 Airplanes
---
Asrar:
1- We're Ready for Talks with EU: Rouhani
2- Damascus Threatens Turkey
3- Increase in Price of Minor Hajj [Umrah] to $1,666
4- Labour Minister: We Have Plan to Create Job Opportunities in Cyberspace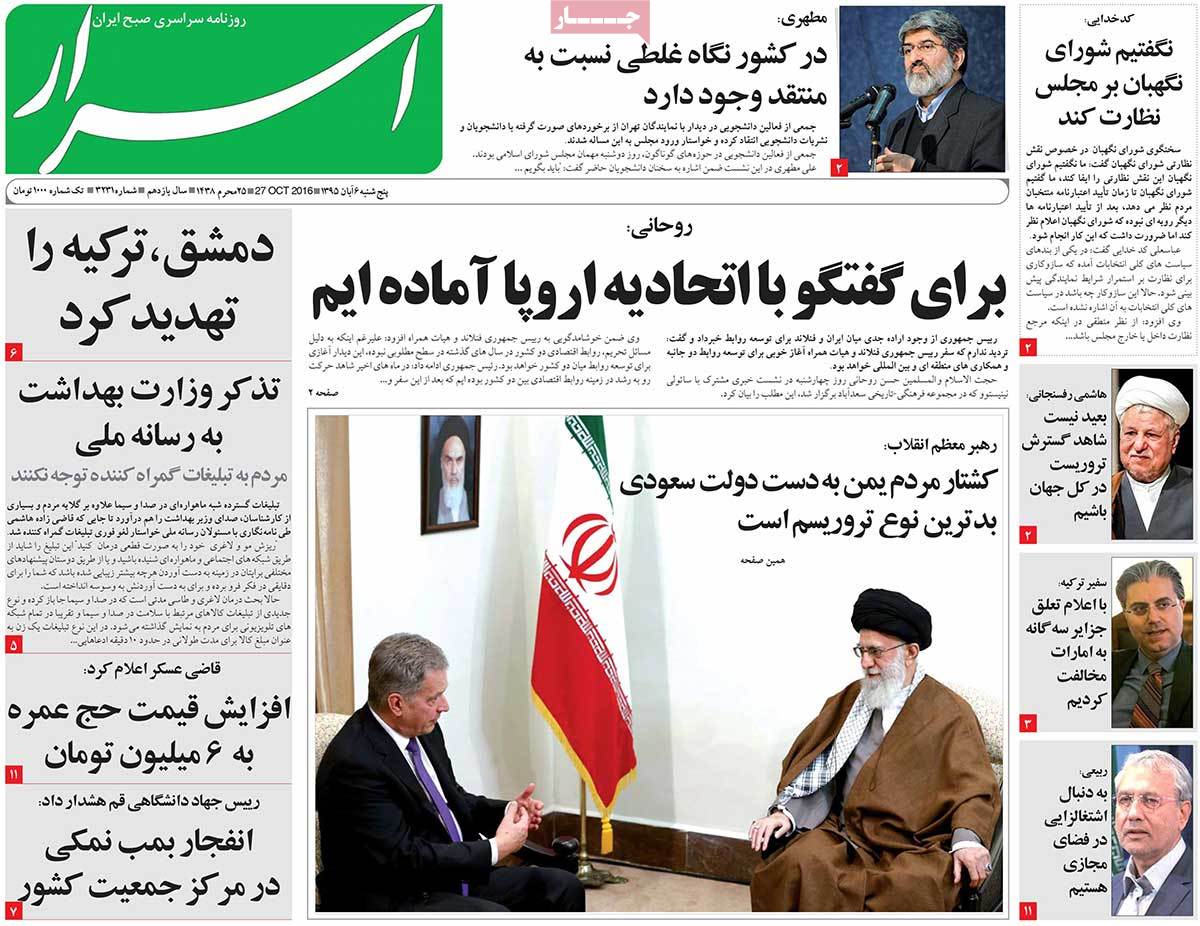 ---
Ebtekar:
1- Women May Run for Presidential Elections Even Though They're Not 'Man of Politics' [as mentioned in law]
2- The Right-Winger Who Became a Leftist: Phenomenology of Ahmadinejad and Iranian Society
---
Etemad:
1- We're Ready for Talks: Rouhani Gives the Green Light to EU in Meeting with Finnish Counterpart
2- They Want to Establish a 'Nest of Western Corruption': Iranian Human Rights Official's Reaction to Possible Opening of EU Office in Tehran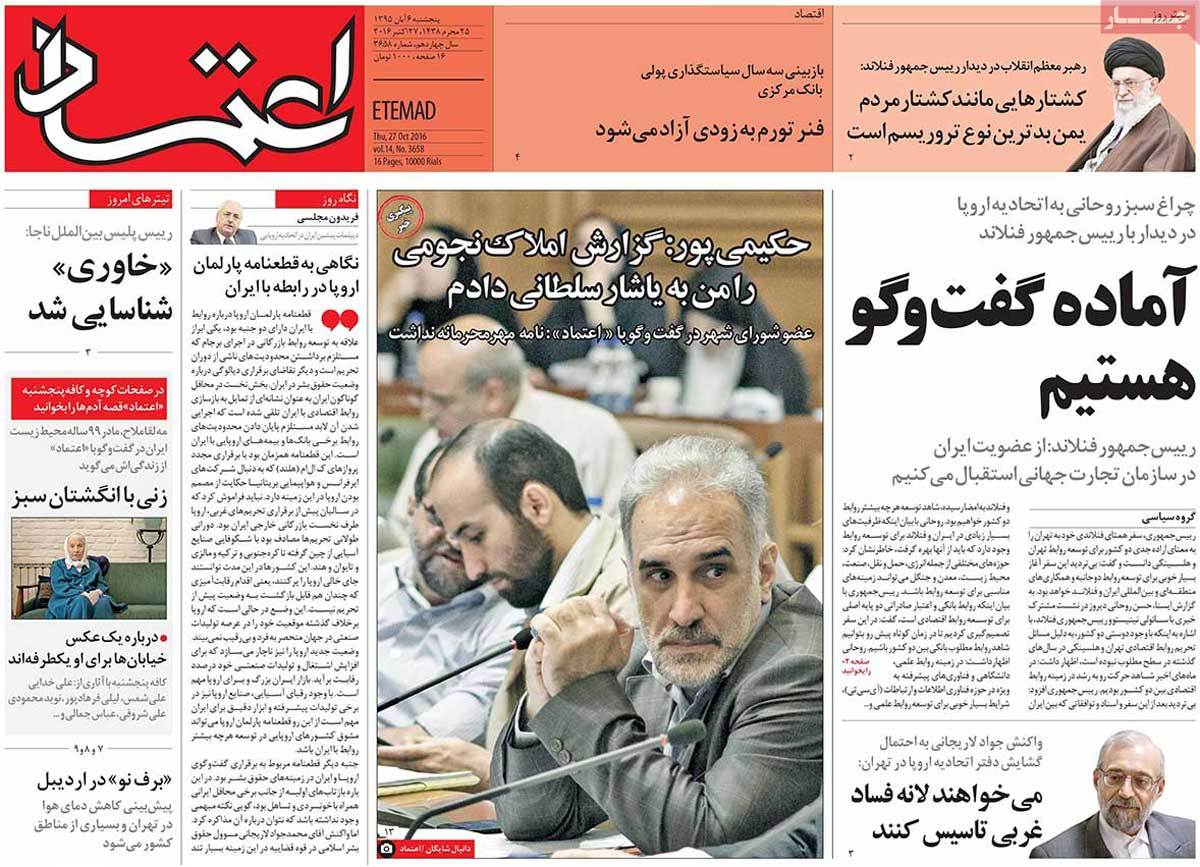 ---
Ettela'at:
1- Leader: Wise People of the World Should Do Something for Resolving Issue of Terrorism
2- Commander: IRGC Is the Middle East's Greatest Power
3- Int'l Bodies Opposed to Saudi Arabia's Membership in UN Human Rights Council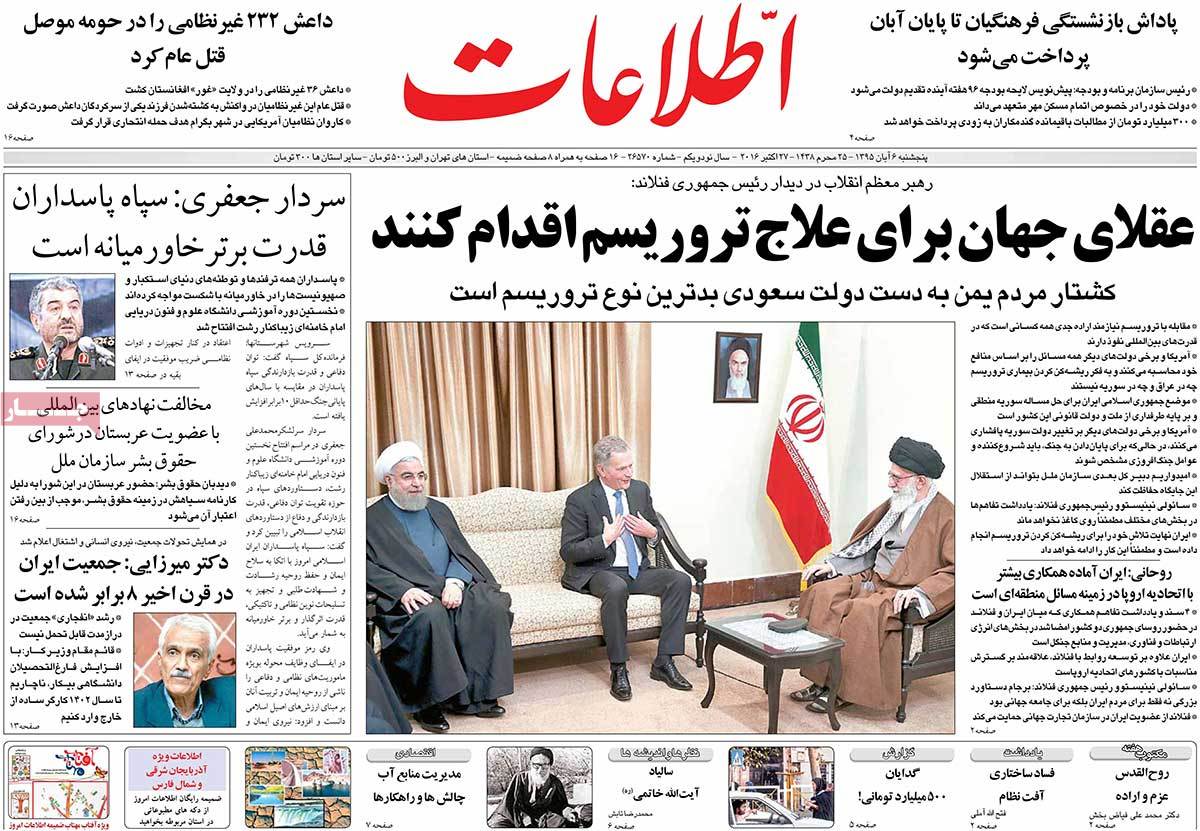 ---
Haft-e Sobh:
1- How Chinese Brands that Were Unknown Yesterday Have Now Turned to Rivals of Apple and Samsung
2- A Report on Memorable Figures in World of Politics: Classic Meaning of a Politician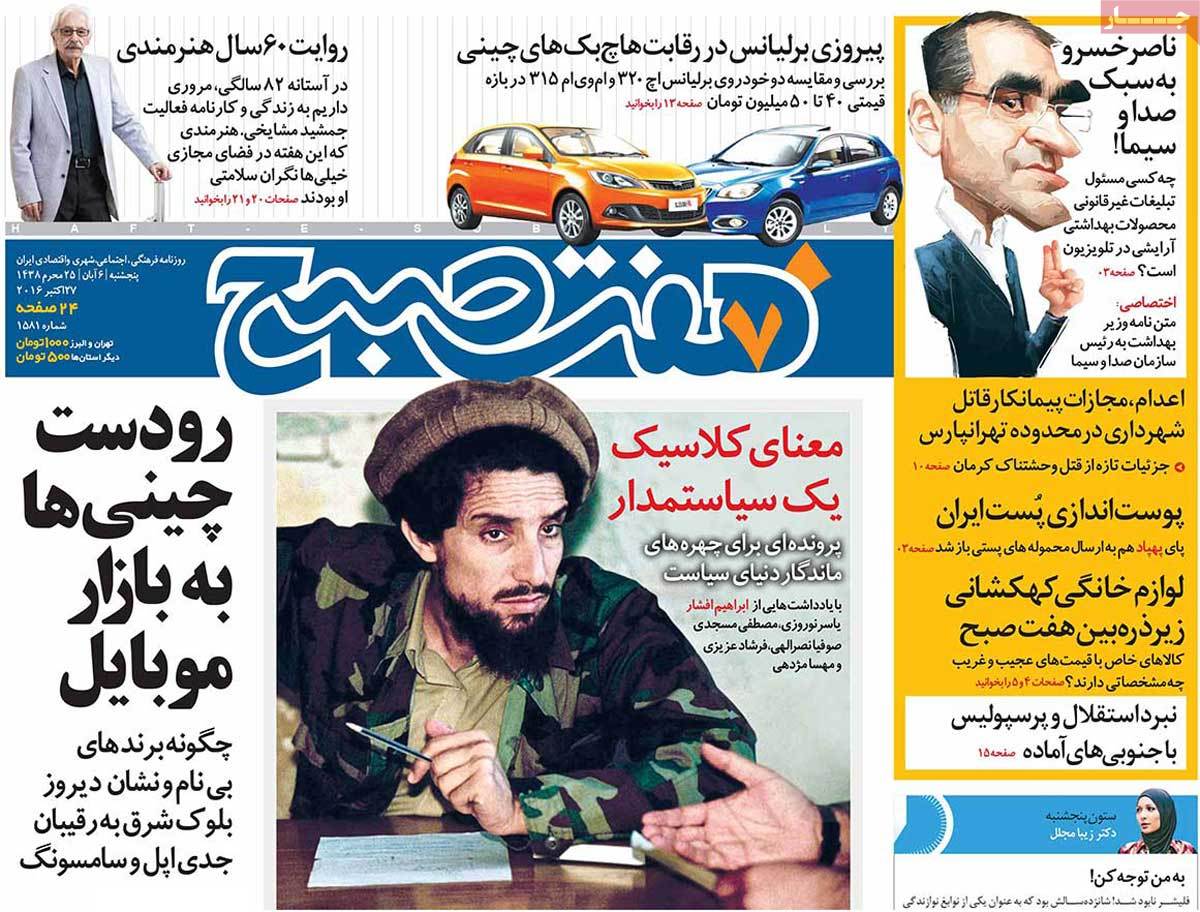 ---
Hemayat:
1- We Won't Accept Secular and Imposed Human Rights: Human Rights Official
2- We Have No Plan to Attend Brussels Talks: Javad Larijani; Iran Won't Take Part in Talks Whose Framework Is Based on Imposition of Ideas and Arrogance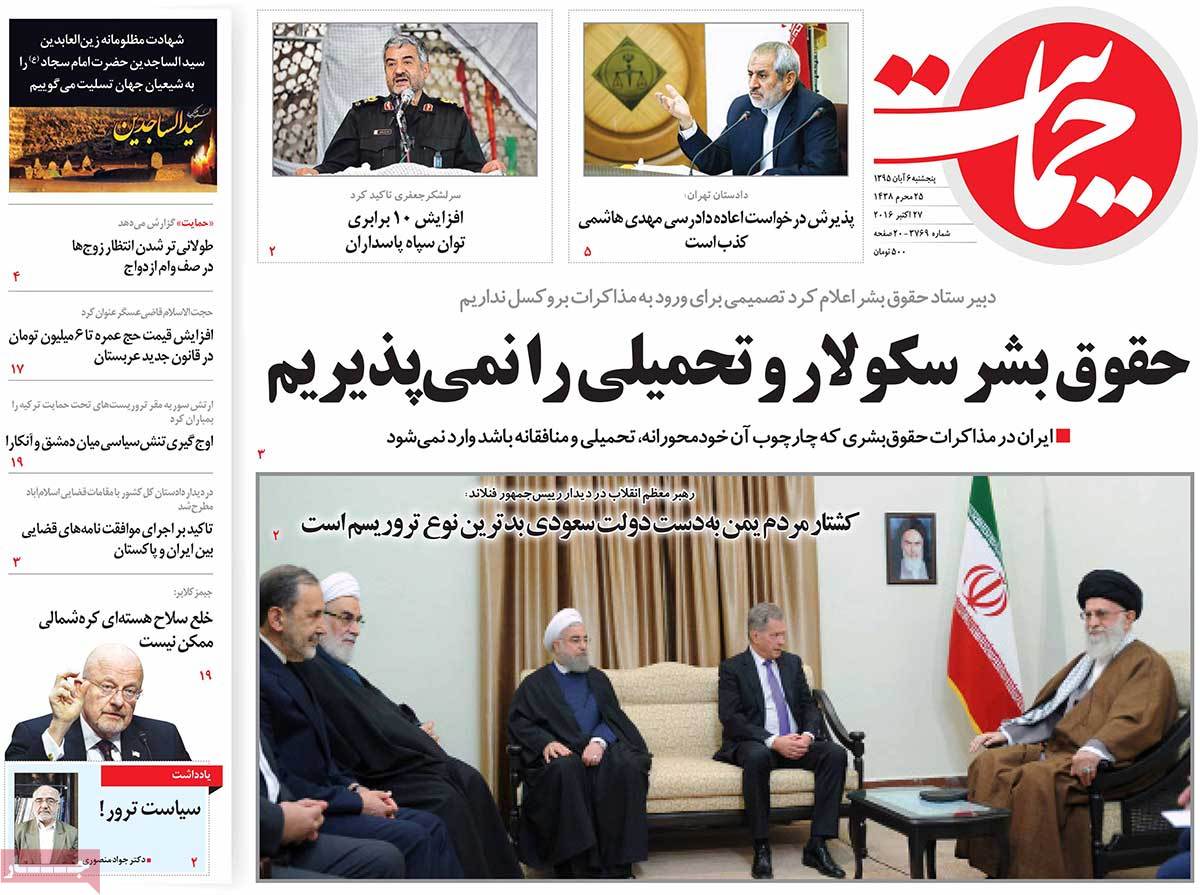 ---
Iran:
1- Leader: We Hope New UN Secretary General Protects the Body's Independence
2- Autumn Snow in Five Provinces
3- Syrian Army Attacks Turkey's Allies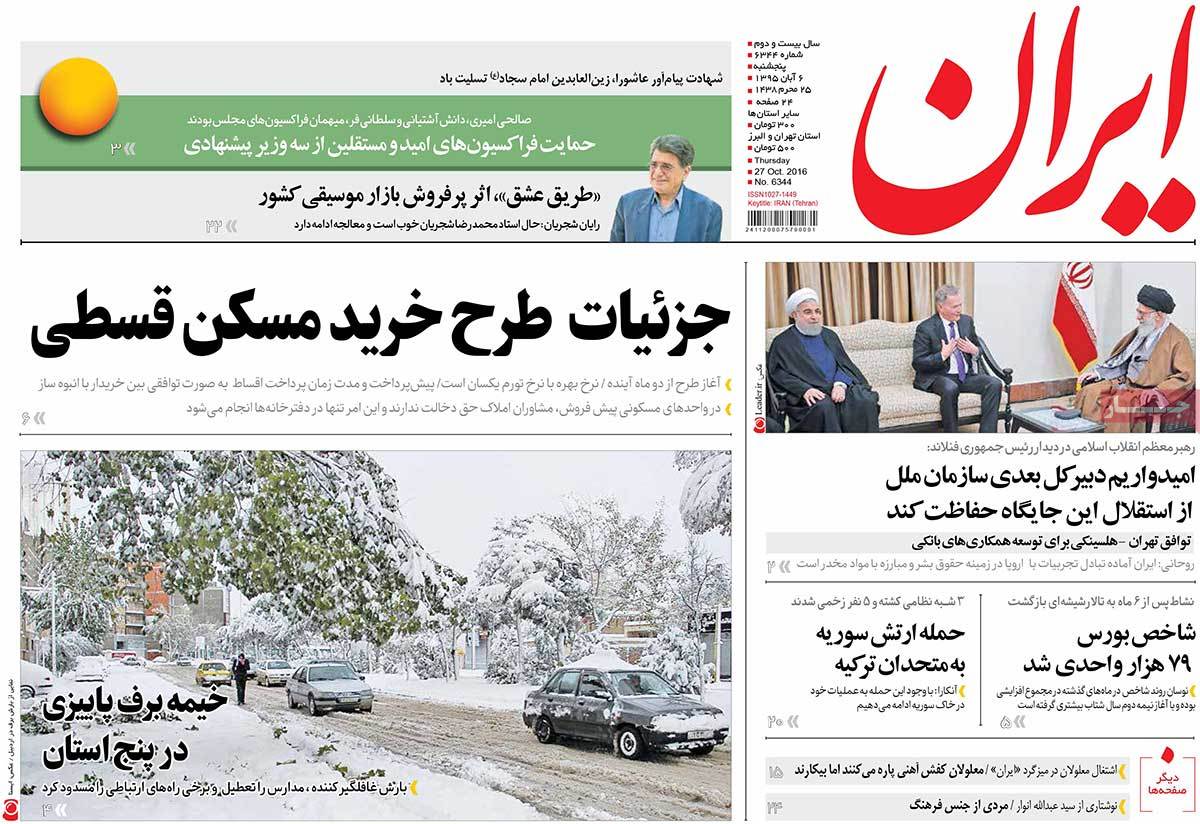 ---
Jame Jam:
1- Saudi Government's Moves in Yemen Are Worst Type of Terrorism: Leader in Meeting with Finland President
2- Heavy Burden of Life on Shoulders of Single [Female] Parents
3- And Suddenly Winter Has Come
---
Javan:
1- Initiator and Warmonger Should Be Determined If Syria War Is Going to Be Ended
2- US Takes Selfie with Mosul Operation: Americans Want to Show Themselves as Winners of a War for Which Iraqi Popular Forces Have Fought and Died in Past 2 Years
3- US Looking for Re-Imposition of Iran Sanctions: US Congress Preparing for Post-JCPOA Era
4- Mona Lisa of 21st Century Is Arrested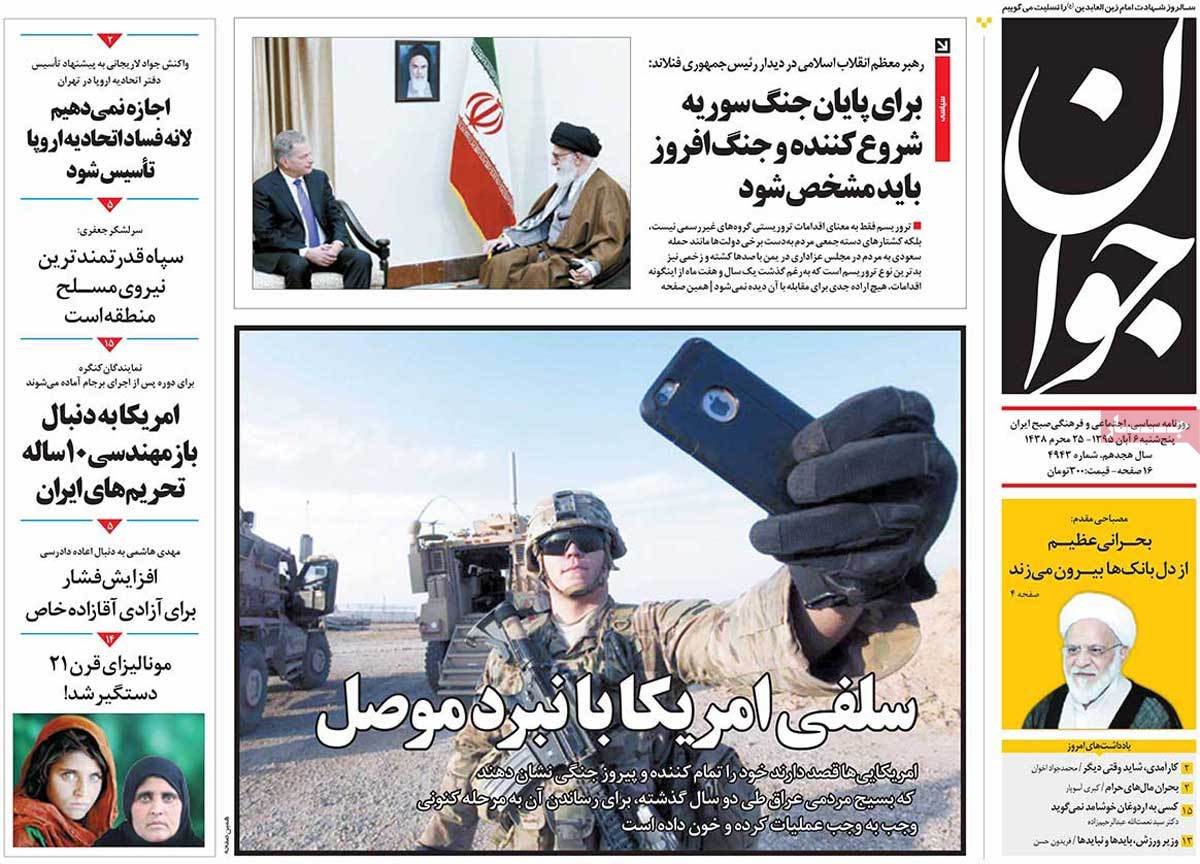 ---
Jomhouri Eslami:
1- UNESCO: Aqsa Mosque Only Belongs to Muslims and Has Nothing to Do with Jews
2- Russia: US Unilateralism Has Endangered Global Security
3- Iran and Finland Sign Four MoUs and Documents of Cooperation
---
Kayhan:
1- 9 Months after JCPOA: What Happened to the $28bn?!
2- It's a Shame to Work under Control of Foreigners in Oil Projects after 37 Years of Experience: Khatam al-Anbia Construction Base Commander
3- Trump: Confrontation with Iran and Russia Will Destroy US
4- EU Looking for Normalization of Ties with Iran or Interference in Its Affairs?!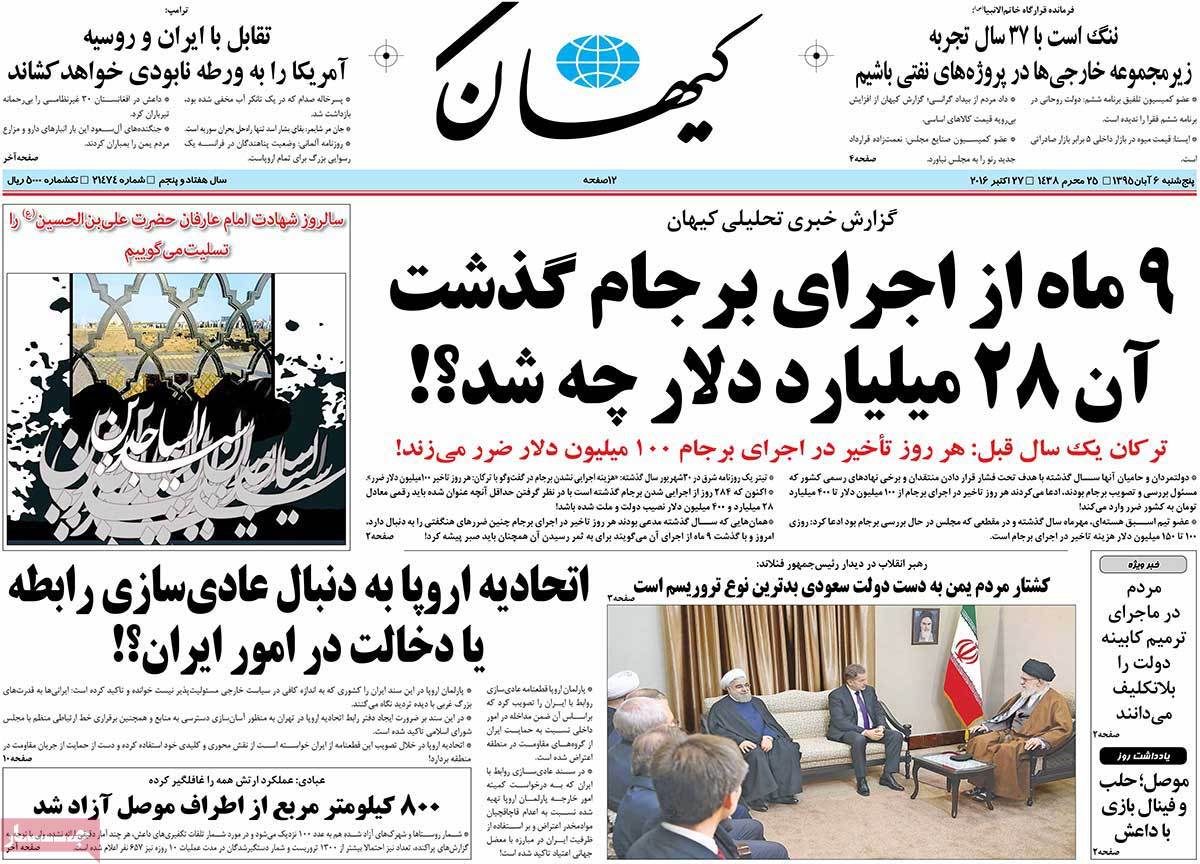 ---
Khorasan:
1- Leader Welcomes Iran's Agreements with Finland and Calls for Their Implementation
2- Young People of Islamic Countries Discuss Ways to Counter Takfiri Ideology
3- 35 Cheetahs Identified in Daregaz National Park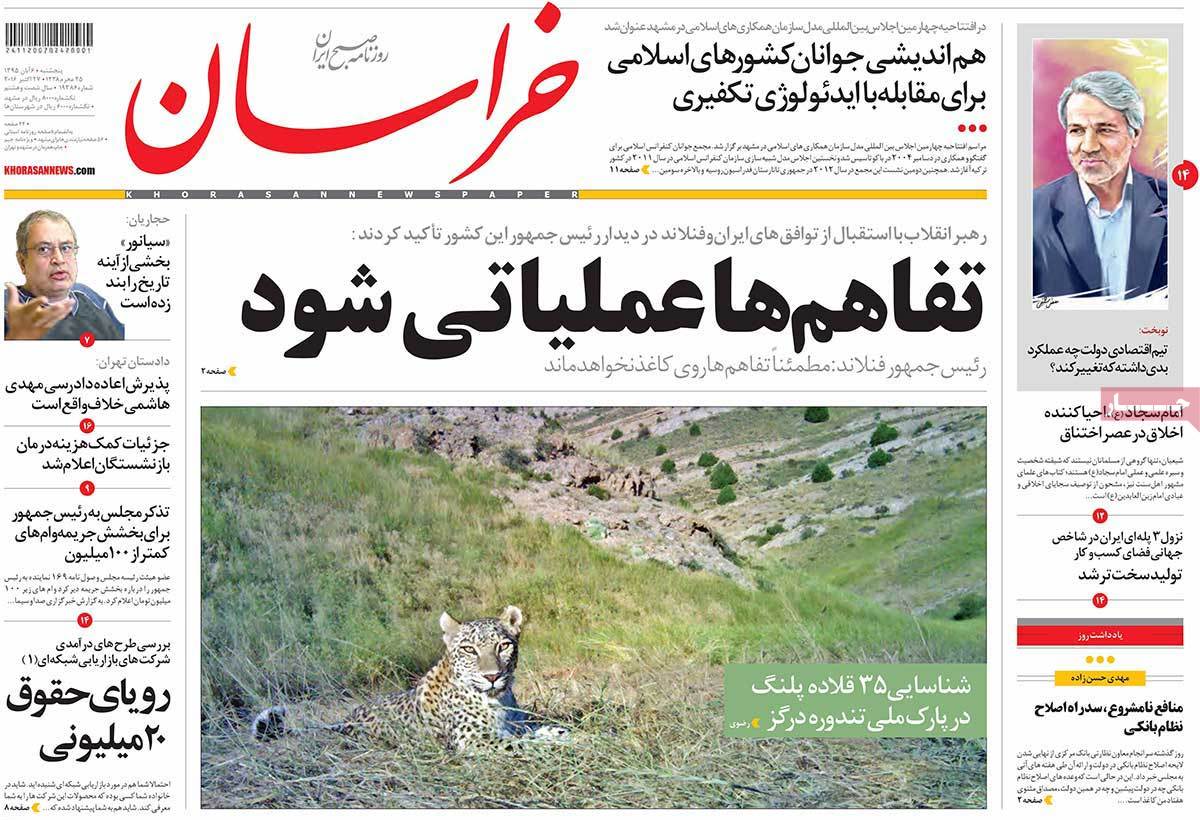 ---
Resalat:
1- IRGC's Power Is 10 Times More than the Last Year of Iran-Iraq War: Commander
2- Russia to Respond to US Sanctions
3- Lavrov: US Threatens Us and at the Same Time Negotiate with Us
4- We Can't Release Reports of People's Crimes before It's Proven: Ayatollah Makarem Shirazi
5- We're Opposed to UAE's Claim over Persian Gulf Trio Islands: Turkish Ambassador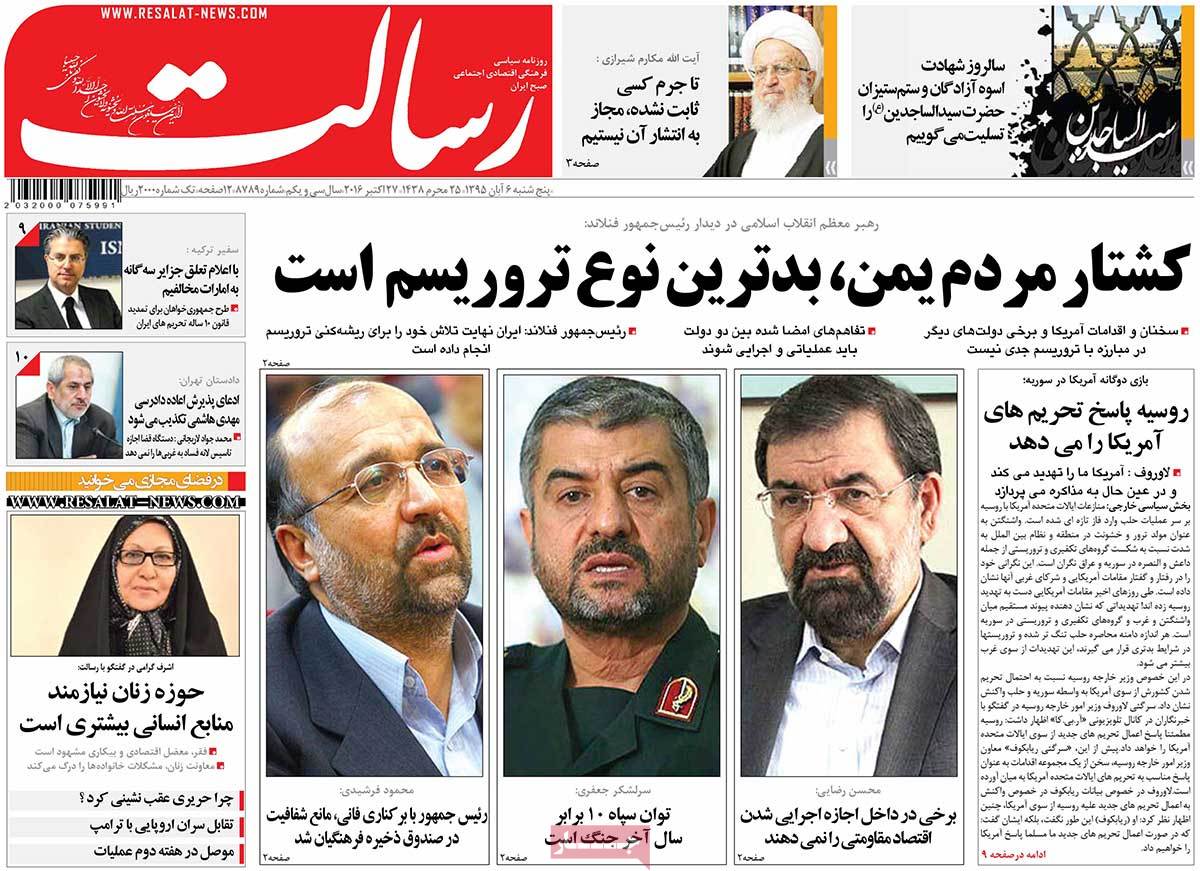 ---
Roozan:
1- Media Have Lost Control of the Situation ahead of US Elections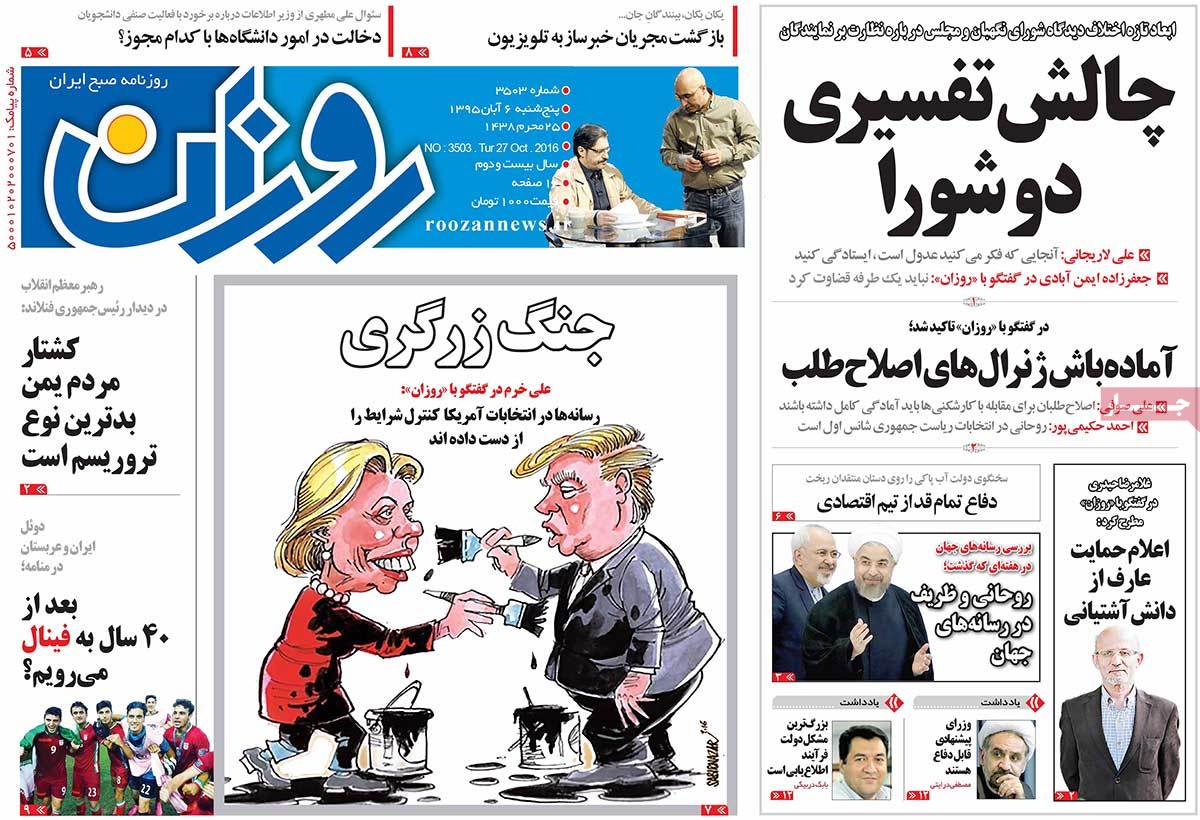 ---
Siasat-e Rooz:
1- Inhumane Conditions in Calais Camp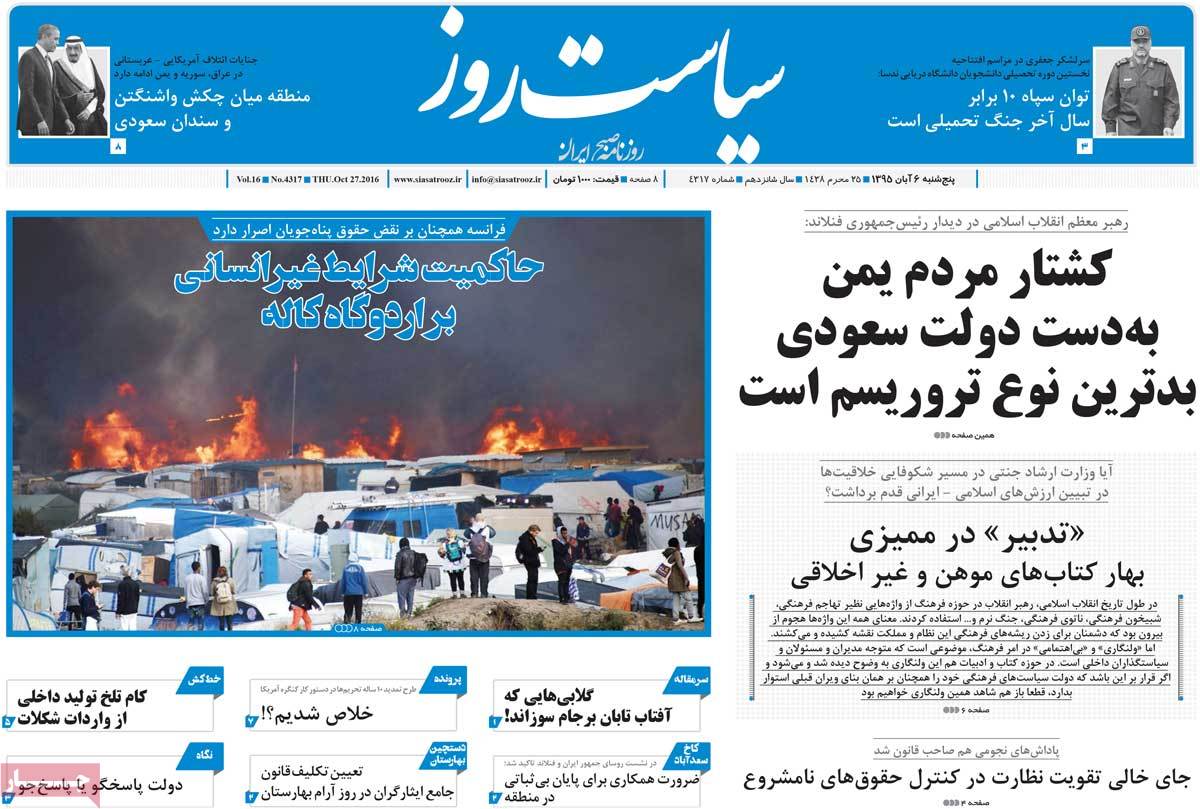 http://www.jaaar.com/assets/images/pishkhan/1395/8/6/140f6969.jpg