The Chatham House Prize given to Iranian Foreign Minister Mohammad Javad Zarif and his US counterpart John Kerry was a top story today.
Newspapers also covered the resumption of Iranian Judiciary's human rights talks with the European Union.
The ongoing battle in Iraq to retake the ISIS-held city of Mosul as well as the US presidential elections and the remarks made by US candidates also received great coverage.
The above issues, as well as many more, are highlighted in the following headlines:
Abrar:
1- US Urges Iran and Russia to Stop Supporting Syria
2- Syrian Child Asylum-Seekers Used as Labourers
3- Park Once Again Underlines Cessation of Pyongyang's Nuclear Program through Sanctions
4- Former MP: Rouhani's Government Prefers Not to Be Transparent
---
Abrar-e Eqtesadi:
1- Norway and Denmark Compete with Each Other to Work on Iranian Oilfield
2- Oil Price Starts Rising: Iran's Oil Price Increased to Almost $50
3- Luxembourg Ready to Expand Economic Ties with Iran
---
Afarinesh:
1- Biggest American Petchem Company Ready to Return to Iran
2- Official: Arak Heavy Water Reactor's Purity Level Increased from 75.99 to 95.99 Percent
---
Aftab-e Yazd:
1- MP: Reformist Lawmakers Will Give Vote of Confidence to Rouhani's Three Proposed Ministers
2- Judiciary Chief: Cooperation with Hostile Media Is Complicity in the Crime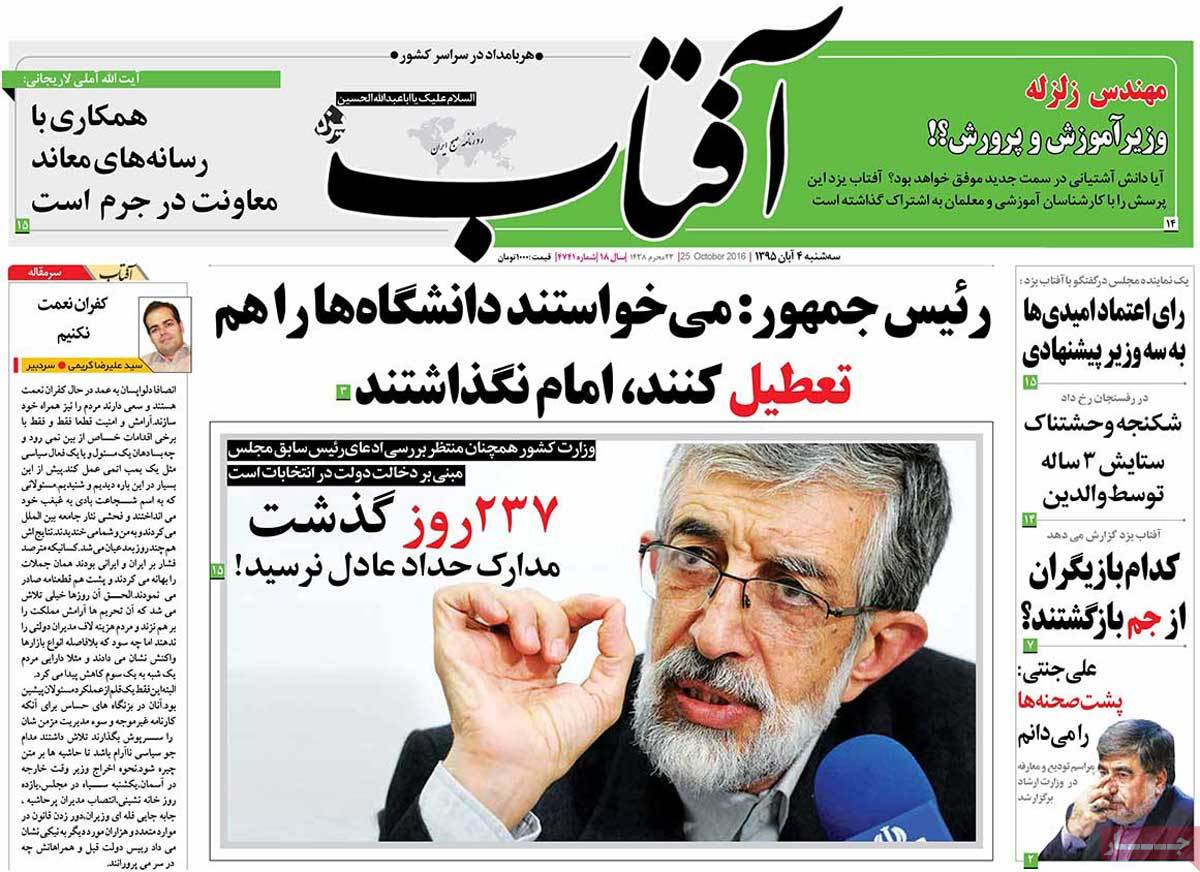 ---
Amin:
1- Iranian Vice-Speaker Motahari: US Policies Have Fanned Flames of Crisis in Middle East
2- US Confused about Syria Developments
3- German Technology Smiles at Iran's Transportation System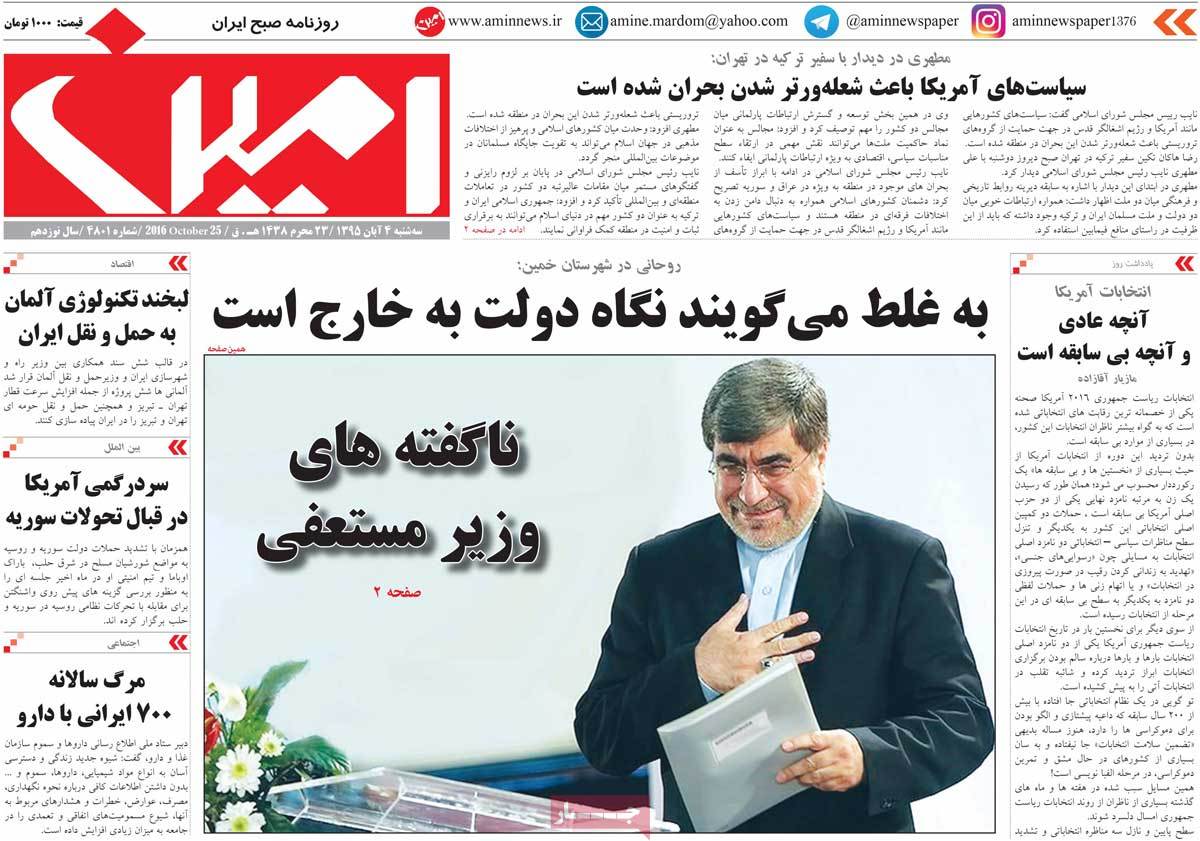 ---
Arman-e Emrooz:
1- Rouhani: They Falsely Claim Our Government Pins Its Hope ion Foreigners
2- Chatham House Prize Given to Zarif
3- Health Ministry Official: Medication Kills 700 Iranians Annually
---
Asrar:
1- Foreign Ministry Spokesman: Iran and Canada to Create Interest Sections Offices
2- Iraqi PM Denies Turkey's Participation in Mosul Operation
3- MP Wars UAE over Persian Gulf Trio Islands
---
Besharat-e Now:
1- Intelligence Minister: Leader and Government Opposed to Cutting Online Communication with the World
2- Handmade Explosives Imported to Iran through West and East: Intelligence Minister
---
Ebtekar:
1- Foreign Ministry Spokesman: Zarif's Gift to Kerry Helped Settle a Conflict
2- Agreement over Empty Seat of Lebanese President: Nasrallah Supports Aoun for Presidency
3- Impact of the Game between Elephant and Donkey over Iran's Economy: Which US Presidential Candidates Will Be More Beneficial to Iran's Economy?
---
Etemad:
1- Culture Minister's Complaints: Jannati Bids Farewell by Telling Untold Stories
2- Russian Ambassador to Iran: We Inform Iran of Details of Our Consultations with US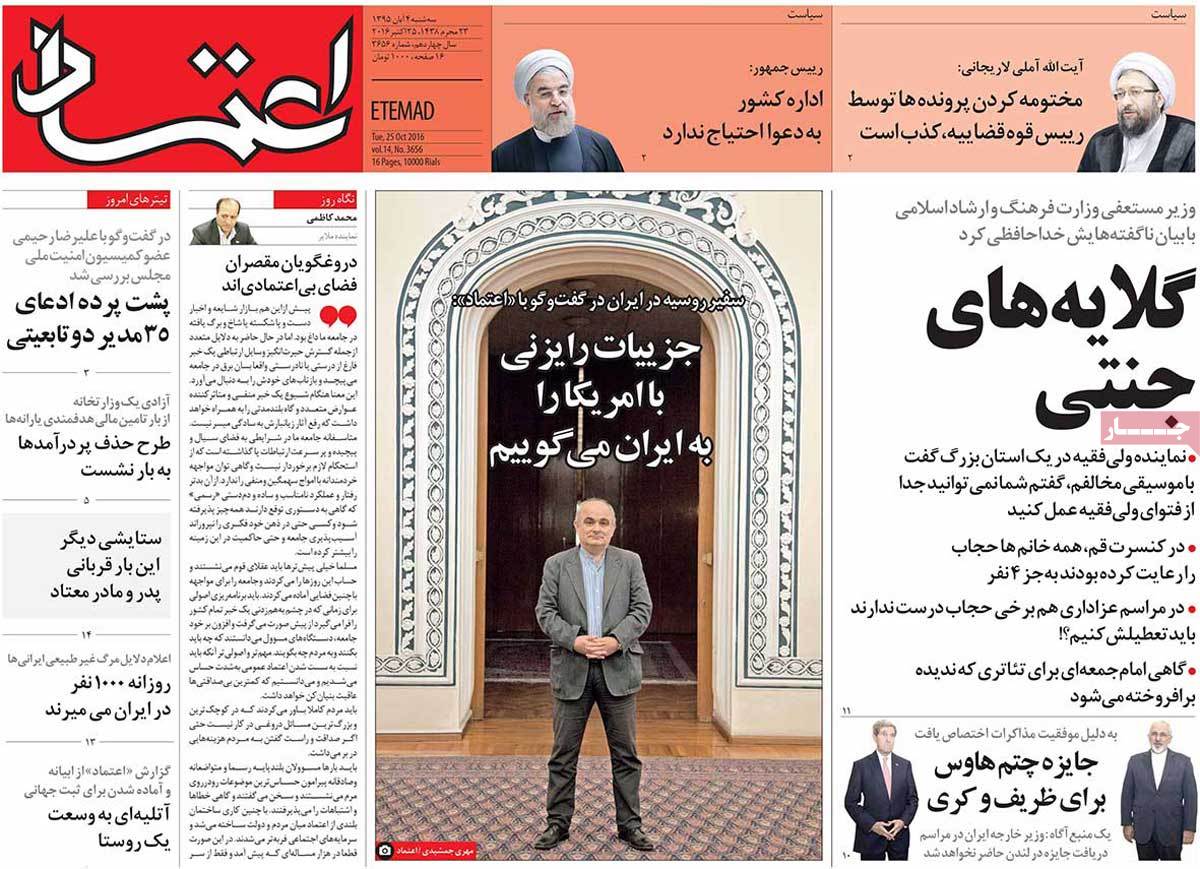 ---
Ettela'at:
1- Countdown for Full Liberation of Mosul: 300 ISIS Elements Killed in Major Attack by Iraqi Forces on Qayyarah
2- Aoun Appreciates Hezbollah Secretary General's Role in Resolving Issue of Power Vacuum in Lebanon
3- Second Round of Iran-Europe Comprehensive Talks to Be Held in December
4- Jamshid Momtaz Nominated for Membership in UN's International Law Commission
---
Hemayat:
1- Trump: I Won't Pay Ransom to Iran If I Become President
2- ISIS Withdraws from Eastern Mosul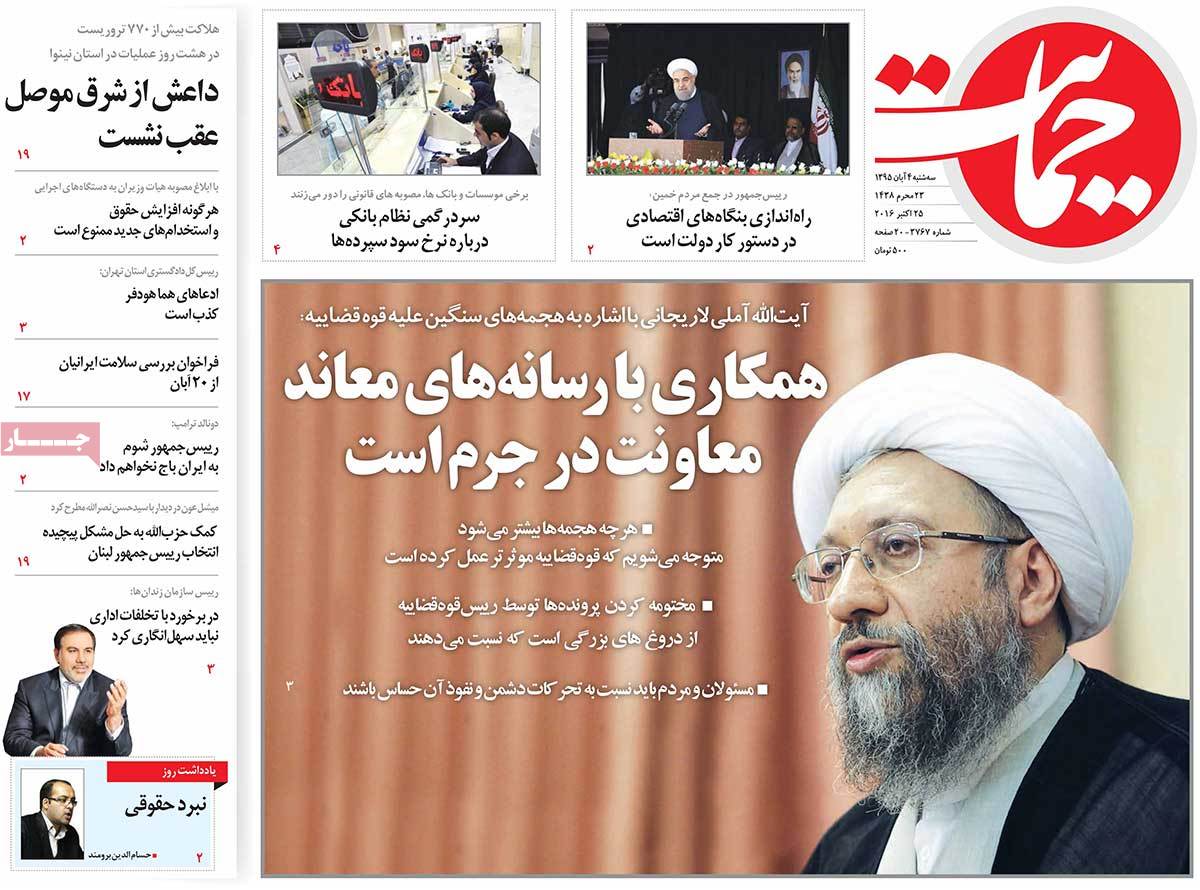 ---
Iran:
1- Iranian Young Footballers Book Place in World Cup after 16 Years: Iran Beats Uzbekistan to Advance to Semi-Finals
---
Javan:
1- Trump: American System Is Corrupt, Rigged, and Failed
2- Moscow: Terrorists' Time Is Over
3- Rouhani: I Learned from Imam Khomeini How to Negotiate with Six Powers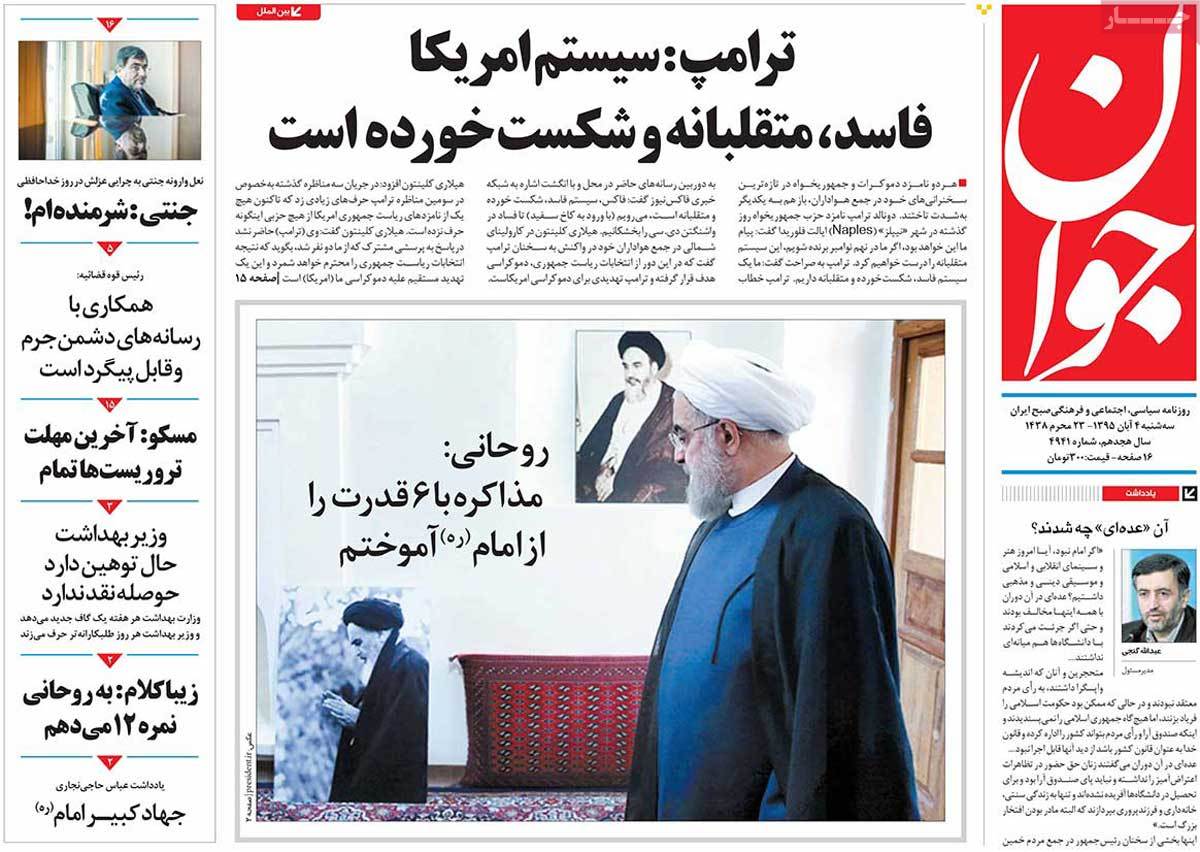 Jomhouri Eslami:
1- President: Imam Khomeini Led the Revolution to Rid the Society of Lie and Accusation
2- Bank Saderat's Assets Released in Europe
3- Syrian Popular Resistance Formed against Turkey's Aggression
---
Kayhan:
1- US Coordination with ISIS Is More than Its Coordination with Baghdad
2- MPs: Government Seeks to Evade Accountability for Its Failures through Cabinet Reshuffle
3- Zionist Regime [Israel] Has Captured 1,000 Palestinian Kids in Current Year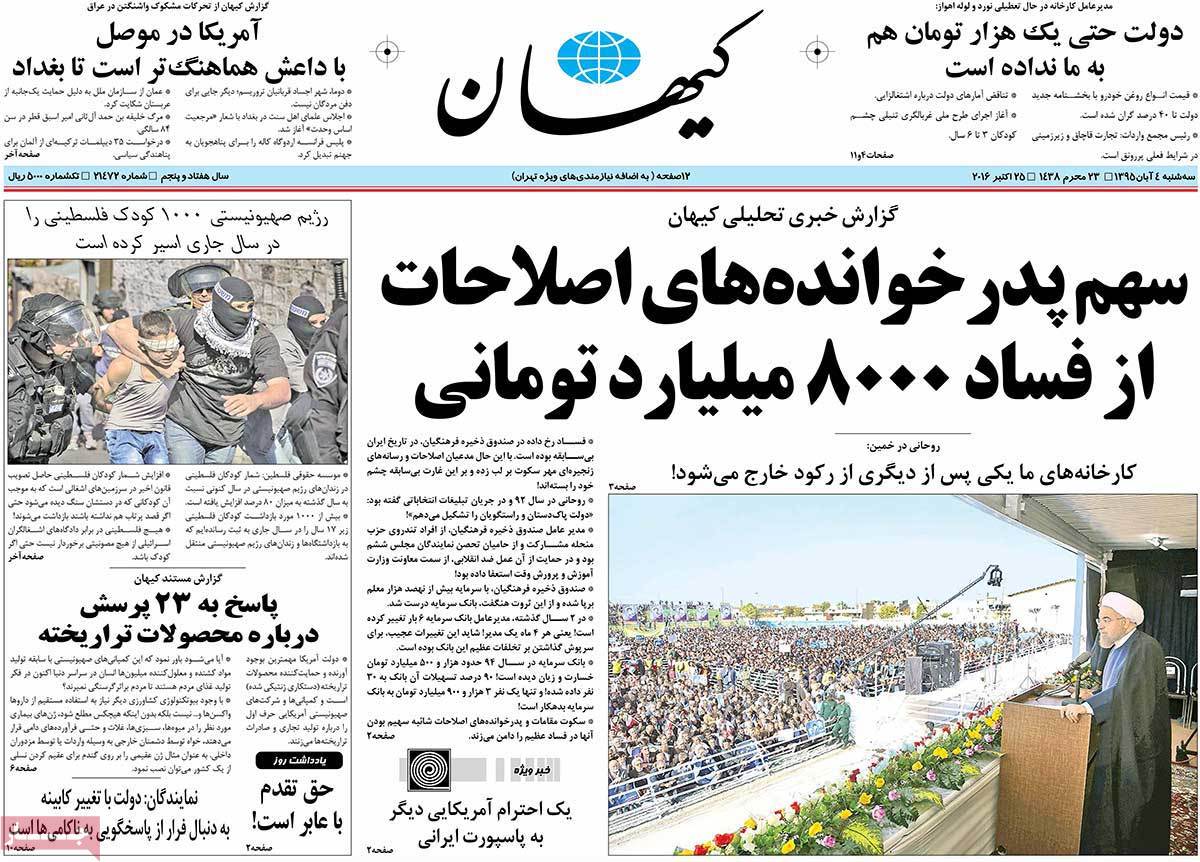 ---
Khorasan:
1- Deputy Health Minister: 55% of Iranians Die Soon Because of Accidents, Lifestyle, and Diseases
---
Payam-e Zaman:
1- UN Ready to Host 150,000 Mosul Refugees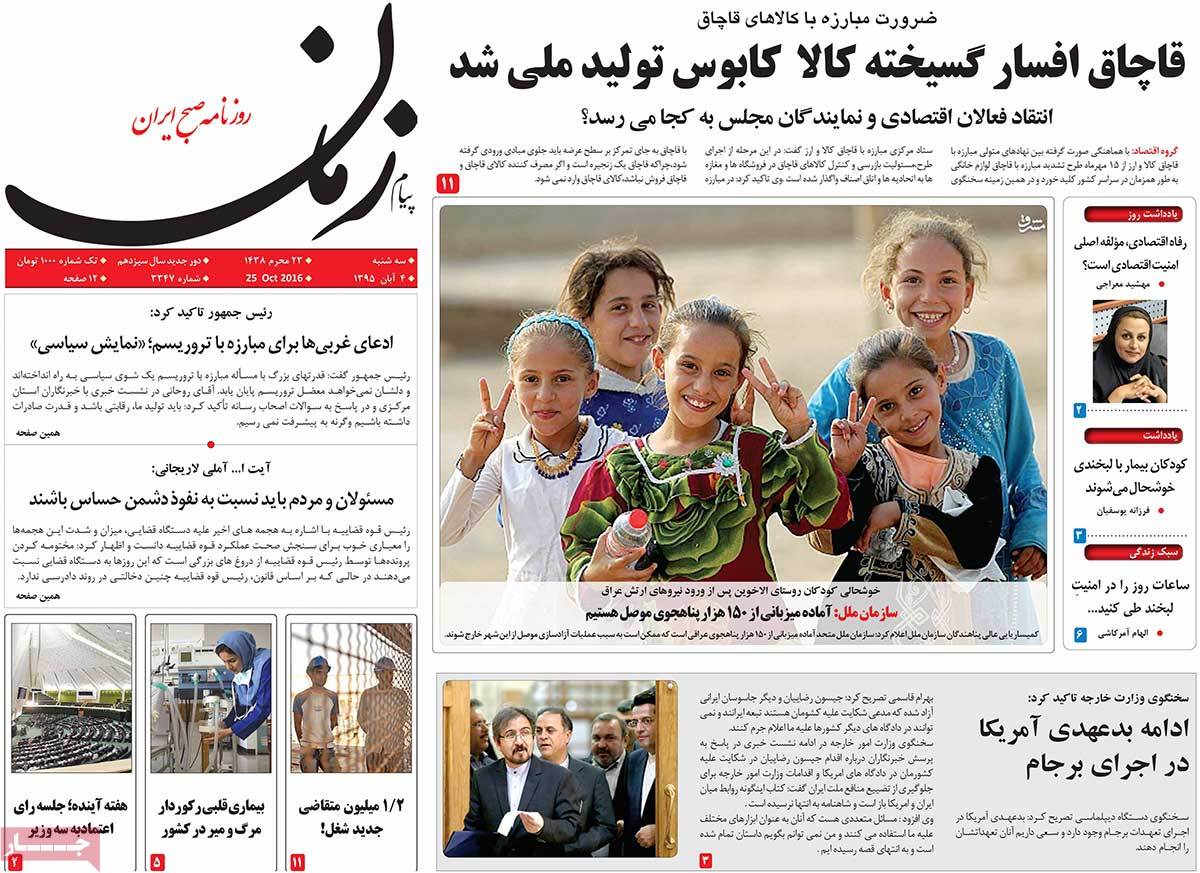 ---
Saheb Qalam:
1- Foreign Ministry Spokesman: Fight against Terrorism Can't Be an Excuse for Violation of Sovereignty
2- Venezuela Calls for Inviting US to Oil Meetings
3- Antalya Art Achievements Prize Given to Asghar Farhadi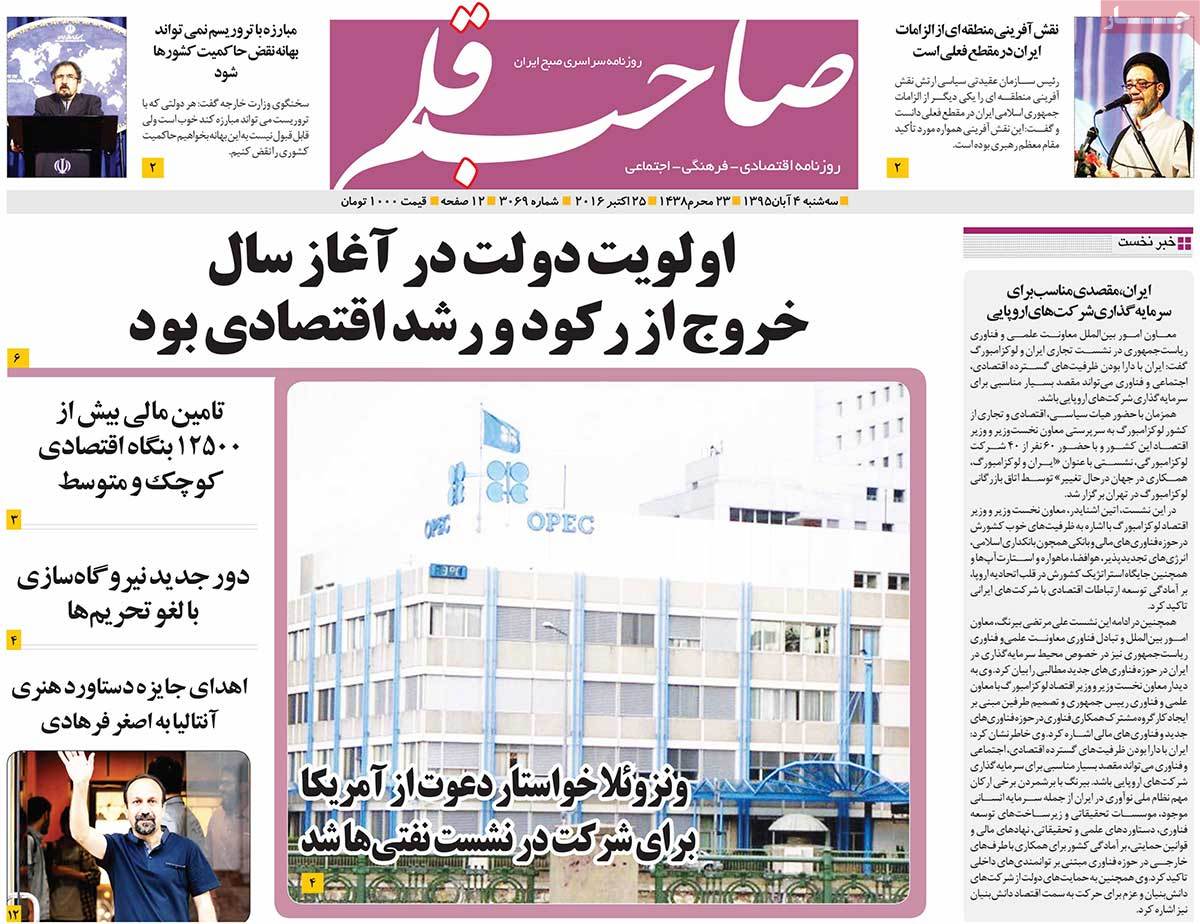 ---
Shahrvand:
1- Human Rights Talks in Brussels: Iran's Judiciary Joins New Round of Iran-EU Talks
2- Iranians to Remain Online: ICT Minister Says Iran's Access to Global Internet Won't Be Cut Off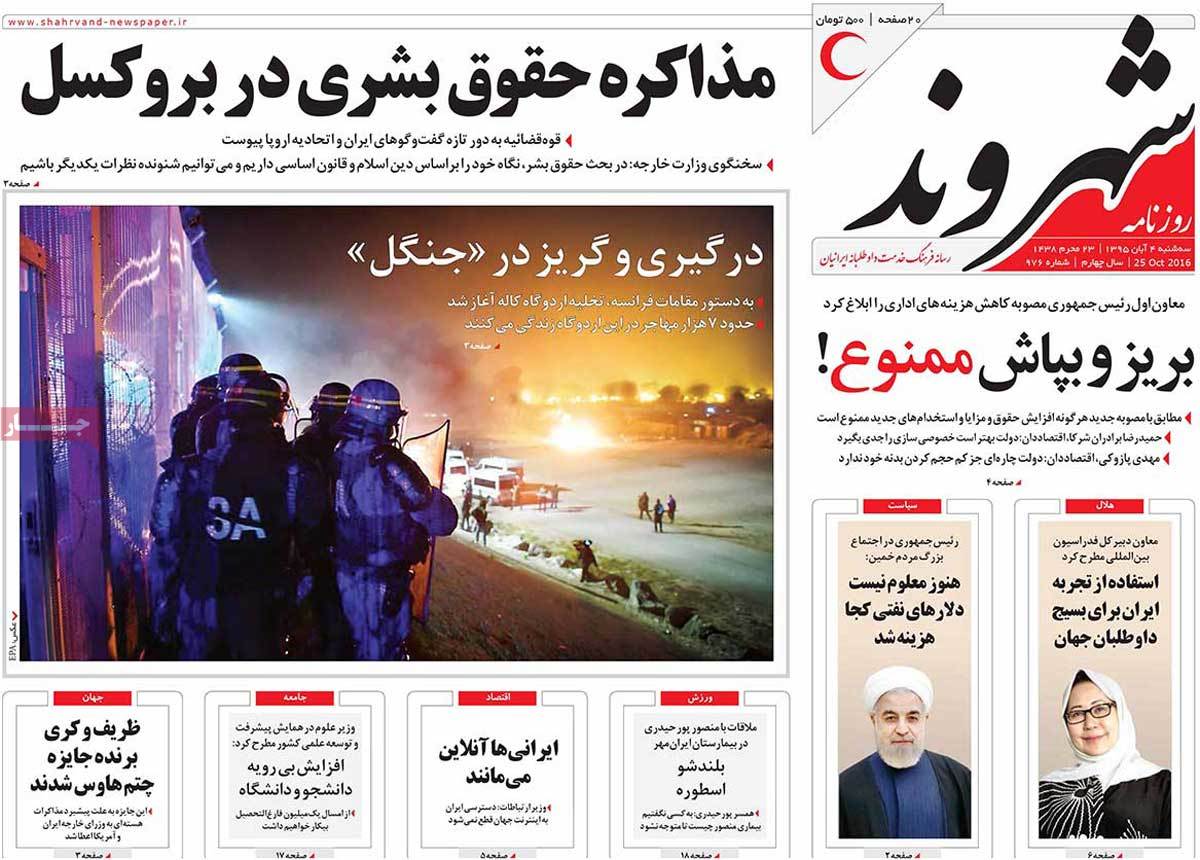 ---
Shargh:
1- Zarif and Kerry Jointly Receive Int'l Award
2- Failed Minister; Culture Minister: We Wanted to Respect Culture Professionals as Ministers of Rafsanjani and Khatami Used to Do
---
Vaghaye Ettefaghieh:
1- Iran, a Victim of Climate Changes [The issue was discussed in a meeting attended by Iran's Environment Chief Ebtekar and UN's Gary Lewis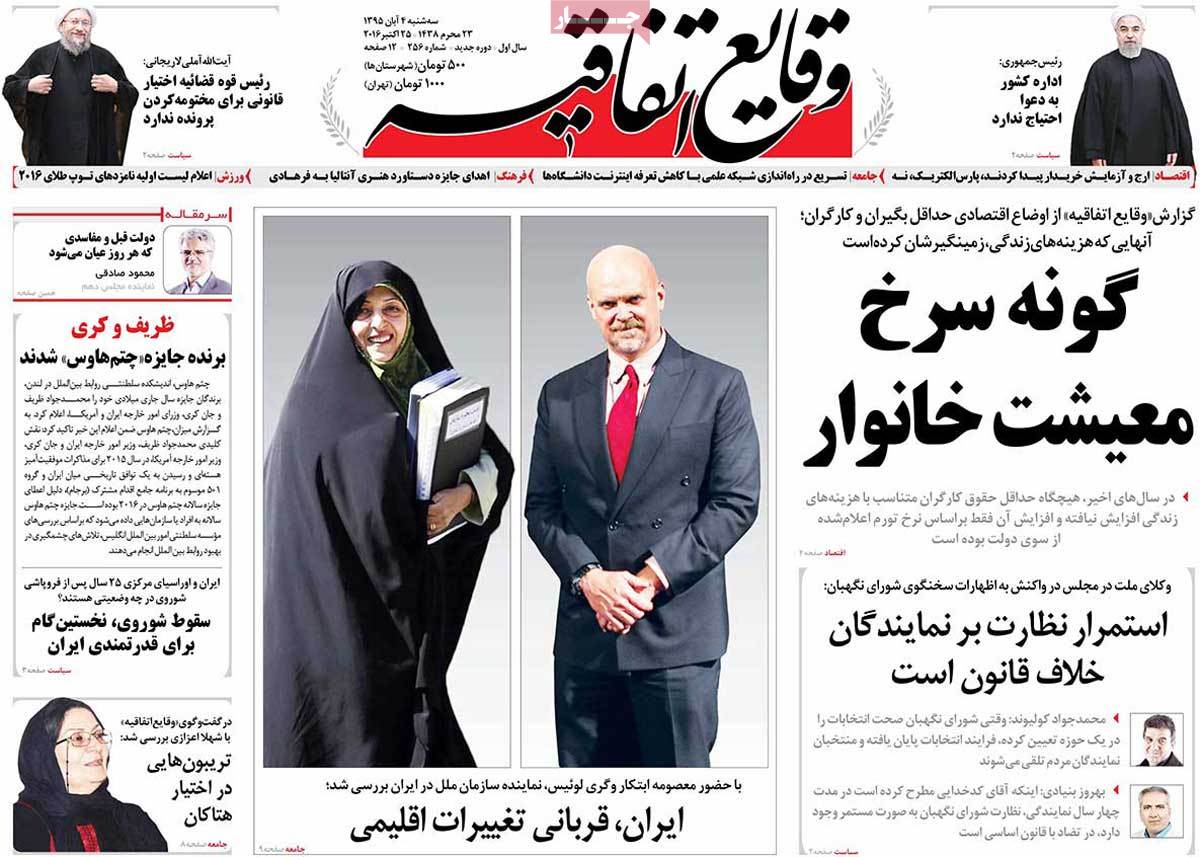 ---
Vatan-e Emrooz:
1- Trump: Clinton Globalized Terrorism
2- Why the Telecommunication Giant Bought Time Warner and CNN? Media Monopoly in the Free US!