The report on Japanese carmaker Toyota's apology to the US for selling a car to the Iranian embassy in India was so weird and regrettable for Iranians that was widely covered by Iranian papers on Wednesday. Several articles today described Toyota as an over-cautious and confused company.
The US Secretary of State's visit to Iraq and Iraqi Prime Minister Haider al-Abadi's negative response to Rex Tillerson's call for decreasing Iran's role in Iraq was among other top stories covered in Iranian papers today.
The Guardian Council's controversial decision to prevent a Zoroastrian member-elect of Yazd's City Council from taking office grabbed the headlines today. Several papers argued that the Guardian Council's insistence on its decision comes as religious minorities including Zoroastrians have representatives in the Iranian Parliament, which is a higher-ranking body of government in Iran.
Iranian Foreign Minister Mohammad Javad Zarif's visit to Africa also received great coverage by economic papers. Iran is trying to use the African continent as an opportunity to expand its business and promote the export of Iranian goods.
The above issues, as well as many more, are highlighted in the following headlines and top stories:
19 Dey:
1- Health Minister: 800 Ambulances Deployed in Borders Leading to Iraq
2- Zarif: Trump's Remarks Full of Dirt
3- Labour Minister: 10 Billion Cigarettes Smuggled into Iran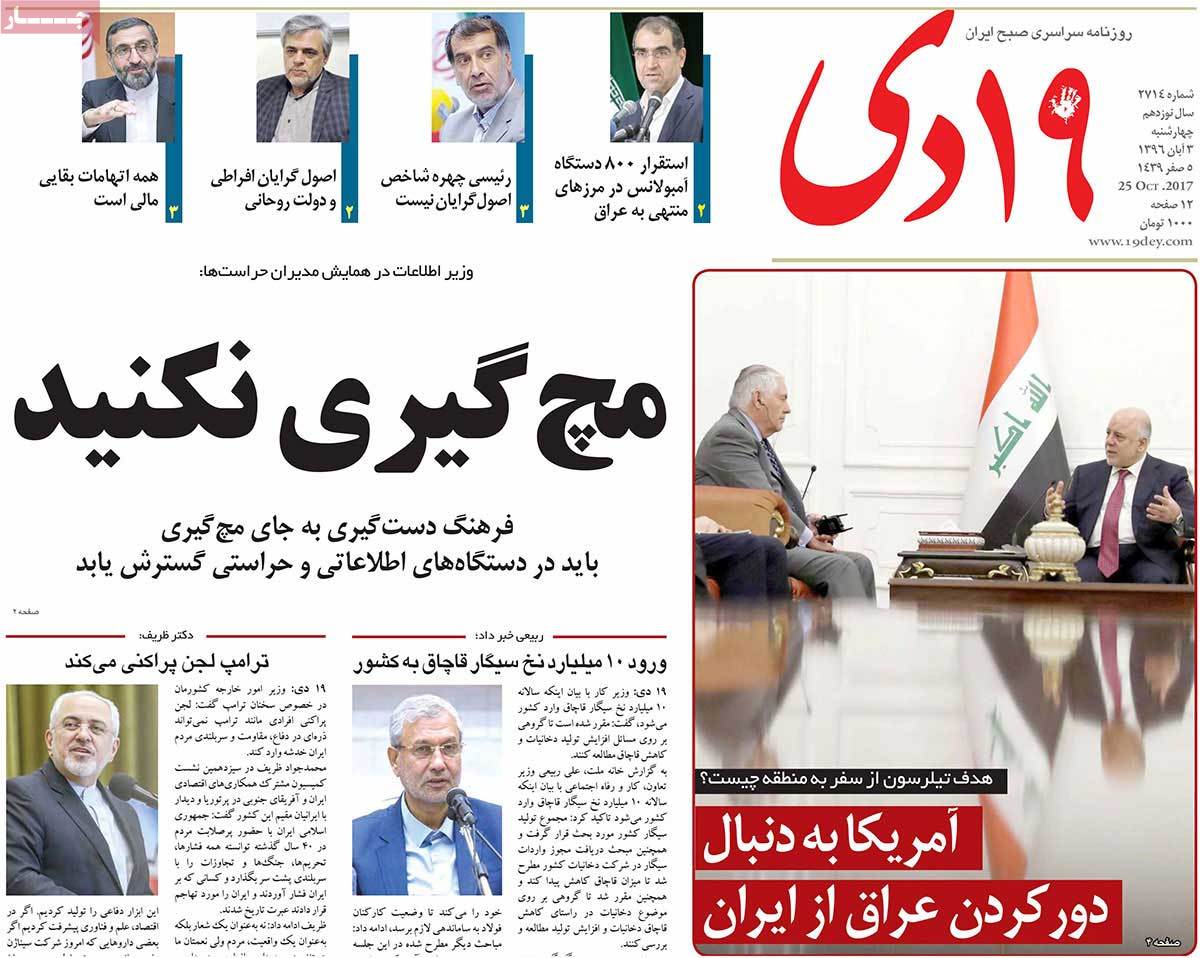 ---
Abrar:
1- Zarif: Trump's Remarks Won't Influence Iranian Nation's Resistance, Defence
2- UN: 11 Million Yemeni Kids in Dire Need of Humanitarian Aid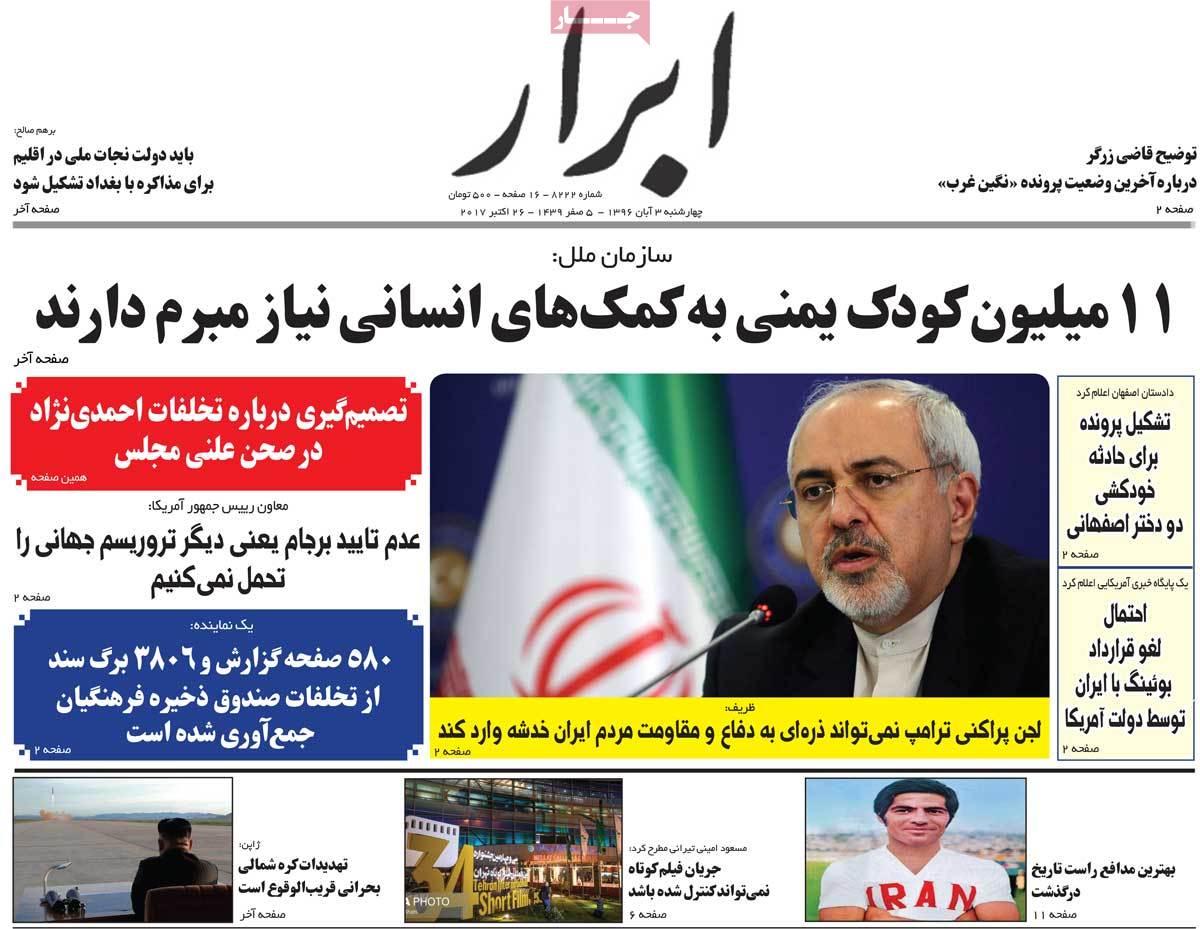 ---
Aftab-e Yazd:
1- Toyota Confused: Japanese Company Apologizes to US for Selling Car to Iran!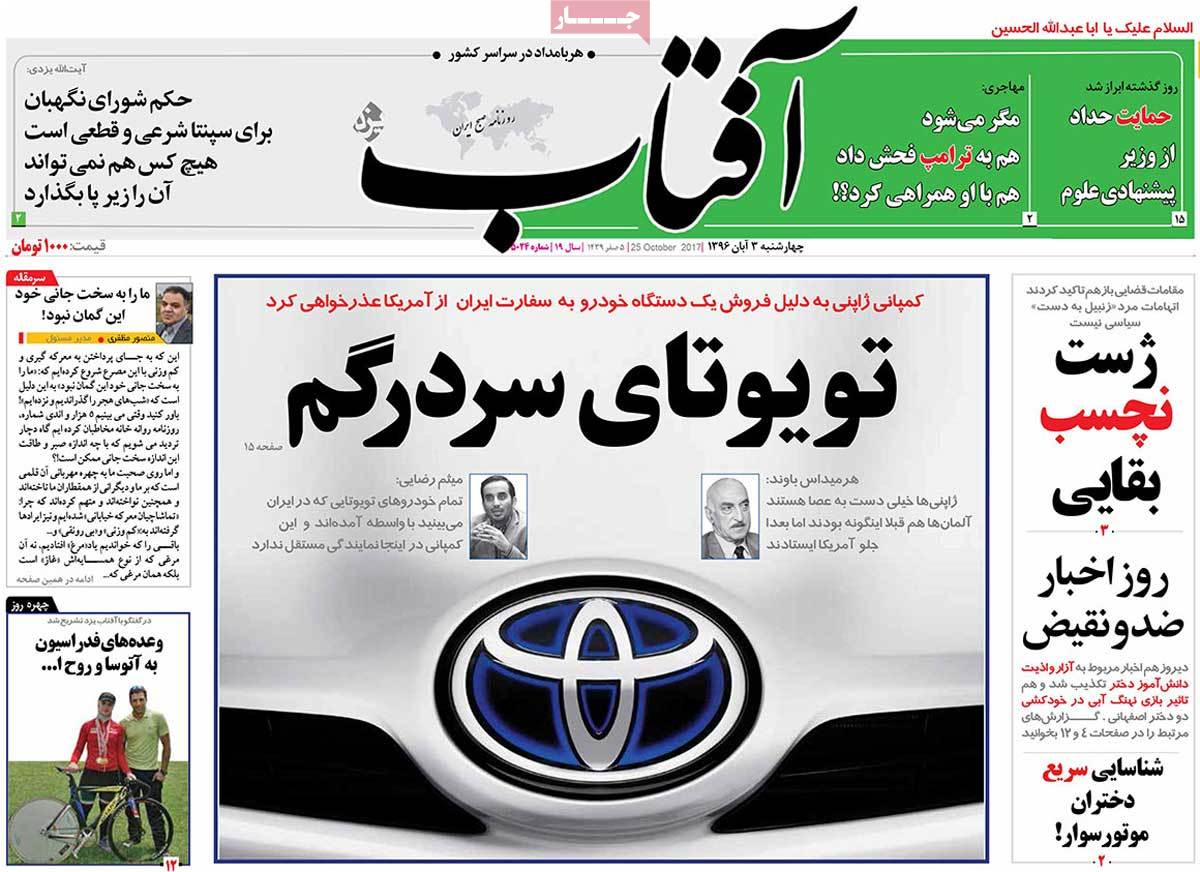 ---
Arman-e Emrooz:
1- Ahmadinejad One Step to Prosecution: Parliament to Make Decision about Ex-President
2- Official: We Have 155,000 Tonnes of Gold in South Pars
---
Etemad:
1- Karzai: US Not Concerned about Afghanistan Interests; ISIS Ruined People's Fate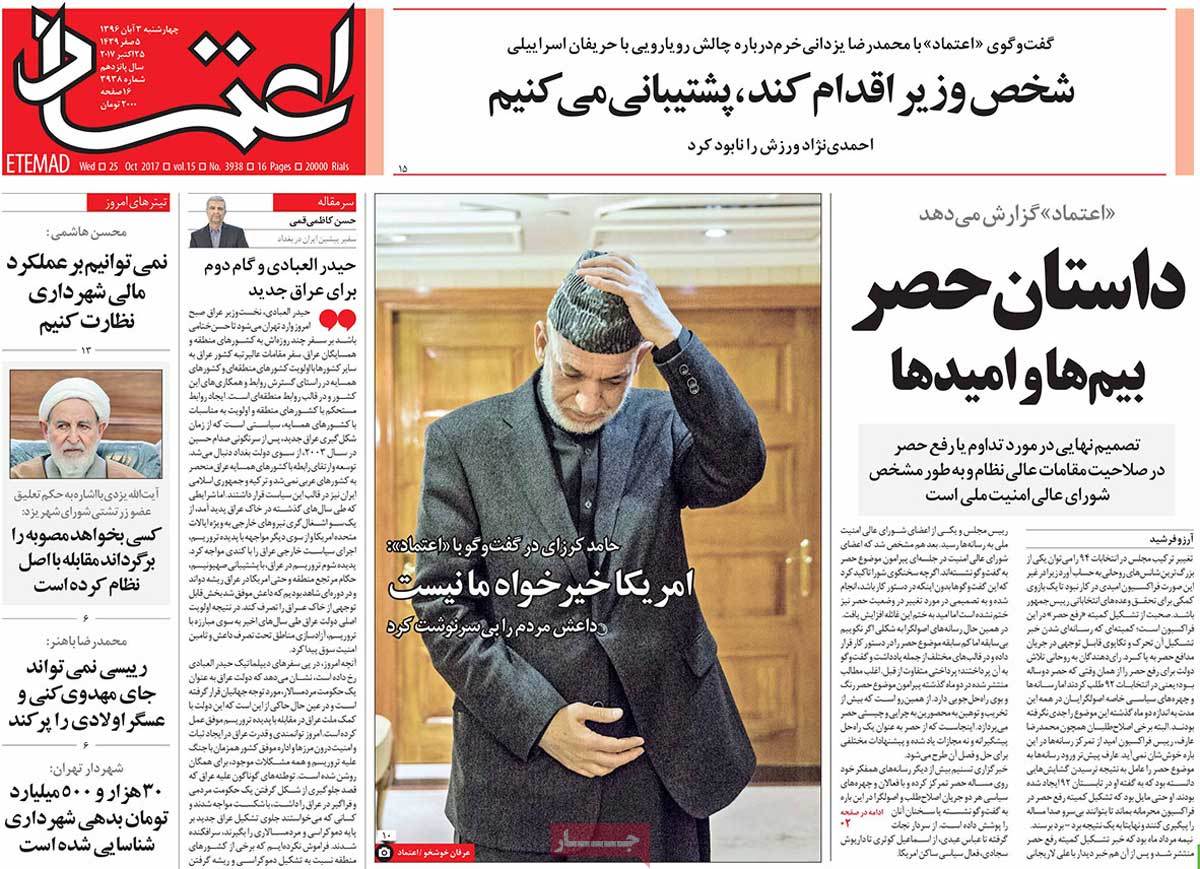 ---
Ettela'at:
1- Syrian Dissident Commander: Iran's Presence Prevented Our Victory over Assad
2- Tehran Prosecutor: Mossad Agent Sentenced to Death
---
Iran:
1- Iraq Says No to US Threats
PM Abadi to Tillerson: Popular Forces Should Be Encouraged
2- Culture Minister: We Consider Cyberspace to Be an Opportunity
No Pressure for Filtering Social Media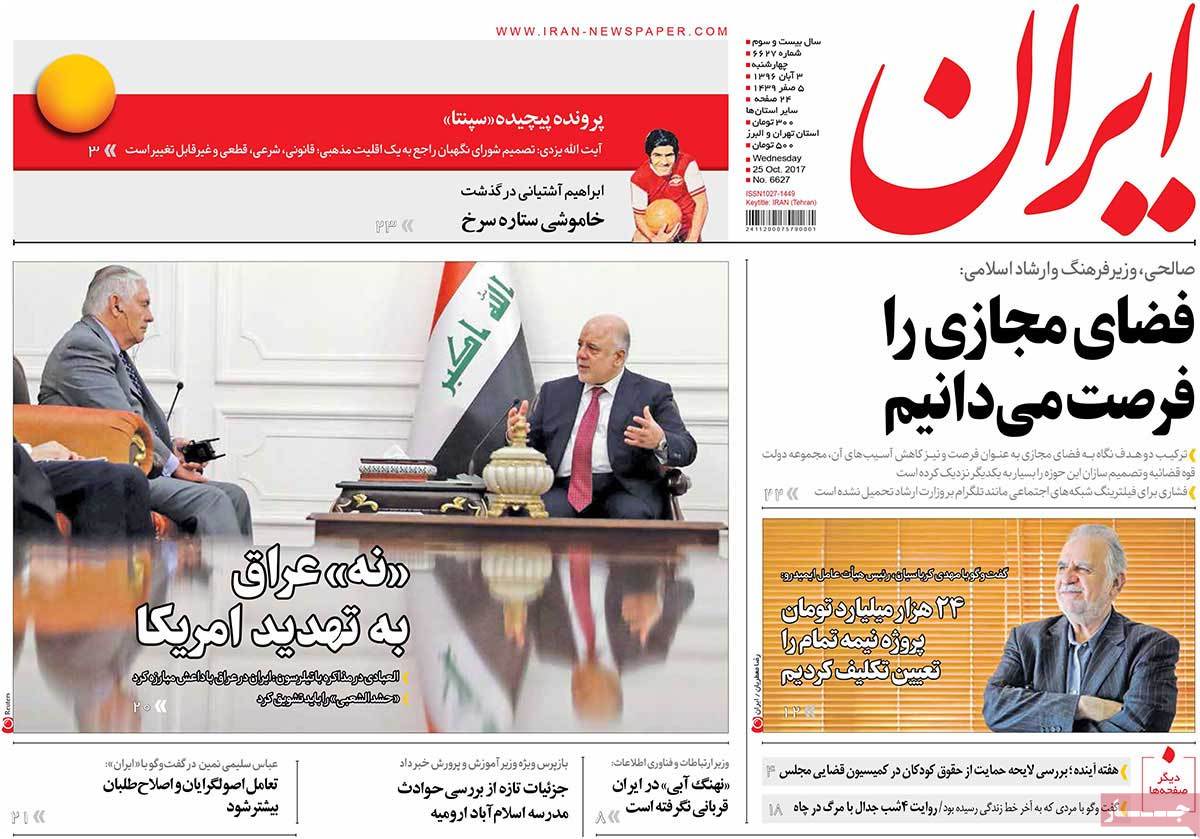 ---
Javan:
1- JCPOA in Toyota's Boot! Japanese Carmaker Apologizes to US for Selling Car to Iran in India
2- MP: Foreign Ministry Has Mentioned 18 Cases of US Violations in 7th JCPOA Report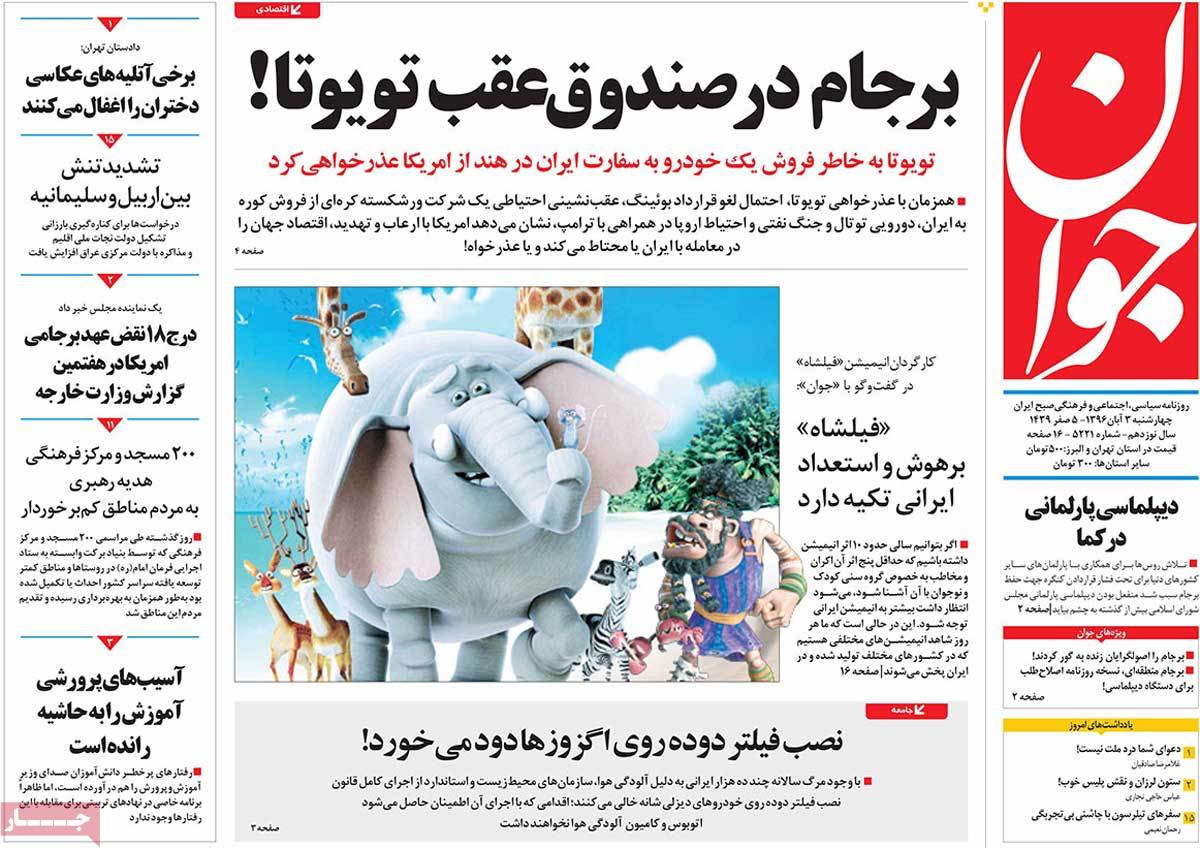 ---
Jomhouri Eslami:
1- Americans' Anti-Iran Gathering Turned into Scene of Anti-Saudi Protests
2- Kuwaiti Emir Warns of Dissolution of [P]GCC
3- 200 Mosques, Cultural Centres Inaugurated in Iran's Underdeveloped Regions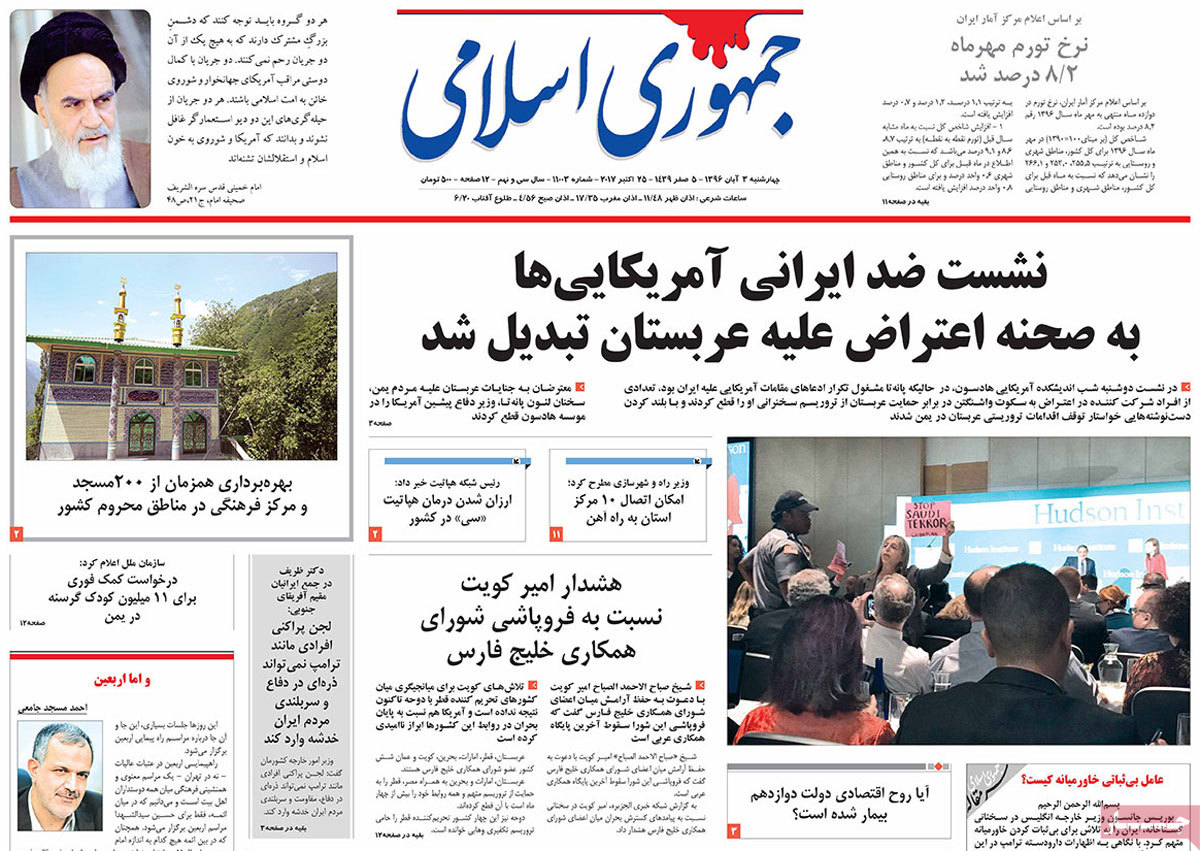 ---
Kayhan:
1- Iran's Economy Thriving, But Only in Statistics!
2- Lebanese Speaker Defends Hezbollah: Nasrallah and I Are One Soul in Two Bodies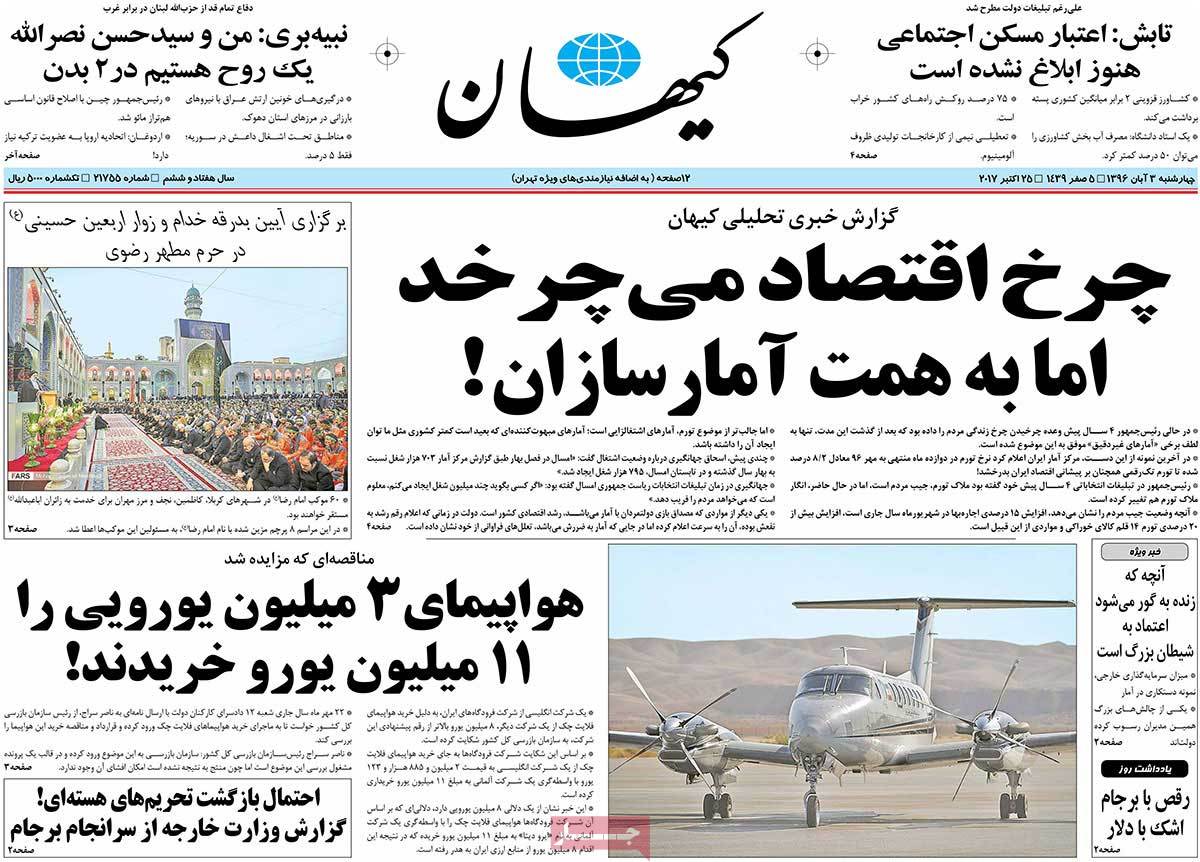 ---
Khorasan:
1- Sexual Scandal in European Parliament: 87 Women, 6 Men Harassed by EP Members So Far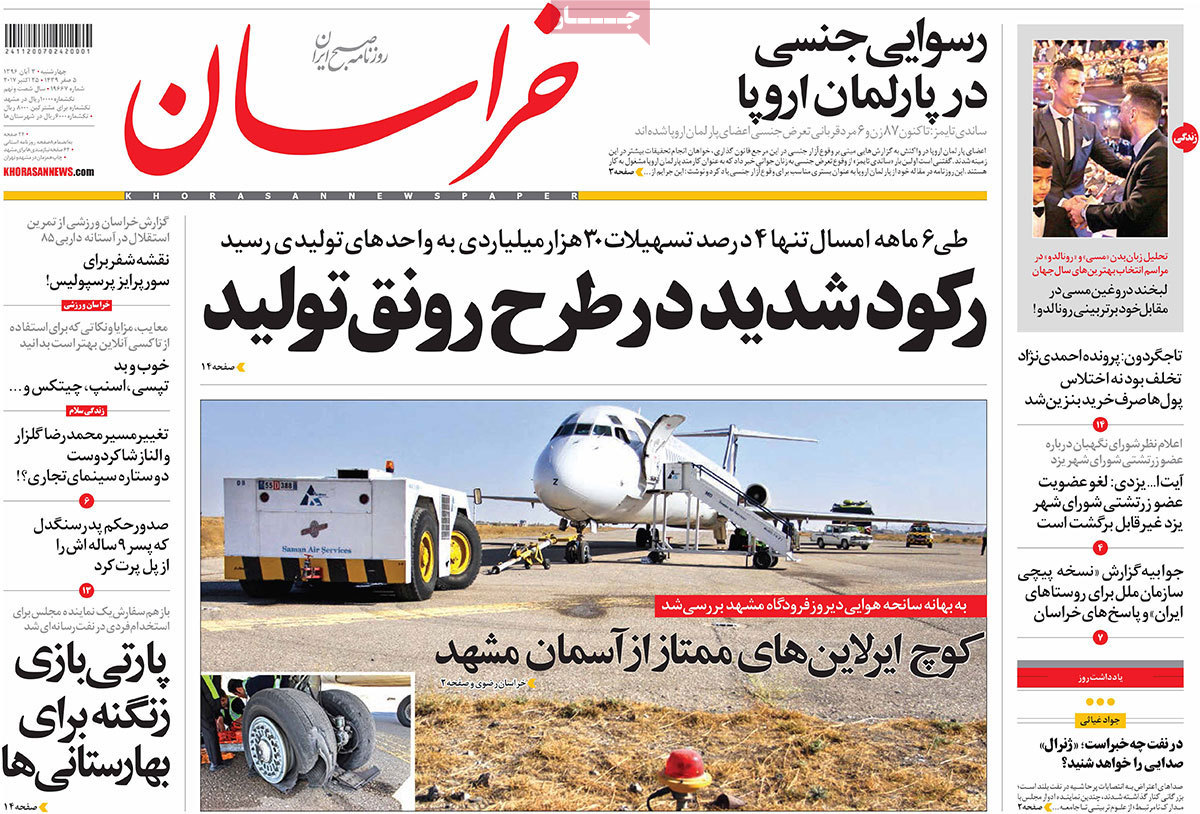 ---
Resalat:
1- Iran Human Rights Chief: Insults to Iranian Nation to Boomerang on Trump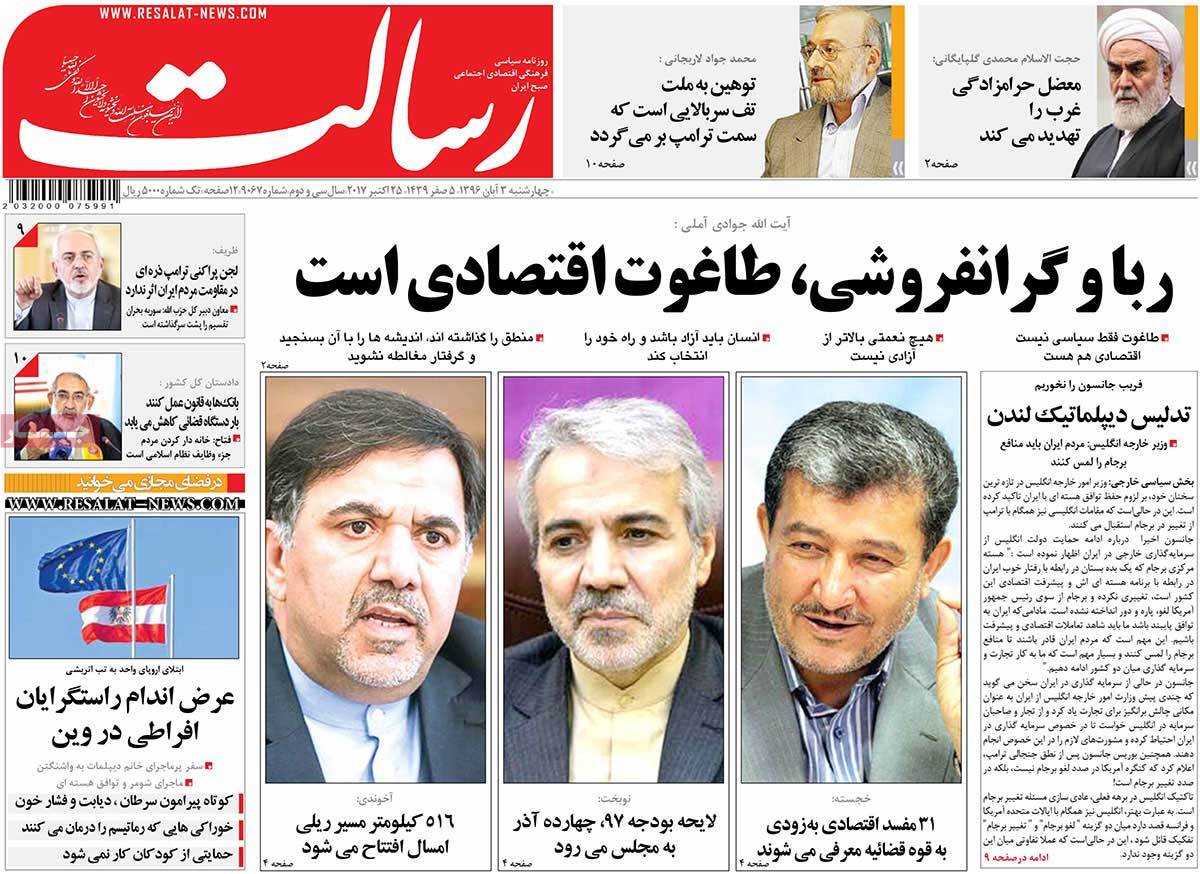 ---
Shahrvand:
1- Books and I Were a Single Entity
Story of a Man Who Donated 2,658 Precious Books to National Library
---
Shargh:
1- Case of Ahmadinejad's VP Totally Financial, Not Political
2- Egyptian President: We'll Try to Ease Tension with Iran
3- Bitcoin May Officially Enter Iran's Market