Almost all newspapers on Sunday covered the Venezuelan President Nicolas Maduro's visit to Tehran and his separate meetings with the Leader of the Islamic Revolution Ayatollah Seyyed Ali Khamenei and President Hassan Rouhani.
They also covered the remarks made by President Rouhani about his cabinet reshuffle and the ongoing problems in the country, including unemployment.
The latest developments of the ongoing operation in Iraq to retake the northern city of Mosul also remained a top story today.
The above issues, as well as many more, are highlighted in the following headlines:
Abrar:
1- Deputy Health Minister: 38m Iranians Exposed to Air Pollutants
2- ISIS Leader Executes 59 Senior Commanders
3- Erdogan: Mosul Historically Belongs to Turkey
---
Abrar-e Eqtesadi:
1- Deputy Oil Minister: Return of Deutsche Bank to Iran's Oil Deals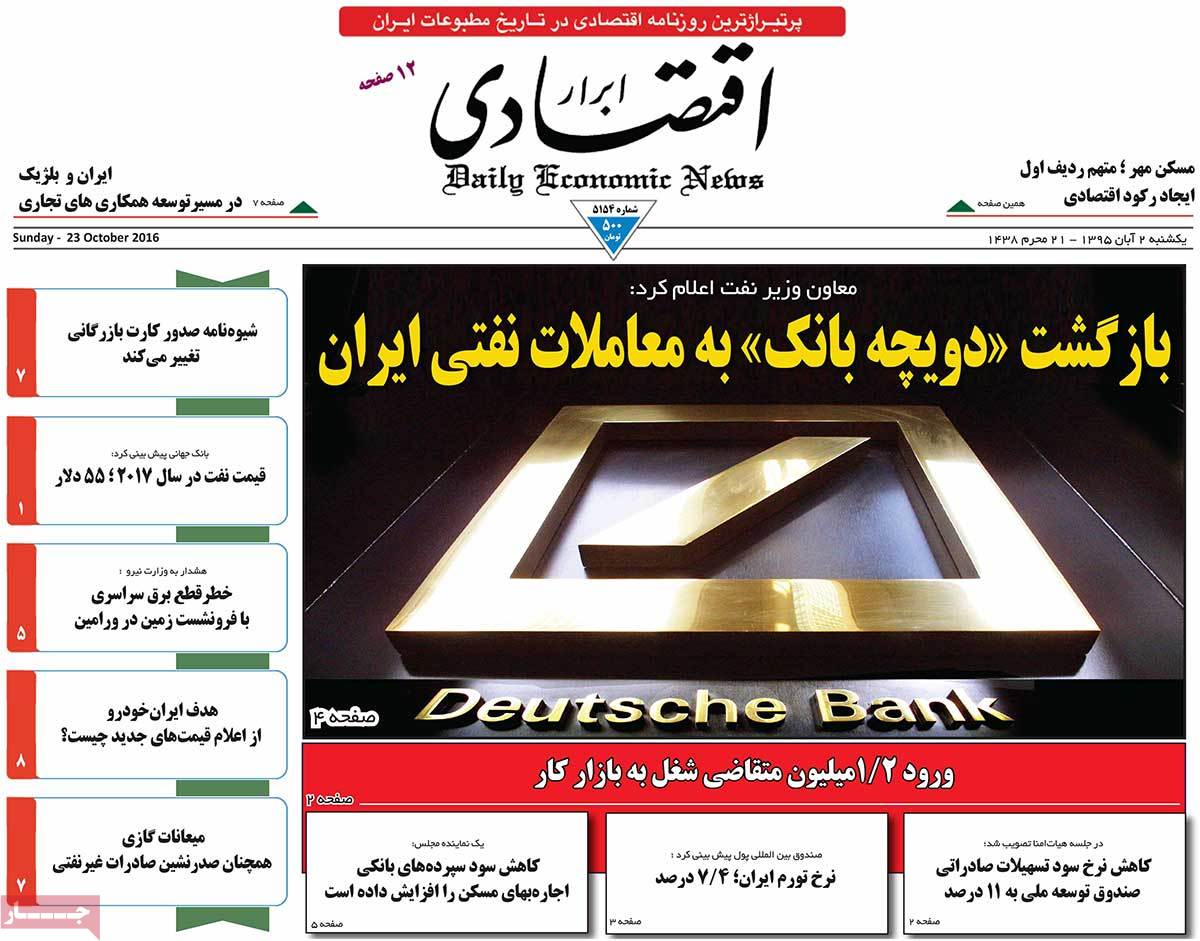 ---
Aftab-e Yazd:
1- Rouhani: Media Should Stop Telling Lies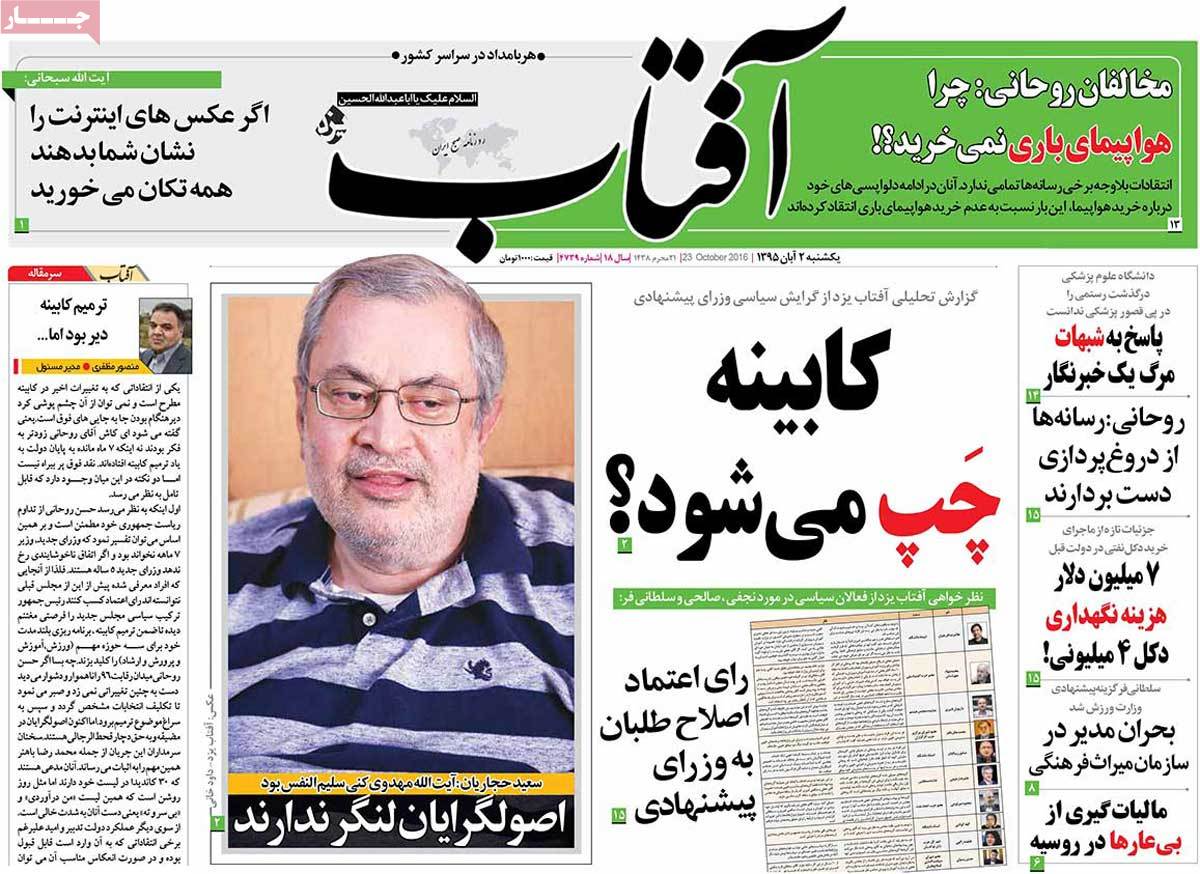 ---
Amin:
1- Wives of 12 Foreign Ambassadors Join "I'm Lake Urmia" Campaign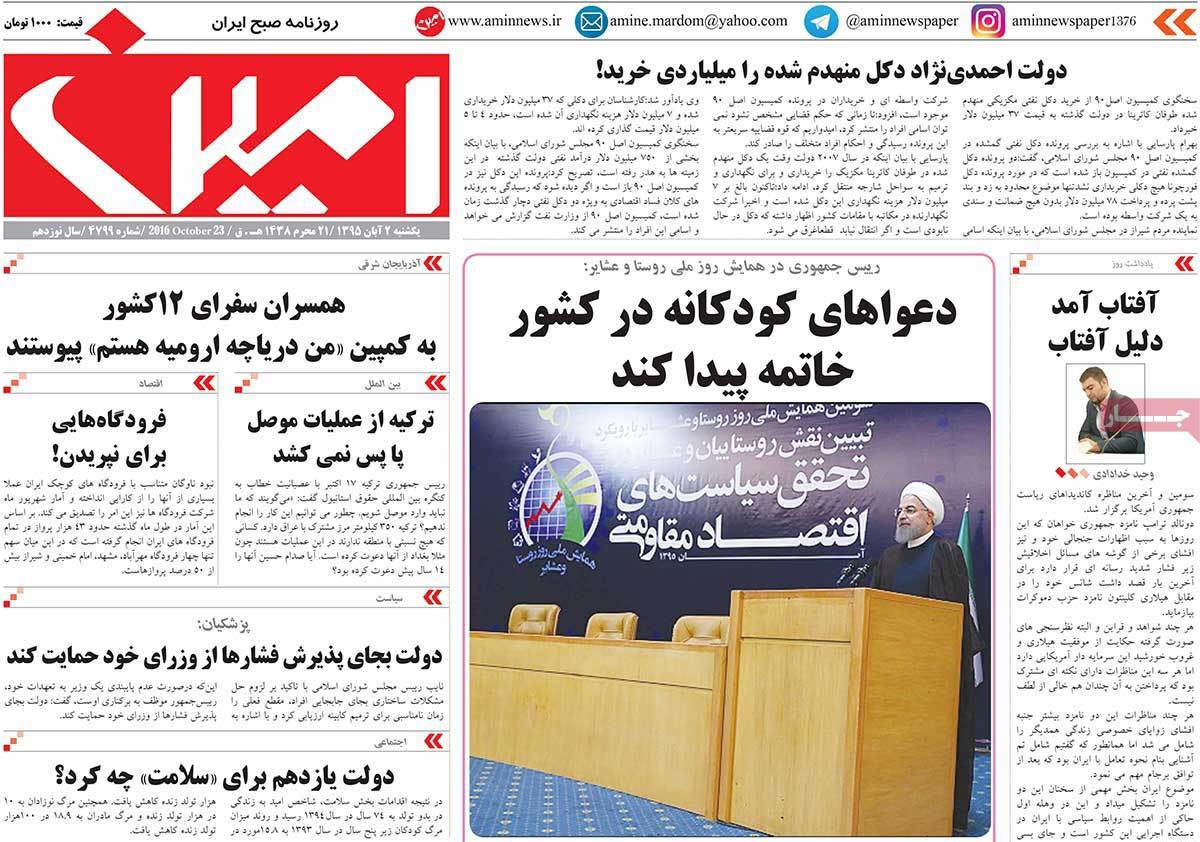 ---
Arman-e Emrooz:
1- Leader in Meeting with Maduro: West Is Using Oil as a Weapon
2- Violation of Law in Oil Industry during Ahmadinejad's Gov't Continues to Be Revealed: Paying $37m for an Oil Rig that Was Worth $5m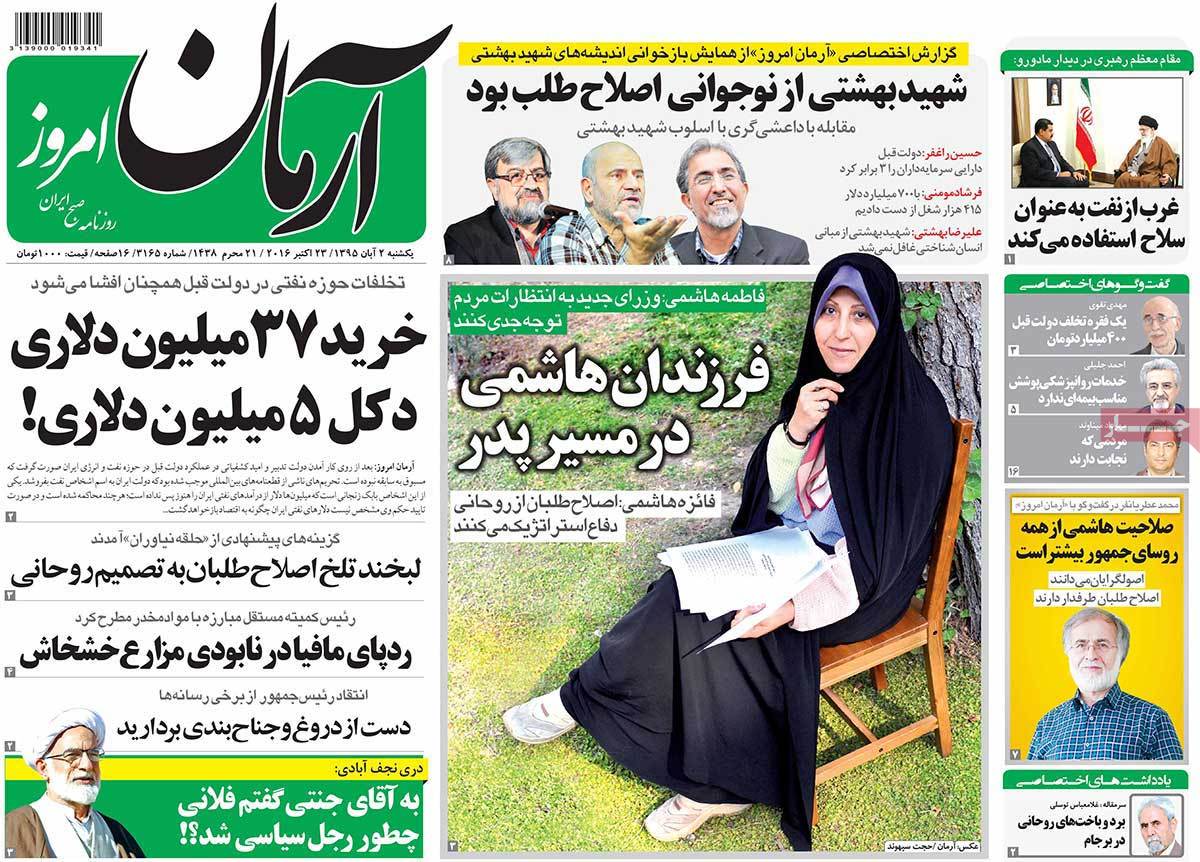 ---
Asrar:
1- Rouhani: Childish Fights in Iran Should End
2- 5 Presidents from 3 Continents En Route to Iran
3- Velayati: Al Saud Doesn't Understand Anything but Force
4- Deputy FM: Iran Has No Problem with Human Rights Talks with Europe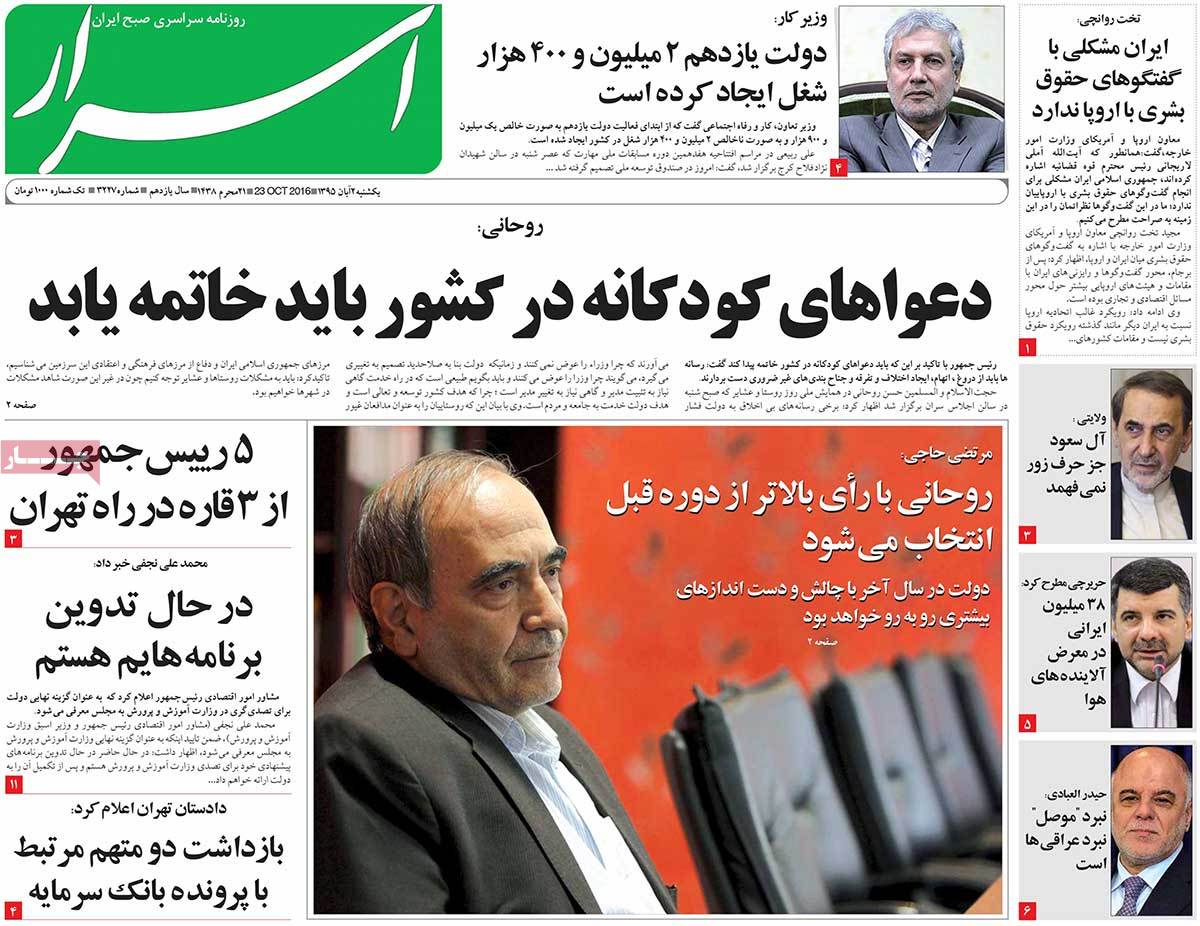 ---
Ettela'at:
1- Leader: With Wise Policies, Plots Can Be Overcome
2- Rouhani in Meeting with Venezuelan President: Iran Supports Any Move towards Fair Oil Price
3- IMF's Prediction about Continued Decrease of Inflation Rate in Iran
---
Hemayat:
1- Germany Ready to Exchange Anti-Corruption Experts with Iran
2- Ramadan Abdullah: Iran Is the Only Country that Supports Palestine
3- Deputy of US Treasury: Imposition of Heavy Sanctions against Countries Affiliated with Iran
---
Iran:
1- Iran's Marine Trade Flourish in Post-JCPOA Era: 16 Giant Shipping Companies Return to Iran
2- Central Insurance: Iran Starts Cooperation with 7 Major Int'l Insurance Companies
3- President: Both Changing the Executives or Keeping Them Are Sometimes Required for Giving Better Services to People
---
Jame Jam:
1- Leader: It's a Big Mistake to Think that US Is Invincible
2- Selling Theses Is a Scientific Crime
3- Rouhani: Unemployment Is Iran's Biggest Problem
4- Saudi Arabia and Turkey Sharply Criticized in World Assembly of Islamic Awakening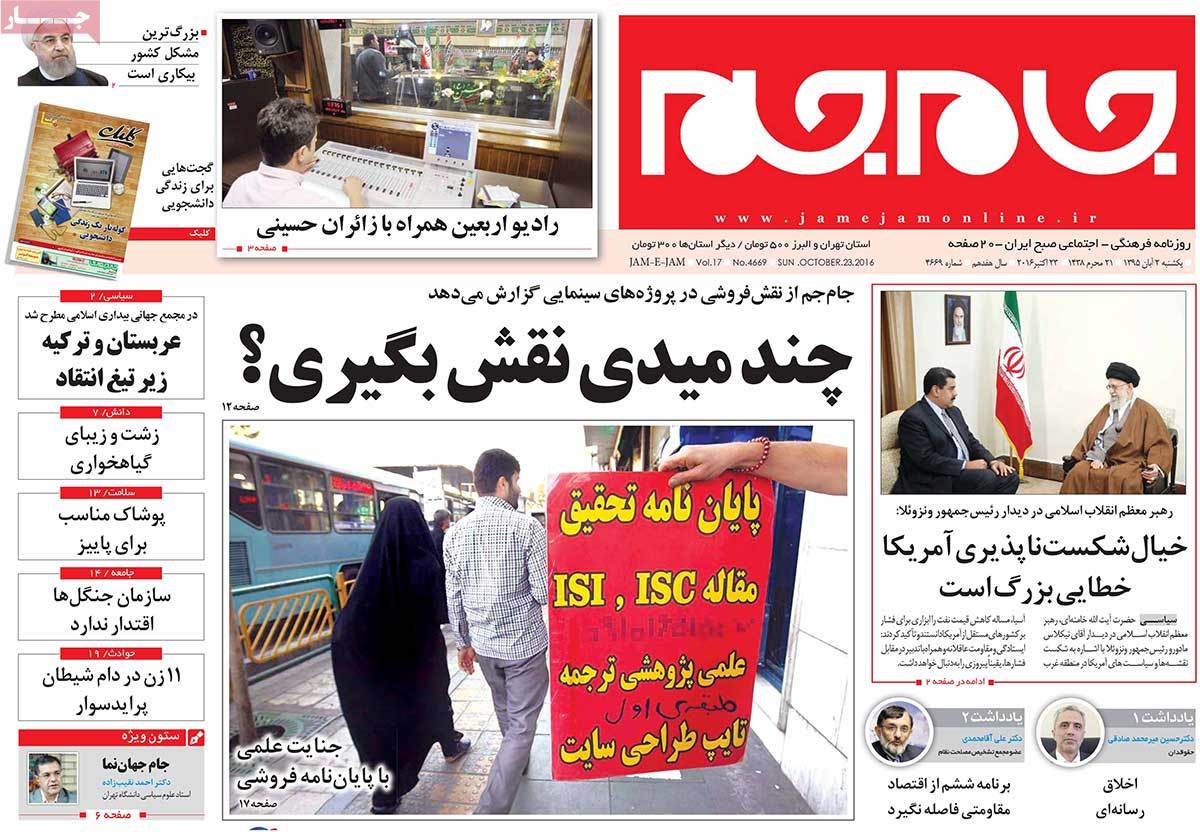 ---
Javan:
1- Banks Have Roles in All Economic Corruption Cases
2- Russian Plant for International Monitoring over US Elections: US State Department Says It Is for Show, But It Welcomes Such Supervisors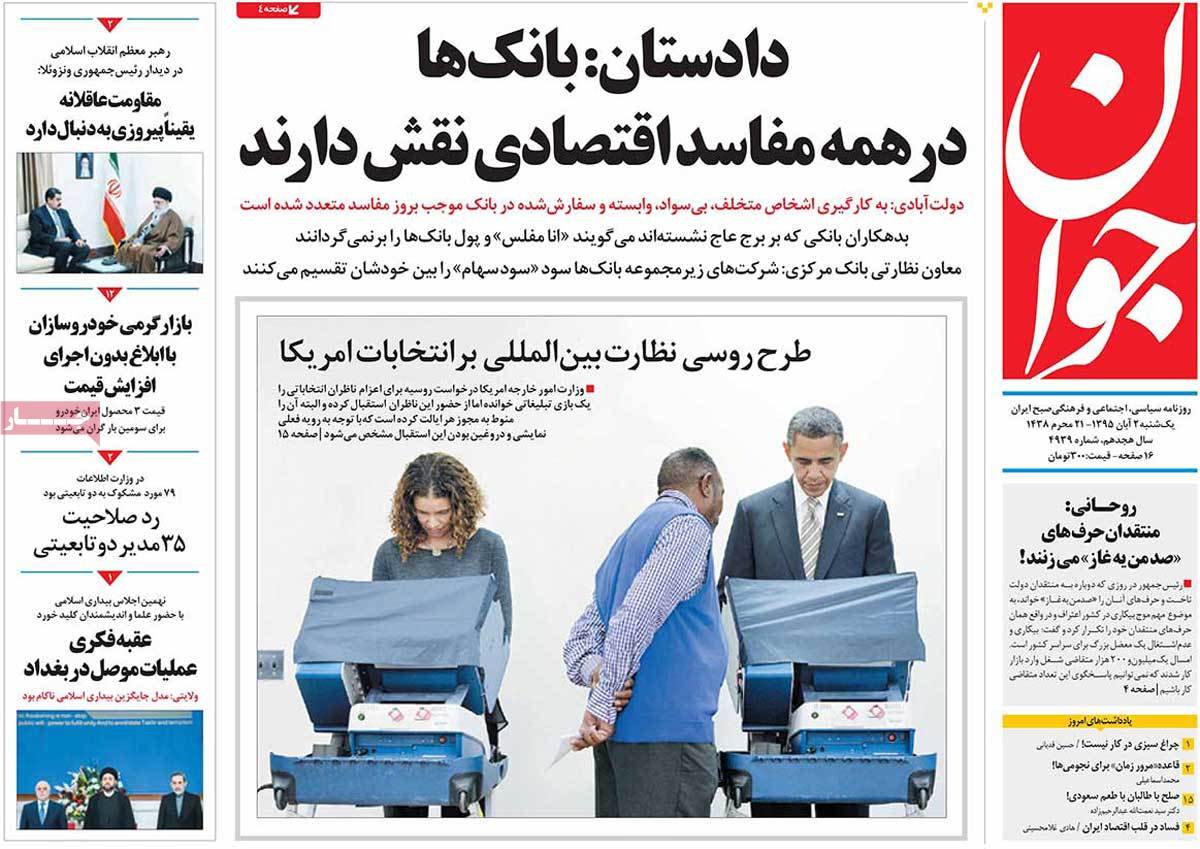 ---
Jomhouri Eslami:
1- Iran and Malaysia Agree on Return to Pre-Sanction Level of Economic Ties
2- Rouhani: Tehran Welcomes Expansion of Ties with Latin America, Including Venezuela
3- 3 Candidates to Be Introduced Today by Government to the Parliament for Ministries of Education, Sports, and Culture
4- Rouhani to Inaugurate Longest Power Transmission Line Today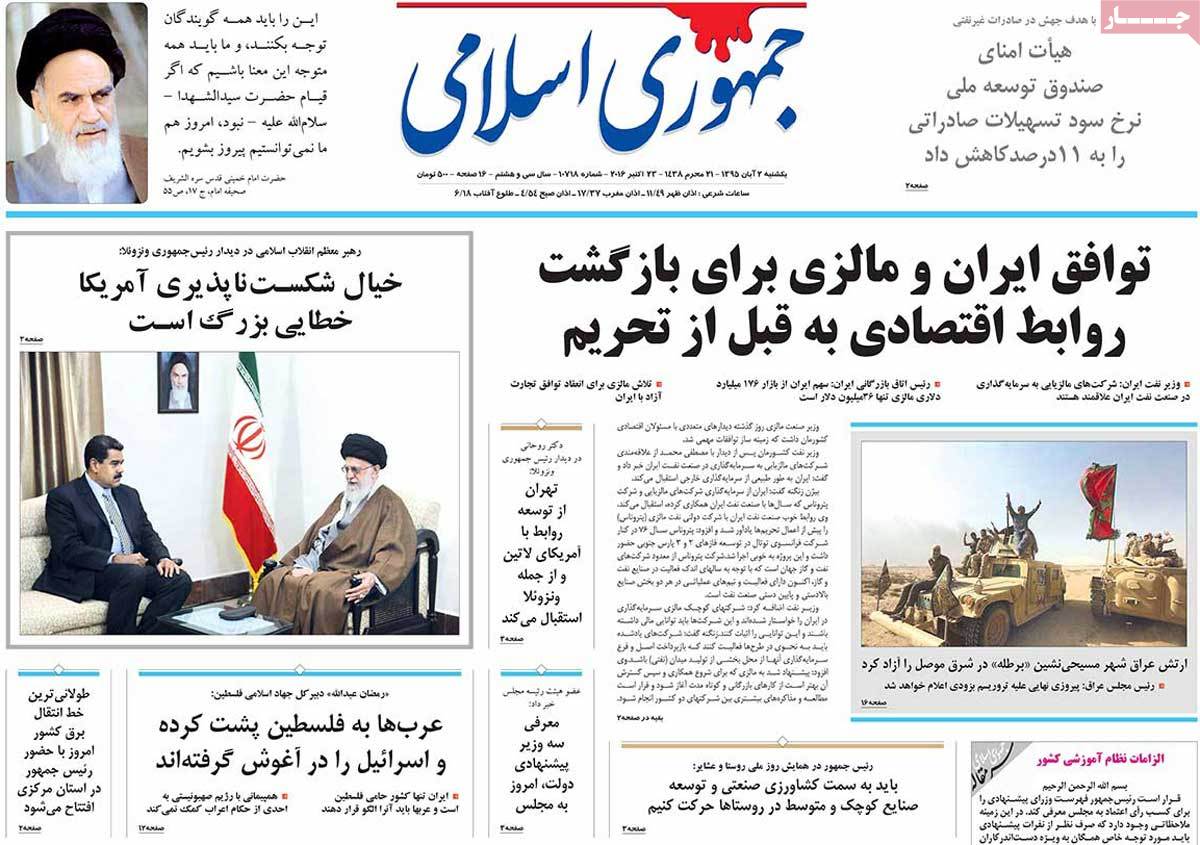 ---
Kayhan:
1- Based on Transport Ministry's Statistics: 8 Months after JCPOA, Transit of Goods from Iran Sharply Declined
2- US Analyst in Interview with Kayhan: Why US Was Engaged in Yemen War
3- Third Released American Also Sues Iran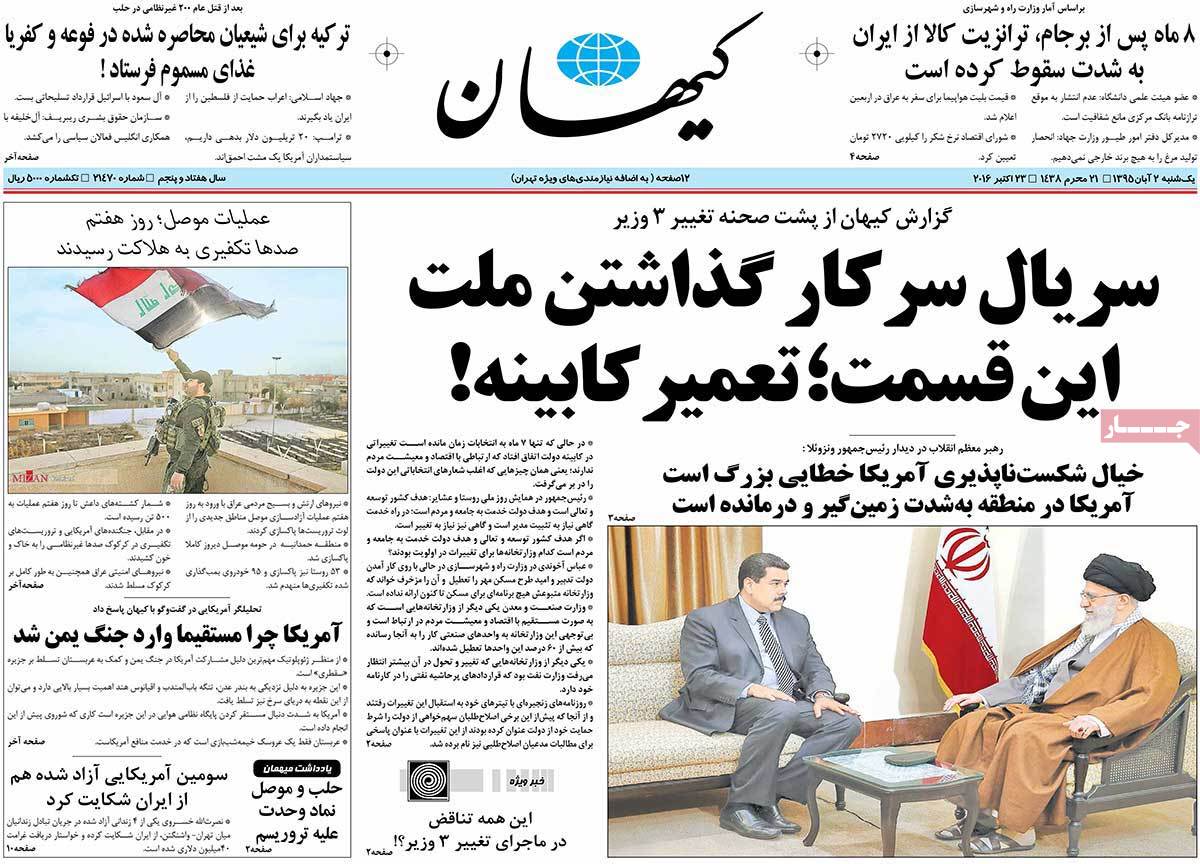 ---
Resalat:
1- Rouhani: We Can't Respond to the Demands of Those Seeking a Job
2- Head of Civil Defence Organization: Biological Attack Is Possible in Iran
3- Ayatollah Sobhani: Beliefs of Young People in Iran Are Bombarded in Cyberspace
4- US Psychological War Defeated in Mosul: Reports of a Deal between Turkey and Iraq Dismissed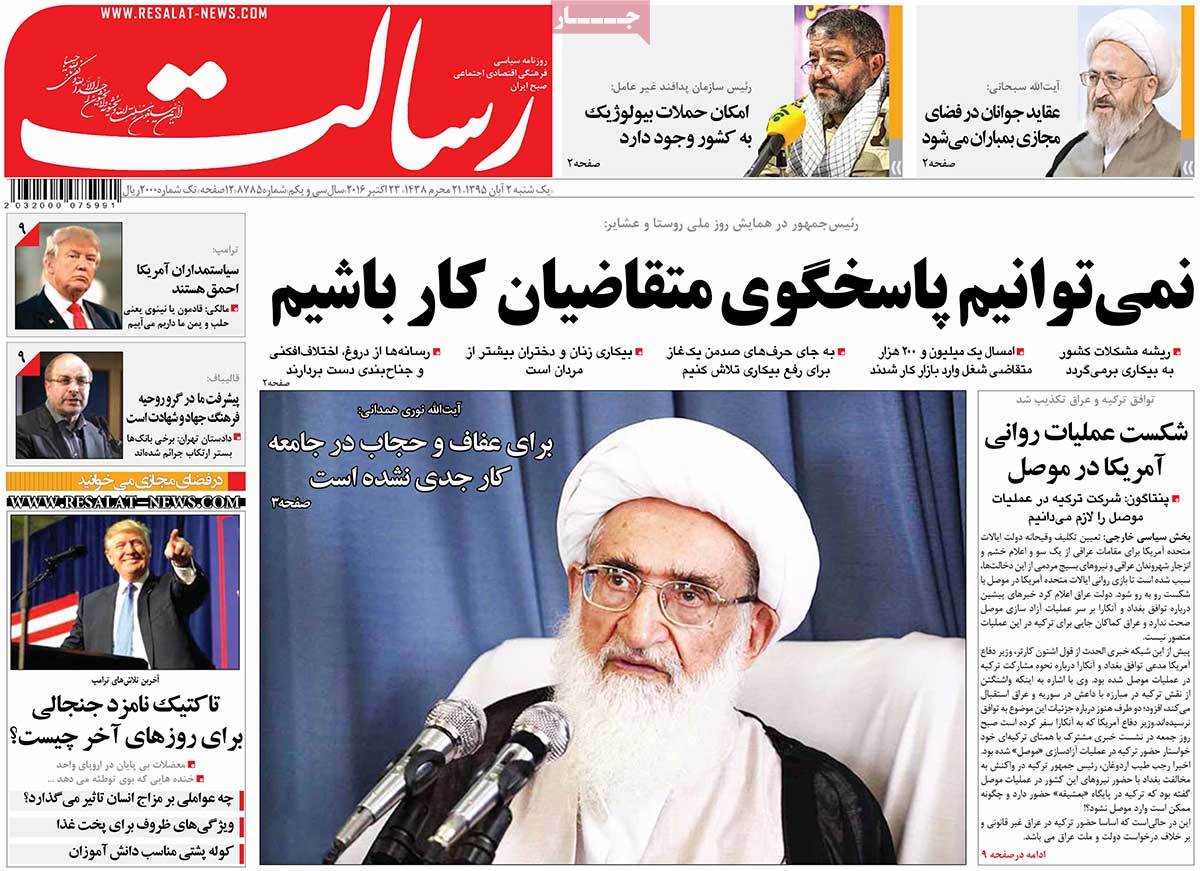 ---
Sepid:
1- Iran's Special Advantages in Medical Tourism: Health Tourism, the Lucrative Sleeping Dragon
2- Decrease in Deaths Caused by Air Pollution in Past Two Years
---
Shahrvand:
1- One President in Iran Every 35 Days: A Report on Reciprocal Visits of Rouhani's Gov't in Past 19 Months
2- Football without Pain: About the Campaign '90 Minutes without Cigarettes' Launched in Iran by FIFA's Medical Centre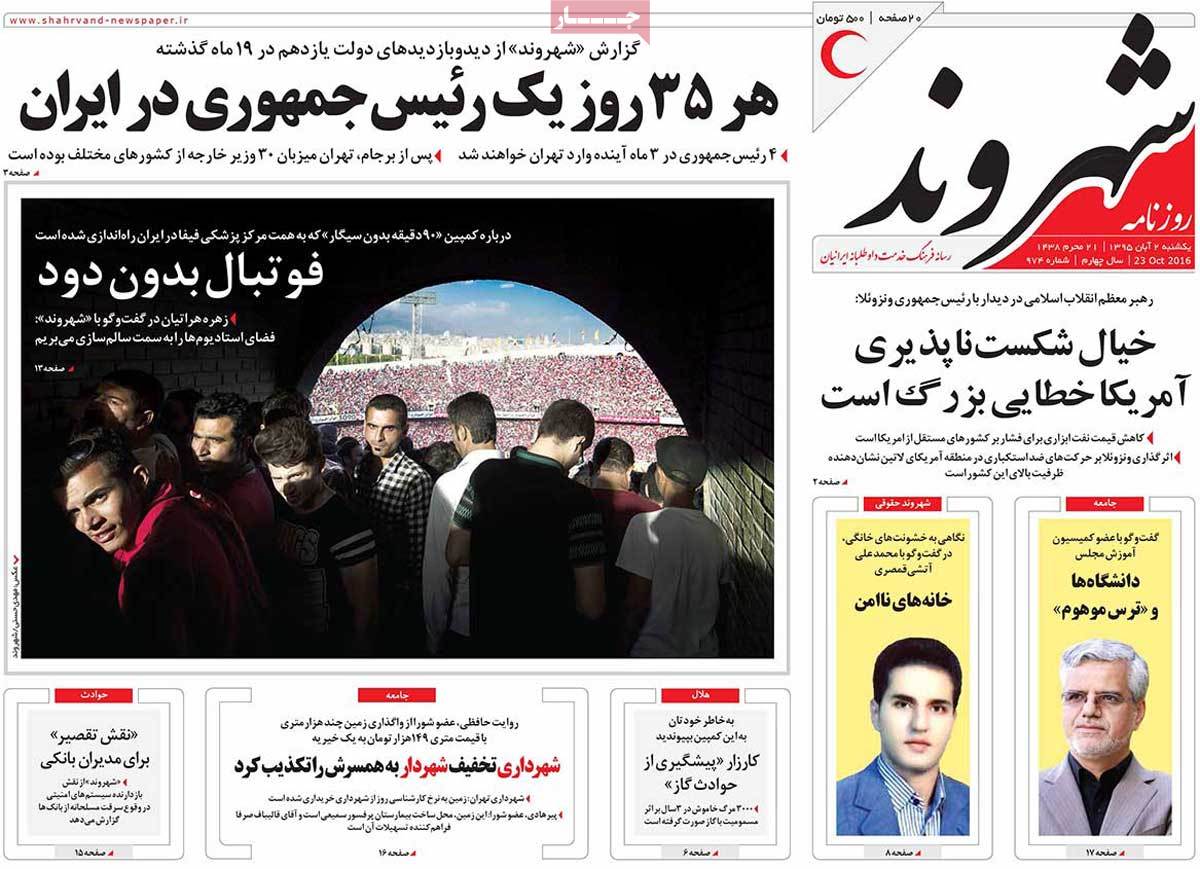 ---
Vaghaye Ettefaghieh:
1- Tehran Waiting for a Less-Polluted Winter: Predictions Suggest Some Measures in Controlling Tehran's Air Pollution Have Borne Fruits
2- Happiness among Kurds Is Much More than Many Other Areas: Sociologist